The Best Curly Hair Routines by Curl Type
Decode Your Curls
Hair routines for natural curls are not one-size-fits-all! There's a Garnier Fructis curly hair routine for every curl, coil, and wave – read on to discover your curl type and perfect routine.

When your hair is soaking wet, determine if your curl shape is 2, 3, or 4. Then choose A, B, or C for your curl width (loose to tight):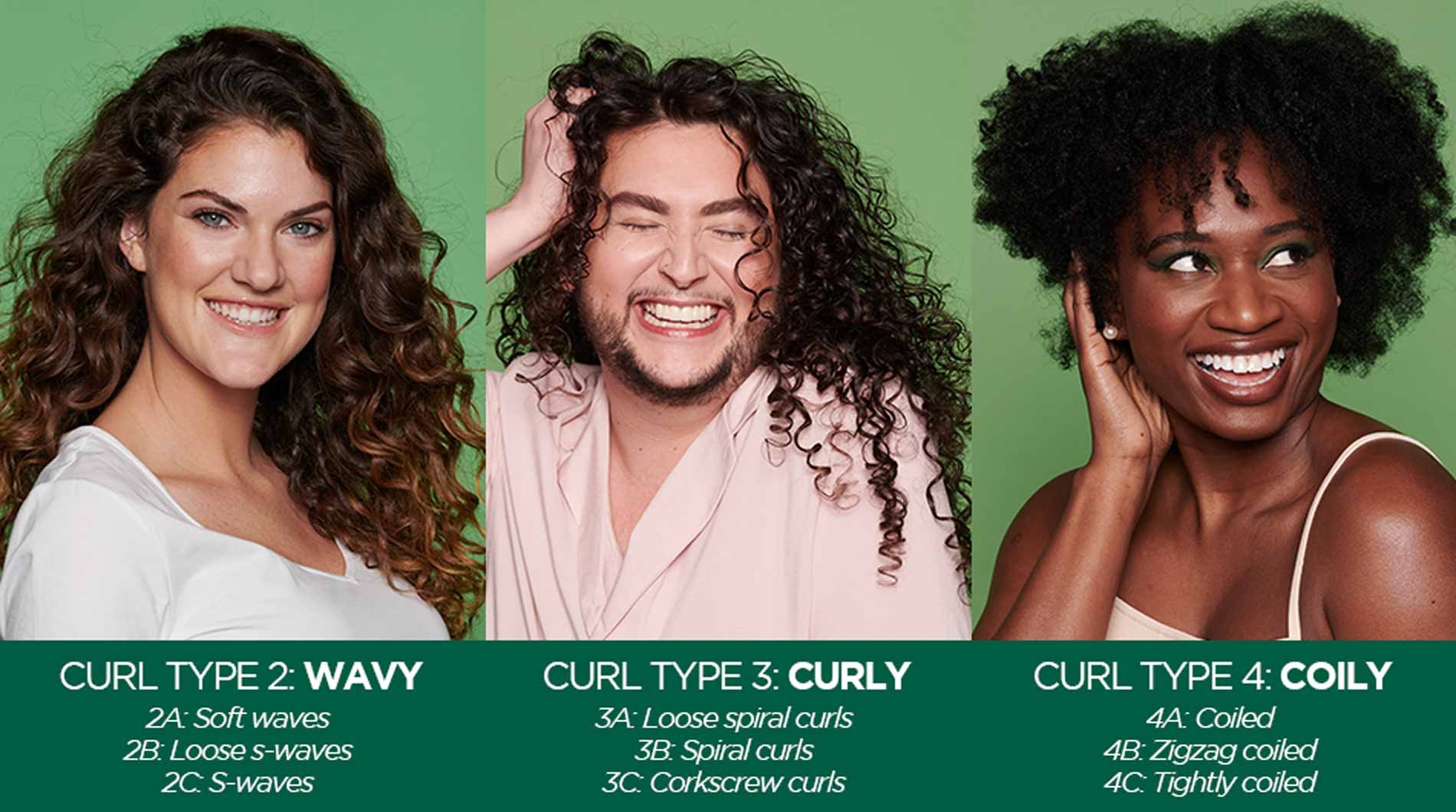 You can also check the article Know Your Curl Pattern for more information.
After determining your curl type, use our guide below to discover the best way to style your curls.
Curly Hair Routine for Curl Type 2
Curl Type 2: Wavy
- 2A: Soft waves
- 2B: Loose s-waves
- 2C: S-waves

Styling goals: Definition and shape

The best curl routine for wavy hair Types 2A, 2B and 2C includes a leave-in conditioner to add extra moisture and shine. Our Curl Air-Dry Cream gives hair soft, bouncy definition and controls frizz for up to 48 hours.

Curl Shape Defining Spray Gel also helps define waves and can be used on both dry and damp hair, so it's great for a morning re-bounce. If you'd also like to add hair volume to your 2A curly hair routine, reach for our Curl Construct Creation Mousse.
Curly Hair Routine for Curl Type 3
Curl Type 3: Curly
- 3A: Loose spiral curls
- 3B: Spiral curls
- 3C: Corkscrew curls

Styling goals: Moisture and frizz control

Type 3 curly hair is more prone to frizz, so it's all about hydration. Create your own deep-conditioning mask by combining our Curl Nourish Conditioner with our Curl Multi-Use Oil, which helps add moisture and to control frizz. Once a week is recommended for a 3A/3B curly hair routine, and more often for type 3C.
Curly Hair Routine for Curl Type 4
Curl Type 4: Coily
- 4A: Coiled
- 4B: Zigzag coiled
- 4C: Tightly coiled

Styling goals: Deep, lightweight hydration

Coily Type 4 hair also craves moisture and definition. If you're experiencing shrinkage, in your 4A and 4B curly hair routines, try our Curl Stretch Pudding to elongate and moisturize curls and coils, or our Curl Sculpt Conditioning Cream Gel to add more definition. In addition to a curl cream, a great 4C curly hair routine includes a leave-in treatment like our Curl Multi-Use Oil, which provides up to 72% less breakage in just one use.