11 Cute Ponytail Styles
Cute & Easy Ponytail Hairstyles You Need Today!
If there were a popularity contest for hairstyles, ponytails would be the obvious winner. Ponytail styles are a classic hairstyle for a few reasons: They're convenient (ever show up to spin class without a hair tie?), easy to create and incredibly pretty. Plus, you can wear a ponytail without having to repeat the same exact hairstyle over and over. You can customize them anyway you want. From a braided ponytail to side ponytail hairstyles to a ponytail with bangs, the options are endless.
Ponytails aren't just for long hair, either. If you have medium-length or even a short hairstyle (think a lob), you can still get in on the action, especially when you're using the right styling products. Another ponytail perk: You can wear them anywhere. Depending on how you style your ponytail, it can look as appropriate in a meeting or at a wedding as it does at the gym. (Braided ponytail styles, anyone?)
All you need for a cute ponytail hairstyle is a little inspiration (and, of course, the ideal hairstyling products for each one). Scroll through to see all the ponytail hairstyles you can try to take your ponytail updo to the next level.
Mini Braided Ponytail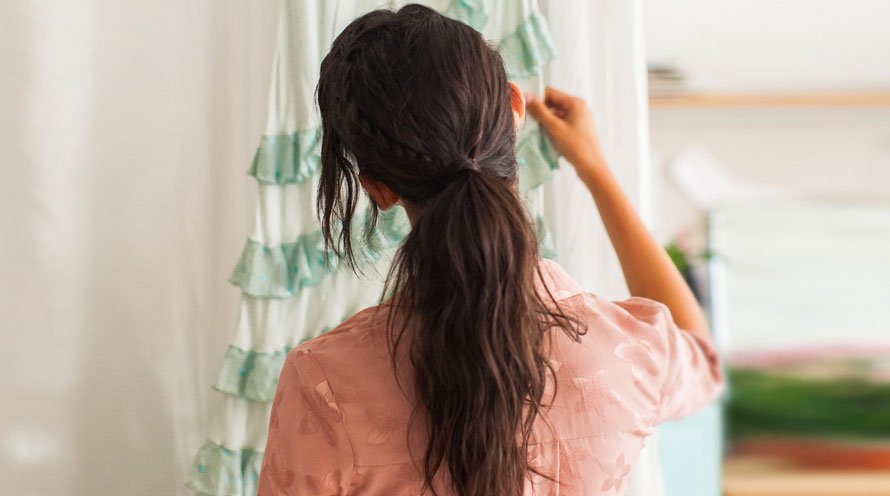 Loads of texture and tiny details, like a small braid, make for a ponytail so pretty that you could wear it as a wedding hairstyle. Plus, since the braid is tucked into the ponytail, it makes for a cute hairstyle for short hair, too. Try it with second- or third-day hair, since this will give your hair a little more grip and built-in texture, both of which will boost this style. If you're a curly girl, start with a generous spritz of Fructis Curl Renew Reactivating Milk Spray all over, using your fingers to distribute it through and scrunch it into your hair. For naturally straighter hair, try starting with a dry shampoo or texture spray. Take a section at the front of your hair and braid it. Then, gather your hair, including the braid, in a ponytail at the back of your head. Lift your ponytail and use a comb to backcomb it, which adds volume to create a puffy ponytail. Finally, keep your hair in place with Fructis Sleek & Shine Anti-Humidity Hairspray. Who said braided ponytail styles had to be hard?
Low Wavy Ponytail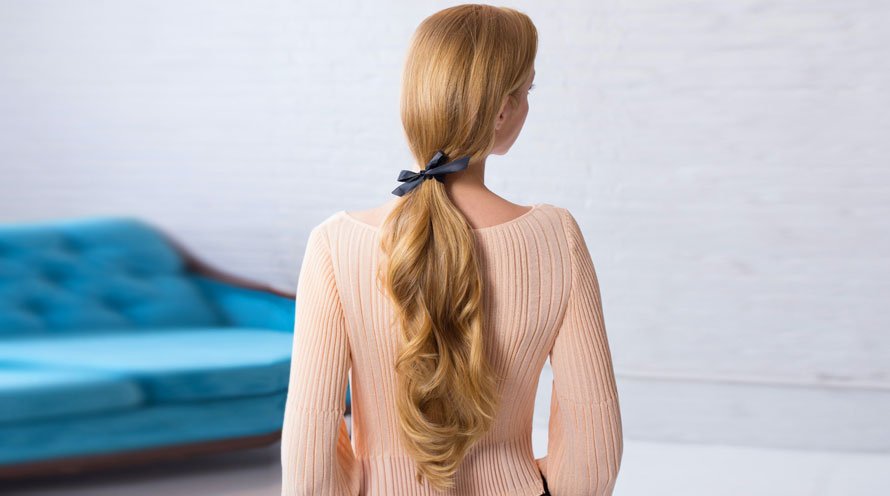 This ponytail style is especially pretty among ponytail hairstyles for long hair, since it gives you the length to show off these soft, touchable waves. To get your waves this smooth, first prep damp hair with Fructis Smooth Blow Dry. Use a comb to apply it evenly throughout your hair. Then, blow dry your hair. With a large-barreled curling iron, create big, loose waves from the mid-lengths through the ends of your hair. Next, gather your hair at the nape of your neck and secure it—and, for a romantic touch, tie a thick ribbon around it.
Twisted High Ponytail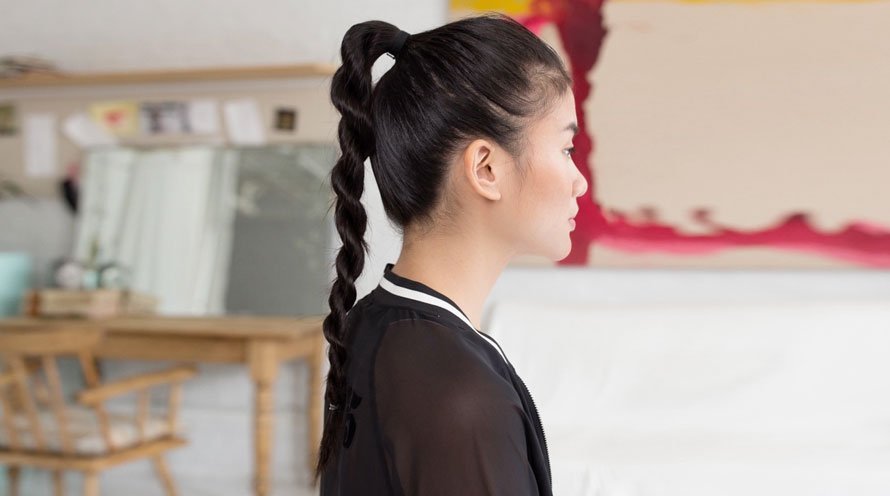 For those lazy mornings, we present a cute ponytail hairstyle that takes little to no effort. Ponytail hairstyles are even easier to style if you're working with second- or third-day hair, since unwashed hair has a little more texture and grip. First, gather your hair into a high ponytail. Divide it into two sections and twist each one, doing so in opposite directions. Then, wrap the two sections around one another and secure it at the end with a hair tie. Spray up and down the length of your ponytail with a hairspray like Fructis Flexible Control Anti-Humidity Hair Spray, which keeps it from unraveling but allows it to move throughout the day.
Multi-Braided Ponytail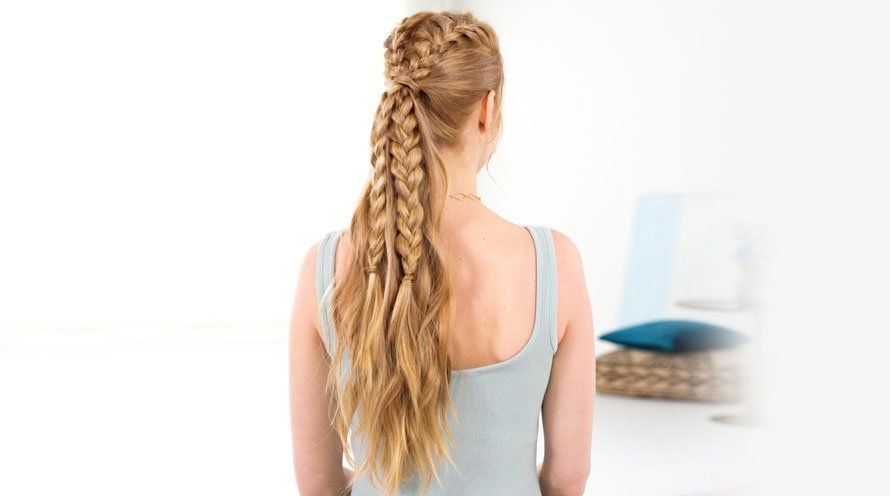 If you can do a basic French braid, you can do this multi-braided ponytail. (We promise.) It's one of the best ponytail hairstyles for long hair, but this look is just as pretty with the hottest medium length hairstyles. Air drying your hair will give it a little more body and texture than blow drying, so first prep your hair to fight frizz with Fructis Smooth Air Dry. Let it air dry. Then, part it in the center. On either side of the part, French braid a section of hair down to the ends and secure each one. Then, pull your hair back into a ponytail, including both braids and the loose section. For extra polish, take a small section of hair from the underside of your ponytail and wrap it around the elastic.
Easy Textured Ponytail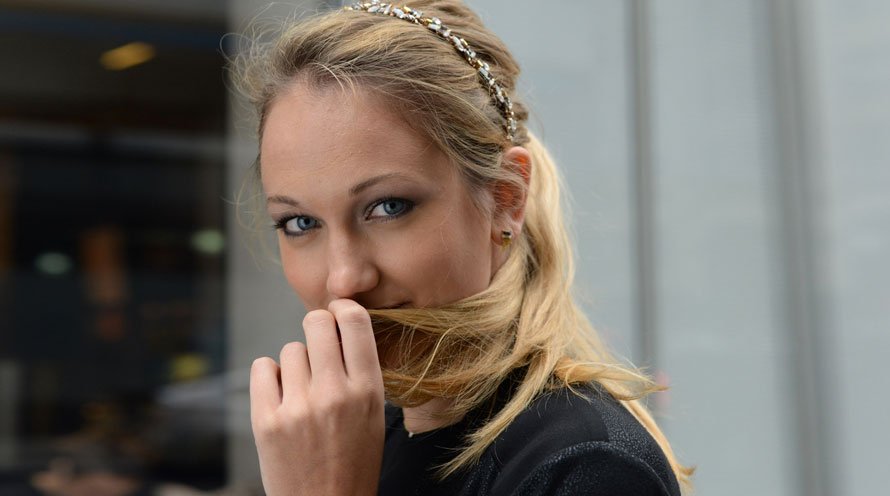 Your ponytail updo doesn't have to be sleek to look polished. A texture-heavy ponytail, especially with delicate details like a feminine headband, looks just as good as a prom hairstyle as it does on a weeknight date. To get that natural, lived-in texture, start with dry hair (bonus points if it's second- or third-day hair). Spray a generous amount of Fructis Texture Tease Dry Touch Finishing Spray onto hair and use your fingers to work it through your hair. Then, loosely gather your hair in a ponytail at the back of your head and secure it with a hair tie. Place in a hair accessory, like a headband, for a romantic touch.
Wrap-Around Ponytail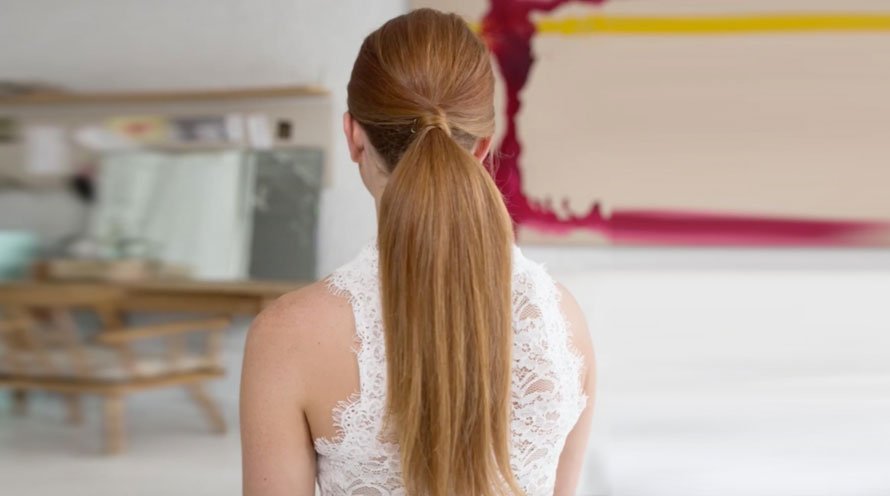 The secret to this ponytail updo is that it only looks complicated. (It's not, we promise.) Even though it's easy, it looks elegant enough for a special event or huge meeting. First, part your hair in the center. Separate two sections of hair at the front, each on either side of the part. Pull back the rest of your hair in the ponytail and secure it with a hair tie. Then, take one of the sections and pull it back, wrapping it around the base of your ponytail. Secure it beneath your ponytail with a pin. Repeat on the other side. For extra oomph, create a puffy ponytail by lifting it up and backcombing the other side, which gives it unexpected volume. Keep it all in place (and that volume, intact) with a generous spritz of Fructis Volume Anti-Humidity Hairspray.
Sleek High Ponytail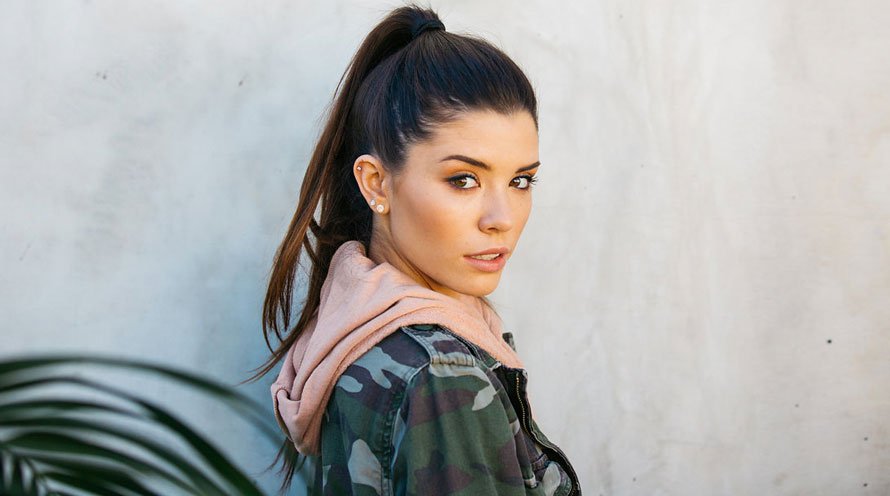 High ponytail hairstyles like this might be your go-to workout staple. But with a few tweaks—super-smooth, shiny hair, for one—it becomes a style you can wear to brunch or after barre class, too. Spray Fructis Flat Iron Perfector through the lengths of damp hair. Then, blow dry it with a round brush, making sure that the ends of your hair don't bend under, and use a flatiron to straighten your hair. Then, pull it back at the very crown of your head and secure it with a hair tie.
Braided Side Ponytail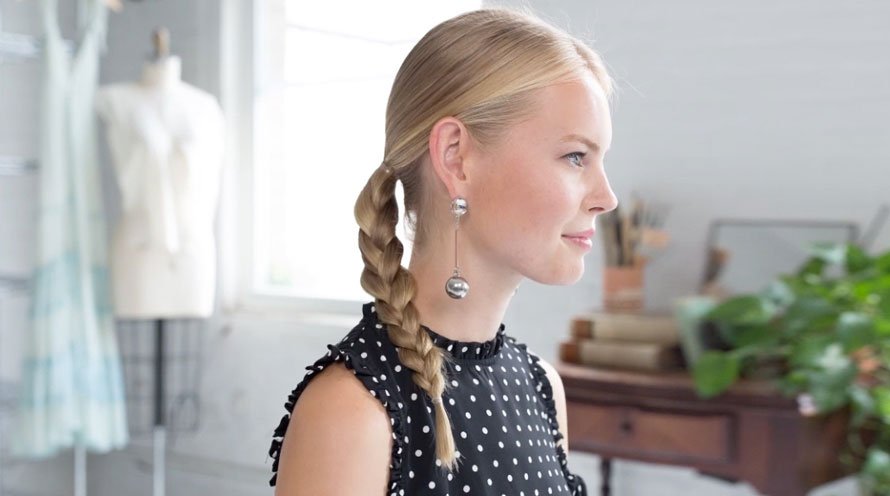 If side ponytails make you think of the 80s, keep reading—because this is not that. Today's side ponytails are subtler, more elegant, and easier to pull off wherever, whenever. The positioning of this—only slightly off to the side and at ear-level—is both flattering and modern. Start by spraying dry hair with Fructis Sleek & Shine Anti-Humidity Hairpray, which will keep frizz at bay (and from ruining the sleek look). Part your hair on one side and then pull it back in the direction of the side opposite the part. (It should be at one side, but still at the back of your head and level with your ears.) Secure it with a hair tie. Then, braid your hair in a simple plait and secure the end. Finish with a few more sprays of hairspray. Side ponytail hairstyles couldn't be easier.
Sleek Ponytail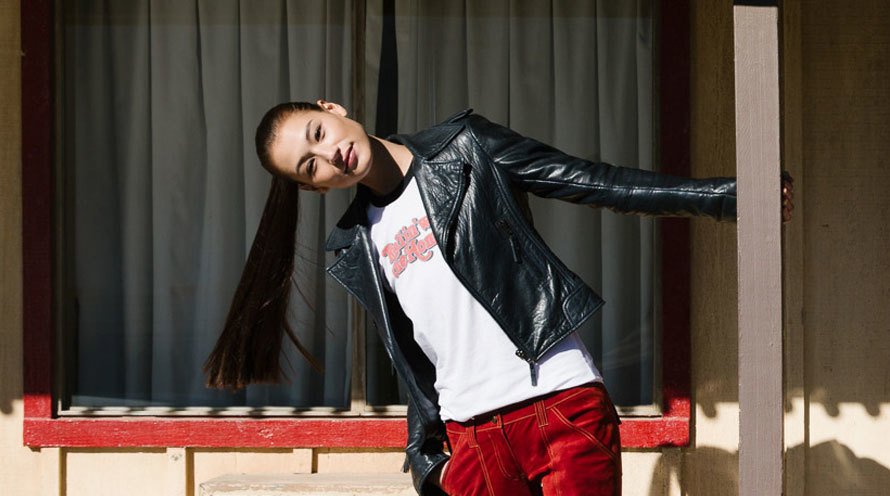 There's no need to over-think long hair. Long hair cuts with blunt ends benefit from a super-straight, high-gloss finish like this style—especially when it's this straightforward. First, protect your hair with Fructis Sleek & Shine Flat Iron Perfector, which gives hair a sleek finish and protects it from heat damage. Blow dry your hair and straighten it using a flatiron, making sure that you don't bend the ends. Then, spray a generous amount of Fructis Frizz Guard Anti-Frizz Dry Spray through the lengths of your hair. This step will keep your hair smooth and frizz-free all day long. Then, pull it back into a simple ponytail and secure it.
Wavy Ponytail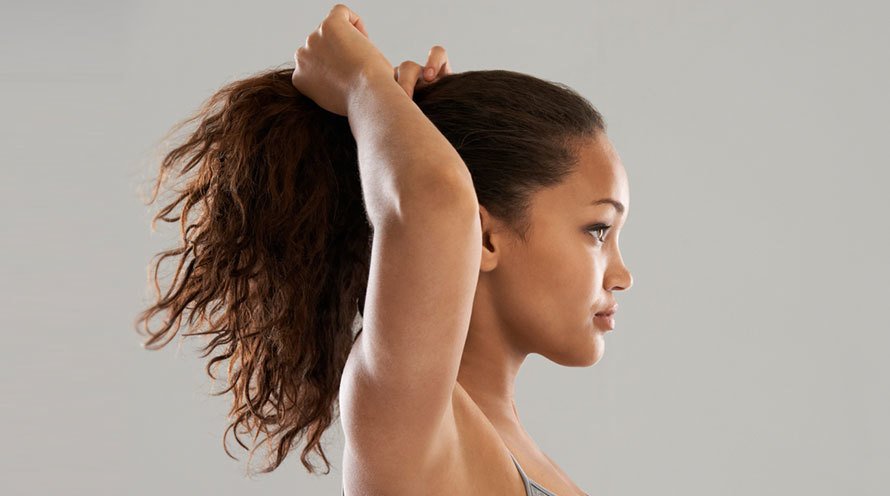 Calling all minimalists! As easy as it gets, this ponytail style is a classic for a reason. The pairing of smooth hair and loose waves can't be topped, and it's basically the hair equivalent of the athleisure trend. Prep damp hair first with Fructis Anti-Humidity Smoothing Milk, which boosts shine and combats frizz. Then, blow-dry your hair, using a round brush to add body and a slight curl at the ends. Pull your hair back and you're all set.
Ponytail Hairstyle with Bangs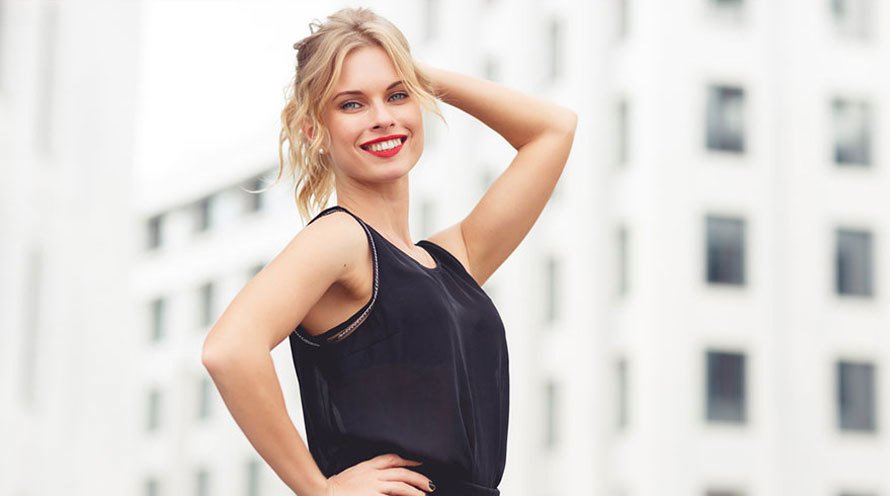 Bangs—whether they're side-swept, blunt, or in the process of growing out—can add pretty detail to a ponytail. Ponytails with bangs have a pretty, effortless vibe to them that works well anywhere you wear them. For a cohesive look, just make sure the texture of your bangs matches that of your ponytail. For this wavy ponytail style any time of year, spray damp hair all over with Fructis Beach Chic Texturizing Spray to give it body without the weight. Use your hands to scrunch it through, and then diffuse or air-dry. Sweep it back with your hands, secure it with a hair tie, and then use your fingers to tousle your bangs and scrunch up your ponytail, adding more texturizing spray if your hair needs more shape.