11 cute prom hairstyles for long and short hair, and everything in between
Outside of a wedding, prom is the only time you're going to have a crowd of people hovering around you and snapping photos—which is why your prom hairstyle needs to be on point. Prom may be one night, but that pic of you and your date is going to last until the end of time. (Also, it's inevitable that your mom's going to frame one and hand the rest out to your relatives. The sooner you accept this, the easier it'll be.) So, yes, a good prom hairstyle counts for a lot.
The obvious place to begin is with prom updos. They're a classic when it comes to prom night, and their number-one benefit is that when they're done right, they won't unravel as soon as you're called to get your official prom photo taken. (The not-so-secret weapon: hairspray.) Generally, prom updos work best only if you have medium to long hair. Try and turn a lob into an updo for prom and you're basically asking for a hair disaster. With even shorter hairstyles, it just won't happen.
But if you're working with a bob length or shorter hairstyle, you're not stuck wearing the same old hairstyles for the prom. There are cute prom hairstyles for short hair, too, so long as you know where to find them. And this is a good start. Besides, you don't necessarily have to do an updo for prom. Wearing your prom hairstyle down, opting for a half-up half-down prom hairstyle, or going for a braided prom hairstyle works no matter your hair length.
If you're already feeling overwhelmed by all the options, don't worry: Here are the best prom hair style ideas for every length and skill level.
Easy Prom Hairstyles to Style Yourself
You can DIY these even if you have two left hands, we promise. It's a good idea to try out your prom hairstyle beforehand—even if it's super-easy. Plus, doing so will give you a better idea of how long it'll take you to get ready, if you need to stock up on bobby pins, and whether you need to put your dress on before styling your hair. (The only thing worse than a bad prom hairstyle is a good prom hairstyle that you accidentally destroyed while getting dressed.) If you know how to do a basic braid, try one of these prom hairstyles.
Double Braid Half Up Half Down Hairstyle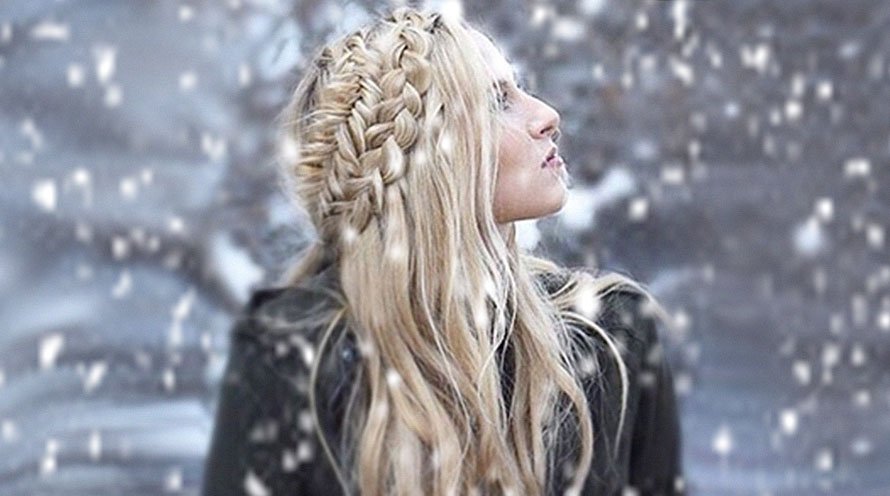 It doesn't get more romantic than this braided prom hairstyle. Simply fishtail braid two sections of hair on one side of your part; then, anchor the ends in the back with a pretty hair clip. Bonus: Its simplicity makes it one of the best prom hairstyles for short hair. You don't necessarily need to pair this with waves, but if you choose to do so, add both body and hair volume with Garnier Fructis Sky-Hi Volume Mousse.
Half Up Half Down Twisted Crown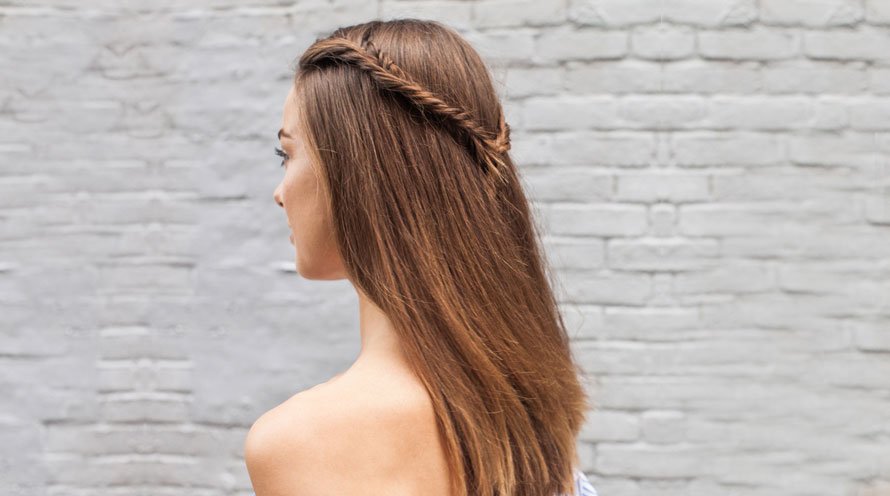 Got two hands and two bobby pins? Then good news: You can pull off this simple prom hairstyle. All it takes is a twist of hair on either side, each one pinned in place. (It's easier to do this with one twist at a time.) To dress up your hair for prom, you can tuck in a few flowers or add a barrette—but it's pretty gorgeous all on its own. Then, blast it with a strong hold hairspray to ensure that the twists don't unravel once your limo pulls up. It's one of the easiest hairstyles for prom half up half down.
Chic Ponytail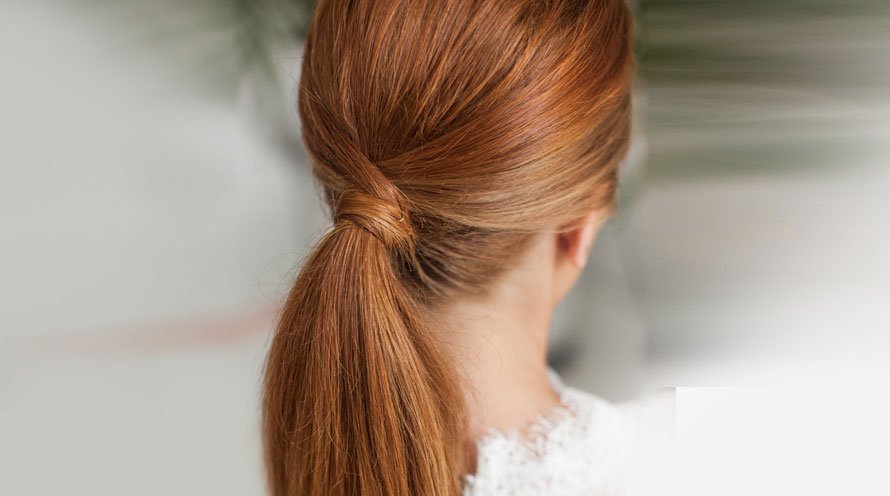 If your idea of makeup is a quick swipe of mascara, meet your equally low-maintenance prom hairstyle: the ponytail. But it's far from your basic, gym-ready ponytail. The secret: Wrapping the base of the ponytail with a strand of your hair. So, pull your hair back into a low ponytail, leaving out a section on one side. Secure your ponytail with a hair tie. Then, use that loose section to wrap around the elastic, pinning the end underneath your ponytail so that it's hidden. Then, use a thickening lotion, like Garnier Fructis Mega Full Thickening Lotion, to make your ponytail look full and thick. No stringy strands here.
Braided Crown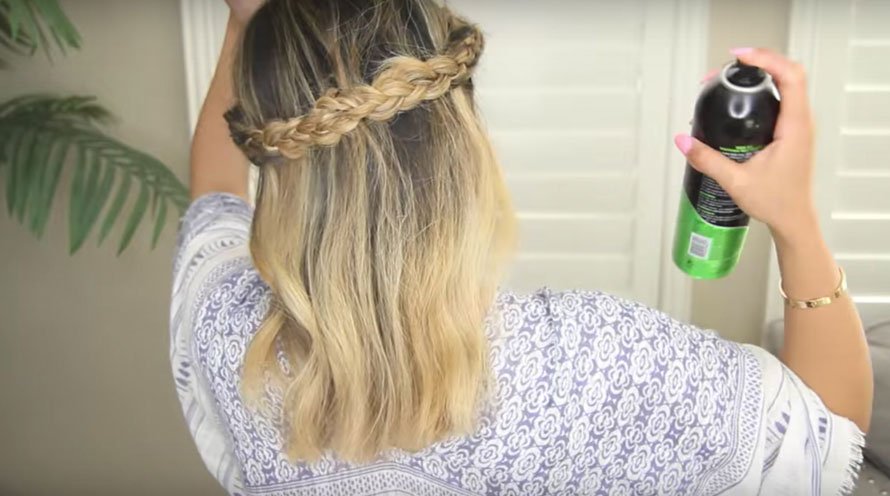 This look is great as it can work for many hair types – whether your hair is straight, wavy, or naturally curly hair—if you're low-key about your prom hair look—then this prom hairstyle was made for you. Similar to the Twisted Crown, just braid two sections of hair (starting at either temple) and pull each one towards the opposite side so that they overlap. Then pin them in place. It's perfect if you want to wear your prom hairstyle down or don't want to commit to an hour at the salon.
Prom Hairstyles You Can Do Yourself—With Enough Practice
If you can whip up a fishtail braid without watching a hair tutorial or, for the real pros, needing more than one mirror, you're ready for these prom hairstyles. They require a little more time and dexterity than your average prom buns (or some practice styling time with your bestie) but the payoff is worth it. As far as medium-difficulty hairstyles for prom braids are a great option, too. Just make sure you practice them a few times before the big night and make sure you're comfortable with them.
Cute Waterfall Braid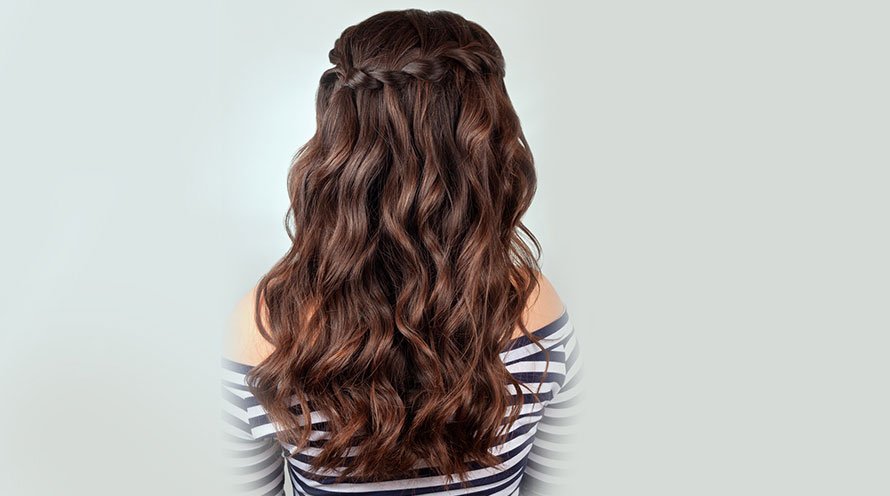 Want to wear a prom hairstyle down? It doesn't get much prettier than this braid. Your best bet for learning a waterfall braid is to search for a video hair tutorial (and, pro tip, enlist your mom or a friend to help) and follow along. Then, once you've woven the waterfall braid through your hair, use a curling iron to curl the loose strands. It's proof that hairstyles for prom hair down are especially easy. More good news: While it's a great prom hairstyle for medium hair, it works even if your hair is at a shorter length, like a bob. And it's also one of the best hairstyles for prom with bangs.
Half Up Half Down Rose Bun Prom Updo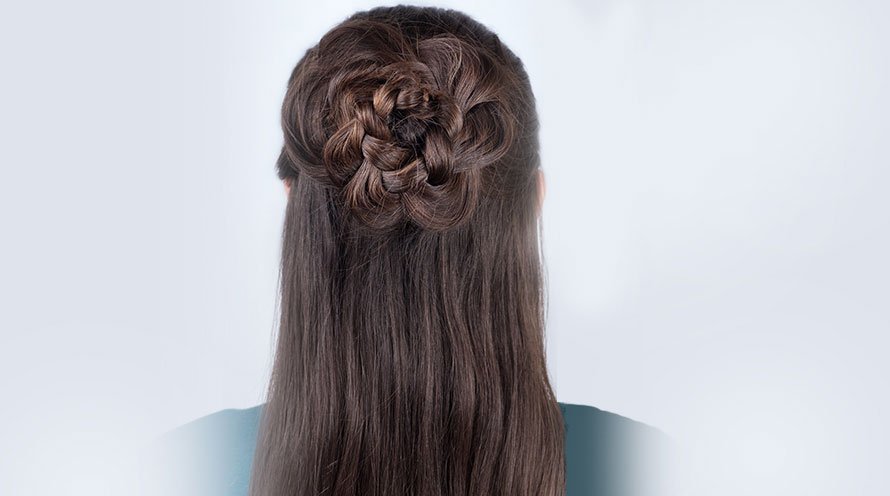 Some half up half down prom hairstyles can look a little too casual for the big night, but throw in this rose bun and you've got yourself a prom-worthy look. Pull your hair back into a simple, half-up ponytail. Then, stick your fingers beneath that ponytail, through the center of the hair you've pulled back, and loop the ends of the ponytail through so it's inside out. Braid the ponytail, twist it into a bun, and pin it in place. The plaits resemble the petals of a rose, giving it all the wow factor of a complicated updo for prom—without actually being complicated.
Dutch Braided Prom Updo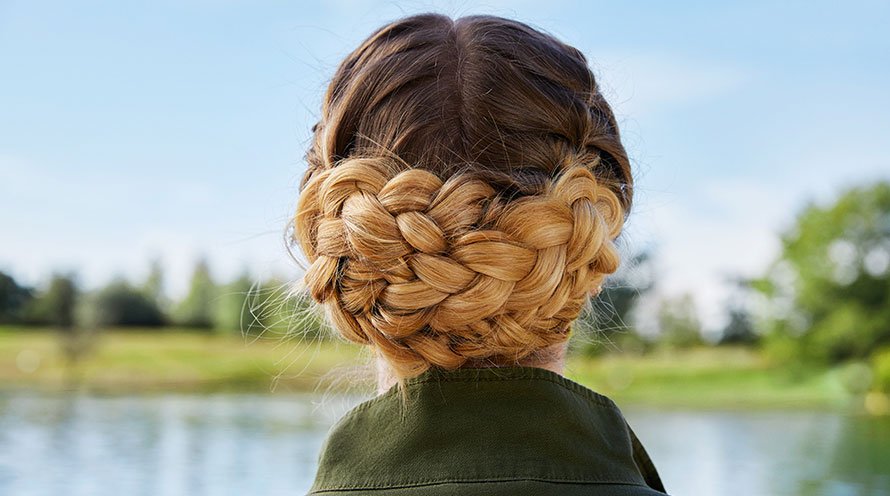 As long as you can do a Dutch braid, you can DIY this braided prom hairstyle. Start with a middle part, and then make two French braids starting just above your ear working backwards to the nape of your neck. Once each full braid is complete, overlap the two braids, and secure each braid on either side of your head with bobby pins. Take care to tuck the end of your braid under the other wrapping braid so the tails don't stick out and your braids overlap on the back of your head. Your arms might need a break at some point, but the work is worth the gorgeous prom updo.
Side Fishtail Braid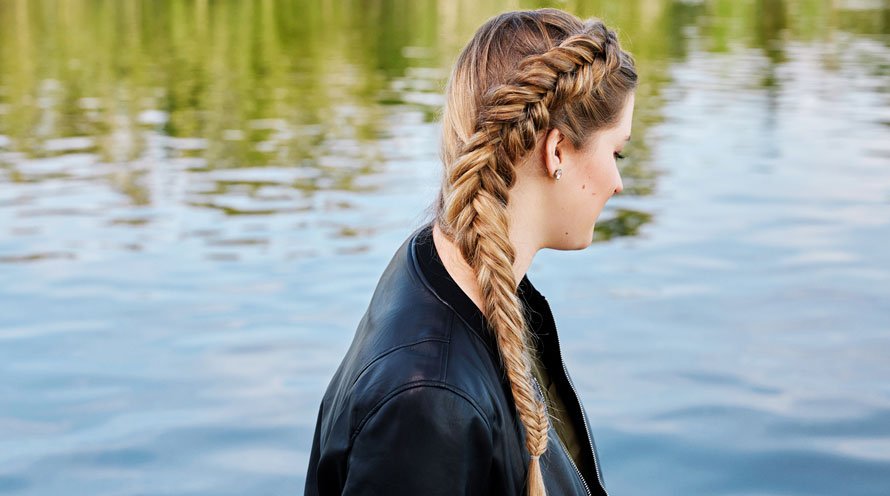 It's time to show off those killer fishtail braid skills, especially if you're looking for hairstyles for prom to the side. On the easier end of the spectrum of braided prom hairstyles, all this takes is twisting your hair from your part down to your neck. From there, start weaving your fishtail braid and secure it with a small elastic band. It's easy, elegant, and perfect if you're into mermaid hair.
Best Prom Hairstyles to Show Your Stylist—Or Your Talented Styling Friend!
You've had your dress for months. You thought of the shoes you'd wear ages ago. And, if you've been saving screenshots of your ideal hairstyles for prom since last year, you're probably serious about it. If your favorite prom buns require more than six steps, avoid a last-minute meltdown and you plan to book an appointment with your skilled BFF or a professional hairstylist. Look no further for your photo-worthy updo
Big, Braided Prom Bun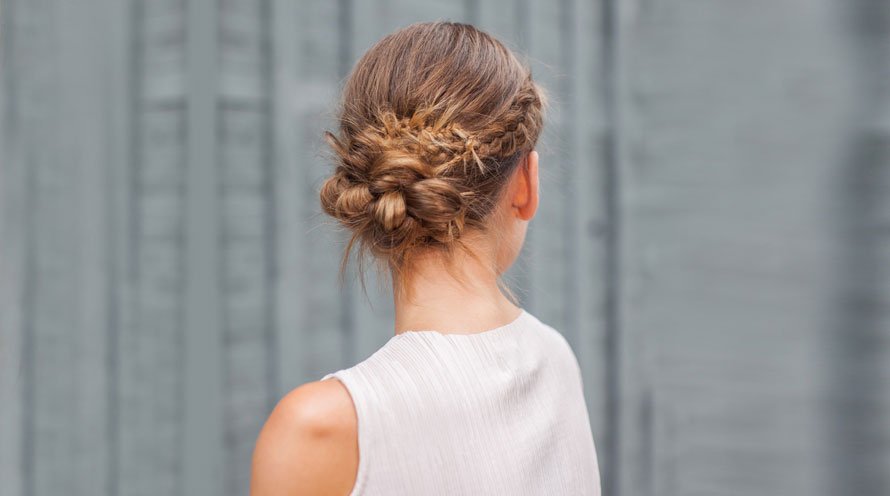 Consider this twisted, braided bun the ultimate prom hairstyle for long hair. It's romantic and elegant without looking too fussy, and the braids help keep it secure while you're dancing. No wonder it's one of the best long hairstyles for prom. It also shows off highlights (if you have them). The loose strands enhance the romantic updo—just be sure the actual bun is pinned in place really well to keep it from unraveling. Also, blast it generously with hairspray that has strong hold, just as insurance for the long night.
Princess Braided Prom Bun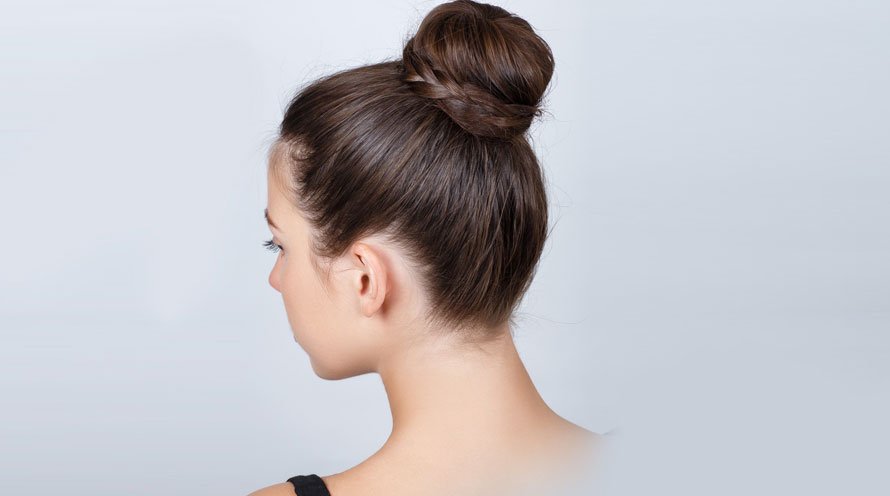 Short of wearing an actual tiara, this prom bun is the closest most will ever get to royalty. The bun's placement at the crown is classic and traditional, but the chunky braid wrapping around its base is a 2019 upgrade—as is the hair itself, which is thick and textured. To get a similar look, prep your hair with a hair thickening spray like Garnier Fructis Texture Tease Dry Touch Finishing Spray. If you're need hairstyles for prom with bangs, this is a great option.
Wavy Bun Prom Updo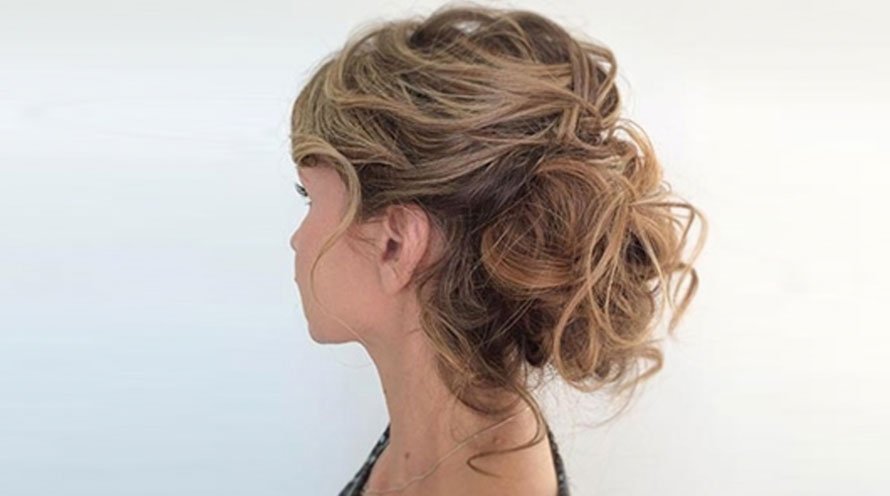 This cool, messy prom updo is best left in the hands of a stylist who knows what they're doing. Loose waves, achieved with a curling iron or your natural texture, are pulled into one gigantic prom bun, and while the effect is insanely pretty—really, your friends will wonder how you did it—it requires an expert who can keep it from falling apart. If you're planning on making moves on the dance floor, make sure this is pinned really well. It's only supposed to look messy.