How to Get Balayage Hair At Home
No matter how much we love our base hair color, sometimes the possibility of switching things up is more than intriguing. A new look could mean you add rainbow streaks into your hair, move from light to dark color, or try applying highlights. Next time you need a makeover, we suggest mixing up your hair color with balayage, a trending highlight application technique. Balayage looks natural, yet adds a rich, multi-dimensional look to your hair. And don't worry — blonde balayage on dark hair works too! Ahead, we discuss exactly what this trend is and how you can achieve it at home. Prepare yourself for gorgeous, brand new hair color.
What Is Balayage Hair Color?
Balayage is sometimes confused for a hair shade or hair style. In fact, balayage is an application technique that refers to the freehand painting of dye onto sections of hair to create natural looking, ombre-like highlights. Since it's freehand, it's even easy to achieve at home in just a few simple steps. Balayage is a specifically highlighting technique, whereas "highlights" can refer to foils, free-painting, ombre, and more. Not all highlights are balayage, but all balayage are highlights.
Why Balayage Over Other Hair Color Techniques?
Balayage is a great technique because it doesn't leave hard, obvious lines of color at your roots. Hair grows out looking more natural. If you've been plagued by that telltale inch of roots as your hair grows in, try balayage for a more natural flow from virgin to colored hair. This helps make balayage a low maintenance style that doesn't require touch ups every 4-6 weeks! Bonus: Unlike foil highlights, balayage requires less equipment and can be done more easily at home. (Gain back an hour of your life that you would have spent cutting hair foils into strips!) Overall, balayage adds a dimensional look to your hair color and helps give a sophisticated end look while still looking natural.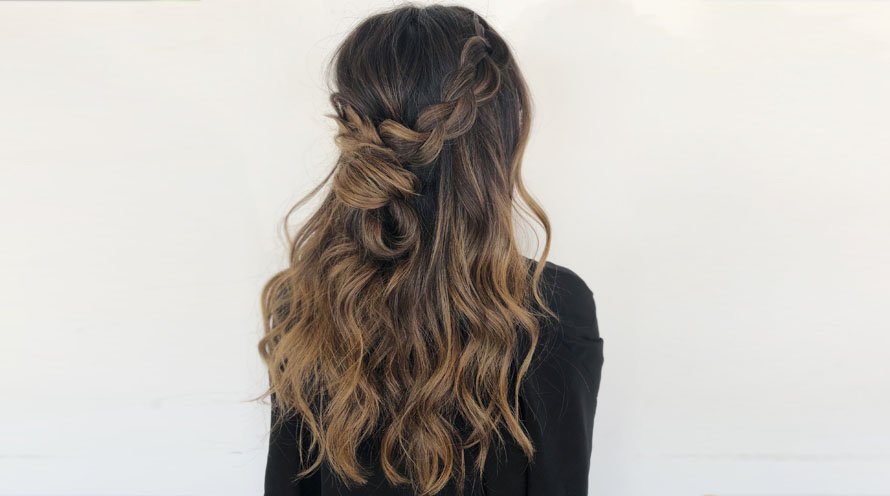 What Hair Color Shades Are Best for Balayage?
For all-in-one hair color, opt for Garnier Nutrisse Ultra Color Icing Swirl BY1, a balayage kit that makes application easy. Icing Swirl takes naturally dark hair and transforms it into a natural-looking reflective golden blonde. The shade will help you achieve a golden, warm look on your hair, perfect for an end of summer pick-me-up or extra color dimension for a special occasion. The rich, luxurious highlights will turn hair color warm while adding subtle color.
As a bonus, all Garnier Nutrisse options provide 100% gray coverage. Even better, the colors are formulated with triple nourishment from avocado, olive, and shea oils. The result is shiny, healthy-looking hair that will turn heads no matter which shade you choose.
The Best Way to Achieve Balayage
It's possible to apply balayage color at home. Choose BY1 Icing Swirl Balayage Kit or find another shade that's perfect for you. BY1 Icing Swirl Balayage Kit comes with a unique brush applicator that helps make applying color simple and mess-free.

Before you begin, do a skin allergy test to be certain that hair color is safe to put on your scalp. Forty-eight hours before you dye your hair, perform a test using a small patch of skin on your arm. Mix a few drops of the developer included in the package with a dab of color cream and swipe the mixture onto a small area of skin on the underside of your elbow. If your skin is still clear after two days, you're all clear and ready to highlight the hair of your dreams. See the insert inside the box of both shades for detailed patch test instructions.

To prep the hair, section the top of your hair into two parts and fasten it with a non-metallic clip. Section the bottom part of your hair into two sections, and leave those down. (Picture a half-up, half-down ponytail.) The sections will make it easier to ensure that you highlight your entire head of hair. Plus, putting half of your hair up to start ensures that the bottom layers of hair get thoroughly highlighted. You want to make sure not to miss any sections so you won't leave a telltale section of non-highlighted hair behind!

Next, mix the color formula as per the instructions on the insert in the box. Then, choose where you want your hair color to start. Pick sections of your hair to highlight from the bottom of your hair, then gently squeeze the bottle while brushing the dye through hair. Make sure hair is fully coated! When dyeing the top half of your hair, be sure not to apply color in a straight line. Instead, feather it into a V shape to avoid any drastic root lines. As you work your way throughout the hair, paint some highlights a little higher towards your root, and keep others slightly lower down the root. These techniques will help avoid a hard root line and make root regrowth look even more natural. If you hope to cover gray hairs with your new hair color, make sure you find the strands of gray hair to cover with dye. For sections of hair closer to the face, apply color a little closer to your root to help create face framing pieces and ensure that your color really stands out. Remember to coat your hair in color all the way down to the tips. Once your first layer is completed, work your way up the crown of your head layer by layer. For best results, work from one side of your hair to the other. Don't forget to leave sections of hair between the coated strands to help create the highlighted effect. Try not to place the streaks too close, so you'll be sure to have lightened pieces next to the natural hair pieces. For natural-looking color, evenly space the sections from side to side. Remember to protect your clothes with a towel around your shoulders!

After you've applied your last section of color, set a timer and wait for hair to process — read the box instructions for the appropriate amount of time to let color set. Once the desired amount of time is up, rinse hair thoroughly. Skip the shampoo, but do apply conditioner (which is included in Garnier Nutrisse kits) and leave it on for two minutes before rinsing. Once you're done, towel dry your hair and make some plans for the night, because you better be showing off your new look. Since balayage hair regrows looking more natural, put your gloves and towel away for now, because you may choose to wait a bit longer than usual before you re-up your hair color.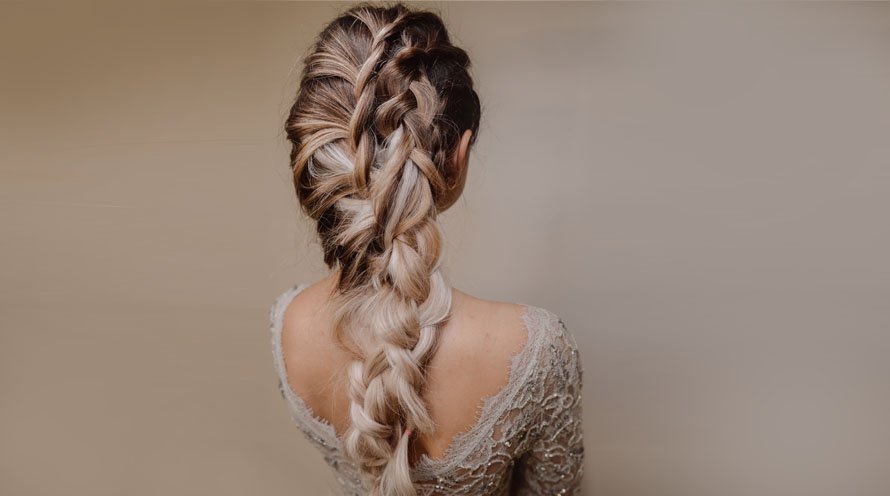 What Hairstyles Are Best for Balayage?
Balayage hair looks great in styles that help show off the color's dimensional quality. The color is natural-looking while still strong and rich enough to capture attention.

You'll need the perfect hair style to debut your exciting new hair color. For short hair, we love textured looks like a lob or long layers. As the waves move (or as you toss your hair) the balayage color is especially eye-catching. If you have medium length hair, opt for a look with movement and body to show off the dimensional color of balayage. Try a waterfall braid with curls or textured layers. To achieve the "tousled but still polished" style, towel dry your hair before blow drying. When hair is almost completely dry, add a dime-sized amount of texturizing product to help give the style a natural look. Twist and scrunch your hair as you work in the product. You'll be left with an undone hair look that matches your natural-looking balayage hair color perfectly. If you have long hair, there are so many style choices we know you'll find a favorite. We love long loose curls and tousled waves to help show off your highlight.

Another great styling choice is a unique braid, which will gather your hair together to make your new highlights look especially dimensional. Try your hand at a trending fishtail or waterfall braid for a selfie-worthy look. If you prefer an easy but still chic braid style, opt for a braided ponytail. Achieve this street style look by first pulling your hair up into a sleek ponytail. Then, simply braid the ponytail and secure it with a hair tie at the tip. The look doubles as a high fashion gym style or an easy go-to for a date night. Find the best braid for your hair length and try one of these gorgeous 15 braid ideas.

Ponytails are seriously trending, and they aren't all as simple as they seem. A multi-braided ponytail is a romantic, vintage-looking way to show off your new color. Part hair in the center and French braid the two sections of hair on either side of your head, while leaving a section of hair loose. Then, pull the braids back into a ponytail, including the loose section and both braids into one super pony. The look is seriously easy to achieve, and we promise friends will be asking you for braiding tutorials. Try any of these 11 cute ponytail hairstyles to take your balayage to the next level.

Balayage is also a great way to make a statement on a special day. Try a French braid or textured ponytail to show off your luxurious new color on your wedding day. Hair accessories like pearls or hairclips help get a style ready to walk down the aisle. Our teenage hair gurus can even try balayage hair for prom. Try a chic braid at the crown of the head, a half up, half down rose-inspired bun, or a side fishtail braid.

No matter how you style your new hair, we have a feeling you'll be getting compliments wherever you go. Welcome to the silky, shiny, natural-looking world of balayage!