12 Cute Hairstyles for School
Cute Hairstyles for Short, Medium and Long Hair
The start of the school year is like mini New Years: You get a new locker, clean notebooks, and a fresh start on your grades. (The only thing that's not totally new: All of your friends.) With that in mind, it's the perfect time to try out easy hairstyles for school. The key to good back to school hairstyles is checking off a few boxes: They have to be pretty (obviously), can only look complicated—since your studying should be for chem class, not your hairstyle—and fast enough that you can do them even if you accidentally hit the snooze button one too many times. After all, the last thing you want is to be late to class on your first day back to school. And with these ideas for new school hairstyles, you won't be.
Dutch-and-Fishtail Braid Combo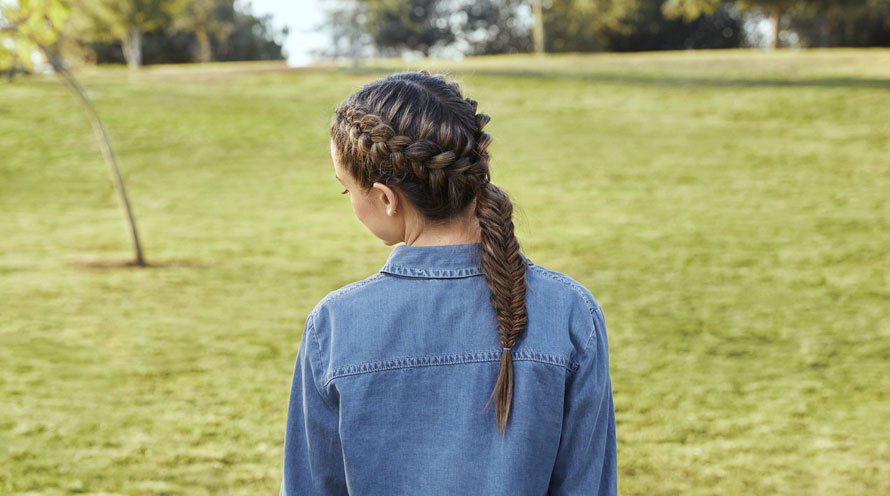 If you're the person your friends always text when they need help testing out a new braid hairstyle—or you just want to show off serious hairstyling skills—look no further than this combo braid. The genius of this is that it's customizable. You can opt to do the Dutch braids, the fishtail braid, or both. First, part your hair in the center. Pin one section so it's out of your way, and then do a Dutch braid with the other, stopping and securing it with a hair tie when you reach the nape of your neck. Repeat with the other section and combine the two braid tails. Then, if you have the time (or want to go the extra mile) you can fishtail braid it, securing it at the ends with another hair tie.
Loose Curly Updo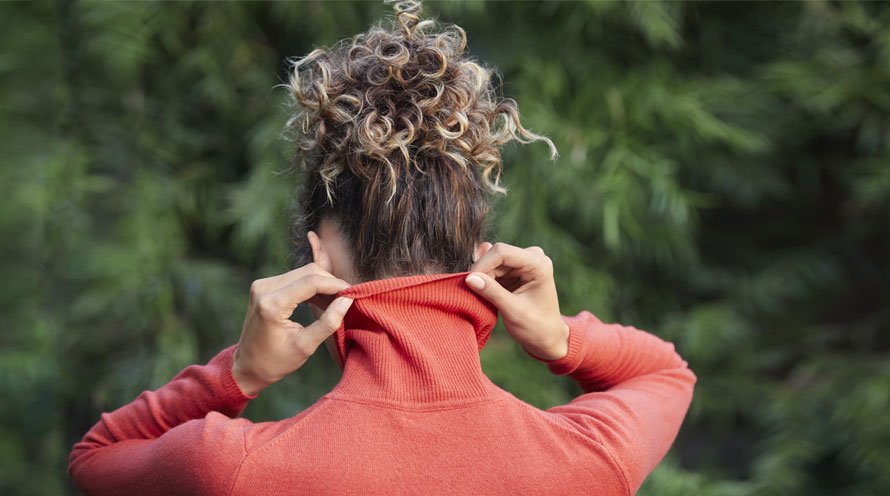 You can make the most of your naturally curly or wavy hair with an updo that shows them off. And not only do you not need long hair to pull it off, but it's also the perfect way to wrangle second- or third-day curls. Bonus: It makes for a cute option for a prom hairstyle, too. First, spray Fructis Curl Renew Reactivating Milk Spray through your hair to hydrate and add definition to curls. Gather it at the crown of your head and secure it with a hair tie. Then, loosely pin random sections of hair at the base of the ponytail, creating a bun-like look. It gives you the ease and convenience of a hair bun while highlighting your curls.
Braided Ponytail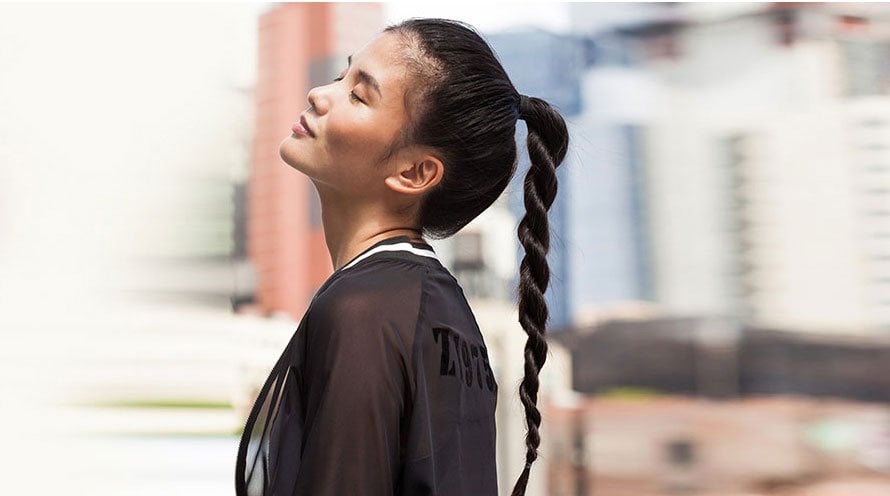 Going straight to a track meet after school? Take this braided ponytail for a test run. It not only looks cute when you're sitting in study hall, but it also keeps hair secure enough for any and all activities. First, part your hair to the side. On the deeper side, take a section of hair starting at the hairline and do a Dutch braid back to the crown of your head. Once it's long enough that you can secure it in a ponytail, use an elastic hair tie to anchor all your hair in a single ponytail. To ensure it doesn't move whenever you do, spray it with Fructis Sleek & Shine Anti-Humidity Hairspray, which creates a barrier around strands of hair.
Get This Look
Get This Look
Garnier Fructis
Sleek & Shine Anti-Humidity Aerosol Hairspray
Instant barrier against frizz.
Twisted Ballerina Bun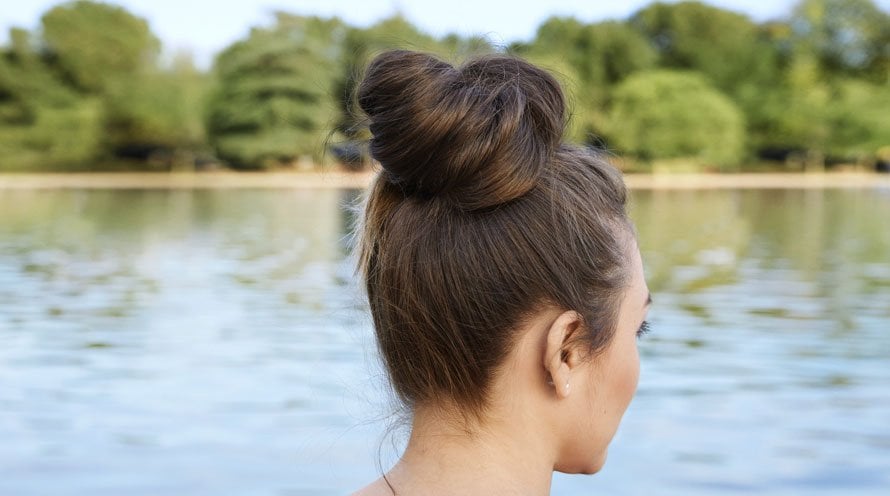 One of the most elegant long hair styles out there, a ballerina bun isn't for ballerinas only. Not only does it look incredibly pretty, but this hairstyle is also simple enough to pull off on even the most chaotic school morning. To take your top knot to new levels, pull your hair into a high ponytail at the very crown of your head. Then, for hair hold and definition, work a small amount of Pure Clean Finishing Paste through the length of your ponytail for clean hair definition with zero stickiness. Wrap your ponytail in a bun, twisting it as you go and keeping it loose. Pin the end in place and tuck any stray hairs into the bun for a clean, polished look.
Sleek Ponytail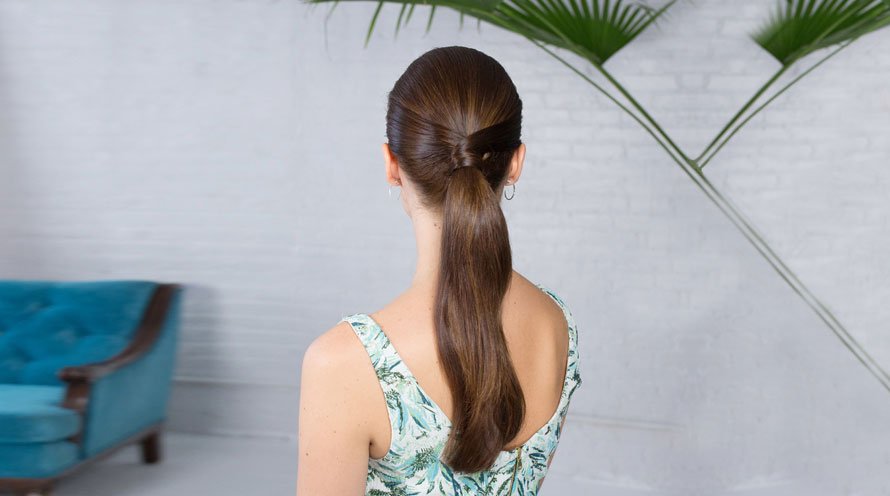 Ponytails have never looked cooler than with this super-smooth, sleek hairstyle. (Expect classmates to copy it—it's inevitable.) To make sure it stays this shiny, spray Fructis Frizz Guard Anti-Frizz Dry Spray all over your hair and brush it through. (It seals your hair and takes down flyaways for your smoothest hair yet.) Separate a section of hair from just above your ear and repeat on the other side. Pull your remaining hair into a low ponytail. Then, wrap one of the sections around the base of the main ponytail, pinning the end to secure it. Repeat with the other side.
Get This Look
Get This Look
Half Up Half Down Messy Bun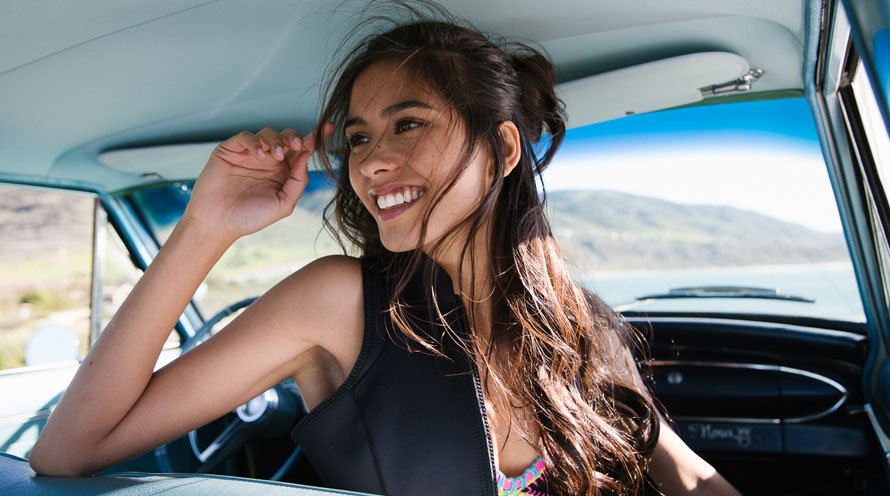 One of the easiest long hairstyles for school out there, a breezy, half up half down bun is perfect when you're dealing with a late morning or want a cute air dry hairstyle. Plus, it works whether you have wavy or curly hair, and the casual vibe makes it perfect for keeping the summer feeling alive through September. Work Fructis Air Dry Anti-Frizz Cream through damp hair, which will keep hair smooth as it dries. Then, sweep the top half of your hair back into a loose, messy bun, and use your fingers to pull out a few pieces around your face.
Get This Look
Get This Look
Double Twisted Ponytails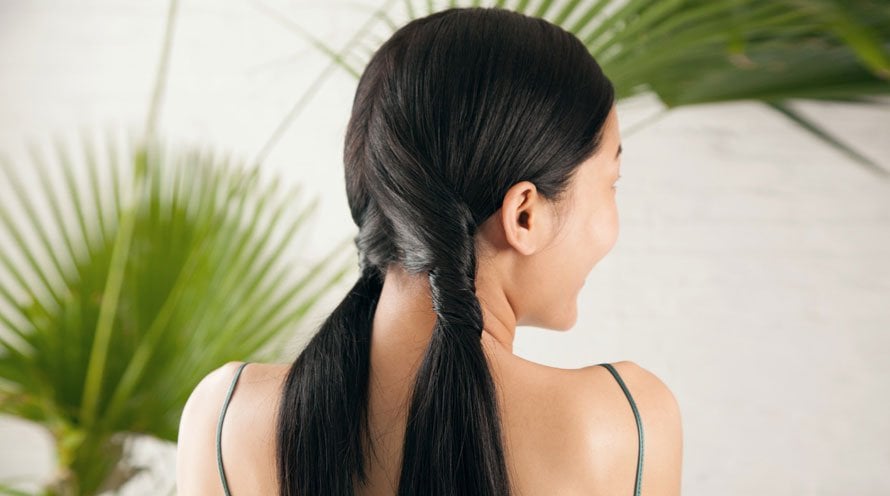 Upgrade your basic ponytails for a school dance with this sleek, twisted pair of ponytails. Start by working Fructis Flat Iron Perfector Straightening Mist, which is infused with Moroccan argan oil, through your hair before styling it to help fight hair frizz. Blow-dry and straighten your hair before parting it in the center. With one half of your hair, take a smaller section from the center of the back of your head and tightly wrap it around the rest, securing it part of the way down with a pin. (Hide it on the underside so it isn't visible.) Repeat on the opposite side.
Half Up Half Down Hairstyle With A Barrette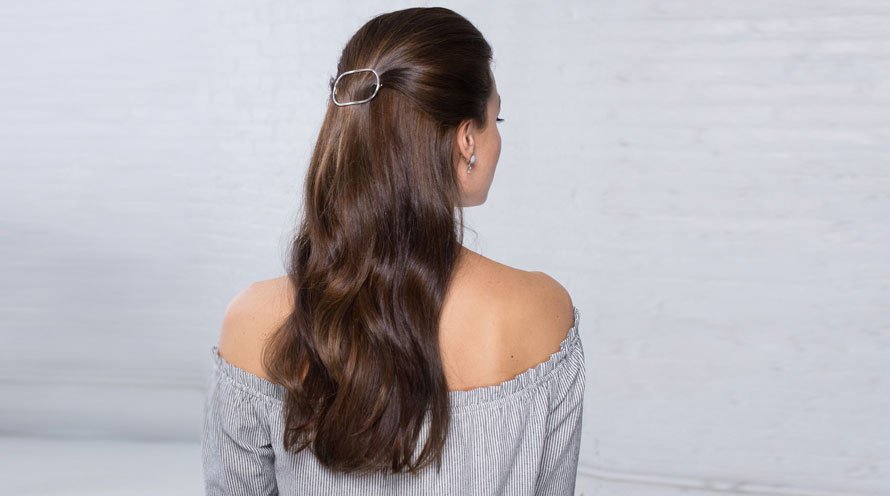 Hair accessories, like headbands and barrettes, can add instant polish to back to school hairstyles. Take this half up half down hairstyle. It's pretty as is, but adding a delicate barrette takes it up a notch. First, prep damp or dry hair with Fructis Curl Sculpt Conditioning Cream Gel, which defines waves and curls in textured hair. Then, take two sections from just above either ear and secure them with a hair tie at the back of your head. Brush your hair at the crown towards the back so it lies over the elastic, and then secure it with the barrette. The elastic should be totally hidden for the most polished effect.
Double French Braids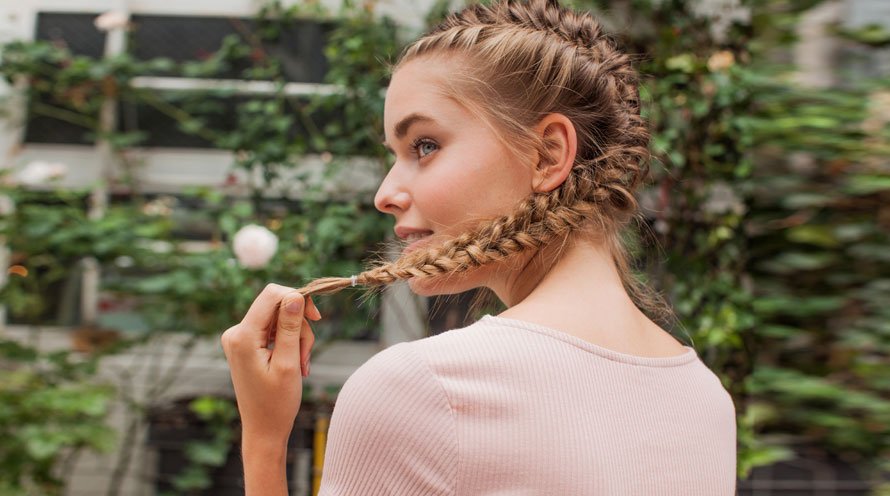 It's a classic for a reason, which is why it's top of its class among cute easy hairstyles for school. And it looks impressive, doesn't actually take that much work or skill, and is a great way for styling bangs so they stay out of your face while you're studying. To add hair shine and combat frizzy hair, prep damp or dry hair with Fructis Anti-Humidity Smoothing Milk, which has a hair milk formula infused with Moroccan argan oil. Then, part your hair in the center and French braid each side, beginning at the hairline and including any bangs you might have. It's that simple.
Half Up Half Down Bun for Short Hair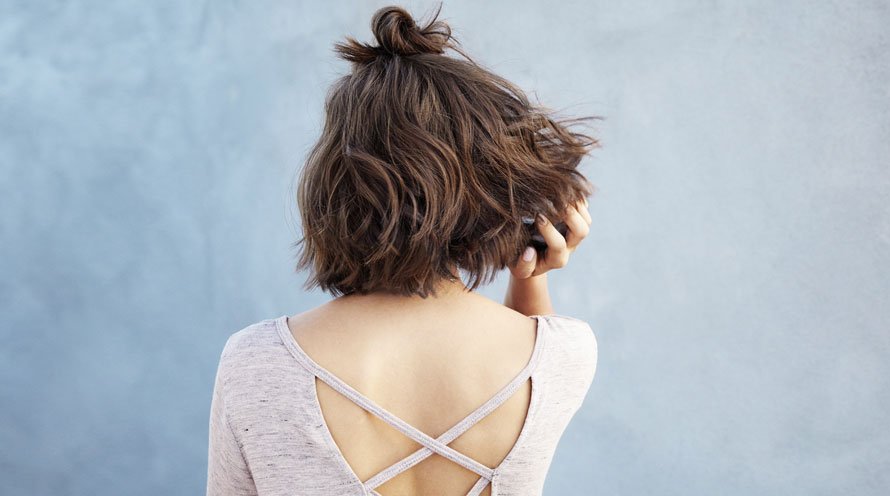 Have a short or lob hairstyle? You can still try a top knot, which could easily be voted Most Popular among easy hairstyles for school. The trick is to keep it simple with just a half up half down bun paired with loose, wavy hair. So to get it, prep damp hair with Fructis Curl Shape Defining Spray Gel and scrunch it in with your fingers. Then, take a section of hair at the crown of your head and twist it into a little top knot, securing with a hair tie. The messier it looks, the better the effect, so don't worry about trying to make it look perfect. For even more easy short hairstyle ideas, check out these cute hairstyles for short hair.
Simple Low Ponytail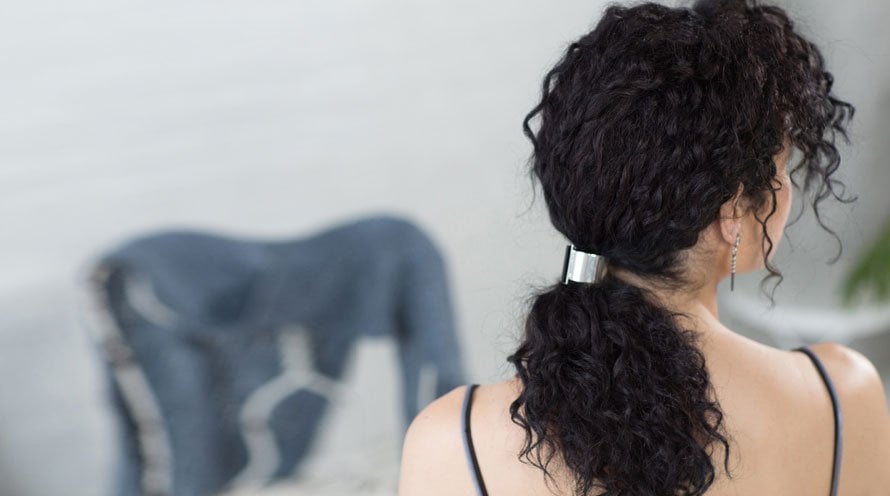 Nothing upgrades a ponytail quite like a polished, well-placed hair accessory. Ponytails, which can seem like a hairstyle cop out unless you're coming from the gym, are beloved for their ease and accessibility, since you can do one no matter what your hair texture or length (besides the very short). And, when you're hitting snooze for the fourth time, it helps to know that you can get your hair done and be out the door in a few minutes flat with this quick hairstyle. To start, scrunch damp or dry hair with Fructis Curl Construct Creation Mousse, which defines curls and waves and prevents frizzy hair. Then, just gather your hair back and secure it with a pretty hair accessory. Use your fingers to fluff up the hair at your crown so it's not pulled so tightly, which makes it look more purposeful (and as though you spent a ton of time on it—even though we both know you didn't).
Side French Braid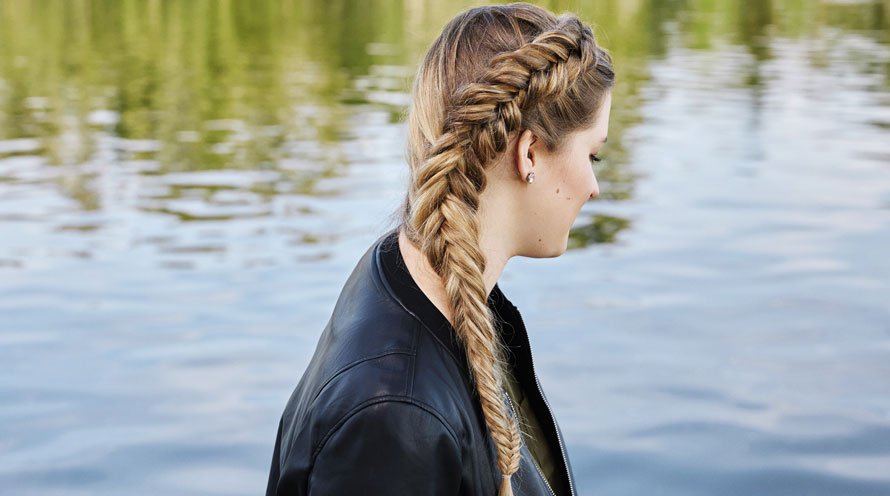 Cute hairstyles for school don't get better than a side French braid. What makes this look fresh is the loose, airy texture of your hair. Begin to French braid your hair from your hairline, making sure not to pull each section too tightly. Continue it to the ends, angling it to one side, and secure it at the bottom with a small hair tie. If you need a little practice, here's your homework: Check out our hair tutorial. And if you find this way too easy, take a peek at more braid hairstyle inspiration.