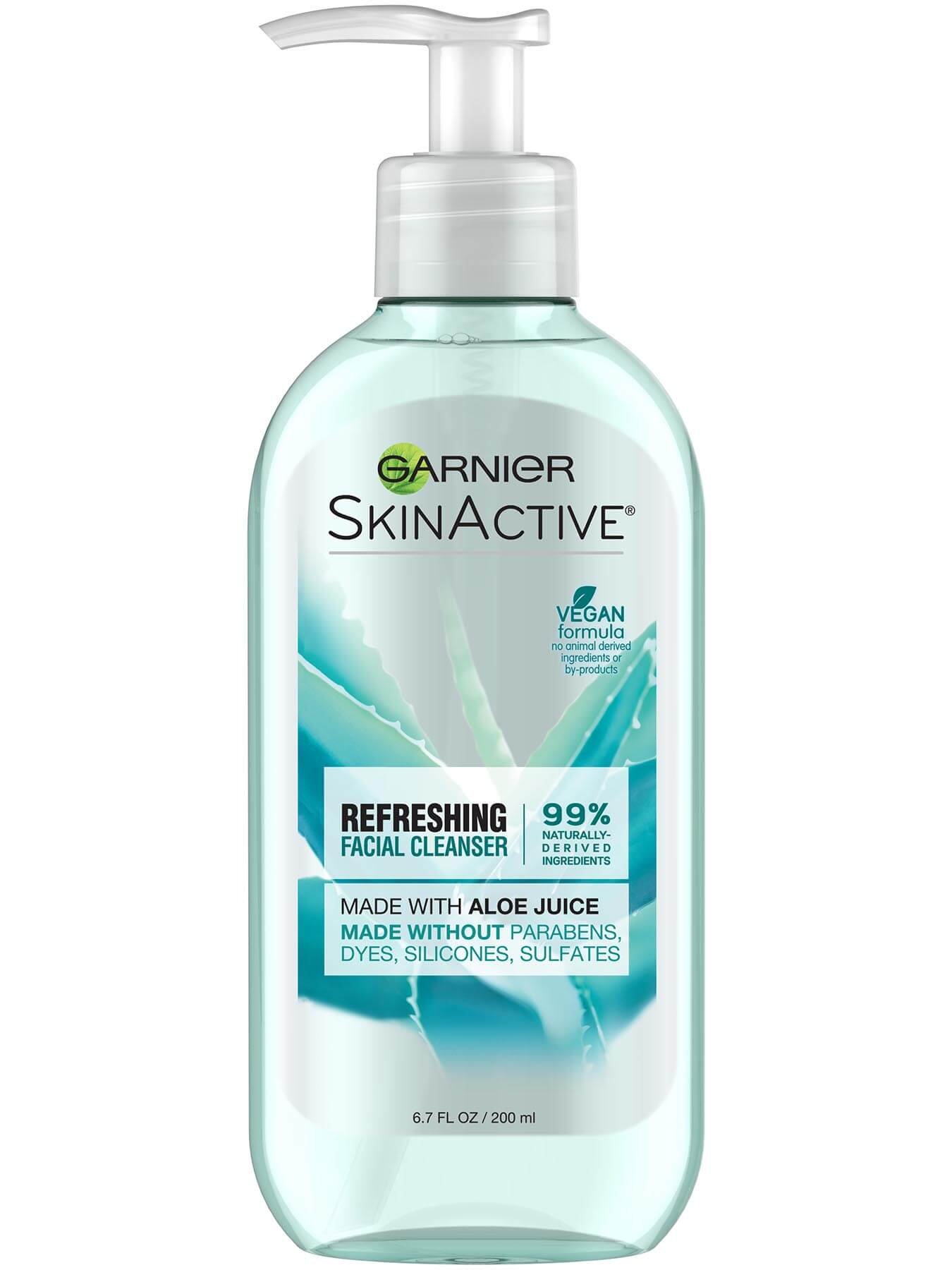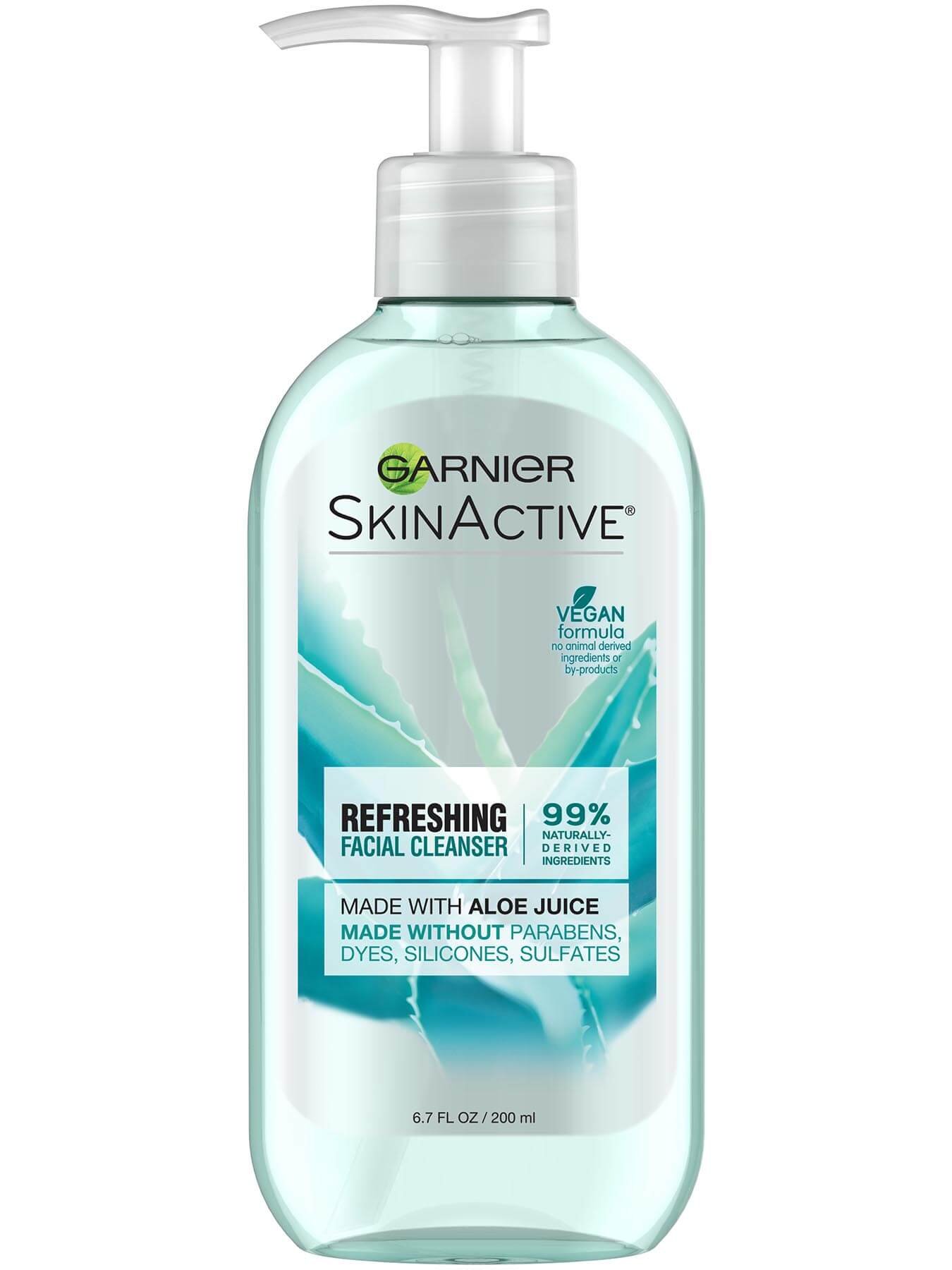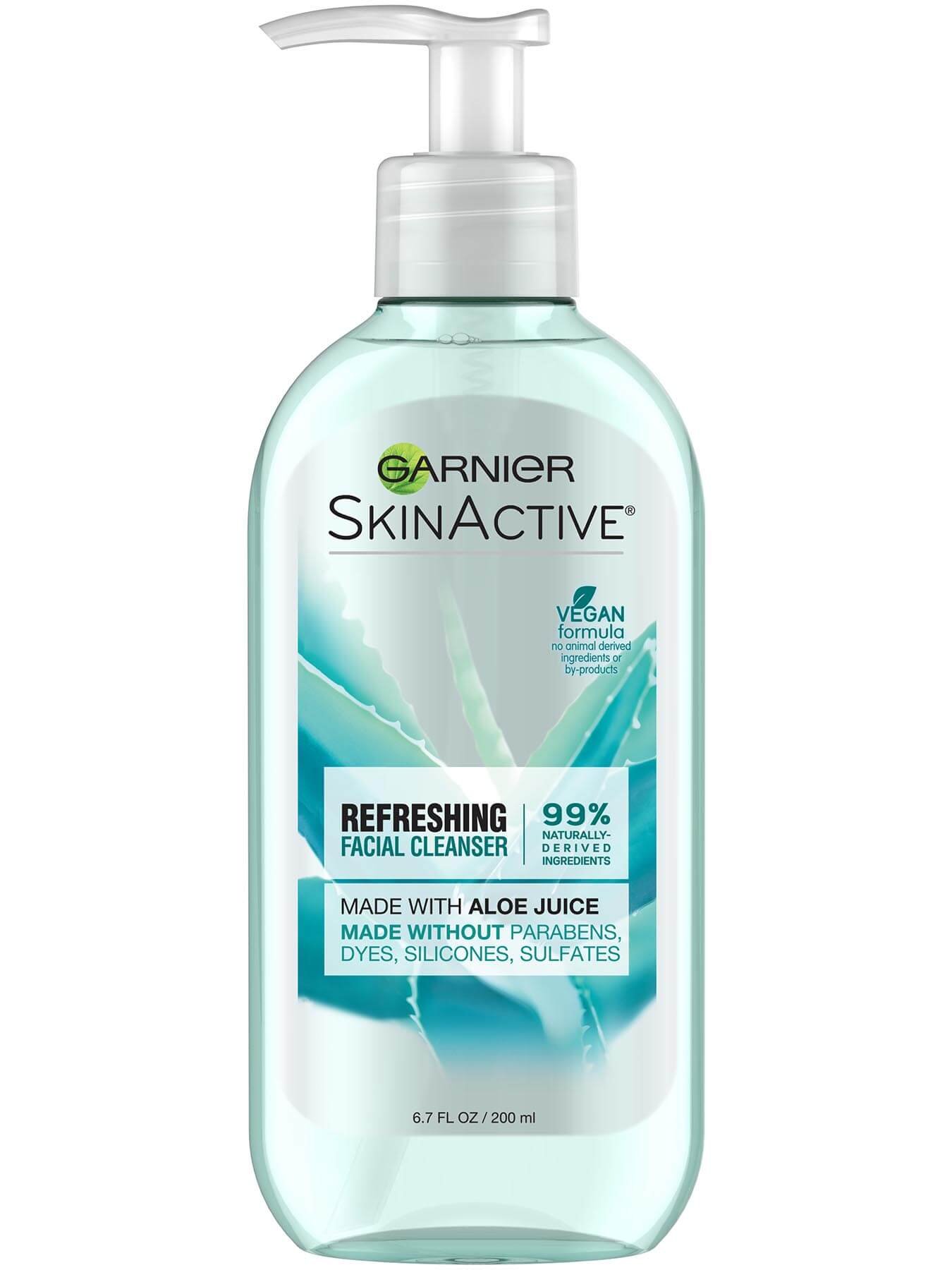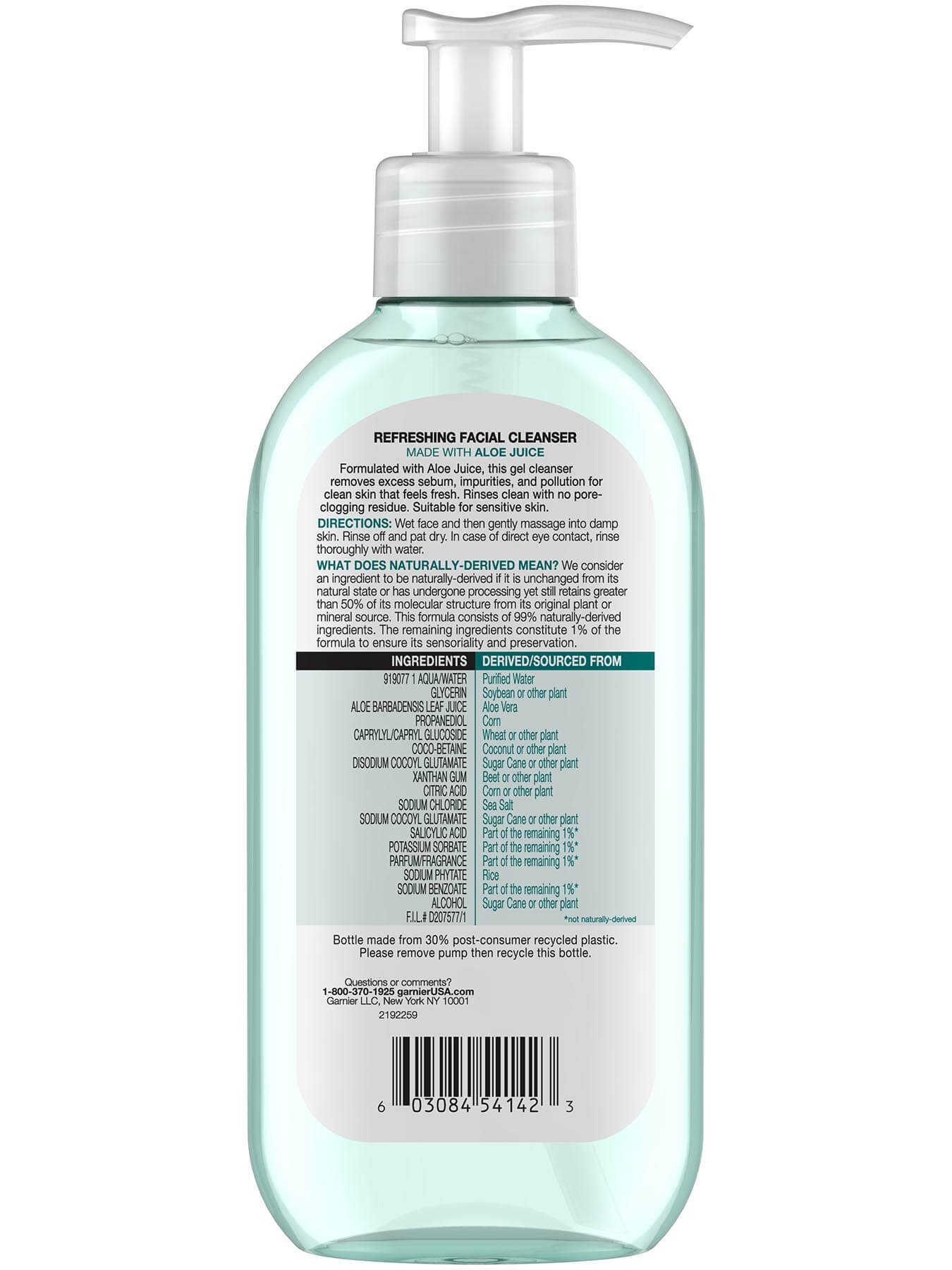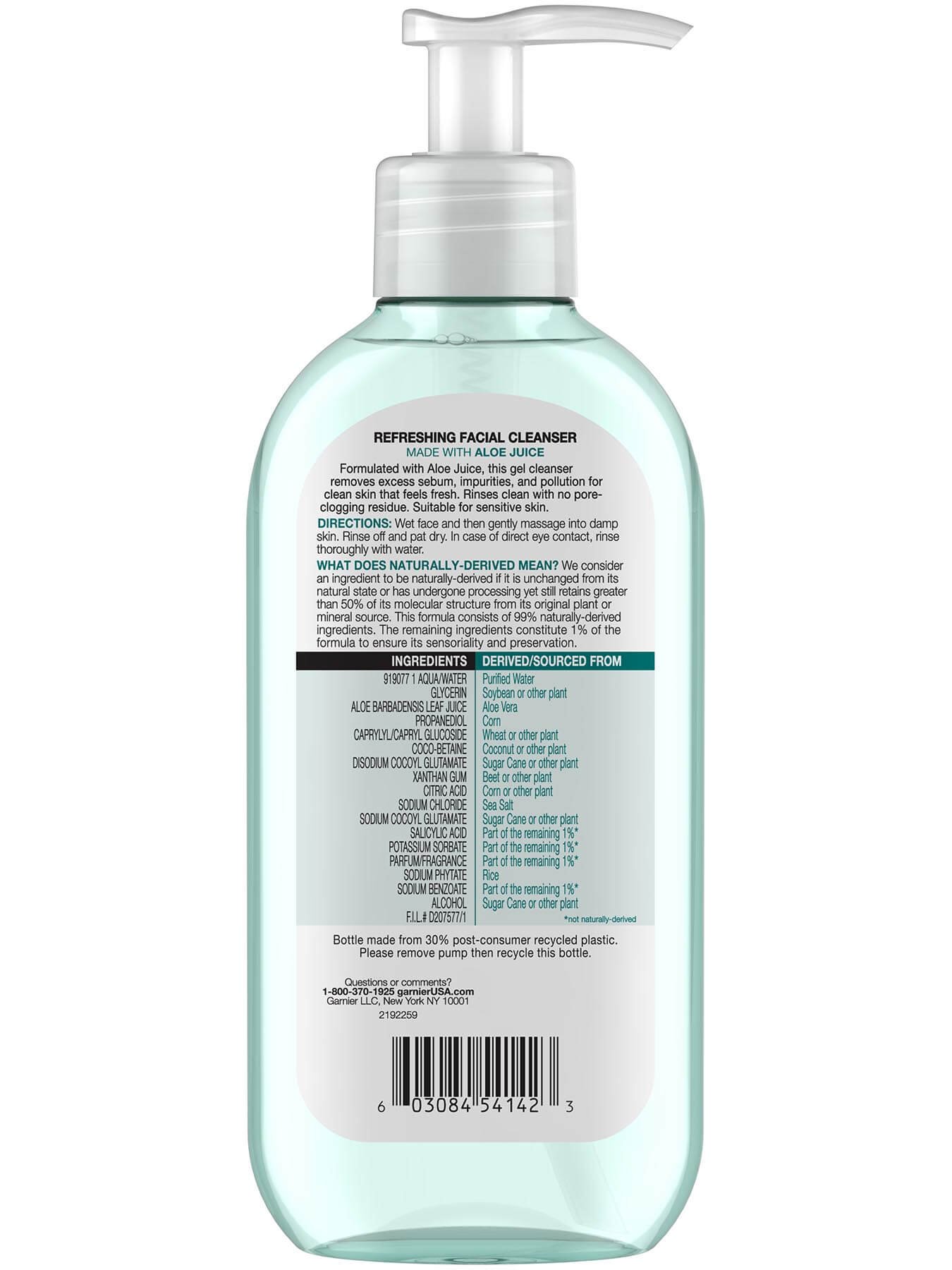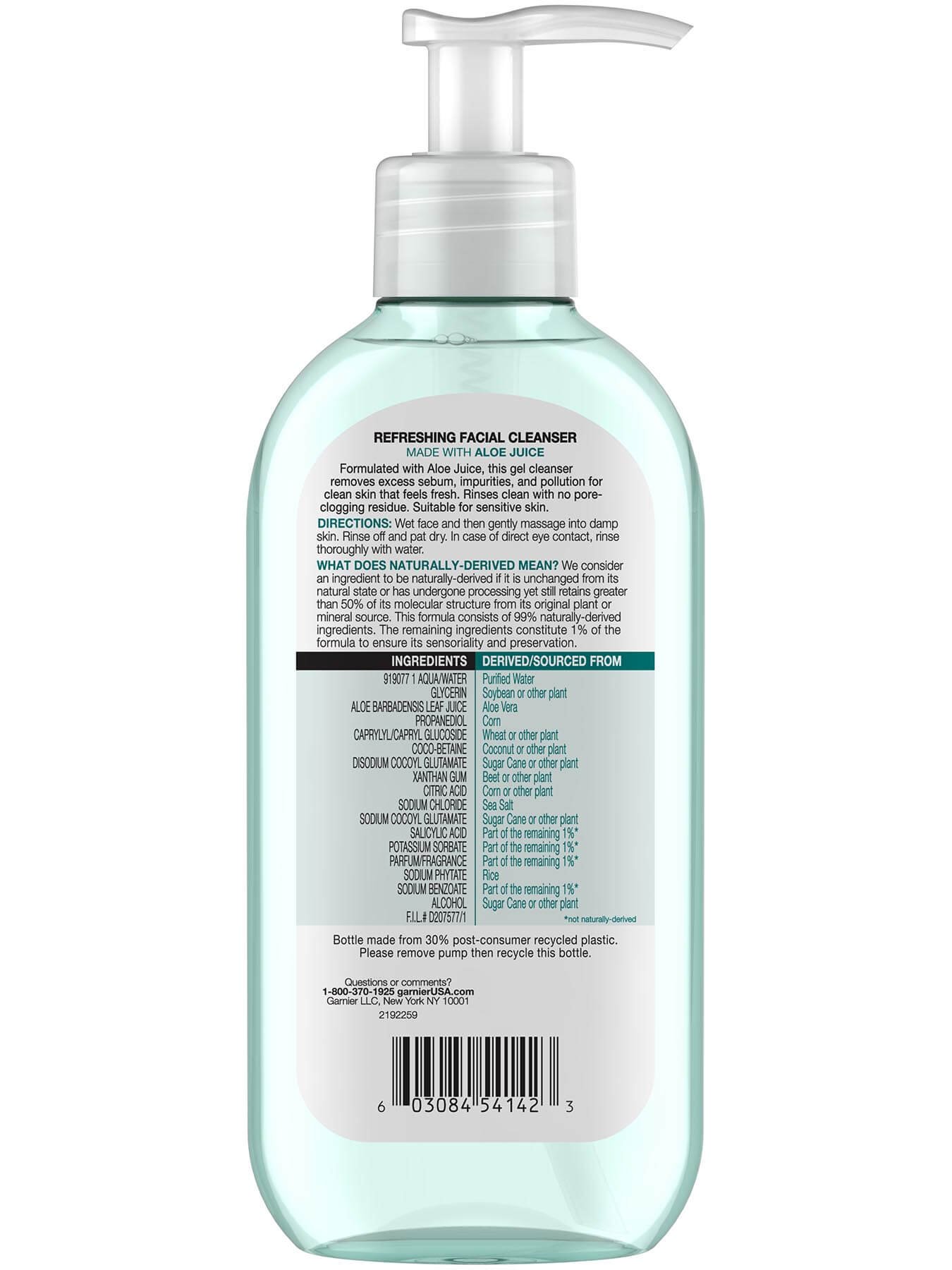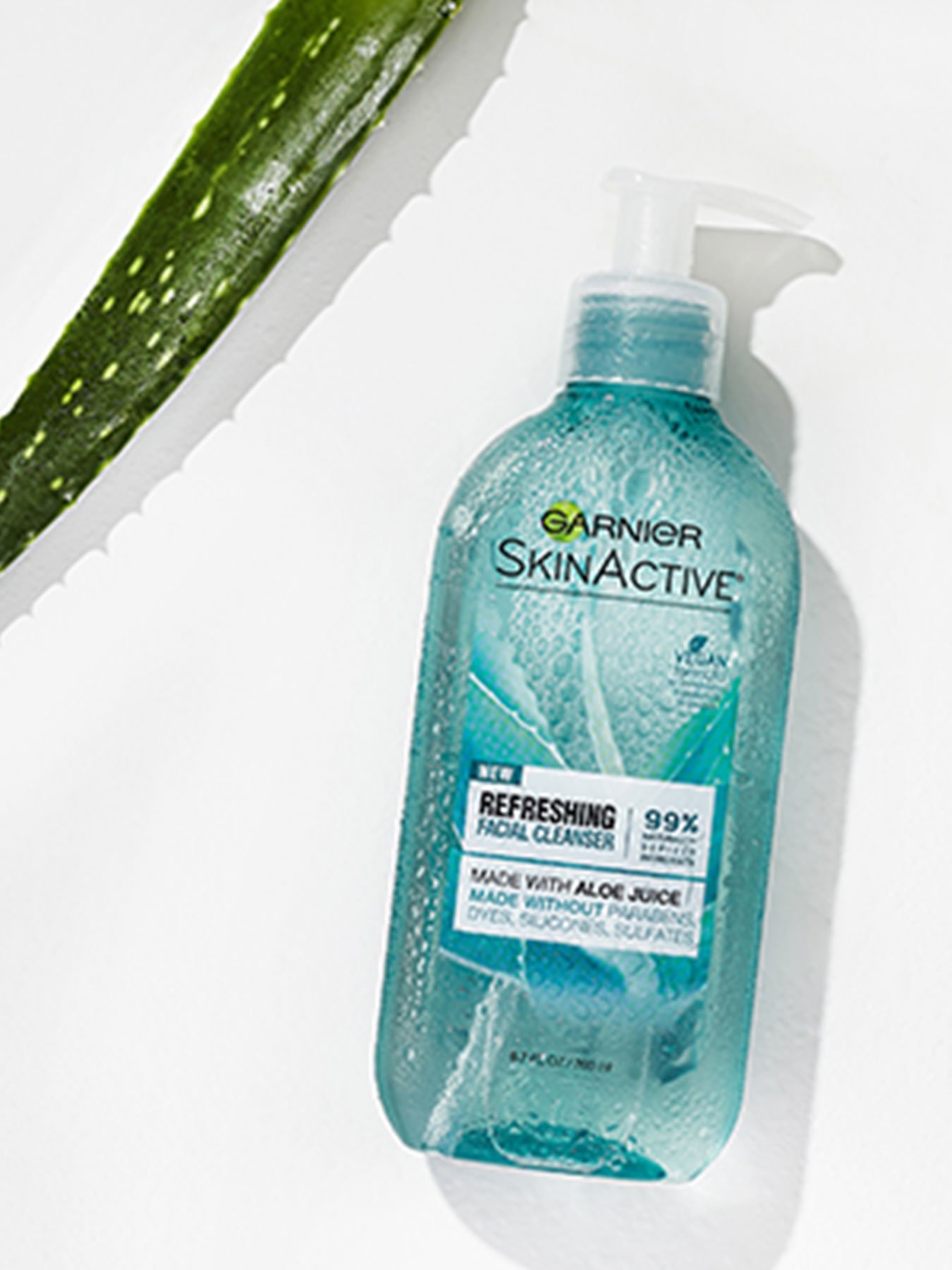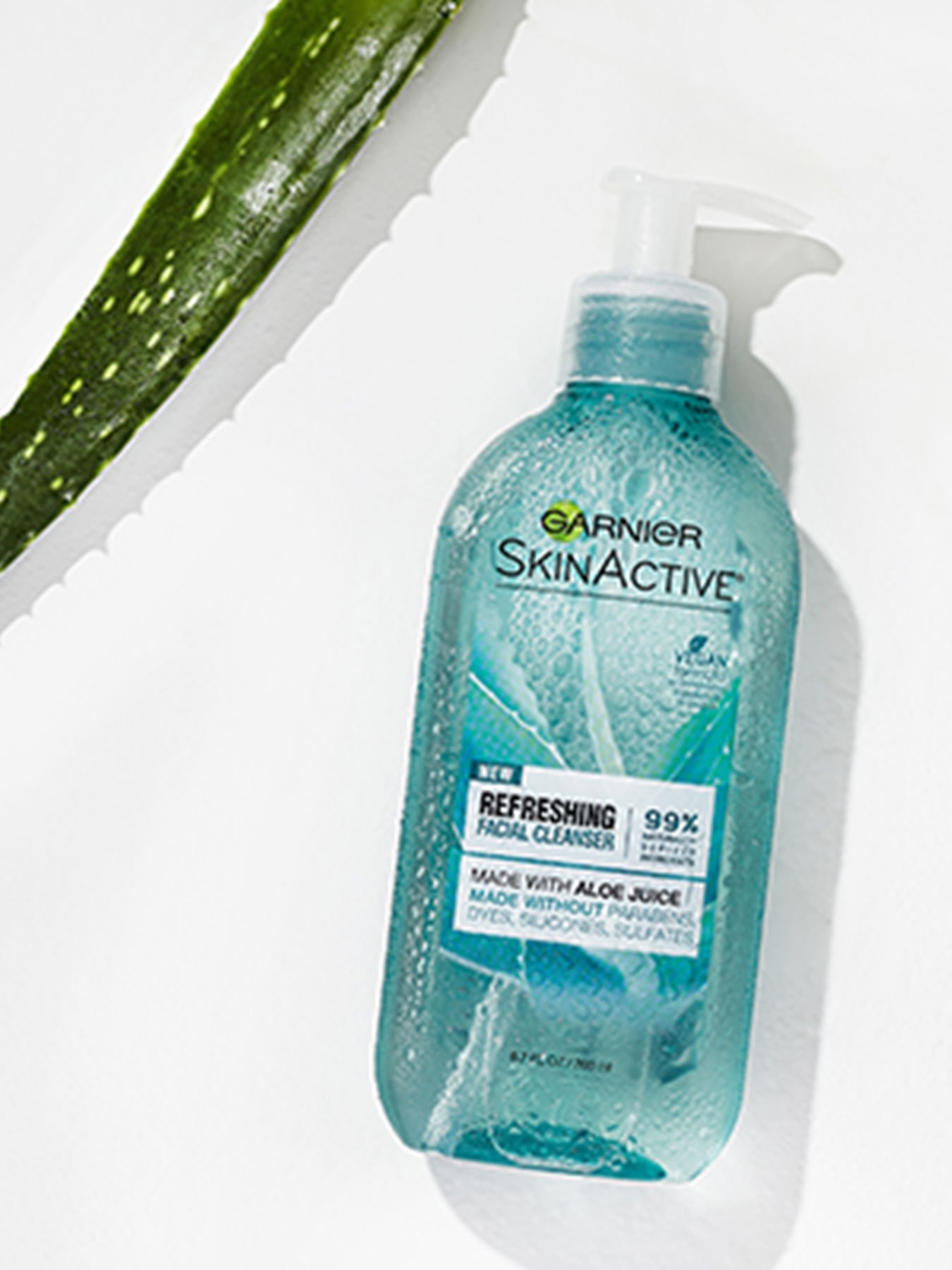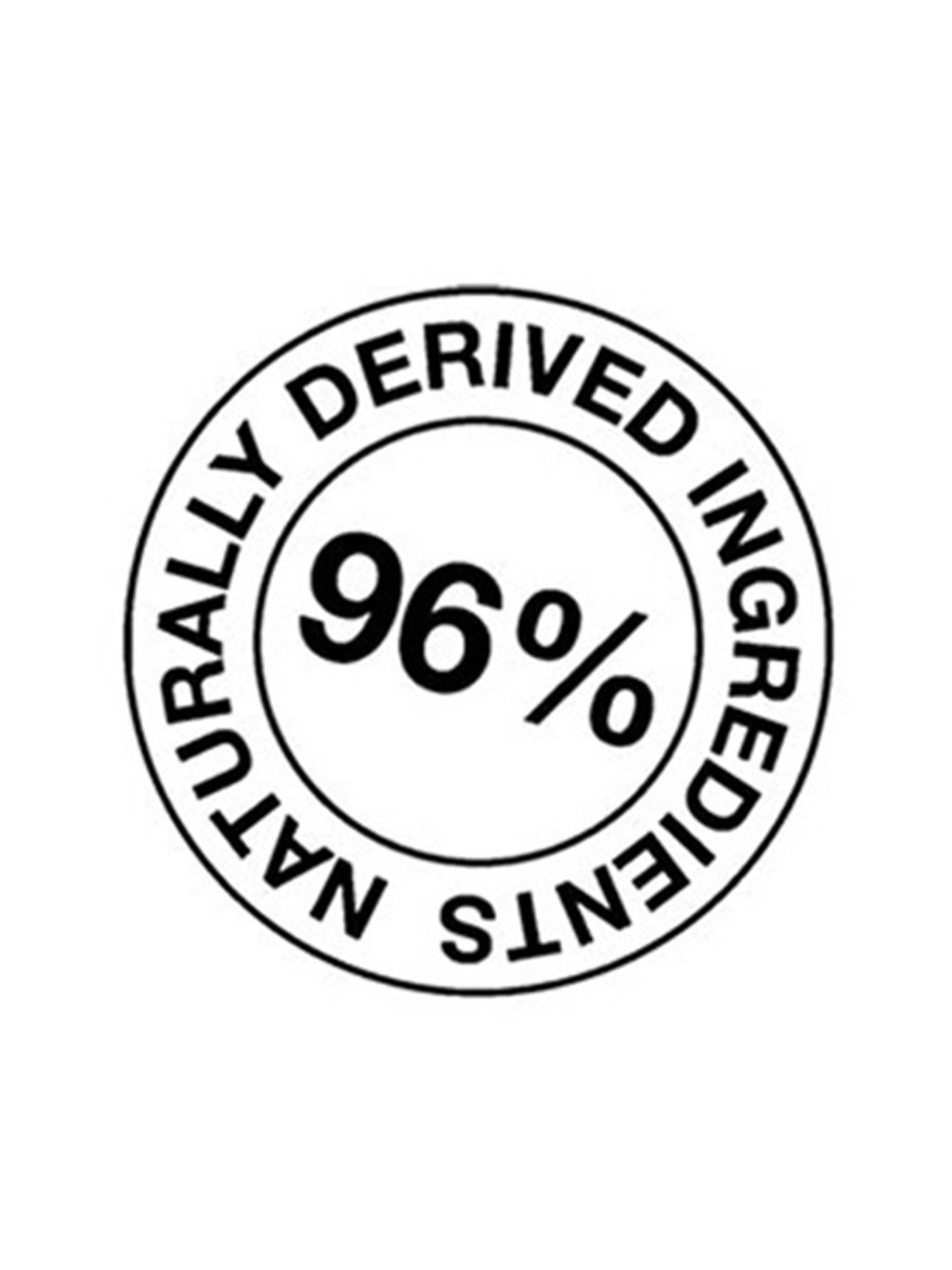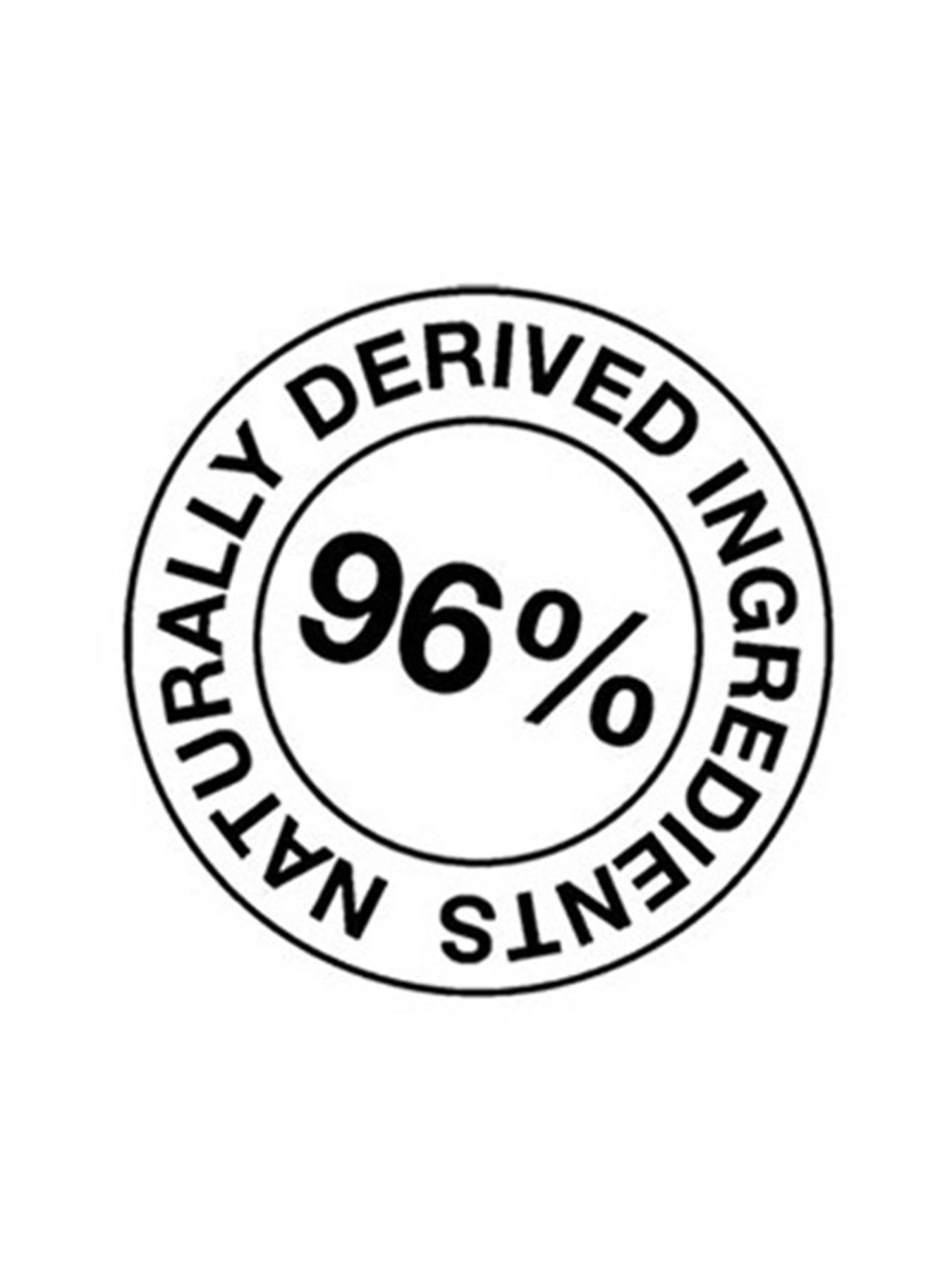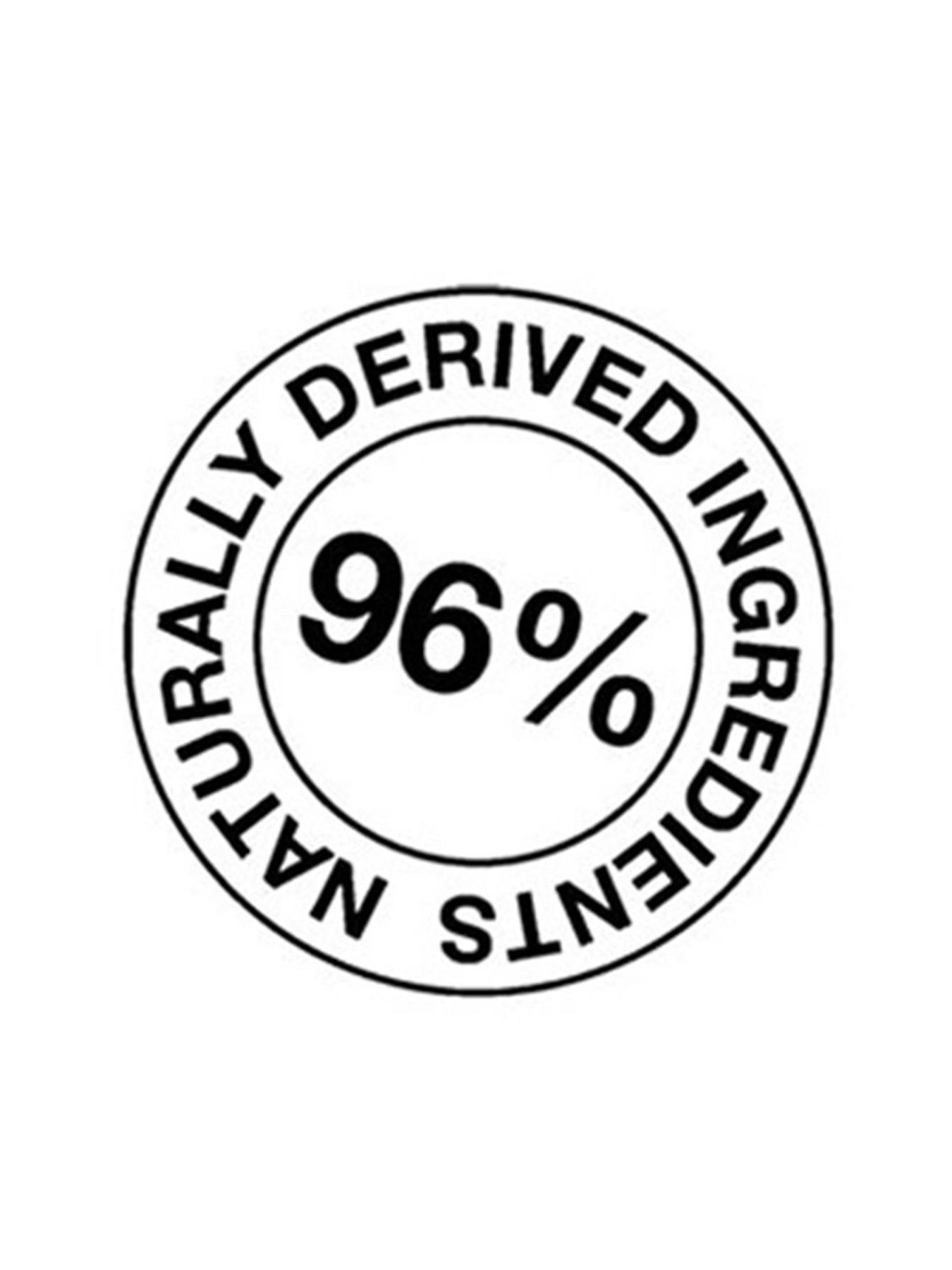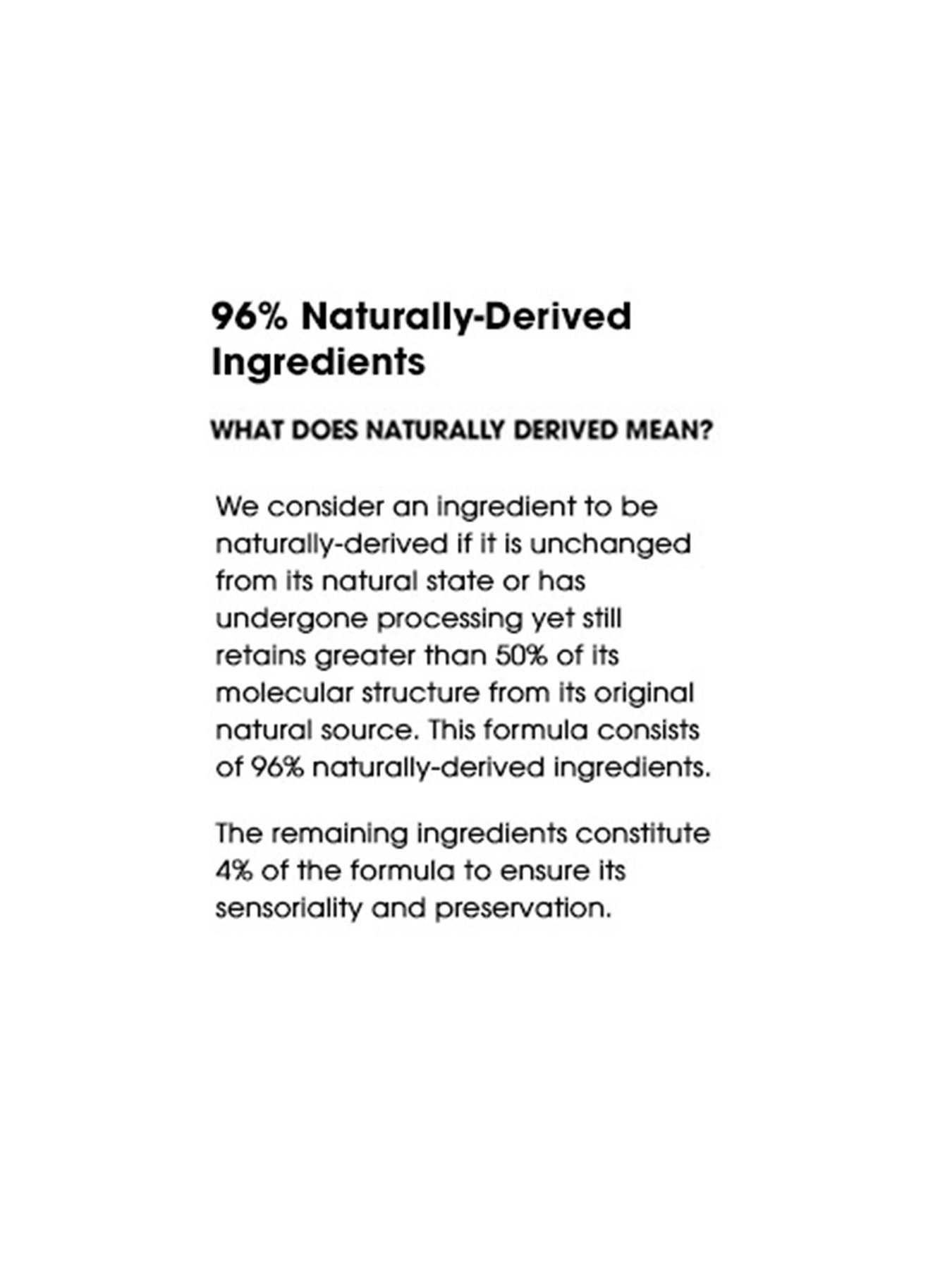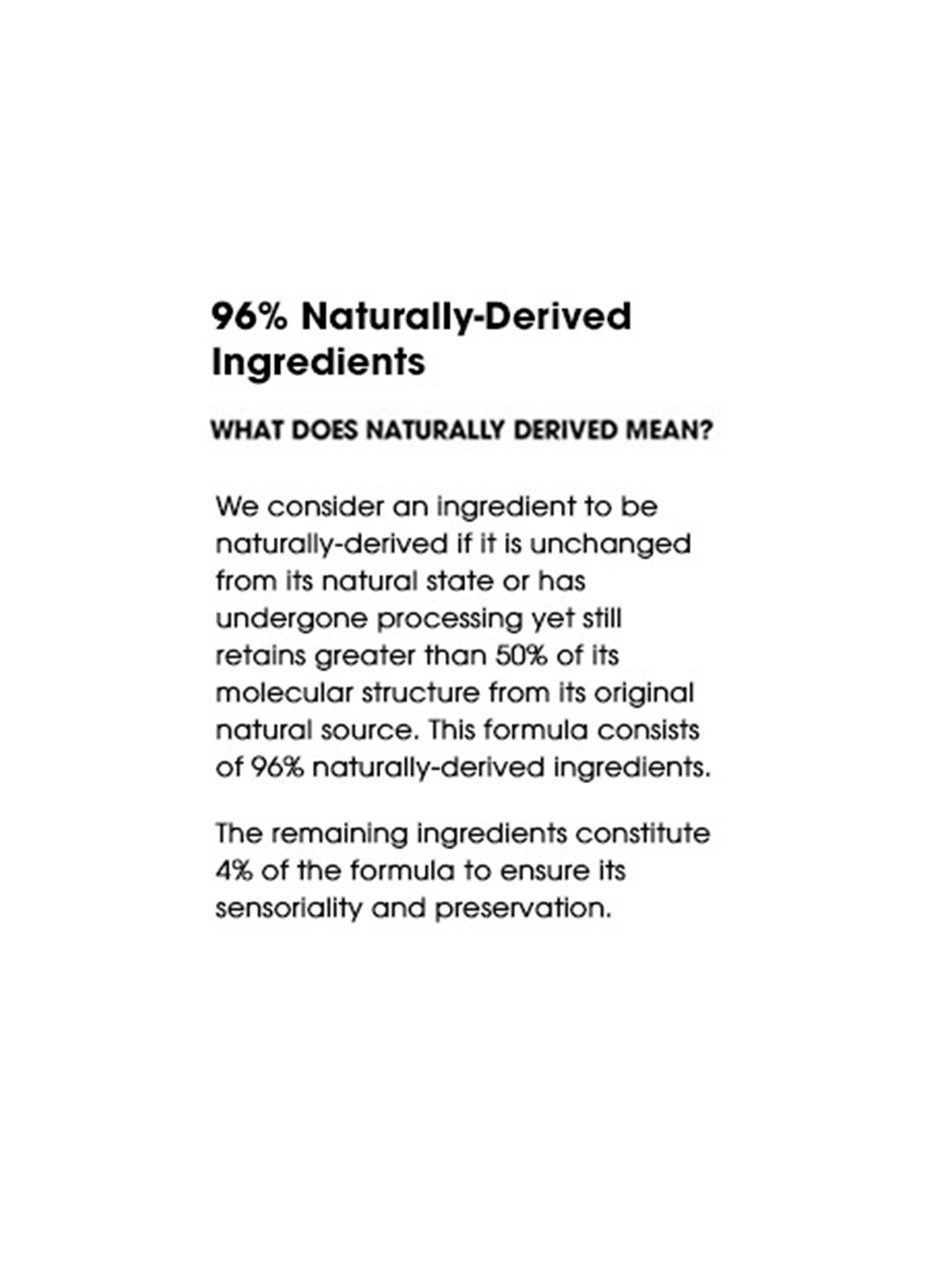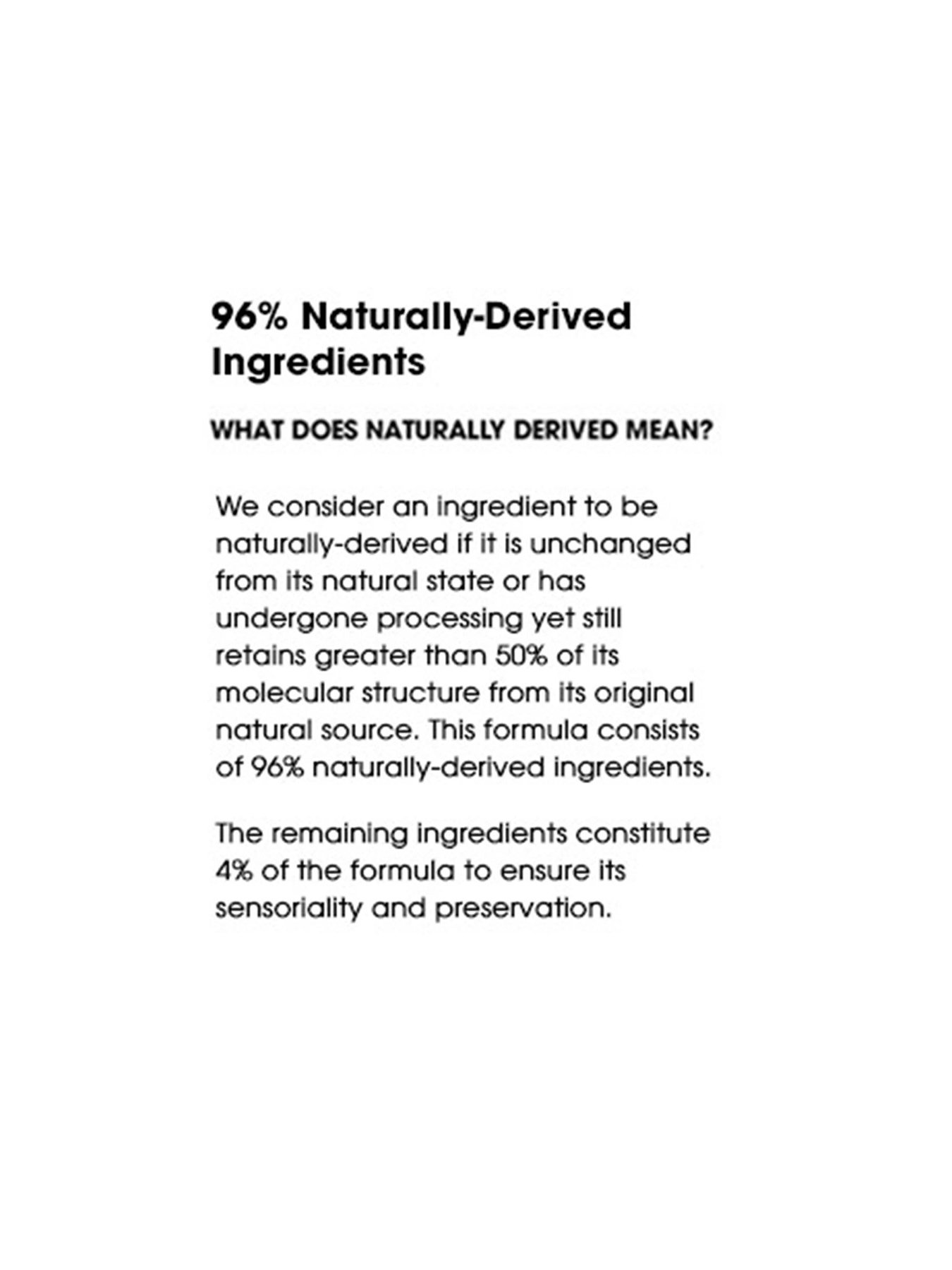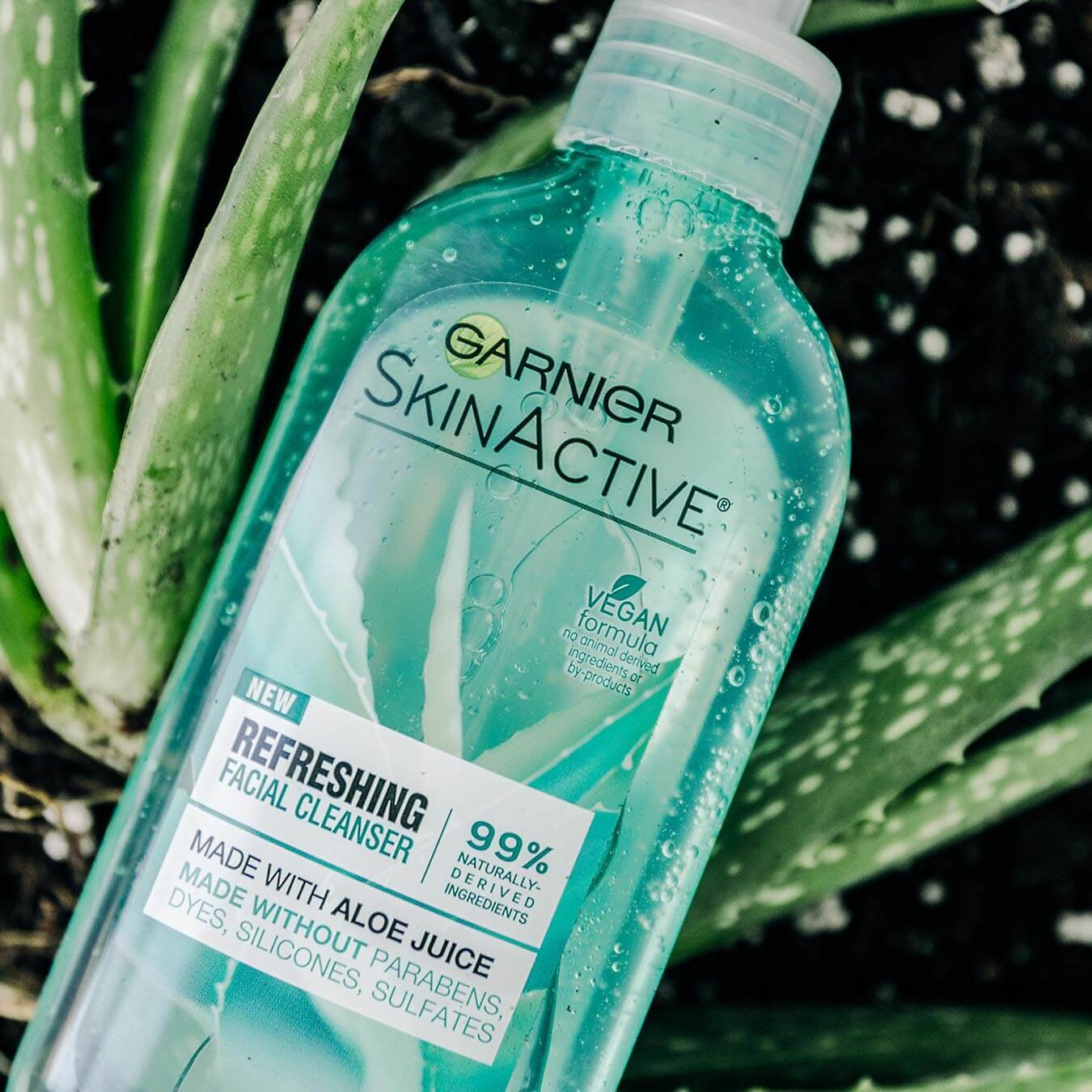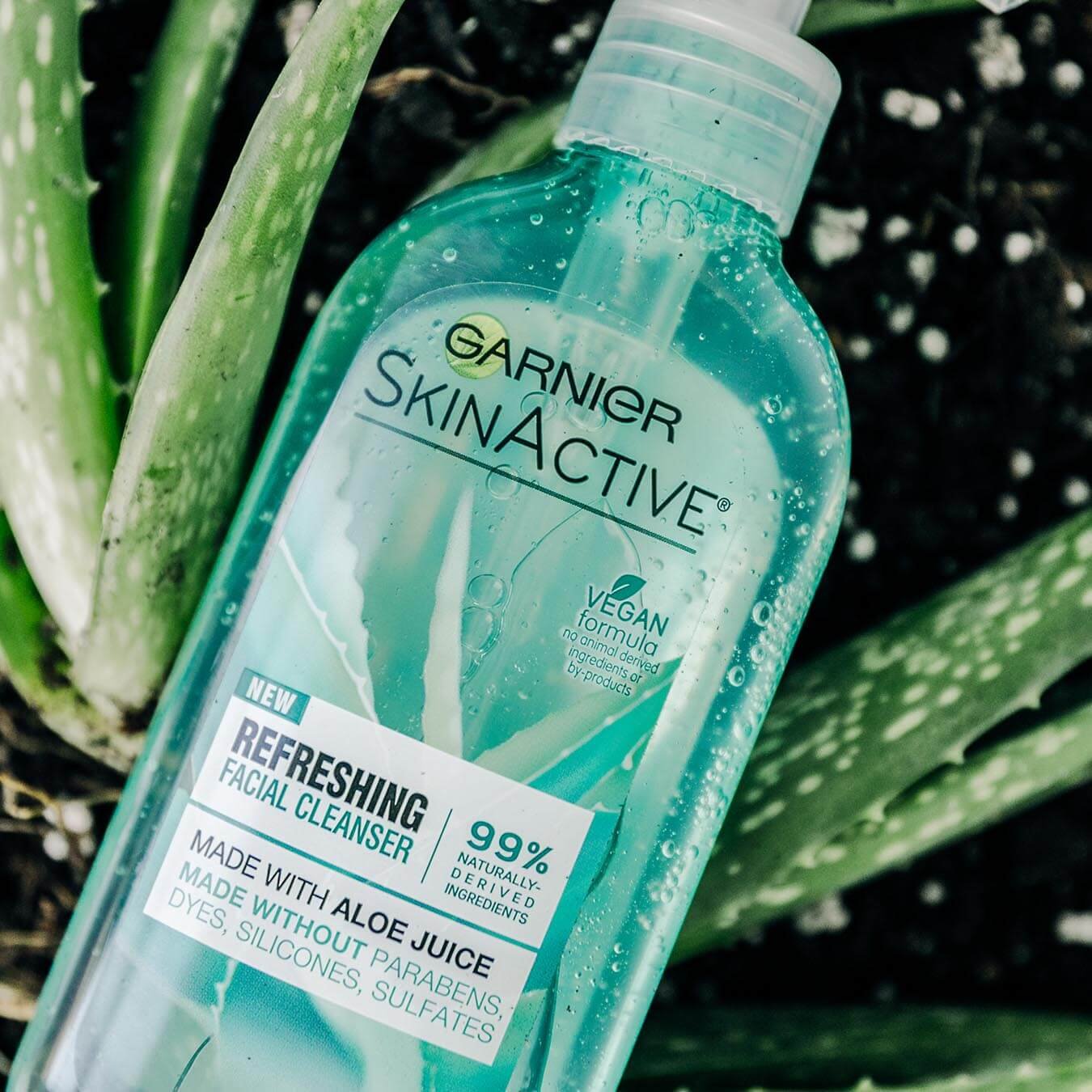 Garnier SkinActive
Refreshing Facial Wash with Aloe
$8.99 MSRP
Removes excess sebum, impurities, and pollution for clean skin that feels fresh
you have added this item to your cart.
View Cart
PRODUCT INFORMATION:
Made with Aloe Juice, this gel face wash removes excess sebum, impurities, and pollution for clean skin that feels fresh. Rinses clean with no pore-clogging residue. Suitable for sensitive skin.
How to use:
Wet face and then gently massage into damp skin. Rinse off and pat dry. In case of direct eye contact, rinse thoroughly with water.
Ingredients:
919077 1 AQUA/WATER GLYCERIN ALOE BARBADENSIS LEAF JUICE PROPANEDIOL CAPRYLYL/CAPRYL GLUCOSIDE COCO-BETAINE DISODIUM COCOYL GLUTAMATE XANTHAN GUM CITRIC ACID SODIUM CHLORIDE SODIUM COCOYL GLUTAMATE SALICYLIC ACID POTASSIUM SORBATE PARFUM/FRAGRANCE SODIUM PHYTATE SODIUM BENZOATE ALCOHOL F.I.L.# D207577/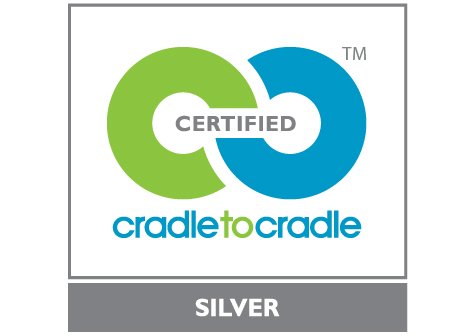 Garnier SkinActive Recognized for Sustainability Efforts with Cradle to Cradle Certification
The international organization Cradle to Cradle has awarded 5 Garnier 96% Naturally-Derived skincare products with a Silver Certification, confirming these sustainably-produced products are a positive force for society and the environment. From sustainable ingredients to the production process and packaging, boost your beauty routine with products that promote renewable resources and social fairness.

Garnier's commitment to beauty responsibly: good for you, good for the planet.
Related Products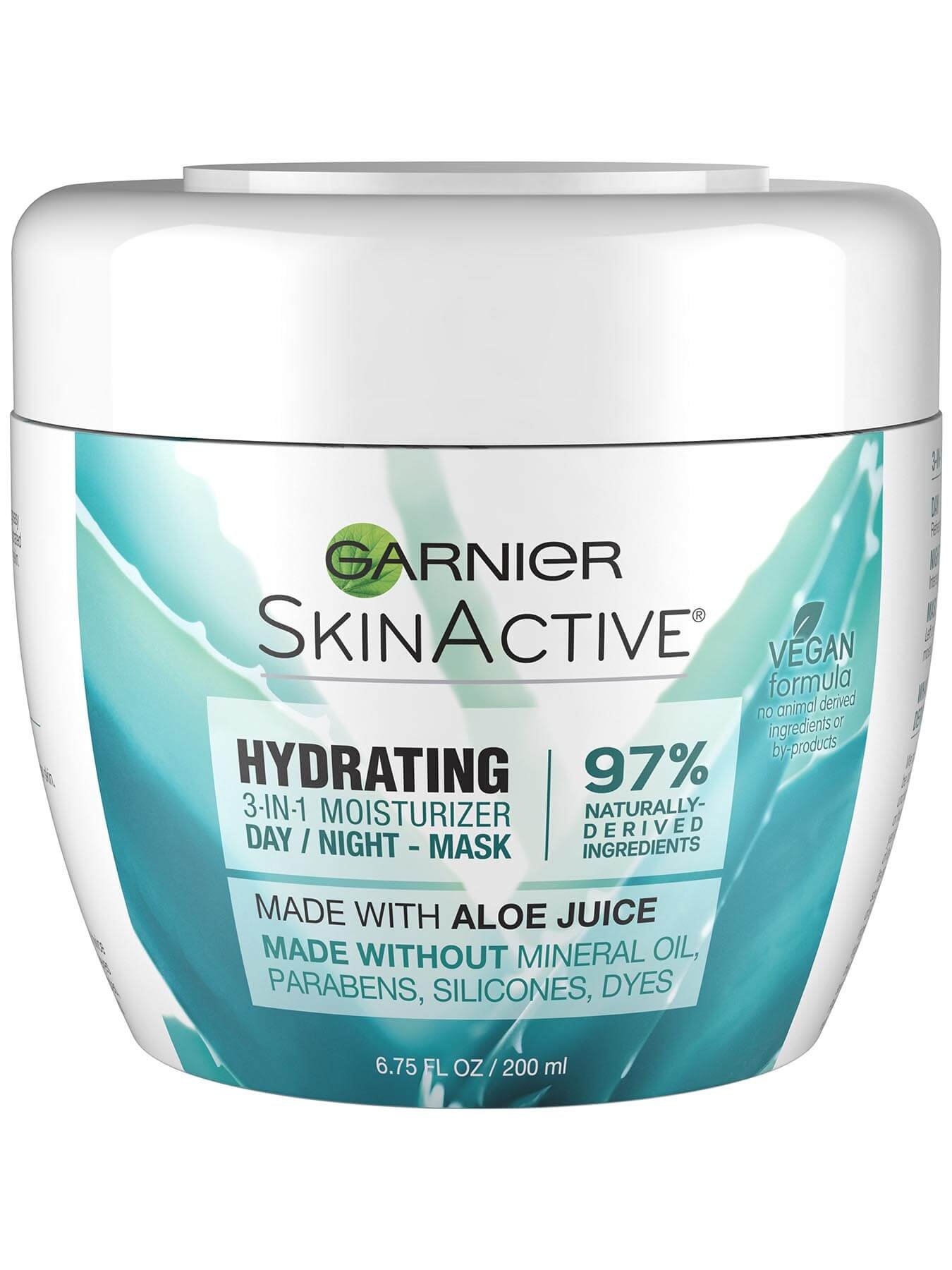 Garnier SkinActive
Hydrating 3-in-1 Face Moisturizer with Aloe
3-in-1 Moisturizer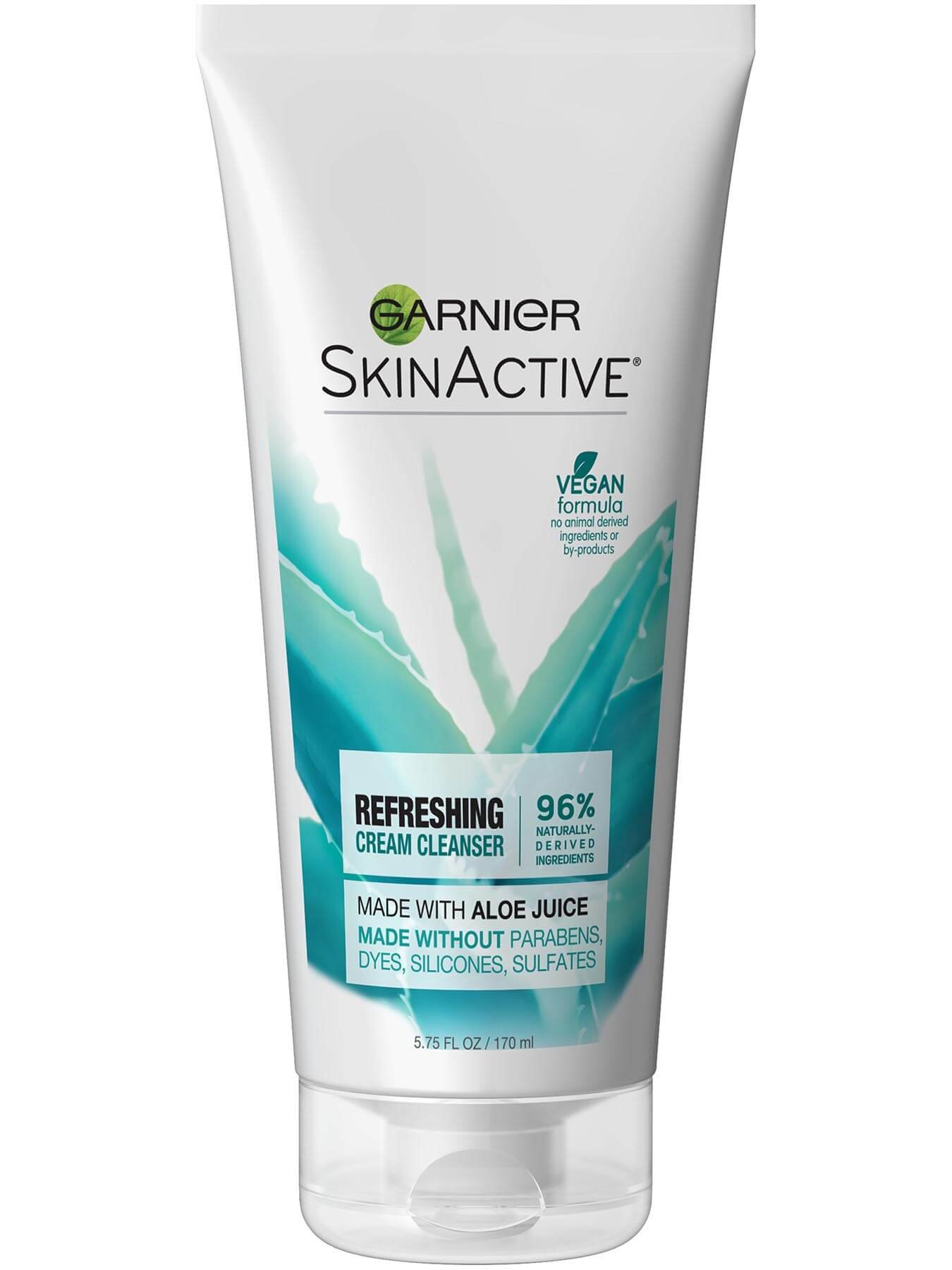 Garnier SkinActive
Refreshing Cream Face Wash with Aloe
Cream Cleanser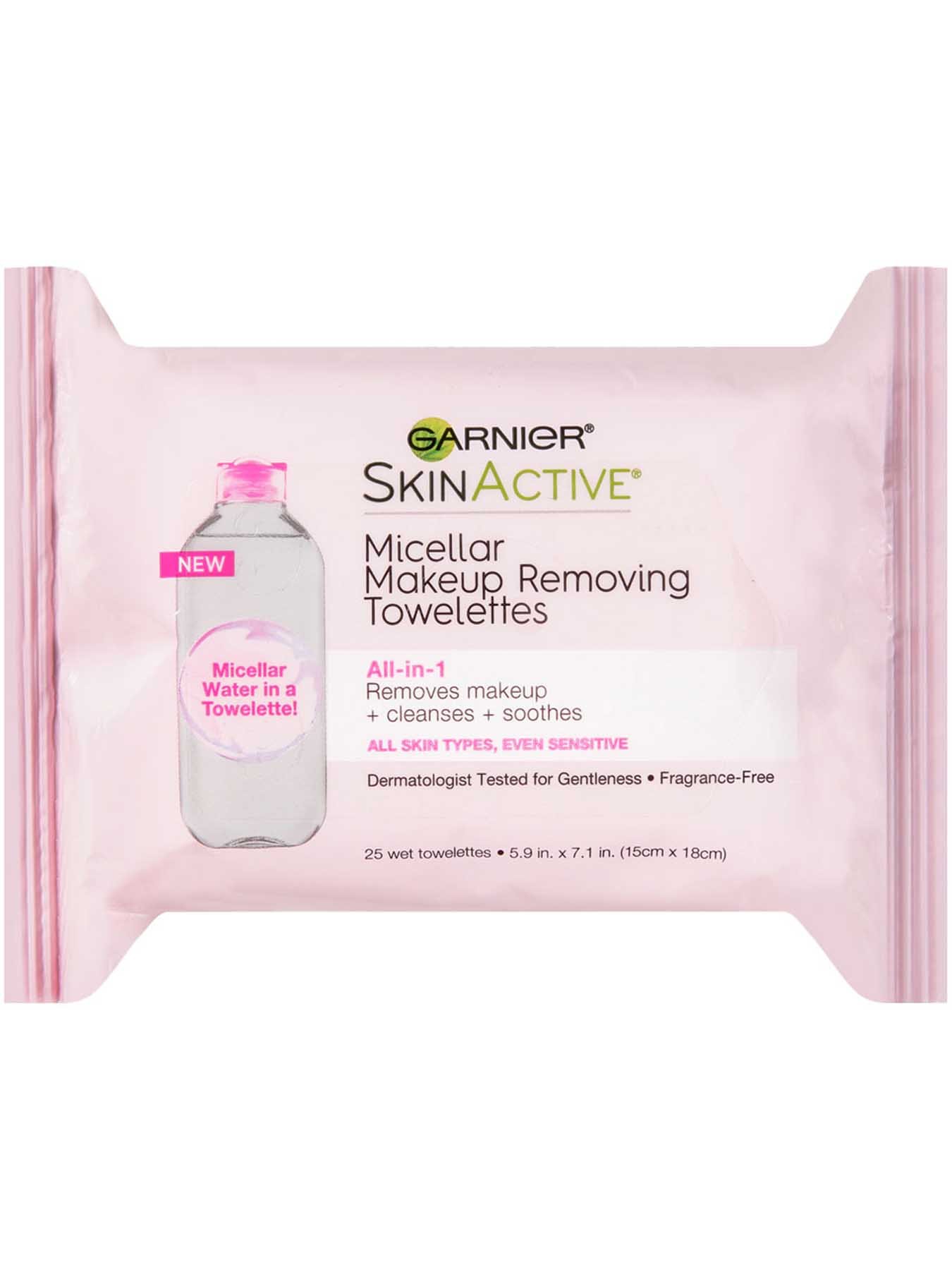 Garnier SkinActive
Micellar Makeup Removing Towelettes
All Skin Types, Even Sensitive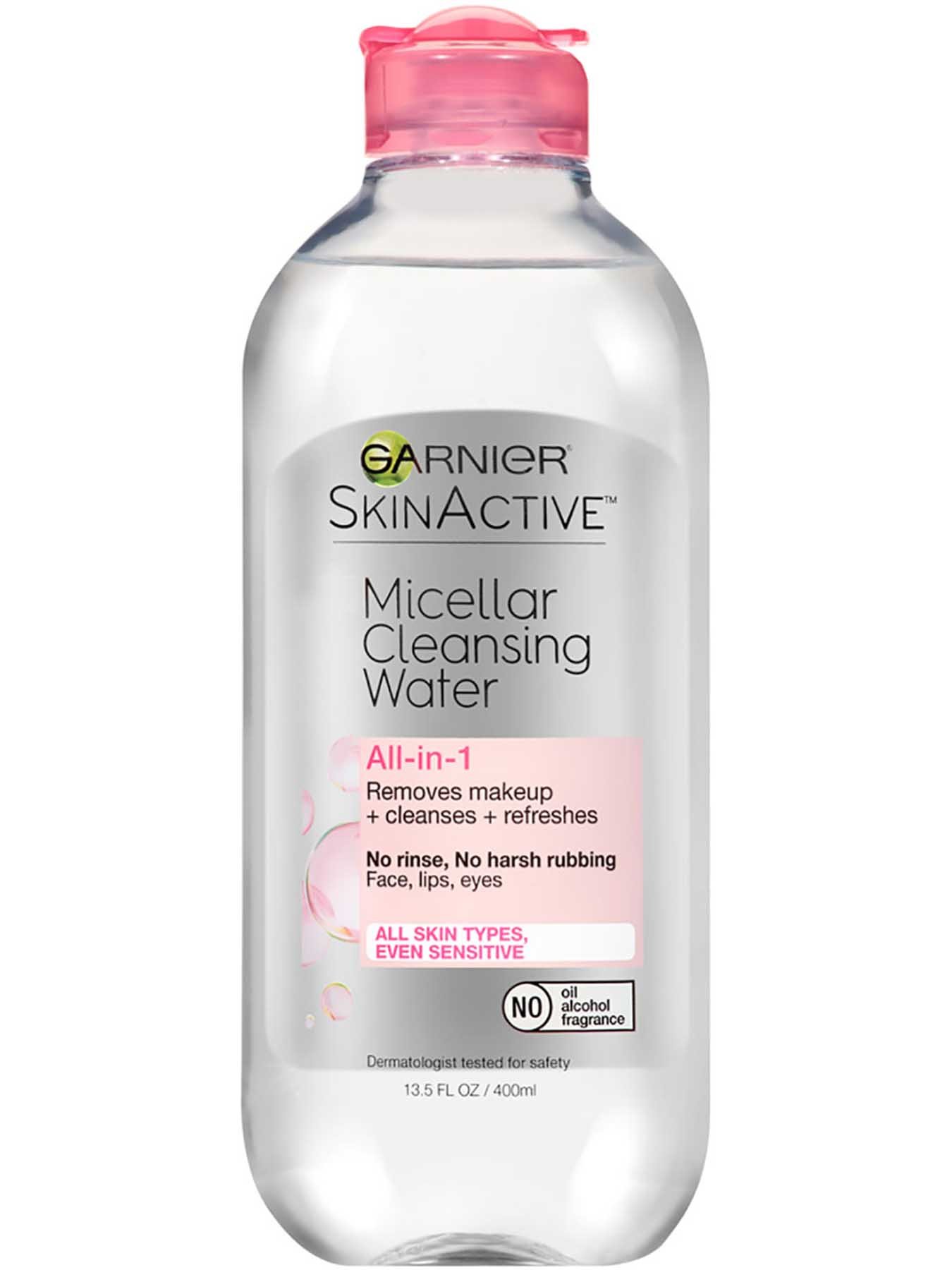 Garnier SkinActive
Micellar Cleansing Water All-in-1
All Skin Types, Even Sensitive
Aloe
Rich in Vitamins A, B, C, and E, Aloe's hydrating properties make it a popular ingredient in skin care formulas that help to soothe and moisturize, and hair products that promote healthy shine.
Rated

3

out of

5
by
Khris
from
It's okay
This cleanser has been pretty decent for my skin, I like the smell and that it doesn't leave my skin feeling dry afterwards.
Date published: 2018-06-22
Rated

1

out of

5
by
NoiseElectric
from
Not Impressed
For one, this stuff barely lathers at all - you basically have to smear it on & rinse it off. For 2, it seems to leave a bit of a waxy/soapy residue after rinsing. It's pretty good at removing makeup but I wouldn't choose it over any other cleanser.
Date published: 2017-11-12
Rated

4

out of

5
by
CarlaTheGreat
from
Surprisingly good
Garnier SkinActive facial cleanser surprised me. I was expecting something sticky that I associate with aloe. But this cleaner was surprisingly not at all sticky. It does have a fragrance that ok, not too strong, it's on the lighter side, however I didn't care for it too much. But that won't stop me from using it. I really like that it's all natural ingredients and also vegan friendly. The only con would be the fragrance but that won't stop me from using it. The fragrance isn't too bad, it's just not for me.
Date published: 2017-10-27
Rated

4

out of

5
by
Perl19
from
Good for daily use
I was pleased using this product. It's a mild cleanser for everyday use with a faint aloe scent. I have combination skin so this review would be most helpful to someone with similar skin type. It didn't leave my skin feeling tight and there was no tingling sensation. The feel is similar to Cetaphil Daily Facial Cleanser. It's a tad bit too gentle of a cleanser for my taste and I could do without the faint aloe scent. But overall it's a good product for daily use so if that's what you're looking for, I would recommend it.
Date published: 2017-10-27
Rated

5

out of

5
by
Brankica711
from
In love with Garnier Facial Cleanser
I have very sensitive skin, so I am always in search for products that are gentle enough for my skin, but also effective. The first time I tried Garnier SkinActive Facial Cleanser I was pleasantly surprised. My face was so gentle, so clean. I felt like my face is younger. Fresh and healthy. I continued to use it for another two weeks, in the morning and at night and I can tell you that I am very satisfied.
Date published: 2017-10-26
Rated

4

out of

5
by
NaryMoh
from
So Fresh...
My face feels so fresh after washing with the cleanser. It smells so fresh too but it leaves my face a little dry maybe because it is already dry. It's a kind of a light cleanser , it doesn't feel like a scrubbing one. I would recommend it for normal face washing and light makeup removing.
Date published: 2017-10-26
Rated

5

out of

5
by
Kma1011
from
A very gentle clean!
Garnier Skin Active Refreshing Facial Cleanser truly works and feels exactly like it sounds- refreshing! At first, I thought the formula was so thin it would not really get into the pores well enough to give me that true cleansing feel, but it definitely does! The aloe in it is very soothing and once you start to gently massage it into your face it lathers up quite nicely. The scent it very pleasant and gives you that refreshing feeling that i found is great for giving me that extra nudge I need in the mornings! I have very sensitive skin and am hesitant to try anything new because I will either break out or feel like my skin has completely been stripped; then I'll have super dry, red, irritated skin- and no one wants that on their face! Thankfully this formula has the prefect balance and is perfect for sensitive skin!! I definitely recommend it for anyone who has sensitive combination skin that needs a cleanser that will add a little umph to your morning or nightly routine with it's refreshing scent and feel. I have found that I love it the most as an in shower facial cleanser. Love love love that it is 99% derived from natural ingredients and is a vegan formula! Just adds even more peace of mind knowing I am not putting any harmful chemicals, dyes, or perfumes on my sensitive skin!
Date published: 2017-10-23
Rated

3

out of

5
by
MomOf3jec
from
A little on the thin side
The first thing I noticed was how thin this cleanser is. I was expecting it to be a little thicker since it has aloe in it, but the first pump went right through my fingers and down the drain! The cleanser itself was very gentle, I have sensitive skin and it didn't leave me red or blotchy like many harsh soaps do. Overall, it is a decent cleanser, just wish it wasn't so runny.
Date published: 2017-10-23