10 Cutest Medium-Length Hairstyles For Every Hair Type
We've all been there, stuck in that difficult spot of finally growing out last season's bob, but now unsure of what to do with that newly shoulder-length hair. Maybe you're ready to take the leap and cut your hair into a lob but you're not exactly sure how to style it. The beauty of medium length hairstyles is that they give you the best of both worlds.
A medium length haircut can be refreshing and freeing—and worthy of a social media update—but the length gives you the flexibility of different hairstyles, including ponytails and top knots. You might not have all of the options of a long hair length nor the drama of short hair, but medium length hair offers the best of both. Plus, no texture is off-limits. Straight hair, wavy hair, and curls work well with mid-length hair. So consider making the not-too-short, not-too-long haircut and trying out one of these medium length hairstyles for women.
Medium Length Hairstyles for Straight Hair
Straight hair can sometimes look flat and limp. That's not the case with hairstyles for medium length hair, which keeps long strands from weighing down hair. Because this haircut is shorter, it's not only easier to style, but it may even stay more lifted at the roots and look fuller. If you do go for medium length hair with a straight hair texture, just make sure to keep it sleek so it looks more like an IRL hairstyle and less as though you just woke up.
Smooth Lob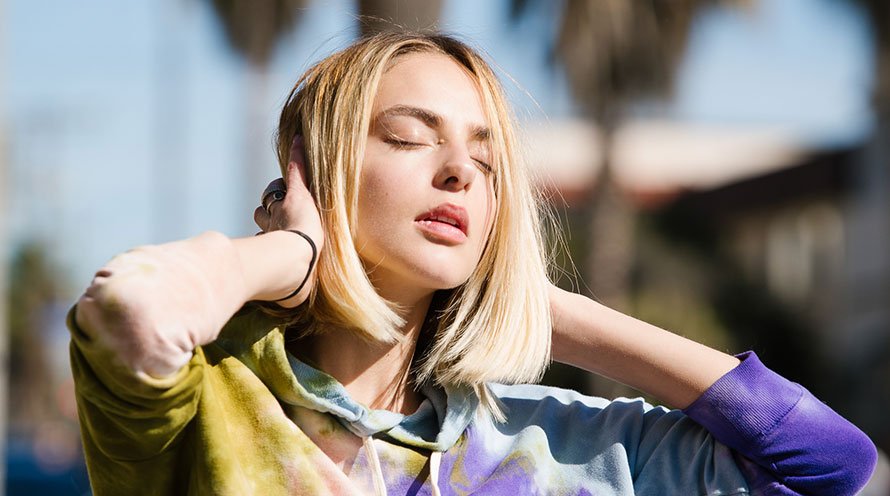 For those who want a sleeker look with more hair volume, the blunt lob is fun yet refined. This is a great option for every type of hair texture, but for those with finer hair, it can be particularly helpful, as it boosts natural hair volume without the addition of a lot of hair product. After washing hair, distribute a small amount of Garnier Fructis Smooth Blow Dry through the lengths of your hair and blow dry using a round brush, lightly curling the ends under. If you prefer a super-straight, extra-sleek finish, simply forego the round brush, and prep with Garnier Fructis Flat Iron Perfector and touch up your ends with a flat iron once you've finished drying.
Small Side Braid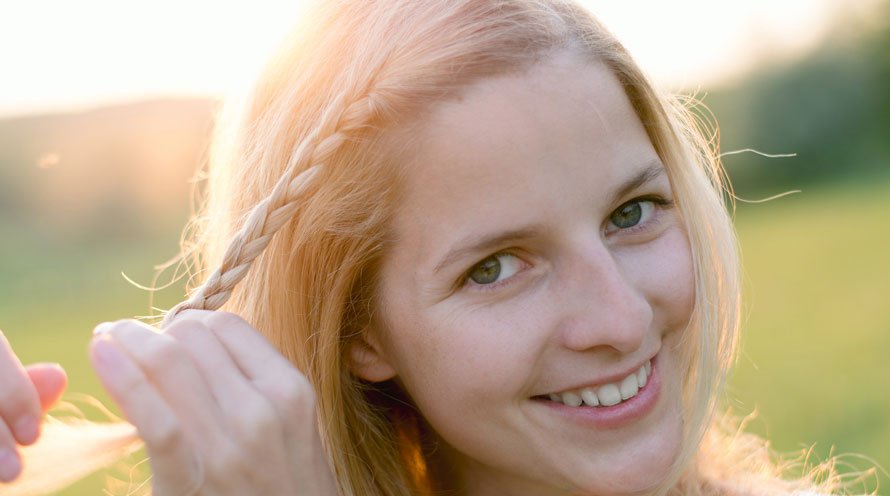 For those mornings you overslept—or just don't feel like schlepping through your usual beauty routine—this delicate side braid is a winner. Simply part your hair to the side and create a small braid on one side. For a breezy, effortless vibe, let it either hang loose or tuck it behind your ear. Then, spritz it with Garnier Fructis Sleek & Shine Anti-Humidity Hairspray, which ensures your hair stays in place and super-smooth all day long. Sure, it's simple, but the upside is that it takes just seconds to pull it together.
Curly Top Knot Bun Updo
Depending on where your medium length cut falls, you may be able to get away with a tiny top knot bun. The trick is to position it at the very crown of your head, which sets it apart from your typical updo (although if your hair doesn't reach all the way, feel free to move it toward the back). The top knot can be whatever you make of it. In this case, it's a lesson in both chic and easy curls. To start, work Garnier Fructis Anti-Humidity Smoothing Milk through the lengths of your hair. It'll help with frizz to prevent it from taking away from the top knot. Then, simply gather your hair at the top of your head, twist it tightly into a bun, and secure it with a hair tie.
Big Oversized Curls
Did someone say turn up the hair volume? That's the thinking behind these thick, out-of-control curls. At a shoulder length, they look fresh, bouncy and as though you just got a haircut (even if you were nowhere near the scissors). The hairstyle looks especially good if you happen to have layers, too, since they add even more dimension and hair texture to the cut. When your hair is still damp, use your hands to work Garnier Fructis Curl Construct Creation Mousse evenly through the lengths of your hair. Then, blow dry your hair with the diffuser attachment, flipping your hair upside down partly and drying it that way partway through. Doing so will amp up the hair volume further for a seriously show-stopping hairstyle.
Medium Length Hairstyles for Wavy Hair
Wavy hair might be the ideal hair texture for a medium length haircut, because it has just enough movement and body to it that you can wash-and-go and it'll still look polished and fresh. Because it's so low-maintenance, it doesn't need much hair styling at all, but details like pretty braids, cool texture and half up half down hairstyles can easily take this medium length and wavy hair texture to the next level. Plus, they're fantastic for those with finer hair, as they add plenty of volume to hair.
Sharp Layered Hair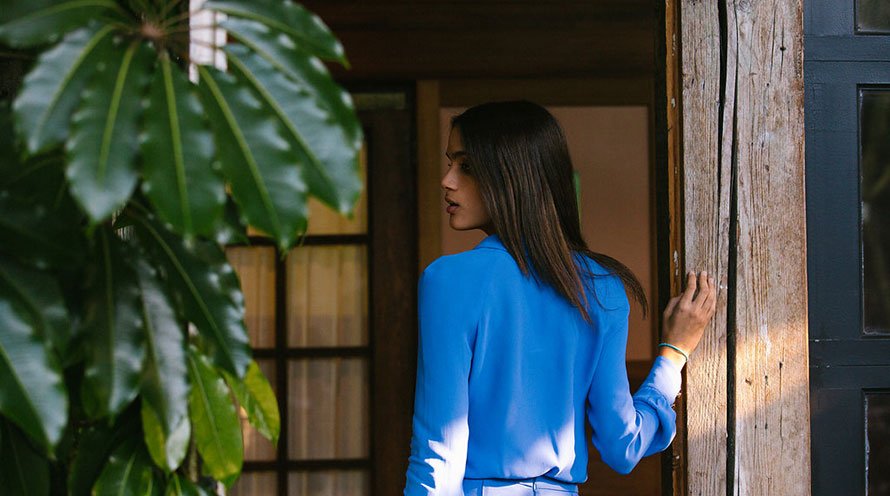 A medium-length haircut gets a major upgrade with sharp, graduated hair layers. The beauty of this hairstyle is that if you already have straight hair, there's not much else you need to do to make it stand out—since the layered ends are (and should be) the star of the hair look. To prevent frizz from taking away from this hairstyle, just work Garnier Smooth Air Dry Hair Cream into damp hair using your fingers and let it air dry.
Small Half-Up Half-Down Braids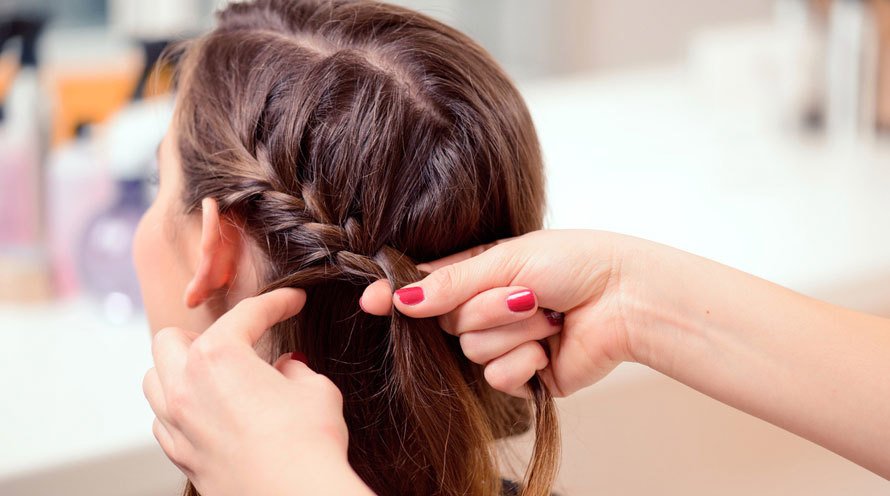 Medium haircuts might not have the length for a long, dramatic braid, but that doesn't mean you have to sit them out altogether. Instead, add intricate detail with two twin braids that start at your hairline. Plus, this positioning makes it easy to keep bangs off your face. (That's a major bonus when you're trying to grow them out.) Begin by creating a side part. Then, beginning at the part, braid a small section along your hairline and all the way down. Pin it in the back. Then, create a small braid on the other side, overlap it over the first braid, and secure the two where they intersect.
Waterfall Braid with Curls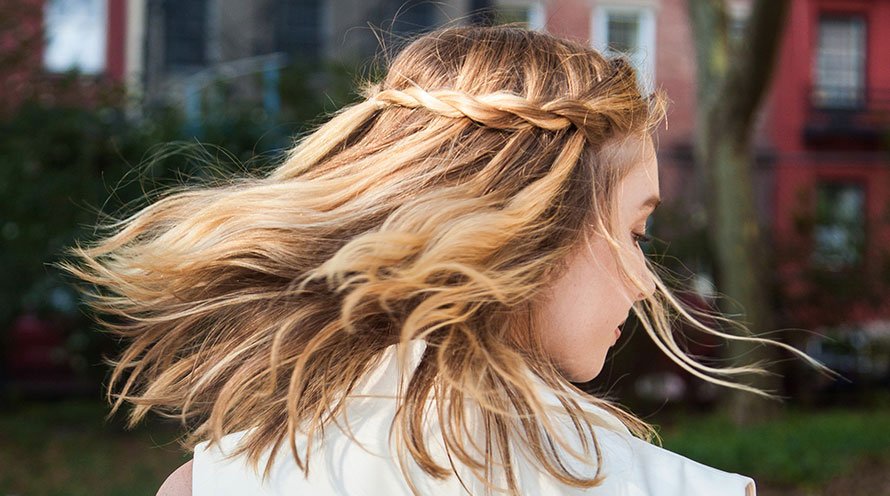 Chic waves plus braids equals a sweet, alluring hairstyle that works especially well with medium length hair. Wash and then blow dry your hair until it's completely dry. Apply a touch of Garnier Fructis Frizz Guard to prevent frizz and enhance smoothness. Then, use a large-barrel curling iron to curl large strands of hair. Tousle hair gently to give a more natural look; this gives you waves, rather than just a straight curl. Then, create a half up half down fishtail crown braid across the back (it's 10 times easier to do than it looks, we promise).
Half-Up Half-Down Waves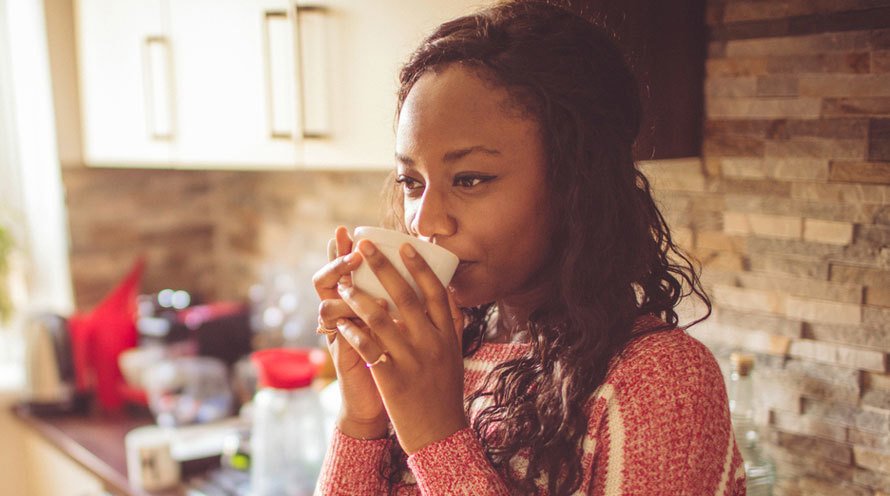 It doesn't get much more flawless than long, voluminous waves that stop at the shoulder. First, prep damp hair with Garnier Fructis Curl Sculpt Conditioning Cream Gel, which gives waves added definition while nourishing them. Then, part your hair to the side and gather the top section back, creating a half up half down hairstyle. Scrunch through the lengths of your hair using your hands and let it air dry—and then finish your coffee and get ready for the day.
Textured Hair Layers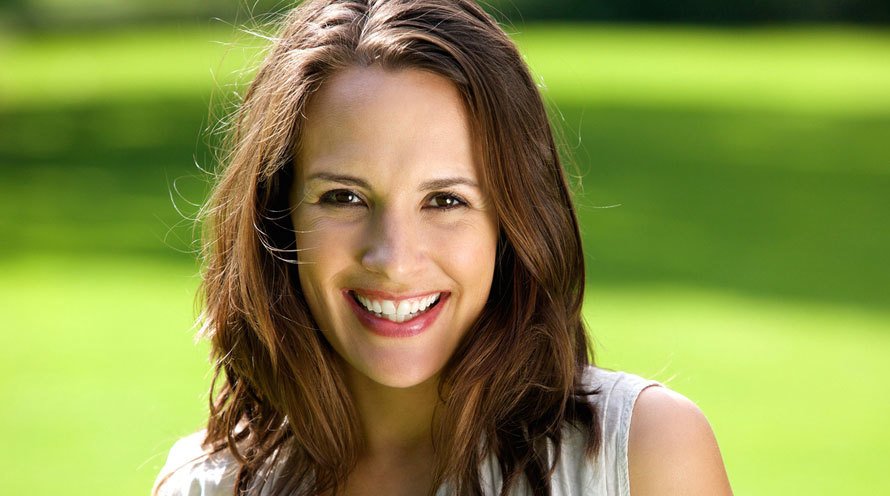 A little layering goes a long way. And if you love an easy, low-maintenance haircut, this hairstyle is made just for you. Start by washing and towel-drying your hair. Then, blow dry hair while running your fingers through to separate the strands. When your hair is almost-but-not-quite dry, add a little bit of a texturizing hair product, such as Garnier Fructis De-Constructed Beach Chic. Run your fingers through your hair, twist individual strands, scrunch and tease the roots to create the perfect undone hair look. Once hair is dry, add volume and hold to hair with Garnier Fructis Volume Anti-Humidity Hairspray.
Medium Length Hairstyles for Curly Hair
There's that myth that if you have curly hair, you should keep your curls long. It's a myth for a reason: A medium length haircut can keep curls lightweight, which in turn means that they can stay defined and hold their shape all day. (Score!) Plus, keeping them on the (relatively) shorter side—think anywhere near your shoulders—means that they're more voluminous than they would be were they cut into long layers. Here are ways to style curly hair.
Low Curly Updo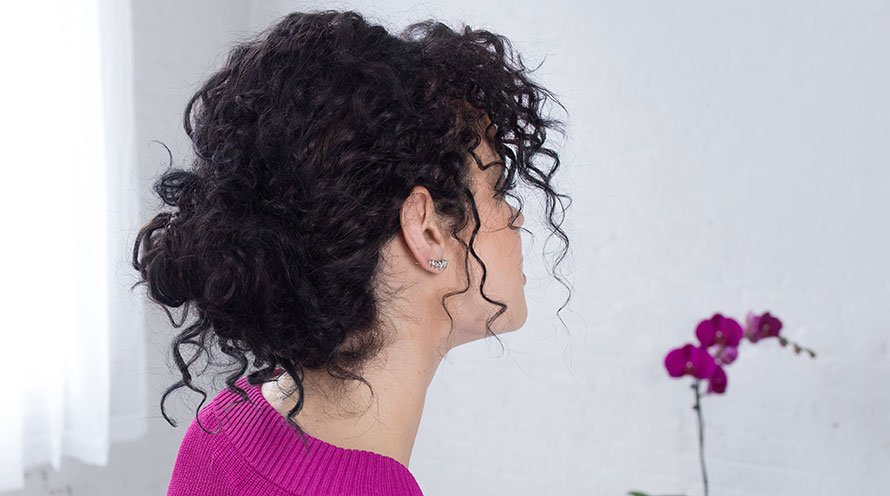 Bring out the beauty of curly hair with a low, curly updo. Because it's pulled back loosely, it corrals curls without crushing them. Plus, its low position means that you won't be struggling to stretch shoulder length hair into the bun. First, prep your hair by spraying Garnier Fructis Curl Shape Defining Spray Gel all over slightly damp or dry hair and scrunching it with your hands. Then, use an elastic hair tie to secure your hair in a loose, messy bun. The key is to keep it from looking too perfect, so let some strands fall freely in both the back and around your face. It'll look relaxed but elegant.