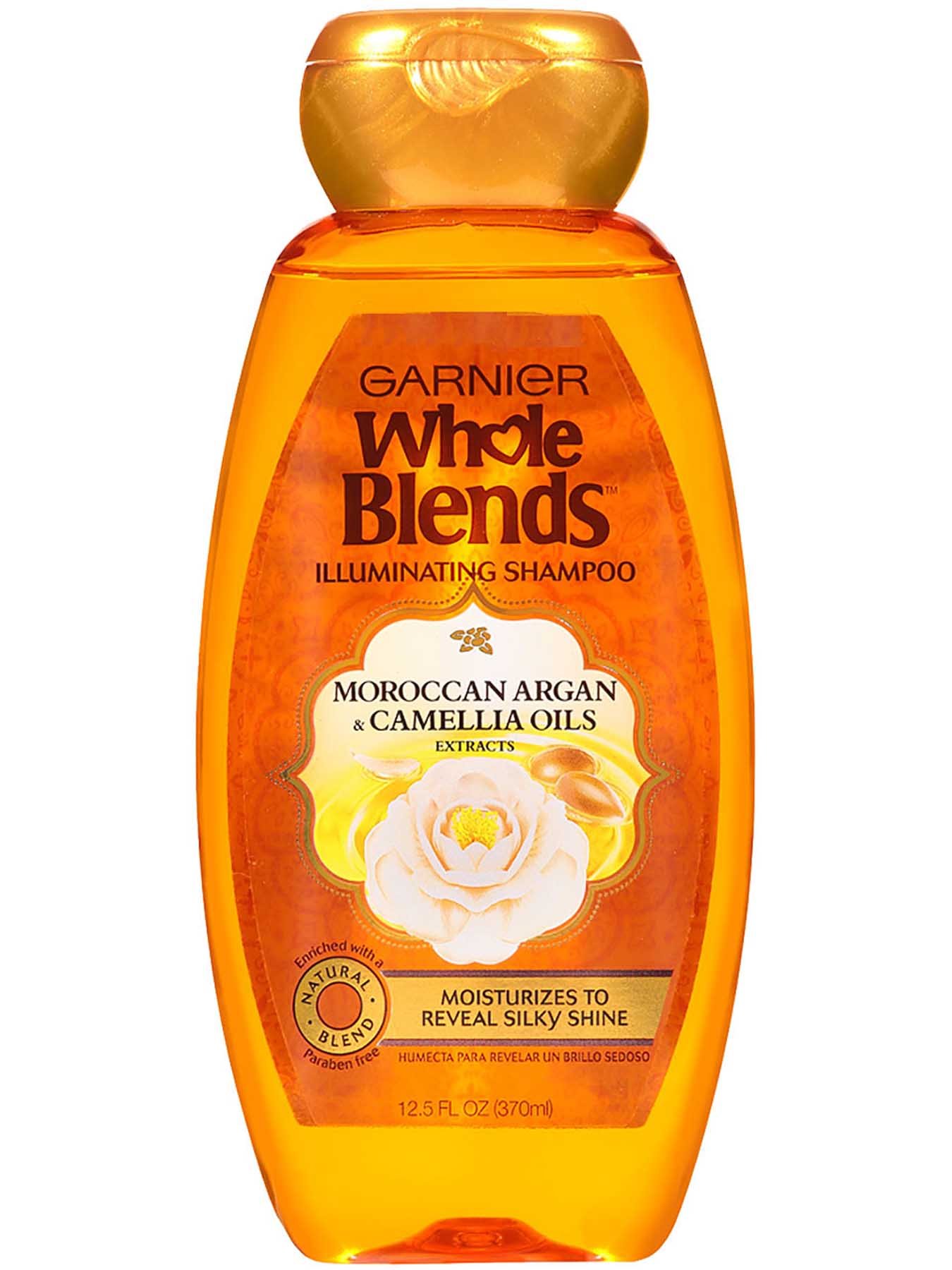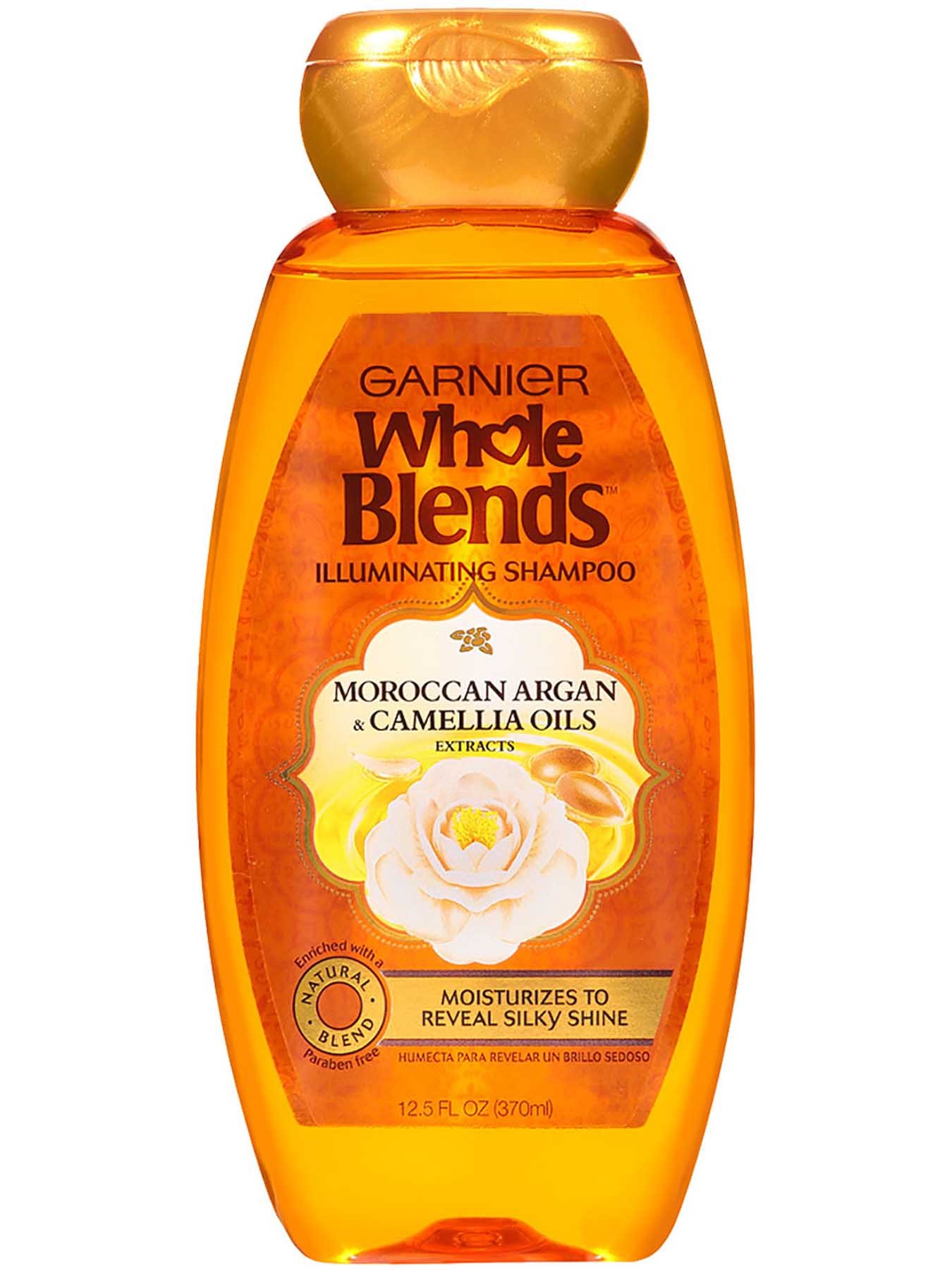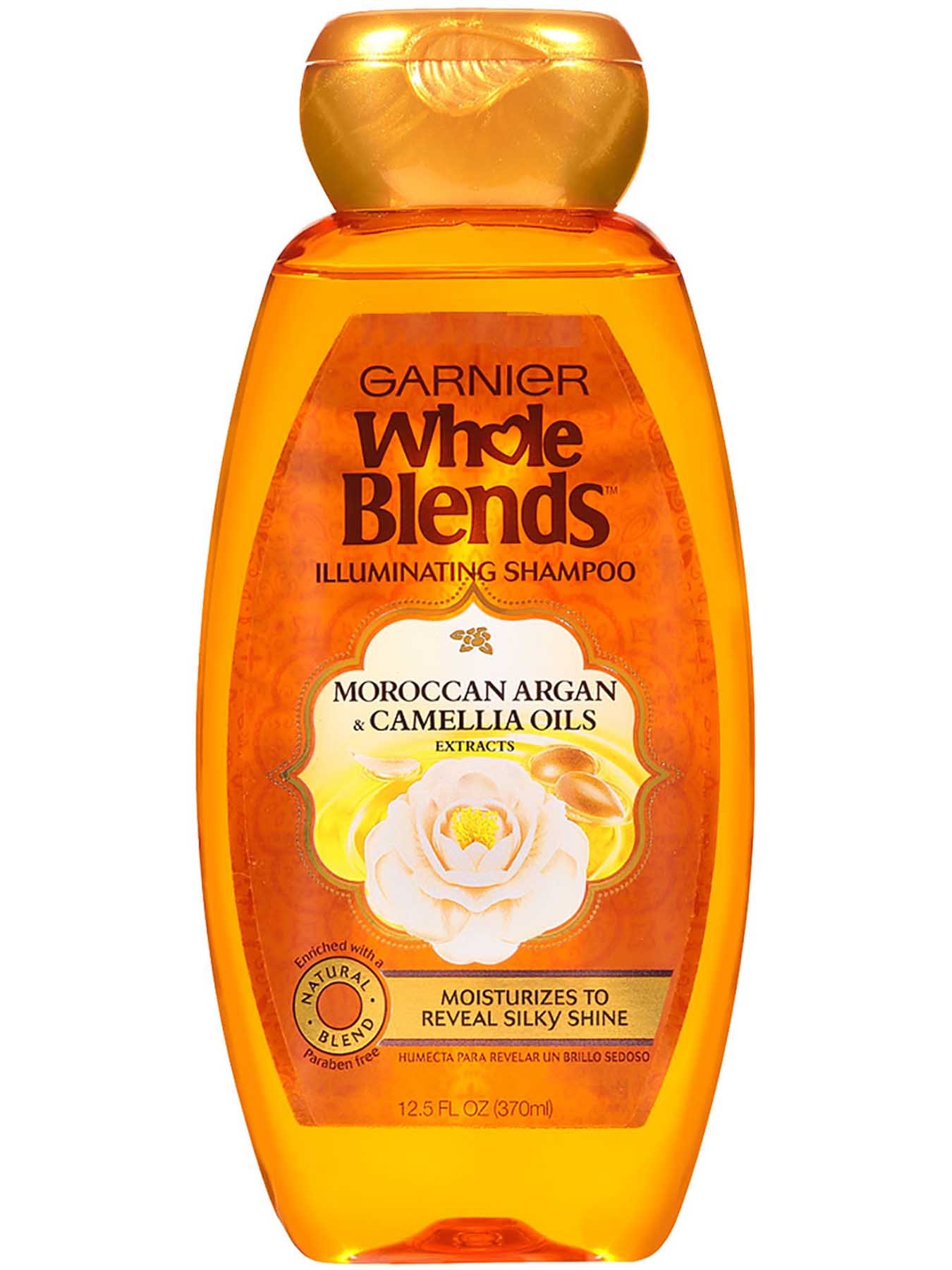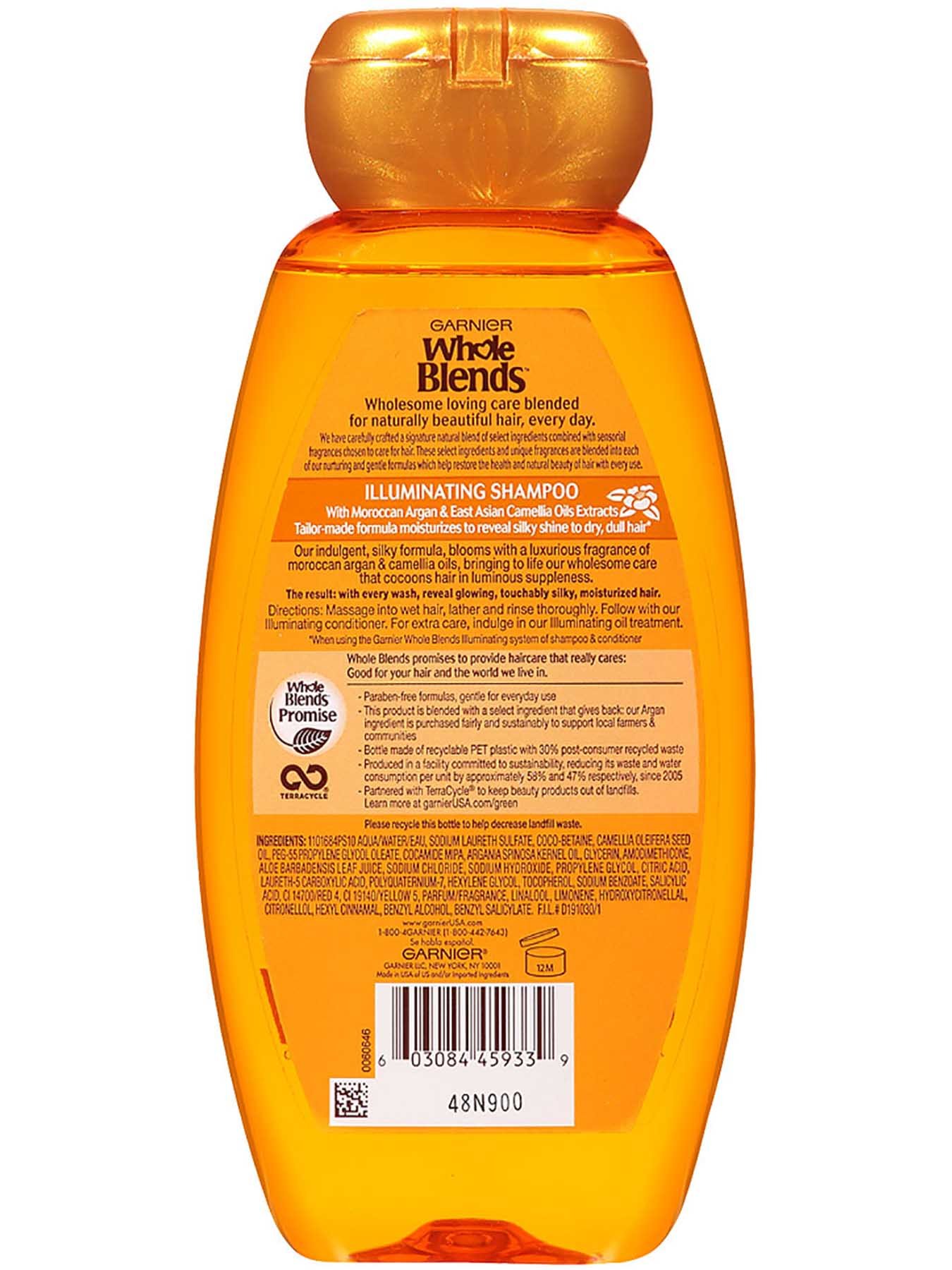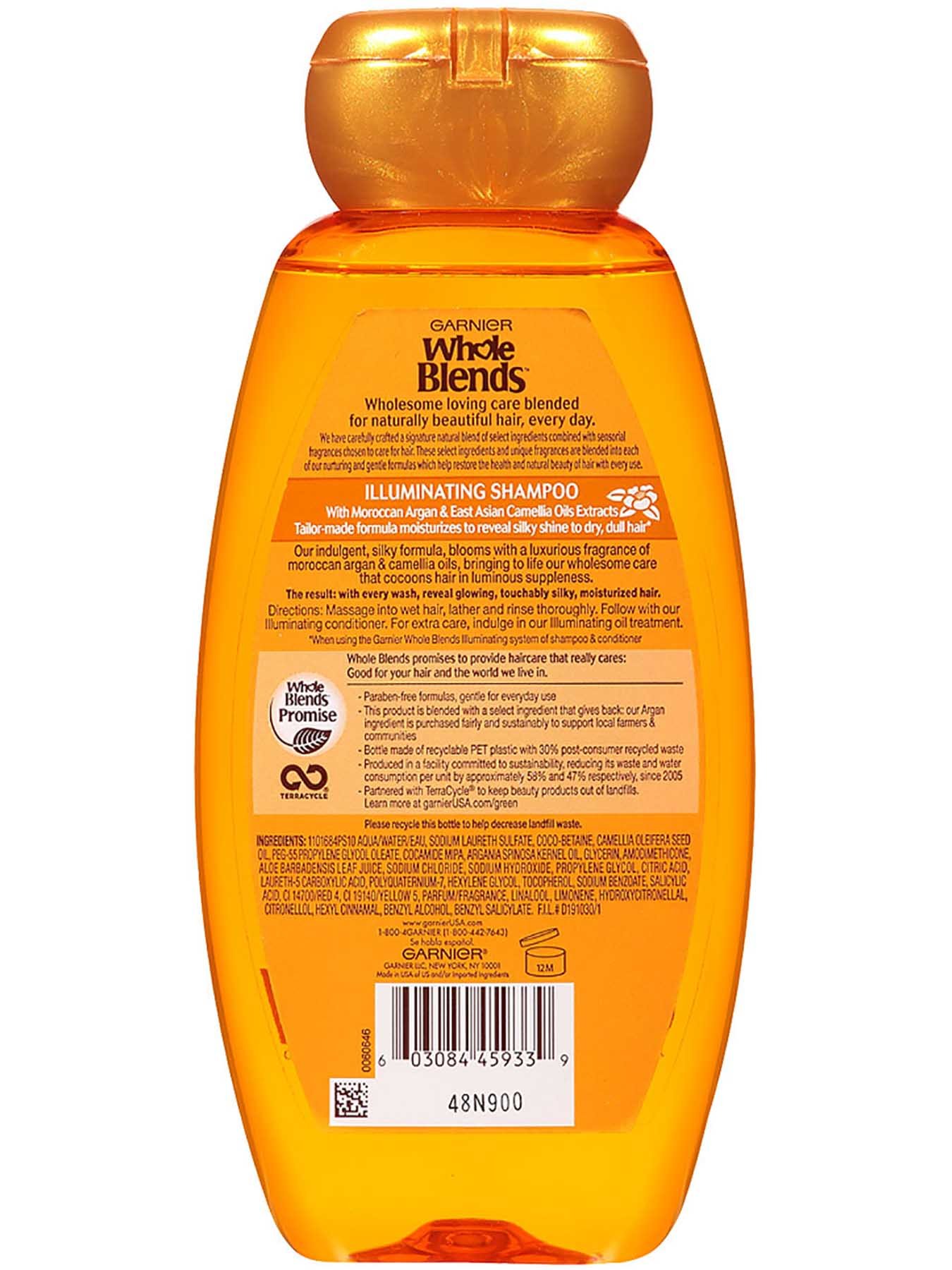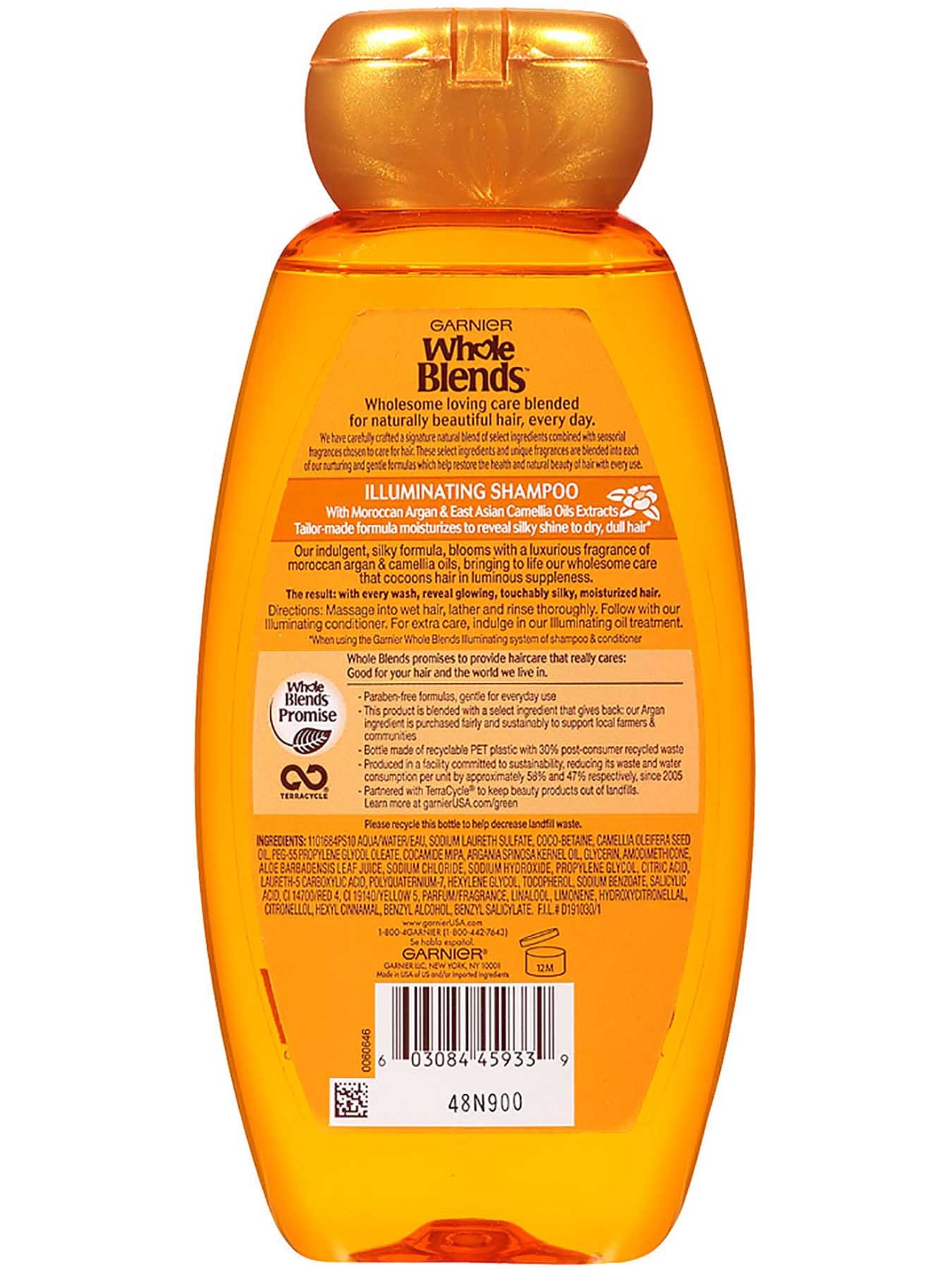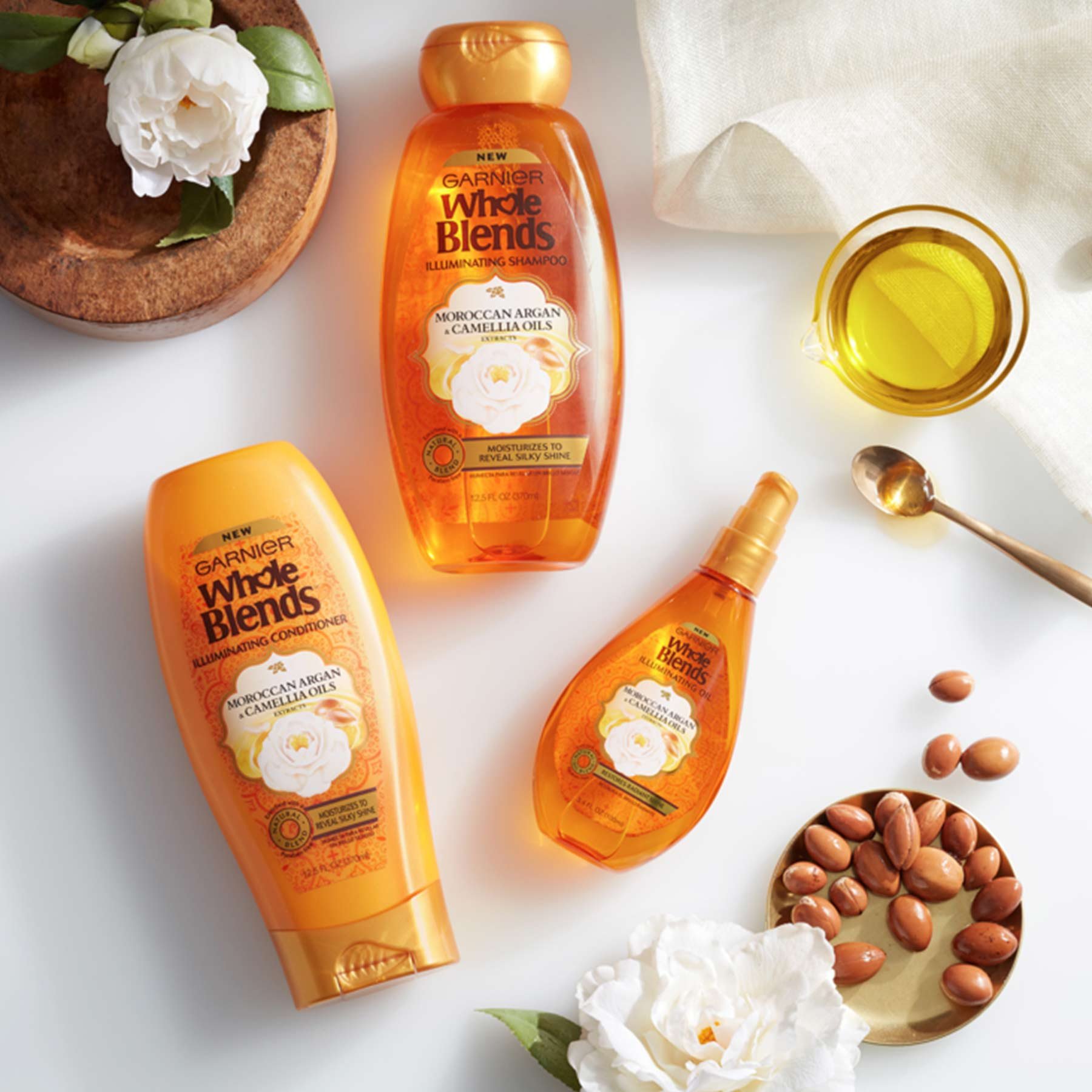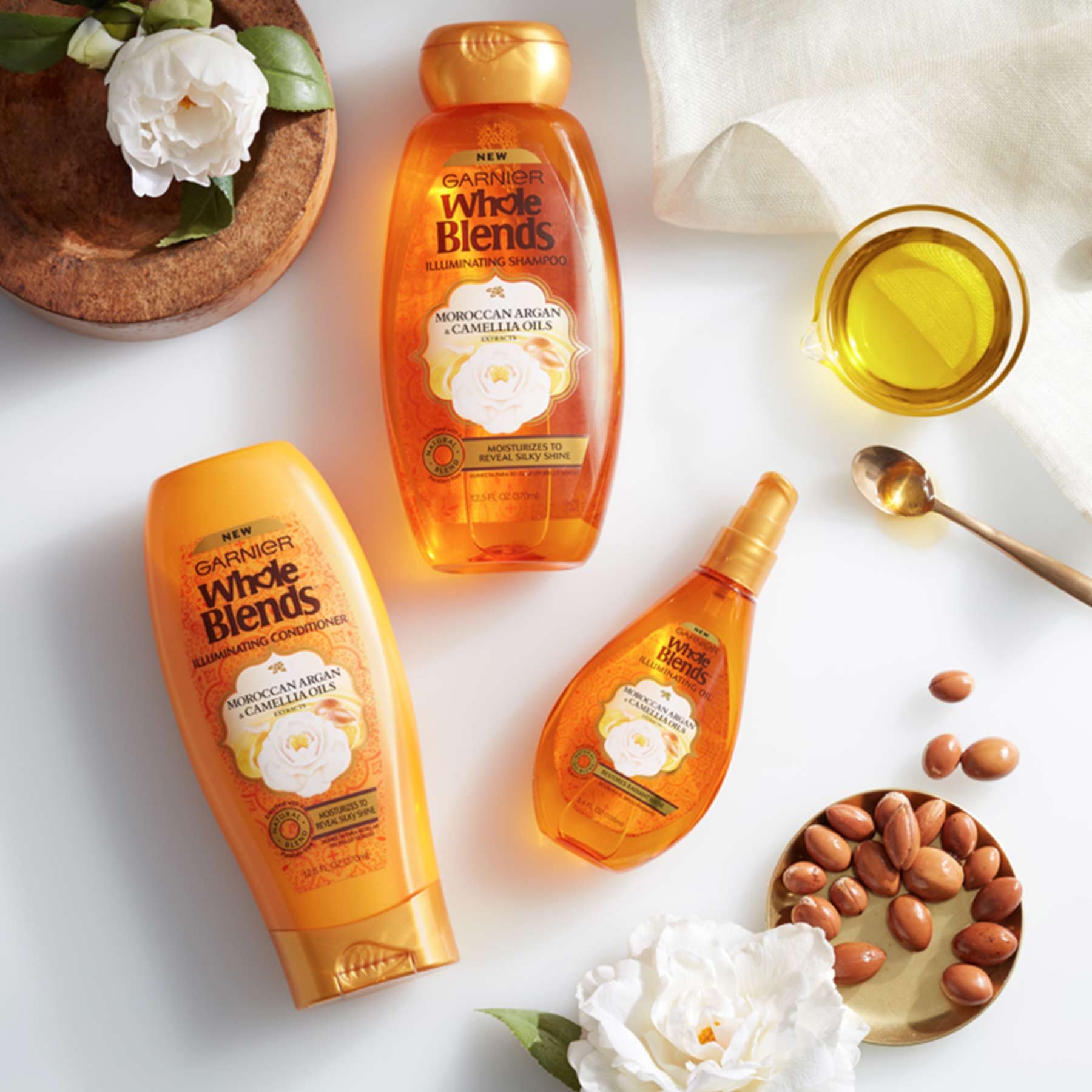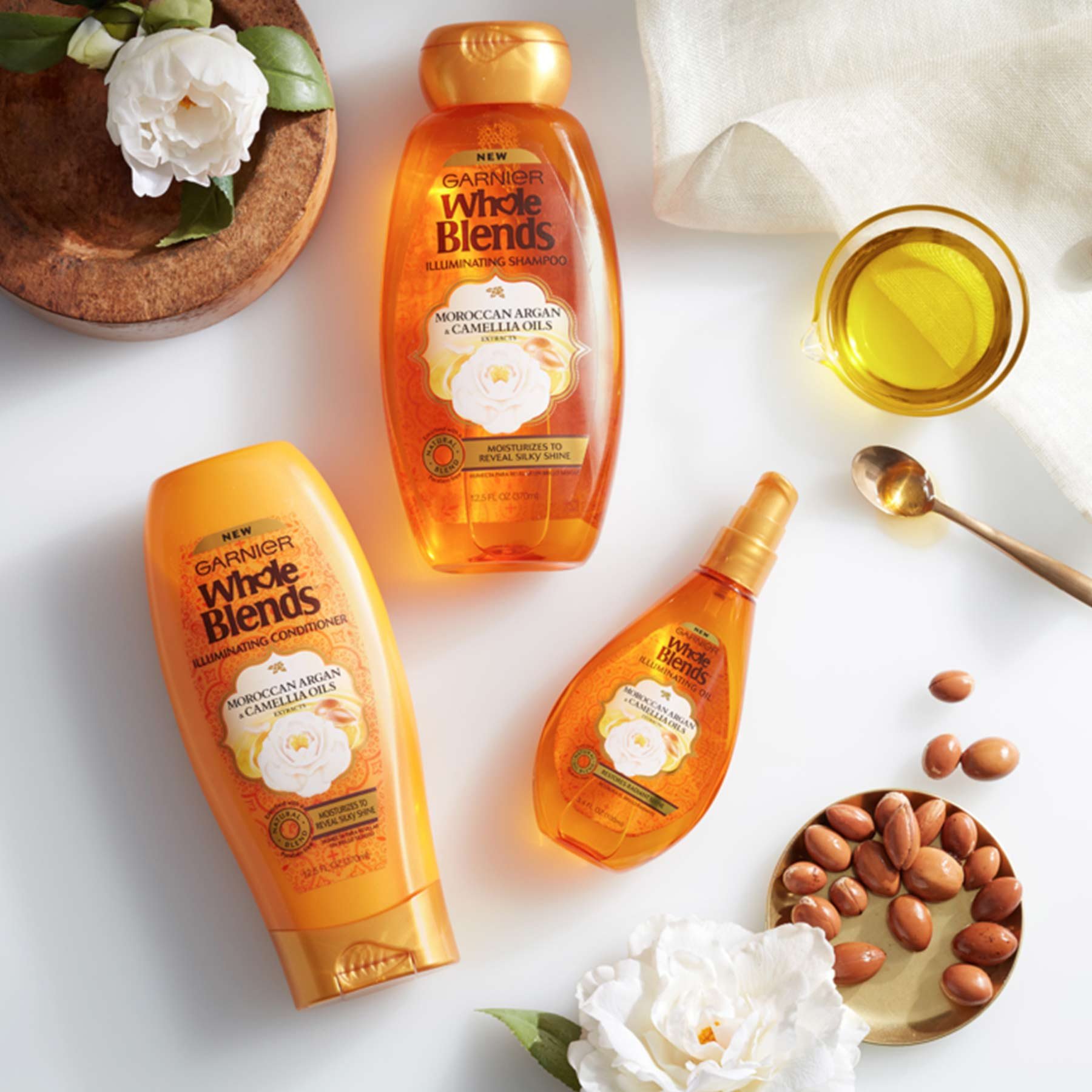 Illuminating Shampoo with Moroccan Argan and Camellia Oils Extracts
Whole Blends
$4.49 MSRP
Illuminating shampoo moisturizes to reveal silky shine.
*When using the Garnier Whole Blends Illuminating system of shampoo & conditioner
PRODUCT INFORMATION:
Our Garnier Whole Blends indulgent, silky formula, blooms with a luxurious fragrance of Moroccan argan & camellia oils for hair, bringing to life our wholesome care that cocoons hair in luminous suppleness.
How to Use:
Massage into wet hair, lather and rinse thoroughly. Follow with our Illuminating conditioner. For extra care, indulge in our Illuminating oil treatment.
Ingredients:
1101684 PS10 AQUA / WATER / EAU SODIUM LAURETH SULFATE COCO-BETAINE CAMELLIA OLEIFERA SEED OIL PEG-55 PROPYLENE GLYCOL OLEATE COCAMIDE MIPA ARGANIA SPINOSA KERNEL OIL GLYCERIN AMODIMETHICONE ALOE BARBADENSIS LEAF JUICE SODIUM CHLORIDE SODIUM HYDROXIDE PROPYLENE GLYCOL CITRIC ACID LAURETH-5 CARBOXYLIC ACID POLYQUATERNIUM-7 HEXYLENE GLYCOL TOCOPHEROL SODIUM BENZOATE SALICYLIC ACID CI 14700 / RED 4 CI 19140 / YELLOW 5 PARFUM / FRAGRANCE LINALOOL LIMONENE HYDROXYCITRONELLAL CITRONELLOL HEXYL CINNAMAL BENZYL ALCOHOL BENZYL SALICYLATE F.I.L. #D191030/1
Argan Oil
The same emollients that make Argan Oil so beneficial for skin work wonders on dry, dull hair. Argan Oil is used to help smooth the look of split ends, detangle, improve dry scalp feel, and strengthen hair as it grows.
Camellia Flower Oil
Extracted from the Camellia Flower, Camellia Oil is an active ingredient in gentle hair care, replacing damaging ammonia with healthy moisturizing benefits.
The Illuminating Care Regimen
Everything you need to reveal silky shine.
Wash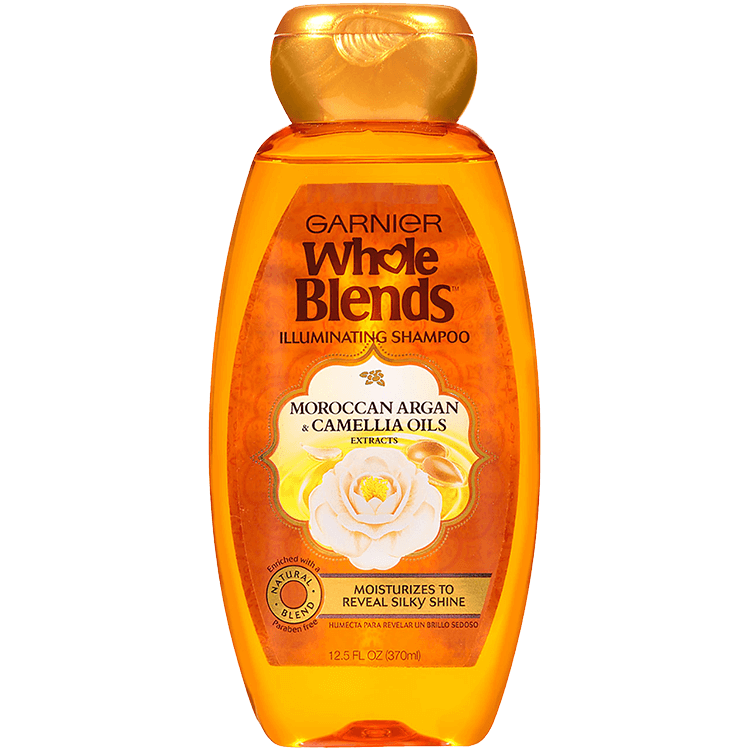 Whole Blends
Illuminating Shampoo with Moroccan Argan and Camellia Oils Extracts
Dull, Dry Hair
Condition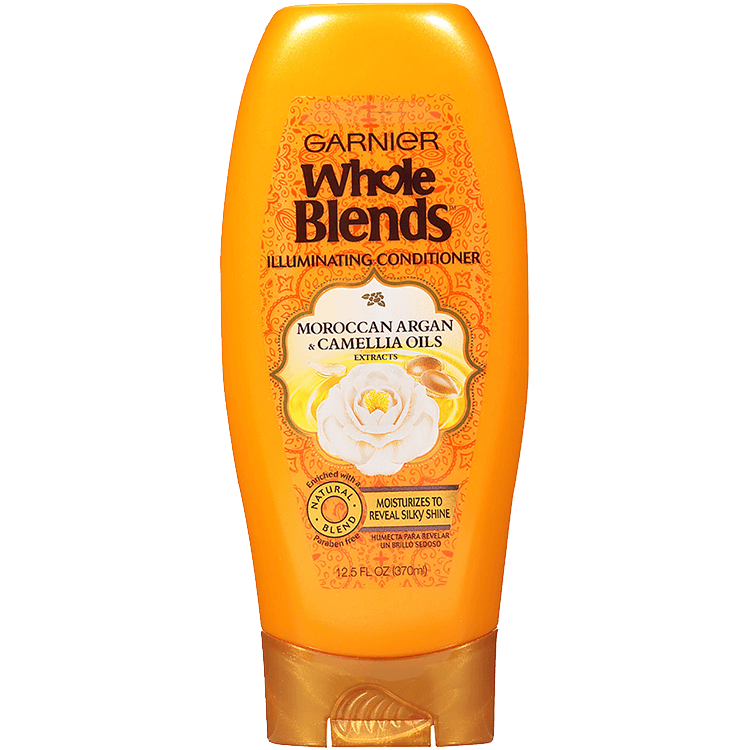 Whole Blends
Illuminating Conditioner Moroccan Argan and Camellia Oils Extracts
Dull, Dry Hair
Treat
Whole Blends
Moroccan Argan & Camellia Oil Extracts Leave In Treatment
Dull, Dry Hair
Rated

2

out of

5
by
Whoa_Ashley
from
It Turned My Child's Hair Yellow/Orange
I washed my 3 year old's hair with the shampoo and conditioner and it turned it a yellowish orange in the back. She had really light blonde hair. I hate how it looks in the back!! It's close to the color of the conditioner. It's an OK shampoo and conditioner, nothing amazing for my family.
Date published: 2020-09-13
Rated

5

out of

5
by
HankTheMagnificent
from
If this shampoo is discontinued, I may cut my hair
Since adolescence, I have tried to grow my hair out multiple times. I am a Creole (multi-racial) gentleman from New Orleans, where the humidity is usually higher than the temperature [literally, it is]. Even in wintertime, if I let my hair down outside, it would frizz and kink up in mere minutes and leave me looking like a brown dandelion. I started growing it out again about five years ago, mostly because after relocating out of my hometown in 2006, every barber or stylist would cut it WAAAYYYY too short every. single. time.... If left untreated after a wash, my curls are like tight, tangled corkscrews, simply brushing and drying my hair normally left me with awful split ends and a dull, dried out frizzy mess. It was brittle and often brushing when dry would just break the hairs in two. One summer when my AC went out, it got so frizzy, tangled, (and hot) that I just cut it myself to a medium length because the tangles proved too worthy of an adversary. Later that summer, I had read an article about the remarkable Moroccan Argan oil industry, and of course the miracle product itself. I noticed this product on a TV ad, and the store I went to had coupons right on the bottle. My hair is near perfect now. Very manageable, soft, and the aroma I get from it, even days after a wash, is so nice, it's almost intoxicating. Recently, I have had serious trouble finding it in the Chattanooga, TN metro area, so I came here, worried that it had been discontinued. I want to order a case of everything!! lol I simply could not have long, soft, manageable hair before discovering these miracle products. I would recommend it to everyone, and I often do. DON'T EVER STOP MAKING IT!! This shampoo and conditioner is an essential part of my personal regimen, and I simply wouldn't have my long hair without it. When I've been unable to find it in stores a couple of times over the years, I've tried other Argan oil shampoos and conditioners, but they just don't cut it at all. No other products make my hair shiny, strong, soft, manageable, or give me desired volume without it looking very oily. The wonderful aroma is also unique to this product, and no other has EVER left my hair smelling nice between washes like Garnier Whole Blends does. Thank you, Garnier, and special thanks to the great tradeswomen of Morocco for sharing this amazing Argan oil with the rest of us. <3 --Hank
Date published: 2020-06-19
Rated

5

out of

5
by
Ashley81
from
Love it!
This is the only shampoo my hair likes. I love this shampoo. I hope it is never discontinued! I did have long hair and still it was so easy to comb out after washing my hair. I have hair that is highlighted. Don't stop this shampoo Garnier whole blends!
Date published: 2019-10-14
Rated

5

out of

5
by
Needing my Camellia
from
Amazing smell.
This product is one of the few smells I can smell since My head injury. Often I can't find this one and will order it online. Expecting amazon soon!
Date published: 2019-10-06
Rated

3

out of

5
by
syddles
from
Shiny hair, itchy scalp
I wanted to love this because I truly did notice a difference in softness and shine after using it. Ever since the first time I used it, my scalp has been flaking. I've never had an issue with flakes and itchiness before, and using this shampoo was the only change in my hair routine and it gets better when I try a different shampoo.
Date published: 2019-06-14
Rated

5

out of

5
by
Stacey D
from
Better than any pro hair care
I absolutely love this particular shampoo & conditioner from Whole Blends. I've worked in the professional hair care business for 18 years and have never come across a product that works as amazing as the Moroccan Argan & Camellia Oil. Love the fragrance too! Please never discontinue this product! I brag about it all the time ;)
Date published: 2019-04-13
Rated

5

out of

5
by
Missbaker38
from
smells great and works wonders
I bought this product about a month ago and I couldn't be any more happy. I usually don't go out of my way to write reviews about a product but I absolutely had to with this one. See my hair was scary thin, I started using this shampoo and conditioner and I am so excited to say that my hair has gained volume, thickness, shine and moisture. I have fallen in love with the smell. I am currently looking for other products ( body sprays, soaps, lotions, ect.) with this same smell and oils. Thank you so much for helping to save my hair.
Date published: 2019-02-23
Rated

2

out of

5
by
Lightbritez
from
Recently purchased
I just bought this a few days ago at my local grocery store. I have a mixed review. I love love love how soft and shiny it makes my hair, but I absolutely hate the smell... It's very potent and not ideal for those with sensitive noses. I happen to be one of those people who tends to get migraines from strong perfumes and this shampoo and conditioner smell very perfume like. Smells similar to my late great grandmothers purfume. I gave it 2 stars because it really does make my hair feel softer than ever before and I've only washed it twice with this product. I'm unsure of whether or not I would recommend this particular fragrance. If It was offered in different scent with the same shine/soft quality I would definitively purchase it.
Date published: 2019-01-03