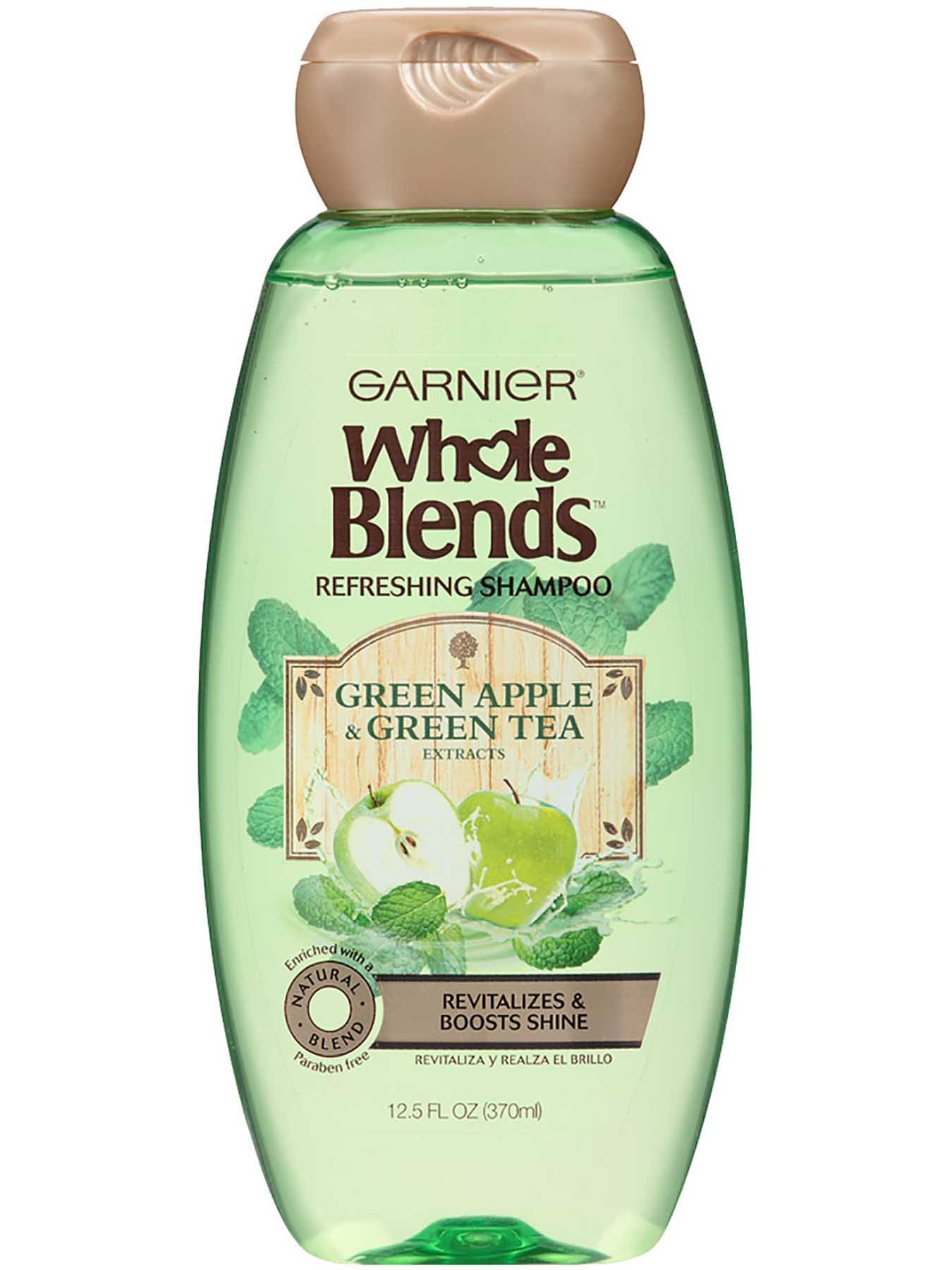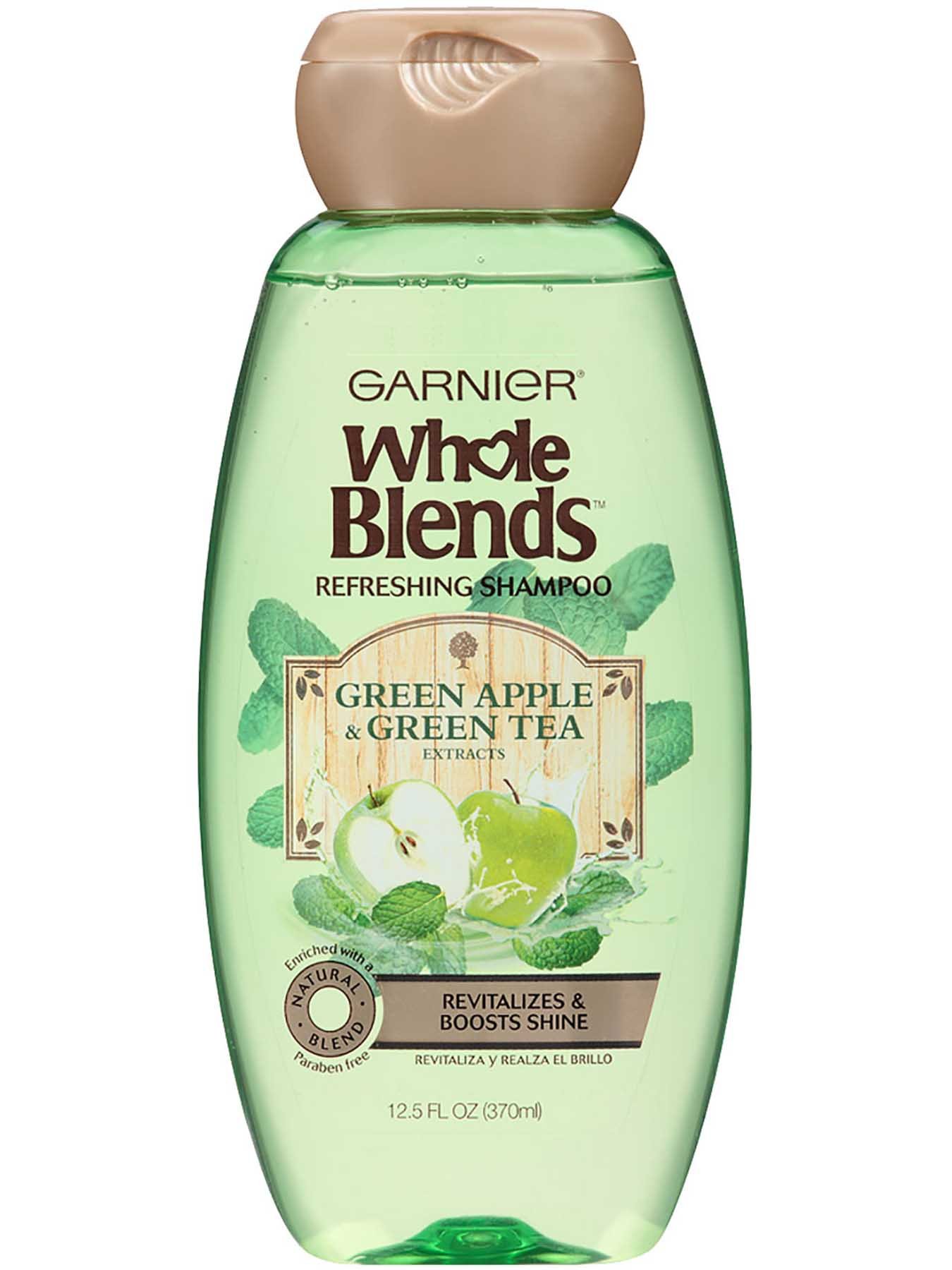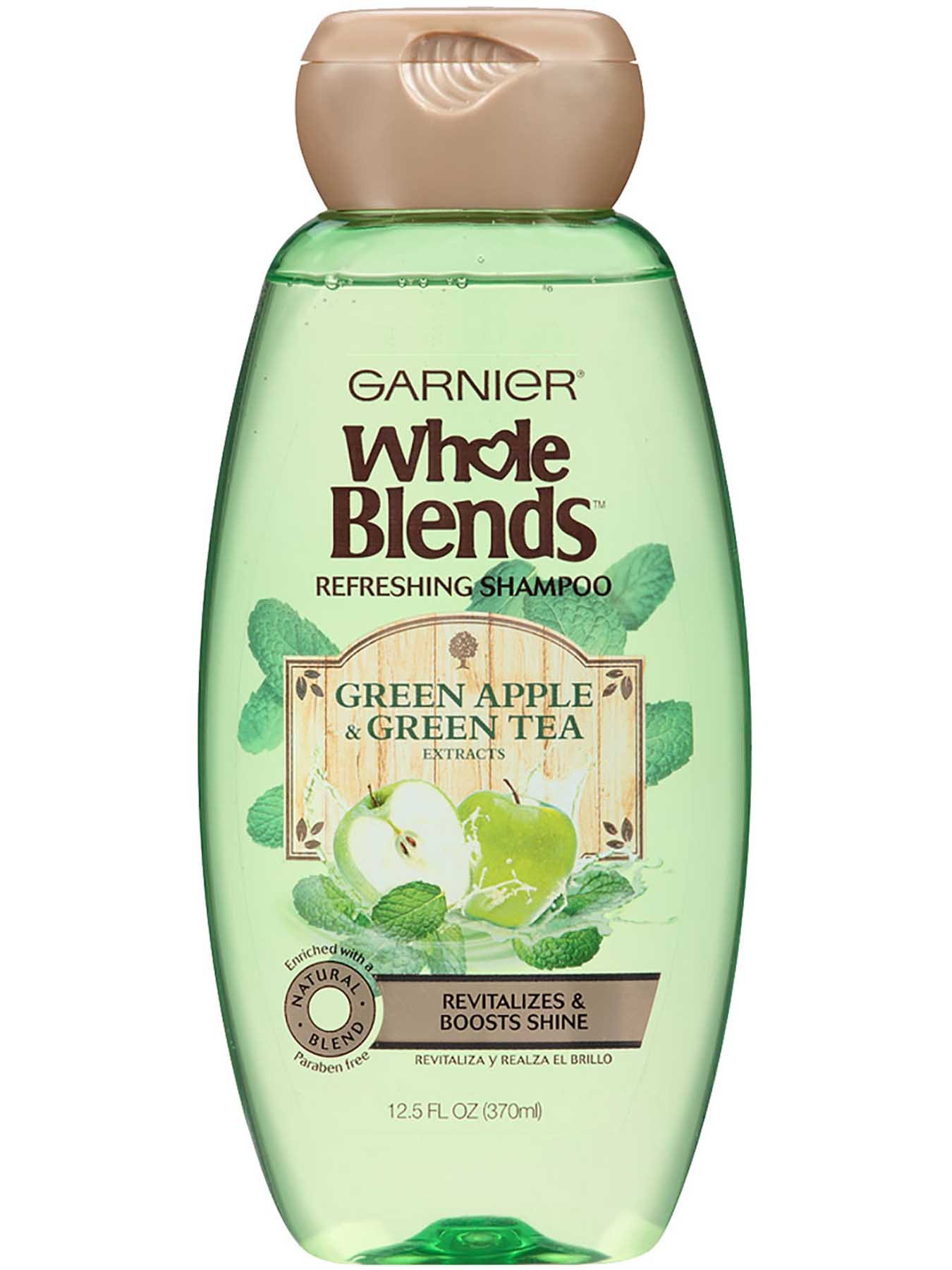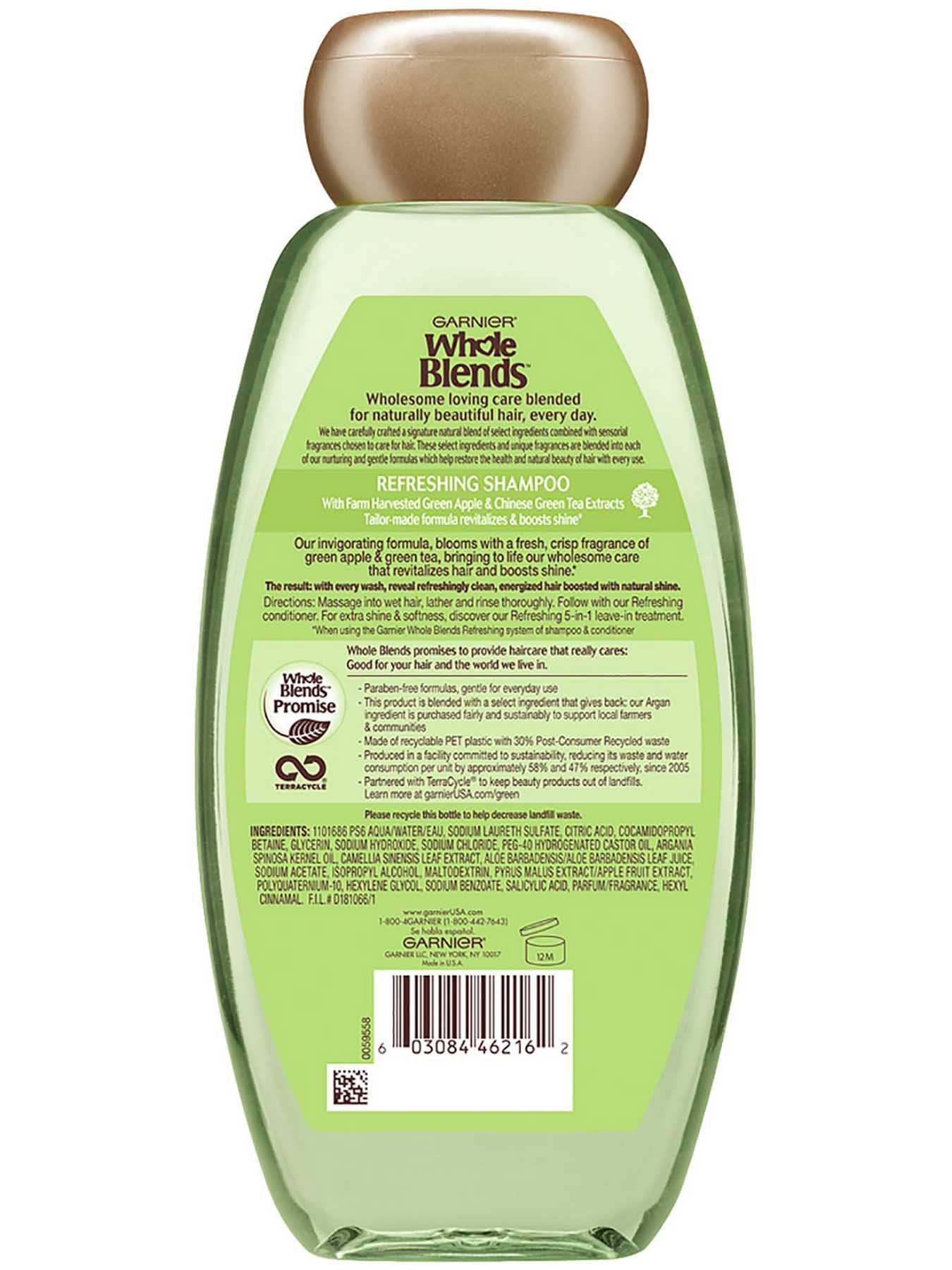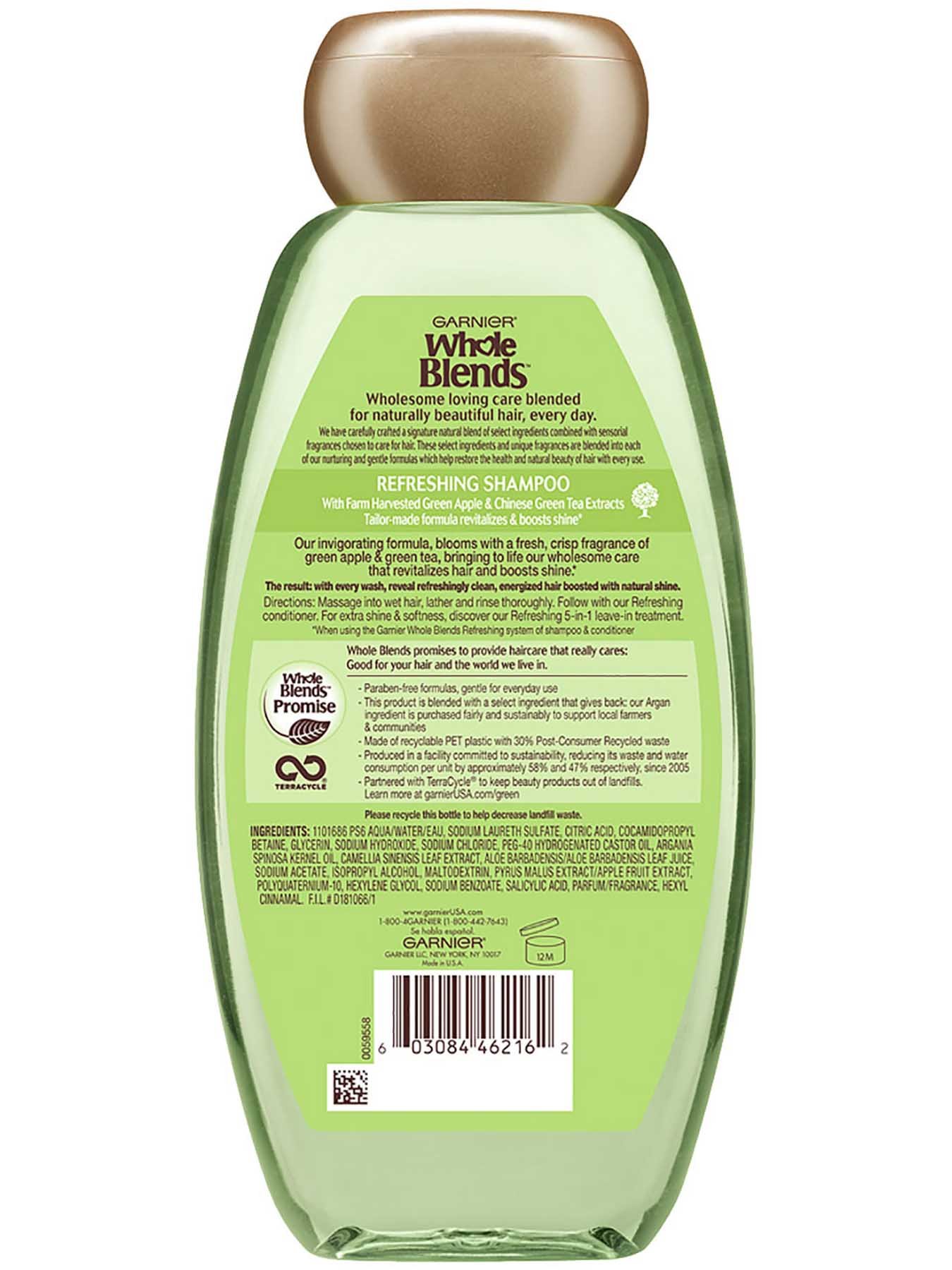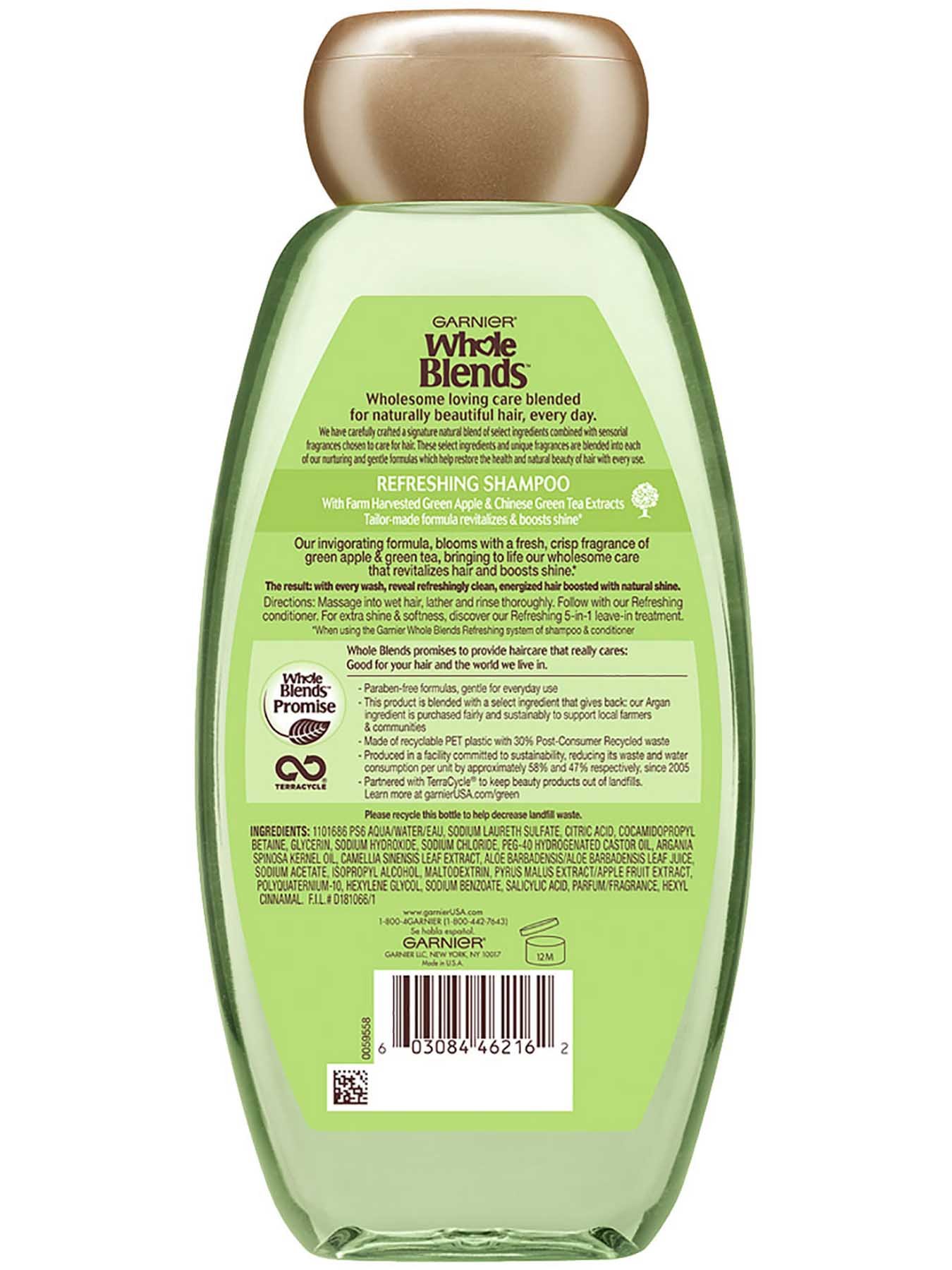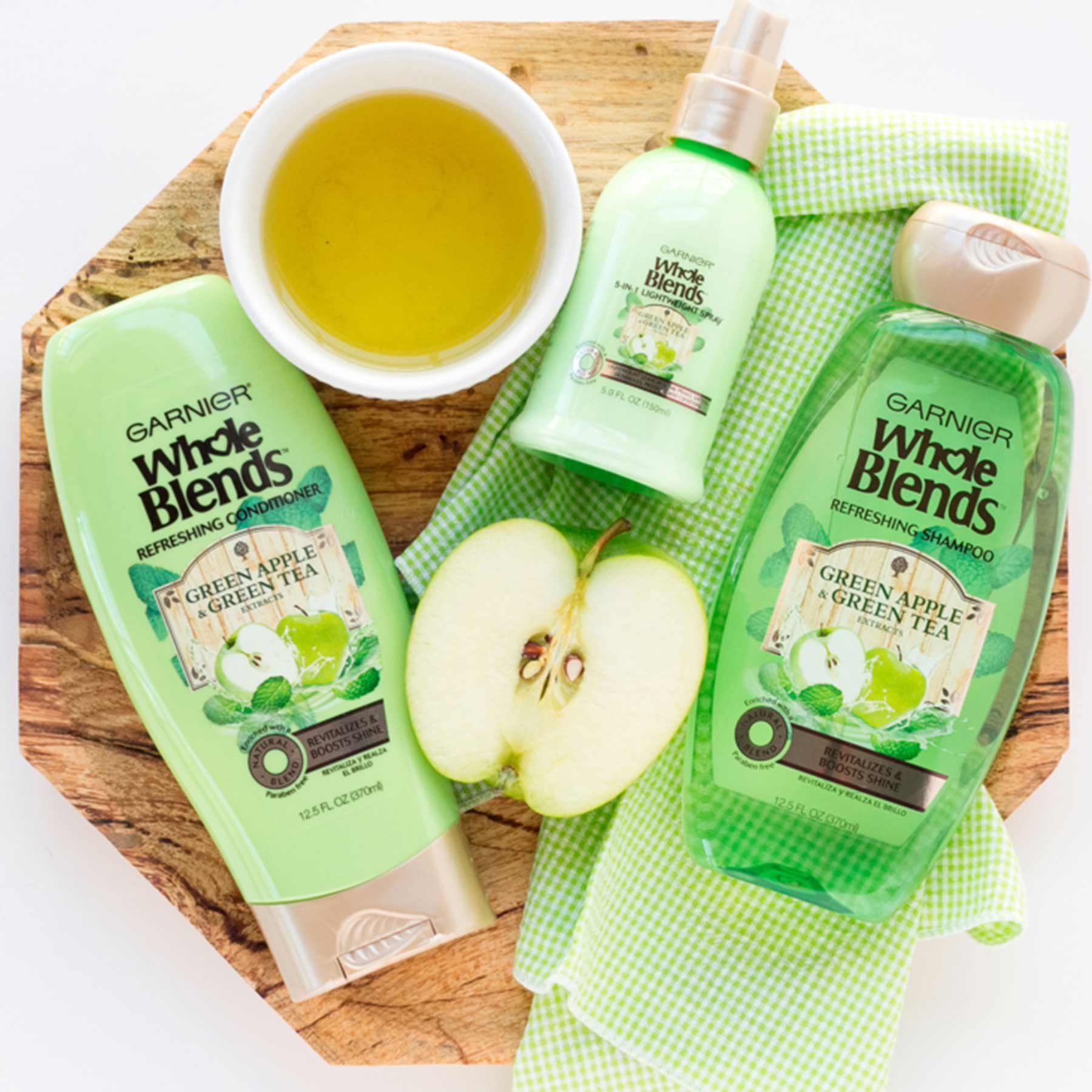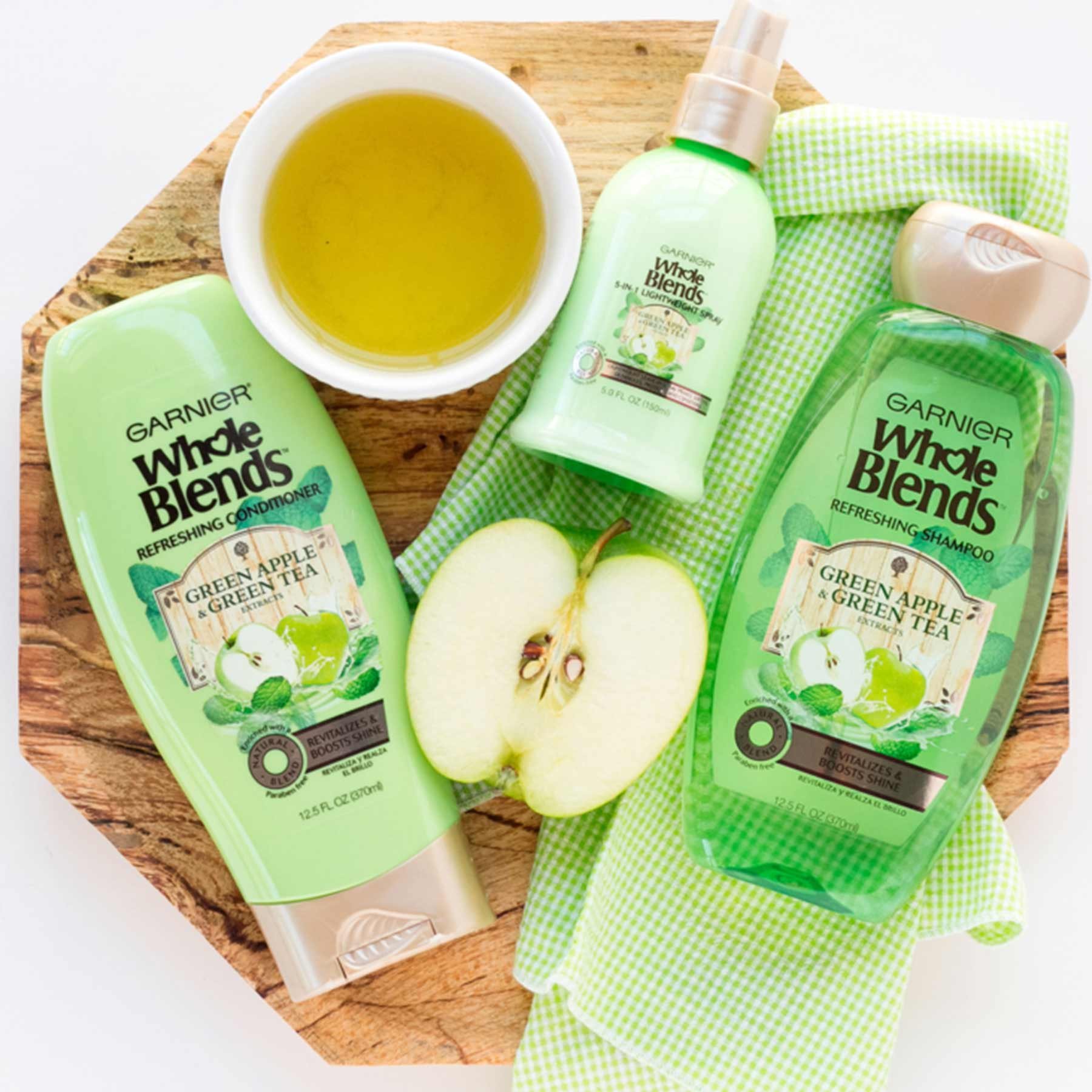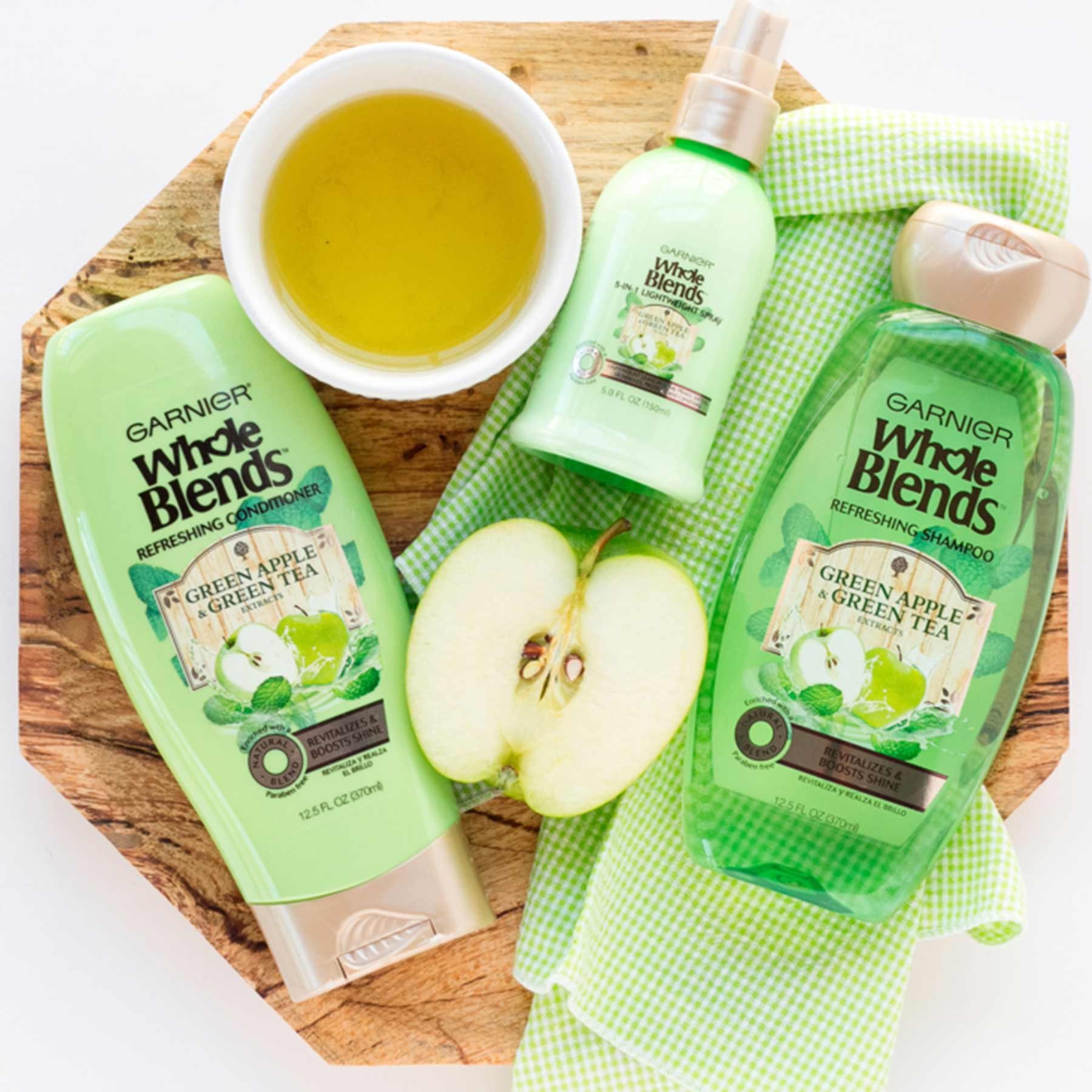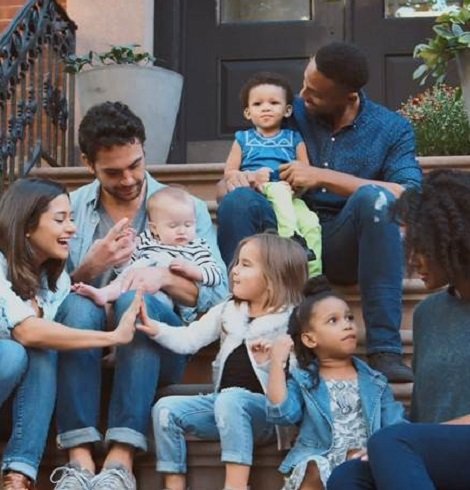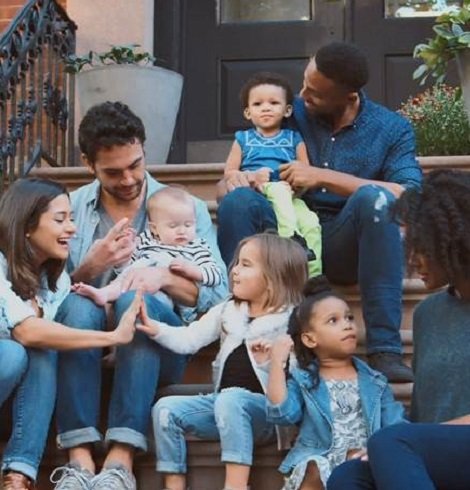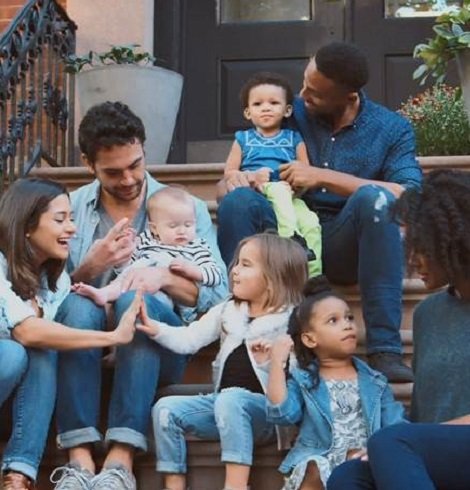 Whole Blends
Refreshing Shampoo with Green Apple & Green Tea extracts
$4.49 MSRP
Refreshing shampoo revitalizes and boosts shine
PRODUCT INFORMATION:
Our invigorating formula, blooms with a fresh, crisp fragrance of green apple & green tea, bringing to life our wholesome care that revitalizes hair and boosts shine.* Also available in 22 oz. *When using the Garnier Whole Blends Refreshing system of shampoo & conditioner
How to Use:
Massage into wet hair, lather and rinse thoroughly. Follow with our Refreshing conditioner. For extra shine & softness, discover our Refreshing 5-in-1 leave-in treatment.
Ingredients:
AQUA / WATER / EAU SODIUM LAURETH SULFATE CITRIC ACID COCAMIDOPROPYL BETAINE GLYCERIN SODIUM HYDROXIDE SODIUM CHLORIDE PEG-40 HYDROGENATED CASTOR OIL ARGANIA SPINOSA KERNEL OIL CAMELLIA SINENSIS LEAF EXTRACT ALOE BARBADENSIS / ALOE BARBADENSIS LEAF JUICE SODIUM ACETATE ISOPROPYL ALCOHOL MALTODEXTRIN PYRUS MALUS EXTRACT / APPLE FRUIT EXTRACT POLYQUATERNIUM-10 HEXYLENE GLYCOL SODIUM BENZOATE SALICYLIC ACID PARFUM / FRAGRANCE HEXYL CINNAMAL
Green Apple
Green Apples are rich in skin-brightening Vitamin C and minerals like magnesium, potassium, and calcium that strengthen hair.
Green Tea
Rich in caffeine, Green Tea is a natural circulation-booster that promotes healthy hair and glowing skin.
The Refreshing Care Regimen
Everything you need to complete your Refreshing hair care routine.
Wash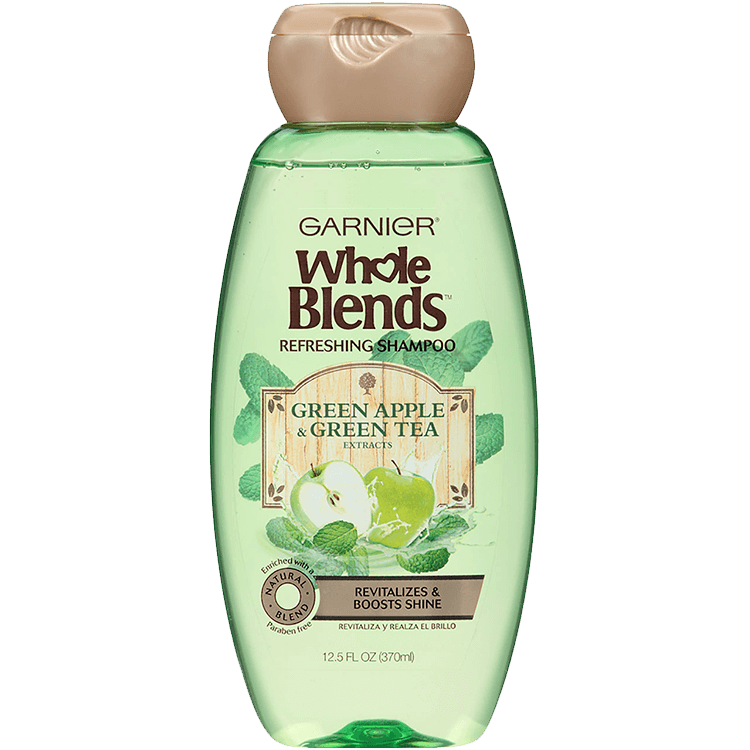 Whole Blends
Refreshing Shampoo with Green Apple & Green Tea Extracts
Normal Hair
Condition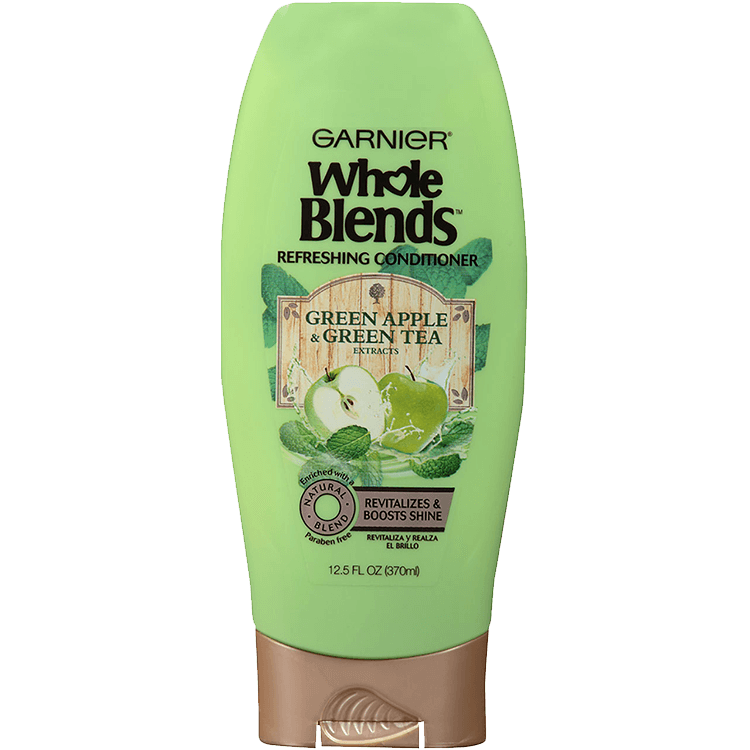 Whole Blends
Refreshing Conditioner with Green Apple & Green Tea Extracts
Normal Hair
Treat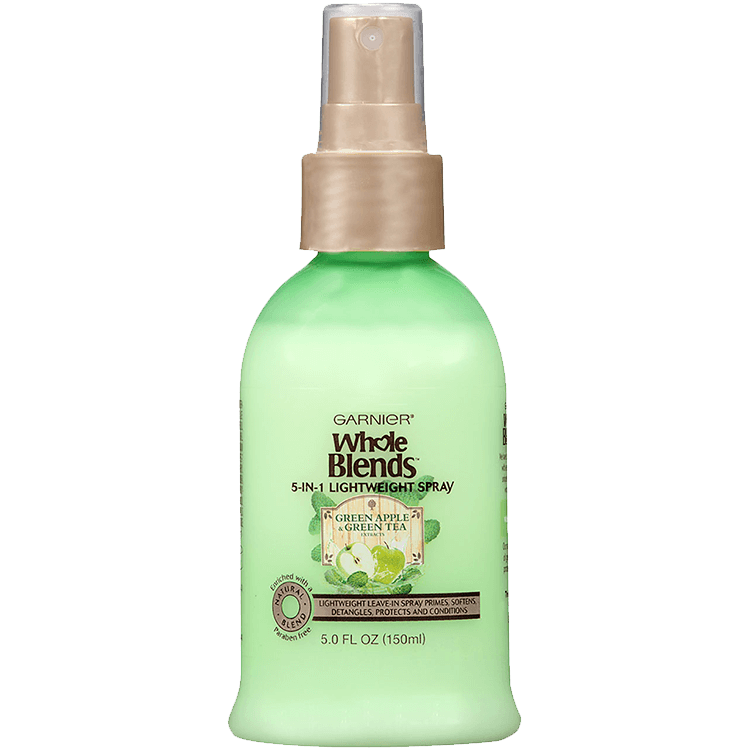 Whole Blends
Refreshing 5in1 Lightweight Spray with Green Apple & Green Tea Extracts
Normal Hair
Rated

5

out of

5
by
Erinlyn1222
from
Best shampoo & conditioner EVER!!!!!
I have been using the Green Apple + Green Tea shampoo and conditioner for 2 years now and it has helped my hair so much. It is has grown faster and is so much more healthier. That is alot to say about it since I color my hair too!! But now I am so worried about losing what has been accomplished with my hair because I have not been able to find the shampoo and conditioner in stores and I'm about out and I'm pretty disappointed and upset :( My sister has even been using longer than me and feels the same.
Date published: 2020-03-19
Rated

5

out of

5
by
JR23
from
Every time I find shampoo I like....
I LOVE this shampoo and conditioner. It smells amazing and works well on my oily hair. My hair feels cleaner longer after washing with this shampoo. I am VERY disappointed that it has been discontinued or has become very difficult to find. But the Coconut/oil/moisturizing varieties are readily available. I don't understand how a product with so many wonderful reviews gets discontinued, or at the very least, back-burnered.
Date published: 2020-03-13
Rated

5

out of

5
by
Bon and Bo
from
Great for dirty hair days
We use several varieties of Whole blends shampoo and we find Green Apple and Green tea is best on days where you need a good, refreshing cleaning without damaging our hair. We just can't find this anywhere right now. We definitely need to find it before summer beach and other outings.
Date published: 2020-03-01
Rated

5

out of

5
by
blondeboy
from
Best Shampoo
I really like this shampoo, but I haven't been able to find it at any store. Where can I buy this product?
Date published: 2020-02-12
Rated

5

out of

5
by
Amy37
from
Best shampoo I've ever used!
This is honestly the best shampoo I've ever used! My 2 daughters love it as well. It smells amazing of course, but more importantly it cleans our hair like no other...without stripping it or drying it. My daughters have both had issues with dry itchy scalp and this shampoo has completely gotten rid of it. It has salicylic acid in it, and I know that is the magic ingredient that has literally cured and healed their scalp. It never weighs our hair down. It's always clean and shiny. And now I'm depressed because every single store in my area that sold it, and there were several, have now stopped selling it. Please tell me this isn't discontinued! It's the best shampoo out there!!
Date published: 2020-02-02
Rated

5

out of

5
by
Emory
from
The Only Shampoo I'll Use
I've been looking for years for a shampoo and conditioner that works for my hair. I originally got this product a couple months ago because it was on sale at my local store and my current shampoo was about to run out. Along with that, I thought the scent would be at the very least pleasant. Boy oh boy was I blown away. After the first use I could already notice a difference in my hair. This shampoo is the only shampoo I've ever tried (and I've tried a fair few) that works for my hair. It strengthens my ridiculously fine hair, gives it a little bit of shine, and enhances its curls like nothing else. Along with that it smells fantastic. I will definitely keep using this for the forseeable future.
Date published: 2019-08-13
Rated

5

out of

5
by
Kaitelynne
from
My Favorite Whole Blends Product EVER!
I like green apple scent and drink green tea so decided to give this a try when I saw it. Scent is great, does not give me a headache,LOVE THAT. Works well for my hair that usually goes greasy fast,makes my scalp feel cleaned and my hair refreshed and somewhat shiny without making or leaving it oily, bought the whole set in store though can't seem to find it anywhere but online now. The spray is a God sent, the prices are decent and very affordable.Just when I thought the honey treasures was my favorite, this actually is now.
Date published: 2019-08-02
Rated

5

out of

5
by
RascalB
from
Makes my dog smell so yummy fresh!
I use this to wash my dog, not for myself. ( I use the Garnier Whole Blends cranberry shampoo for colored hair.) I love love love how fresh this makes my dog smell. I can't stop hugging and kissing and sniffing him after he is shampooed in this stuff! It's affordable which is great because I use quite a bit of it to cover my boxer-pitbull mix. I haven't been able to find this in stores lately and was upset, thinking it was discontinued, but I see here that Garnier says it isn't. I am so relieved! Thanks for making my dog smoochie-licious!!!
Date published: 2019-07-22