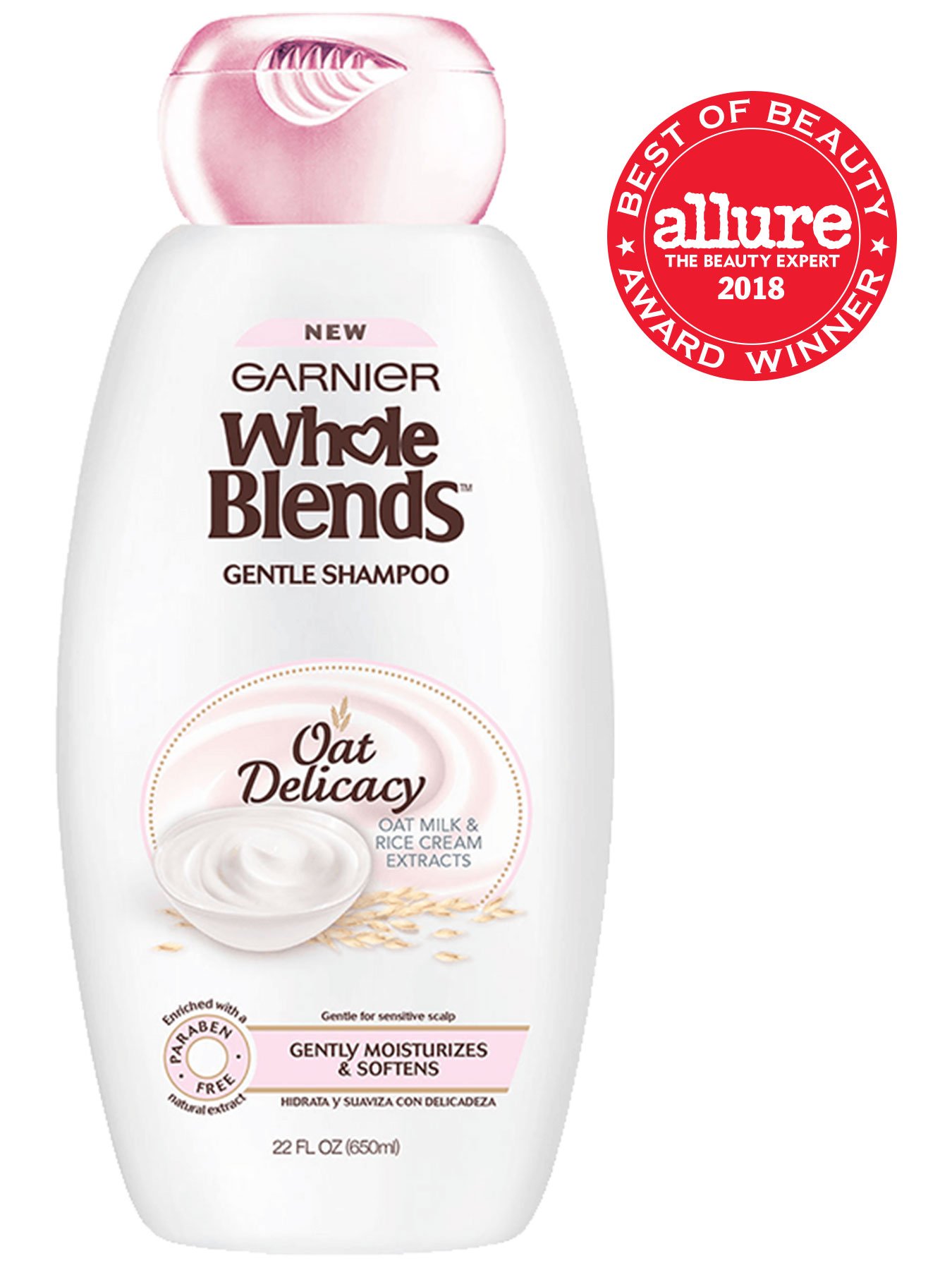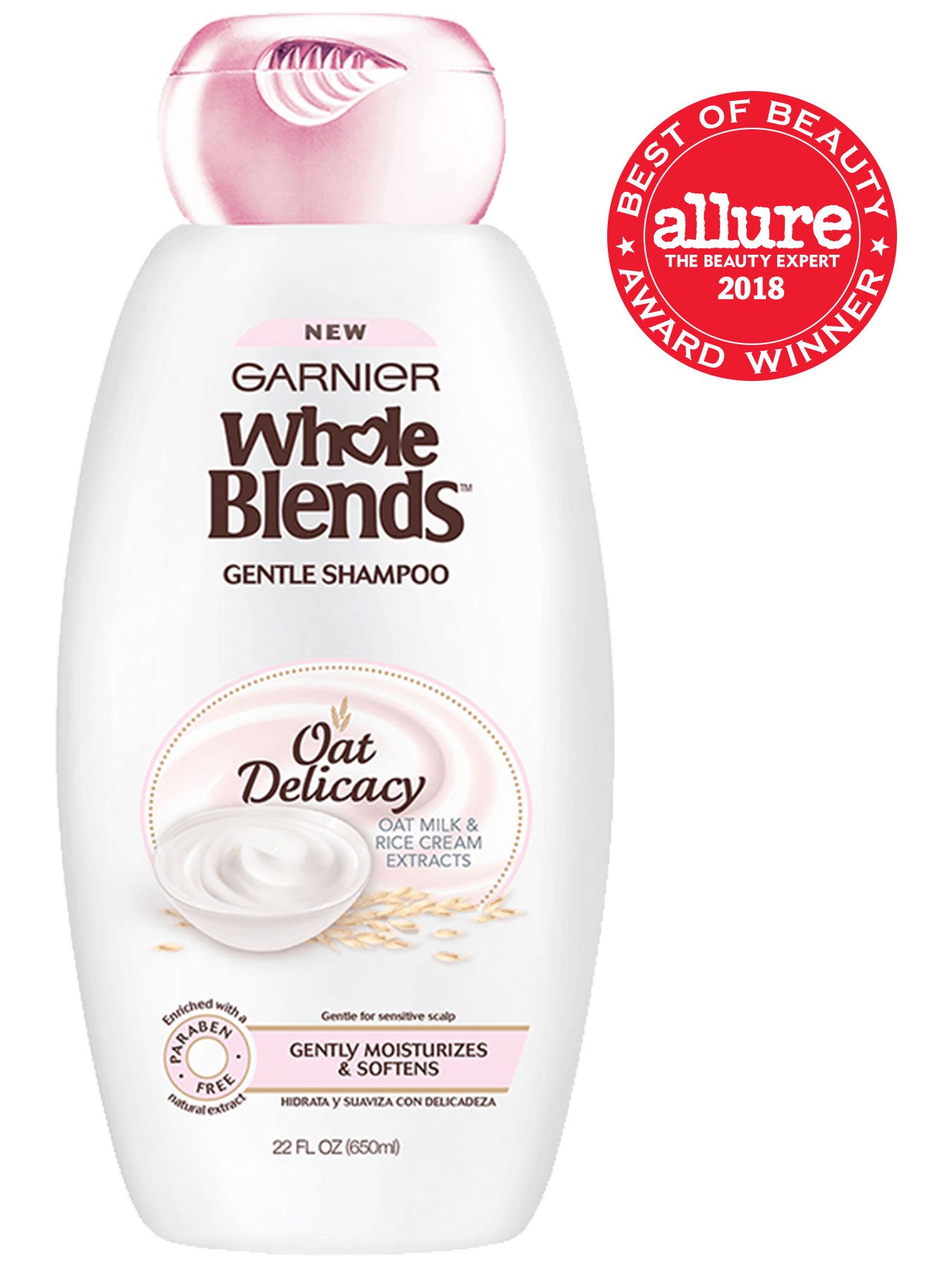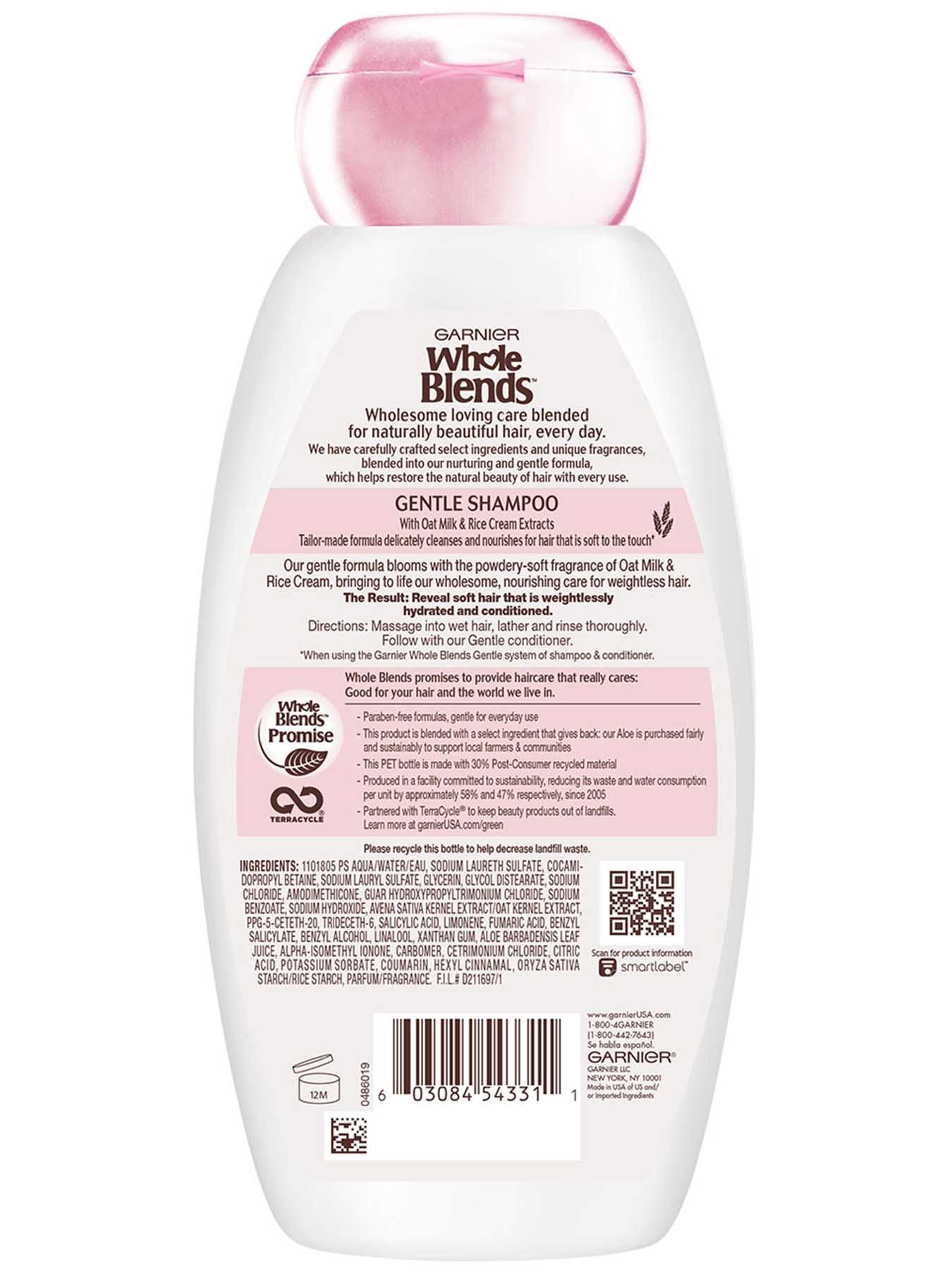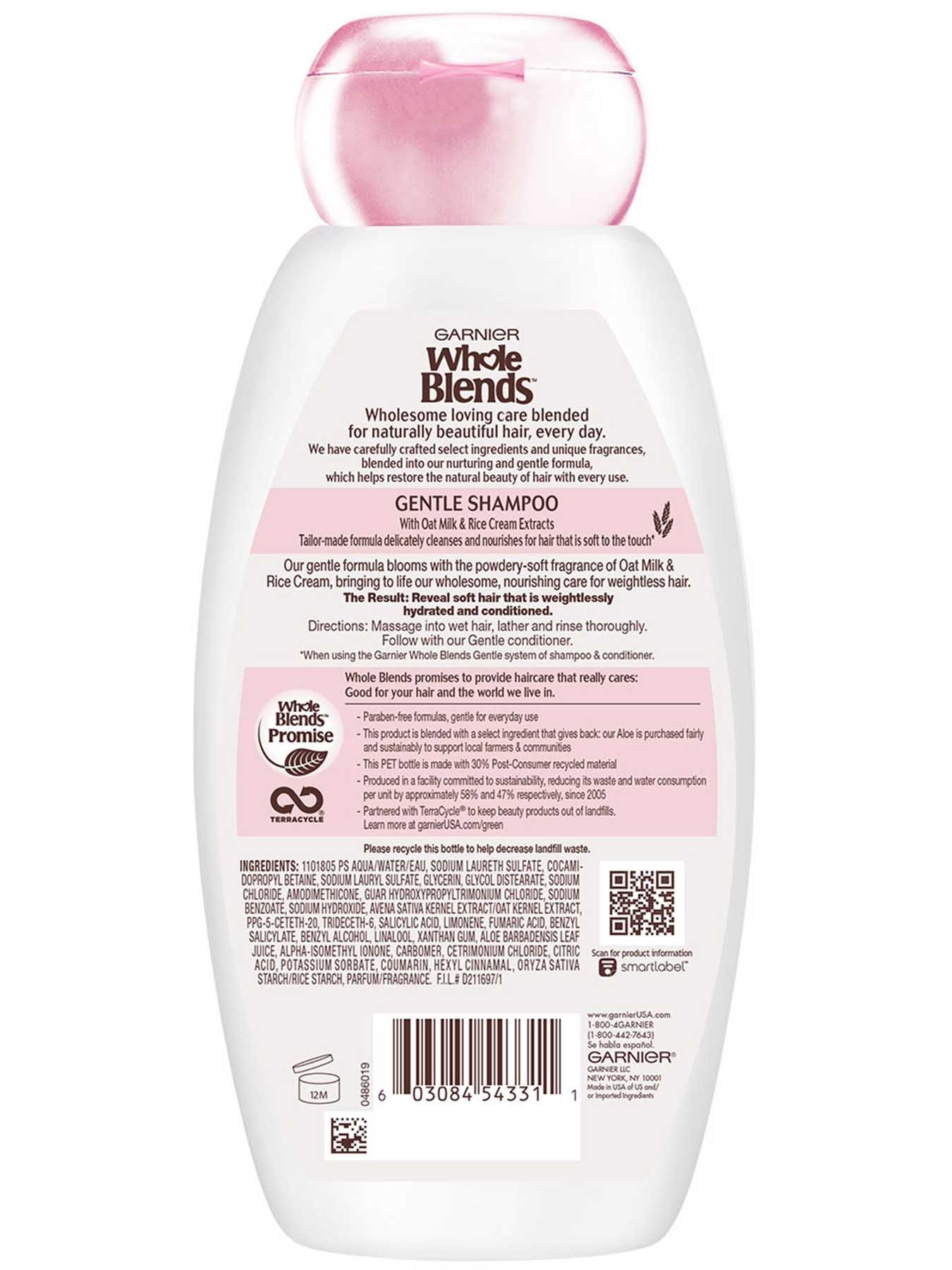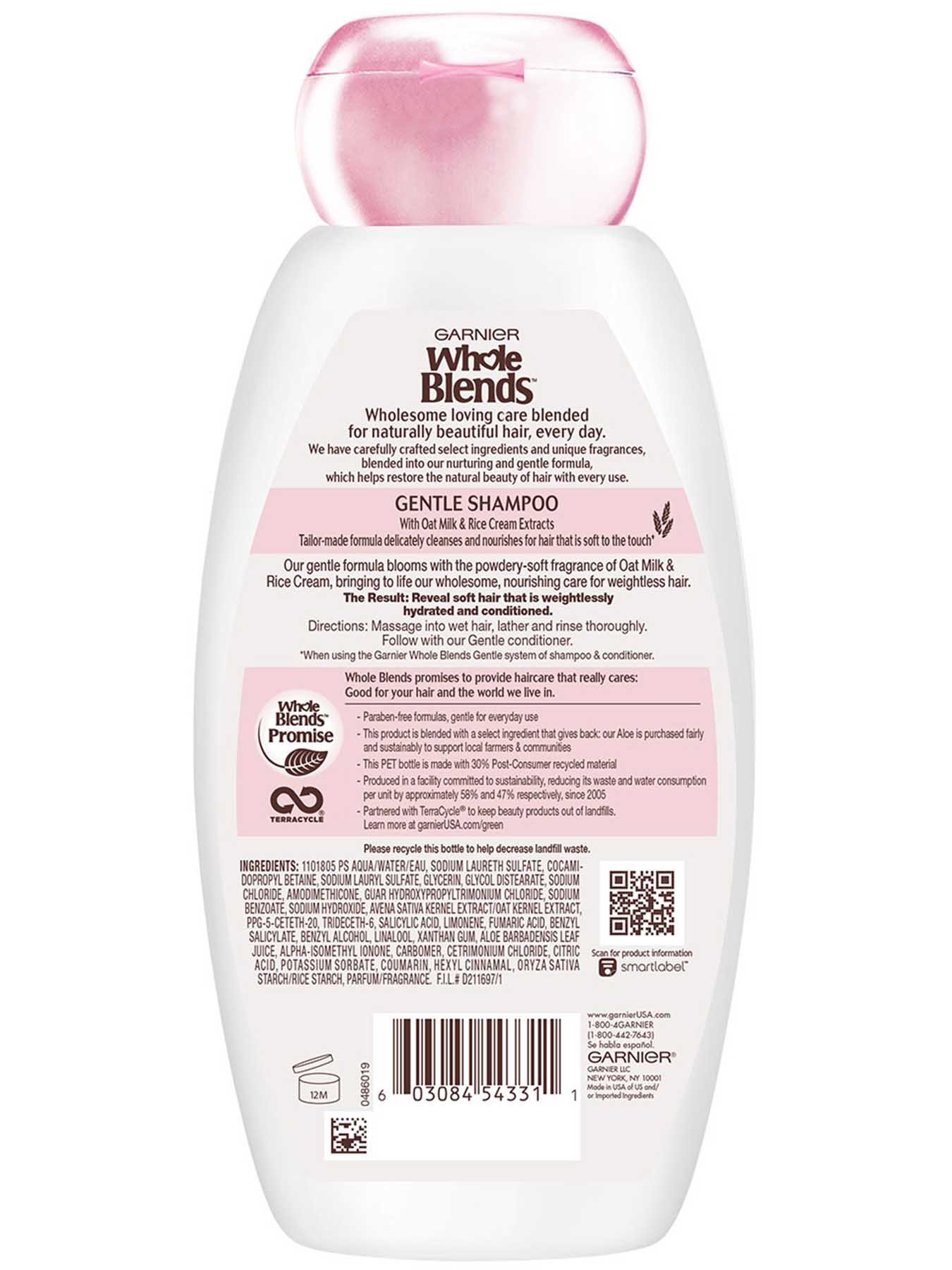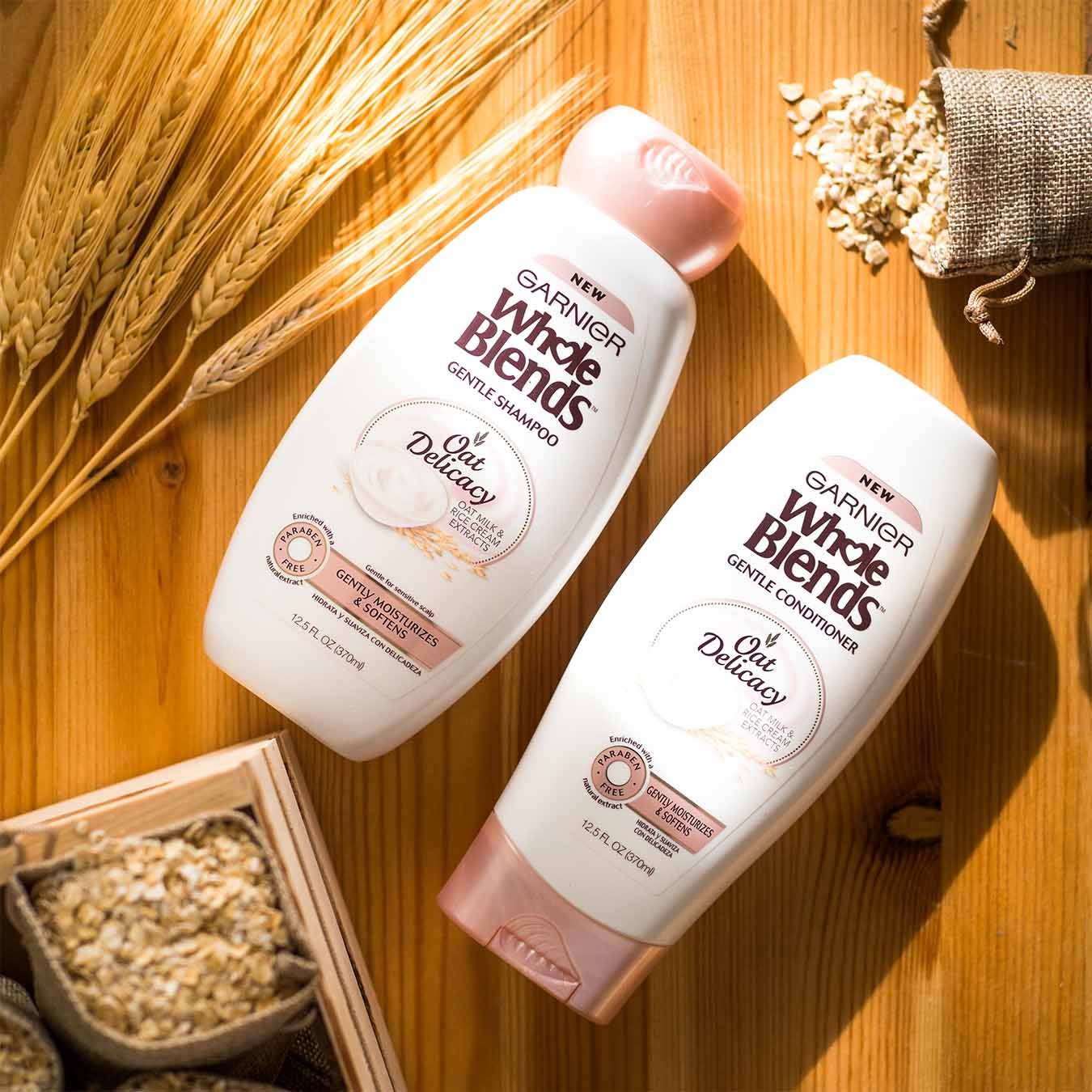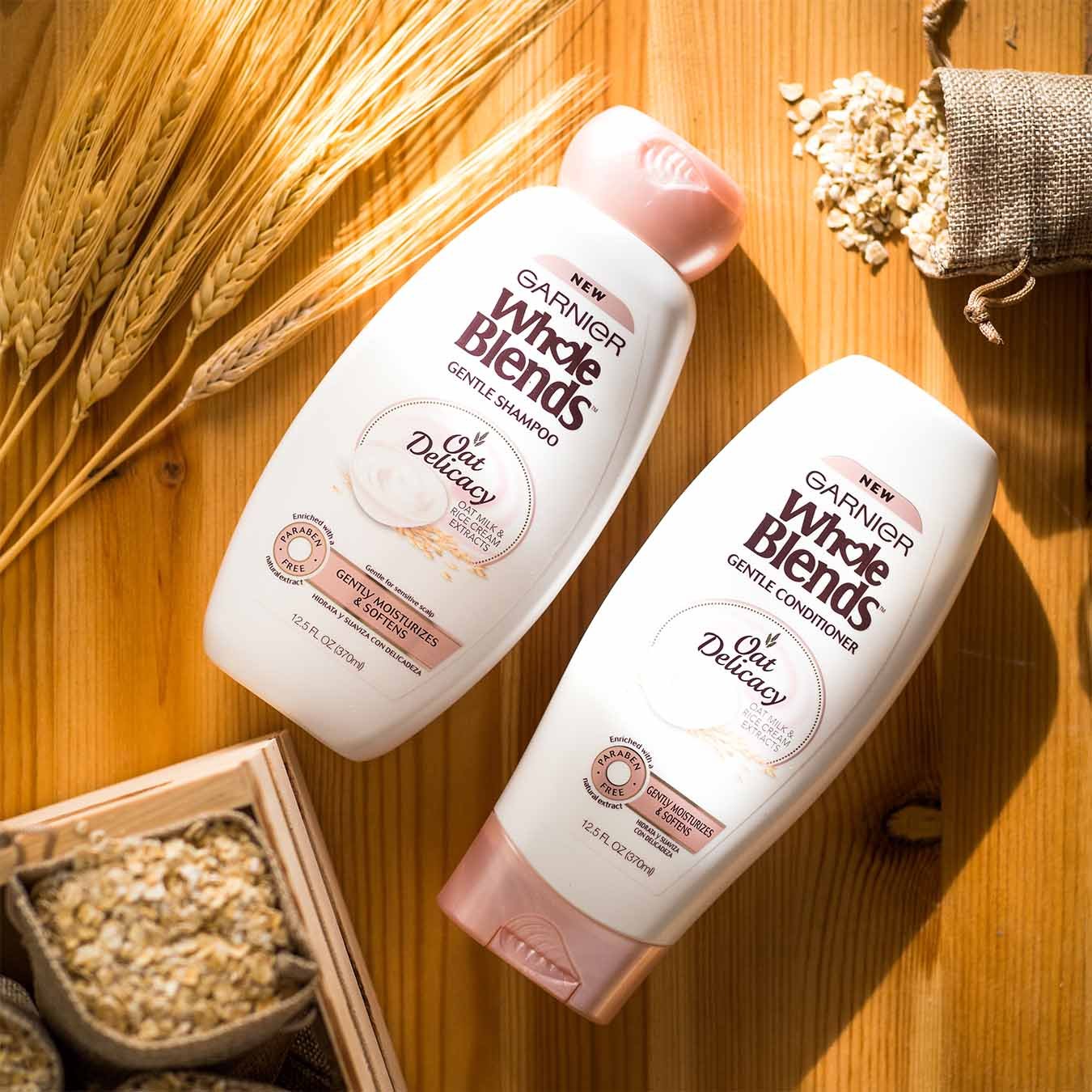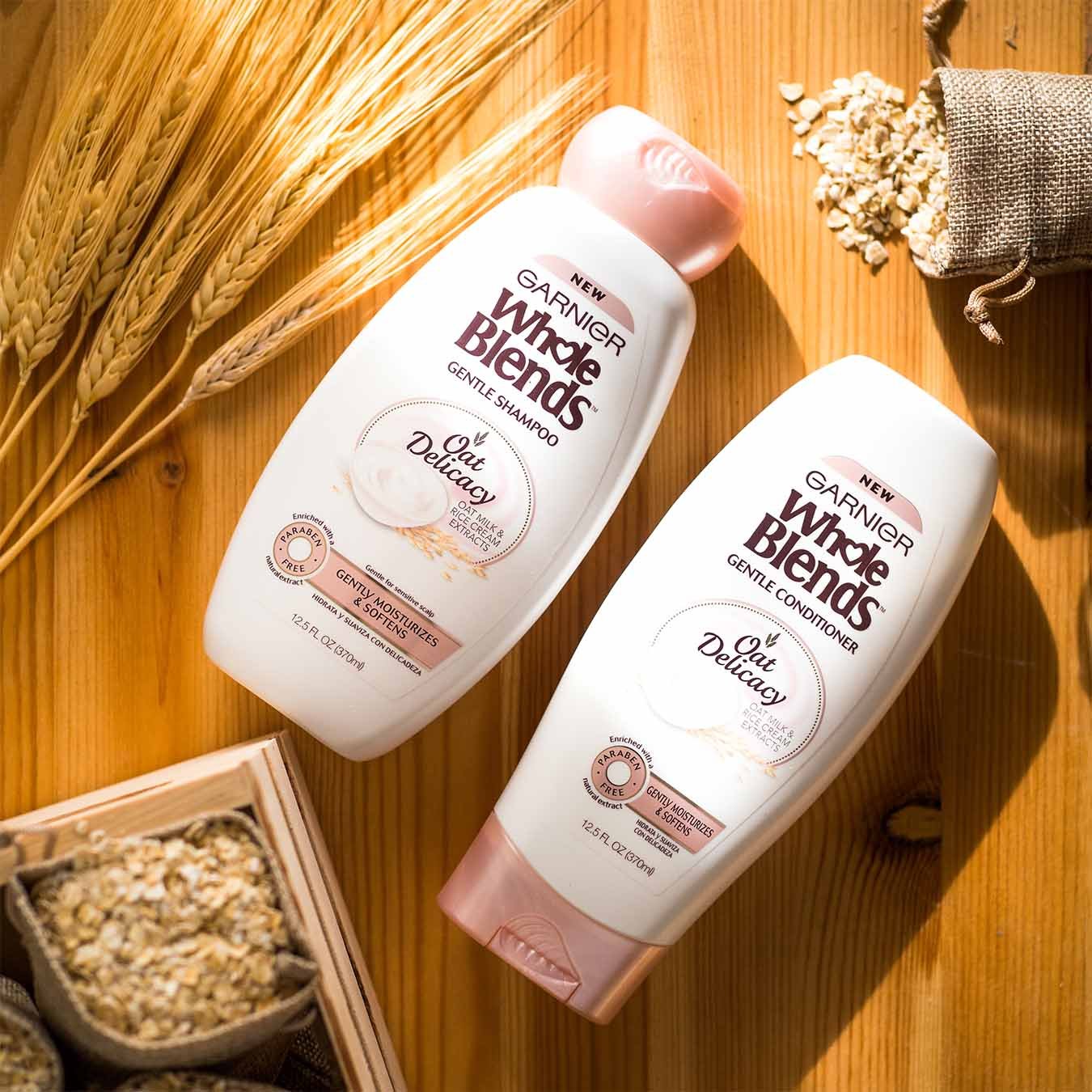 Gentle Shampoo Oat Delicacy
Gentle Shampoo Oat Delicacy
Whole Blends
$4.49 MSRP
$7.99 MSRP
Tested on Sensitive Scalp, Gently moisturizes and softens
*Optimum results are obtained when using the Garnier Whole Blends Oat Delicacy Gentle system of shampoo, conditioner, and treatment milk.
PRODUCT INFORMATION:
Our Garnier Whole Blends gentle shampoo formula blooms with the powdery-soft fragrance of Oat Milk & Rice Cream, bringing to life our wholesome, nourishing care for weightless hair.
How to Use:
Massage into wet hair, lather and rinse thoroughly. Follow with our Gentle conditioner.
Ingredients:
1101805 PS AQUA / WATER / EAUSODIUM LAURETH SULFATECOCAMIDOPROPYL BETAINESODIUM LAURYL SULFATEGLYCERINGLYCOL DISTEARATESODIUM CHLORIDEAMODIMETHICONEGUAR HYDROXYPROPYLTRIMONIUM CHLORIDESODIUM BENZOATESODIUM HYDROXIDEAVENA SATIVA KERNEL EXTRACT / OAT KERNEL EXTRACTPPG-5-CETETH-20TRIDECETH-6SALICYLIC ACIDLIMONENEFUMARIC ACIDBENZYL SALICYLATEBENZYL ALCOHOLLINALOOLXANTHAN GUMALOE BARBADENSIS LEAF JUICEALPHA-ISOMETHYL IONONECARBOMERCETRIMONIUM CHLORIDECITRIC ACIDPOTASSIUM SORBATECOUMARINHEXYL CINNAMALORYZA SATIVA STARCH / RICE STARCHPARFUM / FRAGRANCE F.I.L. #D211697/1
Oat Milk
A natural cleanser with anti-inflammatory powers, Oat Milk gently draws away impurities (excess oil in skin and dandruff on the scalp) to restore shine. Also rich in fiber, B vitamins, it is believed to stimulate healthy cell renewal.
The Gentle Care Regimen
Everything you need to gently cleanse, condition, and soften.
Wash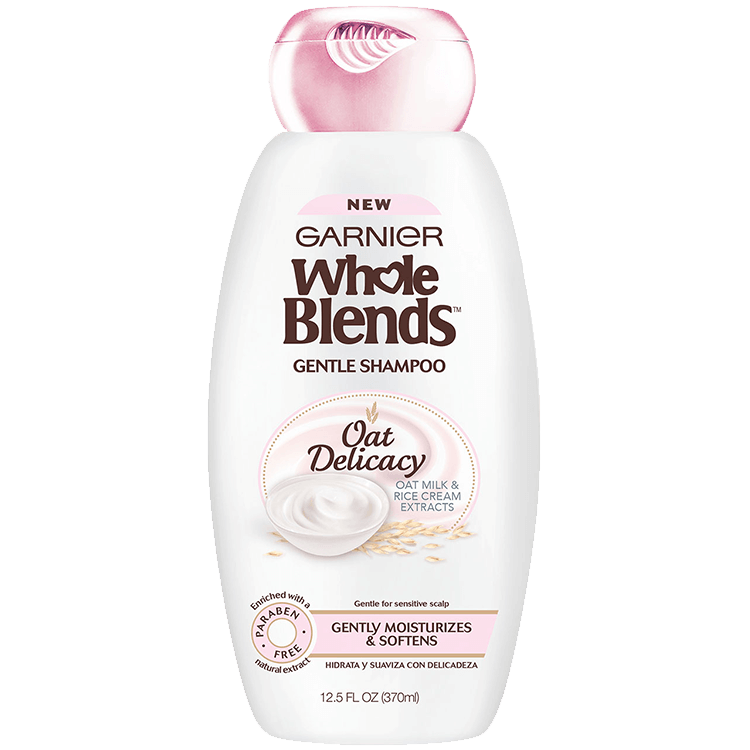 Whole Blends
Gentle Shampoo Oat Delicacy
Gentle for everyday use
Condition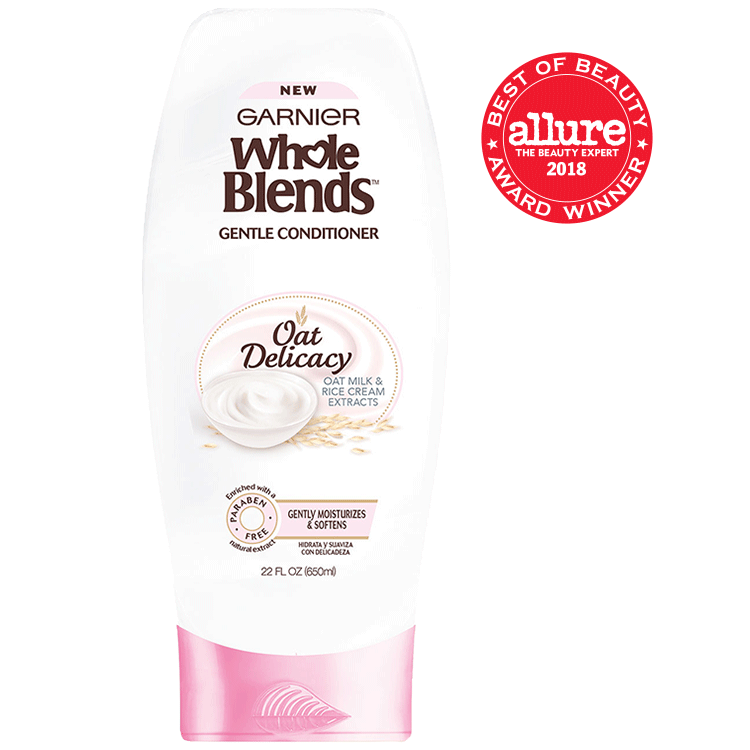 Whole Blends
Gentle Conditioner Oat Delicacy
Gentle for everyday use
Treat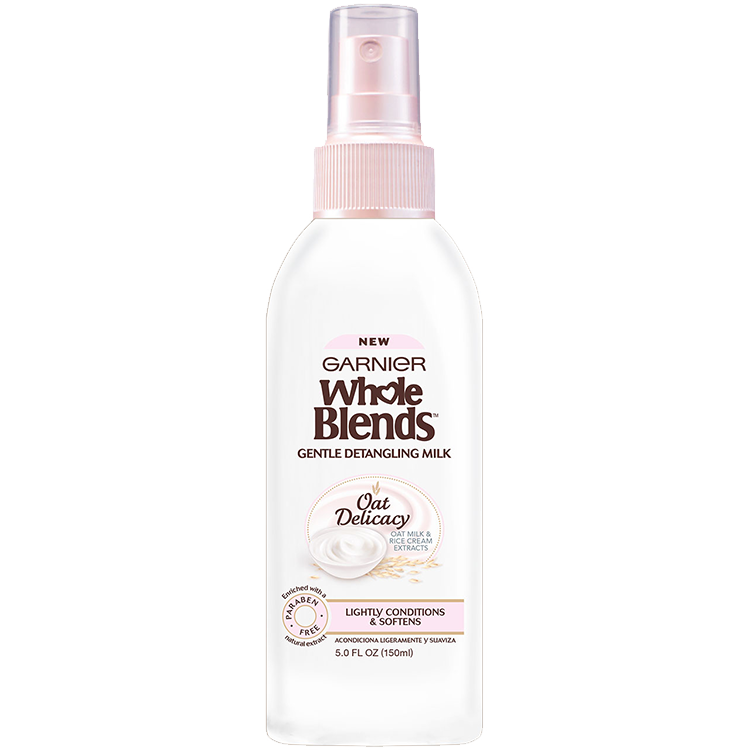 Whole Blends
Gentle Detangling Hair Milk Oat Delicacy
Gentle for everyday use
Rated

5

out of

5
by
Lilybug1
from
My new favorite
I love this product, it leaves my hair so soft and feeling clean! The best part no more dandruff or itchy scalp!
Date published: 2020-04-08
Rated

5

out of

5
by
Deanna19
from
I will never use another brand
I Love this shampoo and conditioner. It was on sale amd I have fine hair so wanted to give it a try. I have tried other brands, dove, suave professionals, tresemme, Pantene. None worked on my fine frizzy dry hair. I usually wake up shower and then have to use additional products to keep the frizzy mess down and my hair still looks untamed. I used this and my hair looks great when dried and I don't need to add much of anythibg to the flyaways or frizz. There is no frizz. My hair feels so soft. It has a light sweet smell. Feels weightless. I will continue to buy this brand. My advice to anyone looking to try this is to use the one made for your hair type for best results.
Date published: 2020-01-19
Rated

5

out of

5
by
sacc
from
My favorite shampoo ever I use it every night and it smells so good and makes it easy to brush through my hair. Gives my hair a soft texture as well!
Date published: 2019-12-09
Rated

5

out of

5
by
irene_cisne
from
I love this shampoo and everything about it. It leaves your hair smooth and smelling good.
Date published: 2019-12-09
Rated

5

out of

5
by
julias68
from
My favourite shampoo! (The conditioner is also good) I dont have any specific problems except for dry hair, but this combo keeps it soft and shiny. The scent is a great plus, the Oat Delicacy is my favourite out of the whole line.
Date published: 2019-12-09
Rated

5

out of

5
by
aggieq
from
It gently cleanse my hair and in the meantime hydrated my hair. I like the light fresh fragrance of it.
Date published: 2019-12-01
Rated

5

out of

5
by
mamabearsav
from
One of my favorite Whole Blends scents, amazing shampoo!! I have like 3 favorites and this is definitely up there lol.
Date published: 2019-11-21
Rated

5

out of

5
by
hayleym17
from
I love this shampoo as well as the conditioner it is amazing it works perfectly it has only a few simple ingredients and makes your hair soft and smooth and shiny and I love it Ive bought this a ton of times and will continue doing so
Date published: 2019-11-19