This site is intended for US consumers.Cookies and related technology are used for advertising.To learn more or opt-out, visit Ad Choices and our privacy policy.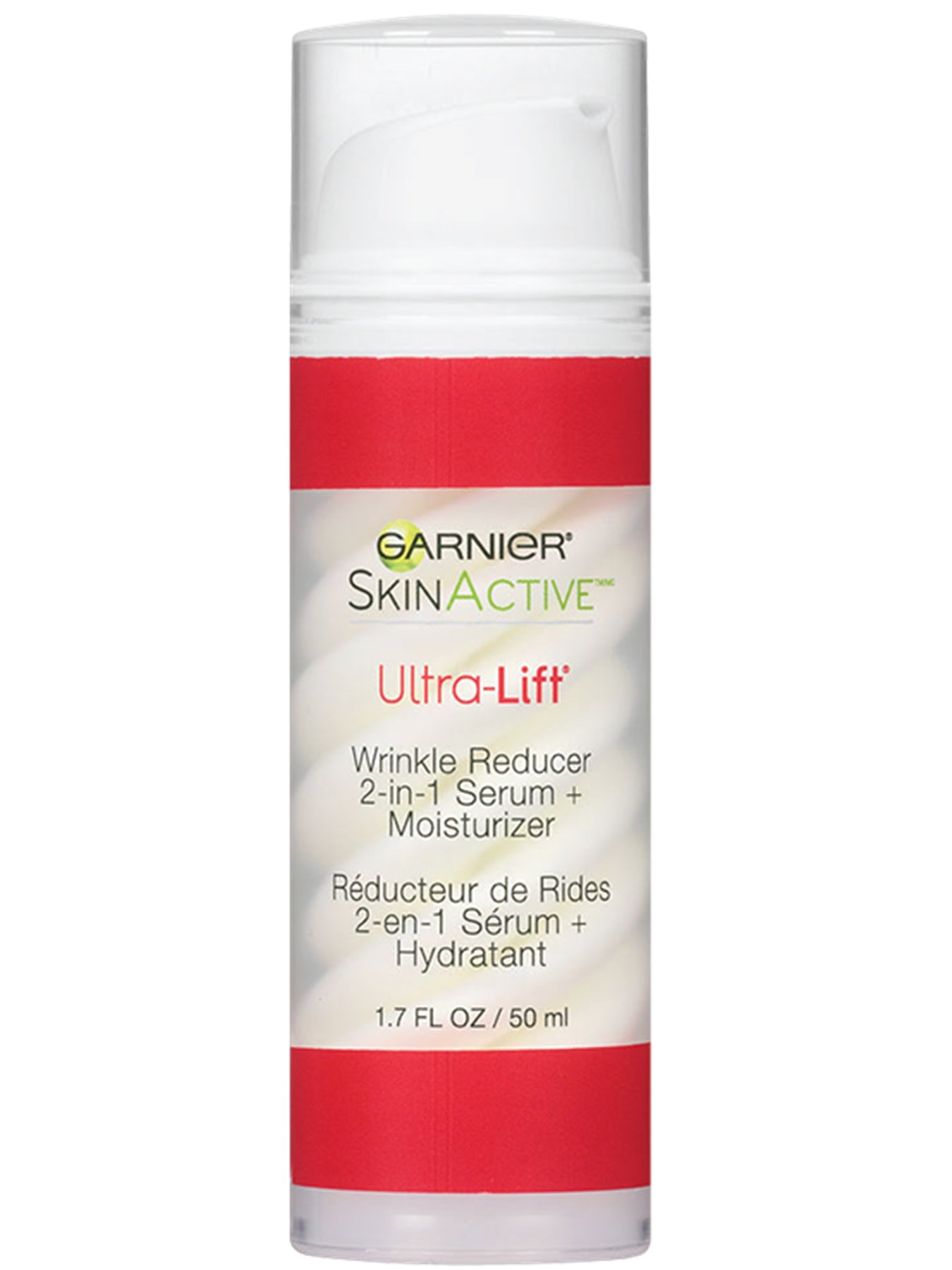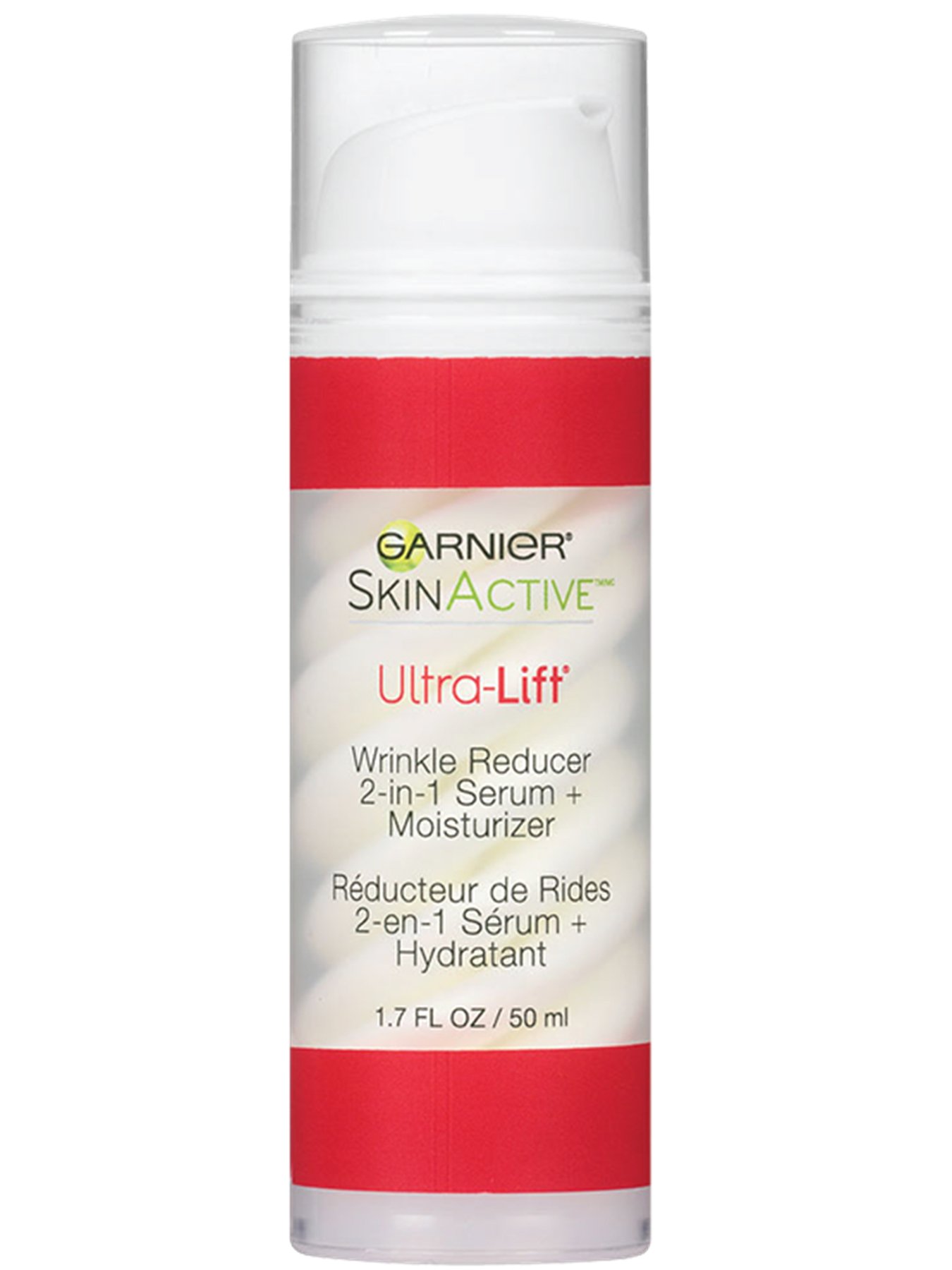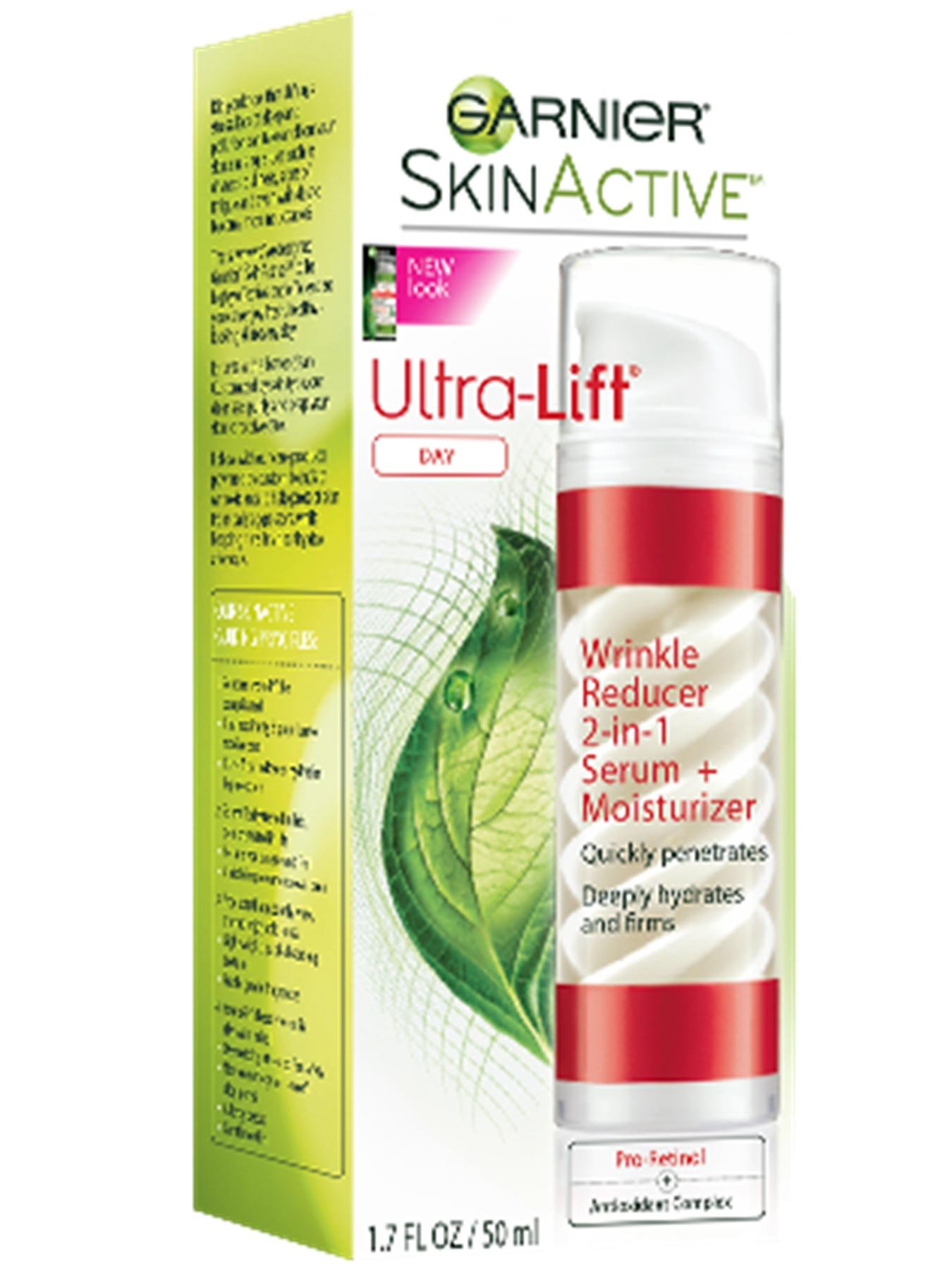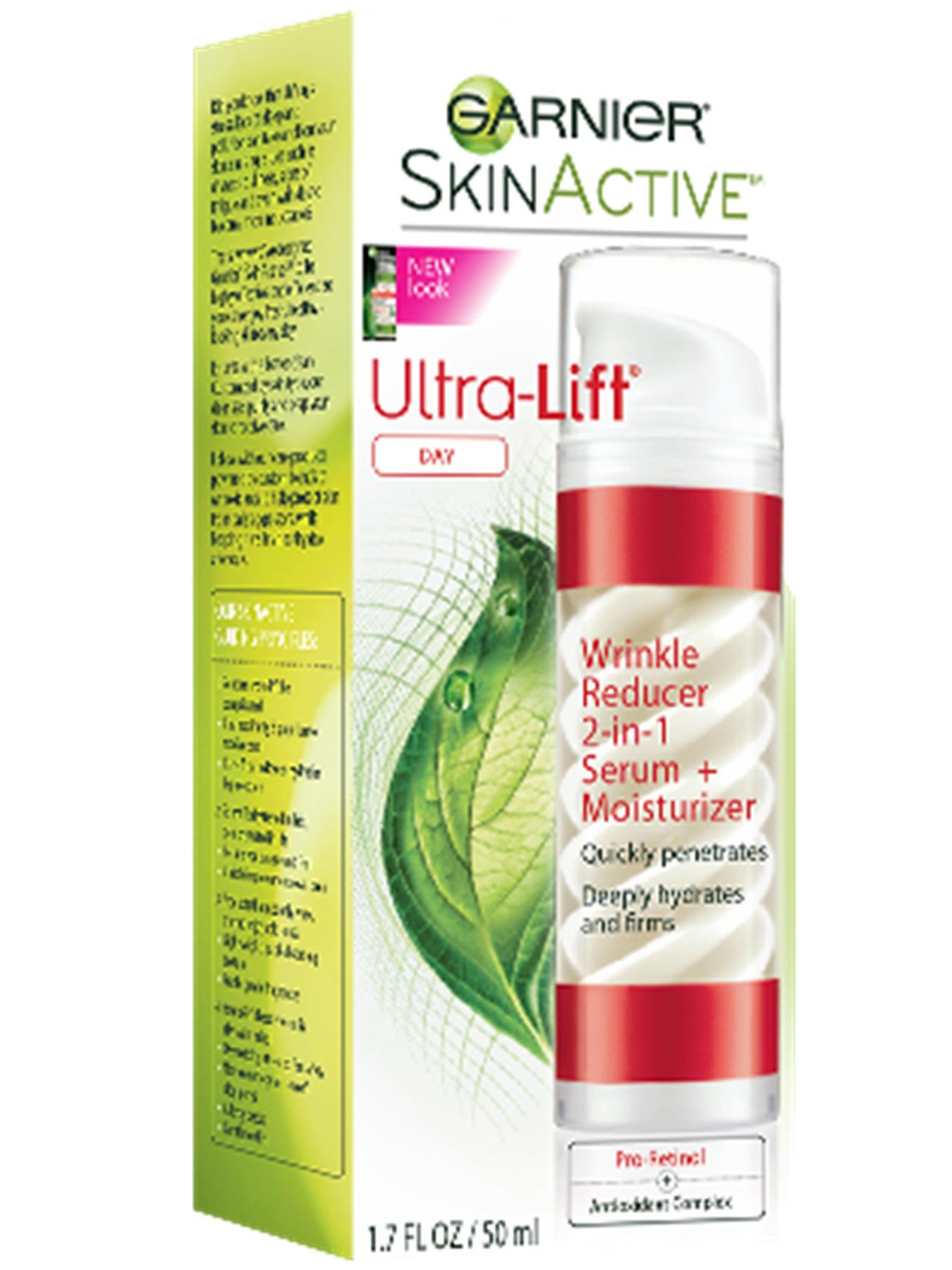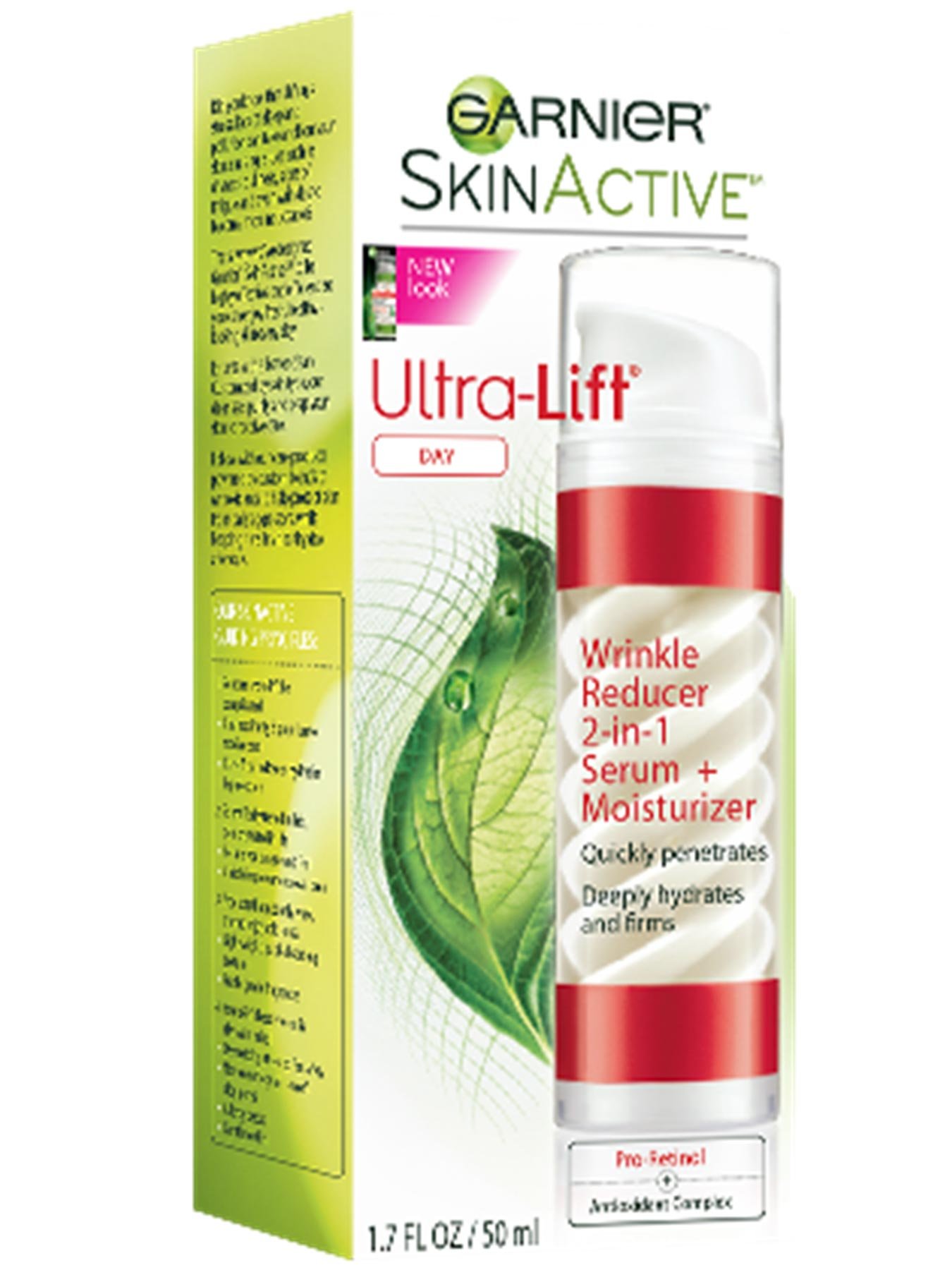 Garnier SkinActive
Ultra-Lift 2-in-1 Serum + Moisturizer
PRODUCT INFORMATION:
While we no longer offer this product, we have something even better to meet your needs. Find it here.
A multi-tasking daily moisturizer that effectively reduces signs of aging. This fast-absorbing, time-saving formula is a powerful combination of a serum and a moisturizer in one. Infused with Vitamin E, Pro-Retinol (a form of Vitamin A) and Rice Peptides, it intensely hydrates while fighting wrinkles and improving elasticity.
How to use:
Gently pump a small amount onto fingers and massage into face and neck until thoroughly absorbed. For best results, use twice daily.

Testimonials
"Ultra-lift has a light yet creamy feel, great slip and a pleasant, soft scent. It goes on smooth, absorbs quickly, and makes my skin feel more hydrated once applied. Overall, Ultra-lift makes me feel like I am giving my skin extra attention even though it only involves one step."
Elizabeth L. from Lancaster, MA
"I was VERY pleased. Had a nice, light, refreshing texture, not greasy. Obviously easier to use than having to apply a couple of products. My skin felt, and looked, fresh and hydrated."
Julie S. from Denver, CO
"I really liked it ! great consistency- I was able to put my makeup on right over it. I also liked it for night. I usually use a serum/moisturizer for day and a different serum/moisturizer for night...this did it all in one step. My skin looked and felt great ! THANK YOU !"
Erica W. from Rancho Santa Margarita, CA
"Like the packaging, especially the swirl! Like the convenience and time saving qualities of the combination of moisturizer and serum in one. Like how product is easy to dispense, glides on smoothly, absorbs into the skin quickly and is non-greasy."
Lynn K. from Tarzana, CA
Ingredients:
Aqua/Water, Glycerin, Pentylene Glycol, Neopentyl Glycol Diheptanoate, Glyceryl Stearate, Dicaprylyl Carbonate, Stearic Acid, Dimethicone, Cyclopentasiloxane, Triethanolamine, Gly-Ceryl Polymethacrylate, Carbomber, Phenoxyethanol, Silica, Aluminum Starch Octenylsuccinate, Panthenol, Cetyl Alcohol, Caprylyl Glycol, Argania Spinosa/Argania Spinosa Kernel Extract, Acrylamide/Ammonium Acrylate Copolymer, Disodium EDTA, Ethylhexylglycerin, Hexylene Glycol, Butyrospermum Parkii Butter/Shea Butter, Retinyl Linoleate+, Chlorphenesin, Xanthan Gum, Polyisobutene, Parfum/Fragrance, Tocopheryl Acetate, Sodium Cocoyl Glutamate, Hydrolyzed Rice Protein, Polysorbate 20, F.I.L. D48880/1, 999117 2.
Vitamin A
Naturally found in leafy vegetables like spinach and animal proteins like beef liver, Vitamin A is popular in beauty formulas that tout strengthening benefits. An antioxidant known for helping smooth skin and slow the appearance of aging, it also boosts hair growth.
Vitamin E
Vitamin E is an antioxidant that helps maintain skin snd hair's natural hydration. Used in skin care, It helps absorb and protect from damaging UV rays. In hair care, it helps seal in protective moisture.
Rated

5

out of

5
by
Upset in VA
from
BRING THIS BACK
I am so disappointed in Garnier's decision to discontinue this wonderful product. I bought probably 6- 10 of them at a time when I found them because they were moving off the shelves so fast. I started looking for them again when I was getting close to running out and realized from your website you have discontinued it. I have used it for years and it gave me wonderful lift and moisture, but was never greasy feeling. I never had a break out with this product. The smell was wonderful which is something for me to say as I usually don't use products with an overt smell. I loved that it was a pump, as dipping fingers in a jar is nasty. I won't purchase your alleged replacement. Why can't companies like yours think about your loyal customers. I am going to rethink buying products, like the Micellar Cleansing Water All-in-1 that I have used since its launch. Why would I be loyal to you and still purchase it when your marketing folks are driving you to be disloyal to your customers?
Date published: 2019-11-14
Rated

5

out of

5
by
Jackie W
from
Bring this back
I've used the 2-in-1 serum for several years. It is the best moisturizer I've ever had. I used to buy a new one every few months trying to find the perfect one and had issues with so many, like greasy face or breaking out. I have tried the replacement. I specifically look for non spf moisturizers and do not like this new formula. Now it looks like I'll be on the search for something new. Please bring this back!
Date published: 2019-10-28
Rated

5

out of

5
by
KathyMary
from
Please bring back!
I have been using this product for years and love it! Please bring it back.
Date published: 2019-10-19
Rated

5

out of

5
by
Jc7shop
from
Garnier SkinActive Ultra-Lift Wrinkle Reducer 2 in
I love, love this moisturizer! It has just the right amount of texture to glide on your face and neck.
Date published: 2019-09-21
Rated

5

out of

5
by
Momma V
from
Best product ever! Bring it back!
Light texture and it really moisturizes well. Has kept my 70 year old skin looking like 50. Really! People are surprised when they ask how old I am. PLEASE bring back the ORIGINAL. The new one doesn't FEEL the same and has LESS product in the container. Why can't companies leave well enough alone. You just lost a customer.
Date published: 2019-09-04
Rated

5

out of

5
by
Retired teacher
from
Love this product
Have been using for years and have had wonderful results. Now down to last bottle and can Not find anywhere! Please bring back this serum!,, Outstanding product!
Date published: 2019-07-19
Rated

5

out of

5
by
Hopper
from
Bring it back! Please!
I have been trying other moisturizers and have not found one I like as well as this one. What recommendation do you have to replace it?
Date published: 2019-06-13
Rated

5

out of

5
by
soulsista
from
Holy Grail Product-- Please Bring Back!
I've been using this for two weeks-- just two weeks-- and the difference in my fine lines, the deep crevace on my forehead, the lack of elasticity that I once had... All improved to the point where I'm floored. I have beyond sensitive skin to where I nearly threw in the towel on trying any more anti-aging products as I would just reap too much damage to my skin to allow me to continue to use them, then I found this only to learn that it has been discontinued. I've tried product after product, from low-end to high-end and this is the only one that not only doesn't cause any irritation, but makes my skin feel incredible, not to mention the five-year difference I see in my skin after just the last two weeks. That's *huge*. You have such a dynamic product with this and judging on the other reviews of others who feel just like I do about this product-- would you please heavily consider bringing it back? It's a game-changer!
Date published: 2019-06-04