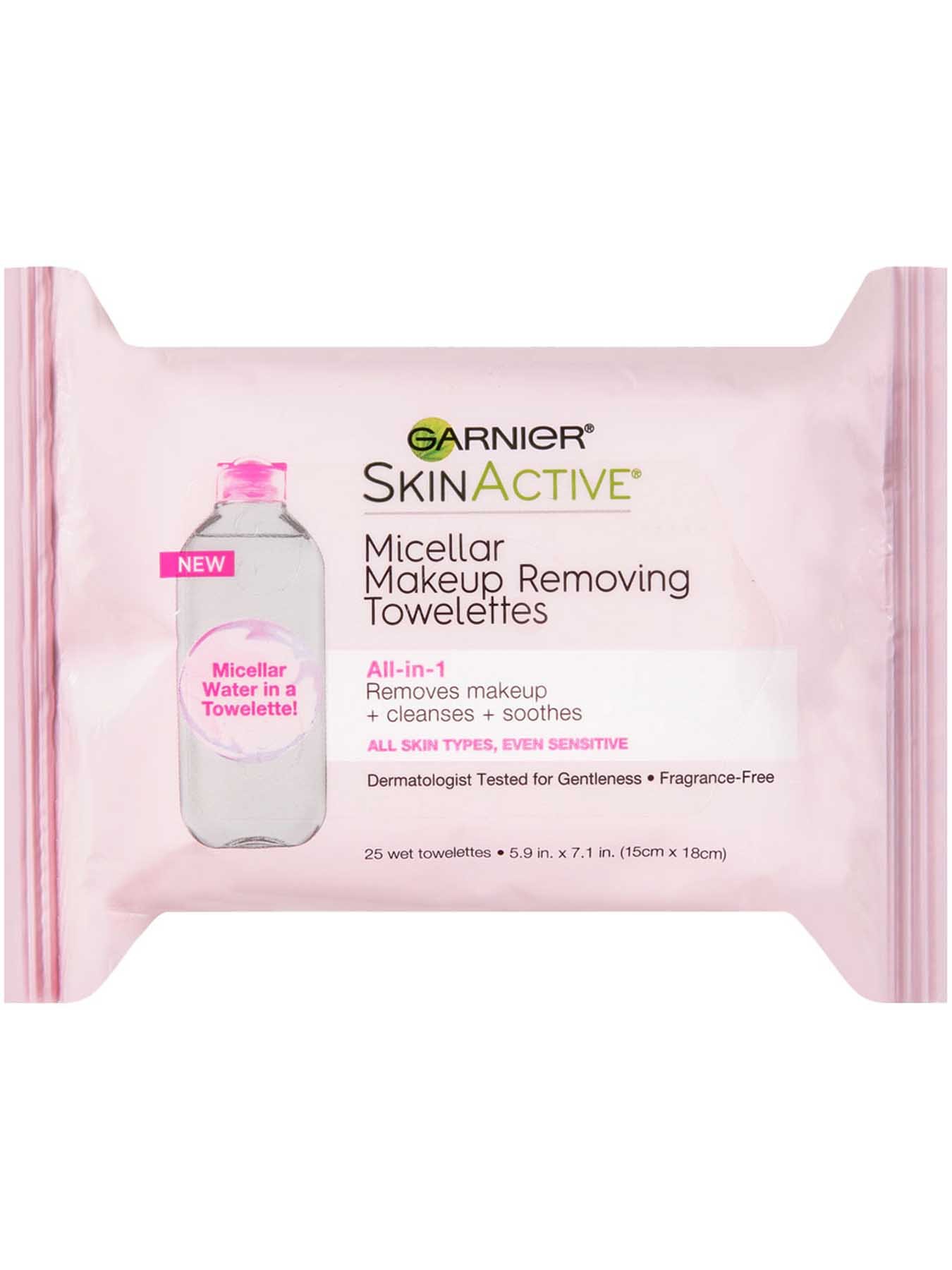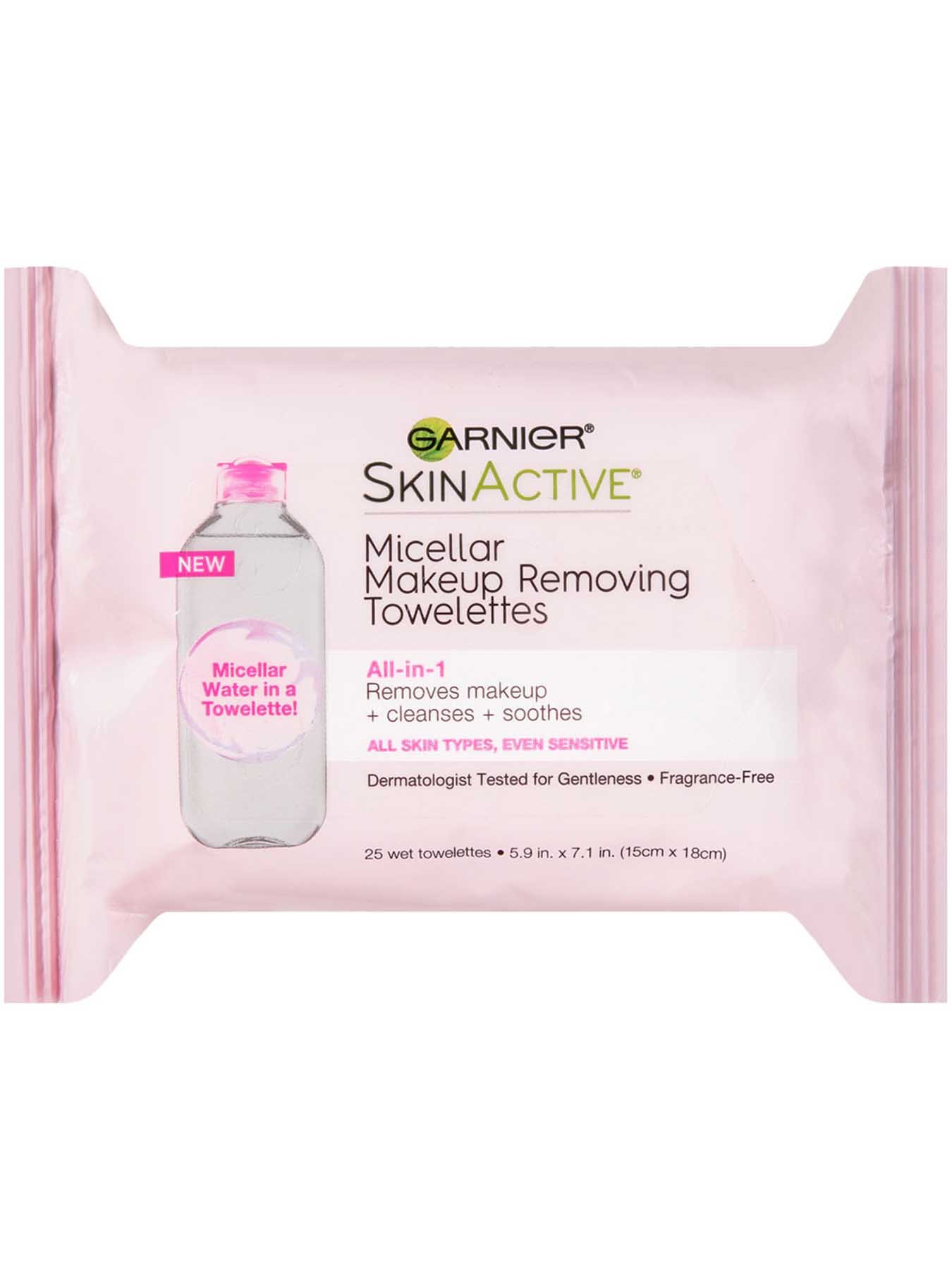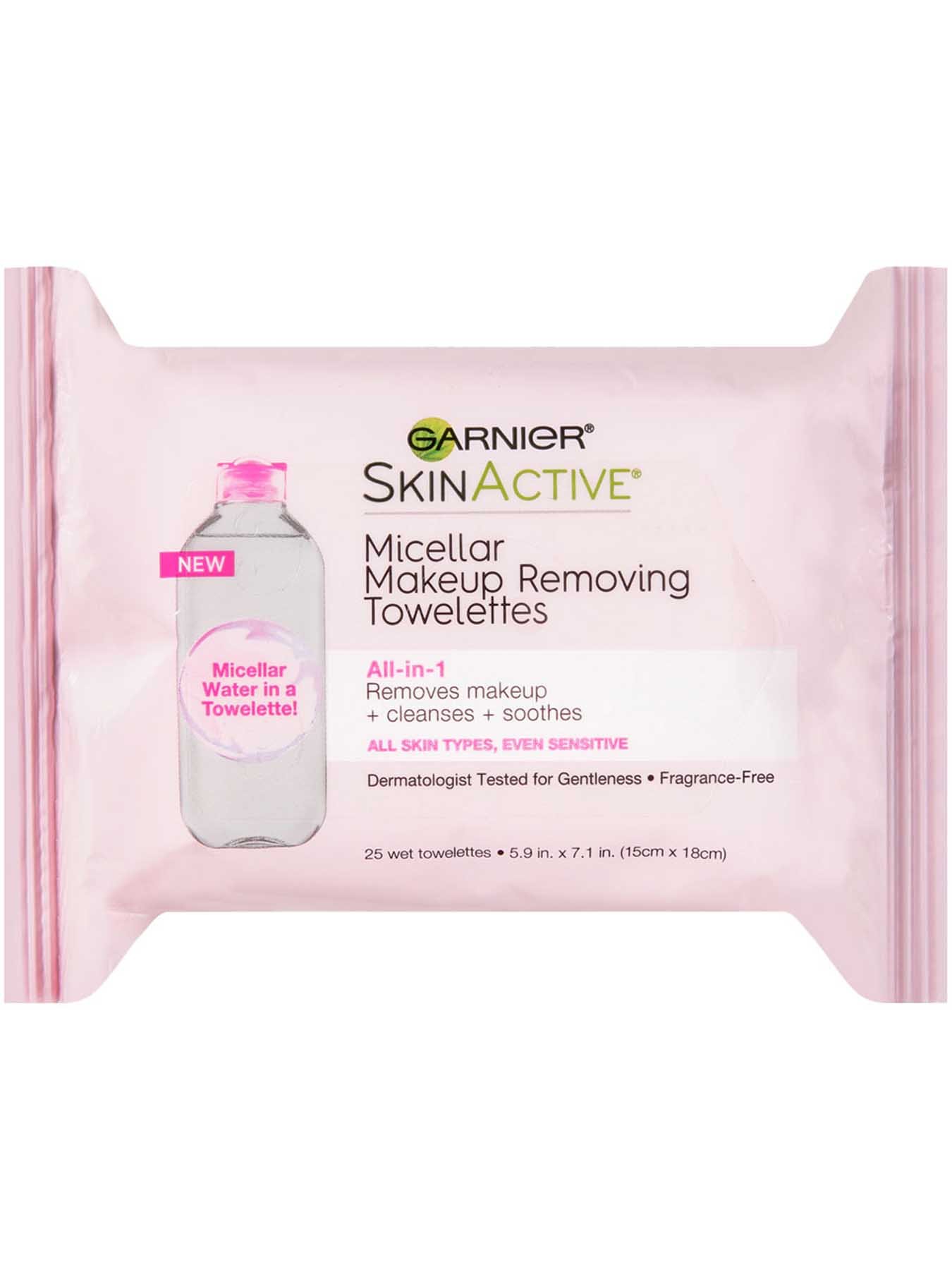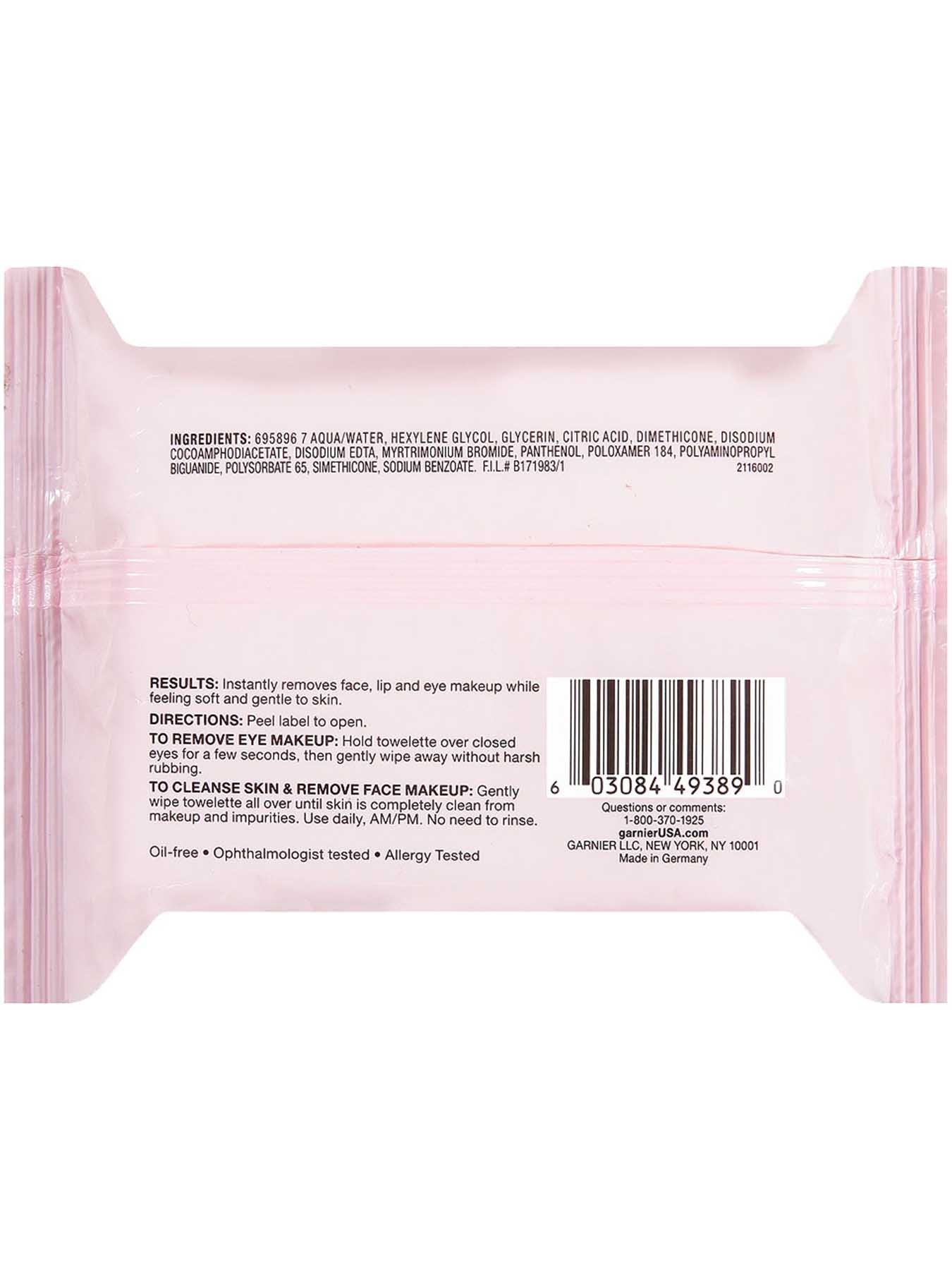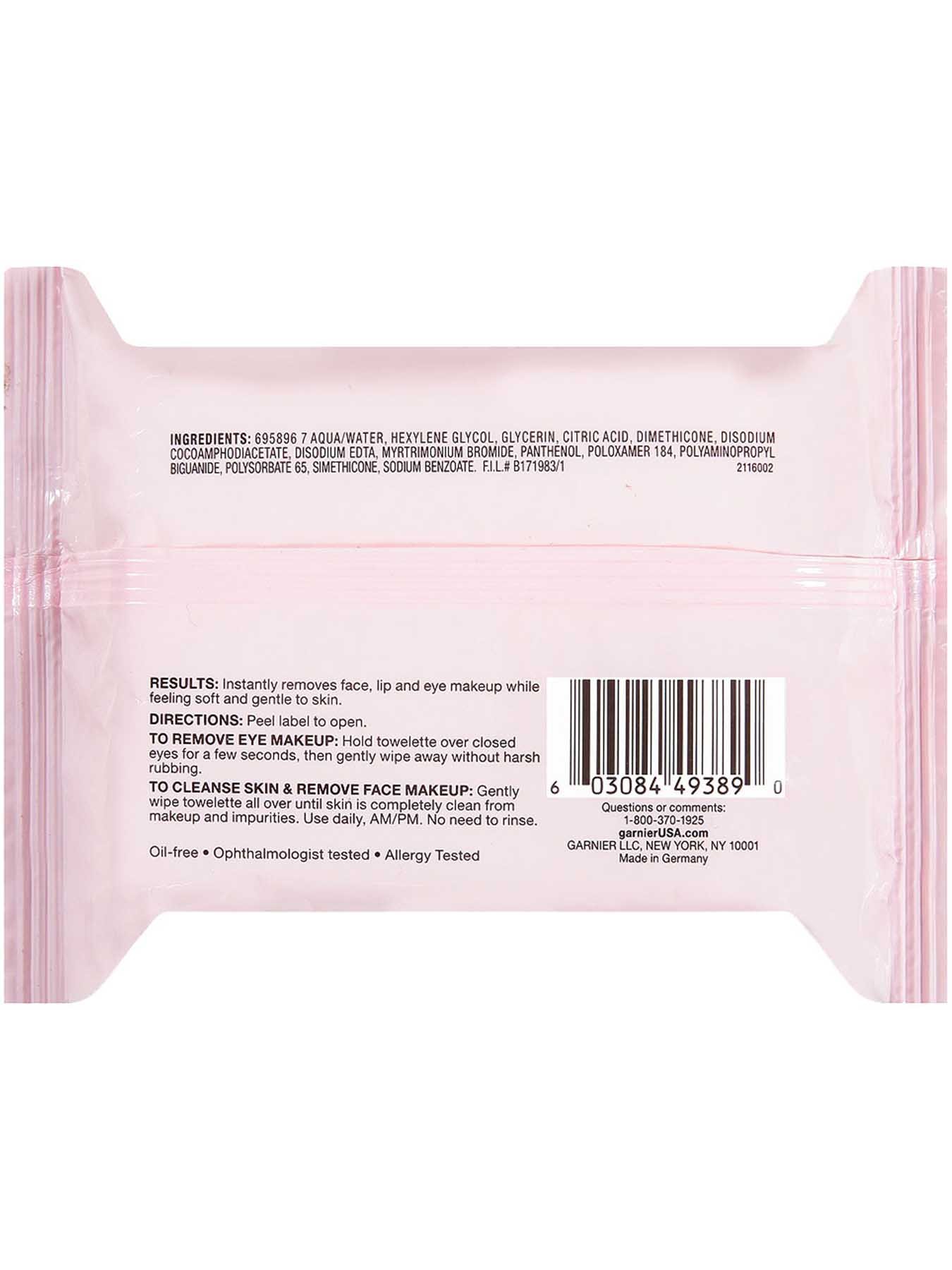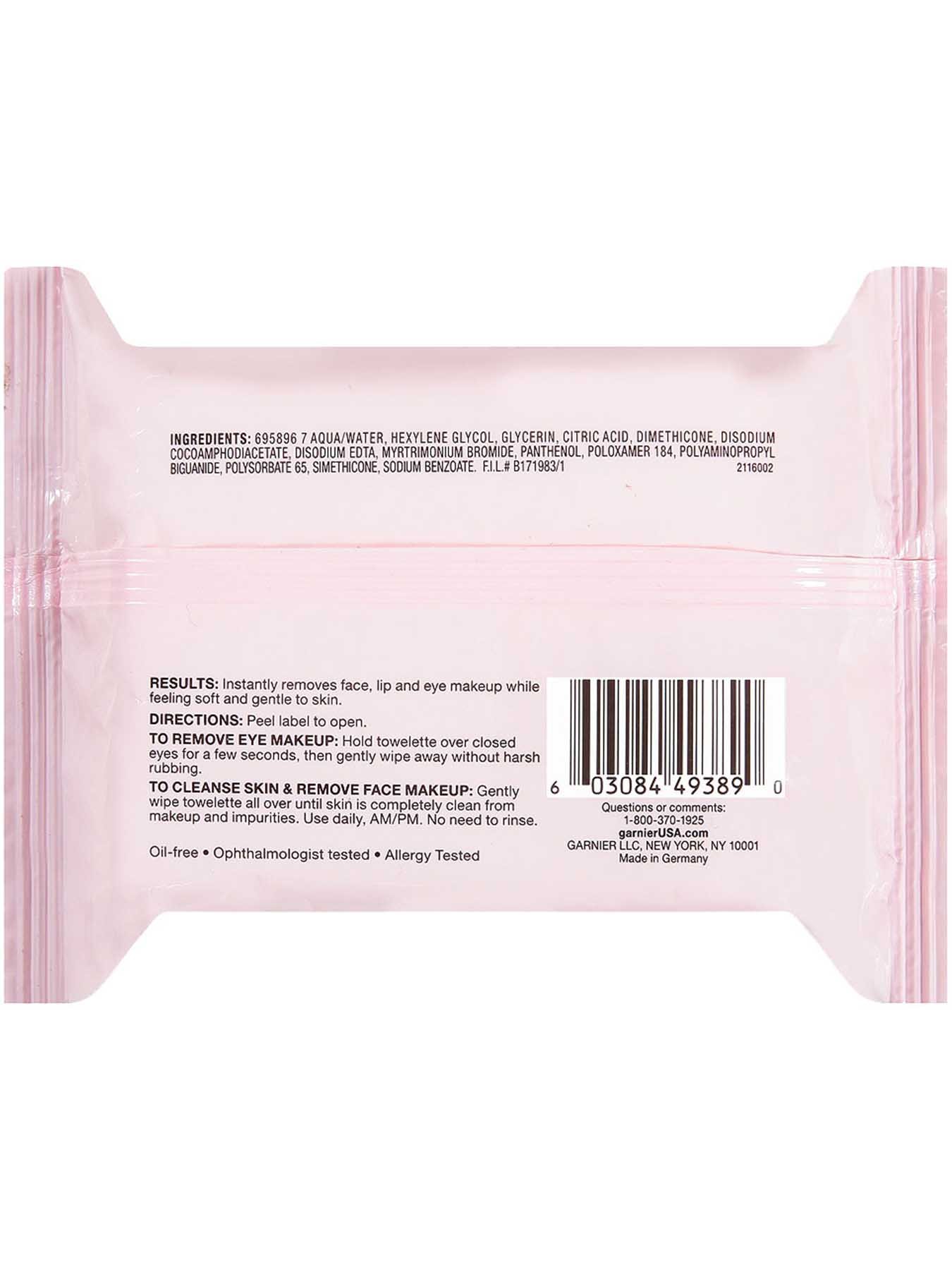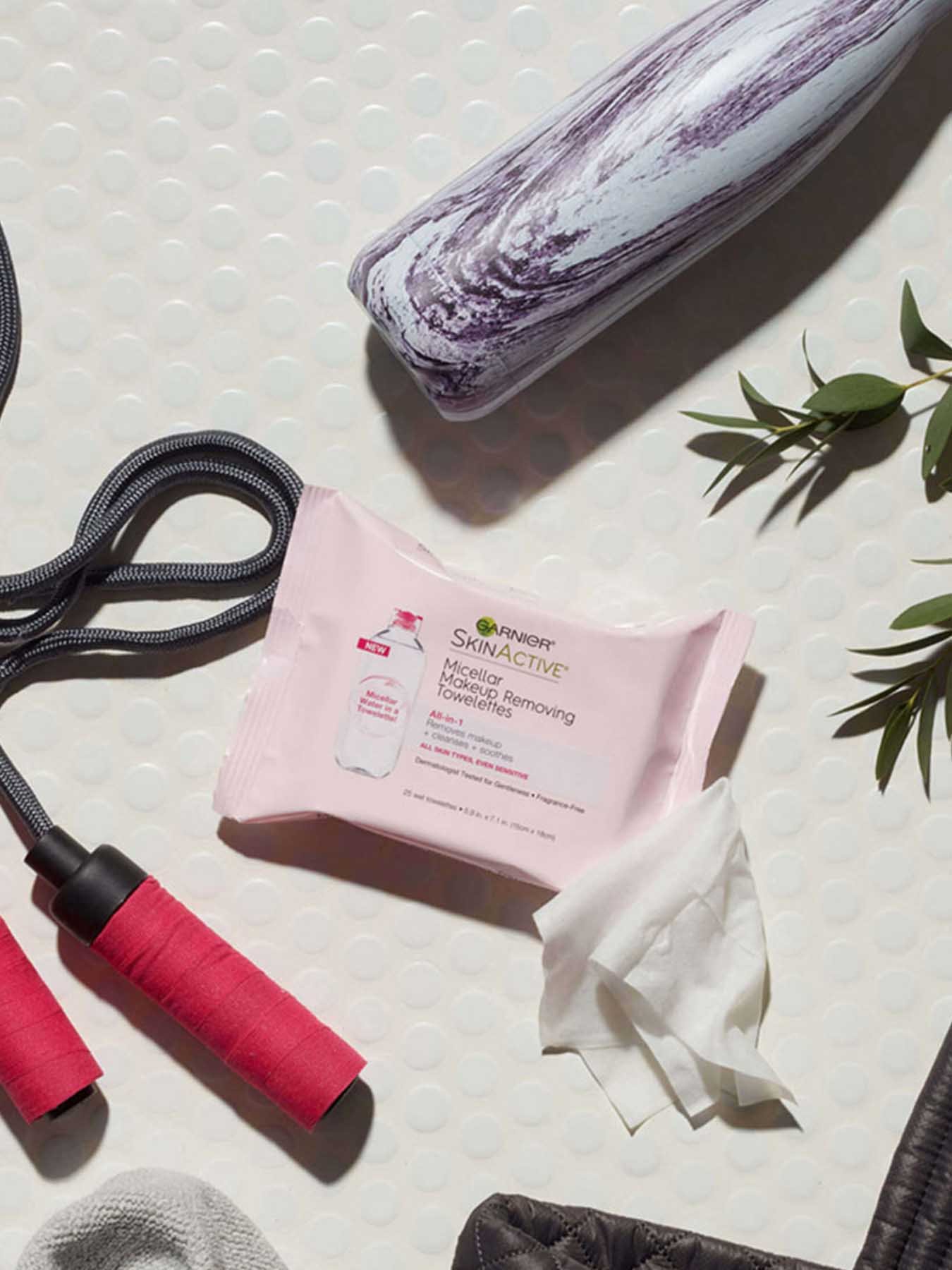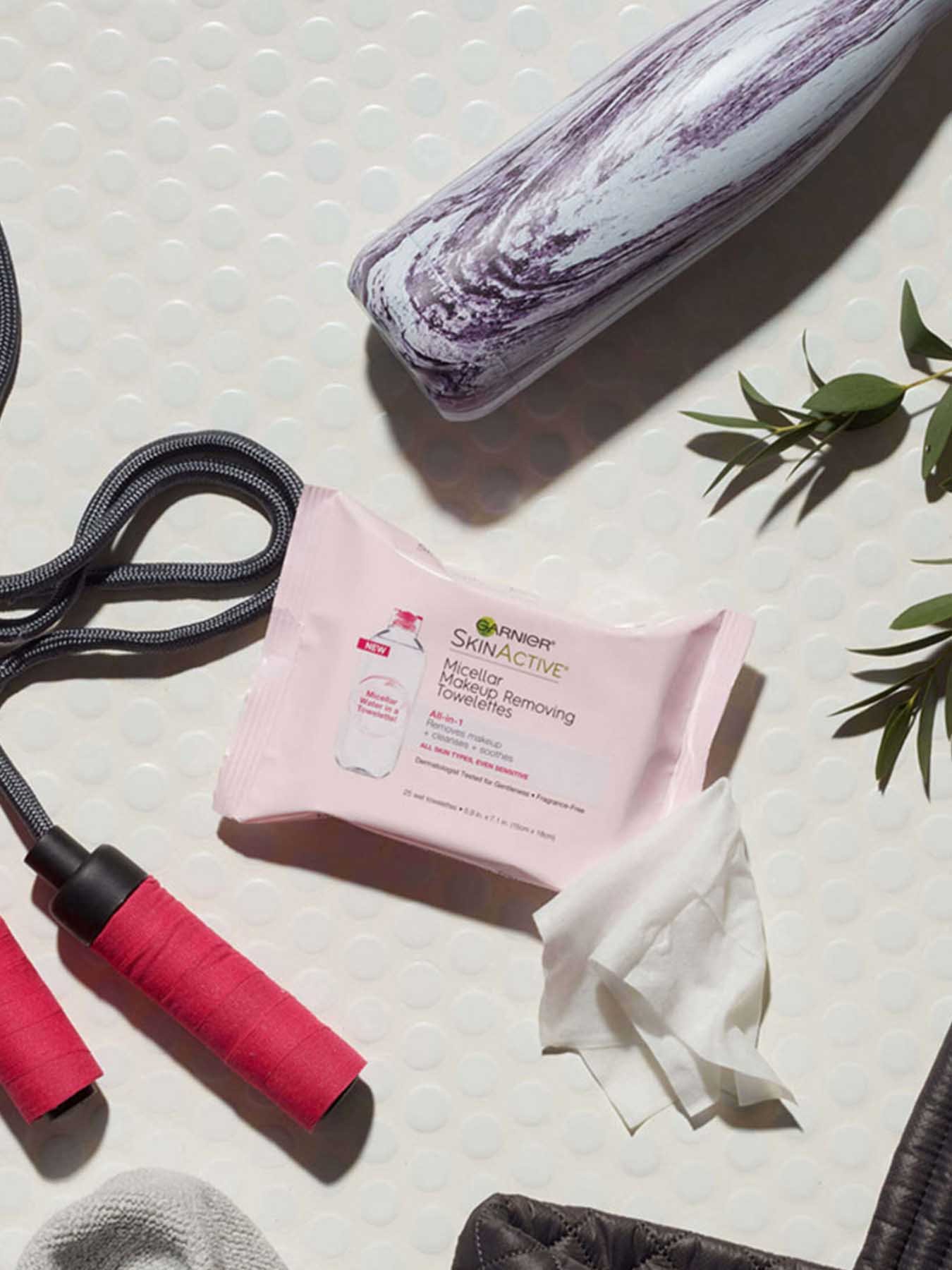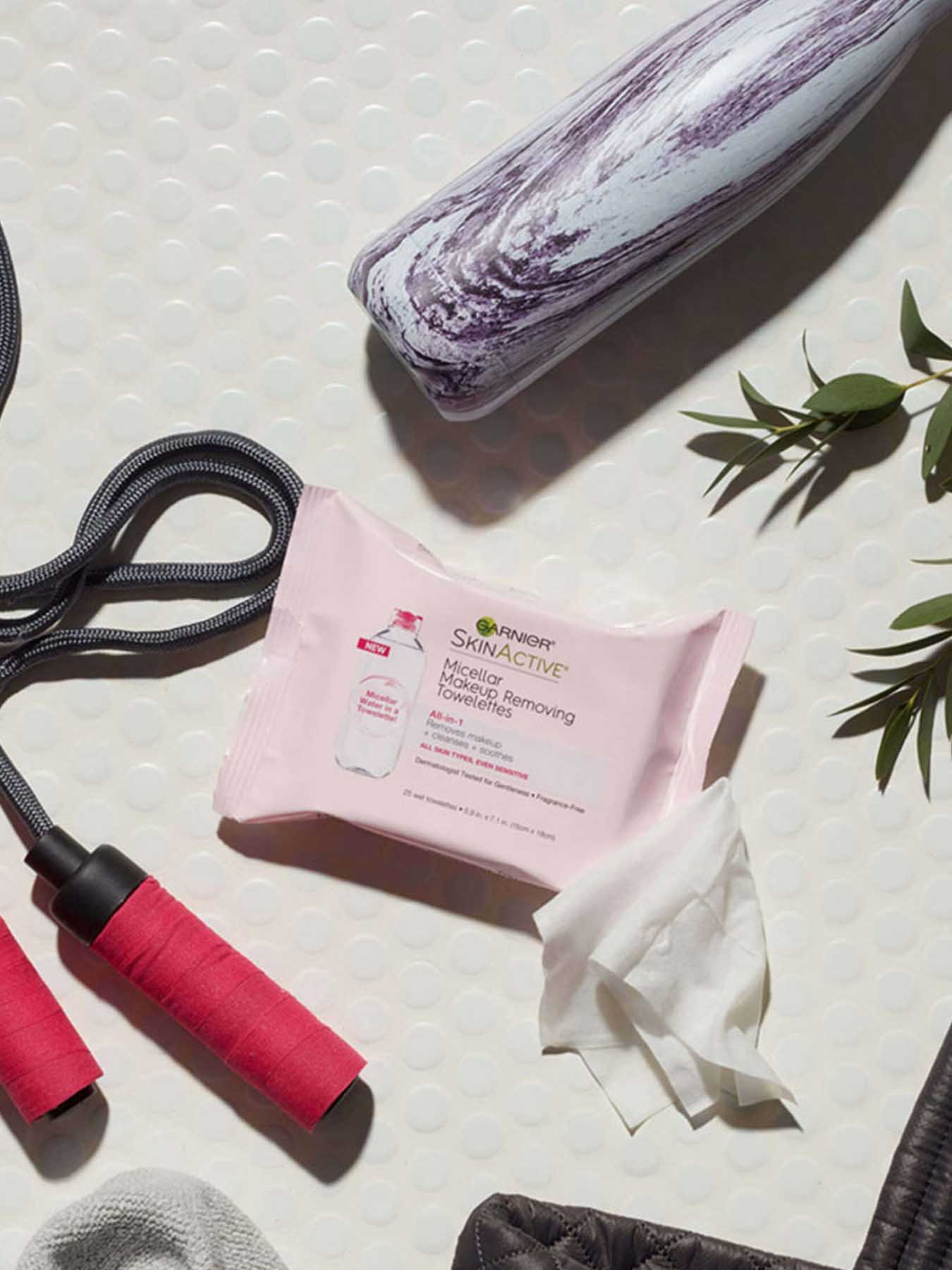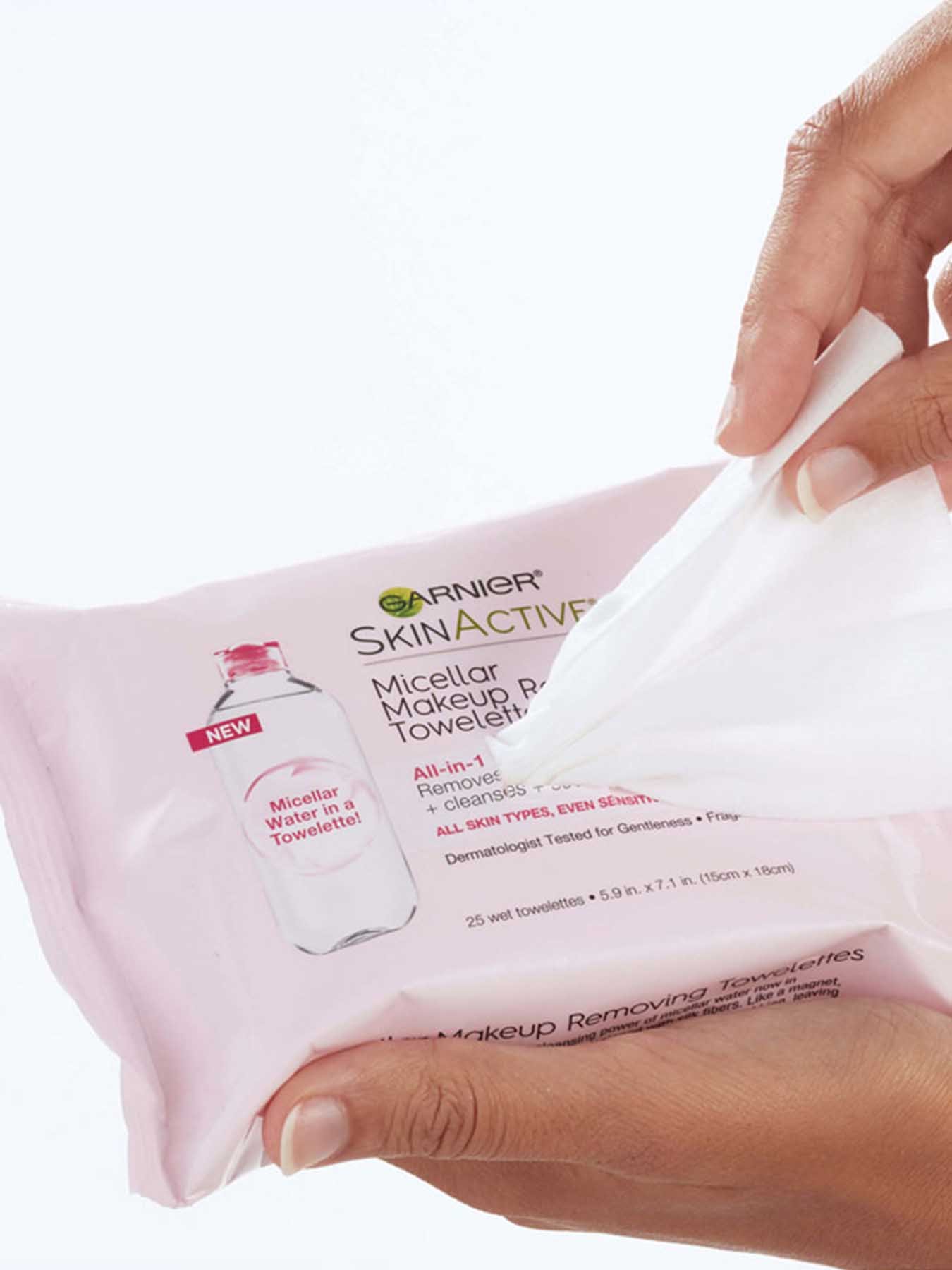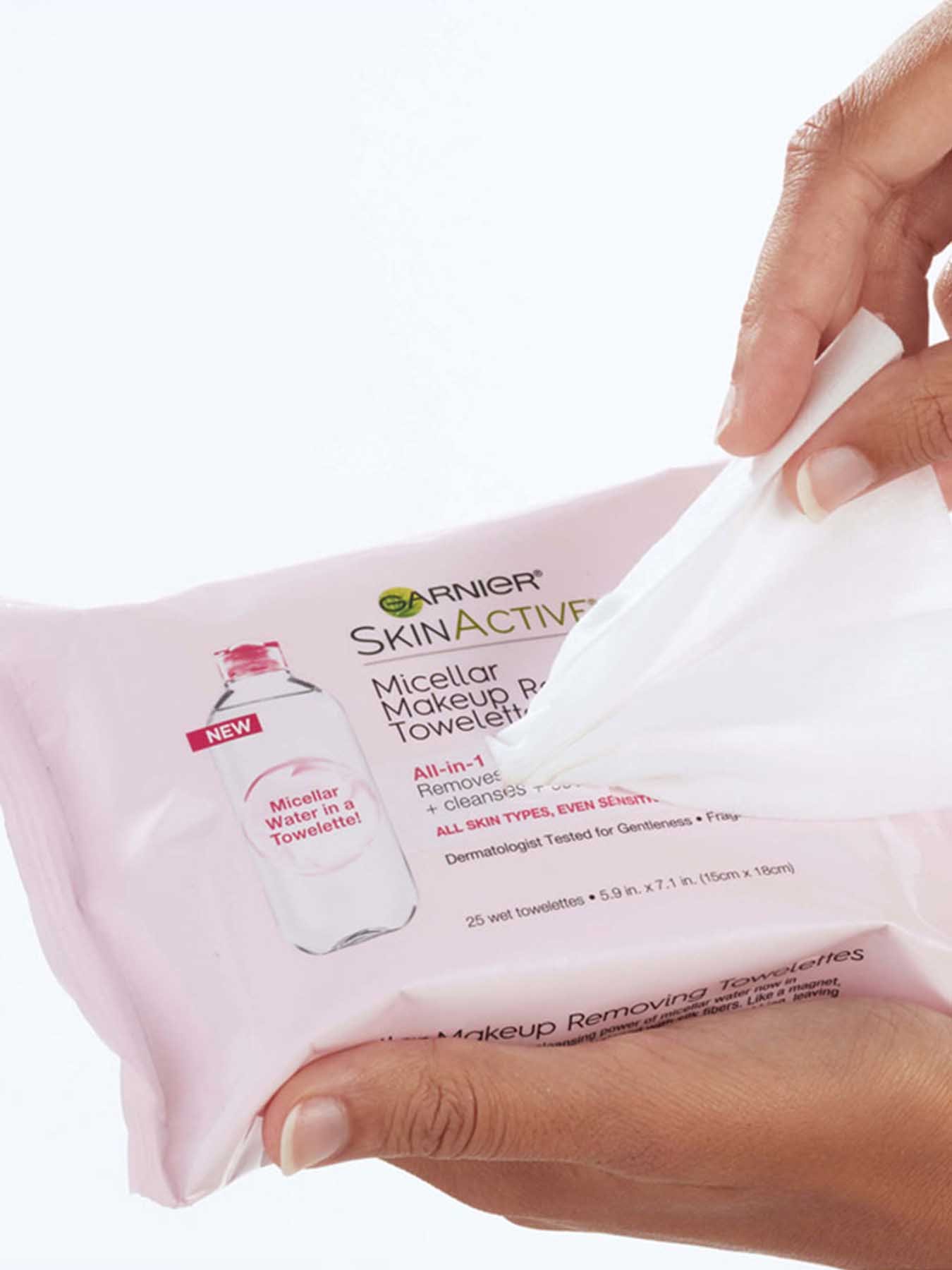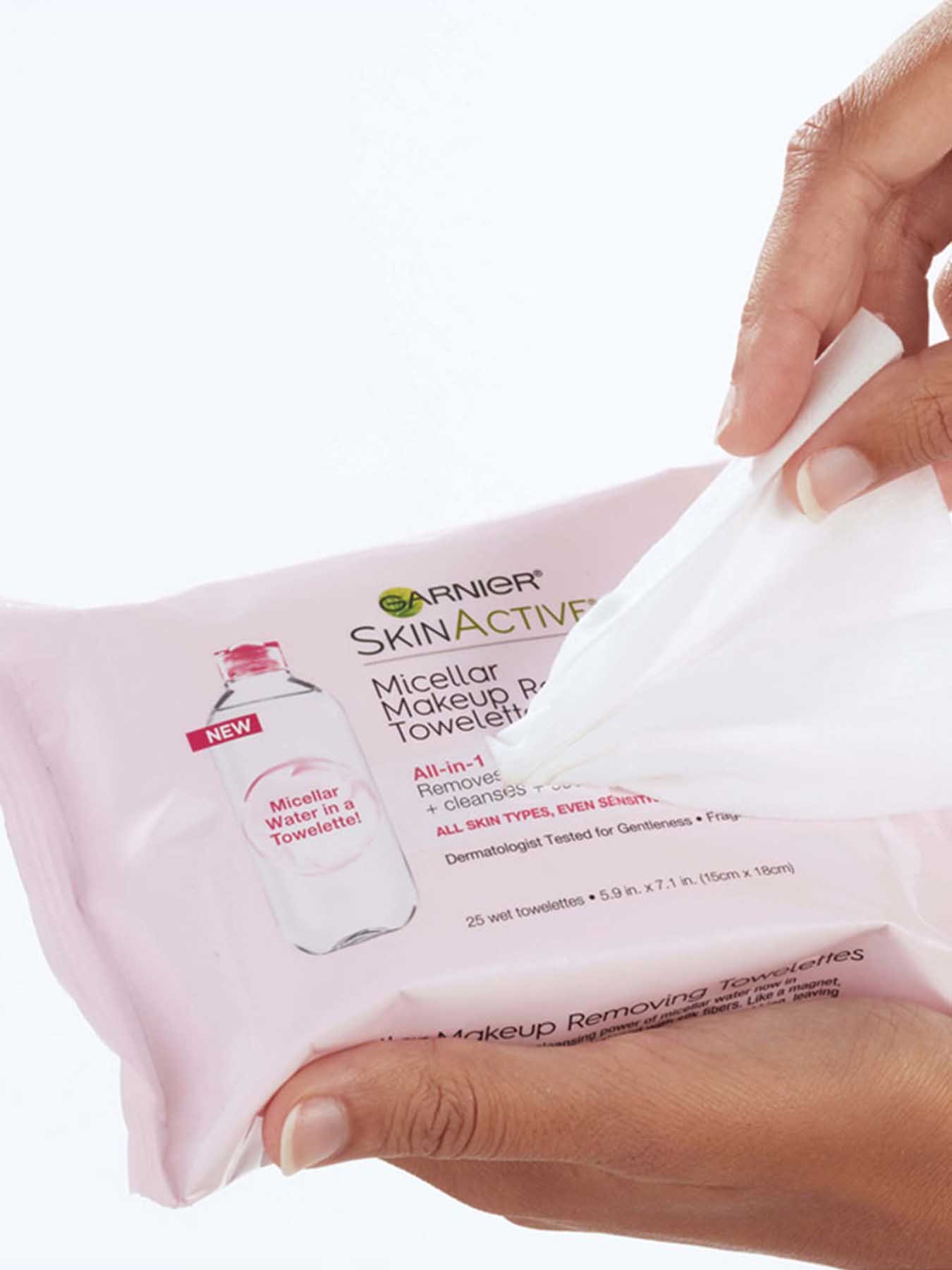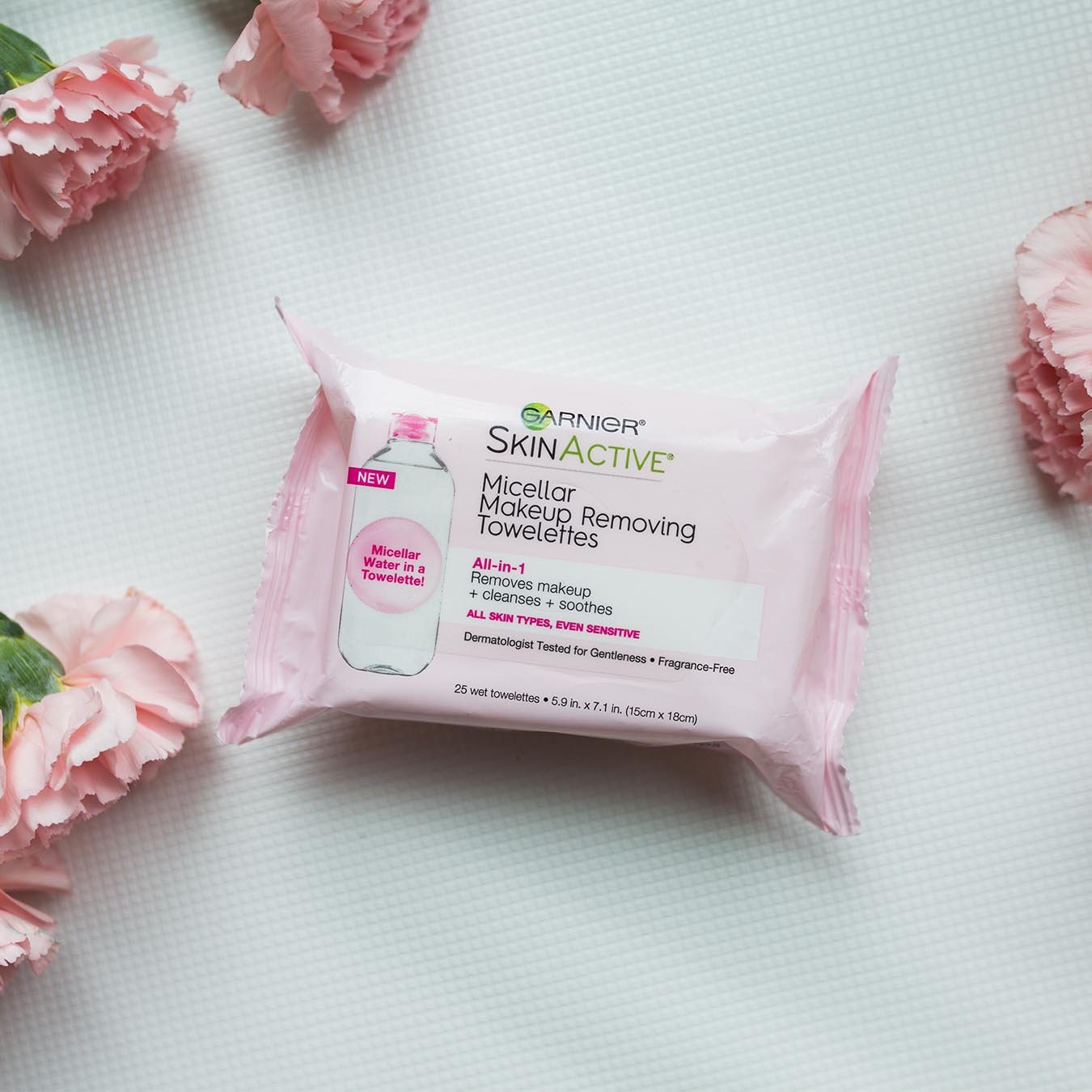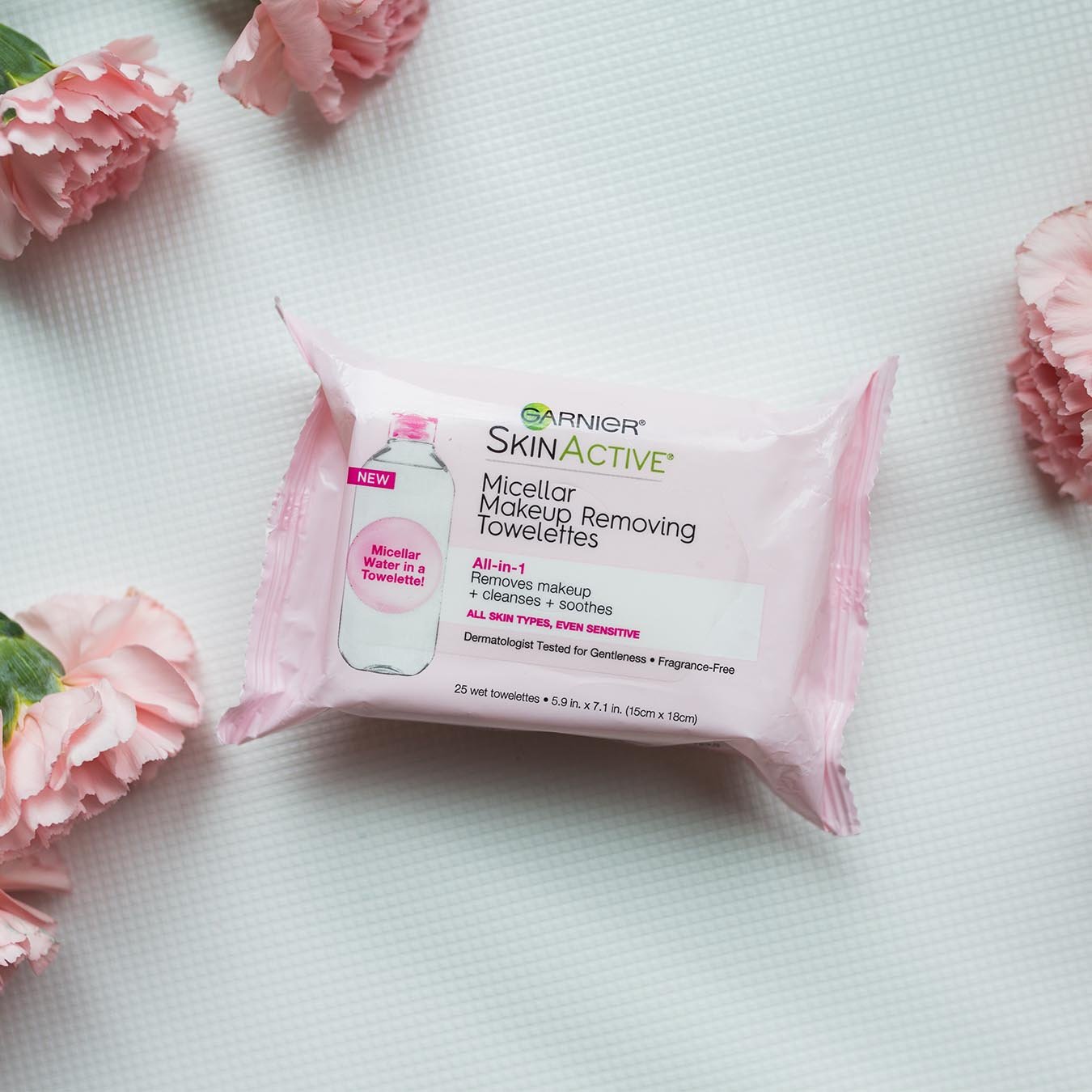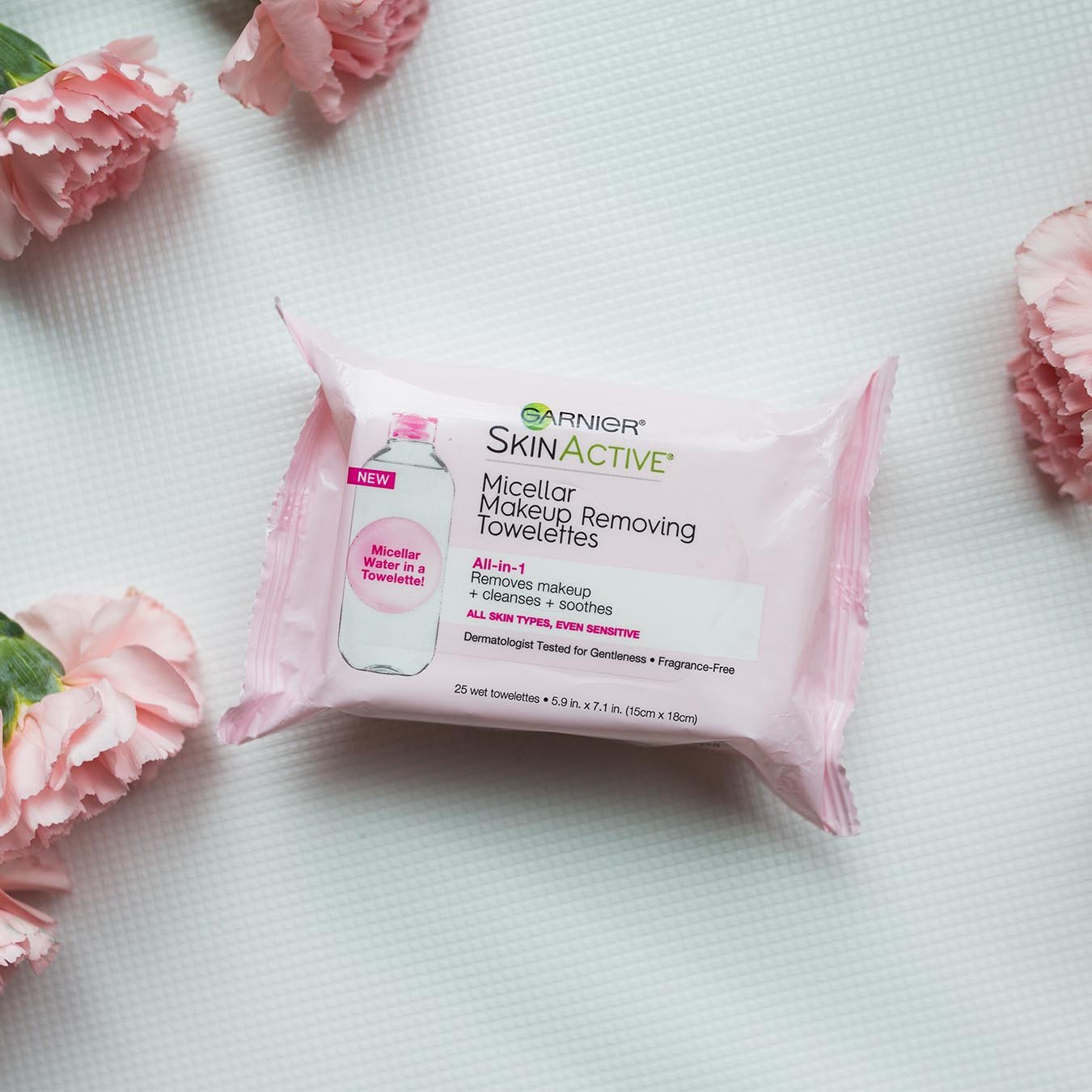 Garnier SkinActive
Micellar Makeup Removing Towelettes
$6.99 MSRP
All-in-1 Towelette removes makeup + cleanses + refreshes.
PRODUCT INFORMATION:
The All-in-1 cleansing and makeup removing power of micellar water is now available in an ultra-gentle wipe. Like a magnet, the micelles in these makeup removing wipes capture and lift away dirt, oil and makeup without harsh rubbing, leaving skin feeling clean and soft. These wipes are specially formulated with silk fibers for an extra soft clean.
How To Use
DIRECTIONS: Peel label to open.

TO REMOVE EYE MAKEUP: Hold towelette over closed eyes for a few seconds, then gently wipe away without harsh rubbing.

TO CLEANSE SKIN & REMOVE FACE MAKEUP: Gently wipe towelette all over until skin is completely clean from makeup and impurities.

Use daily, AM/PM. No need to rinse.
Ingredients:
INGREDIENTS: 695896 7 AQUA/WATER, HEXYLENE GLYCOL, GLYCERIN, CITRIC ACID, DIMETHICONE, DISODIUM COCOAMPHODIACETATE, DISODIUM EDTA, MYRTRIMONIUM BROMIDE, PANTHENOL, POLOXAMER 184, POLYAMINOPROPYL BIGUANIDE, POLYSORBATE 65, SIMETHICONE, SODIUM BENZOATE. F.I.L.# B171983/1
Rated

5

out of

5
by
alexw17
from
Never have I loved taking my make up off. Always one of those routines I dreaded, I almost considered to stop wearing makeup, but I can't wait to use these wipes! They leave my face feeling fresh clean and not burning like other wipes do!! These are magic wipes.
Date published: 2019-10-10
Rated

5

out of

5
by
hannian
from
I really like this product as it is very easy to use when you are on the go or travelling and do not have to worry about carrying a cleanser and cotton pads everywhere. It clears out all makeup and dirt from the skin leaving it clean and smooth. Works the same as the micellar water
Date published: 2019-10-10
Rated

4

out of

5
by
nanuchat
from
I use garniers micellar water i liked this product , i used this and i want to use this again
Date published: 2019-10-10
Rated

5

out of

5
by
meganannt
from
I love these wipes. I love the liquid version of this product as well. Leaves your skin nice and clean and easily removes any makeup gently. Even from the tough eye area! I actually need to go buy more tomorrow. These are very affordable and work as well as high end versions!
Date published: 2019-10-04
Rated

5

out of

5
by
alishaaaaa1
from
I always carry removing towelettes in my bag. Its must have every girl who like make up and your skin!!! I prefer towelettes from garnier with micellar because skin cleans beast ) and good price and available in many stores.
Date published: 2019-09-30
Rated

5

out of

5
by
enasr
from
The company in general has a credibility and fame known as to the company's products are distinctive and the source of confidence we have different product from each other, but in general gives the result please just follow the instructions on each product make sure it fits you products wonderful and distinctive company
Date published: 2019-09-29
Rated

5

out of

5
by
lelohm
from
I love love love these wipes, they leave your skin feeling soft and clear. It's very effective. Also, i love the fact that's its very affordable
Date published: 2019-09-26
Rated

3

out of

5
by
mandiemariemua
from
I like the gentle scent of these and they feel quite soft to the touch. I don't feel like they remove makeup very well but I sometimes use them just to refresh through the day. They feel pretty rough on the skin if you use them for makeup removal, because like I said they don't remove the makeup very well, so to get the makeup off you have to really wipe.
Date published: 2019-09-23