This site is intended for US consumers.Cookies and related technology are used for advertising.To learn more or opt-out, visit Ad Choices and our privacy policy.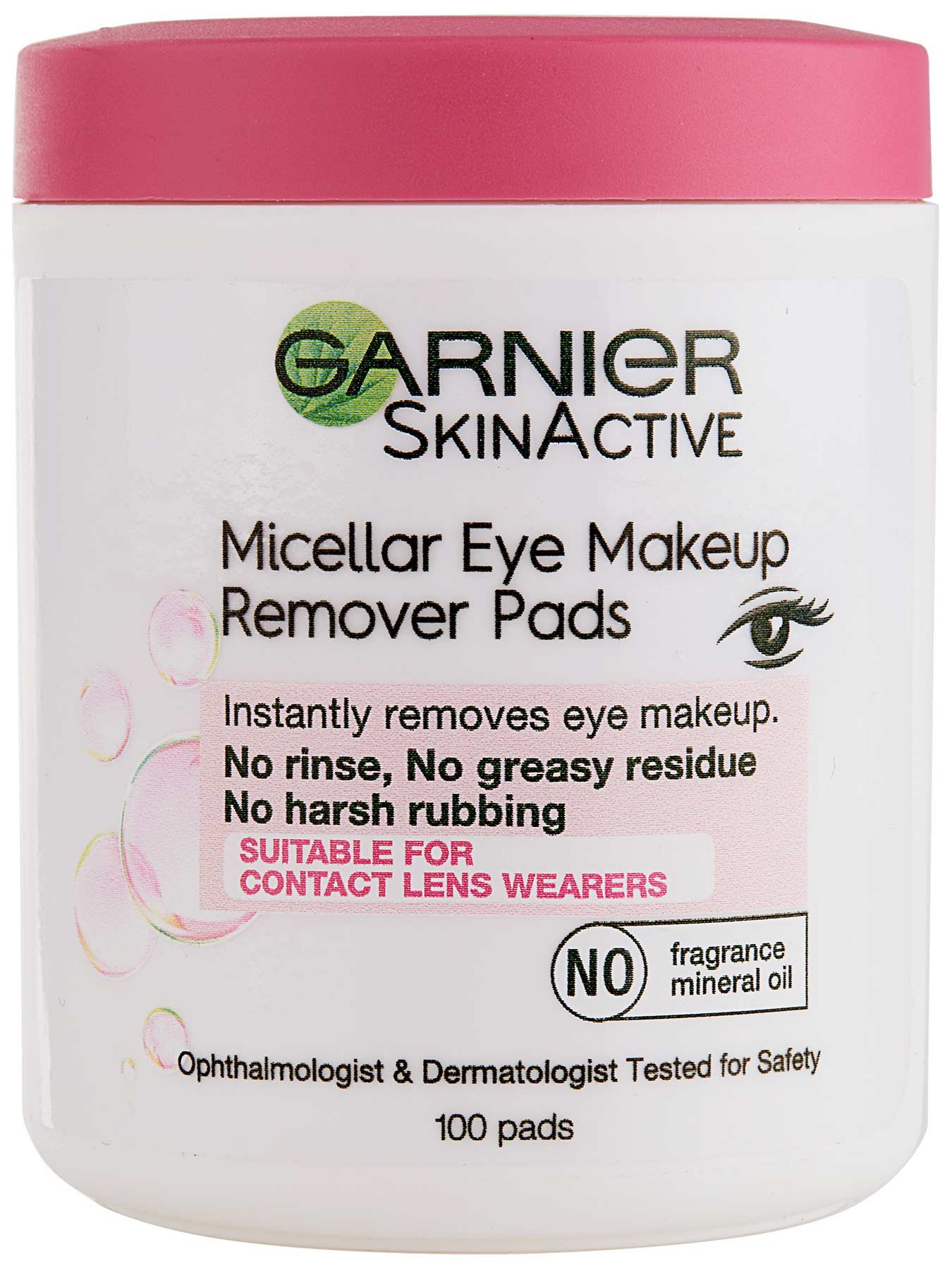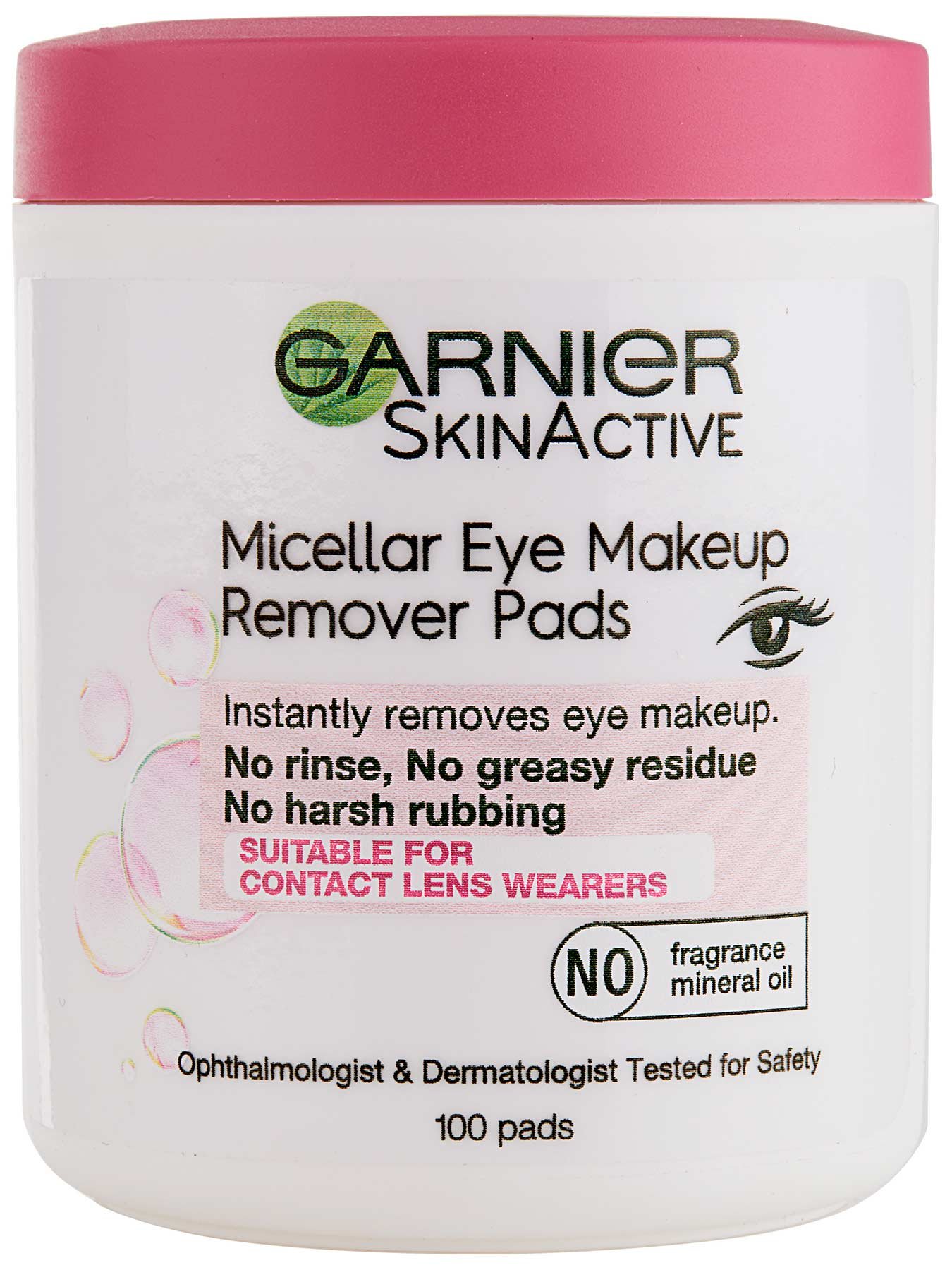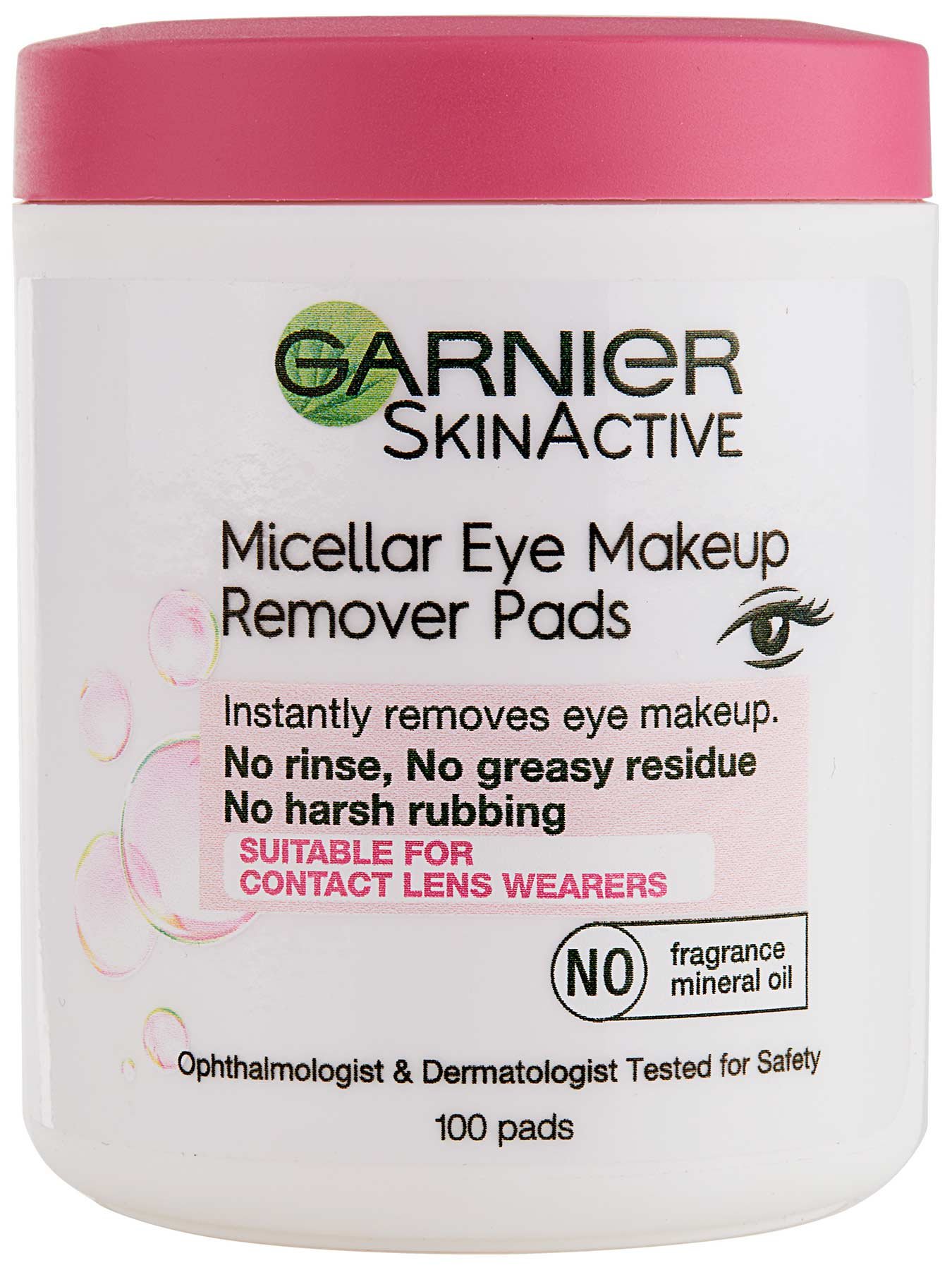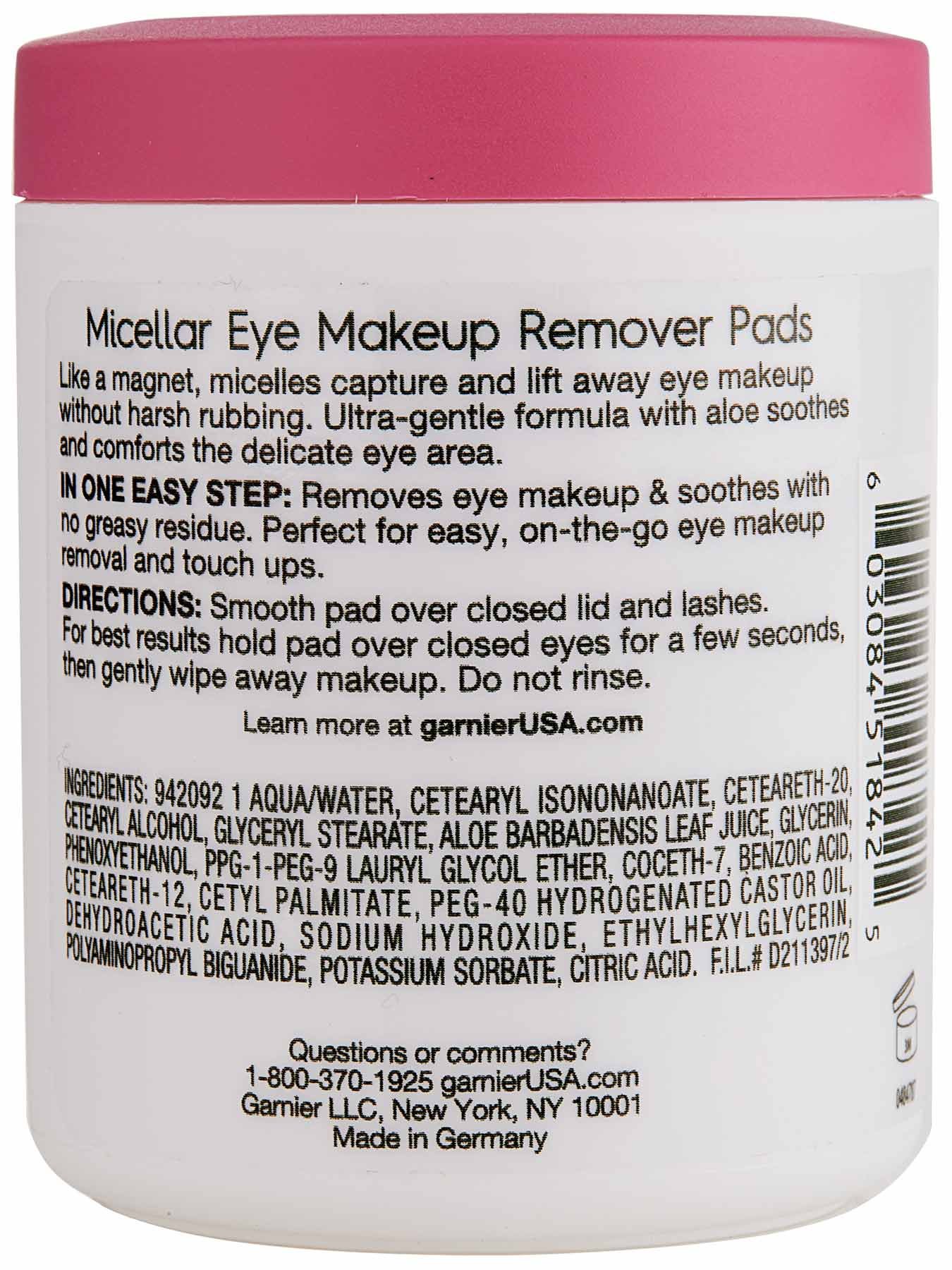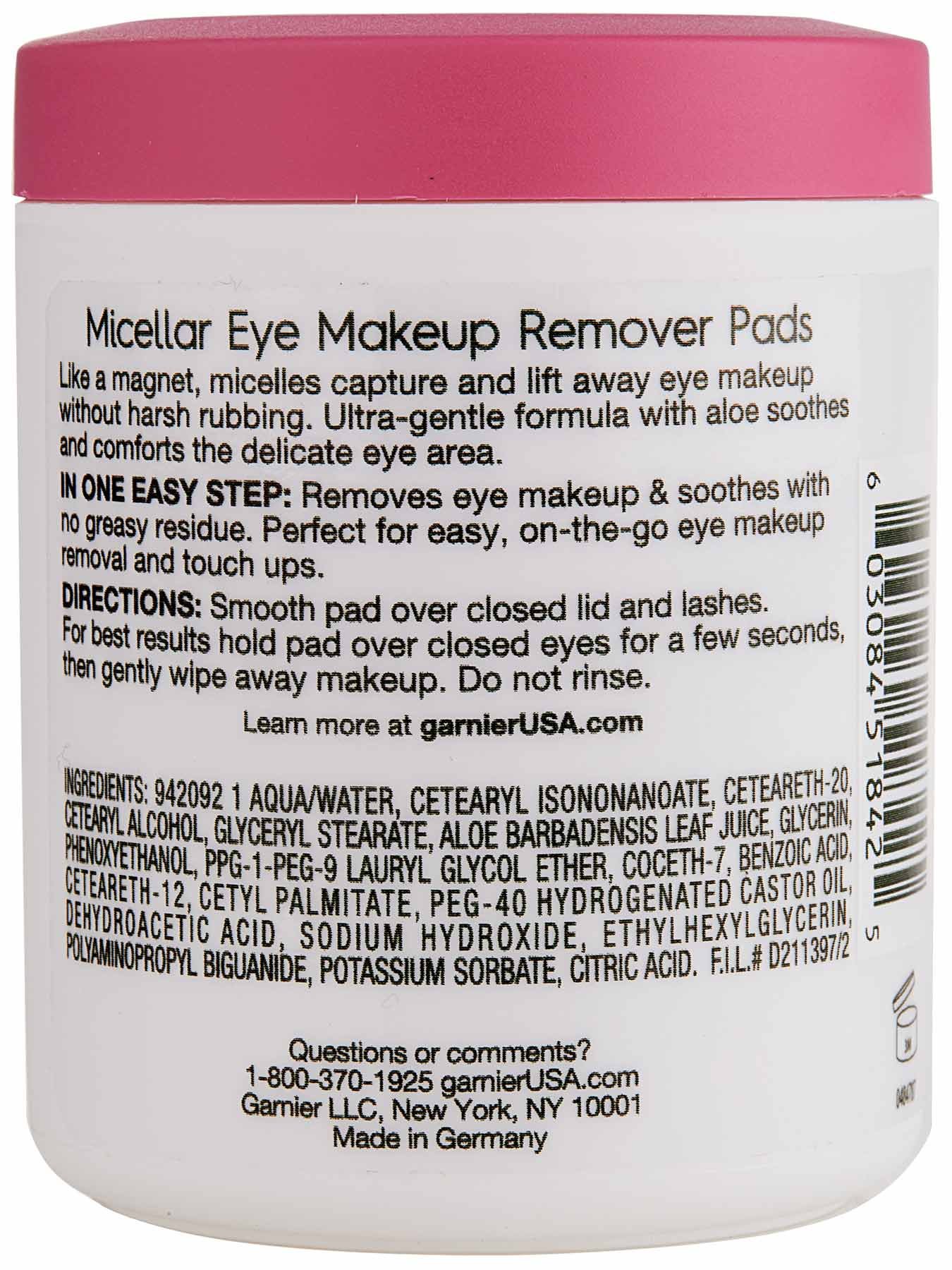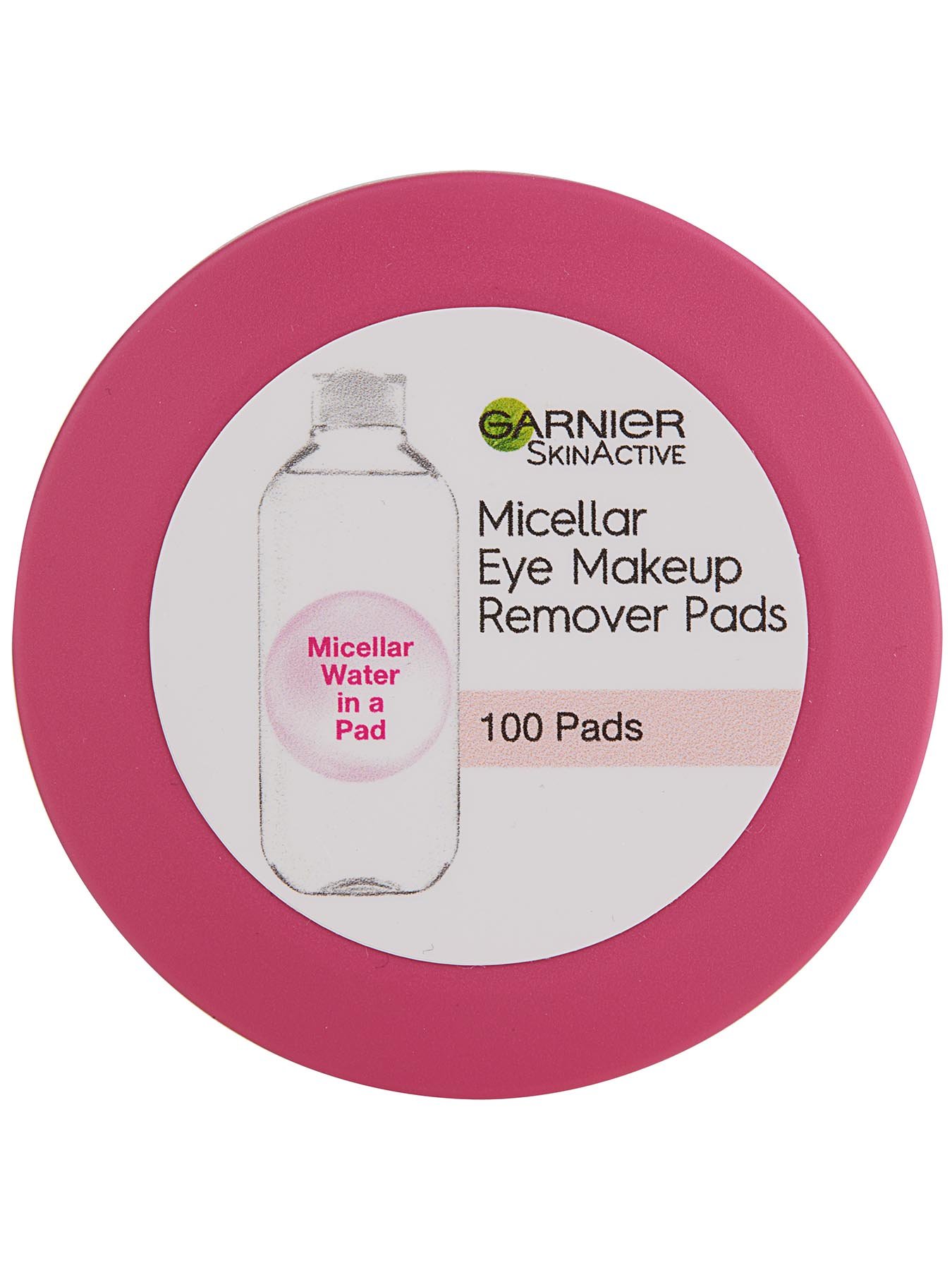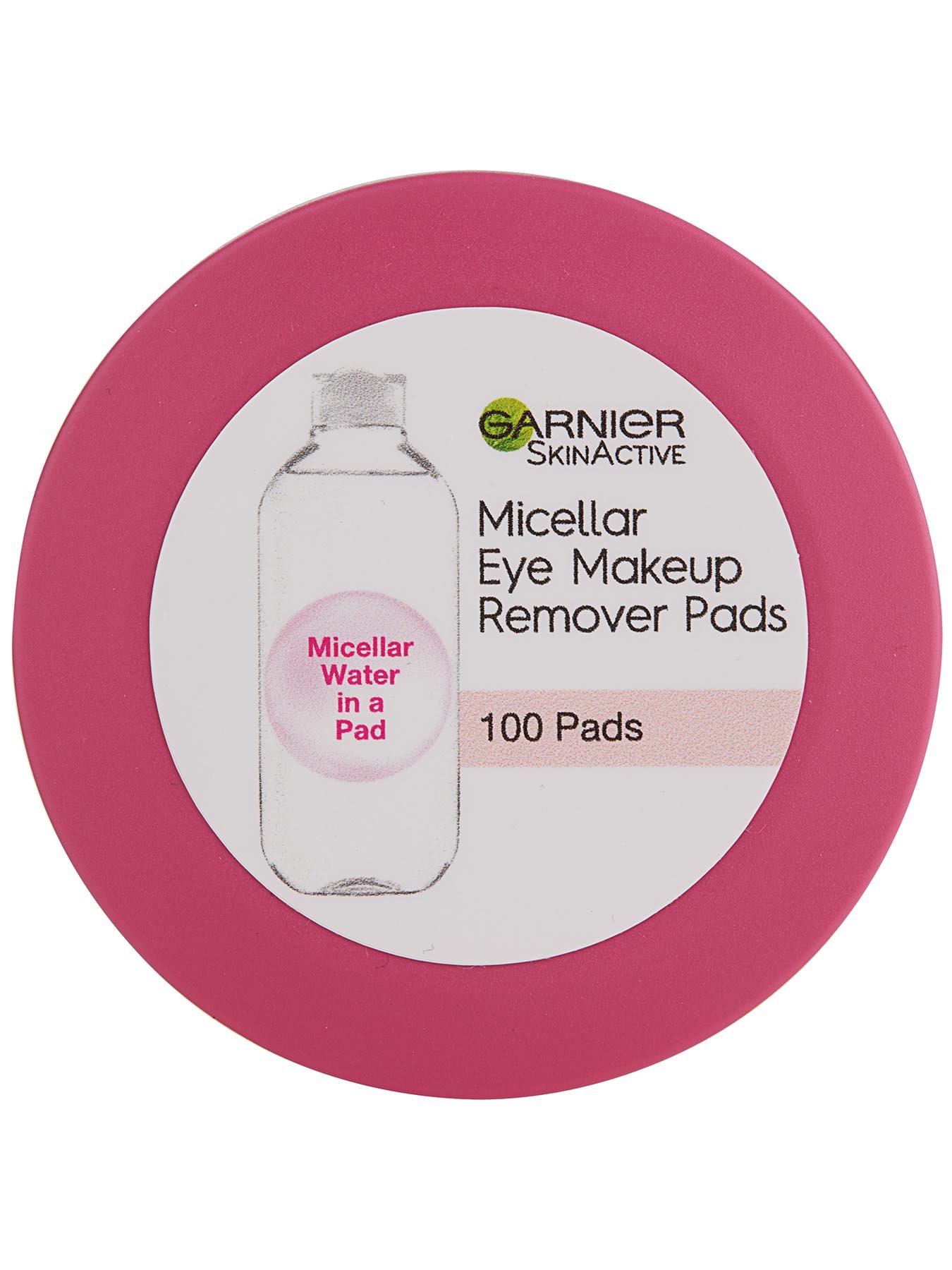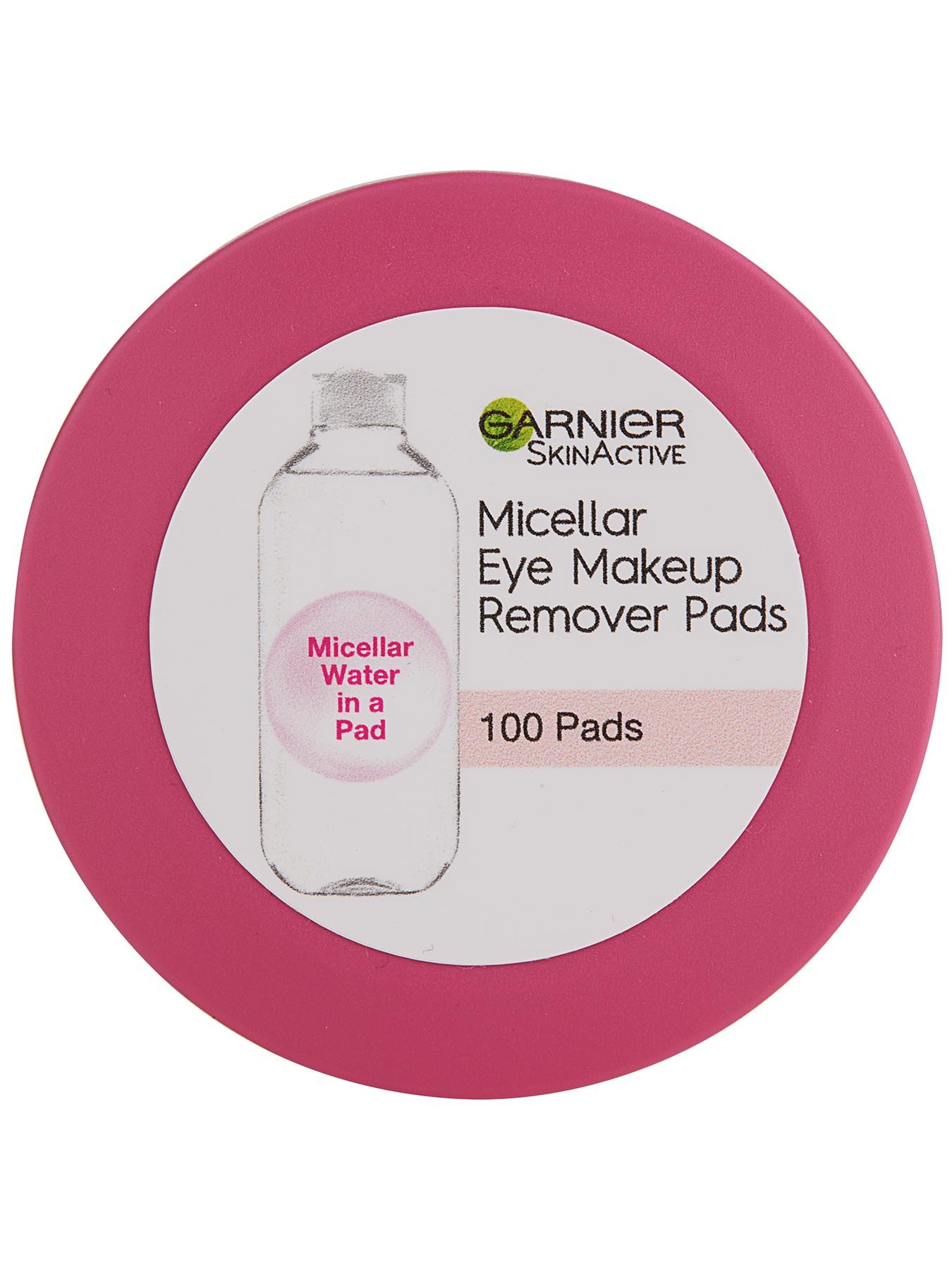 SkinActive
Micellar Eye Makeup Remover Pads
$8.99 MSRP
These micellar- and aloe-infused eye makeup remover cotton pads gently sooth skin while removing makeup.
Product Information:
The 1st Garnier micellar-infused cotton pads, tailored for eye makeup removal. Ultra-gentle formula with aloe. This micellar infused cotton pads are gentle, precise & convenient for eye makeup removal. Instantly removes eye makeup without rinsing.

IN 1 EASY STEP: Removes eye makeup & soothes, no greasy residue. Perfect on-the-go eye makeup removal. Garnier Micellar eye makeup remover cotton pads are ophthalmologist and Dermatologist Tested for Safety.They are suitable for sensitive eyes and contact lens wearers. Formulated with Micellar water & aloe the eye makeup remover pads are fragrance free. No mineral oil.
How To Use:
Smooth pad over closed lid and lashes. For best results hold pad over closed eyes for a few seconds then gently wipe away makeup. Do not rinse.
Ingredients:
942092 1 AQUA/WATER, CETEARYL ISONONANOATE, CETEARETH-20, CETEARYL ALCOHOL, GLYCERYL STEARATE, ALOE BARBADENSIS LEAF JUICE, GLYCERIN, PHENOXYETHANOL, PPG-1-PEG-9 LAURYL GLYCOL ETHER, COCETH-7, BENZOIC ACID, CETEARETH-12, CETYL PALMITATE, PEG-40 HYDROGENATED CASTOR OIL, DEHYDROACETIC ACID, SODIUM HYDROXIDE, ETHYLHEXYLGLYCERIN, POLYAMINOPROPYL BIGUANIDE, POTASSIUM SORBATE, CITRIC ACID. F.I.L. D211397/2
Rated

1

out of

5
by
Shosh
from
11 pads to remove eye makeup only -- disappointing
I am very disappointed -- I bought 2 of these jars of the pads. This morning I tried them out -- very dry -- 1 used 11 pads to remove regular eye shadow, eye liner and mascara -- no waterproof products and not excessive makeup. I added more micellar water to the jar to see if that helps tomorrow. This is the last time I will buy as I don't want to waste money. Very disappointing.
Date published: 2020-05-30
Rated

3

out of

5
by
annaog
from
Alright for travel, but doesn't beat the original!
I bought these specifically for travel, and they worked great as an easy-to-carry option for makeup removal. But they seem as effective to me as the old fashioned makeup wipes that I (intentionally) haven't used in years. These rounds do remove my makeup, but I feel like I have to use twice as many rounds to remove the same amount of makeup that one cotton round would with a bottle of the blue-capped micellar water. I will use up what I bought, but next time I'll just lug around a bottle of micellar water and a pack of cotton rounds
Date published: 2020-01-05
Rated

5

out of

5
by
Kate010
from
Perfect for lash extensions!
I LOVE ❤️ these eye pads. They are perfect for removing eye make up. I especially love that they do not tear out my lash extensions or cause cotton debris to be stuck in them. The pack of 100 lasts me quite awhile. If I find the wipes are drying out, I simply add some of my Micellar cleansing water to the pack. I have very sensitive eyes and these do not bother me at all. My only complaint is that I am having a harder time finding them in stores. Ulta used to carry them and they no longer do. The facial wipes are nice but do not serve the same purpose as these eye pads.
Date published: 2019-11-13
Rated

1

out of

5
by
Op2525
from
Worst cleansing pad I've ever used
This product is ineffective. They do not work and they are honestly not that moist. It takes 10 pads to even get my makeup off because they do so little and I don't even wear much makeup. Very disappointing and a waste of money
Date published: 2019-10-17
Rated

5

out of

5
by
ReginaRR
from
Awesome Product!
I have tried all types of eye makeup remover. But not happy with any. Until trying these pads. Not too oily and does not dry out my eyes. LOVE THEM!!
Date published: 2019-03-18
Rated

5

out of

5
by
Jomama 1
from
Micellar Eye Makeup Remover Pads
Love it ! Removed my eye makeup easily! Highly recommend this product !
Date published: 2019-01-13
Rated

4

out of

5
by
blair_mn_21751701
from
Garnier Micellar Eye Makeup Remover Pads
I received a free sample of the Garnier SkinActive Micellar Eye Makeup Remover Pads from PINCHme. I liked these makeup remover pads because they were gentle on my eyes. I didn't feel any stinging or burning when trying to remove makeup. They are the right amount of wetness without being too wet. I gave four stars instead of five because they weren't able to remove some of my waterproof makeup, but for most days, they will get the job done.
Date published: 2019-01-05
Rated

4

out of

5
by
chelsea_wa_21762466
from
I need more
I really liked the Garnier SkinActive Micellar Eye Makeup Remover Pads. They took off my waterproof makeup with ease. My only problem with the product was that there wasn't very many.
Date published: 2018-12-28