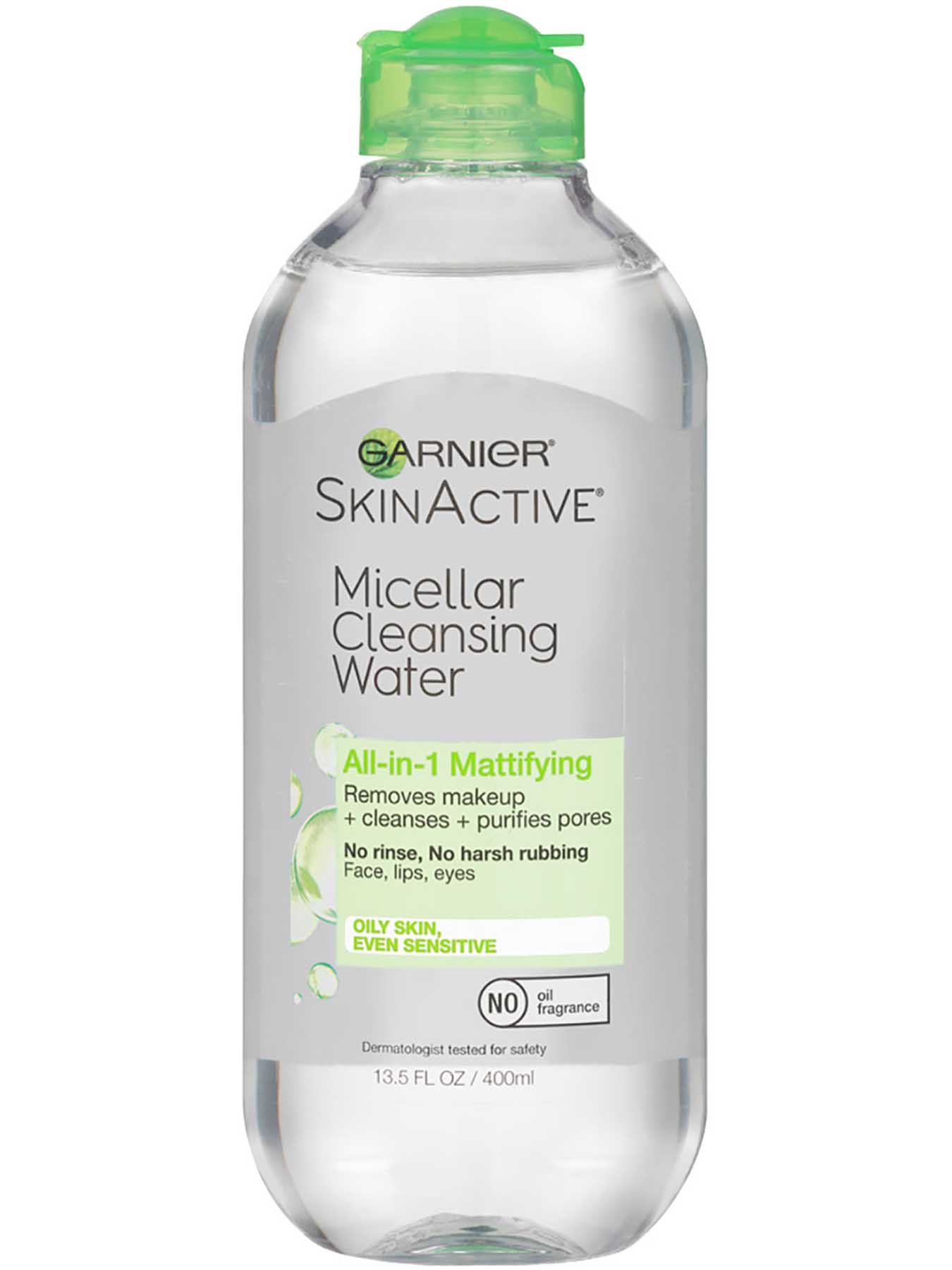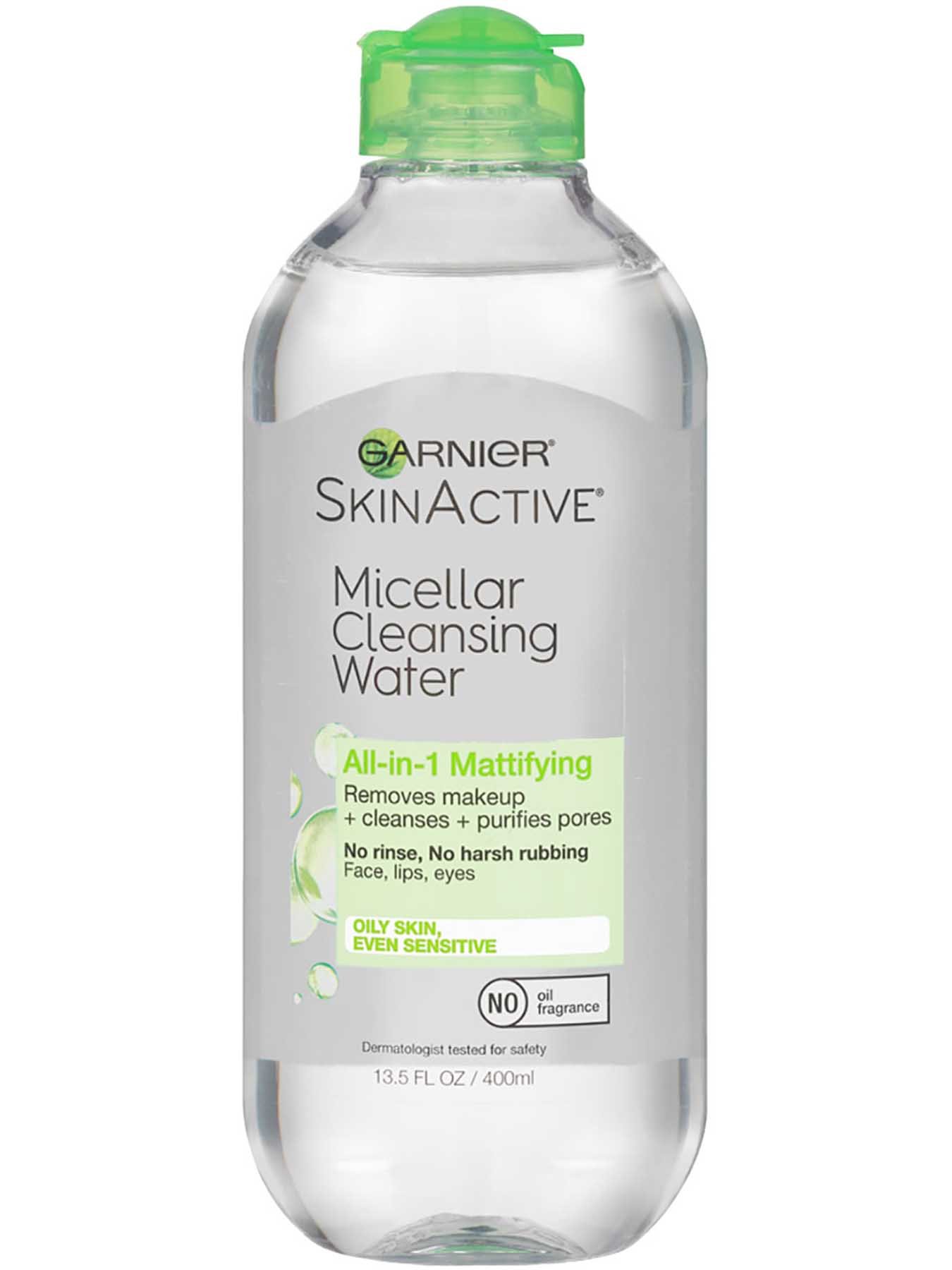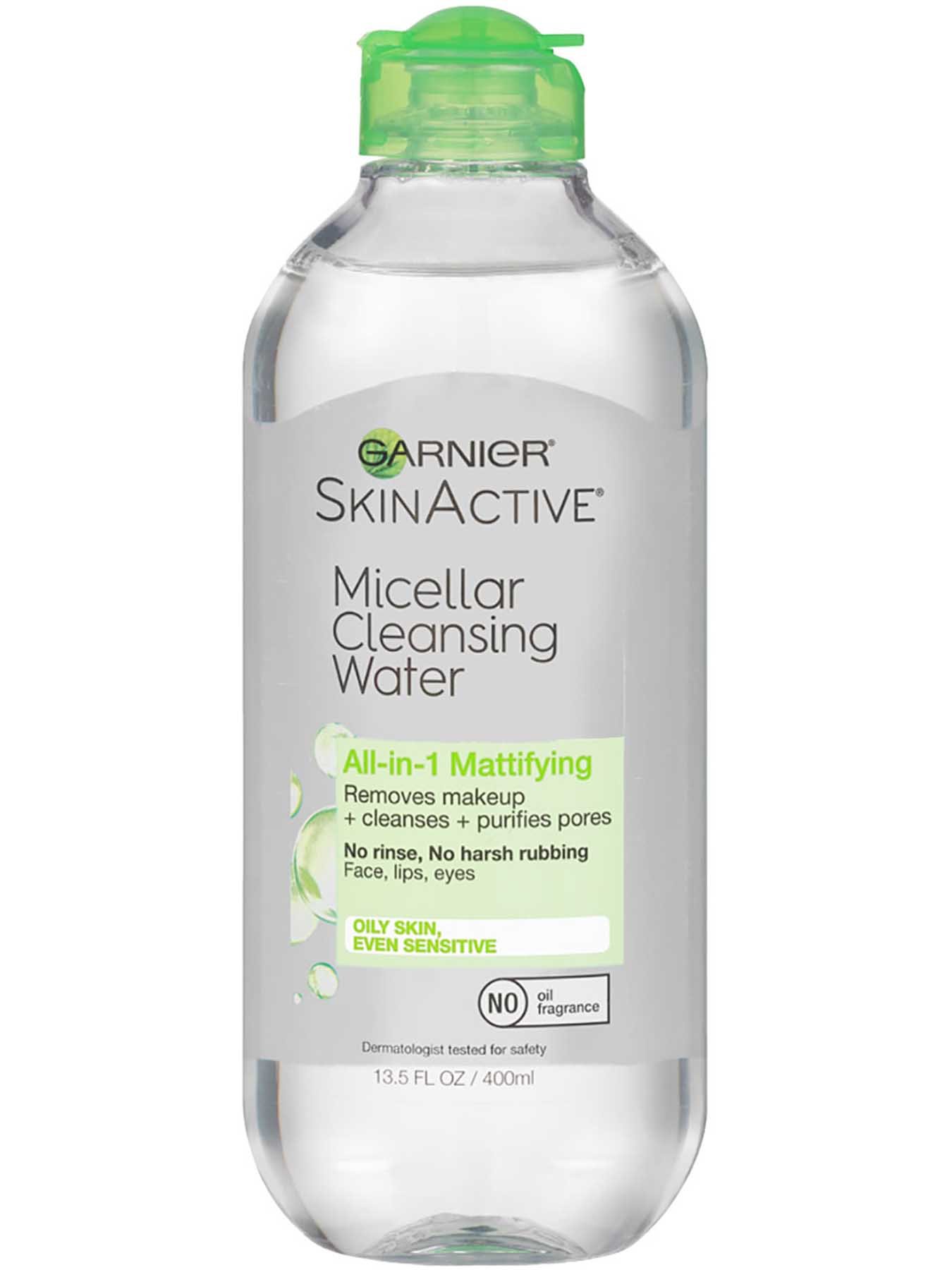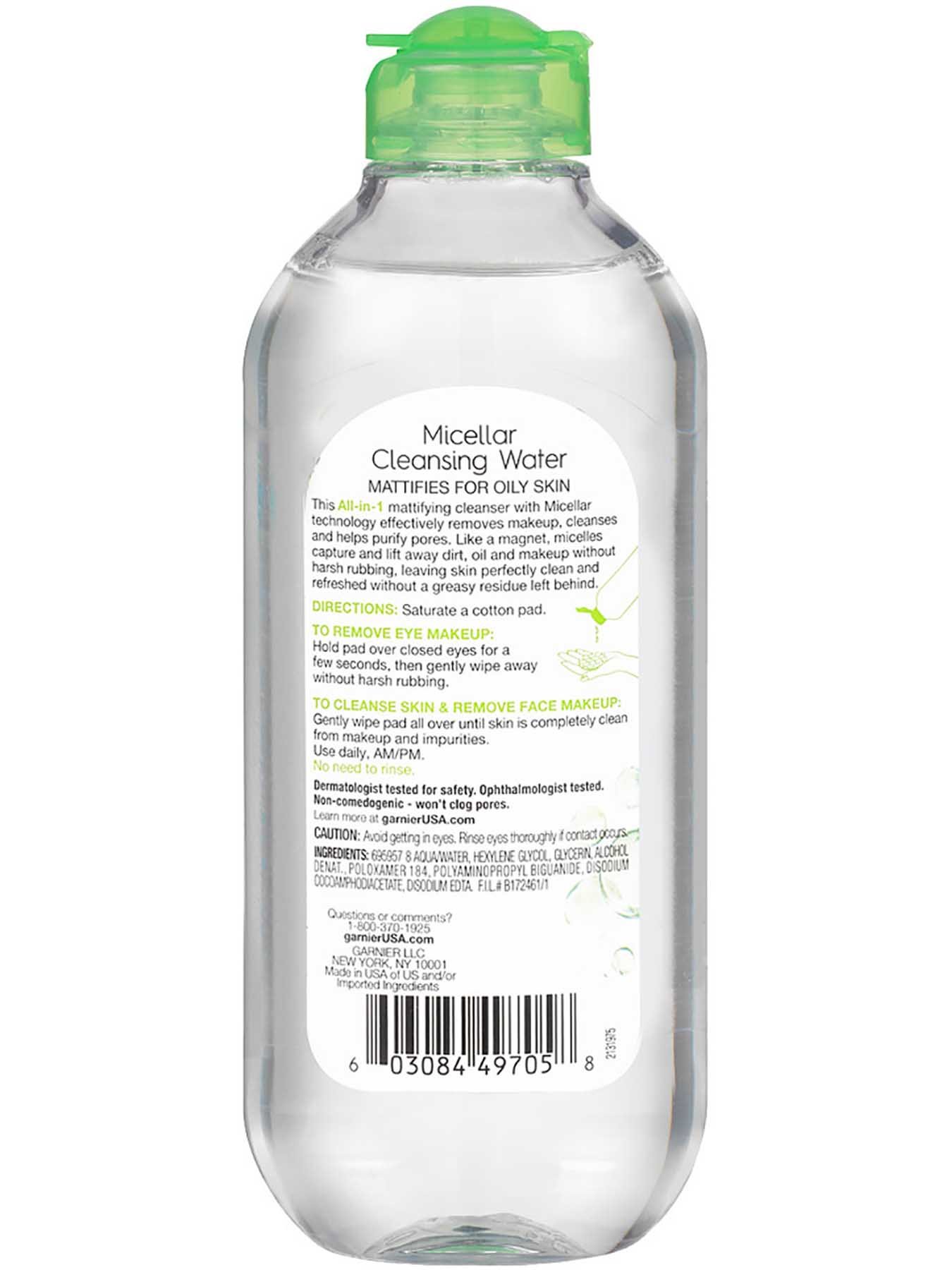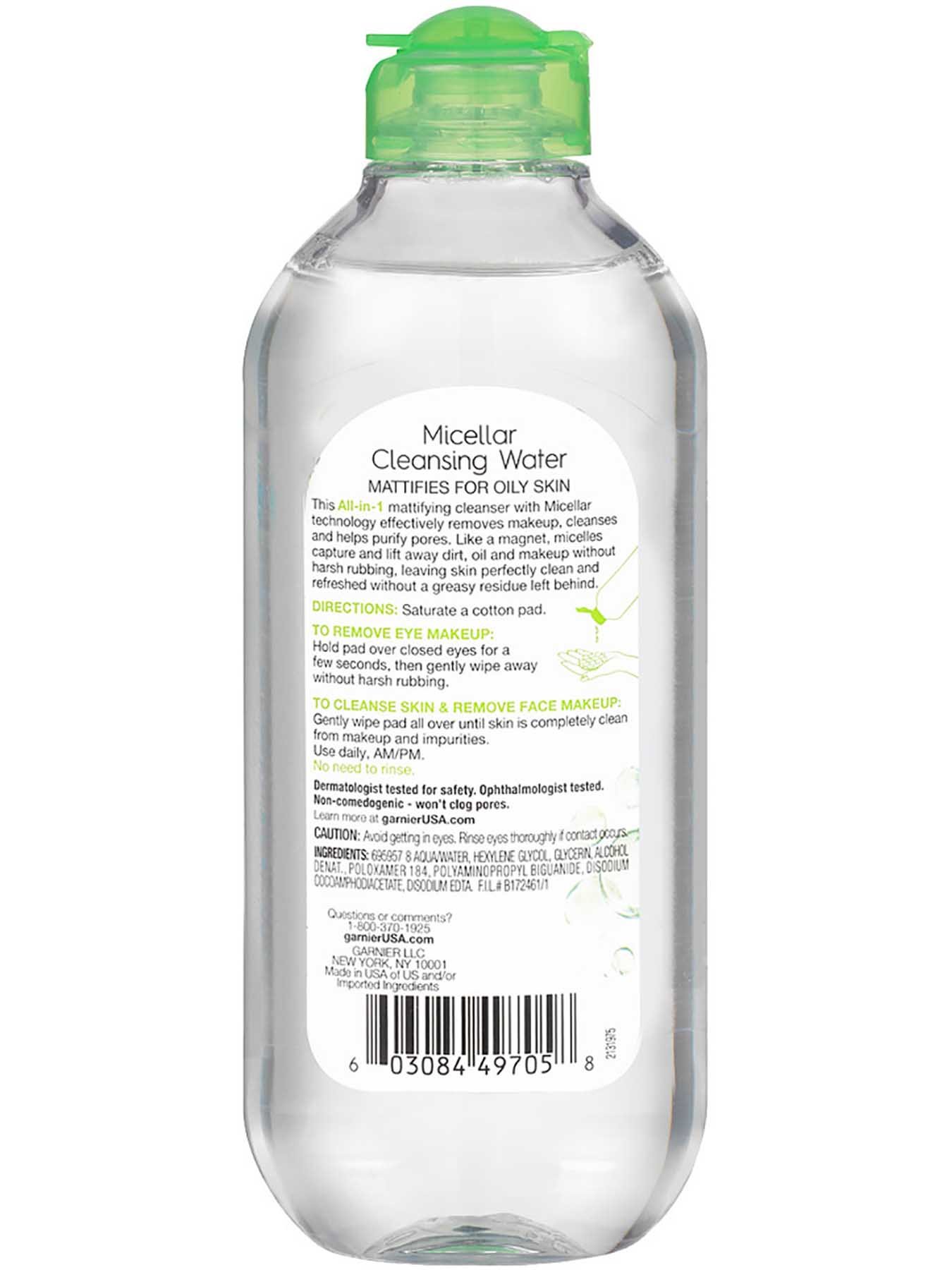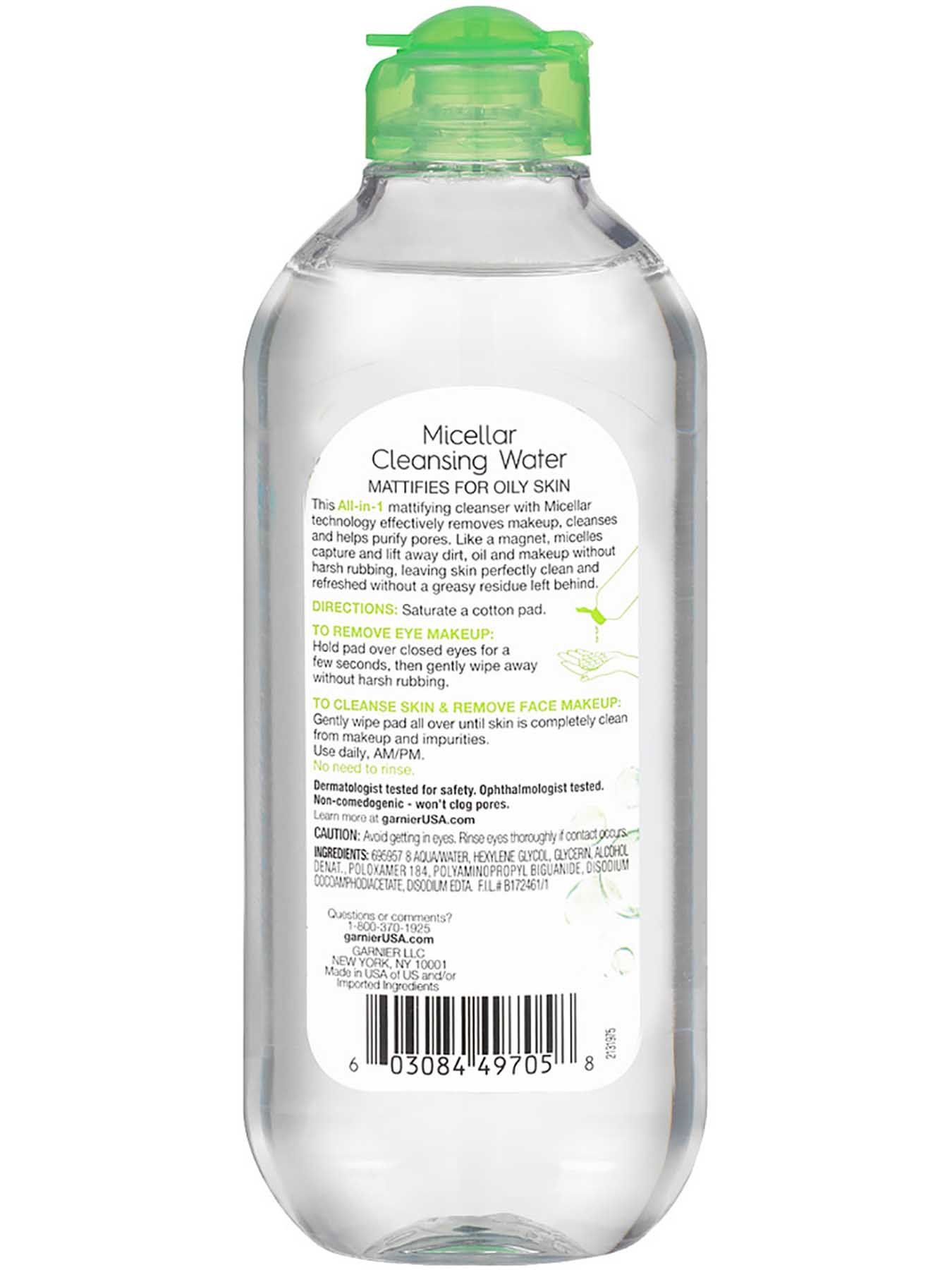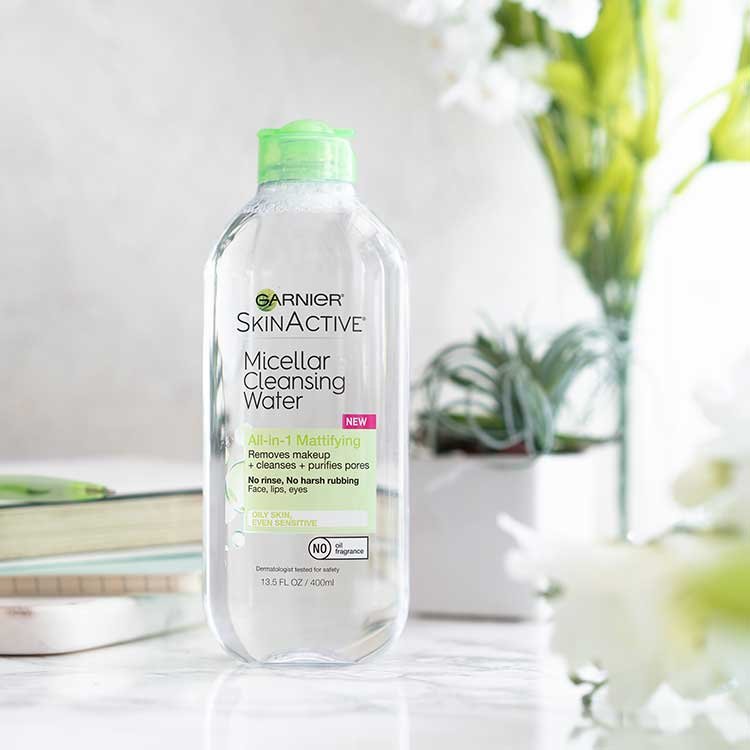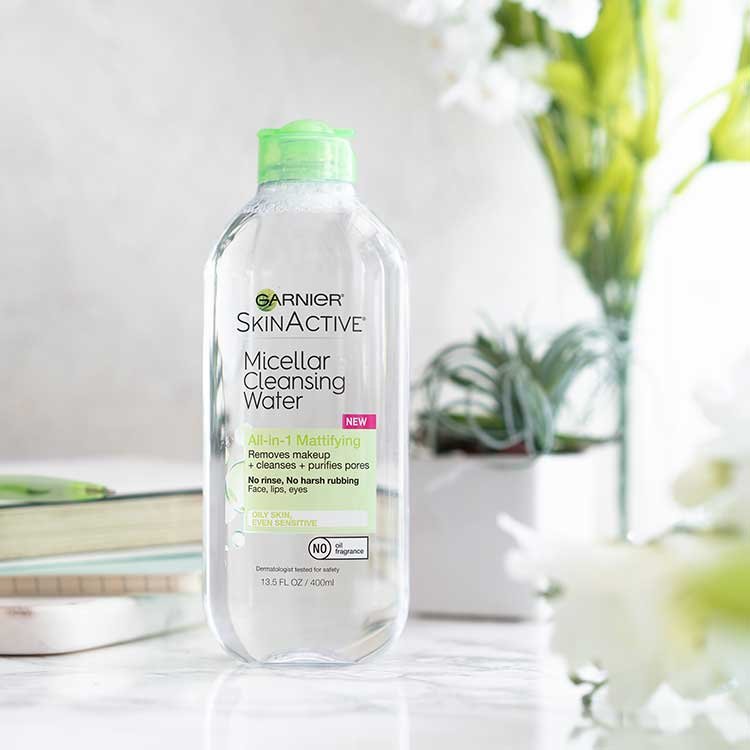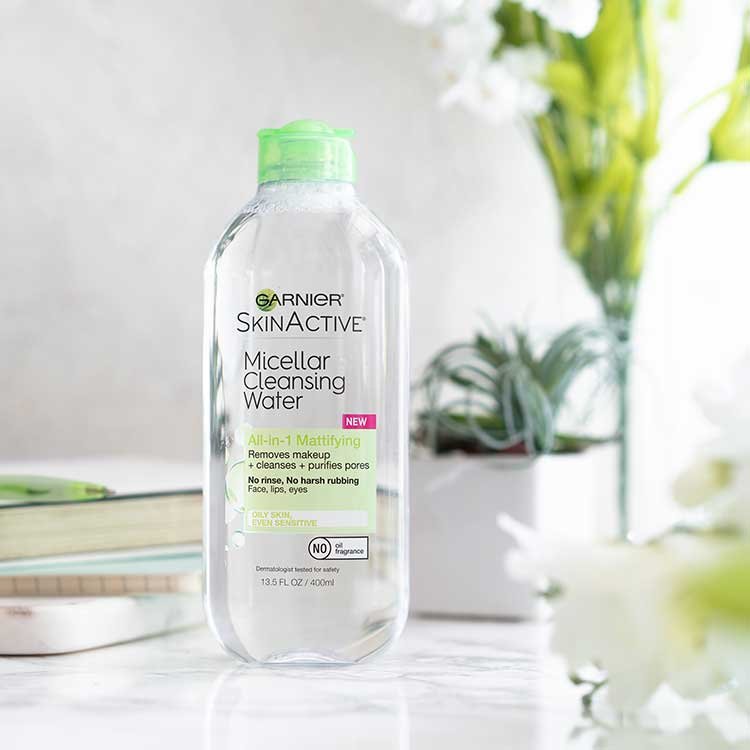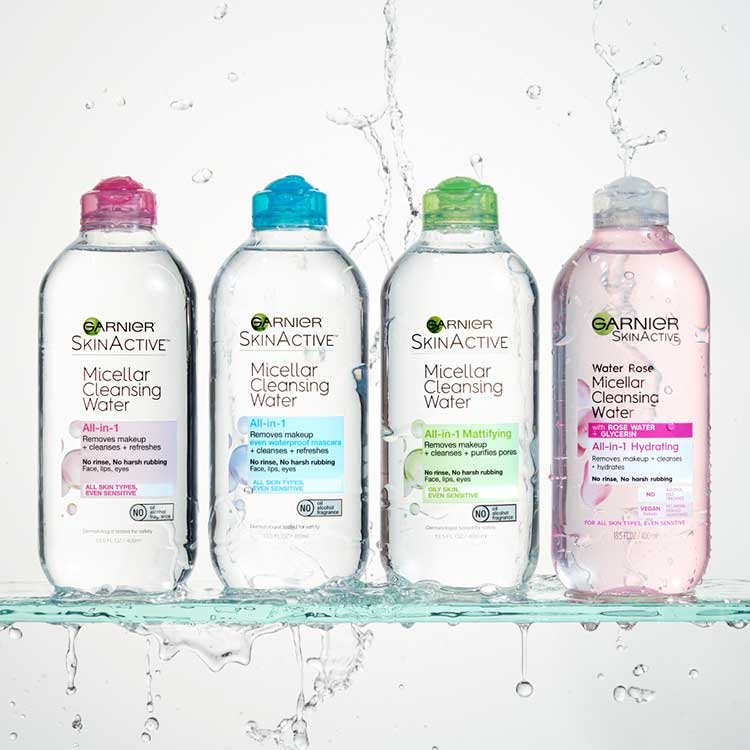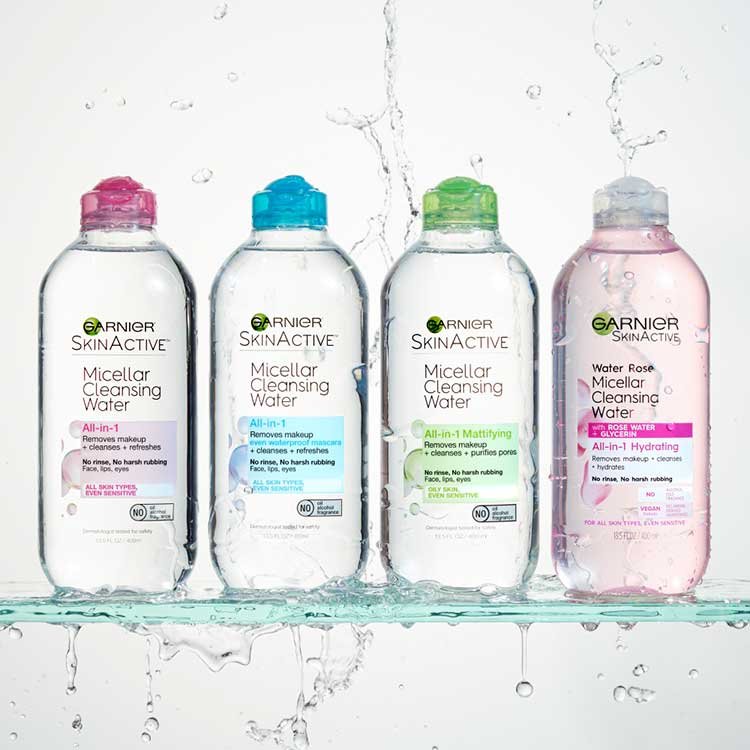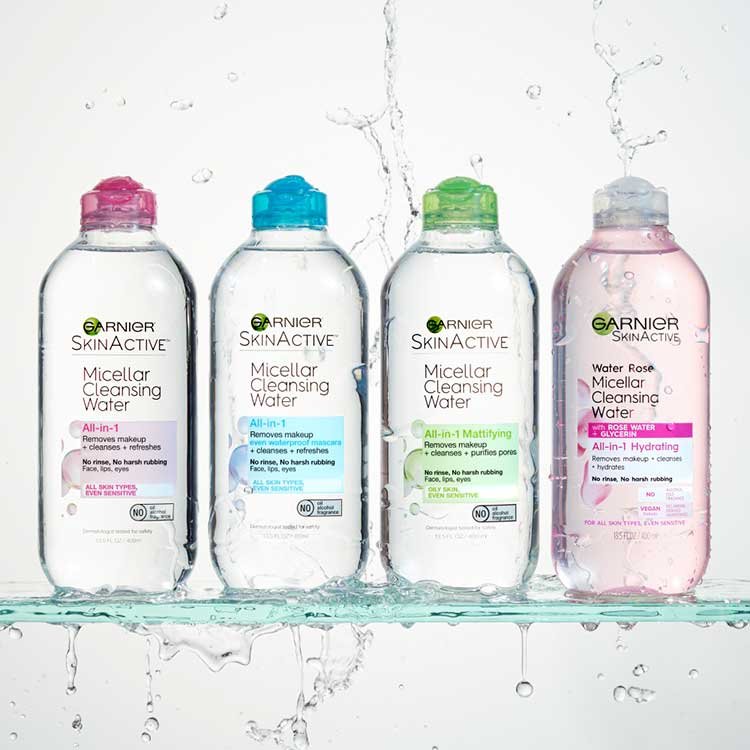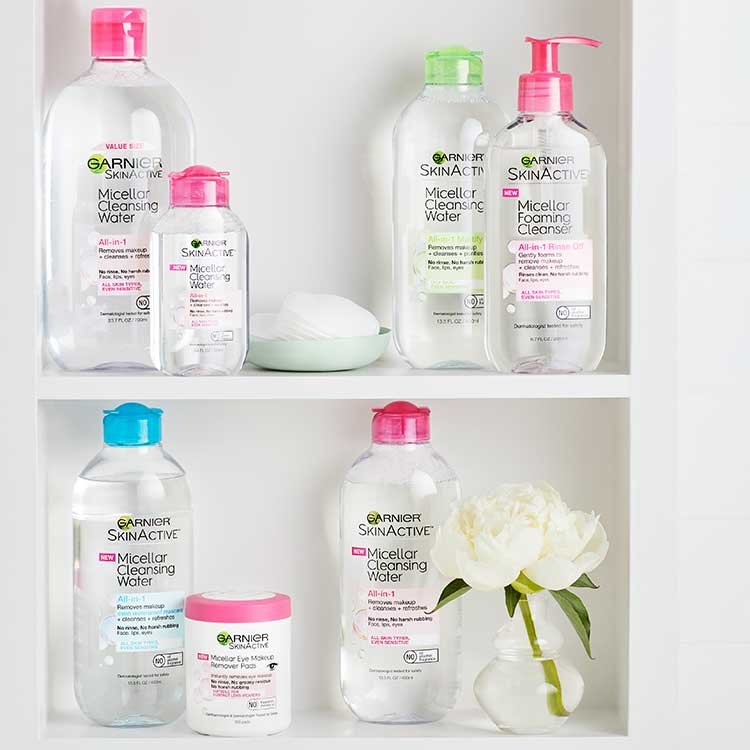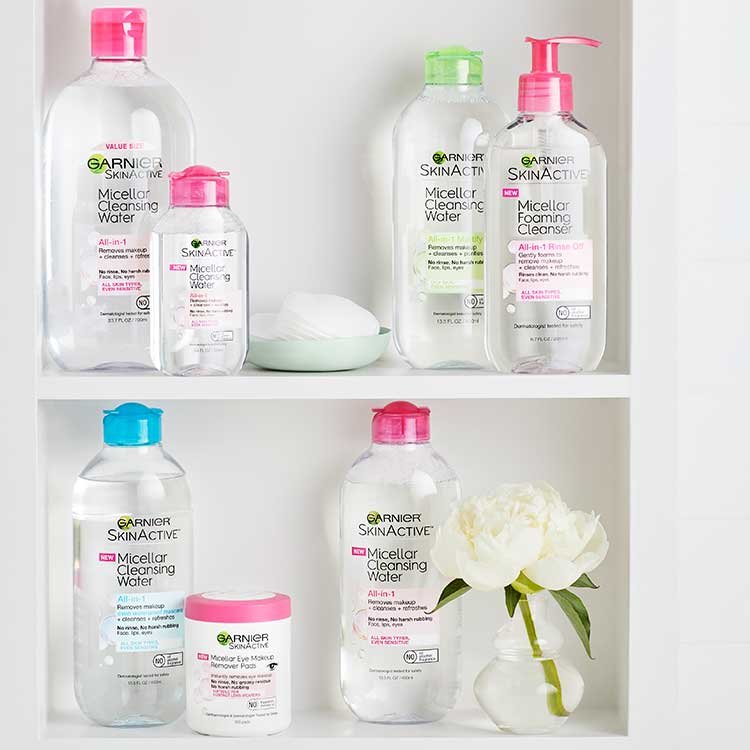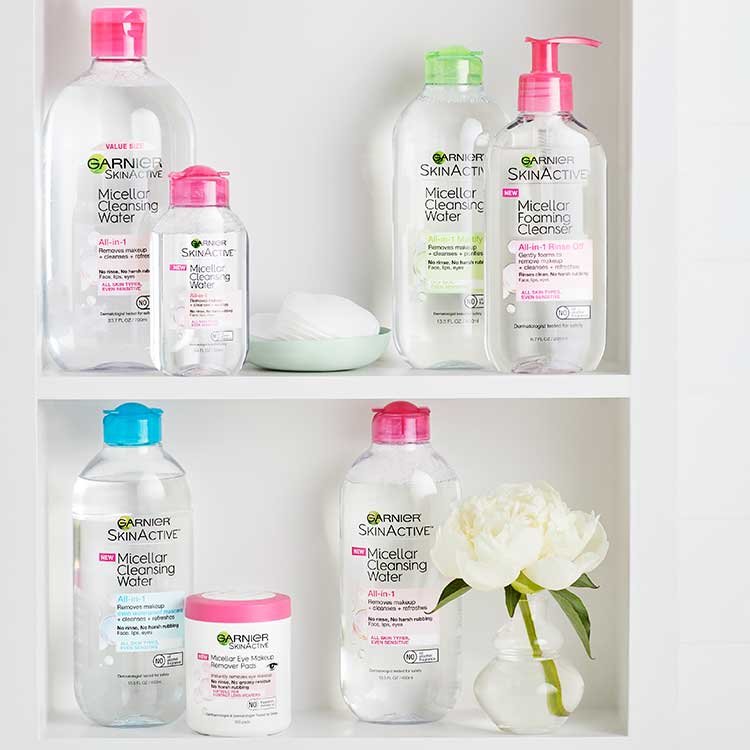 Garnier SkinActive
Micellar Cleansing Water All-in-1 Mattifying
$8.99 MSRP
OILY SKIN
All-in-1 Cleanser & Makeup Remover. Cleanses + removes makeup + mattifies. No rinse, no harsh rubbing. For face, lips, and eyes.
PRODUCT INFORMATION:
This all-in-1 mattifying cleanser is surprisingly powerful yet gentle to oily skin, even sensitive. It is specially formulated to effectively cleanse, remove makeup, and help purify pores. Like a magnet, micelles capture and lift away dirt, oil and makeup without harsh rubbing, leaving skin perfectly clean without a greasy residue left behind.
How To Use:
DIRECTIONS: Saturate a cotton pad.

TO REMOVE EYE MAKEUP:
Hold pad over closed eyes for a few seconds, then gently wipe away without harsh rubbing.

TO CLEANSE SKIN & REMOVE FACE MAKEUP:
Gently wipe pad all over until skin is completely clean from makeup and impurities. Use daily, AM/PM. No need to rinse.
Ingredients:
INGREDIENTS: 695957 8 AQUA/WATER, HEXYLENE GLYCOL, GLYCERIN, ALCOHOL DENAT., POLOXAMER 184, POLYAMINOPROPYL BIGUANIDE, DISODIUM COCOAMPHODIACETATE, DISODIUM EDTA. F.I.L.# B172461/1
No Hidden Nasties.
Specially formulated with no oil, sulfates, fragrance, parabens, or alcohol - it's all in the micelles that work like magnets to gently lift away excess dirt, oil, and makeup. Perfect for all skin types, even sensitive so you can enjoy a clean complexion with no harsh rubbing or rinsing.
Round Out Your Oily Skin Routine
Cleanse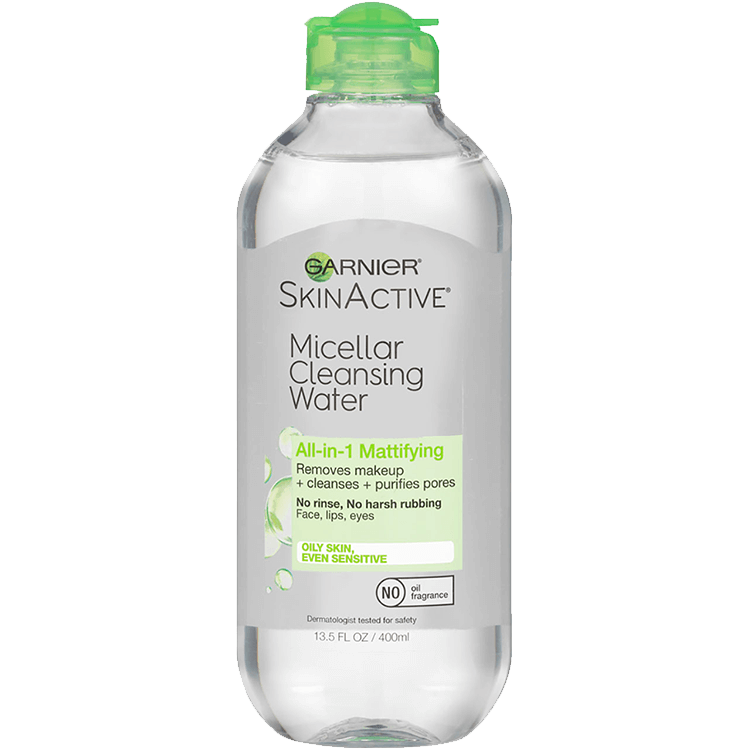 Garnier SkinActive
Micellar Cleansing Water All-in-1 Mattifying
For Oily Skin, Even Sensitive
Scrub
Garnier SkinActive
Blackhead Eliminating Scrub with Charcoal
For Oily Skin
Moisturize
Garnier SkinActive
Moisture Rescue Refreshing Gel Cream
Gel Cream Face Moisturizer
Treat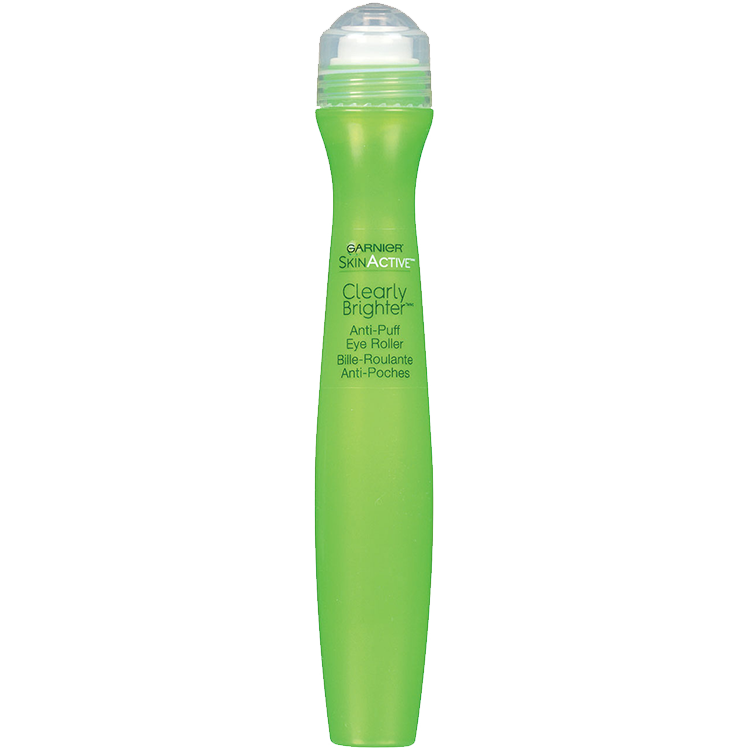 Garnier SkinActive
Clearly Brighter Anti-Puff Eye Roller
Under-Eye Puffiness Reducer
Rated

5

out of

5
by
moxen001
from
My go-to miceller water always!!! I originally started using their original version and loved it until I stumbled upon the new mattifying one. My skin gets extremely oily throughout the day so this stuff is a lifesaver for me!!
Date published: 2019-11-03
Rated

4

out of

5
by
moniquek2
from
My go to makeup remover for oily skin! It works better than most products because it is not oily at all! I dont use it to cleanse but rather as a makeup remover before I use my cleaner. It has help clear my skin a lot!
Date published: 2019-11-02
Rated

3

out of

5
by
ally8161
from
I would love to like this but it just makes my skin more oily than anything. It's awful. I used to use this before and didn't have a problem. What happened?
Date published: 2019-11-01
Rated

4

out of

5
by
jenniferp1617
from
This product is really amazing and works great to get off makeup. Very important to ensure you use it with cotton rounds to get the full benefit of a micellar water. It won't activate without cotton. It's also great to put on qtips to help make a perfect wing! I rated it 4/5 because with some waterproof mascara, it won't completely remove. It removes liquid lipsticks like a charm!, Garnier SkinActive All-in-1 Mattifying Micellar Cleansing Water
Date published: 2019-10-31
Rated

4

out of

5
by
kaviluvzv
from
Its perfect micellar water. I went to buy makeup remover and ended up buying this @walmart. It does the job well.Even removed eye make up... But couldnt work as effectively in removing mascara though. Still I liked the product and am still using it.
Date published: 2019-10-31
Rated

5

out of

5
by
marykay78
from
I left be this product. It cleaned my face amazingly good. I like be how you can see all it takes off. It doesn't dry my skin n either.
Date published: 2019-10-31
Rated

5

out of

5
by
caryens
from
I actually really like this product. It doesnt smell at all (which is a HUGE plus for me). It is light and doesnt leave any residue on the face. This product got all the makeup off of my face. I used it when I would have a no makeup day and needed to get the dirt and oil off before bed.
Date published: 2019-10-30
Rated

5

out of

5
by
laurenw45
from
Love this product to get off my make up easily. No scrubbing required and this product is easy on my sensitive skin.
Date published: 2019-10-30