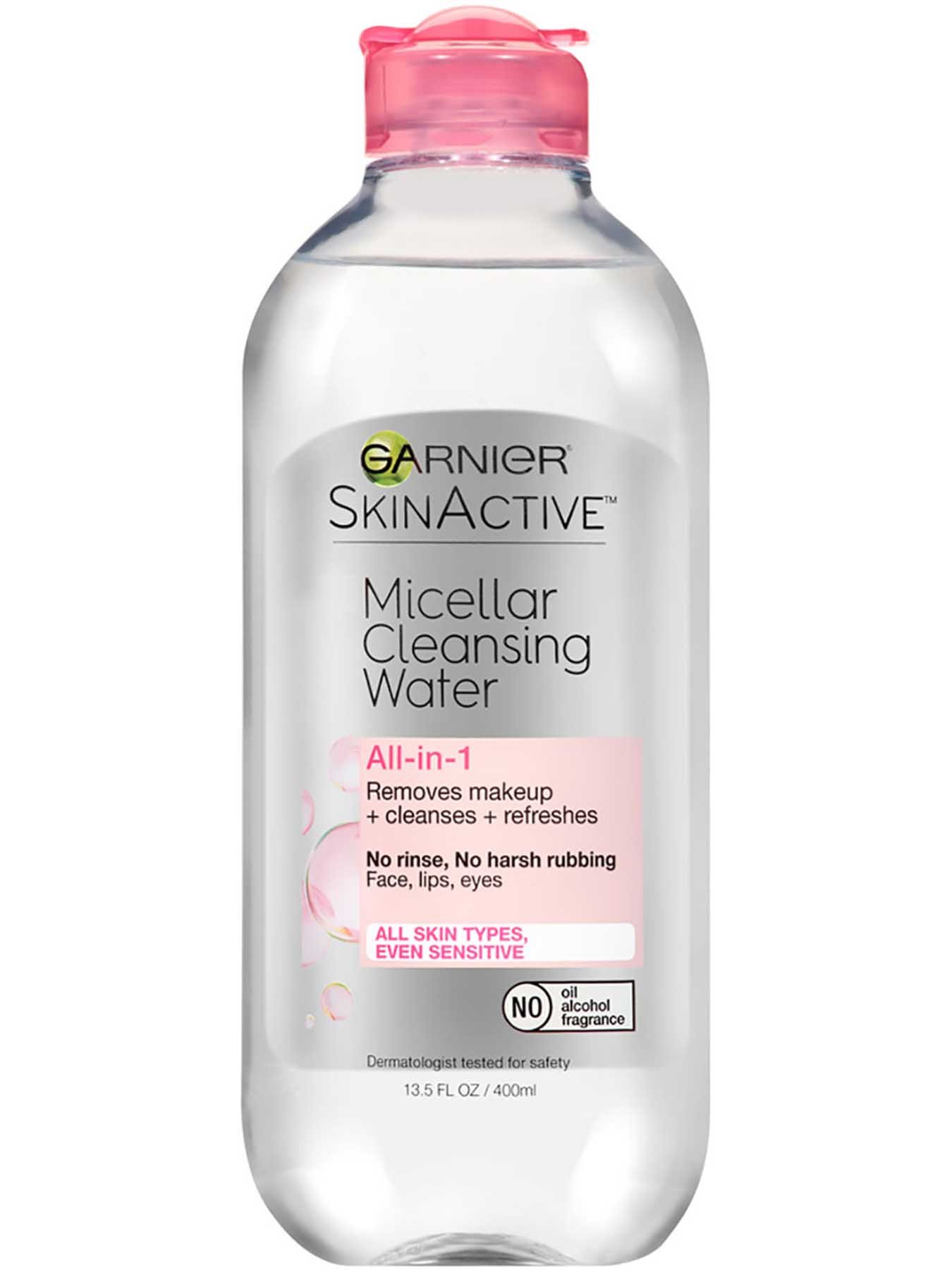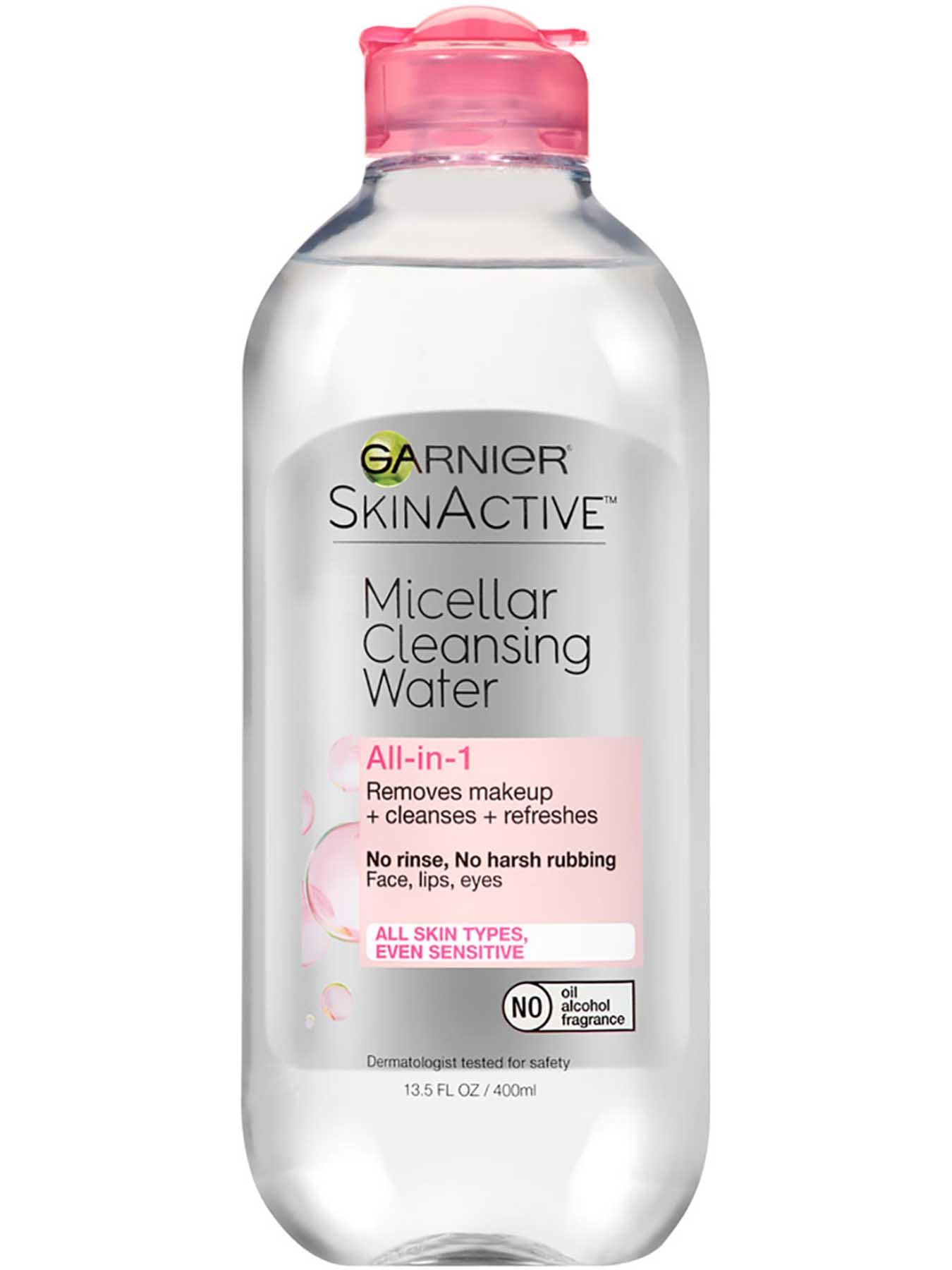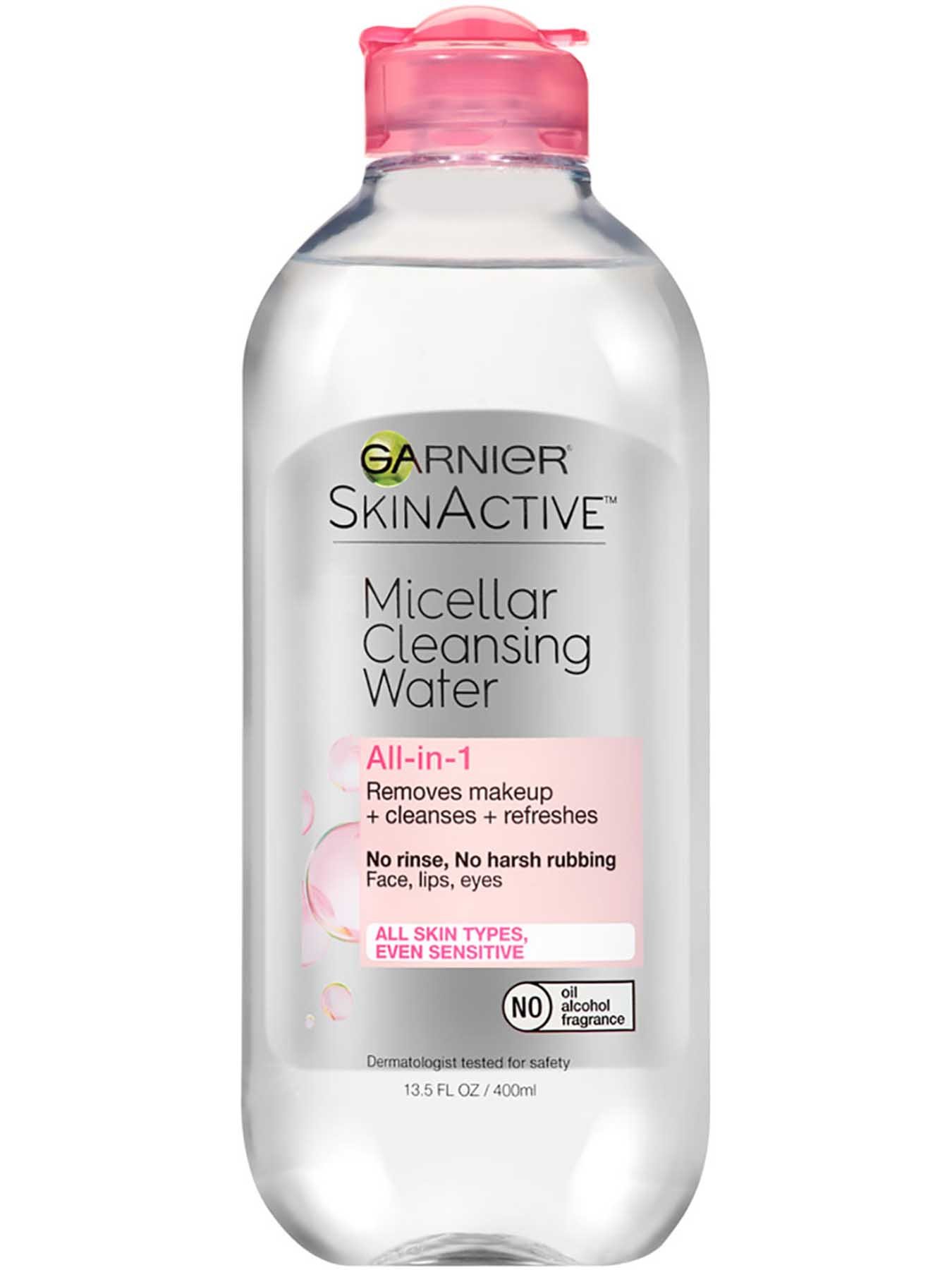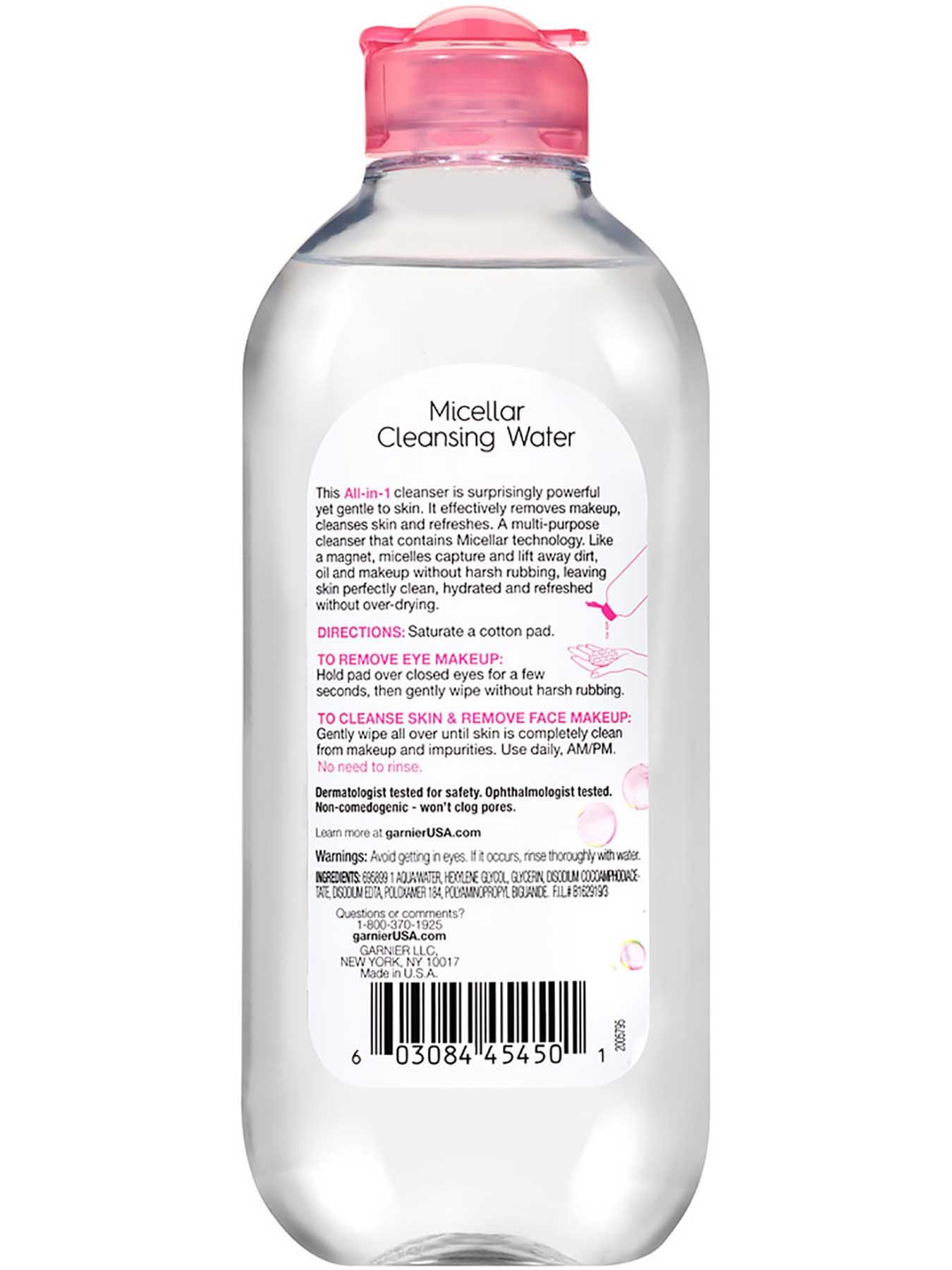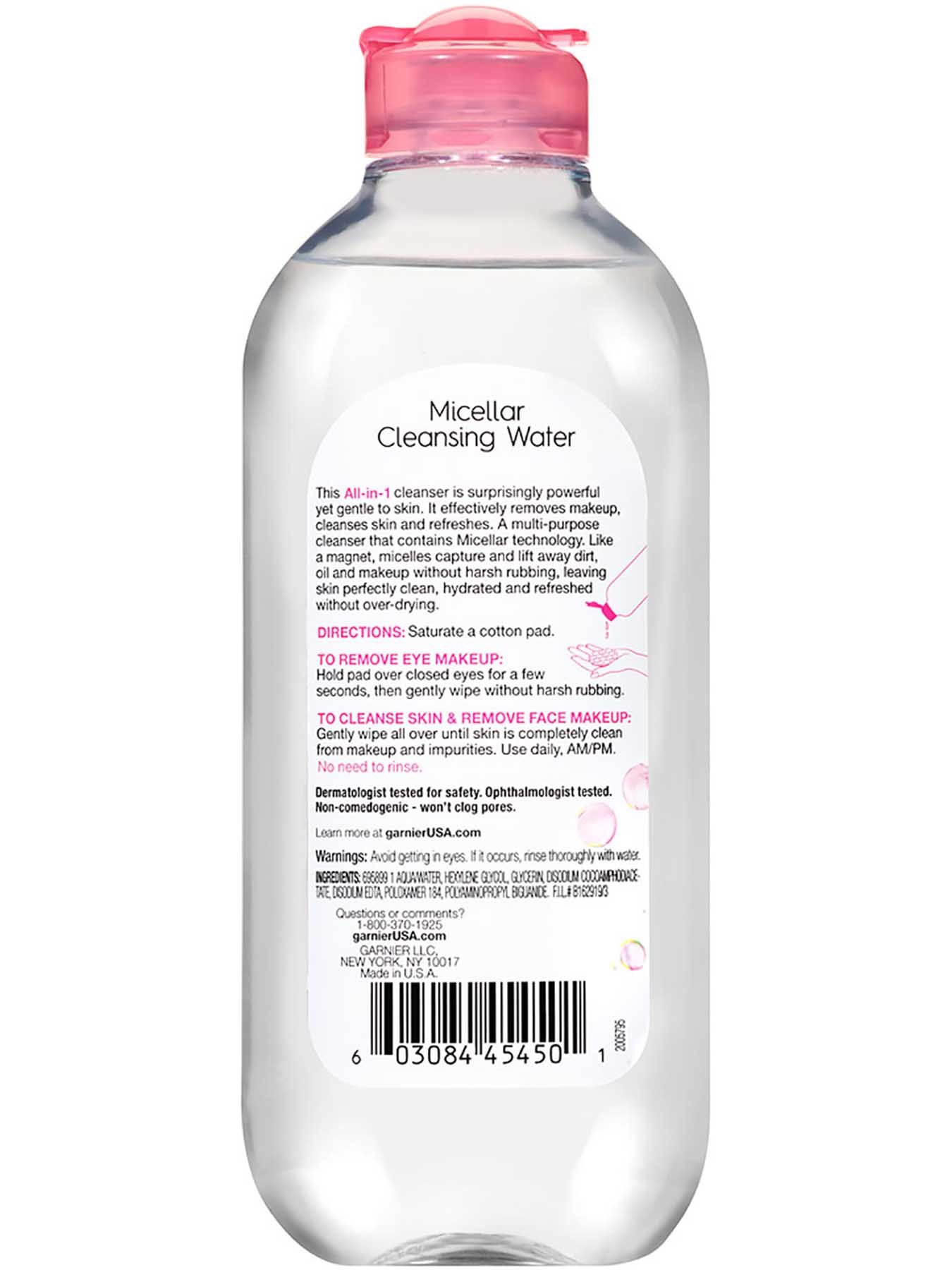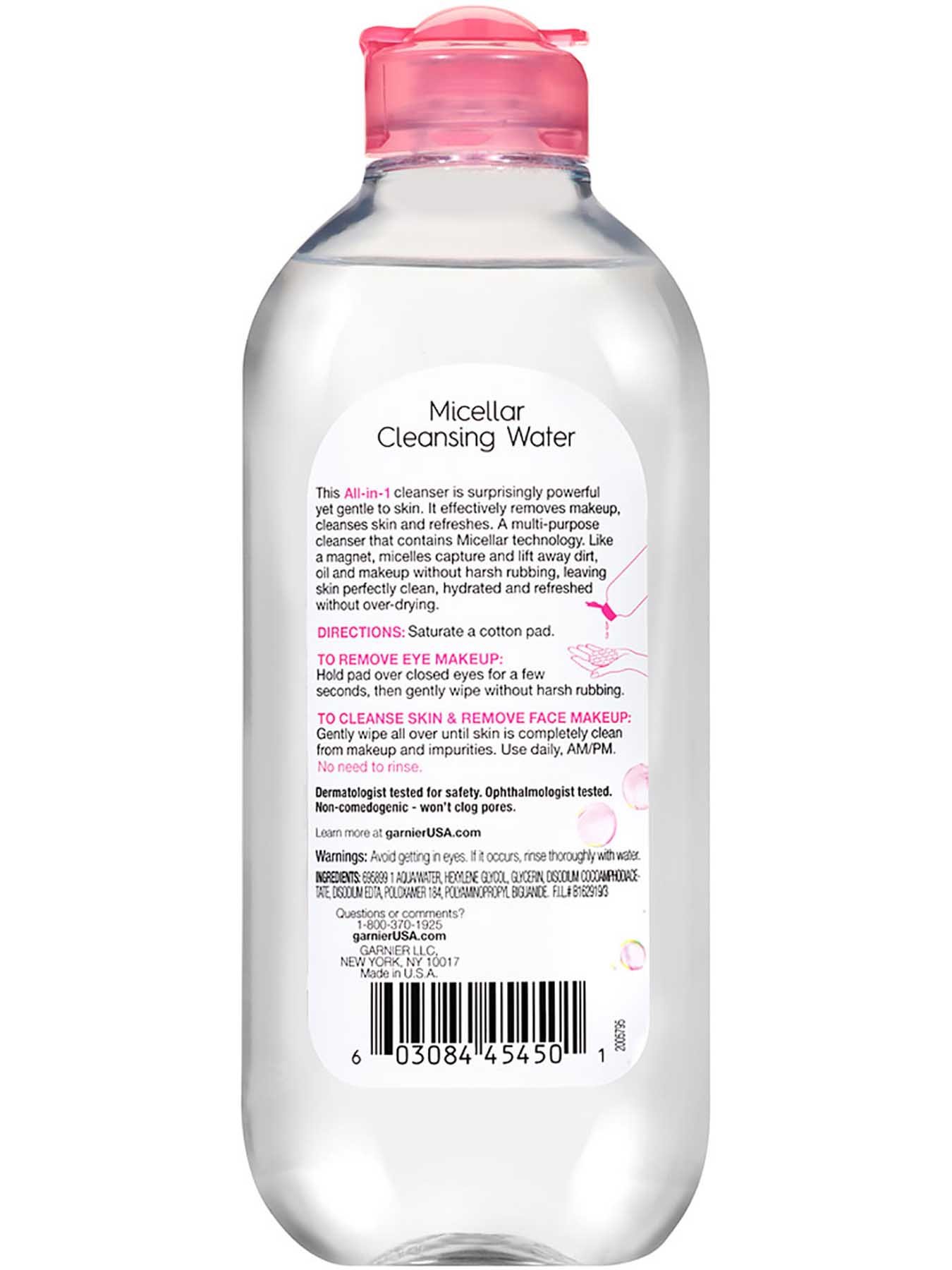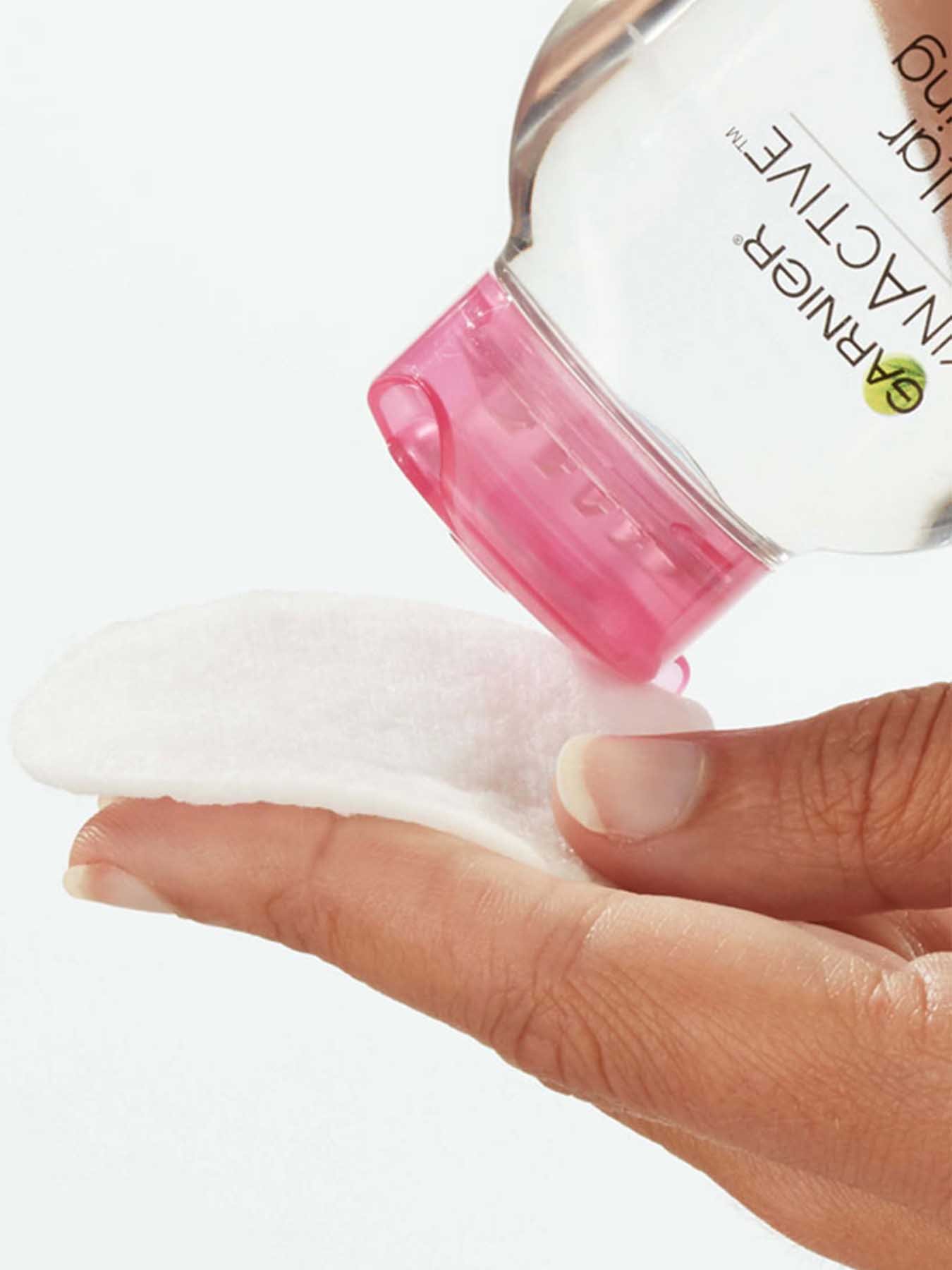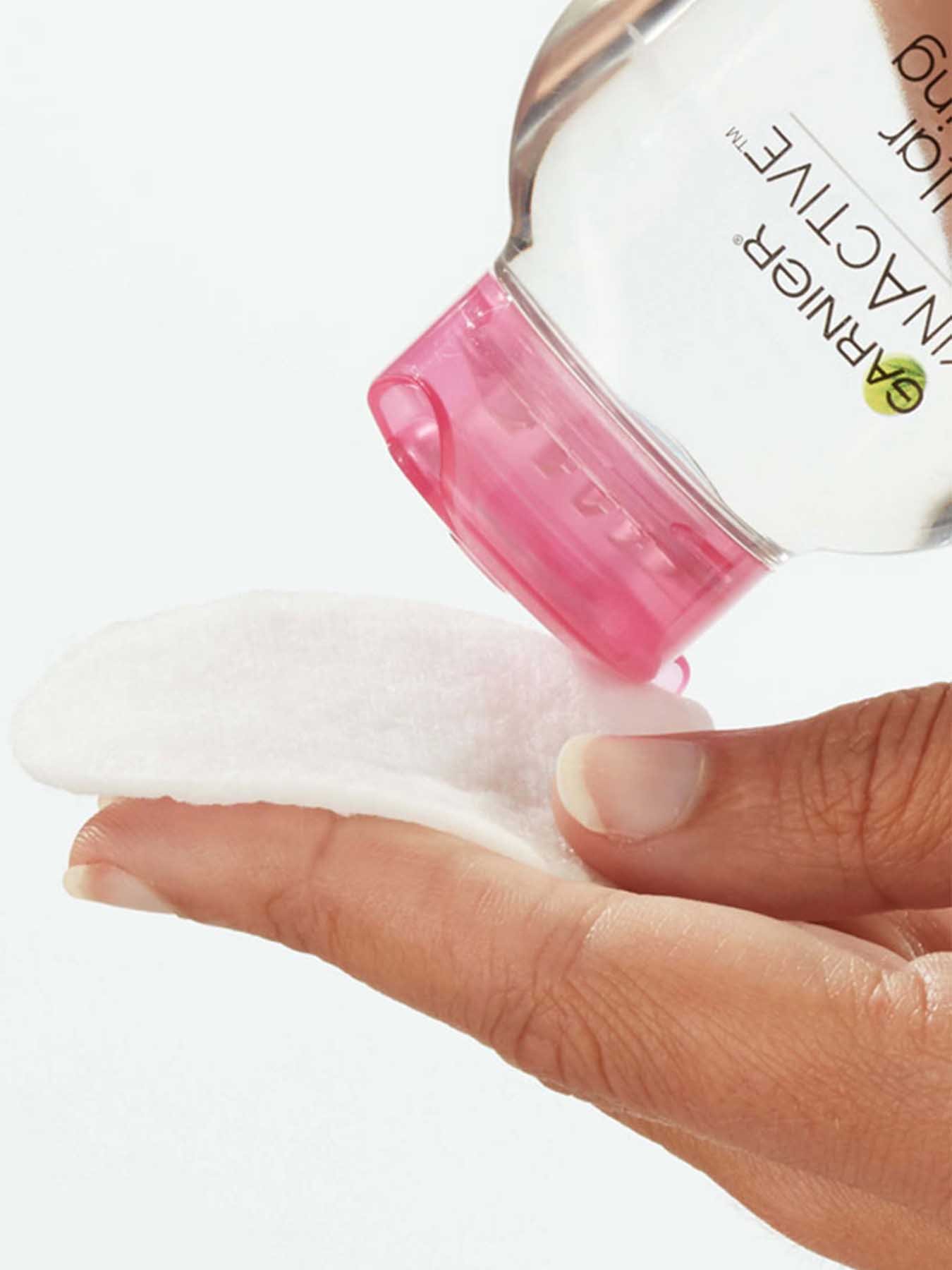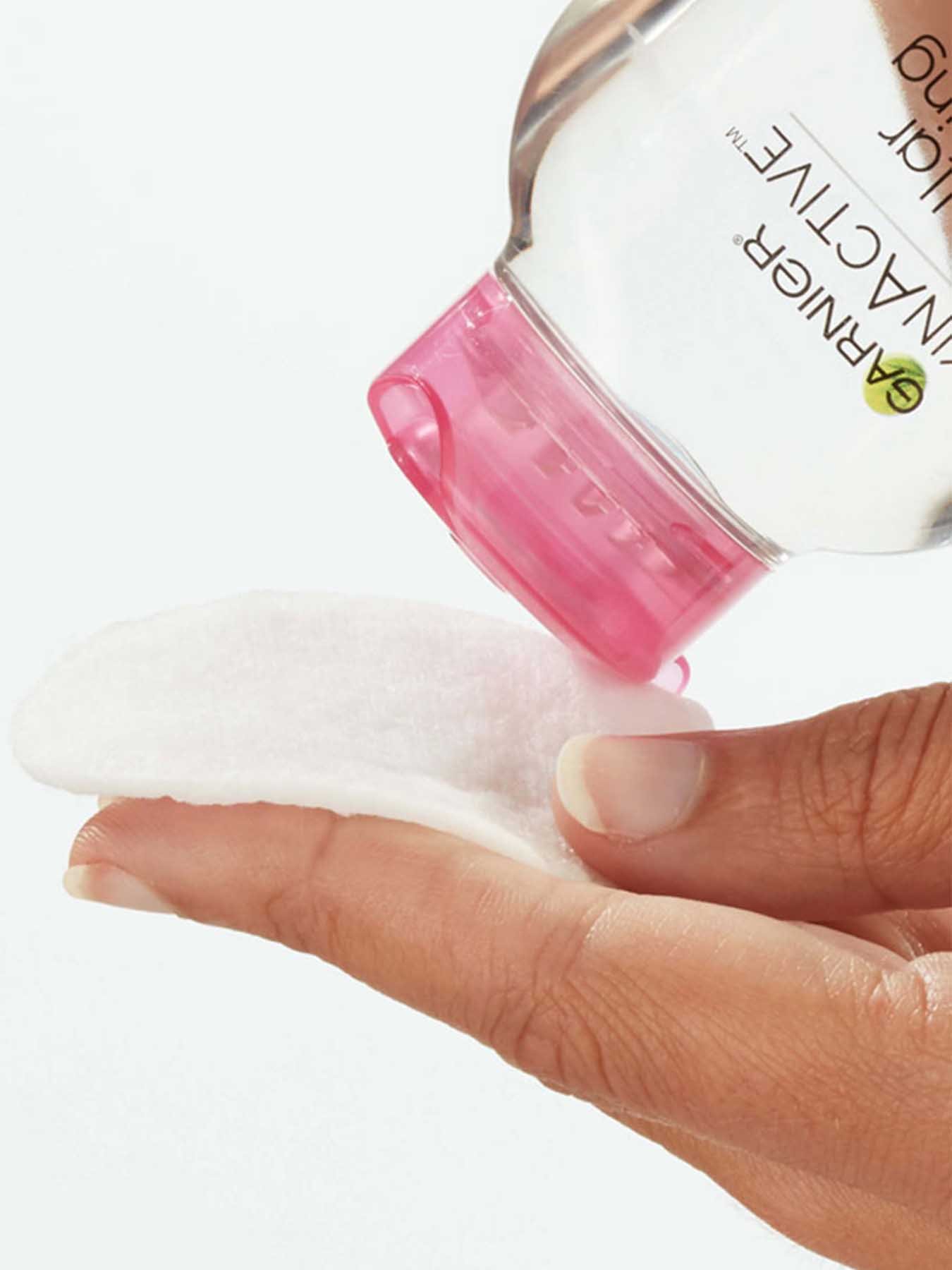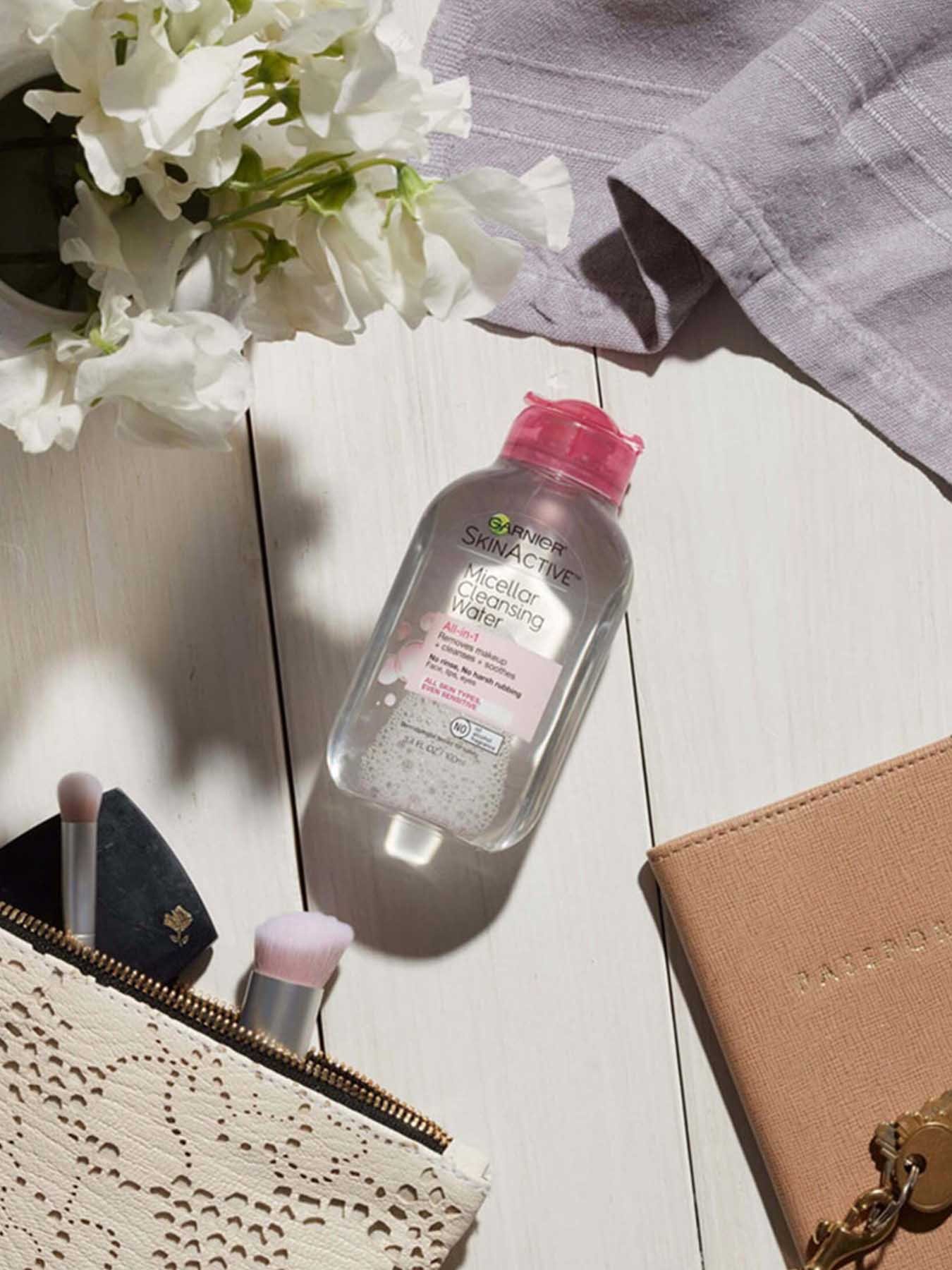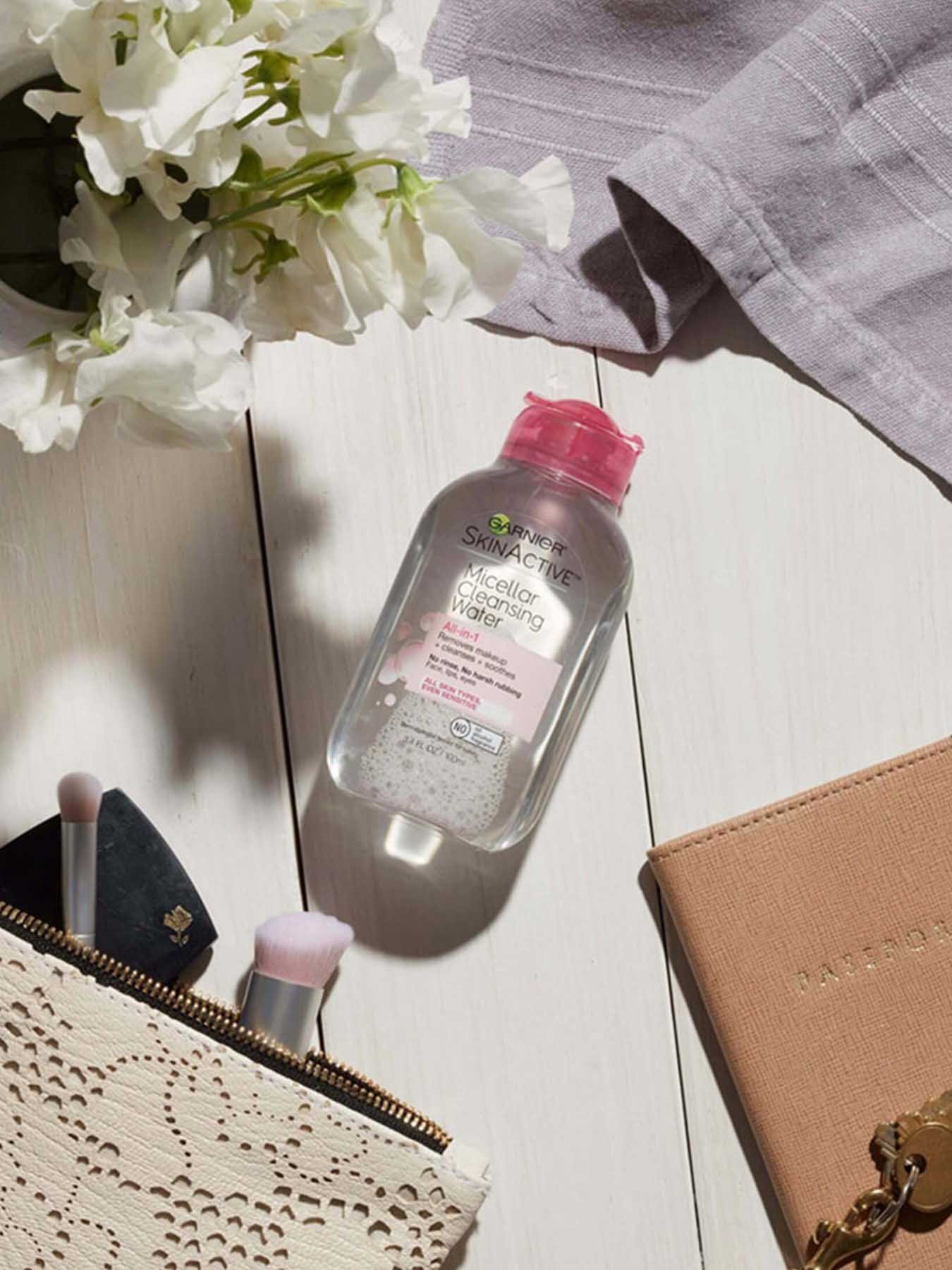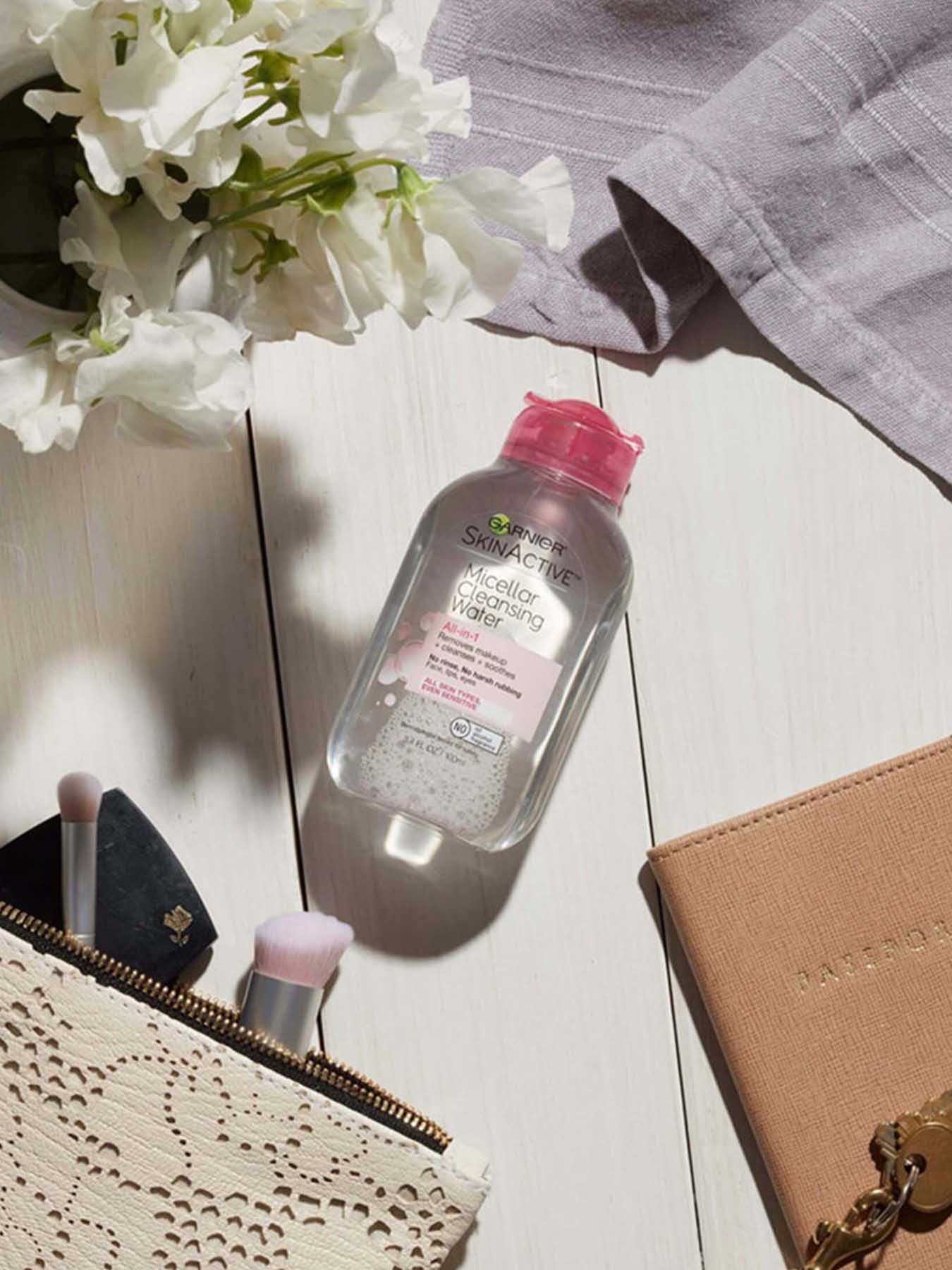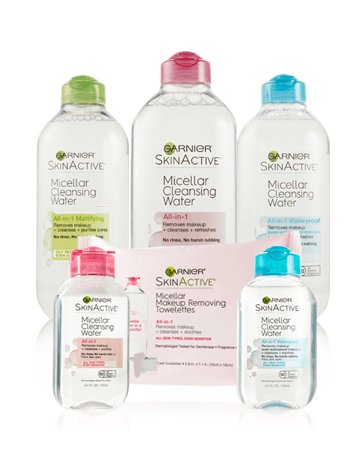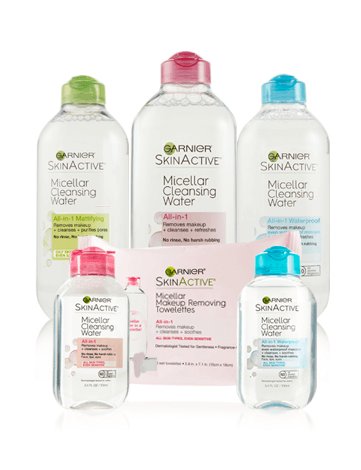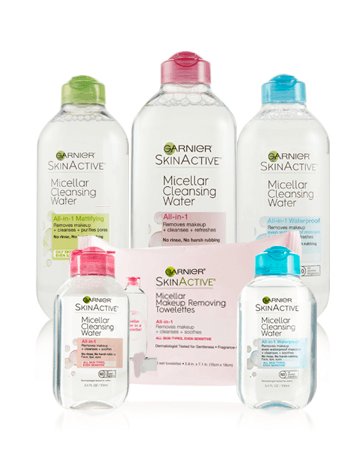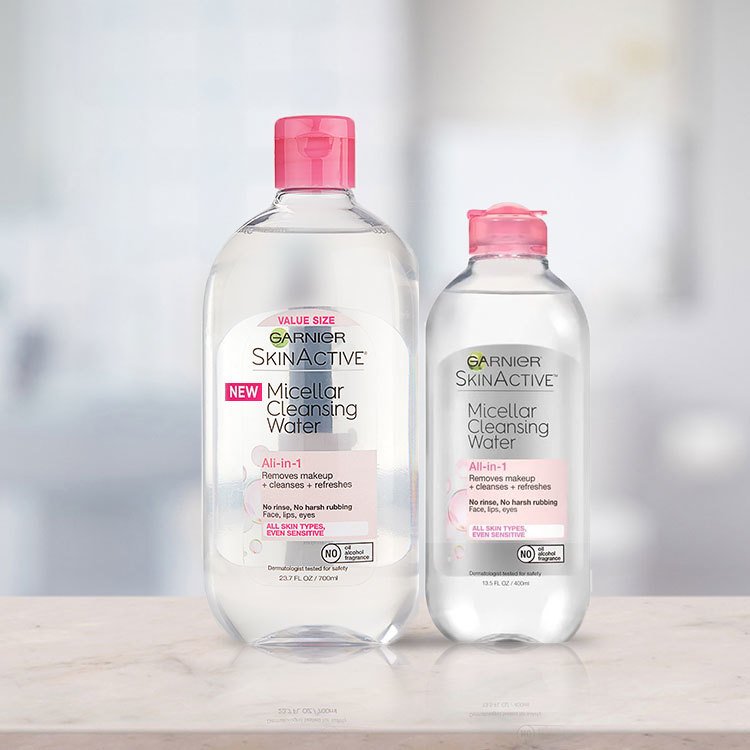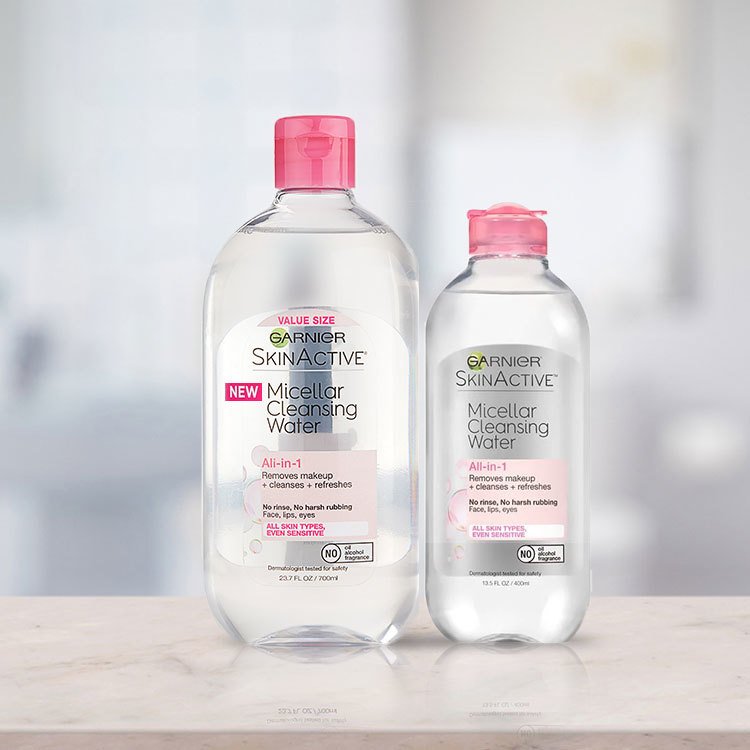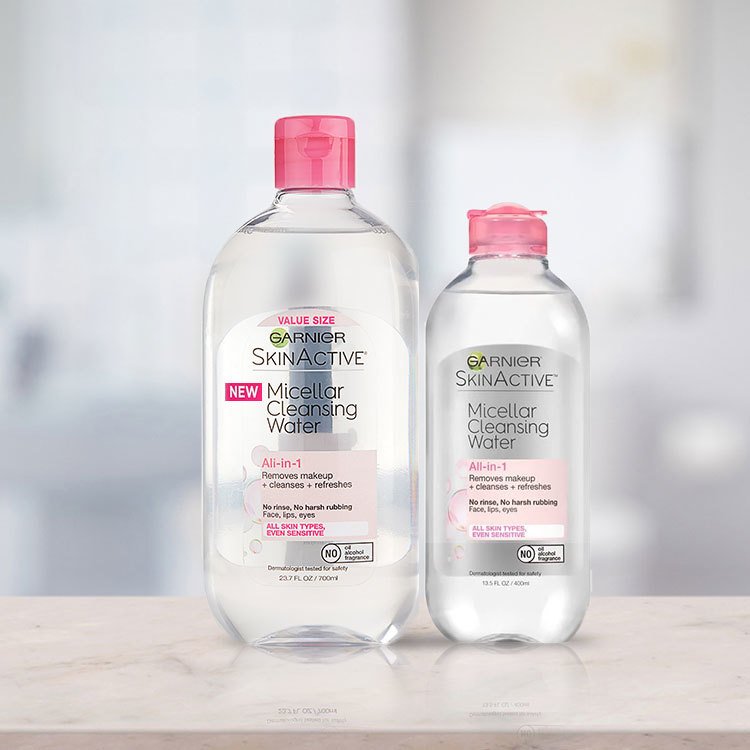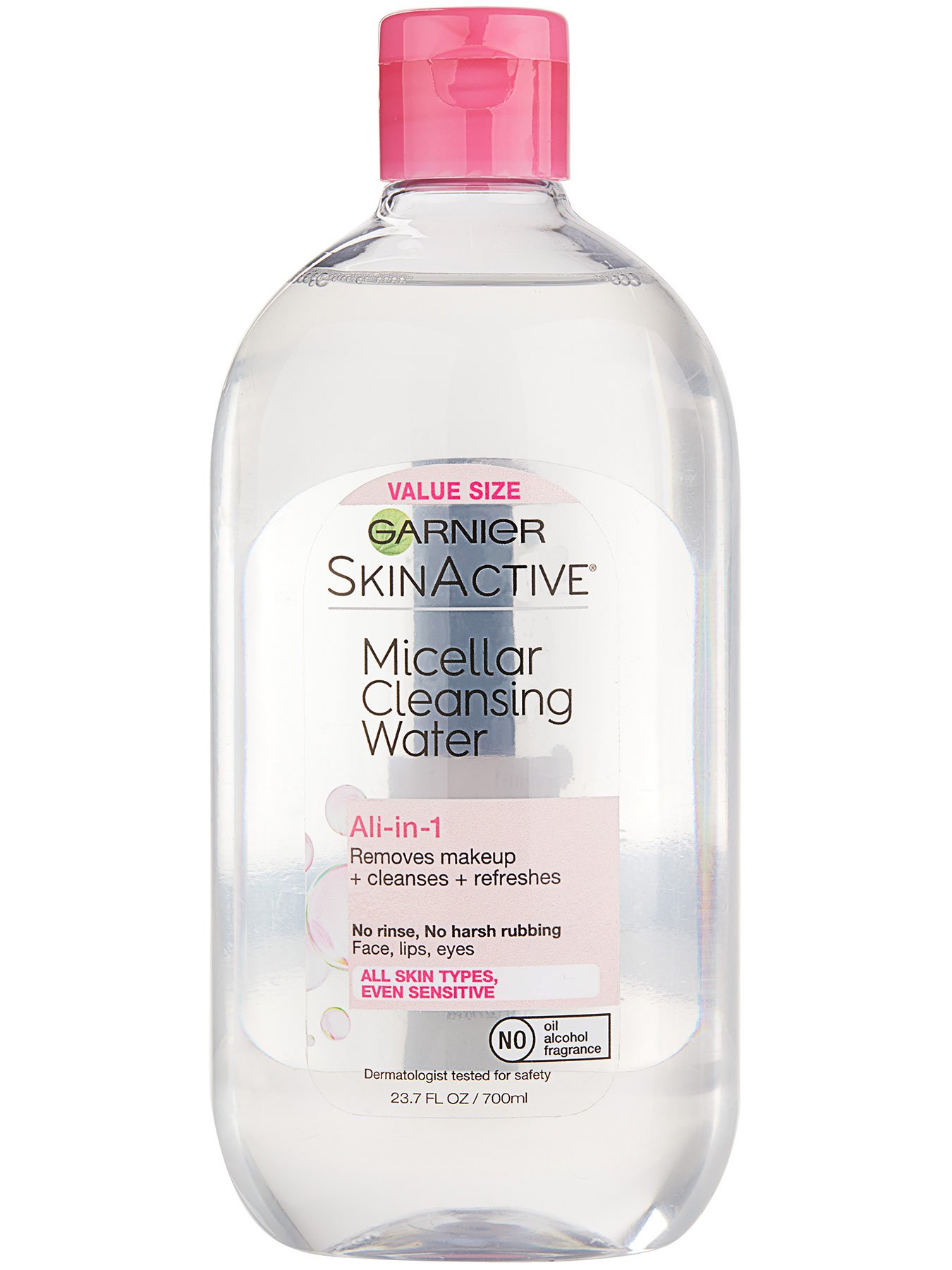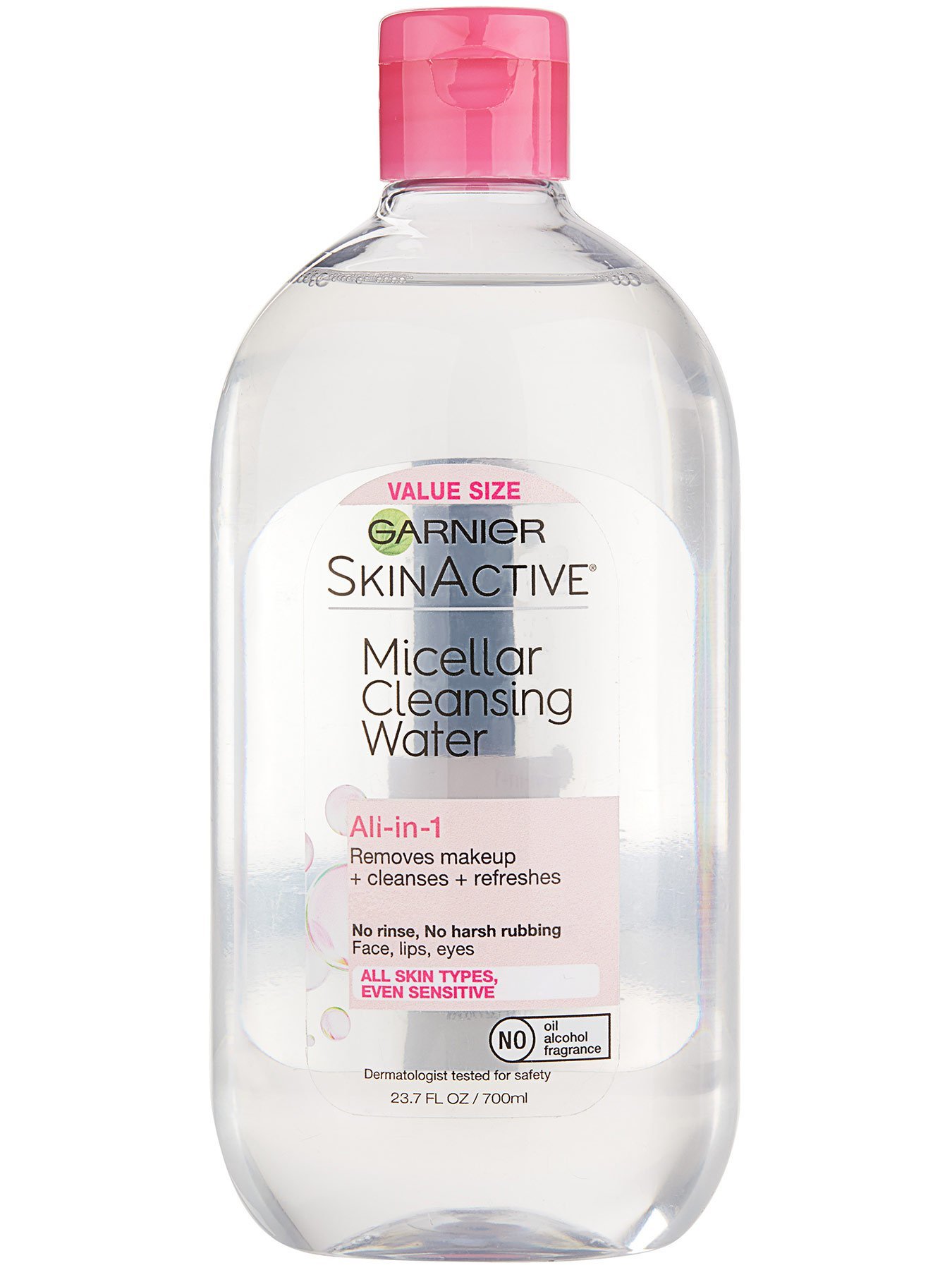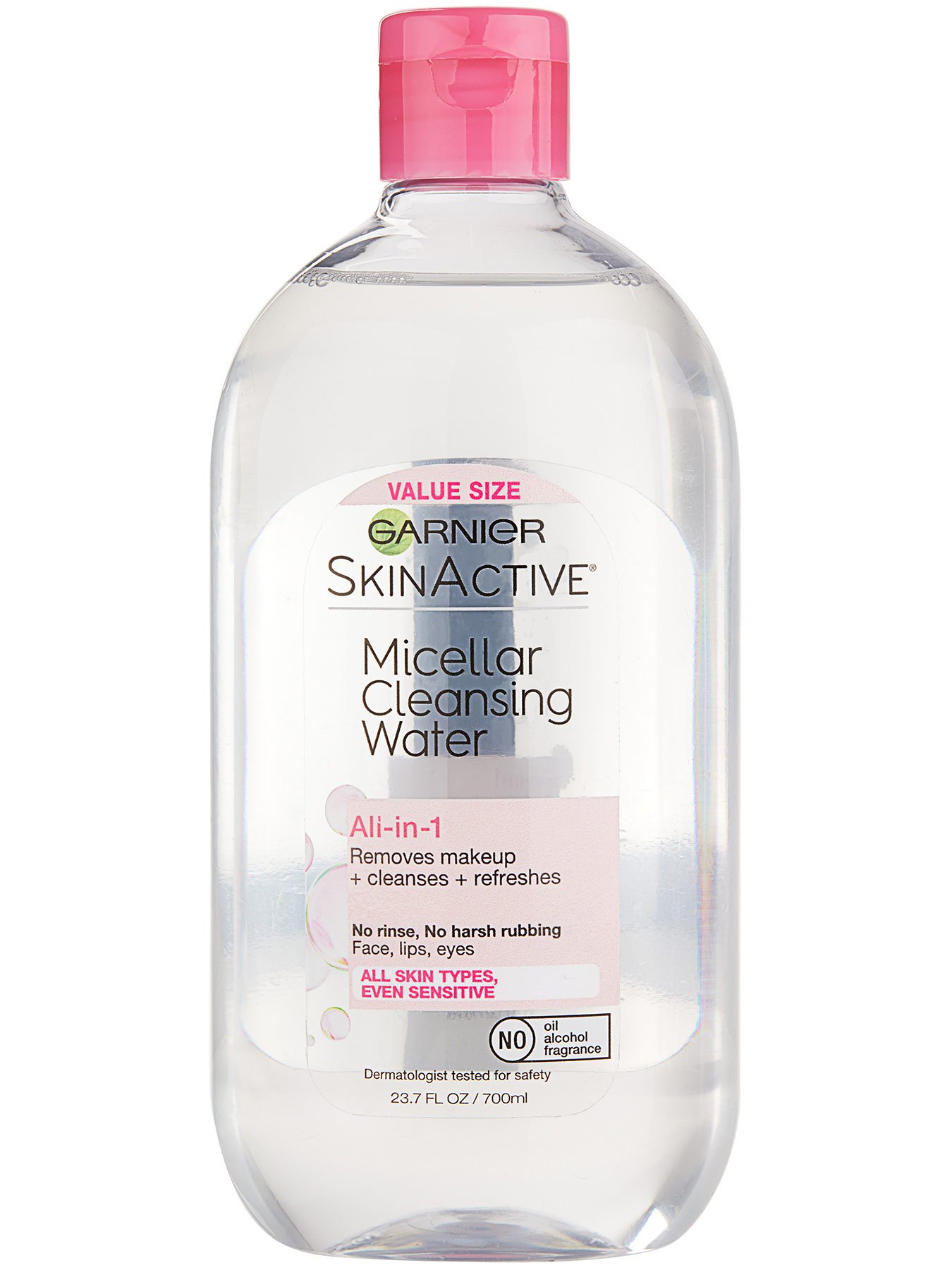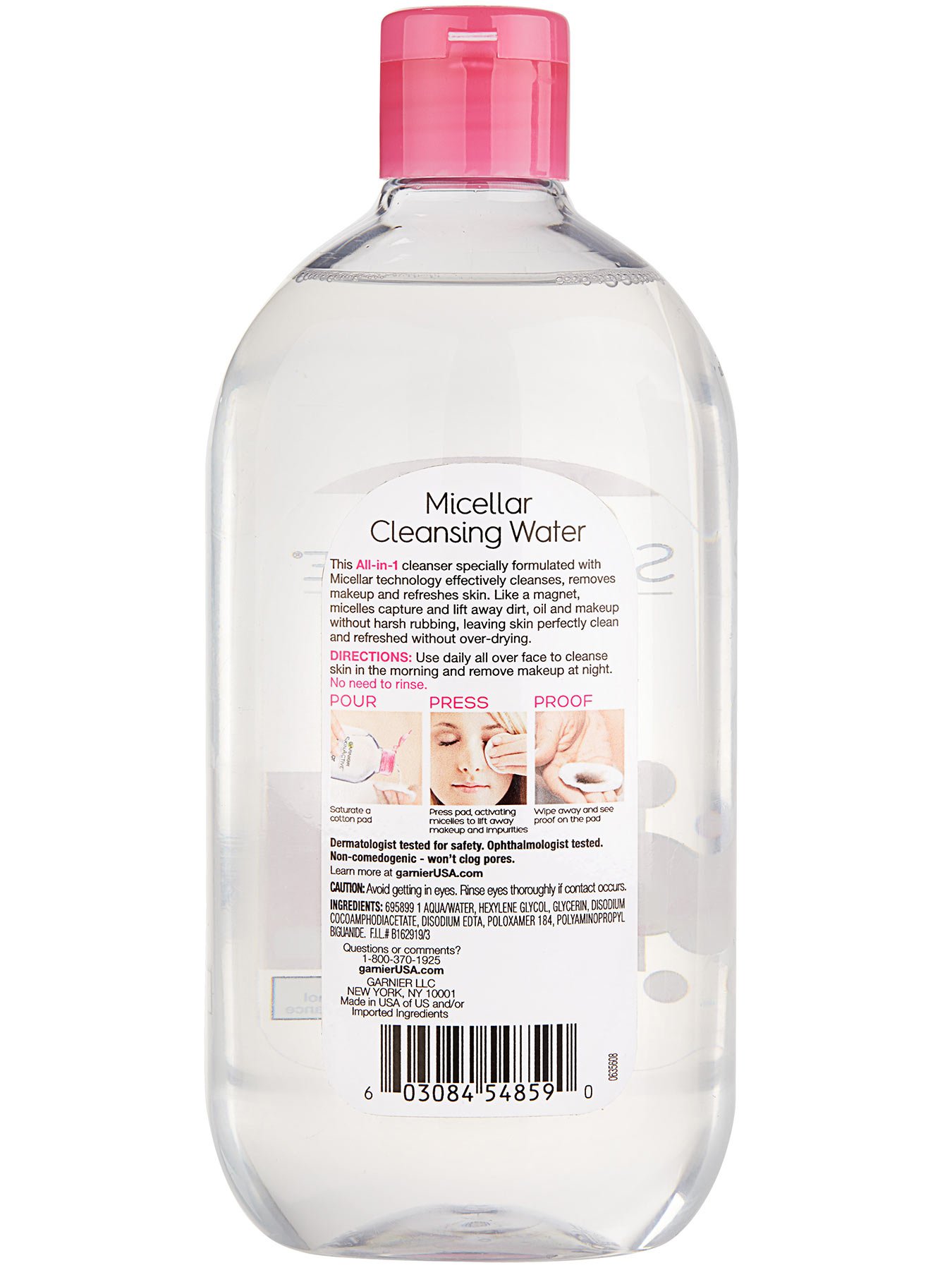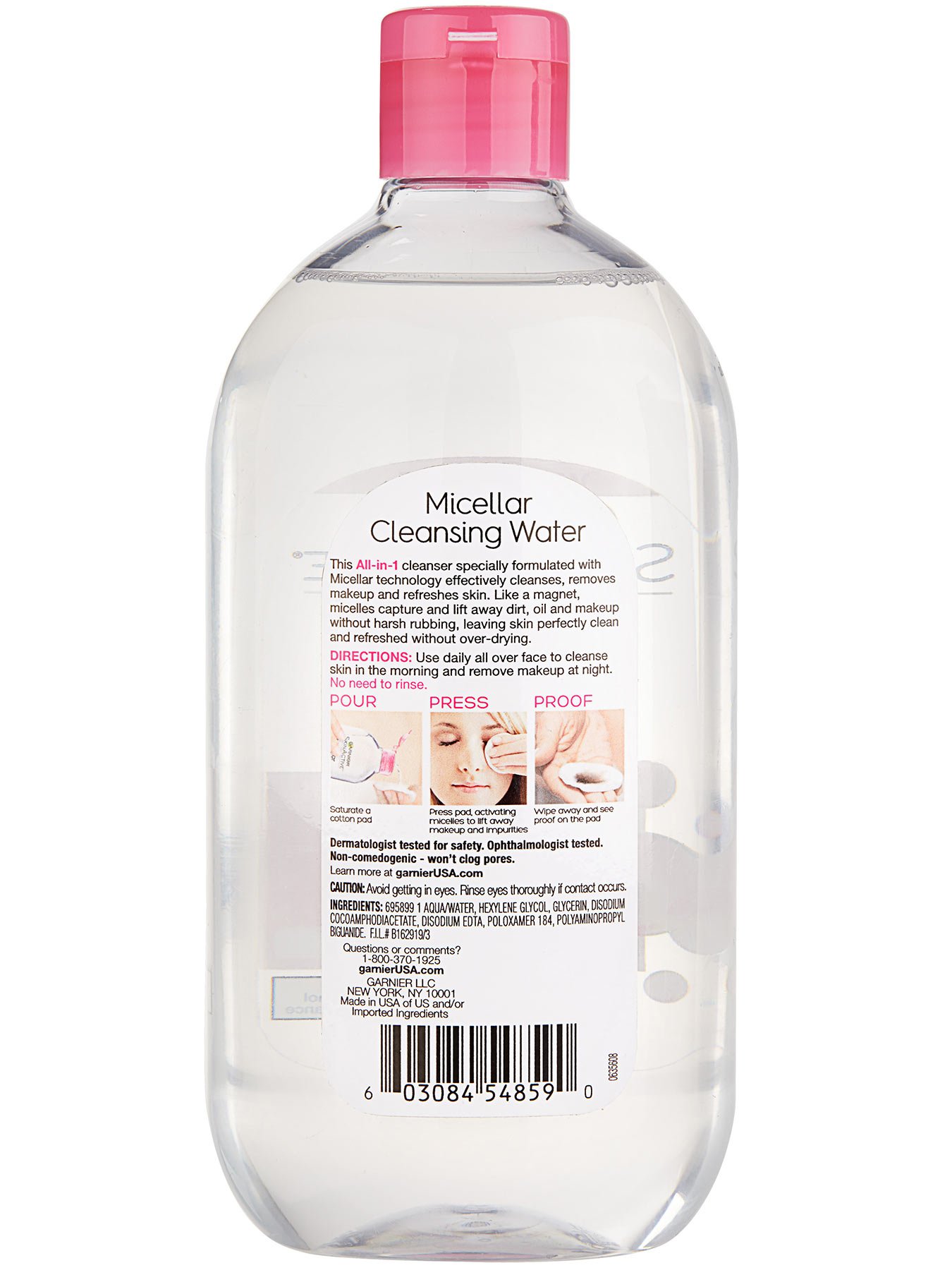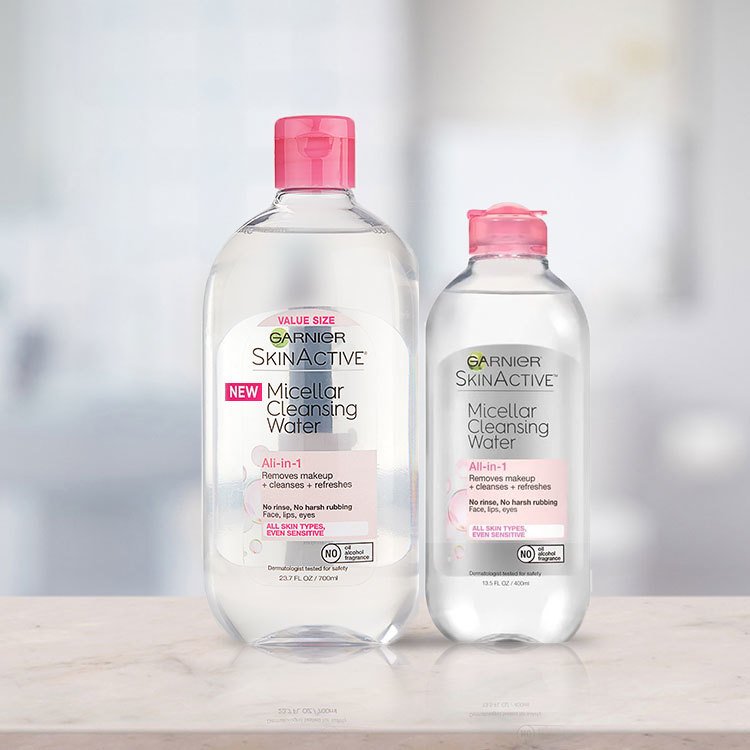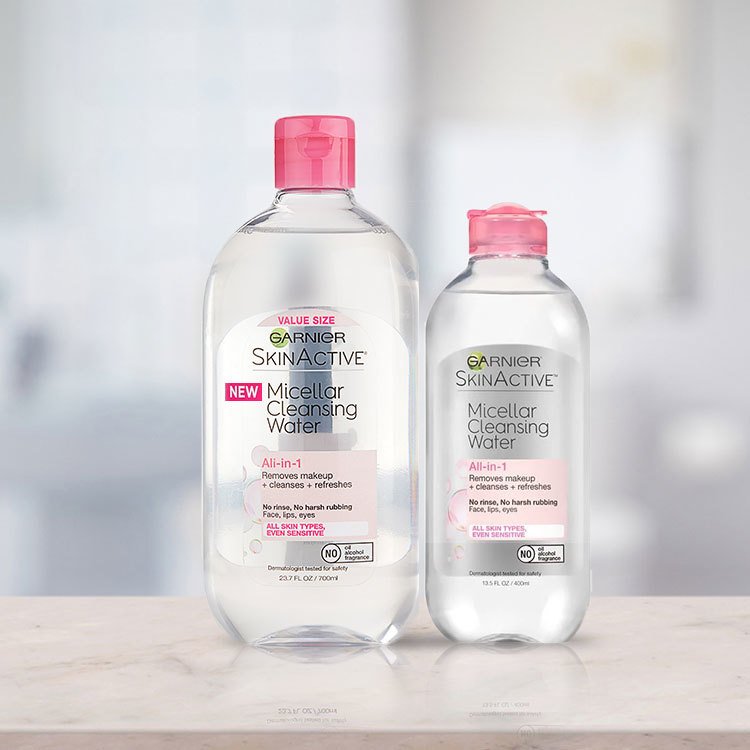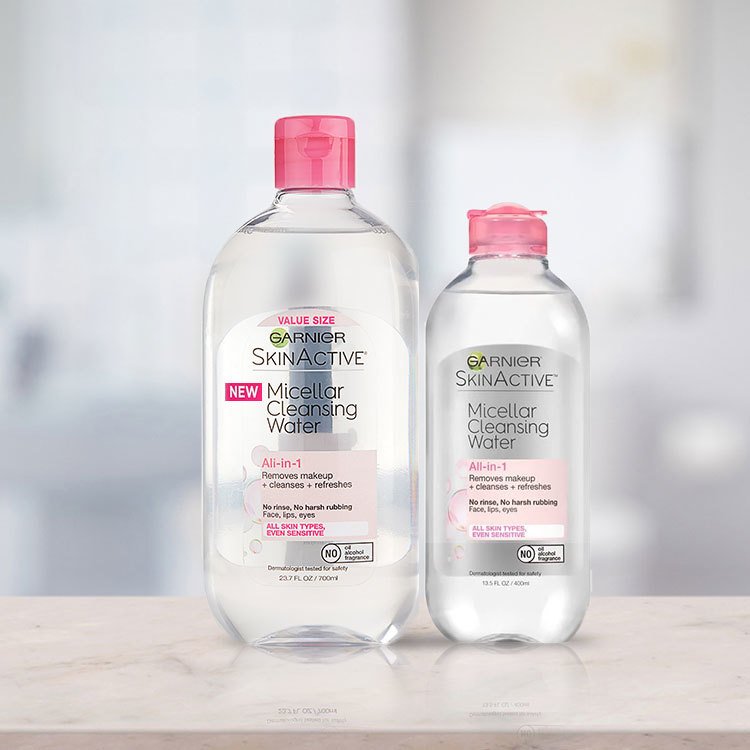 Garnier SkinActive
Micellar Cleansing Water All-in-1
Micellar Cleansing Water All-in-1
$8.99 MSRP
$11.99 MSRP
SENSITIVE SKIN
All-in-1 Cleanser & Makeup Remover. Cleanses + removes makeup + refreshes. No rinse, no harsh rubbing. For face, lips, and eyes.
PRODUCT INFORMATION:
This All-in-1 cleanser is surprisingly powerful yet gentle to skin. It is specially formulated to effectively cleanse, remove makeup, and refresh skin. Like a magnet, micelles capture and lift away dirt, oil and makeup without harsh rubbing, leaving skin perfectly clean, and refreshed without over-drying.
How to Use:
TO REMOVE EYE MAKEUP:
Hold pad over closed eyes for a few seconds, then gently wipe without harsh rubbing.

TO CLEAN SKIN & REMOVE FACE MAKEUP:
Gently wipe all over until skin is completely clean from makeup and impurities. Use daily, AM/PM. No need to rinse.
Ingredients:
AQUA / WATER, HEXYLENE GLYCOL, GLYCERIN, DISODIUM COCOAMPHODIACETATE, DISODIUM EDTA, POLOXAMER 184, POLYAMINOPROPYL BIGUANIDE, FIL B162919/3
No Hidden Nasties.
Specially formulated with no oil, sulfates, fragrance, parabens, or alcohol - it's all in the micelles that work like magnets to gently lift away excess dirt, oil, and makeup. Perfect for all skin types, even sensitive so you can enjoy a clean complexion with no harsh rubbing or rinsing.
Round Out Your Sensitive Skin Routine
Refresh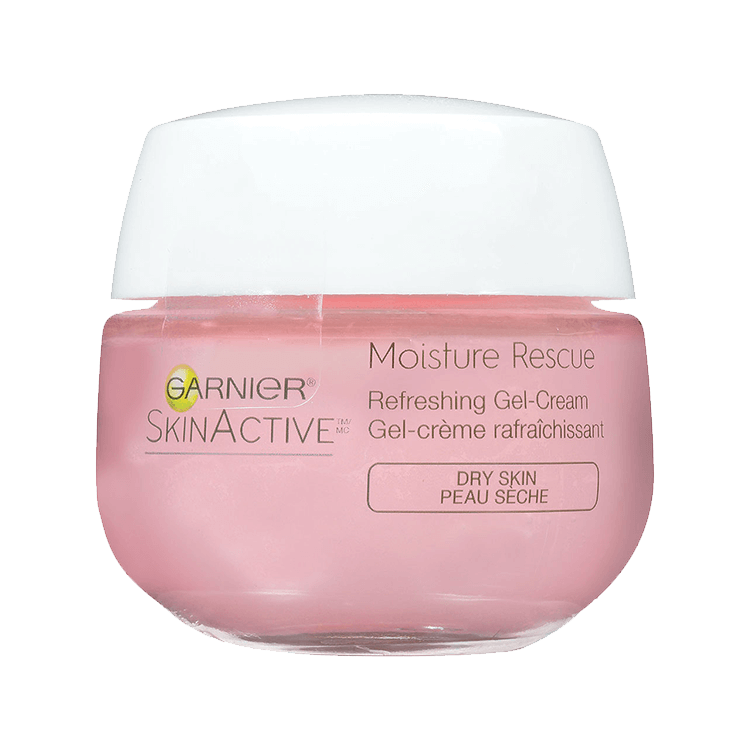 Garnier SkinActive
Moisture Rescue Refreshing Gel Cream for Dry Skin
Gel Cream Face Moisturizer for Dry Skin
Soothe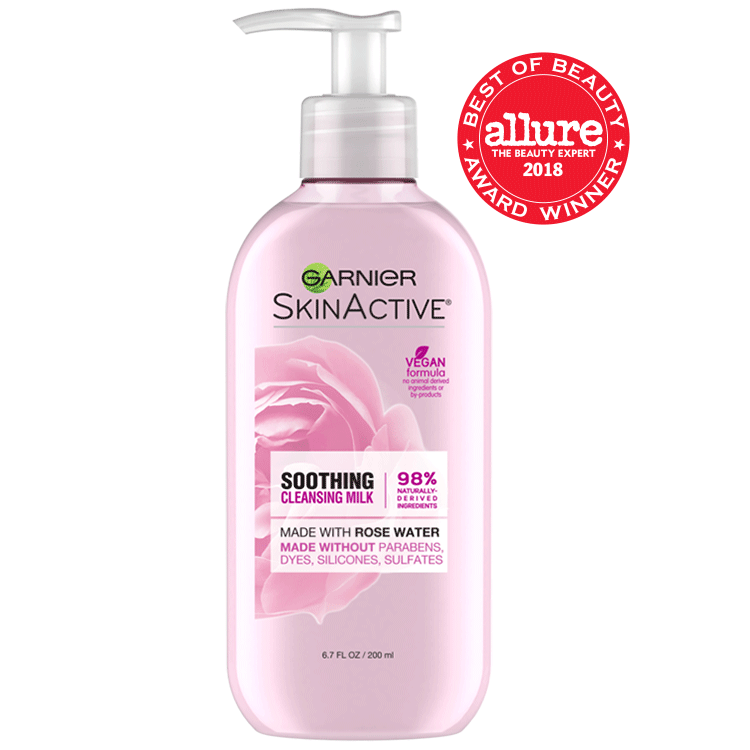 Garnier SkinActive
Soothing Milk Face Wash with Rose Water
Soothing Cleansing Milk
Hydrate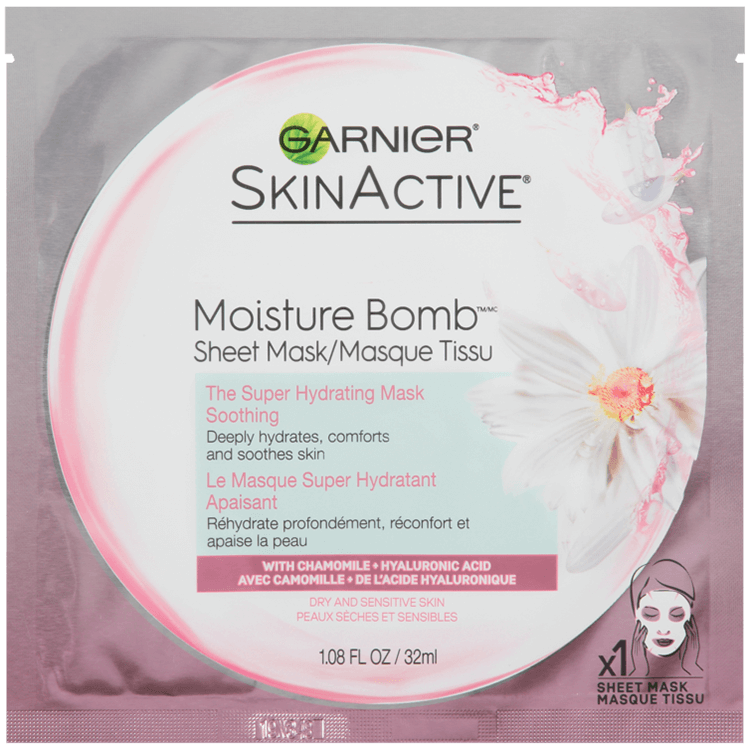 Garnier SkinActive
The Super Hydrating Sheet Mask - Soothing
Deeply hydrates, comforts and soothes skin
Rated

5

out of

5
by
BNicole1328
from
The Holy Grail of Micellar Waters
I am obsessed with this product. I use it to take off my makeup but also when I wake up in the morning to cleanse my face and before I apply makeup. It literally wipes away any impurities on your skin without leaving your skin dry. I love that I can use this multiple times a day and my skin doesn't suffer. There's no scent to this product and the list of ingredients is minimal. I can buy a bottle and have it last me for month before having to grab a new one. The price is great for the amount of product you're getting. You don't have to use a ton to wipe away makeup. A little goes a long way.
Date published: 2019-07-06
Rated

4

out of

5
by
eveln
from
This is my go to micellar water, it lasts ages as the bottles are large, the price is ok but could be cheaper, however for the price the longevity is worth it.
Date published: 2019-07-01
Rated

5

out of

5
by
penny_xx
from
I use this after removing my makeup with a wipe, then I cleanse and tone my face. This gets all the makeup off your face and is super gentle to your skin, I have normal to dry skin and this is absolutely brilliant for me.
Date published: 2019-07-01
Rated

5

out of

5
by
amyhe202
from
My favorite alternative cleaning water. I love how it cleans aways extra makeup that are still on your face. I love this product the way it is. I would recommend this product to anyone who is on a budget. I would but it again.
Date published: 2019-07-01
Rated

5

out of

5
by
emmad30
from
I love this product so much. It removes all the excess dirt and makeup you have left on your skin after using normal make up wipes! I highly recommend this product to people who have a hard time getting their makeup off.
Date published: 2019-07-01
Rated

5

out of

5
by
andreamf888
from
I've been loving this product for my skin. I'm already on my second bottle! The price is great and leaves your skin so soft and refreshed
Date published: 2019-07-01
Rated

5

out of

5
by
valg1
from
Ive incorporated micellar water into my skincare routine and I have not regretted. It leaves my skin clean without completely drying it out like other face washes do. Removes makeup great and feels nice on my skin. Garnier is a great brand and has not disappointed me.
Date published: 2019-07-01
Rated

3

out of

5
by
ecitoglu
from
I never really understood the hype of micelles water, and honestly I still dont fully either, but this works really well to remove makeup. It takes multiple cotton pads to remove a full face of makeup, and does require you double cleanse so while it works, its not really worth it.
Date published: 2019-07-01