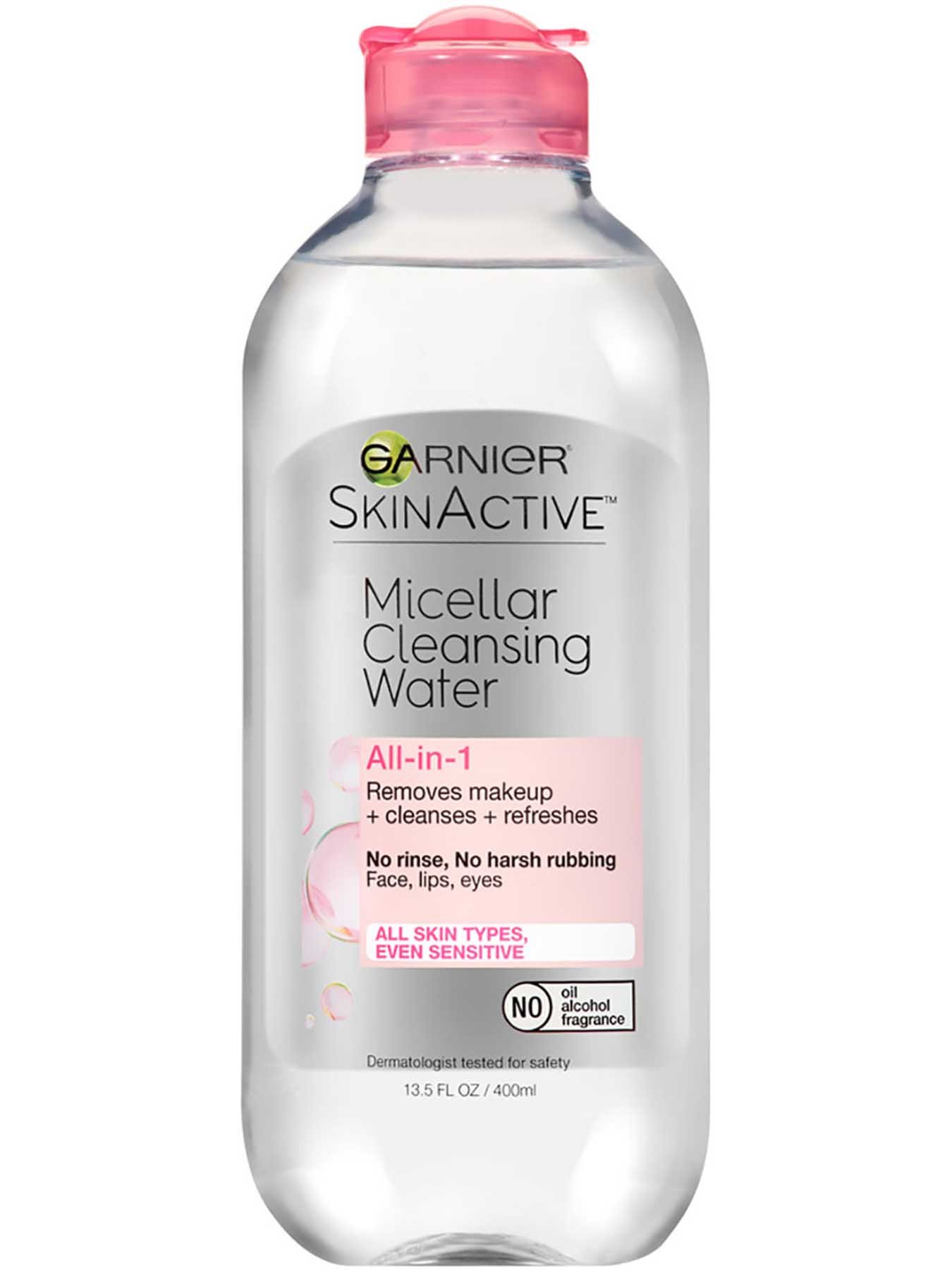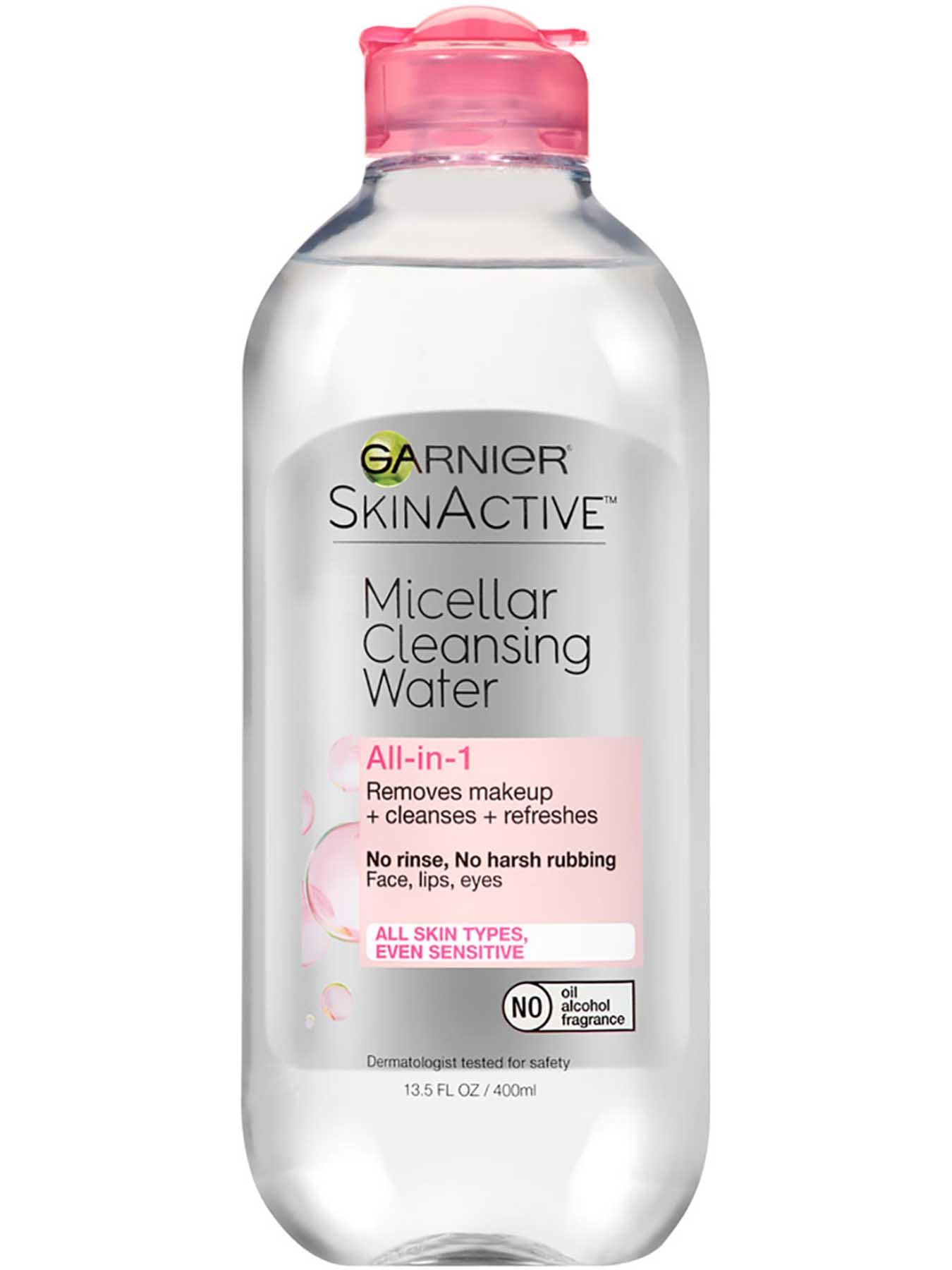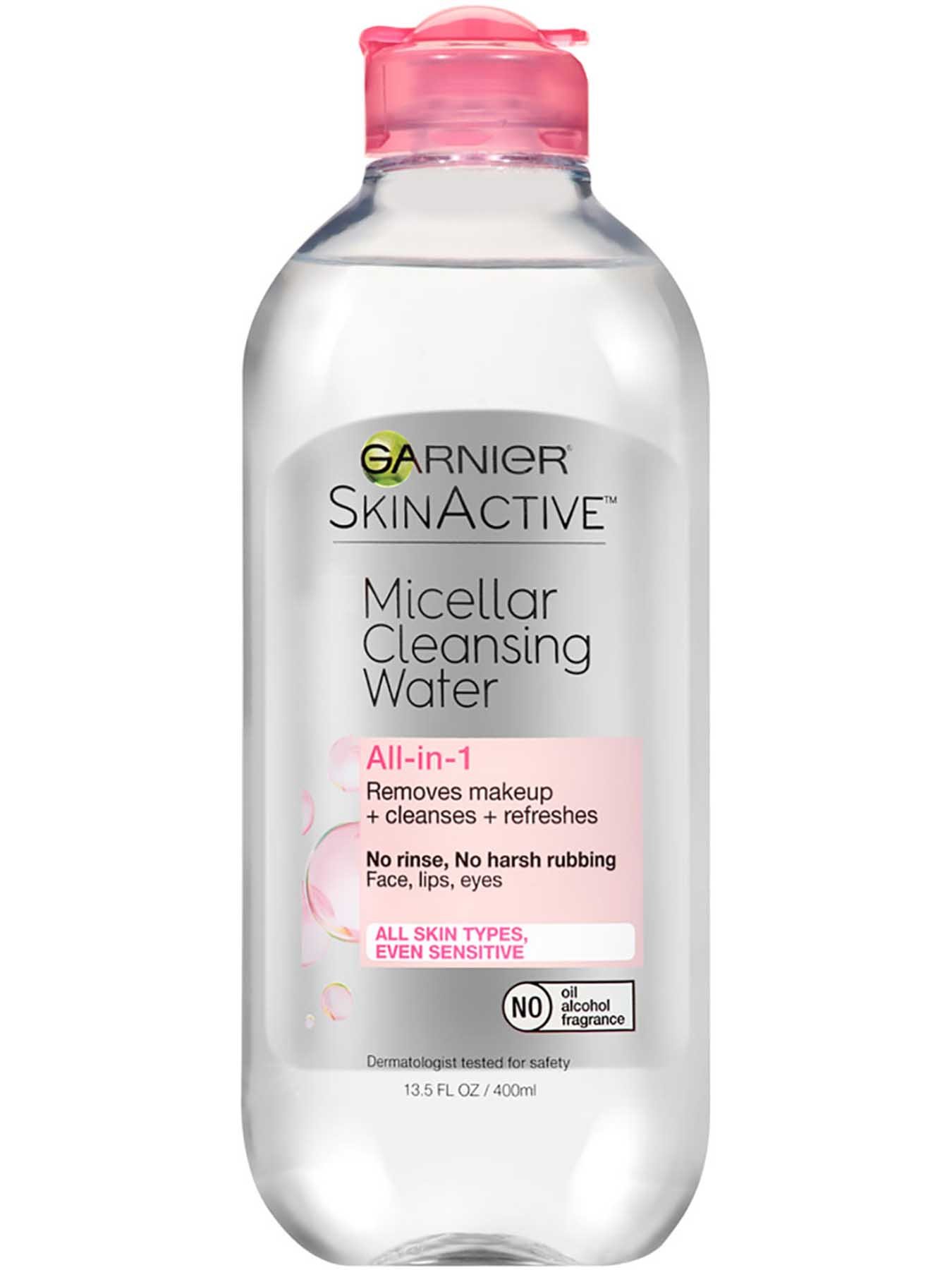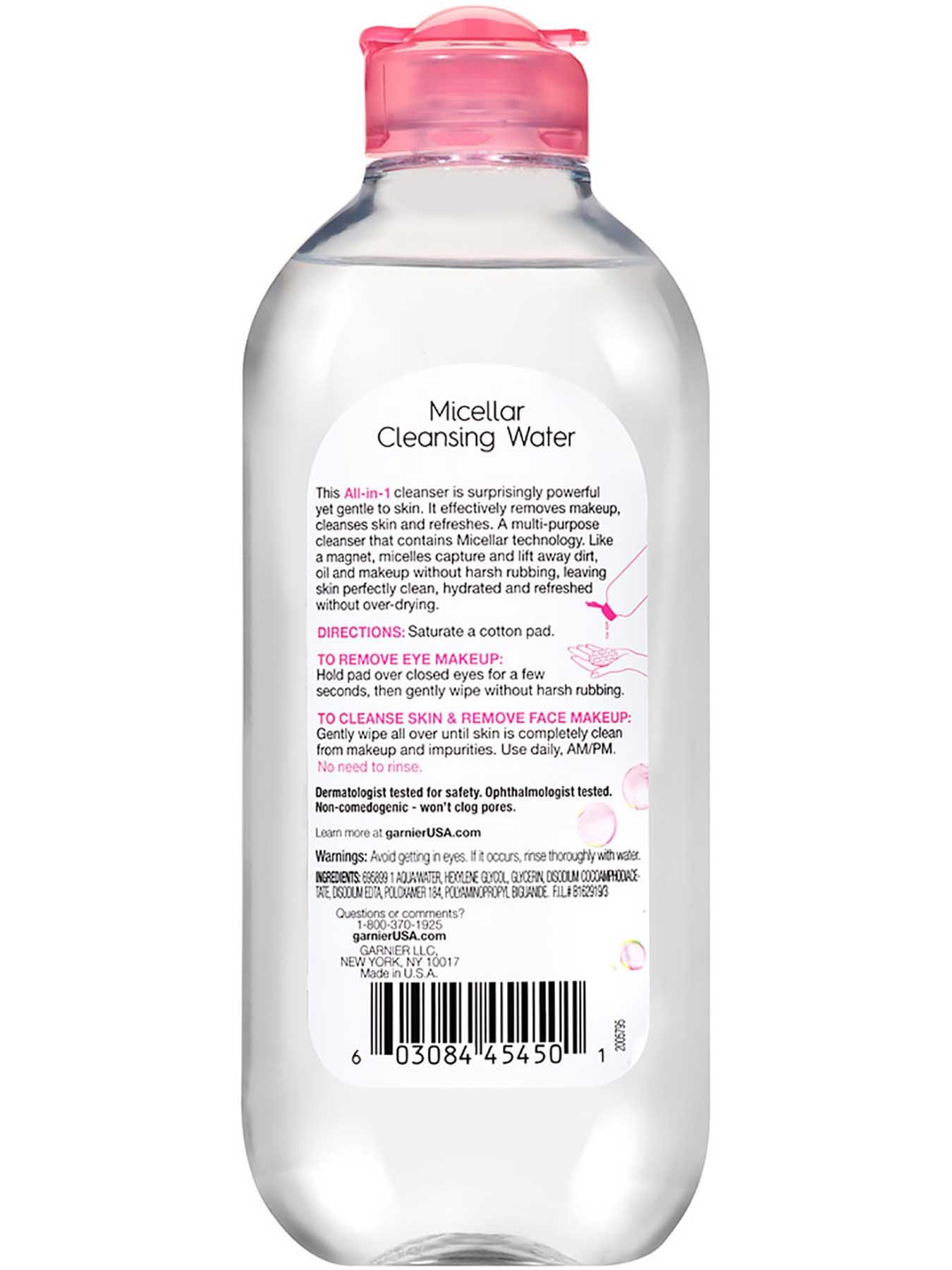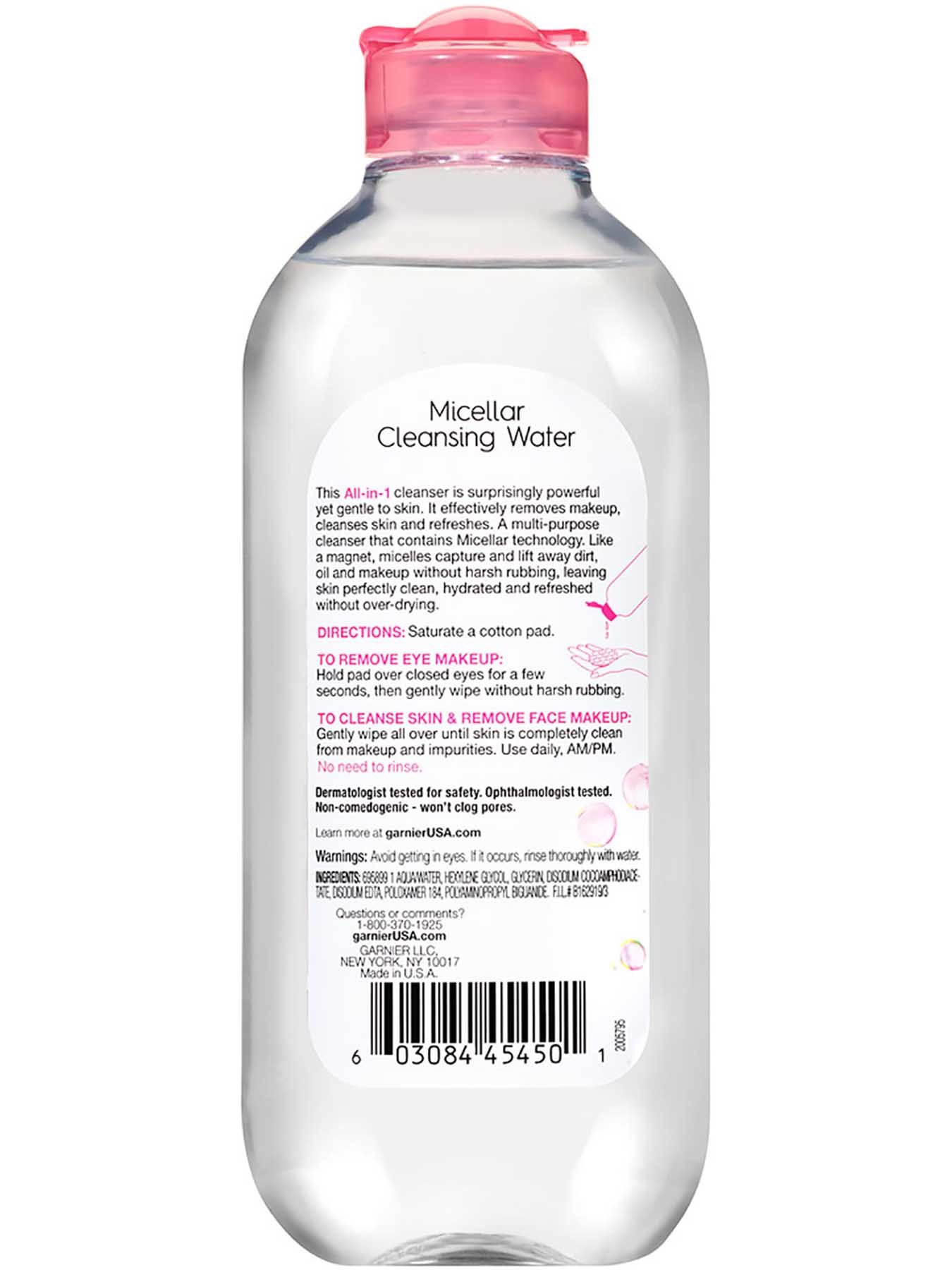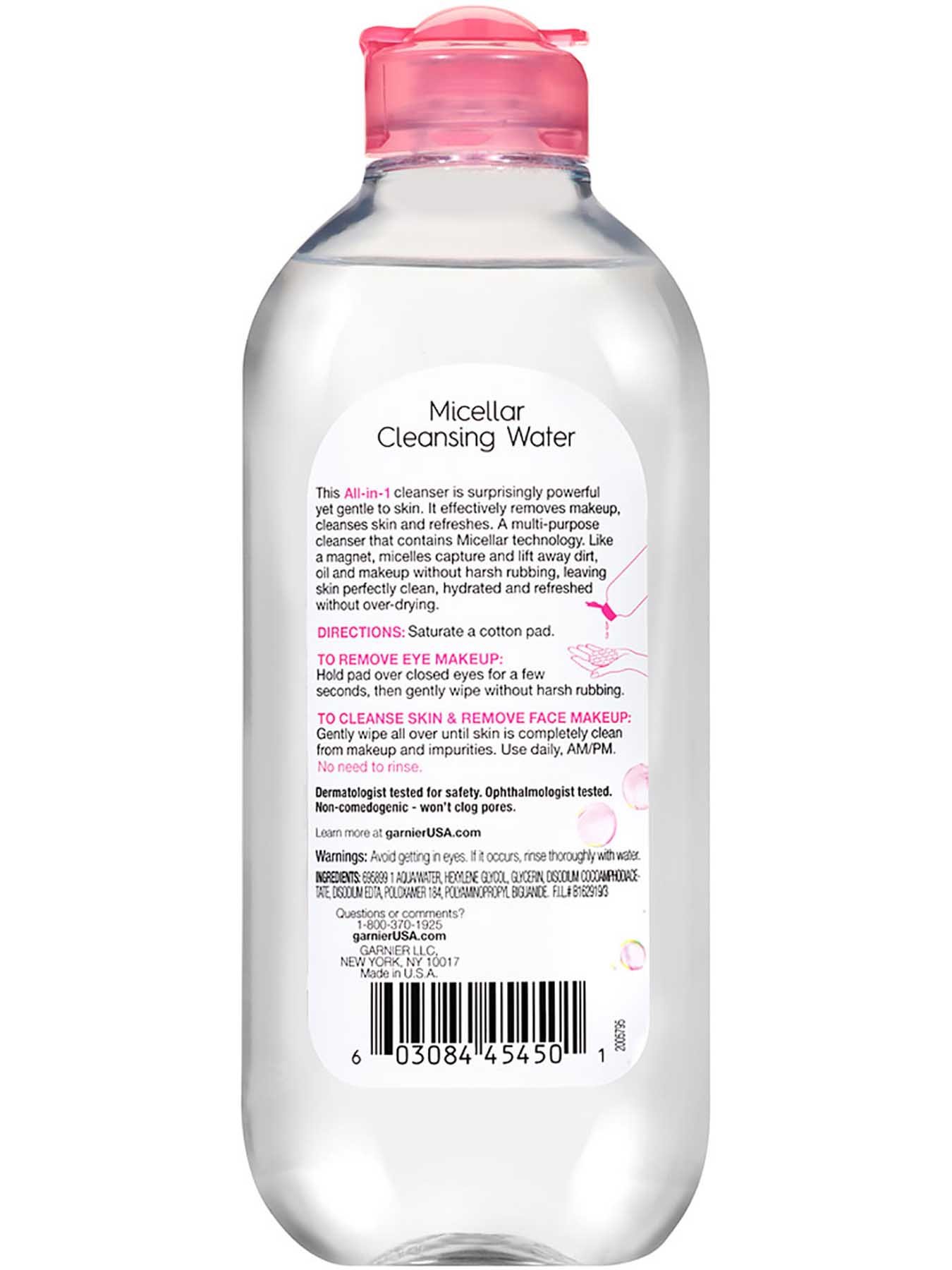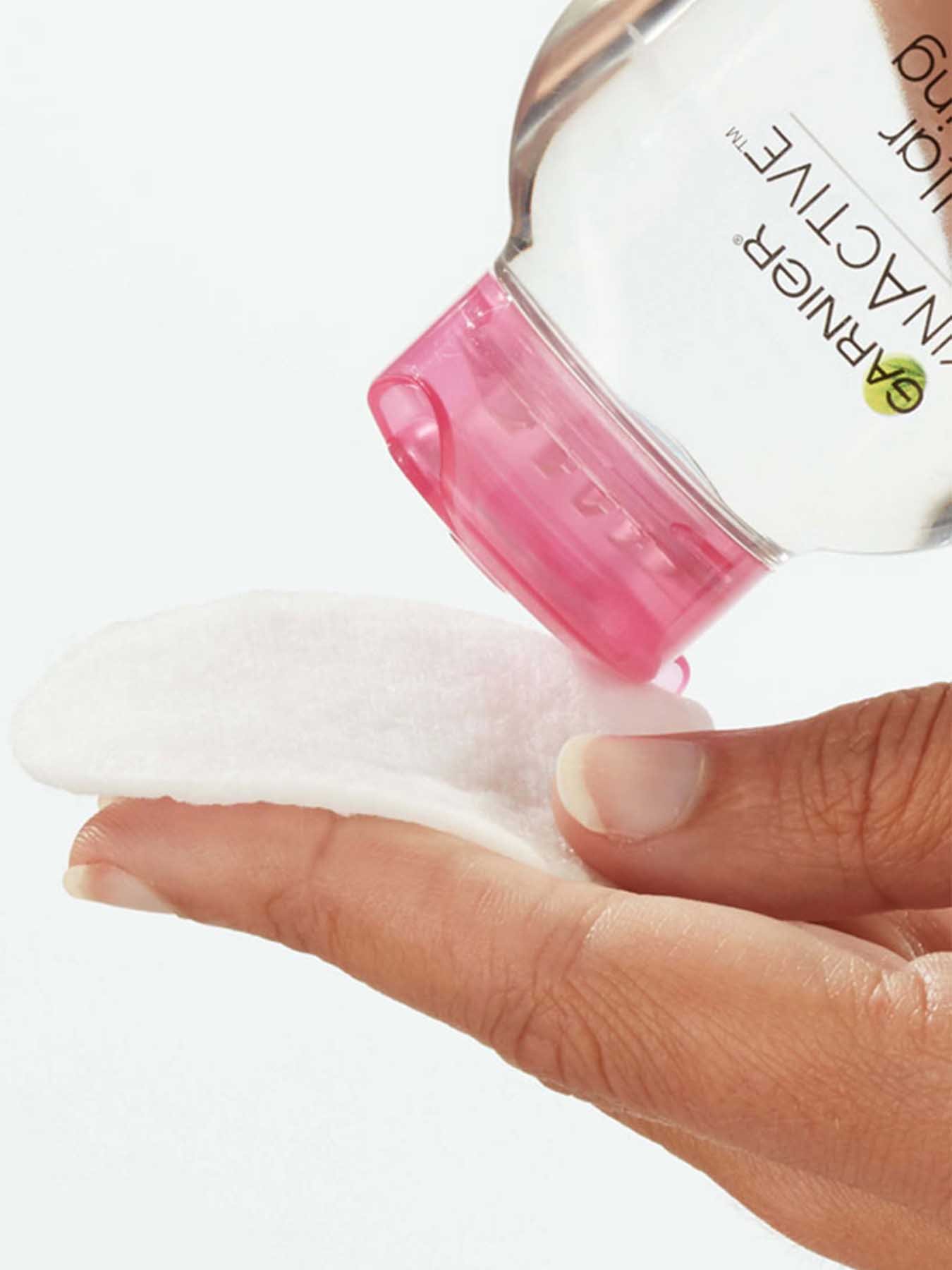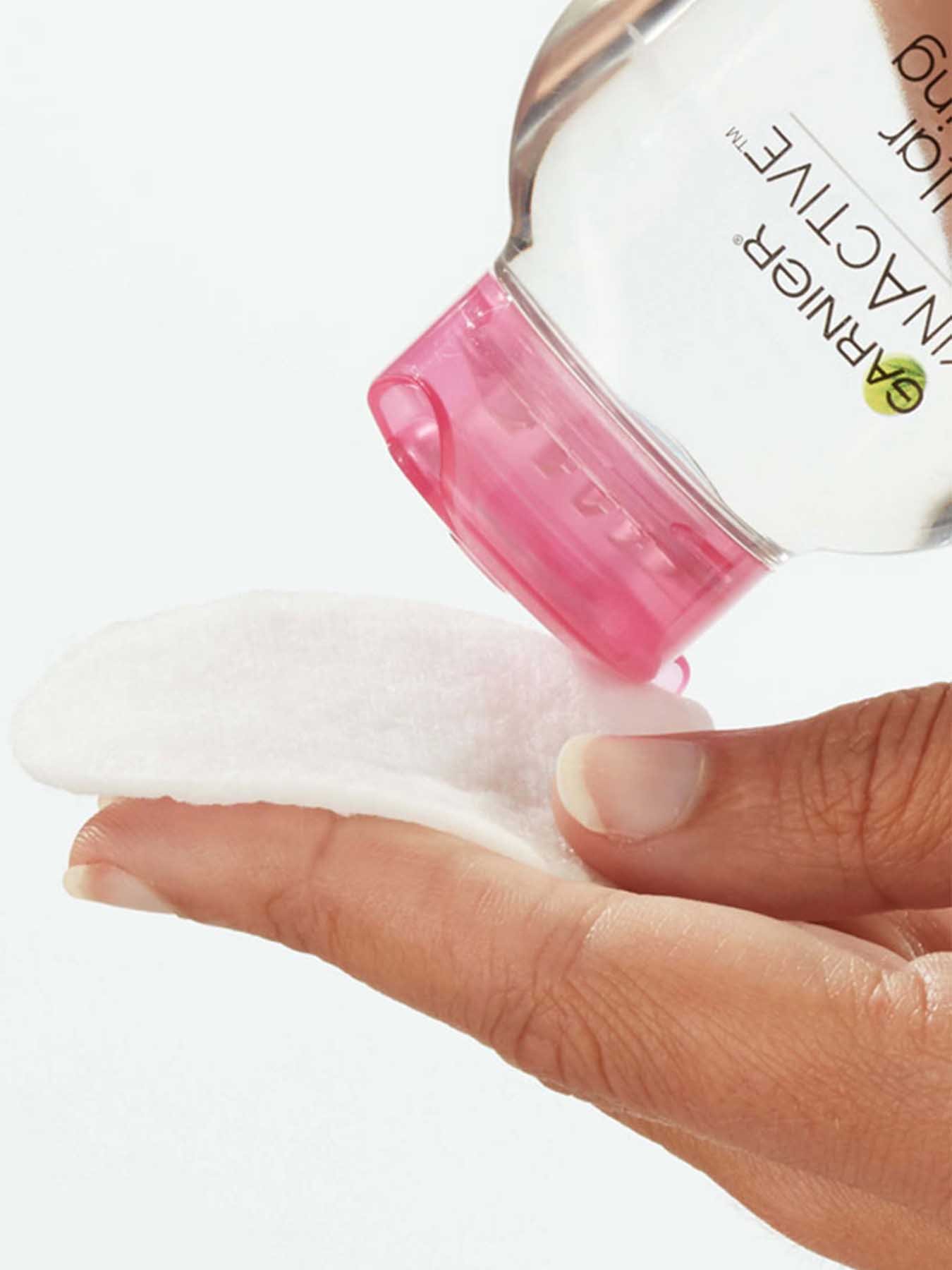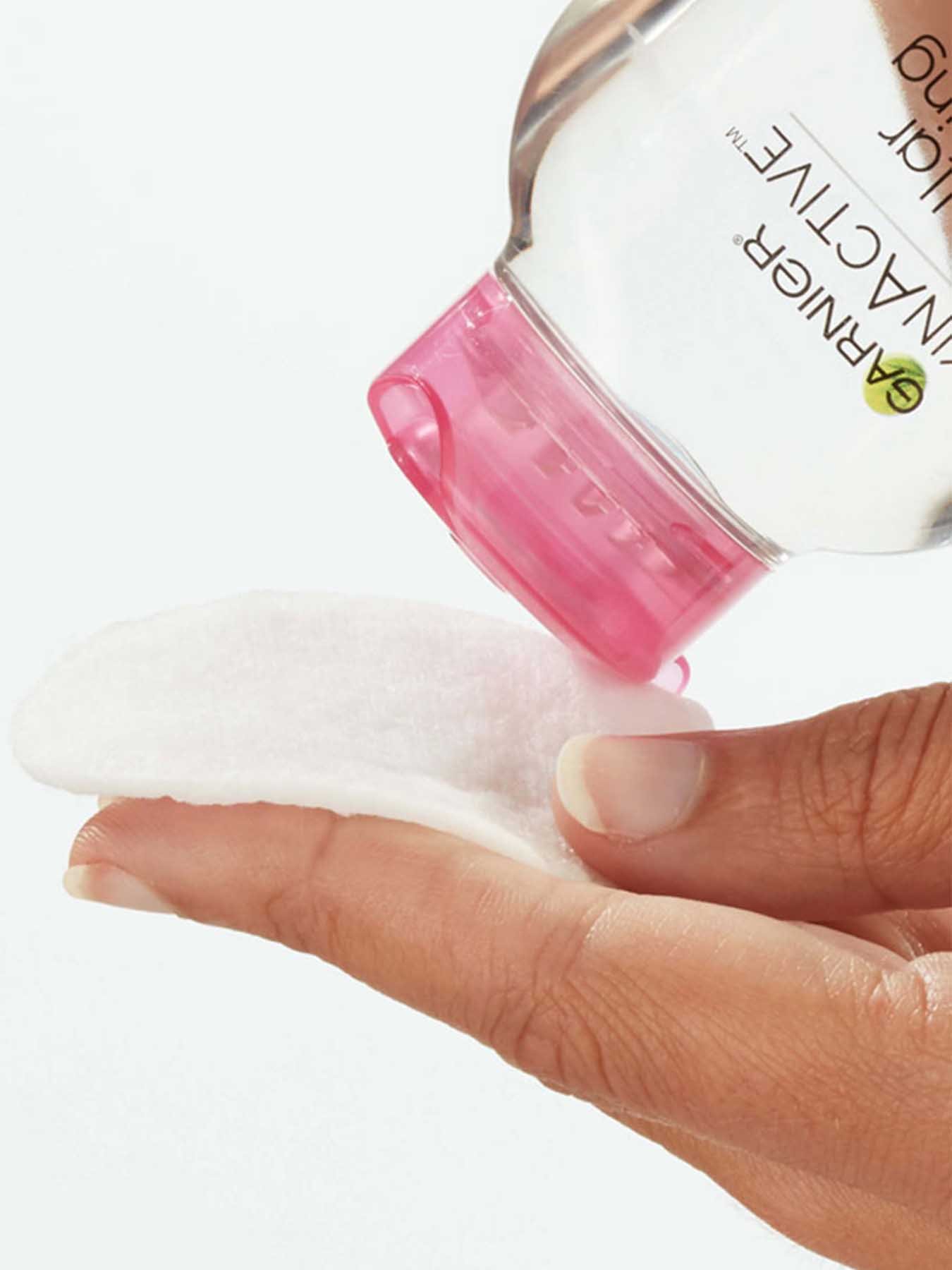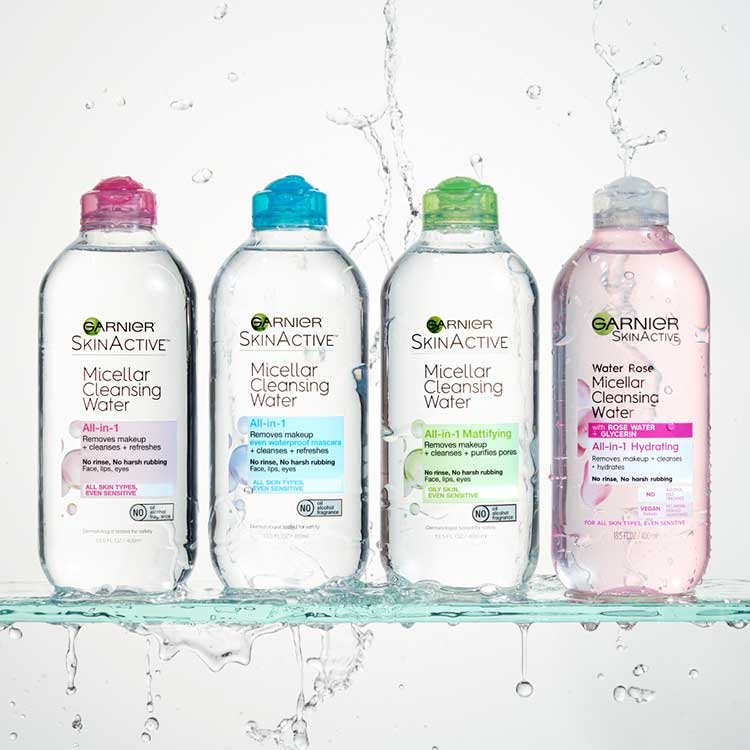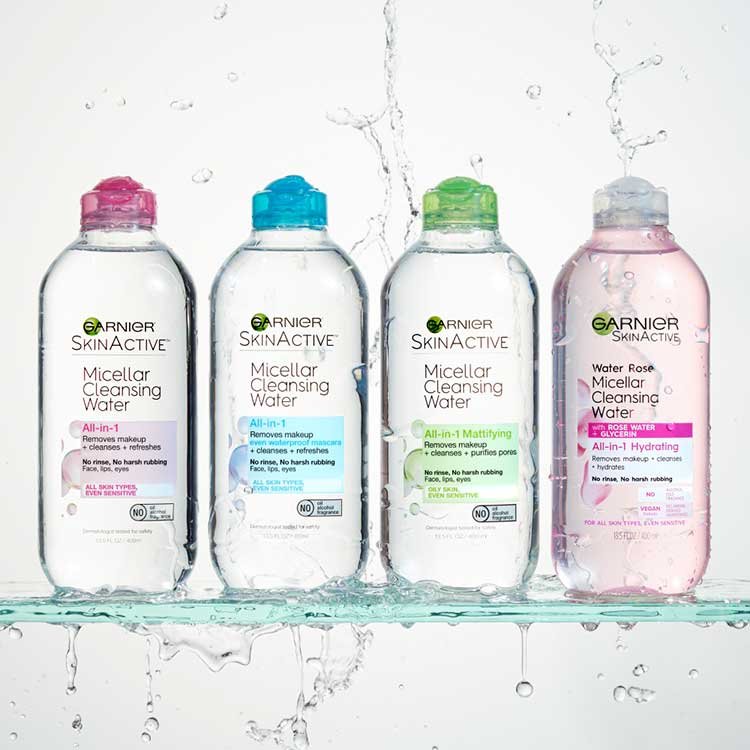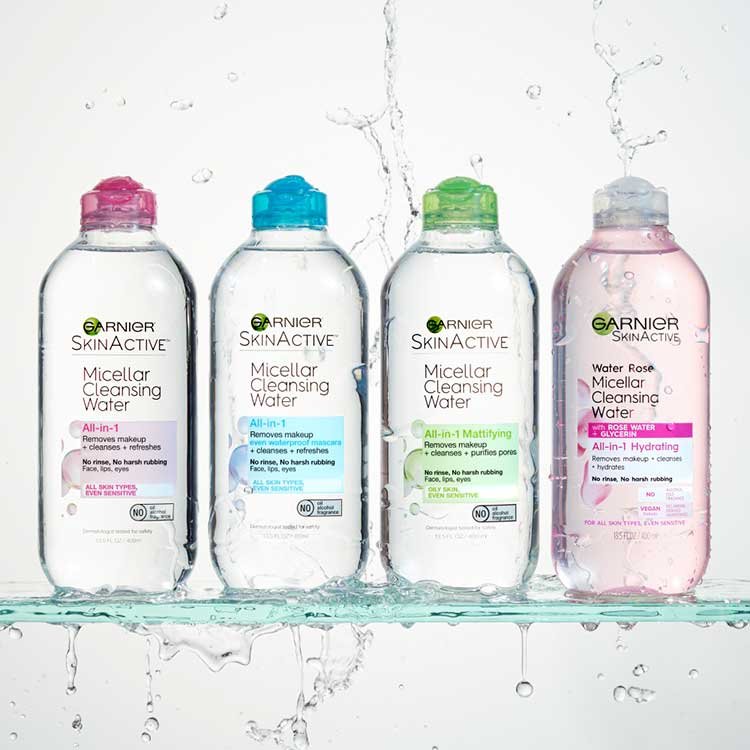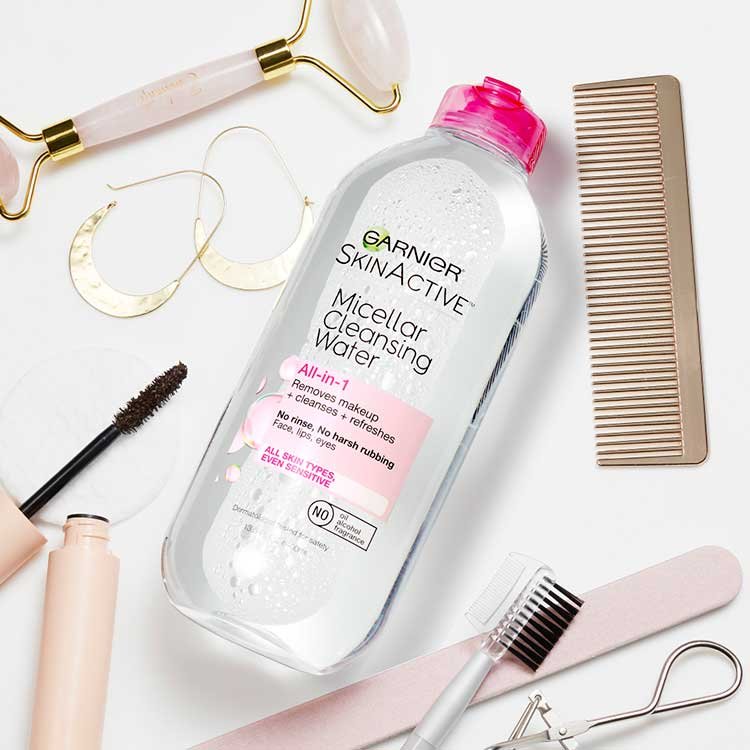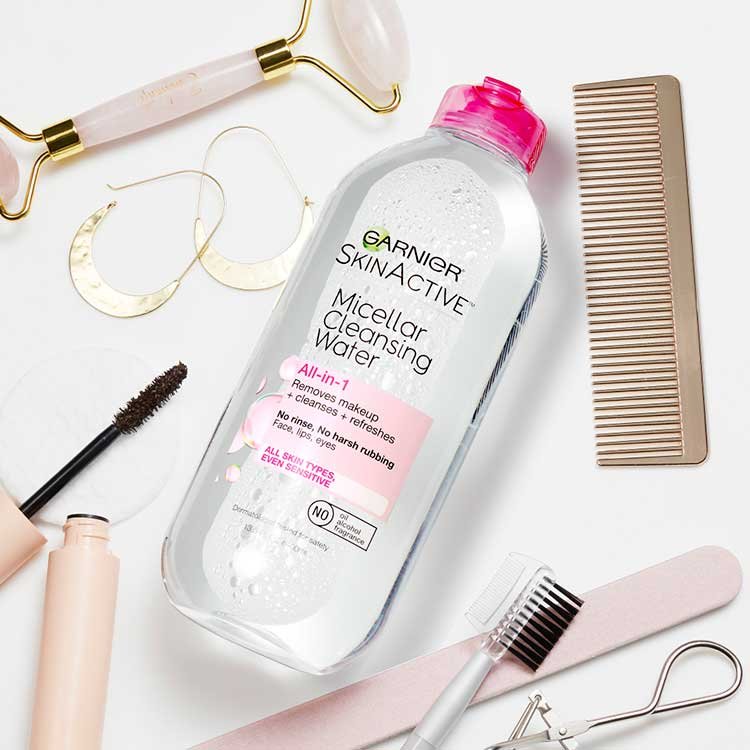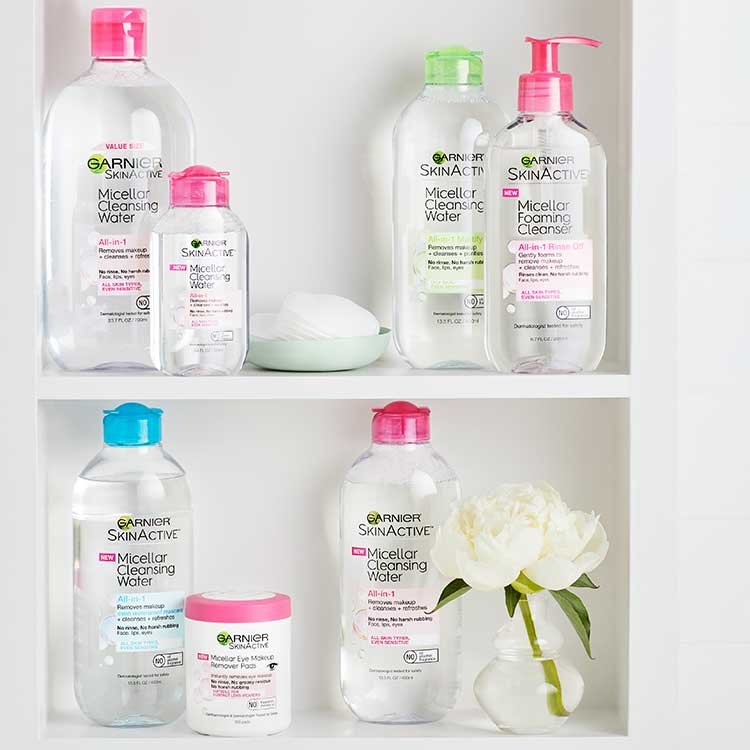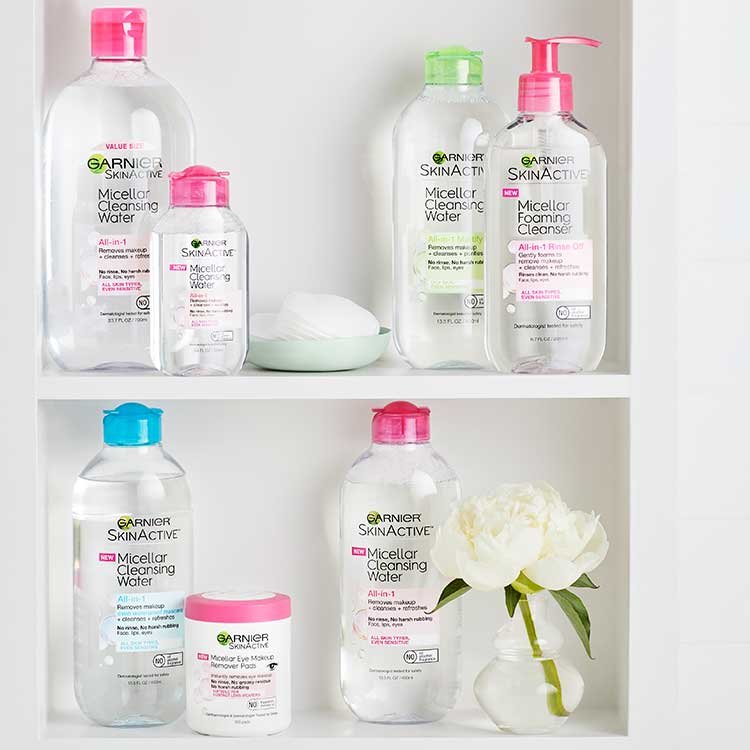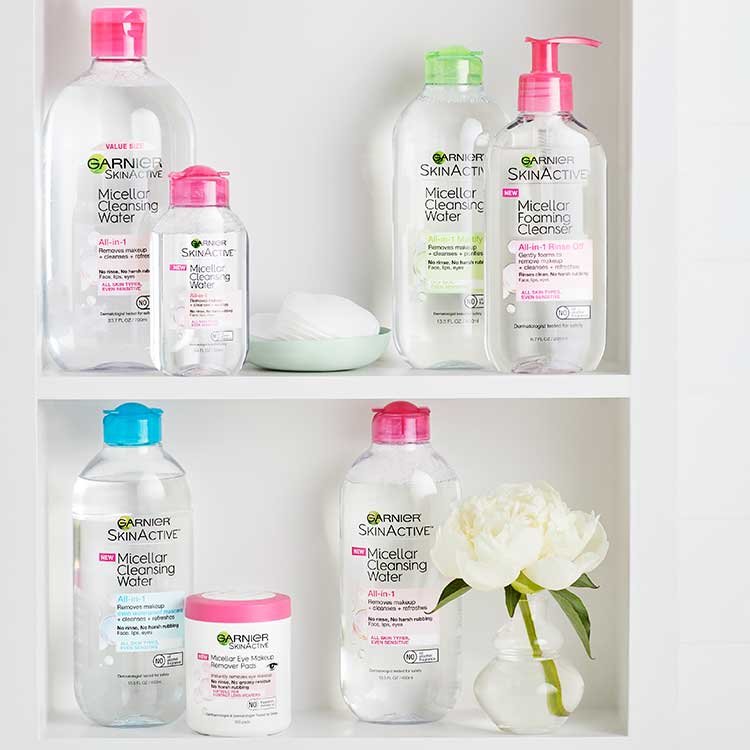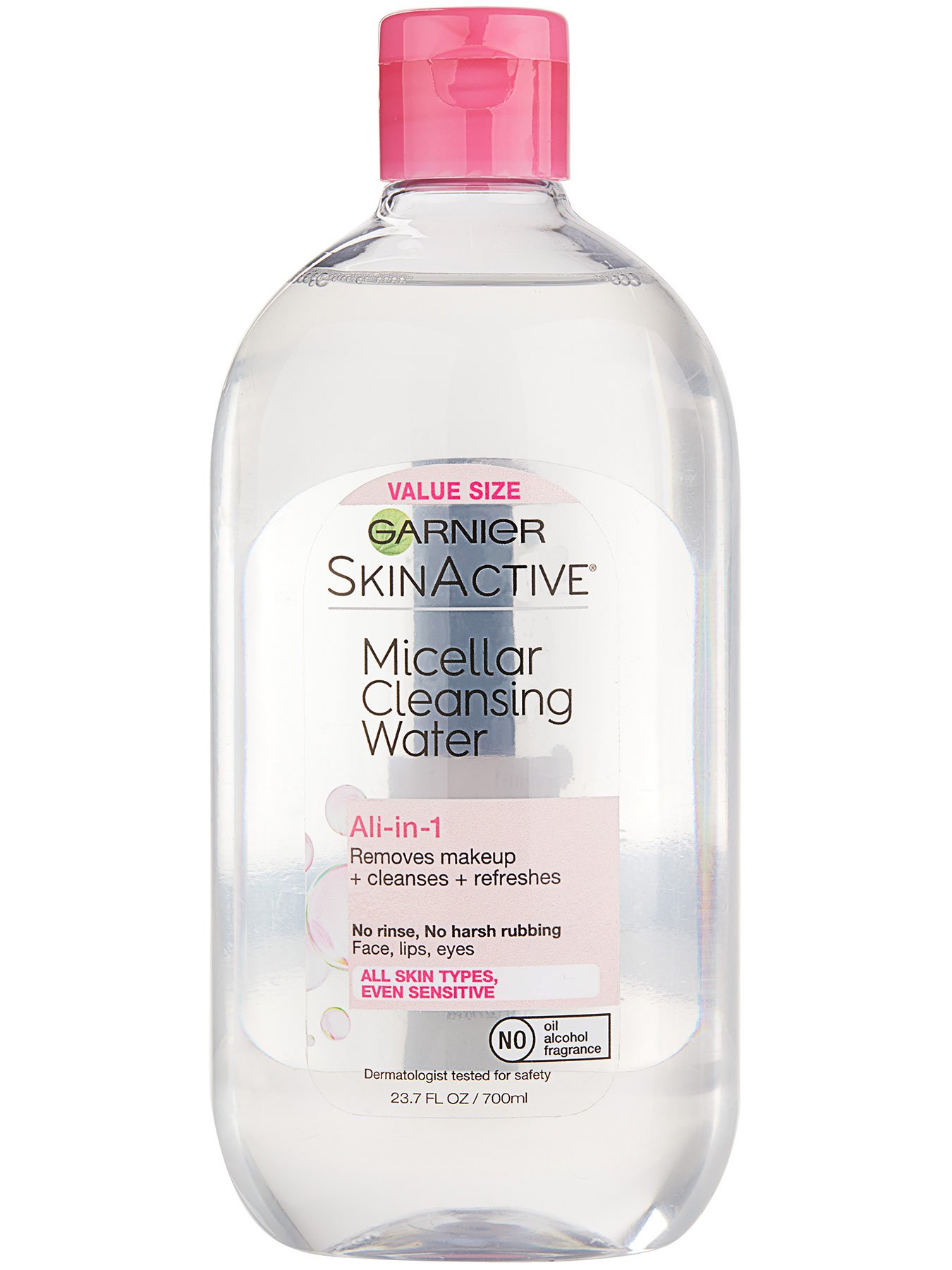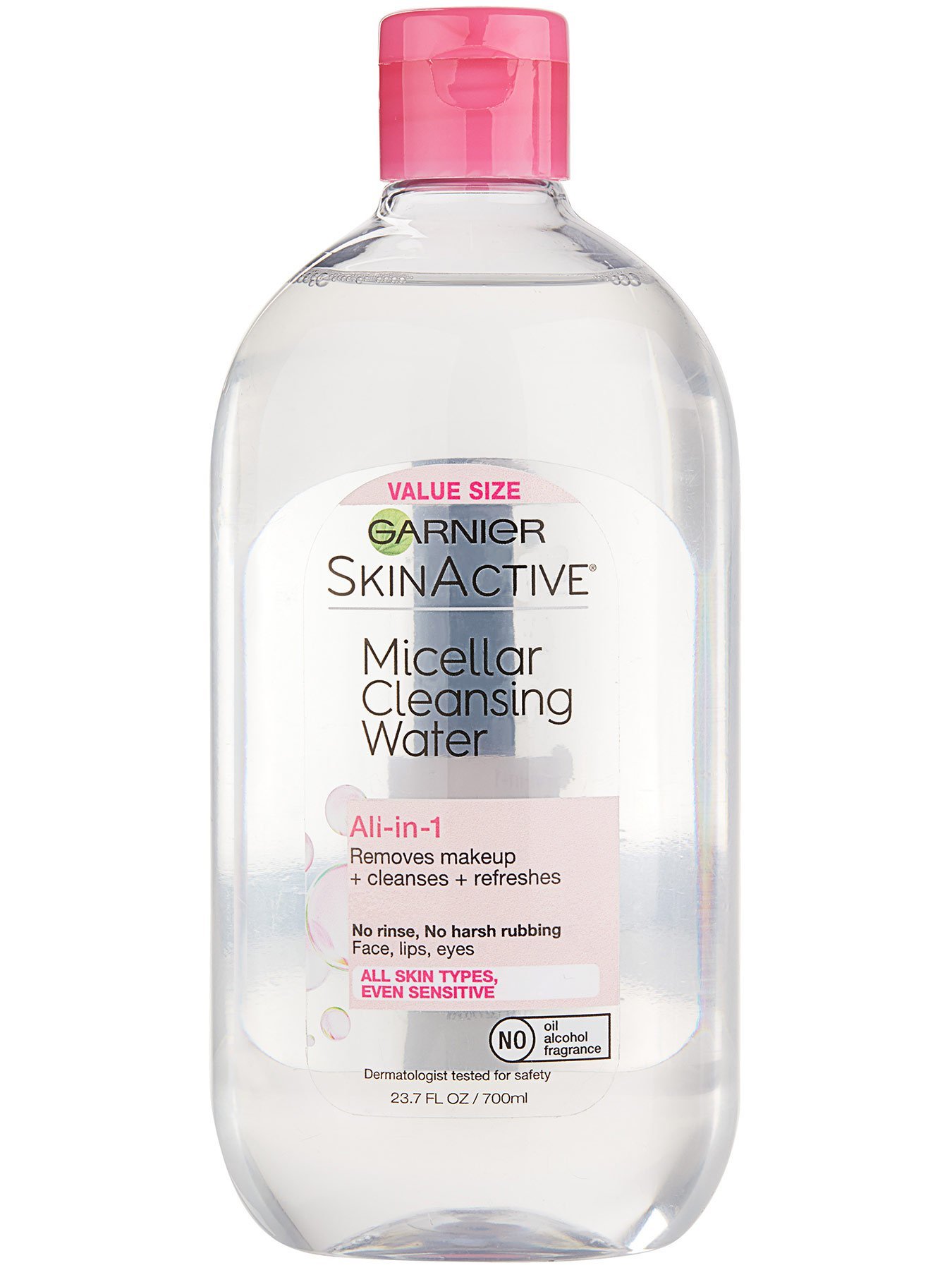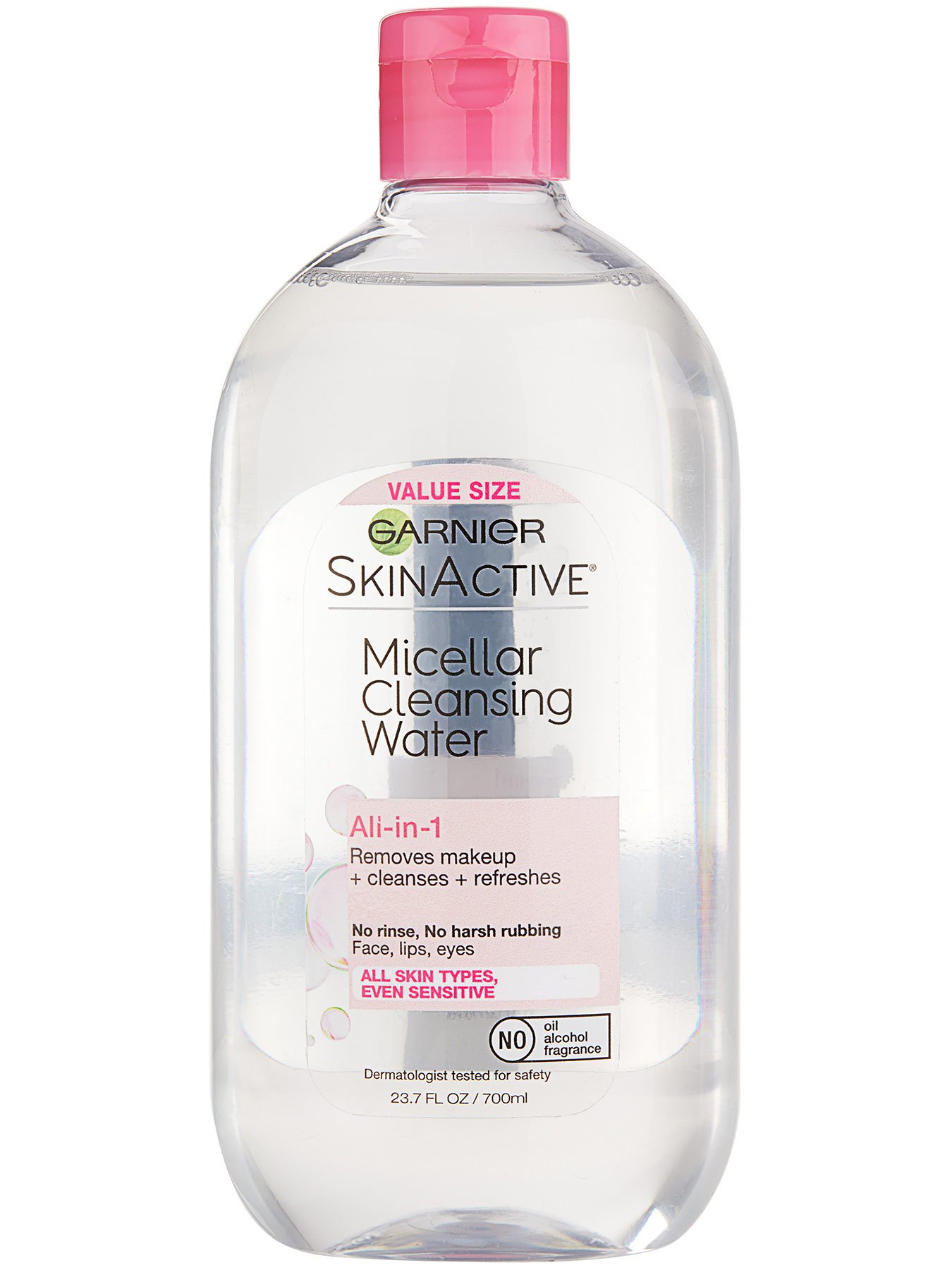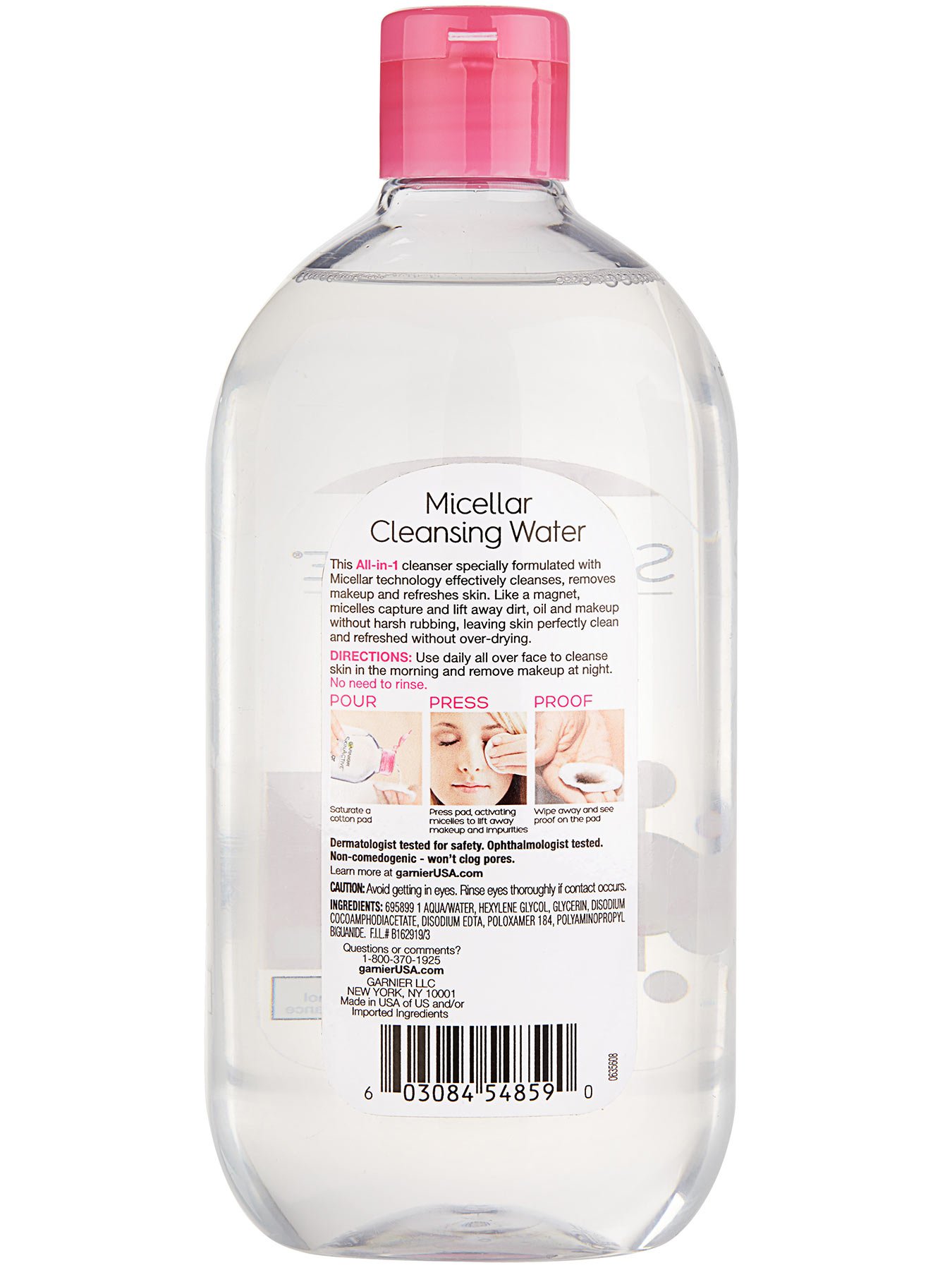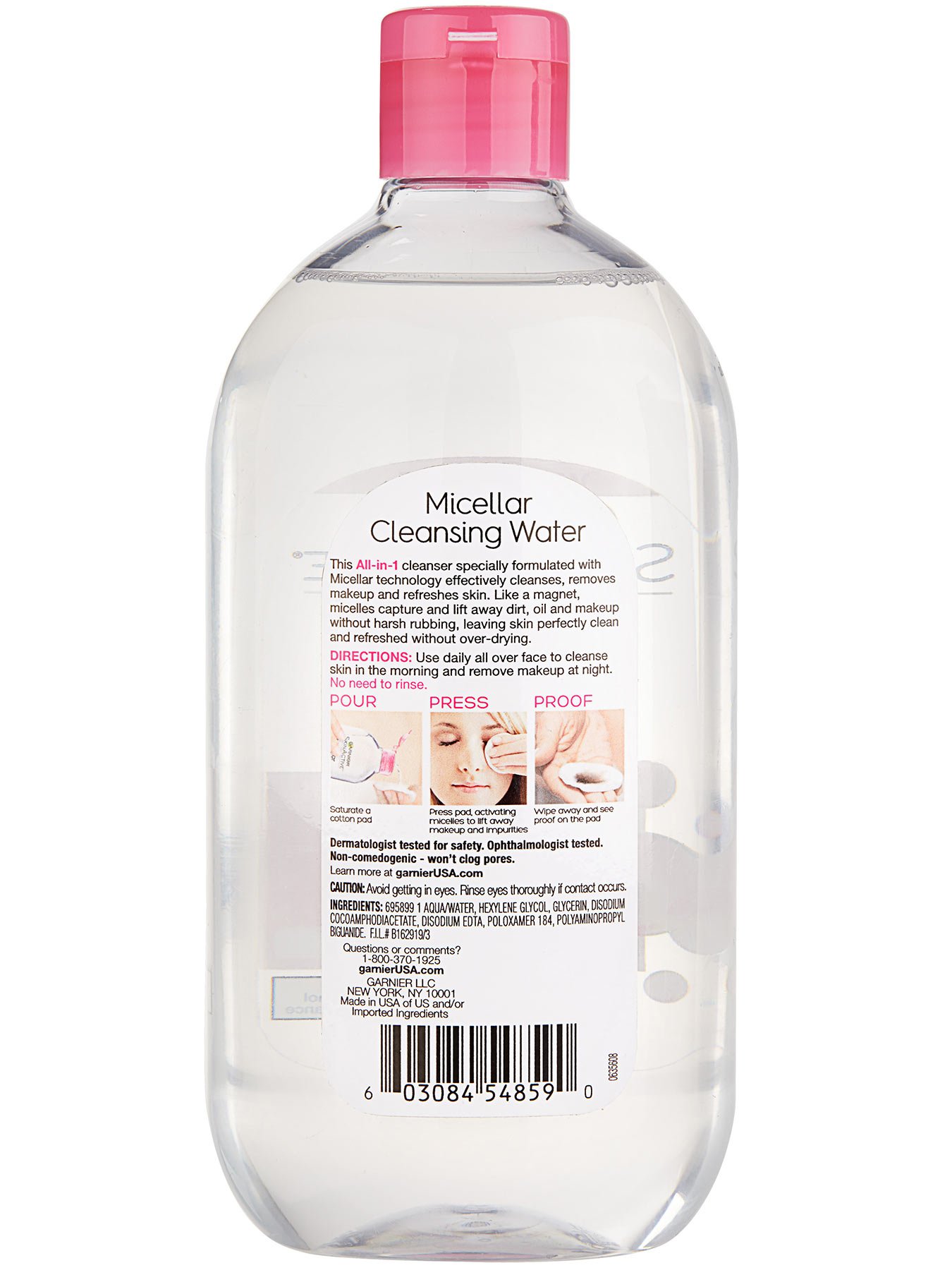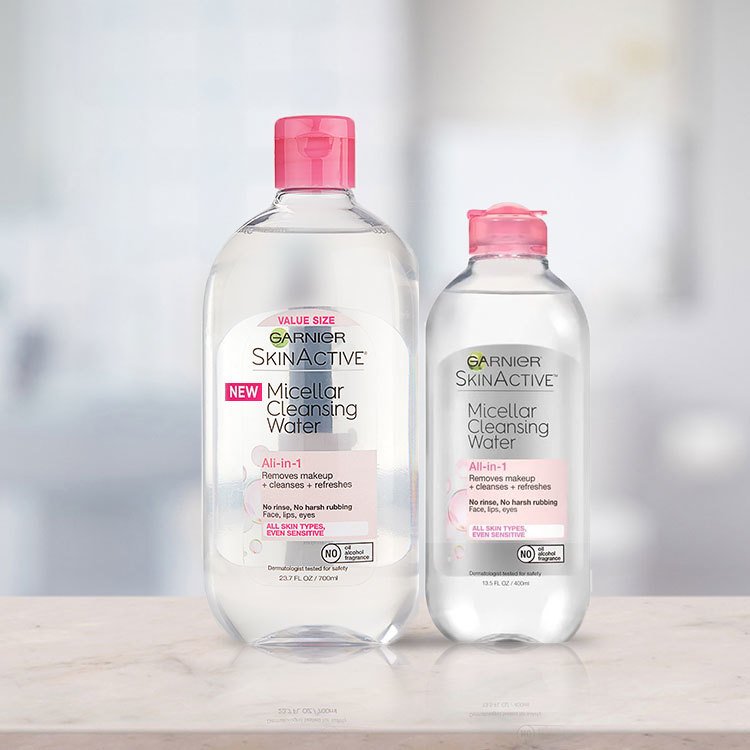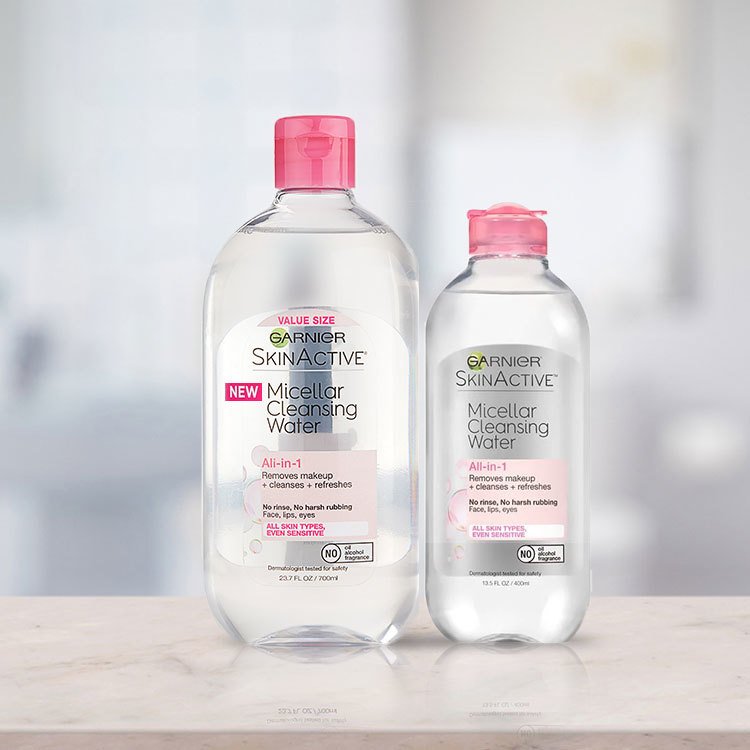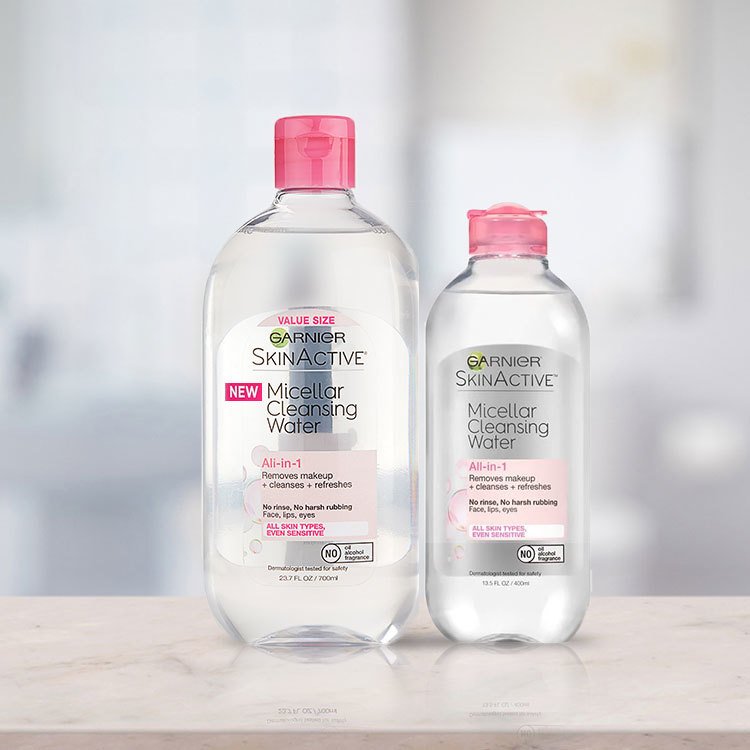 Garnier SkinActive
Micellar Cleansing Water All-in-1
Micellar Cleansing Water All-in-1
$8.99 MSRP
$11.99 MSRP
SENSITIVE SKIN
All-in-1 Cleanser & Makeup Remover. Cleanses + removes makeup + refreshes. No rinse, no harsh rubbing. For face, lips, and eyes.
PRODUCT INFORMATION:
This All-in-1 cleanser is surprisingly powerful yet gentle to skin. It is specially formulated to effectively cleanse, remove makeup, and refresh skin. Like a magnet, micelles capture and lift away dirt, oil and makeup without harsh rubbing, leaving skin perfectly clean, and refreshed without over-drying.
How to Use:
TO REMOVE EYE MAKEUP:
Hold pad over closed eyes for a few seconds, then gently wipe without harsh rubbing.

TO CLEAN SKIN & REMOVE FACE MAKEUP:
Gently wipe all over until skin is completely clean from makeup and impurities. Use daily, AM/PM. No need to rinse.
Ingredients:
AQUA / WATER, HEXYLENE GLYCOL, GLYCERIN, DISODIUM COCOAMPHODIACETATE, DISODIUM EDTA, POLOXAMER 184, POLYAMINOPROPYL BIGUANIDE, FIL B162919/3
No Hidden Nasties.
Specially formulated with no oil, sulfates, fragrance, parabens, or alcohol - it's all in the micelles that work like magnets to gently lift away excess dirt, oil, and makeup. Perfect for all skin types, even sensitive so you can enjoy a clean complexion with no harsh rubbing or rinsing.
Round Out Your Sensitive Skin Routine
Cleanse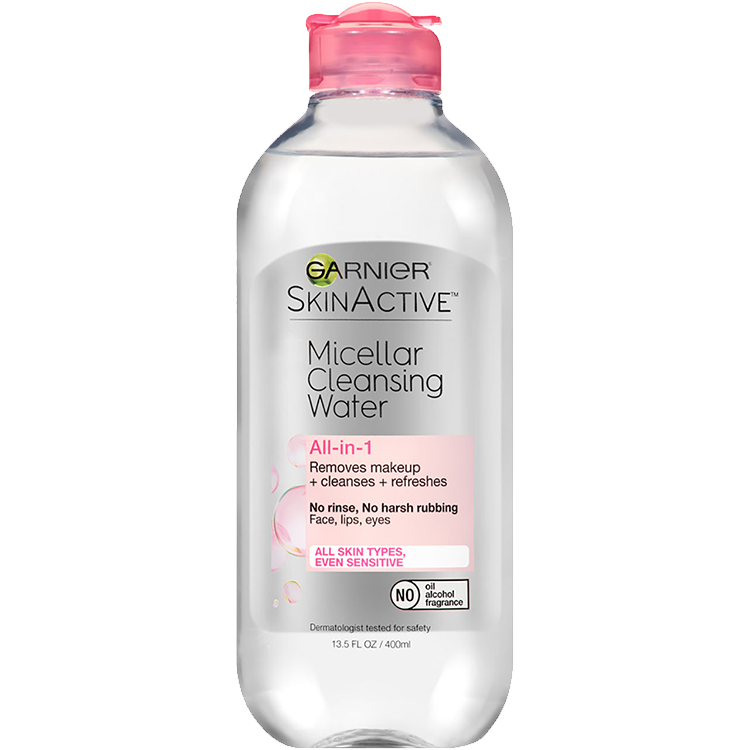 Garnier SkinActive
Micellar Cleansing Water All-in-1
All Skin Types, Even Sensitive
Moisturize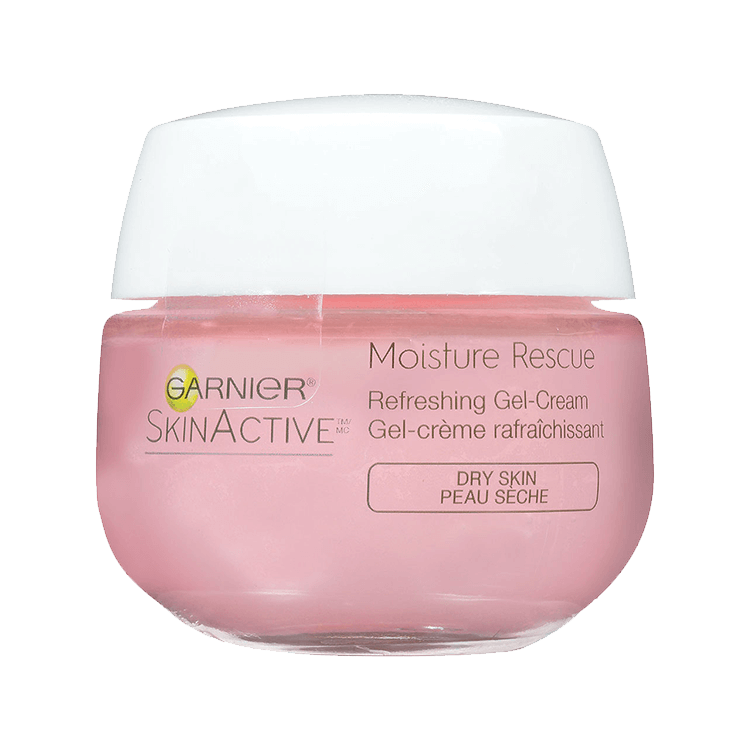 Garnier SkinActive
Moisture Rescue Refreshing Gel Cream for Dry Skin
Gel Cream Face Moisturizer for Dry Skin
Treat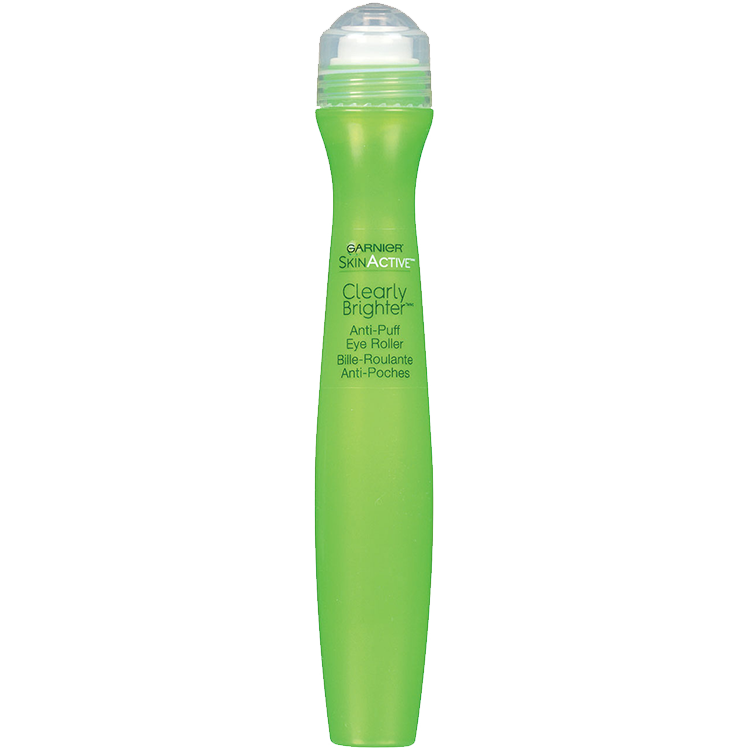 Garnier SkinActive
Clearly Brighter Anti-Puff Eye Roller
Under-Eye Puffiness Reducer
Refresh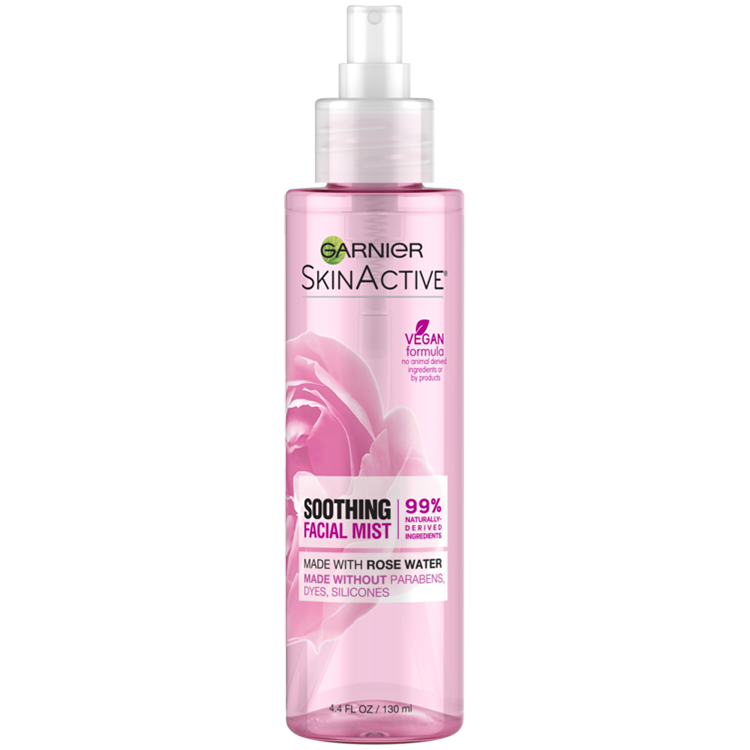 Garnier SkinActive
Soothing Facial Mist with Rose Water
Facial Mist
Rated

5

out of

5
by
tyrad2
from
Absolutely in love with this product!!! Works like a charm and leaves my skin feeling super smooth and clean, you dont need much product at all to remove makeup!
Date published: 2019-09-18
Rated

5

out of

5
by
laurens145
from
Absolutely love this product. Ive tried all sorts of makeup remover and wipes but I could never get my eye makeup off completely. I switched to micellar water and its made such a difference. It completely removes every ounce of makeup and is perfect for sensitive skin! Definitely recommend
Date published: 2019-09-18
Rated

5

out of

5
by
iiexxii
from
Gentle and effective. My perfect first step to my night time routine. Takes all my makeup off to ensure a full cleanse. Leaves my skin feeling nourished.
Date published: 2019-09-18
Rated

5

out of

5
by
thetaylorlee
from
I Love this! I have to have it at all times! I use it every night to remove my makeup! I love putting it in a Neutrogena makeup remover wipe and it works amazing!
Date published: 2019-09-18
Rated

4

out of

5
by
jenniferj70
from
Got this at shoppers about 2 months ago and Ive been using it to remove my make up ever since. Removes the make up fine and has a light smell to it! Very gentle and doesnt irritate my sensitive skin.
Date published: 2019-09-18
Rated

5

out of

5
by
jdh9312
from
I love using this to take off my makeup - specifically when I am doing a musical and am wearing super heaving makeup and am wearing it often. I will say - you do need to make sure you also wash your face after using this - but this gets makeup off without harsh rubbing of the skin.
Date published: 2019-09-18
Rated

5

out of

5
by
minaz123
from
It helps me a lot in removing makeup Amazing product it is Package is travel friend Good packaging it has It's a good product Every one must have I always use this
Date published: 2019-09-18
Rated

5

out of

5
by
beautybysearreola
from
I love it! And its oil free! So if you have eyelash extensions, its safe to use this! It gets rid of all makeup and its so easy to use! Just grab a cotton ball, pour some product and BAM!
Date published: 2019-09-18