This site is intended for US consumers.Cookies and related technology are used for advertising.To learn more or opt-out, visit Ad Choices and our privacy policy.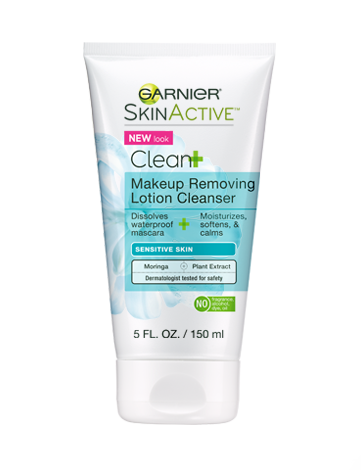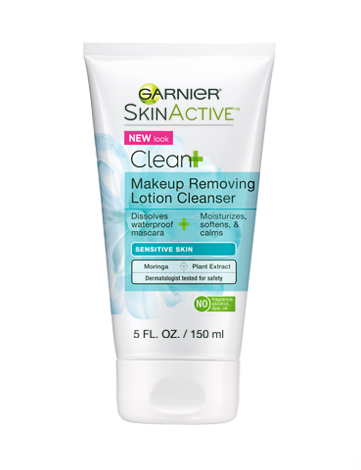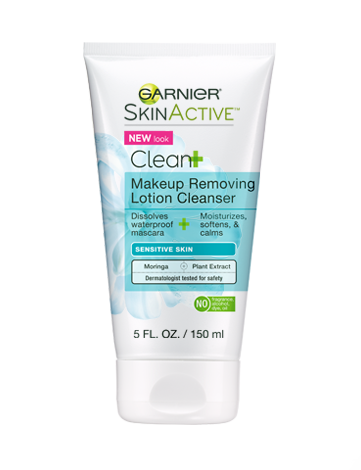 Garnier SkinActive
Clean + Makeup Removing Lotion Cleanser
PRODUCT INFORMATION:
We no longer offer this product, we have something even better to meet your needs. Find it here.

Sensitive skin has specific cleansing needs. To look and feel its best, it needs the right clean and specific care. Our quick-break lotion releases the powerful cleansing agents to dissolves impurities and waterproof mascara. The formula infused with plant extract leaves skin feeling moisturized and protected.
How to use:
Apply lotion to dry skin with fingers. Gently massage into skin and around eyes. Remove with cotton pad or rinse clean with water. Use AM and PM
Ingredients:
AQUA / WATER, ISOHEXADECANE, ISOPROPYL MYRISTATE, GLYCERIN, CYCLOPENTASILOXANE, SODIUM ACRYLATES COPOLYMER, CAPRYLIC/CAPRIC TRIGLYCERIDE, CAPRYLYL GLYCOL, METHYLPARABEN, ACRYLATES/C10-30 ALKYL ACRYLATE CROSSPOLYMER, BUTYLENE GLYCOL, IMPERATA CYLINDRICA ROOT EXTRACT, HYDROLYZED OPUNTIA FICUS-INDICA FLOWER EXTRACT, MORINGA PTERYGOSPERMA SEED EXTRACT, BIOSACCHARIDE GUM-4, LITCHI, CHINENSIS EXTRACT / LITCHI CHINENSIS PERICARP EXTRACT, CARBOMER, ETHYLHEXYLGLYCERIN
Rated

5

out of

5
by
IndayMel
from
Worked perfectly for sensitive skin!!
Please bring back this product ....(really sad face) Please!!!!
Date published: 2019-08-19
Rated

5

out of

5
by
Kera06
from
Your substitute product isn't close
Why would this amazing product, which I love Because it DOESN'T FOAM and I DON'T have to RINSE, be substituted by the exact opposite? This is exactly why I went to this product in the first place. What is this company thinking?! Do they even know how their products work before suggesting something else for a product that should never have been removed in the first place?! Please listen to your customers and stop trying so hard to make New items when the ones you have are great. Put the effort into promoting this one as a No Foam, No Rinse and I promise you there are way more people like me out there Searching for just this!!
Date published: 2019-04-24
Rated

5

out of

5
by
bettyblair
from
My Go TO Cleanser
I wish more than anything i could purchase this still from a drug store! I have found Amazon and a few select sites that are selling it, i even found it at my local discount store and stocked up 8+ bottles. Sadly i am on the last bottle and i want to cry, this is the BEST STUFF! Please BRING IT BACK I BEG YOU!!! I have the most sensitive dry /combo skin i am very fair and this saved my life once i found it. BRING IT BACK!
Date published: 2018-08-01
Rated

5

out of

5
by
JillianH
from
I LOVE THIS CLEANSER!!! Please bring it back!!!
This product was AMAZING!!! I am SO DISAPPOINTED that it has been discontinued by Garnier!!! I started using this product during the winter a few years back because my skin was dry and a dry and a bit sensitive from indoor (cranked heat/dry air) and seasonal environmental factors (cold/windy), but it's become my year-round no-fail cleanser! Rinses cleanly to feel fresh after use in the steamy summer (super gentle if you have to contend with slightly sunburned skin), but moisturizing enough to go toe-toe with harsh New England winter skin saboteurs! I've always had combination skin (normal cheeks/slightly oily T-zone), but as I get older, I notice more dryness in the areas that were once normal. This, combined with the fact that I am a dedicated waterproof mascara wearer has made for a tricky combo when looking for an easy all-in-one cleanser. I used to use a liquid dual action oil-free eye makeup remover from another brand as a first step before my regular facial cleanser, but even the slight rubbing of a cotton pad was irritating the delicate skin around my eyes. I tried oil cleansers (massaged into dry skin to dissolve makeup and then emulsified with water to rinse away), but they still left traces of makeup behind and a bit of stickiness/residue after rinsing. This cleanser was the perfect alternative! I could put a small dollop on my finger tips, gently massage it over my skin and lashes, and it effortlessly dissolved my waterproof mascara without repeated rubbing. The formula was light, and the quick break lotion glides easily rinses clean. It kept my skin moisturized without clogging my pores. I liked it so much I ditched my secondary cleanser, and made this the one step solution for my my facial cleansing. I've been trying to find a similar product from Garnier (or parent company L'Oreal... or any company for that matter!) and nothing I've tried hits all the nails on the head the way this great product does! The Gentle Sulfate-Free Cleanser isn't bad, but it's no match for waterproof eye make-up or other 24-hr/all day budge proof make-up. Please consider bringing it back, even if you have to rebrand it and include in a different line!!!
Date published: 2018-07-18
Rated

5

out of

5
by
Rosa84
from
Bring it back please!!
I used this for ages, it worked brilliantly, saves so much torture on your skin because it does the work for you. Please reconsider and revive this product!
Date published: 2018-07-08
Rated

5

out of

5
by
Seemaa
from
Please bring it back
That was the only product that did not irritate my sensitive eyes ..what shall I use now !!! Please bring it back I tried the water one any my eye got so red and took two day thats the one need to be discounted npt this one
Date published: 2018-04-02
Rated

5

out of

5
by
Karoray
from
So unhappy! This was the best product EVER!
What is your reasoning for discontinuing a product that even my Dermatolgist recommended? Removed all makeup and even waterproof eye makeup. Your new line does NOT do this and makes me rub my super sensitive skin. No longer am happy with Garner. And cannot give a good review.
Date published: 2018-03-03
Rated

5

out of

5
by
Gwenyj72
from
So upset it is discontinued!!!!
This 72 year old person finally found a product that is gentle and removes makeup leaving your skin soft with no harsh affects. I have been looking in all our local stores to replenish my stock with no avail, now I know why. Please reconsider adding this back into the line. It was the best. Perhaps new campaign, packaging, it needs more advertising. The reason I say this is simple, It works!!!
Date published: 2018-02-18