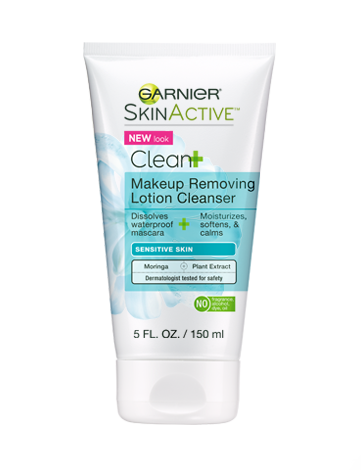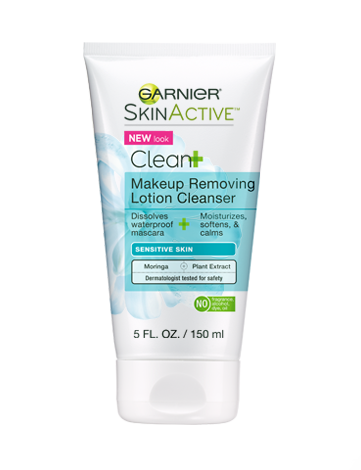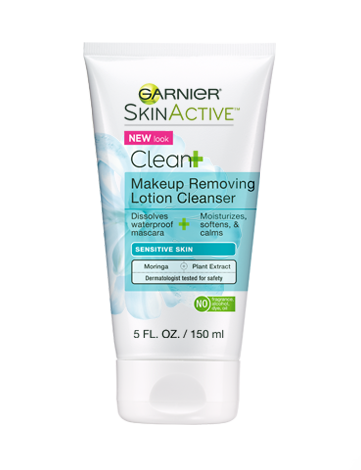 Garnier SkinActive
Clean + Makeup Removing Lotion Cleanser
you have added this item to your cart.
View Cart
PRODUCT INFORMATION:
We no longer offer this product, we have something even better to meet your needs. Find it here.

Sensitive skin has specific cleansing needs. To look and feel its best, it needs the right clean and specific care. Our quick-break lotion releases the powerful cleansing agents to dissolves impurities and waterproof mascara. The formula infused with plant extract leaves skin feeling moisturized and protected.
How to use:
Apply lotion to dry skin with fingers. Gently massage into skin and around eyes. Remove with cotton pad or rinse clean with water. Use AM and PM
Ingredients:
AQUA / WATER, ISOHEXADECANE, ISOPROPYL MYRISTATE, GLYCERIN, CYCLOPENTASILOXANE, SODIUM ACRYLATES COPOLYMER, CAPRYLIC/CAPRIC TRIGLYCERIDE, CAPRYLYL GLYCOL, METHYLPARABEN, ACRYLATES/C10-30 ALKYL ACRYLATE CROSSPOLYMER, BUTYLENE GLYCOL, IMPERATA CYLINDRICA ROOT EXTRACT, HYDROLYZED OPUNTIA FICUS-INDICA FLOWER EXTRACT, MORINGA PTERYGOSPERMA SEED EXTRACT, BIOSACCHARIDE GUM-4, LITCHI, CHINENSIS EXTRACT / LITCHI CHINENSIS PERICARP EXTRACT, CARBOMER, ETHYLHEXYLGLYCERIN
Rated

5

out of

5
by
Seemaa
from
Please bring it back
That was the only product that did not irritate my sensitive eyes ..what shall I use now !!! Please bring it back I tried the water one any my eye got so red and took two day thats the one need to be discounted npt this one
Date published: 2018-04-02
Rated

5

out of

5
by
Karoray
from
So unhappy! This was the best product EVER!
What is your reasoning for discontinuing a product that even my Dermatolgist recommended? Removed all makeup and even waterproof eye makeup. Your new line does NOT do this and makes me rub my super sensitive skin. No longer am happy with Garner. And cannot give a good review.
Date published: 2018-03-03
Rated

5

out of

5
by
Gwenyj72
from
So upset it is discontinued!!!!
This 72 year old person finally found a product that is gentle and removes makeup leaving your skin soft with no harsh affects. I have been looking in all our local stores to replenish my stock with no avail, now I know why. Please reconsider adding this back into the line. It was the best. Perhaps new campaign, packaging, it needs more advertising. The reason I say this is simple, It works!!!
Date published: 2018-02-18
Rated

5

out of

5
by
PalazzoJ
from
WHY GARNIER WHY???
I brought this a while ago and foolishly let it sit on my shelf but once I picked it up to use it I fell in LOVE! It removes my makeup like nothing else. Please bring this back, it's an amazing product. Please, please, please!!!
Date published: 2018-01-27
Rated

5

out of

5
by
maliss
from
Bring this back!!!
Like everyone else on here, I wish this would come back! Amazing product for removing waterproof mascara, and actually cleaning skin, and making skin so soft! So So SO DISAPPOINTING!! :(
Date published: 2017-09-21
Rated

5

out of

5
by
Amy33
from
Please bring this back!
This stuff is amazing! It's way better than micellar water, which doesn't even begin to touch waterproof mascara. This is the only product that I've found that doesn't the forever to work and is very gentle and hydrating. Please bring it back!
Date published: 2017-08-17
Rated

5

out of

5
by
Paigey
from
NOOOOO!!! I NEED THIS! Please BRING IT BACK!!!!
This my only trustworthy make up remover I could use on my eyes as well as getting off Lipstain! This has got me through life happy and now you have taken it away and made a stupid foam that doesn't work the same. Please bring this product back or make a small batch and let me buy it in bulk. I have high end products that do not match up to the effectiveness of this product. I am an actress and have to wear tons of theatrical make up and this was the only product that is tough enough to get it all off and still not hurt my eyes and keep my skin moisturized. I am so sad to see this go. :( Please let me know when you bring this back. This is your best product that I have used and I hate that it will be gone. This is me with a really annoying cry in hopes you will listen and bring back your best product; "WAAAaaaaaAAAaaaaaa aaaaaaaAAAA!!!!!!!!!"
Date published: 2017-07-14
Rated

5

out of

5
by
foxyloxy324
from
Discontinued?!? BRING IT BACK!
For a year this product was my go-to cleanser. It was gentle on skin and as a wearer of full-coverage foundation daily, this product was the BEST. One swipe and make-up was gone. It was gentle on eyes and easily removed mascara. Since I searched and searched and could no longer find it, I tried several other products, including the Micellar water (which was cold and didn't even remove my make-up without a harsh scrubbing), the Make-up Removing Gel (which was ok, but also didn't remove make-up well either), as well as a multitude of other brands. NONE is like this product. I have a bathroom cabinet FULL of cleansers and none can compare. Luckily, I found 2 at TJ Maxx and am trying to make them last. It was a HUGE mistake to discontinue this product, especially since your other cleansers don't even come close.
Date published: 2017-06-06