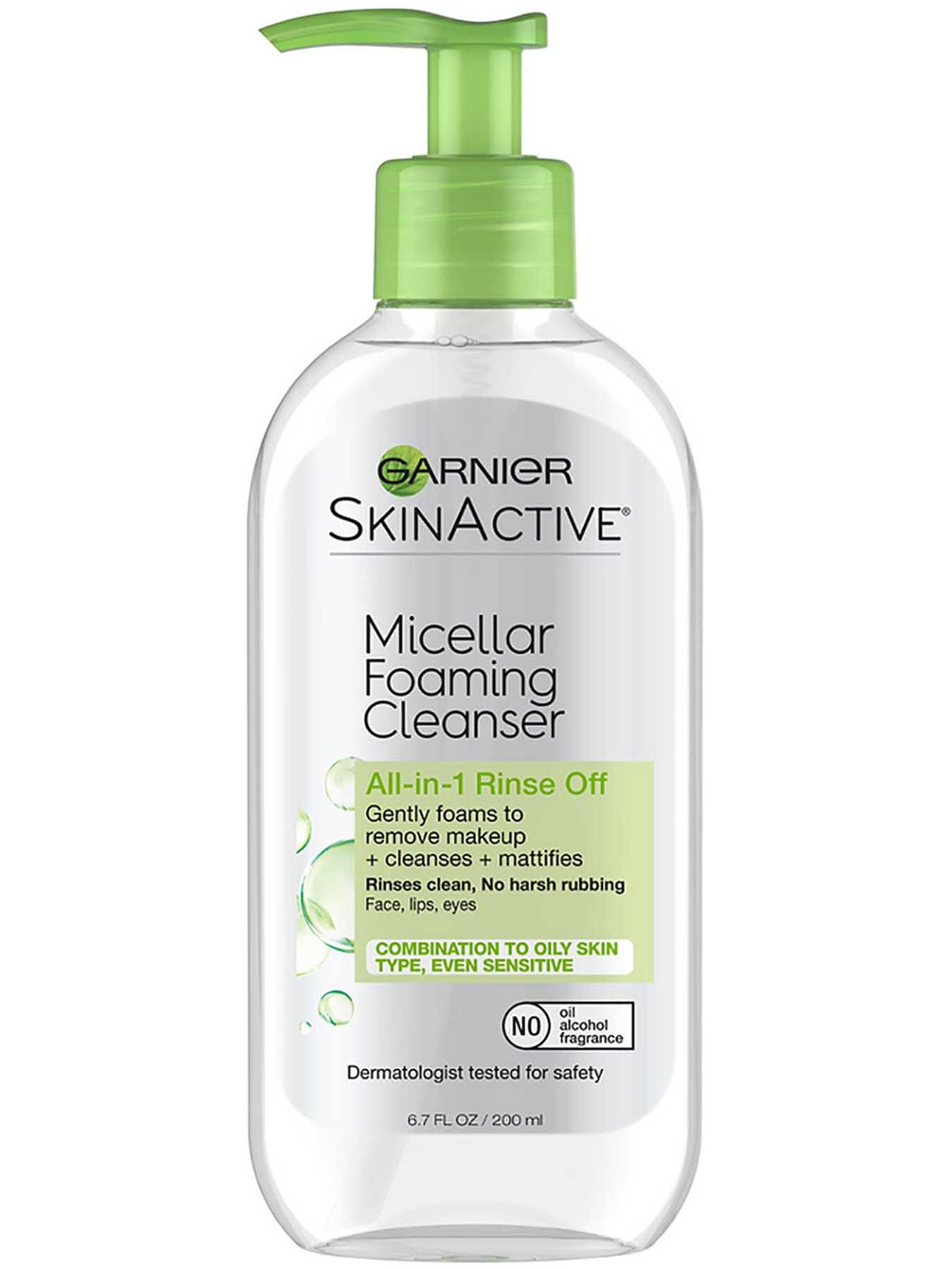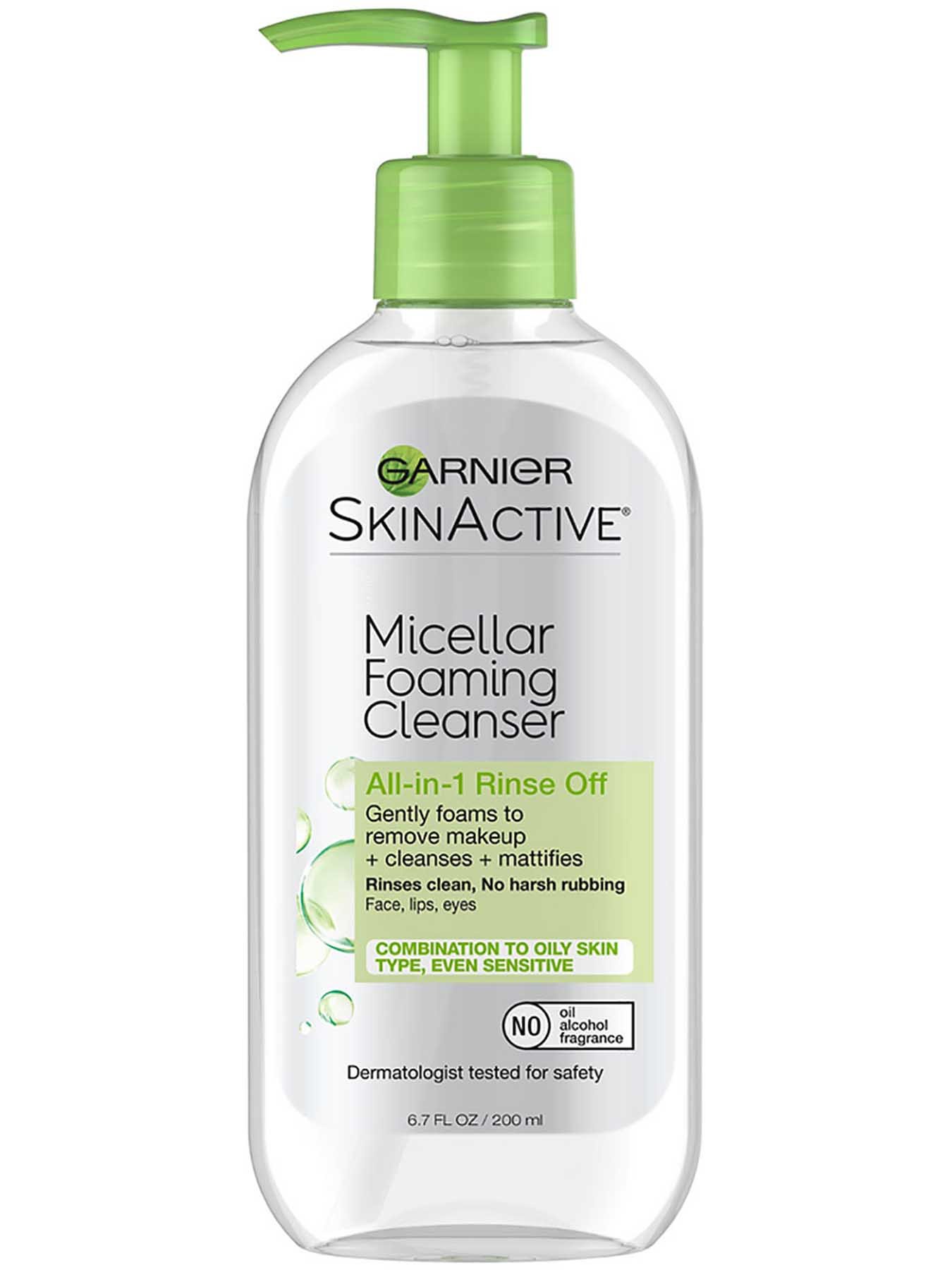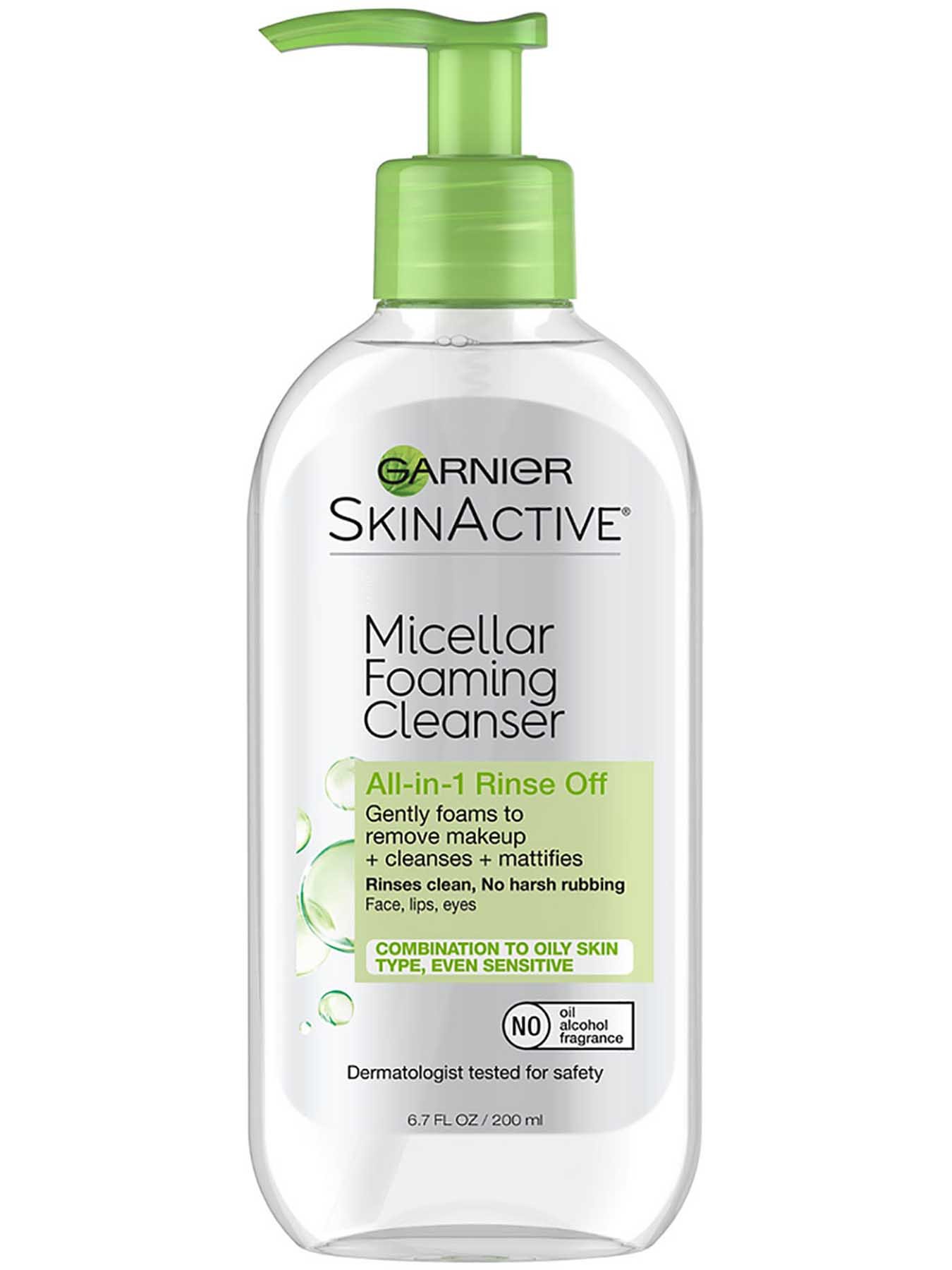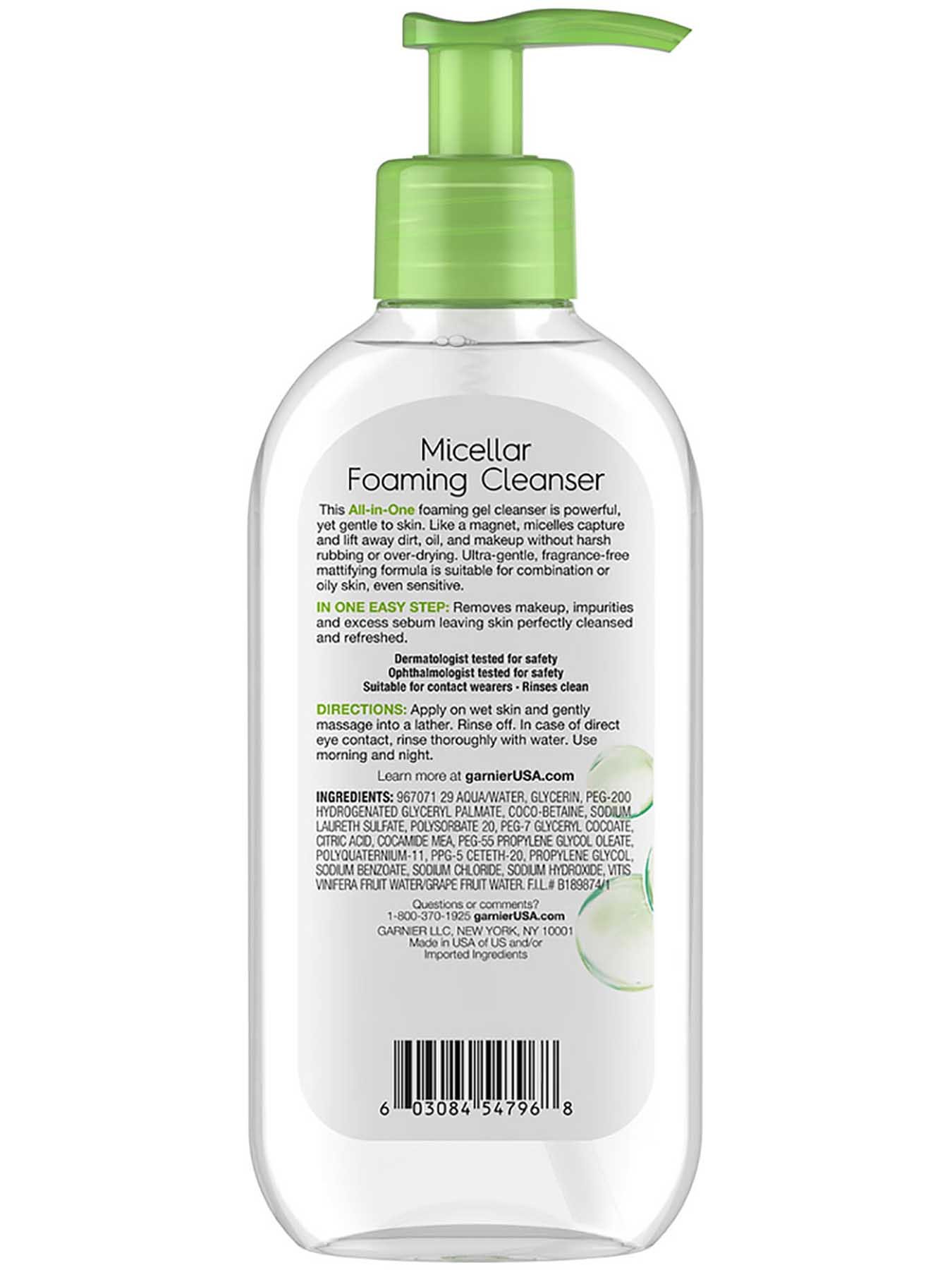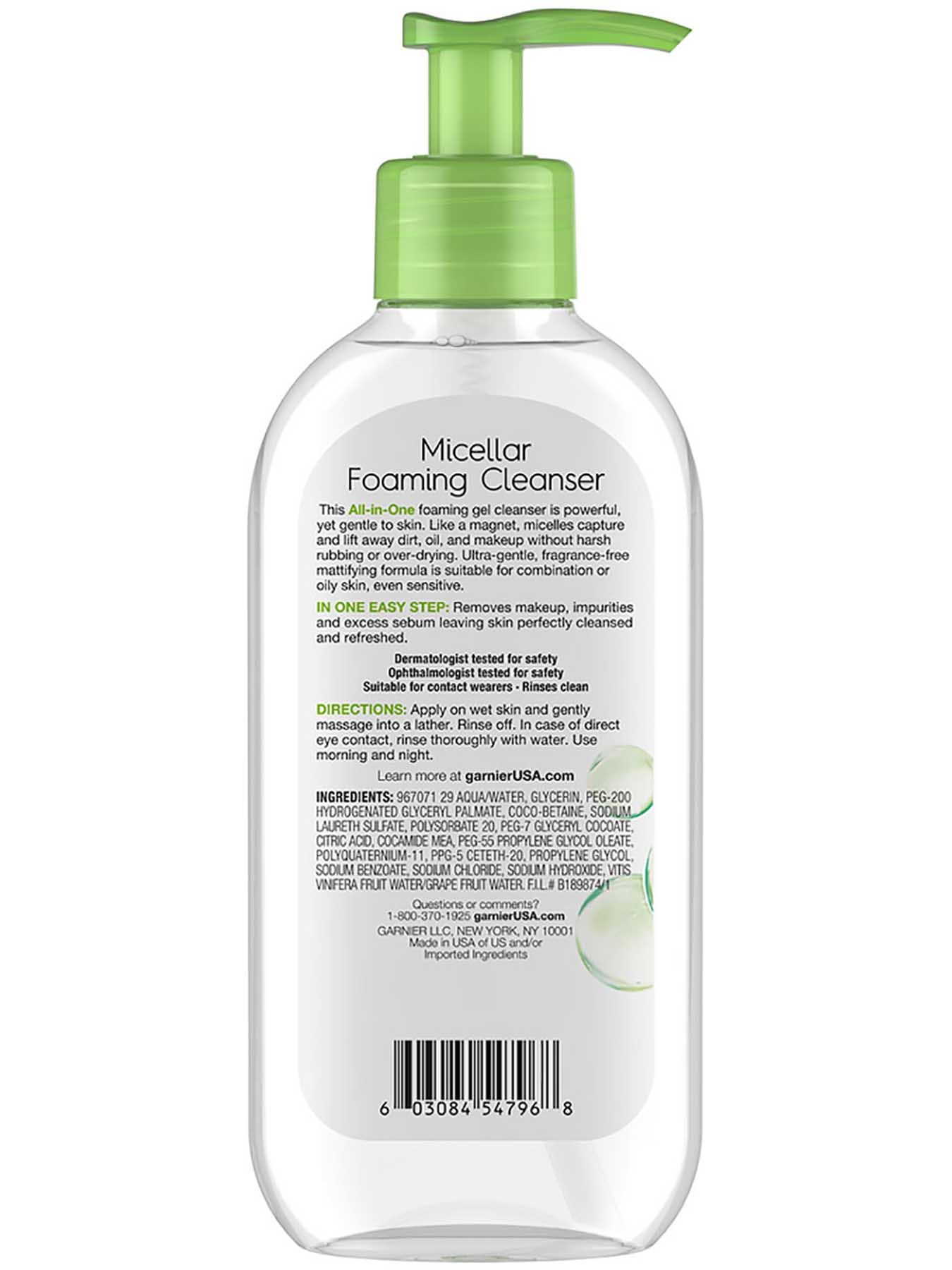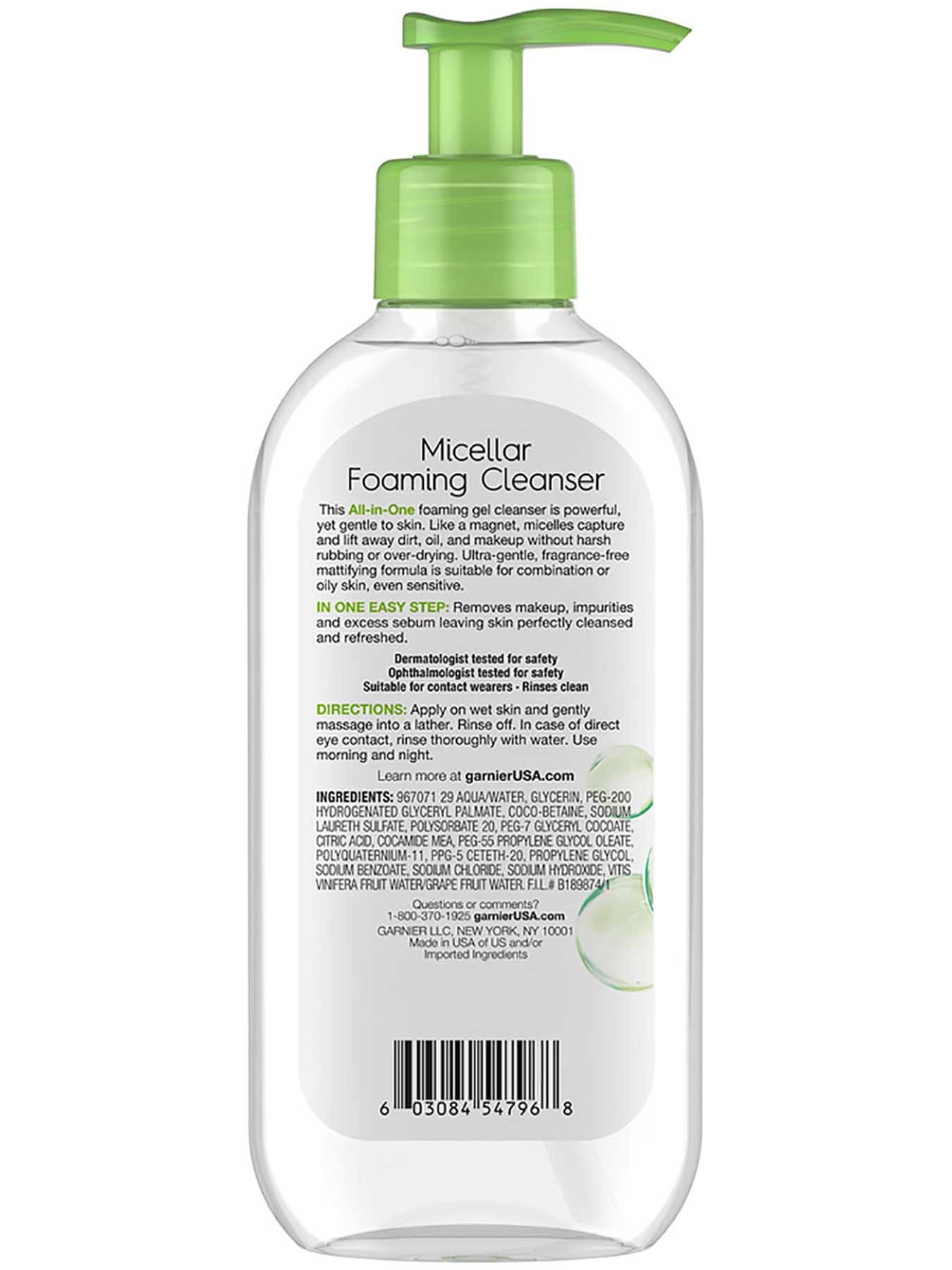 Micellar Foaming Gel Cleanser for Combination to Oily Skin
Garnier SkinActive
$8.99 MSRP
This oil-free, fragrance-free, paraben-free foaming face wash for oily skin, cleanses and removes makeup.
PRODUCT INFORMATION:
This All-in-One foaming gel face wash is powerful, yet gentle to skin. Like a magnet, micelles capture and lift away dirt, oil, and makeup without harsh rubbing or over-drying. Ultra-gentle, oil-free, fragrance-free and paraben-free formula is suitable for all skin types, even sensitive. In one easy step, it gently foams to remove makeup and impurities leaving skin perfectly cleansed and refreshed. Rinses clean with no harsh rubbing. 95% agree Micellar Foaming Face Wash leaves skin perfectly clean. This makeup remover for oily skin cleanses to remove excess oil and leaves skin with a matte and natural finish with no greasy residue.
How To Use:
Apply on wet skin and gently massage into a lather. Rinse off. In case of direct eye contact, rinse thoroughly with water. Use morning and night.
Ingredients:
967118 2 AQUA/WATER, GLYCERIN, PEG-200 HYDROGENATED GLYCERYL PALMATE, COCO-BETAINE, SODIUM LAURETH SULFATE, POLYSORBATE 20, PEG-7 GLYCERYL COCOATE, CITRIC ACID,COCAMIDE MEA, PEG-55 PROPYLENE GLYCOL OLEATE, POLYQUATERNIUM- 11, PPG-5-CETETH-20, PROPYLENE GLYCOL, SODIUM BENZOATE, SODIUM CHLORIDE, SODIUM HYDROXIDE, VITIS VINIFERA FRUIT WATER/GRAPE FRUIT WATER, ZINC PCA. F.I.L.# B190308/1
Rated

5

out of

5
by
Jemoore
from
Clean and Calm!
I have skin that is acne prone but also highly sensitive. That being said it feels impossible to get a cleanser that cleans and still leaves my skin calm. I bought this along with the micellar water for oily. That combo gets my skin so clean and happy. I might add i wear makeup but not heavy makeup and this cleanser alone takes it all off. Now i just have to worry about it being discontinued!
Date published: 2019-08-21
Rated

2

out of

5
by
vflores906
from
Not so great
I've been using Micellar Cleansing Water for a number of years and love it because it easily removes every little bit of makeup on my face. However, I always feel I have to follow the cleansing with fresh water afterwards. So when I saw Micellar Foaming Cleanser on the shelf I thought I'd try it and save myself a step. I'm glad I tried it but I don't feel it does what it's advertised to do. I tested cleaning my face using the Cleansing Water on a cotton pad after first washing with the Foaming Cleanser and was disappointed to see how much makeup had been left behind. See the photo of the dirty cotton pad (next to a clean one for comparison purposes) with the makeup that was removed from my face by the Cleansing Water AFTER having washed with the Foaming Cleanser.
Date published: 2018-11-07
Rated

3

out of

5
by
elizabethmsantiago
from
Average Product
This product in my opinion is a good backup cleanser to have on your shelf if you run out of your favorite cleanser. It does remove your makeup quite well, but that seems to be it. After I used it I then took a cotton pad with toner and swept it over my face and my face was still dirty. If you're someone who double cleanses everyday, then this would be a good product as your first cleanser, but if you're looking for something that will completely clean your face of all makeup and dirt in its entirety this is not the product for you. it also doesn't foam up as much as I thought it would. all in all average nothing special product.
Date published: 2018-06-22
Rated

5

out of

5
by
FellOffThePorch
from
Simply Effective
Garnier has won me over once again with this facial cleanser. Although at first I found myself making a pro's and con's list in my head. Ok so it was more like a con's list. The bottle was a simply basic bottle with nothing grabbing my attention. All the things that it claimed to do baffled me. Claims it rinses clean, no harsh rubbing and suitable for the face, lips and eyes. My skin is an oily mess that has TKO'd any cleanser that was remotely gentle and made it clear you avoid the eye are. So there I am with my con's list, Micellar Foaming Facial Cleanser and very little hope I am going to like it. And what do you know!? I was simply amazed at how effective it was and humbled by judging a book by its cover. I can honestly say that the only thing I found I could leave on my con's list was the lack of foam. It really didn't foam at all... I am perfectly fine with that though do you really need foam? I highly recommend Garnier SkinActive Micellar Foaming Gel Cleanser to anyone with skin! I think you will be humbled by how simply effective it is just like me!
Date published: 2018-06-22
Rated

5

out of

5
by
Rainbowbrite319
from
Convenient, Perfect for Sensitive Skin
I use higher end makeup remover because the area around my eyes is super sensitive and I dread washing my face because it's just a hassle at night. So needless to say I was skeptical at first of this Garnier Miceller Foaming Cleanser... but it is incredible! I am soooo in love. It gets my Kat Von D waterproof eyeliner off easily and my eyes are never irritated. My skin feels amazing after use and it rinses off super quick and easy. I've been using it for a few weeks and my skin loves it.
Date published: 2018-06-21
Rated

5

out of

5
by
shannonkriger
from
New Skincare Staple
This cleanser is my new favorite. It gently washes away all my makeup leaves my skin feeling refreshed and keeps it acne-free. While a lot of cleansers leave my skin feeling oily, this one leaves my skin soft and hydrated!
Date published: 2018-06-21
Rated

5

out of

5
by
Onleemollica
from
great for sensitive combination
I tested out a few times on full faced makeup. You have to do quite a bit of extra rubbing on eye make up especially if it is waterproof liner. Overall, it took off my medium to heavy foundation off with ease. It doesn't foam as much but the product does work in giving that clean feeling. I think I would use makeup remover next time to take off eye makeup and then this cleanser to get off the rest. I totally recommend it since it is budget friendly which is a plus. It leaves my face feeling clean but not overly drying. P.S. I have sensitive combination skin with eczema patches
Date published: 2018-06-21
Rated

5

out of

5
by
Marisela0112
from
Magnificent Cleanser
The Micellar Foaming Gel Cleanser is magnificent for combined skin! The All-In-1 is a life saver for busy people, as myself. It's wonderul at removing the days grime and makeup, while leaving your face clean without the feeling of dryness. It's the easiest change i have done to my morning and evening routine!
Date published: 2018-06-21