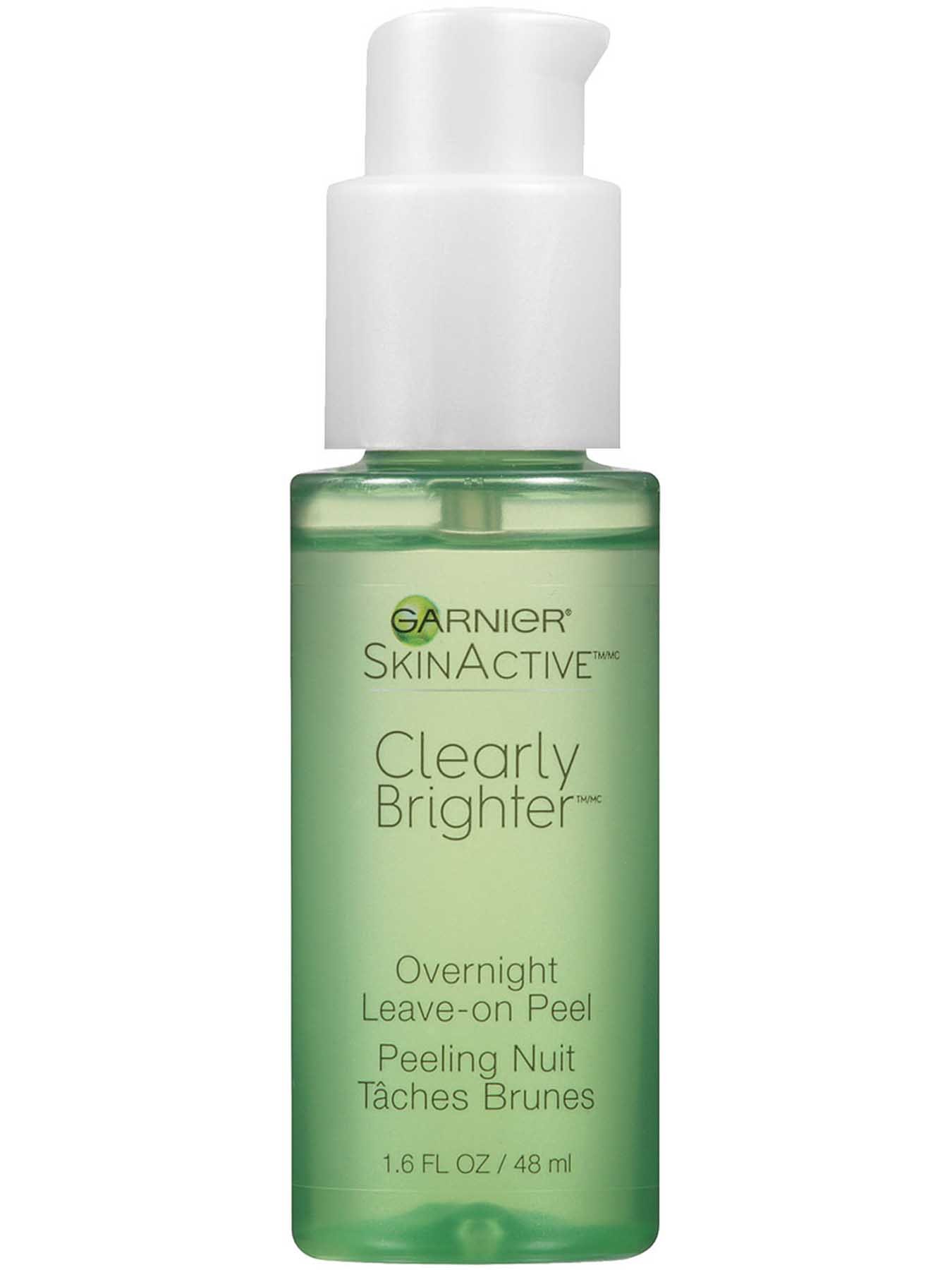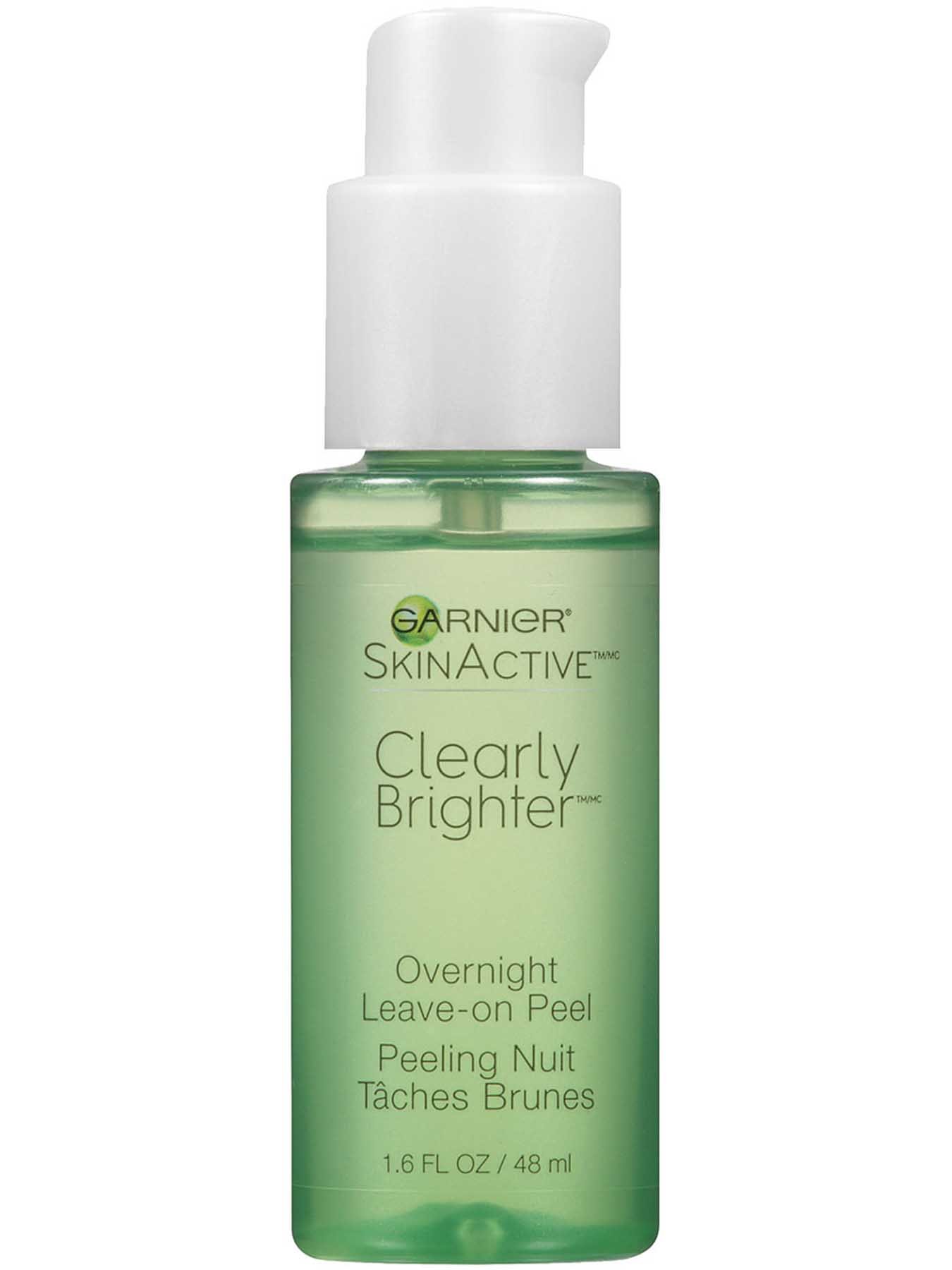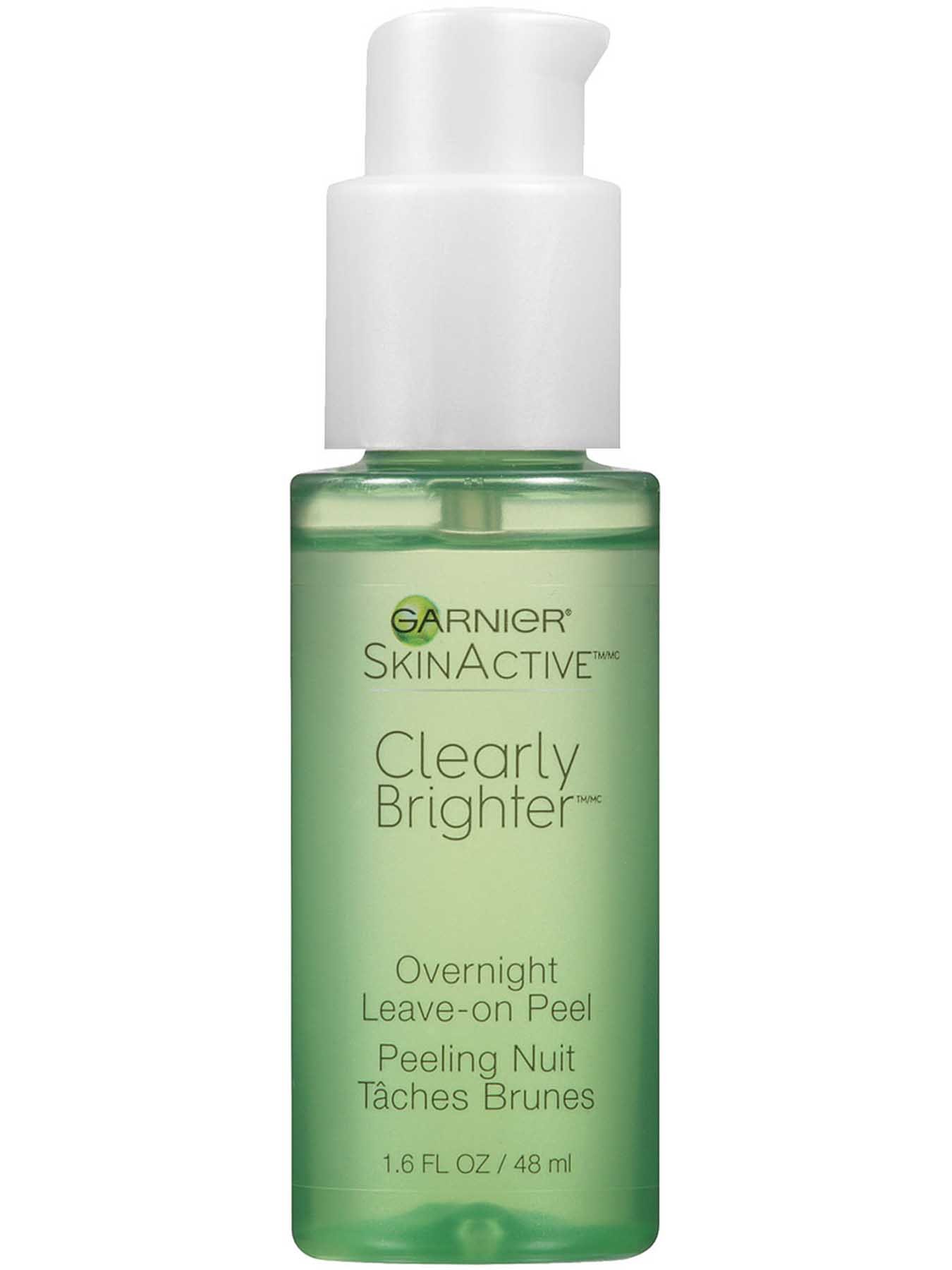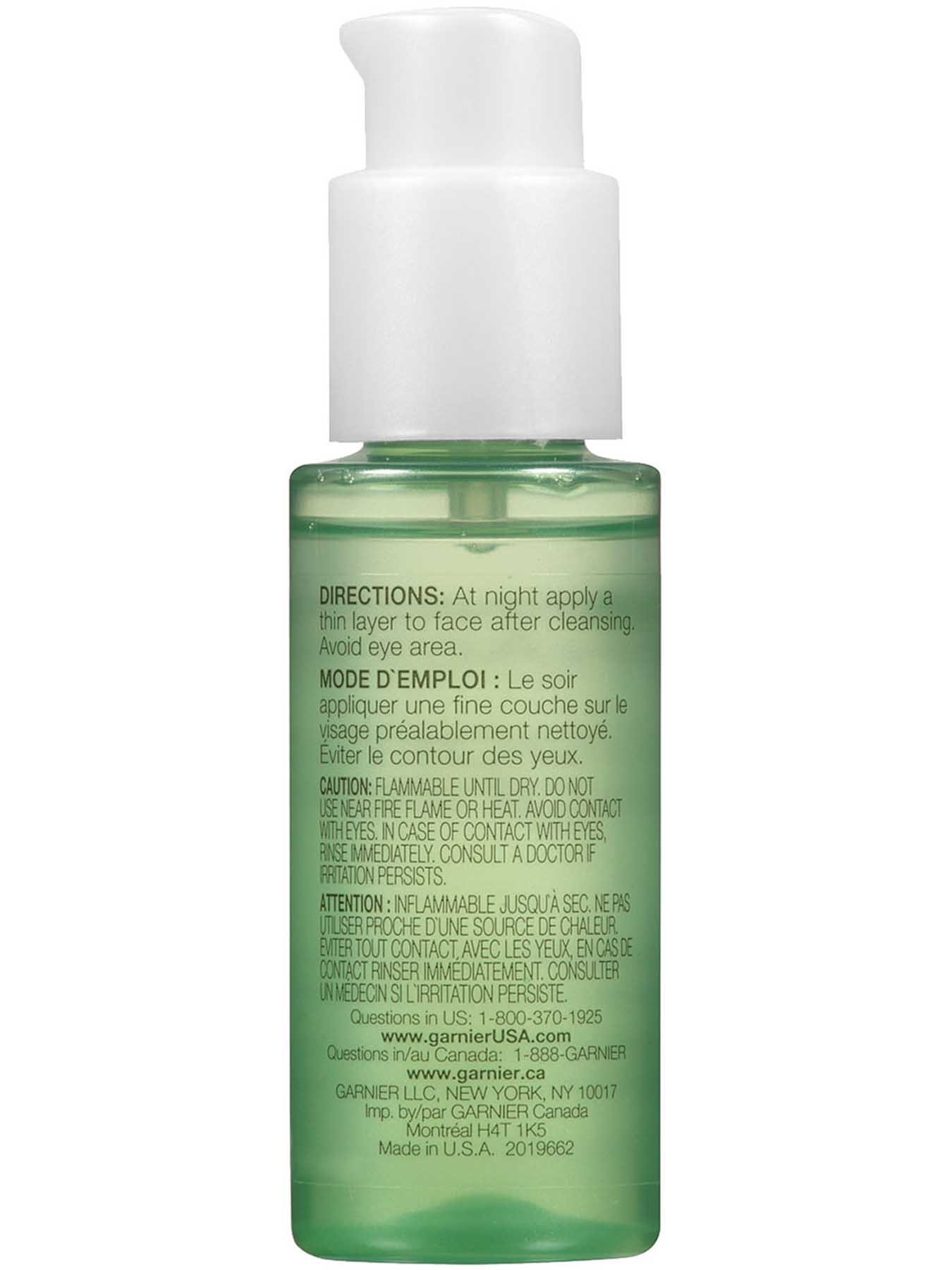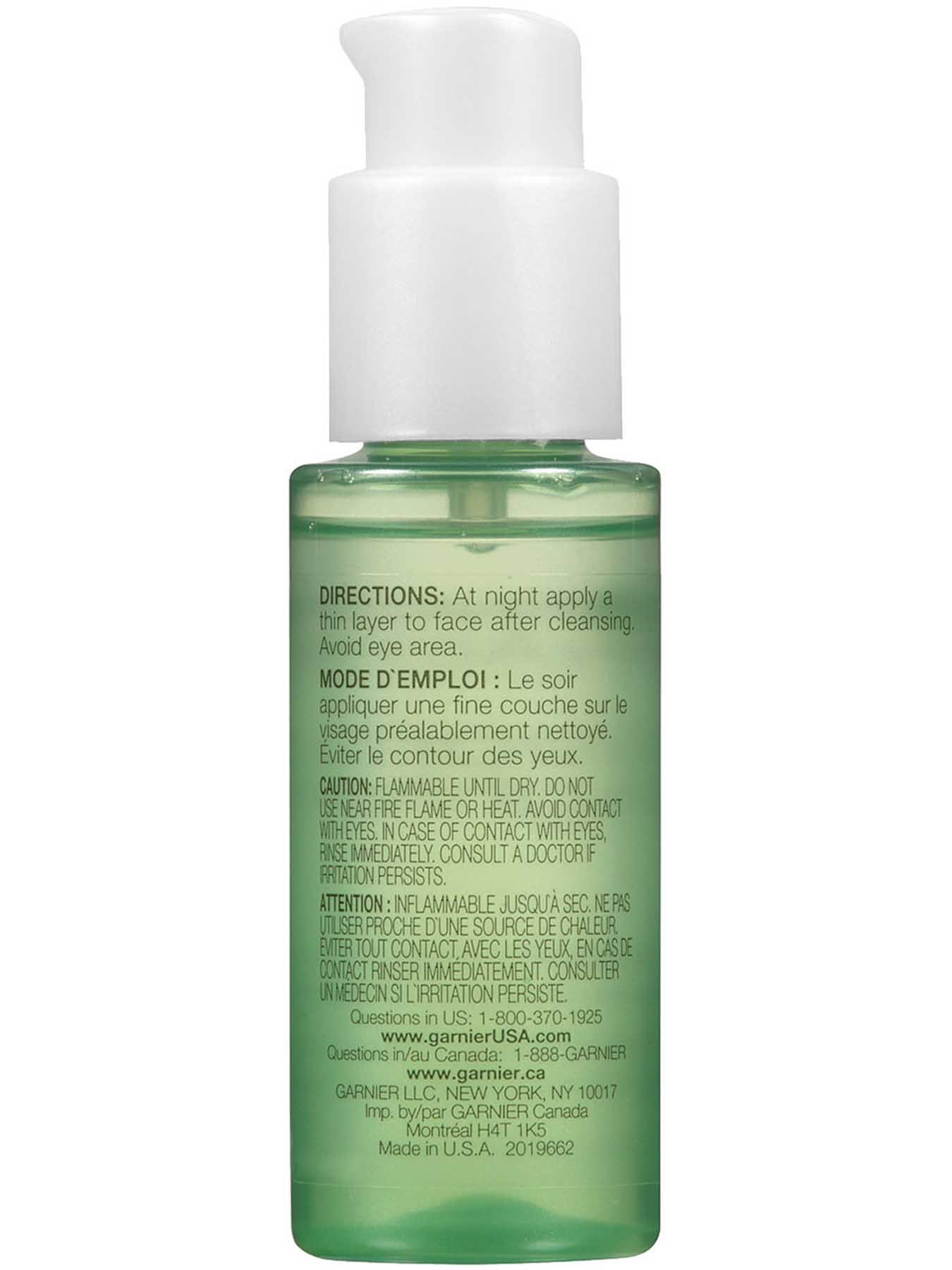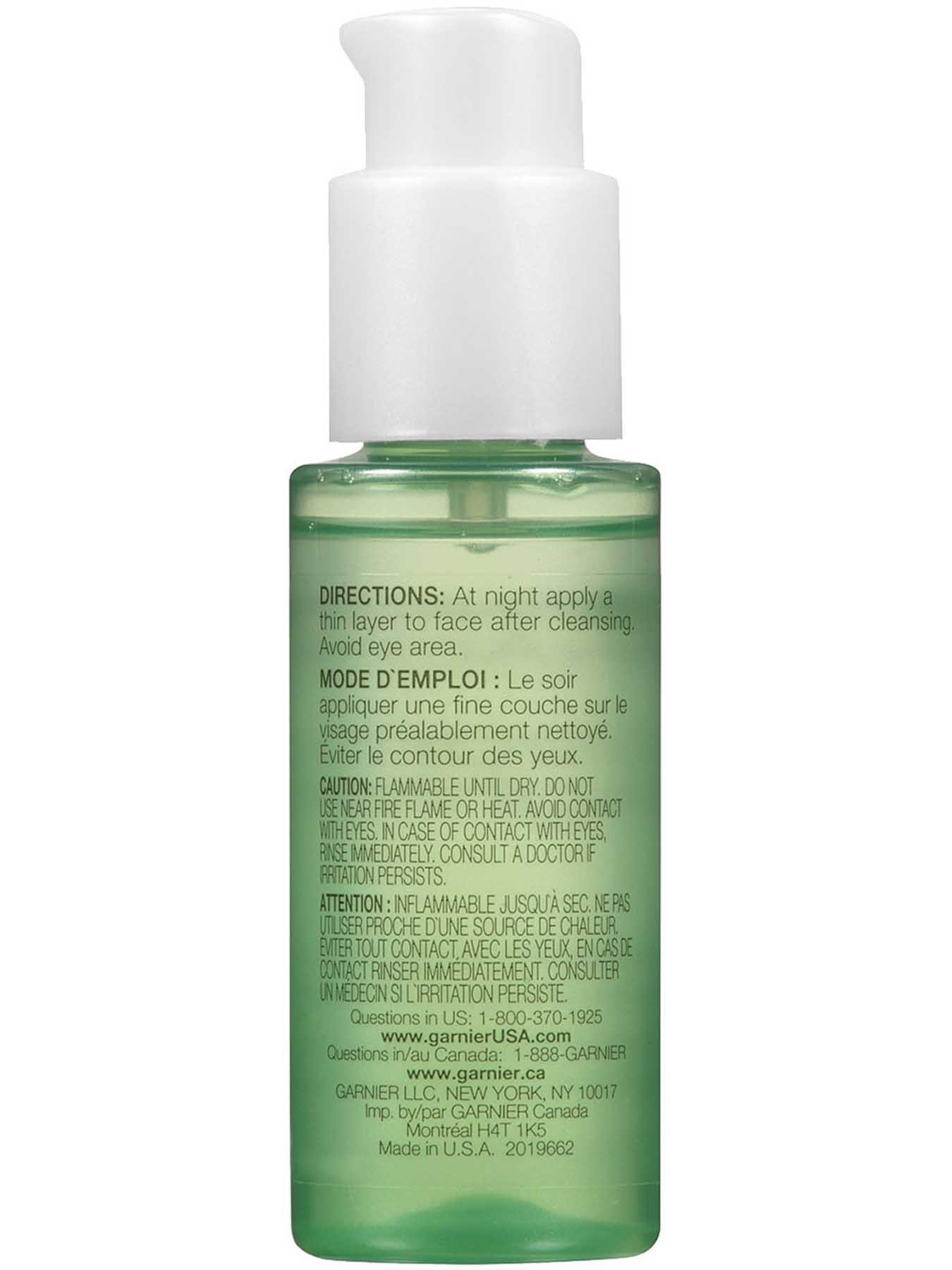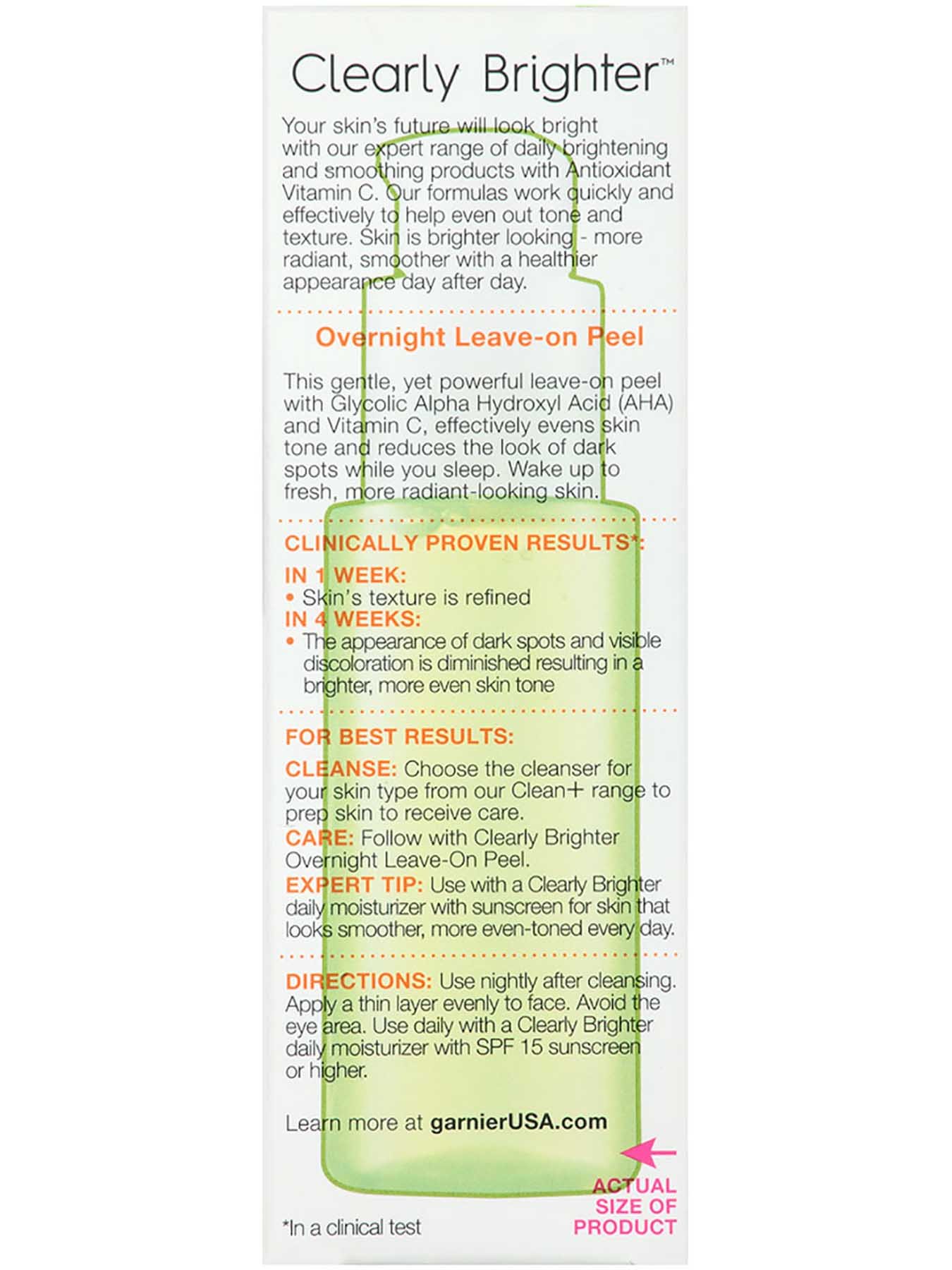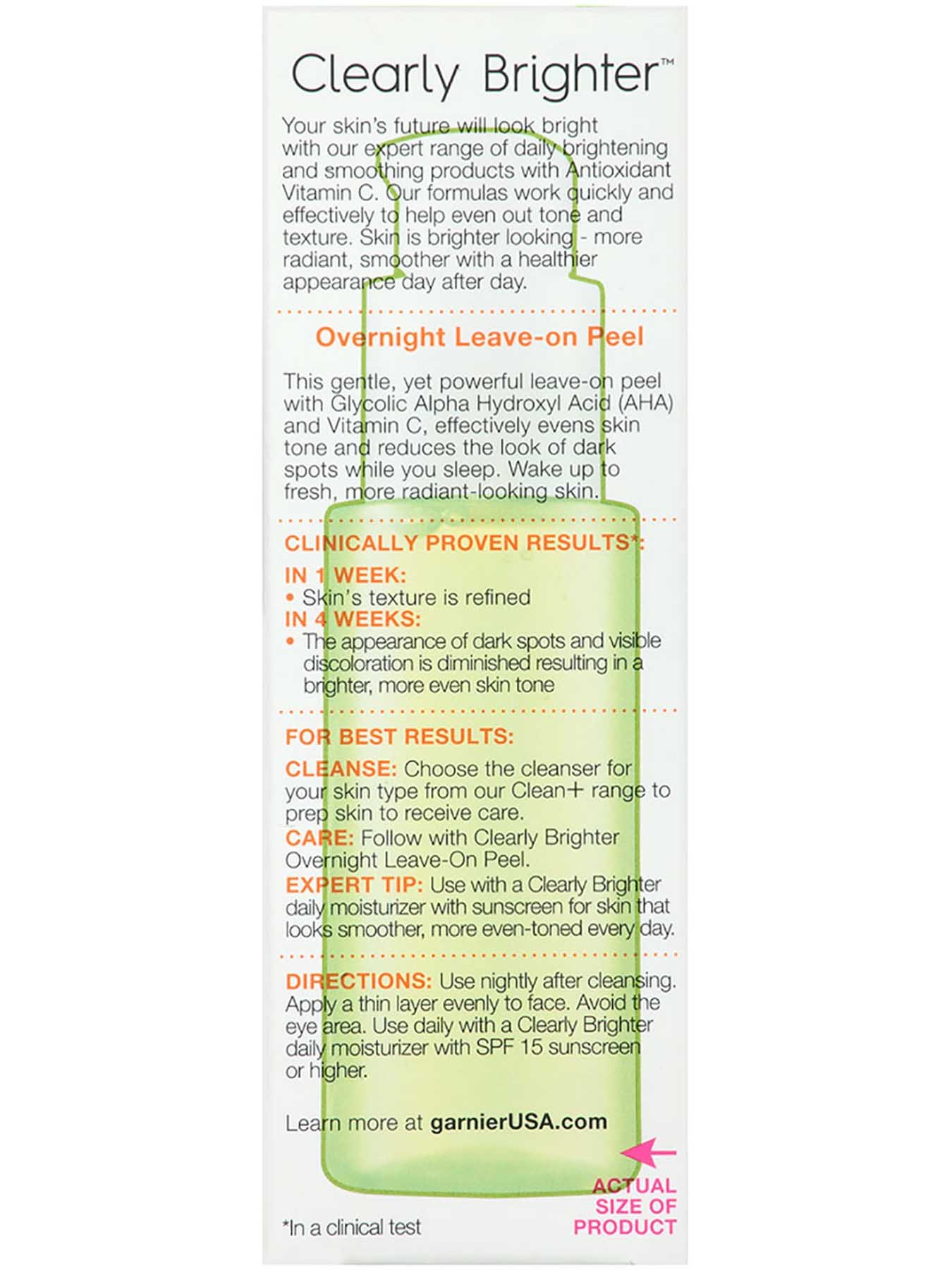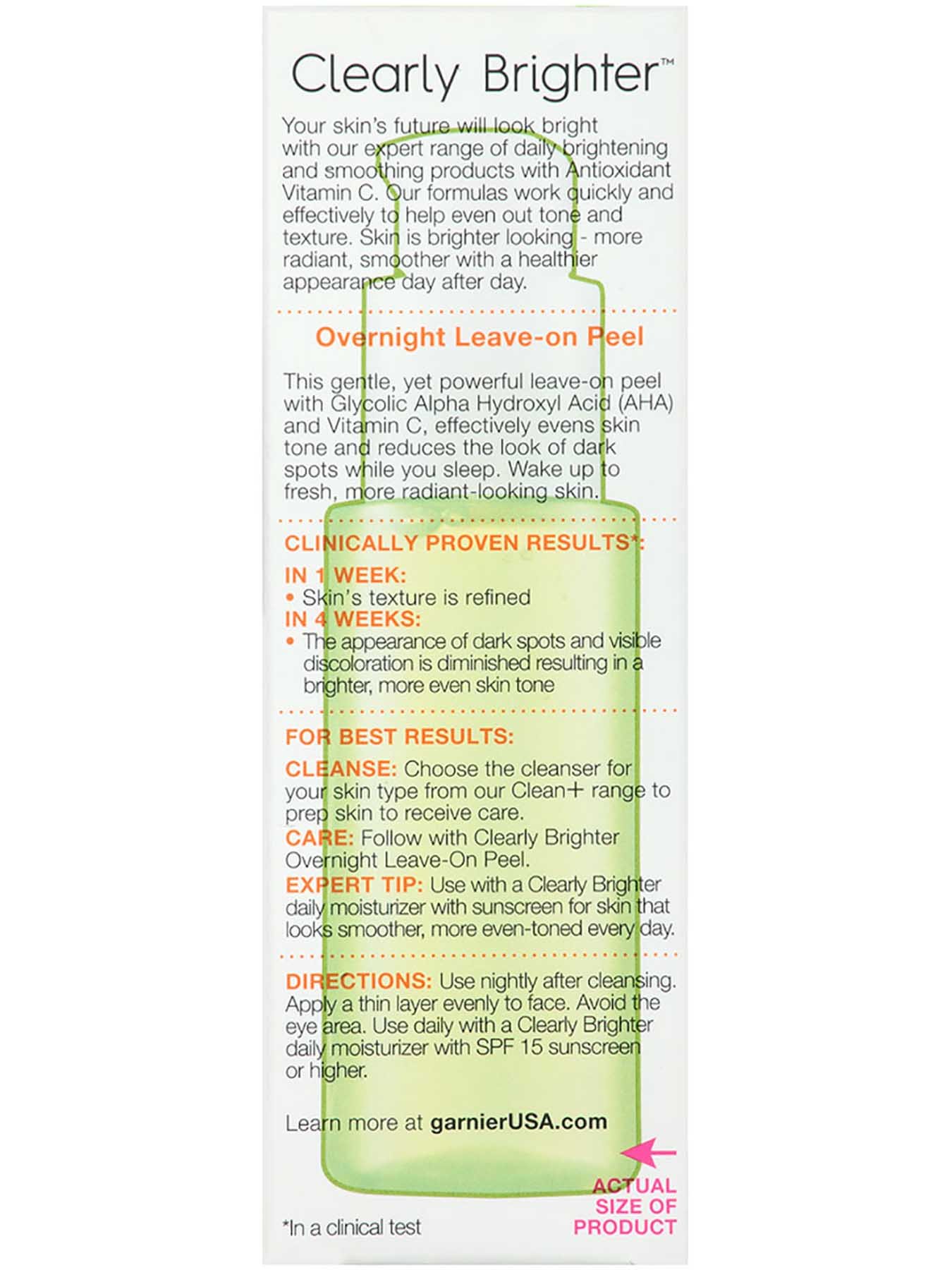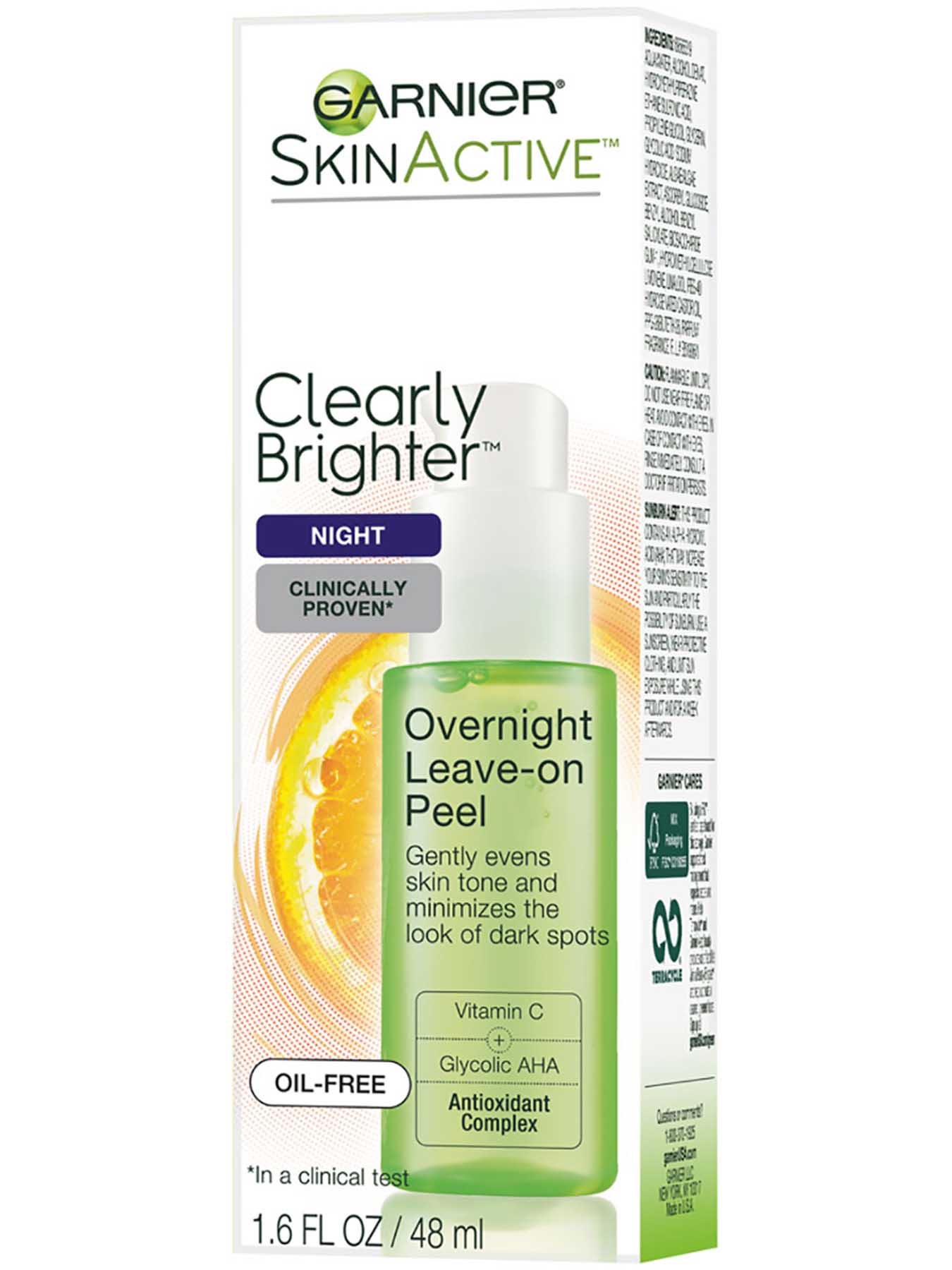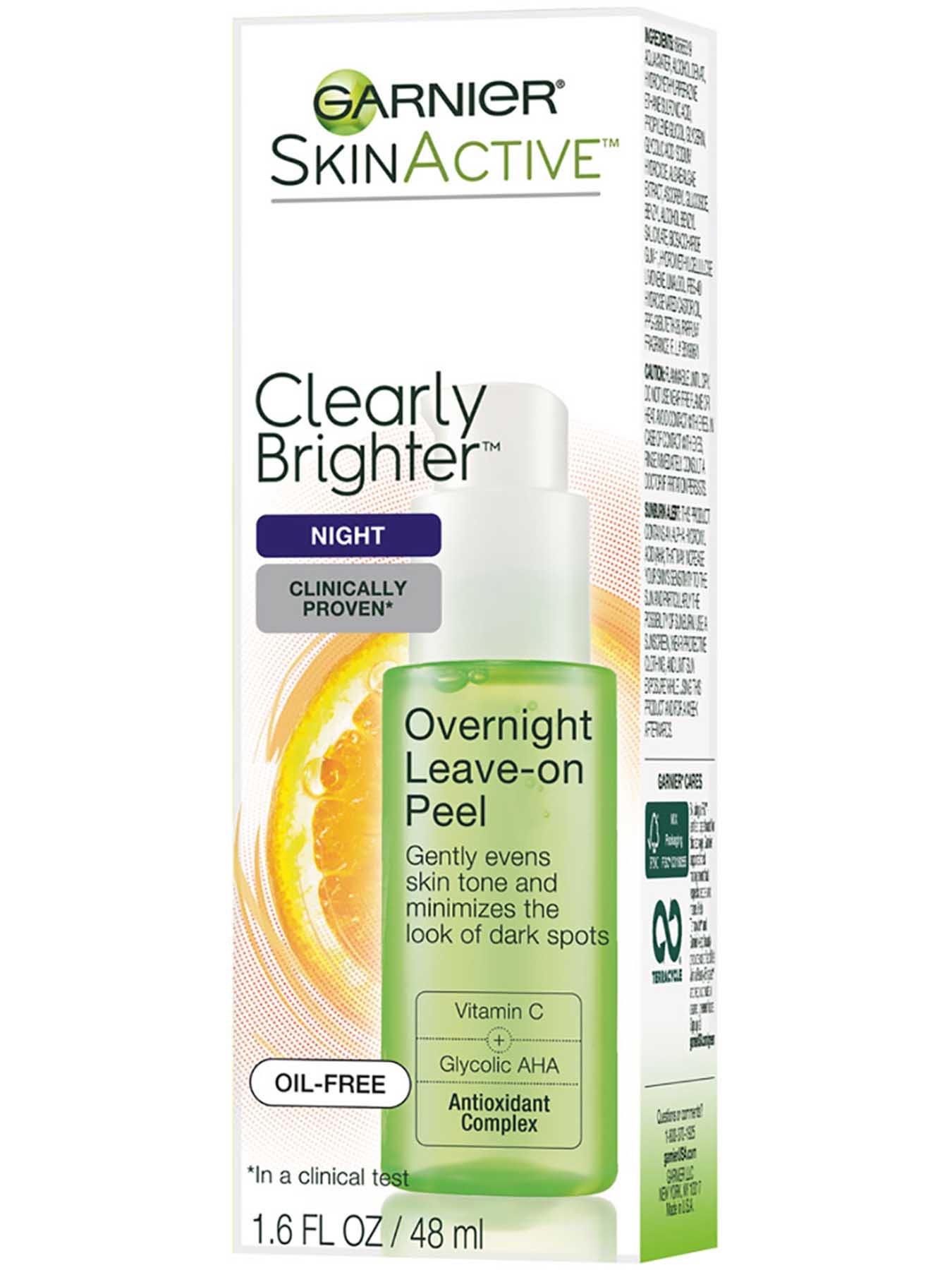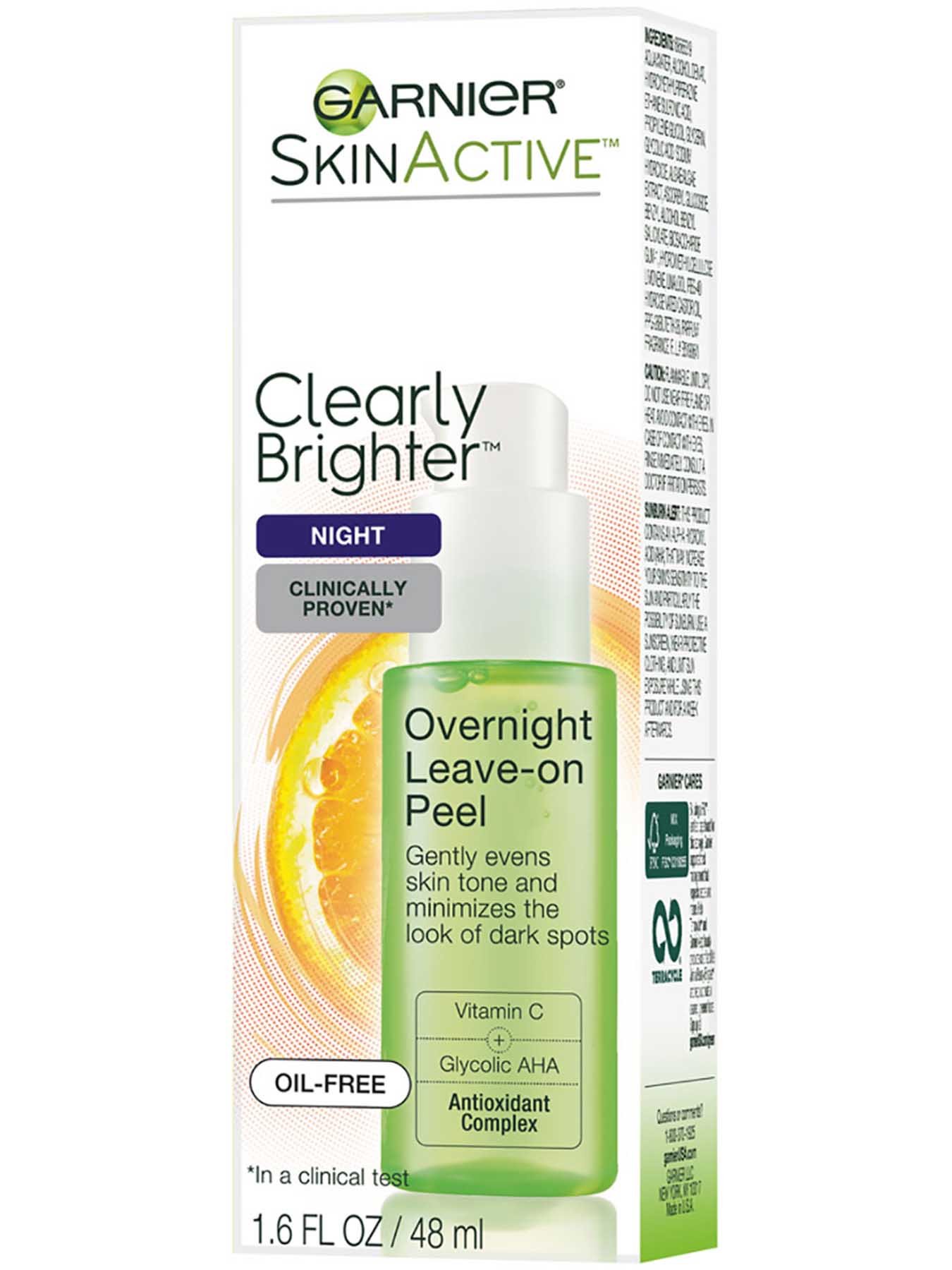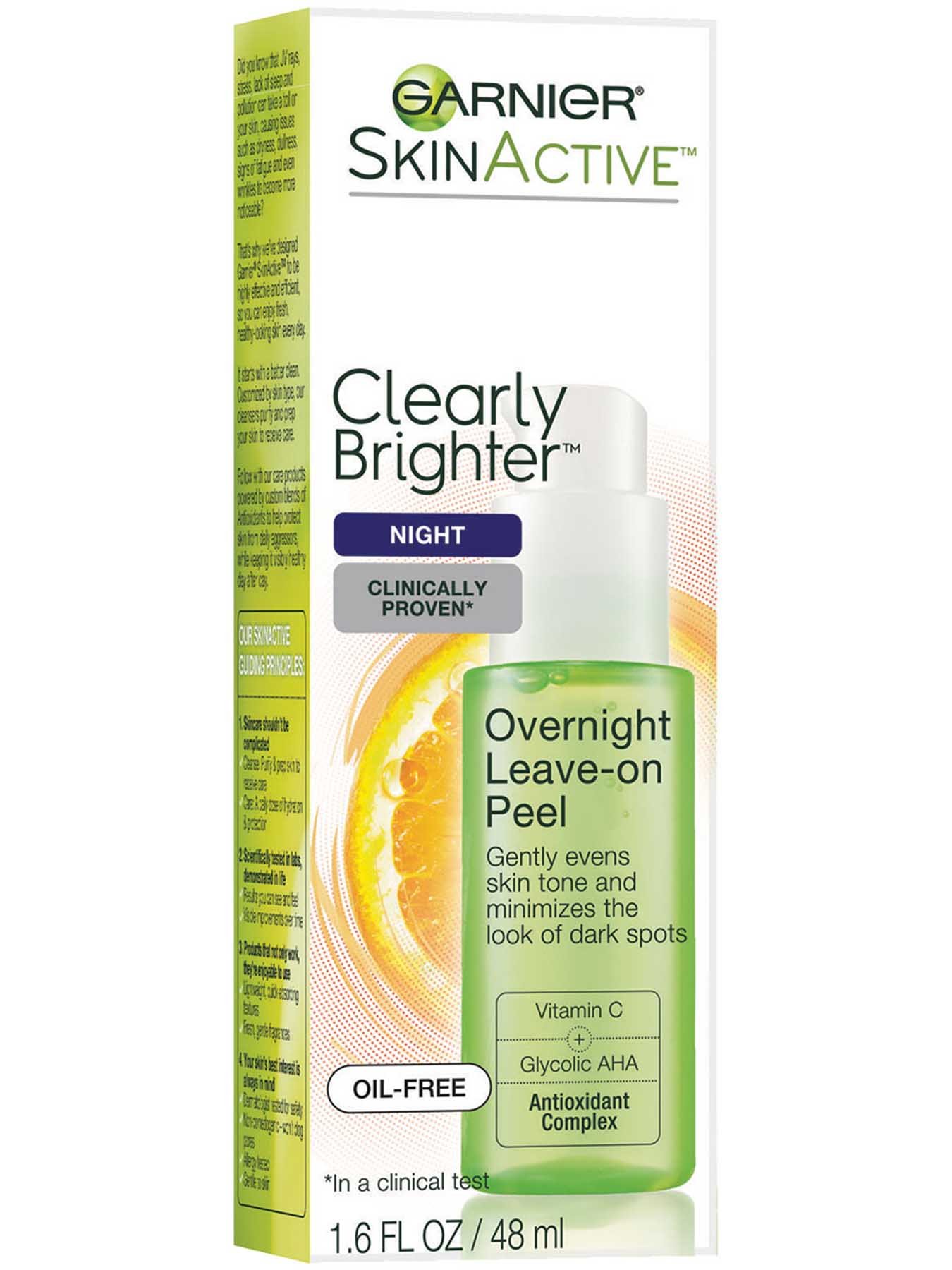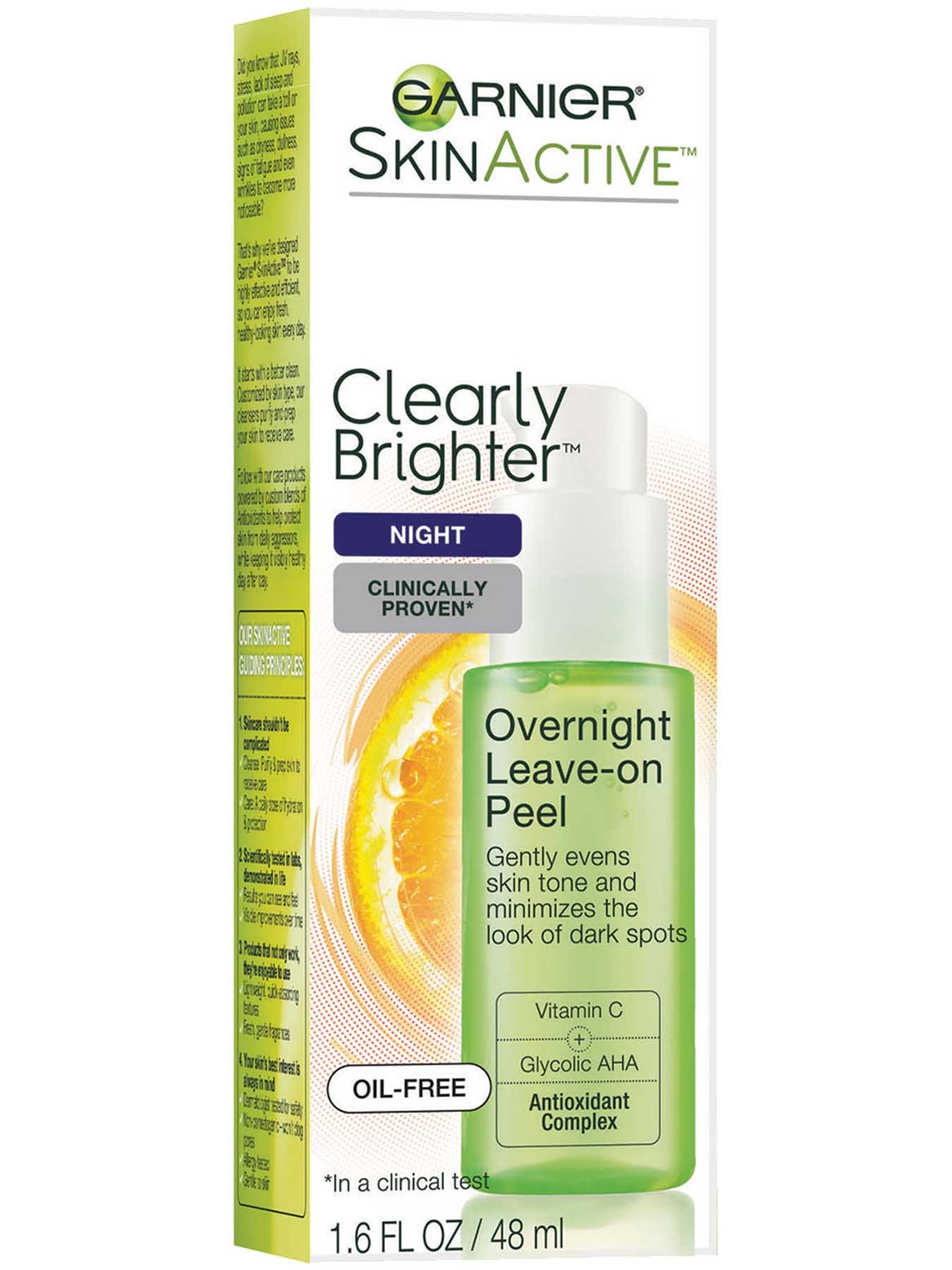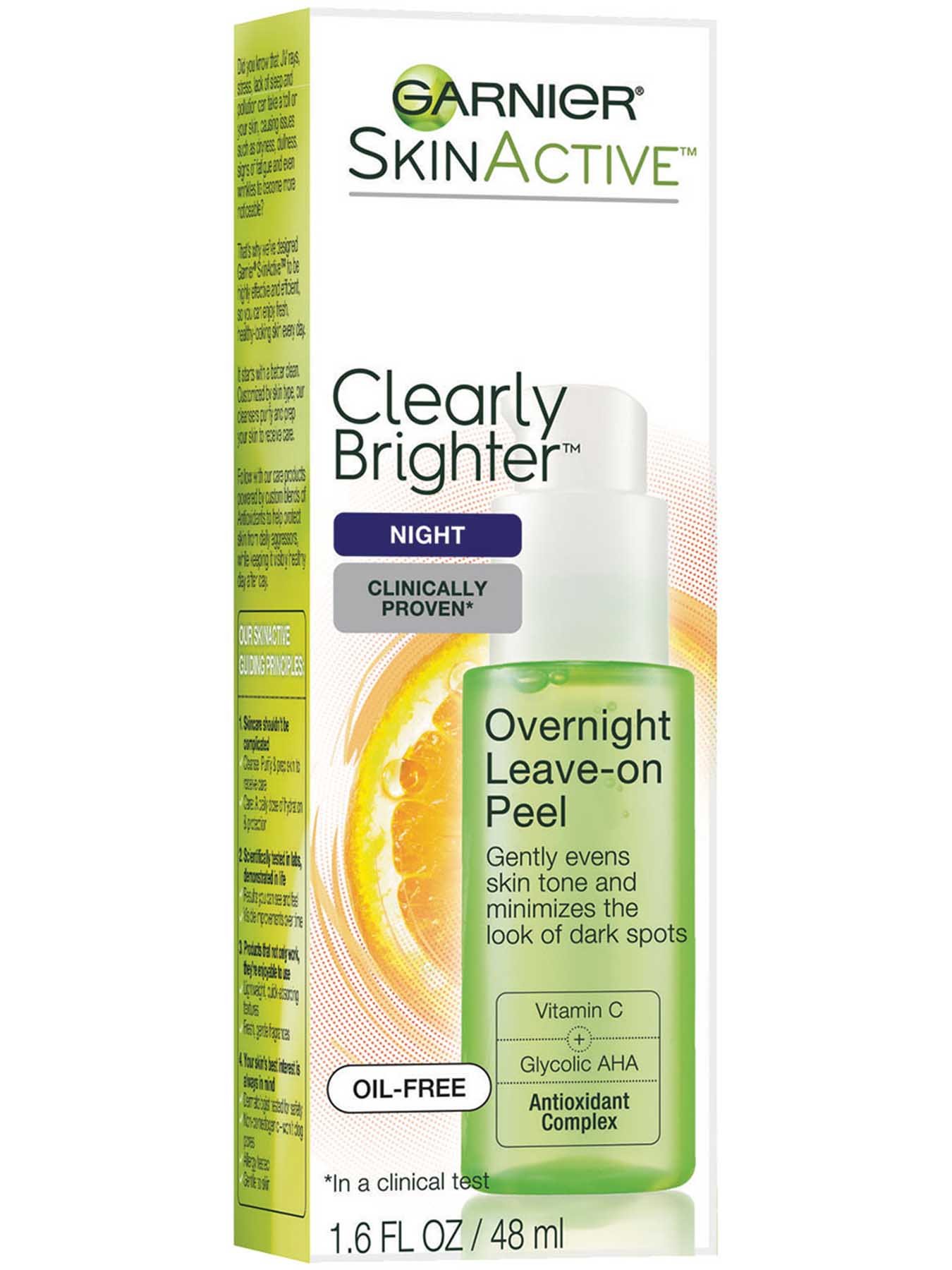 Clearly Brighter Overnight Leave-On Peel
Garnier SkinActive
$16.99 MSRP
Gently evens skin tone and minimizes the look of dark spots.
PRODUCT INFORMATION:
This gentle, yet powerful leave-on peel with Glycolic Alpha Hydroxyl Acid (AHA) and Vitamin C, effectively evens skin tone and reduces the look of dark spots while you sleep. Wake up to freshm more radiant-looking skin.
How to use:
Use nightly after cleansing. Apply a thin layer evenly to face. Avoid the eye area. Use daily with a Clearly Brighter moisturizer with SPF 15 sunscreen or higher.
Ingredients:
Aqua/Water, Alcohol Denat., Hydroxyethylpiperazine Ethane Sulfonic Acid, Propylene Glycol, Glycerin, Glycolic Acid, Sodium Hydroxide, Algae/Algae Extract, Ascorbyl Glucoside, Benzyl Alcohol, Benzyl Salicylate, Biosaccharide Gum-1, Hydroxyethylcellulose, Limonene, Linalool, PEG-40 Hydrogenated Castor Oil, PPG-26-Buteth-26, Parfum/Fragrance.
Antioxidants
Antioxidants are a group of vitamins and minerals that defend against the aging, damaging effects of "free radical" toxins and pollutants. Usually found in nuts, berries, and plant-based oils, the most popular Antioxidants used in beauty formulas include Vitamins A, C and E, Beta-Carotene, and the minerals Selenium and Manganese.
Vitamin C
There's more to Vitamin C than meets the eye. A powerful antioxidant, it is also highly effective in fighting signs of aging, brightening skin tone, and helping reduce the appearance of dark spots over time.
Caffeine
Found in tea leaves, Yerba mate, and other tropical plants, Caffeine is often used in hair and skin beauty formulas known to energize and rejuvenate.
Rated

5

out of

5
by
Anonymous
from
I never write reviews but,,,
I never really pay attention to products and how they perform, especially for my skin. But I have to say, this product lives up to its product claims. Every since I started using it around a year ago, I have seen dramatic differences in my skin tone, spots (which have decreased) and acne (which almost never happens now). It's too bad it's not sold on the retail level anymore (except for TJMaxx and Marshalls once in a while), but I will continue to buy it anyway. Do not stop manufacturing this product please!!
Date published: 2019-11-06
Rated

5

out of

5
by
Amarfis
from
Awesome product
I just started to used it but I love it. It's very smooth and smell great i love to go to bed with a clean and fresh smell
Date published: 2018-07-26
Rated

5

out of

5
by
Nikki87
from
Fantastic Clearly Bright Leave on Overnight Peel!
I recently received a free sample of this Garnier Clearly Brighter Leave On Overnight Peel, using this leave on peel was fast an easy! You just apply a thin layer to your face an leave it! As I was applying this I could feel it drying to my skin it wasn't tight or too noticeable it was pleasant, it has a tacky feel to it, its not too sticky though just enough to know it's there an that it's doing its job by protecting an revitalizing my skin while I slept! I went to bed and when I woke up the next day I washed my face an saw fantastic results! After just one use my skin was beautiful! It felt deeply cleaned, vibrantly bright an glowing, and it was soft an smooth! Flawless I dare say! I did notice my dark spots were lighter! My skin was bright and happy! I'm extremely satisfied with this leave on peel! I was blown away by how effective this was after one use! My skin feels renewed an it looks revived! I love this overnight peel an I think you will too!
Date published: 2018-04-12
Rated

5

out of

5
by
lac3
from
Best product EVER
I bought this about 2 months ago and I could immediately see the results. I bought this on a whim from Riteaid (over paid, amazon and target sell it for way less) I was searching for an overnight peel because I wanted to add to my nightly routine. I have several acne scars and this cleared them up beautifully! I still have some but there's no doubt that this product will take those away also with time. This product also helps my skin smooth out and create a more even platform for makeup to shine. I love this product! I just ran out and I am going to buy more today, I can't recommend it enough. P.S. This is not a real peel, when you wake up in the morning it is all gone with nothing left to peel off. Sometimes I feel there is still some product left over so I exfoliate and then it's all gone. I apply this about 10 minutes before I go to bed, with my hair up, by the time I lay down my face isn't wet anymore and the product is no longer sticky.
Date published: 2017-11-18
Rated

4

out of

5
by
MrsStacieS
from
perfect texture for using as serum
This is the 4th bottle I've purchased. I spent too much time in the sun wearing baby oil to tan faster. If only I knew better! Lol. I love the light airy lotion. It feels like a serum & I use it under my moisturizer. It's definitely been helping to lighten my brown spots & uneven skin texture & tone. This is the 2nd bottle of which the pump did not work. Frustrating! Luckily I buy more before I run out so I have a working pump. But you may want to look into that. It's lightweight, glides on, absorbs quickly & has a light scent that I like.
Date published: 2017-05-20
Rated

5

out of

5
by
Shari77
from
Awesome results
I had been sick and just let my skin go. I was getting wrinkled and dull skin. I started using Argan Nut Exfoliating cleanser and then over-night leave on peel. I have used for two months now and cannot believe the change in my skin. I am changing my routine to include all Garnier products. They work and are affordable to my limited income.
Date published: 2017-05-02
Rated

2

out of

5
by
Criss
from
Nice features
Can i ask a question?i have a sensitive skin for season i have darkspot any where in my face small and big but i didnt use creAm because im aftaid if its clogged my pores i just want to get rid of my face problems i have small res bum and i usesd sebum cleansing for hypo allergenic and free oil and its dry my skin face and have white heads?can you help me what should i use cream ???
Date published: 2017-03-22
Rated

5

out of

5
by
taytay2167
from
try this product it's amazing
Leaves skin feeling softer and smoother, I would definitely try again and recommend to family and friends.
Date published: 2016-11-25