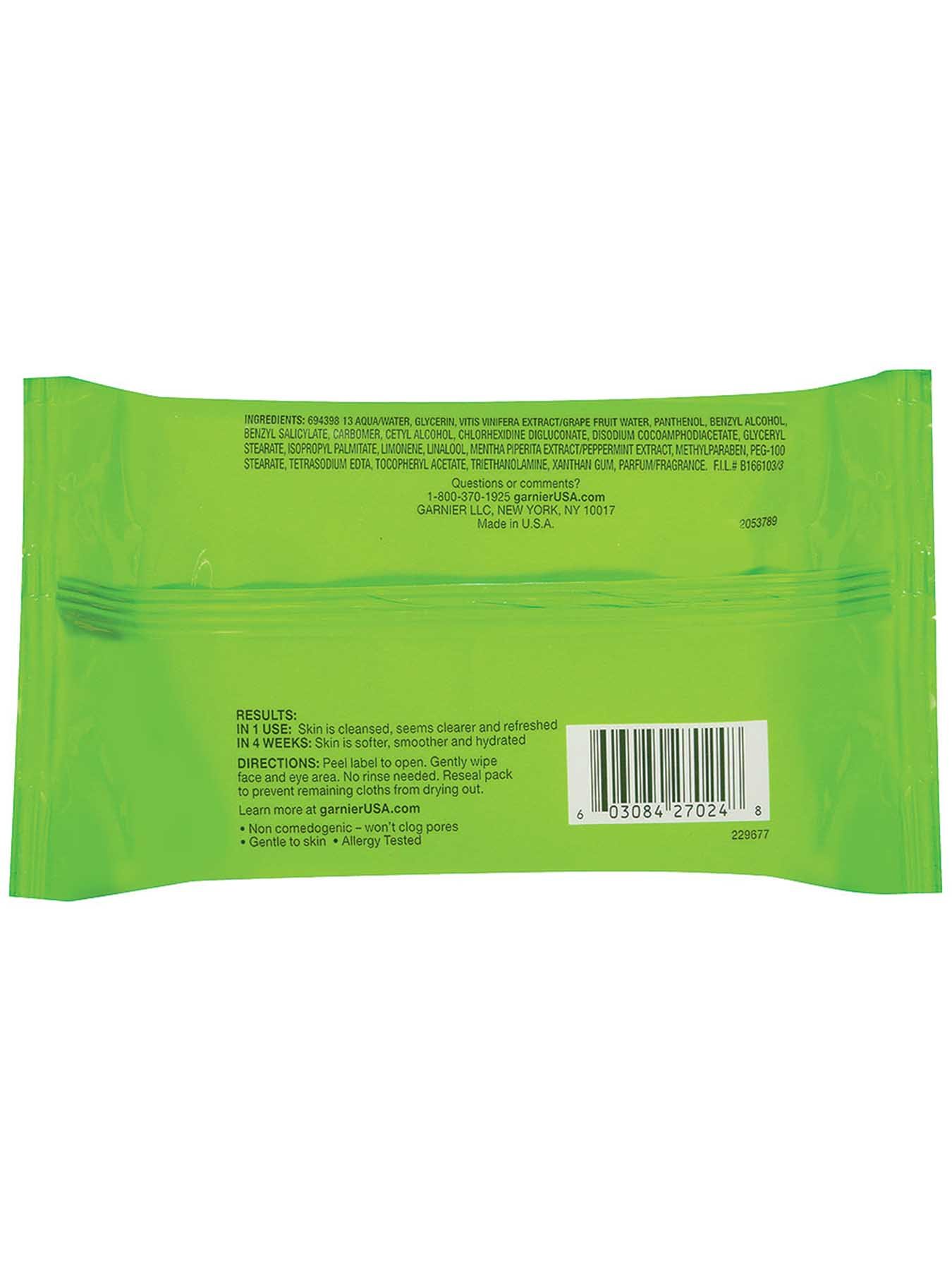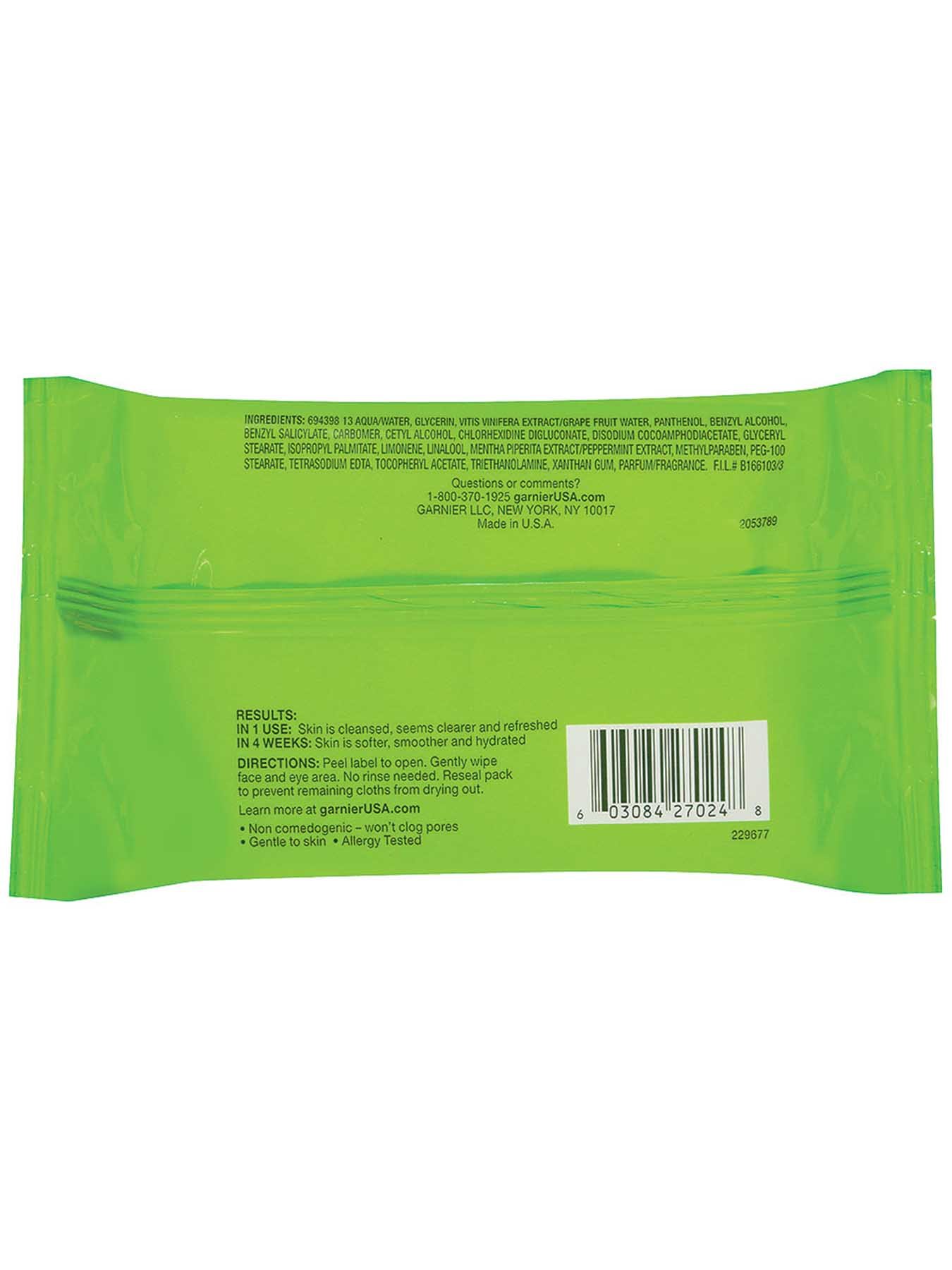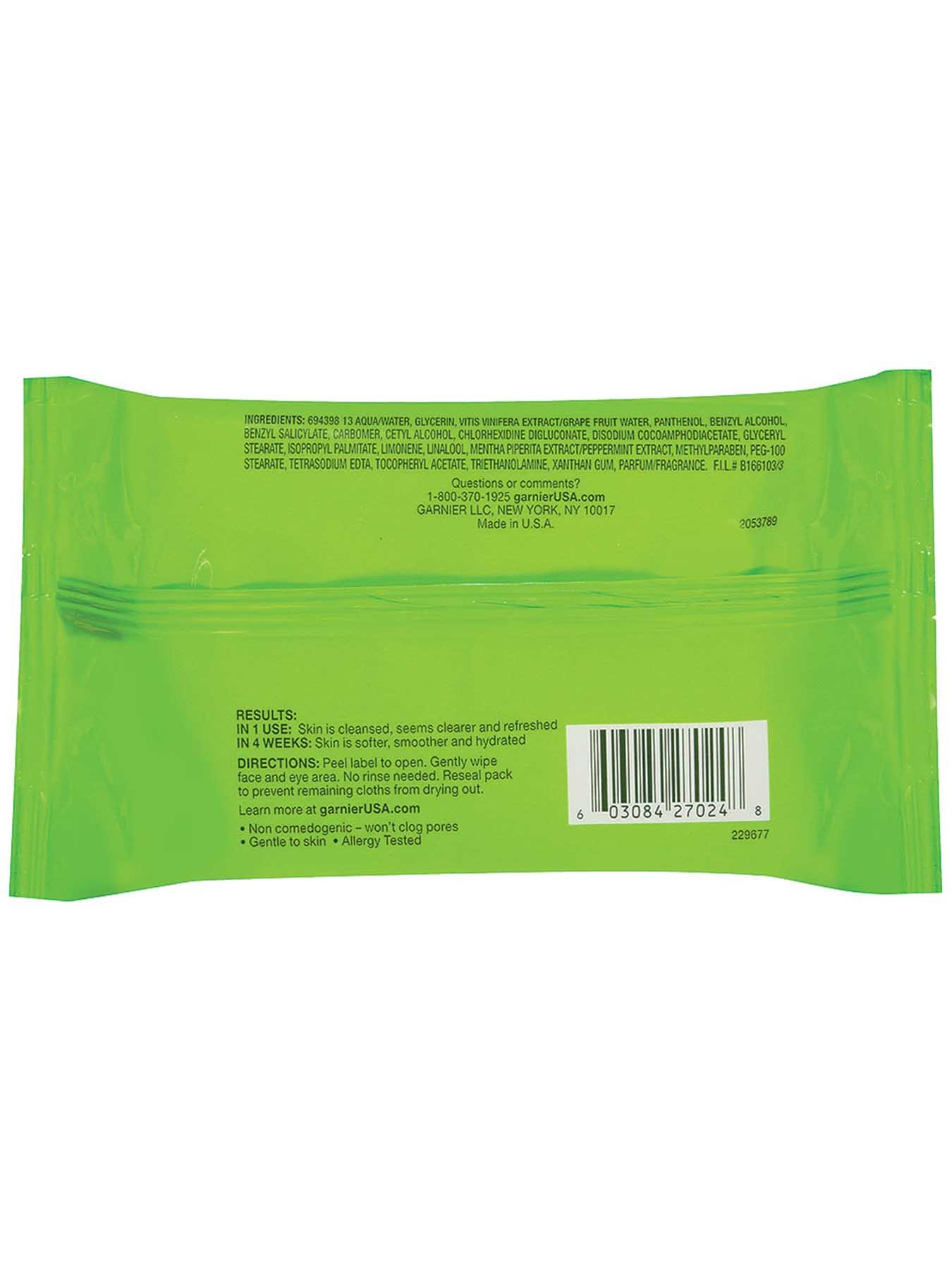 Clean+ Refreshing Remover Cleansing Towelettes
Garnier SkinActive
$5.99 MSRP
Instantly removes impurities and makeup + Revitalizes skin.
PRODUCT INFORMATION:
Normal skin has specific cleansing needs. To look and feel its best, it needs the right clean and specific care. Our soft towelettes effectively removes impurities and makeup in one convenient step. The formula infused with grape water extract instantly revitalizes skin for a health look.
How to use:
Peel label to open. Gently wipe face and eye area. No rinse needed. Reseal pack to prevent remaining cloths from drying out.
Ingredients:
Aqua/Water, Glycerin, Vitis Vinifera/Grape Fruit Extract, Panthenol, Tocopheryl Acetate, Mentha Piperita/Peppermint Leaf Extract, Triethanolamine, Carbomer, Cetyl Alcohol, Disodium Cocoamphodiacetate, Glyceryl Stearate, Peg-100 Stearate, Xanthan Gum, Sodium Chloride, Tetrasodium EDTA, Isopropyl Palmitate, Myristyl Alcohol, Stearyl Alcohol, Chlorhexidine Digluconate, Methylparaben, Parfum/Fragrance, Benzyl Saylsalicylate, Limonene, Linalool.
Peppermint
Peppermint Oil is a go-to ingredient for formulas that purify, soothe, and refresh leaving skin and hair feeling and smelling fresh.
Rated

5

out of

5
by
Justin 86
from
Great for Men Too!
I needed a quick way to clean my face at the end of a long work day. I work construction and by the end of the day I'm usually covered in dirt and grease. I figured dirt and grease are kind of like make-up :)... so I tried this product and I'm very happy I did. Easily wipes my face clean leaving my skin feeling soft and smelling great. The best part is how it cleans and softens my beard. Didn't expect that but me and my Girlfriend love it. I originally got these to be used on the go but now I use them every night. Thanks.
Date published: 2020-01-02
Rated

1

out of

5
by
MRobinB
from
Changed formula?
I'm not sure if the formula has been changed, but I have been using these remover towelettes for quite a long time and loved it, but the package I just bought is different. The smell is completely different and not in a good way. The texture is not the same either. The old formula had a refreshing smell to it. I am not liking this product at all compared to the old formula!
Date published: 2018-11-12
Rated

5

out of

5
by
Betty1284
from
They work!
I'm very happy with these. Unfortunately it's my only current go to skincare atm- the same line wash and exfoliant were duds. I'll definitely continue using these even after I switch skin care
Date published: 2018-10-01
Rated

5

out of

5
by
sochoa
from
LOVE
These towelettes are the only ones that don't irritate my face or contribute to my breakouts (which is a crazy combination/dry/sensitive/acne-prone mess). These inspired me to start using the SkinActive Clean+ Invigorating Daily Face Scrub since I loved this product so much. They leave my face feeling clean, my pores feeling open, and no leftover makeup residue.
Date published: 2018-09-10
Rated

3

out of

5
by
Haybales17
from
Changed the formula??
So I have been using these make up wipes for a while now and I recently bought a new package when I ran out. I guess the formula or wipe has been changed in some way becuase now the wipes are not as soft as they used to be and they have a weird smell. I usually use the wipes on my eyes to remove my eye makeup and now they are a little too rough to do so. Very sad
Date published: 2018-04-15
Rated

4

out of

5
by
2urhealth
from
Quick & Easy Facial Cleansing
Being a busy mom on the go, I needed something that I could easily pop into my bag and take with me. I've tried lots of different products, but was really impressed with #Garnier and their #OilFree Cleansing Towelettes! Best part was I didn't feel all greasy nor did I have burning in my eyes like other products leave you feeling. They were great for just feeling clean after a hike or being out and about with the kids. Even better is how easy it has been to take off makeup on the go; especially eye make up! Spectacular!!! Would love to give a 5 star, but for me I also look for a product that is as natural and chemical free as possible. This one was impressive though.
Date published: 2017-08-31
Rated

4

out of

5
by
mackqc
from
MUST TRY!!!
This is a good product. After one week of using one wipe every morning, my face was well moisturized and I used no lotion or cremes in addition to these wipes. I have sensitive skin and after using the wipes for one week, I didn't have any blemishes or allergic reaction. My skin felt refreshed and clean. I used the wipes to remove my make up and it works as a great make up remover as well! The fragrance is light and heavenly, unlike those chemically smelling wipes. I dislike the packaging because the wipes can dry quickly if not seal properly. These wipes are terrific but I wish the they were a little bigger in size. I really like these wipes.
Date published: 2017-08-30
Rated

5

out of

5
by
beyonexpatations
from
Fresh Clean Feeling
I generally don't use face wipes during the day, but because I have been working out in the heat more and I do wear makeup, at the end of the day it's nice to have these wipes to clean my face off with before I go home and take a shower. They smell good, and they are convenient to carry around in my purse!
Date published: 2017-08-28