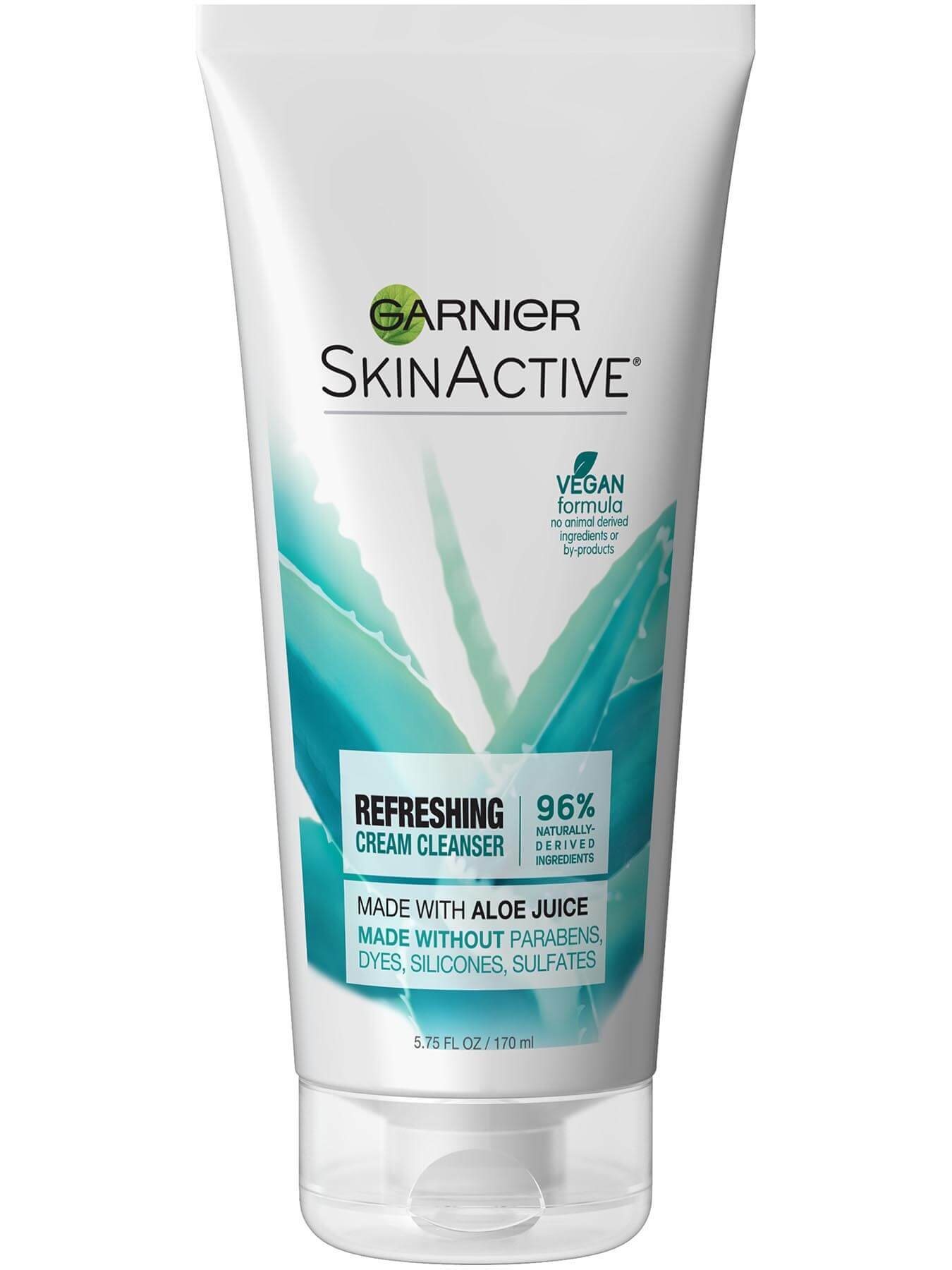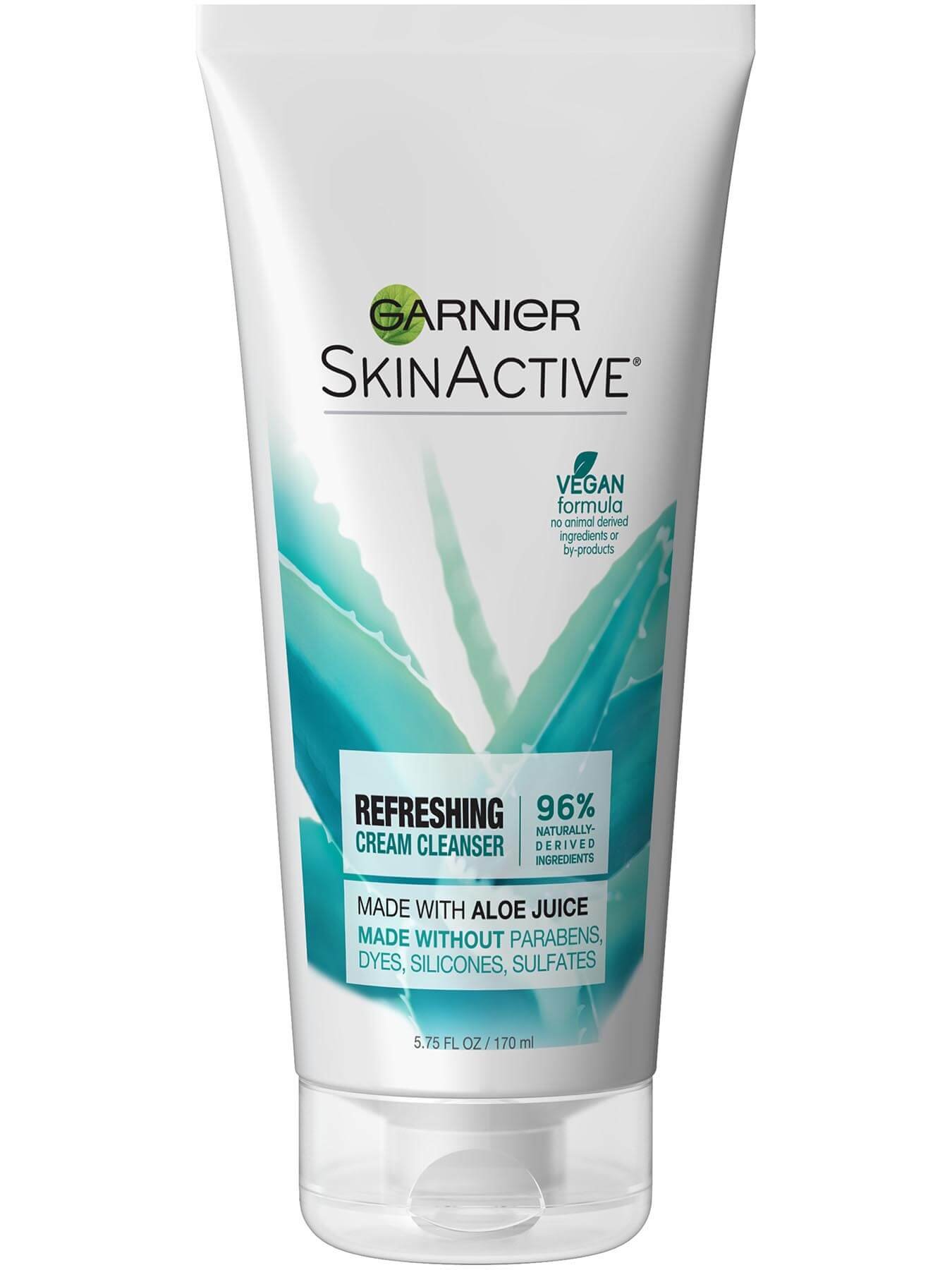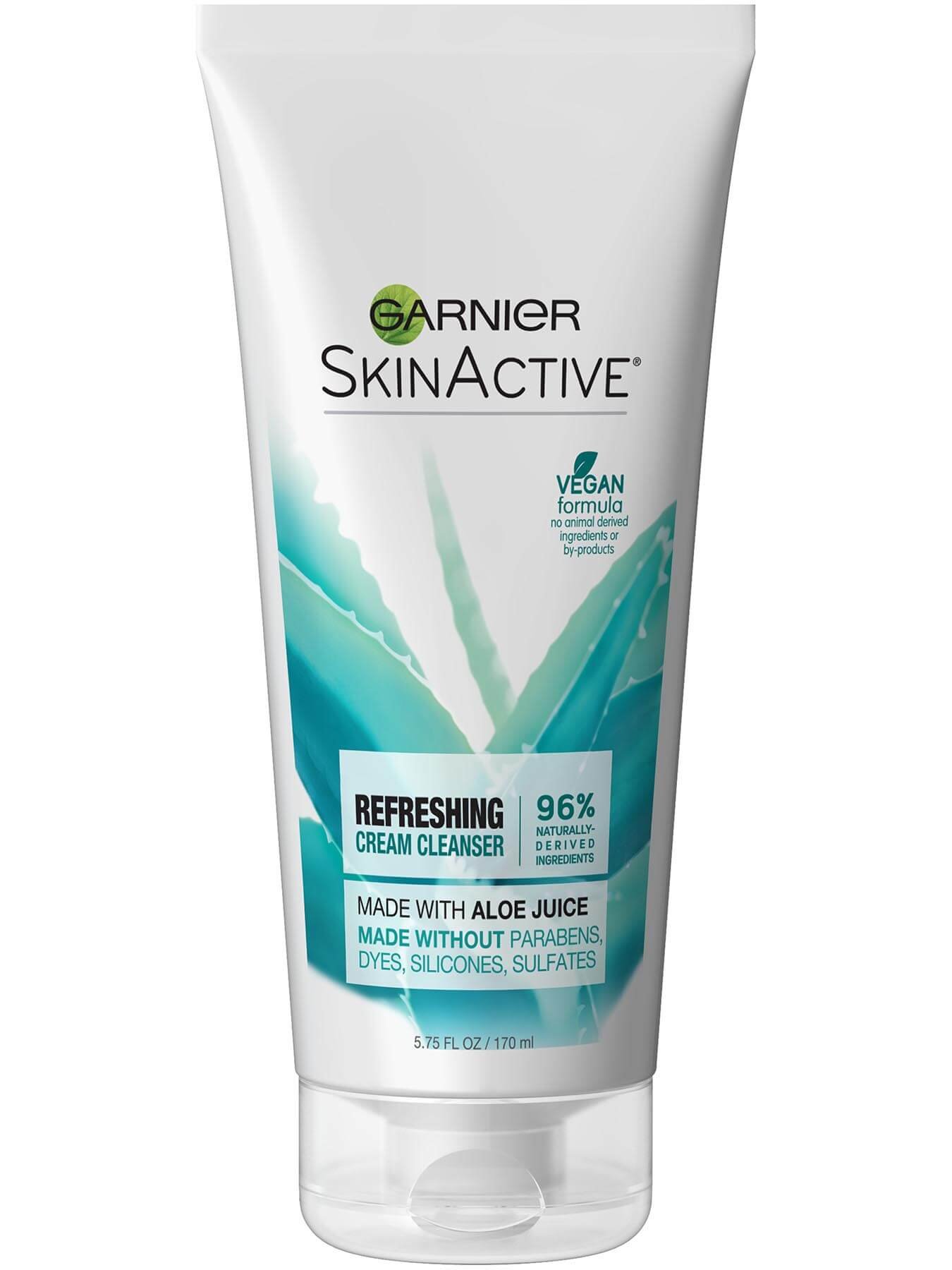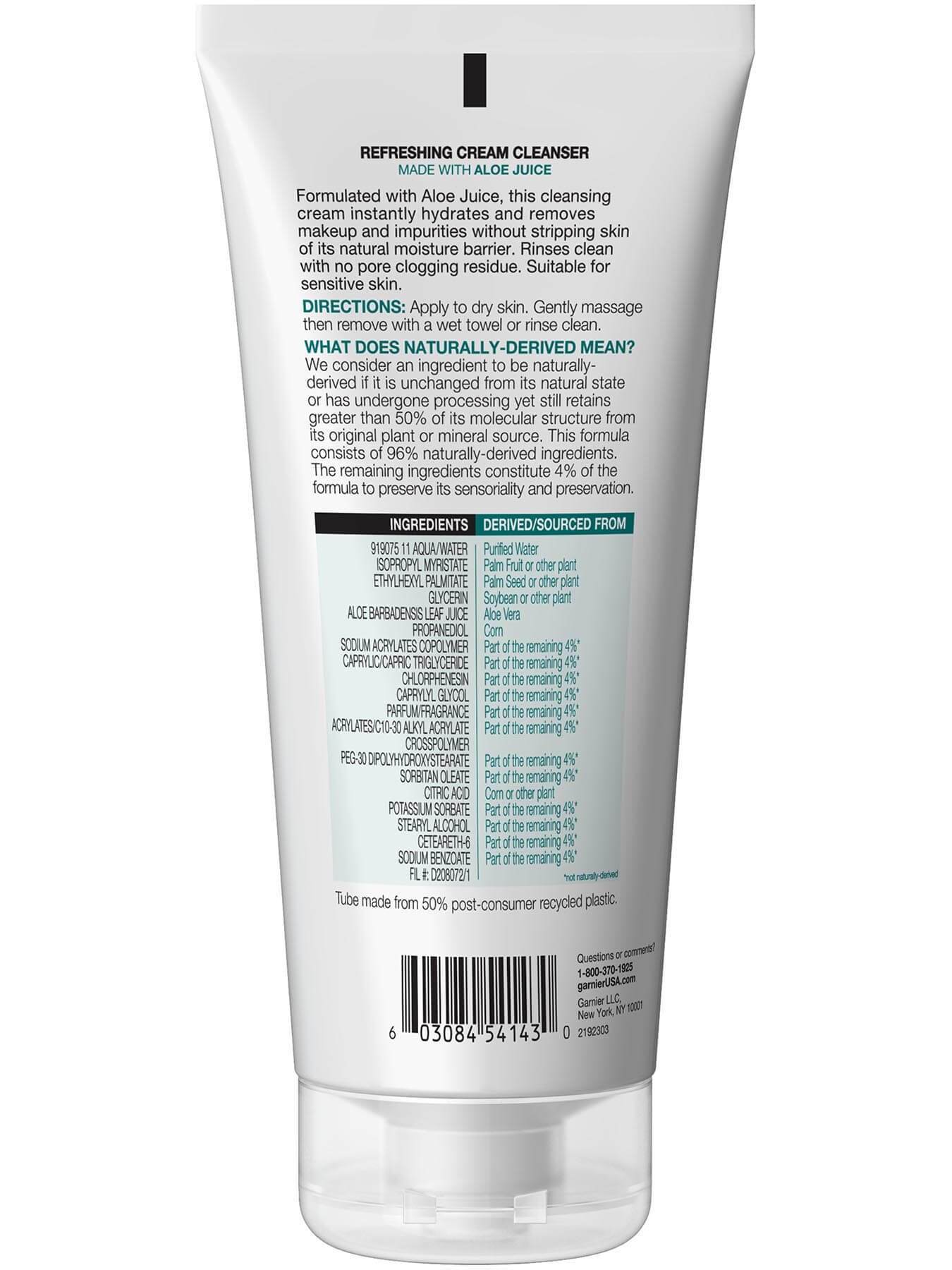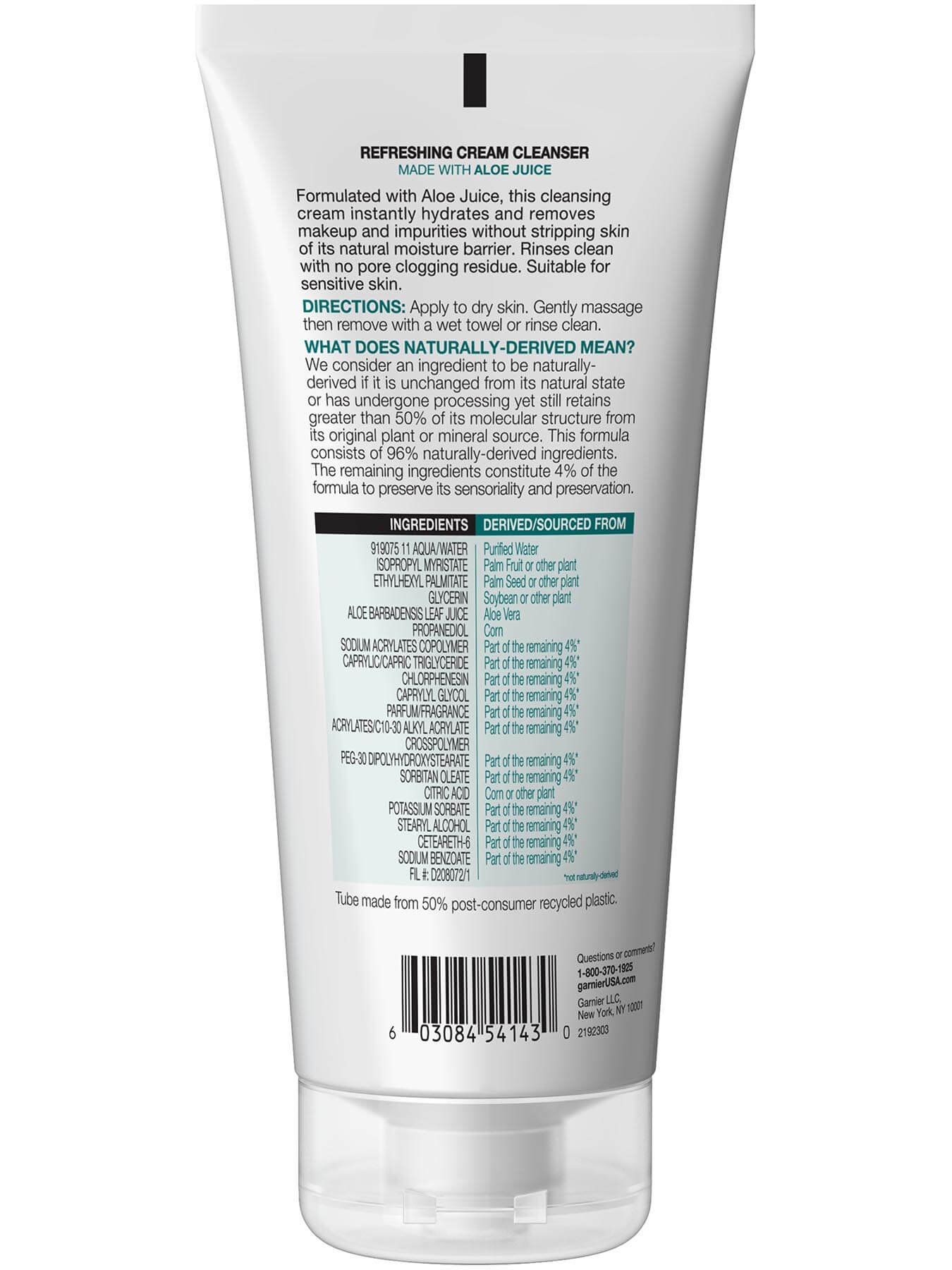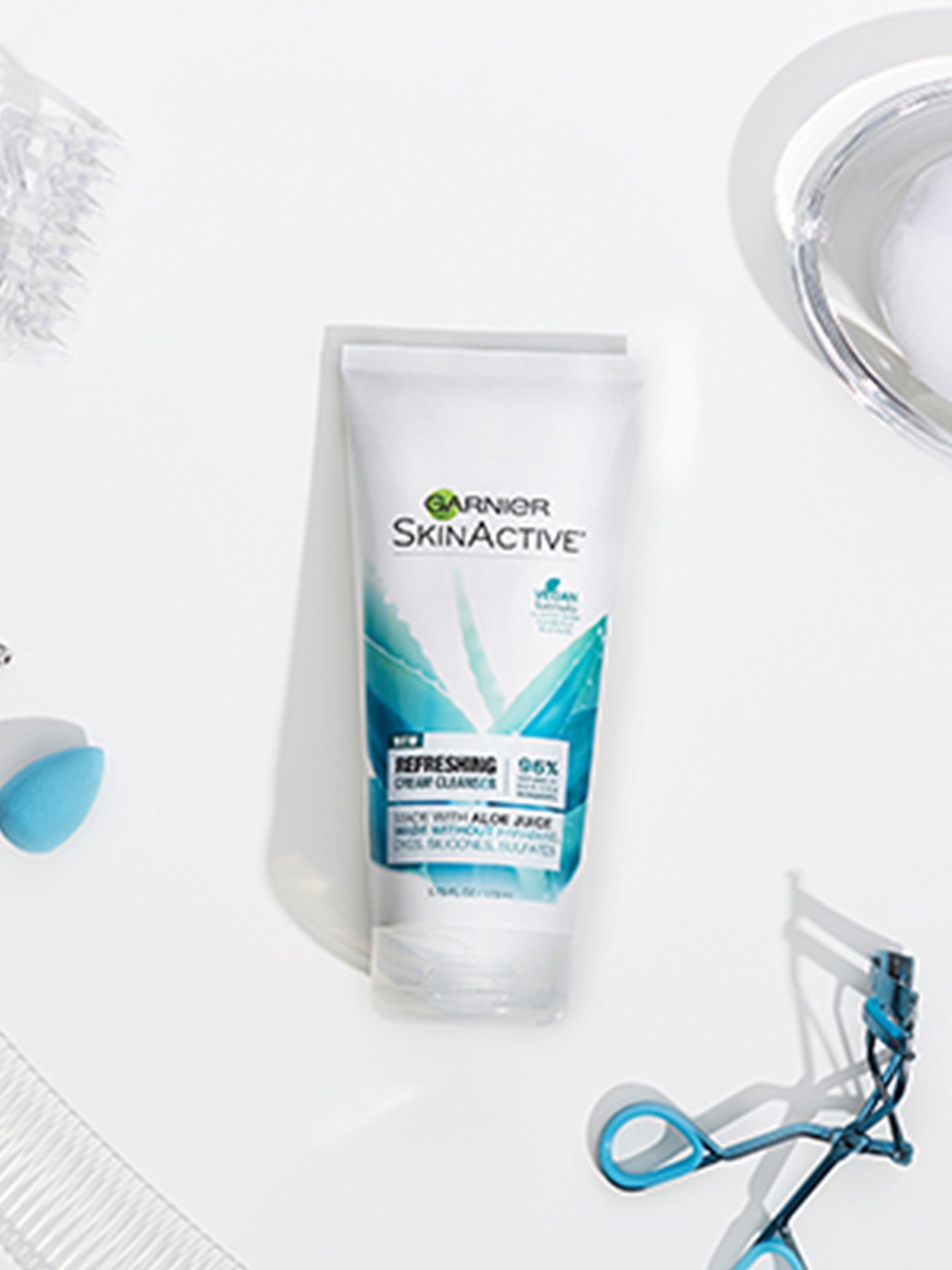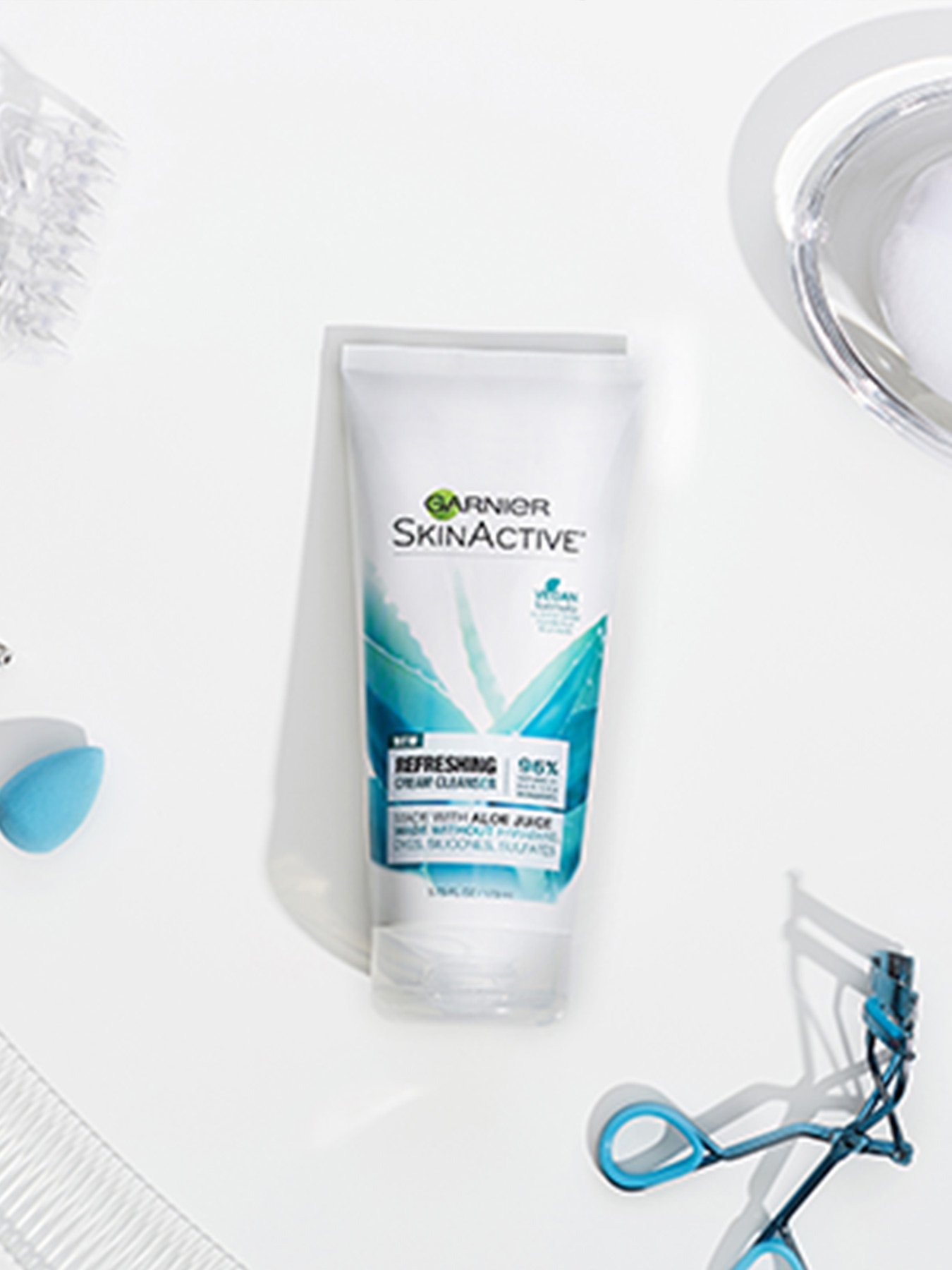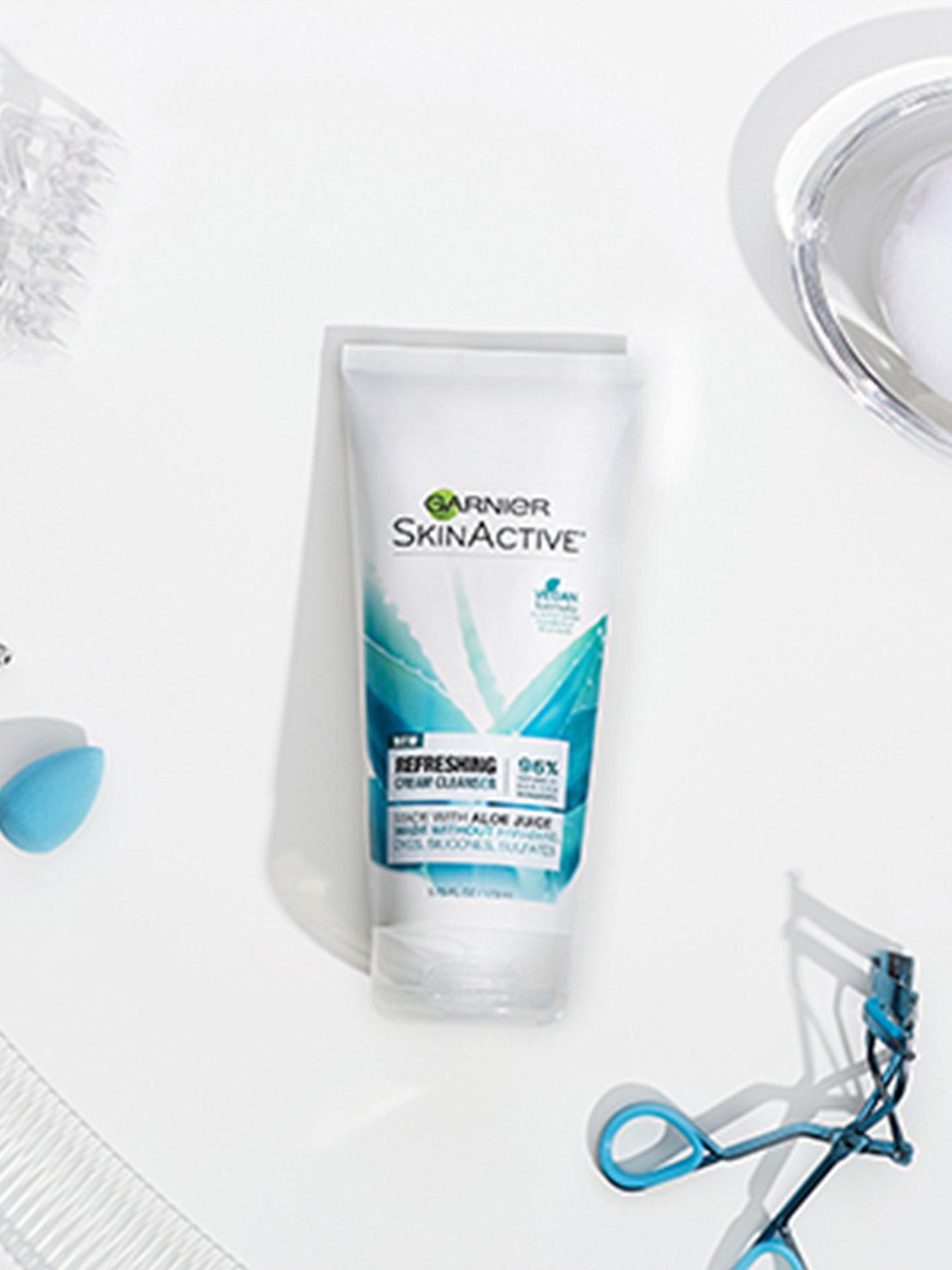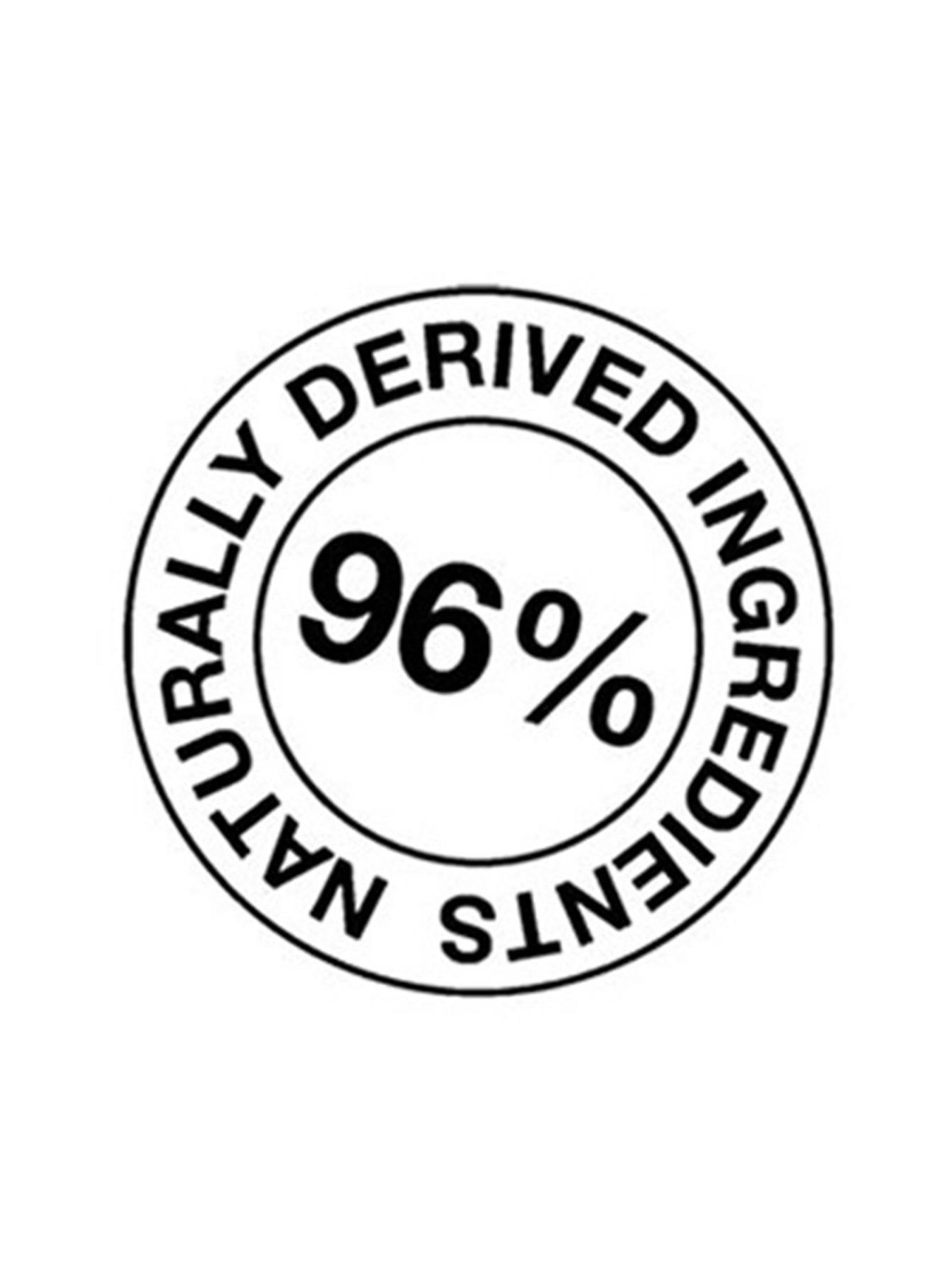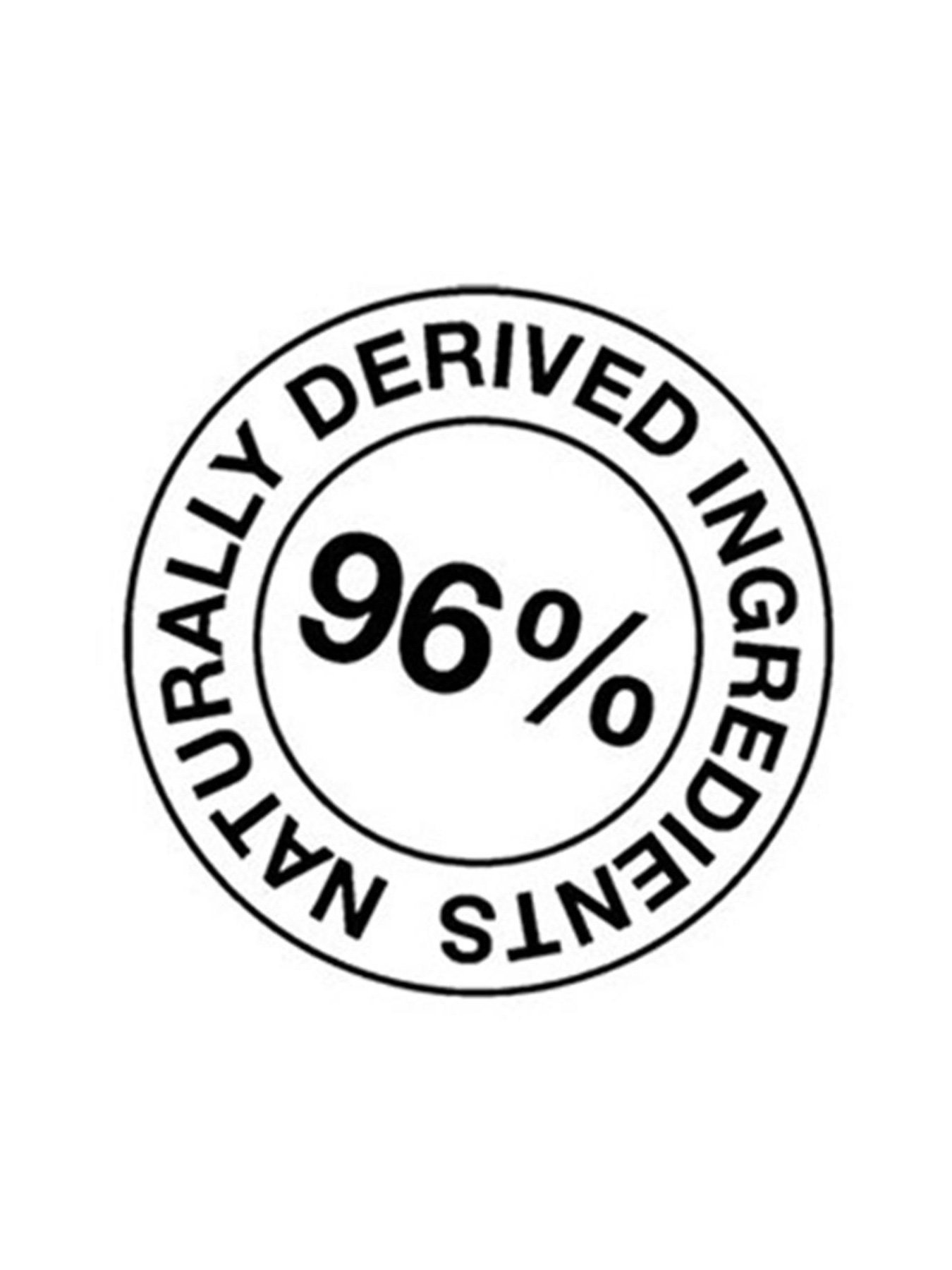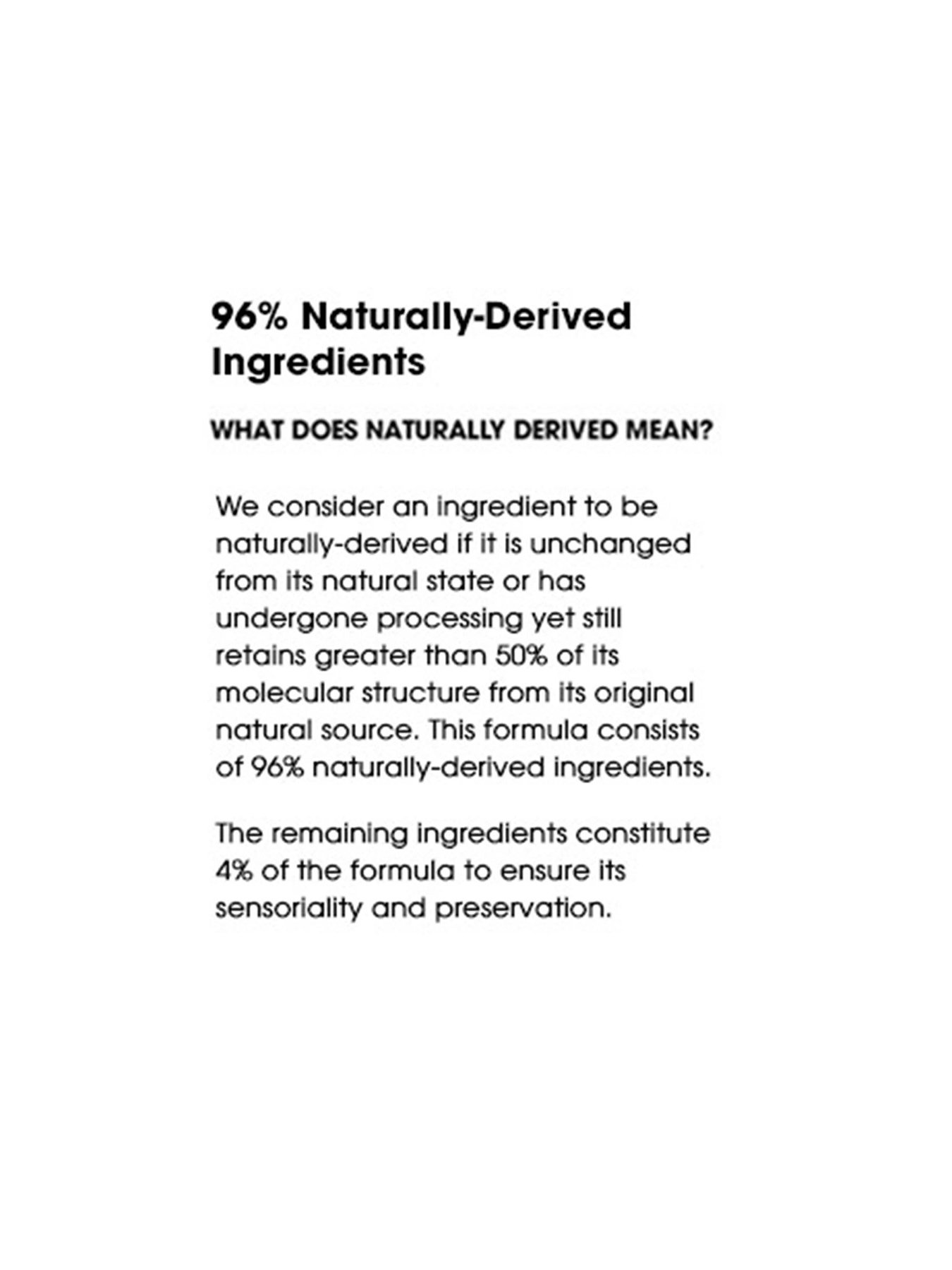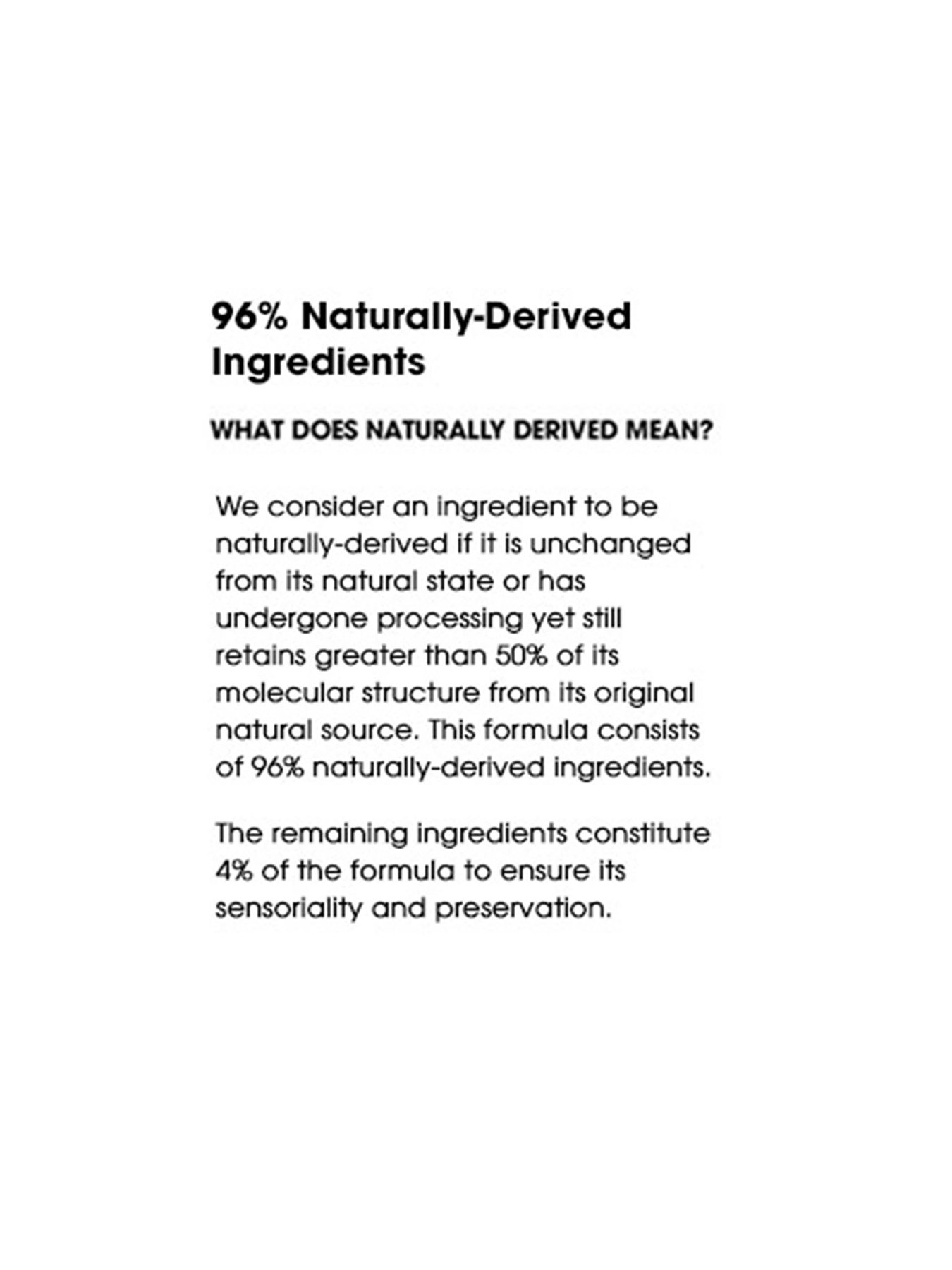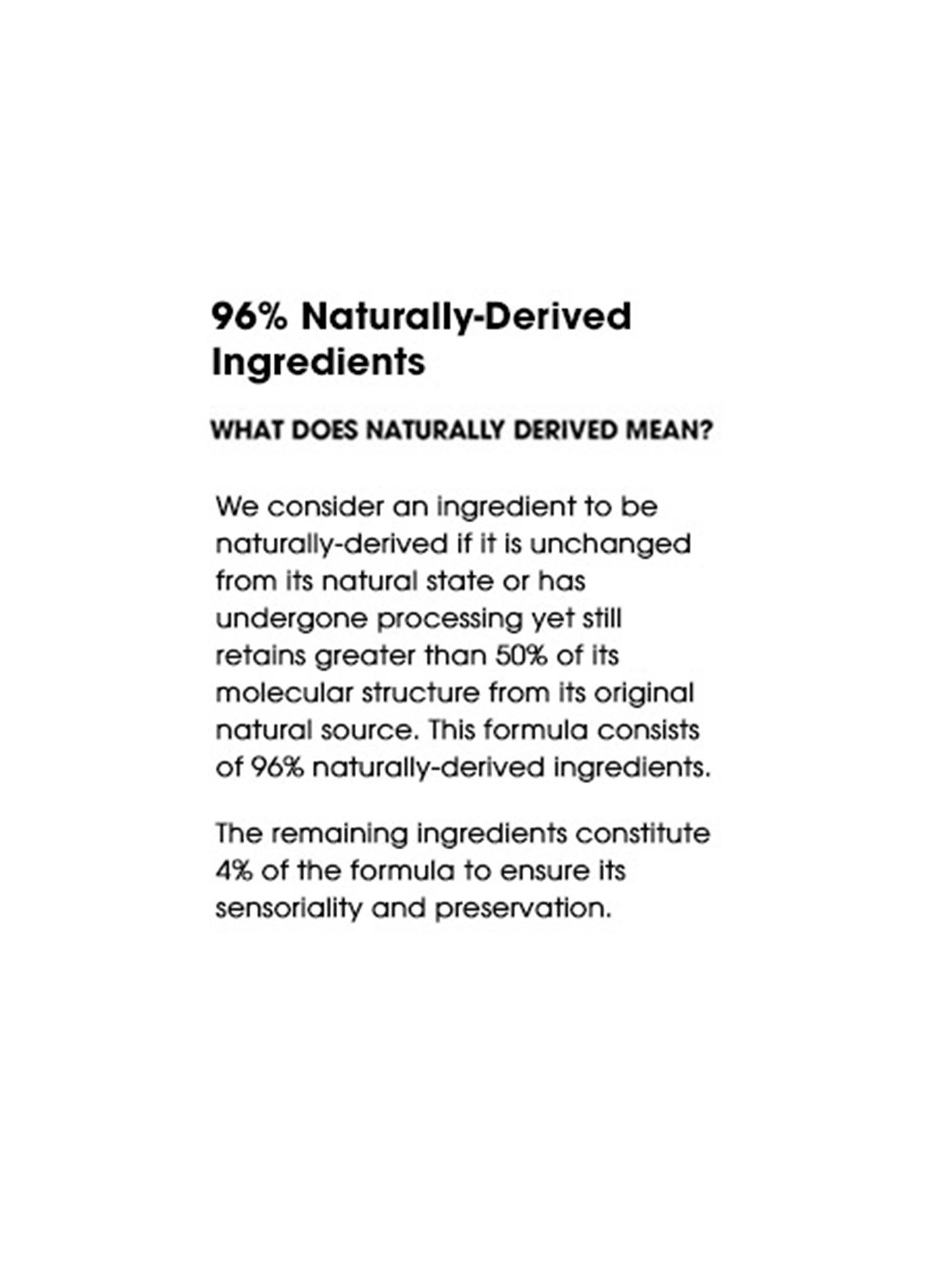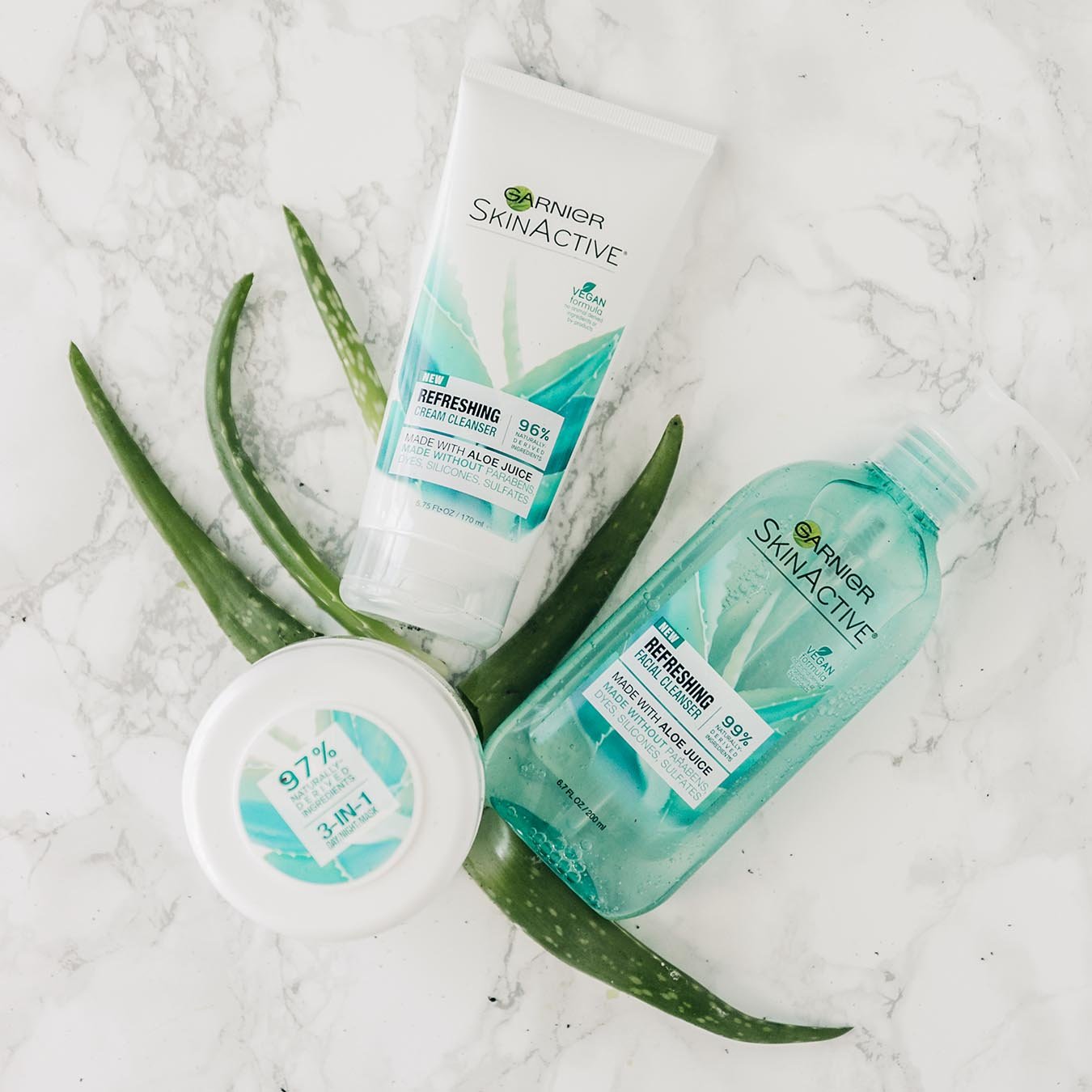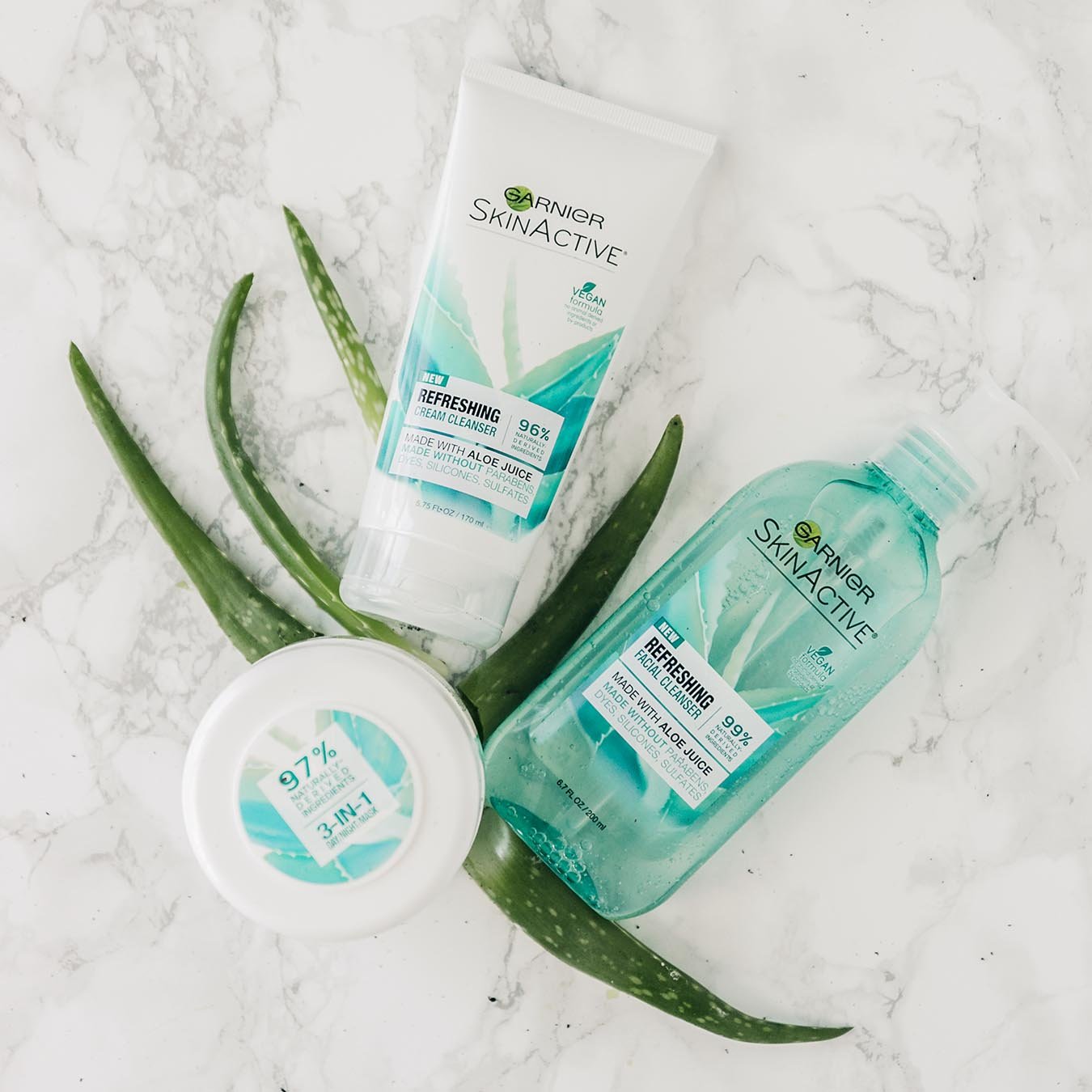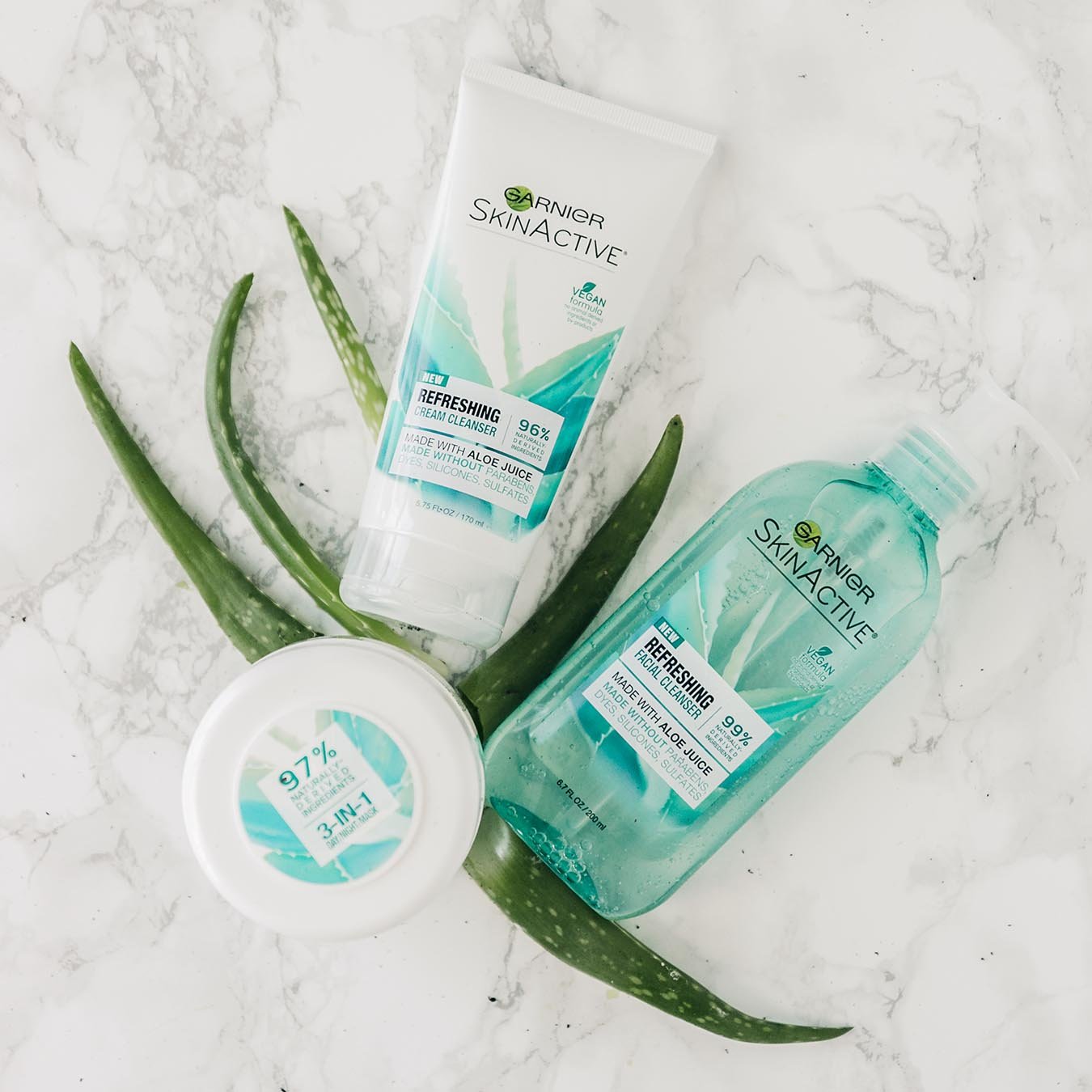 Refreshing Cream Face Wash with Aloe
Garnier SkinActive
$8.99 MSRP
Instantly hydrates and removes makeup and impurities without stripping skin of natural moisture barrier
PRODUCT INFORMATION:
Made with Aloe Juice, this cleansing cream face wash instantly hydrates and removes makeup and impurities without stripping skin of its natural moisture barrier. Rinses clean with no pore clogging residue. Suitable for sensitive skin.
How To Use:
Apply to dry skin. Gently massage then remove with a wet towel or rinse clean.
Ingredients:
919075 11 AQUA/WATER ISOPROPYL MYRISTATE ETHYLHEXYL PALMITATE GLYCERIN ALOE BARBADENSIS LEAF JUICE PROPANEDIOL SODIUM ACRYLATES COPOLYMER CAPRYLIC/CAPRIC TRIGLYCERIDE CHLORPHENESIN CAPRYLYL GLYCOL PARFUM/FRAGRANCE ACRYLATES/C10-30 ALKYL ACRYLATE CROSSPOLYMER PEG-30 DIPOLYHYDROXYSTEARATE SORBITAN OLEATE CITRIC ACID POTASSIUM SORBATE STEARYL ALCOHOL CETEARETH-6 SODIUM BENZOATE FIL #: D208072/1
Garnier SkinActive Recognized for Sustainability Efforts with Cradle to Cradle Certification
The international organization Cradle to Cradle has awarded 5 Garnier 96% Naturally-Derived skincare products with a Silver Certification, confirming these sustainably-produced products are a positive force for society and the environment. From sustainable ingredients to the production process and packaging, boost your beauty routine with products that promote renewable resources and social fairness.

Garnier's commitment to beauty responsibly: good for you, good for the planet.
Aloe
Rich in Vitamins A, B, C, and E, Aloe's hydrating properties make it a popular ingredient in skin care formulas that help to soothe and moisturize, and hair products that promote healthy shine.
Related Products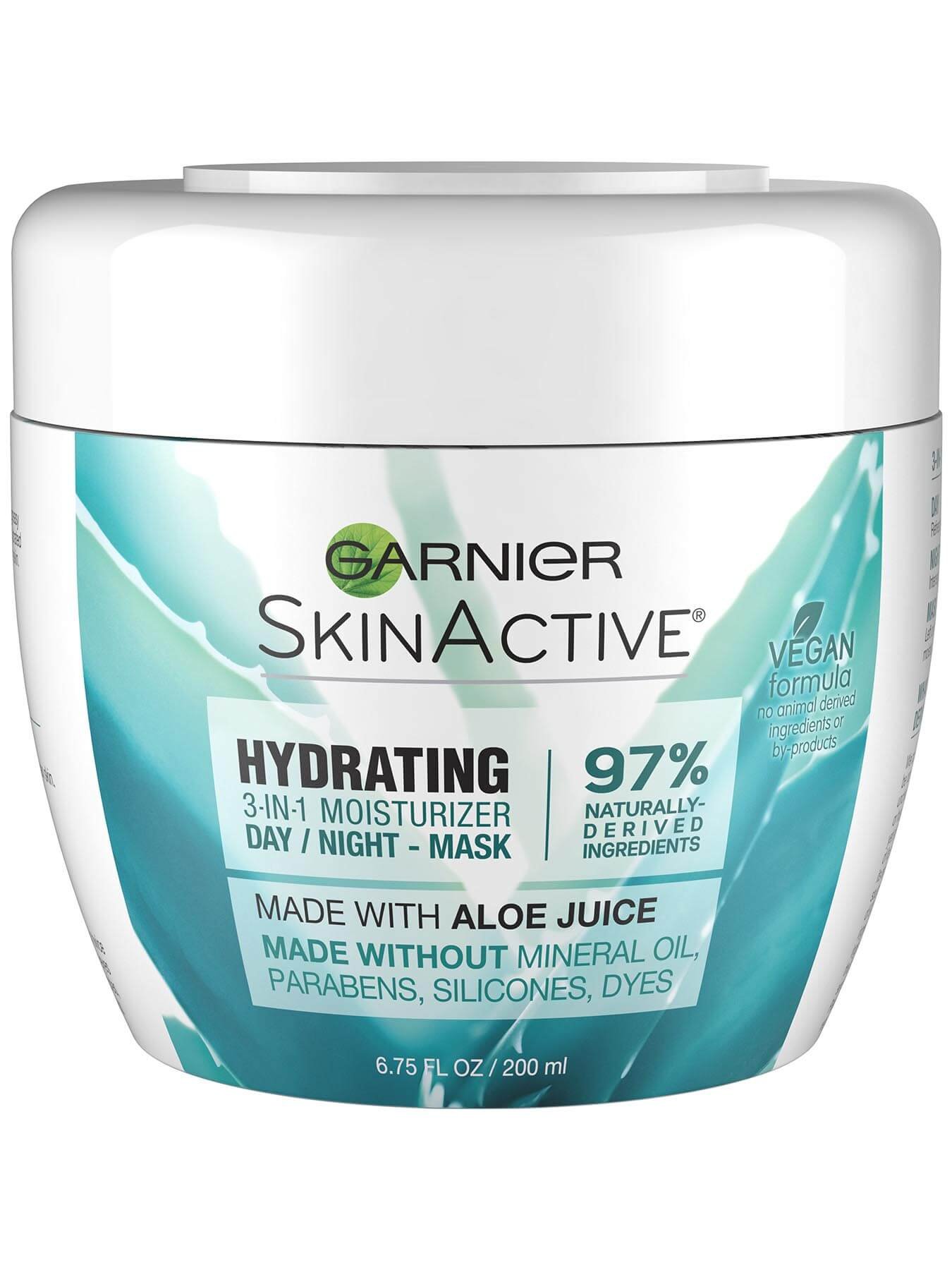 Garnier SkinActive
Hydrating 3-in-1 Face Moisturizer with Aloe
3-in-1 Moisturizer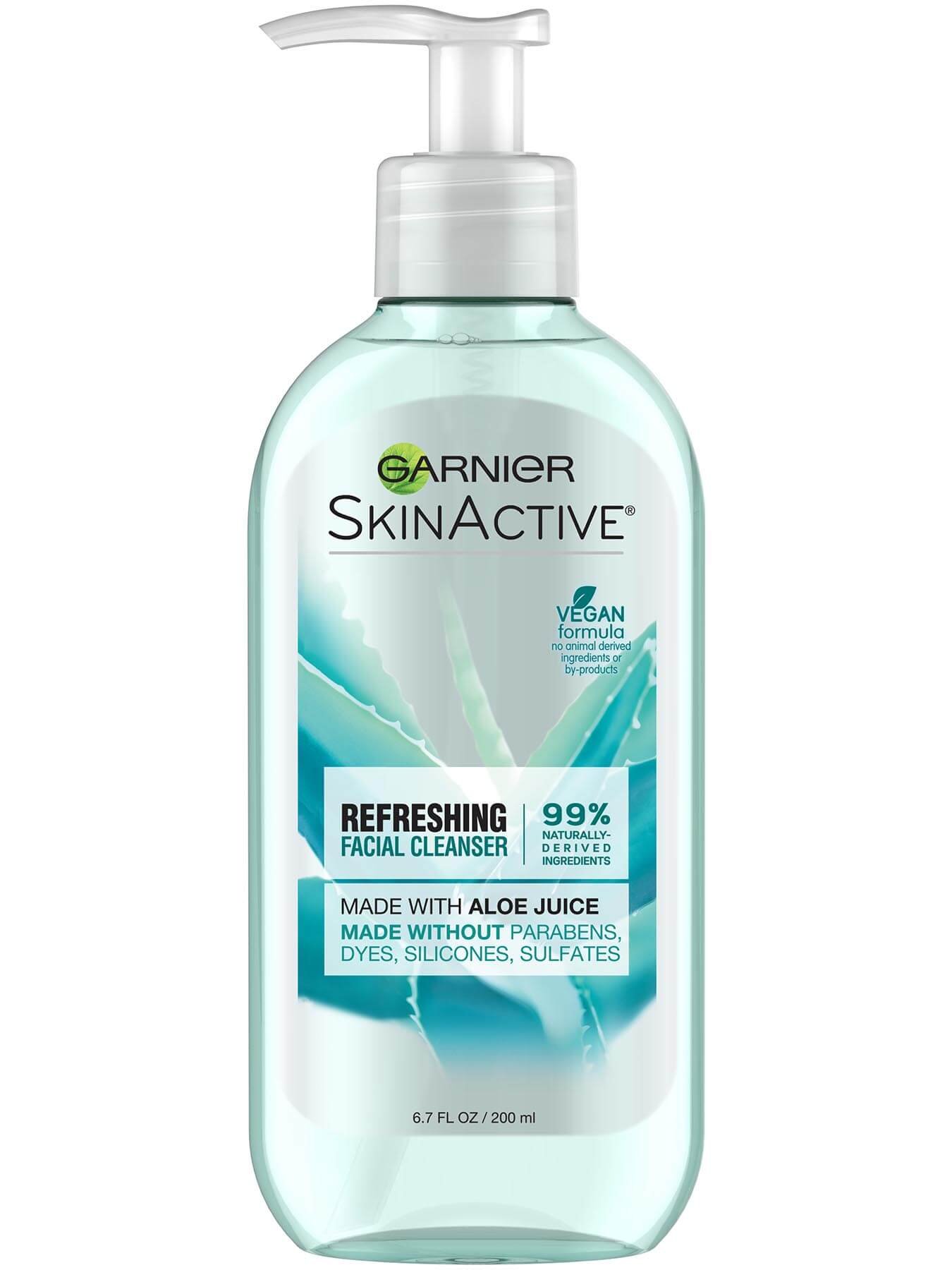 Garnier SkinActive
Refreshing Facial Wash with Aloe
Refreshing gel cleanser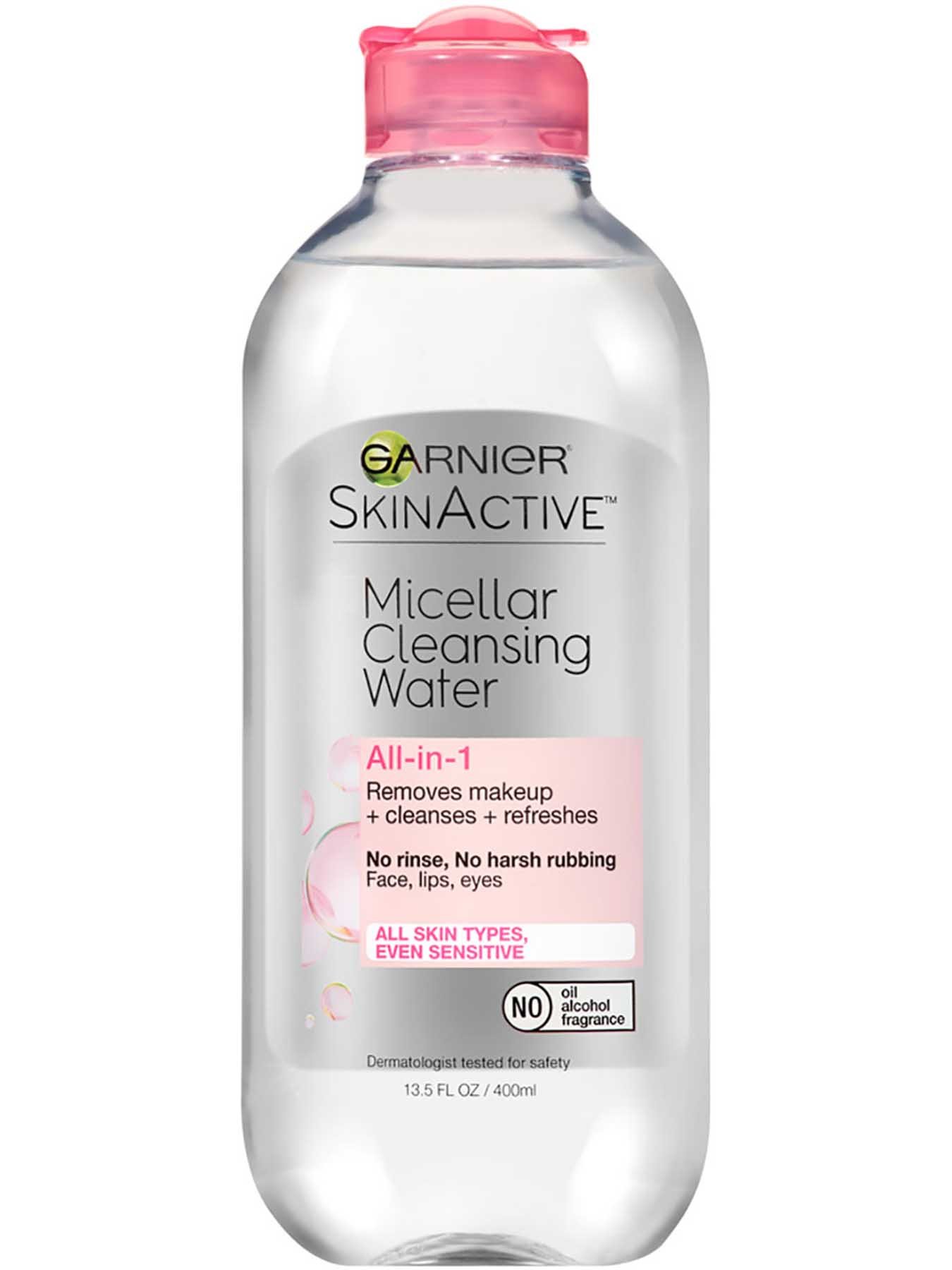 Garnier SkinActive
Micellar Cleansing Water All-in-1
All Skin Types, Even Sensitive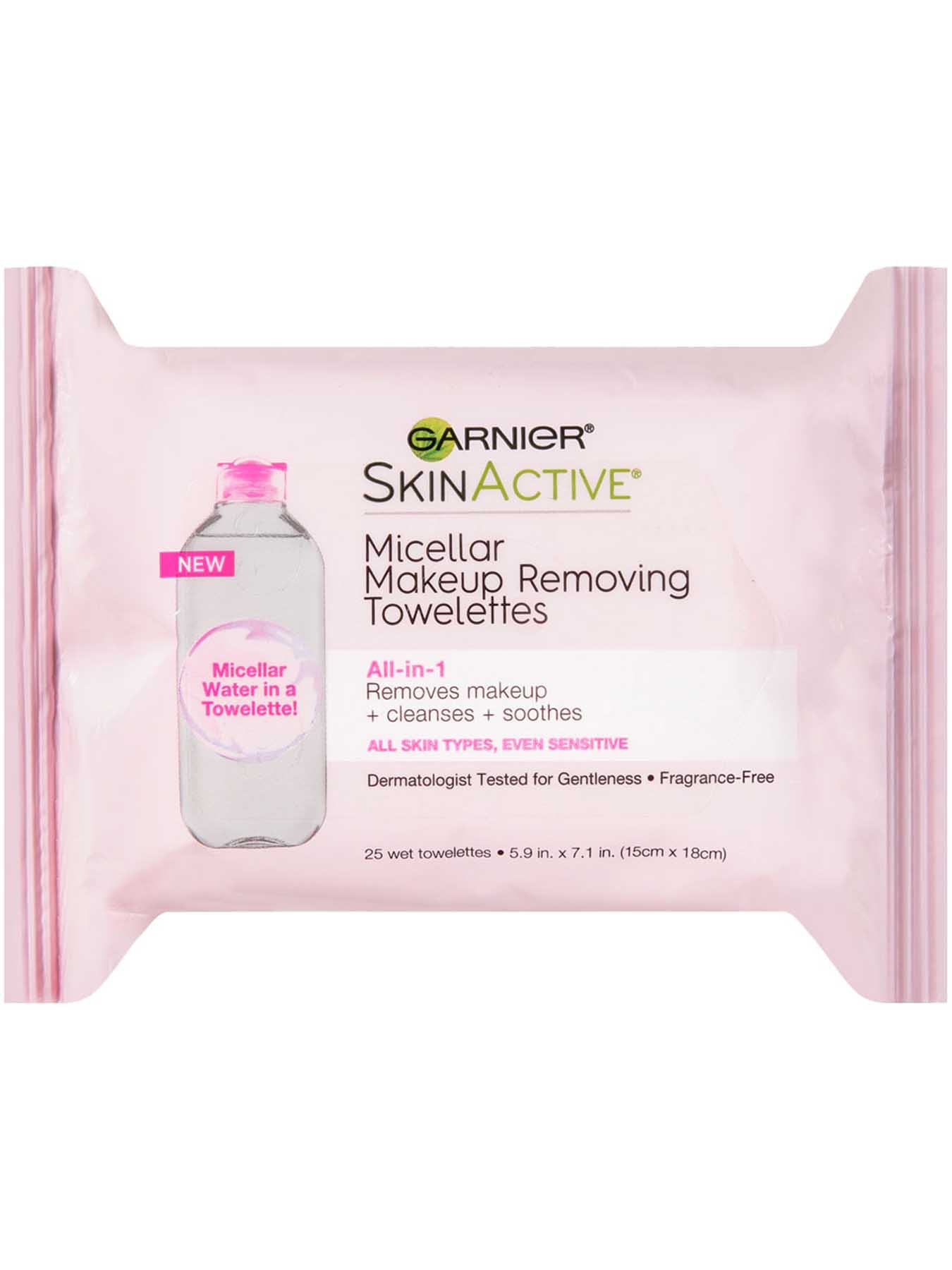 Garnier SkinActive
Micellar Makeup Removing Towelettes
All Skin Types, Even Sensitive
Rated

5

out of

5
by
Anonymous
from
Awesome.
I love this cleanser and I am wondering why I can't find it in the store anymore. It made my skin feel so fresh without drying it out. I barely even had to wear moisturizer after using it. It removed most of my makeup pretty well, and I don't mind having to use some makeup remover or coconut oil in combination. My only small complaint is that the cap is really hard to open sometimes.
Date published: 2020-09-08
Rated

3

out of

5
by
Barbie J
from
Feels good!
I have been using this for about 2 months. Like how it cleans my skin and it smells great. I am unhappy with it as a makeup remover. It does not take the mascara off. So then I have to go to step 2 and use real makeup remover. It is very hard to open the tube. I have to use a wash rag and pry it open. I have never been able to open it with my bare hands and I consider myself strong.
Date published: 2019-02-21
Rated

1

out of

5
by
Cait87
from
Gave me hives
I've been using this for a week bc I ran out o my other cleanser and have noticed wayyy more breakouts than normal. This morning I woke up with hives all over my cheek.
Date published: 2019-01-16
Rated

1

out of

5
by
Sarahk95
from
So greasy
Cleanser had no lather or cleansing properties. Left a greasy film on my face that I had to use 2 rounds of a different cleanser to get off. Awful! And usually I love Garnier....
Date published: 2018-11-02
Rated

4

out of

5
by
CrystalCrowder
from
Not Wowed, Not Disappointed
I used it solely as a cleanser, as I do not wear makeup. It left me feeling clean after use, but seemed hard to get the residue off my face.
Date published: 2017-10-26
Rated

5

out of

5
by
Snowjay27
from
Amazing Cleanser!!
This is one of the best facial cleansers I have used yet. I've been using it for about 2 weeks now and I cannot stop raving about it. It breaks down and removes my all of my makeup, including my waterproof foundation and any eye products I've used for the day. I usually have to use a separate cleanser for my eyes because my skin is so sensitive. I wear contacts and am very careful about the products I use around my eyes. I was extremely surprised that I had no irritation and it didn't leave a film on my contacts like other cleansers do. I am amazed I can use it so safely on my eyes. I love the fact that it is a vegan formula and made without parabens, silicones or sulfates. It is extremely refreshing on the skin as soon as I apply it. It is thick and creamy like lotion. One of my favorite things about this product is that I apply it to dry skin and I don't have to wet my face before using it. When I'm done cleansing my face I rinse everything off and then wipe it dry with the towel. After washing my face I do feel a slight oily texture to my skin and on my hands but after wiping it with the towel my skin feels clean, refreshed and extremely hydrated. It is made with aloe juice which is always great for the skin. I highly, highly recommend this cleanser. I will be purchasing it again and again!
Date published: 2017-10-26
Rated

5

out of

5
by
NeaWhitley
from
My faces feels so clean!
I have been using this in the morning and at night. When I use it in the morning it provides hydrogen and my skin is so soft all day! Makes my skin look so vibrant. Then at night I use it to remove the makeup I applied in the morning and to clean away dirt and buildup. It makes taking makeup off sooo easy and again makes my skin look so healthy!
Date published: 2017-10-26
Rated

4

out of

5
by
Limdollaz03
from
Garnier Skin Active
So I have been using this Garnier Skin Active Face wash for almost a month now and overall it is a nice face wash but will not be my go to wash. It is different from anything I've ever used. Here's my verdict: Pros: 1. Very moisturizing, so if you have really dry skin you may love this cleanser. 2. I love that the ingredients are clearly listed on the packaging in a way that makes it easy for health/skin conscious consumers to see what they are putting on their skin and easily look it up if they don't know what it is. It's like they have no secrets and that's a welcome change for a skin care products. 3. Most of the ingredients are great for maintaining or achieving healthy skin. 4. It did not aggravate my acne or cause any more breakouts! 5. I saved money on moisturizers because my skin always felt like I had lotion on after I used the cleanser. Cons: 1. Takes time to get used to applying the cleanser to dry skin. 2. For me it actually started to feel like I wasn't washing my face at all, like I wasn't really getting clean..just applying lotion to my face. 3. I tried it with my face brush and I still did not feel clean, it left me still wanting to wash my face again. 4. I would not recommend for oily skin. I have combo dry/ oily very acne prone sensitive skin and the oily parts of my face (in the T zone) were the parts that felt most unclean.
Date published: 2017-10-26