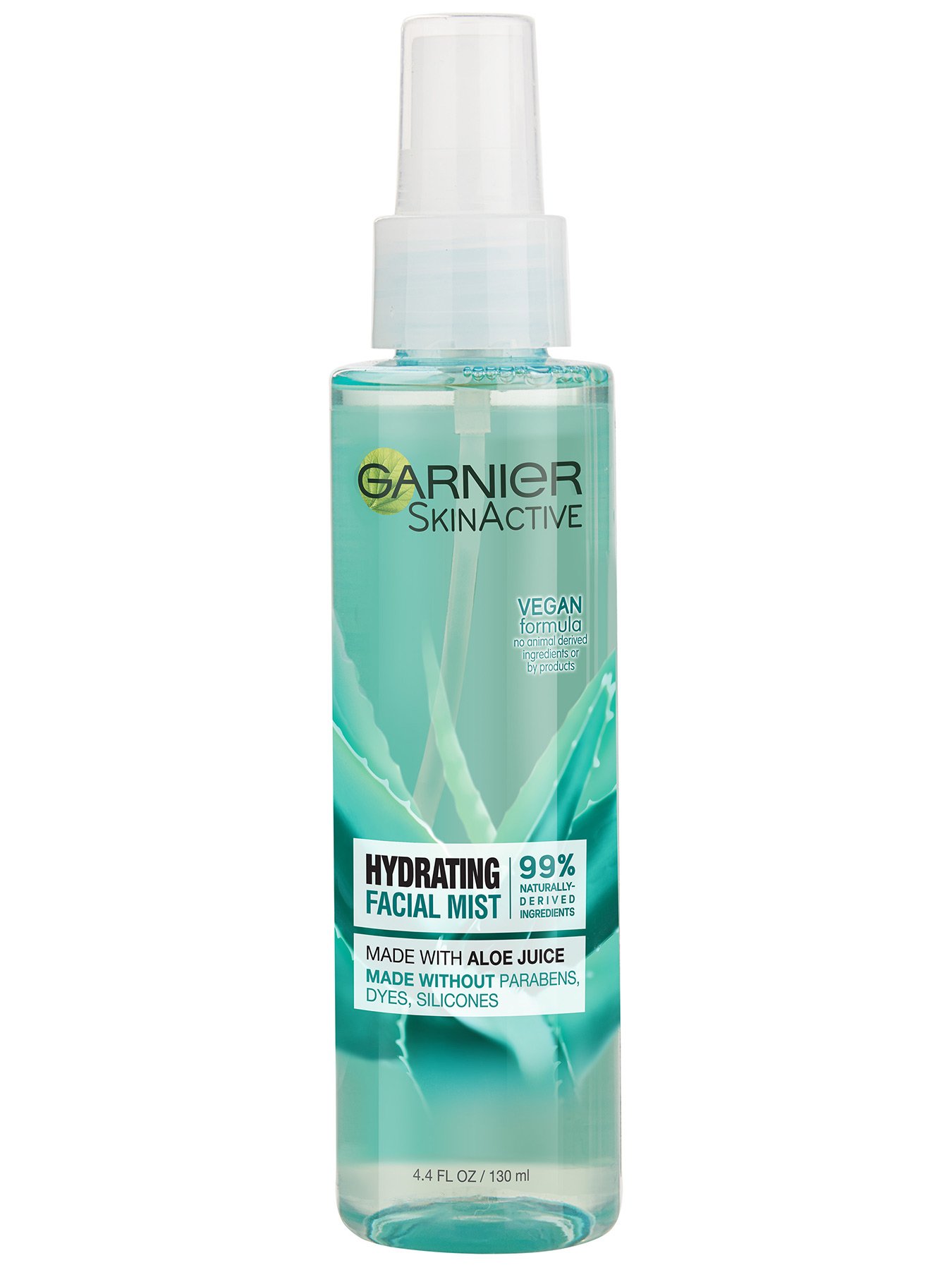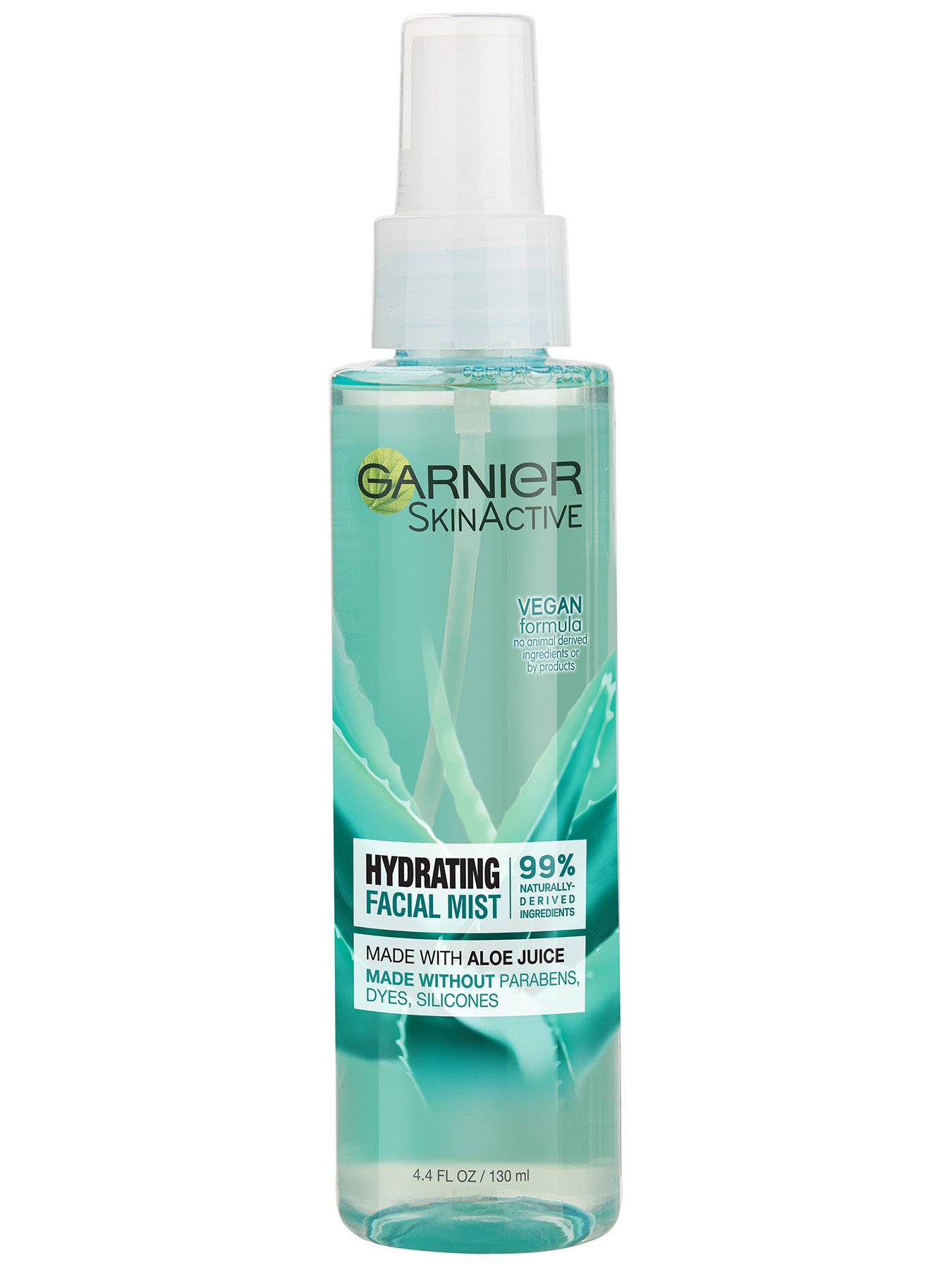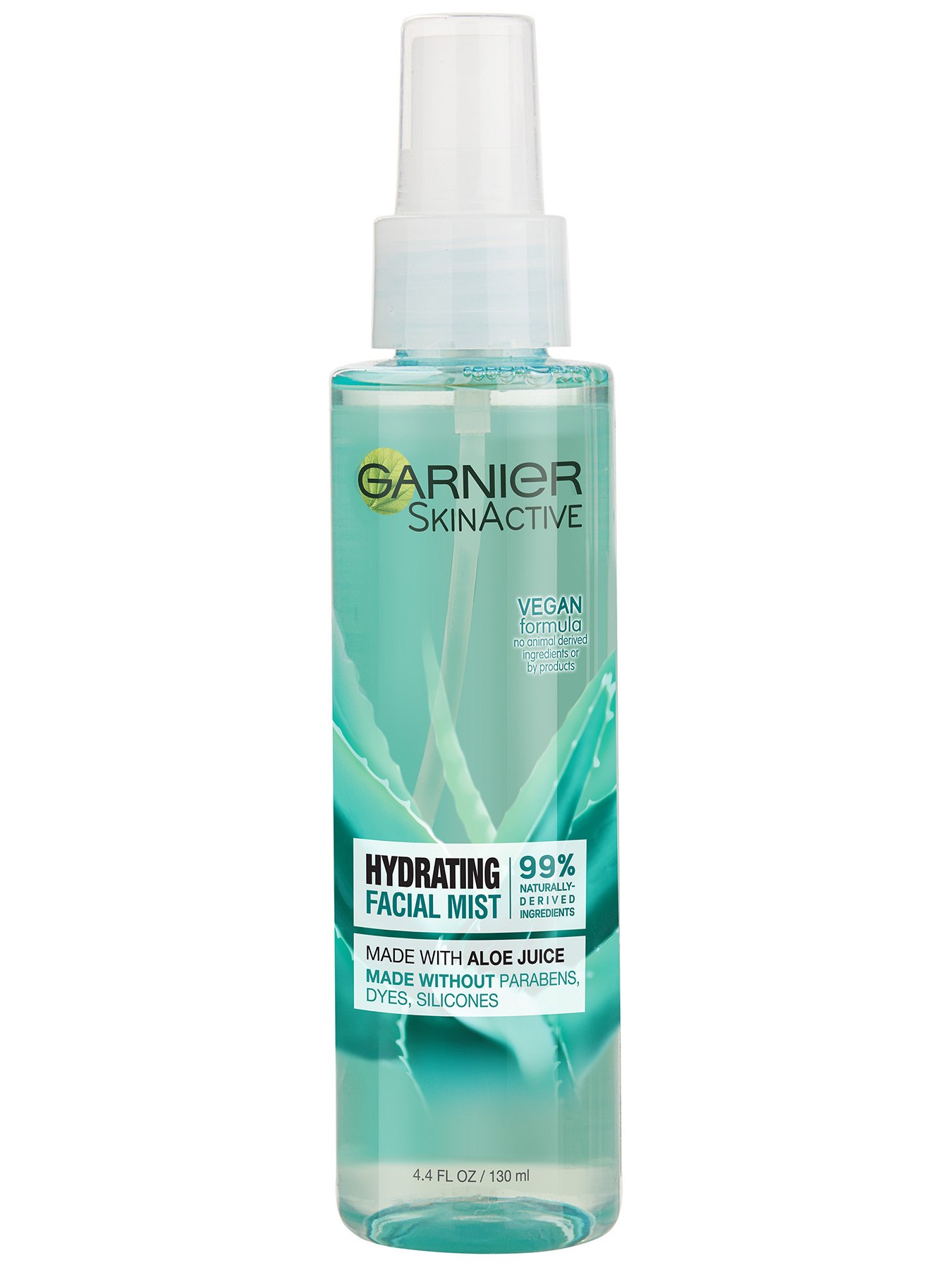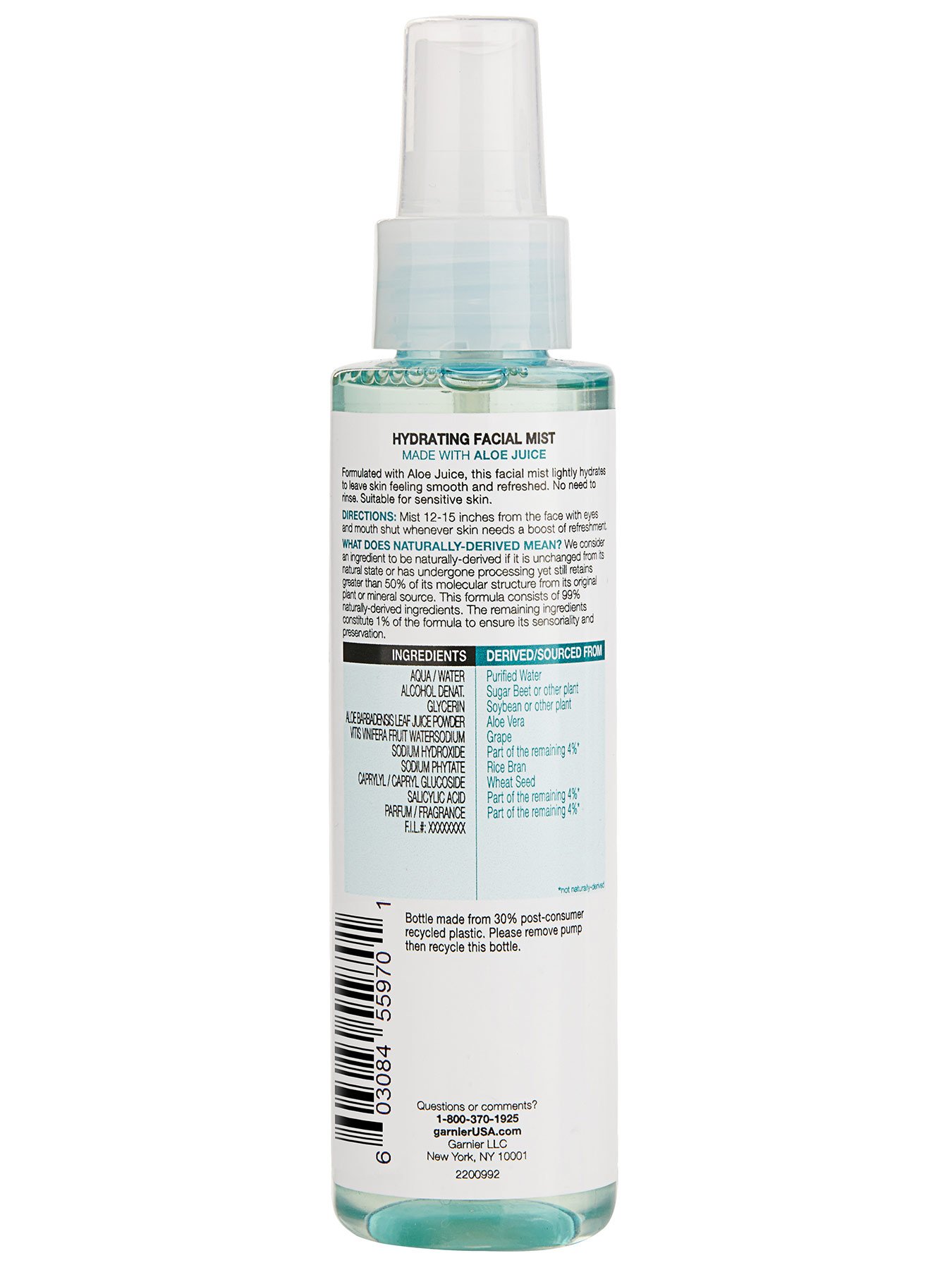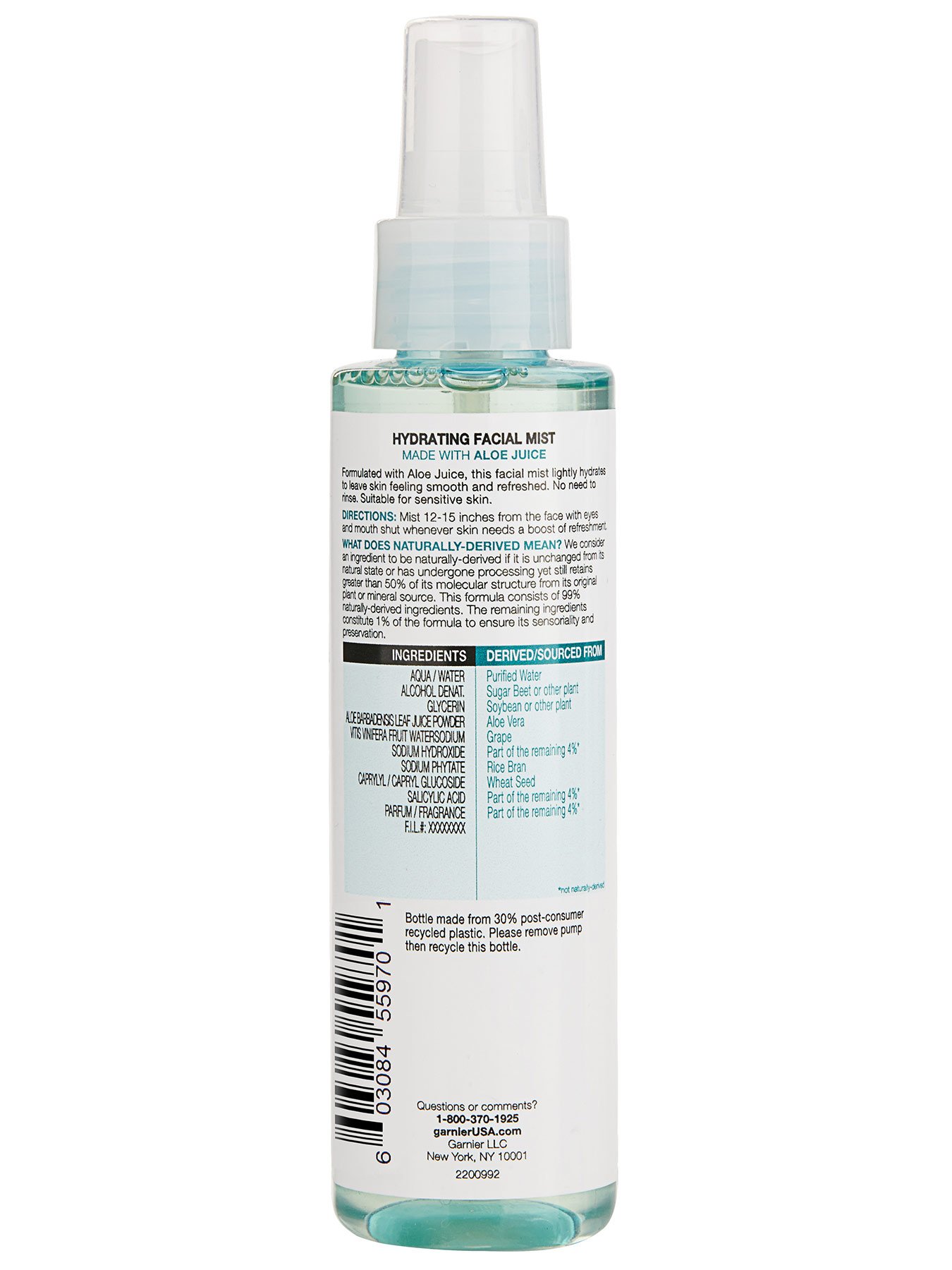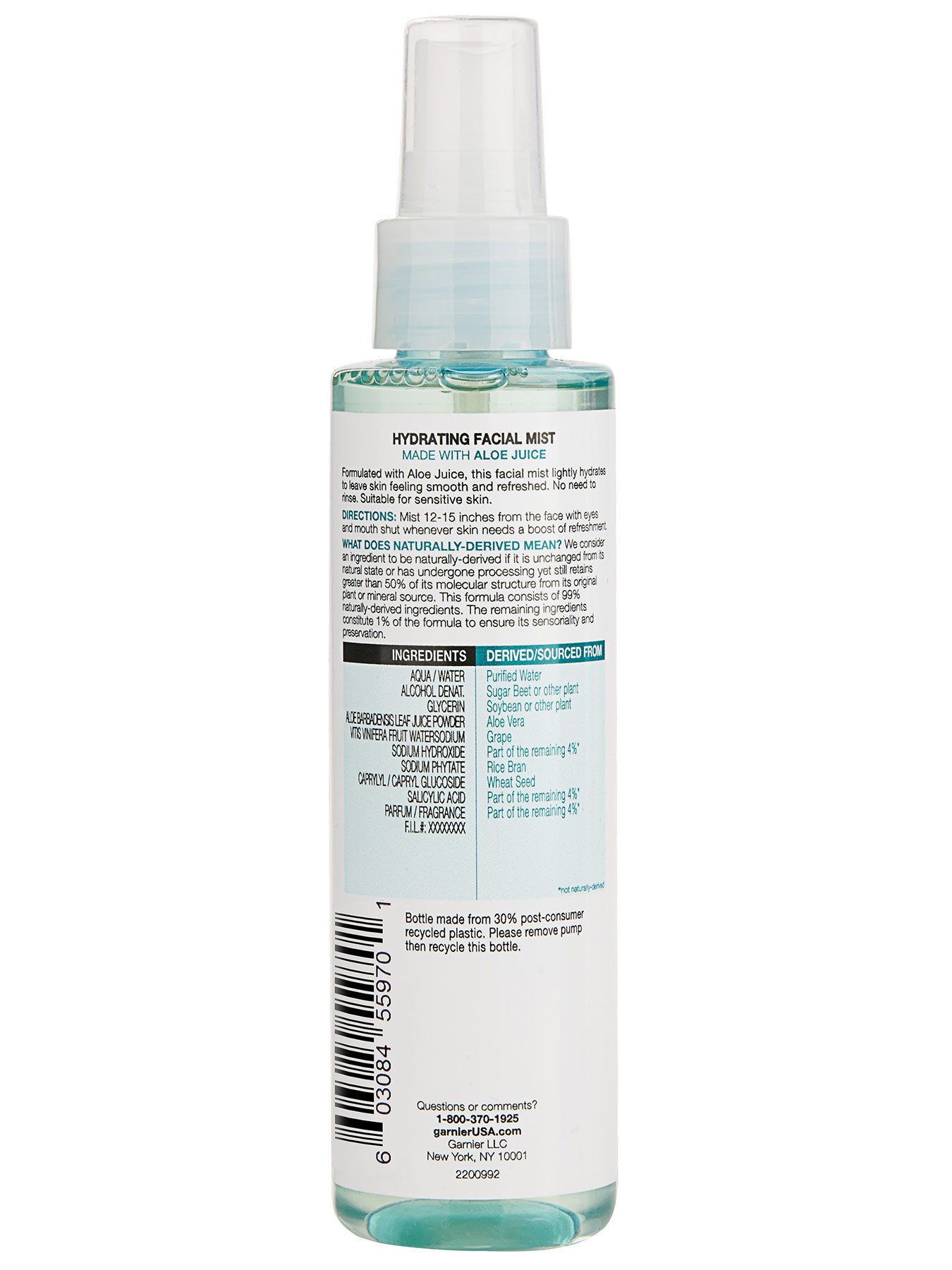 Hydrating Facial Mist with Aloe Juice
SkinActive
$8.99 MSRP
This facial mist with aloe juice instantly hydrates your skin for a healthy, fresh look.
Product Information:
Made with aloe juice, this facial mist spray instantly hydrates and refreshes skin, even after makeup. This face spray with aloe juice can be used as a moisturizer to hydrate, before face makeup as a primer, after makeup to set it, and anytime throughout the day to refresh skin. No need to rinse. This face mist is suitable for all skin types, even dry and sensitive skin.
How To Use:
Mist, in one continuous press, 12-15 inches from the face with eyes and mouth shut whenever skin needs a pick me up or a boost of hydration. No need to rinse.
Ingredients:
967271 20 AQUA / WATER, ALCOHOL DENAT., GLYCERIN, ALOE BARBADENSIS LEAF, JUICE POWDER, VITIS VINIFERA FRUIT WATER / GRAPE FRUIT WATER, SODIUM HYDROXIDE, SODIUM PHYTATE, CAPRYLYL/CAPRYL GLUCOSIDE, SALICYLIC ACID, PARFUM / FRAGRANCE F.I.L. B223586/1
Related products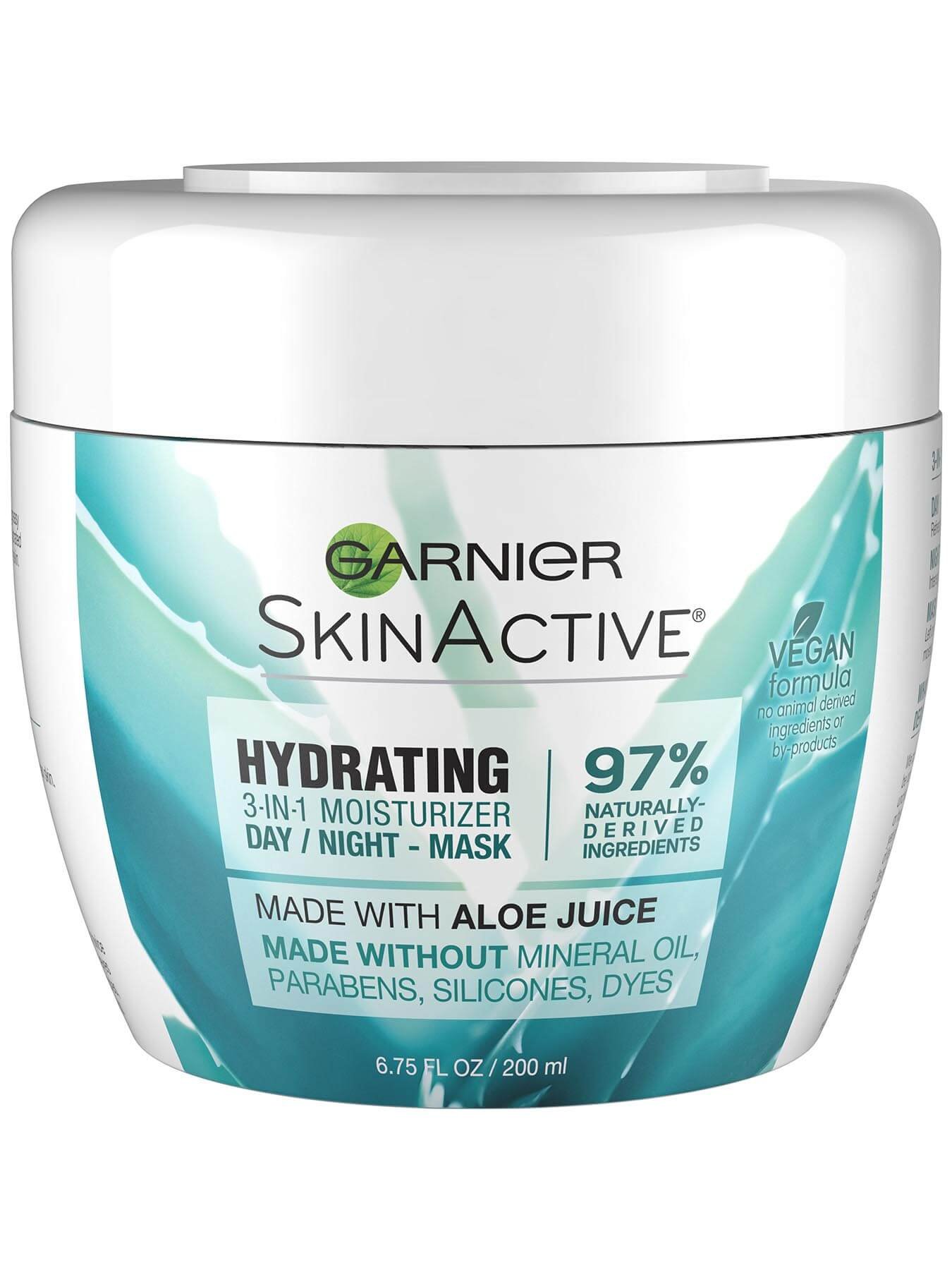 Garnier SkinActive
Hydrating 3-in-1 Face Moisturizer with Aloe
3-in-1 Moisturizer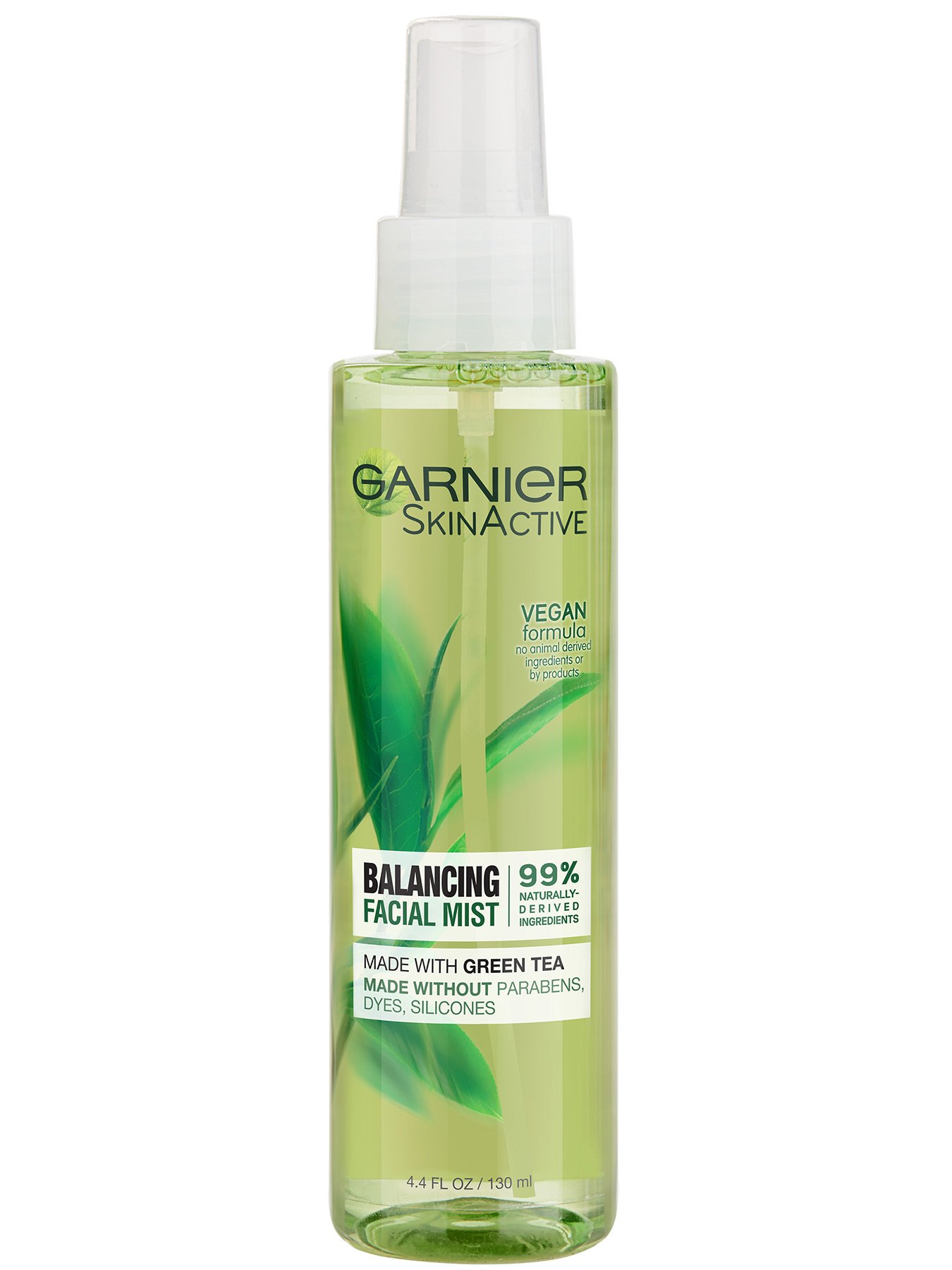 Garnier SkinActive
Balancing Facial Mist with Green Tea
Facial Mist with Green Tea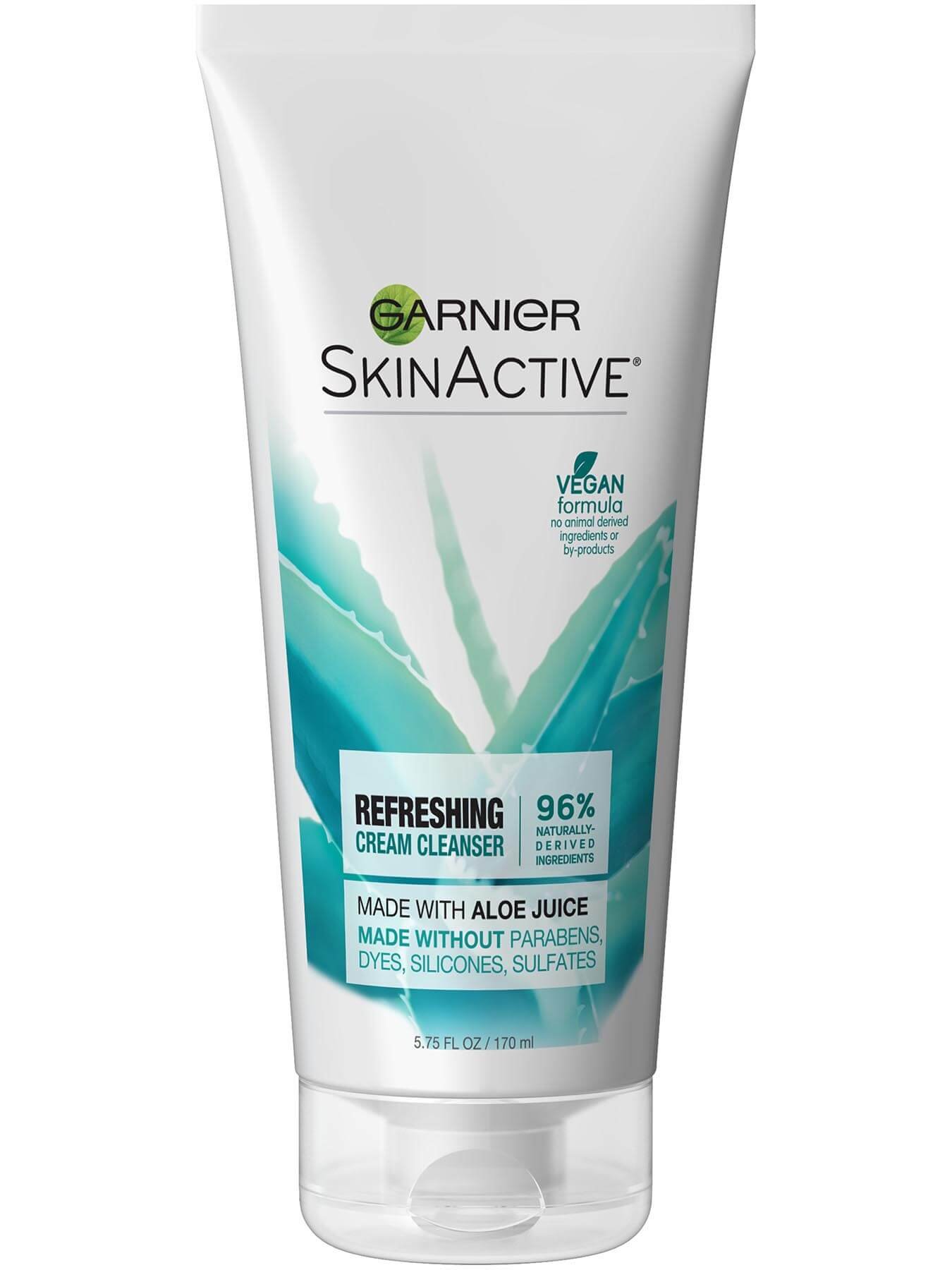 Garnier SkinActive
Refreshing Cream Face Wash with Aloe
Cream Cleanser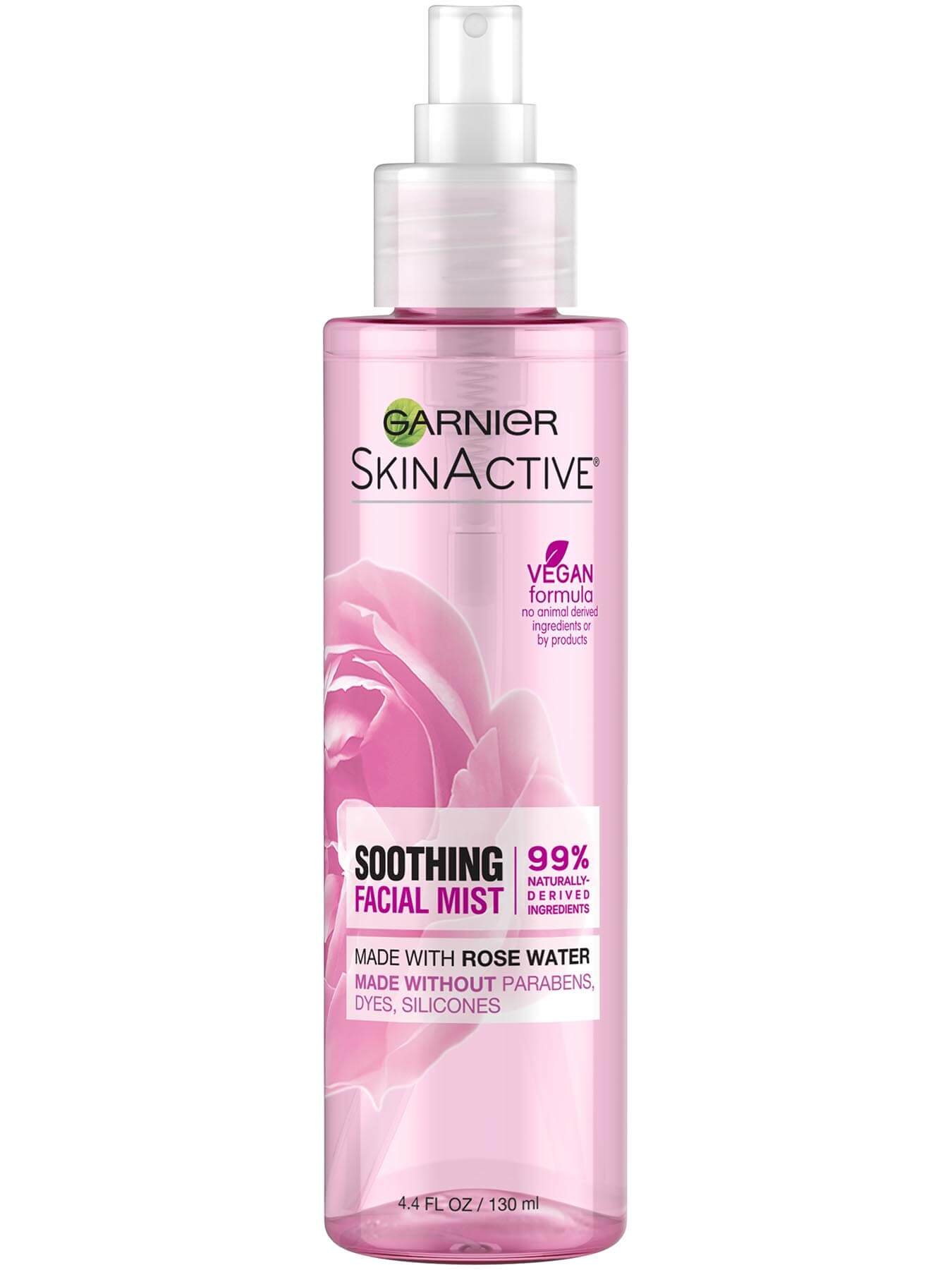 Garnier SkinActive
Soothing Facial Mist with Rose Water
Facial Mist
Rated

5

out of

5
by
Ahinde27
from
Wow!
Love this product!! After being prescribed acne medication my skin went from super oily to SUPER dry. I didn't know what to do! During the day my skin gets super flaky too. Ugh. After applying this my skin is not flaky and it doesn't mess up my makeup. I only wish it was made in a travel size so I can take it everywhere!!
Date published: 2019-04-15
Rated

1

out of

5
by
melissa87
from
Drying
The second ingredient is alcohol, which dries the skin... this product was never meant to be hydrating. Leaves my skin feeling drier than it was before using, and smudges makeup. Disappointing.
Date published: 2019-03-18
Rated

4

out of

5
by
catherine_ok_21804007
from
Hydrate
The Garnier SkinActive product "Hydrating Facial Mist with Aloe Juice" has a nice refreshing feel! I love to use it after my makeup has been placed and then highlight over top! Leave you feelings very hydrated.
Date published: 2019-02-01
Rated

4

out of

5
by
brandy_ks_21802179
from
Really nice
The Garnier skin active hydrating facial mist with aloe juice was different, something I've never tried before.
Date published: 2019-02-01
Rated

5

out of

5
by
diana_ca_82l5t
from
Very Good Face Mist
I have had many face mist but at high-end department stores and this one leaves me really refreshed. I have had issues that some leave you sticky. After I started using Garnier SkinActive, I have never felt sticky or residue on my face. After I come back from the gym or even shopping I apply to freshen up before taking a shower. Another way that I use it is by taking it with me. If it comes in a smaller side I would definitely purchase for my purse.
Date published: 2019-01-31
Rated

5

out of

5
by
serena_nv_21802327
from
Face spray
Very hydrating and I noticed a difference in the wear time of my makeup
Date published: 2019-01-31
Rated

5

out of

5
by
whitney_mi_21800053
from
Love!!
I've never tried this before until I got a sample from pinchme!! And I love it!
Date published: 2019-01-31
Rated

2

out of

5
by
devin_al_21804261
from
Not very hydrating
I was super excited for this so maybe I had to high of exspectations but I have really dry skin for the most part and it just didn't feel hydrating at all. It really didn't feel like it did anything. Maybe just not right for my skin.
Date published: 2019-01-31