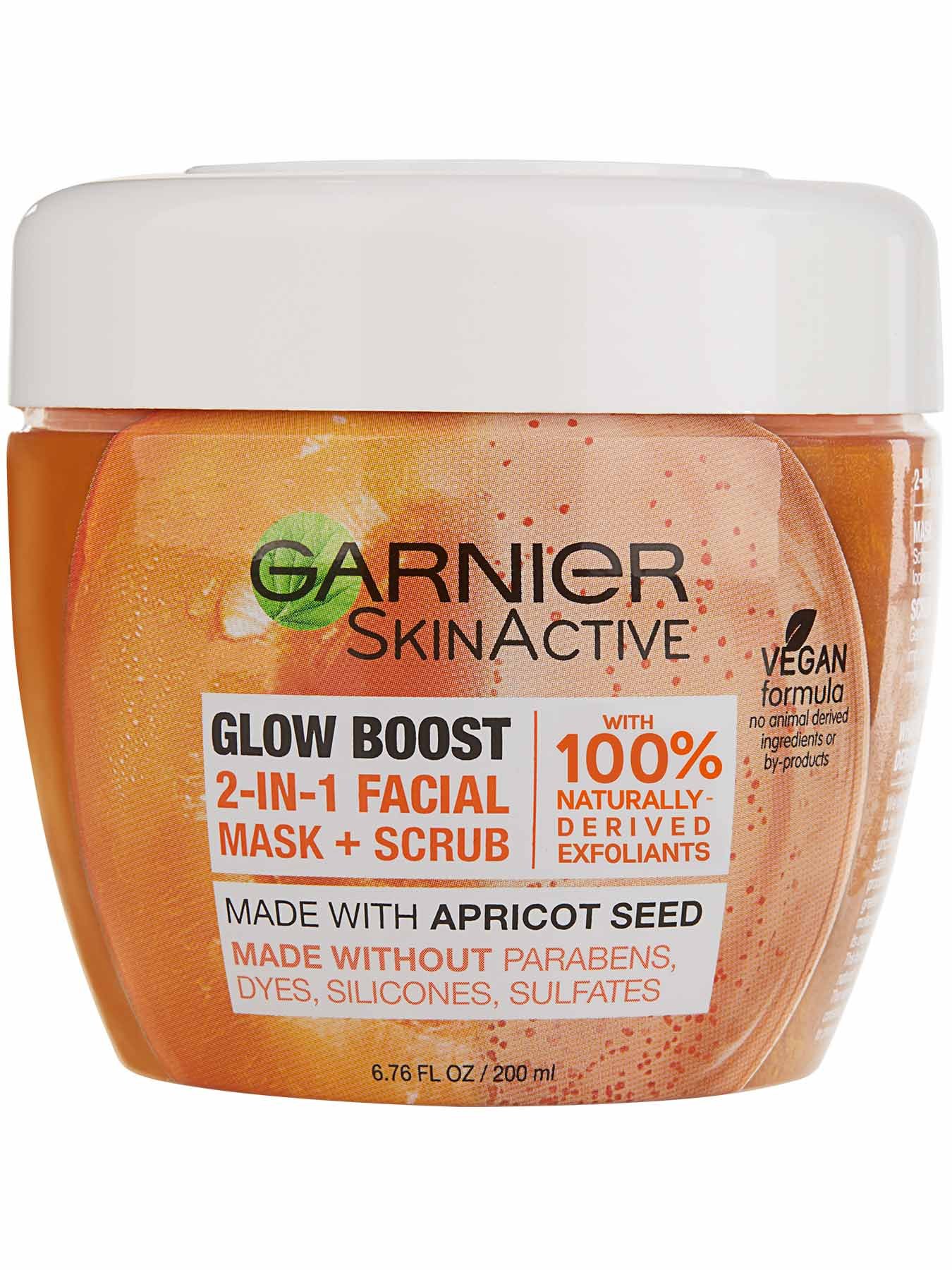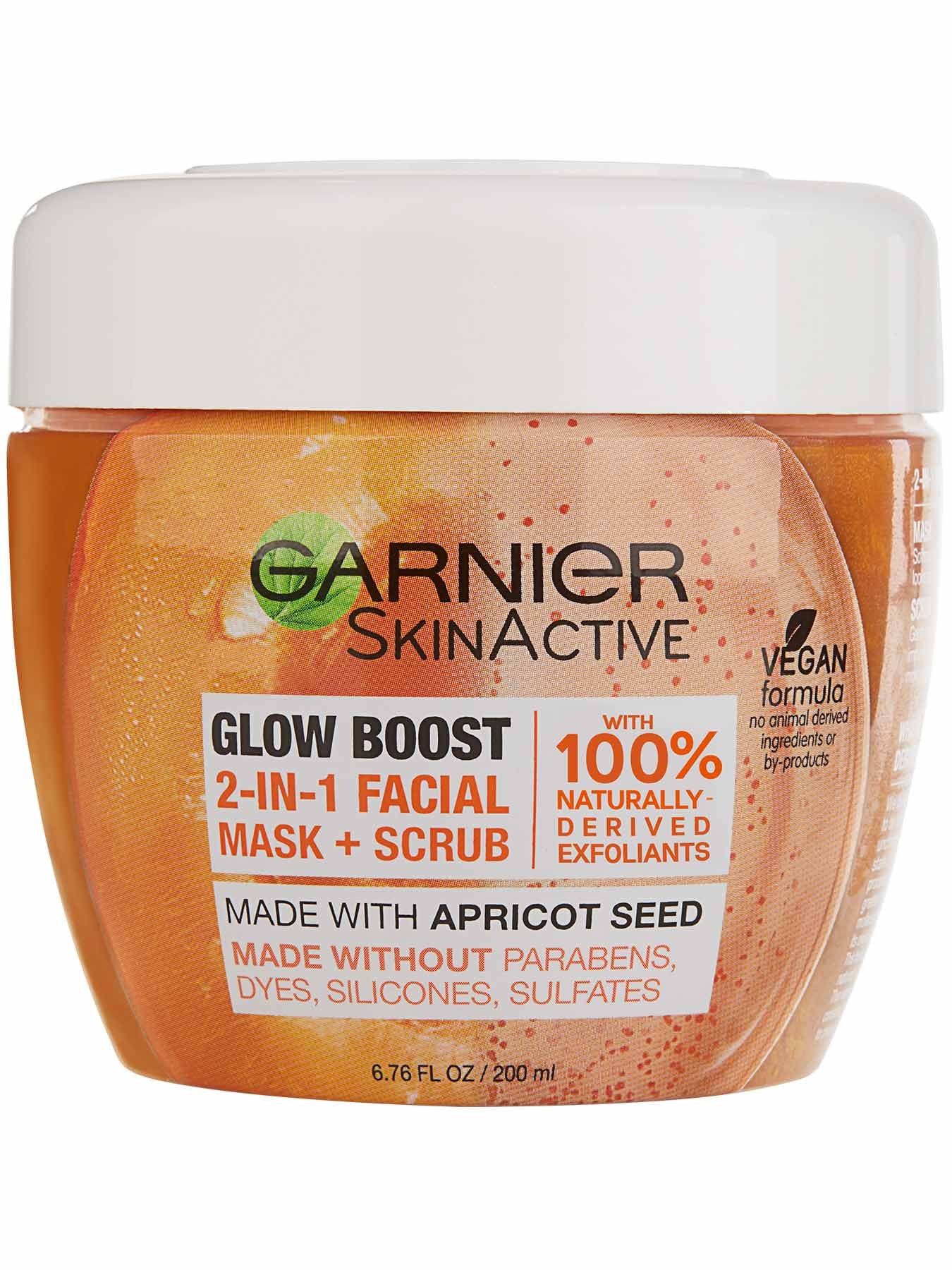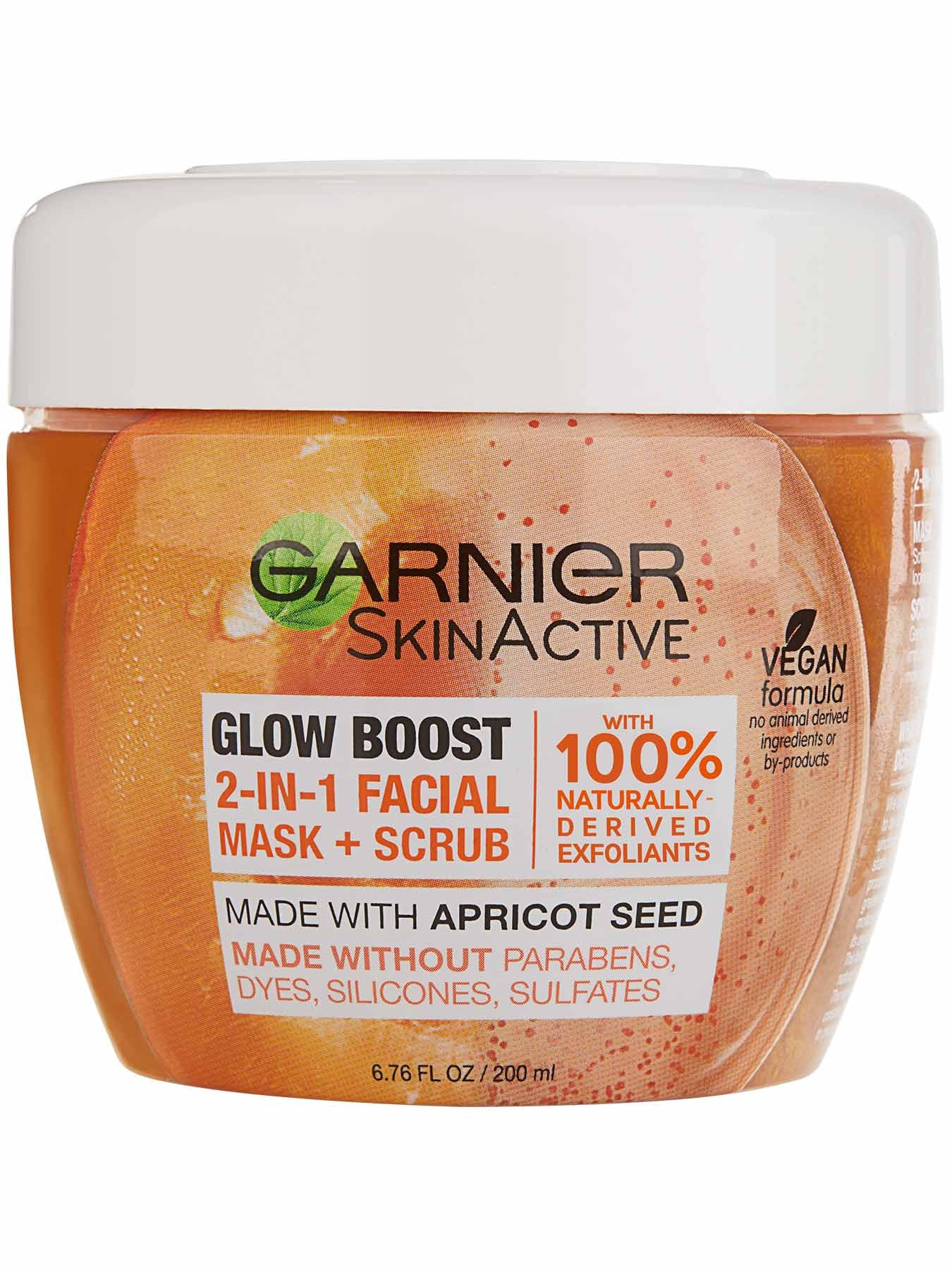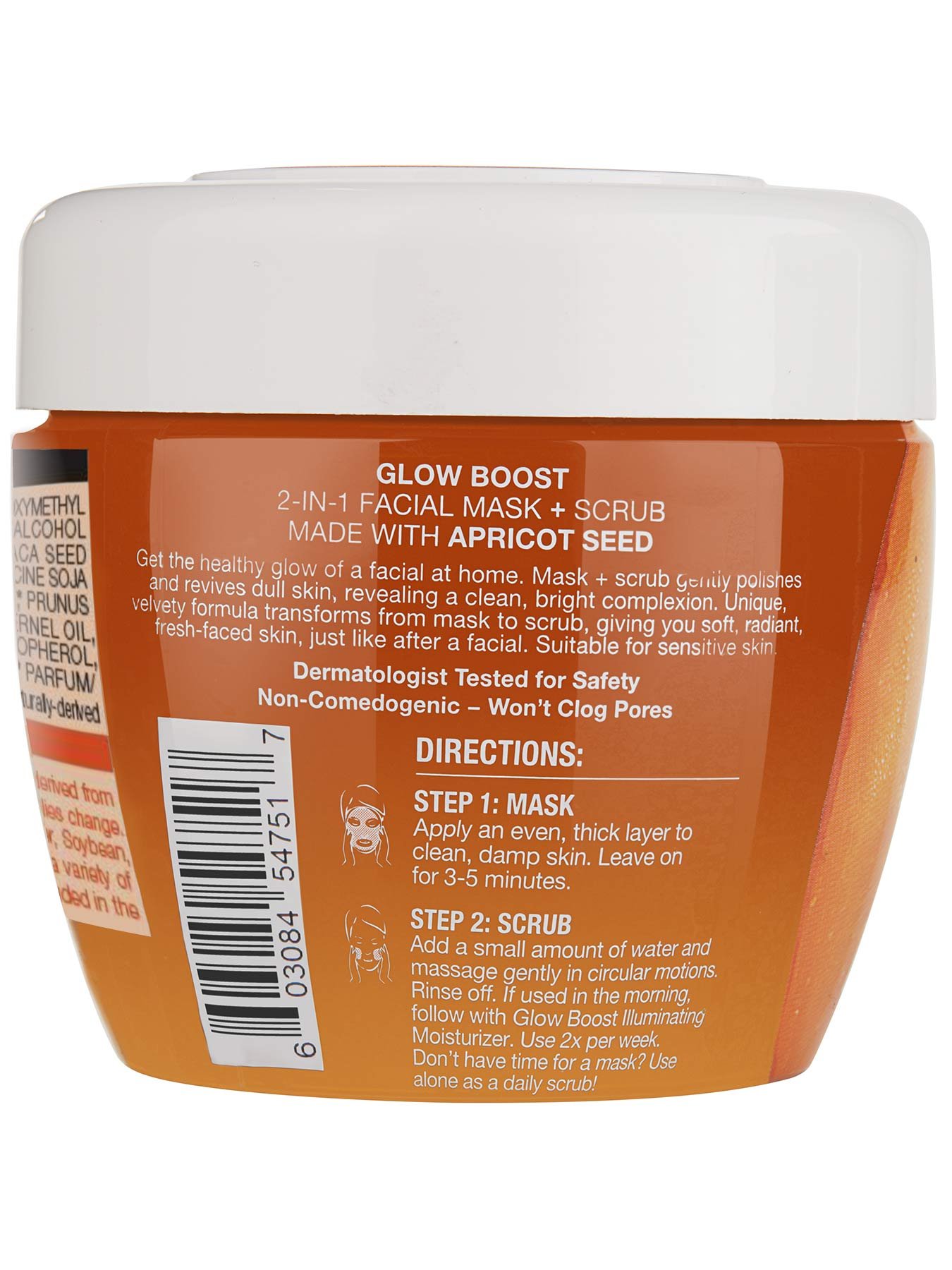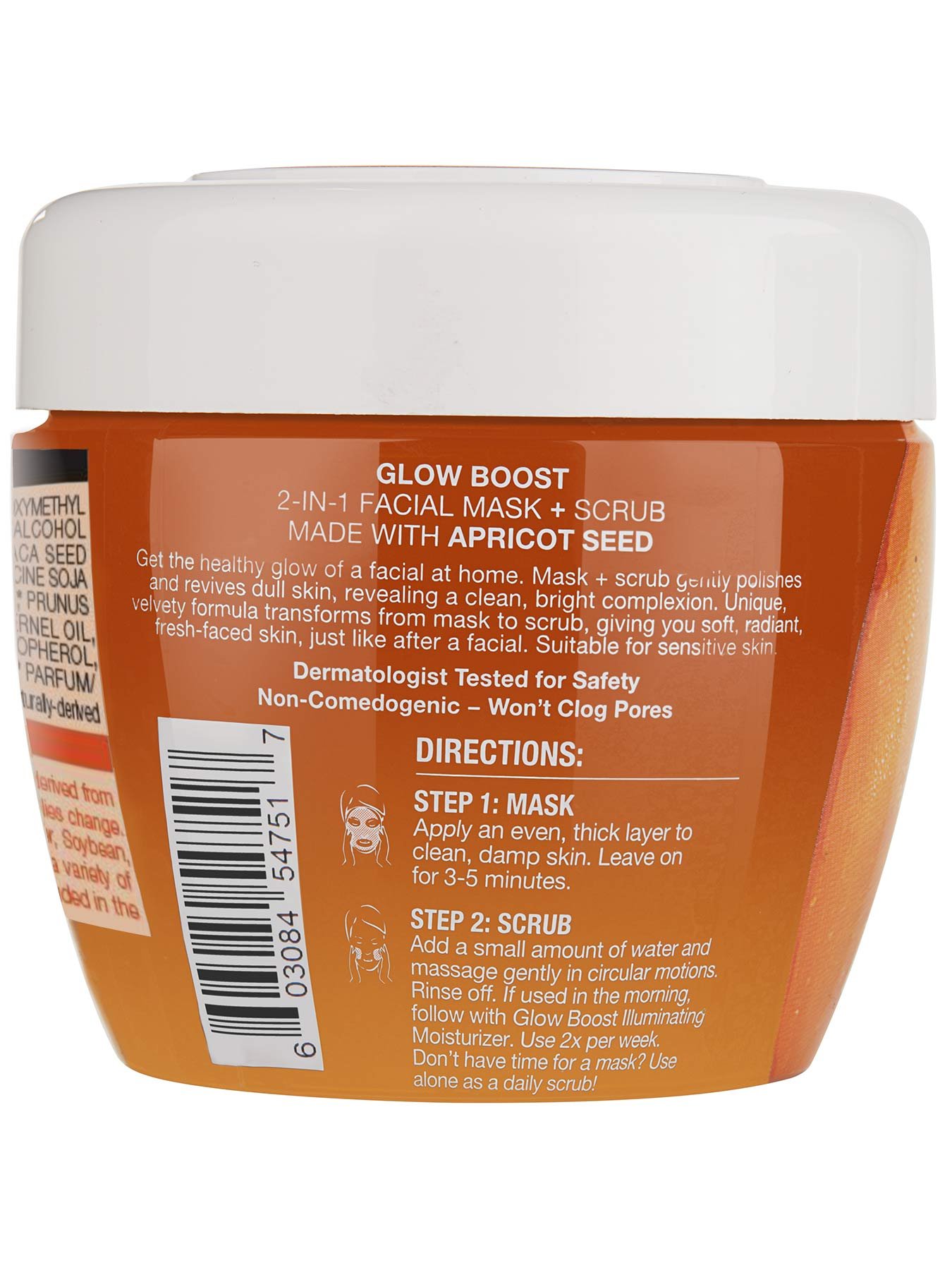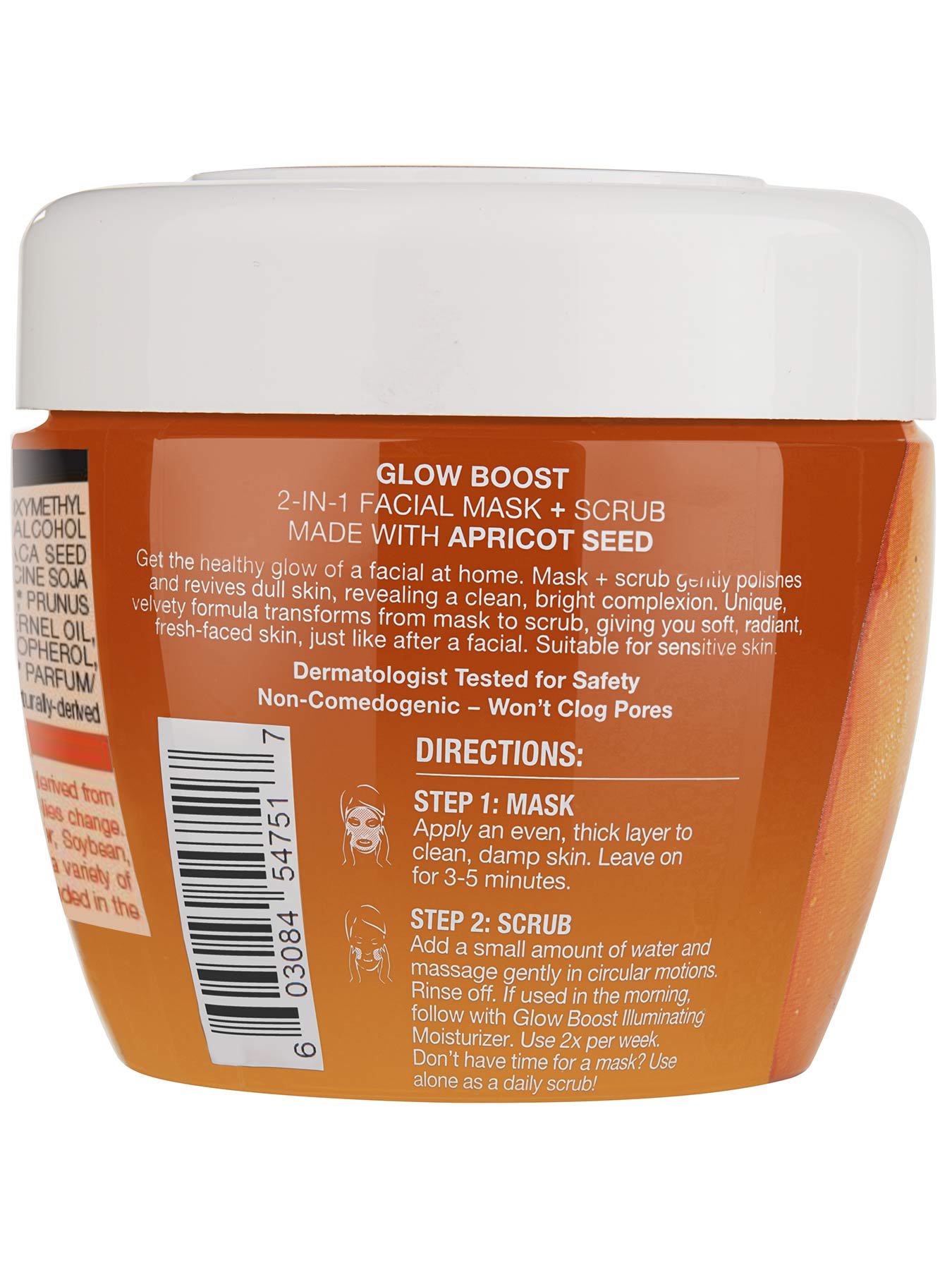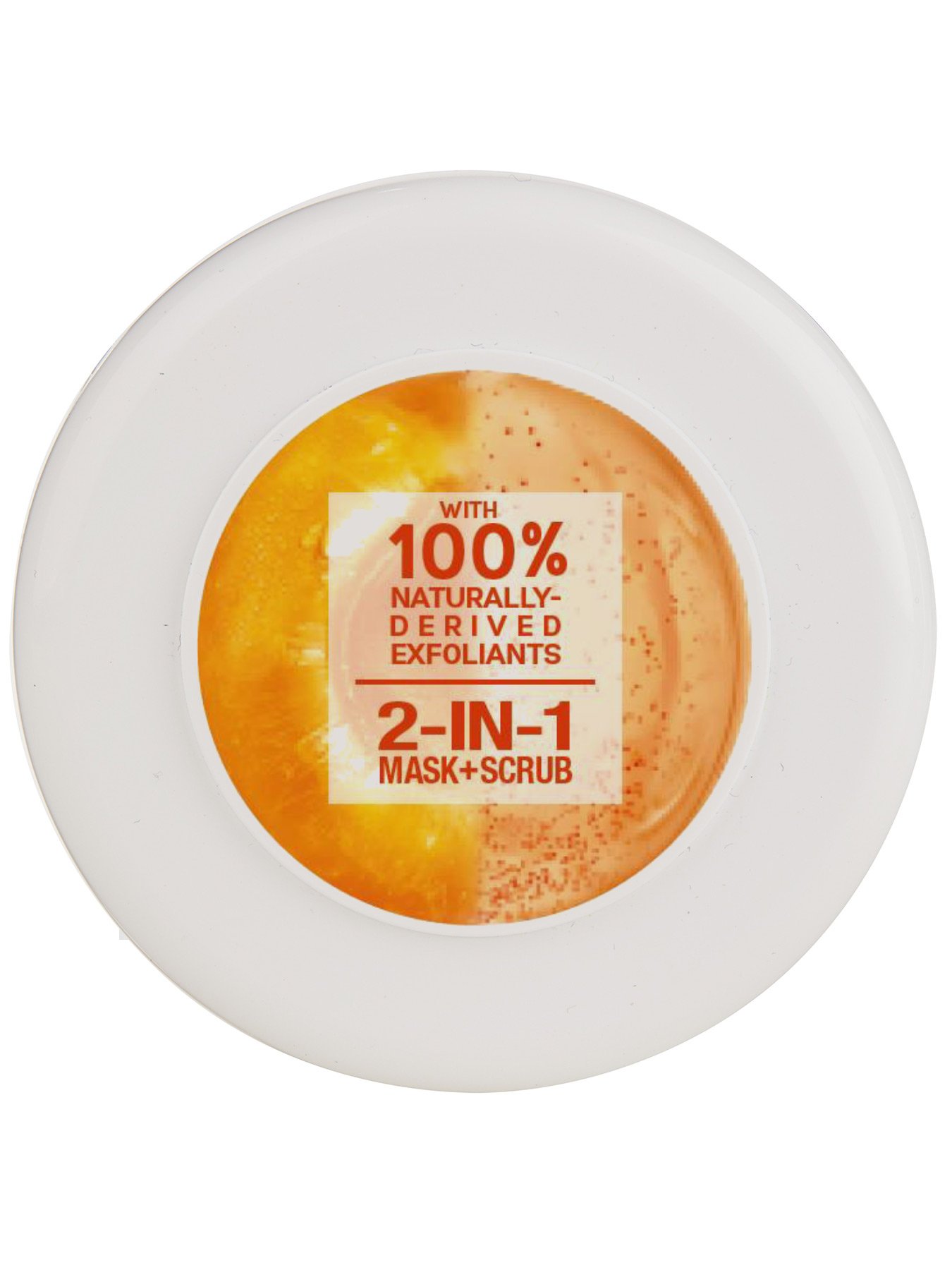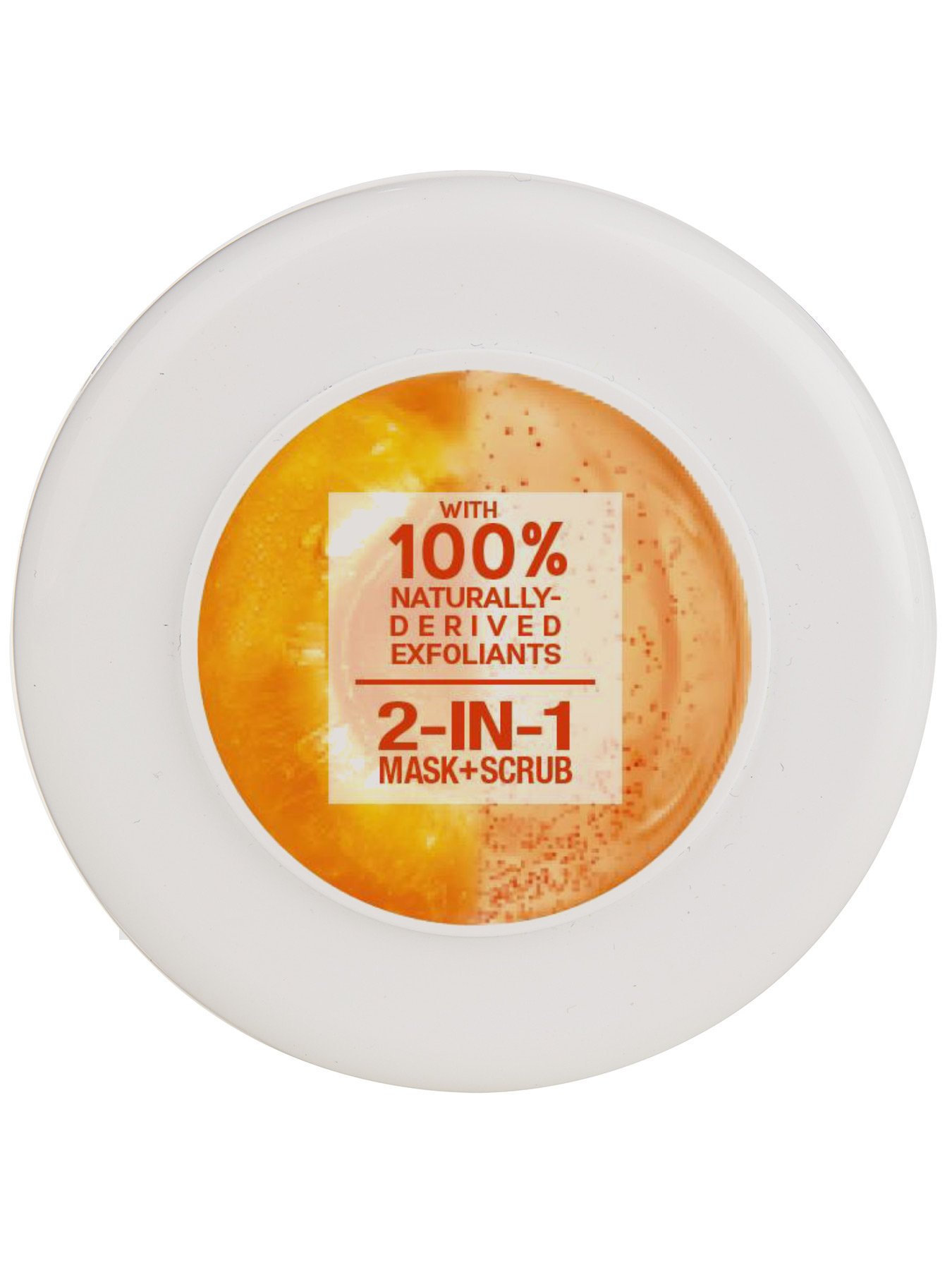 Glow Boost 2-in-1 Facial Mask and Scrub
Garnier SkinActive
$8.99 MSRP
This 2-in-1 facial mask and scrub is like an instant facial in a jar
Product Information:
This 2 in 1 face mask and face scrub with apricot extract works as an instant facial in a jar, for soft, smooth hydrated, glowing skin. This vegan face mask and exfoliator is made without sulfates, silicones, mineral oil, dyes and parabens. This glow boosting face mask and scrub exfoliates and polishes for instantly hydrated, fresh, healthy radiant looking skin, just like after a facial. Try this glow boosting 2 in 1 face mask and facial with apricot seed to turbo charge your glow.
How To Use:
For the apricot 2-in-1 facial (jar):
Directions:
Step 1: MASK
Apply an even, thick layer to clean, damp skin. Leave on for 3-5 minutes.
Step 2: SCRUB
Add a small amount of water and massage gently in circular motions. Rinse off. If used in the morning, follow with Glow Boost Illuminating Moisturizer. Use 2x per week. Don't have time for a mask? Use alone as a daily scrub!
Ingredients:
967374 13 AQUA/WATER, SODIUM CARBOXYMETHYL STARCH, GLYCERIN, PROPANEDIOL, ALCOHOL DENAT., PERLITE, PRUNUS ARMENIACA SEED POWDER/APRICOT SEED POWDER, GLYCINE SOJA OIL/SOYBEAN OIL, SODIUM HYDROXIDE,* PRUNUS ARMENIACA KERNEL OIL/APRICOT KERNEL OIL, CAPRYLYL GLYCOL,* CITRIC ACID, TOCOPHEROL, SALICYLIC ACID,* BENZYL SALICYLATE,* PARFUM/ FRAGRANCE,* F.I.L. B221281/1
Related products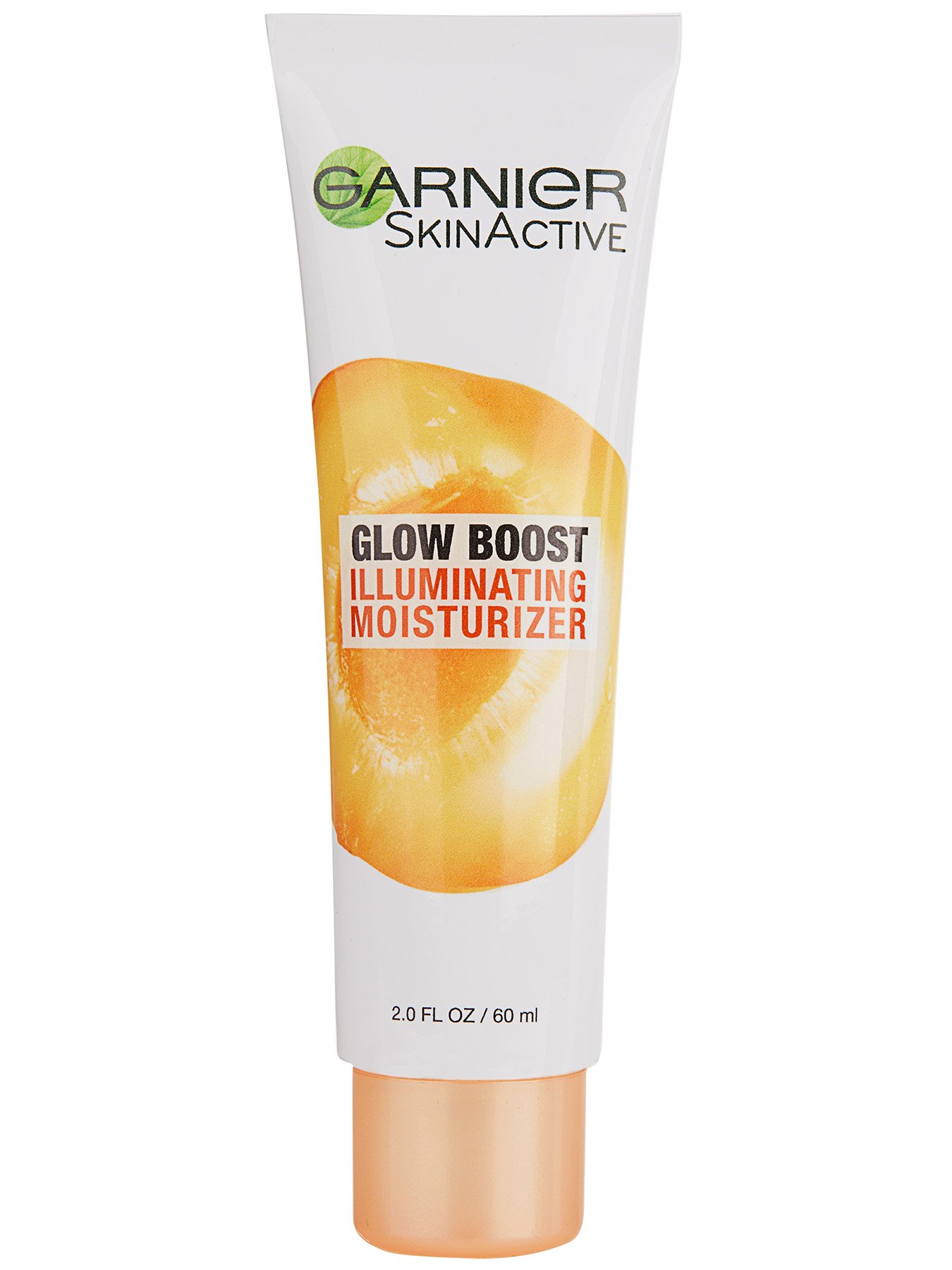 Garnier SkinActive
Glow Boost Illuminating Moisturizer
Illuminating Face Moisturizer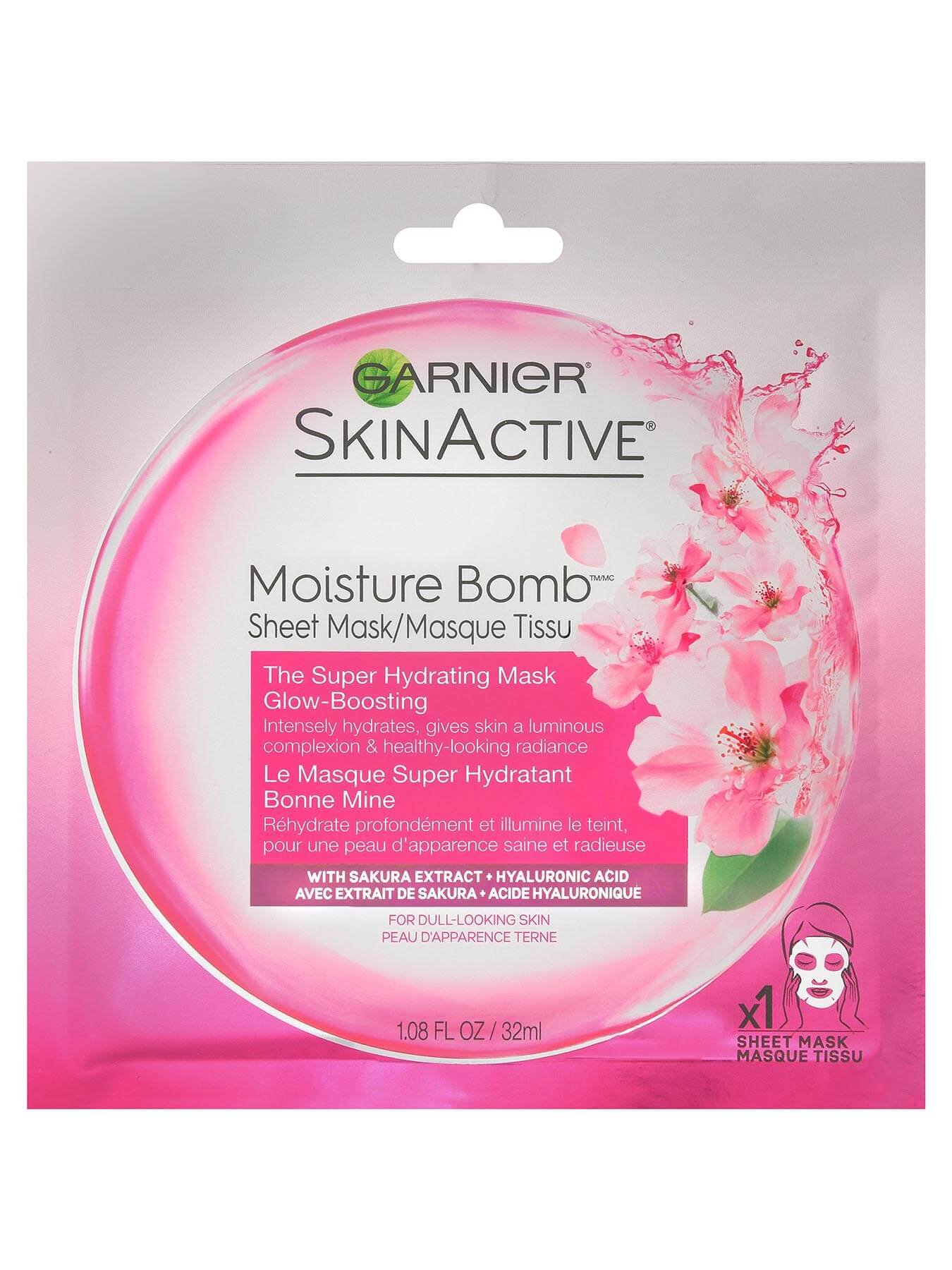 Garnier SkinActive
The Super Hydrating Sheet Mask - Glow-Boosting
Deeply hydrates, illuminates and enhances skin's radiance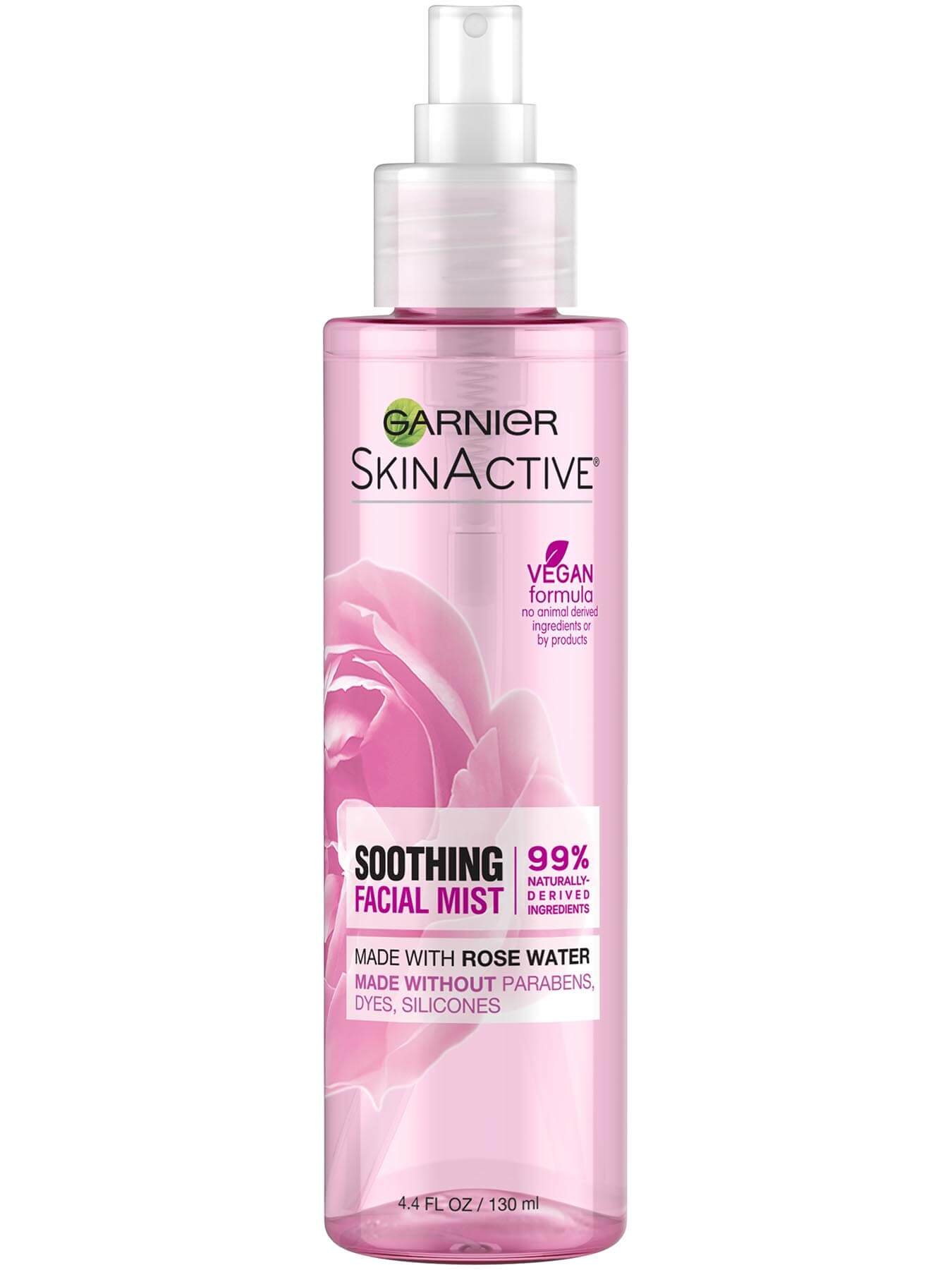 Garnier SkinActive
Soothing Facial Mist with Rose Water
Facial Mist
Rated

5

out of

5
by
Vrod
from
Best scrubbing and hydrayting product
I love this product ..I'm 40 yrs old & it's hard to find a scrub that really works & hydrates after you take it off..I have a combination of dry and oily skin..this is a great product leaves skin clean and soft not greasy ..I would highly recommend this product.
Date published: 2020-02-15
Rated

5

out of

5
by
Terri77
from
A great product for weekly maintenance
I picked up a jar of this at my grocery because it was in the clearance rack. I love it!!! I wasn't sure what to expect when I opened it up because it looked like clay that had dried out but it was just very thick and gel-like. The smell is amazing!! I coat my face with it then rinse it off and my skin is moisturized and healthy looking. I highly recommend it to anyone with aging/dry skin. I am sure I will love it when winter comes.
Date published: 2019-10-13
Rated

5

out of

5
by
Lioness
from
Great product!
Great product. Usually I don't buy drugstore skin care products. But I'm glad I did. It made my skin hydrated, soft and glowy. I'll definitely keep buying it. I'm hooked! :)
Date published: 2019-04-02
Rated

5

out of

5
by
SusanRi
from
Weird texture, beautiful results
The product is a soft, supple gel. It didn't feel bad on my face, but I didn't leave it on for long. I splashed water on my face, applied the mask and decided to apply more water to use as a scrub soon after. My skin immediately felt soft and smooth! It also looked very clean and fresh! I'm very pleased with these results and highly recommend this product! I just didn't like it sitting on my face for several minutes.
Date published: 2019-02-24
Rated

5

out of

5
by
jamie_nj_22230514
from
AMAZING
I have found the best skin care product! I recently tried the Garnier SkinActive Glow Boost 2-in-1 Facial Mask + Scrub and it blew my mind! I first put in on my face and let it sit and it smelled amazing and uplifting. Before rinsing it off I scrubbed my skin and my neck and my hands. When I washed it off I felt like I had new skin. My skin was so smooth and even hydrated after the exfoliation. My make up went on so smooth.
Date published: 2019-02-11
Rated

5

out of

5
by
tanya_wi_22232640
from
So refreshing!
Glow Boost 2-in-1 Facial Mask + Scrub exceeded my expectations!!
Date published: 2019-02-11
Rated

4

out of

5
by
valerie_pa_5qbp7
from
Love it!
I received the Garnier Skin Active Glow Boost 2-in-1 Facial Mask + Scrub from PINCHme in return for my honest and truthful review. I really love the small of this product and it worked wonders on my combination skin. It helped to brighten up my face and limit acne breakouts. I had a hard time using this product as a facial mask though. The texture and consistency wasn't the best for a mask. It works great as a scrub and I feel like it should only be marketed as a scrub. I will definitely be purchasing more of this product and recommending to others.
Date published: 2019-02-11
Rated

5

out of

5
by
elissa_pa_22231367
from
This stuff is great!
I really like this! My skin tends to get really dry in the winter. This helps hydrate my skin and exfoliate it all in one product! I like the texture as well.
Date published: 2019-02-11