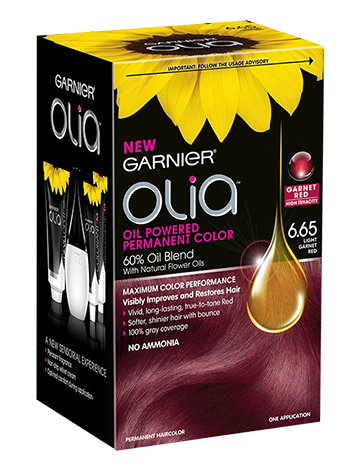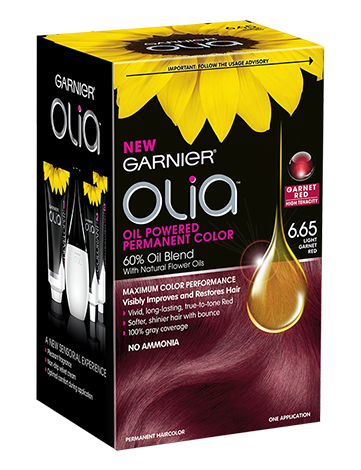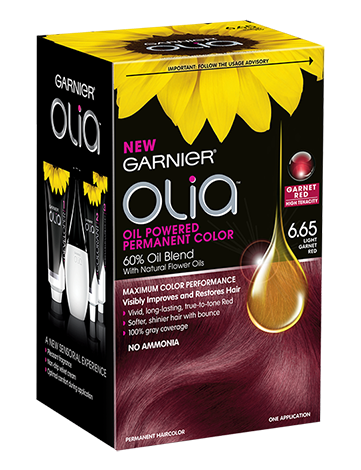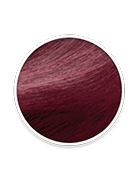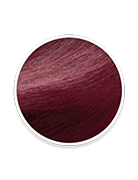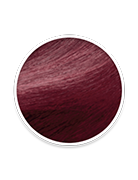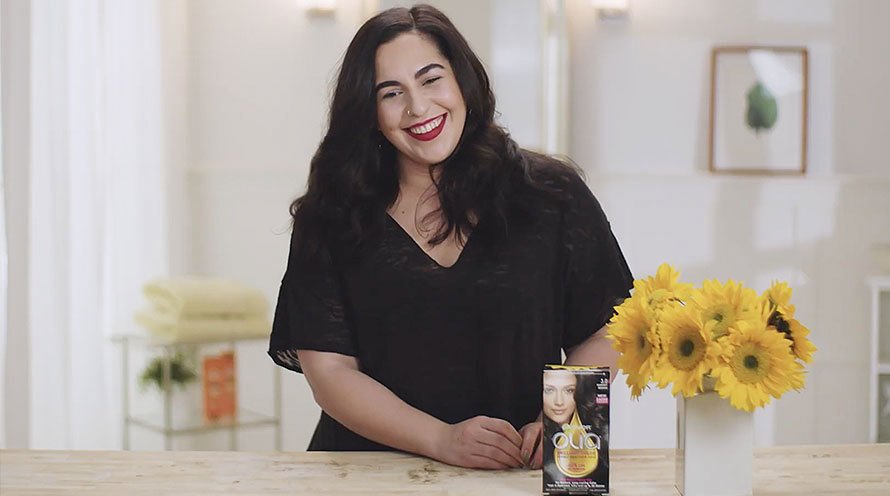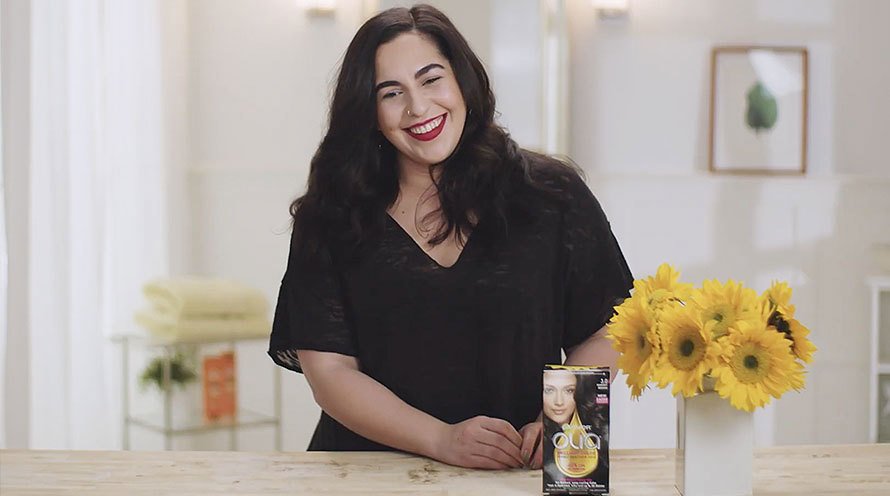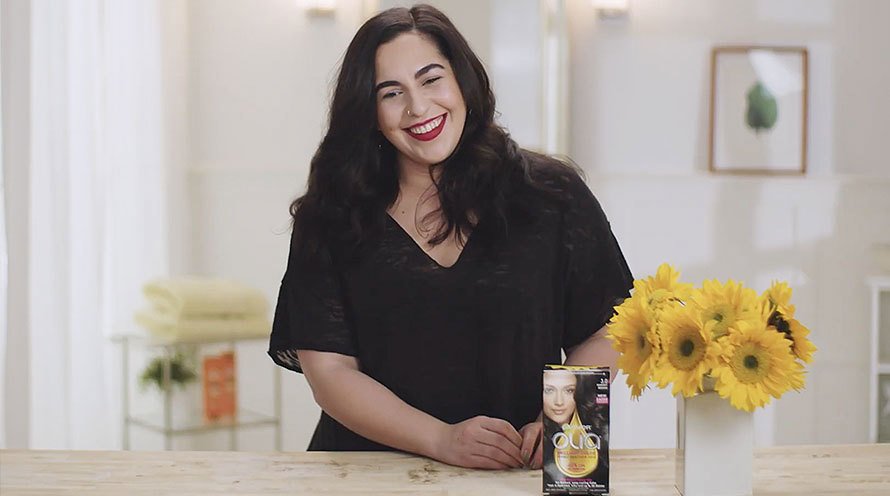 Garnier Olia Ammonia Free Hair Color
Olia 6.65 - Light Garnet Red
PRODUCT INFORMATION:
We no longer offer this product, we have something even better to meet your needs. Find it,

here

.
Is it right for me?
The oil powered technology propels colorants deep into the hair, without ammonia, giving you pure, vivid, long-lasting color. Olia visibly improves and restores hair as the oils help to reverse roughness and dullness for more brilliant, dimensional color and softer, shinier hair with more bounce.
How is it different?
Unlike traditional haircolor, Olia uses an exclusive 60% oil blend with natural flower oils to achieve brilliant, radiant color results. The unique non-drip velvet cream formula propels colorants into the hair--without ammonia--with a pleasant sensorial fragrance.
Olia visibly improves and restores hair as the oils help to reverse roughness and dullness for more brilliant, long-lasting color. Hair is hydrated, silky, and 3x shinier.
Product Discontinued. Please see Garnier's
Olia 6.60 - Light Intense Auburn
.
How to use:
Olia provides optimal comfort with a non-drip, velvet cream. Its easy application, and delicate floral scent make it a new sensorial experience.
Ingredients:
Paraffinum Liquidum / Mineral Oil / Huile Minerale, Aqua / Water / Eau, Ethanolamine, Steareth-20, Caprylyl/Capryl Glucoside, Polysorbate 21, Steareth-2, 2,4-Diaminophenoxyethanol Hcl, Ascorbic Acid, Sodium Metabisulfite, Thioglycerin, Toluene-2,5-Diamine, Polyquaternium-67, Helianthus Annuus Seed Oil / Sunflower Seed Oil, Limnanthes Alba Seed Oil / Meadowfoam Seed Oil, Camellia Oleifera Seed Oil, N,N-Bis(2-Hydroxyethyl)-P-Phenylenediamine Sulfate, Parfum / Fragrance, Resorcinol, Passiflora Incarnata / Passiflora Incarnata Seed Oil, Edta.
Rated

4

out of

5
by
BeautifulFlower
from
Searching Customer
I have been using this hair color for about 2 years now. I switch back and forth between all of the Garnet colors however lately it has been really hard to find in the stores. Actually none of the Garnet colors be available. I love this hair color because it leaves my hair soft and bright! It doesn't fade away quickly and it comes with its own conditioner that actually works well. I ended up on your website to find out if the color was discontinuing or something since its been so hard to find. I am disappointed by if necessary I like it so much that I will order online! Please don't stop selling the Garnet Red colors!! Thanks
Date published: 2015-08-05
Rated

5

out of

5
by
LifeBeFly
from
Beautiful smell, beautiful color!
I love the ultra color in light intense auburn, but the smell got too intense for me the last time and I tried to find that shade in Olia but I couldn't so I picked this up and this smelled so pleasant and floral. The color cream was smooth, it didn't tangle up my hair. The color is shimmering and my hair feels soft. I might use this shade from now on, and I'm definitely gonna use this brand for a long time.
Date published: 2015-06-12
Rated

5

out of

5
by
kassy
from
about the other reviews
i used the product once and it did wonders for my damaged hair. i would love to point out that the color fades fast because it's red. red hair color is NOTORIOUS for fading fast. that is a fact. it's not this product that's the problem, it's the color everyone is choosing. it's the curse of being an unnatural red head. being a girl who has been an unnatural red head for several months, using different brands and shades. all red fades and makes showers, towels, clothes, and bedding red. it bleeds and fades. also, this hair color doesn't contain any bleachers so dark hair will remain dark. you'll have to lighten your hair to appreciate the color properly.
Date published: 2015-05-14
Rated

1

out of

5
by
MelanieR
from
Love it till it got wet
I LOVED this product. it was easy to apply, it didnt smell horrible because there is no ammonia in it and the color came out great! but that is the end of the love. EVERYTIME! i washed my hair or got my hair wet it leached color!!! n it faded so fast. i honestly love this product, and would continue to use it if it didnt fade so fast or leach color all the time.
Date published: 2014-09-21
Rated

4

out of

5
by
CassieIowa14
from
Awesome Color!
I have used this dye for awhile now and I would say it's my favorite. I have long thick hair and I only have to use one bottle. I use 6.65 Light Garnet Red and always get compliments on the color. The product leaves my hair shiny and new. The best part of getting your hair done is the shine!
Date published: 2014-09-11
Rated

1

out of

5
by
AnUNhappyKayla
from
I am beside myself about the product.
I loved the presentation of the packaging, the fact that there was no ammonia, and how soft my hair feels. But that's where the love ends ... I am very upset with the results of my hair. There are areas of my hair that look like the product was hardly if at all applied even though I covered my entire head. The product mostly stairs in the roots, bangs and tips of my hair. I have dyed my hair with other products of the same color and had better results.
Date published: 2014-09-08
Rated

1

out of

5
by
justletmepostthereview
from
would never use again
i did not like this product at all. i still see the color when washing my hair and even though i applied it fairly evenly my roots were the only thing that changed color and the rest of my naturally dark hair said black. even my bleached peekaboo highlights washed out almost immediately
Date published: 2014-09-02
Rated

1

out of

5
by
Ange
from
1 star only because i had to
I didn't like this hair color at all! It is messy. I don't see how people say it isn't. I have washed my hair 4 times since dying it and the color still keeps washing out. I got caught in the rain and it bled everywhere on my clothes.
Date published: 2014-08-12