This site is intended for US consumers.Cookies and related technology are used for advertising.To learn more or opt-out, visit Ad Choices and our privacy policy.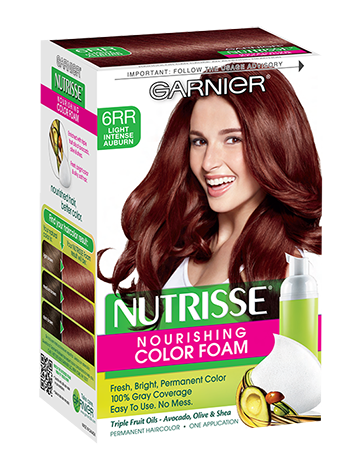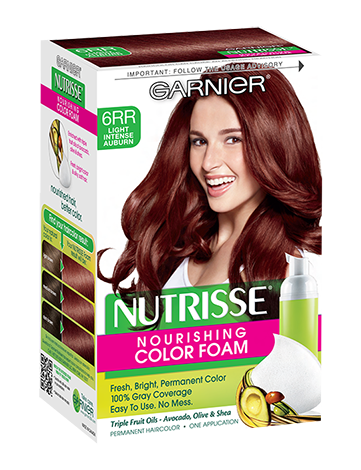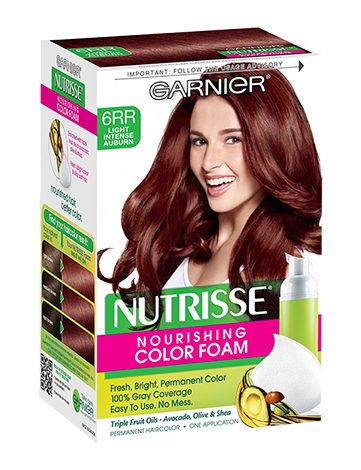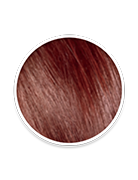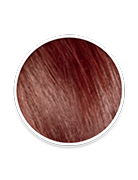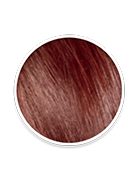 Garnier Nutrisse Color Foam
Nourishing Color Foam 6RR - Light Intense Auburn
PRODUCT INFORMATION:
Is it right for me?
For an Easy, No Stress, No Mess application, try our Nourishing Color Foam.

How is it different?
Enriched with nourishing triple fruit oils - avocado, olive and shea - Nutrisse Nourishing Color Foam is our first foam to nourish, while locking in your radiant color and moisture. This creamy foam gives you fresher, brighter, permanent color results* and 100% gray coverage.

*vs. before coloring
How to use:
It's a no stress, no mess application – comes with an easy-to-use pump applicator which dispenses a non-drip, creamy foam that smells great and lathers-in like a shampoo. Quick and comfortable to apply, for All-Over or Root Touch Up applications. See our How-To videos for detailed instructions on how to apply. Fresher, brighter permanent color results with 100% gray coverage. Available in 18 radiant shades.

Nutrisse Nourishing Color Foam also comes in an FSC-certified carton packaging with PVC-free gloves to help sustain a cleaner, greener future.
Ingredients:
Liquid-To-Foam Colorant: Aqua/Water, Alcohol Denat., Peg-4 Rapeseedamide, Glyceryl Lauryl Ether, Deceth-3, Propylene Glycol, Laureth-5 Carboxylic Acid, Ethanolamine, Dipropylene Glycol, Hexylene Glycol, Ammonium Hydroxide, Poloxamer 338, 5-Amino-6-Chloro-o-Cresol, p-Aminophenol, Polyquaternium-6, Oleyl Alcohol, Parfum/Fragrance, 4-Amino-2-Hydroxytoluene, Ammonium Thiolactate, Erythorbic Acid, EDTA, Toluene-2,5-Diamine, 6-Hydroxyindole, Sodium Metabisulfite, Thioglycerin. F.I.L. D49767/2. Liquid-To-Foam Developer: Aqua/Water, Hydrogen Peroxide, Glycerin, Laureth-11, Tetrasodium Etidronate, Tetrasodium Pyrophosphate, Sodium Salicylate, Phosphoric Acid. F.I.L. D48403/8. Nourishing Conditioner: Aqua/Water, Cetearyl Alcohol, Behentrimonium Chloride, Peg-180 Cetyl Esters, Niacinamide, Ribes Nigrum Oil/Black Currant Seed Oil, Saccharum Officinarum Extract/Sugar Cane Extract, Hydroxyethylcellulose, Olea Europaea Oil/Olive Fruit Oil, Trideceth-6, Chlorhexidine Dihydrochloride, Camellia Sinensis Extract/Camellia Sinensis Leaf Extract, Benzyl Alcohol, Linalool, Amodimethicone, Isopropyl Alcohol, Pyrus Malus Extract/Apple Fruit Extract, Parfum/Fragrance, Pyridoxine HCl, Persea Gratissima Oil/Avocado Oil, Methylparaben, Butyrospermum Parkii Butter/Shea Butter, Citric Acid, Cetrimonium Chloride, Butylphenyl Methylpropional, Citrus Medica Limonum Peel Extract/Lemon Peel Extract. F.I.L. D42540/5.
Rated

5

out of

5
by
cynshan23
from
The perfect shade of red!
I've used Garnier Nutrisse Foam 6RR for years now and I can never change to another color. I get compliments daily from strangers on my hair. I have naturally dark brown hair and this shade has just the right amount of red/auburn that compliments my color perfectly, it's not a "fake" red that looks overdone. It's a subtle shade that changes depending on the lighting, so it always looks a little different. I seriously can't go anywhere without someone commenting on it and I always tell them it's a box dye and they don't believe me. Recently, I've had trouble finding this shade at Walmart and Walgreens and I'm worried they are about to discontinue it. PLEASE PLEASE PLEASE don't stop making this color! I try to buy at least two boxes every time I see it so I can always have a supply on hand.
Date published: 2015-02-02
Rated

5

out of

5
by
Mimi333
from
Came out beautifully!
The foam was a success! I usually have my mom dye my hair but for some reason I felt like dying my own hair. I knew itd be a mess if I used regular hair dye so I decided to go with the foam. The foam is AMAZING. It's easy to mix together and easy to apply. I didn't really apply it like shampoo like how they had on the instruction manual but it worked its magic the way it was suppose to! The only thing about this dye (6rr) is that it didn't come out like the picture. It was much redder which is good because I wanted it to be redder! :) The color is rich and beautiful. Definitely a winner!
Date published: 2013-07-30
Rated

5

out of

5
by
Samara
from
Great, rich color and does not fade out
Reds are hard to hold. I use 6RR Light Intense Auburn foam and the color stays so well. I get my hair cut every 4 weeks and my stylist cannot believe how rich looking the color is and how it stays looking so good. My style hides the roots for the most part (my natural color is dark brown). Easy to apply. Best to have someone who can spot check the application for misses. My husband is my helper. Great product.
Date published: 2013-07-19
Rated

4

out of

5
by
livvie
from
awesome color no bleaching
this is a great color i didn't bleach my hair before i used this and it looks great it's not the bright red little mermaid color but it's beautiful love it anyone who's looking for a little bit darker red this is a great color!!! :-p
Date published: 2013-03-29
Rated

4

out of

5
by
SandyG
from
First time user:)
Thanks so much for the Free Nutrisse Color Foam I received a coupon for. I colored my hair on New Years and with other hair color products I have used in the past it was un-noticable because my hair is brown and well unless bleaching my hair to have color is my choice, I prefer not to. Once I followed the instructions to the end and hair was dry, I did see hints of the Auburn tones and really liked it. It wasnt as bold as the box showed samples of, but I didnt expect the great shades it did give me. It really was easy to use and my only con would be that it has a very strong smell when you mix it and put it on. You must put it on in a very well ventillated area. Other than that it was really great and I would recommend this product. Only 4 stars because of strong oder and not as vibrant color all over as box images. Thanks so much!
Date published: 2013-01-02
Rated

5

out of

5
by
Mwes
from
Awesome color!
I was sceptical to try this since there were a few bad reviews, but I gave it a shot. I liked the foam idea since I think it makes it easier to spread the color on all of my hair (I normally use a cream). It did not drip in my eyes or on my clothes and it did rinse out clear after I used a little bit of shampoo. The color is fantastic! It looked a lot darker on the box (almost brown), but it came out to be a medium shade of red. And I found that my hair was not as dry as it normally is with the other haircoloring products I used previous. I will definitely be using this product again!
Date published: 2012-11-11
Rated

1

out of

5
by
Hotlittleredhead1982
from
Do not buy this if you want good color
This color is the worst I have ever seen! While the foam is a great idea the color bleeds constantly and never washes out clear. I dyed my hair and rinsed it out as best I could then washed my hair 2 days later I had to shampoo my hair 3 times and am still getting dye coming out of it and the color looks really bad now. My hair feels like a mass of fried fuzz and looks awful! I thought I would give the foam a try since it is supposed to be easier to use. I will never NEVER never buy this product or any made by this company again!
Date published: 2012-11-06
Rated

4

out of

5
by
NANCY522
from
6RR FOAM COLOR
THIS WAS AN EASY PRODUCT TO USE....NO FUSS NO MUSS....NOT EVEN A DRIP!!! I PURCHASED IT SPECIFICALLY TO COVER MY GRAY REGROWTH AND BECAUSE OF THE NUTRIENTS THAT IT BOASTED. MY HAIR DOES FEEL SMOOTHER AND SOFTER. NO JUST-COLORED HAIR SMELL!! THANK YOU FOR THIS PRODUCT. NANCY522
Date published: 2012-09-24