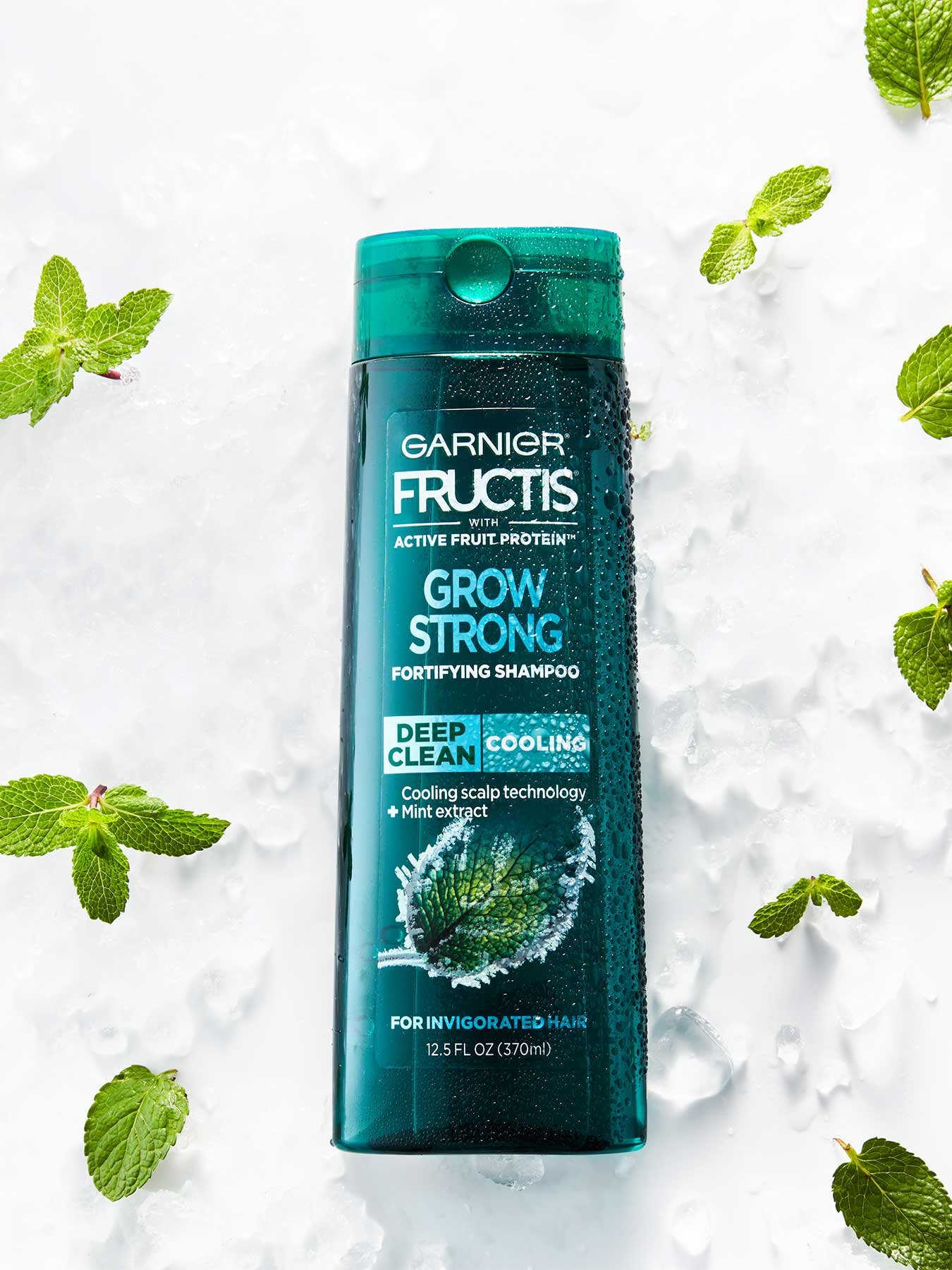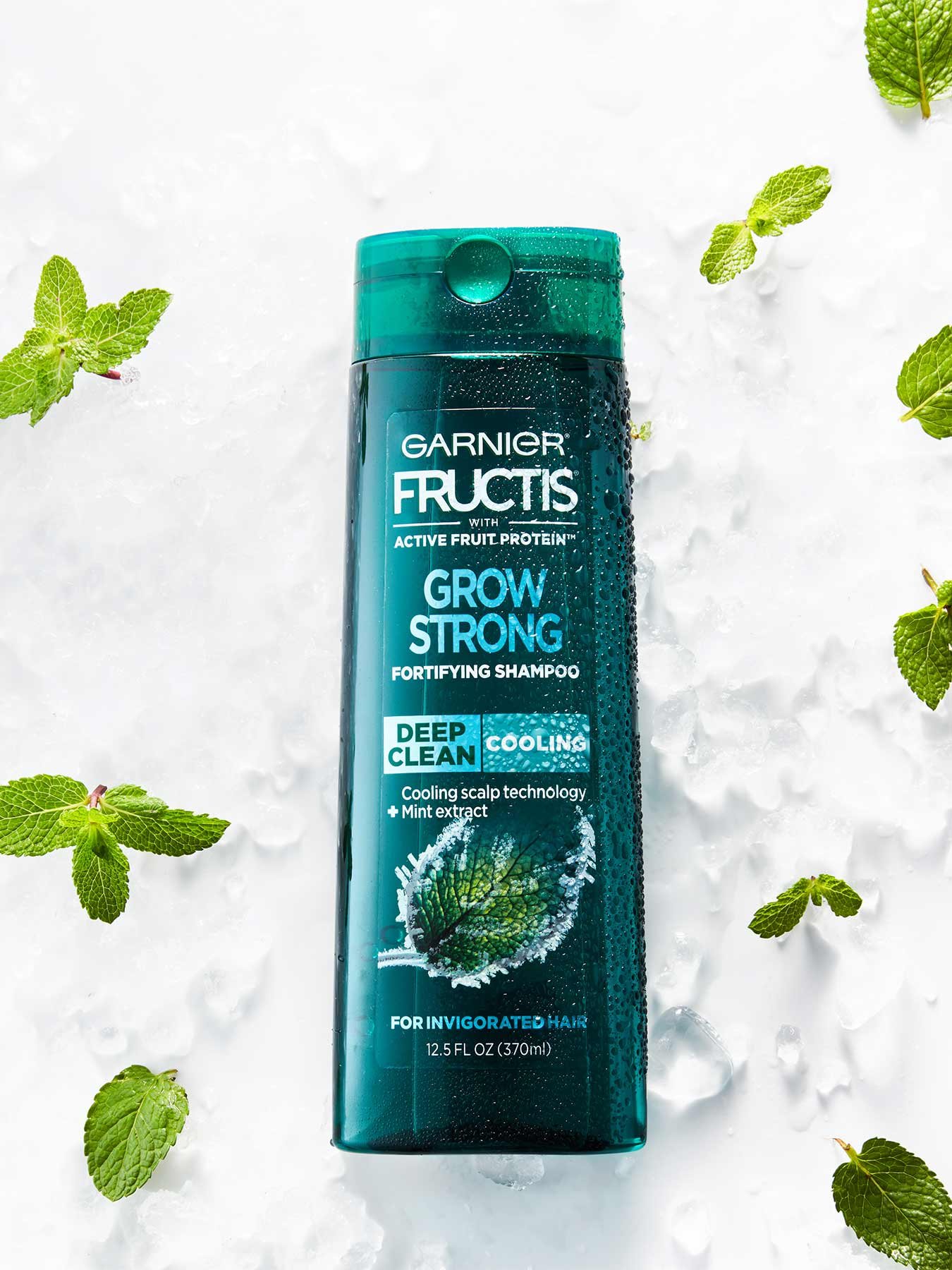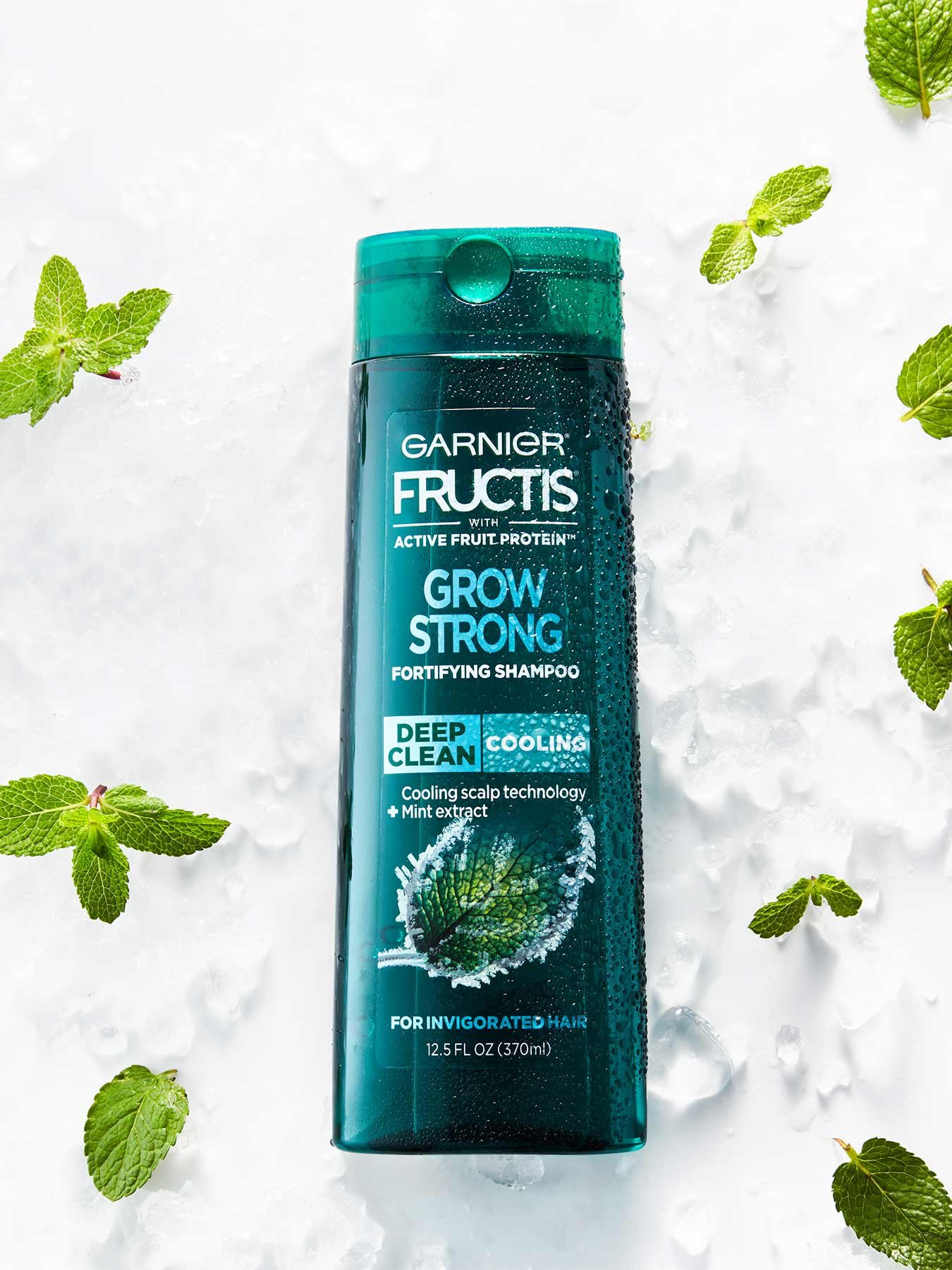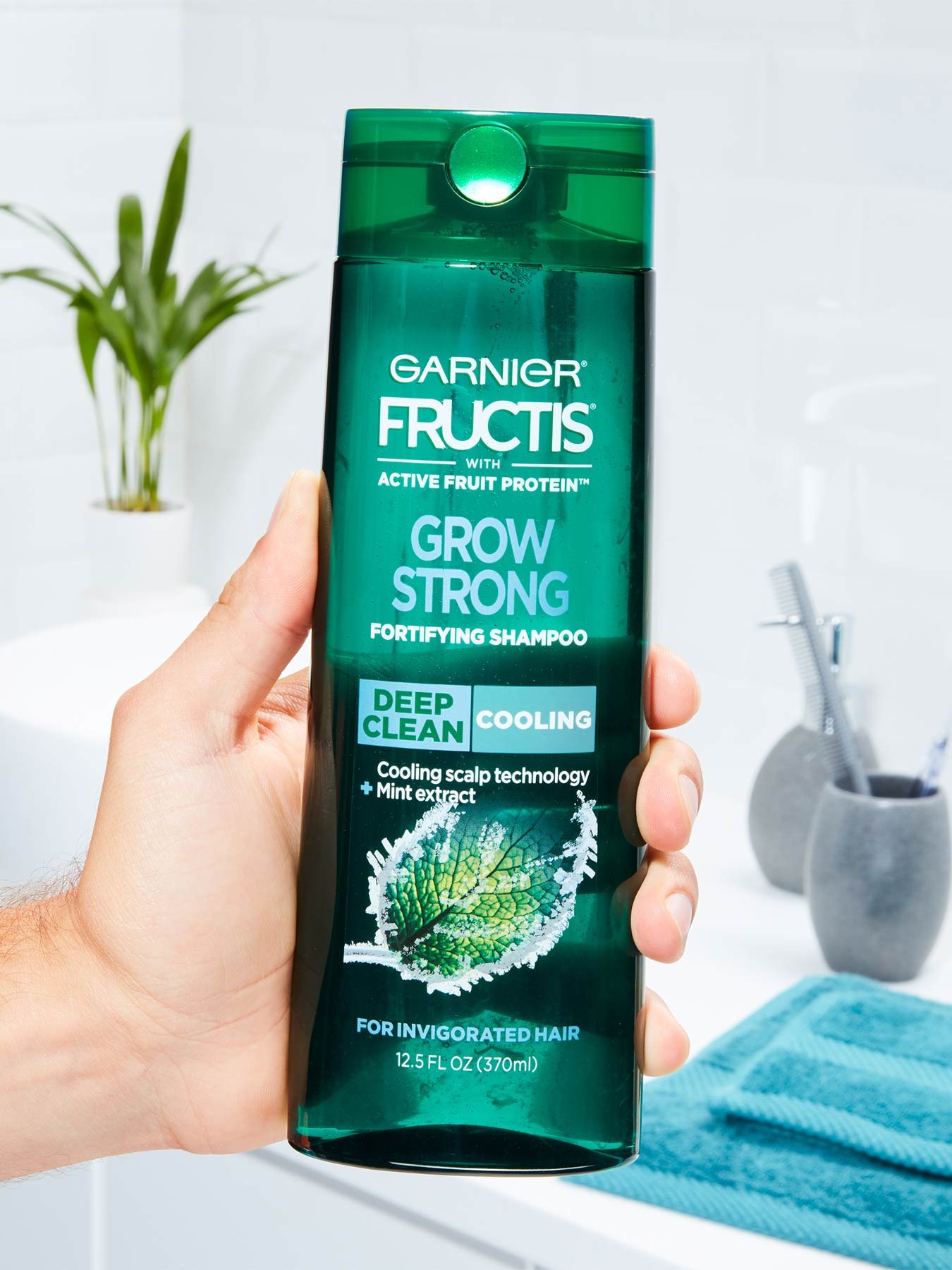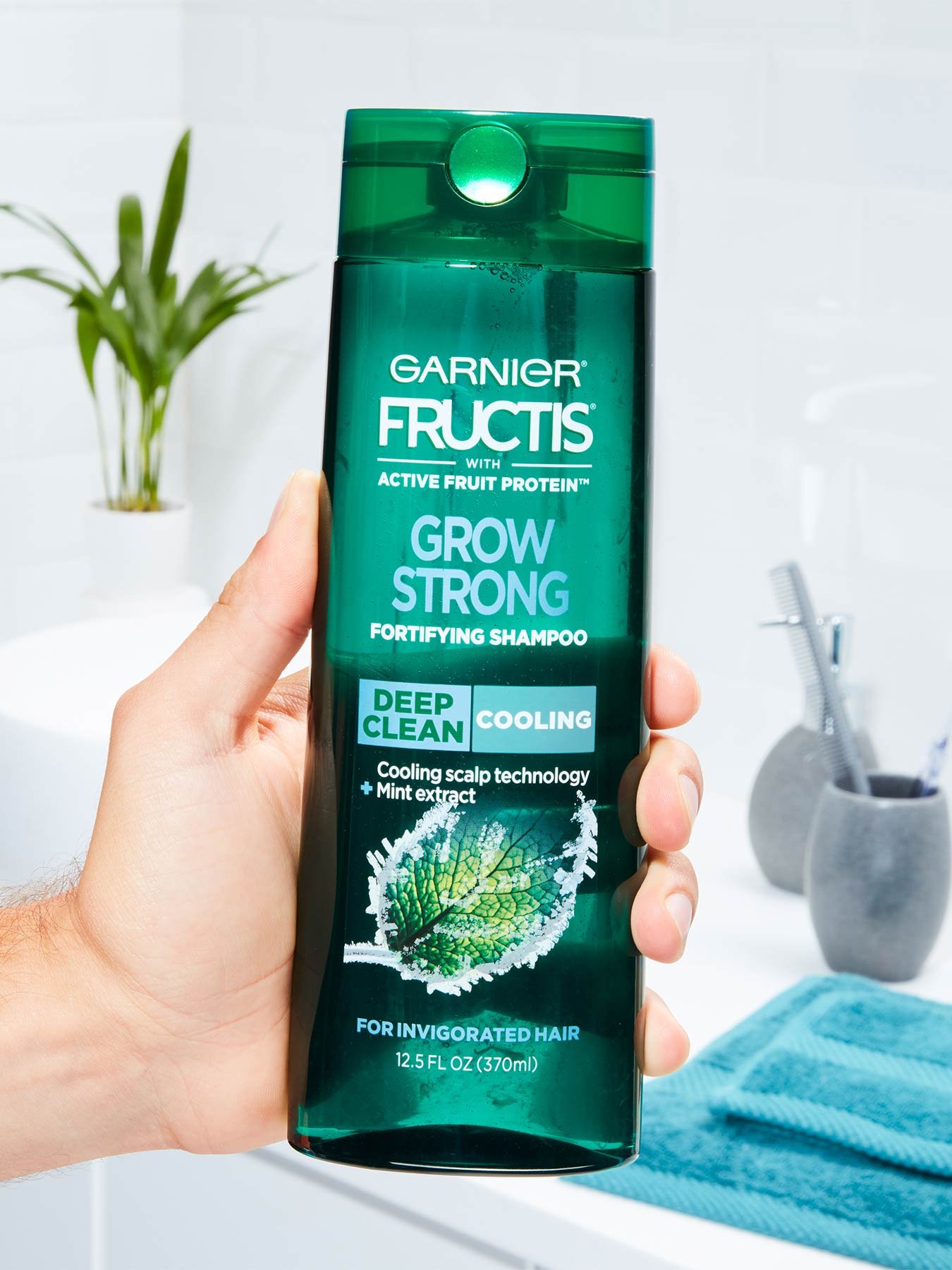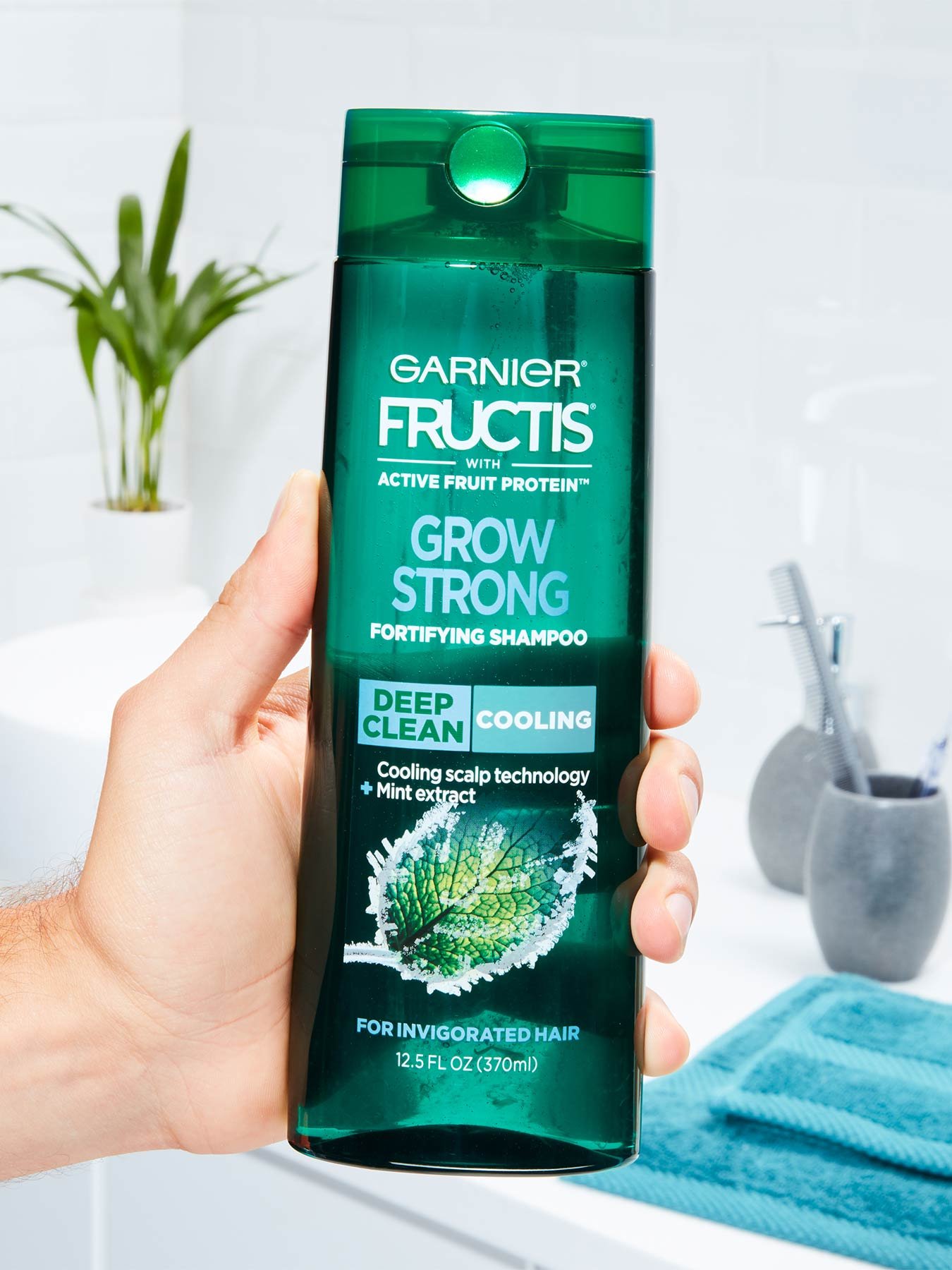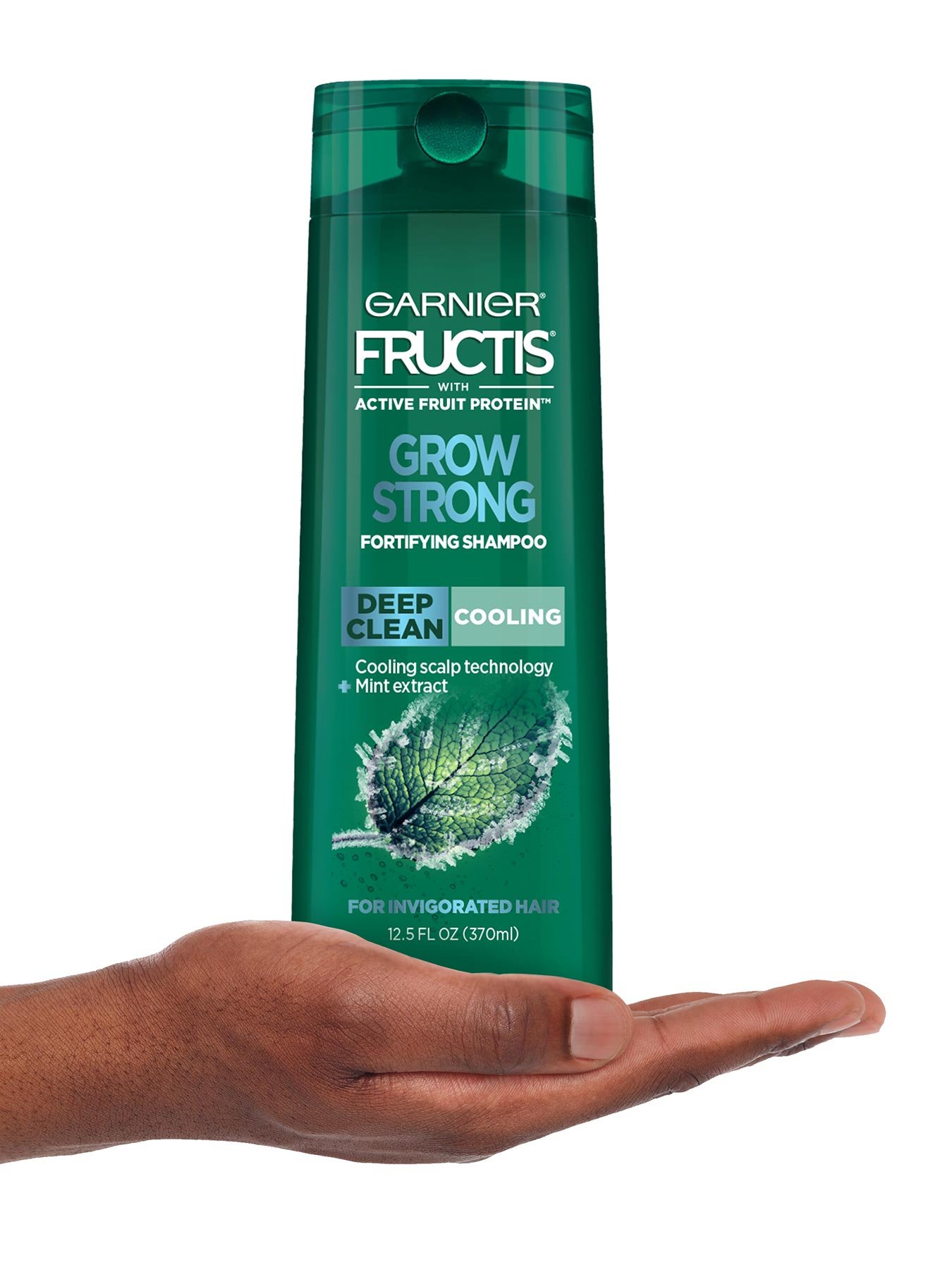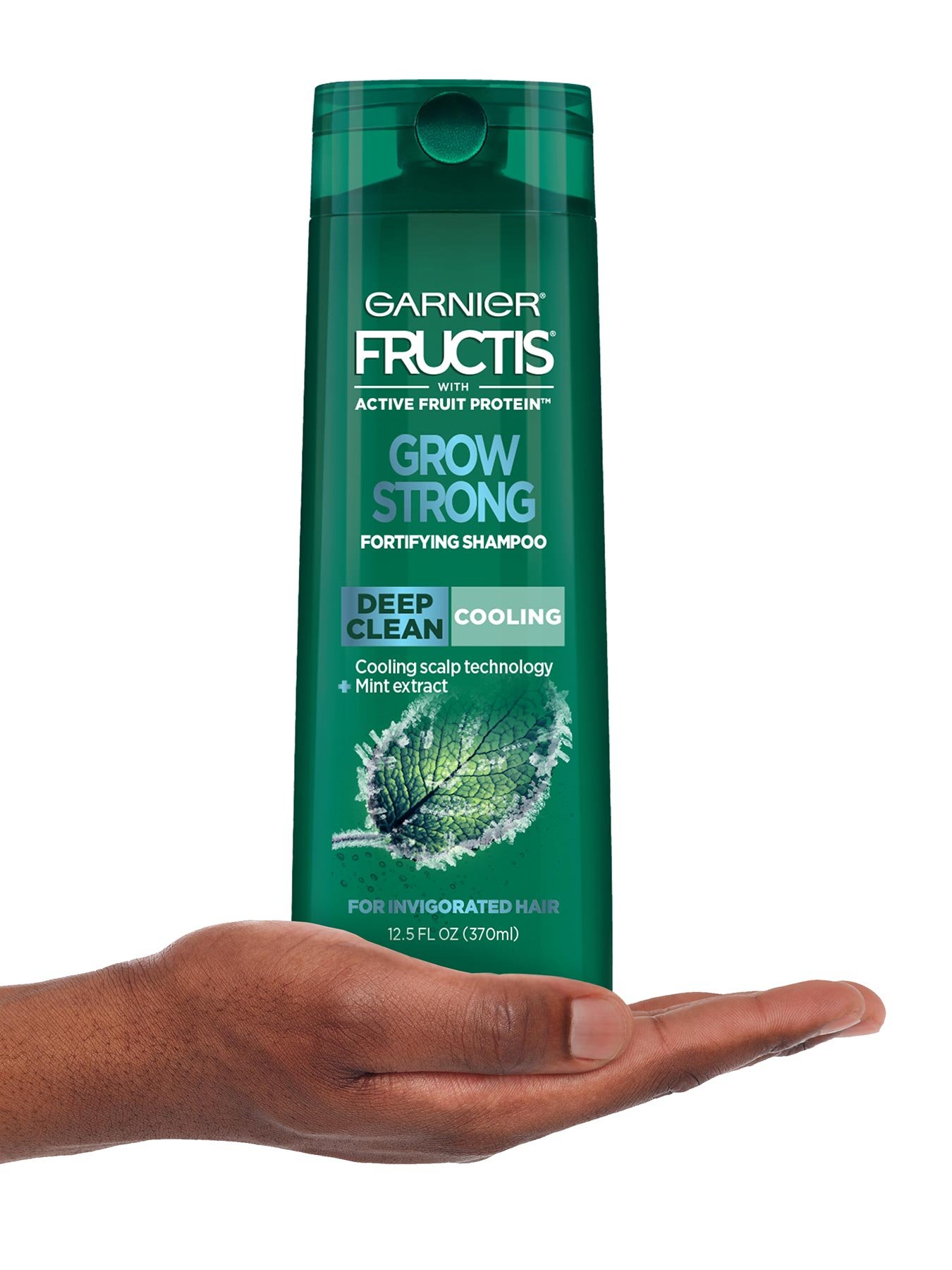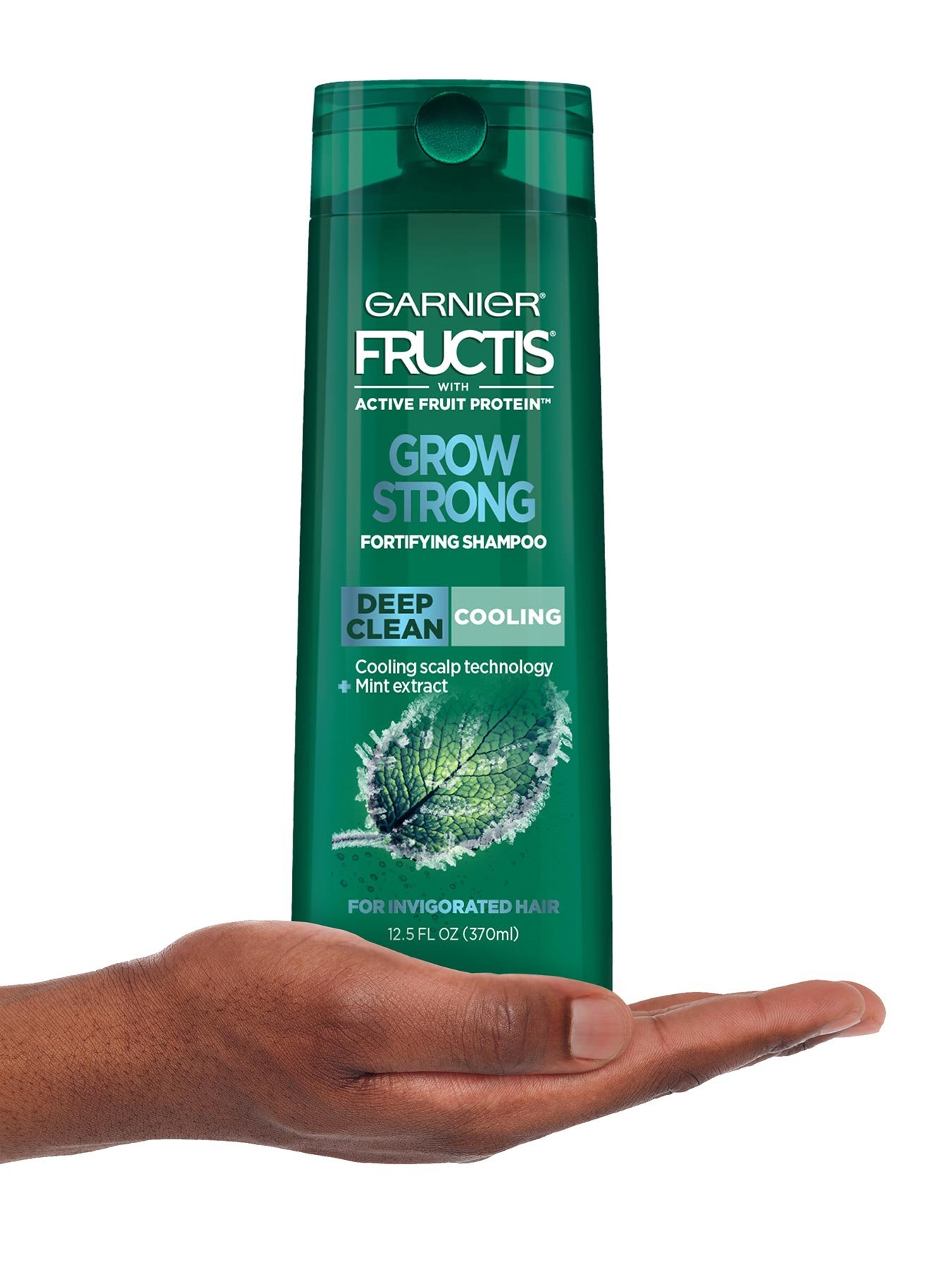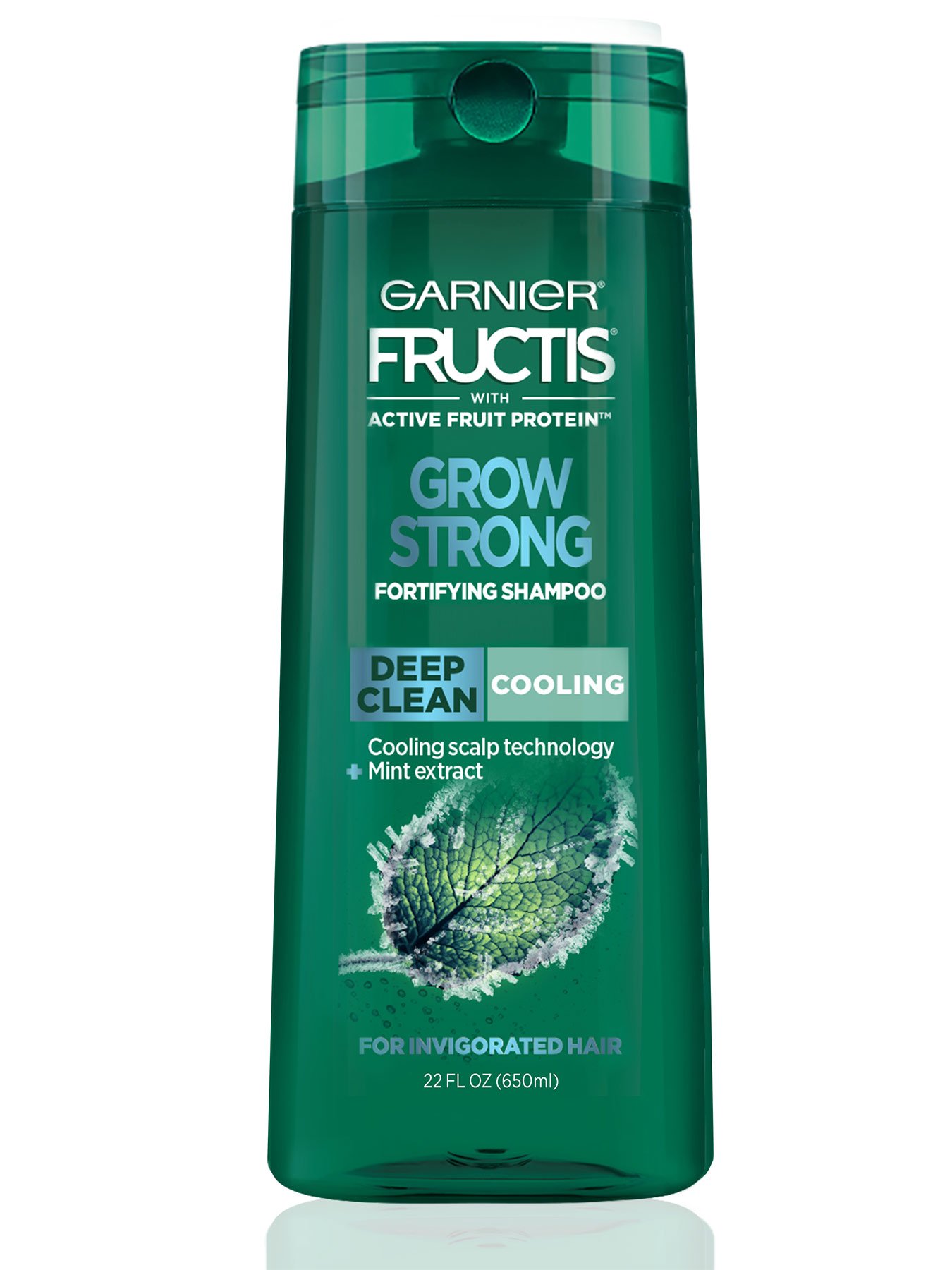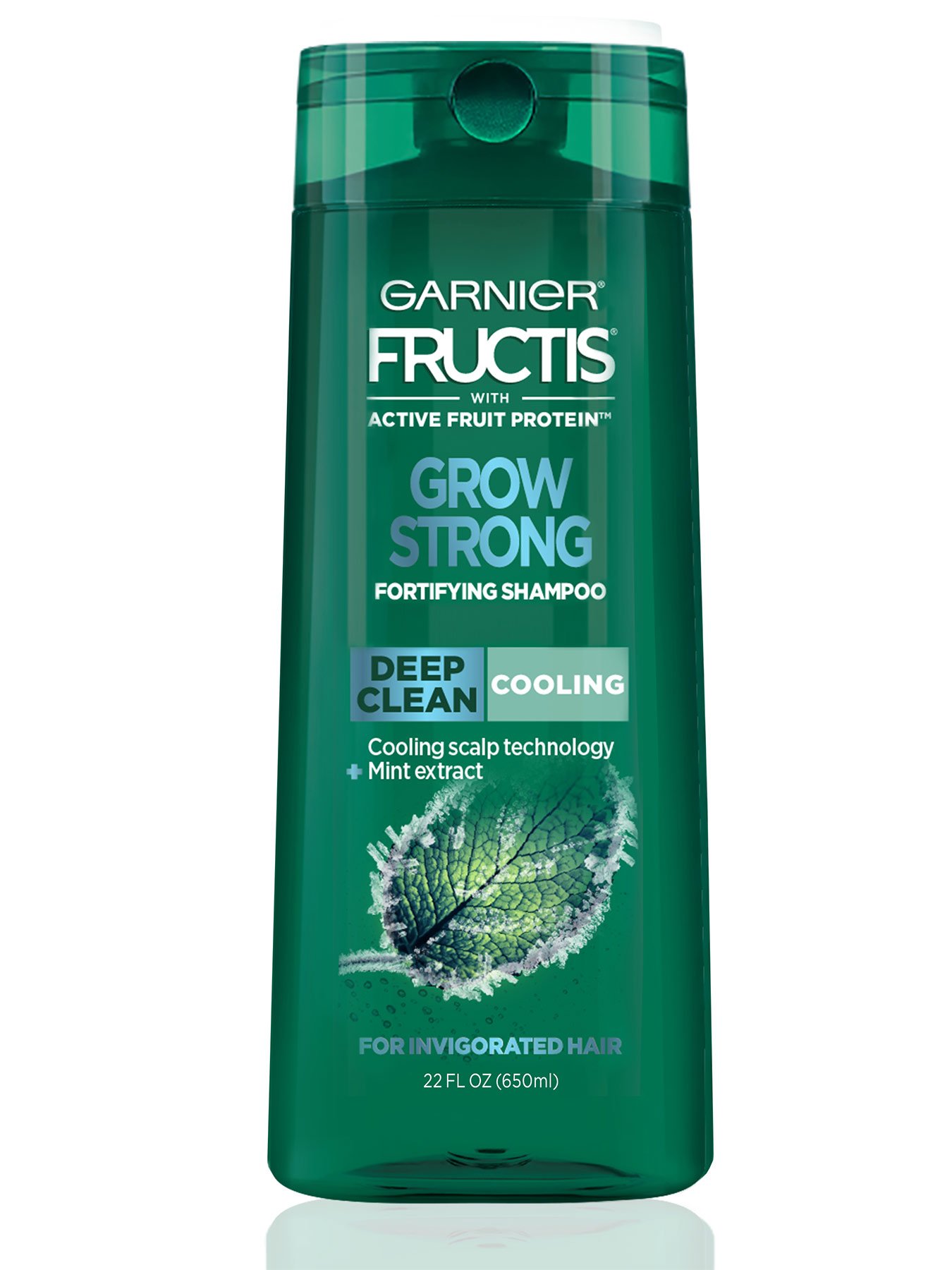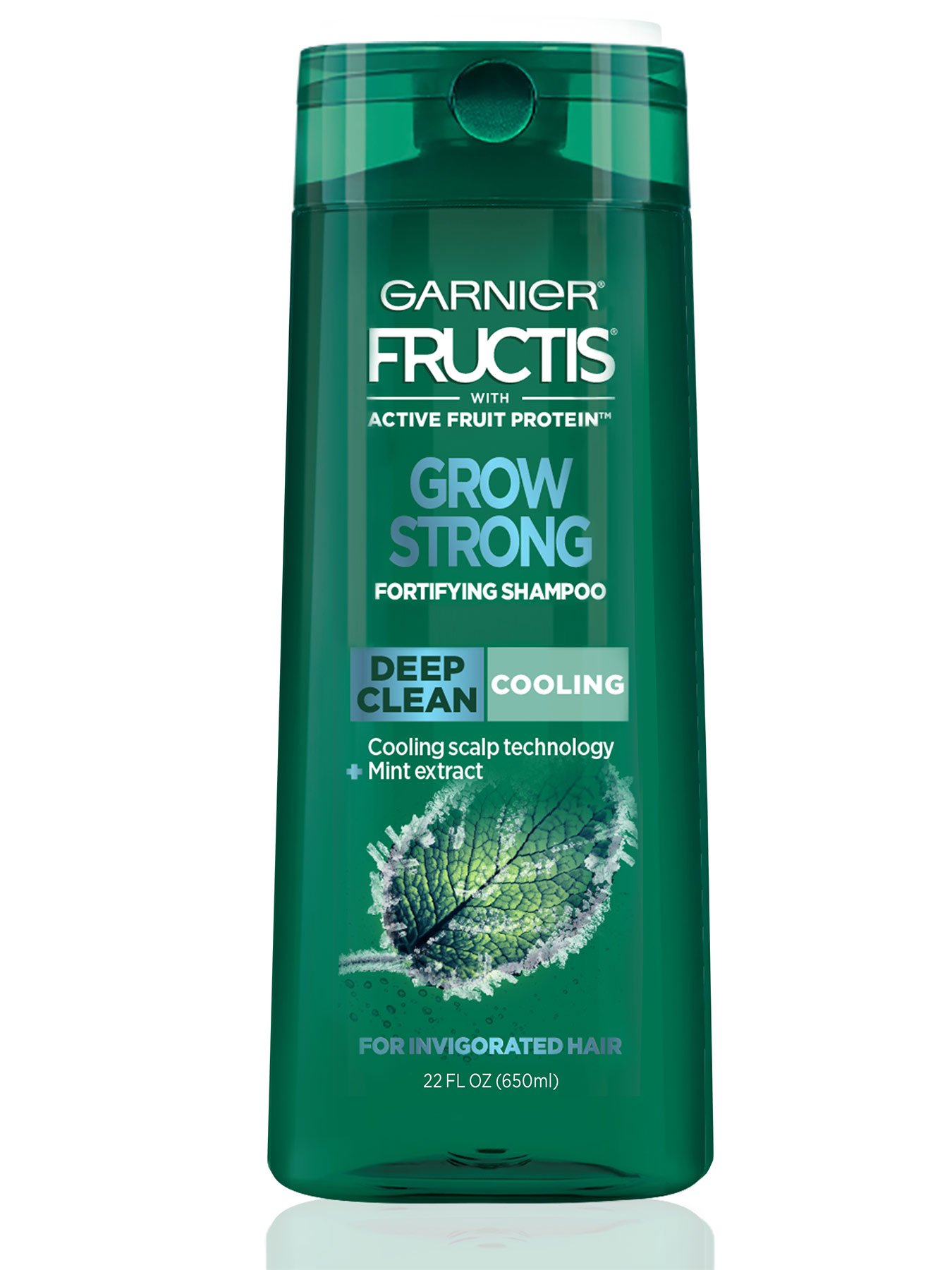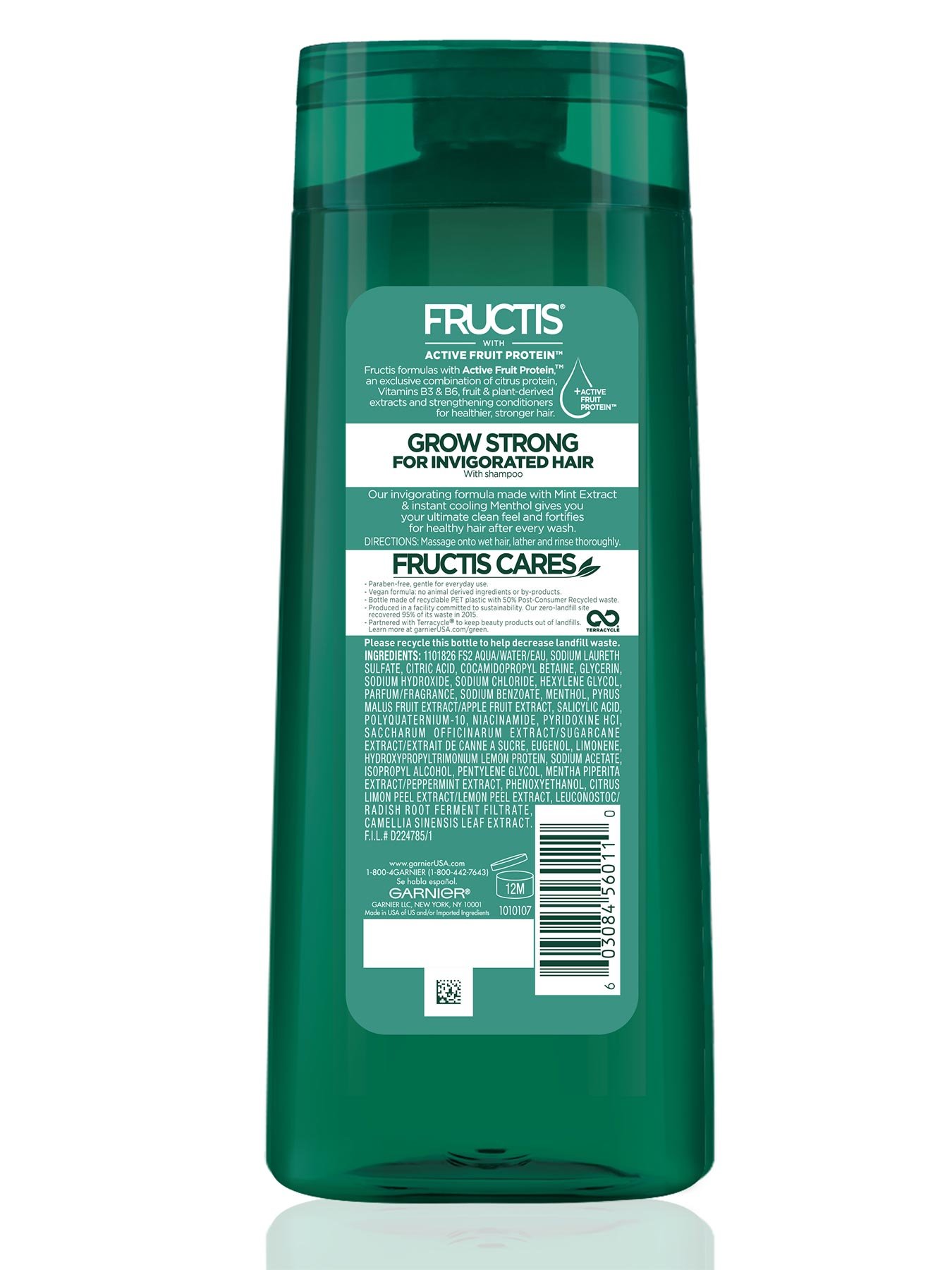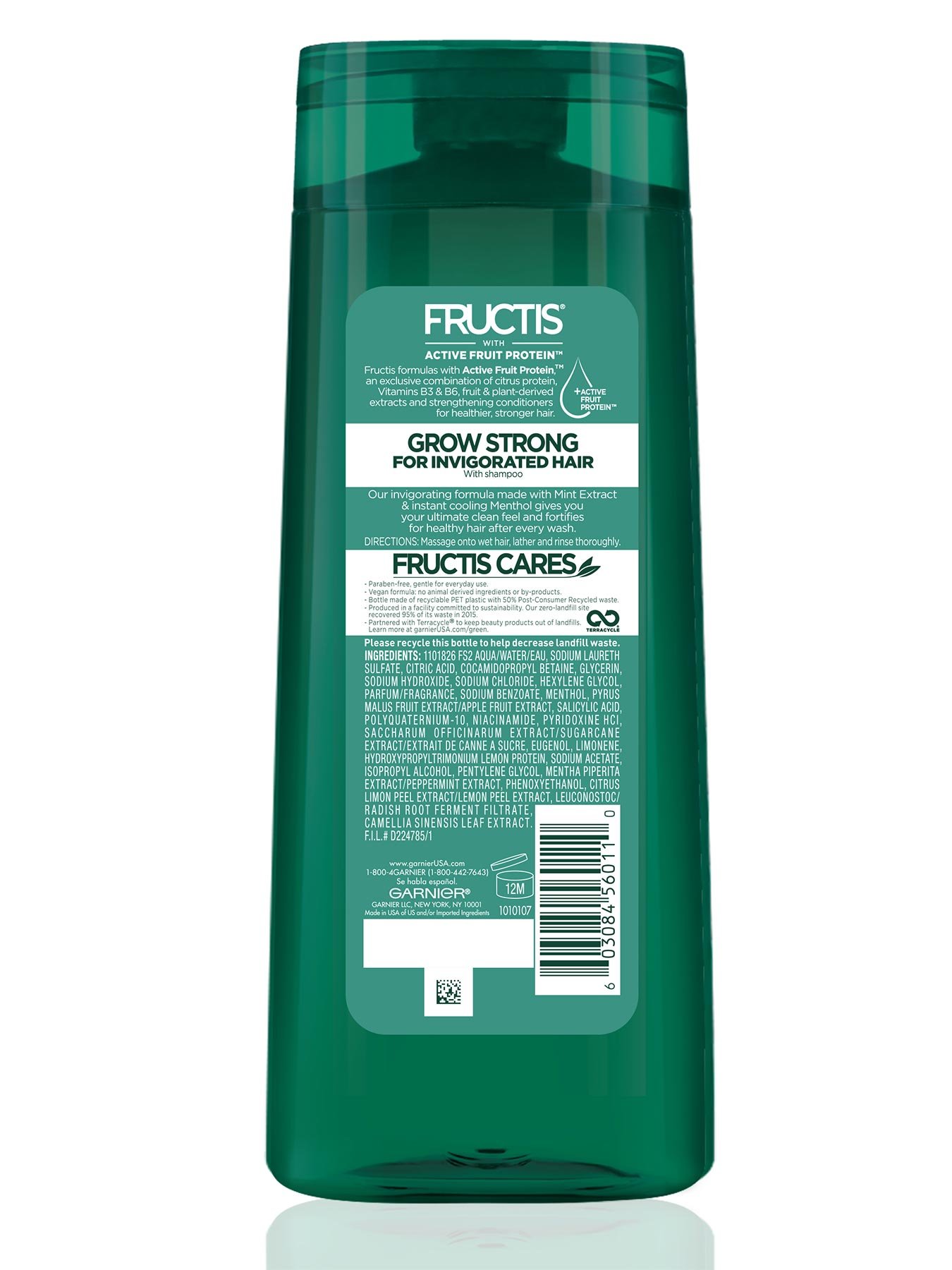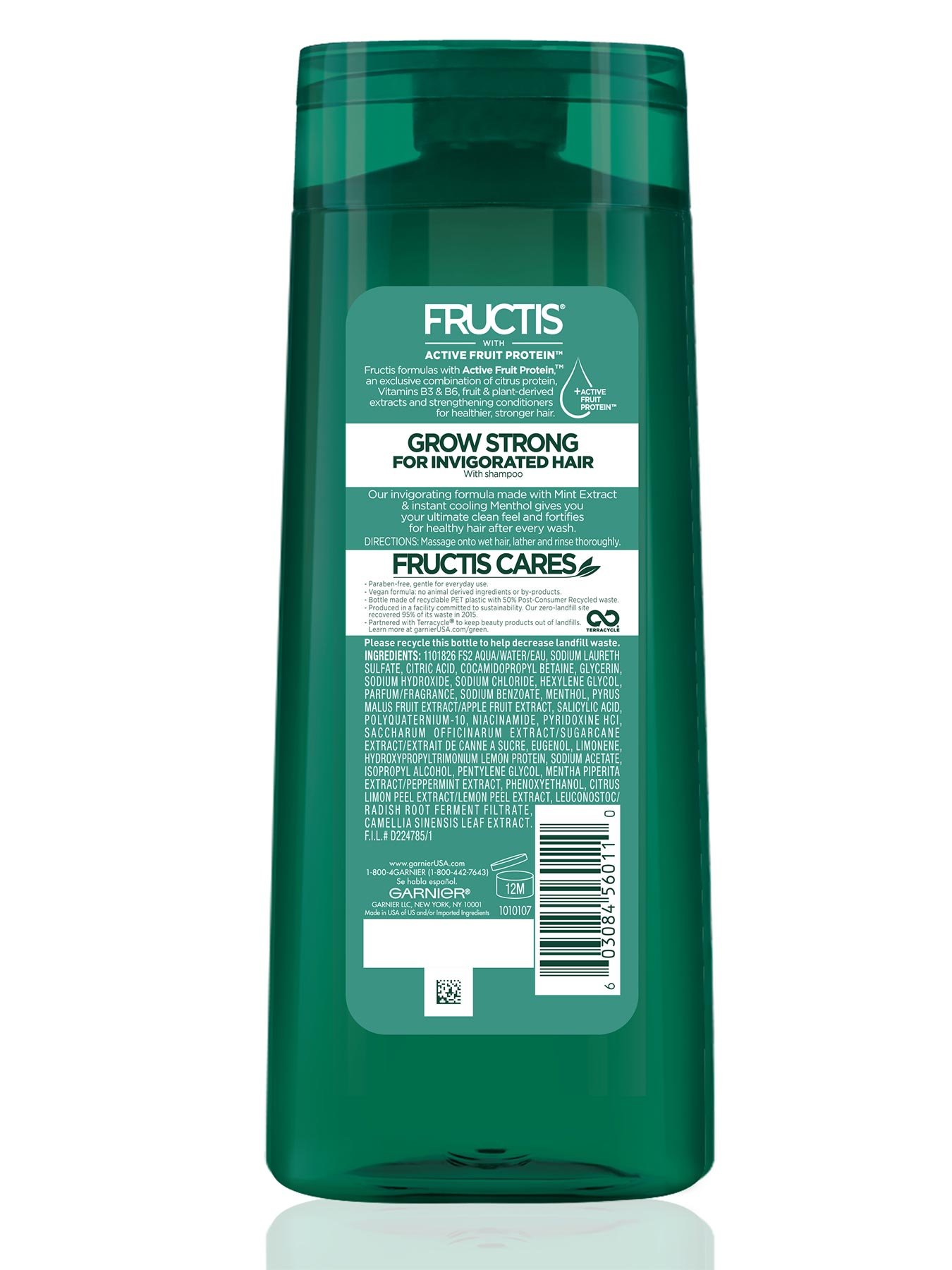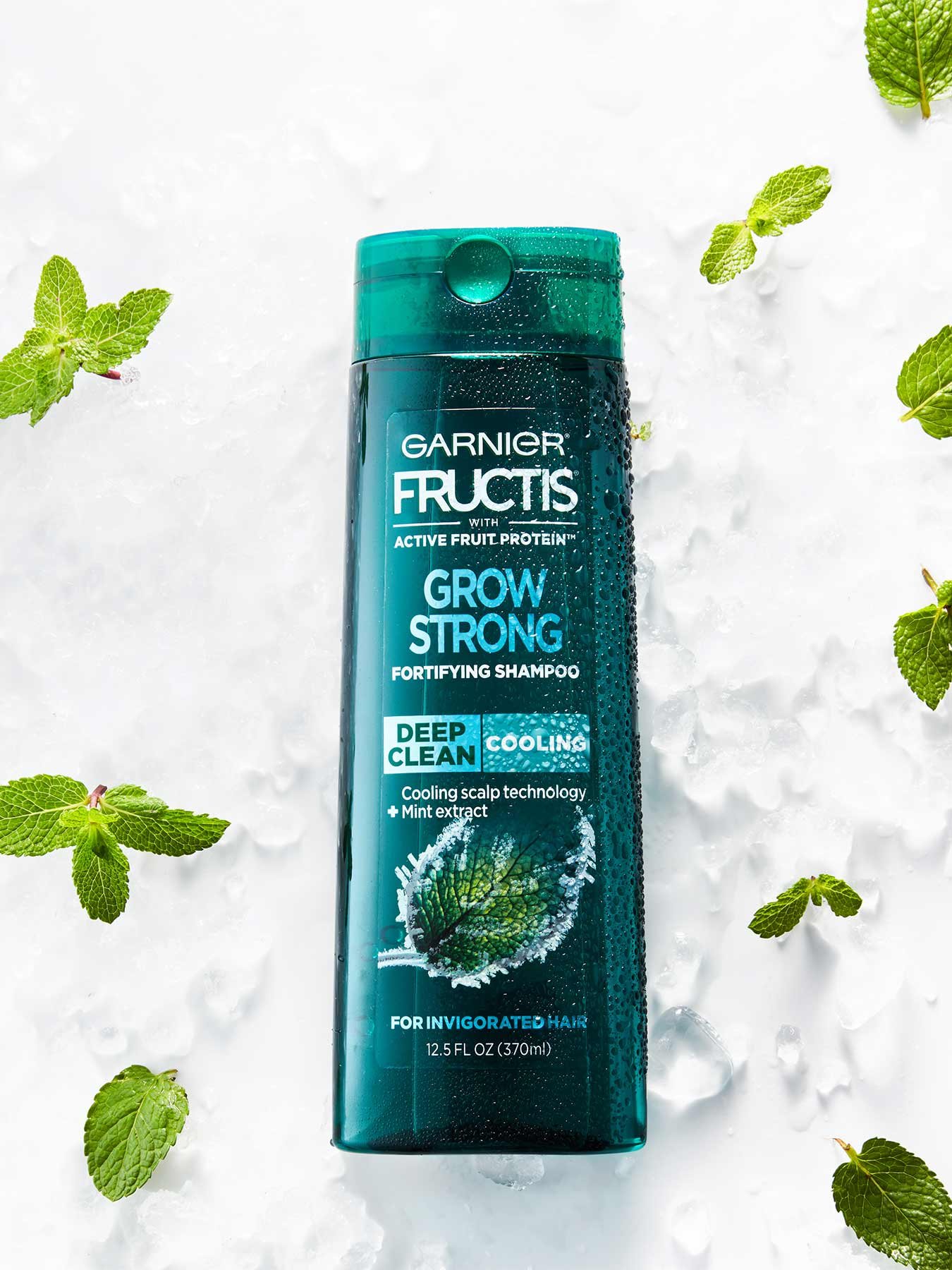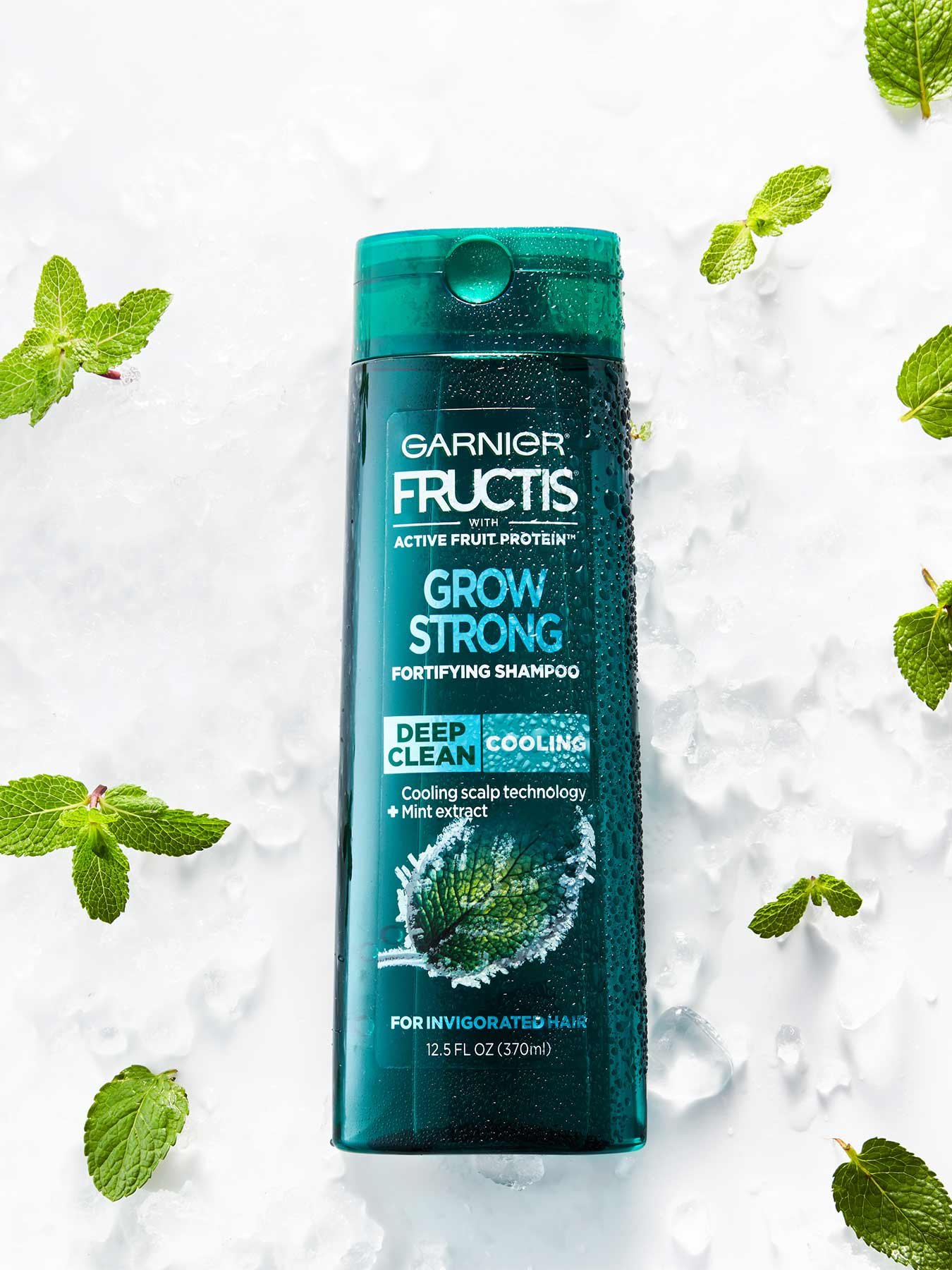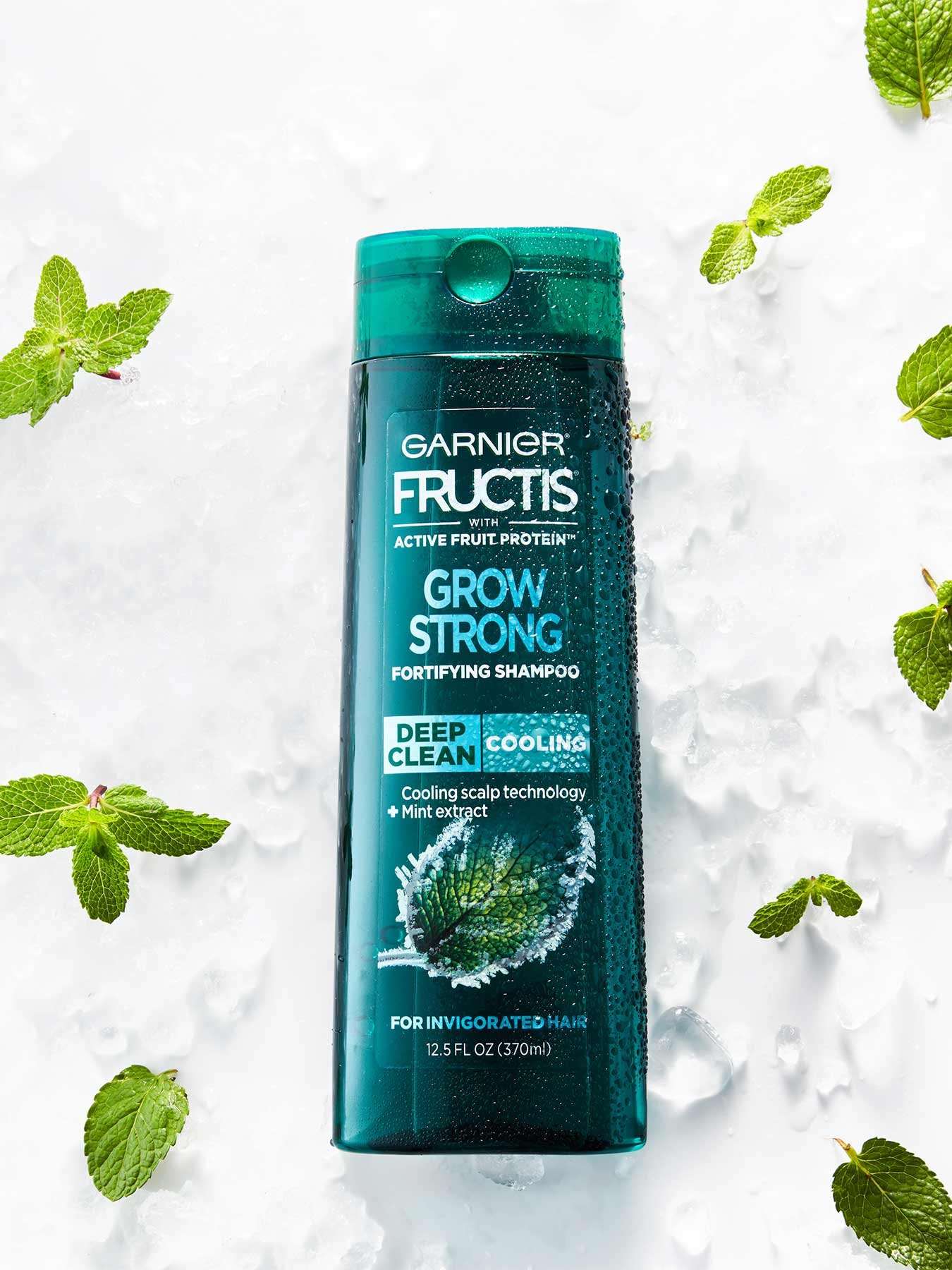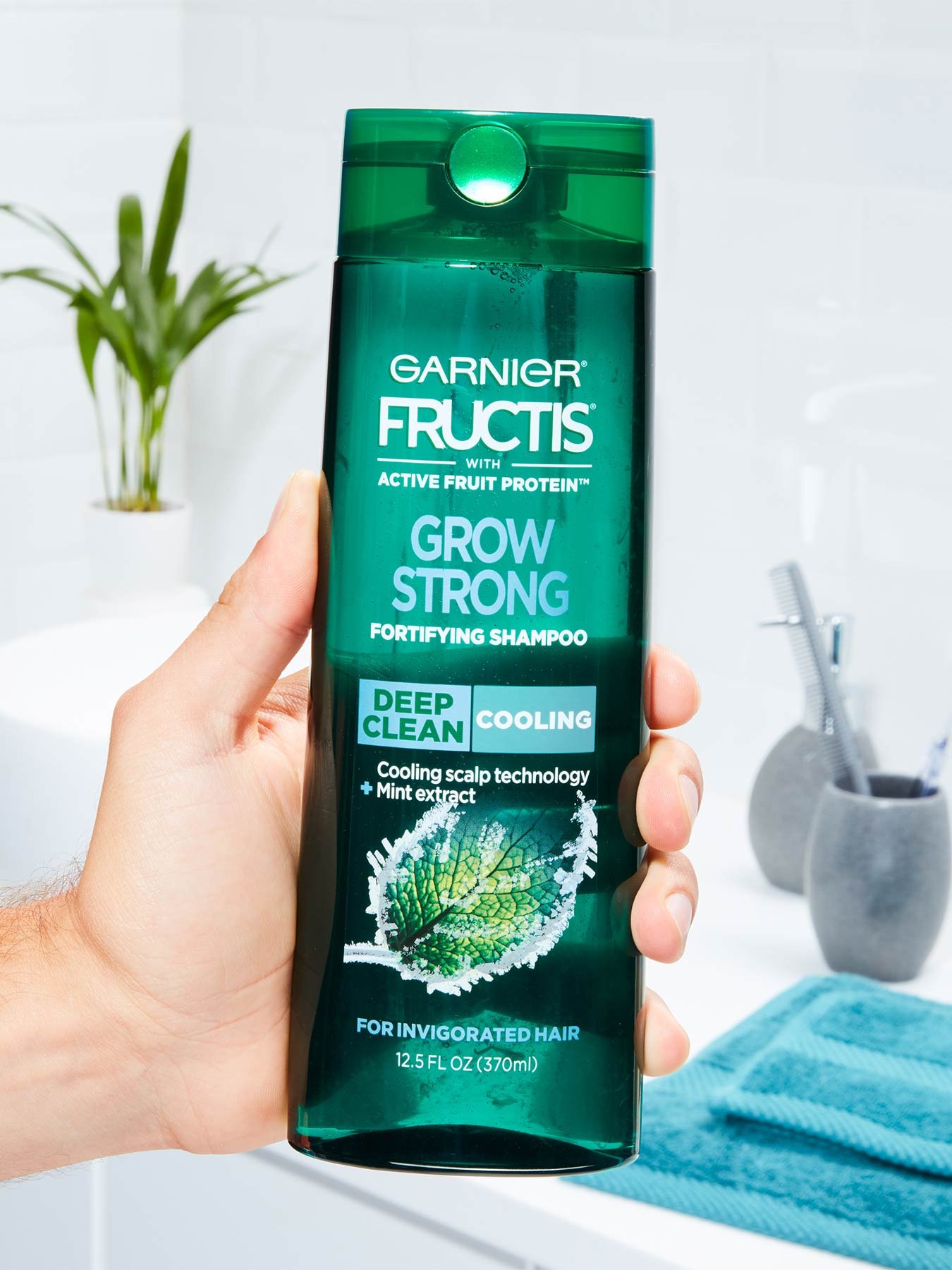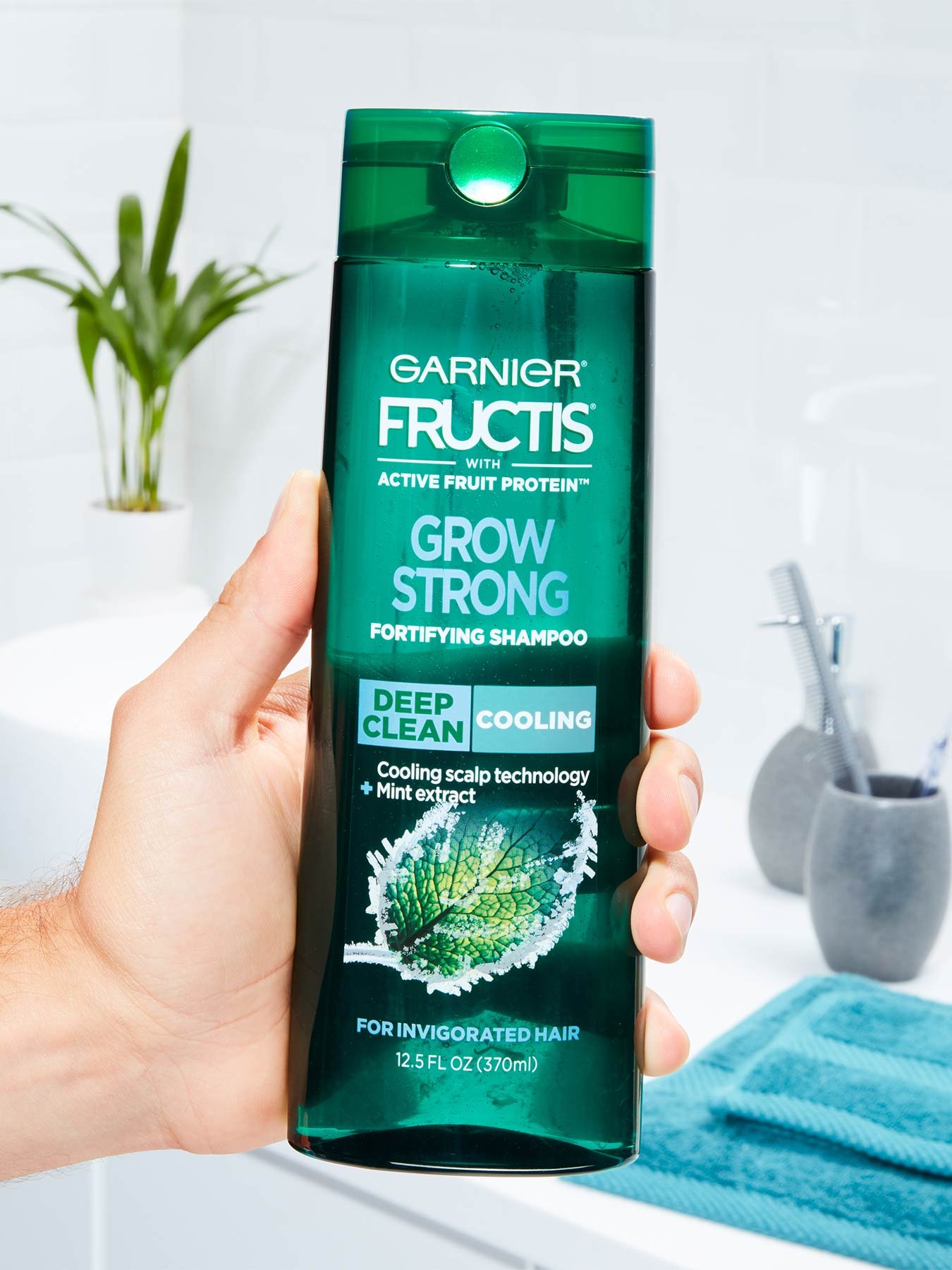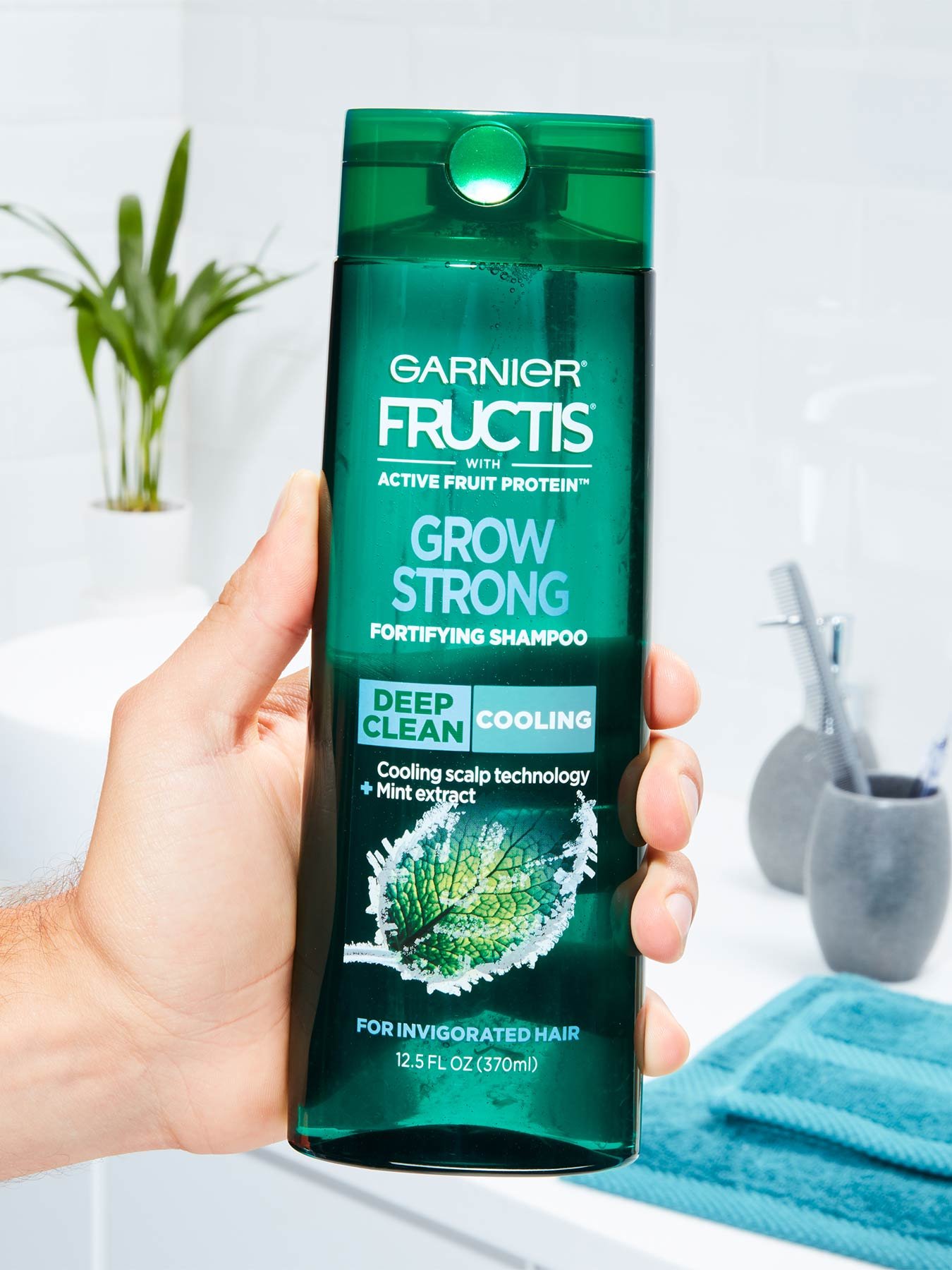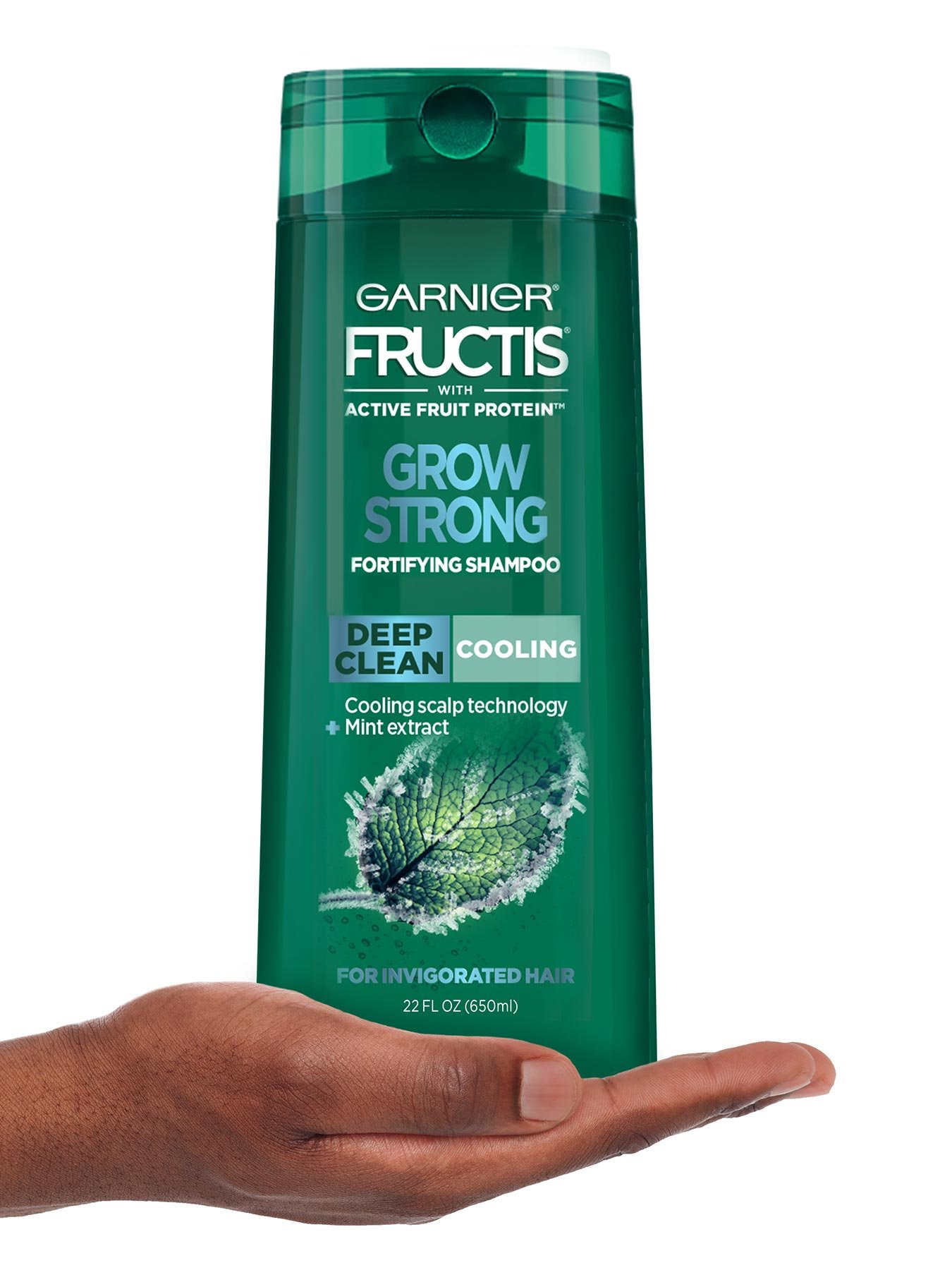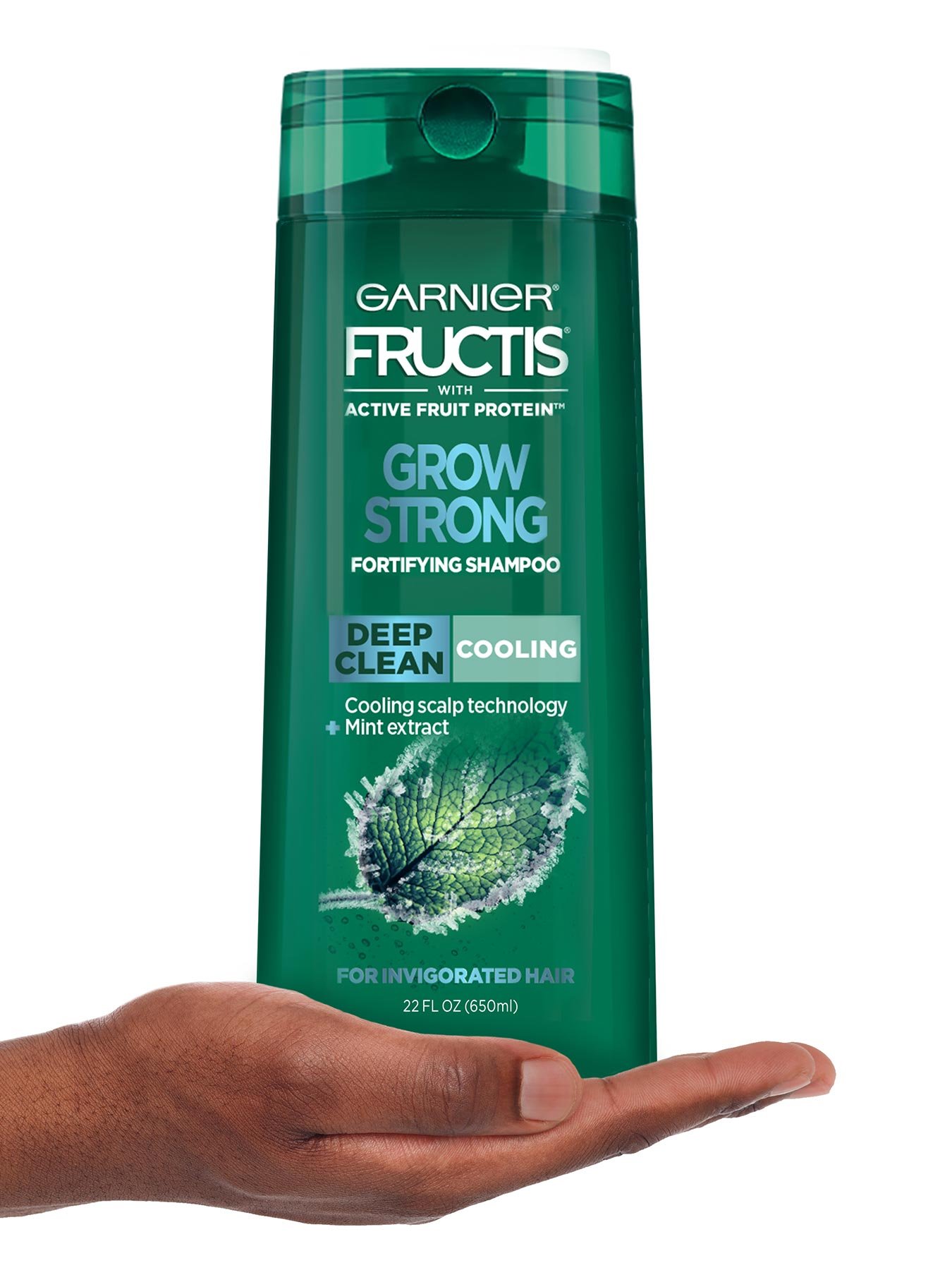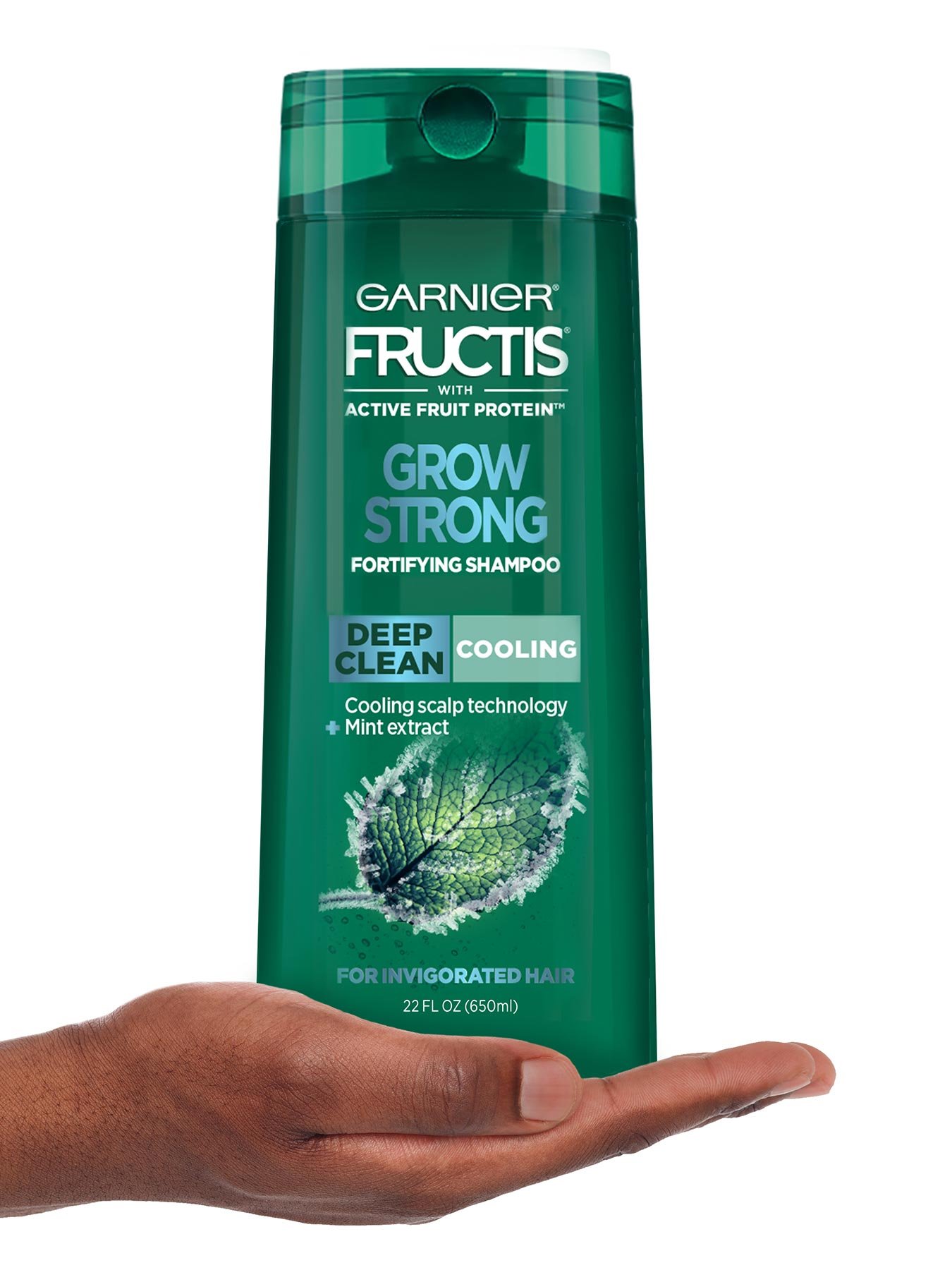 Garnier Fructis
Grow Strong Cooling Deep Clean Shampoo for Men
Grow Strong Cooling Deep Clean Shampoo for Men
$4.49 MSRP
$6.99 MSRP
Formula with Mint Extract and Menthol gives you your ultimate clean feel and fortifies for healthy hair
PRODUCT INFORMATION:
Upgrade your hair care routine with new Garnier Fructis Grow Strong Cooling Deep Clean Shampoo for Men. Grow Strong Cooling Deep Clean Shampoo for Men is made with a cooling scalp technology and formulated with Mint Extract and Menthol to give you a cooling sensation for clean, invigorated hair. Grow Strong Deep Clean Shampoo for Men gives you your ultimate clean feel and fortifies for healthy hair after every wash. Fructis Grow Strong Shampoo and Conditioner formulas are paraben-free, vegan, with no animal derived ingredients or by-products and gentle enough for everyday use to clean and fortify hair. Formulas made with Active Fruit Protein, an exclusive combination of citrus protein, Vitamins B3 and B6, fruit and plant-derived extracts and strengthening conditioners for healthier, stronger hair. Upgrade your routine with Fructis Grow Strong Cooling Deep Clean Shampoo for Men.
How to use:
Massage onto wet hair, lather, and rinse thoroughly and follow with Fructis Liquid Styling pomade, cream or putty to style hair with no messy application, no grease and no build up
Ingredients:
1101826 FS2 AQUA/WATER/EAU, SODIUM LAURETH
SULFATE, CITRIC ACID, COCAMIDOPROPYL BETAINE, GLYCERIN,
SODIUM HYDROXIDE, SODIUM CHLORIDE, HEXYLENE GLYCOL,
PARFUM/FRAGRANCE, SODIUM BENZOATE, MENTHOL, PYRUS
MALUS FRUIT EXTRACT/APPLE FRUIT EXTRACT, SALICYLIC ACID,
POLYQUAT ERNIUM-10, N I ACI N A M IDE, P Y RIDOX I N E HCl ,
S A C C H A R UM OF F I C I N A R UM E X T R A C T / S U G A R C A N E
EXTRACT/EXTRAIT DE CANNE A SUCRE, EUGENOL, LIMONENE,
HYDROXYPROPYLTRIMONIUM LEMON PROTEIN, SODIUM ACETATE,
ISOPROPYL ALCOHOL, PENTYLENE GLYCOL, MENTHA PIPERITA
EXTRACT/PEPPERMINT EXTRACT, PHENOXYETHANOL, CITRUS
LIMON PEEL EXTRACT/LEMON PEEL EXTRACT, LEUCONOSTOC/
R A D I S H R O O T F E R ME N T F I LT R A T E ,
CAMELL I A S INENSIS L E A F E X TR ACT.
F.I.L.# D224785/1
Mint
For hundreds of years, people have used the cooling and stimulating effects of mint to invigorate hair and scalp.
Citrus
Packed with powerful proteins and citric acid to reduce greasiness and strengthen hair. Get a refreshingly clean scalp with soft and shiny hair.
Rated

4

out of

5
by
Dai25
from
Love it
I love the tingly sensation. This is definitely my favorite shampoo but i would love if it was sulfate free i might have to stop using it because of that sadly because its not curly hair friendly even with the orsnge bottle curls line in garnier :( please make this minty one sulfate free
Date published: 2019-10-22
Rated

5

out of

5
by
Weekend Gamer
from
Weekend Gamer
The shampoo gave a cooling tingle effect to my head. Made me feel fresh and clean. Very different from any other products. It stimulated my scalp like no other shampoo.
Date published: 2019-10-07
Rated

5

out of

5
by
elgal
from
Love the fresh tingly feeling this shampoo gives, Ive only started using it so I cant say if it is helping with my hair thinning, so far so good though
Date published: 2019-09-27
Rated

3

out of

5
by
andie1
from
I haven't tried this exact product but I know the brand an I'm sure it smells and works amazingly well . Im definitely going to check this out , I'd love to review !
Date published: 2019-09-01
Rated

4

out of

5
by
Anonymous
from
This shampoo gives the sensation of a deep clean. It lathers up very well & foamy. There is not much I would change about this product, but it is not a daily shampoo for me however.
Date published: 2019-08-27
Rated

1

out of

5
by
chicklet5
from
This shampoo smells absolutely awful to me! While it does give a nice tingle to the scalp from the mint extract, I think they somehow failed to keep it fresh enough. The bottle I picked up from shoppers drug mart has a kind of mildew-like scent under the mint scent. Not sure what happened but I guess I know why it was on sale...
Date published: 2019-08-25
Rated

5

out of

5
by
tattianai
from
Best shampoo keeps the hair soft and smells great would recommend it to anyone looking for something new.
Date published: 2019-08-23
Rated

4

out of

5
by
marlenec6
from
This line of Garnier is absolutely amazing. My hair feels clean yet moisturizing and soft and it does leave a shine and I dont have as much Frizz. If you feel like you have To freshen up your scalp from the hair products that you use, I recommend this to get rid of gunk. Also the price Is unbeatable.
Date published: 2019-07-25