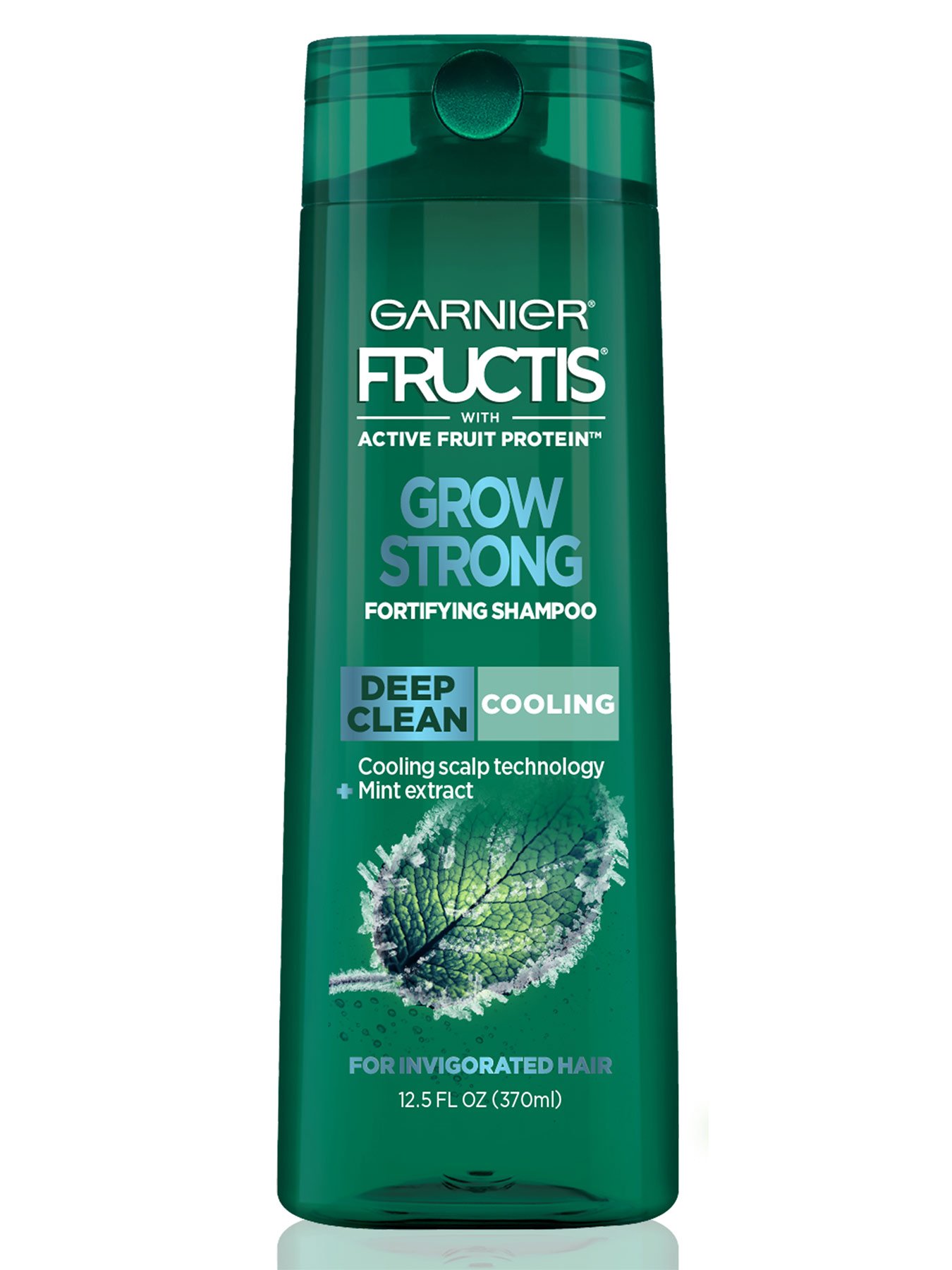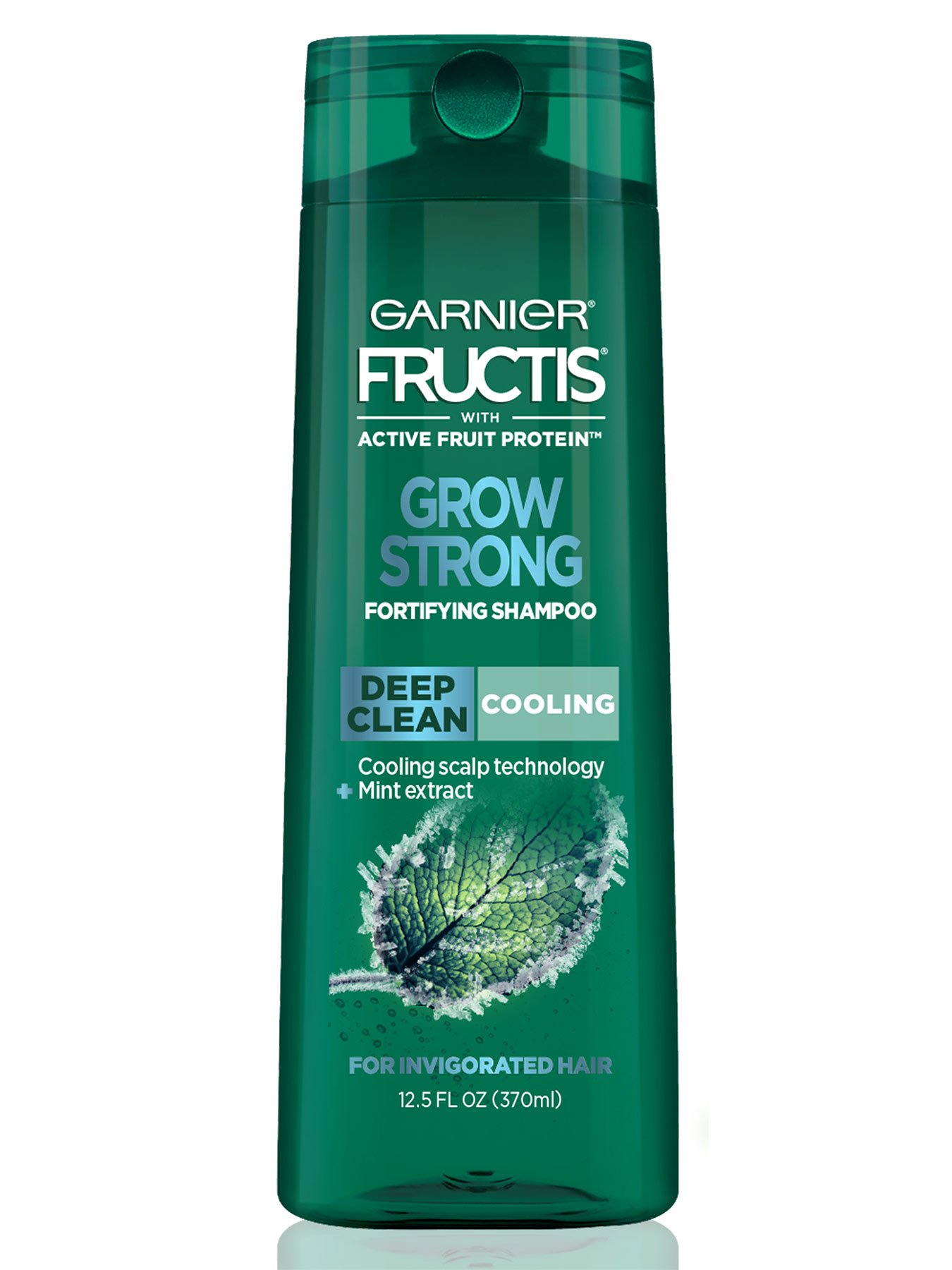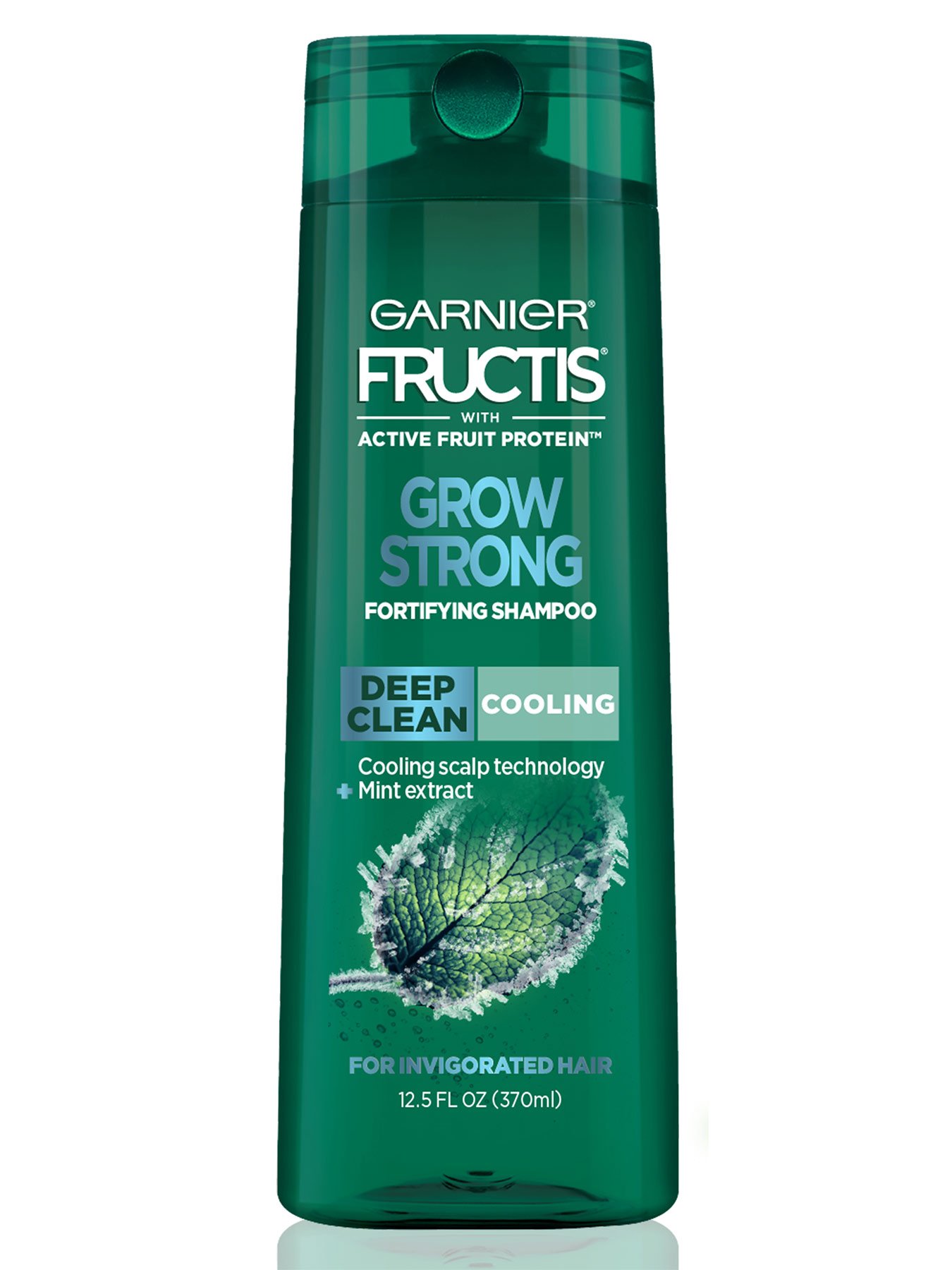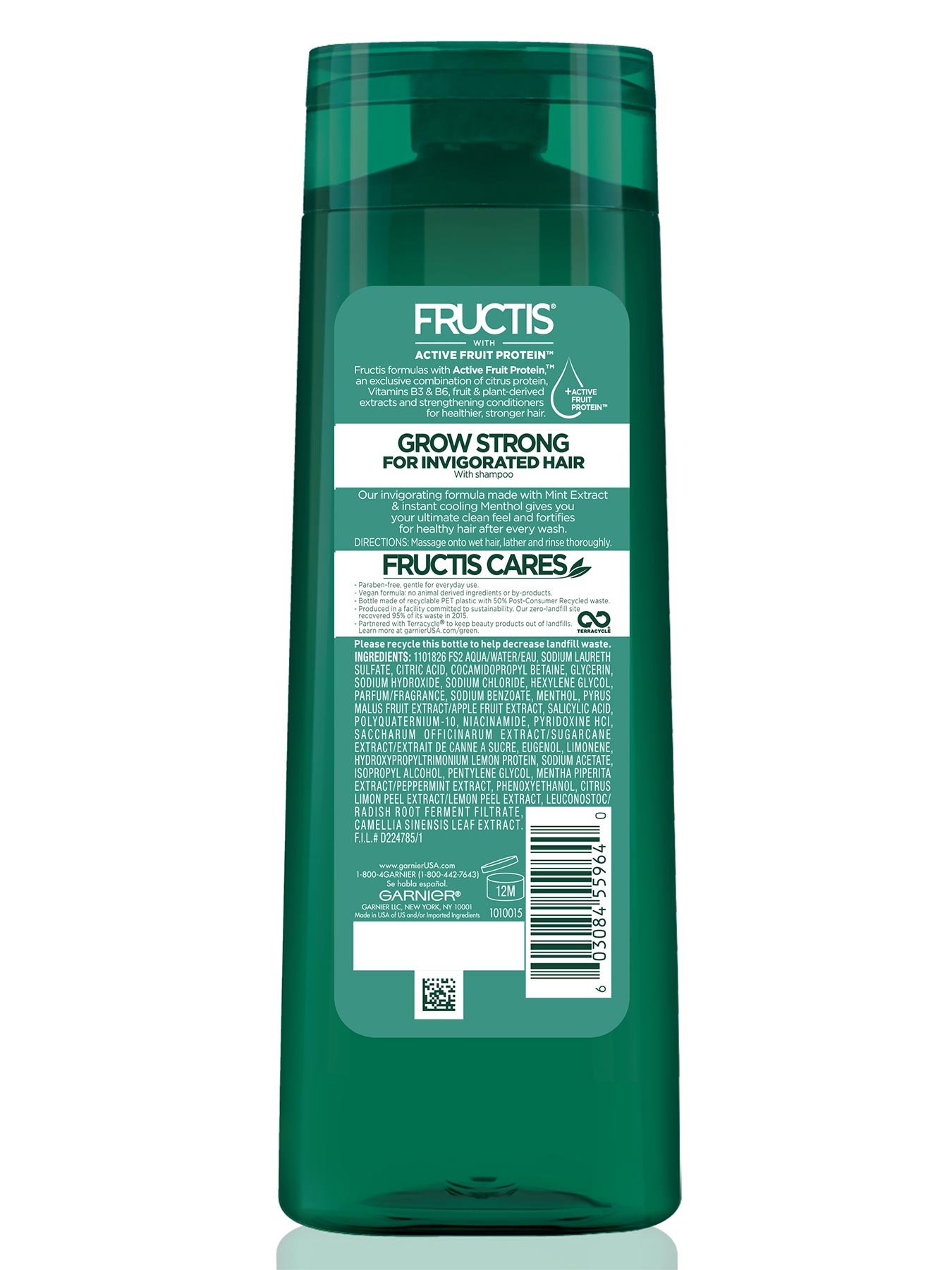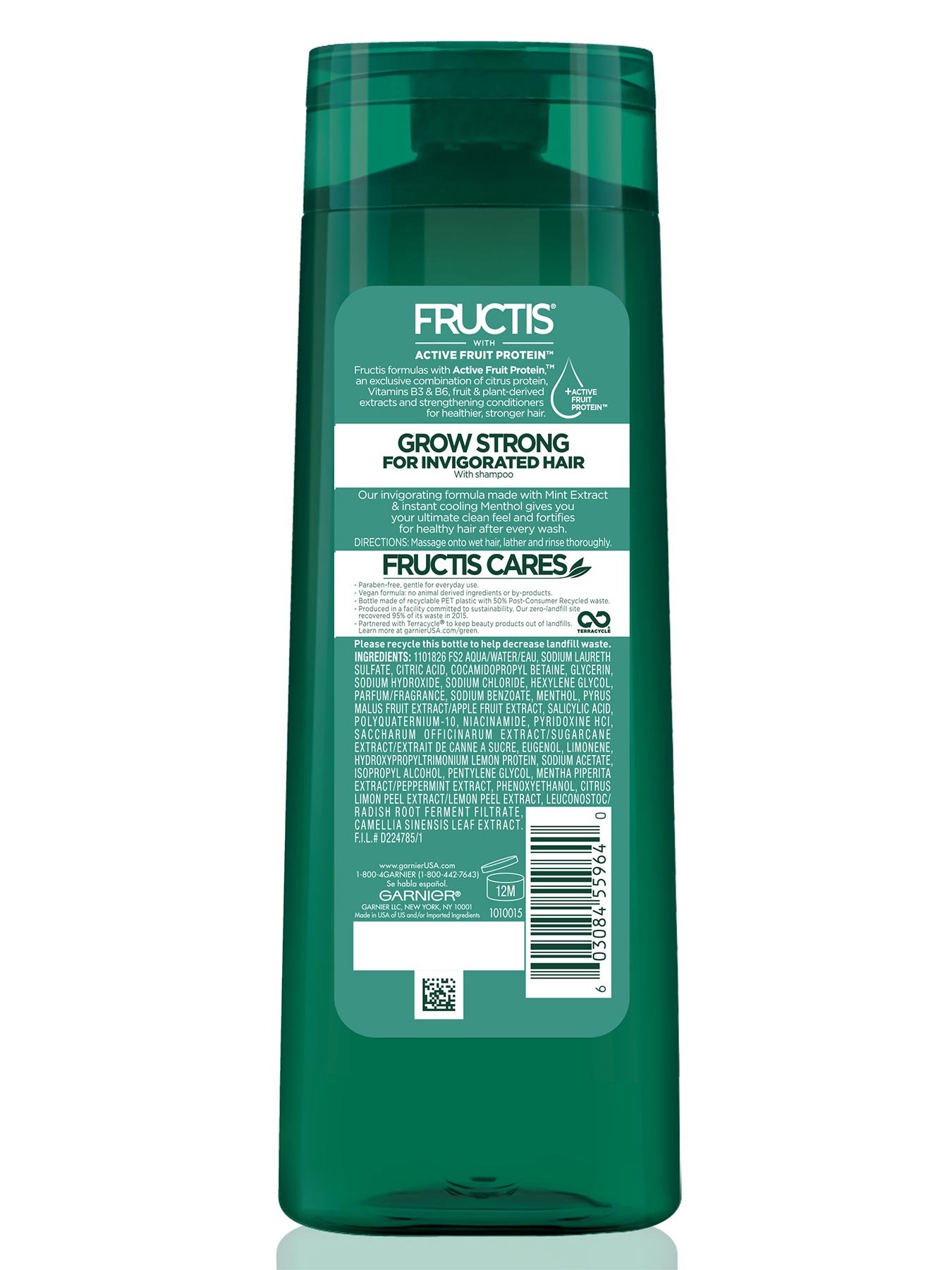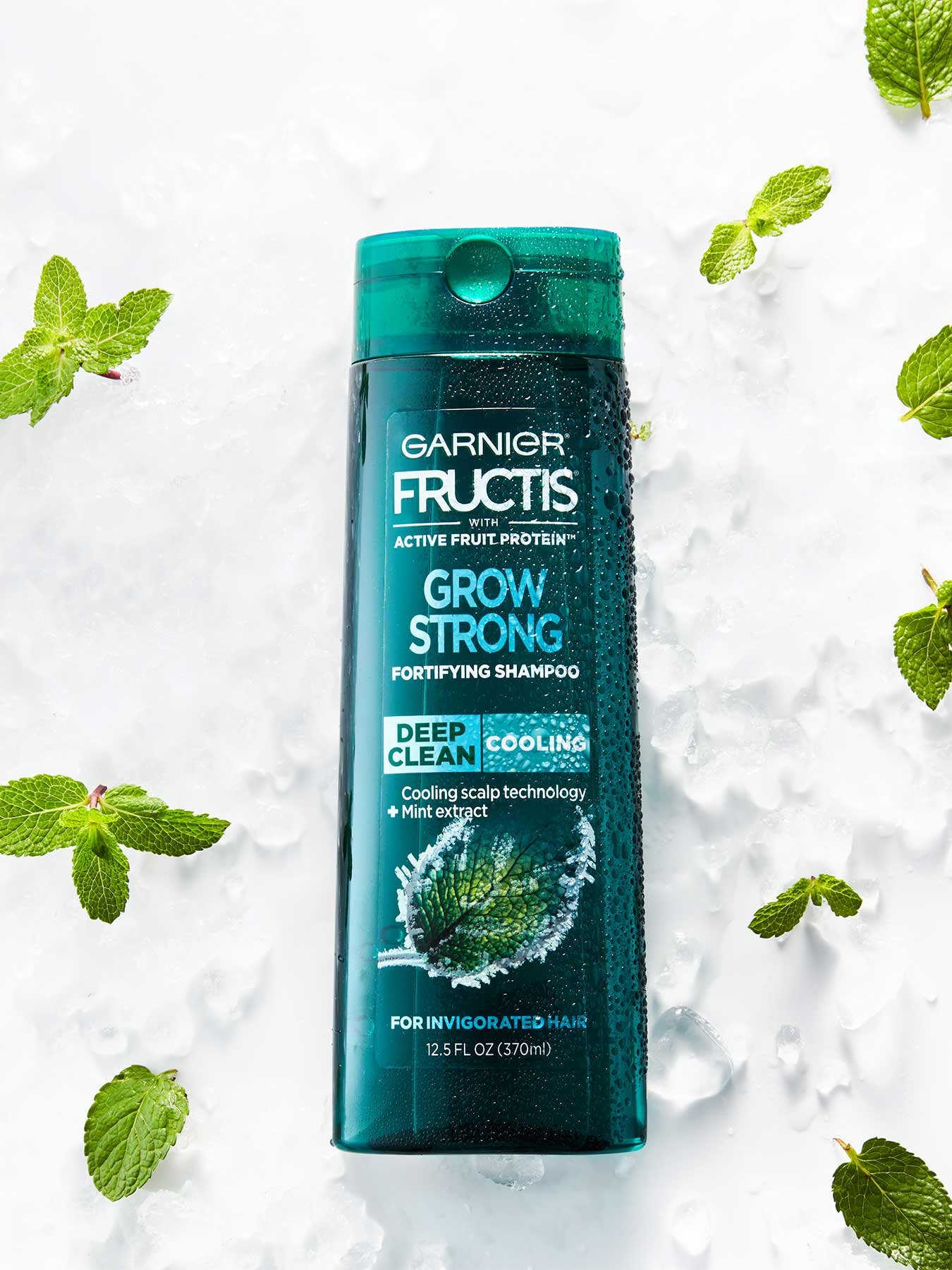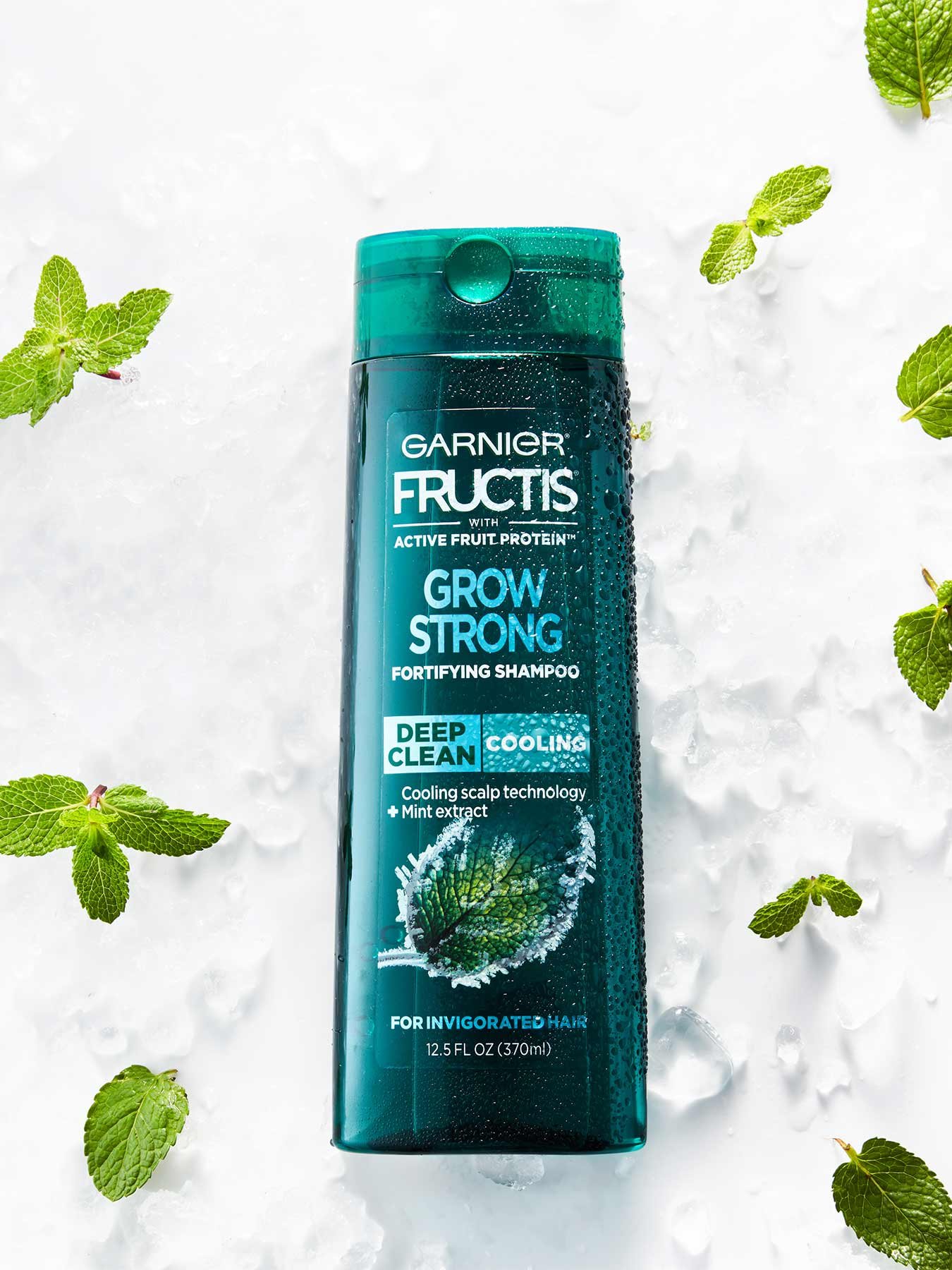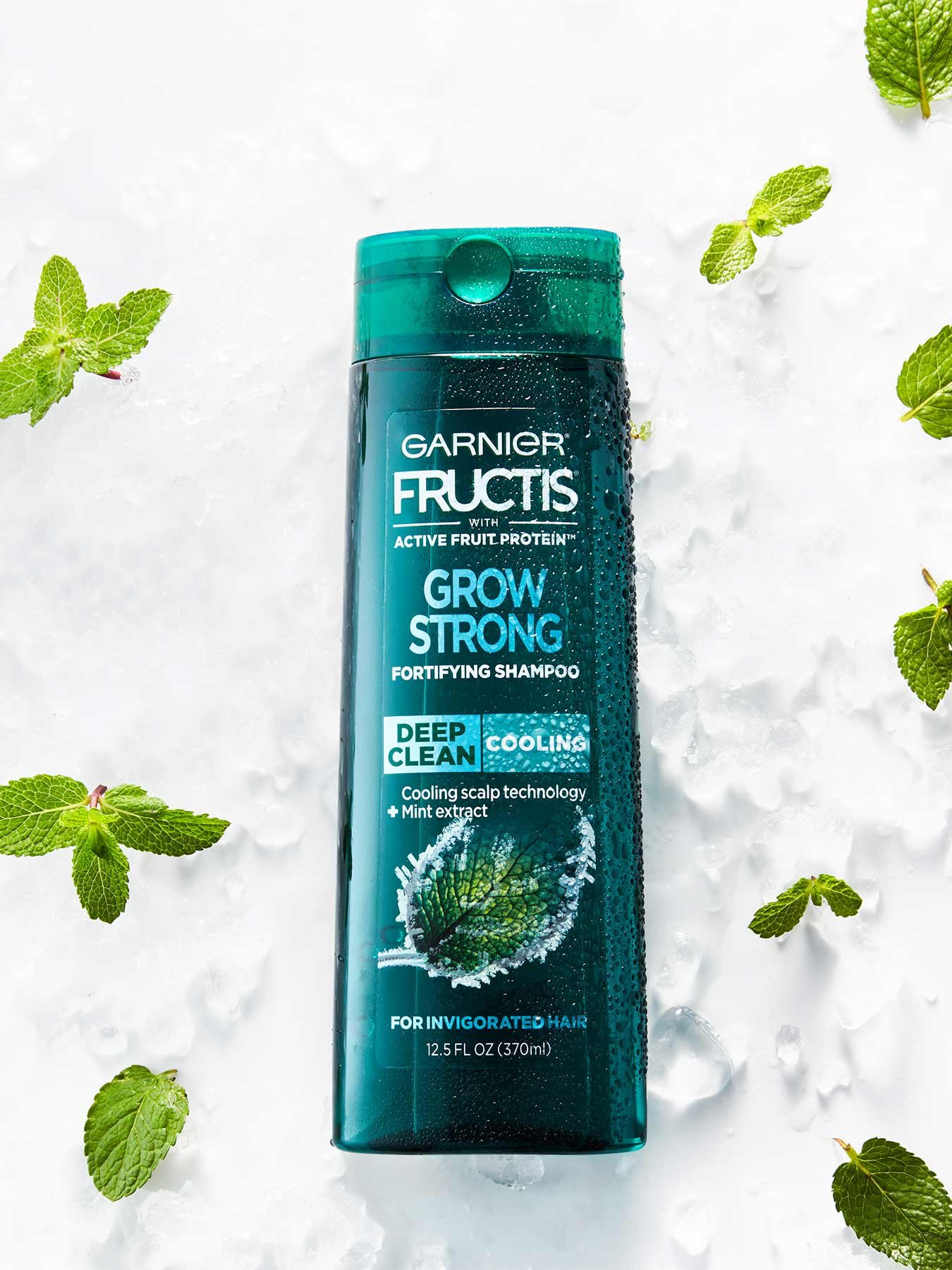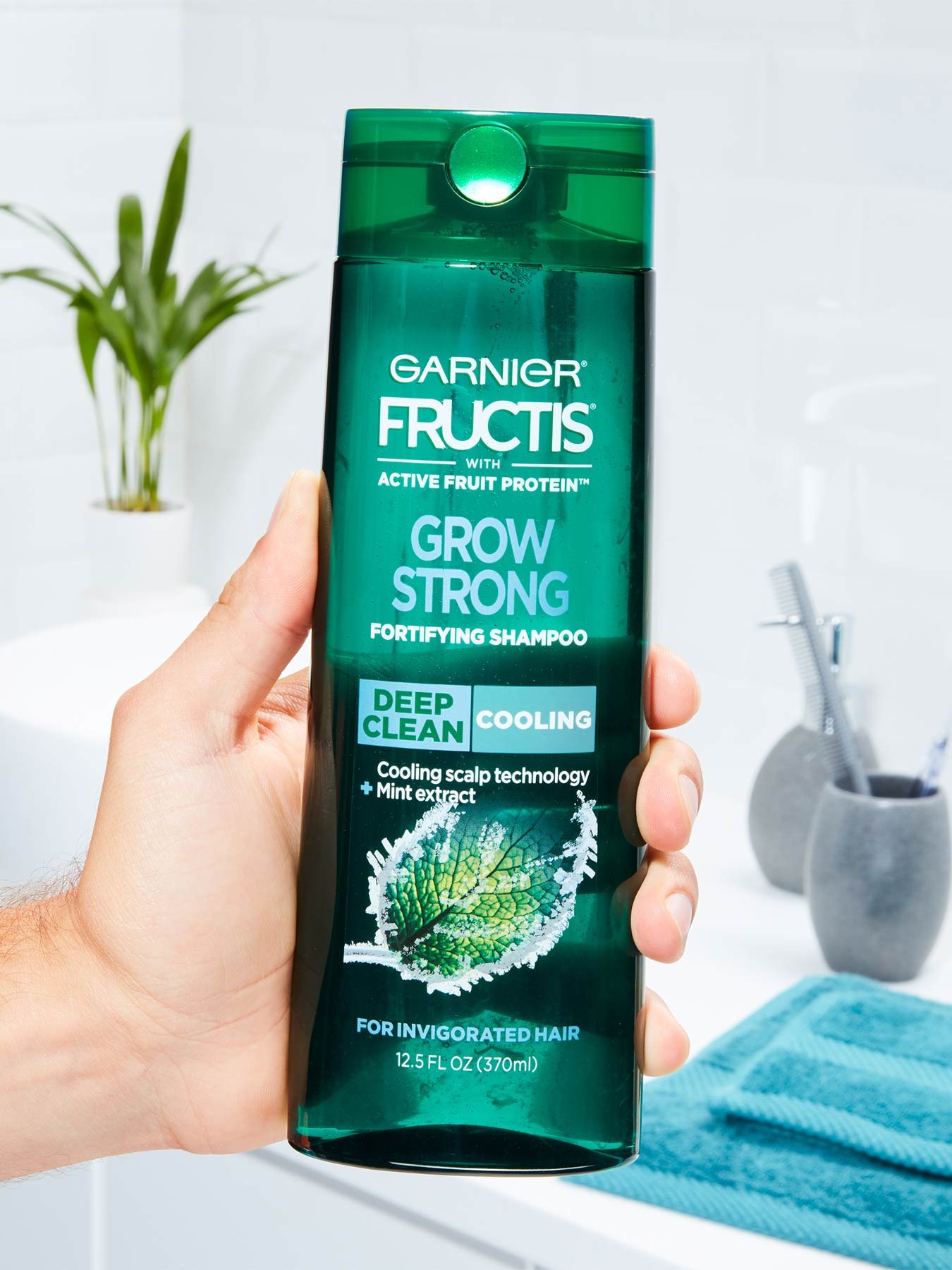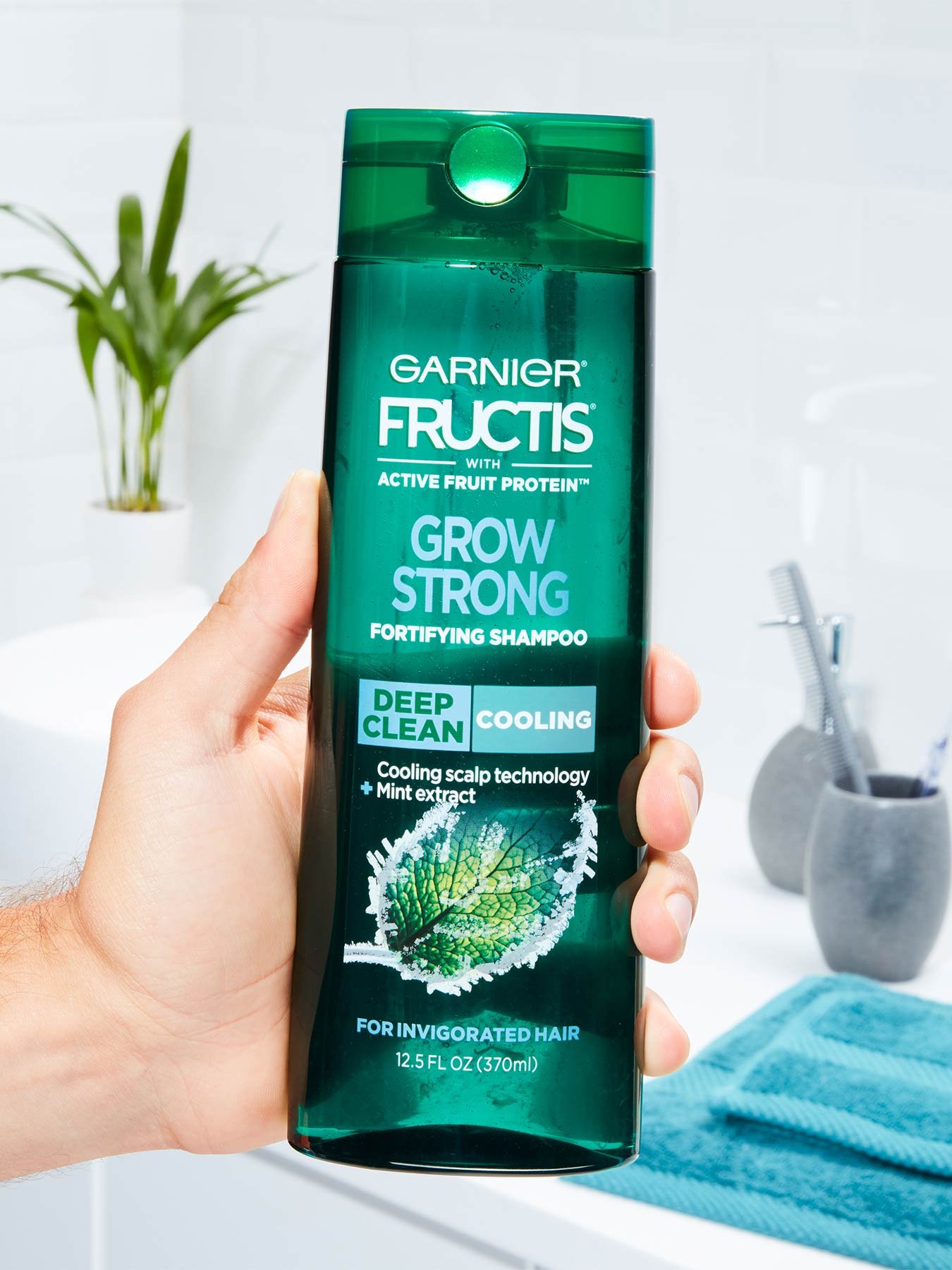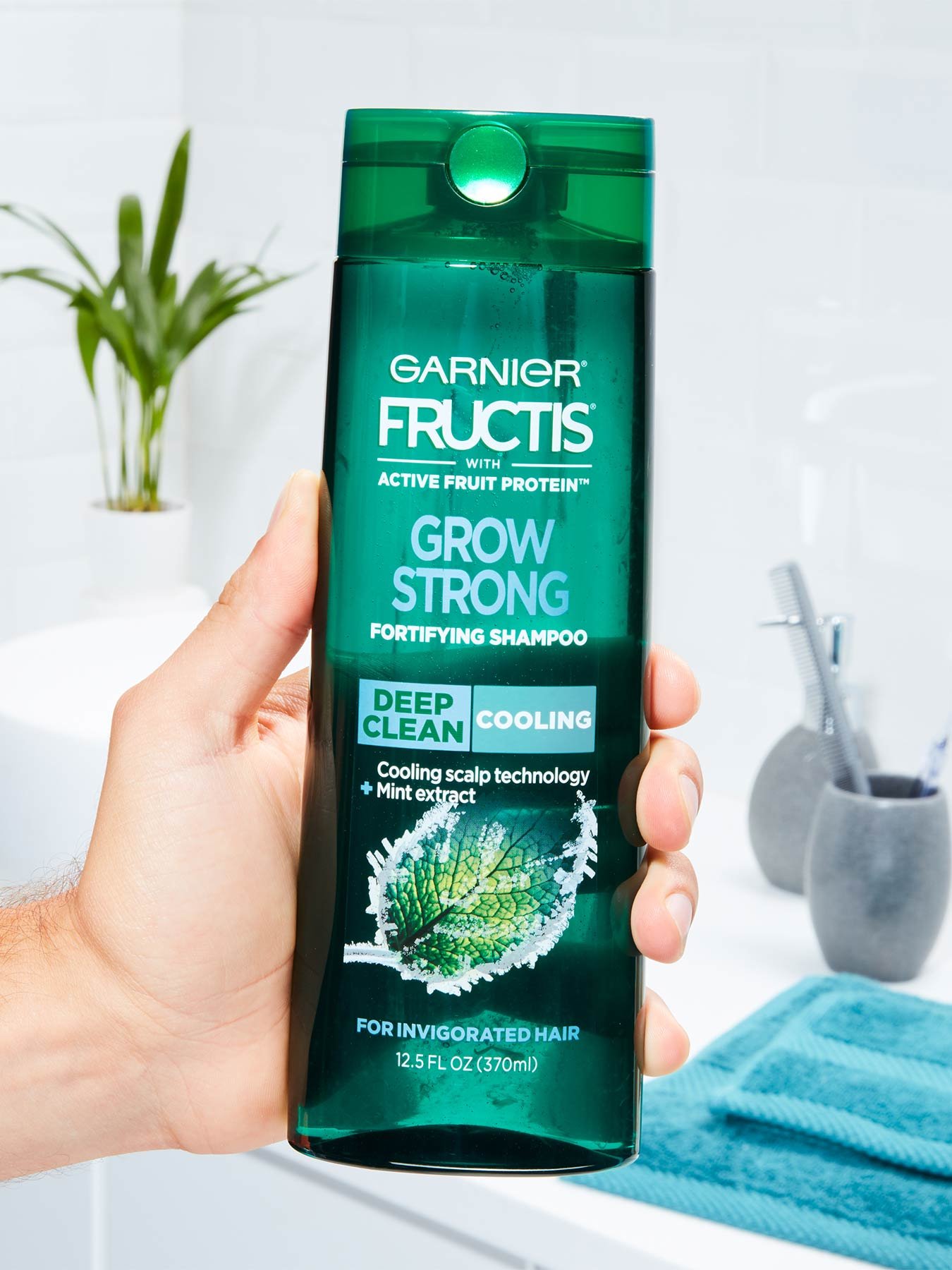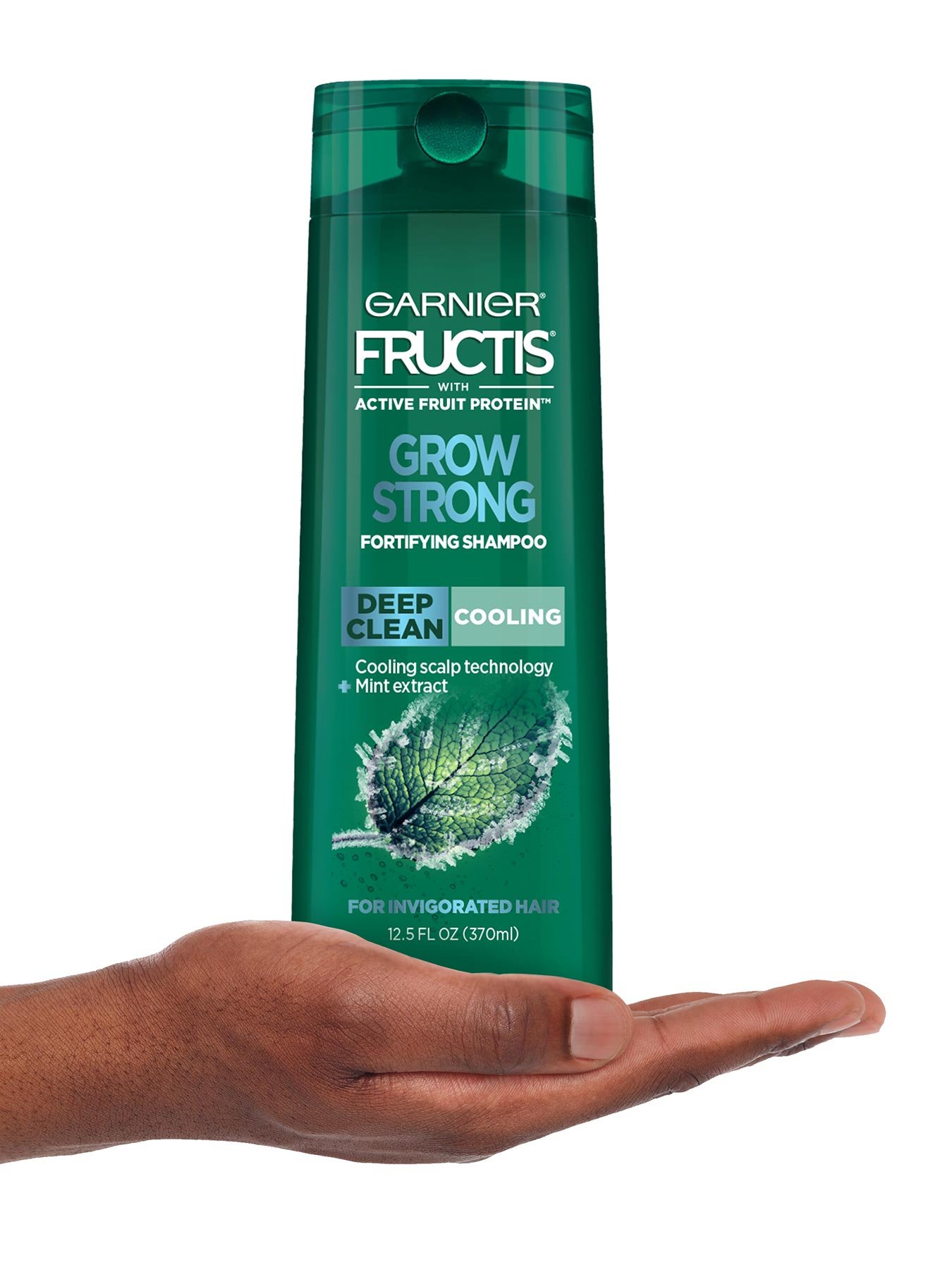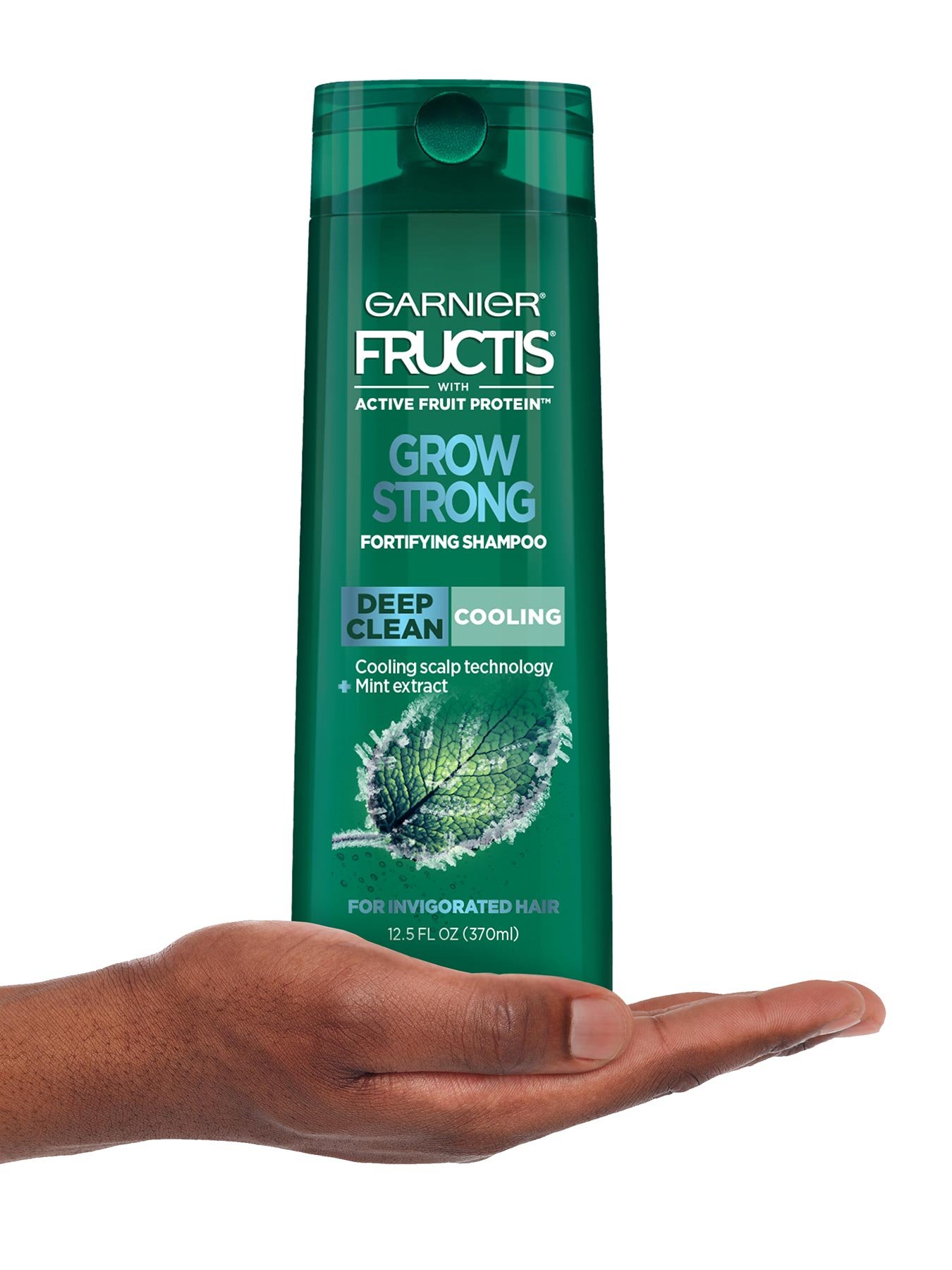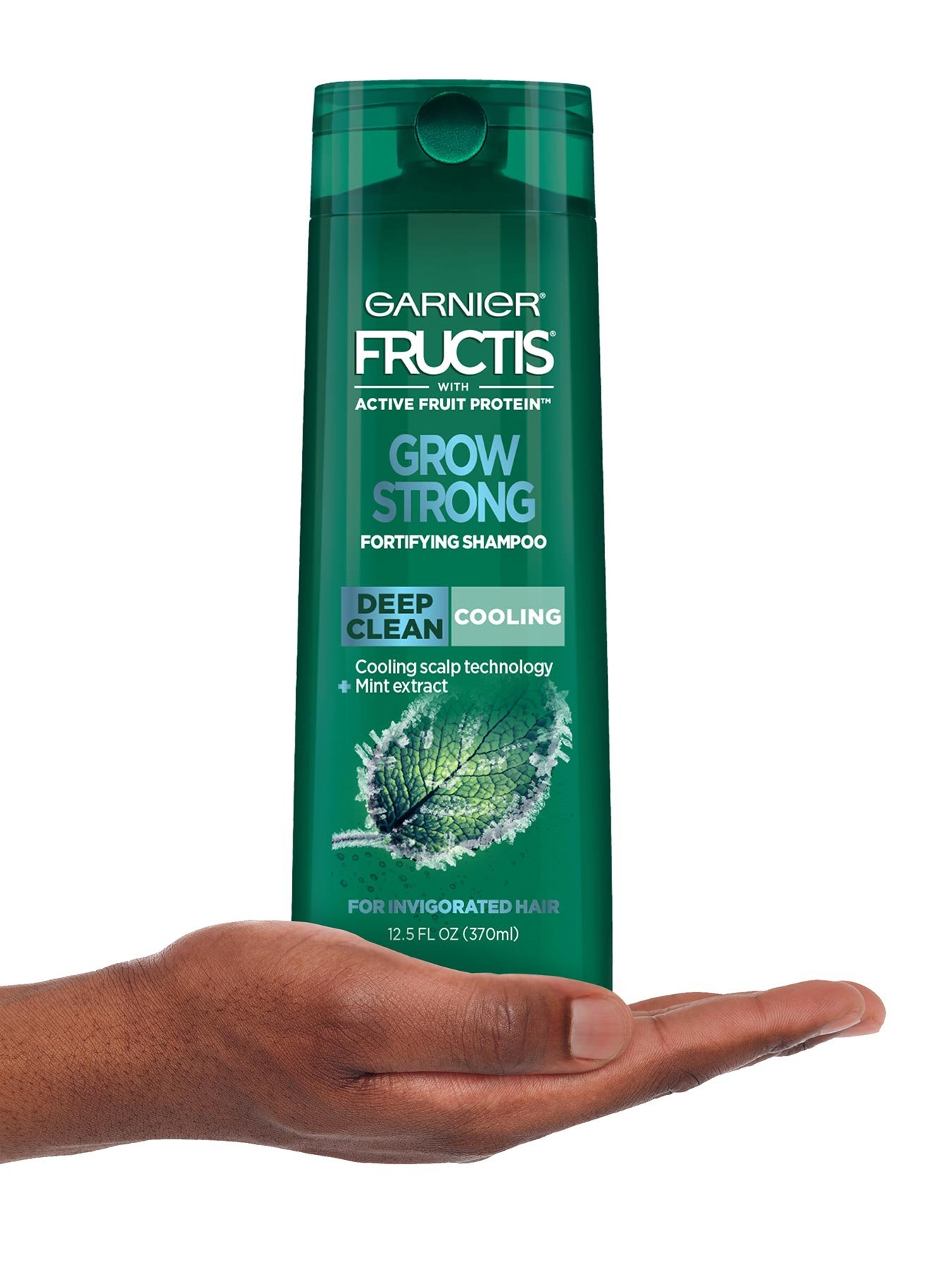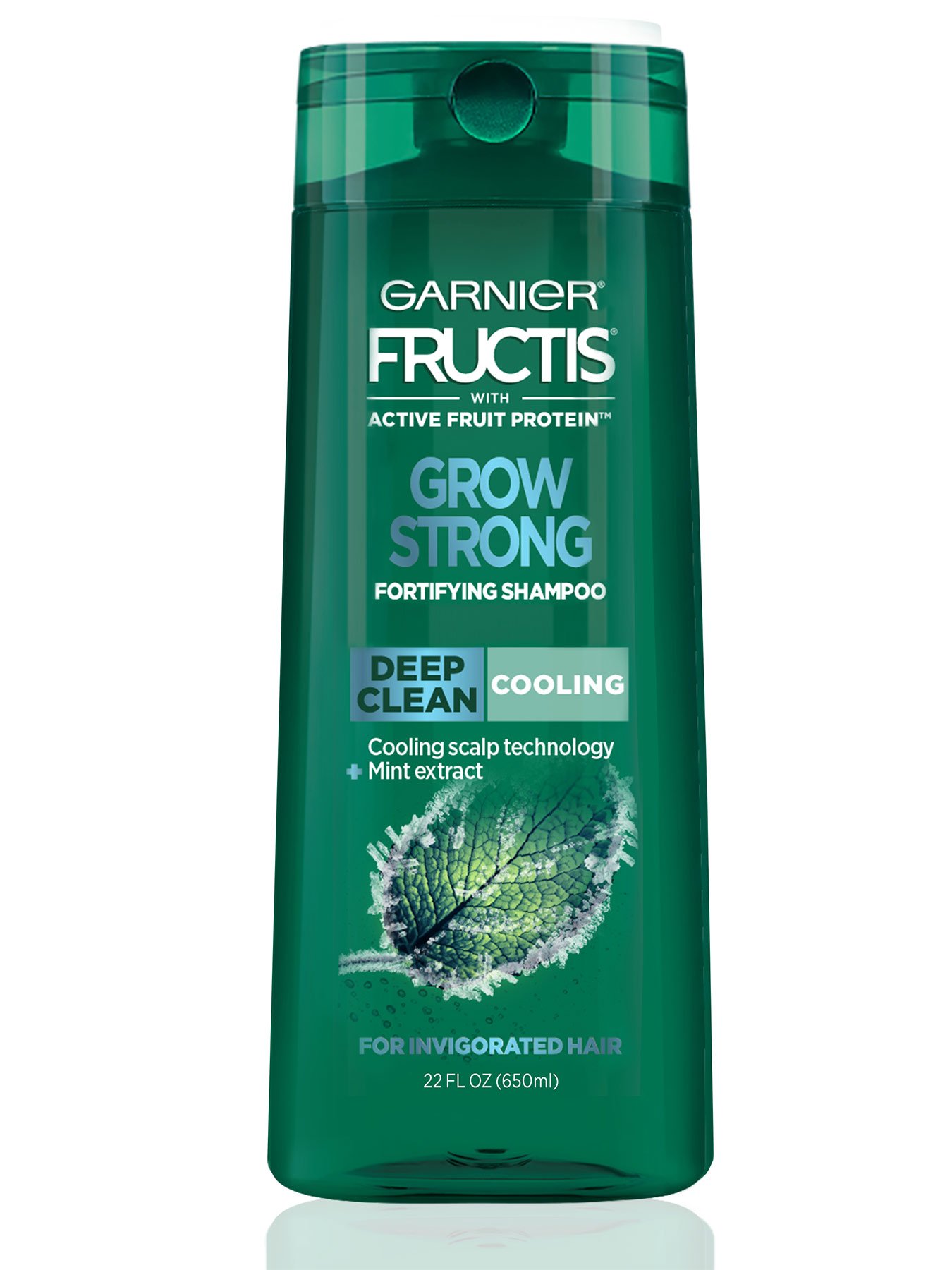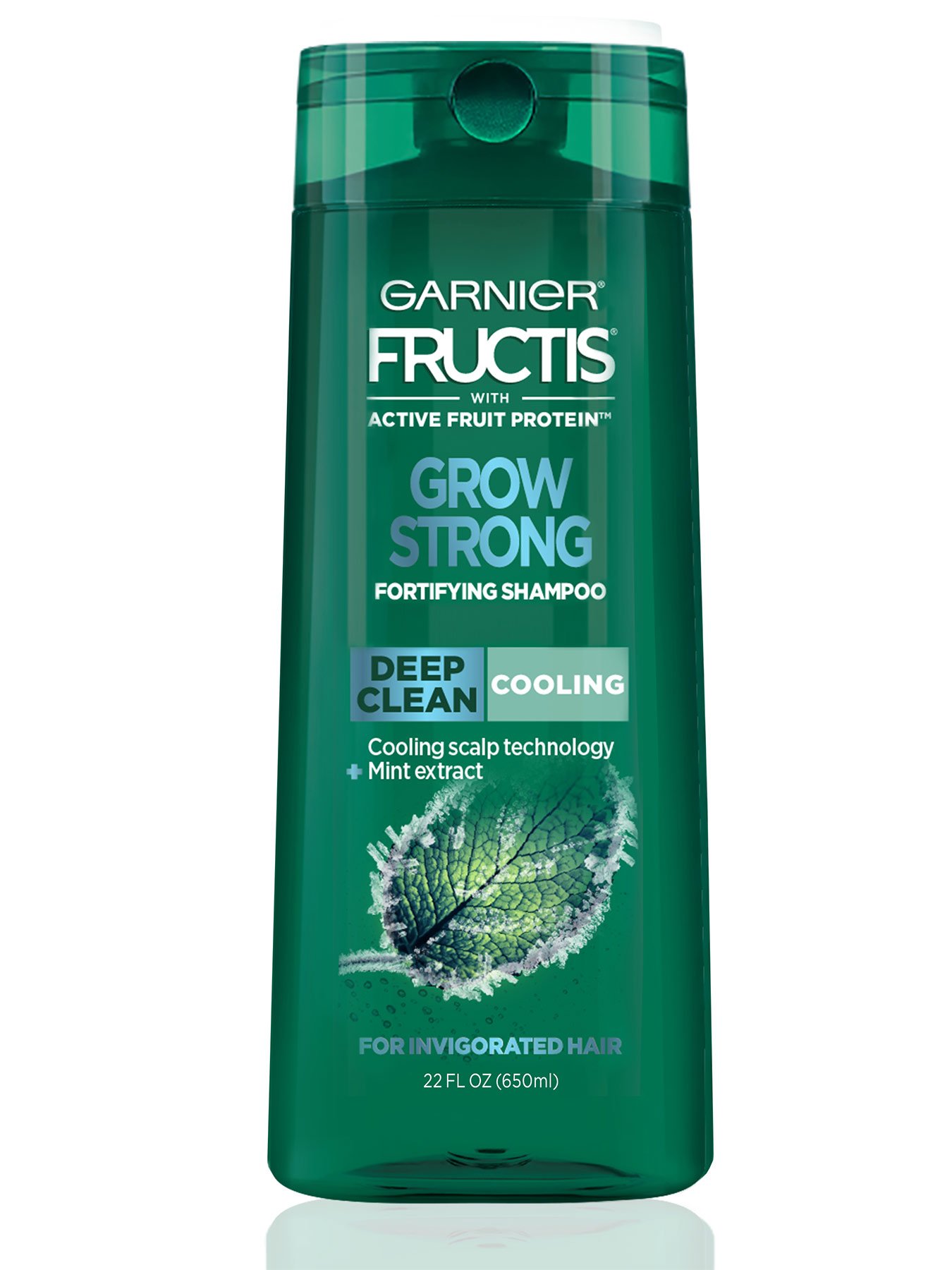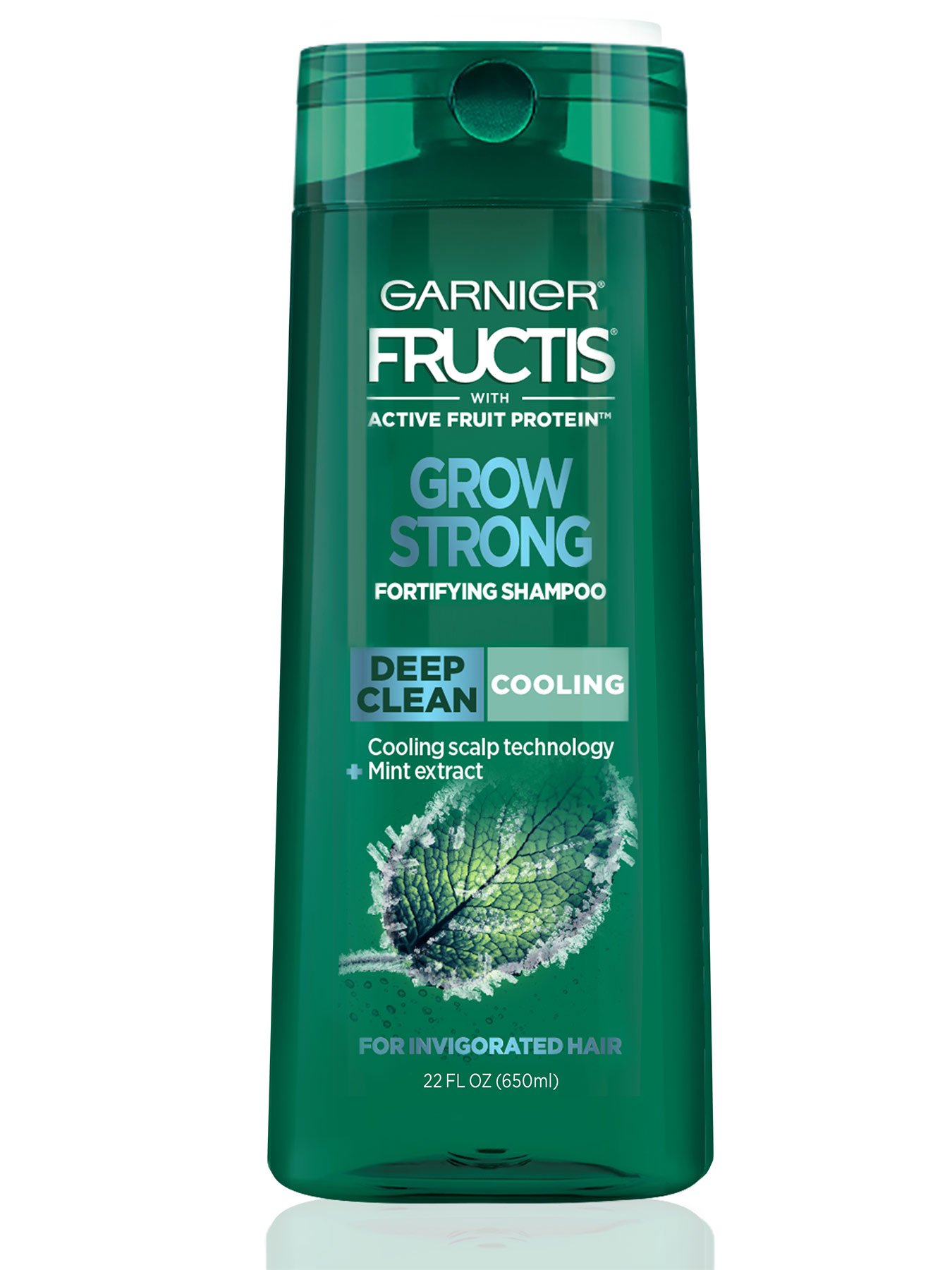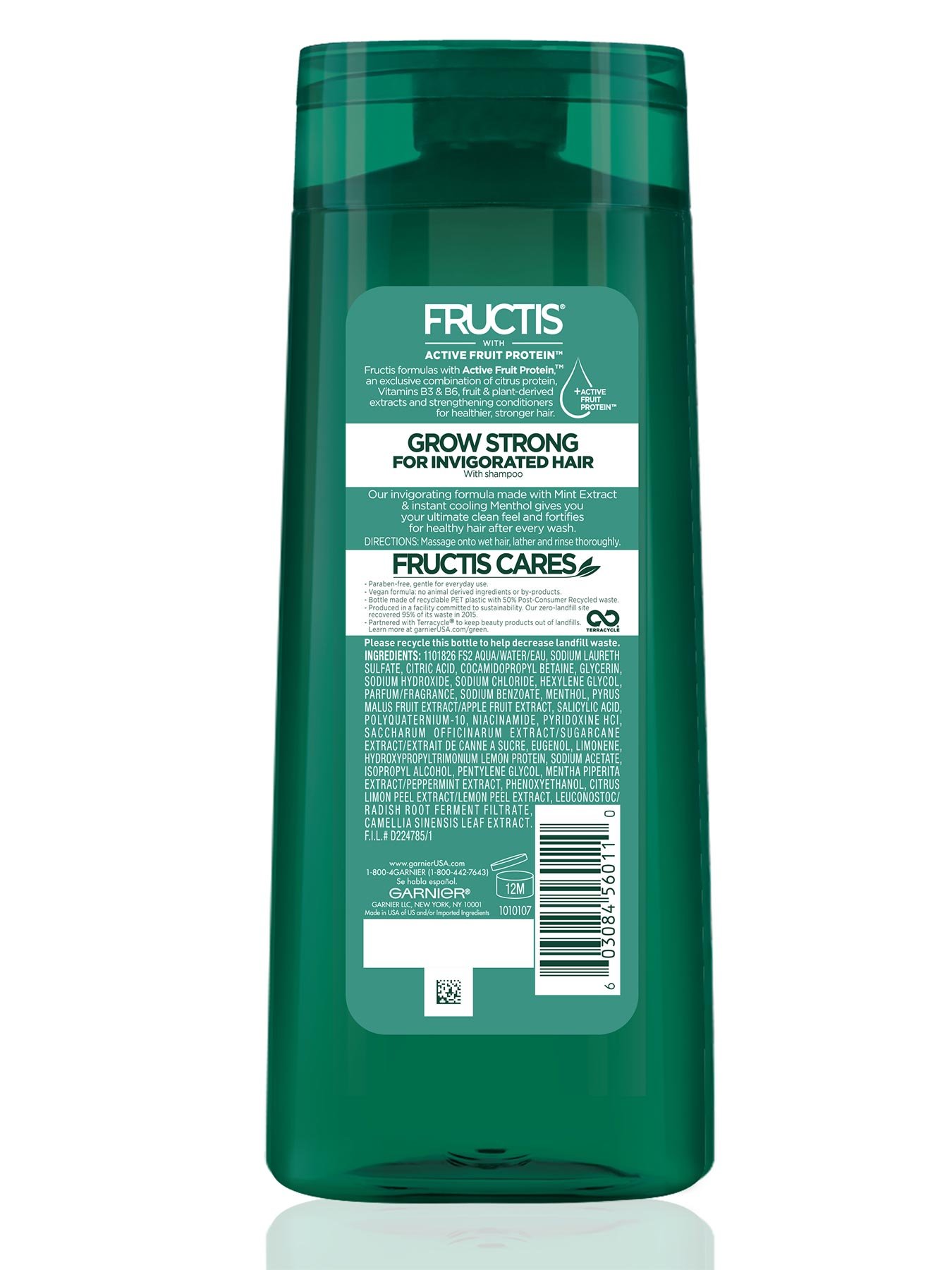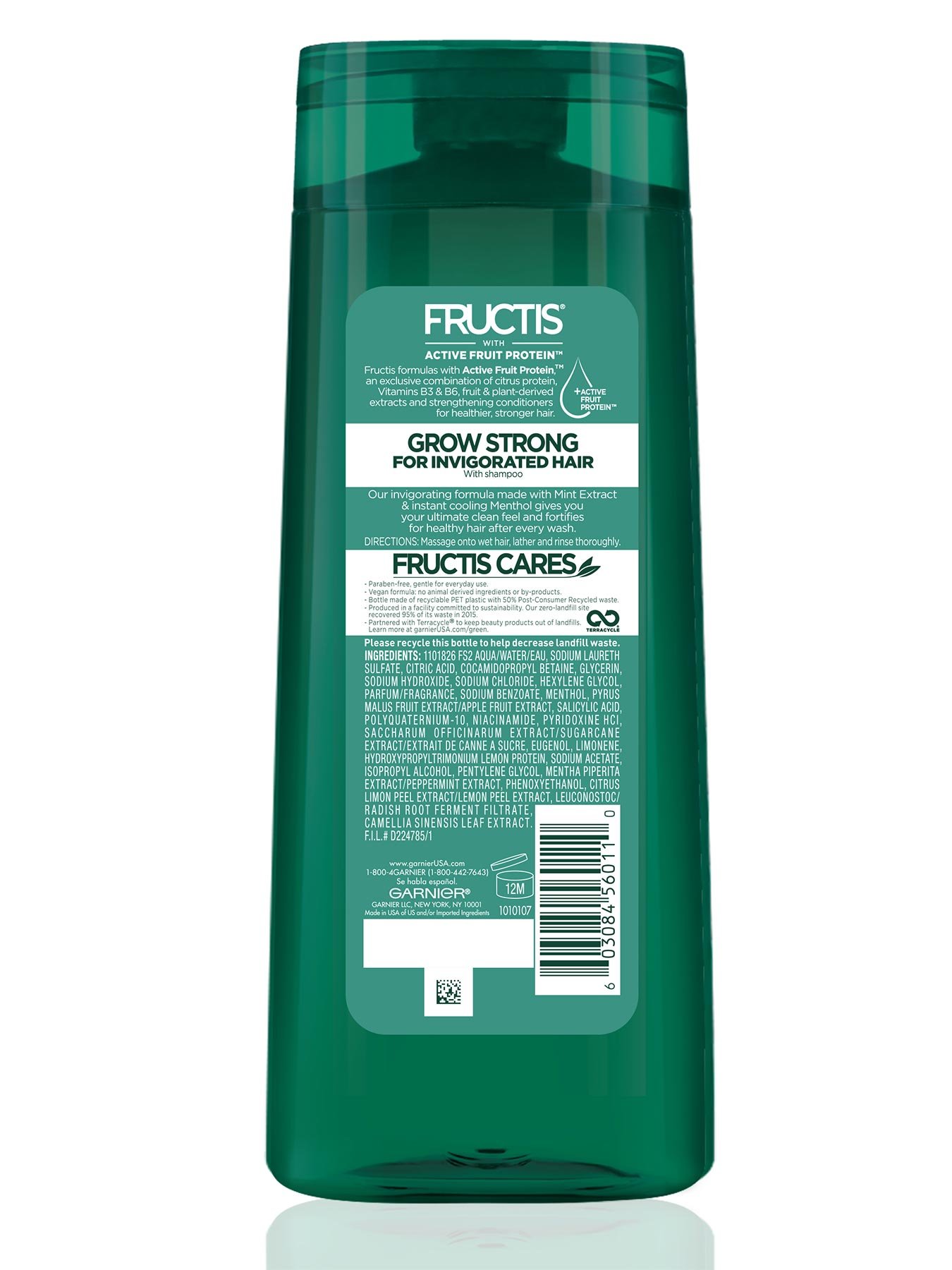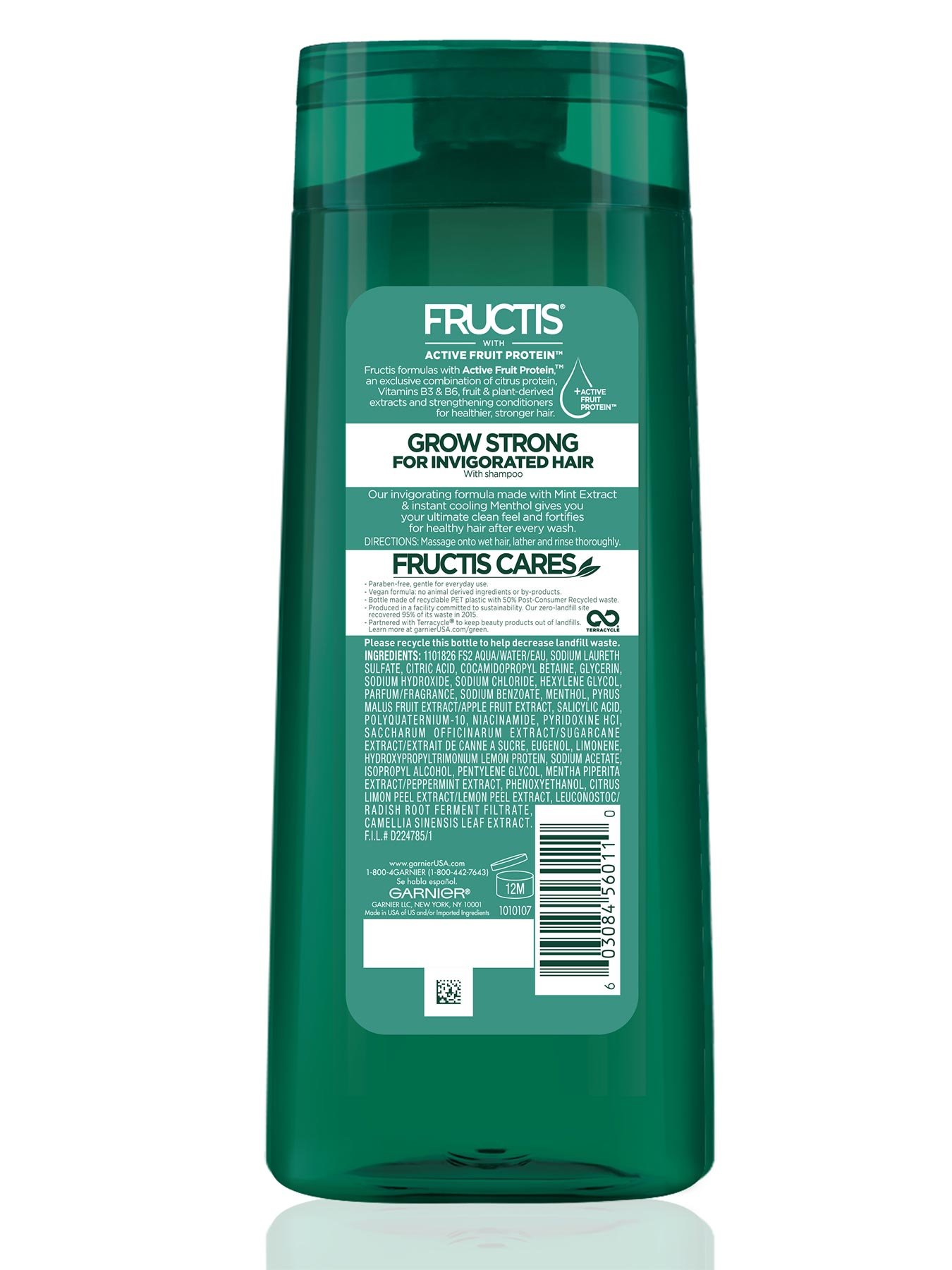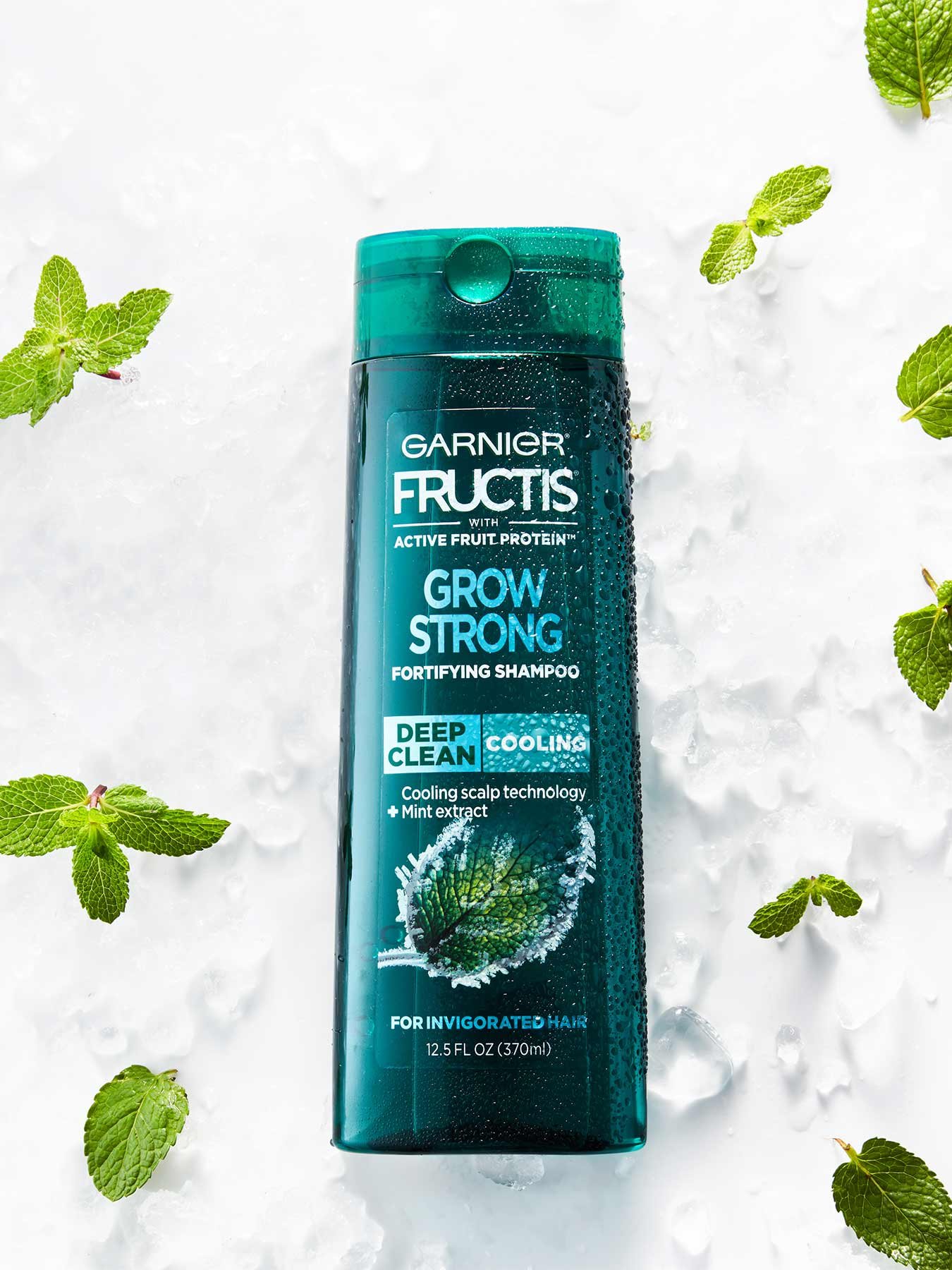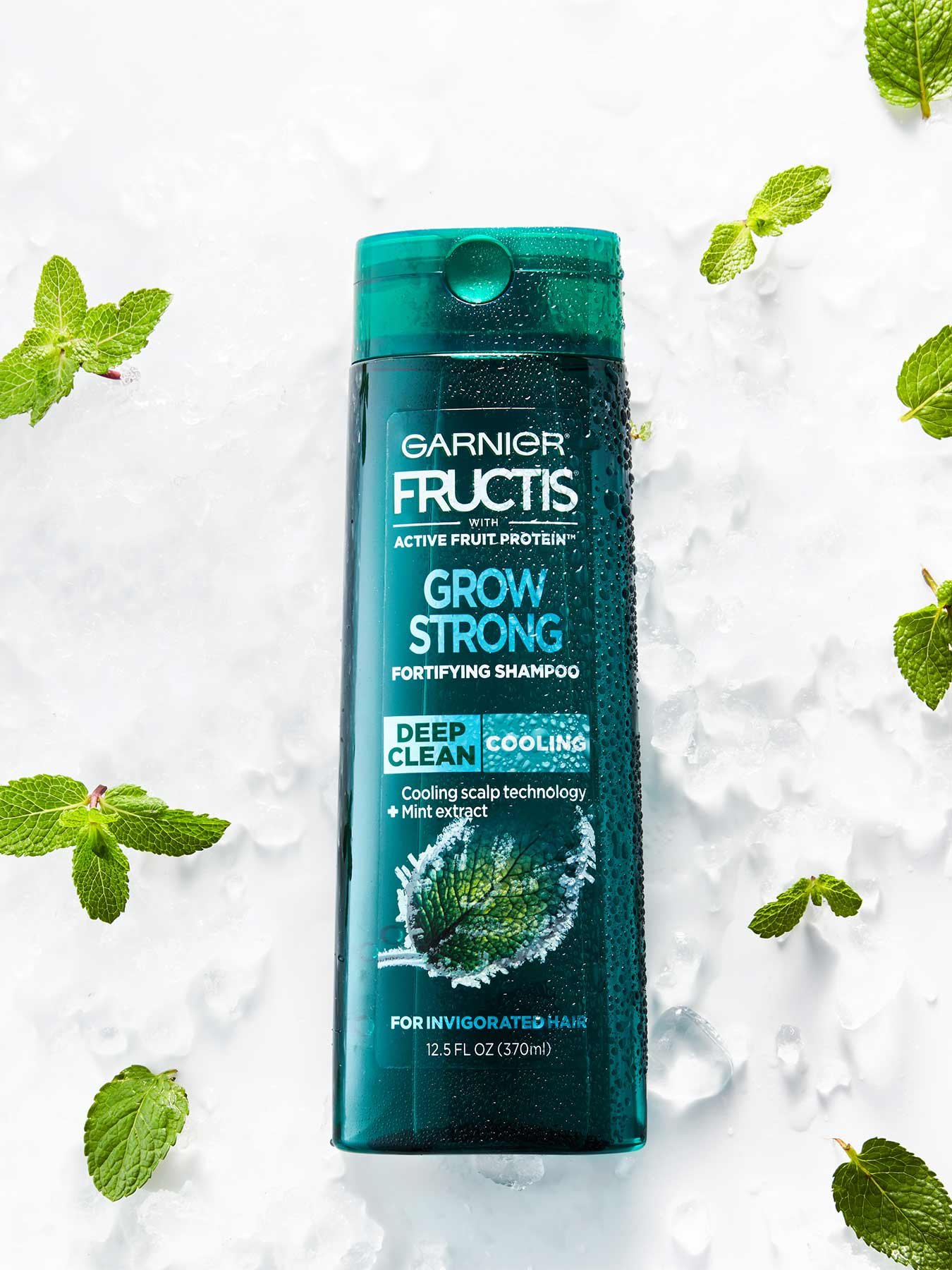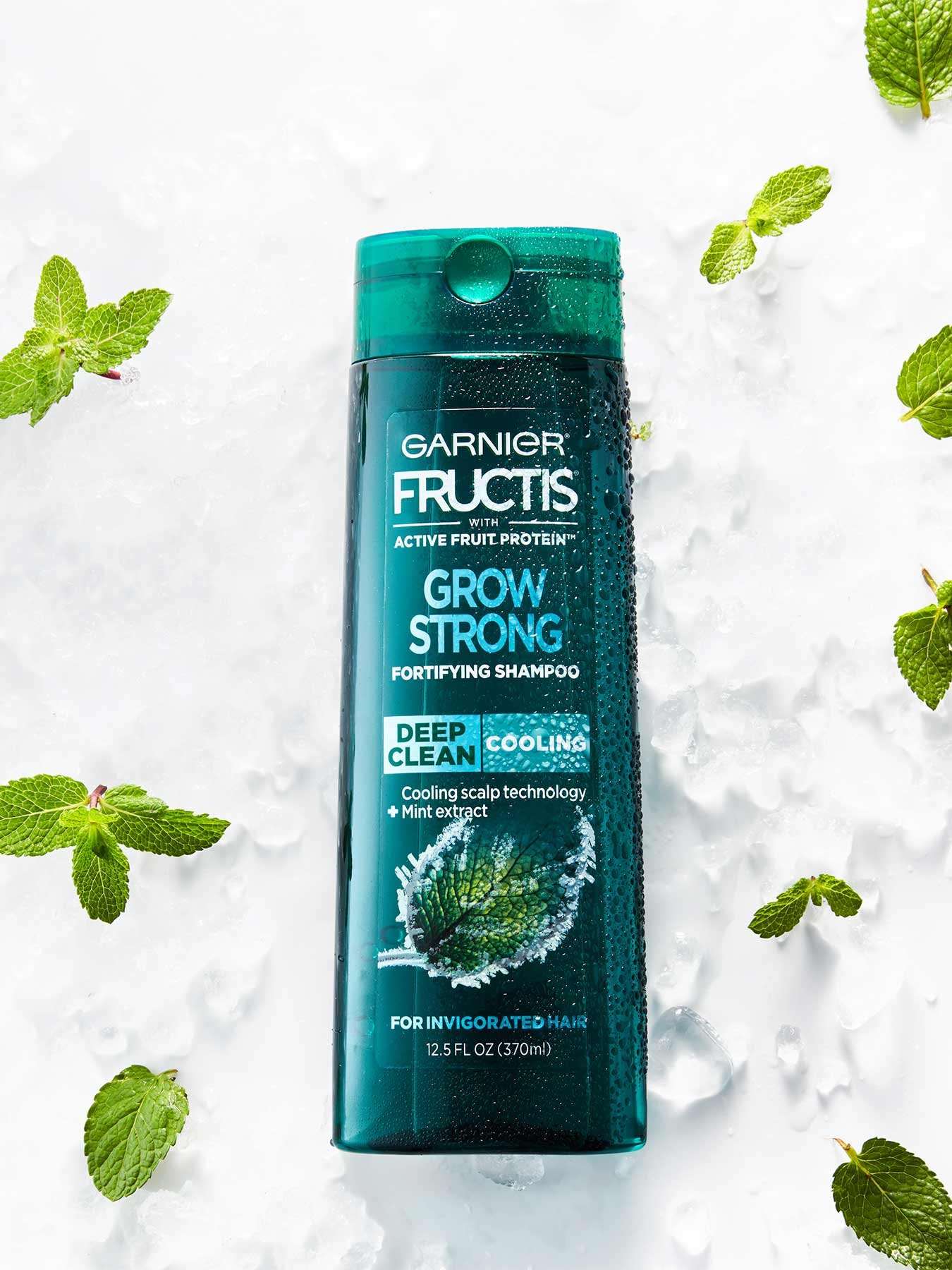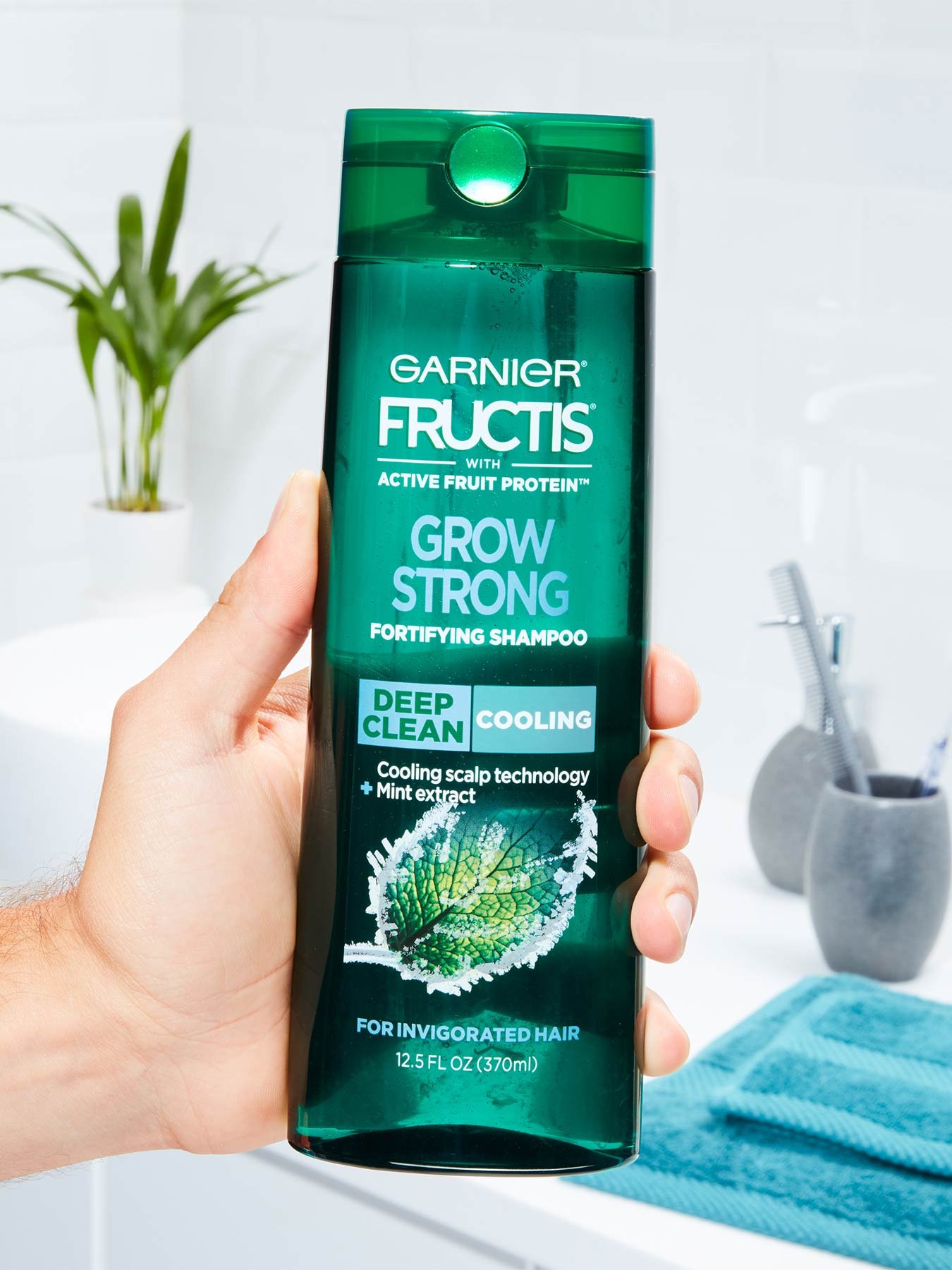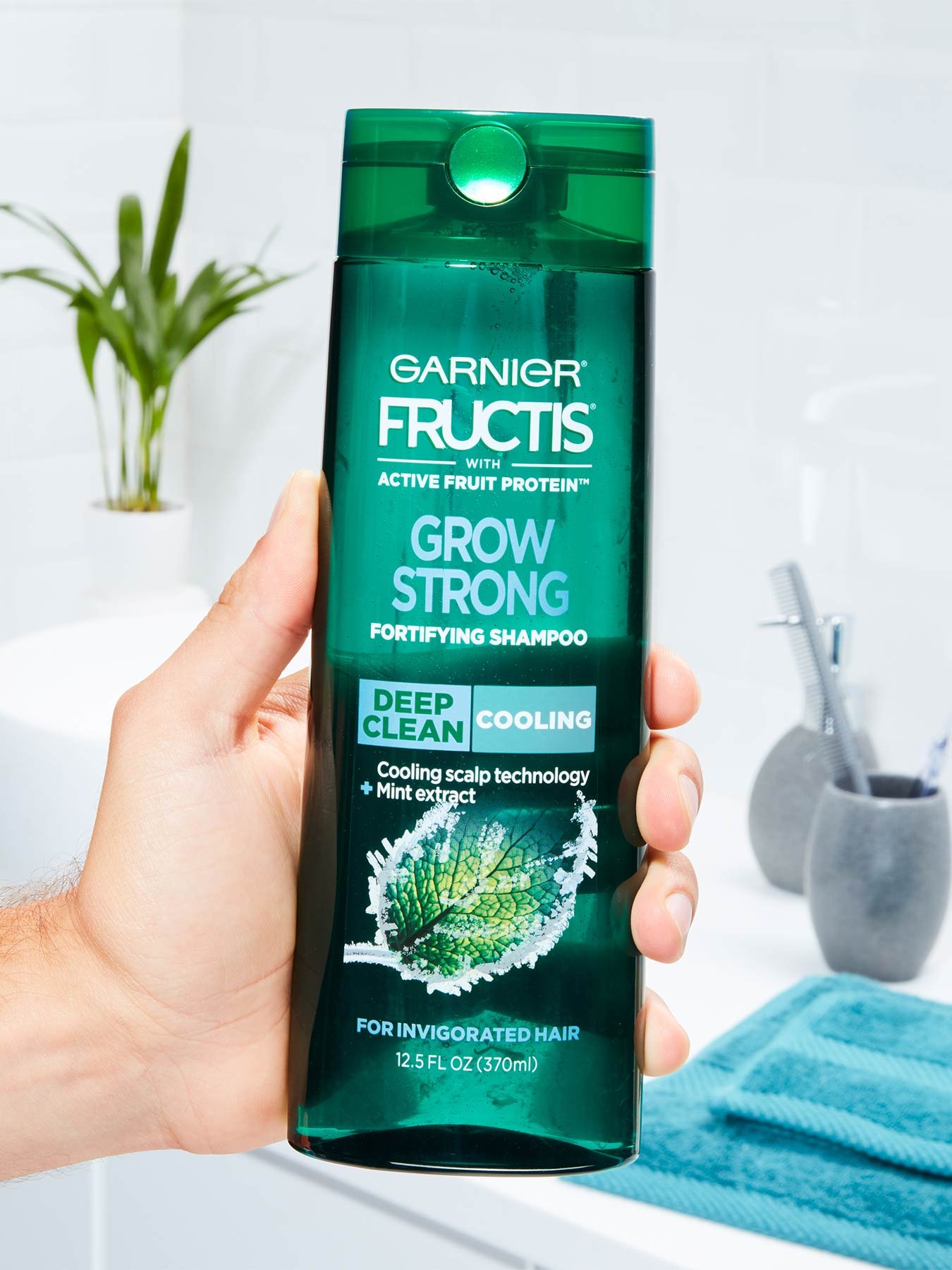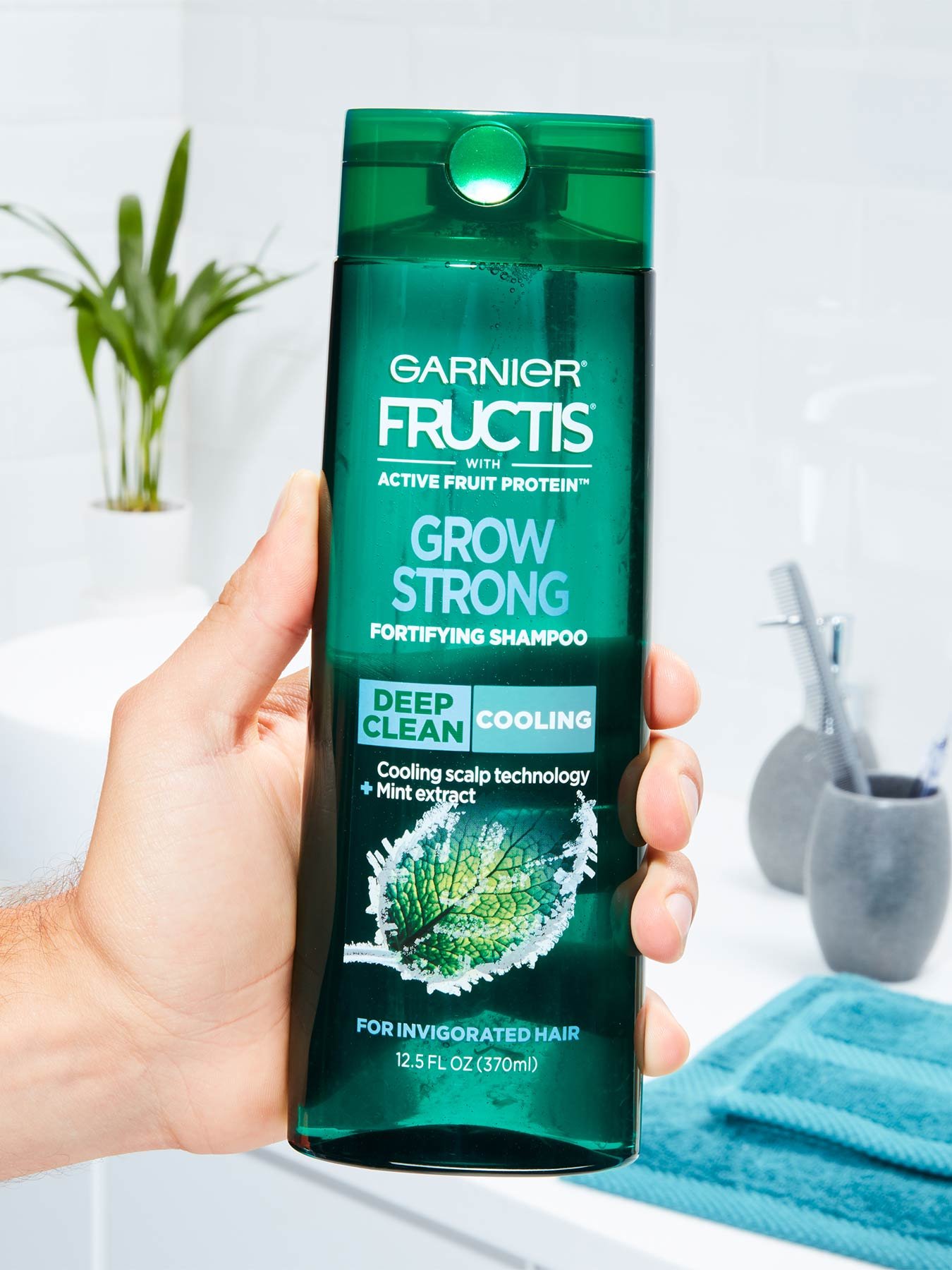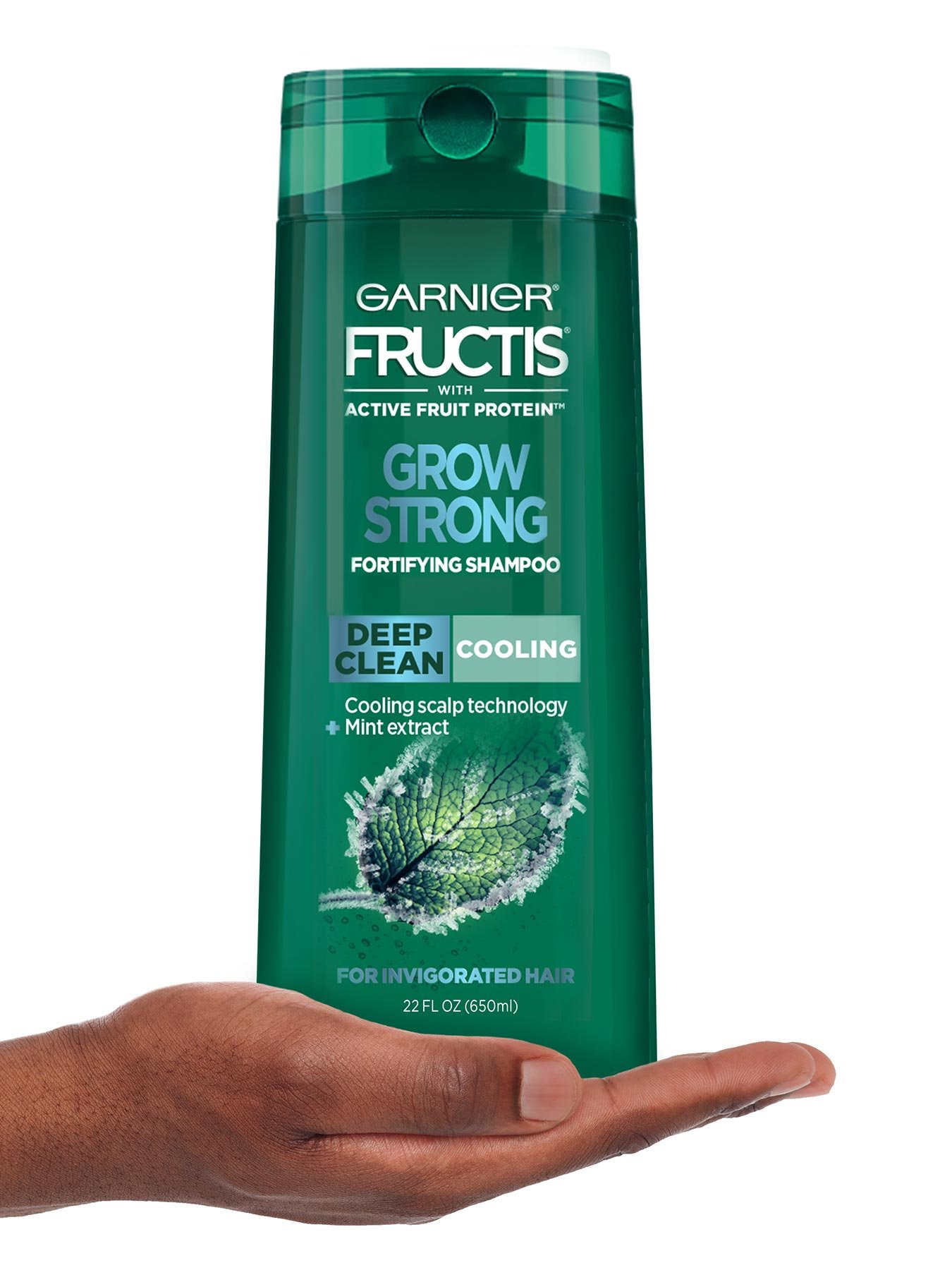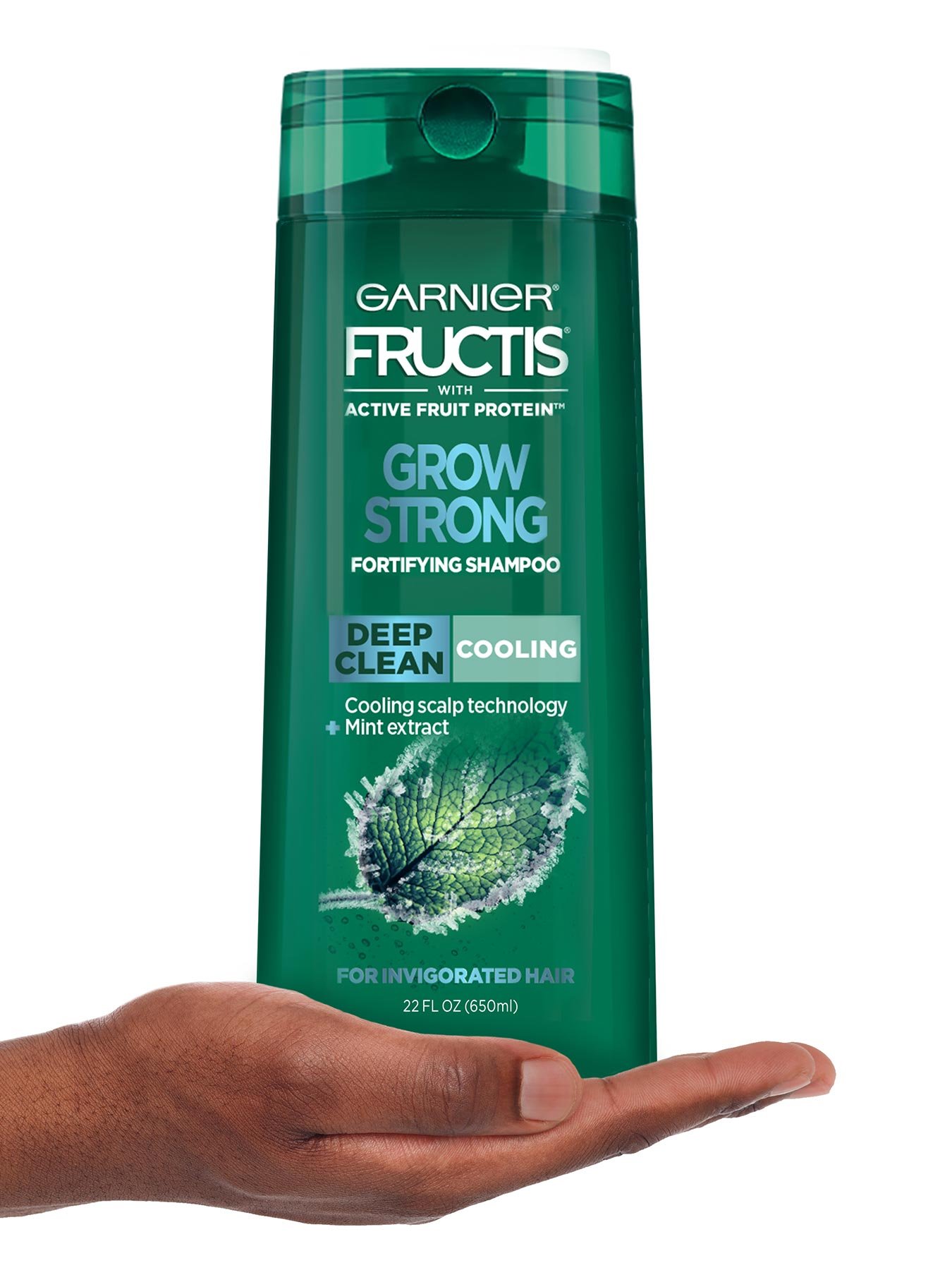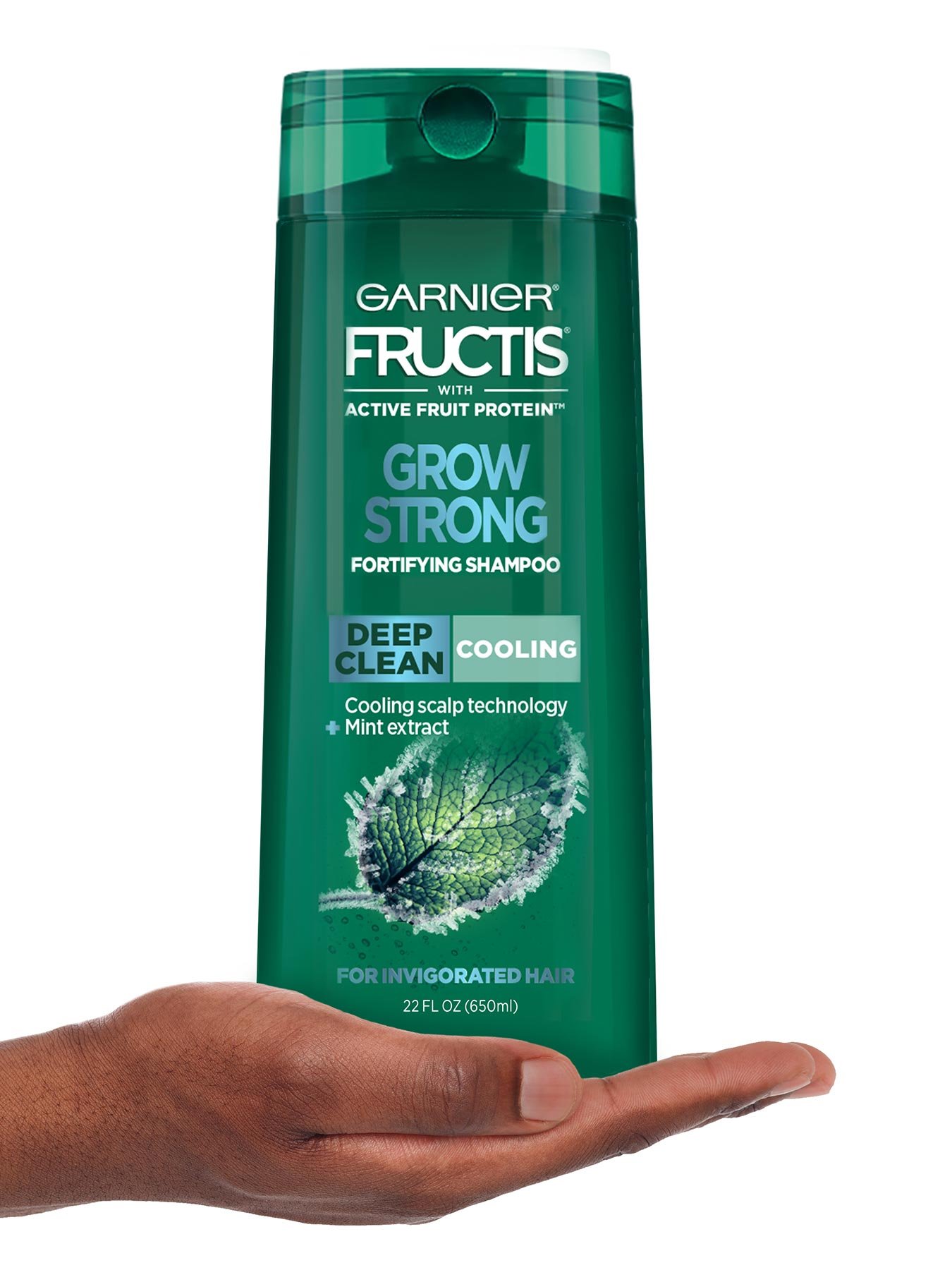 Garnier Fructis
Grow Strong Cooling Deep Clean Shampoo
Grow Strong Cooling Deep Clean Shampoo
$4.49 MSRP
$6.99 MSRP
Formula with Mint Extract and Menthol gives you your ultimate clean feel and fortifies for healthy hair
you have added this item to your cart.
PRODUCT INFORMATION:
Upgrade your hair care routine with new Garnier Fructis Grow Strong Cooling Deep Clean Shampoo for Men. Grow Strong Cooling Deep Clean Shampoo for Men is made with a cooling scalp technology and formulated with Mint Extract and Menthol to give you a cooling sensation for clean, invigorated hair. Grow Strong Deep Clean Shampoo for Men gives you your ultimate clean feel and fortifies for healthy hair after every wash. Fructis Grow Strong Shampoo and Conditioner formulas are paraben-free, vegan, with no animal derived ingredients or by-products and gentle enough for everyday use to clean and fortify hair. Formulas made with Active Fruit Protein, an exclusive combination of citrus protein, Vitamins B3 and B6, fruit and plant-derived extracts and strengthening conditioners for healthier, stronger hair. Upgrade your routine with Fructis Grow Strong Cooling Deep Clean Shampoo for Men.
How to use:
Massage onto wet hair, lather, and rinse thoroughly and follow with Fructis Liquid Styling pomade, cream or putty to style hair with no messy application, no grease and no build up
Ingredients:
1101826 FS2 AQUA/WATER/EAU, SODIUM LAURETH
SULFATE, CITRIC ACID, COCAMIDOPROPYL BETAINE, GLYCERIN,
SODIUM HYDROXIDE, SODIUM CHLORIDE, HEXYLENE GLYCOL,
PARFUM/FRAGRANCE, SODIUM BENZOATE, MENTHOL, PYRUS
MALUS FRUIT EXTRACT/APPLE FRUIT EXTRACT, SALICYLIC ACID,
POLYQUAT ERNIUM-10, N I ACI N A M IDE, P Y RIDOX I N E HCl ,
S A C C H A R UM OF F I C I N A R UM E X T R A C T / S U G A R C A N E
EXTRACT/EXTRAIT DE CANNE A SUCRE, EUGENOL, LIMONENE,
HYDROXYPROPYLTRIMONIUM LEMON PROTEIN, SODIUM ACETATE,
ISOPROPYL ALCOHOL, PENTYLENE GLYCOL, MENTHA PIPERITA
EXTRACT/PEPPERMINT EXTRACT, PHENOXYETHANOL, CITRUS
LIMON PEEL EXTRACT/LEMON PEEL EXTRACT, LEUCONOSTOC/
R A D I S H R O O T F E R ME N T F I LT R A T E ,
CAMELL I A S INENSIS L E A F E X TR ACT.
F.I.L.# D224785/1
Mint
For hundreds of years, people have used the cooling and stimulating effects of mint to invigorate hair and scalp.
Citrus
Packed with powerful proteins and citric acid to reduce greasiness and strengthen hair. Get a refreshingly clean scalp with soft and shiny hair.
Rated

5

out of

5
by
clint1969
from
So Invigorating!
Fantastic Deep Cleaning Shampoo! As soon as you pop open the top in the shower and pour it out in your palm, the scent jumps out at you. The shampoo is not to runny and sits in your palm nicely without losing any before it gets to your head. It has wonderful lather that spreads all over your head and hair without disappearing. You feel it tingle your scalp as you work it through all your hair and it really cools you down. The mint scent opens your eyes and by the time you finish you are invigorated! 100% the best shampoo I have ever used!
Date published: 2018-12-13
Rated

5

out of

5
by
cmerroj
from
I will buy this product again and again!!
Wowza!! This is the best shampoo I've ever used!! I love the way it feels on my scalp and it leaves my head moisturized and not dry. This shampoo even smells good. I found my new shampoo!!
Date published: 2018-12-13
Rated

4

out of

5
by
Barnett
from
Nice and fresh
Wow. Nice fresh clean scent. I love the mint. The cooling scalp effect is kinda nice at first. Feels a little weird in the winter but its a neat touch. Makes you just feel nice and refreshed. Lathers up very nicely. Just need a little bit to do the job. Another quality product from Garnier.
Date published: 2018-12-13
Rated

5

out of

5
by
Victor_1
from
Strong smell
I have naturally oily hair and this is one of the only shampoos I've found that cleans if well. I don't want a shampoo with oils and conditioner. ....my head makes plenty of its own. I've tried a lot of other brands and this works the best. The only thing I'd smell pretty strong but works for me
Date published: 2018-12-13
Rated

4

out of

5
by
Nico21
from
Cool feeling
At first the shampoo has a cool feeling to it but as you scrub your hair and leave it in your hair, you can feel it start get a cooling sensation. It was like a icy hot feeling to it and smells kind of menthol like I guess for the cool mint scent.
Date published: 2018-12-10
Rated

4

out of

5
by
Dasunman
from
Fructis Men's Deep Clean Shampoo 12oz
I have never personally tried the Garnier Fructis brand before but my wife has. I like how well the Fructis Grow Strong Men's Deep Clean Shampoo cleans my hair and I have recommended it to my father and brother to try as well.
Date published: 2018-12-06
Rated

4

out of

5
by
Beefjerky
from
Cooling Deep Clean Shampoo for Men
This is the first time trying the Cooling Deep Clean Shampoo for Men for Invigorated Hair and I like how pleasant it makes my head feel after shampooing with this product. I do a lot of manual labor and its nice to take a warm shower with uplifting products too. I have recommended it to family and friends too.
Date published: 2018-12-06