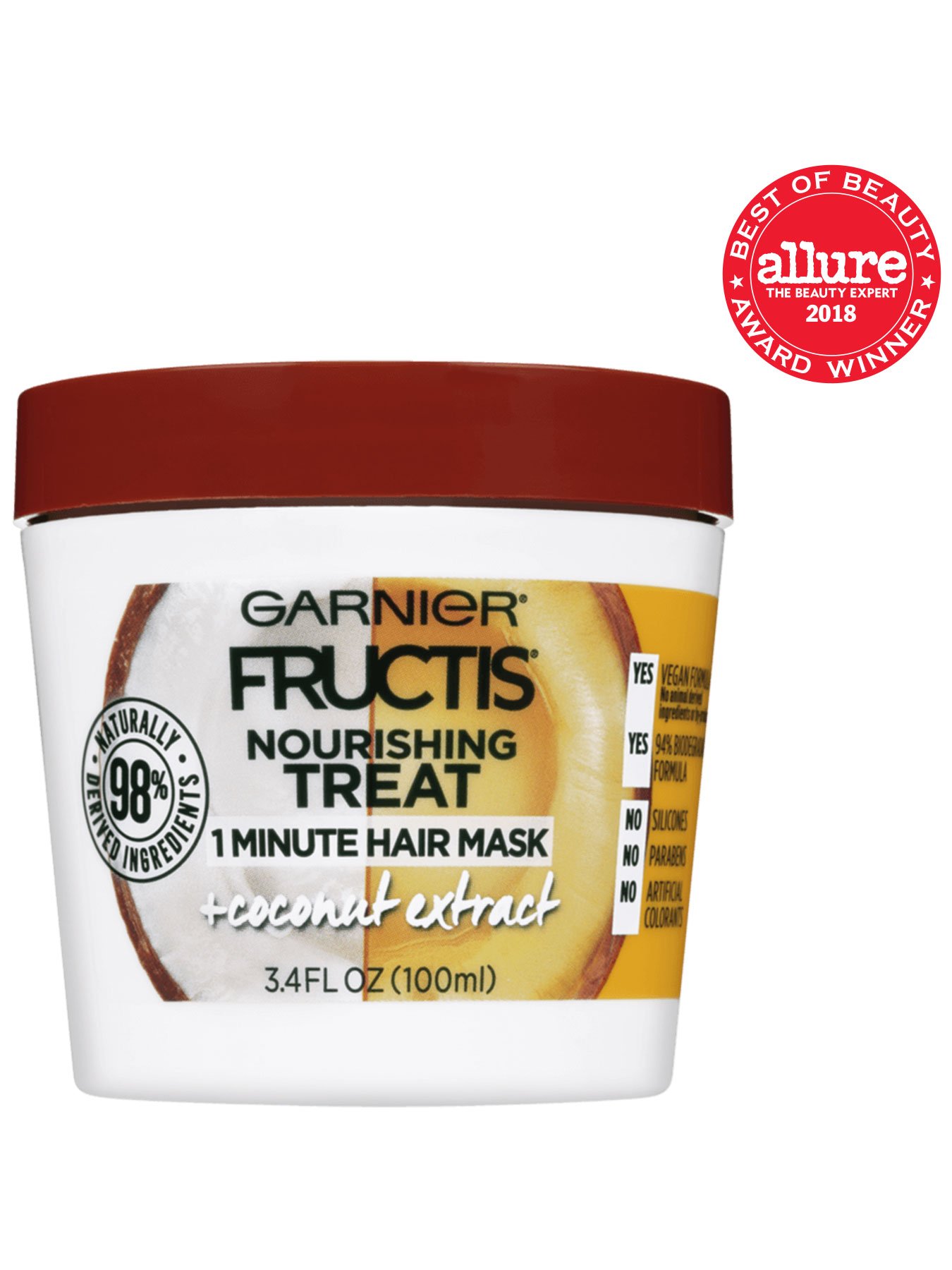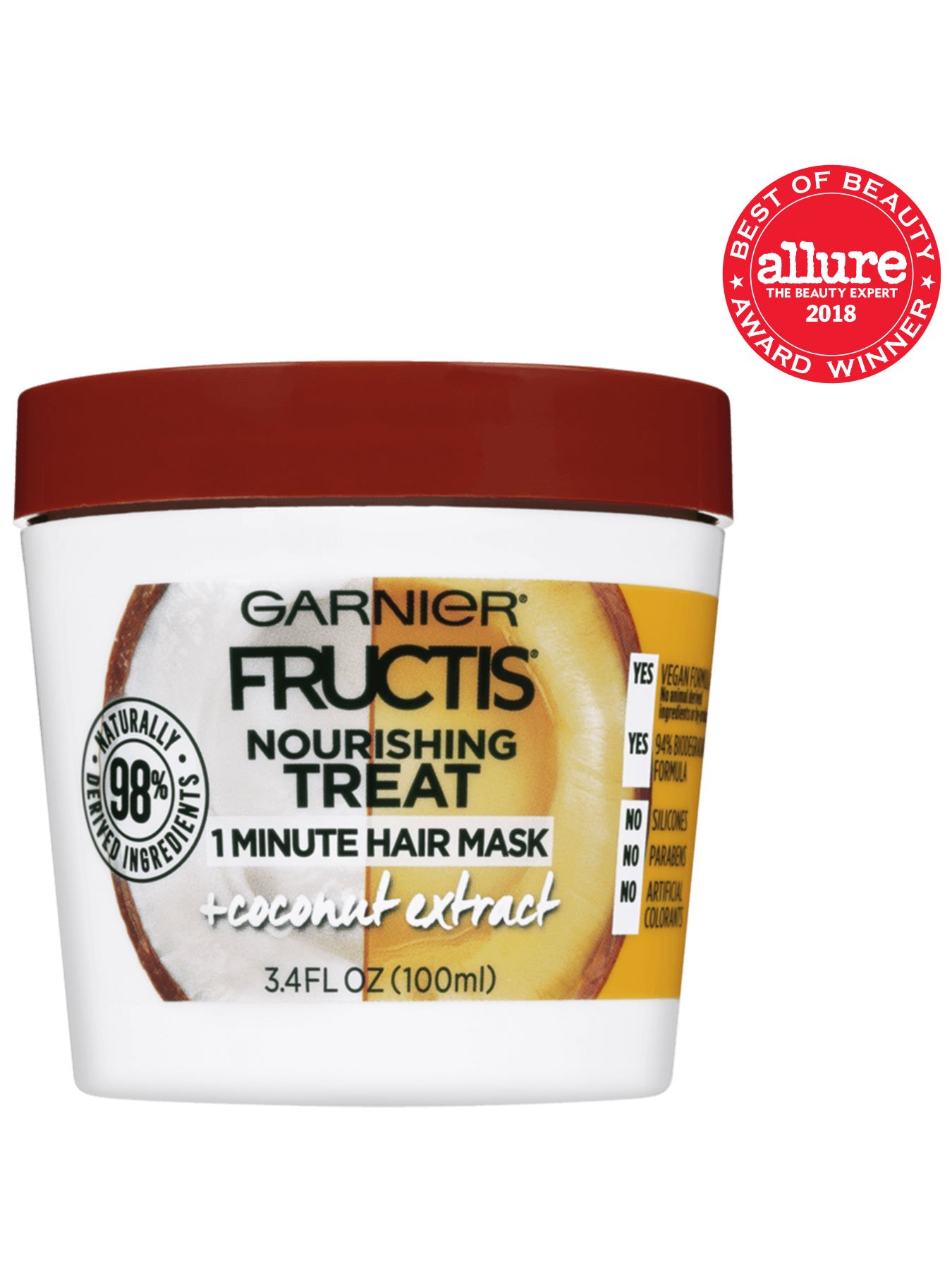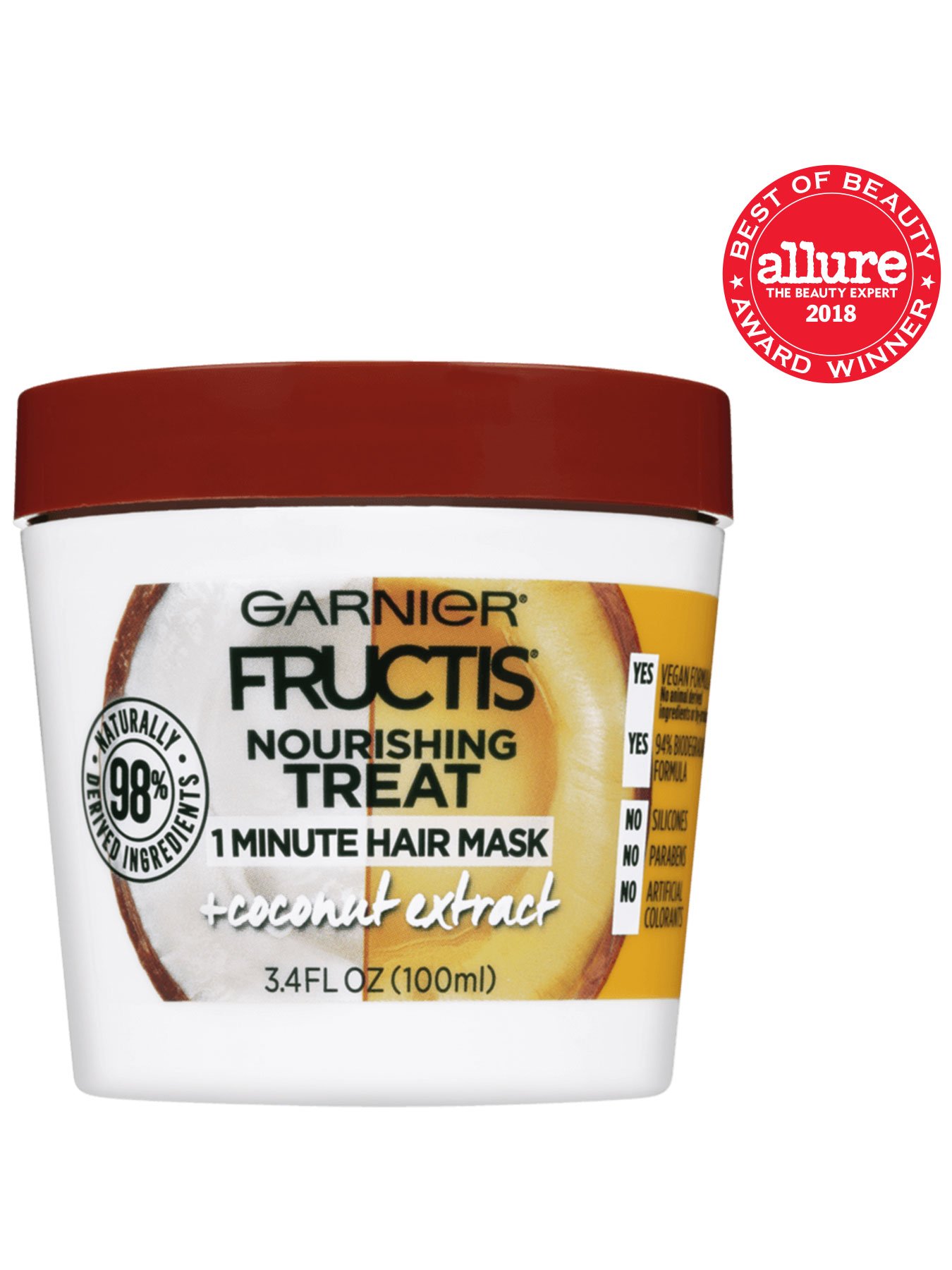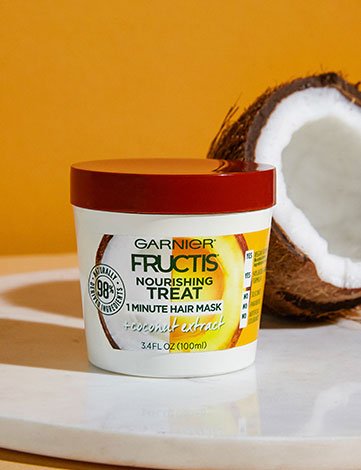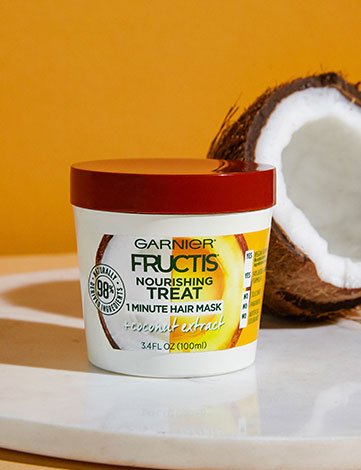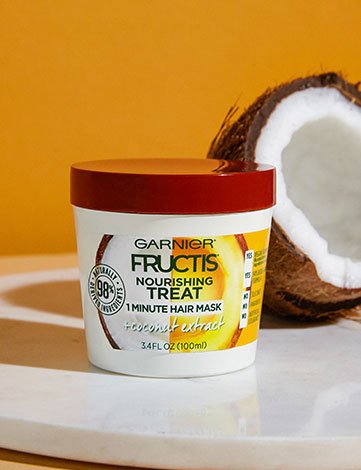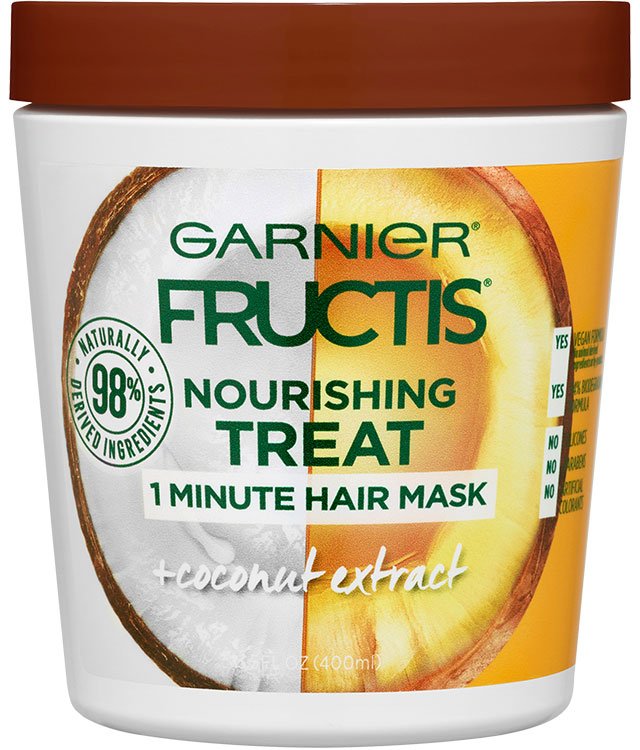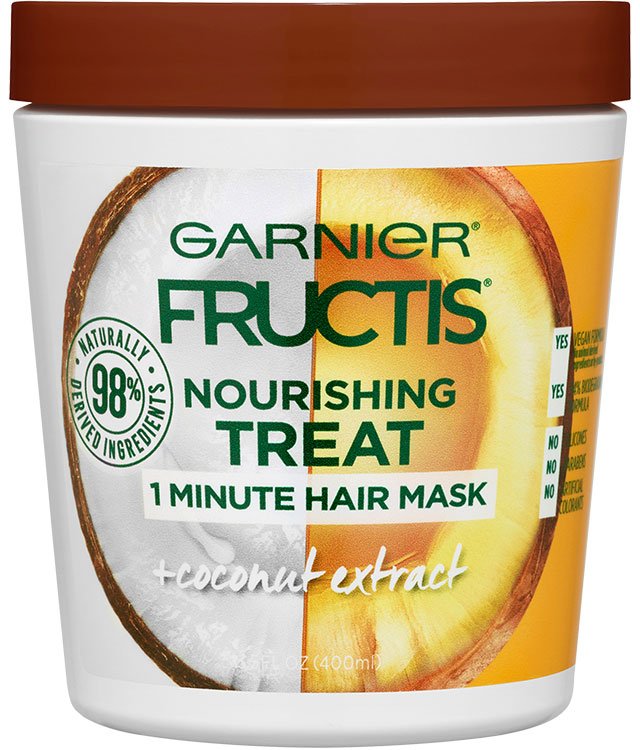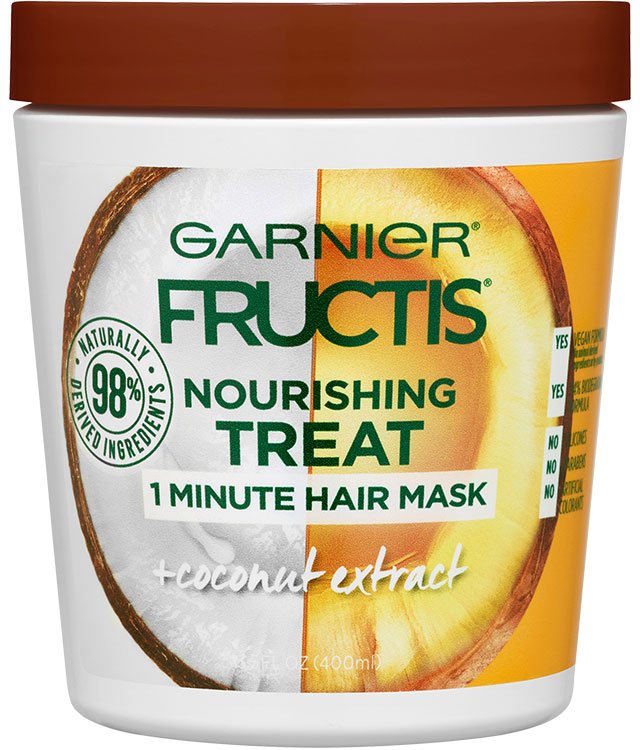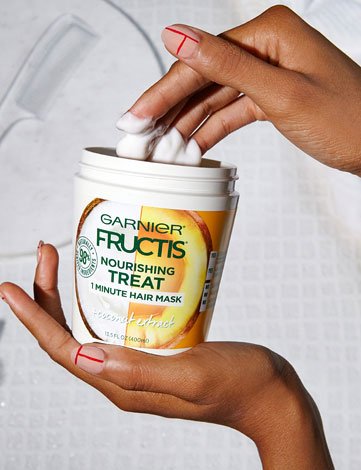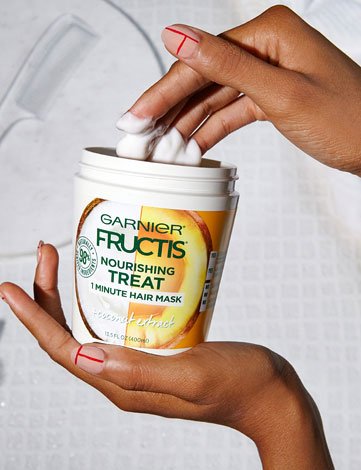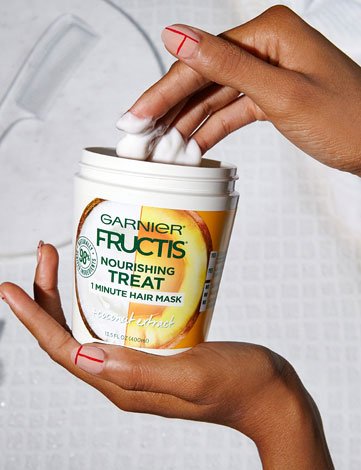 Garnier Fructis
Nourishing Treat 1 Minute Hair Mask + Coconut Extract
Nourishing Treat 1 Minute Hair Mask + Coconut Extract
$4.49 MSRP
$7.99 MSRP
Nourishing Treat 1 Minute Hair Mask + Coconut Extract helps you get soft, smooth & manageable hair.
Love it? Available in a larger size.
you have added this item to your cart.
View Cart
PRODUCT INFORMATION:
In 1 minute, indulge your hair in a nourishing treat with 98% naturally derived ingredients*. Nourishing Treat 1 Minute Hair Mask + Coconut Extract helps you get soft, smooth & manageable hair. No weigh down, no silicones, no parabens, and no artificial colorants.

*We consider an ingredient to be naturally derived if it is unchanged from its natural state or has undergone processing yet still retains greater than 50% of its molecular structure from its original plant or mineral source. This formula consists of 98% naturally derived ingredients. The remaining ingredients constitute 2% of the formula to ensure its sensoriality and preservation.
How to use:
As a mask: After shampoo, apply onto wet hair and leave on for 1 minute. Rinse. As a conditioner: After shampoo, apply to hair from root to tip. Rinse. As a leave-in: Apply on damp hair to control frizz for long lasting nourishment.
Ingredients:
1199857 E INGREDIENTS, AQUA / WATER / EAU, CETEARYL ALCOHOL, GLYCERIN ISOPROPYL MYRISTATE, STEARAMIDOPROPYL DIMETHYLAMINE, BUTYROSPERMUM PARKII BUTTER / SHEA BUTTER OLEA EUROPAEA OIL / OLIVE FRUIT OIL, GLYCINE SOJA OIL / SOYBEAN OIL SODIUM HYDROXIDE, HELIANTHUS ANNUUS SEED OIL / SUNFLOWER SEED OIL, ROSMARINUS OFFICINALIS LEAF EXTRACT / ROSEMARY LEAF EXTRACT, COCO-CAPRYLATE/CAPRATE, COCOS NUCIFERA FRUIT EXTRACT / COCONUT FRUIT EXTRACT COCOS NUCIFERA OIL / COCONUT OIL, HYDROXYPROPYL GUAR HYDROXYPROPYLTRIMONIUM CHLORIDE, CAPRYLYL GLYCOL CITRIC ACID, PERSEA GRATISSIMA OIL / AVOCADO OIL, XANTHAN GUM, TARTARIC ACID, CETYL ESTERS, TOCOPHEROL POTASSIUM SORBATE, SALICYLIC ACID, EUGENOL, COUMARIN, LIMONENE, PARFUM / FRAGRANCE, F.I.L. C212858/1
Rated

5

out of

5
by
Klankford112
from
Great Product
I didn't think this would make much of a difference in my hair, but it did. My hair was much softer and easier to deal with. This is wonderful!
Date published: 2018-07-19
Rated

2

out of

5
by
NPS4
from
Ok, but not more effective than conditioner
The smell of this hair mask was really lovely, but I wasn't too impressed by its performance. I didn't feel like my hair felt any different than when I use a good conditioner. Perhaps repeated use would make more of a difference. I received a free sample from PINCHme.
Date published: 2018-07-19
Rated

4

out of

5
by
1Pillow
from
Multifunctional
Received a sample from PinchMe and used as conditioner and it made my hair super soft for one day. It smells good, but did nothing for my flyaways and seemed to slightly weigh my hair down. The sample was only big enough for one use but with continued use, it probably works quite well.
Date published: 2018-07-19
Rated

5

out of

5
by
Chelsey1022
from
I loved it !!
I received this sample from PINCHme and I have to say it made my hair extremely smooth and very bouncy ! I loved using this product and I will be purchasing this product on a daily basis. It smells amazing and it's super easy to use. I love it
Date published: 2018-07-19
Rated

5

out of

5
by
jennytoombs
from
smells good
After I condition my hair with my regular conditioner, I use the 1 minute Garnier Fructis hair mask. I can feel a big difference in the softness of my hair and it smells really good. I received a sample but I've already purchased a couple more. They are really affordable and a tub can last 3 times.You can find them just about anywhere. I bought mine at Walmart.
Date published: 2018-07-19
Rated

5

out of

5
by
Melissa916
from
I really liked this !!!
I dont normally do hair masks due to the fact, afterward I really dont notice a huge difference or improvement. I can honestly say that I will definitely be using this from now on. My hair was soft & silky for days after, I really did notice a huge difference. Great product, I really liked it. I did receive this product as a sample from PINCHME.
Date published: 2018-07-19
Rated

5

out of

5
by
Smoss247
from
Great product
I received this as a free sample from pinchme and I have to say that this is the best hair mask ever!! The smell.... the texture of the mask and my hair.... oh so heavenly.... my hair is the softest and healthiest looking it ever has benn. Thank you pinch me and thank you garnier!!
Date published: 2018-07-19
Rated

5

out of

5
by
PartPixieChic
from
THE BEST GIFT TO YOUR HAIR
When I opened up this month's PINCHme box of free samples, I found a good sized sample packet of the Avocado Extract flavor of NEW FRUCTIS TREATS 1 MINUTE HAIR MASKS. The avocado hair treatment is supposed to be able to smooth frizzy hair which is perfect for me. The other four types available (all food) were banana extract-to strengthen weak hair, coconut extract- to nourish dry hair, papaya extract- to repair damaged hair (might be another good one for me) and gogi extract- that protects color vibrancy. According to the packaging, the product could be used three different ways: 1) applied as a normal conditioner (seemed like a waste), 2) left in for a few minutes as a hair mask and then washed out or 3) applied to wet hair as a leave in conditioner. Since there was a lot of product in the sample, and I had JUST dyed my hair 15 minutes before, I opted for doing BOTH options 2 and 3. I figured overkill couldn't hurt in this situation. The smell was strong, but very pleasant and considering how bad freshly dyed hair stinks, I considered the strong scent as a benefit of this product. As a hair mask, I loved how it smoothed on and that it wasn't too difficult to rinse out when I was done. When I used the remainder of the product on my towel dried hair at the end, it didn't leave my hair greasy or too heavy and it didn't air dry crunch or anything. Once it was dry and I styled my hair, my hair was smooth and controllable. It didn't hang lank and it wasn't greasy, both things I was worried about since I went for option "2/3 over-kill". My hair looked and smelled great. All in all, I have to say that Avocado Extract flavor of NEW FRUCTIS TREATS 1 MINUTE HAIR MASK took on the challenge of frizzy, slightly over processed and freshly dyed hair and came out a winner! I am well pleased with this product and plan to purchase and use it in the future… specifically when I have to recolor my hair.
Date published: 2018-07-19