Explore Our Daily Care Collection
It's more than Grapefruit…it's a fortifying refresher and energizer for all hair types. With a Super Fruit, paraben-free, and vegan formula*, Daily Care 2-in-1 gently refreshes and energizes hair for stronger-looking, touchable softness.

*With no animal derived ingredients or byproducts
2-in-1 Shampoo + Conditioner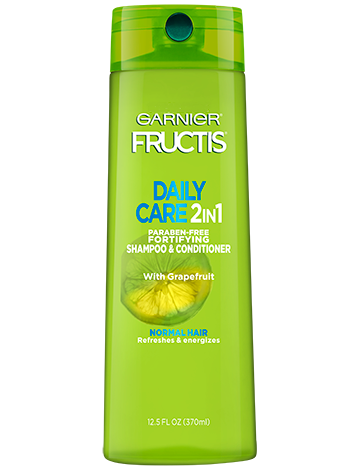 Garnier Fructis
Daily Care 2-in-1 Shampoo & Conditioner 12.5 fl. oz.
2-in-1 shampoo & conditioner for normal hair
Active Fruit Protein
This exclusive combination of ingredients is the basis of all our fortifying Fructis formulas. Made from citrus protein, Vitamins B3 and B6, fruit- and plant-derived extracts, and strengthening conditioners, it delivers stronger, healthier-looking hair.
Grapefruit
With antioxidant vitamins from A to K, and minerals including calcium, phosphorus, and potassium, Grapefruit's beauty benefits start from the fragrant oil found in its peel to its juicy flesh and seeds. When infused in beauty formulas for hair and skin, Grapefruit Extract purifies and protects.