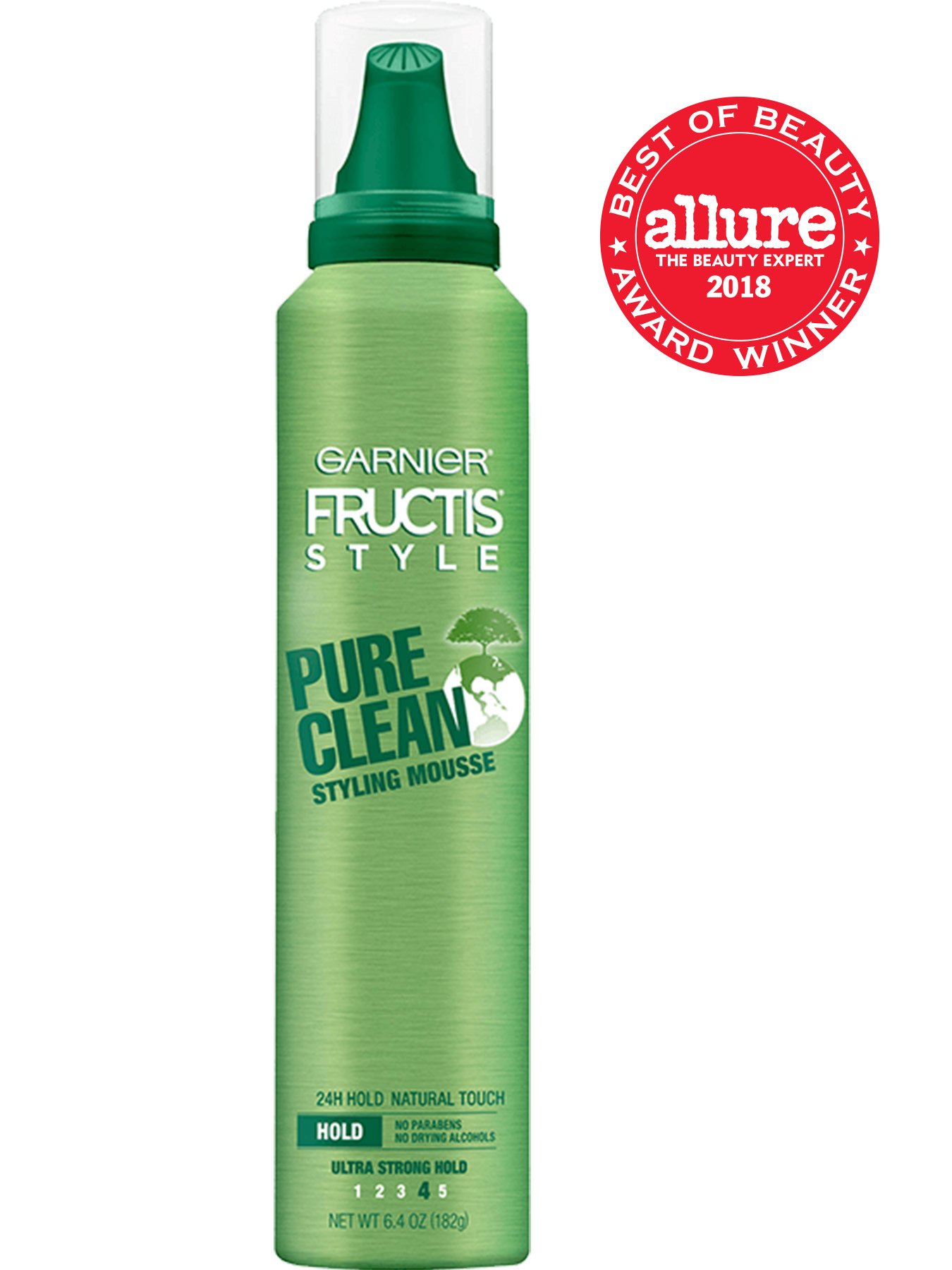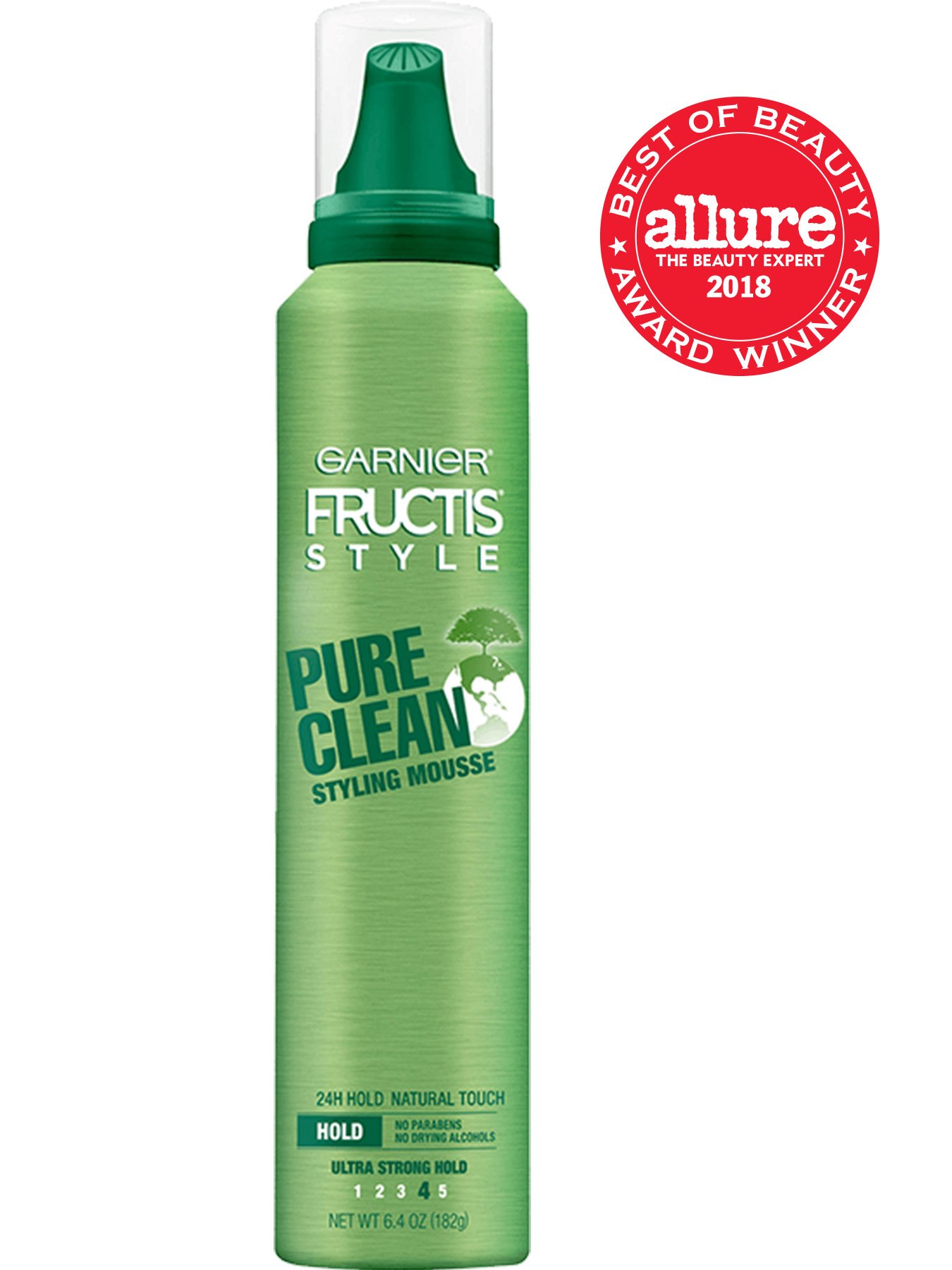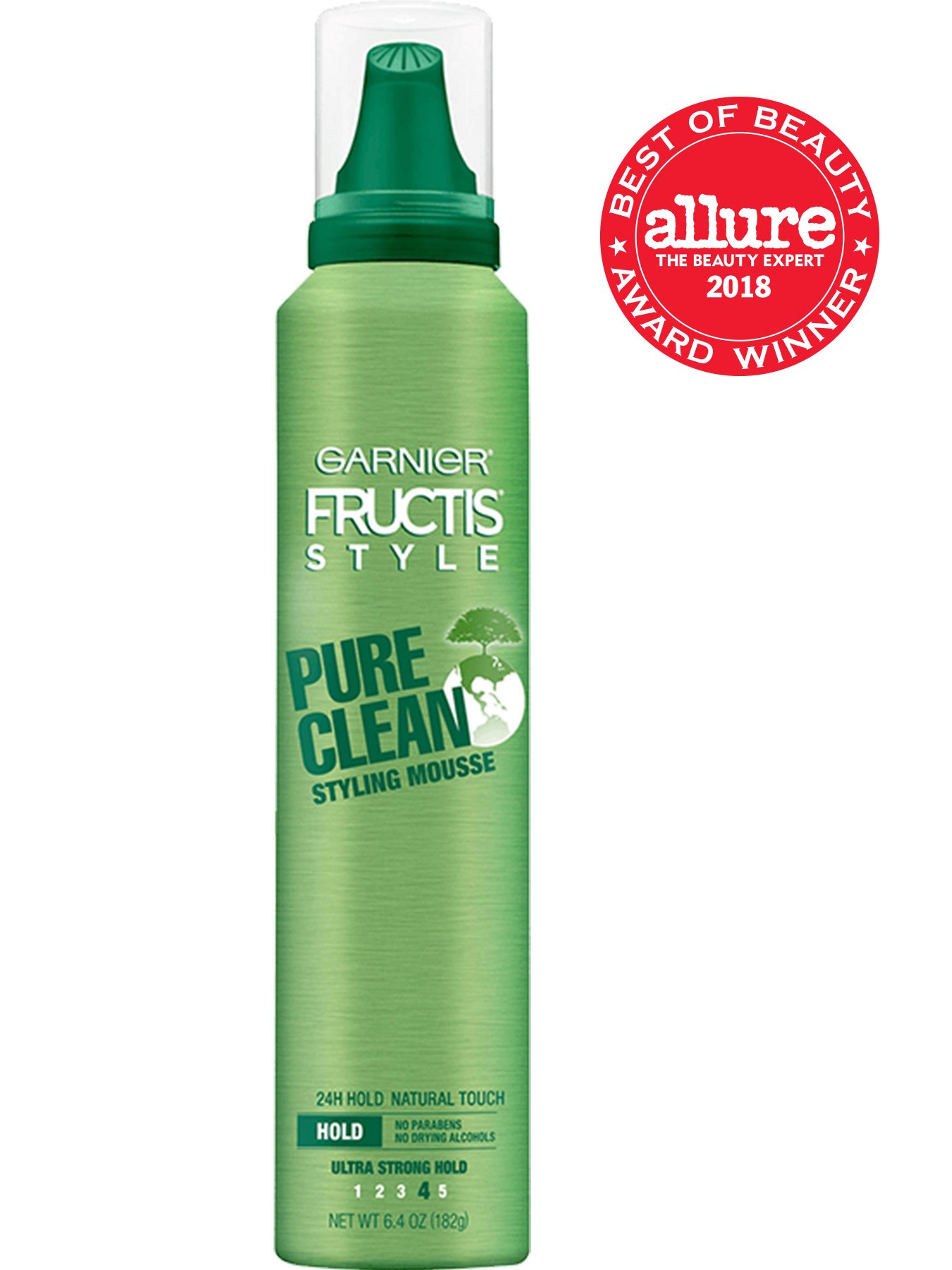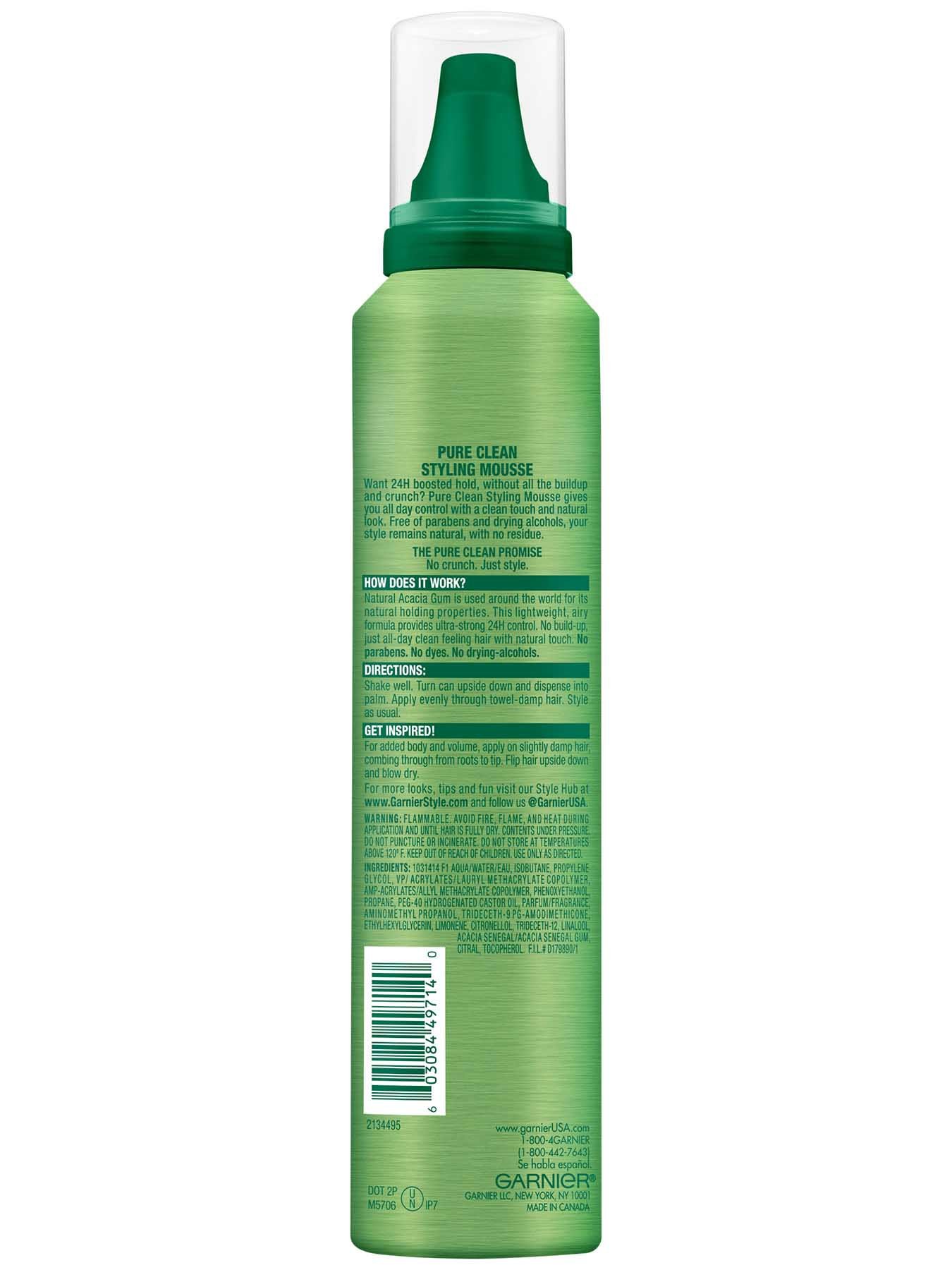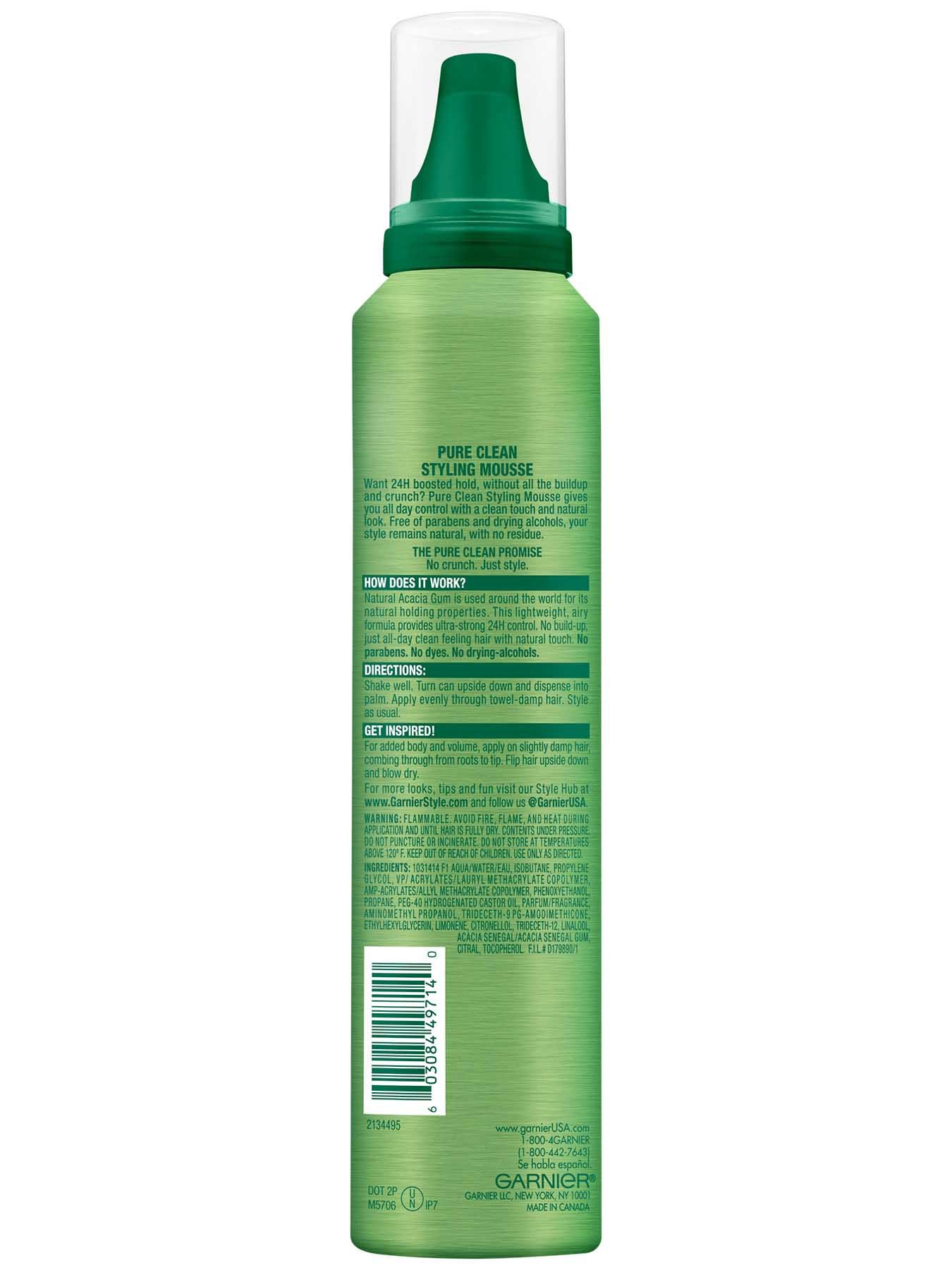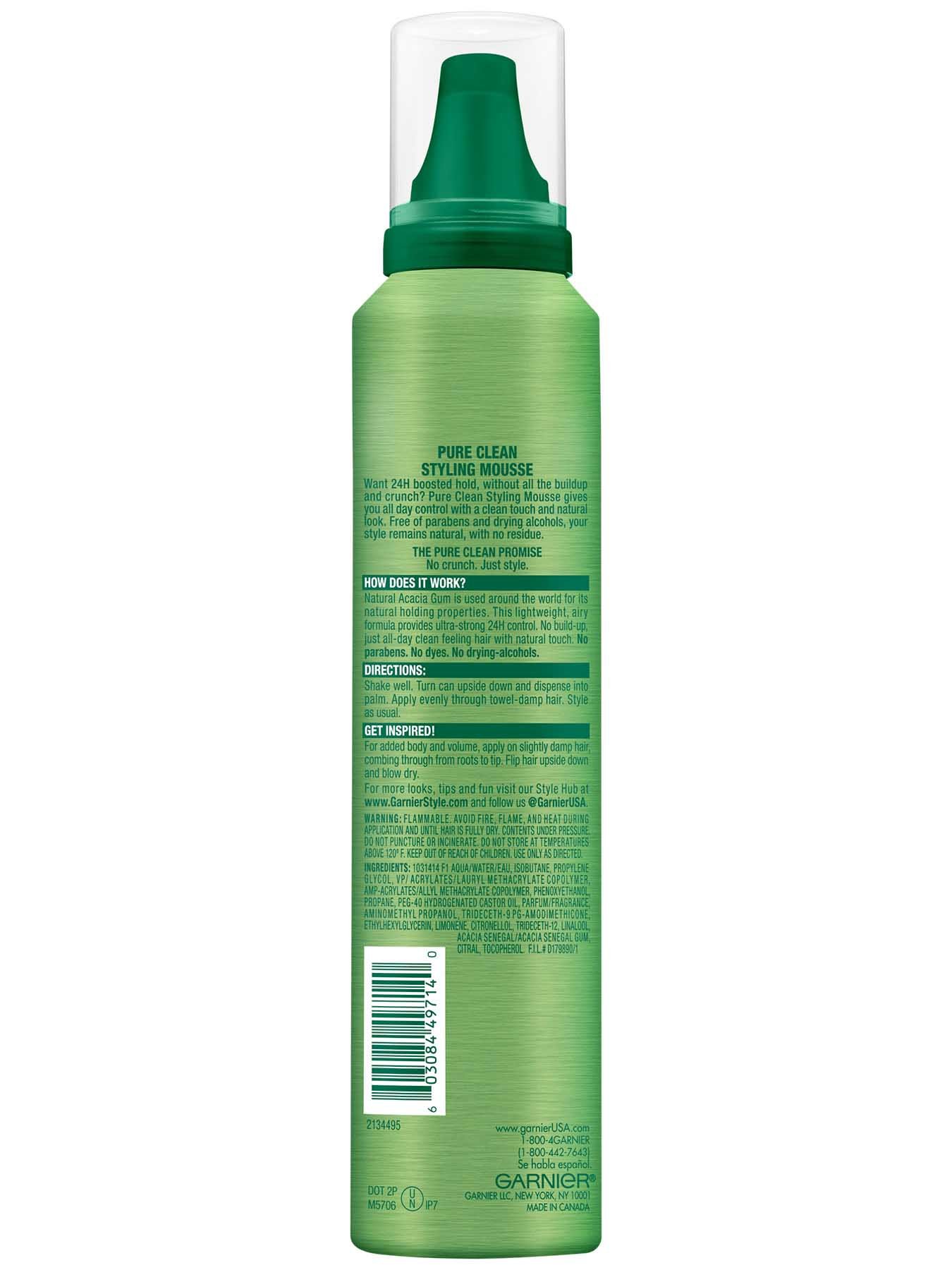 Pure Clean Styling Mousse
Garnier Fructis
$4.29 MSRP
Ultra-Strong, 24H Hold with a natural touch. No parabens No dyes. No drying-alcohols.
24 Hour Definition and Clean Hold. 99% Naturally-Derived.
PRODUCT INFORMATION:
Want 24H boosted hold, without all the buildup and crunch? Pure Clean Styling Mousse gives you all day control with a clean touch and natural look. Free of parabens and drying alcohols, your style remains natural, with no residue. THE PURE CLEAN MOUSSE PROMISE: No crunch. Just style.

HOW DOES IT WORK
Natural Acacia Gum is used around the world for its natural holding properties. This lightweight, airy styling mousse provides ultra-strong 24H control. No build-up, just all-day clean feeling hair with natural touch. No parabens. No dyes. No drying-alcohols.

GET INSPIRED!
For added body and volume, apply mousse on slightly damp hair,combing through from roots to tip. Flip hair upside down and blow dry.
How to use:
Shake well. Turn can upside down and dispense into palm. Apply evenly through towel-damp hair. Style as usual.
Ingredients:
1031414 F1 AQUA/WATER/EAU, ISOBUTANE, PROPYLENE GLYCOL , V P/ ACRYLATES / LAURYL METHACRYLATE COPOLYMER , AMP-ACRYLATES/ALLYL METHACRYLATE COPOLYMER, PHENOXYETHANOL, PROPANE, PEG-40 HYDROGENATED CASTOR OIL, PARFUM/FRAGRANCE, AMINOMETHYL PROPANOL, TRIDECE TH-9 PG-AMODIME THICONE, ETHYLHEXYLGLYCERIN, LIMONENE, CITRONELLOL, TRIDECETH-12, LINALOOL, ACACIA SENEGAL/ACACIA SENEGAL GUM, CITRAL, TOCOPHEROL. F.I.L.# D179890/1
Rated

5

out of

5
by
psy1356
from
Works Great!
I had a body wave done on my hair a few months ago and since then i've been trying different products to see what makes my hair wavier/curlier and this is definitely the best so far! This makes my hair as wavy/curly as the day i got the body wave! It does make your hair a little frizzy though so i'd use it with a cream or serium to lower the frizziness! Overall it's amazing! Especially for the price! I bought other products that cost more and are less affective so i'm sticking with this for now!
Date published: 2018-02-22
Rated

4

out of

5
by
NicoleCranial
from
GarnierFructisStyleStylingMousse
I think this product is pretty good but not really for kinky hair, that's why it took me so long to make this review I do like it I also love the smell. It's easy to apply, but for me to remove it from my hair did make my hair a bit dry. My hair did not get dry from the product when I put it in as I mentioned before it was when I washed my hair is when it felt a bit dryer than usual. It was a bit hard to use because you have to turn it upside down,(I don't usually use mousse) so it did go all over the place for the first time but as the weeks went by it got easier. I haven't been using any other product with this product I did see a bit of white flakes in my hair. Not sure if I put the product in properly or not. I personally think that my hair texture isn't ment for this or maybe my shampoo doesn't work well with this product . I did like this product overall I just think my hair isn't suitable but I really enjoyed the smell a lot.
Date published: 2018-02-21
Rated

5

out of

5
by
akpoptart789
from
Love this product!
I have very temperamental hair, so I spend a lot of time trying to find products that will function without making my hair greasy or dry, or irritating my scalp. Bonus points if the product smells good. I'm happy to report that this product worked on all counts. I brought it along on a trip this weekend and ended up needing to use it to freshen my hair up really quickly between errands, a midafternoon nap and a social event. My hair was manageable and looked and felt great all afternoon and into the evening! It's been some time since I've used mousse, and I may have to add it back into my hair routine.
Date published: 2018-02-20
Rated

5

out of

5
by
PixieHot
from
Garnier Fructis Style Styling Mousse
This styling mousse worked very well. It was light, not sticky and smoothed into my hair easily. It held my thin, fly away hair in place without stiffness. I would get this product again.
Date published: 2018-02-20
Rated

5

out of

5
by
Madiebunnie
from
Great Product!
I think this product defiantly does what it says it does. It's clean and not sticky. Doesn't leave any gross residue. I like the way it gives me volume when I style my hair and it holds great! I've applied it and let my hair air dry and it still gives volume. Defiantly recommend. I have fine hair and it tends to fall flat. This product helps with giving me volume.
Date published: 2018-02-19
Rated

5

out of

5
by
akelsall
from
Great product..
I really enjoy using this mousse, there is a noticeable difference in how my hair looks and holds style. I have otherwise flat straight hair, but with the mousse my hair keeps volume (and curls) throughout the work day. My hair also stays soft and I can run my fingers through it, it is not sticky and it doesn't harden hair either. I have been using it on and off for several days and there is no residual damage from using this product on days that i do not use it. I am glad to recommend.
Date published: 2018-02-19
Rated

4

out of

5
by
SharmitaM
from
Garnier Clean Styling Mousse
First and foremost, I love the way this smells! Second, it held my curls in place pretty well and didn't leave them crunchy which was surprising because this is the first mousse that didn't have my hair feeling like a bed of fall leaves. It did flake up a little but I think that's because I had oil and a leave in conditioner in my hair also. I'm pretty sure I'll be adding this product to my rotation only when I use it again, I won't use the conditioner.
Date published: 2018-02-17
Rated

4

out of

5
by
SenyTatum
from
Great hold too sticky for my hair!
I enjoyed using this mousse! It has a great hold and definitely decreased my frizz and fly always! I have afro curly hair and it gave a curls wonderful definition! The only downside for me was it's a little sticky in my opinion. Otherwise I would highly recommend this product!
Date published: 2018-02-16