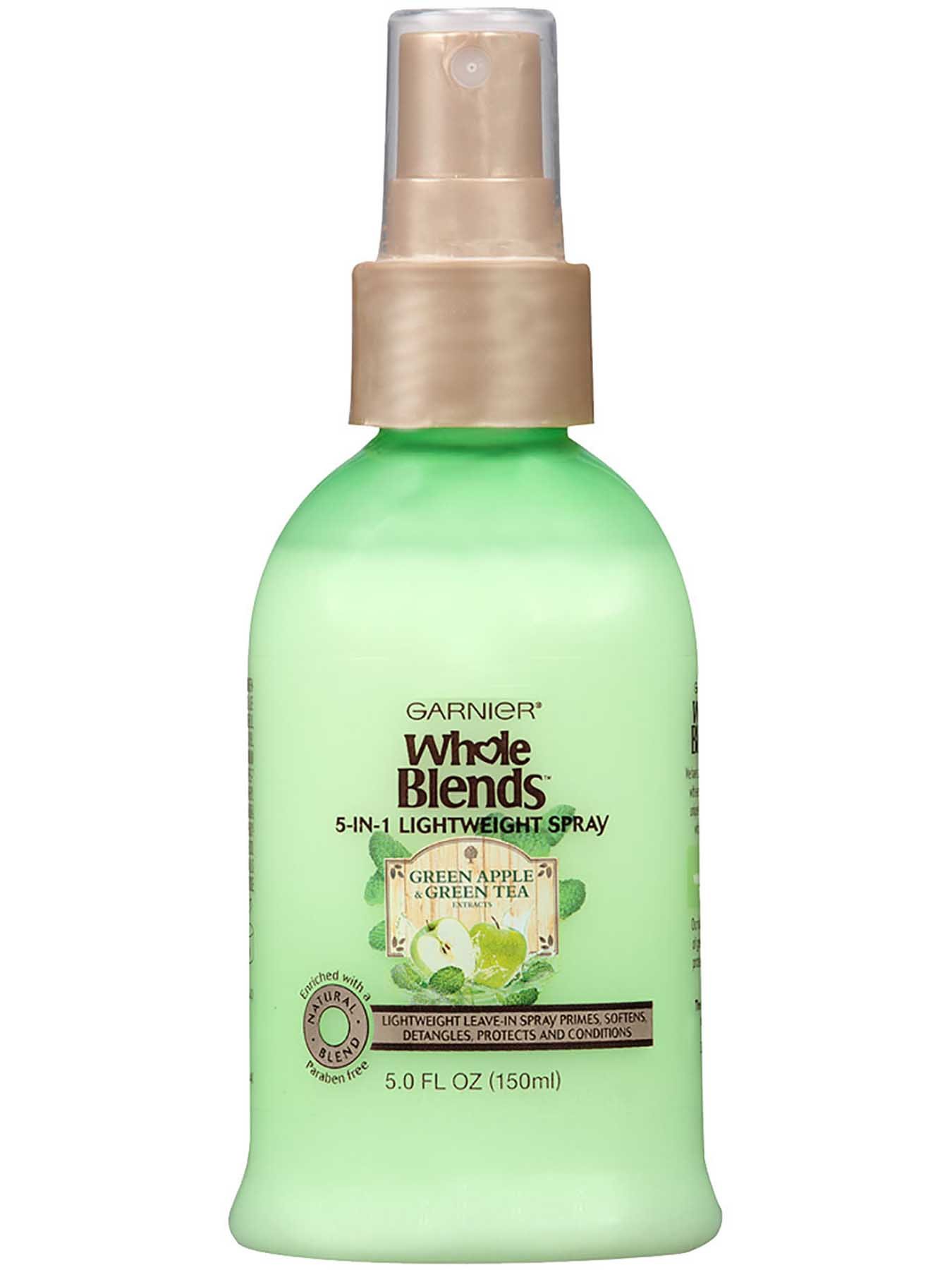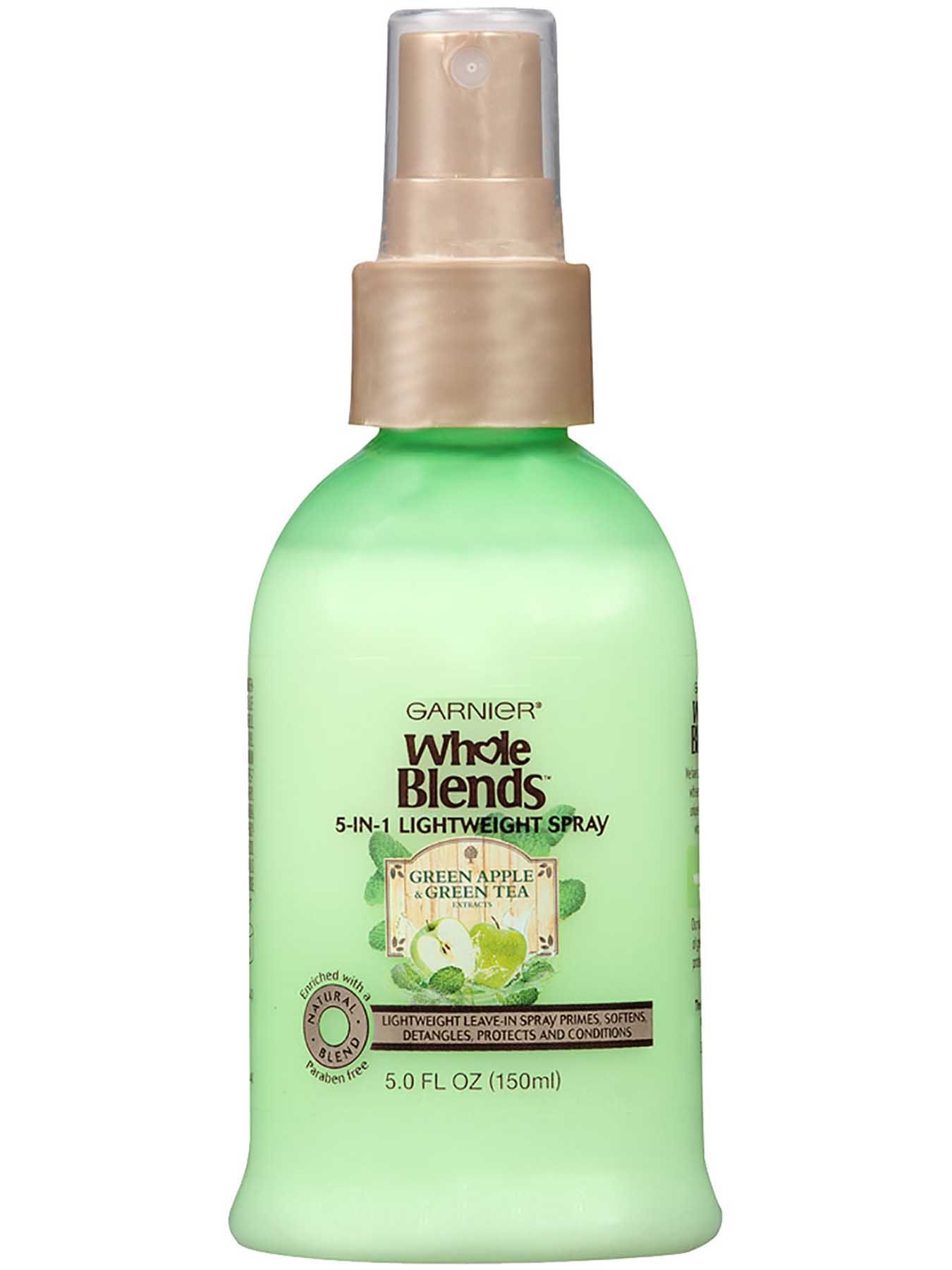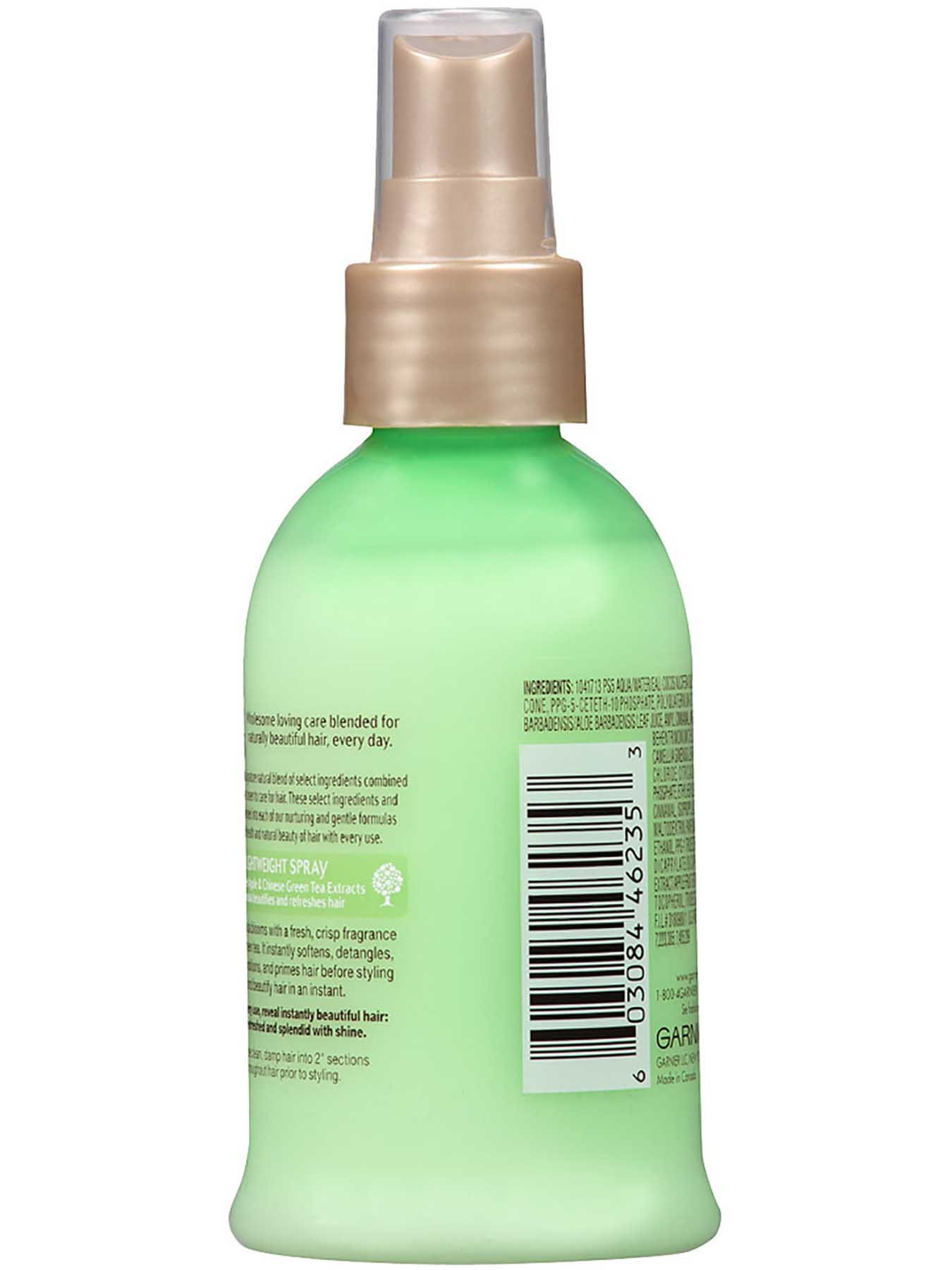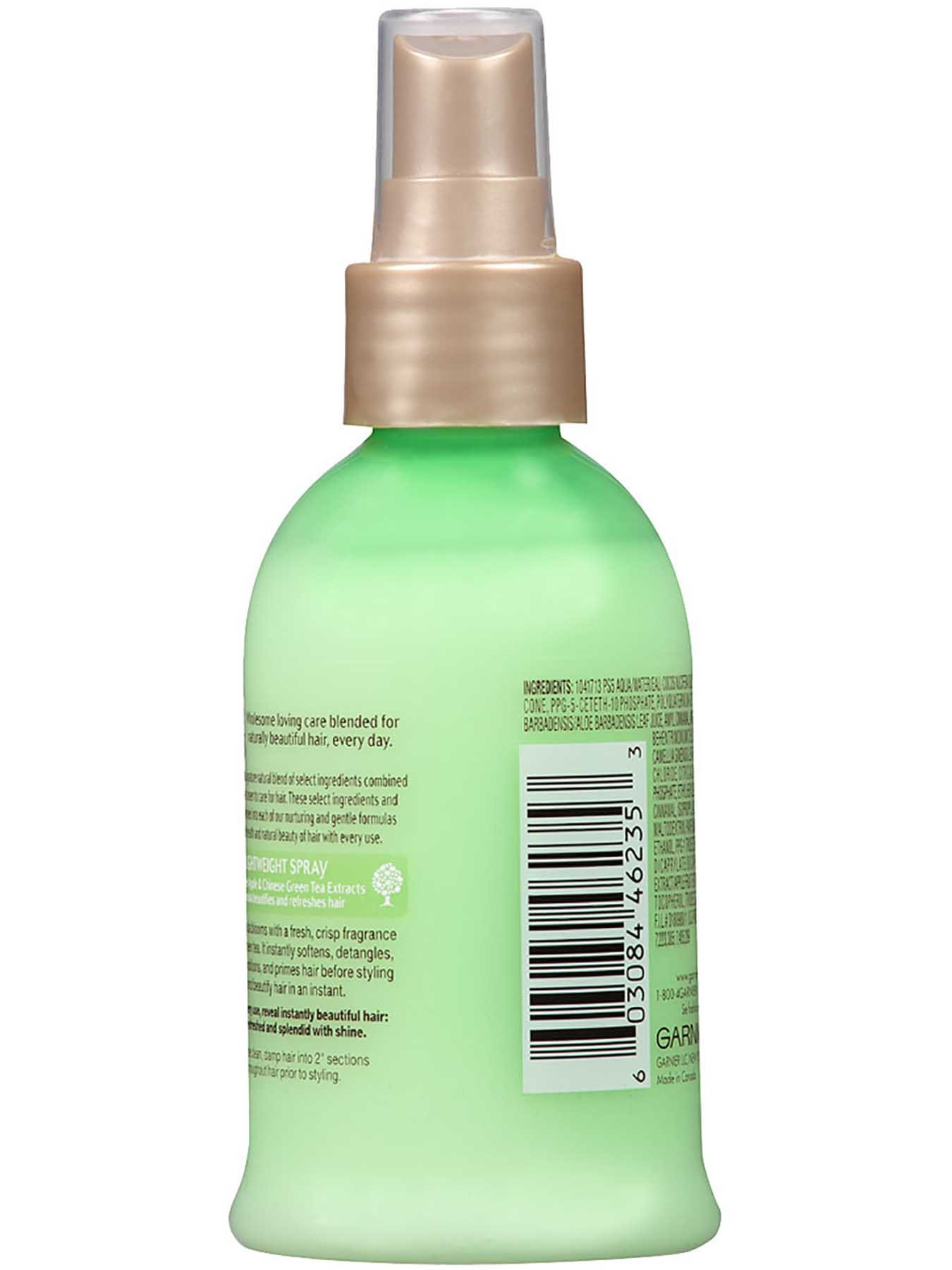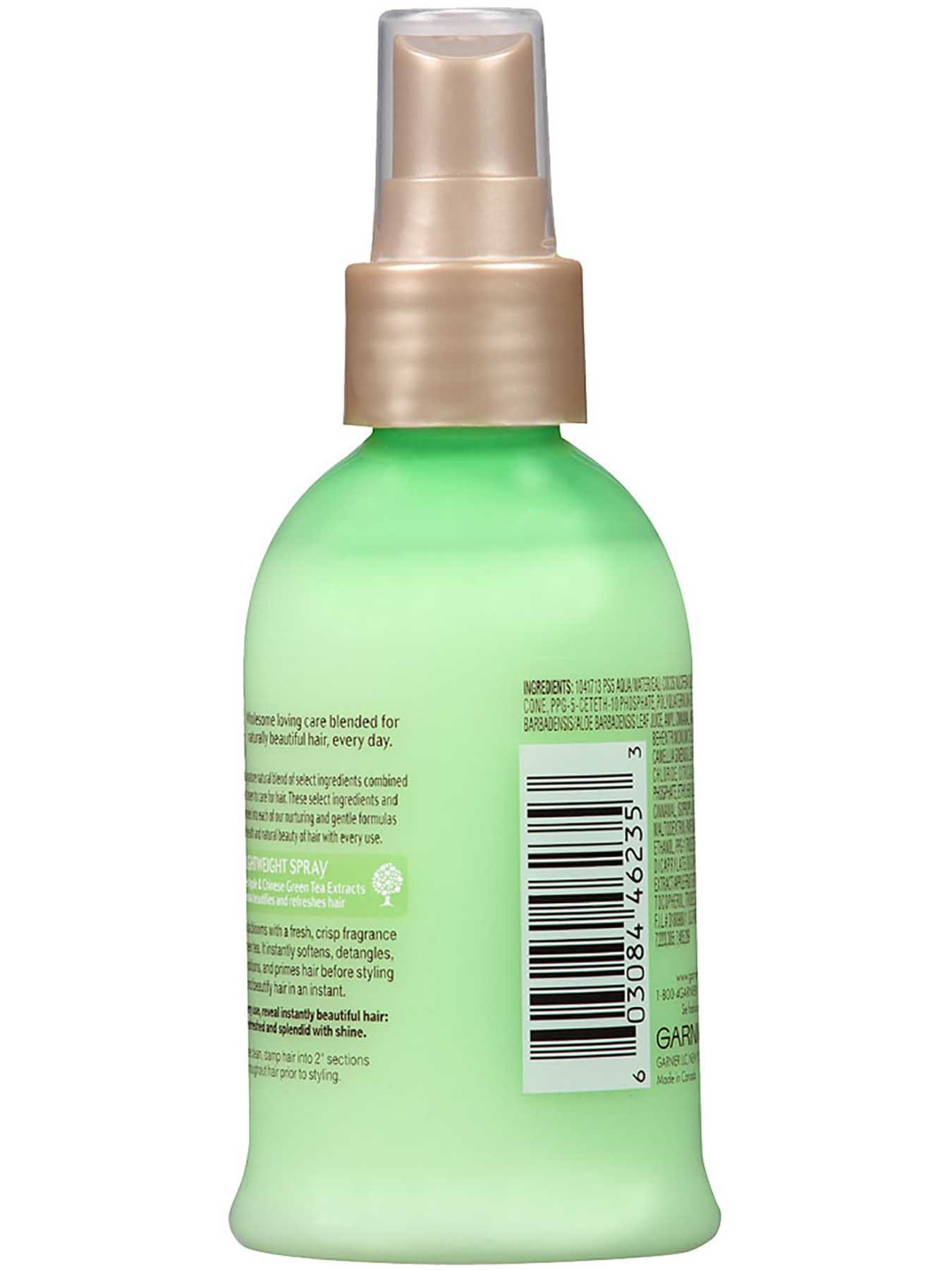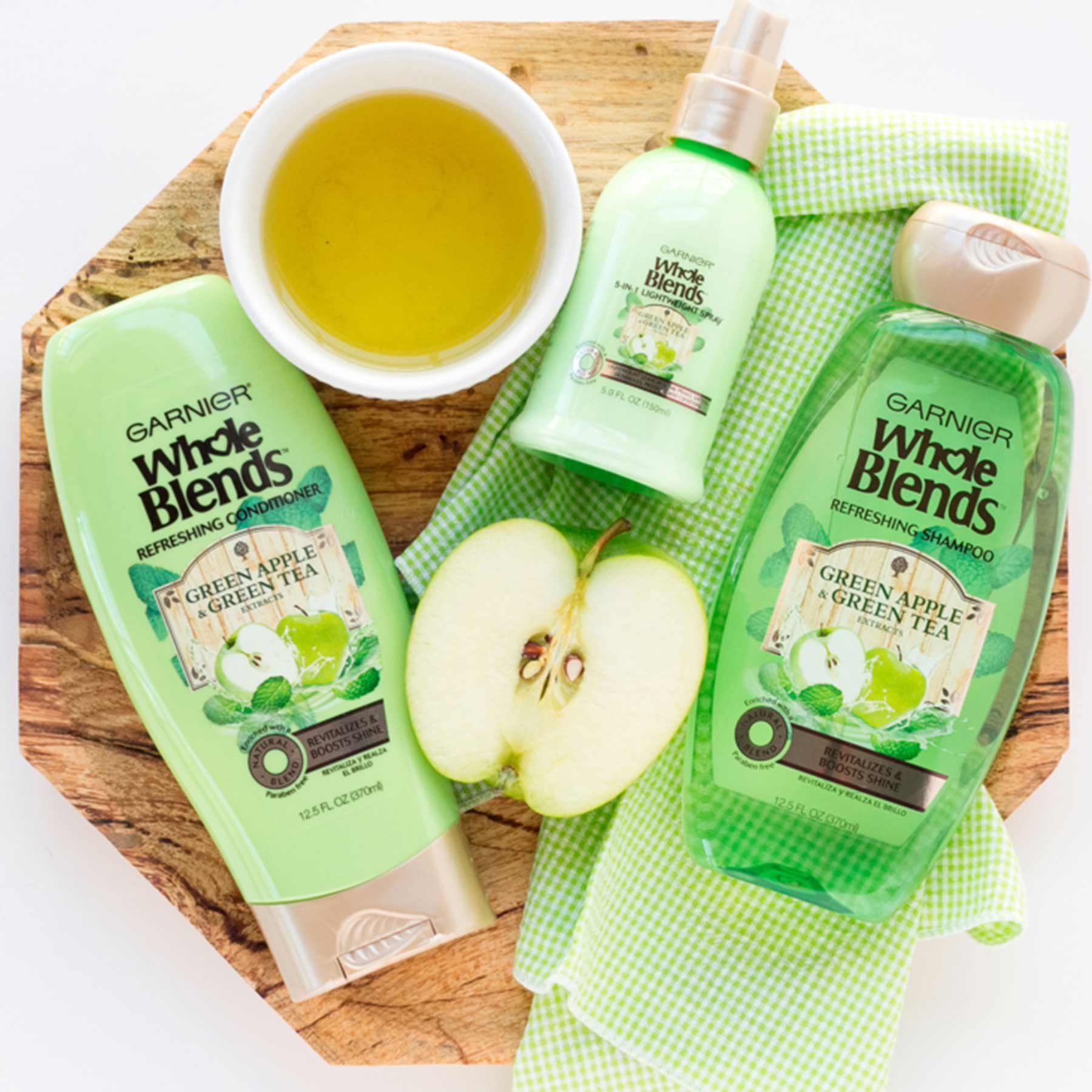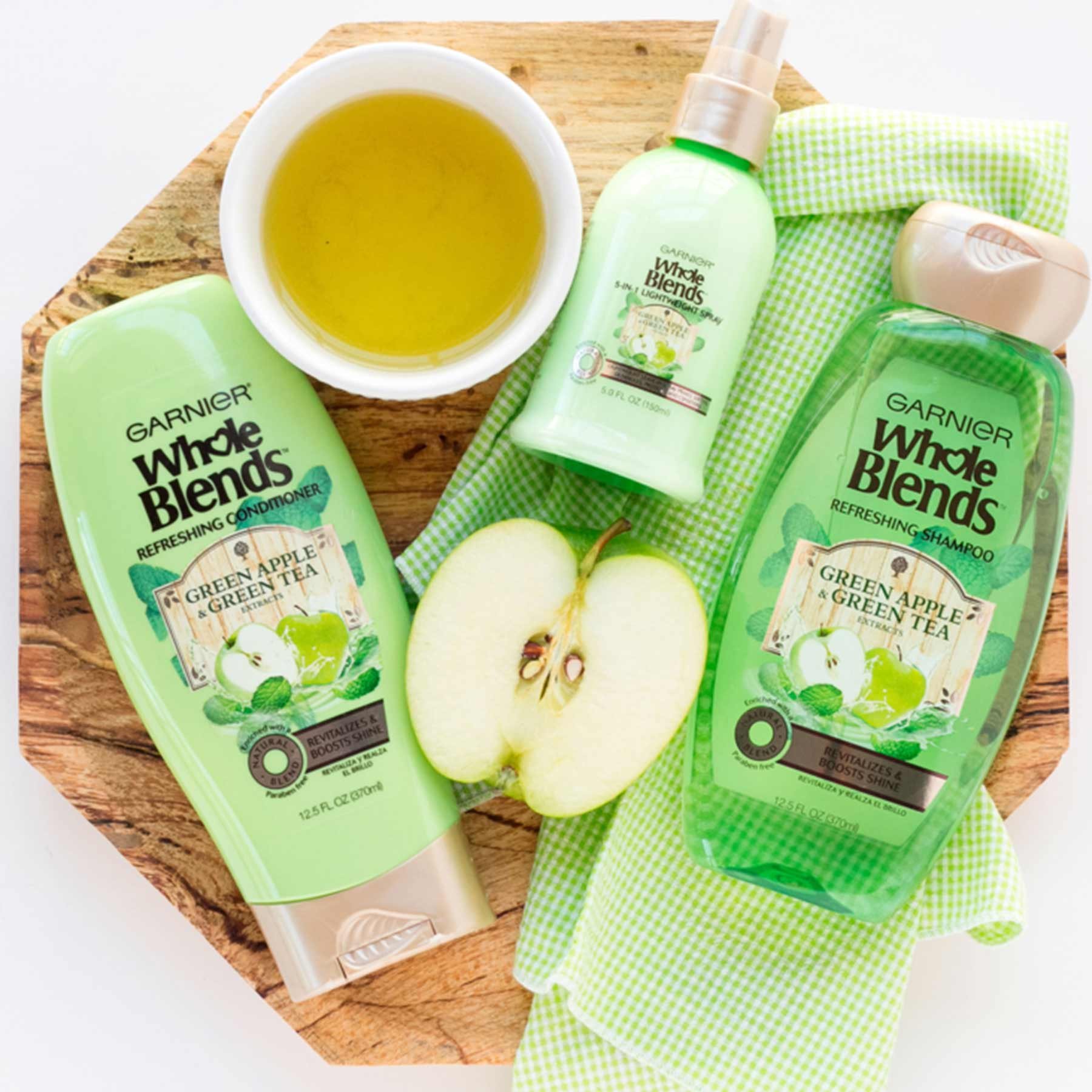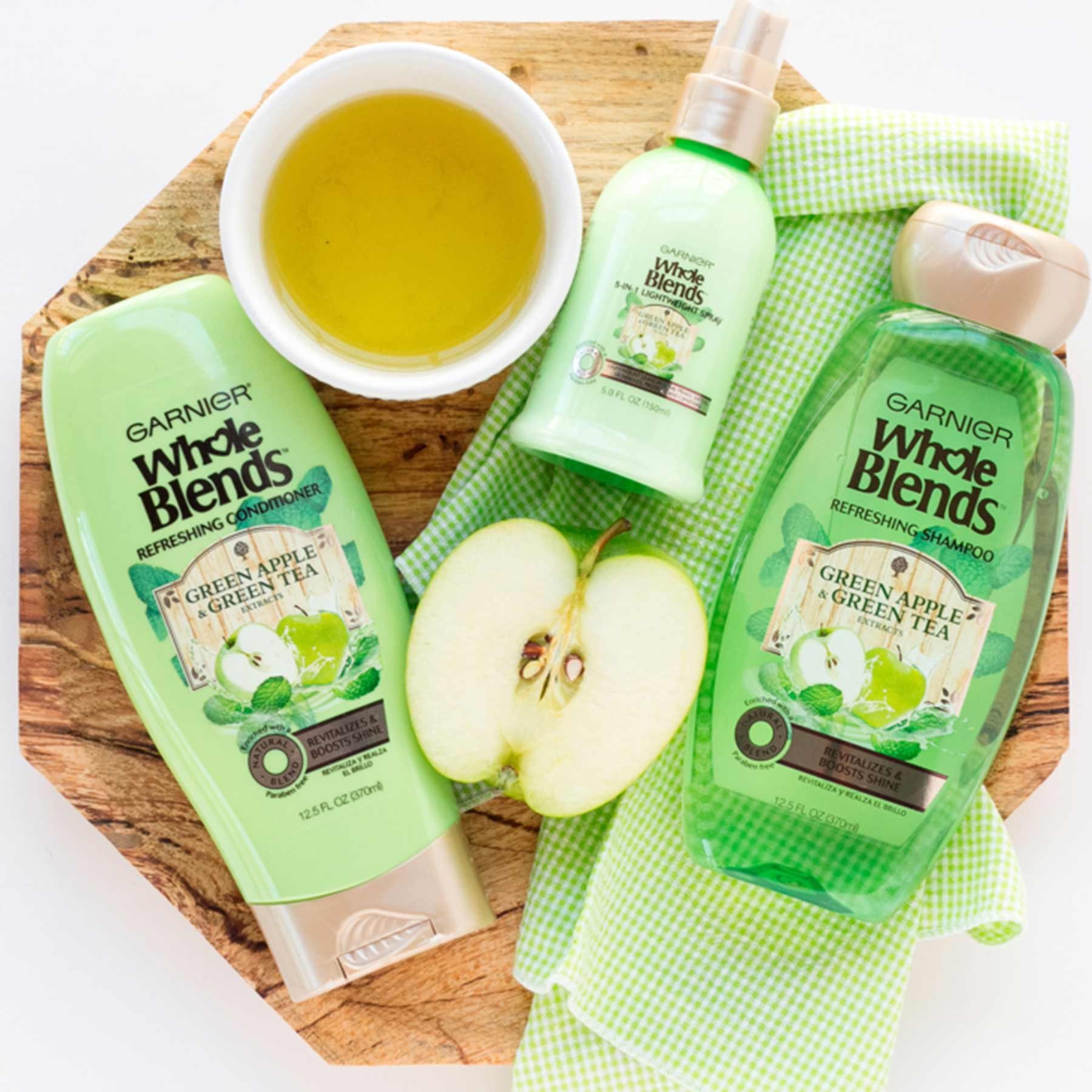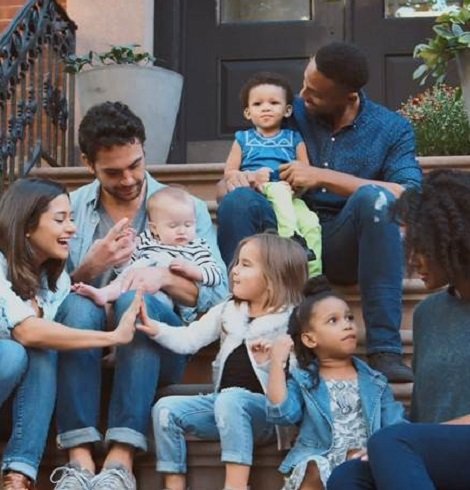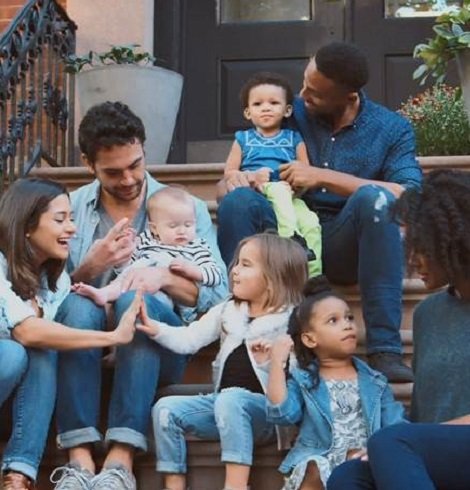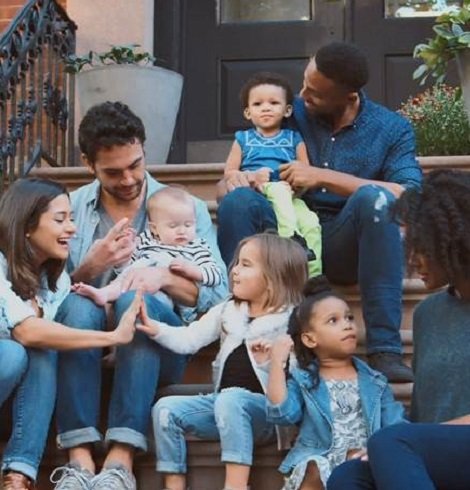 Whole Blends
Refreshing 5-in-1 Lightweight Spray with Green Apple & Green Tea extracts
$6.99 MSRP
Lightweight leave-in spray primes, Softens, Detangles, Protects, & Conditions
PRODUCT INFORMATION:
Our silky-light formula blooms with a fresh, crisp fragrance of green apple & green tea. It instantly softens, detangles, protects, lightly conditions, and primes hair before styling to refresh and beautify hair in an instant.
How to Use:
Divide clean, damp hair into 2" sections and mist throughout hair prior to styling.
Ingredients:
AQUA / WATER / EAUCOCOS NUCIFERA OIL / COCONUT OILAMODIMETHICONEPPG-5-CETETH-10 PHOSPHATEPOLYQUATERNIUM-37ACETAMIDE MEAALOE BARBADENSIS / ALOE BARBADENSIS LEAF JUICEAMYL CINNAMALARGANIA SPINOSA KERNEL OILBEHENTRIMONIUM CHLORIDEBENZYL ALCOHOLCAMELLIA SINENSIS LEAF EXTRACTCETRIMONIUM CHLORIDECITRIC ACIDDIMETHICONE PEG-7 PHOSPHATEETHYLHEXYLGLYCERINGLYCERINHEXYL CINNAMALISOPROPYL ALCOHOLLACTAMIDE MEAMALTODEXTRINPARFUM / FRAGRANCEPHENOXYETHANOLPPG-1 TRIDECETH-6PROPYLENE GLYCOL DICAPRYLATE/DICAPRATEPYRUS MALUS EXTRACT / APPLE FRUIT EXTRACTSODIUM HYDROXIDETOCOPHEROLTRIDECETH-6
Green Apple
Green Apples are rich in skin-brightening Vitamin C and minerals like magnesium, potassium, and calcium that strengthen hair.
Green Tea
Rich in caffeine, Green Tea is a natural circulation-booster that promotes healthy hair and glowing skin.
The Refreshing Care Regimen
Everything you need to complete your Refreshing hair care routine.
Wash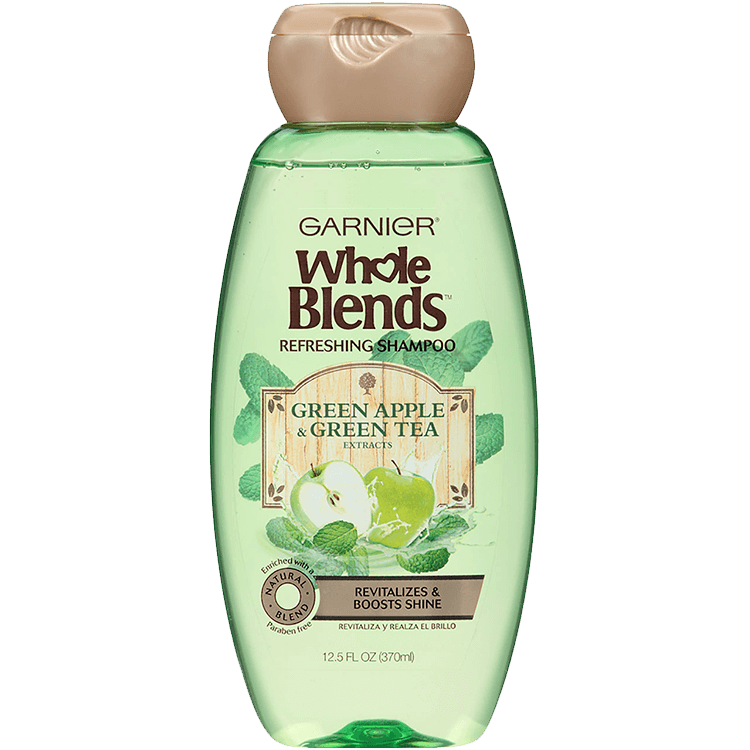 Whole Blends
Refreshing Shampoo with Green Apple & Green Tea Extracts
Normal Hair
Condition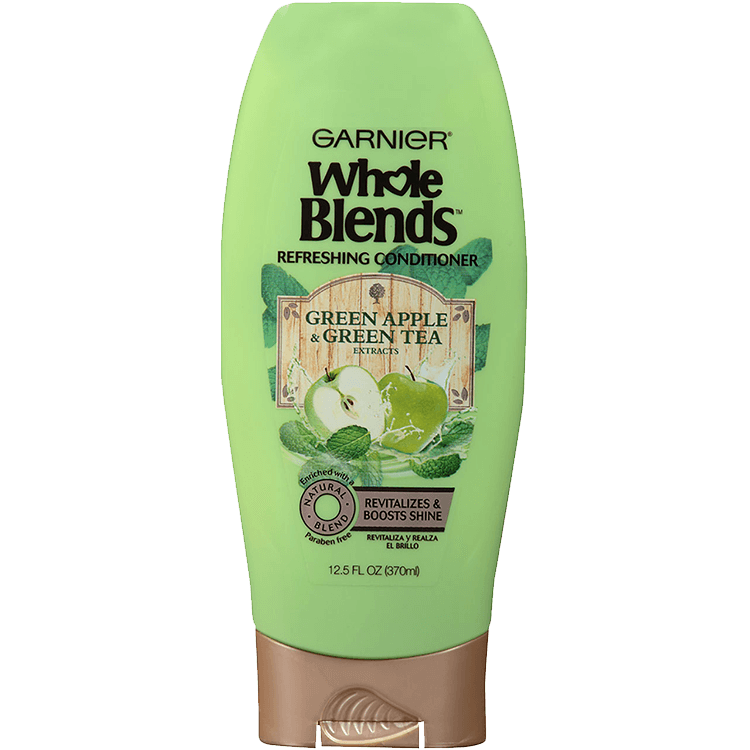 Whole Blends
Refreshing Conditioner with Green Apple & Green Tea Extracts
Normal Hair
Treat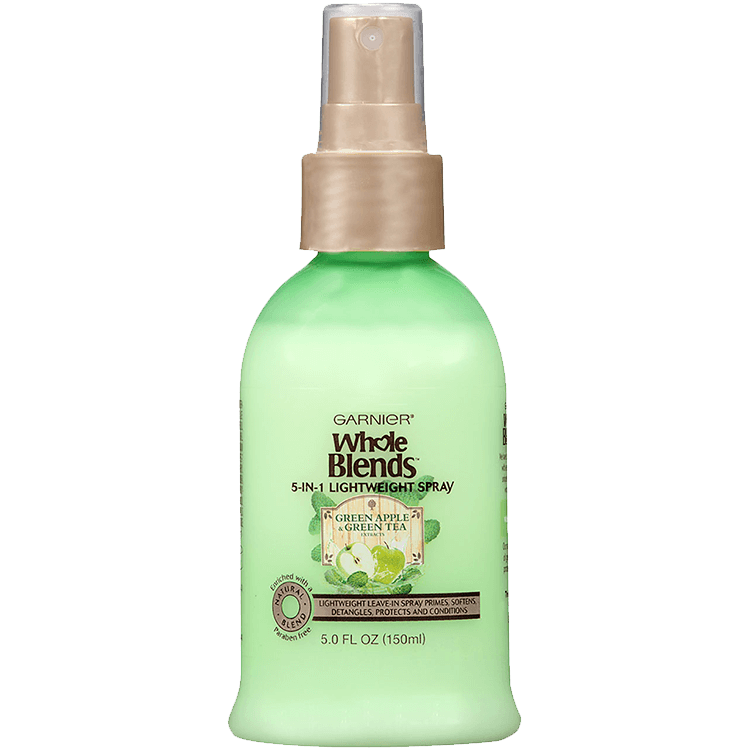 Whole Blends
Refreshing 5in1 Lightweight Spray with Green Apple & Green Tea Extracts
Normal Hair
Rated

5

out of

5
by
Tiffanylove
from
Great product
Love the product. Only product I can find that works good for my frizziness.
Date published: 2019-04-19
Rated

5

out of

5
by
JCaramel
from
The best
This the best product for my curly hair now i can't find it anymore where i live I'm going order online
Date published: 2018-11-18
Rated

5

out of

5
by
Angelique21
from
Silky not weighed down
Love this product, bought it while I was in Florida. Back in Colorado Springs & can not find it!
Date published: 2018-10-15
Rated

5

out of

5
by
CBBEAVIS
from
LOVE THIS PRODUCT!
Works amazing on my dry hair...I spray it on my damp hair and blow dry and scrunch. Amazing!!!!!
Date published: 2018-09-28
Rated

5

out of

5
by
Katkeys12
from
Great product but can't seem to find it
I'm love this product but I'm almost out and I can't find it in my area anymore? I have looked in almost every drug and grocery stores and to no avail.
Date published: 2018-05-26
Rated

5

out of

5
by
Sashe
from
Love, love, love
I have been using this for over a year. I have fine oily hair. I have never found any kind of conditioner I could use that wasn't oily, I can use very little of this and blow dry. My hair is silky soft and stays that way for days.
Date published: 2018-02-18
Rated

5

out of

5
by
ripsterchick
from
Great texturing product for fine hair
I have been using this product for several weeks now and really like the results. I have fine, dry hair with natural wave/curl. I like to air dry my hair and then curl it with a curling wand. However, with this product I am able to create texture and encourage my natural curl for a great effect without heat. I have liked the results both on dry and wet hair. Applying it liberally all around my head, I like to focus in areas that frizz and my ends. I scrunch my hair as the product dries, it does have alcohol so the spray thickens once around the strands of hair. My hair is so fine that this is enough hold to create very soft, very fragrant hair that I flip and twirl all day long. I am notorious for playing with my hair. That is another reason l love this product, it helps keep my hair from looking oily all day, even when I am continuously running my hands through my hair. The mist when spraying the product is very fine and covers well. Finally, I really enjoy the scent.
Date published: 2018-01-20
Rated

5

out of

5
by
Fidalgodan
from
The very best
Finally, after decades of trying different products I found one that meets my needs perfectly! I hate oily hair and scalps. I tried creams, hairspray and finally have been using tonics which smelled good and did not leave me with an oily scalp, but also did not manage my hair well so I would have to use multiple times during the day as my hair became dry and unruly. This is the perfect prroduct. I allow my hair to dry 1st, then massage it in a couple places only, run my comb through it effortlessly, and my hair is good for the day and even looks good in the morning when I sleep on my back. Absolutely the perfect product for men! Thank you Garnier. I am recommending it to others.
Date published: 2018-01-19