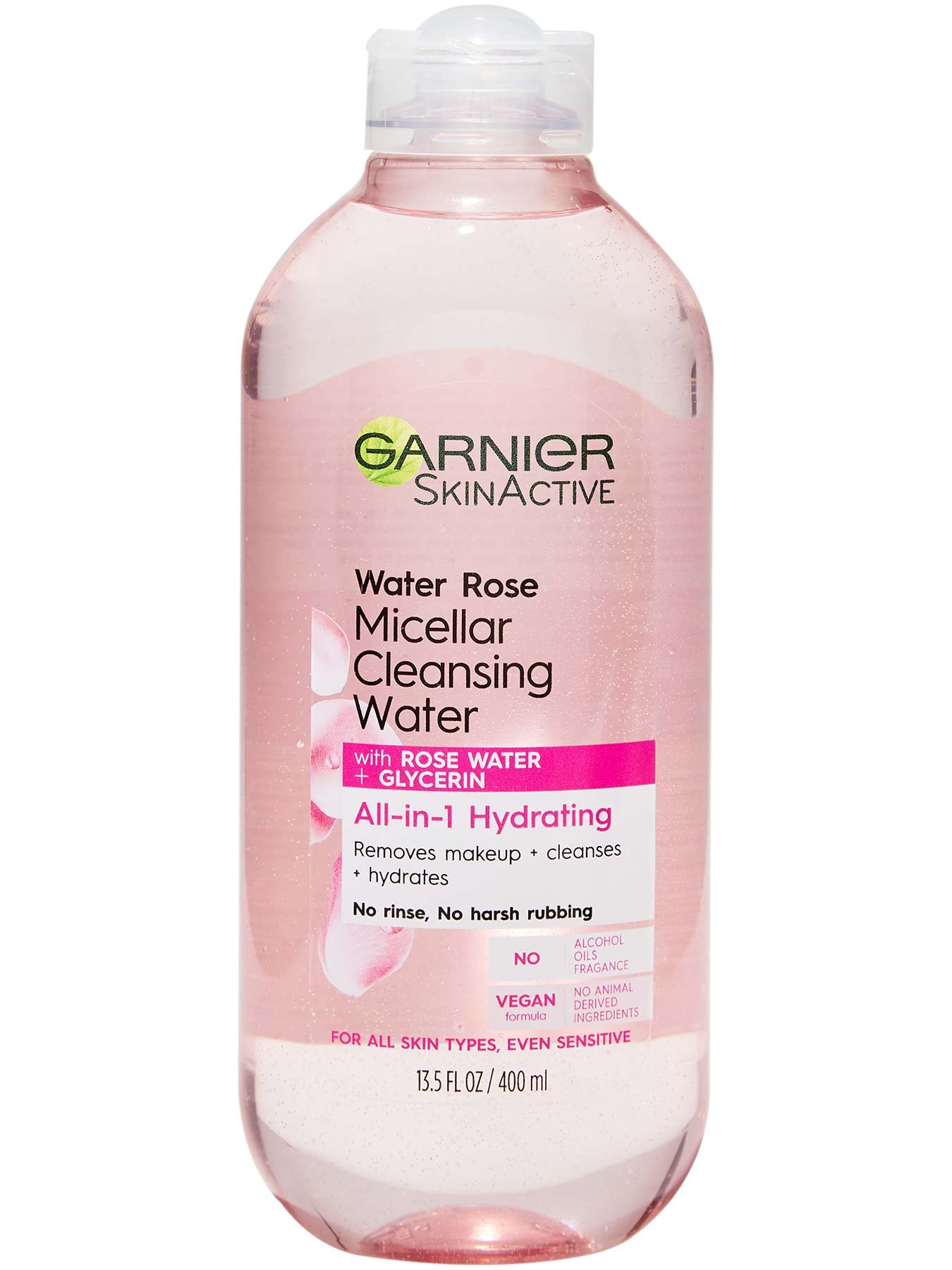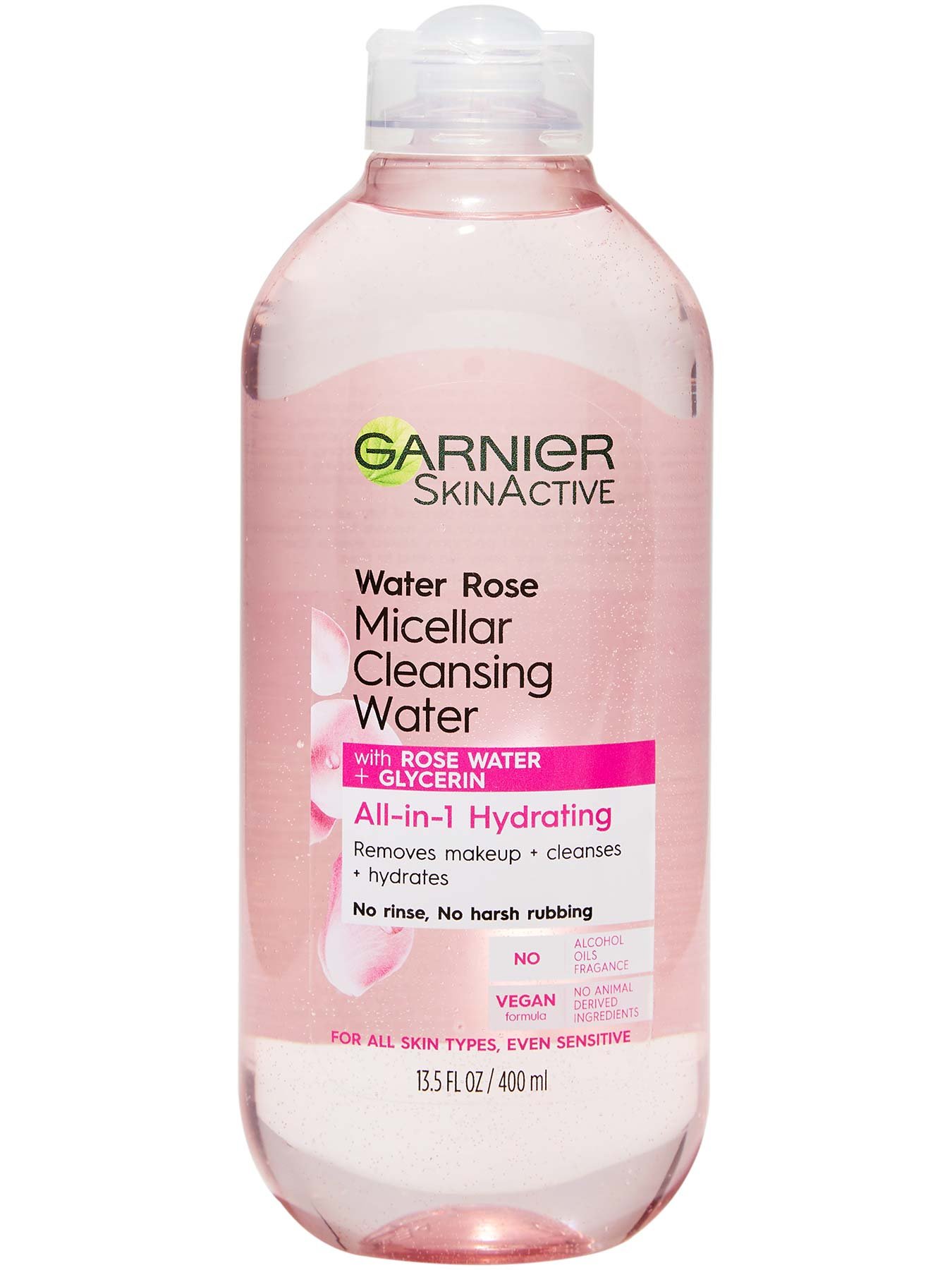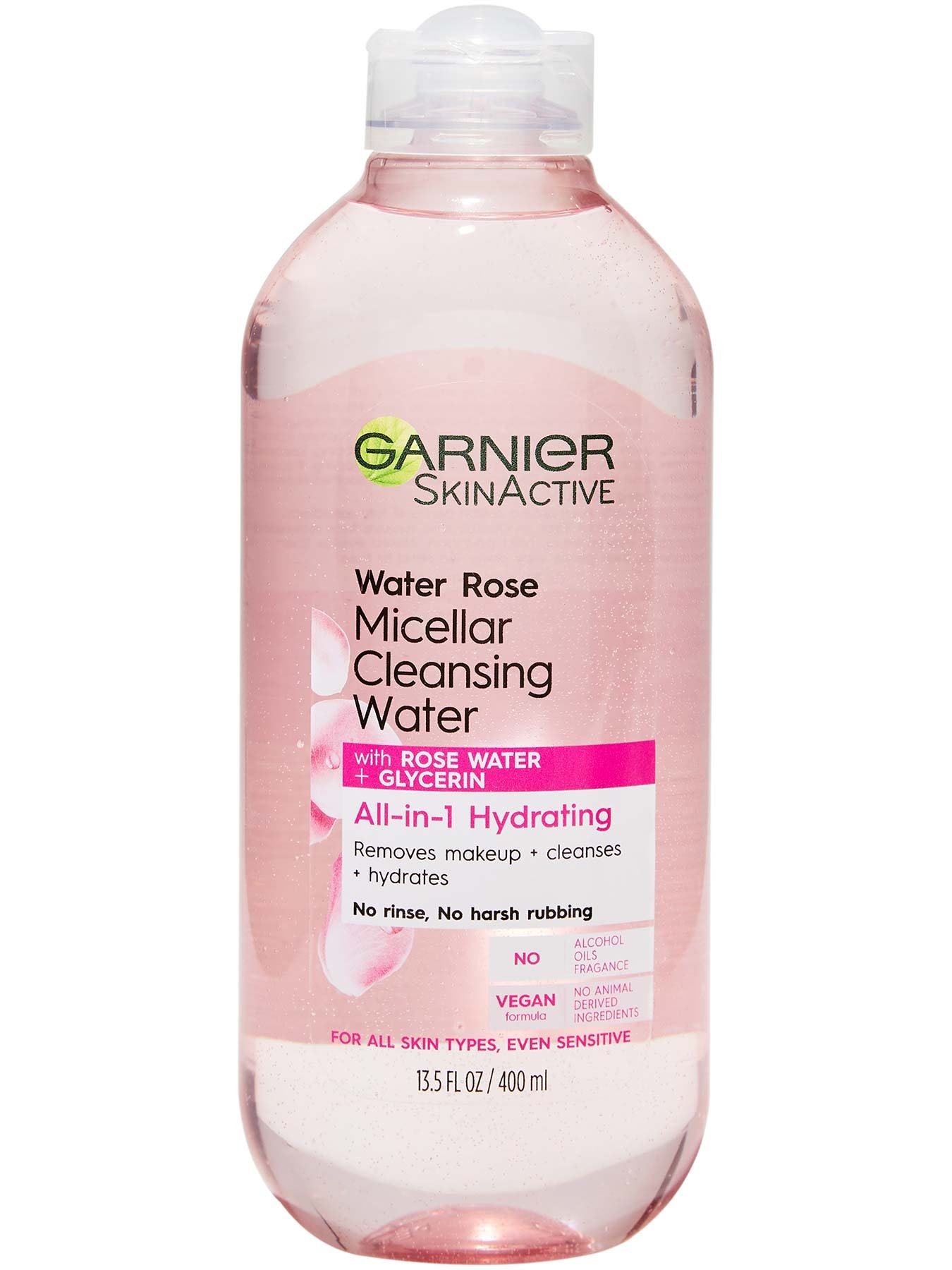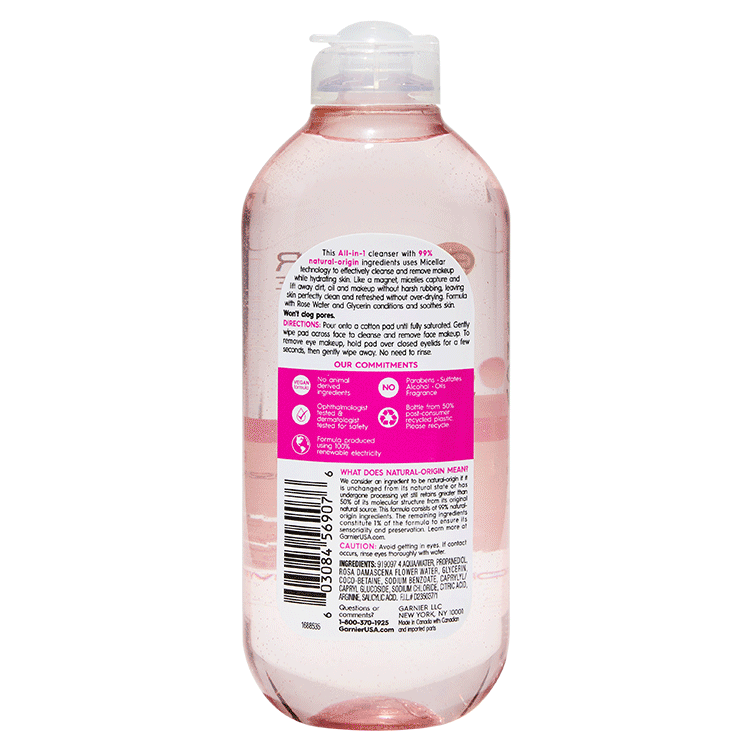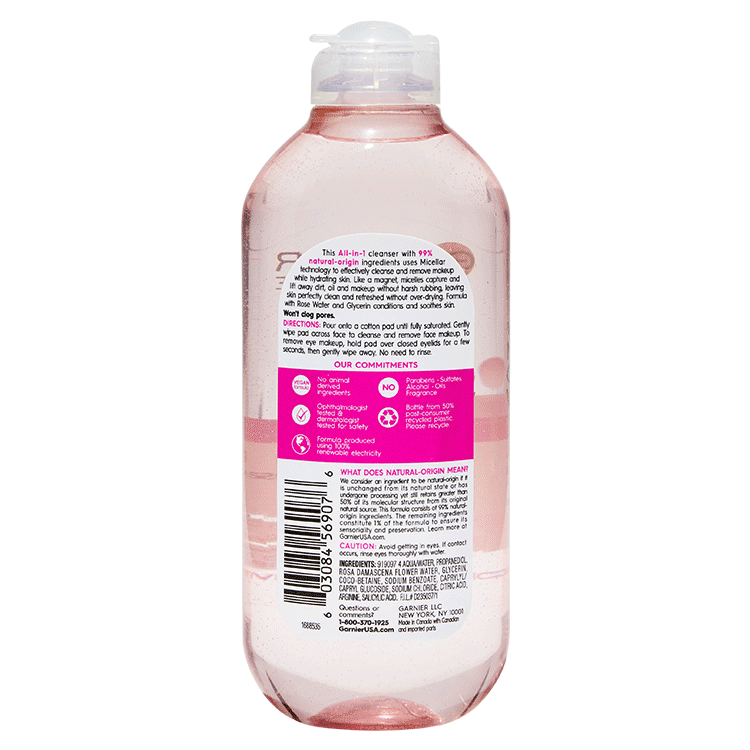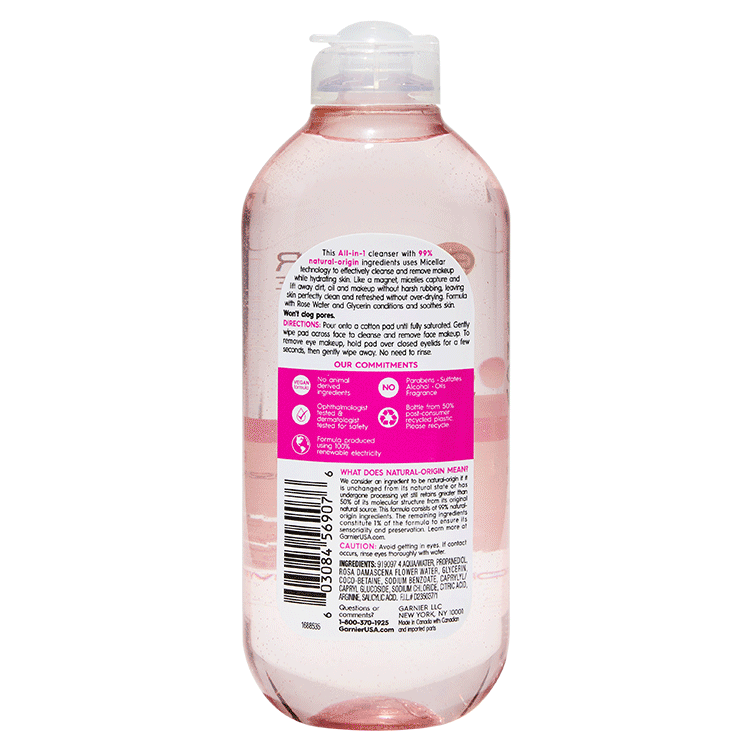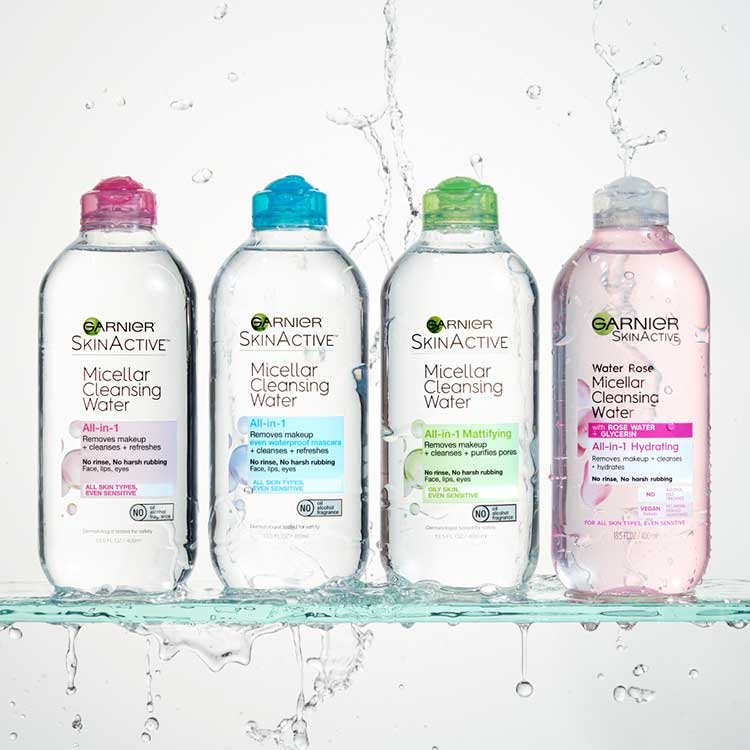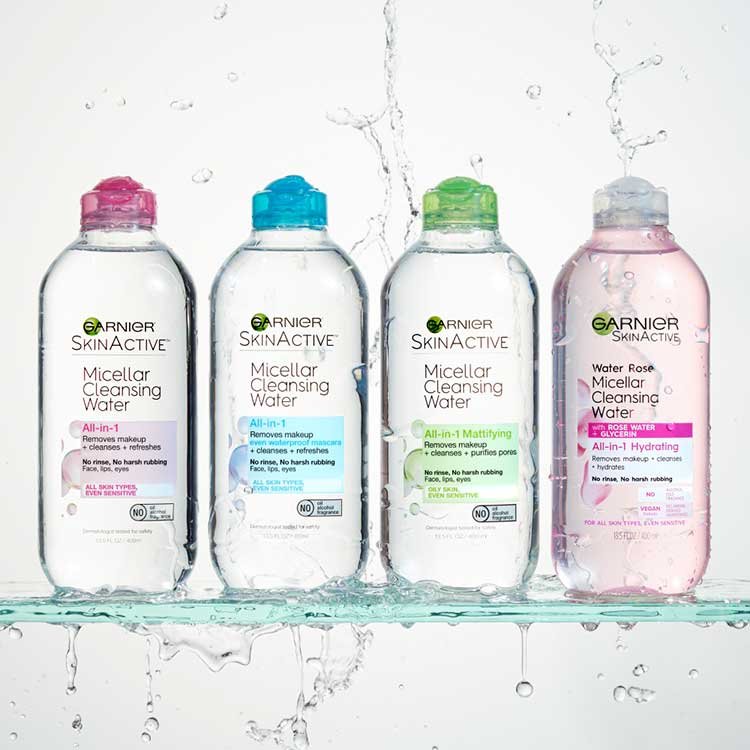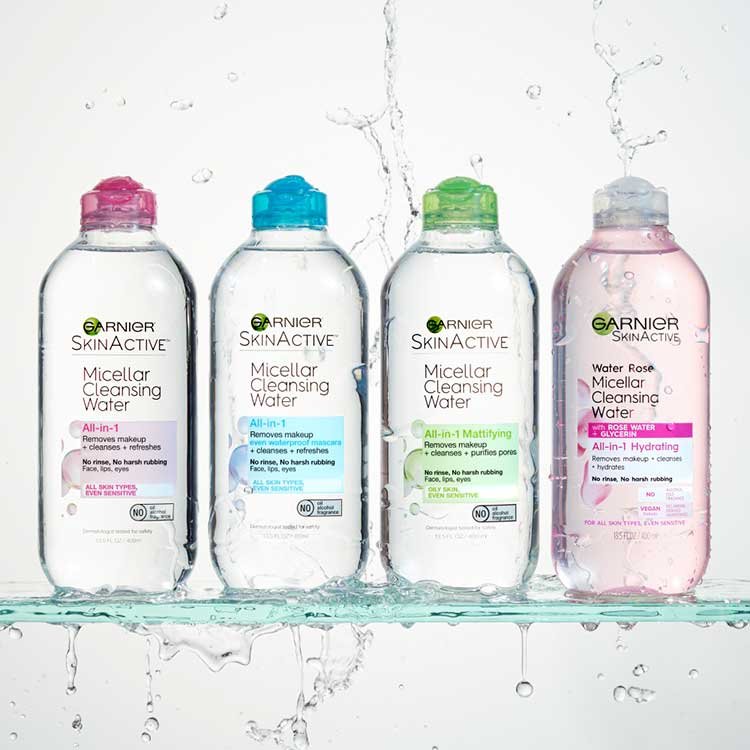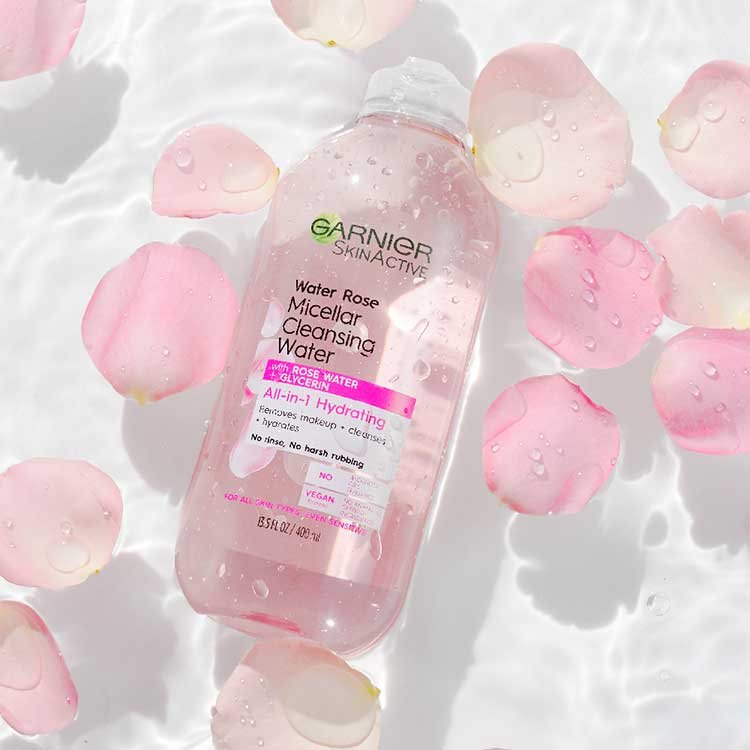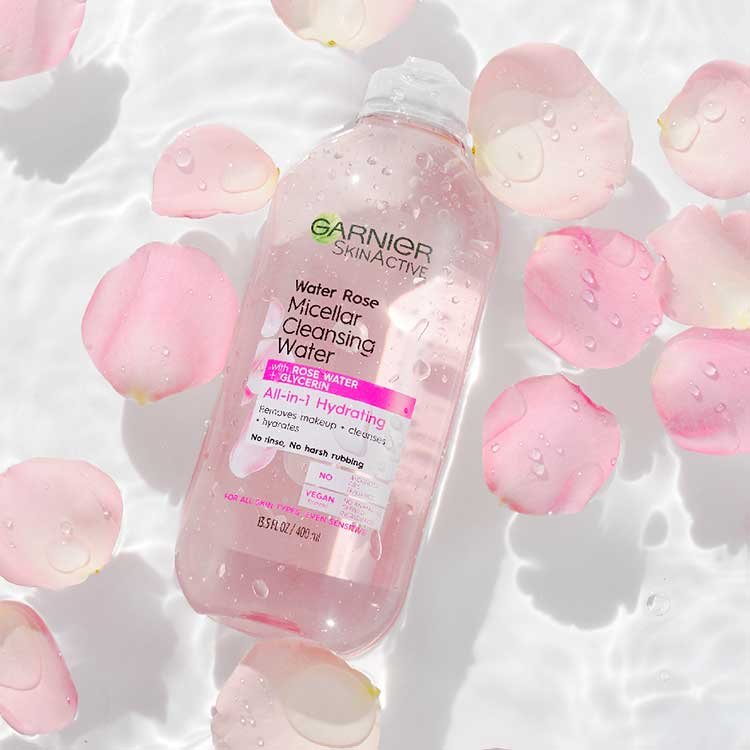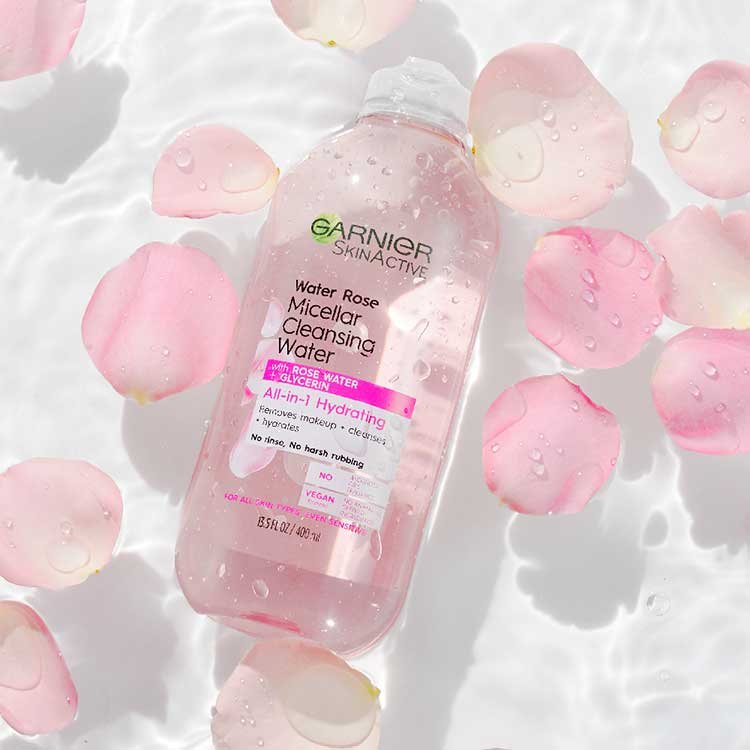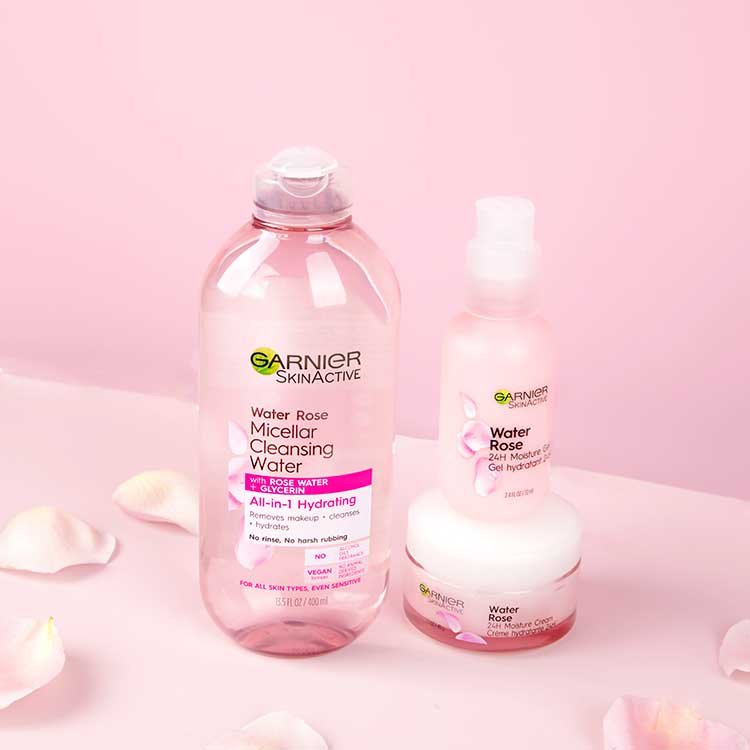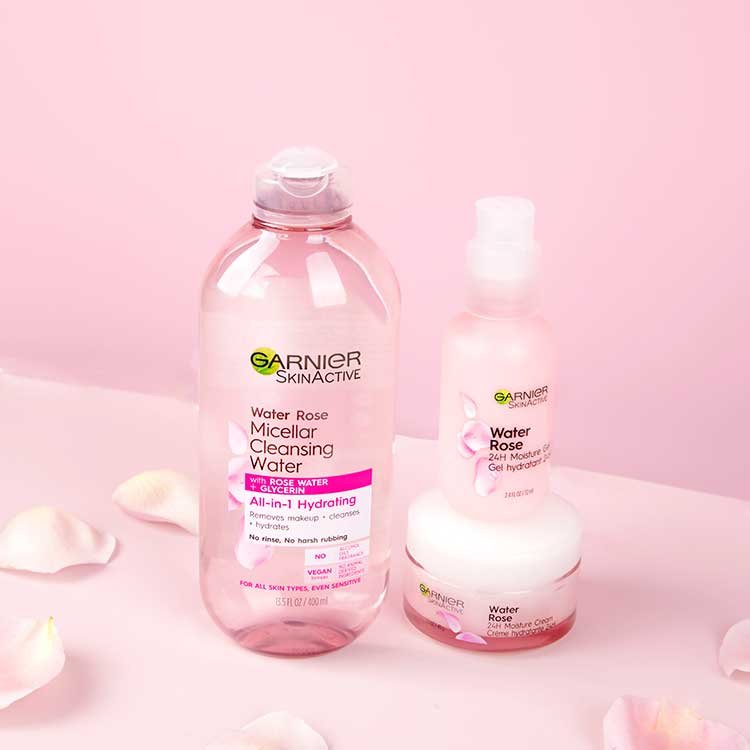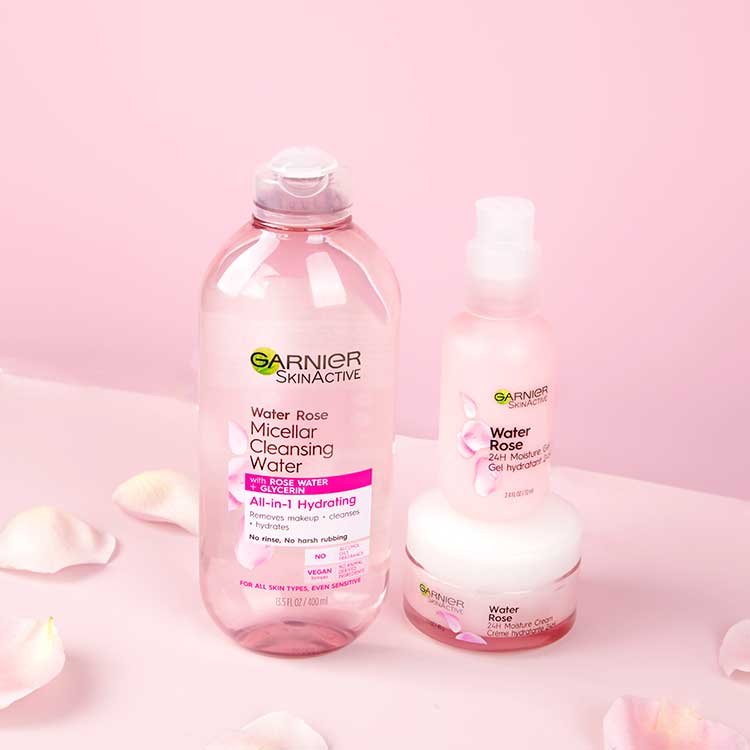 Garnier SkinActive
Water Rose Micellar Cleansing Water
$8.99 MSRP
For Normal to Dry Skin
Water Rose Micellar Cleansing Water cleanses skin, remove makeup, and hydrates all-in-1, without harsh rubbing or rinsing.
PRODUCT INFORMATION:
This all-in-1 hyrdrating micellar cleanser water is a facial cleanser and makeup remover that is suprisingly powerful, yet gentle on skin. The Water Rose Micellar Cleansing Water for all skin types effectively cleanses, removes makeup and hydrates skin. Like a magnet, micelles capture and lift away dirt, oil and makeup without harsh rubbing. This facial cleanser removes makeup, leaving skin perfectly clean without over drying. This Garnier Water Rose Micellar Cleansing Water is gentle on skin and can be used to remove face makeup and eye makeup. The gentle cleanser is vegan and formulated without alcohol, oils and fragrance.
HOW TO USE:
Pour onto cotton pad until fully saturated. Gently wipe pad across face to cleanse and remove face makeup. To remove eye makeup, hold pad over closed eyelids for a few seconds, then gently wipe away. Use daily. No need to rinse
INGREDIENTS:
919097 AQUA/WATER, PROPANEDIOL, ROSA DEMASCENA FLOWER WATER, GLYCERIN, COCO-BETAINE, SODIUM BENZOATE, CAPRYLYL/CAPRYL GLUCOSIDE, SODIUM CHLORIDE, CITRIC ACID, ARGININE, SALICYCLIC ACID, F.I.L. D235037/1.
No Hidden Nasties
Specially formulated free of oils, parabens, dyes, and phthalates.
Round Out Your Moisturizing Skin Routine
CLEANSE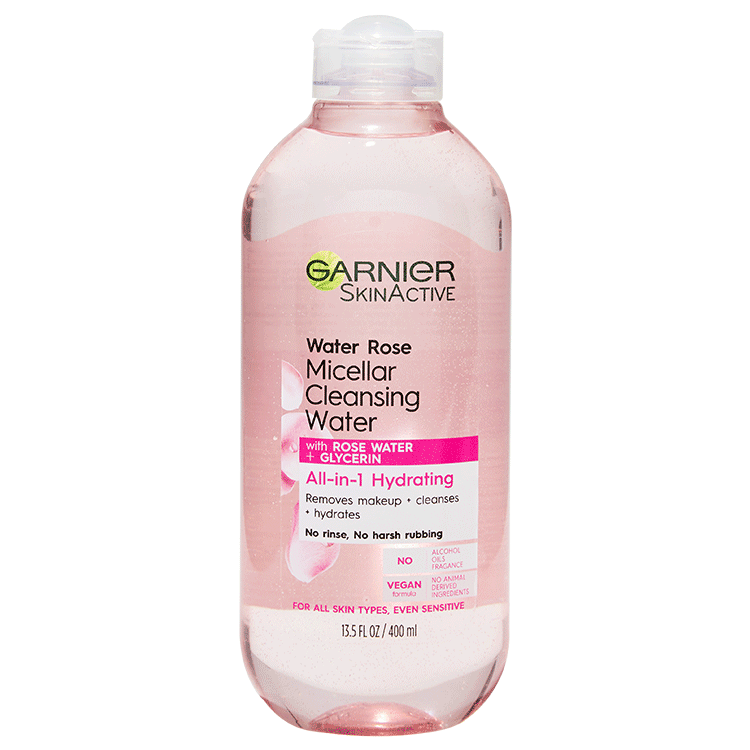 Garnier SkinActive
Water Rose Micellar Cleansing Water
For Normal to Dry Skin
MOISTURIZE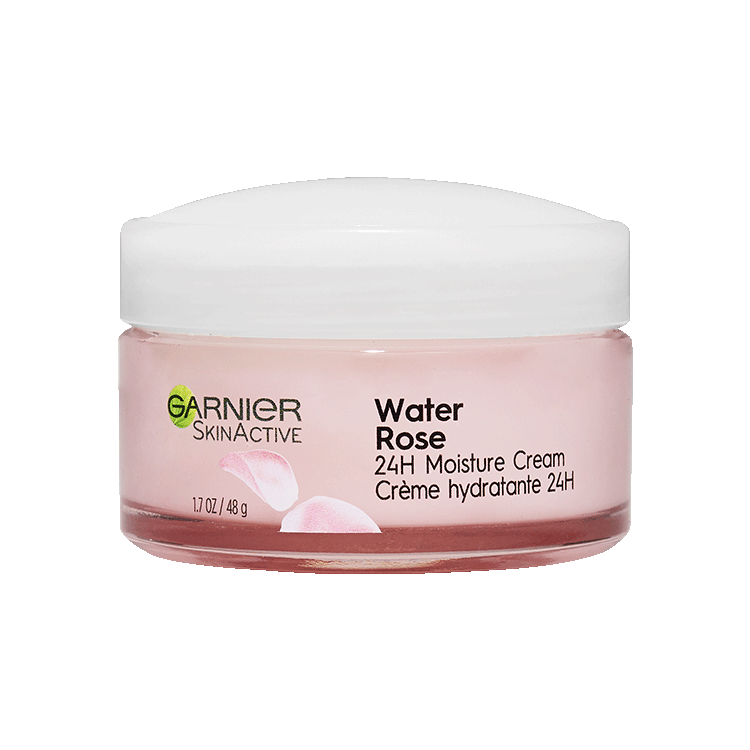 Garnier SkinActive
Water Rose 24H Moisture Cream
For Normal to Dry Skin
Refresh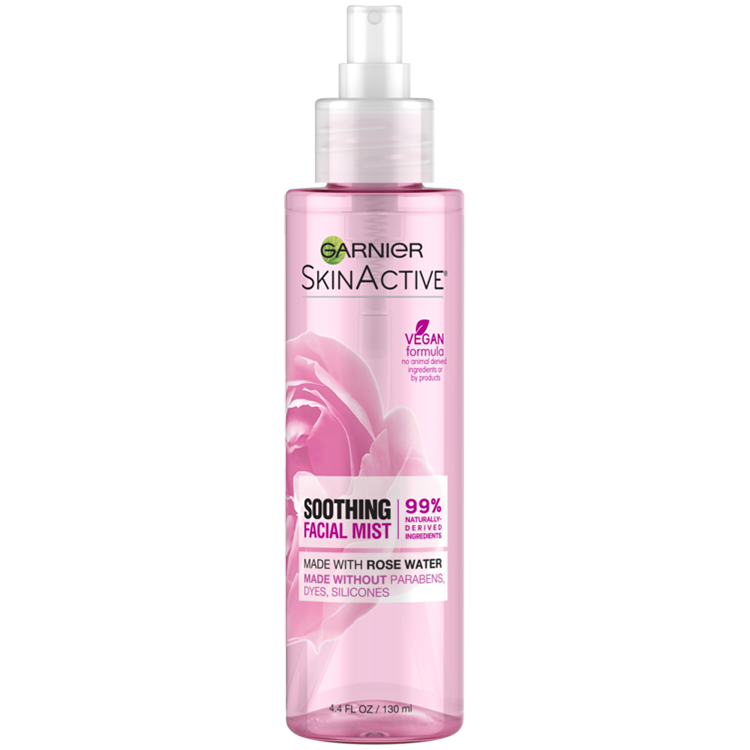 Garnier SkinActive
Soothing Facial Mist with Rose Water
Facial Mist
Rated

5

out of

5
by
Lindseyj567
from
My new favorite beauty product!
Ever since I heard about this and saw the commercial on TV I have been really wanting to try it. My local Target was sold out of it not only once but the second time I went, luckily I found it at Walmart. I was so excited. I love that this takes care of everything: cleanse, makeup, and moisture in 1 step. I have been using it daily as a pre cleanse before I follow up with my regular acne wash. I was at first worried about the scent, thinking it would be heavily scented. BUT, it has barely any scent but feels refreshing and clean. When I am done using it my face feels soft and oil free. I bought this product to help put some moisture back in my routine since I do use a little more of a drying face wash. So far no problems. I like the very light minimal rose scent. Not strong at all, but makes my face feel balanced. There is nothing I would change about this product. Definitely going to be purchasing this as a regular item! There is no residue. It dries nicely and you are done. GREAT CLEANSING WATER! And the price is very reasonable. I have sensitive skin too and this is not causing any problems using everyday. Glad I took the leep and checked another store. :) Please always keep this in stock. #rosewater
Date published: 2020-02-18
Rated

5

out of

5
by
Bambi04
from
Best Makeup Remover!!!!!!
What is this sorcery!?!?!?!?! This is an amazing product! Totally worth every penny! I have sensitive skin that breaks out easily. As well as very sensitive eyes. I had zero eye irritation and removing makeup from my eyes took seconds with zero effort. I legit used ONE cotton round to remove my WHOLE face!(foundation, powder, bronzer, eyeshadow, mascara, setting spray, lipliner on my lips) My skin feels smooth and completely dry to the touch, NOT ONE BIT OF OILINESS! I am very much impressed. This has no scent whatsoever. I highly recommend. Whatever your using seriously, stop and try this!
Date published: 2020-01-18
Rated

5

out of

5
by
ShellsK
from
LOVE this cleanser!
I purchased a Micellar Water cleanser for the first time from another company and really liked the product. The downfalls were that it had a slight odor (not a bad odor) and it cost about 50% more for a smaller size (my main concern). I saw an ad in a magazine for this product and I found it in my local Walmart. I tried it and I lilke it a lot better. I like that this product is odor free, Vegan, no harsh ingredients and works a little better than the other products. I am a new fan! I love how soft this made me feel and it cleaner my face better.
Date published: 2020-01-11
Rated

5

out of

5
by
Cami1999
from
Part of my skin routine
LOVE LOVE LOVE this product. Highly recommend to people with sensitive skin. I never get acne, but once the winter came I was breaking out really bad and I tried so many different products which only made it worse. Then my sister recommended Garnier SkinActive. I could see a change within a day. My skin finally cleared up and I don't need to use lotion anymore since this product hydrants my skin so well. Everyone has different skin types, and this one works get with mine. So if you have sensitive skin and can use regular acne protects it cleansers for your face. I highly recommend this product
Date published: 2019-12-12
Rated

5

out of

5
by
shiree_wi_7dq7q
from
Amazing Performance With Just a Small Amount
I got this Garnier SkinActive Water Rose Micellar Cleansing Water a few weeks ago and I was thoroughly impressed. I actually purchased a couple last week as gifts to beauty lovers I know because I like it so much. The smell is not overpowering yet very beautiful. The performance is what impressed me the most. It takes even the most stubborn makeup off effortlessly as well as other things! My youngest daughter has a habit of tattooing herself with markers. This cleansing water removed the marker easier than anything else I've ever tried and it was an immediate blessing. I definitely recommend this as a little goes a very long and effective way!
Date published: 2019-12-05
Rated

5

out of

5
by
tina_va_52s8j
from
Smooth
This cleansing water is awesome.I use it to take off my makeup and it works as a charm.
Date published: 2019-12-05
Rated

5

out of

5
by
samantha_or_8qyqp
from
Leaves my skin fresh and takes the makeup off!
I tried the Garner SkinActive Water Rose Miscellar Cleansing Water for a month now and it works really well. I usually soak half a cotton pad and wipe my face off with it before cleansing. It takes 90% of the makeup and grim off and the cleansing after takes off the rest. It works for sensitive skin types and it didn't lead me to any break outs. It also left my skin feeling soft.
Date published: 2019-12-04
Rated

5

out of

5
by
kelly_tx_4zq77
from
100% my go to
Garnier's Water Rose Micellar Cleansing Water is made for the lazy - which is 100% me. Having to wake up early for work and also prone to dry skin, I use the Micellar water and a cotton pad to do a quick cleanse in the morning and I'm ready to go. 100% recommend. I will not try any other brand.
Date published: 2019-12-04