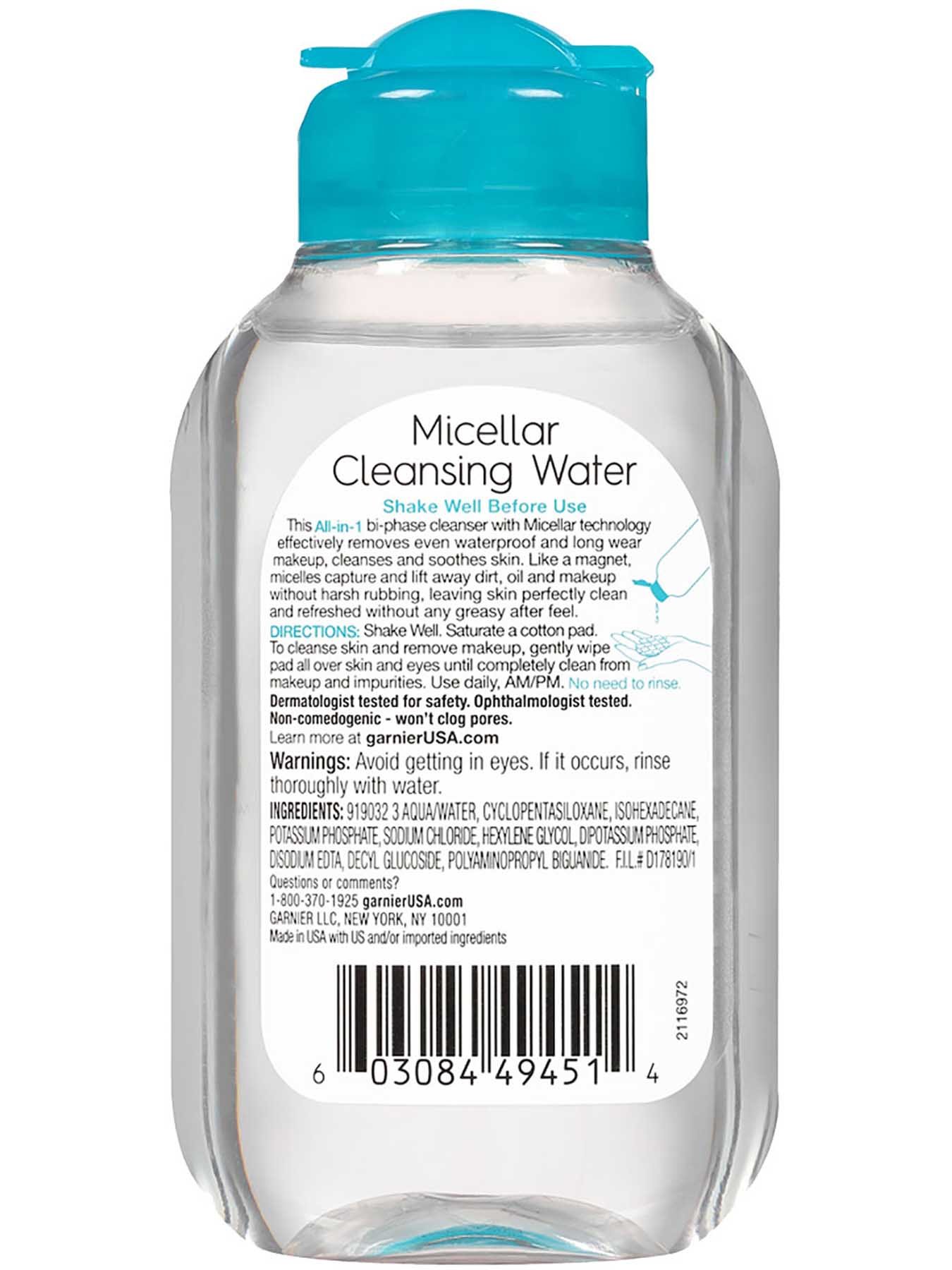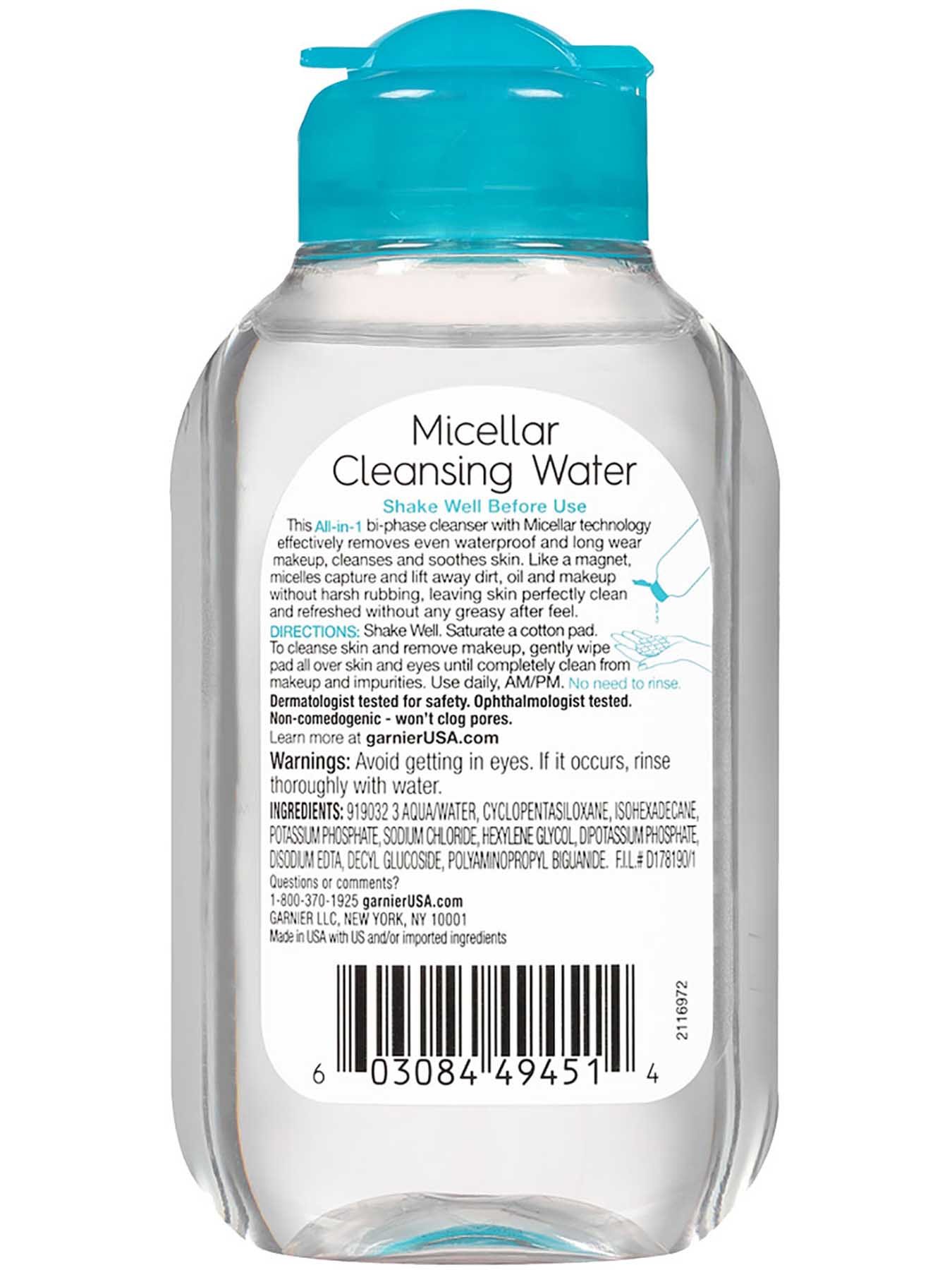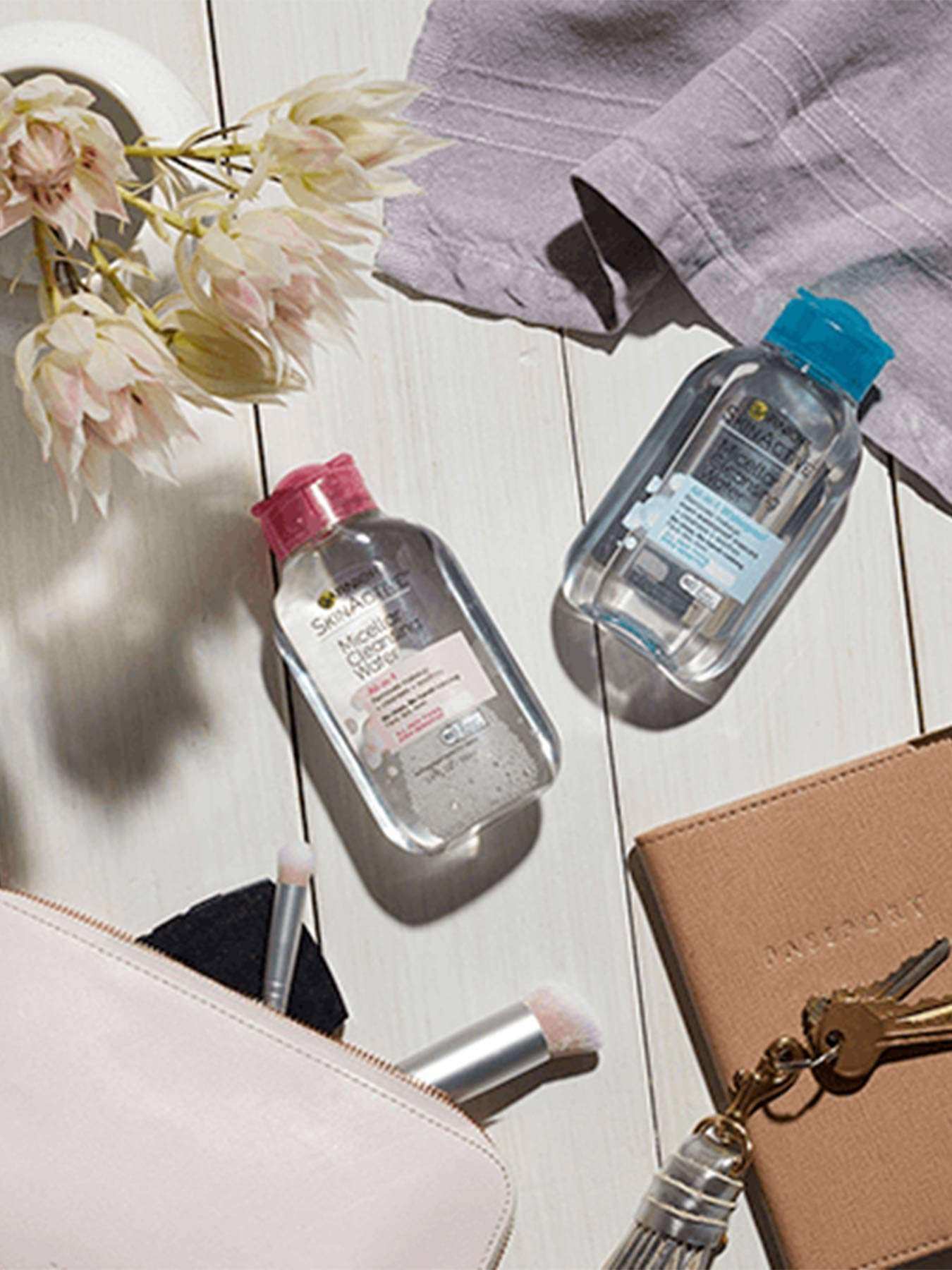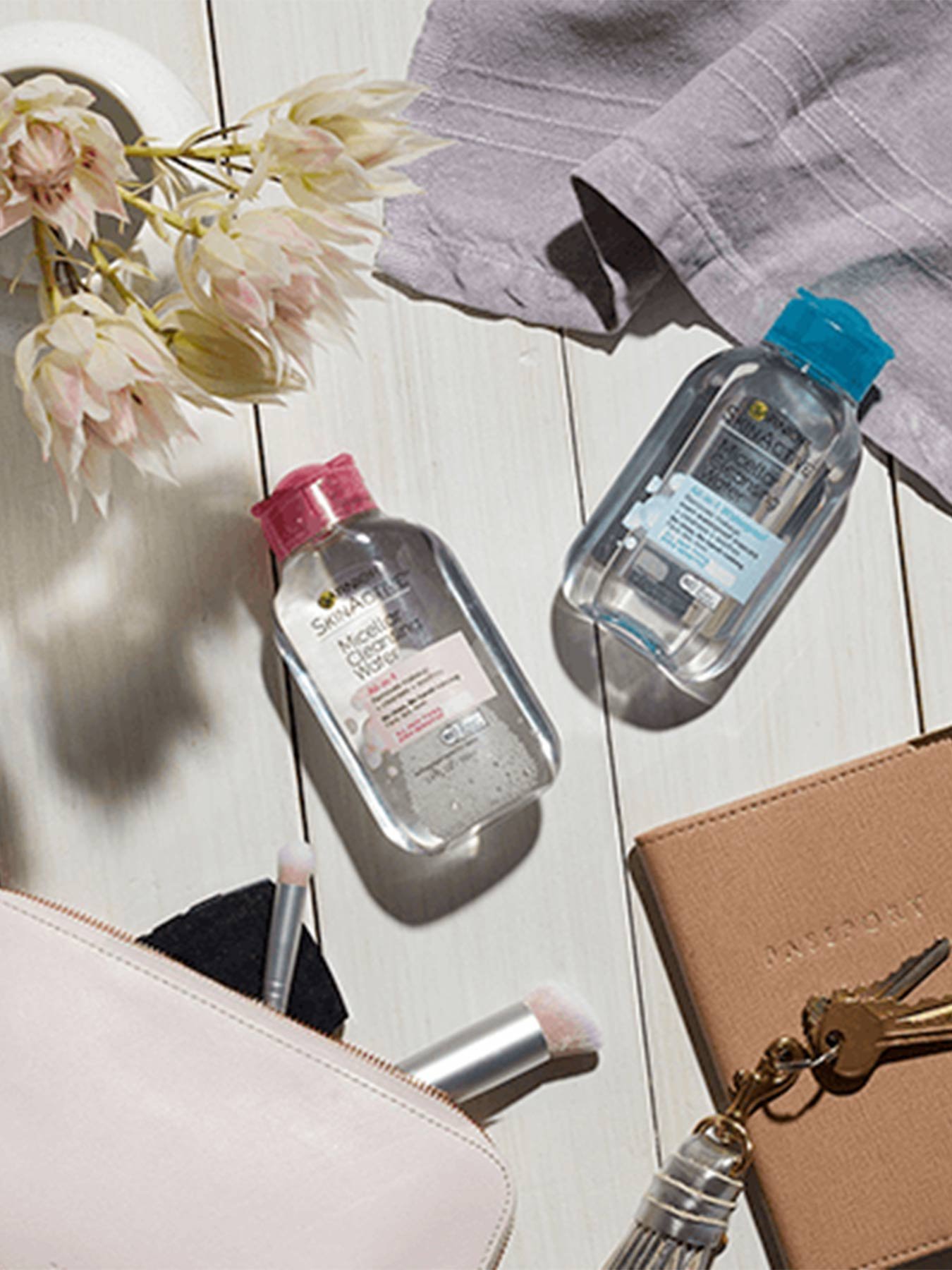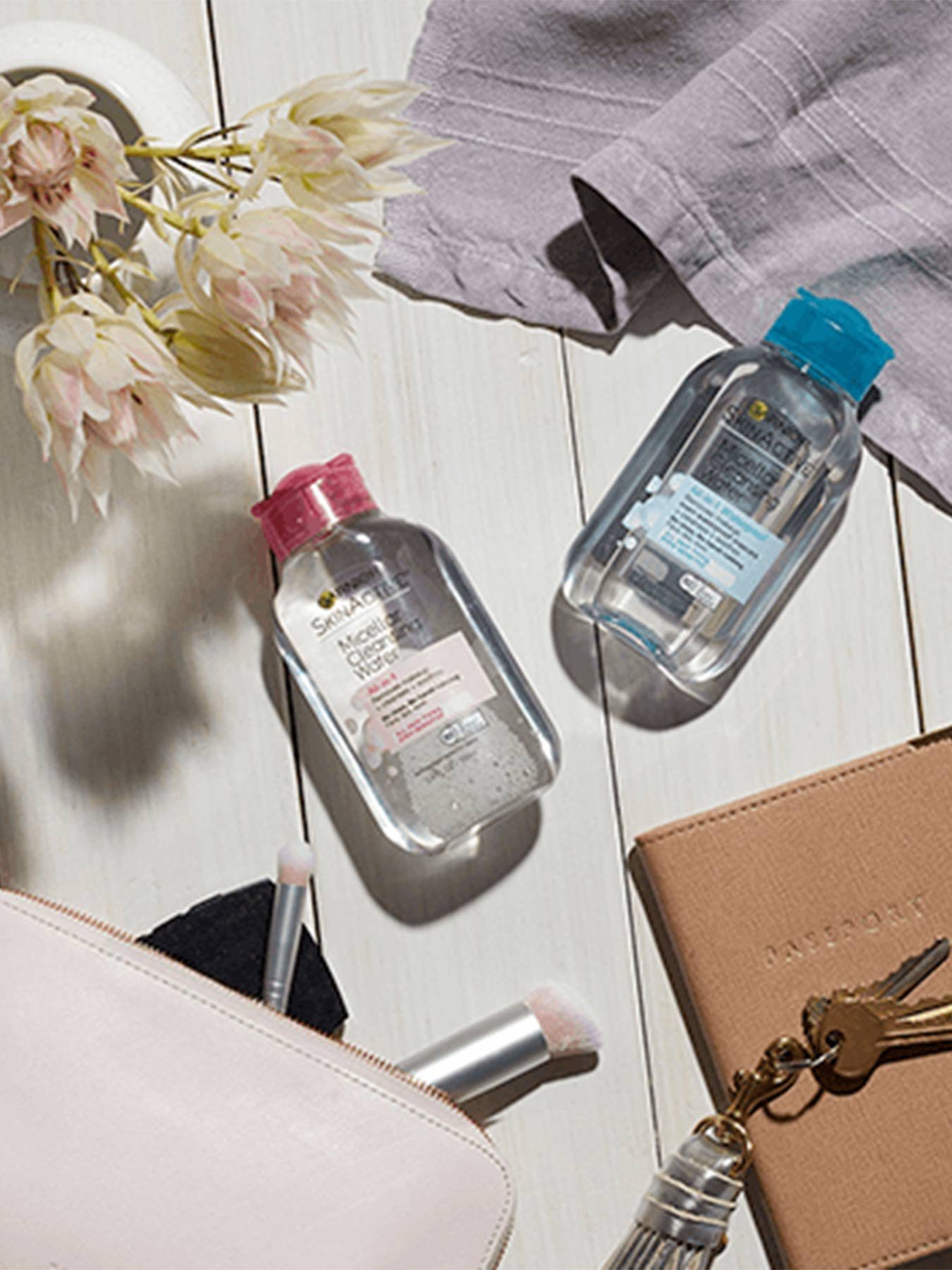 Garnier SkinActive
Micellar Cleansing Water Waterproof Travel Size
$3.99 MSRP
All-in-1 Cleanser & Makeup Remover. Cleanses + removes even waterproof makeup + refreshes. No rinse, no harsh rubbing. For face, lips, and eyes.
PRODUCT INFORMATION:
This all-in-1 bi-phase cleanser is surprisingly powerful yet gentle to skin. It is specially formulated to effectively cleanse, remove even waterproof/longwear makeup, and refresh. Like a magnet, micelles capture and lift away dirt, oil and makeup without harsh rubbing, leaving skin perfectly clean and refreshed without over-drying.
How To Use:
Shake Well

TO REMOVE EYE MAKEUP:
Hold pad over closed eyes for a few seconds, then gently wipe without harsh rubbing.

TO CLEAN SKIN & REMOVE FACE MAKEUP:
Gently wipe all over until skin is completely clean from makeup and impurities. Use daily, AM/PM. No need to rinse.
Ingredients:
AQUA/WATER, CYCLOPENTASILOXANE, ISOHEXADECANE, POTASSIUM PHOSPHATE, SODIUM CHLORIDE, HEXYLENE GLYCOL, DIPOTASSIUM PHOSPHATE, DISODIUM EDTA, DECYL GLUCOSIDE, POLYAMINOPROPYL BIGUANIDE. F.I.L.# D178190/1
Round Out Your Cleansing Routine
Cleanse
Garnier SkinActive
Micellar Cleansing Water All-in-1 Waterproof
All Skin Types, Even Sensitive
Moisturize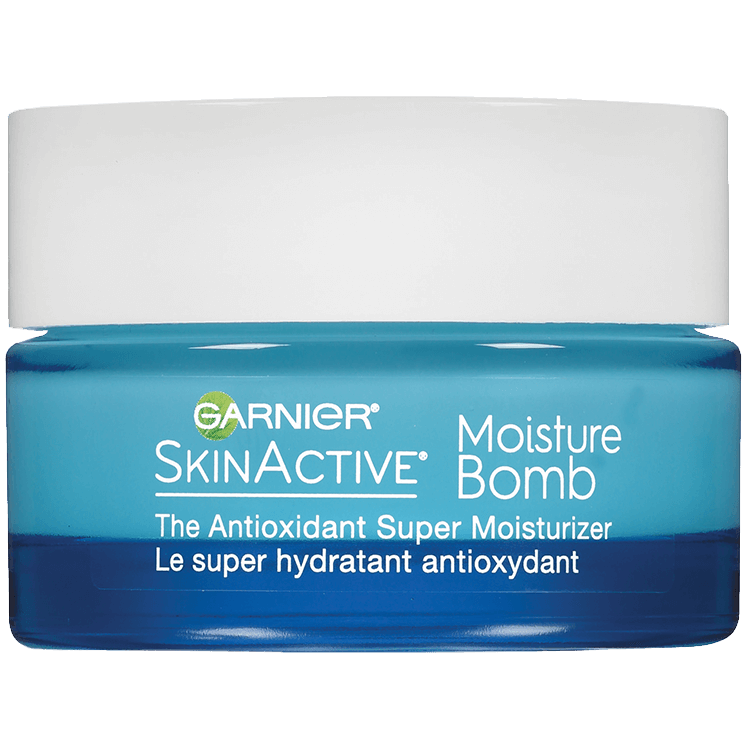 Garnier SkinActive
Moisture Bomb The Antioxidant Super Moisturizer
Antioxidant Daily Moisturizer
Treat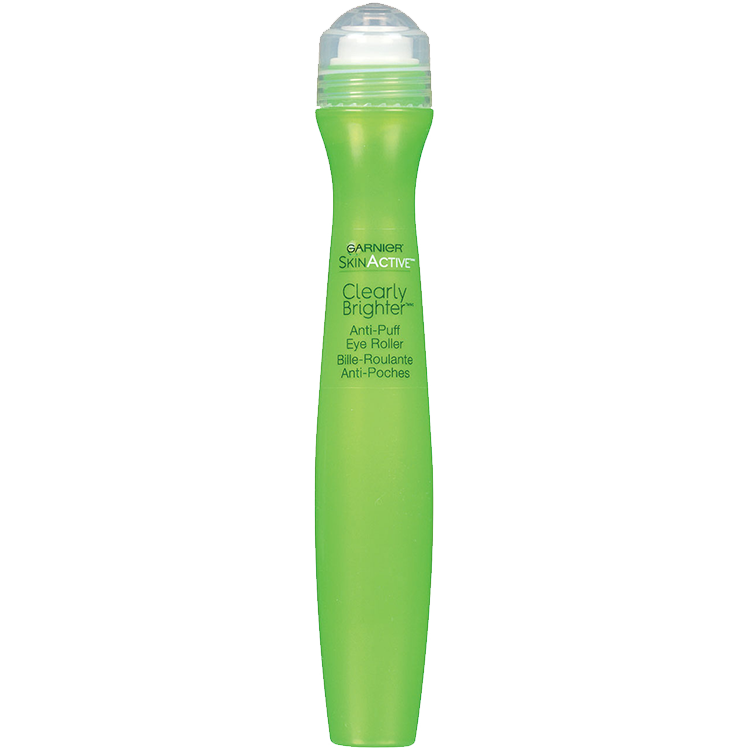 Garnier SkinActive
Clearly Brighter Anti-Puff Eye Roller
Under-Eye Puffiness Reducer
Refresh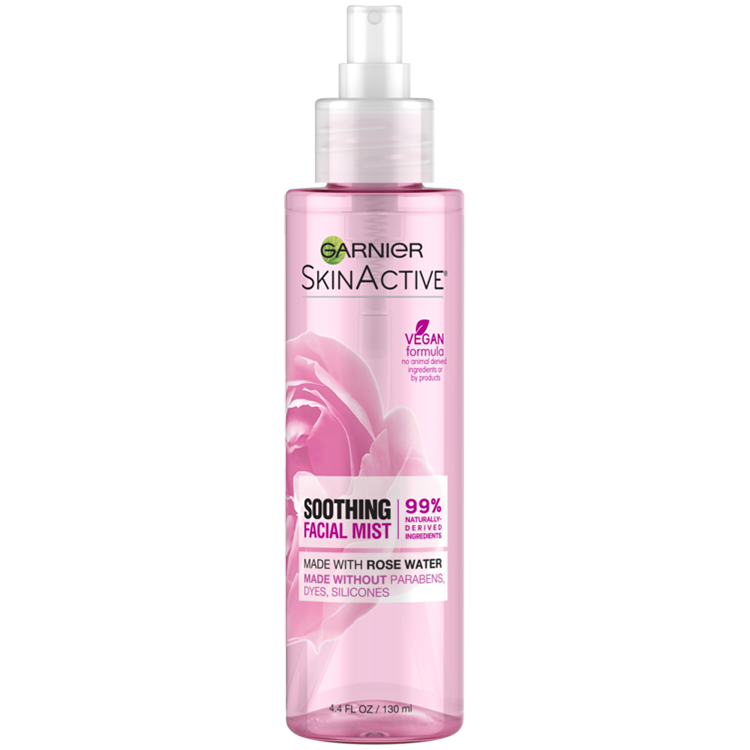 Garnier SkinActive
Soothing Facial Mist with Rose Water
Facial Mist
No Hidden Nasties.
Specially formulated with no oil, sulfates, fragrance, parabens, or alcohol - it's all in the micelles that work like magnets to gently lift away excess dirt, oil, and makeup. Perfect for all skin types, even sensitive so you can enjoy a clean complexion with no harsh rubbing or rinsing.
Rated

4

out of

5
by
lisaa2535
from
This product works good but it takes more time to get your makeup off. It's ok on price but you have to use more to gat off the mascara.
Date published: 2019-12-12
Rated

5

out of

5
by
argentab
from
Actually removed waterproof mascara like it says it does. Its not irritating to any part of my face. I use it with a cotton ball or with a makeup wipe if I have a lot of makeup on. Will definitely repurchase
Date published: 2019-12-12
Rated

4

out of

5
by
margaretm28
from
This works great for removing my makeup, including stubborn, non waterproof, mascara. I like that I can remove all of my eye makeup without having to be rough to my delicate under eye area. It is effective, doesnt burn my eyes or cause blurry vision...what more can I ask for from a micellar water. I will continue to use and repurchase.
Date published: 2019-12-12
Rated

5

out of

5
by
sophiek516
from
I've tried a lot of micellar waters before but this is by far the best one I've used. It's effective enough where I don't damage the skin around my eyes continuously rubbing, a massive plus because I only use waterproof mascara. A very quick and easy makeup remover and it's made my nighttime routine a lot faster and helped my skin by being so good at removing my makeup, that I've found myself having significantly less breakouts.
Date published: 2019-12-12
Rated

5

out of

5
by
amandat68
from
Wipes off even my toughest of makeup and I feel so refreshed. Sometimes I dont even have to wash my face this cleans so well and my skin responds positively.
Date published: 2019-12-12
Rated

4

out of

5
by
brytanip
from
This is really good for taking off face make up, but if you dont shake the bottle up you get a lot of oil. I have dry skin and i think it does really well
Date published: 2019-12-11
Rated

4

out of

5
by
carolinecdb34
from
I dont normally lean towards oil based products when it comes to removing makeup. This product does the job very well. Amazing at removing waterproof mascara.
Date published: 2019-12-11
Rated

5

out of

5
by
margauxl6
from
This is the only makeup remover Ill use! I love this stuff and it always takes my makeup right off!
Date published: 2019-12-11