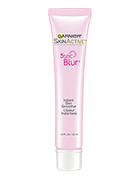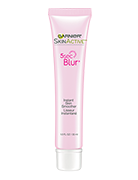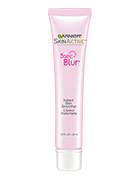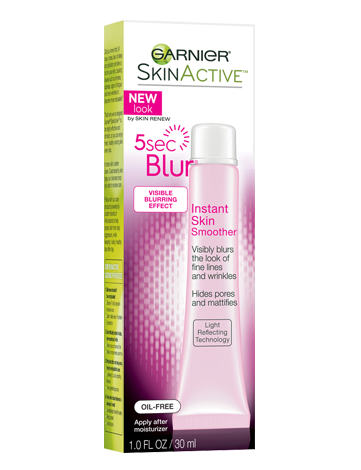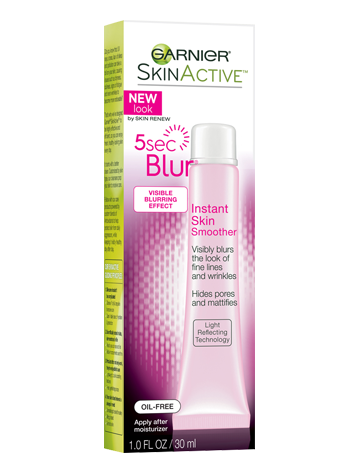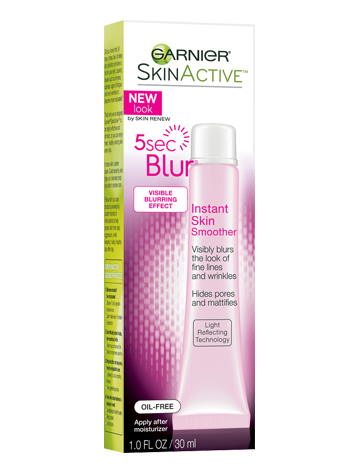 Garnier SkinActive
5 Second Blur Instant Smoother
PRODUCT INFORMATION:
We no longer offer this product, we have something even better to meet your needs. Find it here.

Younger-looking skin in an instant? It's possible with 5 Sec Blur. This instant skin smoother has an ultra-cushiony texture with light-reflecting particles to instantly blurthe visible signs of aging such as fine lines, wrinkles, and roughness, while hiding pores and mattifying shine. In just 5 seconds, skin is visibly smoother, younger-looking and more radiant
How to use:
Spread a dime size amount of 5 Sec Blur Instant Smoother over entire face. Apply makeup as usual. Before each use, shake tube downward for easier dispensing of product
Ingredients:
Dimethicone, Dimethicone Cross Polymer, Silica, Isododecane, Aluminum Hydroxide, CI 77491/Iron Oxides, CI 77891/Titanium Dioxide, Disodium Stearoyl Glutamate F.I.L. B158823/1, 695771 15.
Rated

5

out of

5
by
Britchick
from
Garnier 5 minute blur instant smoother
This shaking smoother is fabulous. It took a lot of try's and money to find something that works well on the skin. I am in the last of my supply and I and so disappointed that Garnier has discontinued this product as our so many other people. There is nothing like it on the market that I have found that is even close. It sure would be appreciated if you brought it back...you would not be disappointed by your sales. I think people would buy several just in case .......
Date published: 2019-12-05
Rated

5

out of

5
by
Foundercat
from
Bring it back PLEASE
This is a wonderful product. It really works. It's remarkable. It took a long time to find a perfect product and this is it. Really blurs my wrinkles like no other product. I love it and truly miss it.
Date published: 2019-11-06
Rated

5

out of

5
by
Anonymous
from
Bring this back!!!!!!!
I have been searching for this product everywhere and was so confused as to why I could not find it. I just realized it is no longer being sold and I am so, so sad. This is the best product I've ever used. Can you please bring it back?! I used to buy it at target and I am seriously so sad that it is no longer sold. Any update on if it will be coming back?!?!? Or at least can you direct me to the next best alternative product?!
Date published: 2019-10-25
Rated

5

out of

5
by
Robbie Anner
from
BRING IT BACK
This product is great and I cannot find it anywhere!
Date published: 2019-10-14
Rated

5

out of

5
by
GRACE VANDENBERG
from
NOTHING COMPARES
As someone who has fought oily skin for years, this product is my favorite oil-reducing/pore minimizer. It is light, slightly iridescent, and looks wonderful on the skin surface, over or under makeup. Over years, I have never found anything that compares to it. I always had a little difficulty finding it, and the last time I purchased 2, regrettably, I gave one to a friend. Now it is no longer sold. WHY??? WHY WHY WHY? Why would you discontinue such a product, when clearly it does what it's supposed to do? PLEASE BRING IT BACK. PLEASE.
Date published: 2019-10-04
Rated

5

out of

5
by
elismom47
from
Please! Bring this back!
I have tried to find a product that compares to this, and so far have had no luck. It really did blur the two lines around my lips and my under eye concealer went on great! Like someone else said, just bring it back for a short while so we can stock up.
Date published: 2019-09-03
Rated

5

out of

5
by
hkerny
from
5 Second Blur Instant Smoother
This is a great product. Why is it when something great comes along big companies decide to change or discontinue it - LET THE SALES OF THIS PRODUCT SPEAK FOR THEMSELVES - BRING IT BACK.
Date published: 2019-08-27
Rated

5

out of

5
by
Mom2FourKiddos
from
Please bring back 5 sec blur!!
Please bring back the 5 sec blur!!! This product is amazing, and I love it! If you'll bring it back, even for a short time, I'll buy in bulk just to keep a supply on hand and help make it worth your efforts!!! Nothing else compares to this product. Even if you raised the price, I'd still buy it! Just bring it back!!
Date published: 2019-08-21