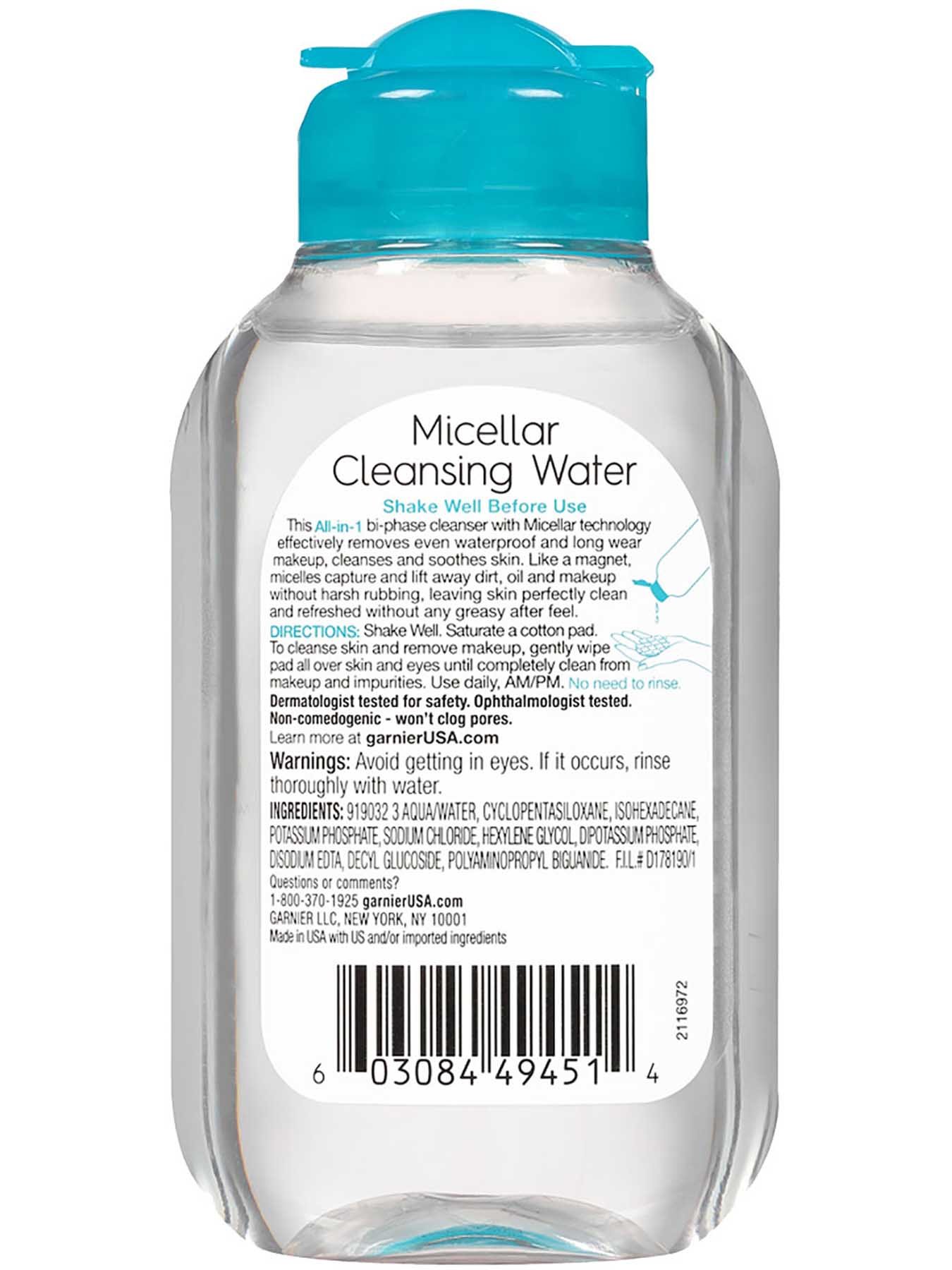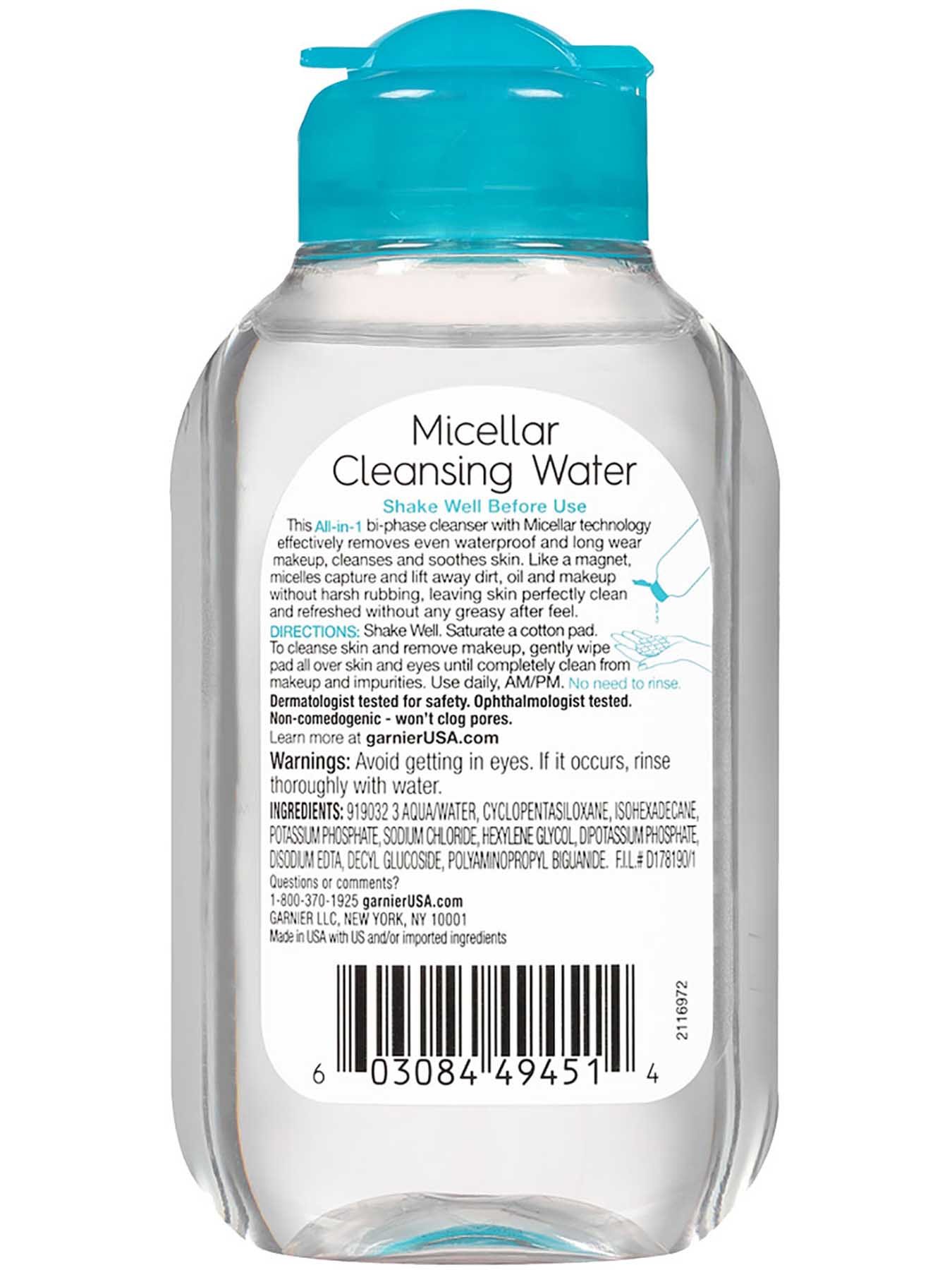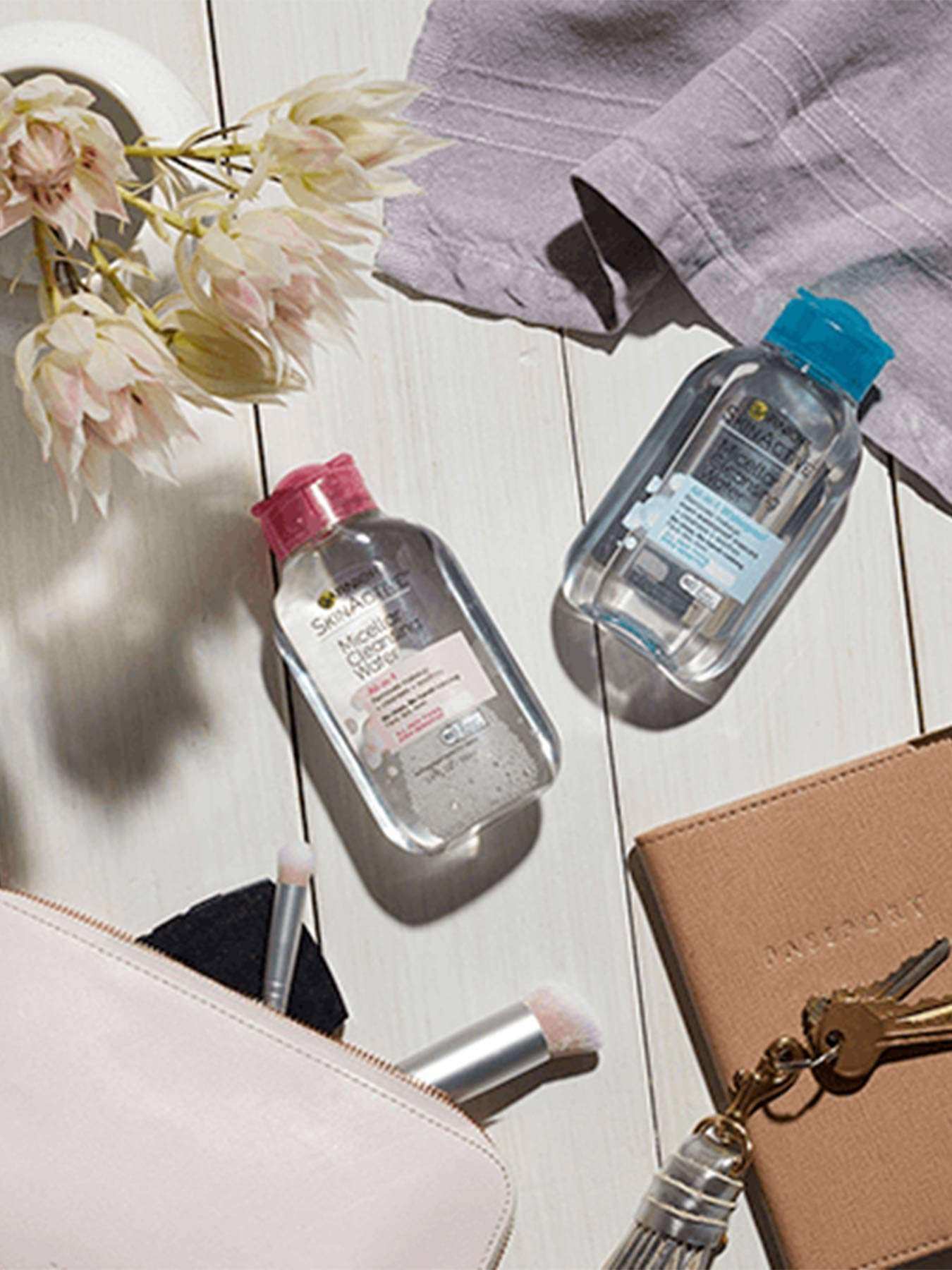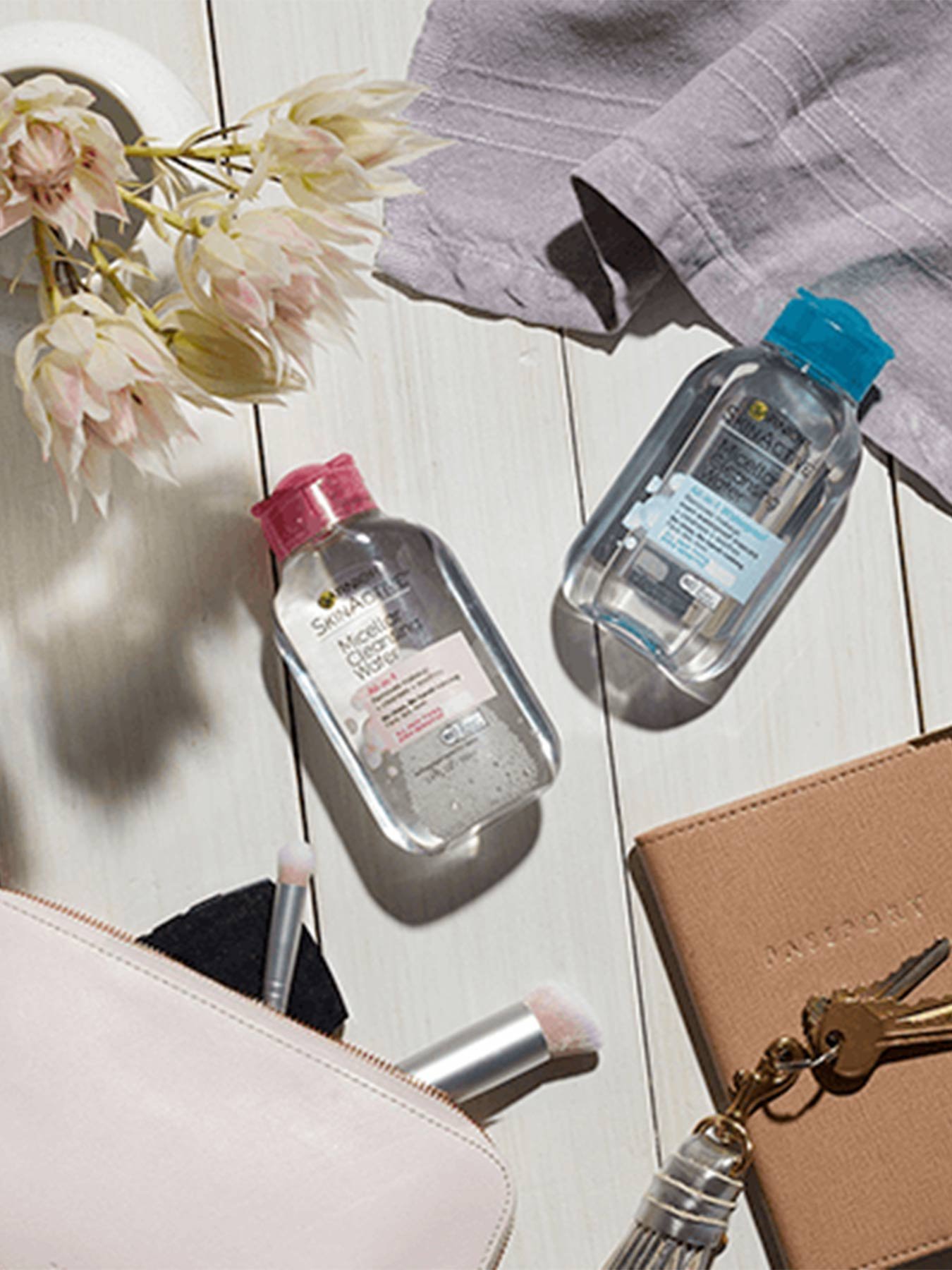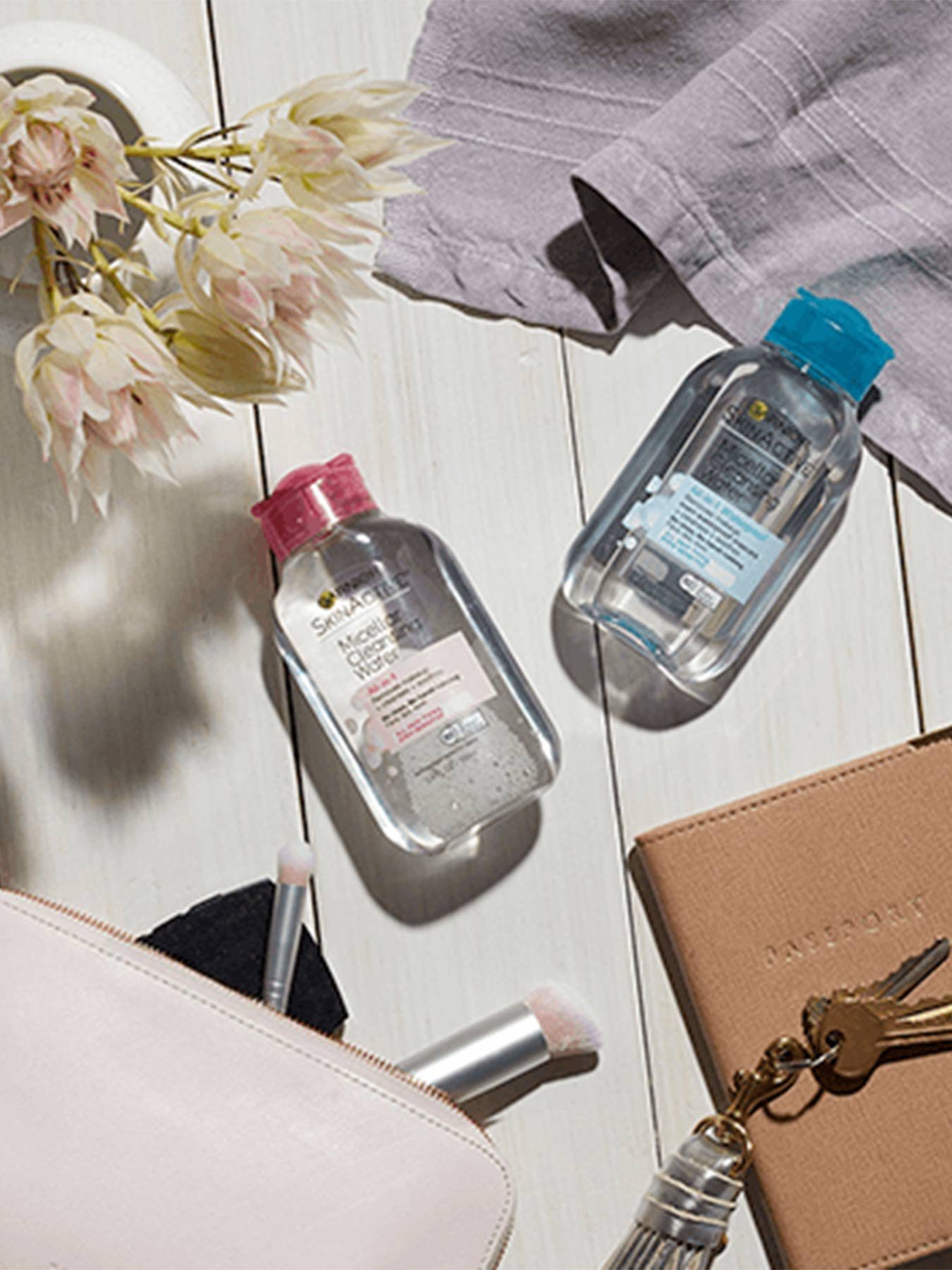 Micellar Cleansing Water Waterproof Travel Size
Garnier SkinActive
$3.99 MSRP
All-in-1 Cleanser & Makeup Remover. Cleanses + removes even waterproof makeup + refreshes. No rinse, no harsh rubbing. For face, lips, and eyes.
PRODUCT INFORMATION:
This all-in-1 bi-phase cleanser is surprisingly powerful yet gentle to skin. It is specially formulated to effectively cleanse, remove even waterproof/longwear makeup, and refresh. Like a magnet, micelles capture and lift away dirt, oil and makeup without harsh rubbing, leaving skin perfectly clean and refreshed without over-drying.
How To Use:
Shake Well

TO REMOVE EYE MAKEUP:
Hold pad over closed eyes for a few seconds, then gently wipe without harsh rubbing.

TO CLEAN SKIN & REMOVE FACE MAKEUP:
Gently wipe all over until skin is completely clean from makeup and impurities. Use daily, AM/PM. No need to rinse.
Ingredients:
AQUA/WATER, CYCLOPENTASILOXANE, ISOHEXADECANE, POTASSIUM PHOSPHATE, SODIUM CHLORIDE, HEXYLENE GLYCOL, DIPOTASSIUM PHOSPHATE, DISODIUM EDTA, DECYL GLUCOSIDE, POLYAMINOPROPYL BIGUANIDE. F.I.L.# D178190/1
Round Out Your Cleansing Routine
Cleanse
Garnier SkinActive
Micellar Cleansing Water All-in-1 Waterproof
All Skin Types, Even Sensitive
Moisturize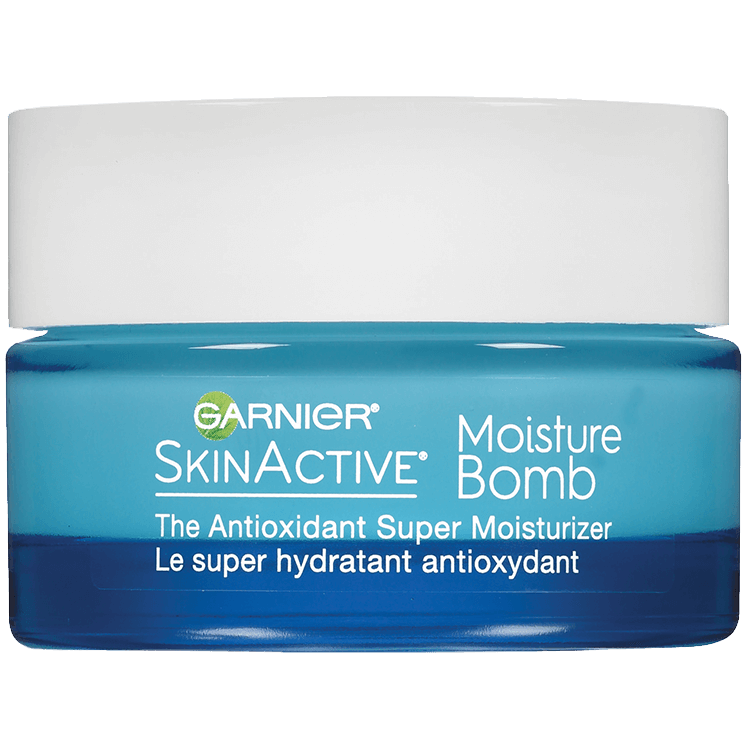 Garnier SkinActive
Moisture Bomb The Antioxidant Super Moisturizer
Antioxidant Daily Moisturizer
Treat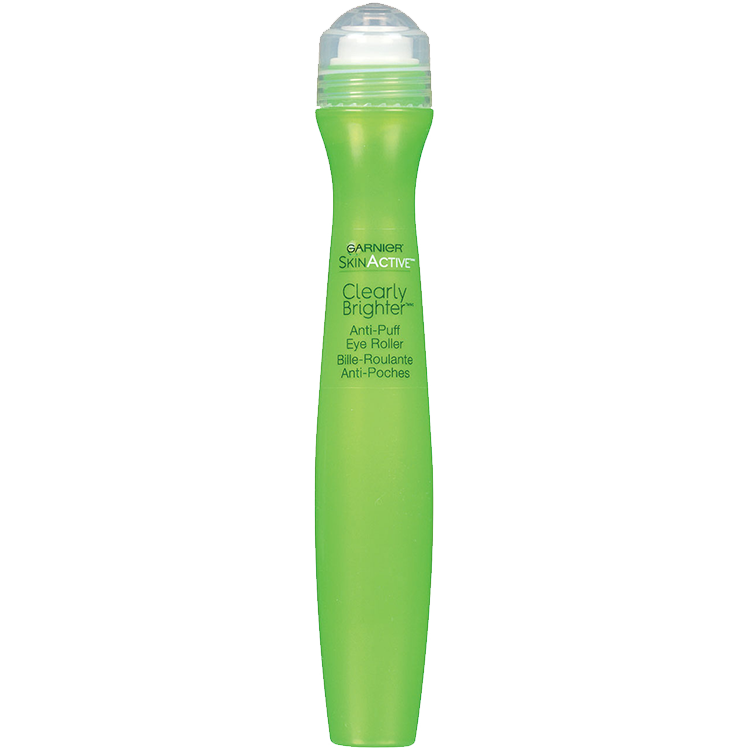 Garnier SkinActive
Clearly Brighter Anti-Puff Eye Roller
Under-Eye Puffiness Reducer
Refresh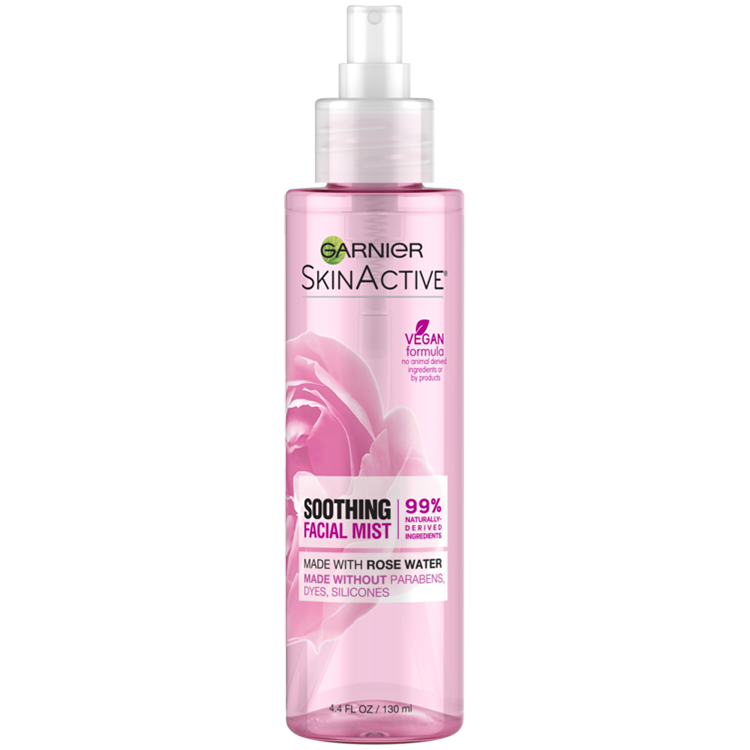 Garnier SkinActive
Soothing Facial Mist with Rose Water
Facial Mist
No Hidden Nasties.
Specially formulated with no oil, sulfates, fragrance, parabens, or alcohol - it's all in the micelles that work like magnets to gently lift away excess dirt, oil, and makeup. Perfect for all skin types, even sensitive so you can enjoy a clean complexion with no harsh rubbing or rinsing.
Rated

3

out of

5
by
lisa_pa_bqb86
from
GARNIER SKINACTIVE MICELLAR CLEANSING WATER
I received this GARNIER SKINACTIVE MICELLAR CLEANSING WATER ALL-IN-1 WATERPROOF as a sample from PINCHme. I usually do not like micellar cleansers as they tend to be oily. This one was slightly better than others I've tried, but still too oily for me.
Date published: 2020-11-28
Rated

5

out of

5
by
victoria_ga_8fkp5
from
Like a magnet for removing makeup
I've tried other types of the Garnier Skinactive Micellar Cleansing Waters before but first time trying the all in one kind. I got to try it out as a sample, thanks Pinchme by the way and was impressed with how well it works. Really gets in the pores to get all that makeup and junk out of there. Love it!
Date published: 2020-11-28
Rated

4

out of

5
by
het_va_8x7fp
from
Great Water
Garnier Skinactive's Micellar Cleansing Water (All-in-1 Waterproof ) is a very good product. It cleans well and quick, especially using the eco pads. There is a fresh after smell but it is subtle, which I like. I gave this product 4 stars because when I am tired or in a rush, I forget to shake the cleanser before use. Not a big deal, but still an annoyance sometimes.
Date published: 2020-11-28
Rated

5

out of

5
by
alicia_sc_cxzt2
from
Love this Micellar water!
I loved Garnier Skinactive micellar cleansing water! It made my face feel refreshed and super clean. This product is gentle enough to use daily to wash my face and didn't burn my eyes at all. I received this product free from pinchme.
Date published: 2020-11-27
Rated

5

out of

5
by
carra_fl_4wjfk
from
Easily removes makeup
Enjoy this garnier micellar cleansing water all in one waterproof. Its gentle on skin and gets off mascara easily without rubbing. I use this first , mostly for mascara. Then follow up with my cleanser. Also great to clean up makeup mistakes by putting it on a q-tip.
Date published: 2020-11-26
Rated

5

out of

5
by
brittany_il_7x5mt
from
Refreshing non-greasy face cleanser
I received GARNIER SKINACTIVE MICELLAR CLEANSING WATER ALL-IN-1 WATERPROOF as a free sample from PinchMe. I have tried other micellar cleansers that left my skin feeling heavy or sticky afterwards. This product did not do any of that. It was light and refreshing and dried with a clean face feel. Will definitely purchase.
Date published: 2020-11-25
Rated

5

out of

5
by
krystle_nh_6mxby
from
Wonderful Cleansing Product
Garnier Skinactive Did it again with a great Micellar Cleansing Water All in 1 waterproof. The Micellar Water removed that stubborn eyeliner and mascara. The product works wonders at removing makeup. My face felt clean and refreshed after use, I noticed my skin was soft after use, overall pleased by this skincare gem.
Date published: 2020-11-25
Rated

5

out of

5
by
debra_ca_7xjlj
from
Removes Waterproof Makeup
The Micellar Cleansing Water All-in-1 Waterproof by Garnier Skinactive gently removes my stubborn eyeliner. I love using this because of its travel-friendly size.
Date published: 2020-11-24