This site is intended for US consumers.Cookies and related technology are used for advertising.To learn more or opt-out, visit Ad Choices and our privacy policy.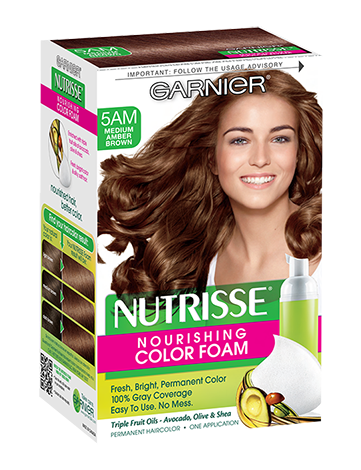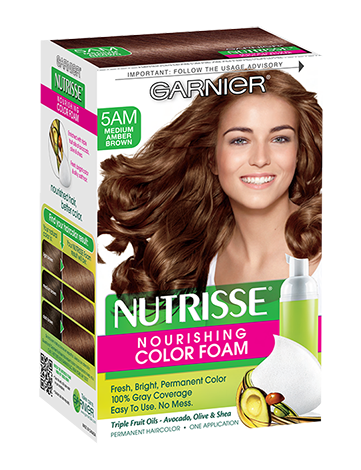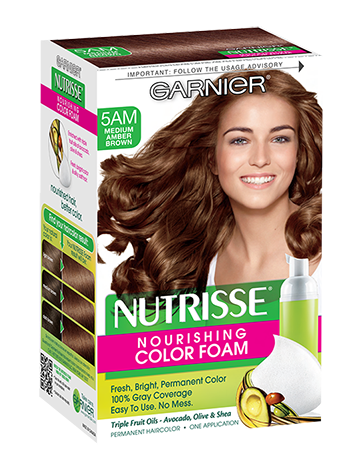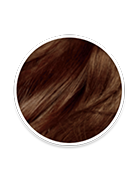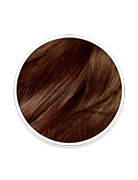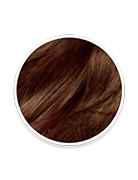 Garnier Nutrisse Color Foam
Nourishing Color Foam 5AM - Medium Amber Brown
PRODUCT INFORMATION:
Is it right for me?
For an Easy, No Stress, No Mess application, try our Nourishing Color Foam.
How is it different?
Enriched with nourishing triple fruit oils - avocado, olive and shea - Nutrisse Nourishing Color Foam is our first foam to nourish, while locking in your radiant color and moisture. This creamy foam gives you fresher, brighter, permanent color results* and 100% gray coverage.
*vs. before coloring
Product Discontinued. Please see Garnier's
Nourishing Color Creme 535 - Medium Golden Mahogany Brown .
How to use:
It's a no stress, no mess application – comes with an easy-to-use pump applicator which dispenses a non-drip, creamy foam that smells great and lathers-in like a shampoo. Quick and comfortable to apply, for All-Over or Root Touch Up applications. See our How-To videos for detailed instructions on how to apply. Fresher, brighter permanent color results with 100% gray coverage. Available in 18 radiant shades.

Nutrisse Nourishing Color Foam also comes in an FSC-certified carton packaging with PVC-free gloves to help sustain a cleaner, greener future.
Ingredients:
Liquid-To-Foam Colorant: Aqua/Water, Alcohol Denat., Peg-4 Rapeseedamide, Glyceryl Lauryl Ether, Deceth-3, Propylene Glycol, Laureth-5 Carboxylic Acid, Ethanolamine, Dipropylene Glycol, Hexylene Glycol, Ammonium Hydroxide, Poloxamer 338, Polyquaternium-6, Oleyl Alcohol, Parfum/Fragrance, p-Aminophenol, Resorcinol, Ammonium Thiolactate, 2-Methyl-5-Hydroxyethylaminophenol, Toluene-2,5-Diamine, 2-Methylresorcinol, Erythorbic Acid, 2-Amino-3-Hydroxypyridine, EDTA, m-Aminophenol, Sodium Metabisulfite, Thioglycerin. F.I.L. D49972/2. Liquid-To-Foam Developer: Aqua/Water, Hydrogen Peroxide, Glycerin, Laureth-11, Tetrasodium Etidronate, Tetrasodium Pyrophosphate, Sodium Salicylate, Phosphoric Acid. F.I.L. D48403/8. Nourishing Conditioner: Aqua/Water, Cetearyl Alcohol, Behentrimonium Chloride, Peg-180 Cetyl Esters, Niacinamide, Ribes Nigrum Oil/Black Currant Seed Oil, Saccharum Officinarum Extract/Sugar Cane Extract, Hydroxyethylcellulose, Olea Europaea Oil/Olive Fruit Oil, Trideceth-6, Chlorhexidine Dihydrochloride, Camellia Sinensis Extract/Camellia Sinensis Leaf Extract, Benzyl Alcohol, Linalool, Amodimethicone, Isopropyl Alcohol, Pyrus Malus Extract/Apple Fruit Extract, Parfum/Fragrance, Pyridoxine HCl, Persea Gratissima Oil/Avocado Oil, Methylparaben, Butyrospermum Parkii Butter/Shea Butter, Citric Acid, Cetrimonium Chloride, Butylphenyl Methylpropional, Citrus Medica Limonum Peel Extract/Lemon Peel Extract. F.I.L. D42540/5.
Rated

1

out of

5
by
pPatti
from
wish i read the reviews
Omg the color is really red! Not even close to the box. I am so disappointed. Dont think I'll ever buy this brand again. I am afraid to recolor. i hope they take this off the market or change the pictur on the box.
Date published: 2014-08-17
Rated

2

out of

5
by
Kristy23
from
Not what I expected
I bought this product with the expectation that my hair would be a medium amber brown and it is nothing like that AT ALL. It doesn't even match the color on the box. I dyed my hair a couple of months ago using a different brand, but it was the same color and I loved it. However, this time I wanted to try the foam to see if it made it easier for me to color my hair by myself. The foam was great, easy to use and doesn't have that overbearingly strong odor and it didn't dry my hair out as most of the other brands do. However, the color is horrible. My roots are bright bright orange and fades into a darker orange. I tried shampooing my hair several times to strip out the color and it hasn't worked yet. I would prefer to use a product I know will work and that will give me the results I desire (I'm even willing to endure the horrible smell) versus this product. I just hope I can fix it soon because this color is just too embarrasing.
Date published: 2014-04-09
Rated

1

out of

5
by
suegrise
from
Utterly awful color!
I just tried the Nutrisse Nourishing Color Foam in Medium Amber Brown. Before dyeing, my hair was medium brown with gray roots. I regularly use Garnier hair color, but usually get a cool brown in the traditional squirt bottle. I used it according to directions but got a vivid red color (see photo) that I am extremely unhappy with. It is not medium, amber, or brown. The first person who saw my hair laughed. People who choose red, black, or light blonde usually want a statement color; people (like me) who choose medium brown usually want a natural look. This fake-looking red is hideous. Even if I WANTED red, I wouldn't like this. Also, the foam dispenser gets slippery and is hard to use.
Date published: 2013-11-12
Rated

1

out of

5
by
nb002
from
TURNED MY HAIR RED ORANGE
Ughh. This has been an extremely frustrating experience. I wish I had read the reviews. I stood in the store for 20 minutes trying to find a good color that wasn't too different from my natural dirty blonde/dull brown hair, but was more of a lively brown. I got RED. REDDISH ORANGE HAIR WITH DARK BROWN ON THE BOTTOM HALF. It is ridiculous. It basically dyed my roots and some of the middle of my hair reddish, and it looks like I dumped Kool-Aid on my head. I am so frustrated and disgusted, I hope they give me a refund.
Date published: 2013-07-14
Rated

3

out of

5
by
Gabrielle95
from
Turned my hair red
I have medium brown hair naturally, and I was trying to go for a darker color with a little hint of red. The color on the box was nothing like the color that I ended up with. It turned my hair an auburn color. I'm not complaining, it's actually a nice color. But, it didn't match the one shown. Overall, nice dye and easy to use.
Date published: 2013-06-27
Rated

4

out of

5
by
Pski716
from
Loved the Color
I really liked this color it came out a really pretty brown with some reddish undertones. The only problem my hair came out a little dry. The smell wasn't bad though and the overall process was really easy. I was also surprised with the amount of dye my hair is long and thick and i usually use up two bottles of dye but with this I barely needed the second. Overall this was a really nice color and I would definitely use it again.
Date published: 2013-04-06
Rated

1

out of

5
by
Scorpio1966
from
ORANGE/RED
Used this product on my medium brown hair, now i have bright red/orange where my grey used to be, and my hair feels dry and coarse. I normally use Herbashine which gives good colour and condition,but was looking for something more permanent.
Date published: 2013-02-04
Rated

5

out of

5
by
Alanna22
from
It's my favorite way to dye my hair so far. :)
I have really thick, long hair so regardless of what I use, I need two boxes to get the job done. I advise anyone using this who has hair like me to please get two boxes just in case so you won't run out halfway through the dying process! :P I actually tried the color foam to try to correct a terrible decision to go auburn with another brand (It turned my hair an ugly purply-red color). I decided to go with the medium amber brown, because it has those nice warm red tones while still holding onto a nice brown as well. And WOW! My hair looked phenomenal! It has such rich and beautiful color. I always get complements on my hair and people actually ask me if it's my natural color because it looks so stunning yet actually could look natural as well. What's also nice is that my natural hair color is only a shade or two darker, so it grows out nicely. I've used this color for about four months and have a few words of advice: Start at the base of your head and move up to the front. THEN when you're done, start your timer. Otherwise, I've learned that having it on too long in one spot makes it look a bit too red, and too little time doesn't do enough. That way the front of your head looks perfect. :) Also, completely saturate it with foam. If it looks a little wet, add move color still! Otherwise it won't be as even of coverage. I hoped I really helped those who are considering trying the color foam. :)
Date published: 2013-02-01