Pure Clean Detangler + Air Dry
Garnier Fructis
$5.99 MSRP
Silicone-free and paraben-free hair detangler allows you to air dry without tangles or frizz
*Vegan formula: no animal derived ingredients or by-products
PRODUCT INFORMATION:
Garnier® Fructis® Style Pure Clean Detangler + Air Dry is a paraben-free & silicone-free hair detangler that allows you to air dry while it controls frizz & gently unties knots. Vegan formula, with no animal derived ingredients or by-products, contains Aloe extract and Vitamin E. This detangling spray helps restore your hair's smoothness, softness, & shine. Use with Pure Clean Shampoo & Conditioner for beautiful, healthy hair with every wash.
FRUCTIS CARES
Paraben-free, gentle for everyday use.
Vegan formula: no animal derived ingredients or by-products.
Bottle made of recyclable PET plastic with 50% Post-Consumer Recycled waste.
Produced in a facility committed to sustainability. Our zero-landfill site recovered 95% of its waste in 2015.
Partnered with Terracycle® to keep beauty products out of landfills.
How to use:
Spray onto wet hair and comb through.
Ingredients:
1141254 F1 AQUA/WATER/EAU, GLYCERIN, INULIN, MICROCRYSTALLINE CELLULOSE, PEG-40 HYDROGENATED CASTOR OIL, SODIUM BENZOATE, NEOPENTYL GLYCOL DICAPRATE, ISOPROPYL MYRISTATE, CAPRYLYL GLYCOL, DICAPRYLYL CARBONATE, PARFUM/FRAGRANCE, GLYCERYL STEARATE SE, CETEARYL ALCOHOL, CELLULOSE GUM, CITRIC ACID, XANTHAN GUM, LINALOOL, HEXYL CINNAMAL, TOCOPHEROL, ALOE BARBADENSIS LEAF JUICE, ALPHA-ISOMETHYL IONONE, CITRONELLOL, LIMONENE, POTASSIUM SORBATE. F.I.L.# D208599/1
The Full Regimen
Everything you need to complete your Pure Clean hair care routine.
Wash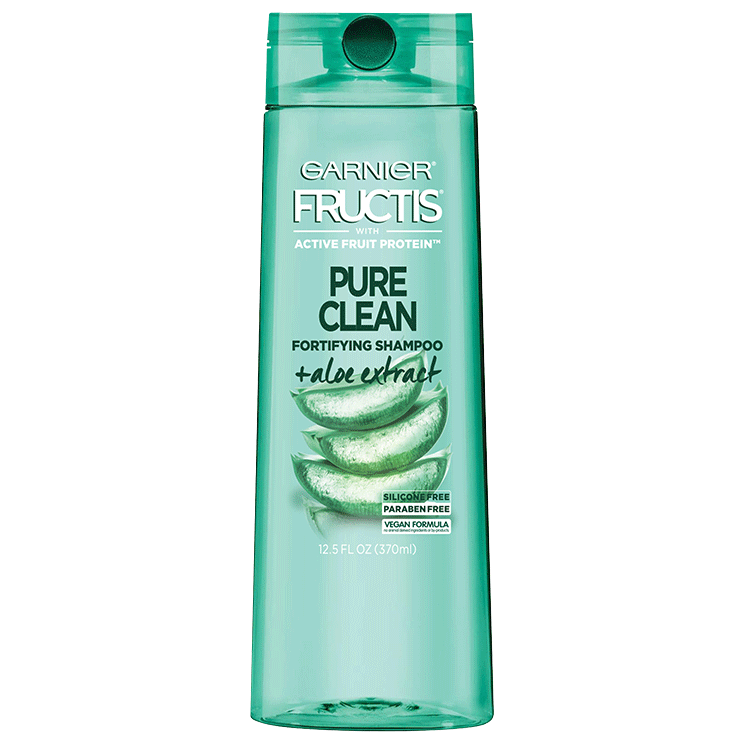 Garnier Fructis
Pure Clean Shampoo
Shampoo for normal to oily hair
Condition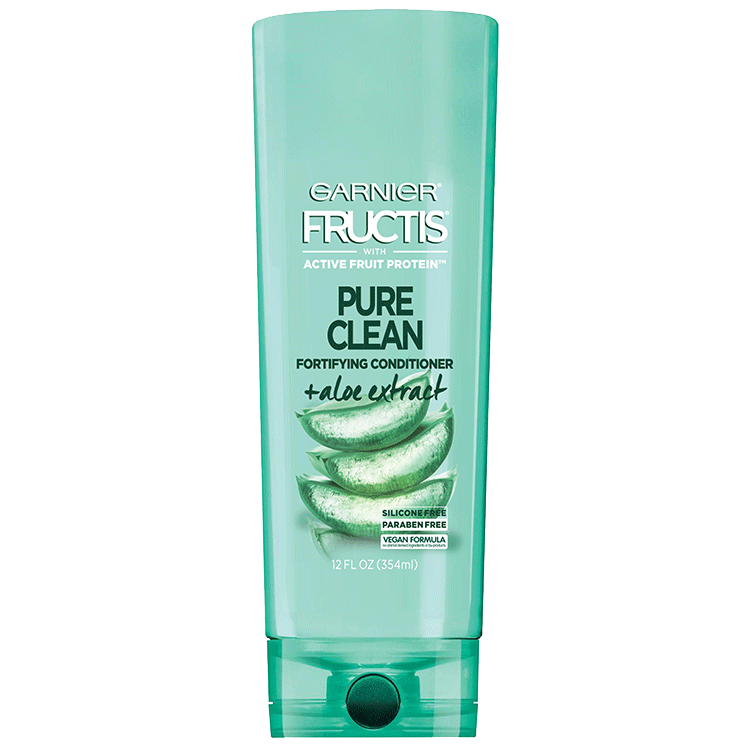 Garnier Fructis
Pure Clean Conditioner
Conditioner for normal to oily hair
Treatment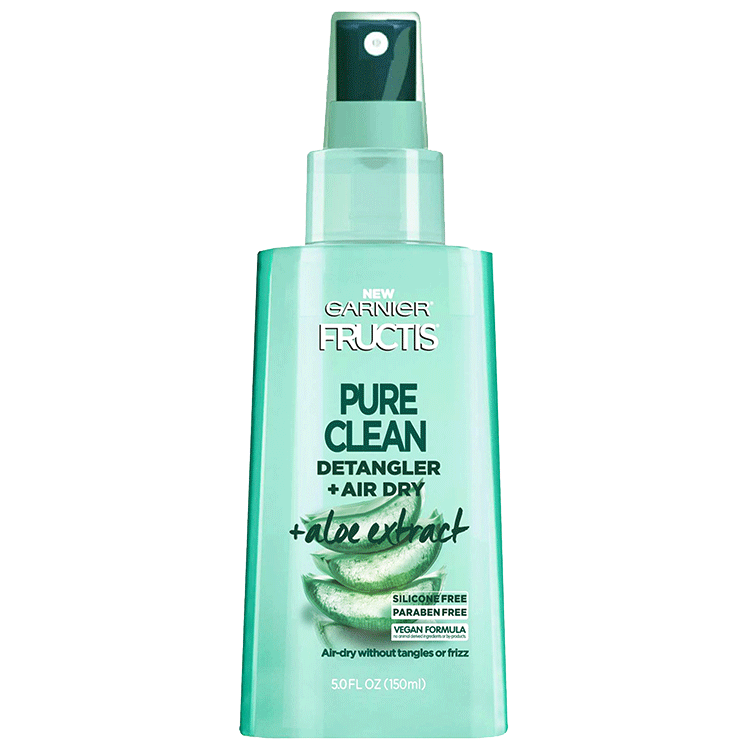 Garnier Fructis
Pure Clean Detangler + Air Dry
Controls frizz and gently unties knots
Rated

5

out of

5
by
ama912
from
Love it!
I love this product! I have long natural curly hair that used to get very tangled. Since I use this product I have less tangles and bonus less frizz. My only complaint is that my local stores do not always have it in stock.
Date published: 2020-11-05
Rated

5

out of

5
by
chinga
from
No frizz
I have tried many different detanglers and this one works the best. My hair doesn't get frizzy or poufy the next day. This with the anti frizz serum makes my hair smooth and soft.
Date published: 2020-09-03
Rated

1

out of

5
by
rach995
from
Terrible
This product does smell very good, however that's the only positive thing I can say about it. I have color treated hair and this product makes my hair feel so unbelievably dry. It actually does the opposite of what it says and causes frizz and tangles. I would not recommend if you're looking for a good detailer because this is the worst one I've ever used
Date published: 2020-08-25
Rated

2

out of

5
by
Classic Style
from
Slightly helps
I bought this when it 1st came out. The smell was just lovely. I tried it several times. It slightly helps with detangling hair. But it left my hair with a greasy residue. I did change the amount each time.So I left it for a while and thought to try it in the winter. I picked this bottle up again a few months later to try it on my just out of the shower wet hair and sprayed a small amount through my hair. It no longer had that fresh invigorating smell. It changed like it had gone bad. It continuously left a waxy greasy residue in my hair no matter how much or little I used it. It's to bad. I really wanted to like this but I just can't. I was going to keep it around for a hair refresher but once the smell changed and it smelled putrid once it did. In the garbage it went. The sleek and shine serum does wonders for tangles. But this Just couldn't compare to it at all.
Date published: 2020-08-23
Rated

2

out of

5
by
Literallyjusme
from
Not for me.
It's not all bad and I'm sure it works for others but not for me unfortunately. I got it because I dont blowdry my hair anymore and it gets all tangled after it air dries so I thought I would try it out. The smell is the only good thing about the product, its very subtle but clean smelling. It does help with detangling when you brush it through and it does help it dry quicker but my hair actually looks more greasy when it finishes drying. It really weighs my hair down and I end up having to wash my hair again which is something I'm trying to avoid having to do often. Now idk if I'm doing it correctly bc the directions are pretty vague and sometimes there are tricks to products to make it useful that they don't put on the bottle and the first couple tries my hair didnt suffer too bad but after that it jus weighed my hair down.
Date published: 2020-08-14
Rated

5

out of

5
by
Sam L
from
Please please never ever get rid of this!!
I feel like I've waited my entire life for an actual amazing detangler that also doesn't make my hair frizz from air drying! THE WAIT IS OVER!!! I have really thin, frizzy dirty blonde hair, and I air dry my hair. Trying to find anything for my hair type is such a challenge, especially since I don't really blow dry my hair. This is a miracle worker! This is the first product I've ever used that made me feel like one of the beautiful girls with beautiful flowing hair from all the commercials. I suggest this to all my friends, even if they have completely different hair types because I really believe in this product!! Please never get rid of this. It's my saving grace. If you do, I'll take 20 bottles, please.
Date published: 2020-08-13
Rated

2

out of

5
by
shaeb
from
No no no
There needs to be two separate products: one for detangling and one for drying. When you have them both in one, it's just a mess. Your hair gets more knotty and hard to comb. Not worth the money.
Date published: 2020-04-21
Rated

5

out of

5
by
rach419
from
Holy Grail
I have long dark, wavy-ish hair and most of the time I don't have the energy to heat style. This product is the only one in my bathroom I consistently use. It doesn't leave a greasy buildup, it smells so good, and my hair dries soft to the touch. Just 2-4 spritzes and my wet brush glides through like butter. Will definitely buy again.
Date published: 2020-04-04