This site is intended for US consumers.Cookies and related technology are used for advertising.To learn more or opt-out, visit Ad Choices and our privacy policy.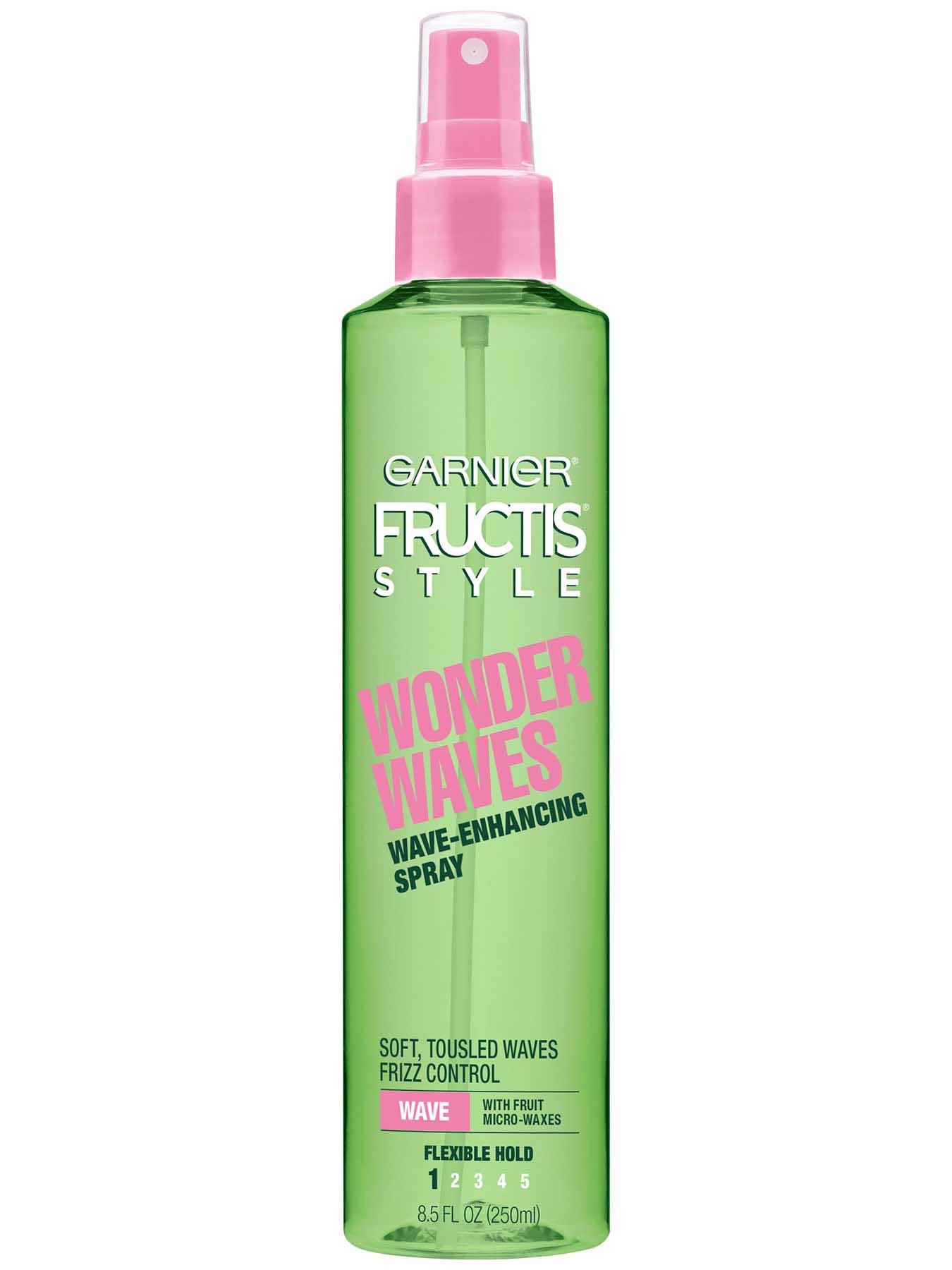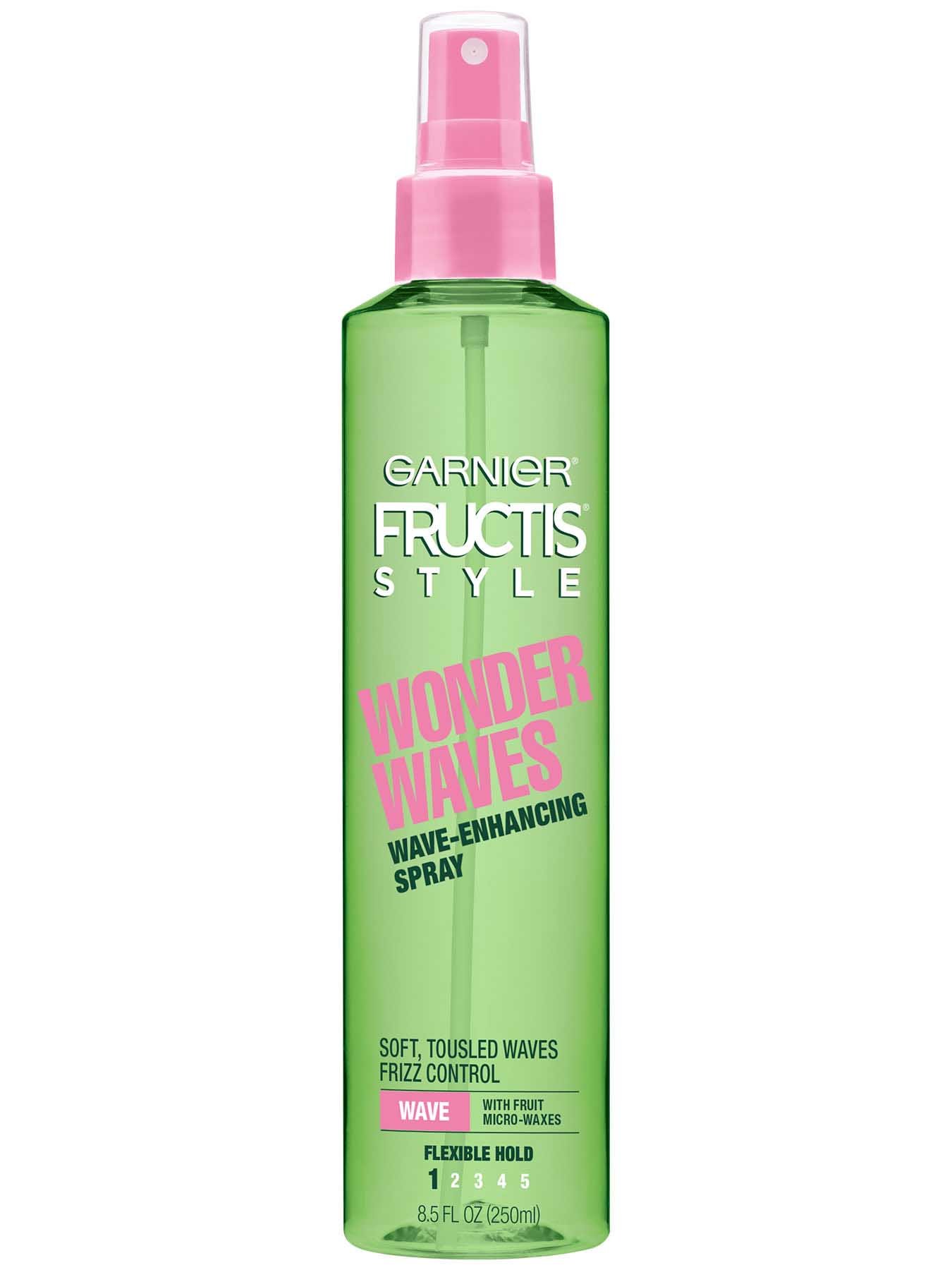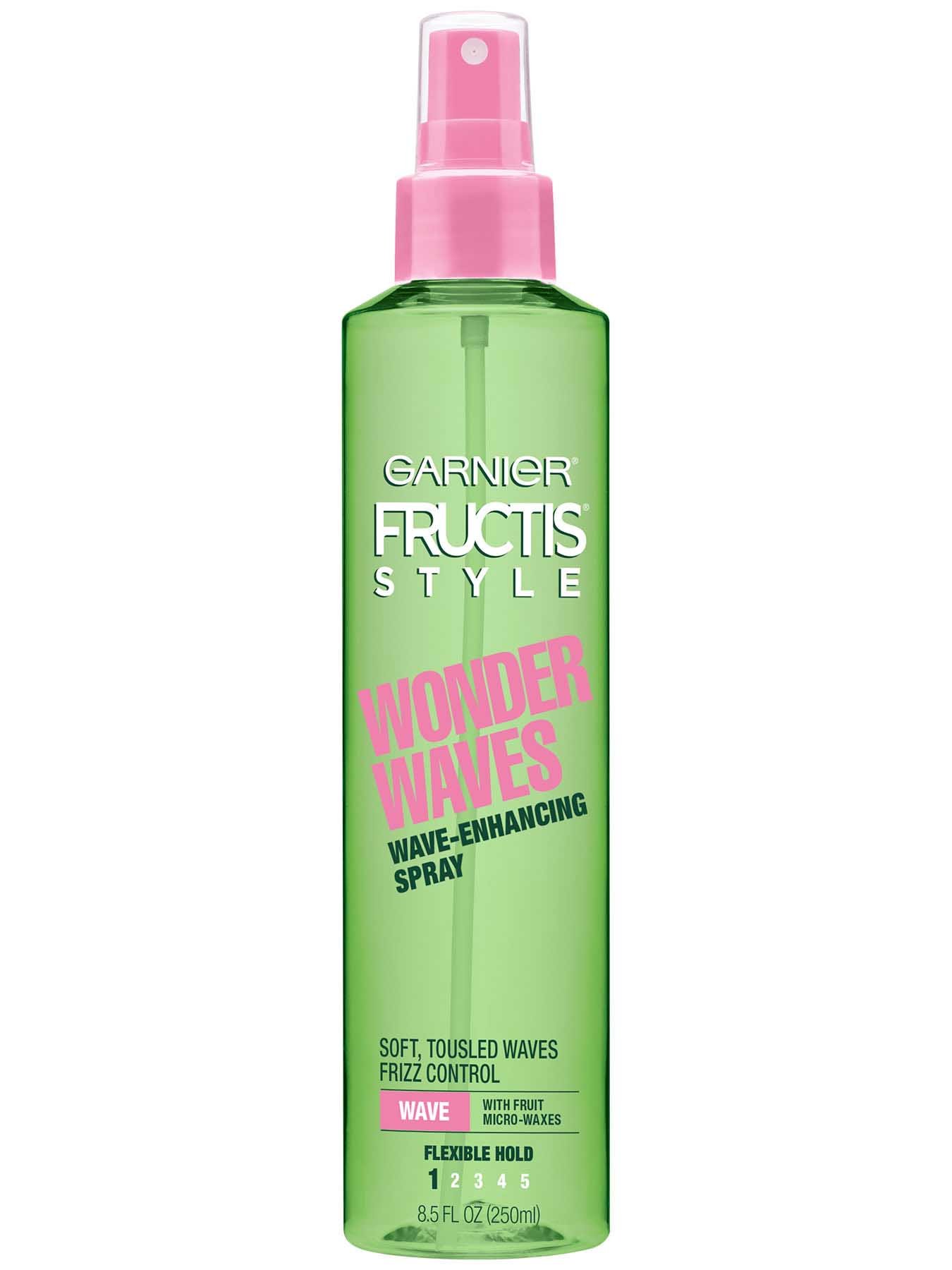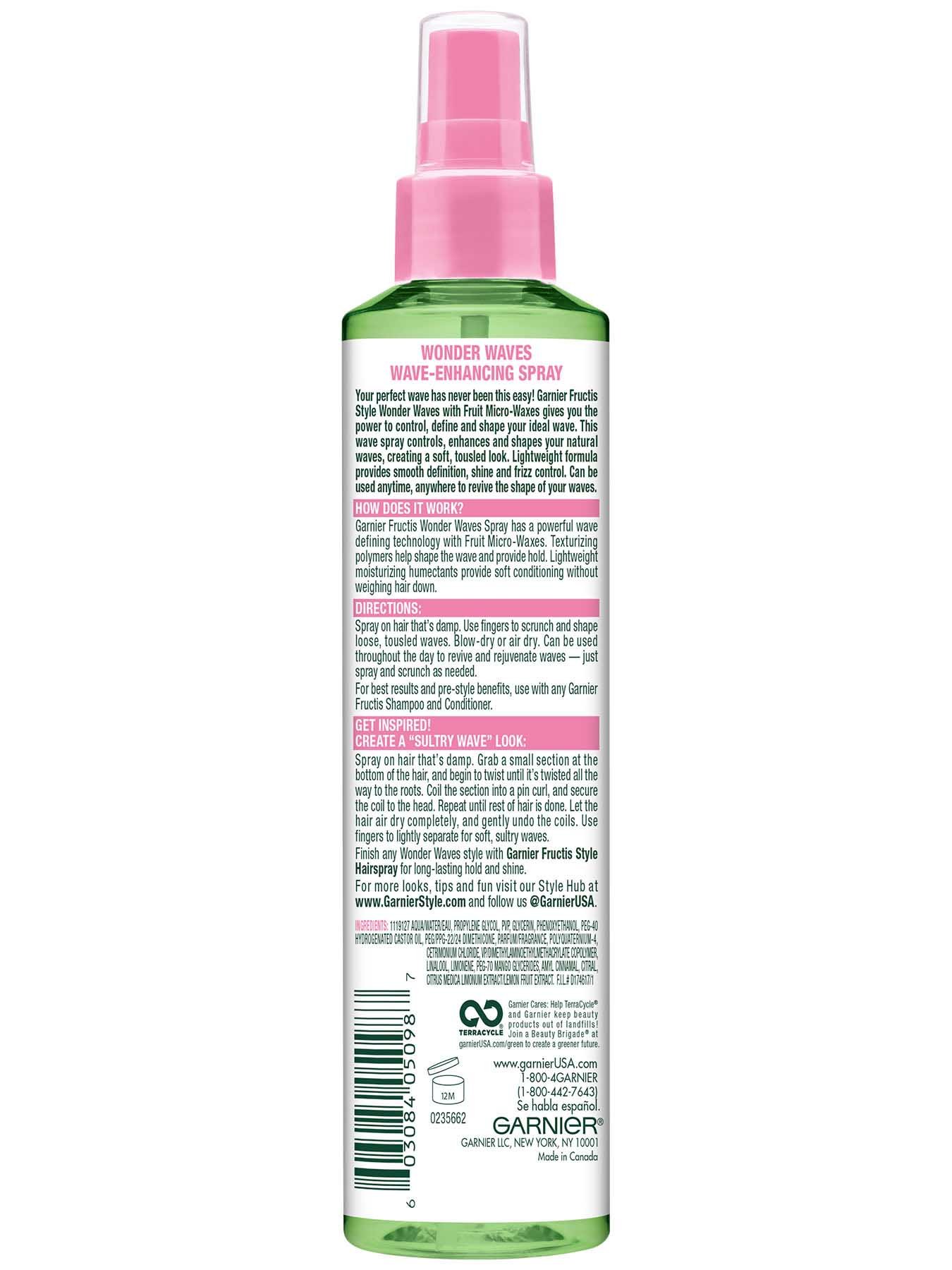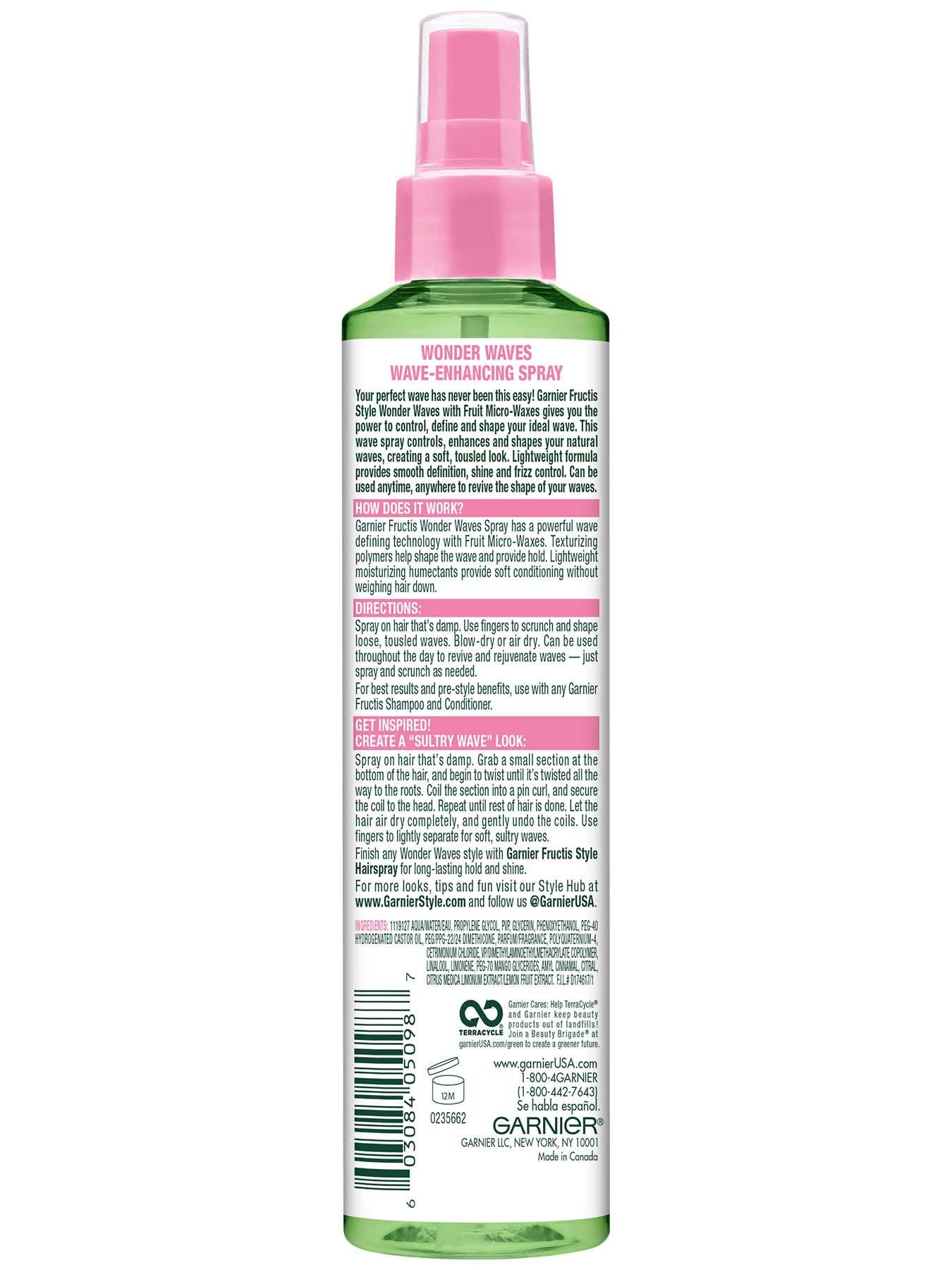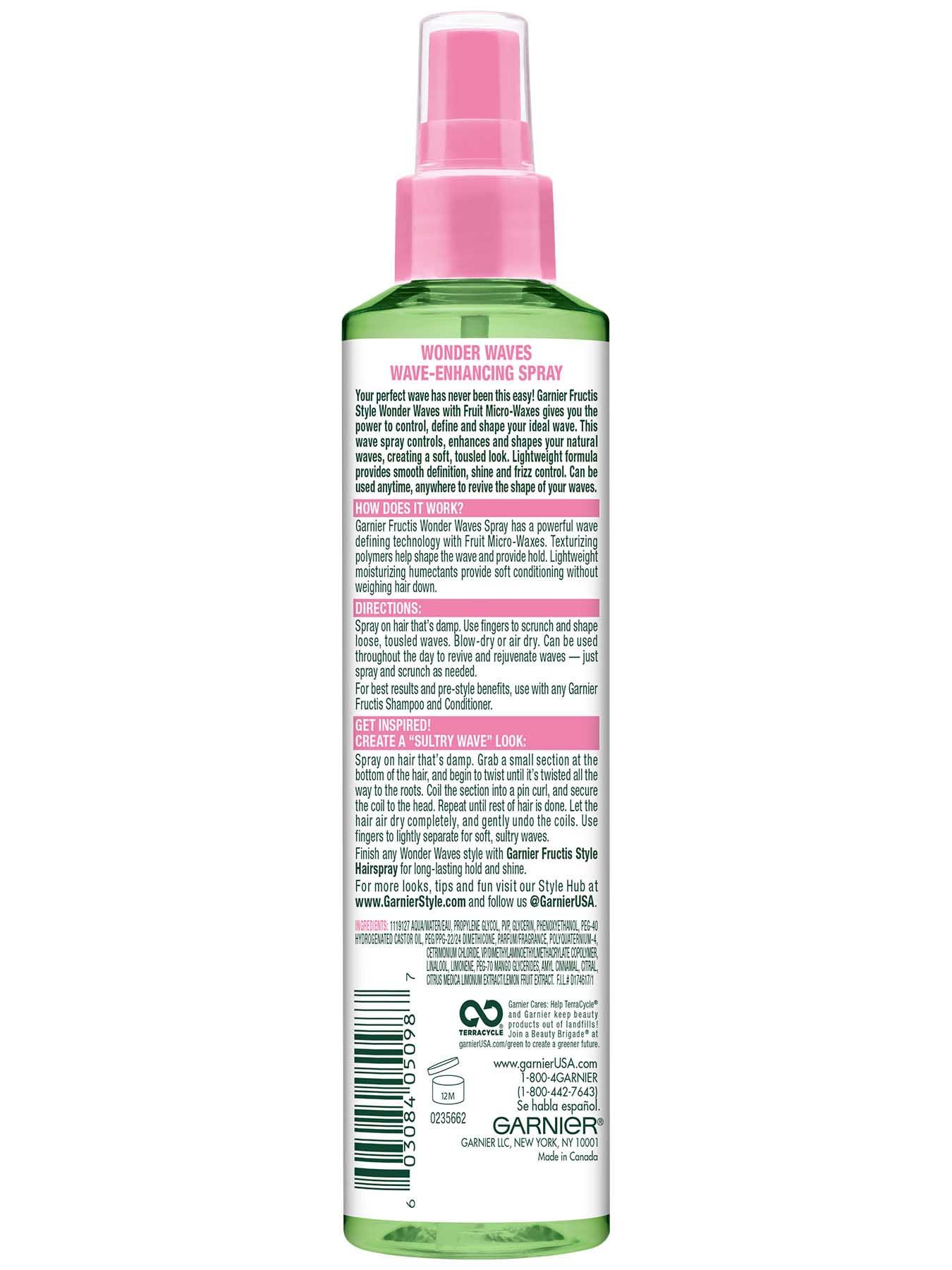 Garnier Fructis
Wonder Waves Wave-Enhancing Spray
$3.47 MSRP
Wave-enhancing spray with frizz control for soft, tousled waves
PRODUCT INFORMATION:
Your perfect wave has never been this easy! Garnier Fructis Style Wonder Waves with Fruit Micro-Waxes gives you the power to control, define and shape your ideal wave. This wave spray controls, enhances and shapes your natural waves, creating a soft, tousled look. Lightweight formula provides smooth definition, shine and frizz control. Can be used anytime, anywhere to revive the shape of your waves.
HOW DOES IT WORK
Garnier Fructis Wonder Waves Spray has a powerful wave defining technology with Fruit Micro-Waxes. Texturizing polymers help shape the wave and provide hold. Lightweight moisturizing humectants provide soft conditioning without weighing hair down.
GET INSPIRED! CREATE A "SULTRY WAVE" LOOK:
Spray on hair that's damp. Grab a small section at the bottom of the hair, and begin to twist until it's twisted all the way to the roots. Coil the section into a pin curl, and secure the coil to the head. Repeat until rest of hair is done. Let the hair air dry completely, and gently undo the coils. Use fingers to lightly separate for soft, sultry waves. Finish any Wonder Waves style with Garnier Fructis Style Hairspray for long-lasting hold and shine.
How To Use
Spray on hair that's damp. Use fingers to scrunch and shape loose, tousled waves. Blow-dry or air dry. Can be used throughout the day to revive and rejuvenate waves — just spray and scrunch as needed. For best results and pre-style benefits, use with any Garnier Fructis Shampoo and Conditioner.
Ingredients:
1119127 AQUA/WATER/EAU, PROPYLENE GLYCOL, PVP, GLYCERIN, PHENOXYETHANOL, PEG-40 HYDROGENATED CASTOR OIL, PEG/PPG-22/24 DIMETHICONE, PARFUM/FRAGRANCE, POLYQUATERNIUM-4, CETRIMONIUM CHLORIDE, VP/DIMETHYLAMINOETHYLMETHACRYLATE COPOLYMER, LINALOOL, LIMONENE, PEG-70 MANGO GLYCERIDES, AMYL CINNAMAL, CITRAL, CITRUS MEDICA LIMONUM EXTRACT/LEMON FRUIT EXTRACT. F.I.L.# D174617/1
Rated

5

out of

5
by
Holls1129
from
Beautiful waves!
I hate leaving my hair naturally curly because it tends to just frizz up and feel like a poofy mess. However, in the summer, blow drying my hair straight for an hour is just not always an option. It also leaves me frustrated when it just frizzes up in the humidity. This product, however, has honestly made me LOVE leaving my hair natural again. After a shower I spritz some in my hair and it's wavy all day, without a lot of frizz. It's a lifestyle changer for me as it saves me so much time on straightening my hair. My only issue is that I wish it was in more stores to purchase. It can be tricky to find!
Date published: 2019-07-19
Rated

5

out of

5
by
happiehair318
from
Garnier rocks!
Just another one of my faves from Garnier...great style, great smell, affordable...this product is perfect if you want the most natural looking waves possible
Date published: 2019-02-16
Rated

5

out of

5
by
whtgrlcrls
from
Excellent product!
I've used this product for years, but recently I have not been able to find Wonder Waves in any of the stores in my area. They have all replaced it with the spray gel, which is horrible because it leaves my hair hard and crunchy and leaves a flacky build up on my hair. Please bring wonder waves back. It's prefect for fine curly hair!
Date published: 2019-01-15
Rated

5

out of

5
by
PolkaDotLady
from
Excellent curls with Wonder Waves!
I've used Wonder Waves for at least 8yrs and I absolutely love this product. Recently, the local stores have stopped carrying this product and replaced it with the Garnier Gel Spray which is terrible. The Gel Spray leaves my hair crunchy just like the 1980's hair. The Wonder Waves product does not leave hair crunchy but soft and perfect curls!
Date published: 2018-12-30
Rated

5

out of

5
by
slaforce
from
Love this product!
I have hair that is kinky more than anything. Curly products never worked because my hair doesn't actually curl. I was so excited when I saw this product! It really defines my hair into eaves and doesn't make it crunchy! I spritz some of this on after I get out of the shower, wrap my hair into a curled bun on top of my head, and the next morning I have amazing waves!
Date published: 2018-11-05
Rated

5

out of

5
by
Moconn34
from
Despite my preconceptions, I loved it.
I do not usually use after shower hair products other than leave in conditioner because they often leave my hair feeling either greasy or crunchy once it dries; this was not the case with the Garnier Fructis Wonder Waves-Enhancing Spray. The product delivered just what it promised and really enhanced my natural wave. I applied the product first into my hands and then applied as a scrunch starting at the ends of my hair to the roots; I applied some extra to the ends to prevent frizzing and it worked like a charm. Once my hair dried, my waves were shiny and tight, as opposed to the usual frizzy and all over the place. It was particularly useful in light application near my hair line and bangs to prevent frizz. Other Notes: I liked how I could see the product through the clear bottle; I like to know what I am getting into. The product itself wasn't greasy or overly heavy in my hand, and it applied evenly. It smells awesome, and compliments my shampoo really nicely.
Date published: 2018-02-20
Rated

4

out of

5
by
McTriplets2017
from
Really Light and Natural Feeling
I really liked this wave enhancing spray. It was super light on my hair. If I hadn't sprayed it myself, I wouldn't have known I was wearing anything. It left my hair soft. I have thick, long, wavy hair. It did help to define my waves. It also helped to control frizz. But I tried it in the winter and my frizz is worse during the summer months. Overall I think it worked as the company described. My only issue, and the reason for 4 stars, is that it didn't last all day. I would definitely buy it.
Date published: 2018-02-20
Rated

5

out of

5
by
JessicaSchmidt
from
Want smooth, wavy hair? This is it!
First of all, I have very thick hair and I love having wavy hair but all the products I've tried never measure up! They are too sticky, or leave my hair too hard, or make great waves, but I still get major frizz!! This spray was fantastic. I sprayed it on damp hair out of the shower and scrunched my hair, tousled a bit, and I loved the outcome! All day I had flexible waves, and smooth hair, plus my hair was not sticky at all. LOVE!!
Date published: 2018-02-20