This site is intended for US consumers.Cookies and related technology are used for advertising.To learn more or opt-out, visit Ad Choices and our privacy policy.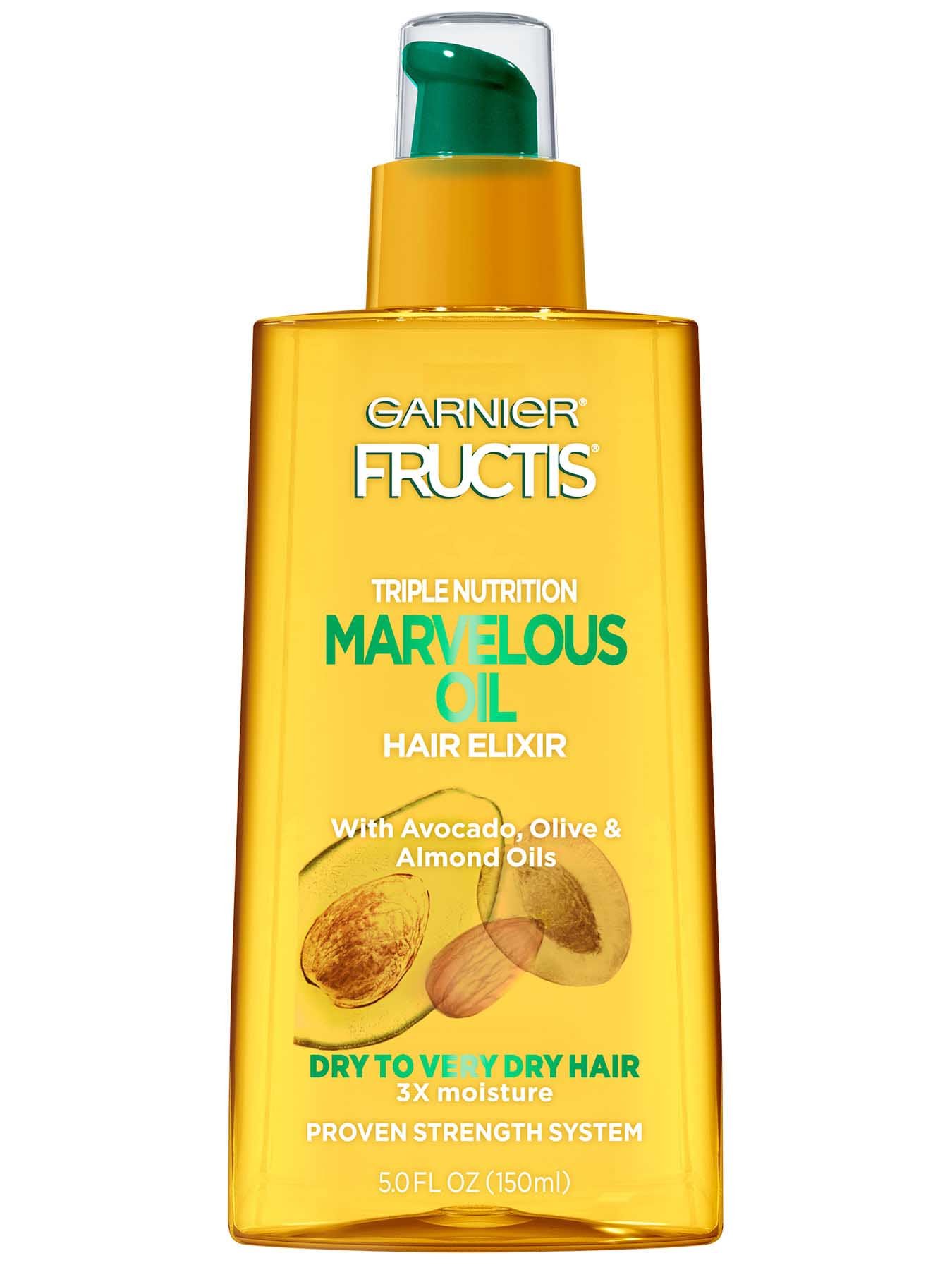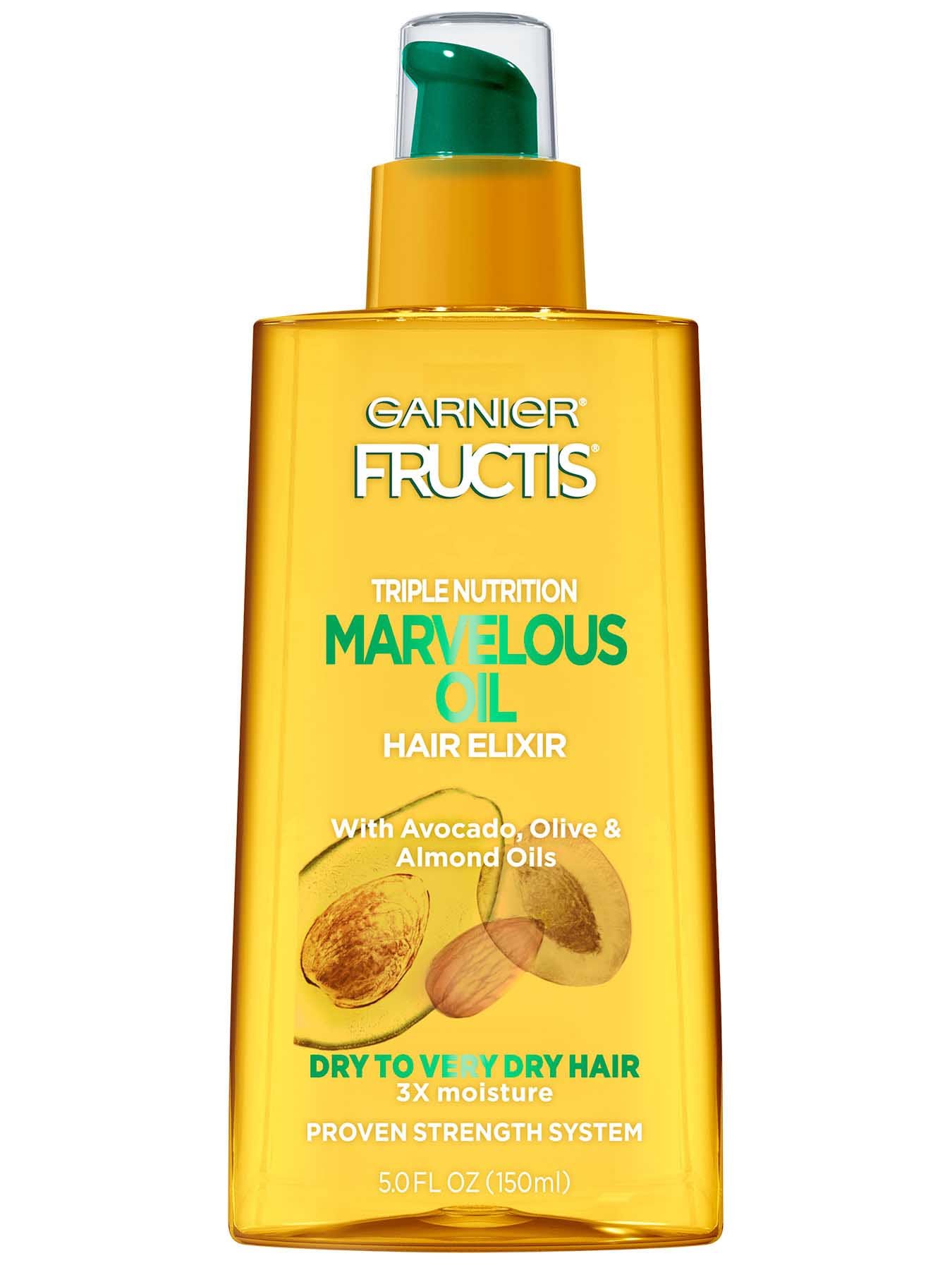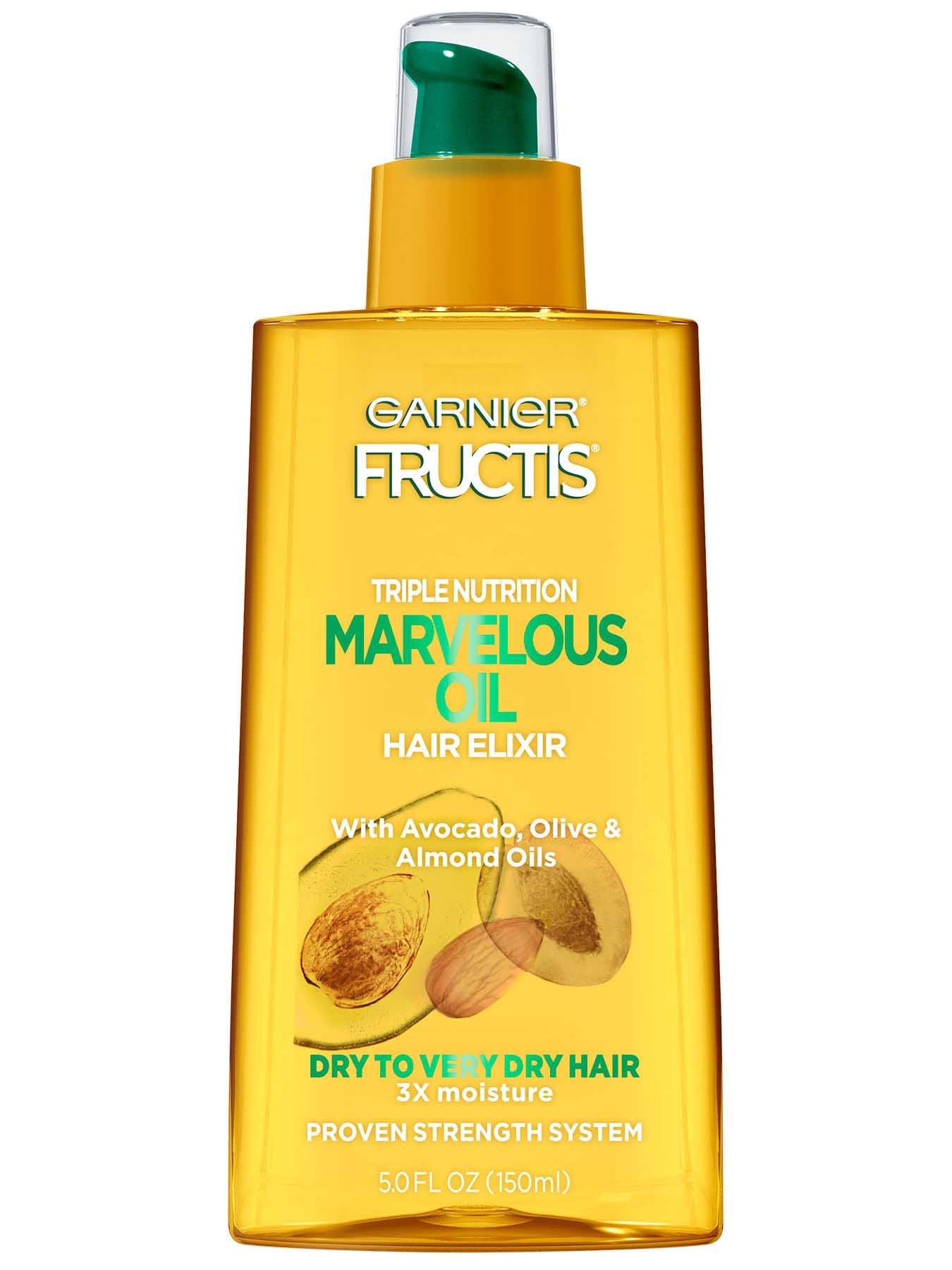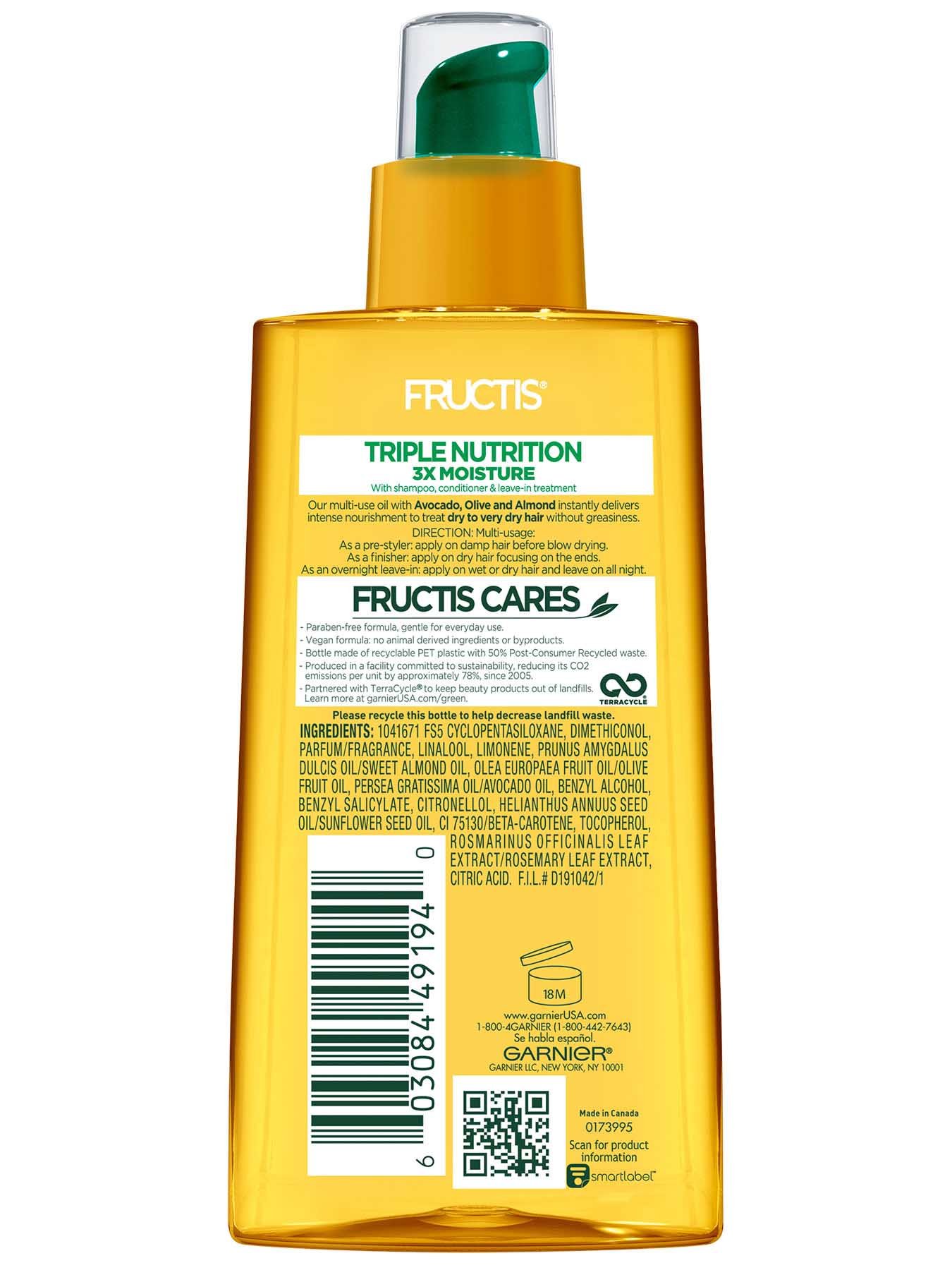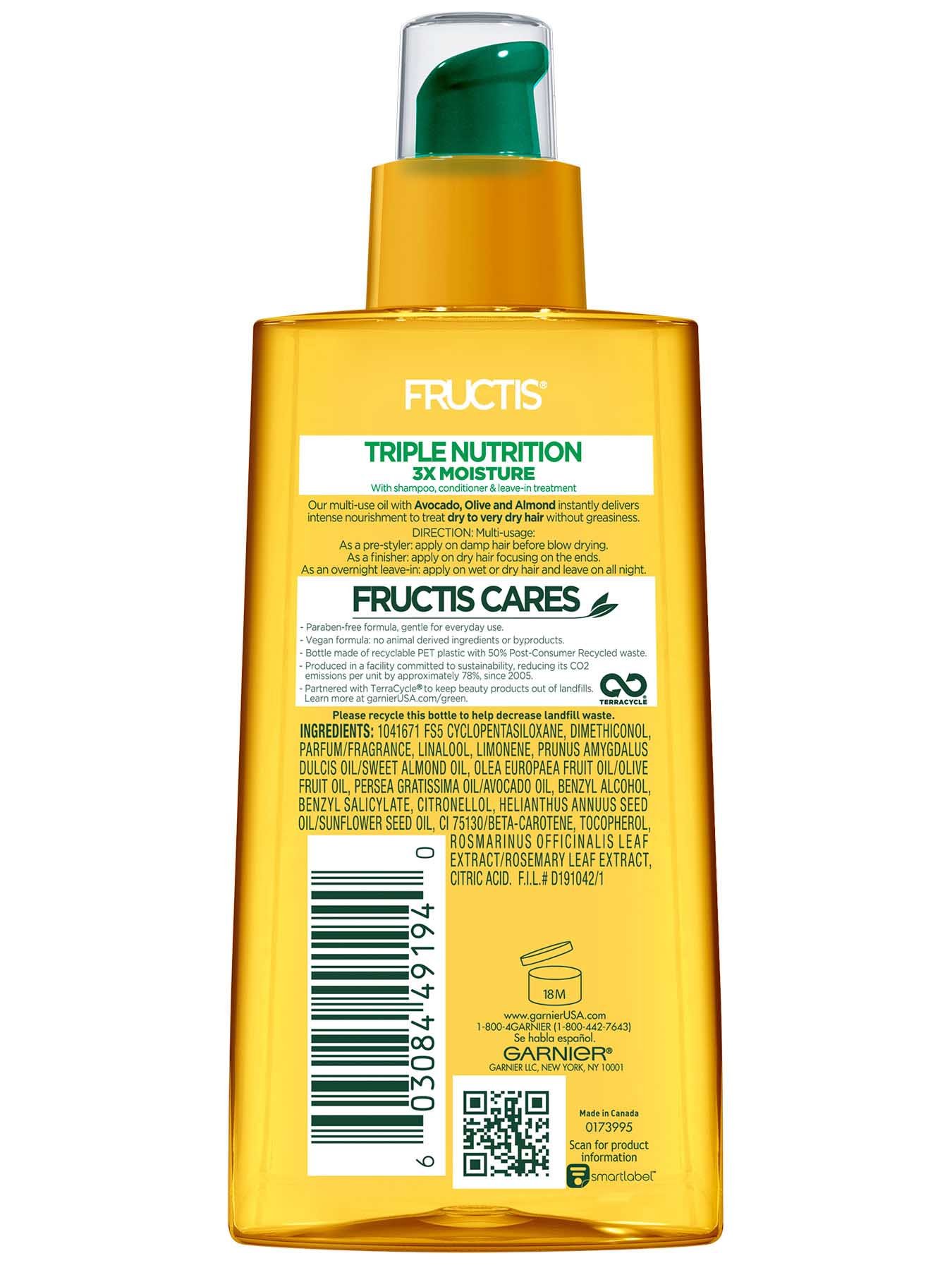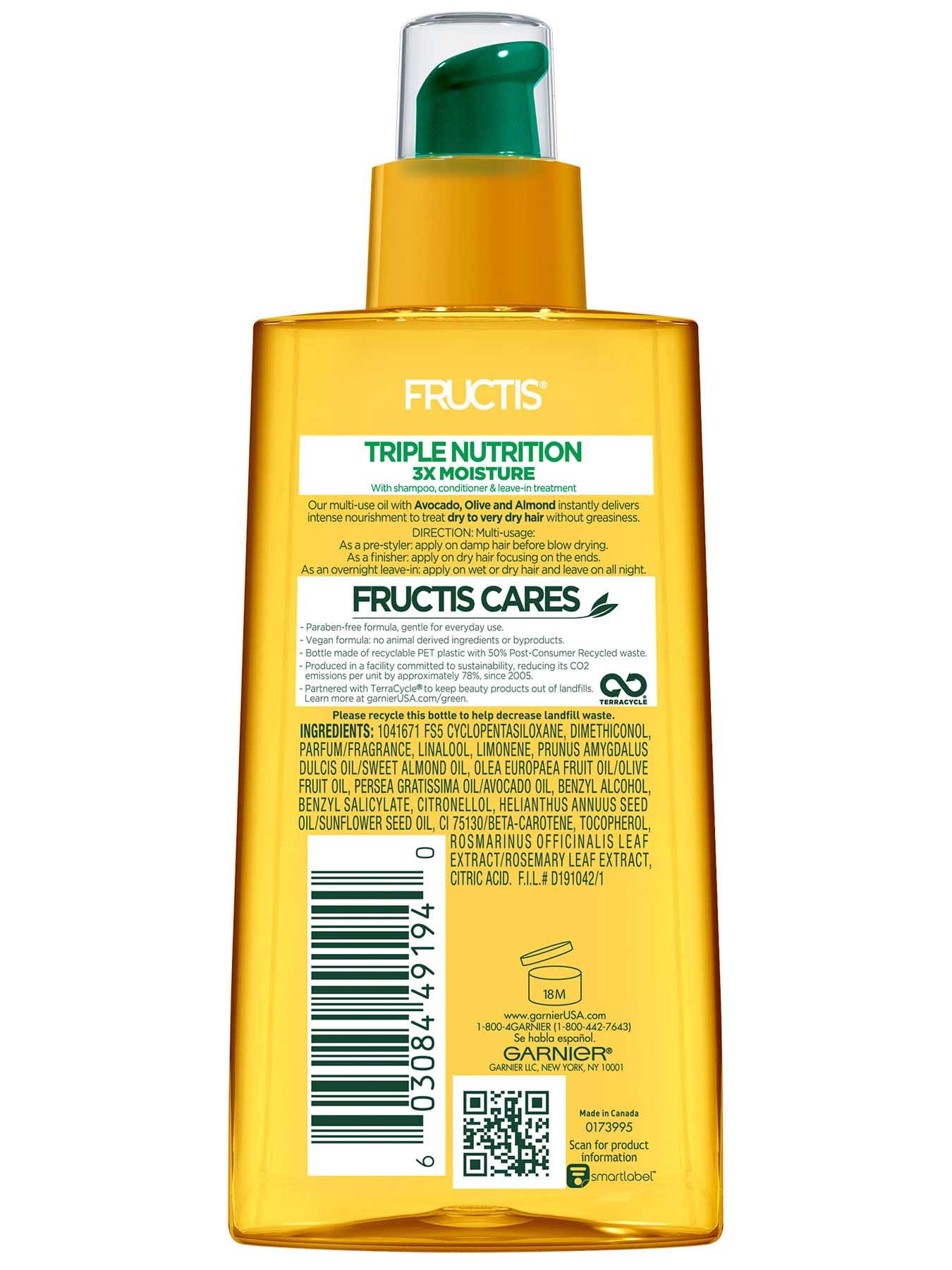 Garnier Fructis
Triple Nutrition Miracle Dry Oil
PRODUCT INFORMATION:
We no longer offer this product, we have something even better to meet your needs. Find it here.
Our first multi-use spray with olive, avocado & almond oils. Transforms dryness, rapidly absorbs. For healthy looking, shiny hair and soft supple skin.
FORTIFIED FRUIT SCIENCE
3 Powerful Oils:
Avocado, Olive, and Almond.
How to use:
Hold bottle 6-8 inches away and spray on hair or skin.
ON HAIR: Spray sparingly on damp hair to nourish and treat dry strands. Style as usual. Spray on dry hair for added shine.
ON BODY SKIN: Spray and massage into skin.
ON FACIAL SKIN: Spray into palm and then use sparingly with fingertips to massage into skin.
Do not spray directly into face. AVOID SPRAYING IN EYES.
Ingredients:
Isopropyl Palmitate, Octyldodecanol, Isopropyl Myristate, Isododecane, Olea Europaea Oil/Olive Fruit Oil, Sesamum Indicum Oil/Sesame Seed Oil, Persea Gratissima Oil/Avocado Oil, Prunus Amygdalus Dulcis Oil /Sweet Almond Oil, Prunus Armeniaca Kernel Oil/Apricot Kernel Oil, Butyrospermum Parkii Butter/Shea Butter, Parfum/Fragrance, Tocopheryl Acetate, Benzyl Salicylate, Limonene, Citrusaurantium Dulcis Oil/Orange Peel Oil, Benzyl Alcohol, Linalool, Citronellol, Isoeugenol, Hydroxycitronellal, Geraniol. F.I.L. D55673/2
Almond Oil
A distant cousin to plums, cherries, roses, and peaches, almonds are nutritionally dense. Rich in vitamins, essential minerals, and healthy fats, and known for its gentle nature, it's popular in formulas that soothe skin and smooth away frizz.
Avocado Oil
A smoothing and silkening hair booster, Avocado Oil is loaded with plant-based fatty acids, which have a unique ability to penetrate for deep long-lasting effects. This rich indulgent ingredient helps to smooth split ends while adding a brilliant shine.
Olive Oil
Packed with antioxidants, Olive Oil has been a high-performance beauty elixir for centuries. In hair care and hair color formulas it helps coat hair, leaving strands strong, glossy, and resilient. In face moisturizers, it soothes as it smoothes for glowing, youthful-looking skin.
The Full Regimen
Everything you need to complete your Triple Nutrition hair care routine.
Wash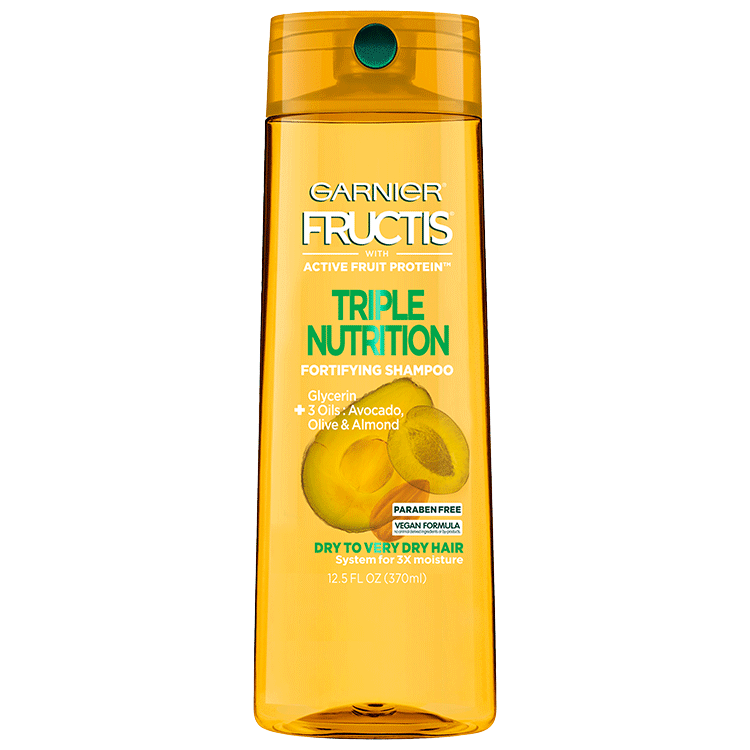 Garnier Fructis
Triple Nutrition Shampoo
Shampoo for dry to very dry hair
Condition
Garnier Fructis
Triple Nutrition Conditioner
Conditioner for dry to very dry hair
Treat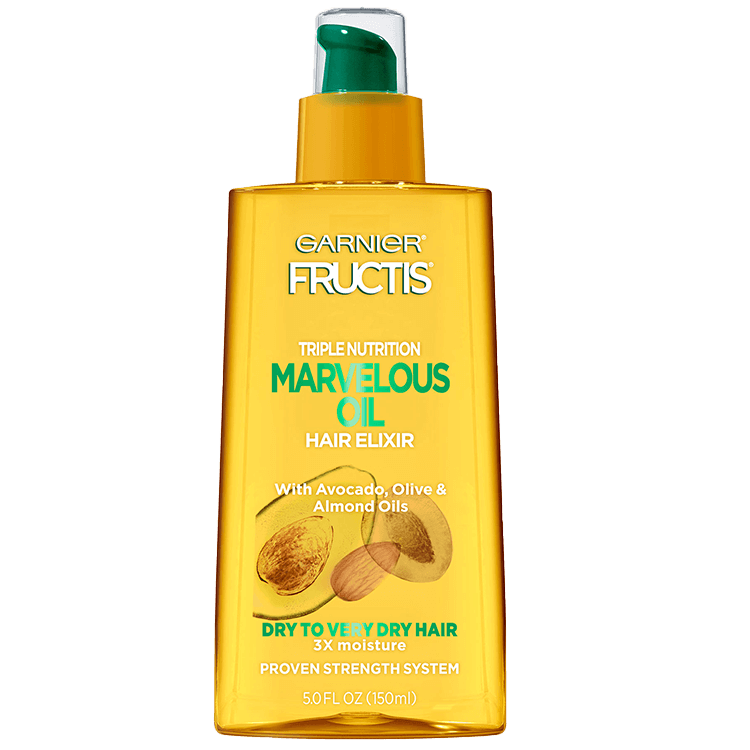 Garnier Fructis
Triple Nutrition Marvelous Oil Hair Elixir
Oil treatment for dry to very dry hair
Rated

5

out of

5
by
SunnyGurl
from
Continuously Discontinued
It 's really disappointing that every now and then and good product is being discontinued.
Date published: 2019-05-06
Rated

5

out of

5
by
Rorodiml
from
Please bring the spray back!!!
I used the miracle oil spray and I have curly hair but this made me have that fresh out the shower look without the frizz and I need this in my life! Please bring it back!!!
Date published: 2019-01-26
Rated

5

out of

5
by
CurlyGirlTexasHumidity
from
Bring it back!
I loved this! Whenever I would straighten my curly hair, this stuff kept it silky all day. The replacement is awful! I have tried more expensive brands, different products, combinations, nothing works like this did. So disappointed that it is discontinued!
Date published: 2018-10-22
Rated

5

out of

5
by
Mimmifoxx
from
Miracle dry oil
I've been using the replacement for Miracle dry oil hair & body and it's ok, but I can get ok anywhere. Please bring back Miracle dry oil I lived what it did to my hair & skin. I will keep looking for something to replace it, but would like to get it back.
Date published: 2018-05-27
Rated

5

out of

5
by
Danibars
from
Please bring this back!
I use this almost exclusively as a primer. Three pumps perfectly preps makes my skin and makes difficult to blend foundations easy to work with. I just saw that it was discontinued and my backup bottle is nearly gone! and have never found a comprable replacement. Are there any left in storage?!
Date published: 2018-05-16
Rated

5

out of

5
by
Zenn
from
WHY! DISCONTINUE??
This has been my go-to because it covered all bases.. face, body, and hair. It's a staple. It's ok to make changes and become better, but it's even better when companies stick with their gems that made them great. I see the responses to the questions. You (ConsumerCare) keep recommending & pushing the new product buy, but you're missing the point. The point is: We like/love the fact that we can use it on body and hair. Recommending the new product is not perking us up. We're not like "Oh Wow, Ok I'll try that". We're like, "Ok, but what about "the body". You're missing that part. Do you realize how busy people are and we adore products that can do more than one thing serve many purposes in one shot + save us money and time?? We can buy a ton of that one product at once because it serves more than one purpose, face, body, and hair. Not everyone has the luxury to sit and put on sixteen different things at once and spend a half a day doing it. Point is, it's a time saver as well as a $ saver, and the product is truly dependable and amazing( speaking from face, body, & hair results). Why get rid of your best commodity because the new people of the world aren't buying as much as you'd like? What about your regulars/ol' faithfuls. The Triple Nutrition Face, Body, Hair product is what brought me to you, what made me try your other products and what kept me as a consumer of your brand. Now you're saying, "hey, try our new (just) hair oil product. Well you have enough of /plenty of "just" hair products, your brand is one of the few if not the only that has a product that is multi-purpose. That's what made you stand out from the rest like you. Now you're just like the rest. Just today, I took the time out to see who else had a 3 in 1 product like Triple Nutrition Face, Body, Hair..and no luck. The closest I came were baby products. PLEASE! BRING BACK Triple Nutrition Face Body Hair, or make a new one. I guess I'm now on a quest to find another and probably a new brand of products. Be well.
Date published: 2018-05-07
Rated

5

out of

5
by
Lily2
from
BRING THIS BACK. THE REPLACEMENT' IS INCOMPARABLE
I literally went on ebay and bought 5 bottles of the Miracle Dry Oil after it was discontinued. I tried the new hair elixir for weeks hoping it would be a replacement and I was never more disappointed. Garnier was always my go to hair care brand and the new product did not live to any expectations. This Dry Oil was the most amazing thing and it's such a shame it was discontinued. I will continue to use my stock until it runs out and if Garnier has not brought it back, I'll simply have to find another brand. The replacement hair elixir is an utter disgrace for us devoted Garnier fans who knew the works of the Dry Oil
Date published: 2018-03-25
Rated

5

out of

5
by
MaraElena
from
Please Bring back the Miracle Dry Oil
I loved this oil! I use it on my hair, face, and body. It is the best product ever made. Believe it or not, it helps reduce fine lines and wrinkles.
Date published: 2018-03-20