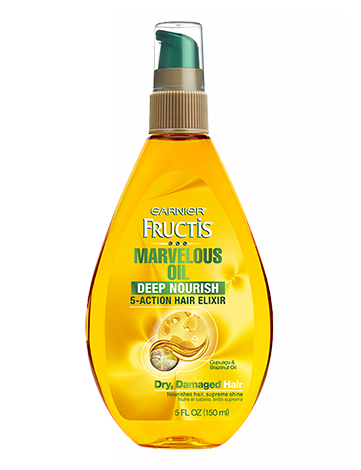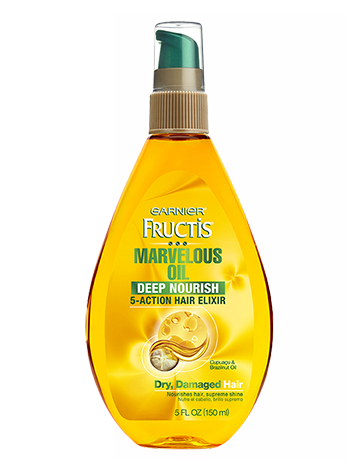 Garnier Fructis
Marvelous Oil Deep Nourish
PRODUCT INFORMATION:
We no longer offer this product, we have something even better to meet your needs. Find it here.
This hair oil treatment for dry, damaged hair, with custom-blended Cupuaçu & Brazilnut oil, nourishes and helps repair.
How to use:
Marvelous Oil can be used in any of 5 ways! Try a different use each day.

1. Pre-Shampoo Treatment: Apply to hair (wet or dry) before shampooing to help prime hair locks for gentle cleaning.
2. Boost Conditioning: Add 1 or 2 drops to your conditioner to help get rid of pesky knots and tangles.
3. Blow-Dry Protector: Apply to damp to help protect when blow drying.
4. Finish With Hi-Watt Shine: Apply to damp or dry ends to help smooth split ends and tame flyaways.
5. Treat Hair Overnight: To restore softness while you sleep, work into wet or dry hair and leave in overnight.
Ingredients:
Cyclopentasiloxane, Dimenthiconol, Parfum / Fragrance, Bertholletia Excelsa / Bertholletia Excelsa Seed Oil, Theobroma Grandiflorum Seed Butter, Linalool, Limonene, Benzyl Alcohol, Benzyl Salicylate, Citronellol, Carrot Oil / Beta-Carotene F.I.L. D162575 / 2
Rated

5

out of

5
by
Bichengee
from
A loss of a great product
This hair oil was the almost amazing hair product I've used in my life I'm so utterly disappointed that you have decided to discontinue this product please do consider bringing it back, thank you
Date published: 2019-08-11
Rated

5

out of

5
by
Wrowland931
from
The best EVER!
I can not tell you how upset I am. I'm out of this oil, went to buy more and .....NOPE! Why, why, why, would you discontinue this? This oil was the most perfect oil for my hair that I have ever found and now it's gone forever. You just ruined my night and my hair, thanks a lot Garnier.
Date published: 2019-04-20
Rated

5

out of

5
by
CAHD
from
Why mess with a great thing???
Cannot believe you discontinued this item, please please bring it back!! My daughter, her friend, and I all love this product!! So disappointed that obviously so many people love it and you got rid of it!!
Date published: 2019-04-04
Rated

5

out of

5
by
calsavaribia
from
AWESOME!!
that's the best oil I've ever tested!!! Pleeease!! consider bringing it back!!!! ❤️❤️❤️
Date published: 2019-03-08
Rated

5

out of

5
by
Crispy16
from
Please bring this product back!
This was a great product for me, and based on all the other comments a lot of other people. Please consider bringing it back!
Date published: 2019-02-05
Rated

5

out of

5
by
BCrocks2010
from
This oil is/was incredible
Please reconsider this product. It's the best. I have wavy hair and I color it. This product was the greatest at restoring moisture to my hair. Say it isn't so. Please don't discontinue!!
Date published: 2018-11-26
Rated

5

out of

5
by
Carol23
from
Great product! How can it be gone!
Maybe it took a while to catch on? For me, I bought it for my son to try about 2 years ago. He has thick wavy hair that tends to frizz in the summer. Being a guy, he didn't try it. I came across it earlier this year in the closet and, even though my hair is fairly straight, it still has a few unwelcome waves and frizzy spots. Well, my hair has never been so soft to the touch or so easy to smooth. I recommended it to a friend who has a big frizz problem in the summer and when we couldn't find it in the stores I got her a bottle from Amazon and learned it is no longer made. I'm devastated for both of us - me for loosing the soft, silky hair and for her lossing the control she finally got. I have 2 other Garnier Oil products sitting on my shelf and neither are nearly as good as Mavelous Oil. I think it should be put back on the production line. I know at least 3 more people that could really use it. And they problem know 4 more, and so on, and so on.
Date published: 2018-10-02
Rated

5

out of

5
by
Becca1
from
I AM DEVASTATED THIS WAS DISCONTINUED
I have been using the same bottle of this product for almost five years because I only used a little bit, and I finally just ran out and find out that it is discontinued. I am devastated, it make my hair beautiful and soft. My life is ruined and I don't know what to do.
Date published: 2018-04-02