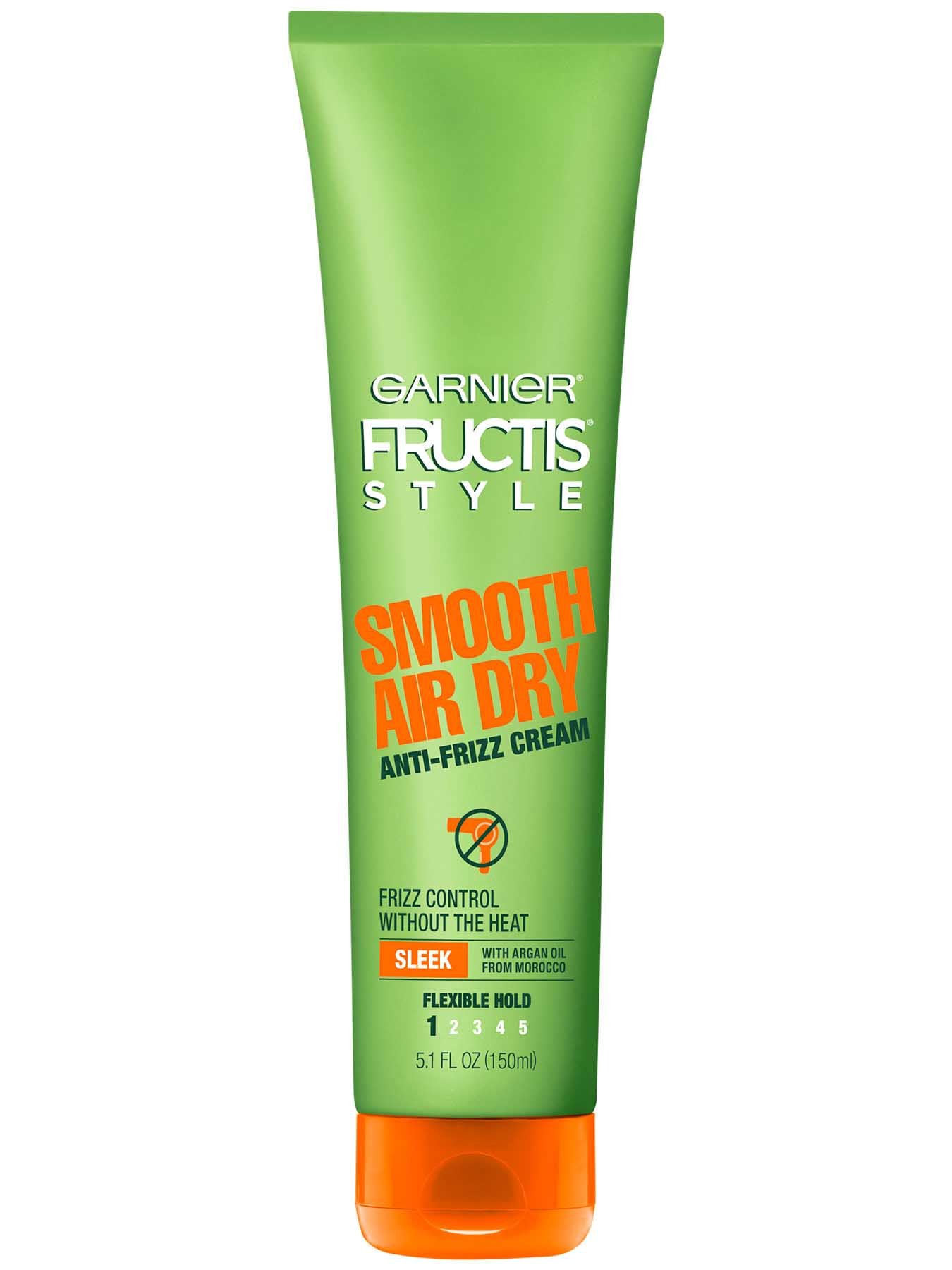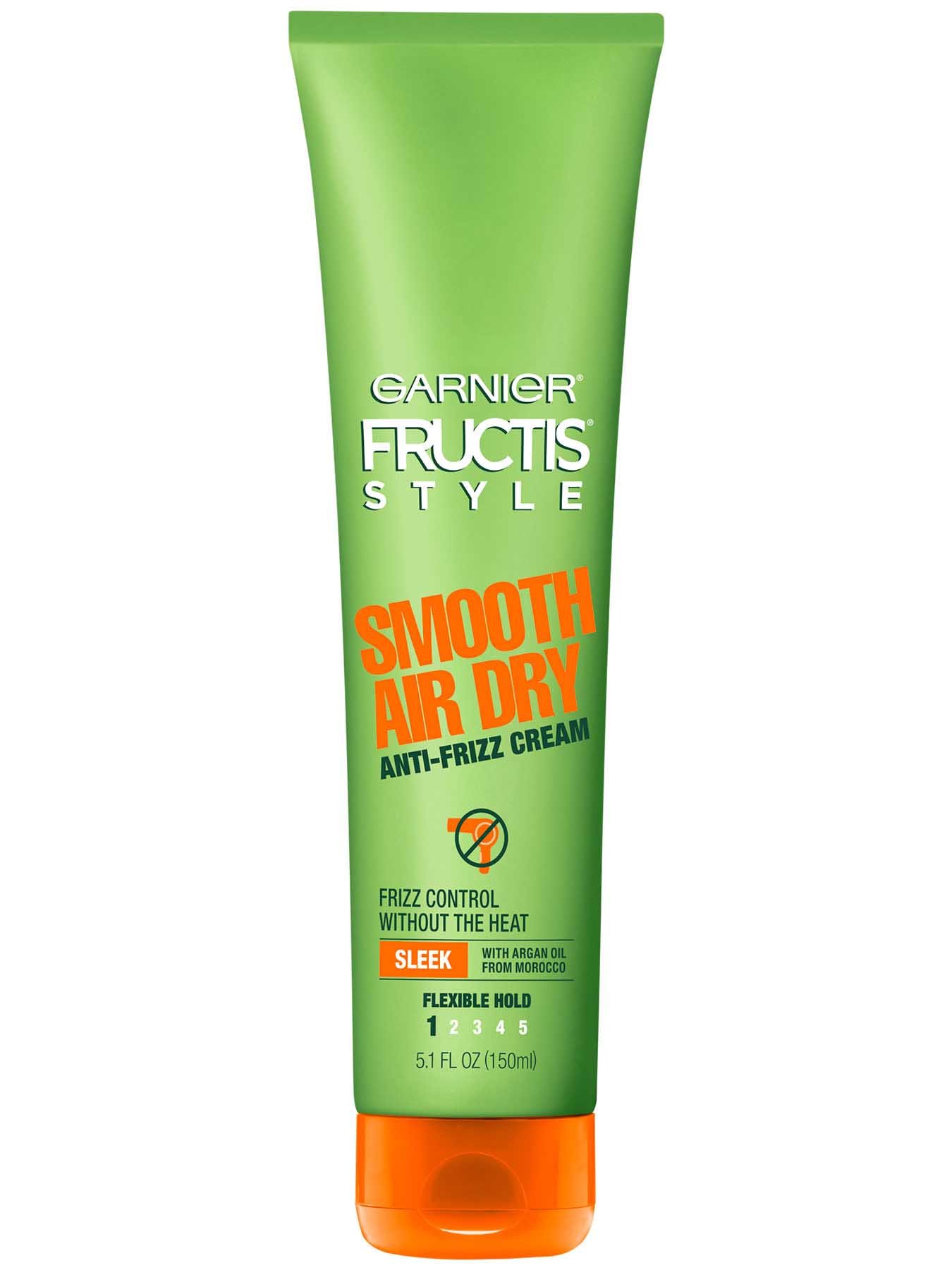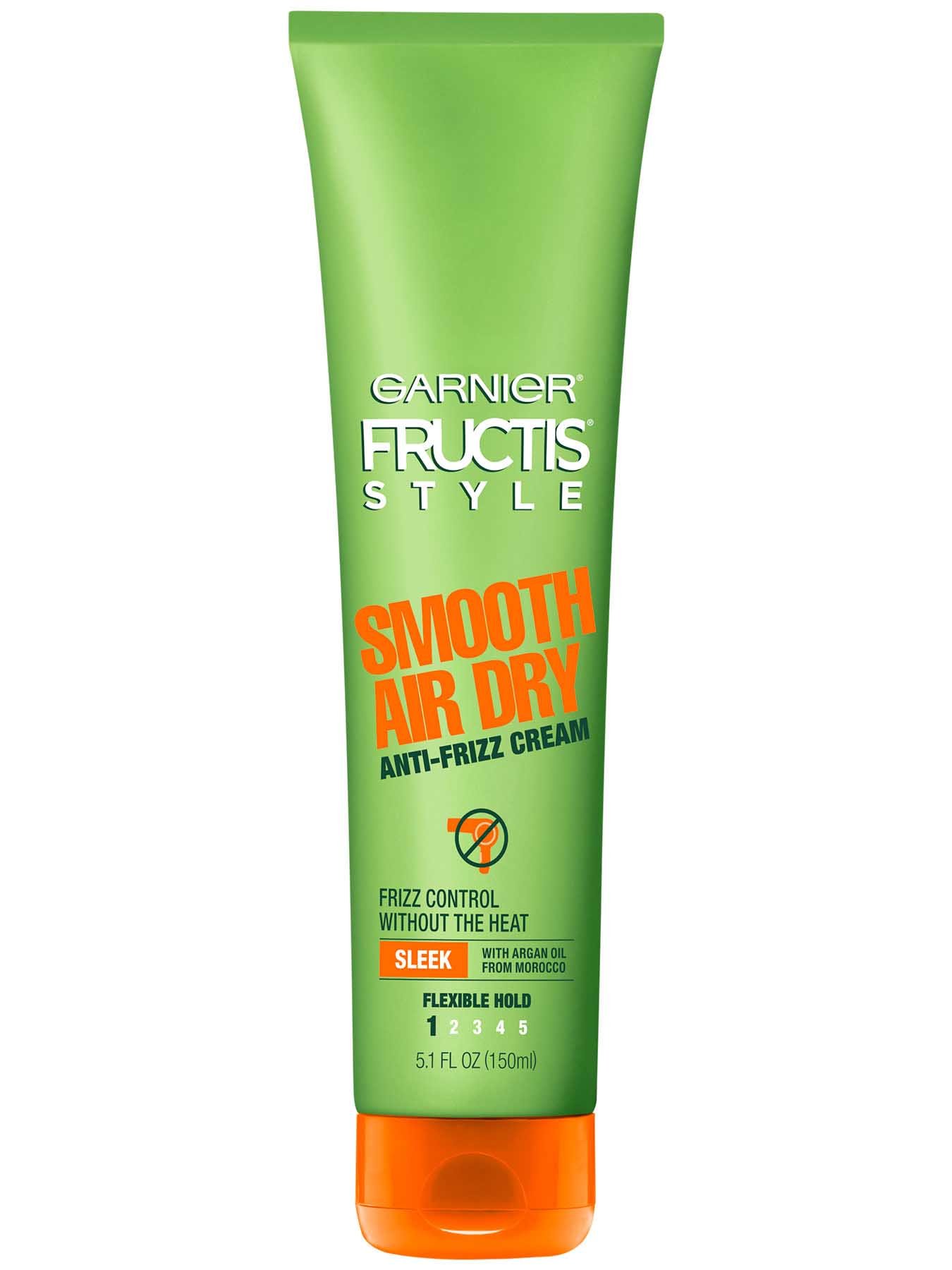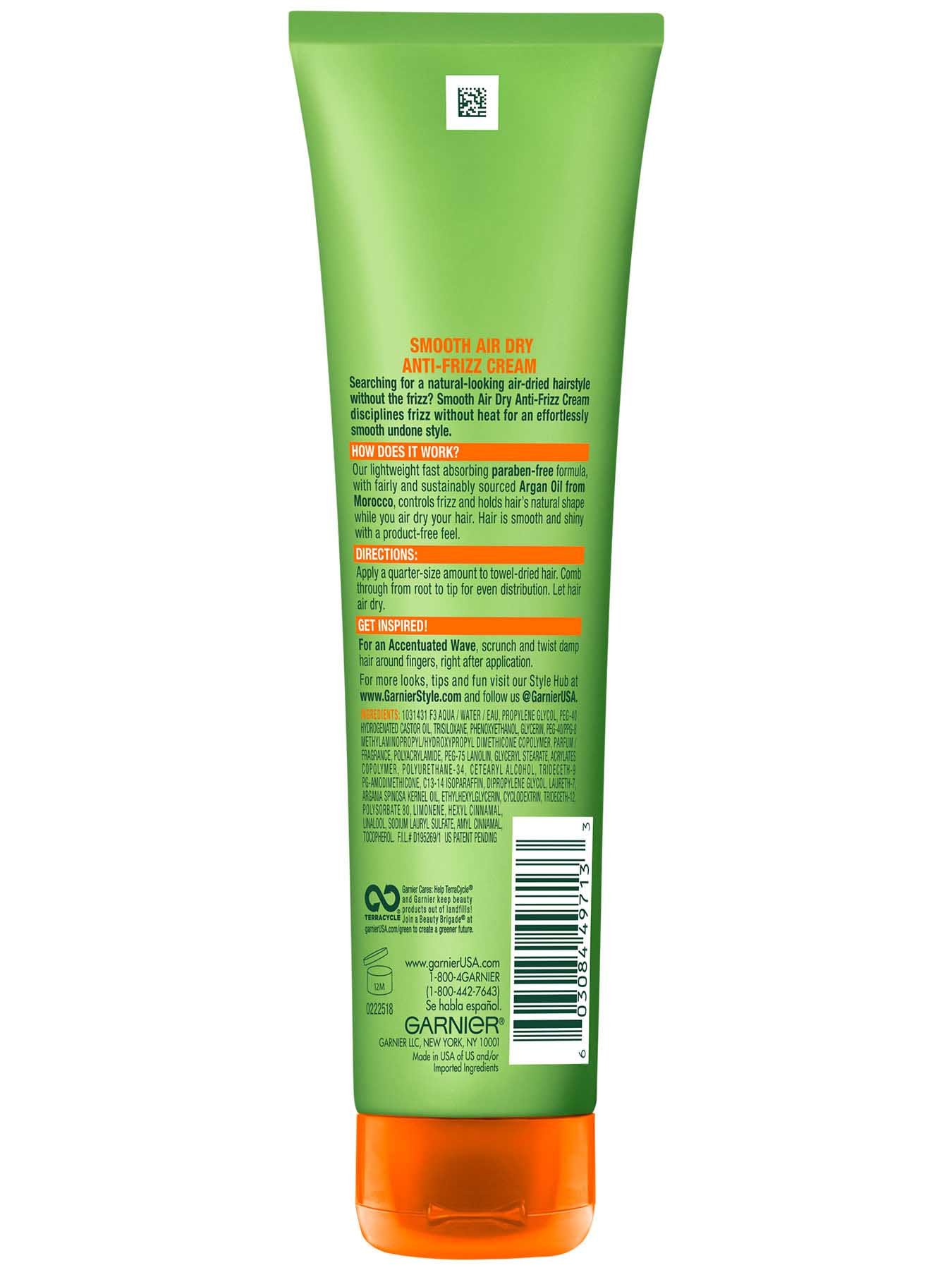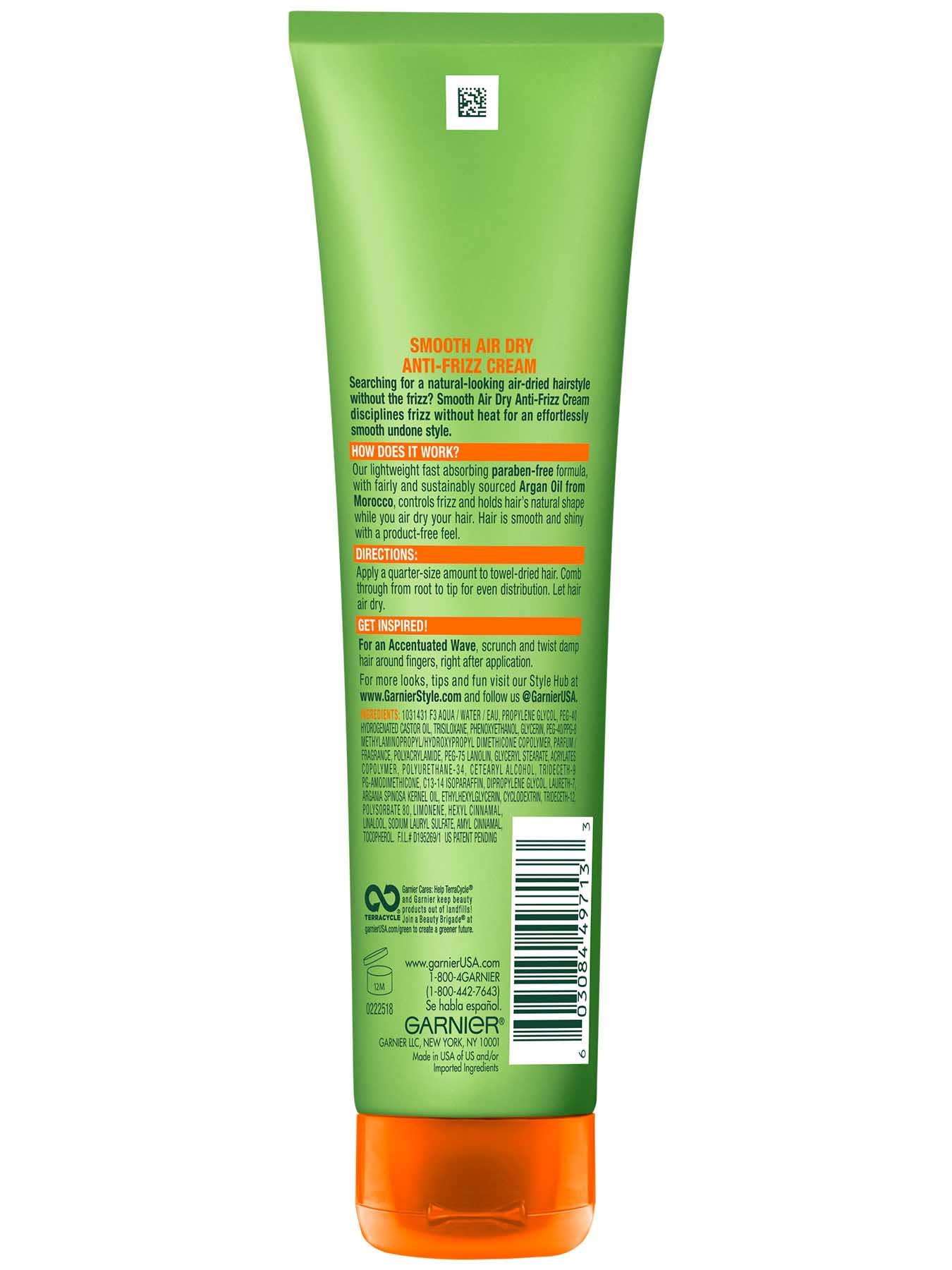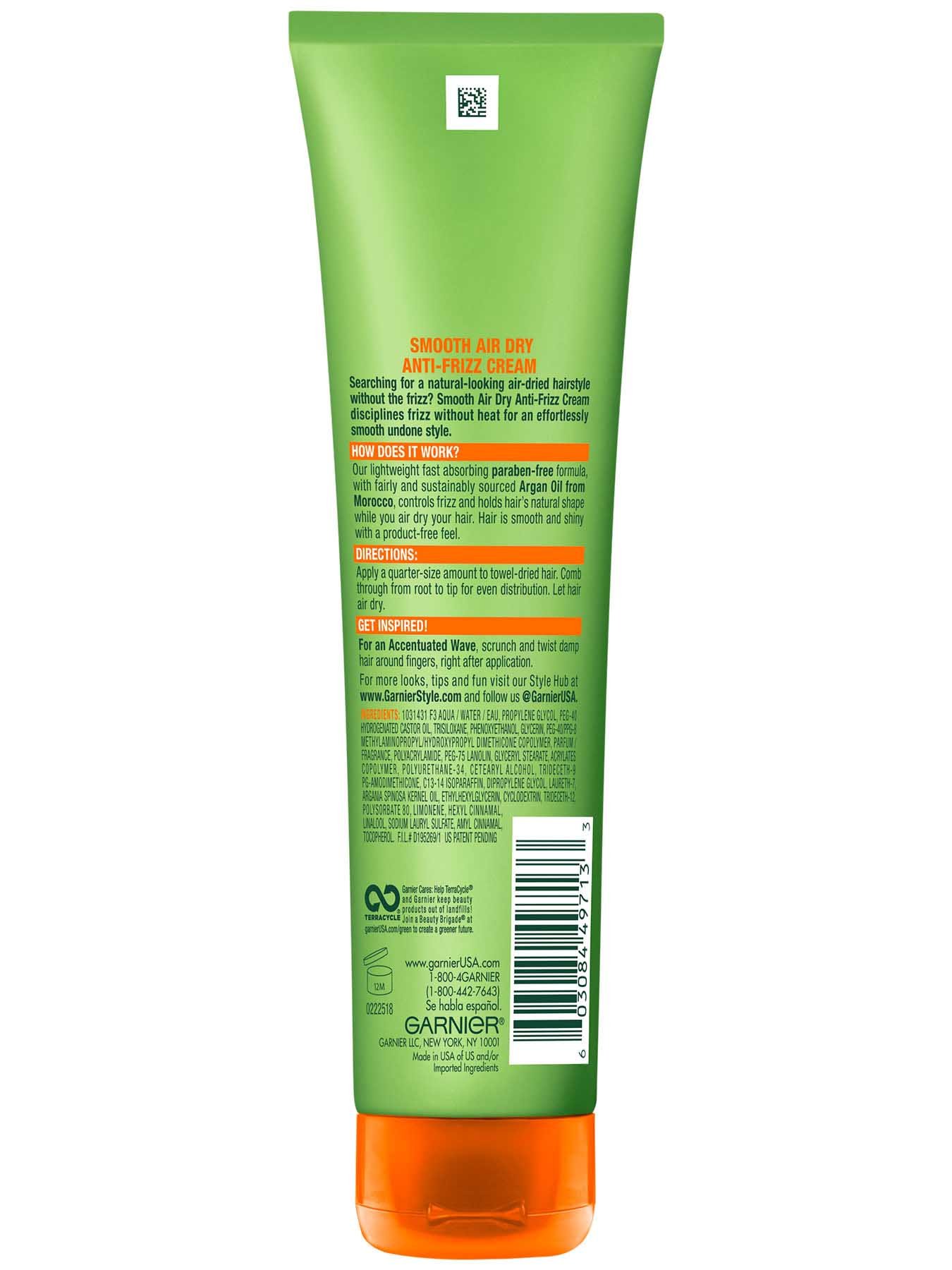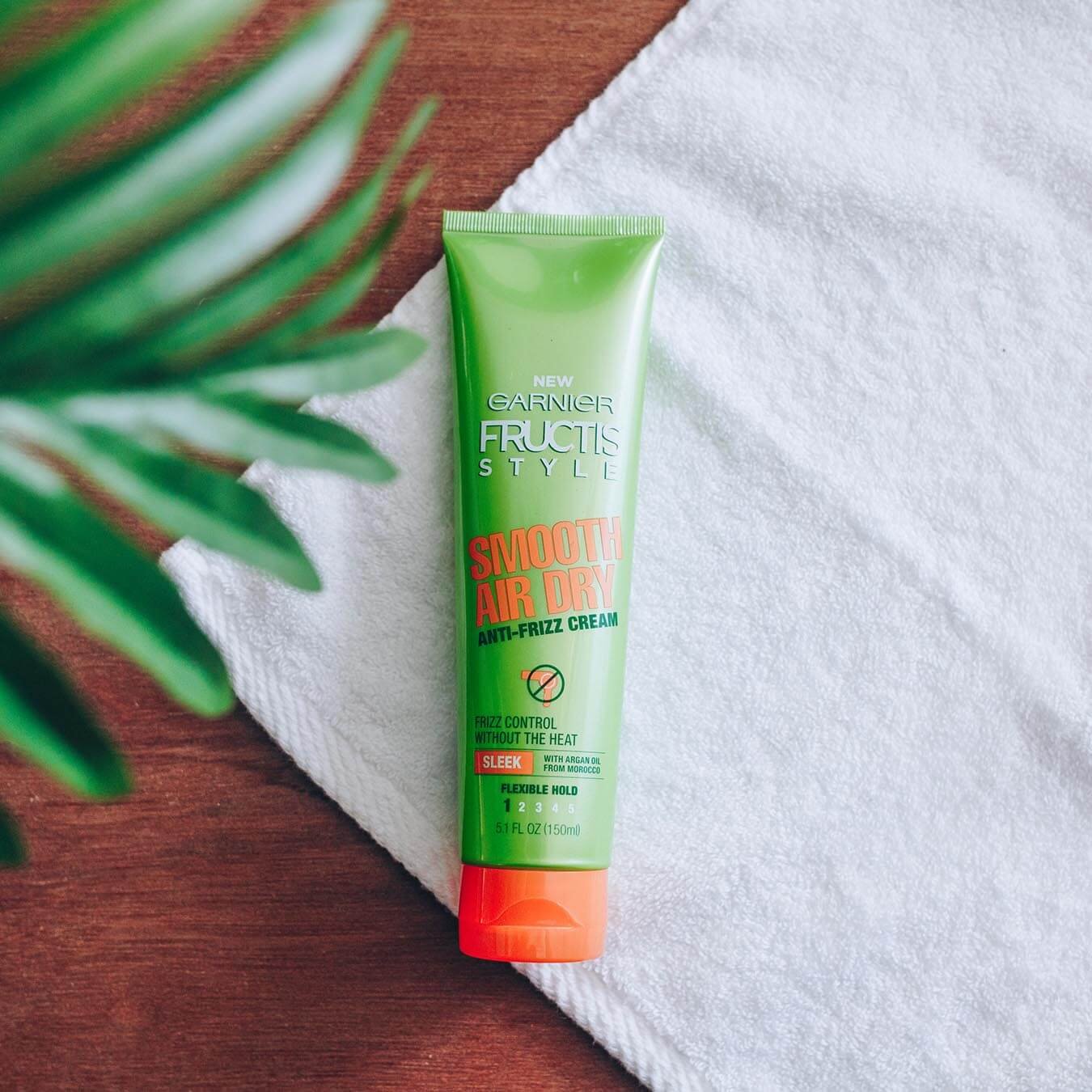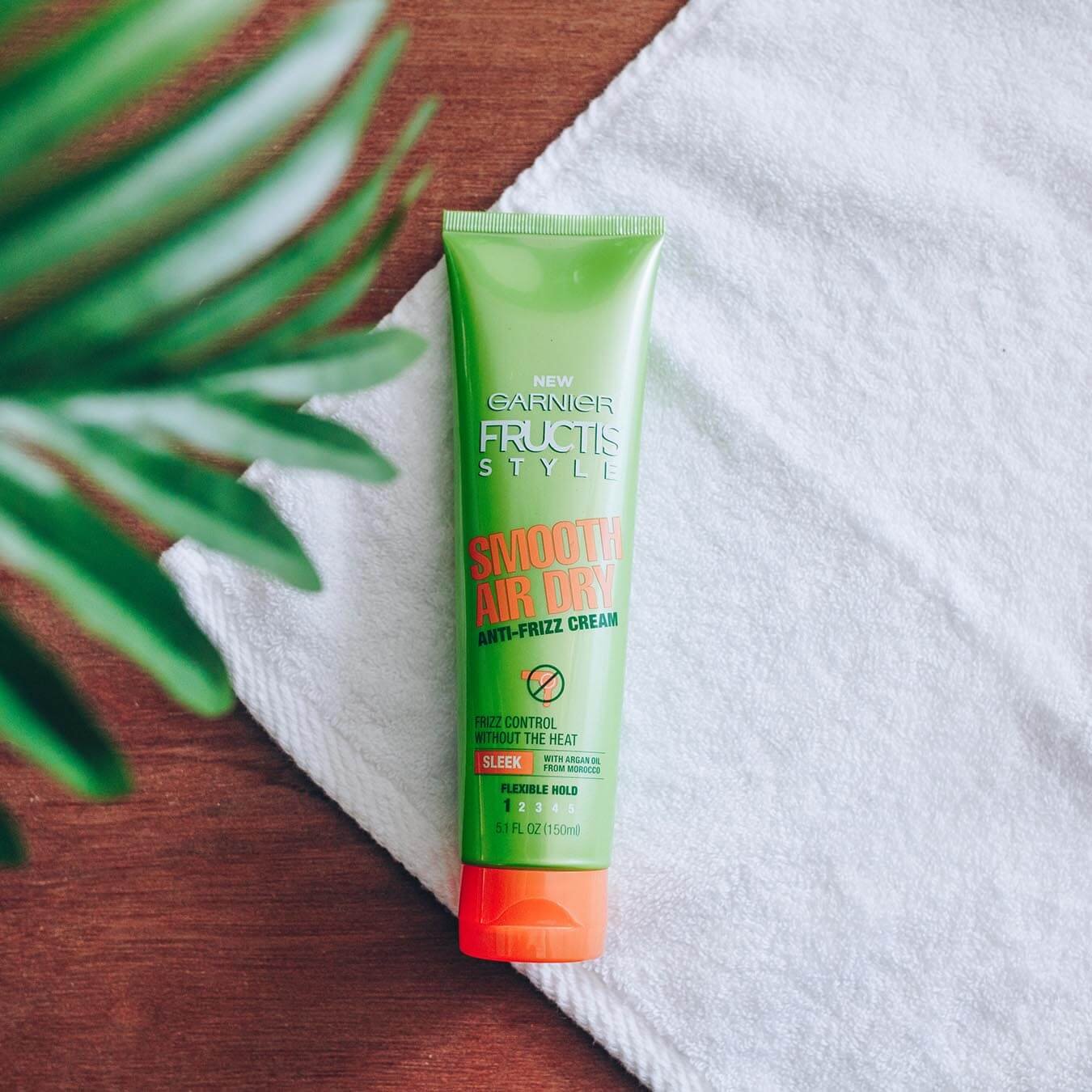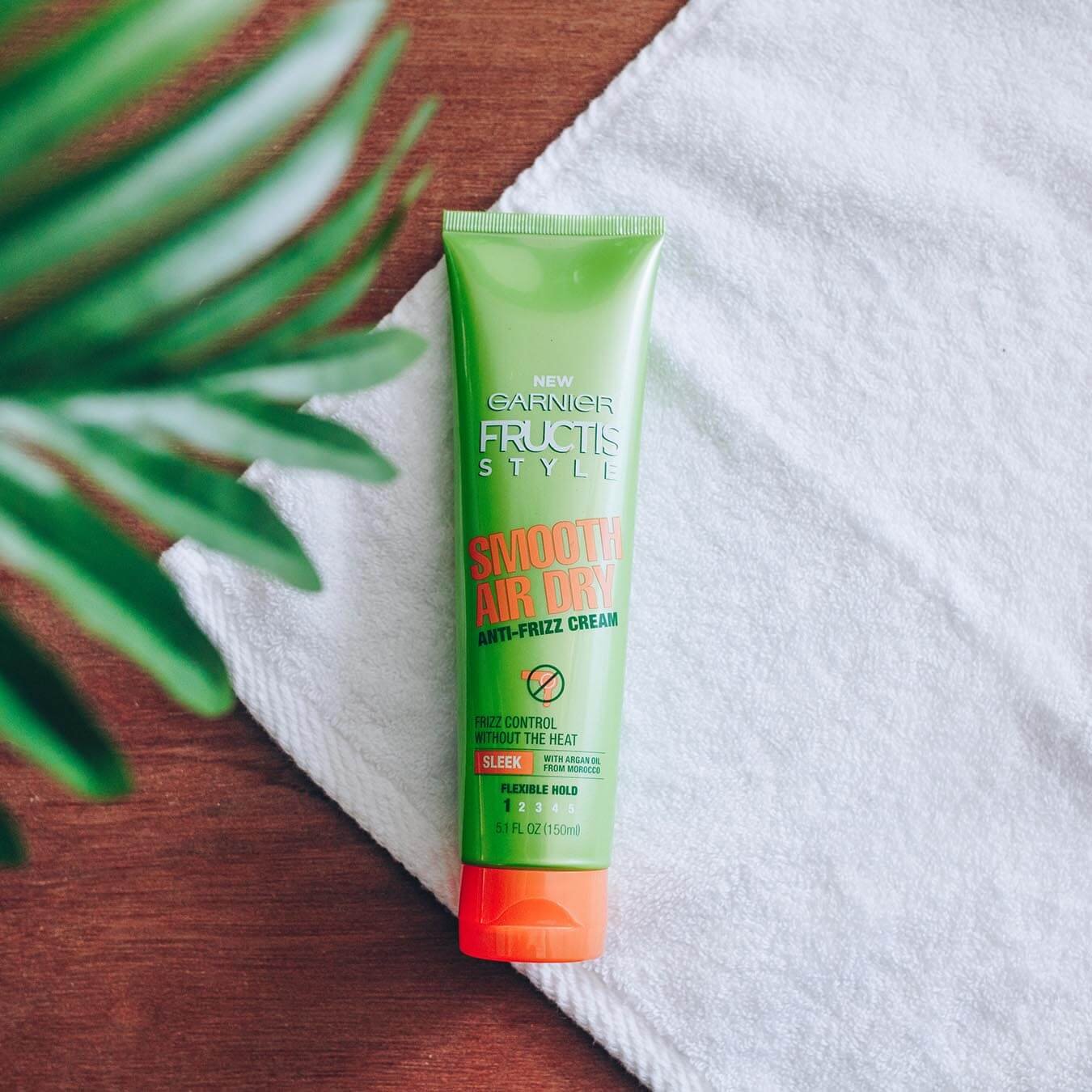 Smooth Air Dry Anti-Frizz Cream
Garnier Fructis
$4.29 MSRP
Anti-frizz cream for a natural-looking air-dried hairstyle
PRODUCT INFORMATION:
Searching for a natural-looking air-dried hairstyle without the frizz? Smooth Air Dry Anti-Frizz Cream disciplines frizz without heat for an effortlessly smooth undone style.

HOW DOES IT WORK
Our lightweight fast absorbing paraben-free formula, with fairly and sustainably sourced Argan Oil from Morocco, controls frizz and holds hair's natural shape while you air dry your hair. Hair is smooth and shiny with a product-free feel.

GET INSPIRED!
For an Accentuated Wave, scrunch and twist damp hair around fingers, right after application. For more looks, tips and fun visit our Style Hub.
How To Use
Apply a quarter-size amount to towel-dried hair. Comb through from root to tip for even distribution. Let hair air dry. Can also be used on dry hair to add more control.
Ingredients:
1031431 F3 AQUA / WATER / EAU, PROPYLENE GLYCOL, PEG-40 HYDROGENATED CASTOR OIL,TRISILOXANE, PHENOXYETHANOL, GLYCERIN, PEG-40/PPG-8 METHYLAMINOPROPYL/HYDROXYPROPYL DIMETHICONE COPOLYMER, PARFUM / FRAGRANCE, POLYACRYLAMIDE, PEG-75 LANOLIN, GLYCERYL STEARATE, ACRYLATES COPOLYMER, POLYURETHANE-34, CETEARYL ALCOHOL, TRIDECETH-9 PG-AMODIMETHICONE, C13-14 ISOPARAFFIN, DIPROPYLENE GLYCOL, LAURETH-7, ARGANIA SPINOSA KERNEL OIL, ETHYLHEXYLGLYCERIN CYCLODEXTRIN, TRIDECETH-12 , POLYSORBATE 80, LIMONENE, HEXYL CINNAMAL, LINALOOL, SODIUM LAURYL SULFATE, AMYL CINNAMAL, TOCOPHEROL. F.I.L D195269/1 US PATENT PENDING
Wash
Garnier Fructis
Sleek & Shine Shampoo
Shampoo for frizzy, dry, unmanageable hair
Condition
Garnier Fructis
Sleek & Shine Conditioner
Conditioner for frizzy, dry, unmanageable hair
Style
Garnier Fructis
Smooth Air Dry Anti-Frizz Cream
Frizz control without the heat
Rated

5

out of

5
by
Joezjoez
from
My favorite product for years
I love this product. It smells good, doesnt leave a residue. But i cant find it in stores anywhere. Nothing ive tried works the same. Wish more store would carry it.
Date published: 2020-11-21
Rated

5

out of

5
by
kendallm
from
Seriously my favorite hair product ever!
Unfortunately, I think they've discontinued this product as I am only able to find it online at Walmart. I used every last drop of my final bottle, and this product legit dries my hair so quickly (although my hair is straight it's very thick and air drying takes forever)! I shower at night usually a few hours before bed and it's mostly dry by the time I go to sleep. When I wake up in the morning, my hair is soft and smooth with little to no frizz! For the remaining frizz, just take a small amount of the product and apply it to the frizzy strands and you're good to go. Buying this stuff in bulk on Walmart's website while I still can... Garnier Fructis, PLEASE bring this product back!
Date published: 2019-05-30
Rated

5

out of

5
by
Nina71
from
Love It, But Cannot Find it Anywhere!!!
I have been using this and just ran out. I cannot find this product anywhere anymore. This was my after shower and in the morning hair must! I love it. My hair was always frizzy and I was resigned to the fact that it always will be uncontrollable. I found this on a whim and tried it and have used it ever since. Now I cannot find it. Help!!! Where can I buy this product? What stores??
Date published: 2019-02-28
Rated

1

out of

5
by
joanne27
from
Don't waste your money
Based on what the product claims to do and the reviews I read here, I decided to give this product a try. It doesn't cost much, but it doesn't do anything you'd expect it to do. My hair was neither smooth nor anti-frizz after use. I let it air dry, I let it air dry with rollers, and I let it air dry in a twist. In each attempt, my hair frizz was no better with use than it is without it, and my hair also had an "icky" feel after a few hours that it doesn't have without the product. So, net loss. We all dream of hair that will will look sleek and resist humidity even without chemical treatments and/or blow drying, so we'll keep falling for products that claim they can make our dreams come true. This one doesn't, and it's going right into my garbage can.
Date published: 2018-08-23
Rated

5

out of

5
by
Catsndogs
from
Great for my coarse, short hair
I have thick, coarse, somewhat dry hair. I am older and like to avoid blow drying, especially in warm weather. I rub a dab of this between my hands and run through my short hair, then comb it in the style I prefer. As long as I'm not too active, it air dries exactly that way. The very slight stiffness disappears when I brush it. It leaves my crazy hair in order, no frizz, with plenty of body and shine. I've been trying find something like this forever!
Date published: 2018-08-07
Rated

2

out of

5
by
Blahzel
from
Bring back SLEEK PRIMER STYLE PREP
This product only works when there isn't humidity in the air. The SLEEK PRIMER STYLE PREP worked all the time... Bring it BACK!!!! You don't even have my hair type on the bottom!!!
Date published: 2018-04-21
Rated

5

out of

5
by
Nikki87
from
Amazing Smooth Air Dry Anti-Frizz Cream!
I recently received a free sample of this Garnier Smooth Air Dry Anti-Frizz Cream to try an tame my unruly mane! I was very impressed with this creams ability to actually reduce my frizz! After I took a shower I applied this anti frizz cream as directed, as my hair was drying naturally I could see that my frizz was very much under control! There were no fly aways an it lasted for days after! this cream is rich an thick, it coats every straind from root to ends! It smells incredible! It feels incredible! My hair was shiny, soft, an smooth! I'm definitely going to use this everyday! This has left my hair very manageable an frizz free! My hair and scalp feel amazingly revitalized! I highly recommend everyone try this the results an benefits are off the charts!
Date published: 2018-04-12
Rated

1

out of

5
by
Severaa
from
Doesn't work
I bought this about 3 weeks ago and I use it almost every time I decide to not straighten my hair and man this stuff just does not work at all. My hair still comes out frizzy and poofy as heck. So good job I guess
Date published: 2018-03-25