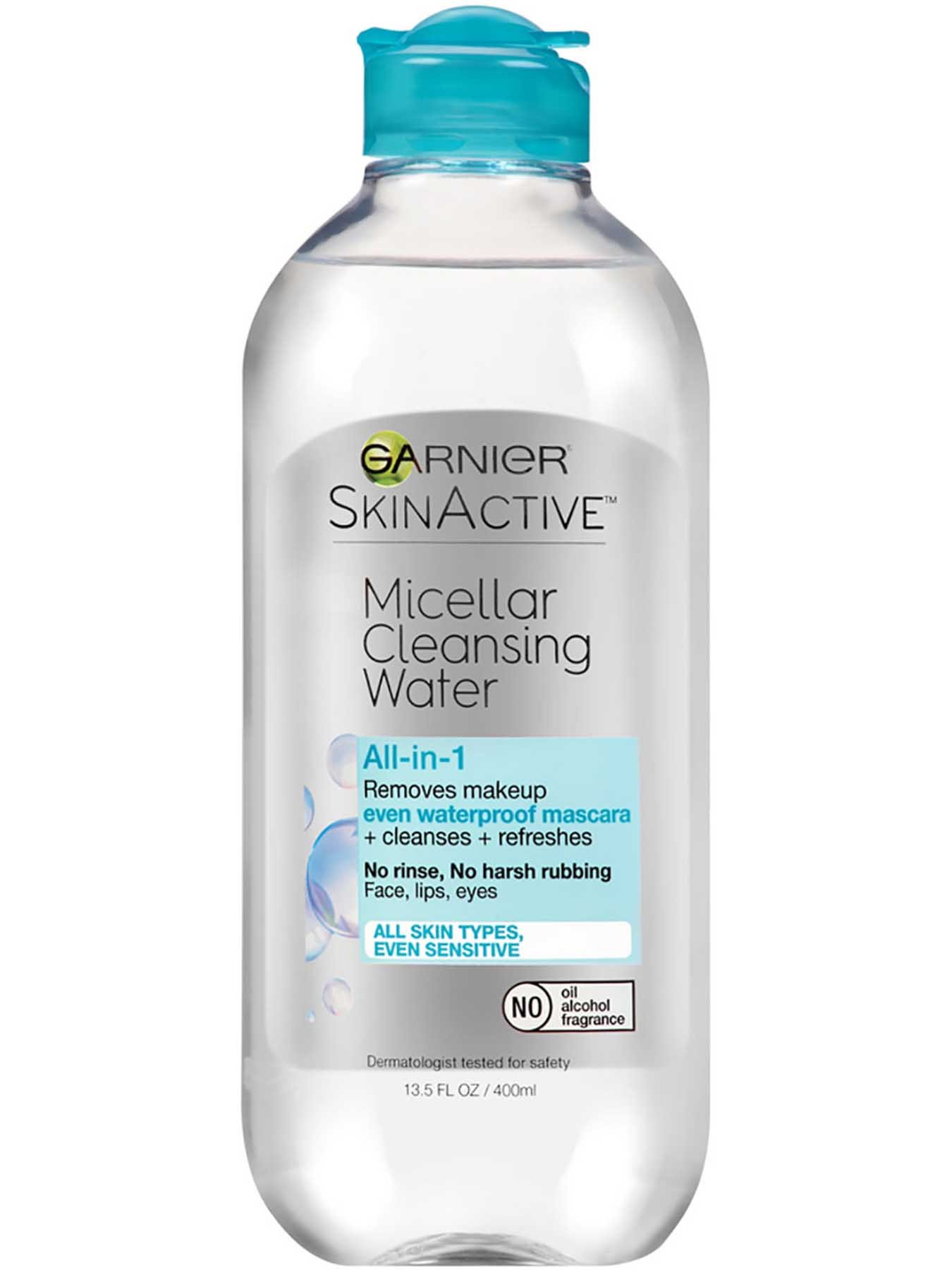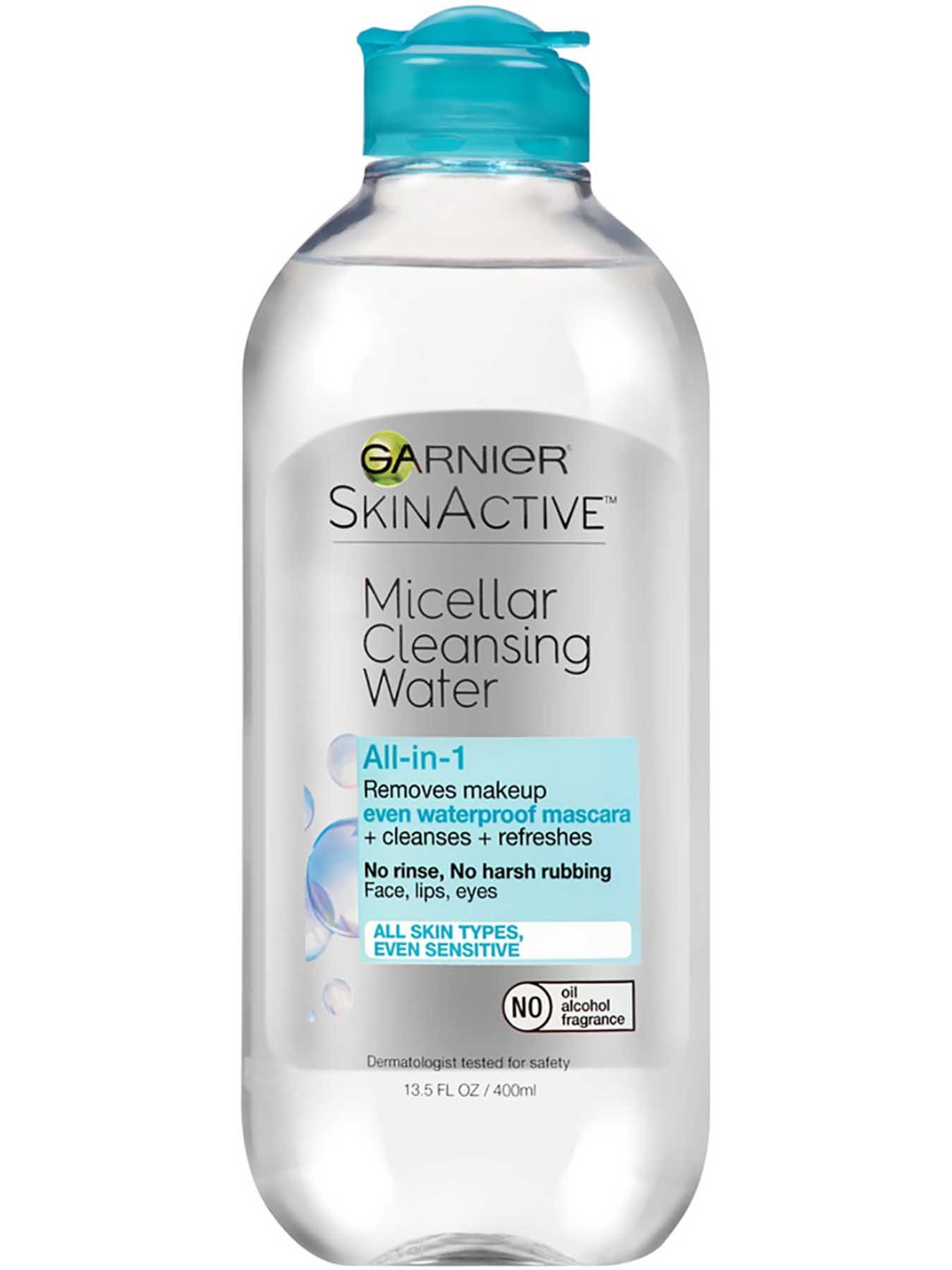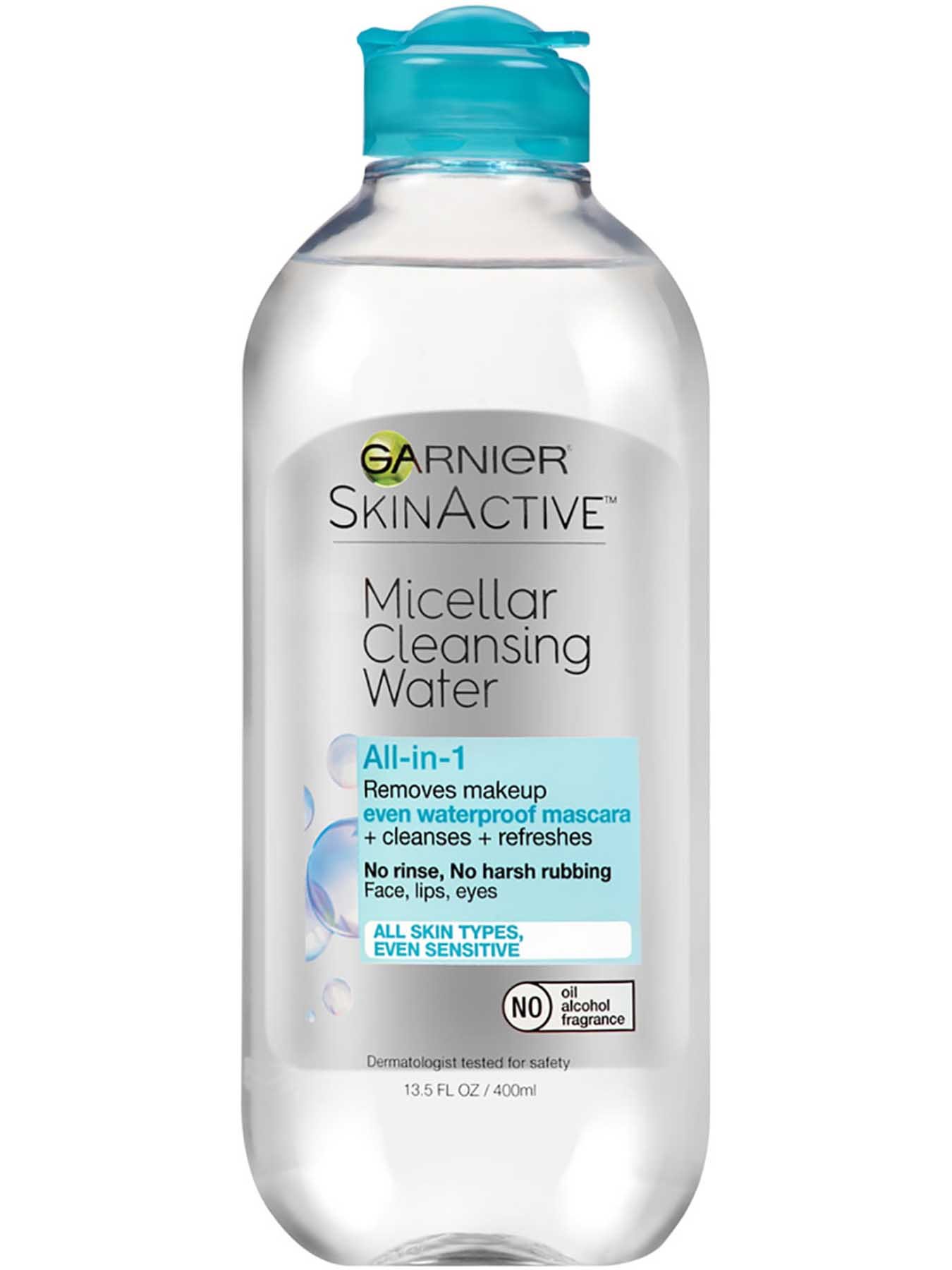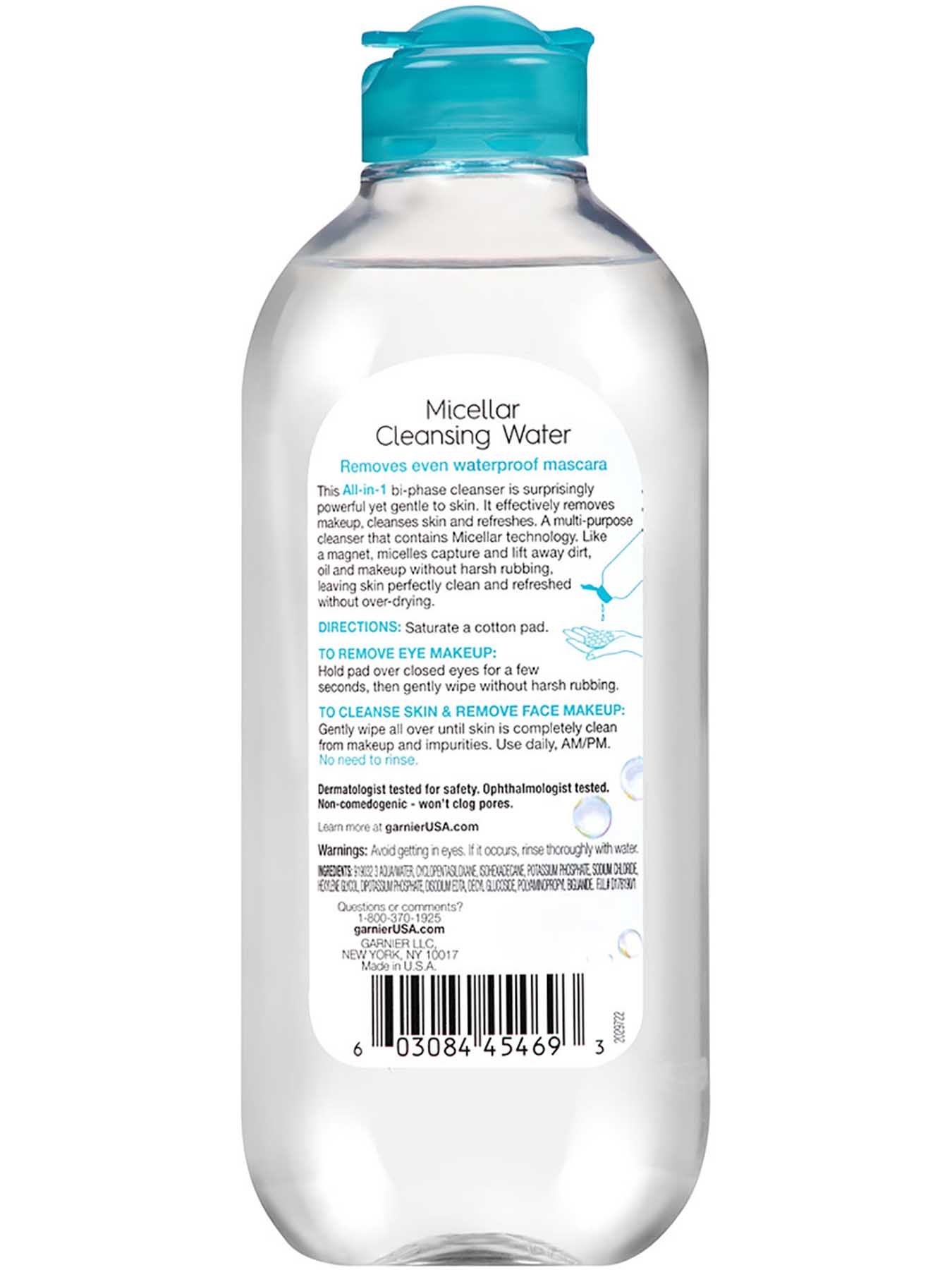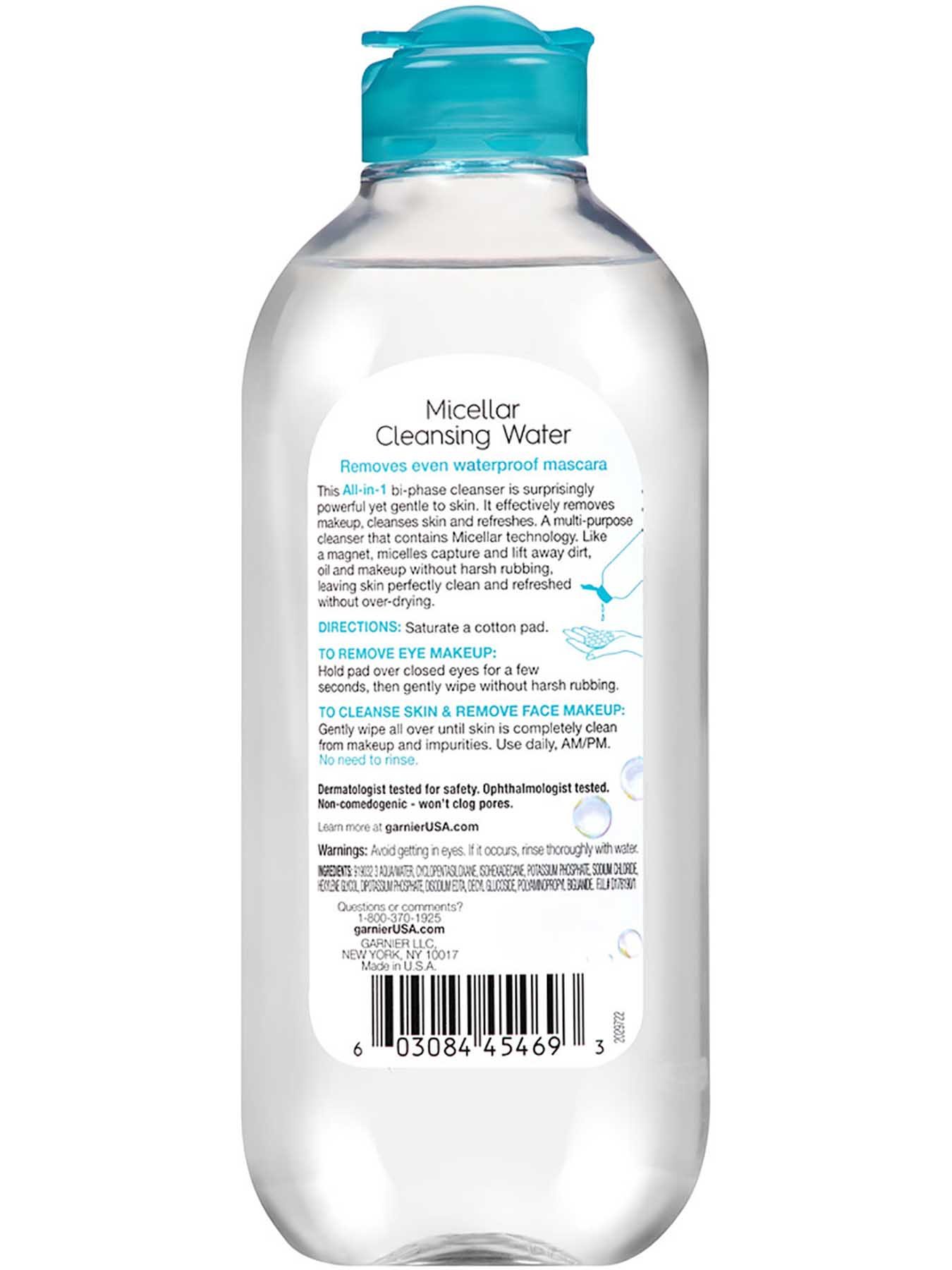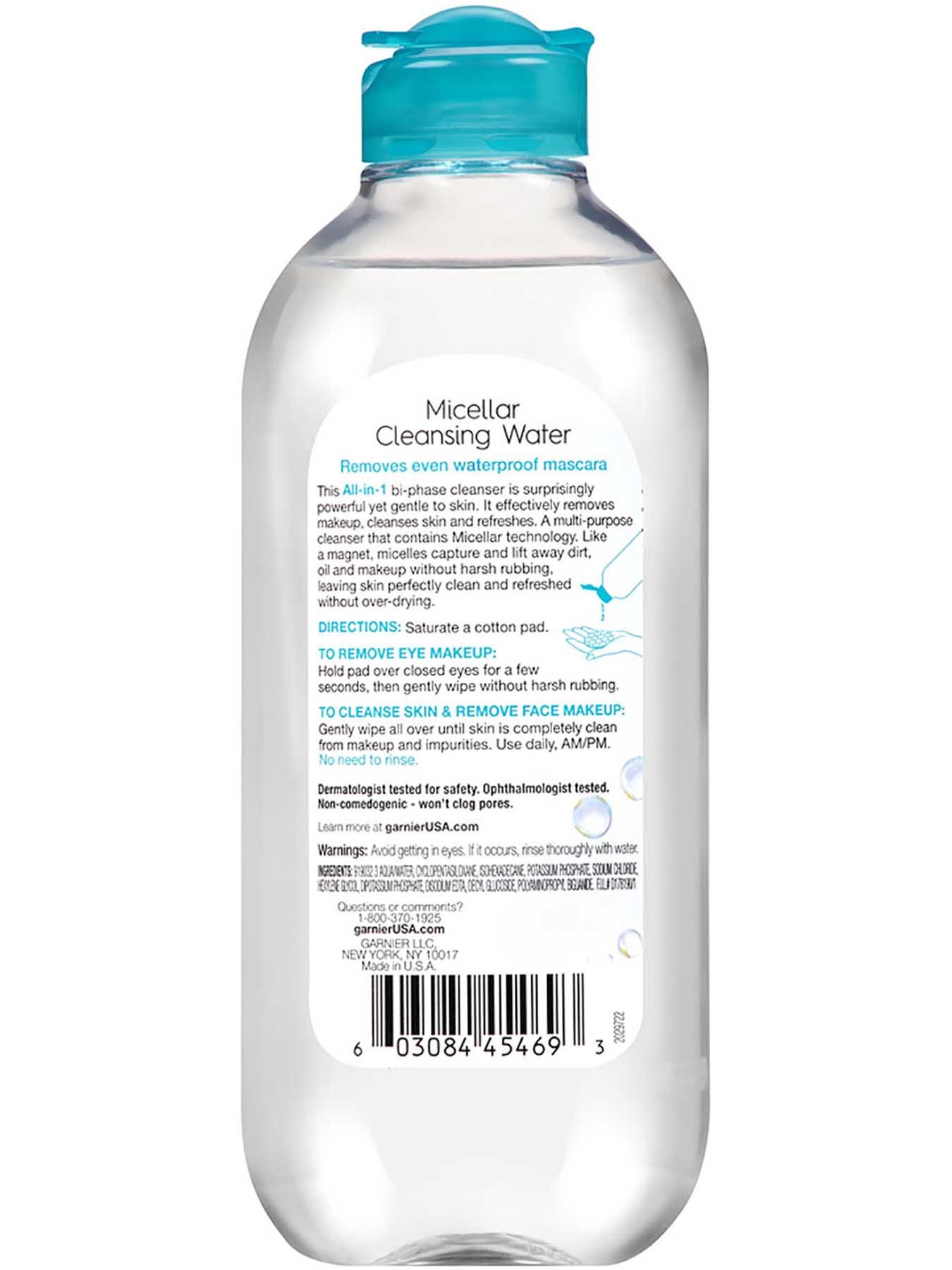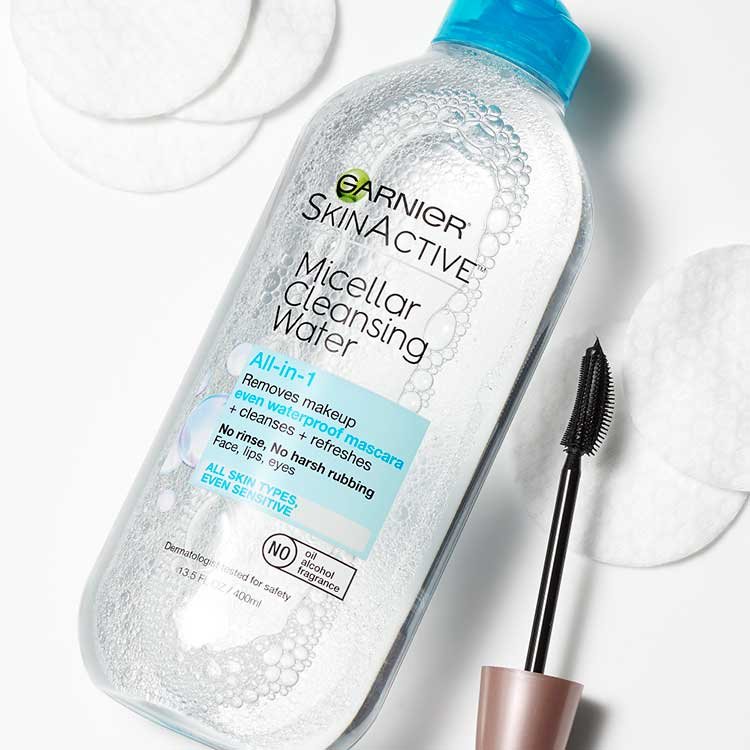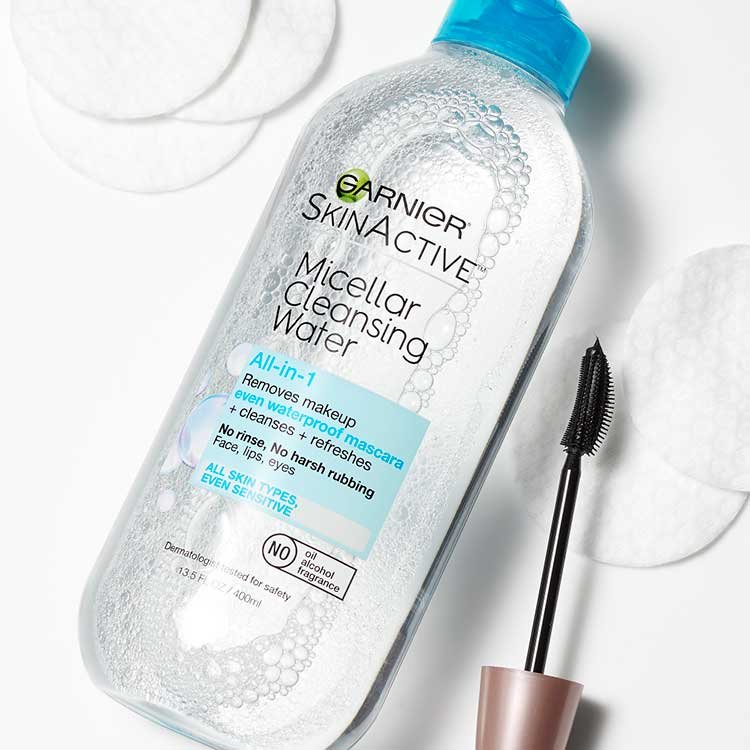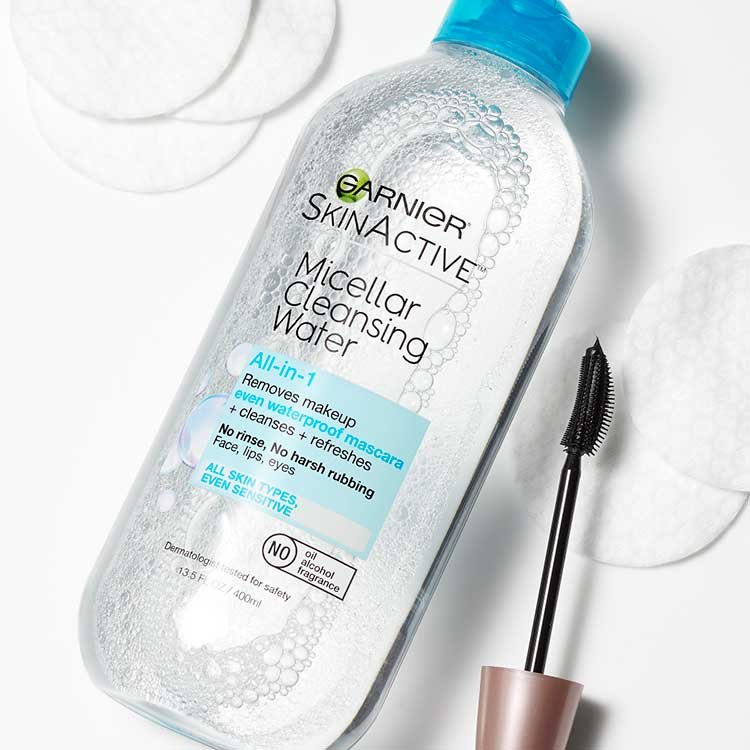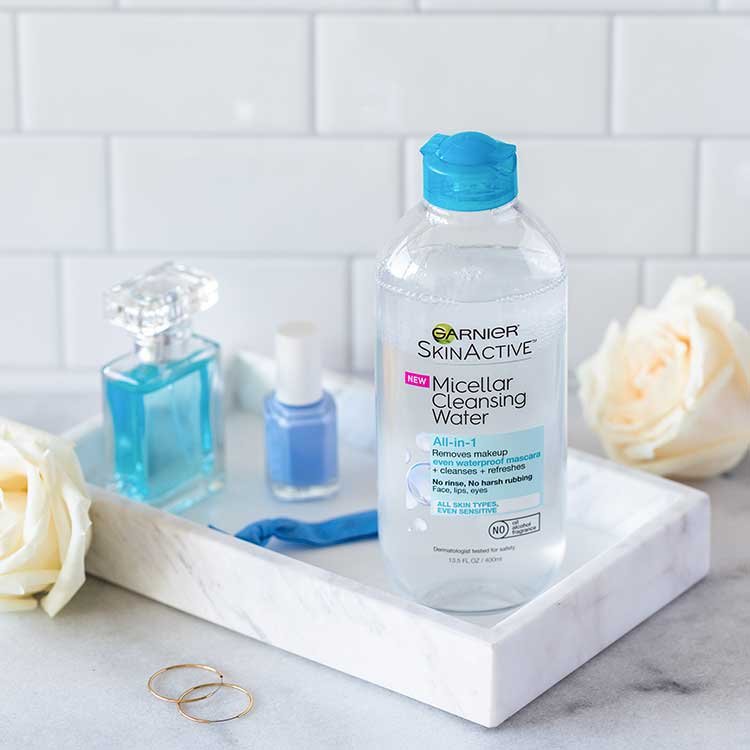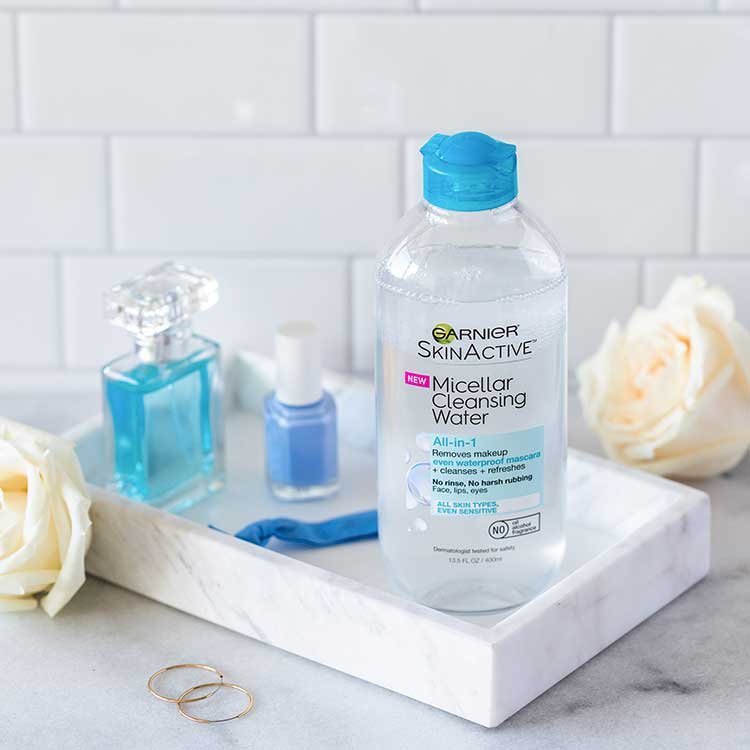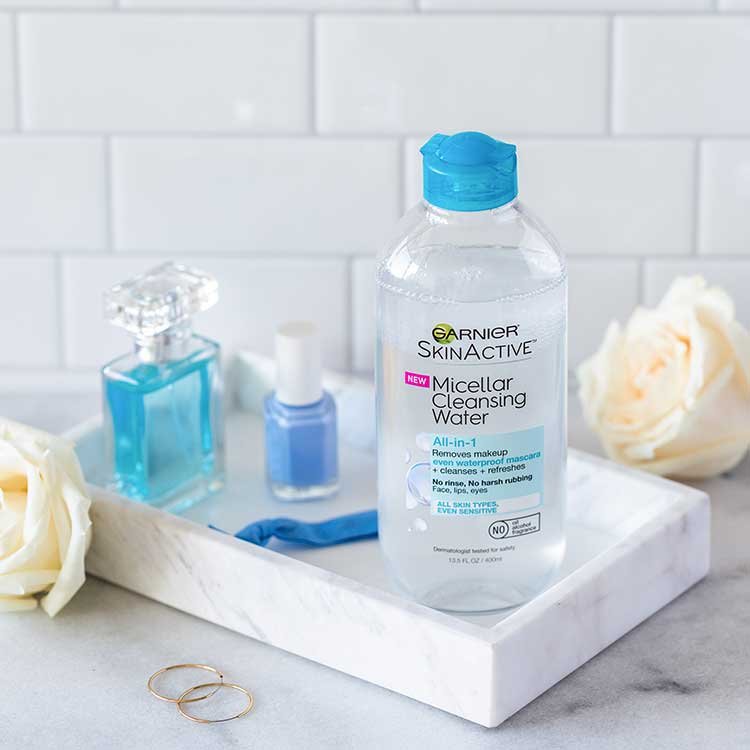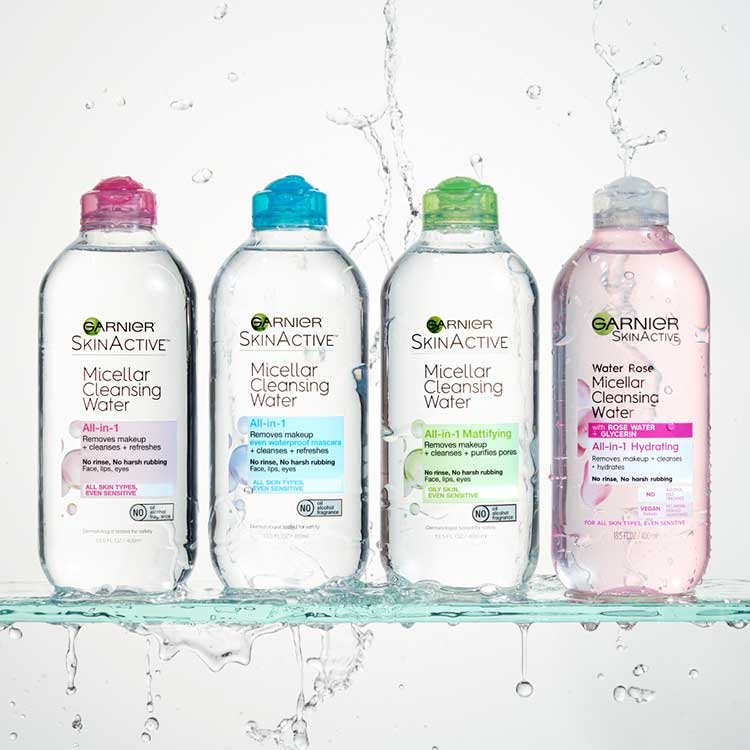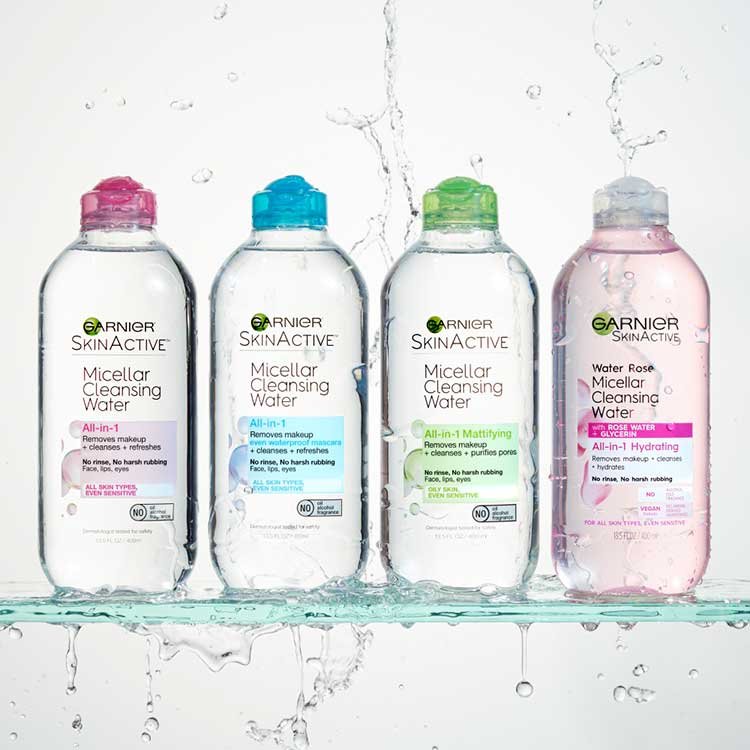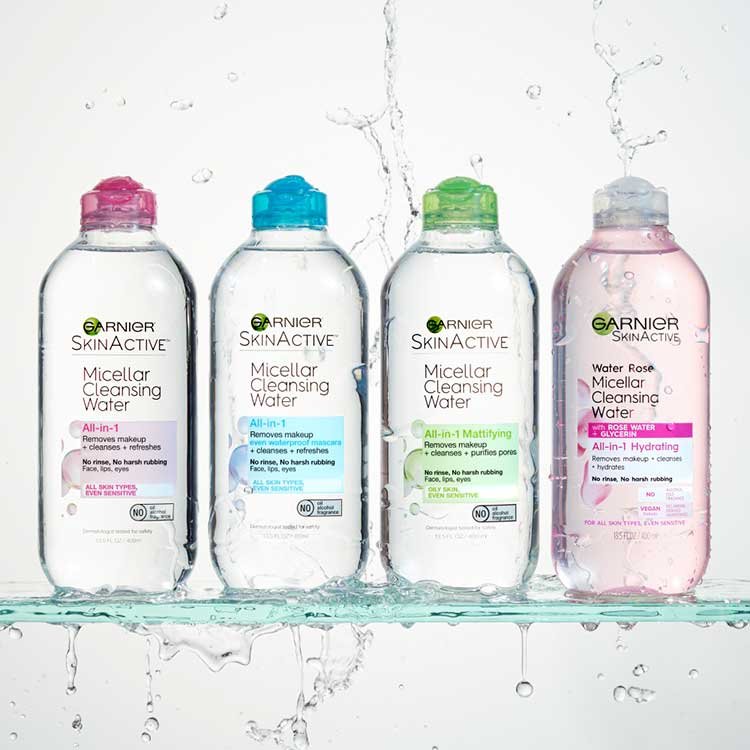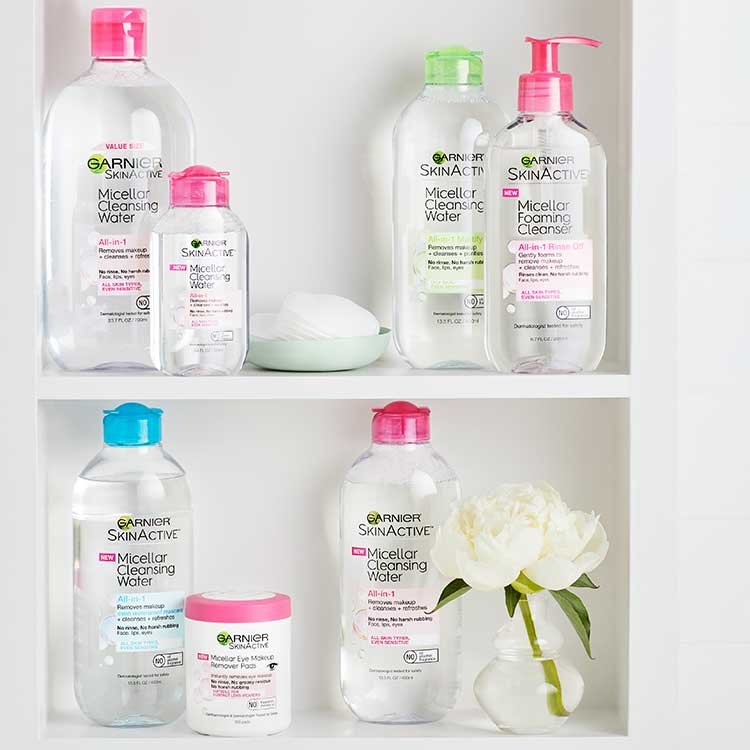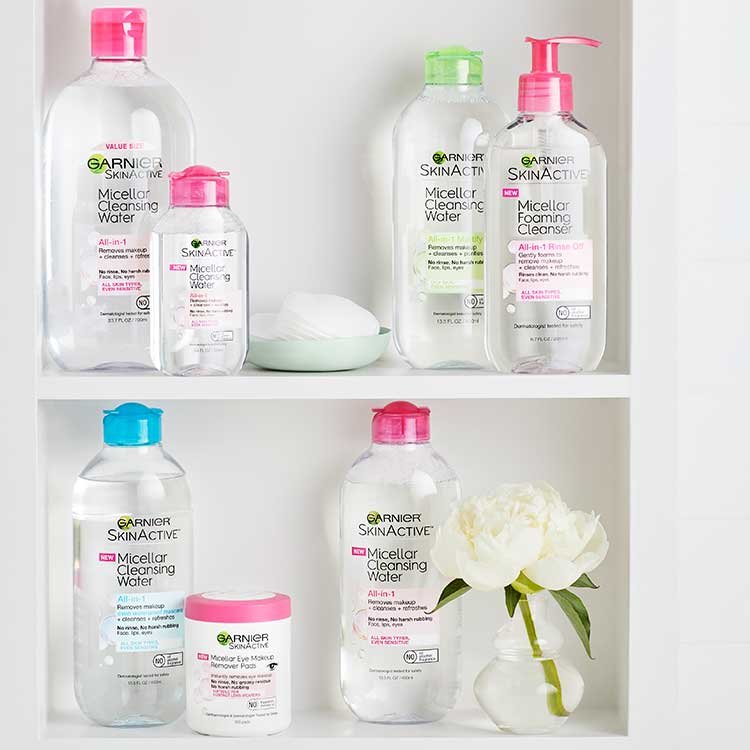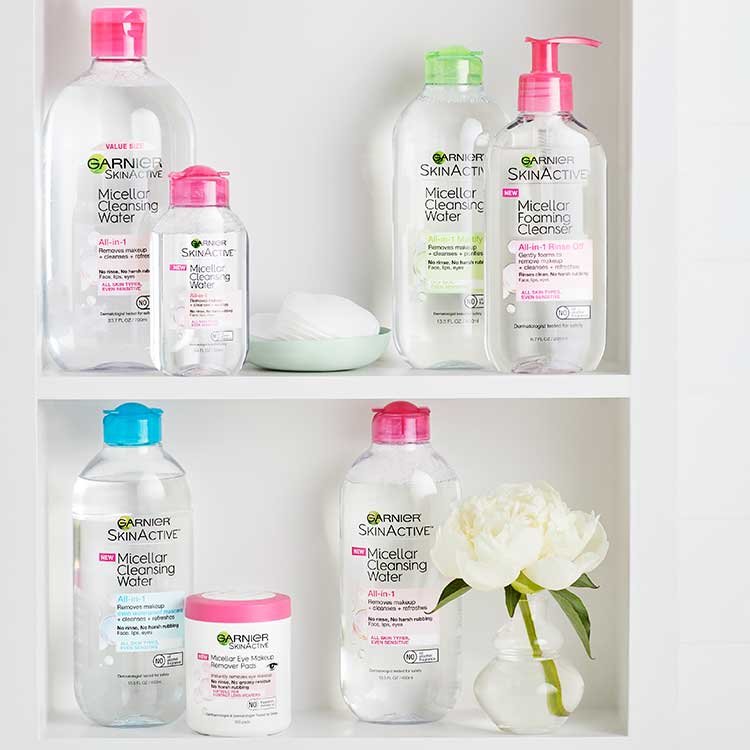 Garnier SkinActive
Micellar Cleansing Water All-in-1 Waterproof
$8.99 MSRP
WATERPROOF MAKEUP
All-in-1 Cleanser & Makeup Remover. Cleanses + removes even waterproof makeup + refreshes. No rinse, no harsh rubbing. For face, lips, and eyes.
PRODUCT INFORMATION:
This all-in-1 bi-phase cleanser is surprisingly powerful yet gentle to skin. It is specially formulated to effectively cleanse, remove even waterproof/longwear makeup, and refresh. Like a magnet, micelles capture and lift away dirt, oil and makeup without harsh rubbing, leaving skin perfectly clean and refreshed without over-drying.
How to Use:
Shake Well

TO REMOVE EYE MAKEUP:
Hold pad over closed eyes for a few seconds, then gently wipe without harsh rubbing.

TO CLEAN SKIN & REMOVE FACE MAKEUP:
Gently wipe all over until skin is completely clean from makeup and impurities. Use daily, AM/PM. No need to rinse.
Ingredients:
AQUA/WATER, CYCLOPENTASILOXANE, ISOHEXADECANE, POTASSIUM PHOSPHATE, SODIUM CHLORIDE, HEXYLENE GLYCOL, DIPOTASSIUM PHOSPHATE, DISODIUM EDTA, DECYL GLUCOSIDE, POLYAMINOPROPYL BIGUANIDE
No Hidden Nasties.
Specially formulated with no oil, sulfates, fragrance, parabens, or alcohol - it's all in the micelles that work like magnets to gently lift away excess dirt, oil, and makeup. Perfect for all skin types, even sensitive so you can enjoy a clean complexion with no harsh rubbing or rinsing.
Round Out Your Cleansing Routine
Cleanse
Garnier SkinActive
Micellar Cleansing Water All-in-1 Waterproof
All Skin Types, Even Sensitive
Moisturize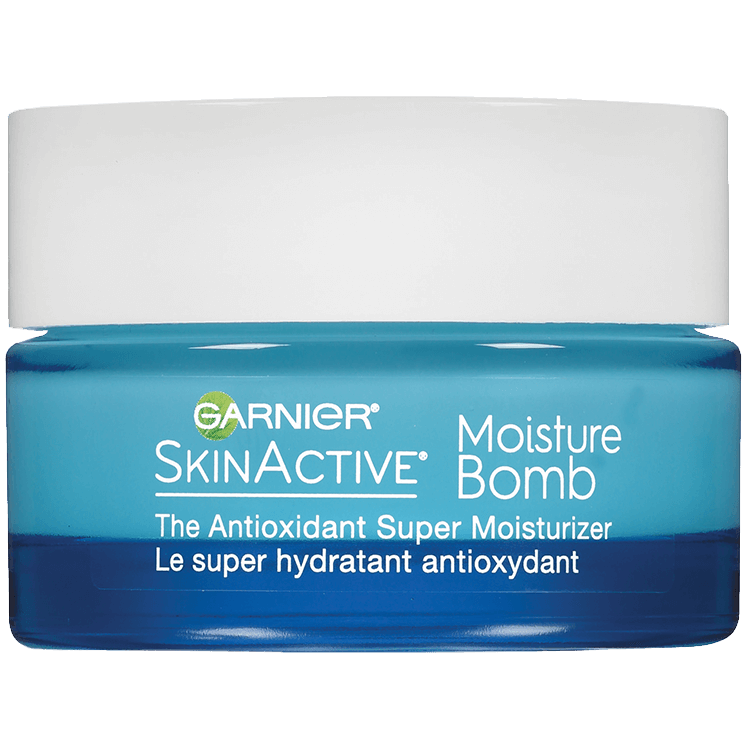 Garnier SkinActive
Moisture Bomb The Antioxidant Super Moisturizer
Antioxidant Daily Moisturizer
Treat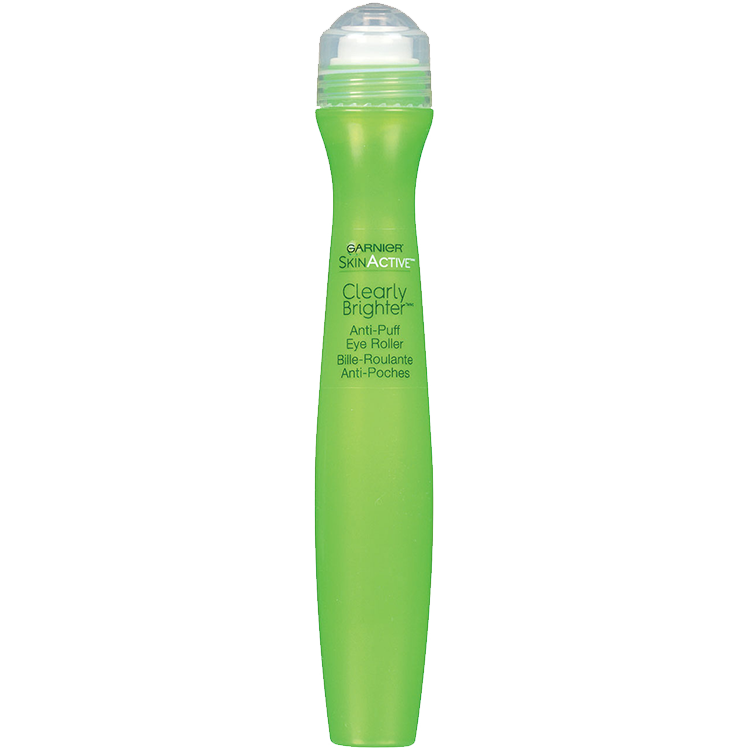 Garnier SkinActive
Clearly Brighter Anti-Puff Eye Roller
Under-Eye Puffiness Reducer
Refresh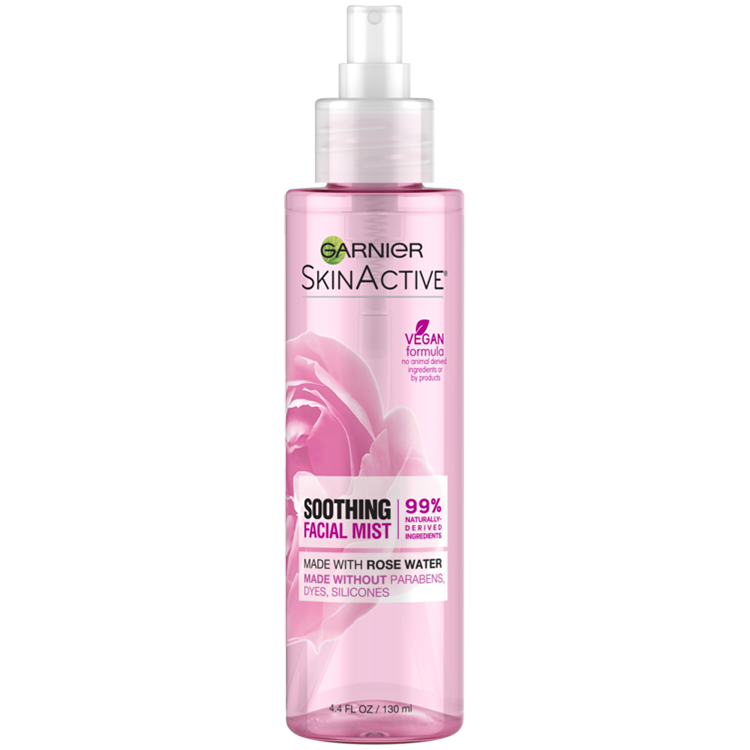 Garnier SkinActive
Soothing Facial Mist with Rose Water
Facial Mist
Rated

5

out of

5
by
michelle52198
from
LOVE this micellar water! It cleans everything off of my face and makes me feel super refreshed and clean. I use waterproof mascara and it takes it right off!
Date published: 2019-09-15
Rated

5

out of

5
by
fatimabf
from
I love this product soooooo much it's verry beautiful and i advice my friends to use this products and i would to get this productin a free box to shar in my social media
Date published: 2019-09-15
Rated

4

out of

5
by
alroepke
from
Ive tried others and this is the only one that works for me. I dont have to scrub hard to get all my makeup off. Its not oily and doesnt irritate my skin.
Date published: 2019-09-15
Rated

5

out of

5
by
colleenm17
from
So I wear makeup pretty much everyday. I cant help it I love makeup it makes me happy . But sometimes eye makeup can be hard to get off but with this I dont have to scrub. Put some on a makeup remover pad and it wipes away easily and it doesnt irritate my sensitive skin either.
Date published: 2019-09-15
Rated

5

out of

5
by
allthingsgirlyaddict
from
I dont have anything bad to say about this product. I like it and would repurchase again when Im done.
Date published: 2019-09-15
Rated

4

out of

5
by
heatherg47fd
from
I normally prefer make up remover wipes over micellar water until I tried this. I only wear water proof mascaras and removing eye make up can be a struggle sometimes. This product did its job well and did not irritate my skin at all. Love it!
Date published: 2019-09-15
Rated

3

out of

5
by
justh1
from
Have used in the past to remove make up. Gives a fairly good cleanse, if you dont have access or dont want to use a face wash
Date published: 2019-09-15
Rated

4

out of

5
by
faitho9c7c
from
Favorite makeup remover ever. Ever since I started using this I never went back to makeup wipes. This is my holy grail
Date published: 2019-09-14