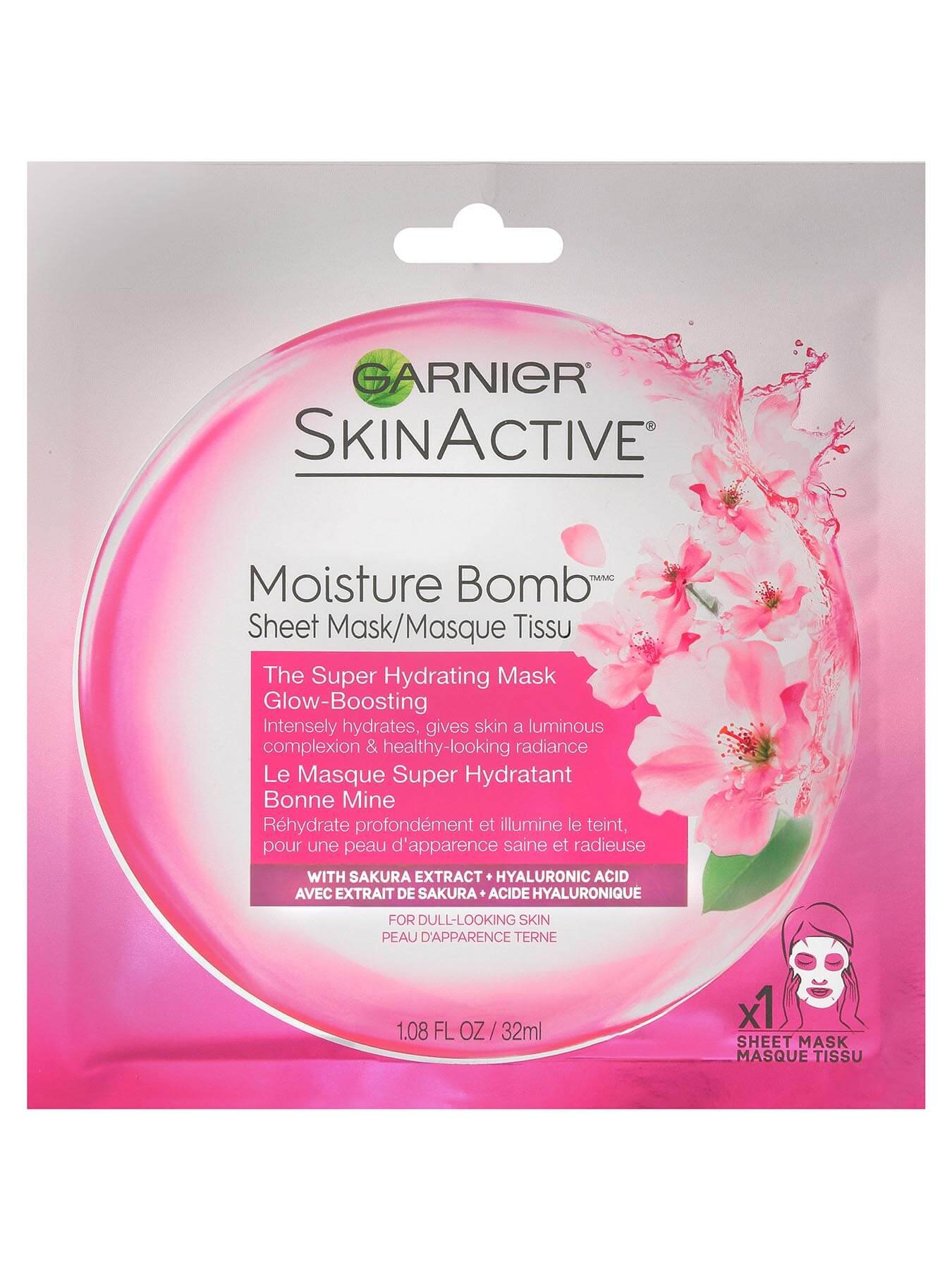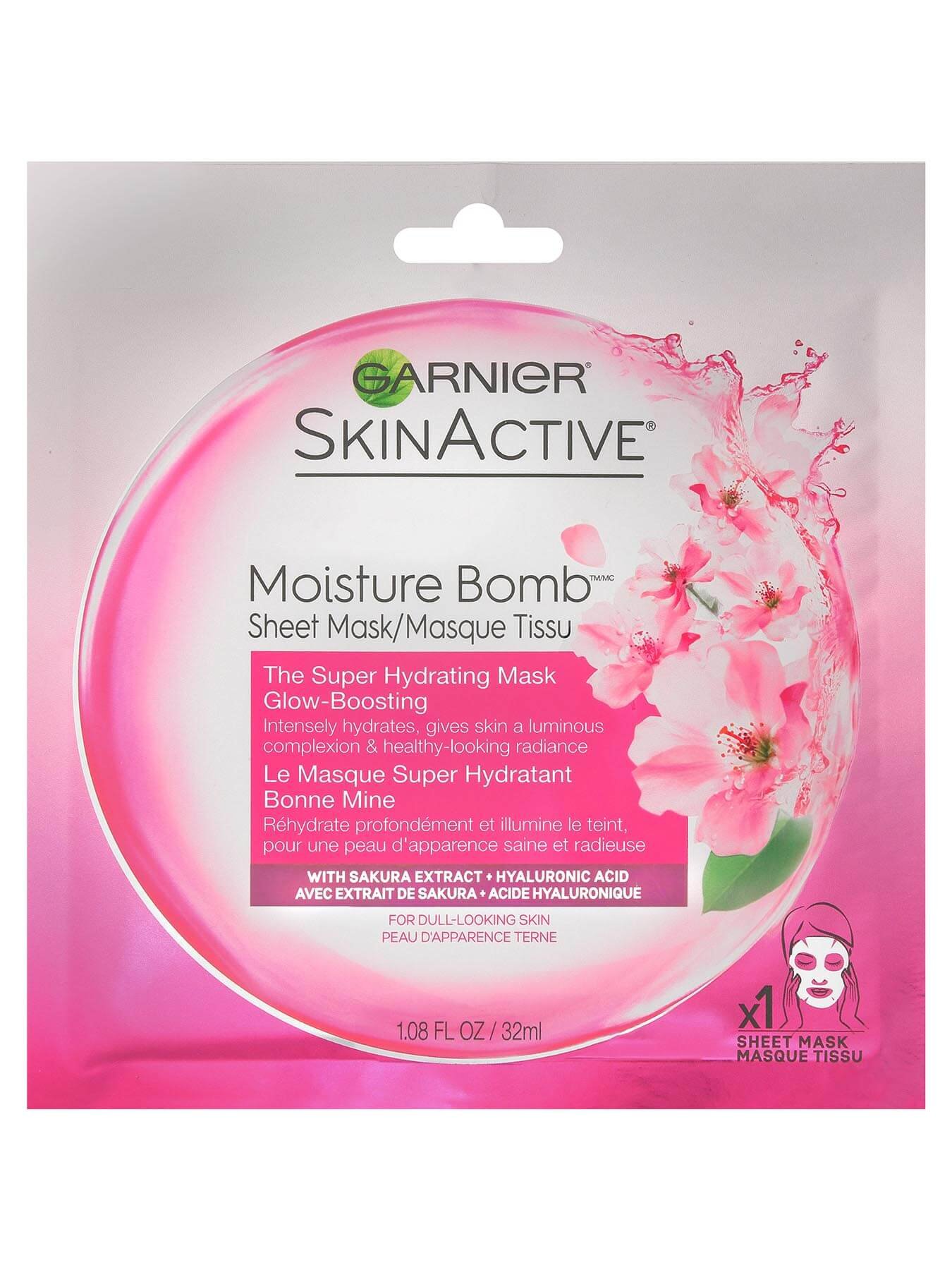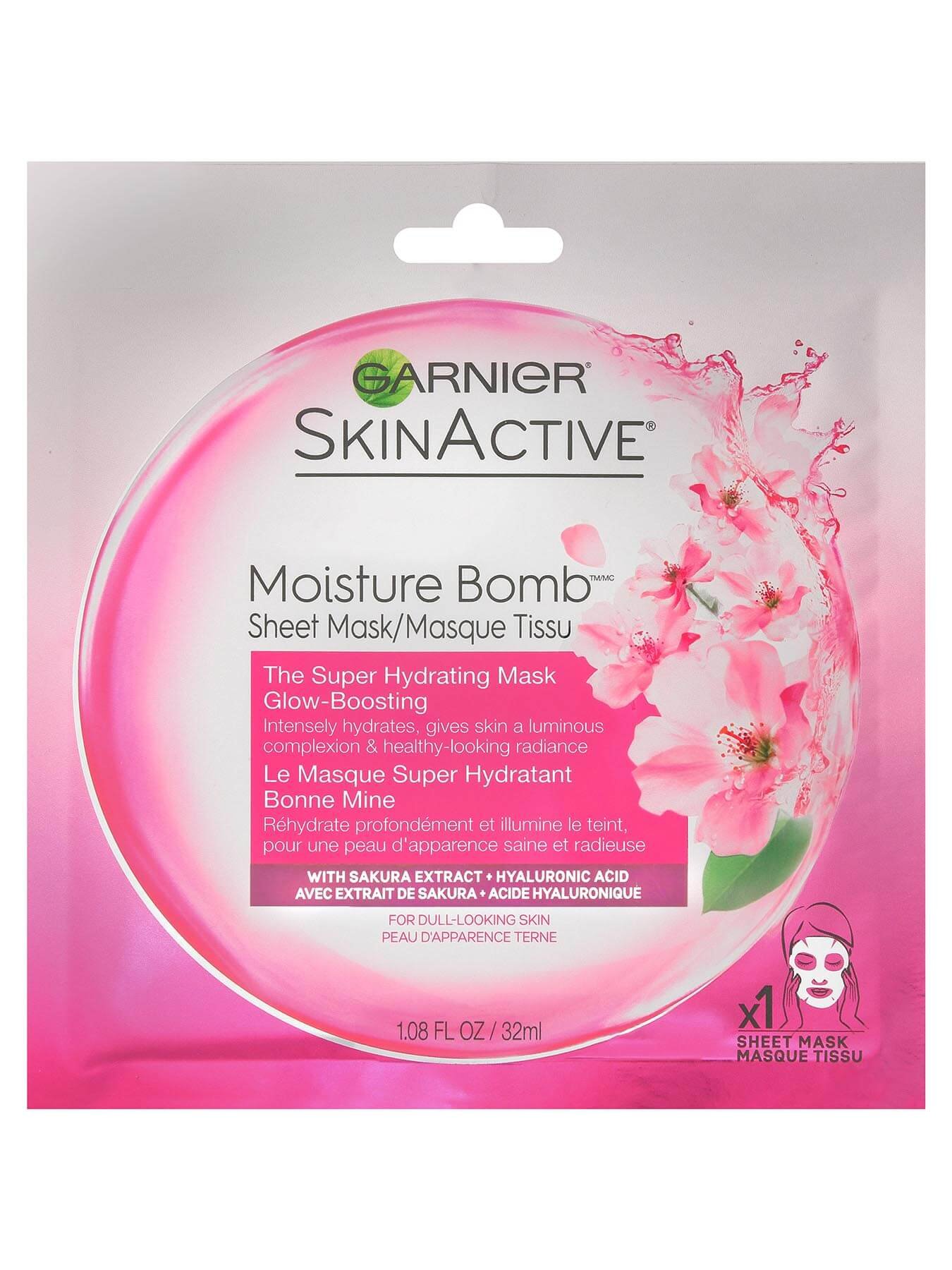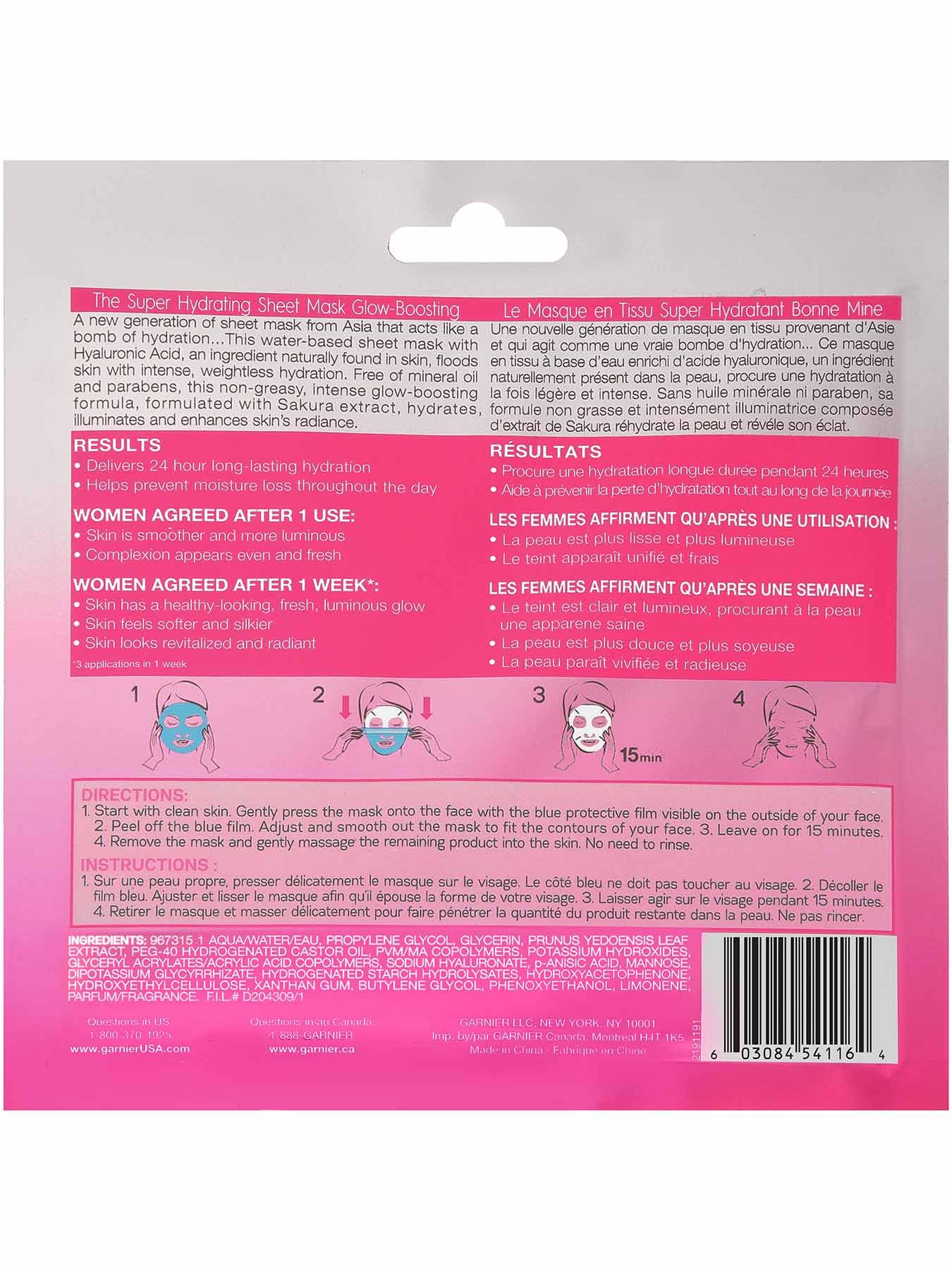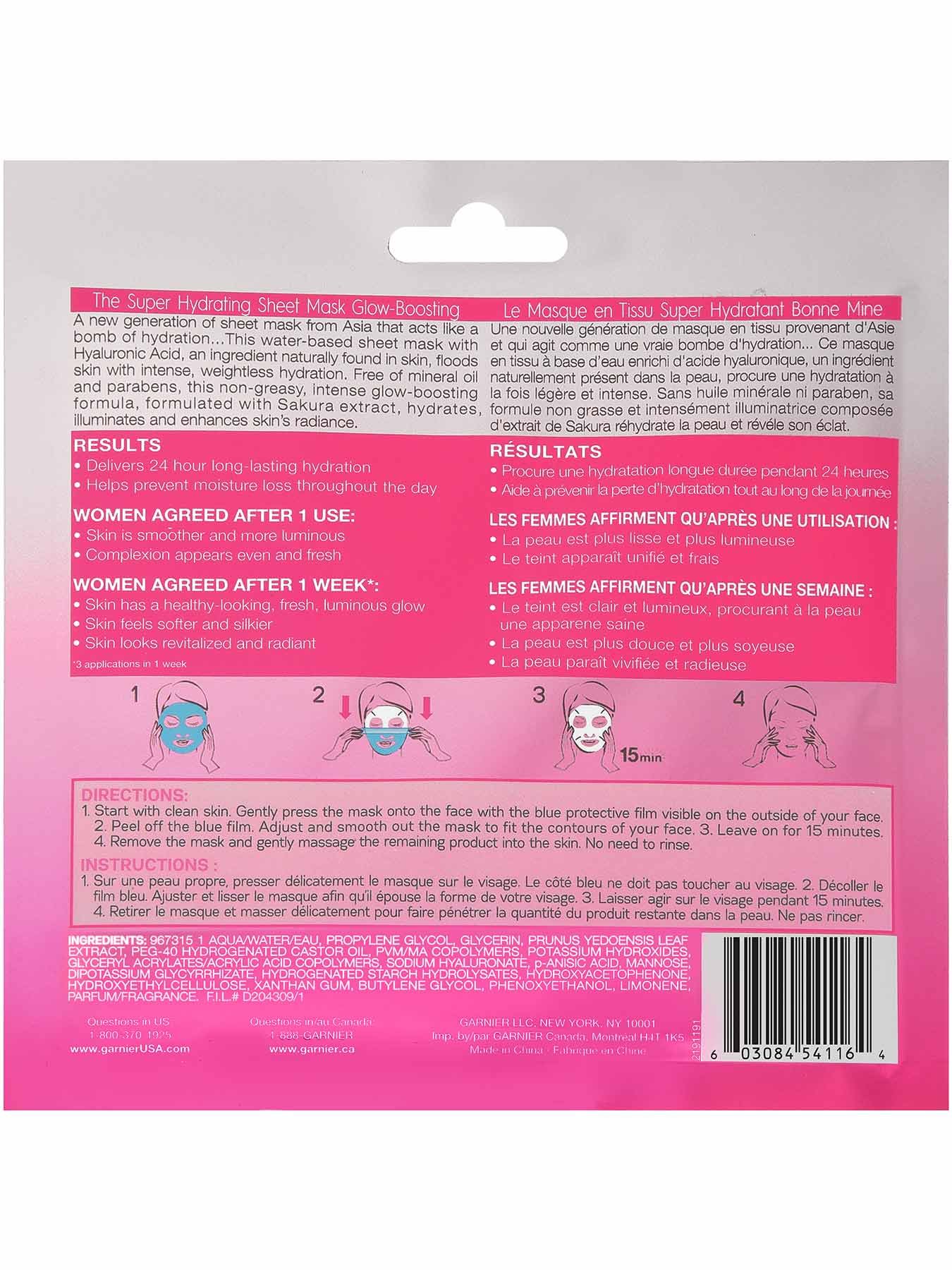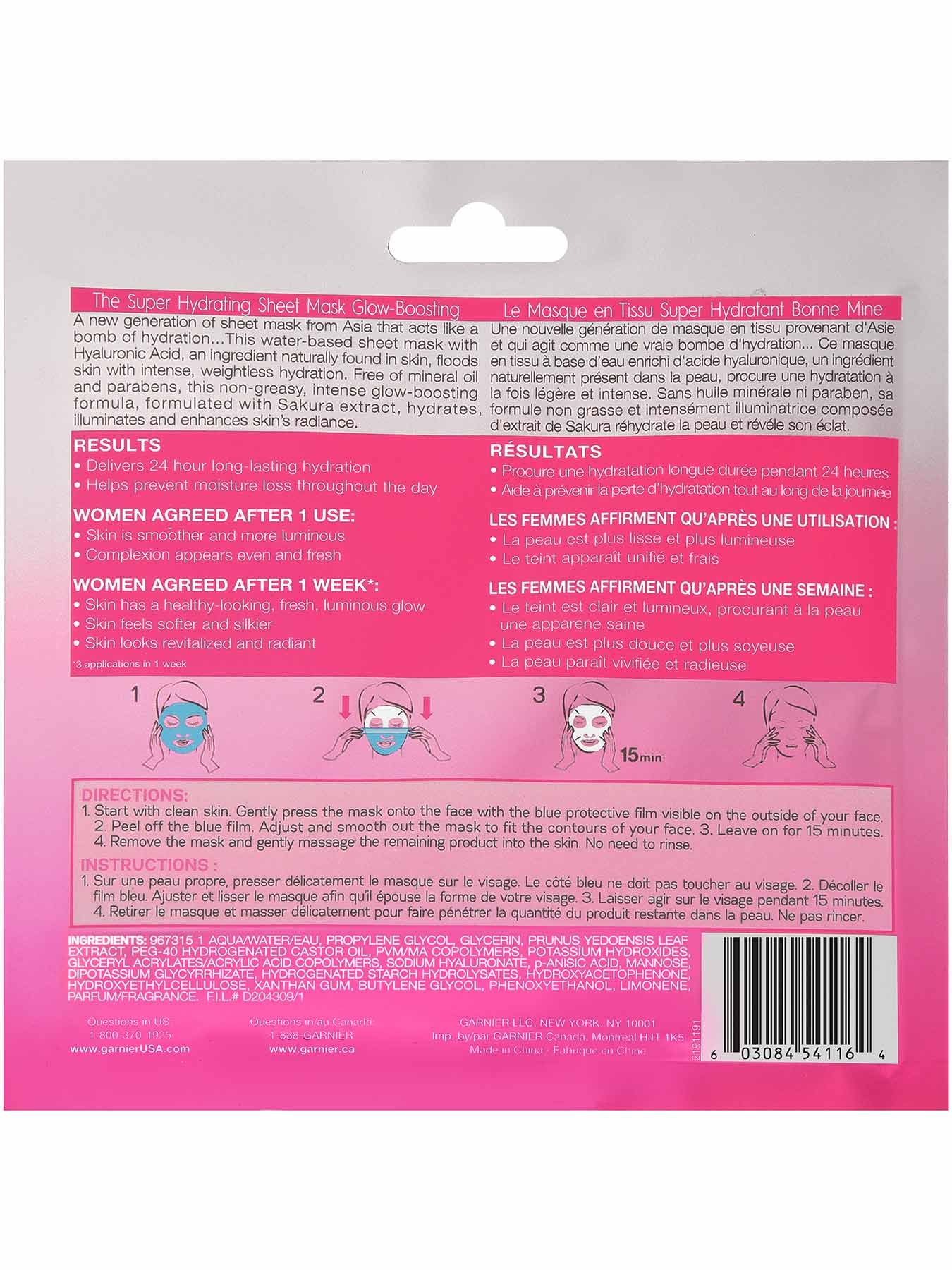 The Super Hydrating Sheet Mask - Glow-Boosting
Garnier SkinActive
$2.99 MSRP
This sheet mask made with Hyaluronic Acid and Sakura extract leaves skin radiant and illuminated in a matter of 15 minutes.
PRODUCT INFORMATION:
This water-based hydrating sheet mask with Hyaluronic Acid, an ingredient naturally found in skin, floods skin with intense weightless hydration. Free of mineral oil and parabens, this non-greasy, intense glow-boosting formula, with Sakura extract, hydrates, illuminates and enhances skin's radiance.
Half a bottle of hydrating serum in 1 Garnier sheet mask
Delivers 24 hour long-lasting hydration
Helps prevent moisture loss throughout the day
Gives skin a luminous complexion and healthy looking radiance
How To Use
1. Start with clean skin. Gently press the sheet mask on to the face with the blue side on top.
2. Peel off the blue film. Adjust and smooth out the mask to fit the contours of your face.
3. Leave on for 15 minutes.
4. Remove the sheet mask and gently massage the remaining product into the skin. No need to rinse.
Ingredients:
967315 1 AQUA / WATER / EAU PROPYLENE GLYCOL GLYCERIN PRUNUS YEDOENSIS LEAF EXTRACT PEG-40 HYDROGENATED CASTOR OIL PVM/MA COPOLYMER POTASSIUM HYDROXIDE GLYCERYL ACRYLATE/ACRYLIC ACID COPOLYMER SODIUM HYALURONATE p-ANISIC ACID MANNOSE DIPOTASSIUM GLYCYRRHIZATE HYDROGENATED STARCH HYDROLYSATE HYDROXYACETOPHENONE HYDROXYETHYLCELLULOSE XANTHAN GUM BUTYLENE GLYCOL PHENOXYETHANOL LIMONENE PARFUM / FRAGRANCE D204309/1
Rated

5

out of

5
by
White91
from
Makes my face feel so beautiful
Freaking out over this product! I needed a relaxing night so I hopped in the tub and put this mask on and felt like I was at a spa! The feeling after I took it off was indescribable! In a good way! I felt so good in my own skin!!! I'll be getting more for sure!
Date published: 2019-09-17
Rated

5

out of

5
by
Loricastillo85
from
Smooth glow!
I'm obsessed with this mask! I like to use it before a night out or special occasion. It makes my skin glows shiny and youthful. Soothes any bumps and lessens the look of fine lines. They're so hard to find in store. I really hope Garnier isn't going to discontinue them!
Date published: 2019-05-04
Rated

5

out of

5
by
Paigeygill
from
Awesome!!
Absolutely love it! It leaves my face feeling so smooth and clean! I have used each face mask. I would highly recommend any of the face masks in this brand! Kind of hard to find in store though.
Date published: 2019-01-31
Rated

5

out of

5
by
Goldy_slg
from
Overall happy with the mask
I received a mask as a free sample. I found it a little confusing to make sure the blue side was facing out as described in the directions as even the blue film is slightly sheer and the mask is folded in the packaging. Once the mask was on my face I made sure to adjust to my face shape. The mask seemed stretchy enough to conform to my face contours. I found it relaxing to wear the mask. I would say that about 10 minutes in I gently tapped the mask with my finger tips to help product absorption. I was compelled to do so after reading other reviews that thought that the mask was almost overloaded with serum and it did not absorb as quickly as desired. When I took the mask off the residual serum was not sticky or I comfortable. I believe tapping my skin gently with my finger tips did help with overall product absorption as I felt that the remaining product absorbed easily once the mask was removed. I would buy this mask in the future.
Date published: 2018-12-08
Rated

5

out of

5
by
Angela454
from
THE BEST MASK I HAVE EVER USED!
I have sensitive skin that is prone to breakouts, eczema, dryness and oiliness. ( a bit of a mess ) I use this mask and immediately my skin is more even, hydrated, and glowing. Any breakouts of eczema or acne are soothed. I don't even understand what they put in this to make it so good. I have never used a skincare item ( or another sheet mask from moisture bomb range or higher price point) that has made such a difference to my skin. Please never discontinue it. ( from the UK)
Date published: 2018-07-17
Rated

3

out of

5
by
strawfruit
from
It was okay.
Just used this mask today and it felt nice while it was on. When it took it off it took awhile for the serum (?) to dissolve into my skin. I just ended up wiping away most of it with a paper towel. What makes me not want to try it again is that it was sticky. After I wiped it away, my face felt sticky (not very sticky but definitely tacky). It went away eventually. My face feels fine now but I didn't like the sticky part.
Date published: 2018-07-15
Rated

5

out of

5
by
Amberleighh123
from
Love it
I absolutely love this, I have really sensitive eczema prone skin, this doesn't irritate my skin at all and gives you a nice healthy glow
Date published: 2018-05-16
Rated

5

out of

5
by
Laylahj
from
Glowing skin
I bought this mask at CVS two months ago and I finally decided to try it, I absolutely love this mask my skin is so soft and glowing. I'm a woman of color and I am truly impressed. I will definitely purchase again and again! Please don't change anything about this mask
Date published: 2018-02-21