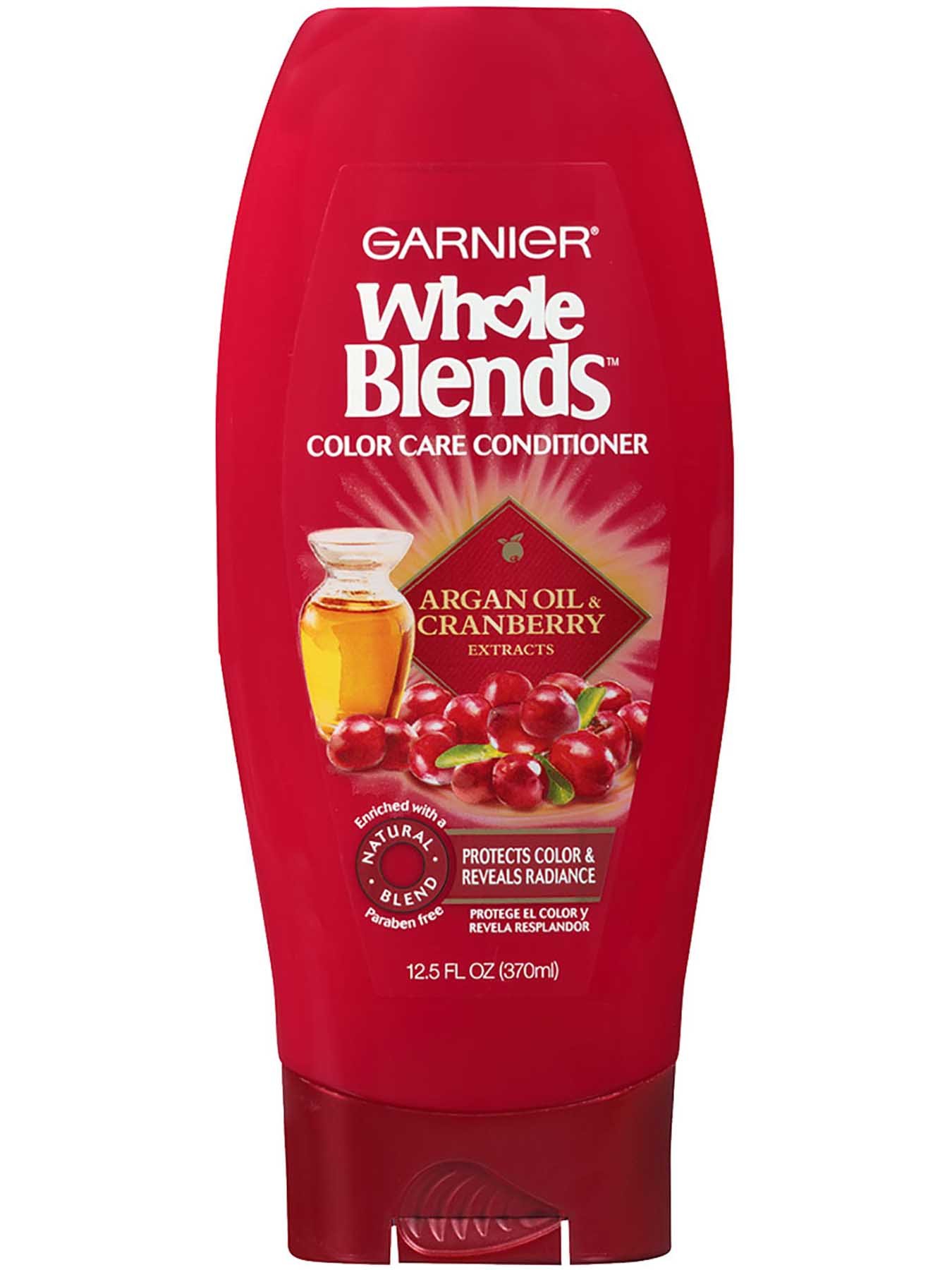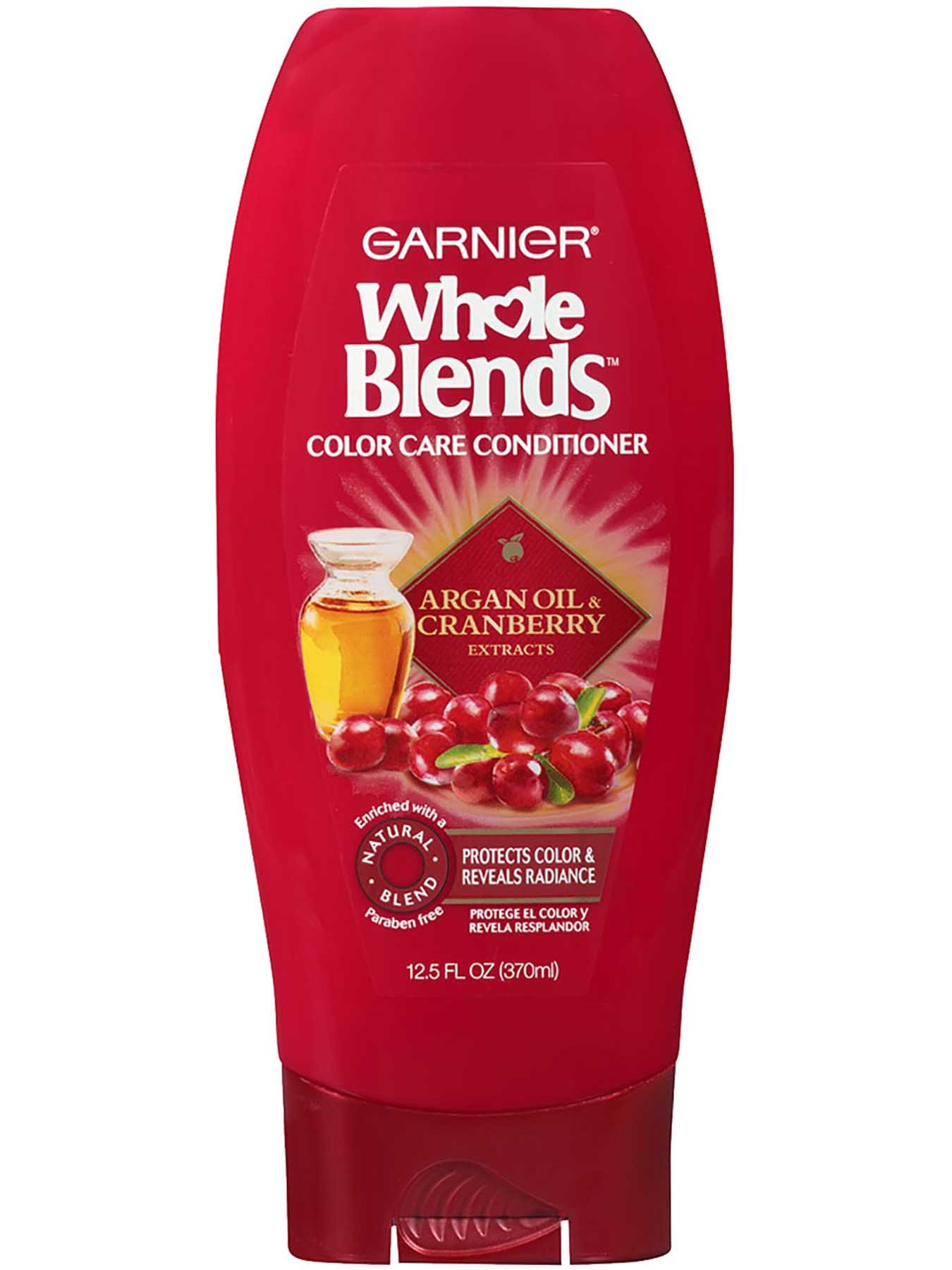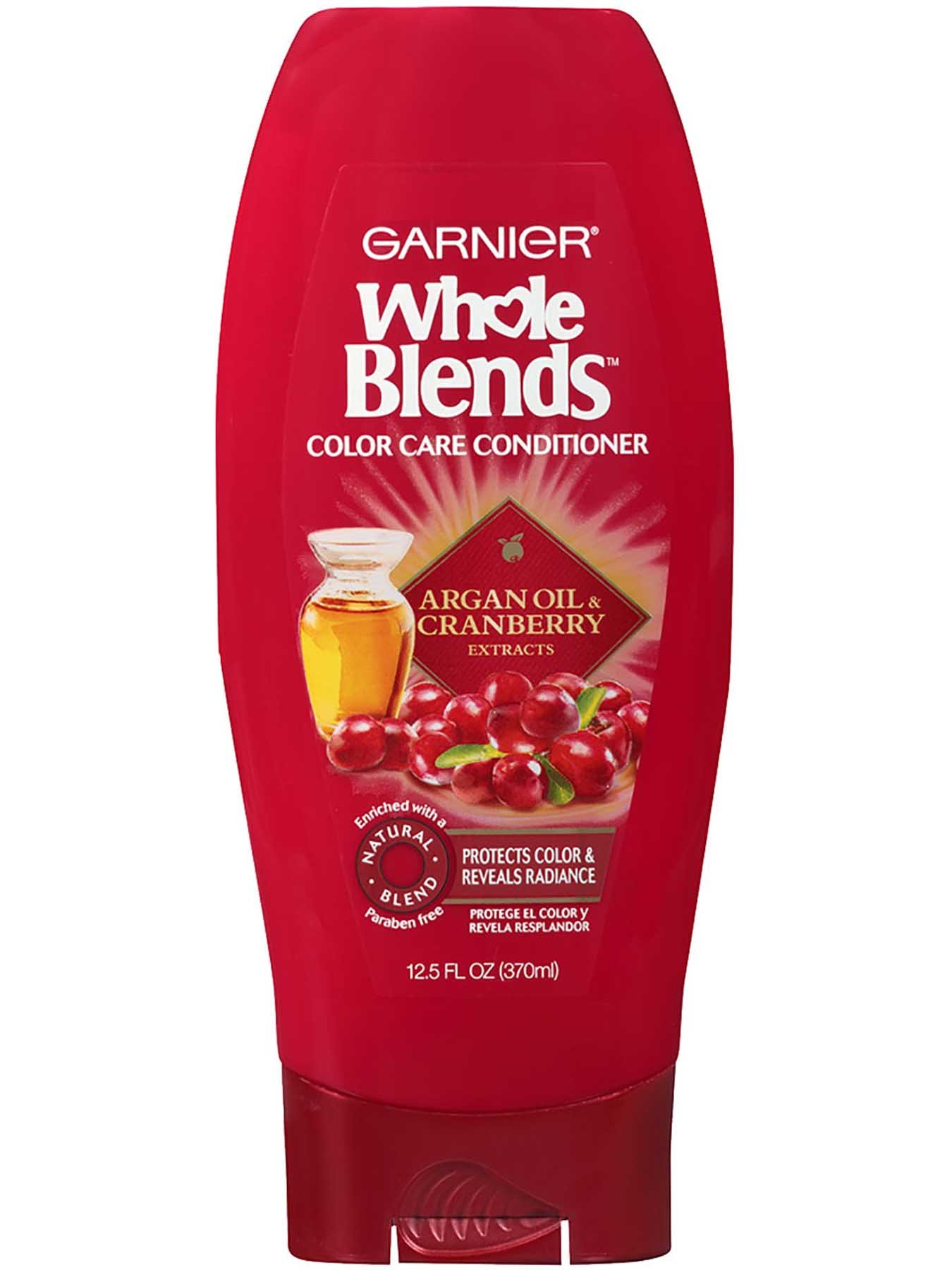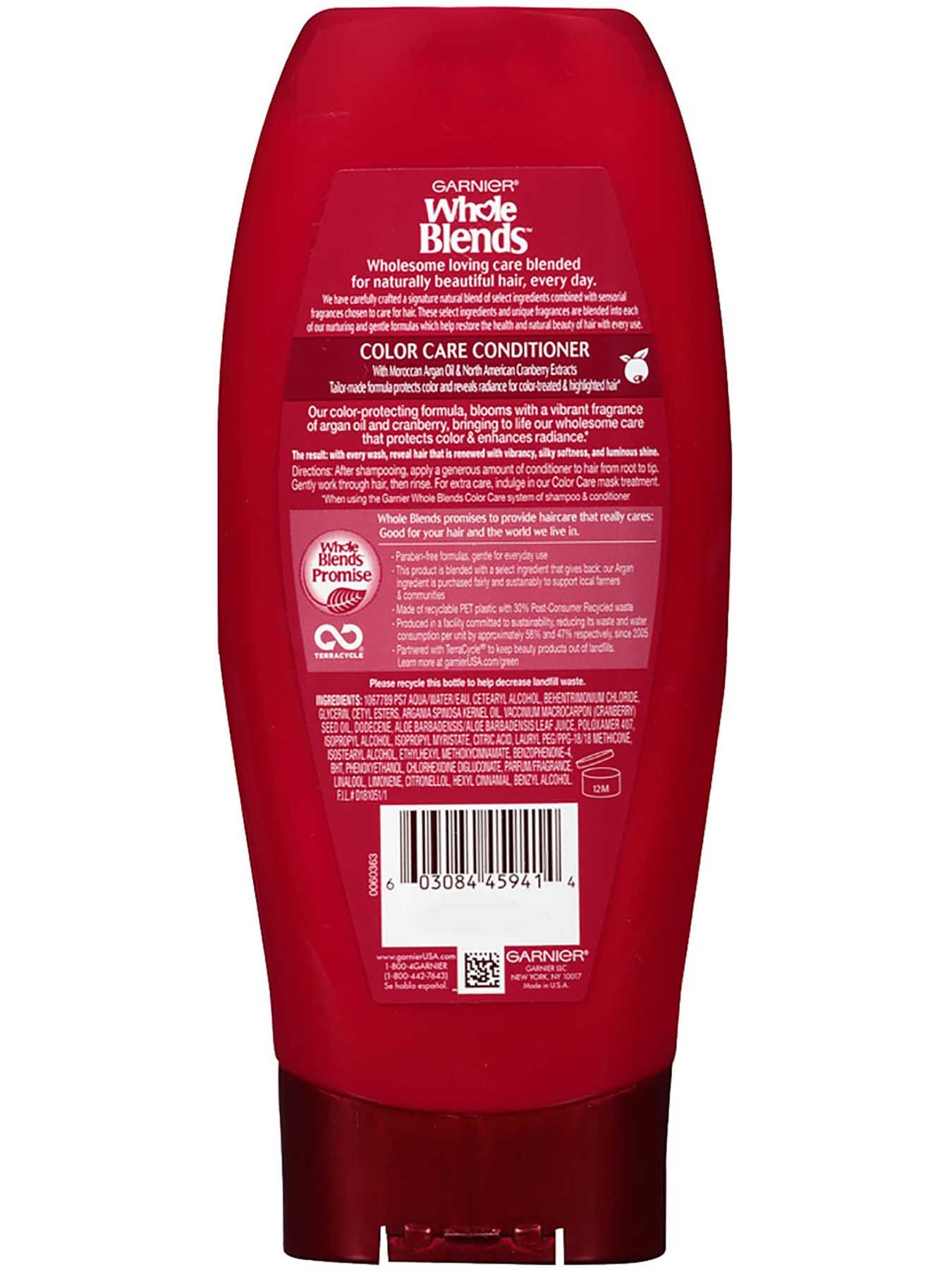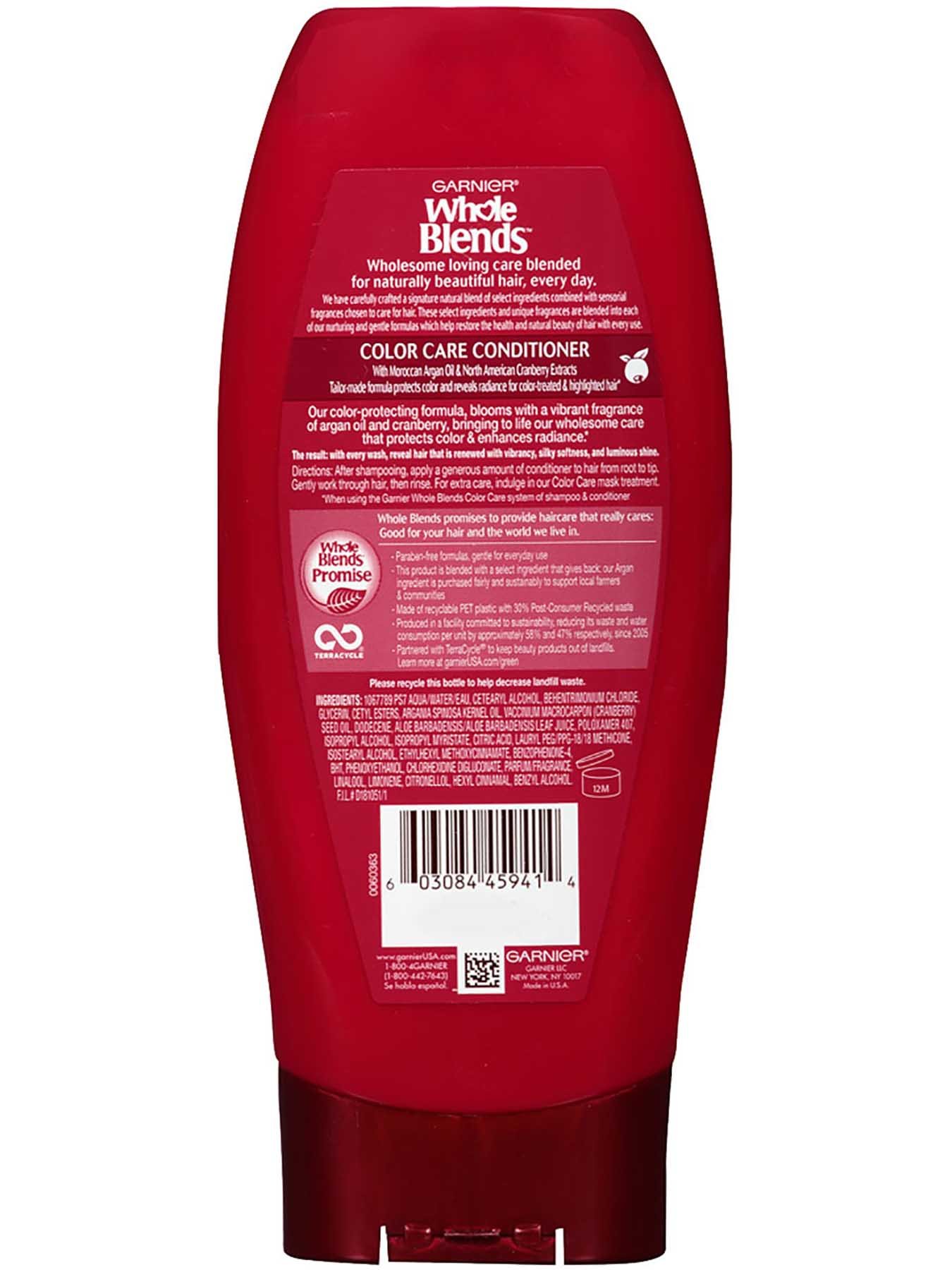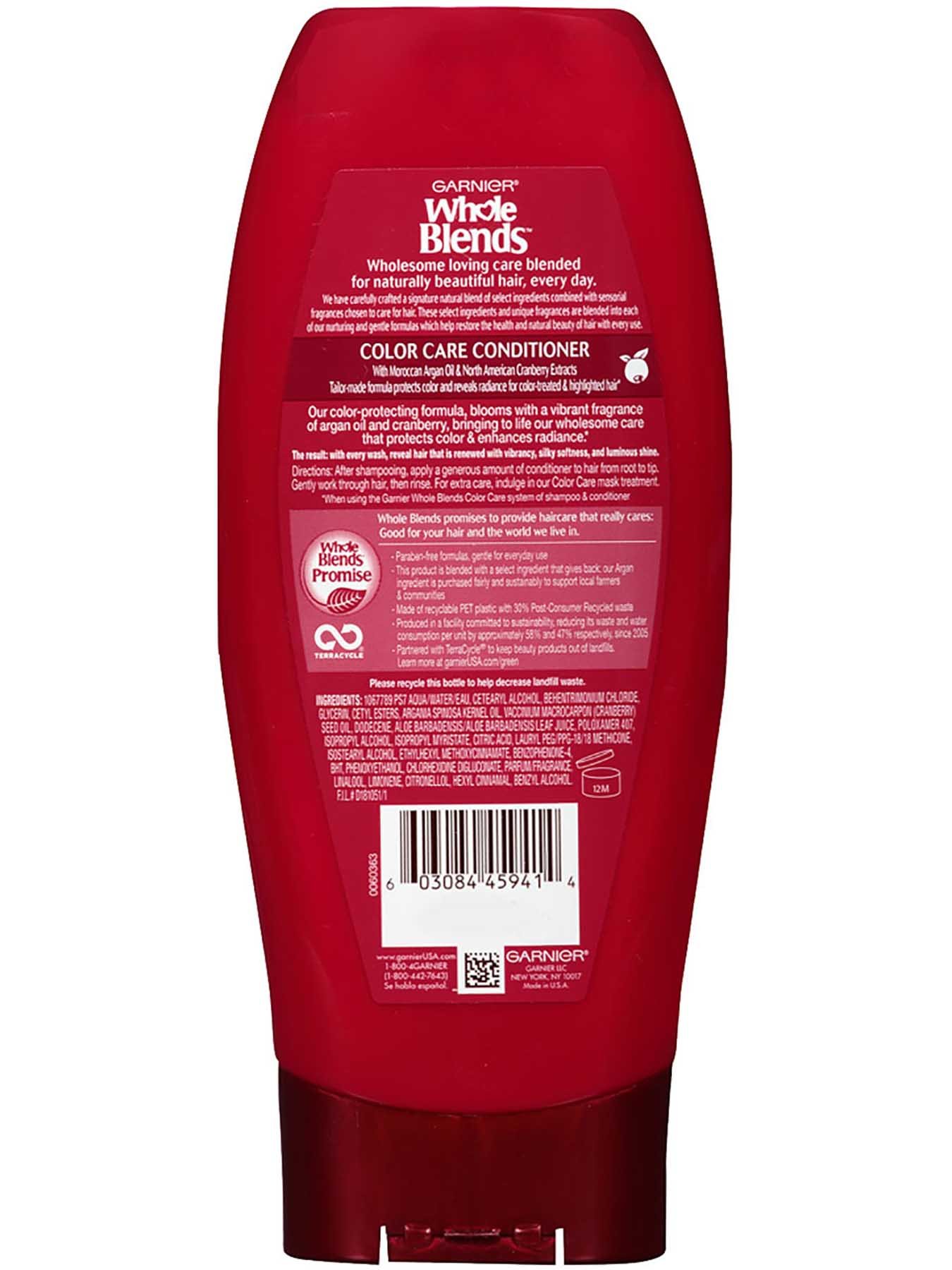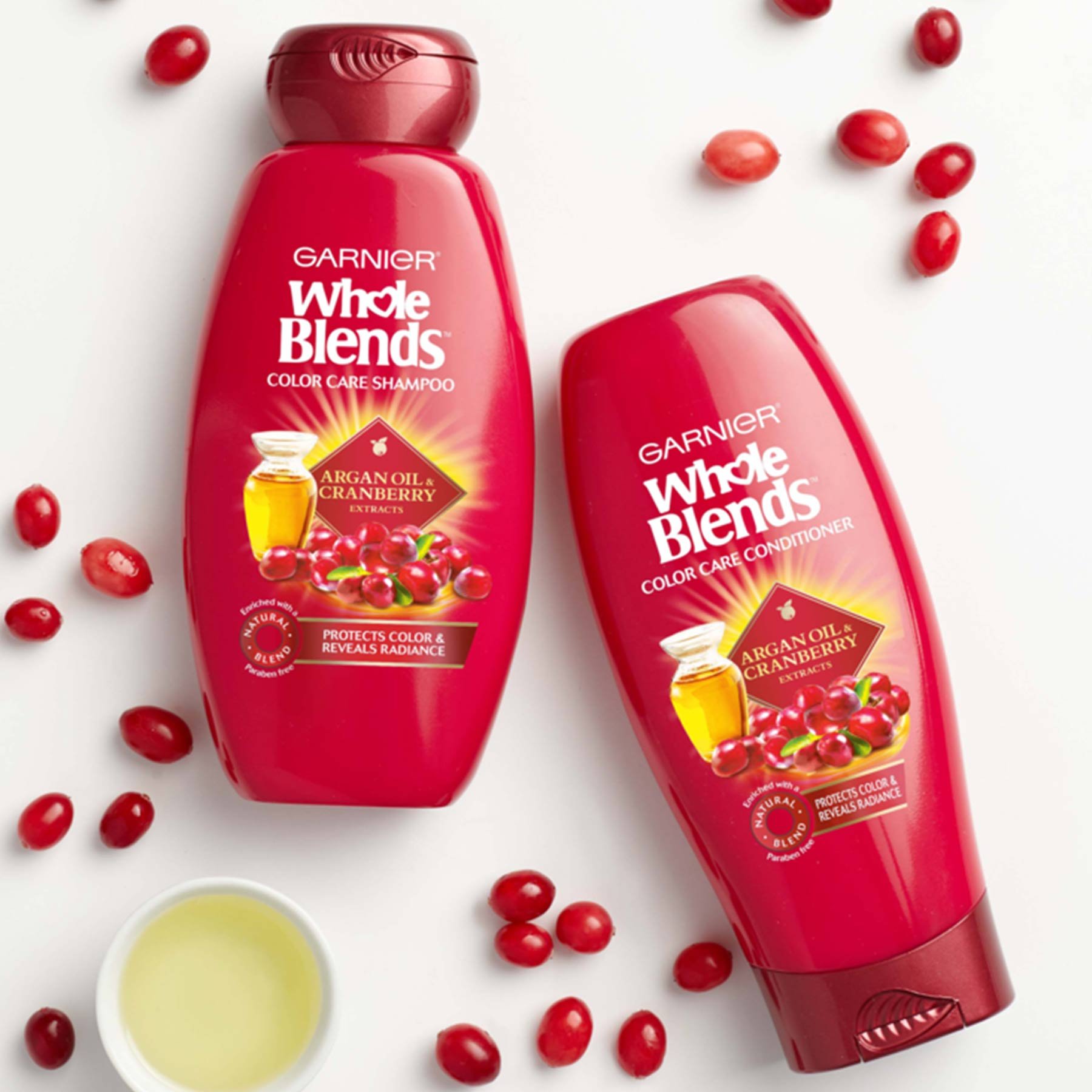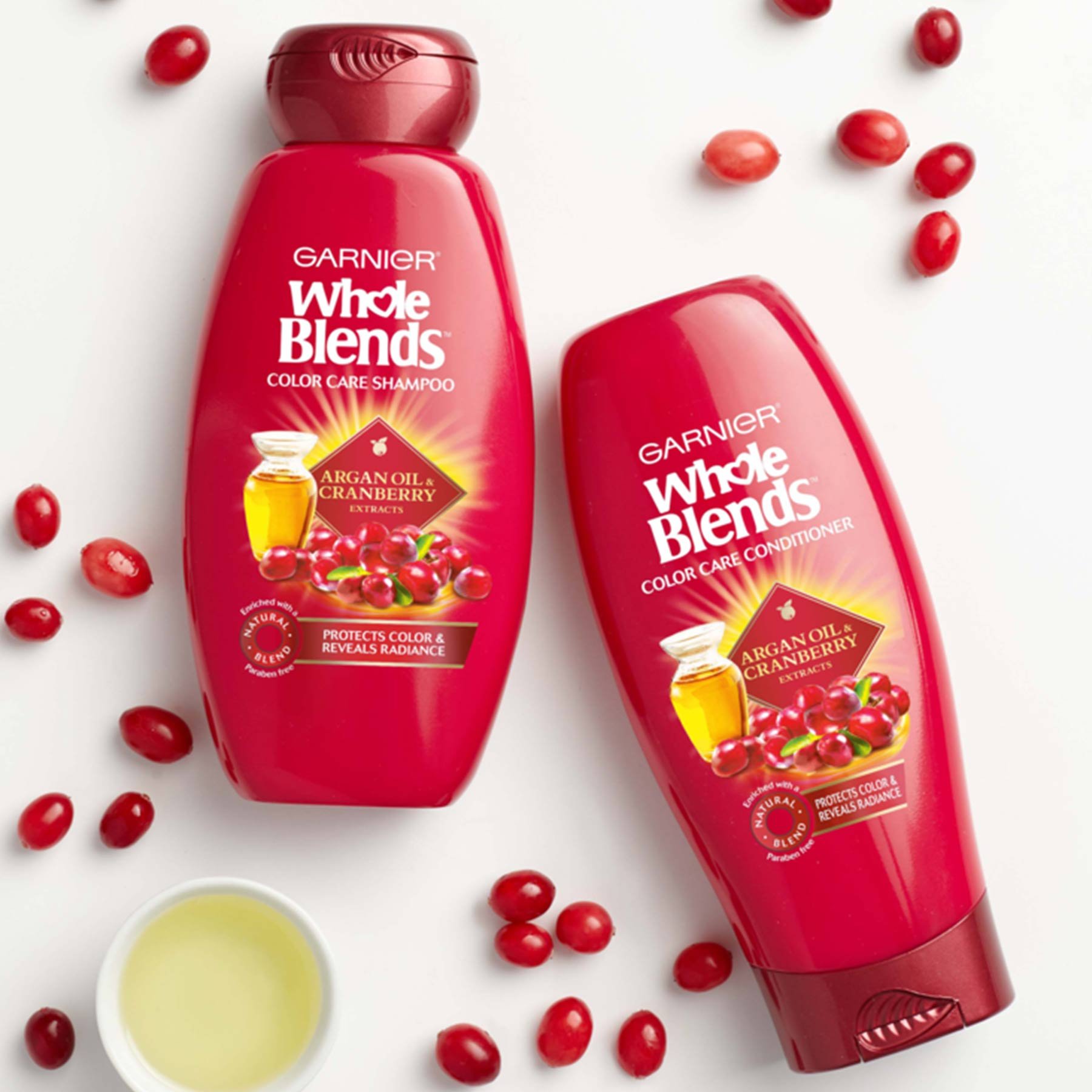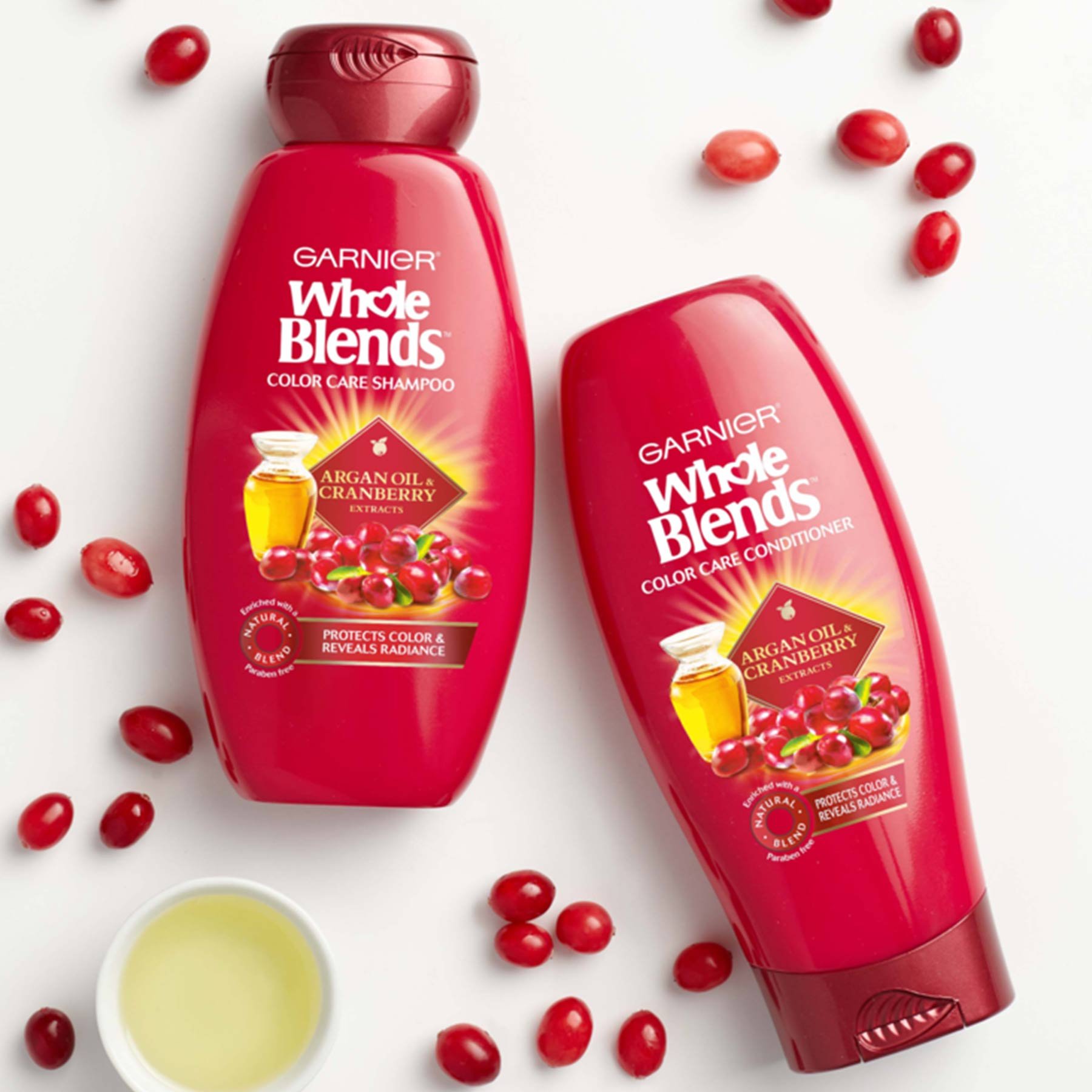 Color Care Conditioner with Argan Oil & Cranberry extracts
Whole Blends
$4.49 MSRP
Color Care Conditioner protege el color y revela el resplandor
INFORMACIÓN DEL PRODUCTO
Nuestra fórmula protectora del color difunde una fragancia vibrante de aceite de argán y arándano en un cuidado increíble que protege el color y aumenta el resplandor.*Disponible también en 22 oz.*Con la rutina de cuidado del color Garnier Whole Blends de shampoo y acondicionador.
Modo de uso
Después de lavar, aplica una generosa cantidad de acondicionador en el cabello de las raíces a las puntas. Trabaja con suavidad por todo el cabello y enjuaga. Para un cuidado extra, disfruta de nuestra mascarilla de tratamiento de cuidado del color.
Ingredientes
AQUA / WATER / EAUCETEARYL ALCOHOLBEHENTRIMONIUM CHLORIDEGLYCERINCETYL ESTERSARGANIA SPINOSA KERNEL OILVACCINIUM MACROCARPON (CRANBERRY) SEED OILDODECENEALOE BARBADENSIS / ALOE BARBADENSIS LEAF JUICEPOLOXAMER 407ISOPROPYL ALCOHOLISOPROPYL MYRISTATECITRIC ACIDLAURYL PEG/PPG-18/18 METHICONEISOSTEARYL ALCOHOLETHYLHEXYL METHOXYCINNAMATEBENZOPHENONE-4BHTPHENOXYETHANOLCHLORHEXIDINE DIGLUCONATEPARFUM / FRAGRANCELINALOOLLIMONENECITRONELLOLHEXYL CINNAMALBENZYL ALCOHOL
Aceite de argán
Los mismos emolientes que hacen que el aceite de argán sea tan beneficiosos para la piel actúan en el cabello seco y apagado. El aceite de argán se utiliza para suavizar el aspecto de las puntas abiertas, desenredar, mejorar la sensación del cuero cabelludo seco y fortalecer el cabello mientras crece.
Extractos de arándano
Con todo lo que le hace bien a tu piel y cabello, las altas concentraciones de antioxidantes y omega 3, 6, y 9 presentes en el arándano hidratan de forma natural.
La rutina de cuidado del color
Todo lo que necesitas para proteger el color y revelar el resplandor.
Lavar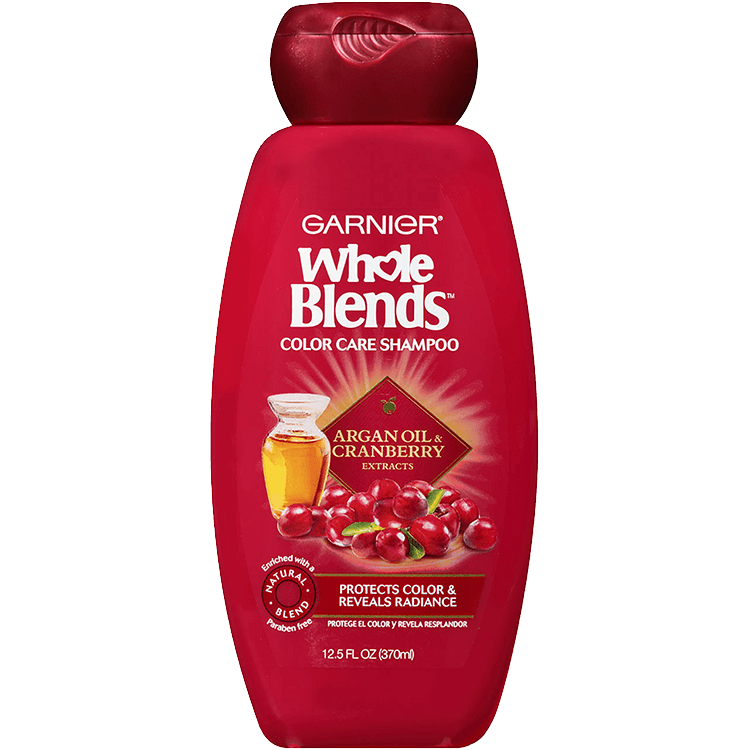 Whole Blends
Color Care Shampoo with Argan Oil & Cranberry extracts
Cabello coloreado
Acondicionar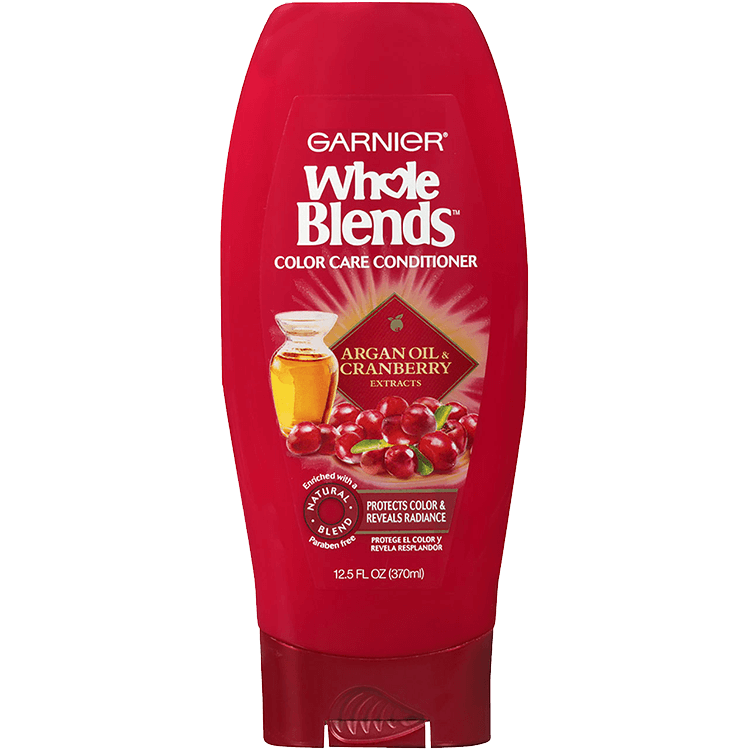 Whole Blends
Color Care Conditioner with Argan Oil & Cranberry extracts
Cabello coloreado
Tratar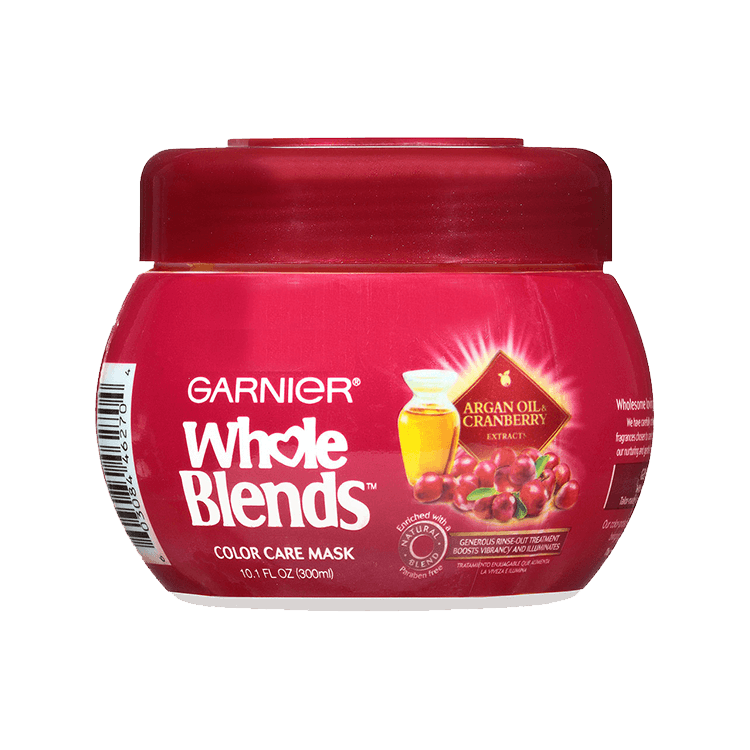 Whole Blends
Color Care Mask with Argan Oil & Cranberry extracts
Cabello coloreado
Rated

4

out of

5
by
Aliarin
from
Great to embrace natural highlights!
I just finished using up this Color Care Conditioner with Argan Oil & Cranberry extracts (Whole Blends) and I am shocked by the results! My hairstylist told me that with my natural red highlights this product would bring them out even more. I was skeptical at first, because I have never dyed my hair, but this product truely worked for me! Now I just need to repurchase.
Date published: 2018-05-29
Rated

4

out of

5
by
calinstuff
from
Look at it shine
After using Garnier Whole Blends color care shampoo and conditioner for a couple of weeks, I can say it is a good product and I would recommend trying it out. It left my hair shiny and soft, and my color looking good. I included a pic. This is my hair with no product in it. Just fresh washed and dried. You can see the shine.
Date published: 2017-11-03
Rated

4

out of

5
by
alea131
from
Will Continue to Use
I wanted to use this product for several weeks before leaving a review. I have been using it regularly for about 3 weeks now and am pretty happy with it. First, about my hair. My hair is mid-back length, fairly thick and it's not really straight, but not wavy either. I heat style my hair almost daily. I have lightened my hair recently, so my dry ends have been getting "poofy" with my old conditioner. On to the product. Thoughts the first time using it: it smells great, good consistency, it's a nice thick conditioner, rinses easily and left my hair feeling silky after I rinsed. After continued use for several weeks, the poofiness of my hair has drastically decreased. It gets much less tangly throughout the day. My hair is very easy to comb right out of the shower and is easy to style. Once or twice a week, I will leave this in my hair extra long (10 min or so) to get a deeper conditioning. Now the cons: I wish it left my hair shinier. I have used expensive conditioners in the past that gives me that desired shininess, so I know my hair can do it! I also wish it left my hair softer/silkier. I still haven't found a conditioner that gives me that " super silky" feeling, so it may just be my hair is too damaged. Overall, I am pretty happy with this condition (and shampoo). I am most pleased with how it reduced the poofiness of the ends. I would use it again and would be interested in trying some of the other products from this line.
Date published: 2017-11-03
Rated

4

out of

5
by
Rxqueend
from
Enjoyable!
Normally I buy my shampoo & conditioners from my favorite salons or Ulta but sometimes when money is tight & I feel I can't afford my high end salon care, I resort to buying grocery brand products, so I decided to give this one a try for those times in need. I have to say, I really enjoyed this whole blends conditioner. It really left my hair soft, shiny & luxurious! I will most likely be usuing this product again in the future.
Date published: 2017-11-03
Rated

5

out of

5
by
jomifo
from
Best Conditioner for 4C Natural Hair!
So I after I was severely disappointed with the Shampoo I was apprehensive to try the conditioner. I even bought in I am a person of color and I have REALLY thick hair and small tight curls. I just colored my hair less than a month ago and this was my first wash/conditioner. I expected this to be watery, runny and soupy. IT WAS NOTHING LIKE THAT! This is hands down the BEST GARNIER PRODUCT I HAVE EVER USED!! Usually they're like the shampoo and don't work well with black natural hair. This is completely different! Once I felt the texture of it, and that it was a thick conditioner, I left it in my hair for about 5 minutes like a leave in conditioner. Any of my fellow naturalistas know that conditioner is everything, especially when your hair is colored. This conditioner was thick, lightly scented and most of all it kept my hair moisturized. Even the next morning my hair was moisturized, and I only needed to add a spritz or two of leave in conditioner. It helped retain the color in my hair AND keep my hair moist. It definitely will be part of my natural wash routine!
Date published: 2017-11-02
Rated

3

out of

5
by
bzzagentaxhilli
from
Worked good
This product did a nice job of adding moisture back to my hair after using the shampoo. I like conditioners that coat my hair to help me detangle it. I probably would use this conditioner as a cowash and skip using the shampoo. It felt nice in my hair and worked well with the other hair products that I use. It smells good, has a nice thick consistency and no matter how much I used I did not feel it was to heavy in my hair. It is a conditioner that I would not wash completely out I would leave some in as a leave in.
Date published: 2017-11-02
Rated

5

out of

5
by
tonyahsu
from
Super Moisturizing with a Lovely Scent!
I was so excited to try this shampoo/conditioner set because it is especially formulated for color treated hair and I found the ingredients of argan oil and cranberry particularly appealing. Both of these products have an amazing scent (although the scent of the shampoo is slightly stronger than the scent of the conditioner) that lasted long after my hair had been washed. After using the conditioner, my long hair was left tangle free, soft and shiny. The conditioner was very moisturizing which is something I require of a conditioner for my dry, color treated hair. These products should be used in conjunction with one another for optimal results. I thoroughly enjoyed using these products (especially the scent and that they are specially formulated to protect color treated hair) and I will definitely continue using them in the future. An added bonus is that they are also an excellent value; such an economical price for such a high quality product!
Date published: 2017-11-02
Rated

4

out of

5
by
bzzagentbusymommylist
from
Beautiful Scent!
I am more than pleased with the long lasting scent! It smells scrumptious right from the bottle and just as great after you rinse and dry your hair! I am a big fan of scented products. Especially when you can still smell it a few hours later or even the next day. It isn't too overpowering but it also isn't so light that you can barely smell it anymore. I've gotten so many compliments about this since I've started using it. I am content with how vibrant and soft it keeps my color treated hair when used along with the shampoo. I don't use it more than twice a week since it does tend to weigh my hair down. (I have super stick straight hair so, I expected this.) Although, I do wish there was a formula that would help with color treated hair, volume, shininess, silkiness and still maintain a long-lasting scent. I do believe it has helped with keeping my hair color vibrant and bright. I intend on adding this line to my regular routine because it is a bit better than what I was using for color treated hair before trying this.
Date published: 2017-11-02