12 long hairstyles for women for every occasion
Hairstyle Inspiration and Long Hairstyles for Women
The best thing about long hair is that you have so many options to choose from for cute long hairstyles. (The worst is that you probably have to stock up on conditioner every two weeks.) If anything, there's nothing you can't do when you have long hair, whether it's a braided bun or a high, voluminous ponytail.
The sky is the limit—which is why it might be easiest to choose your hairstyles for long hair based on the actual hairstyle you want. From braids to buns to leaving your long hair loose, there's a long hairstyle for everyone. And because there's such a huge range and variety, you can find everything from prom hairstyles for long hair to casual, easy long hairstyles. Long hair, don't care!
Loose Hairstyle for Long Hair
Hairstyles for long hair don't have to be complicated, much less involve a hair tie—especially if you're looking for an easy, everyday hair routine. From long straight hairstyles to long wavy hairstyles, it doesn't get simpler than just making the most of your natural hair texture. With the right techniques and hair styling products designed for your hair type, you can consider this the closest thing to a wash-and-go routine for your long hair.
Lived-In Waves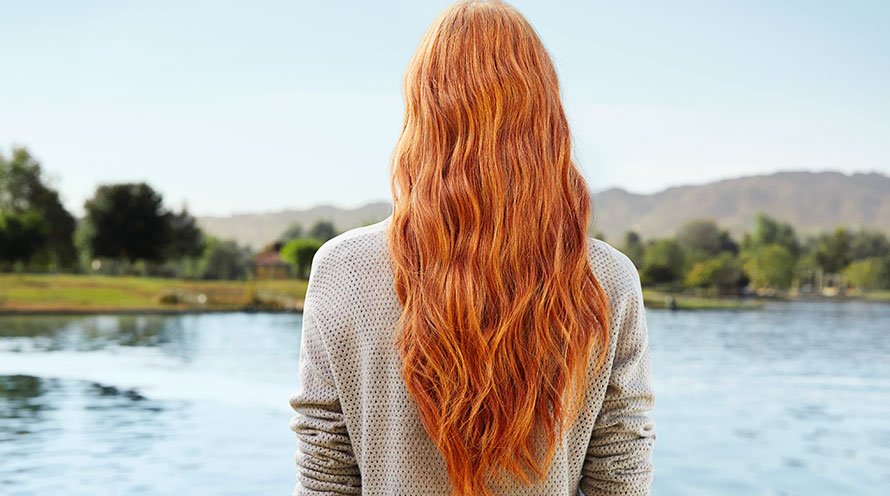 When it comes to easy hairstyles for long hair, it doesn't get better—or faster—than these lived-in waves. If your hair is naturally wavy and has a soft wave or light curl pattern, just work a frizz-fighting formula, like Fructis Smooth Air-Dry Anti-Frizz Cream, through your hair and allow it to air dry. If your hair's natural texture needs help with definition, on the other hand, scrunch a curl-defining product like Curl Shape Defining Spray Gel, which has a stronger hold through your hair before it air dries. It'll give your hair texture and a tousled hair look while minimizing frizz. If you have a long layered hairstyle, this is basically the holy grail of quick AM hair routines.
Pin Straight Hair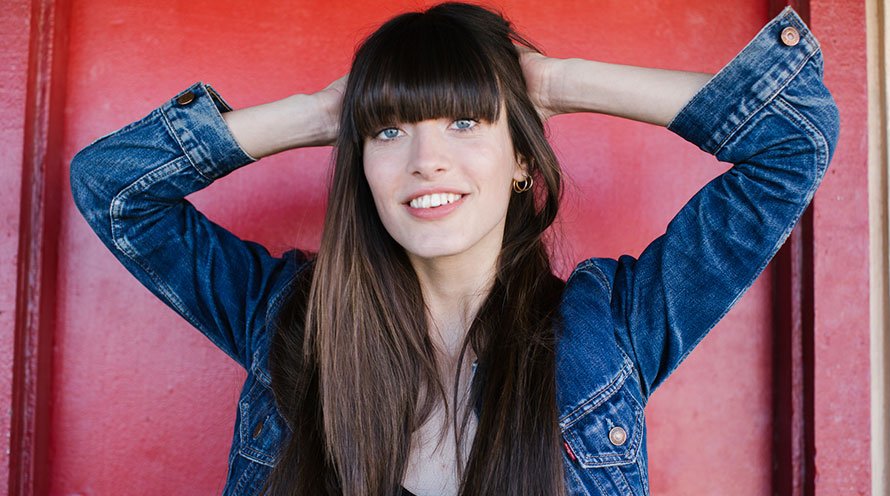 One of the easiest of the easy long hairstyles, this has a boho, 70s vibe—and even more so if you have bangs. The key to making this look like a hairstyle (as opposed to just, well, long hair) is the very smooth, straight texture and shine. If you don't have naturally straight hair, prep wet or dry hair with: Fructis Anti Humidity Smoothing Milk, which helps fight humidity and keeps frizz and flyaways at bay. Then, if you still need to flat iron hair, be sure to prep with a heat protectant like Fructis Flat Iron Perfector Straightening Mist, which seals in smoothness and shine for 48 hours. The hair routine takes a little more effort, but the retro feel of this hair look is worth it.
Polished Curls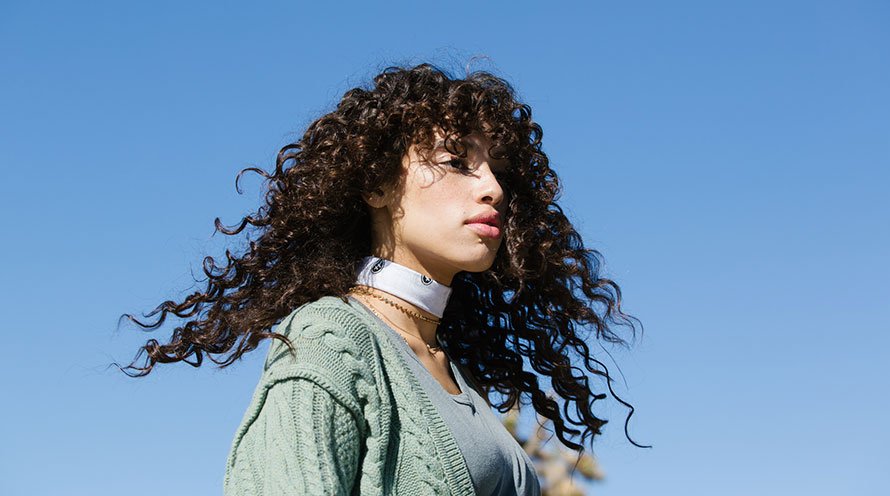 Looking for an easy hairstyle routine for long curly hair? You can't beat this: Defined, glossy curls that look healthy and hydrated. The best part is that wearing your hair down is ideal with second- or third-day curls, so you don't necessarily need to go through the lengthy process of drying your curls every time you style them. Just spritz on Curl Renew Reactivating Milk Spray, which refreshes curly hair. Our formula, with coconut oil, keeps hair smelling great, and makes it easy to finger fluff your curls so you can wake up and go. It's that simple.
Buns with Long Hair
For more formal occasions, buns are a no-brainer for long hair. Whether you're looking for wedding hairstyles for long hair or prom hairstyles for long hair (in addition to these cute prom hairstyle ideas, of course), you can't go wrong with a bun. Still, they're casual enough that you can wear them to work or on the weekends—it's up to you.
Half-Up Bun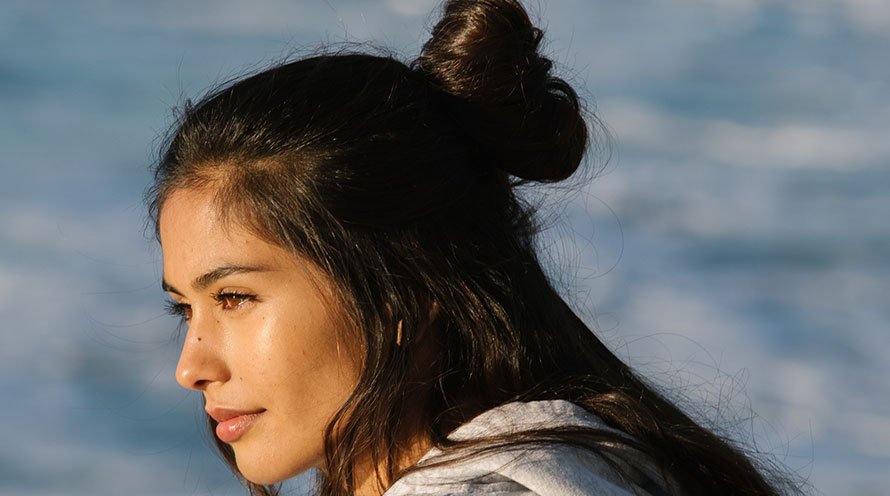 As versatile as it gets, this half up half down hairstyle can be whatever you want it to be—weekend hair, a workday bun, whatever. It's as simple as gathering your hair at the back of the crown of your head and twisting it into a bun. Gently pull sections of the bun to boost its volume and make it look imperfect for a relaxed, effortless vibe.
Low Bun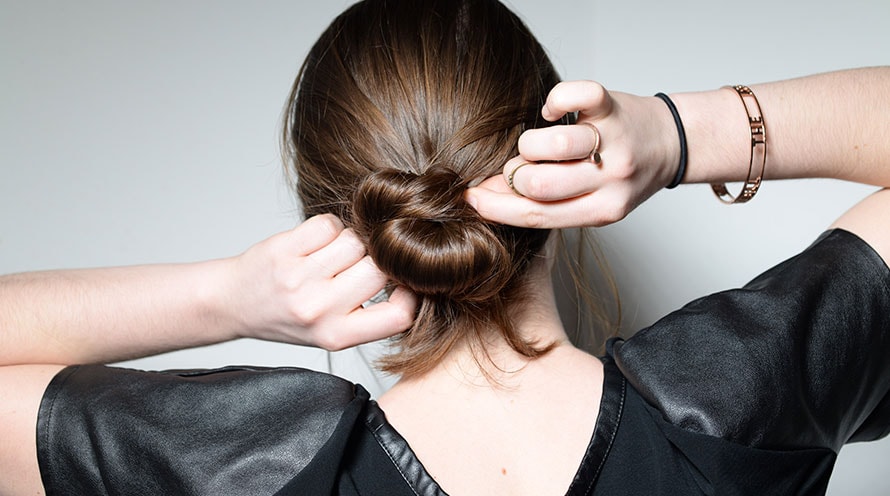 Forget the fussy chignon and rethink what makes a classic with this low bun. Good for any long hairstyle no matter your hair texture, it's simple enough that you can do it in minutes, but keeping it low and close to your neck gives it more polish than your average top knot. Once you've twisted it back, polish it off with Fructis Sleek & Shine Anti-Humidity Hairspray, which both helps it stay put and prevents frizz and flyaway hair from making it look messy.
High Top Knot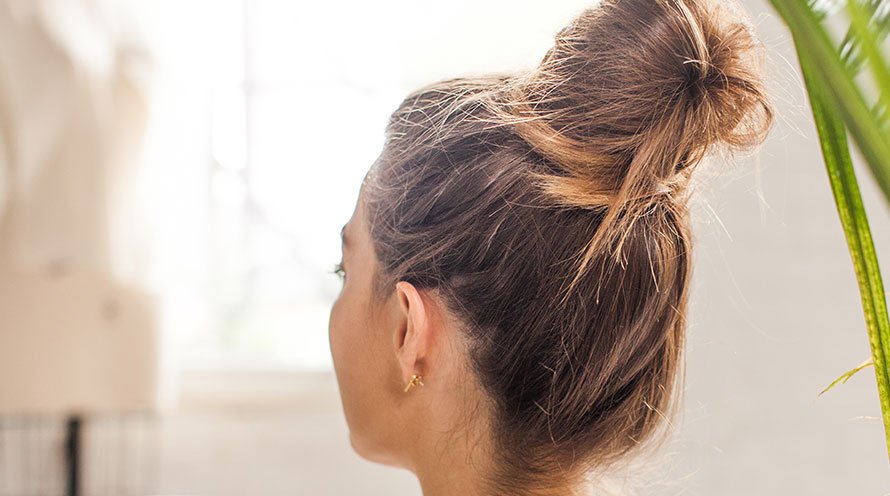 Look, a top knot isn't new. Hands-down one of the easiest hairstyles for long hair, it's a lifesaver when you're in a rush or have managed to hit the snooze eight times. Upgrade it—without adding time to your hair routine—by twisting a bigger top knot than usual and positioning it at the crown of your head. Then, use your fingers to gently tug at the bun, pinning any loose strands around your elastic band to hide it.
Ponytail Hairstyle for Long Hair
You can't try cute updos for long hair without considering the classic ponytail. After all, ponytails were made for wrangling long hair, and they're the OG easy hairstyle for long hair. That doesn't mean they have to look it, though. With the right inspo and hair styling products, a ponytail can make long hairstyles look anything but basic.
Wrap Around Ponytail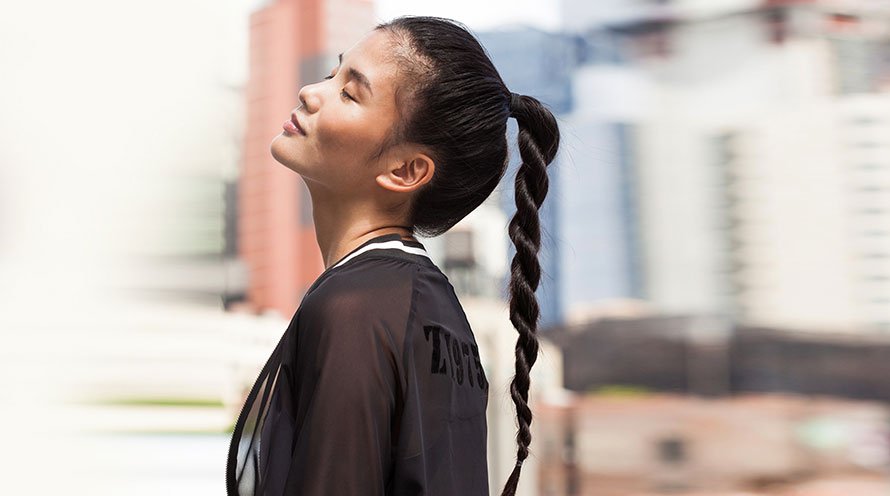 You won't find this ponytail at the gym, but it's still a standout for simple hairstyles for long hair—partly because it looks like you put serious work into it. First, start with smooth hair. Prep it before you dry with Fructis Sleek & Shine Smooth Blow Dry, which tames frizzy hair and protects hair against heat damage and is infused with nourishing argan oil. Then, pull your dry hair into a high ponytail and separate it into two sections. Twist each one to the left and, as you do so, twist the sections around one another to the right. Continue to the ends and secure with an elastic hair tie.
Ponytail with Headband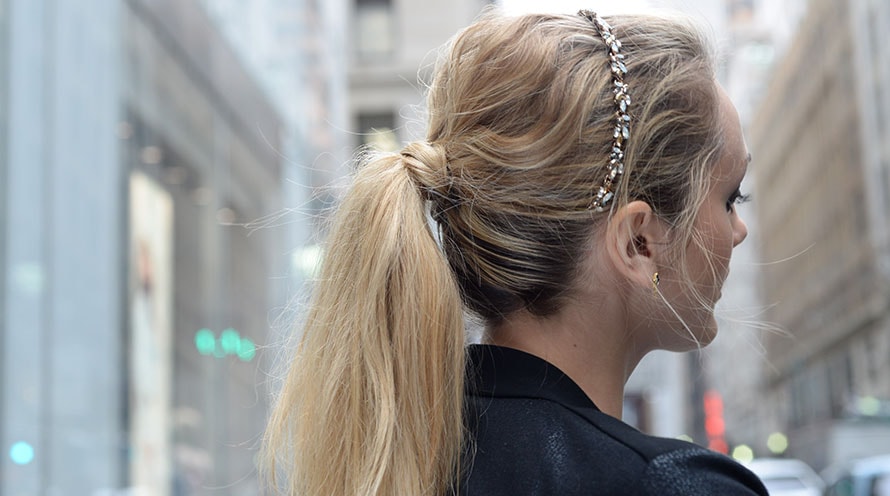 Headbands can look a little prim—but not if you pair them with a ponytail. (If you're on the lookout for wedding hairstyles for long hair, this is a good one.) The trick is in the texture: With a few loose strands framing your face and a subtle wave, it looks modern and cool. For hair that has some natural hair texture or wave already, work Fructis Curl Sculpt Conditioning Cream Hair Gel through damp hair and scrunch it with your hands to define the waves. Then, rake your fingers through your hair and loosely pull it back. Anchor your headband, keeping it three or four inches from your hairline. Finally, take a small section of your ponytail and wrap it around the elastic to hide it.
Wavy Ponytail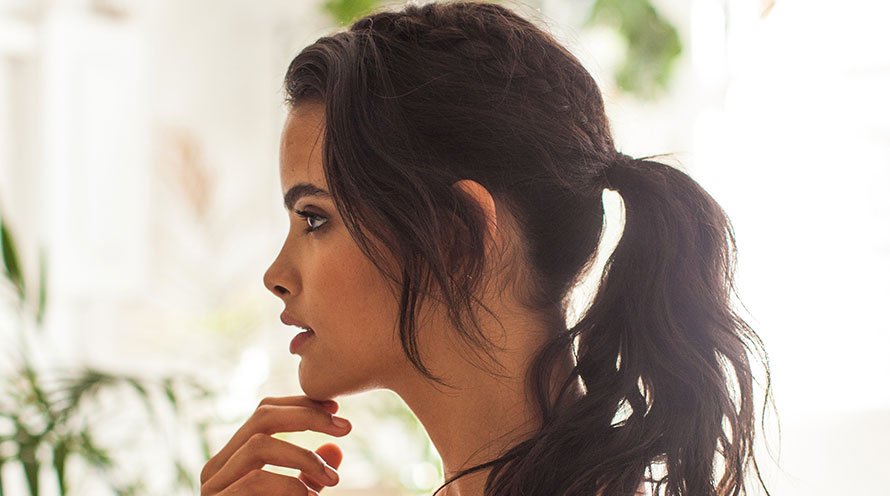 Calling all beauty minimalists! Seeking prom hairstyles for long hair? You've got it. This is simple but special. Work Fructis Curl Construct Creation Mousse through damp hair and allow it to air-dry (or diffuse it). Then, pull your hair back into a tight ponytail, leaving a section of hair near your hairline loose. Use your fingers to fluff up the waves.
Braids Hairstyle for Long Hair
The best part about braid hairstyles is that they only look complicated. In reality—and with the right guidance—they're anything but. Long hair gives you the flexibility to try pretty much every braid hairstyle out there, so here's some hair styling inspiration to help you begin. Plus, braided hairstyles are versatile by nature. Depending on the braid style, they can work as well for formal occasions, like date night or even prom, as they do to keep your hair in place during your weekly yoga class. Once you start braiding your hair regularly, you won't want to stop.
Simple Fishtail Braid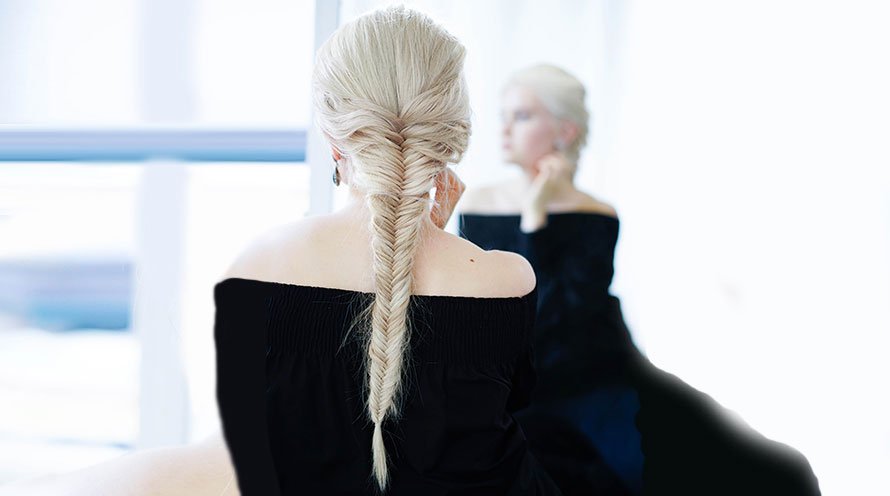 Fishtail braids became popular a few years ago and haven't really left—nor should they. They look elegant enough to be a popular option for wedding hairstyles for long hair, but are easy enough that you can make one in seconds. Choose from a classic fishtail braid in the back or a side fishtail braid. Either is possible with our Side Fishtail Hairstyle tutorial, which shows you the basics in 30 seconds flat.
Upside Down Dutch Braid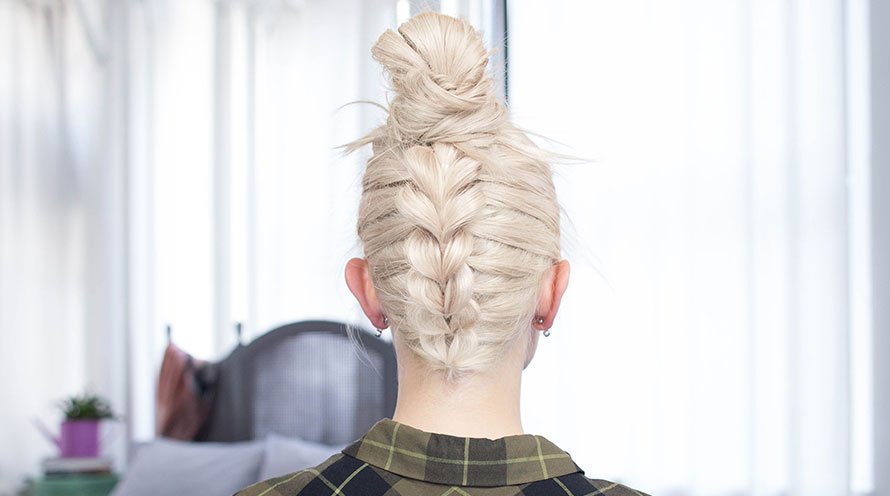 This gorgeous braid hairstyle for long hair is detailed and stunning—and it takes a little bit of practice, even if you've got serious braiding skills. If you're looking for prom hairstyles for long hair, though, it might just be worth it. First, flip your head over and begin to braid your hair in a Dutch braid at the nape of your neck. Work your way up your head until you hit the crown. Then, gather your remaining hair there, twist it into a messy bun, and secure it with an elastic hair tie. If you're going for a more formal hair look (hint, hint, prom), take any loose pieces of hair and pin them around the hair tie to hide it. To help it last all night, lightly spray it with Fructis Full Control Anti-Humidity Aerosol Hairspray.
Accent Braid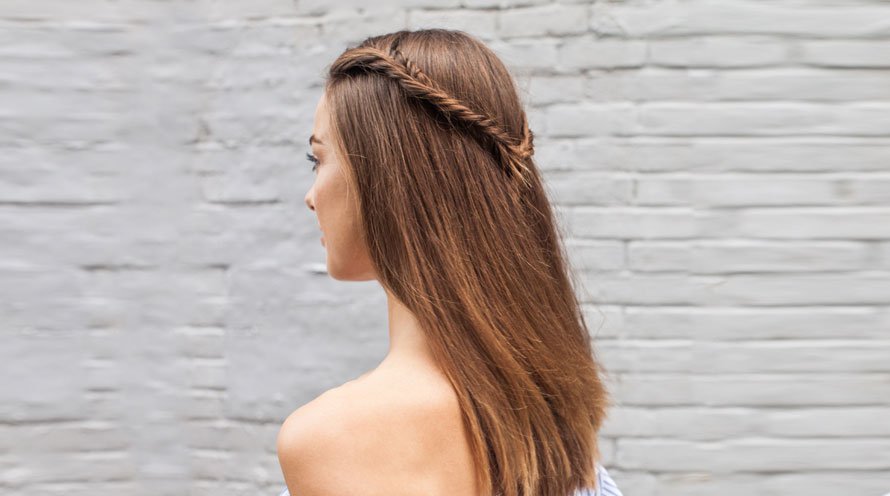 You can breathe easy again, braided hairstyle beginners. (And celebrate, if you happen to be in the market for a wedding hairstyle for long hair, because this is a good one.) This miniature fishtail braid is equal parts easy and elegant. First, part your hair down the middle. Take a small section from one side of your part and braid it, fishtail-style, to the end. Then, pin it at the center of the back of your head. Repeat on the other side. Where the two braids meet, pin them and let the ends loose. To complete the look, or keep frizz at bay throughout the day spray on Fructis Style Frizz Guard, which moisturizes hair and fights frizz without weighing it down and is infused with Moroccan argan oil. It'll keep frizz and flyaway hair from detracting attention from your accent braid.