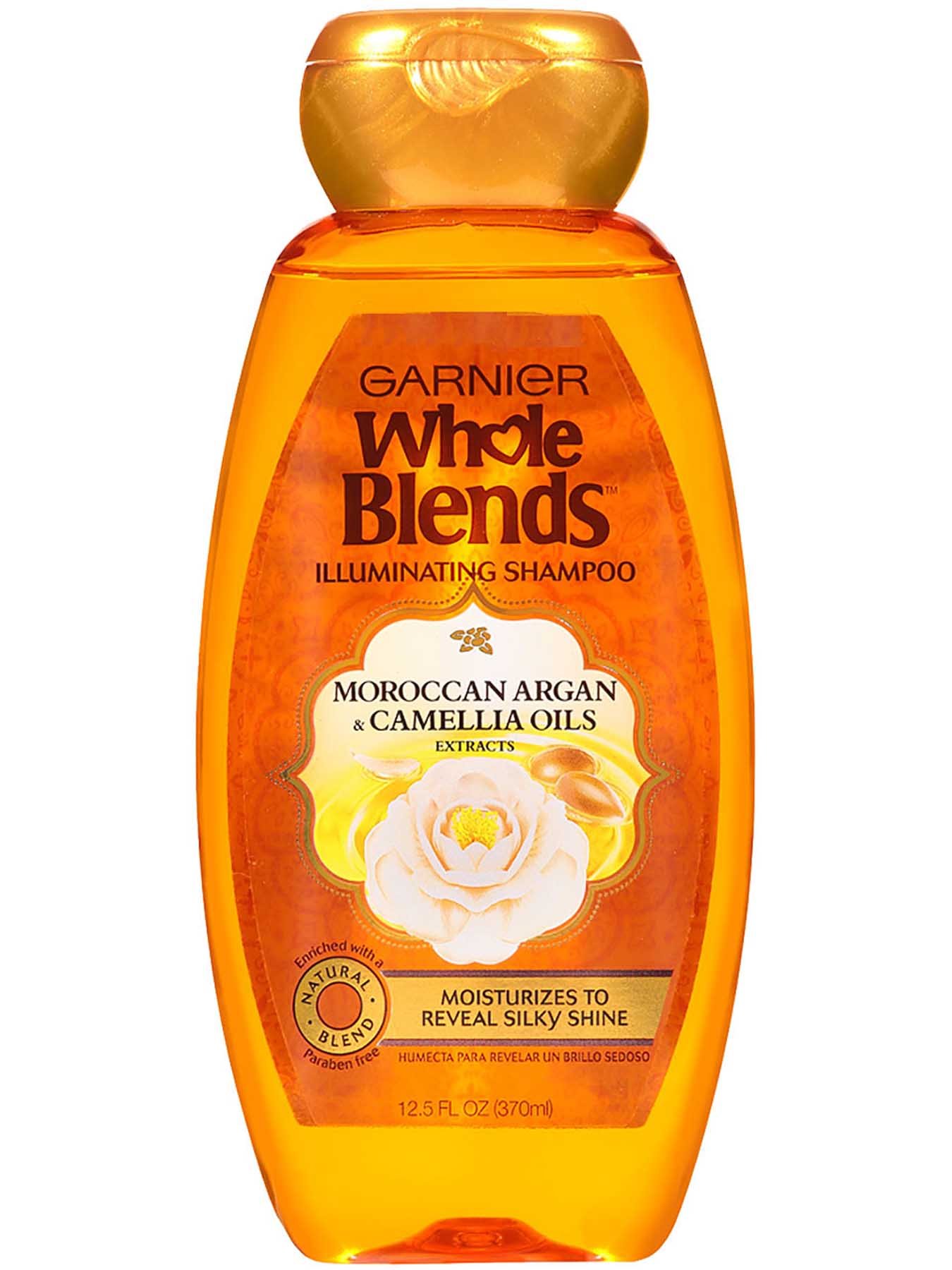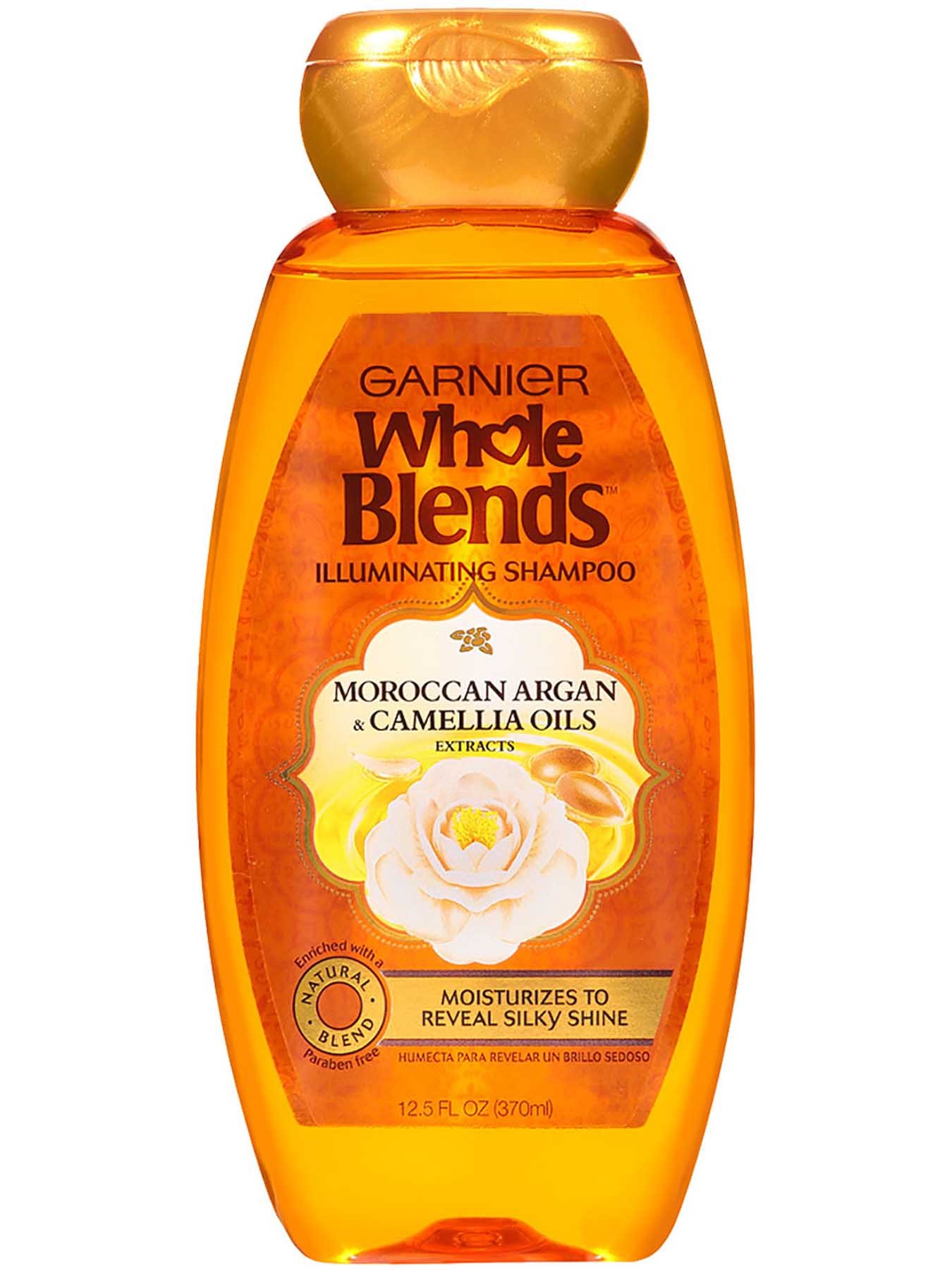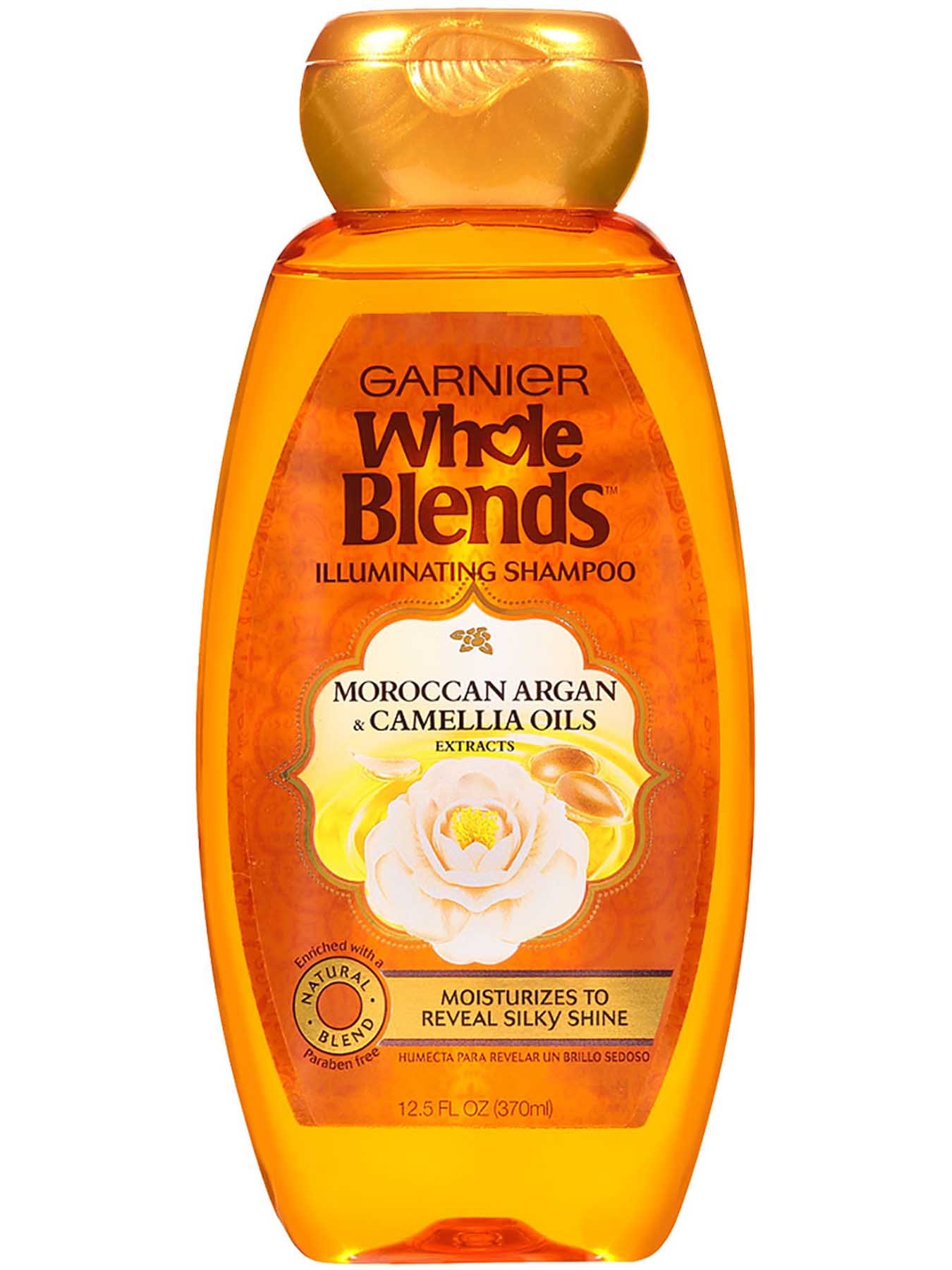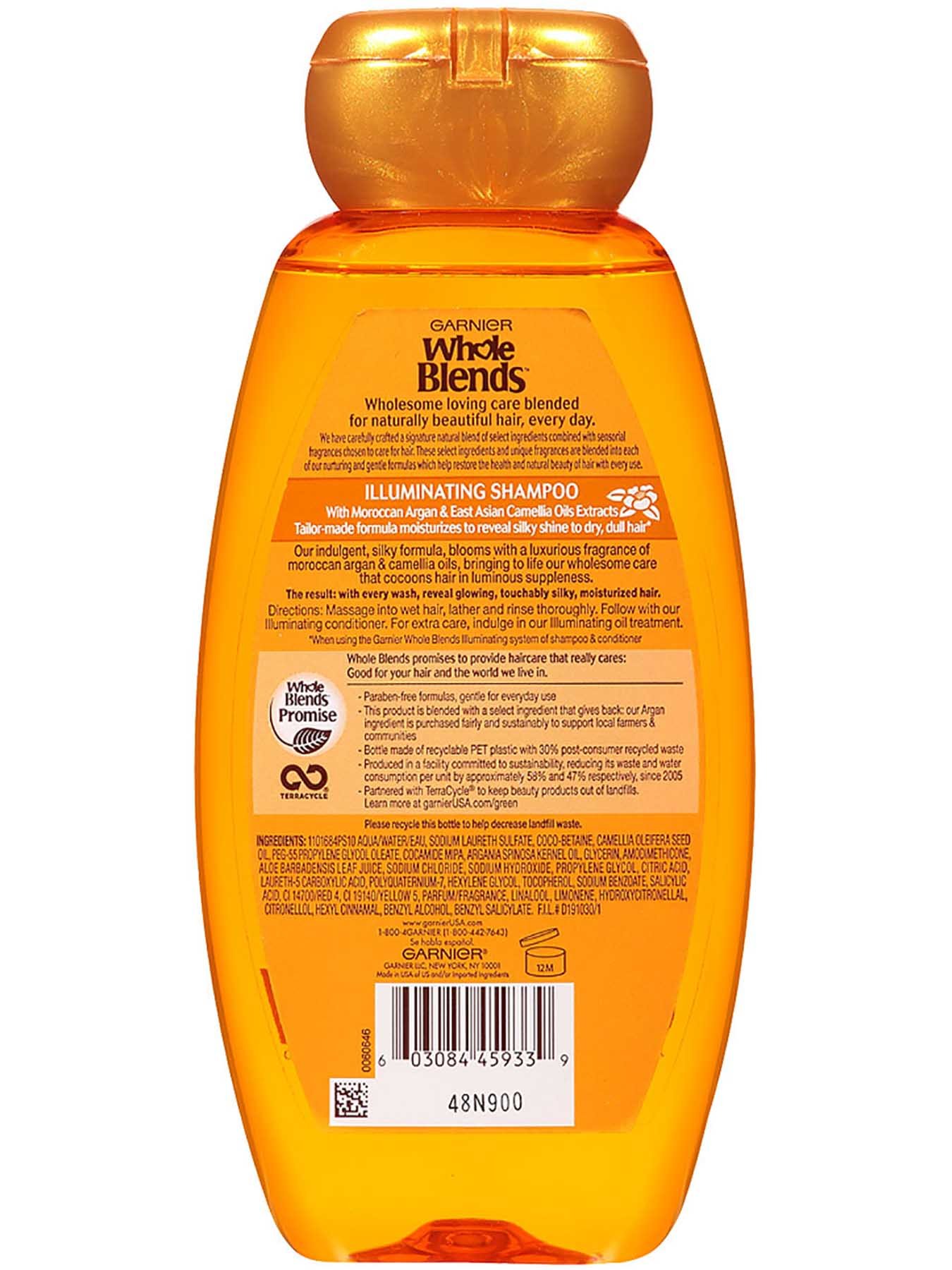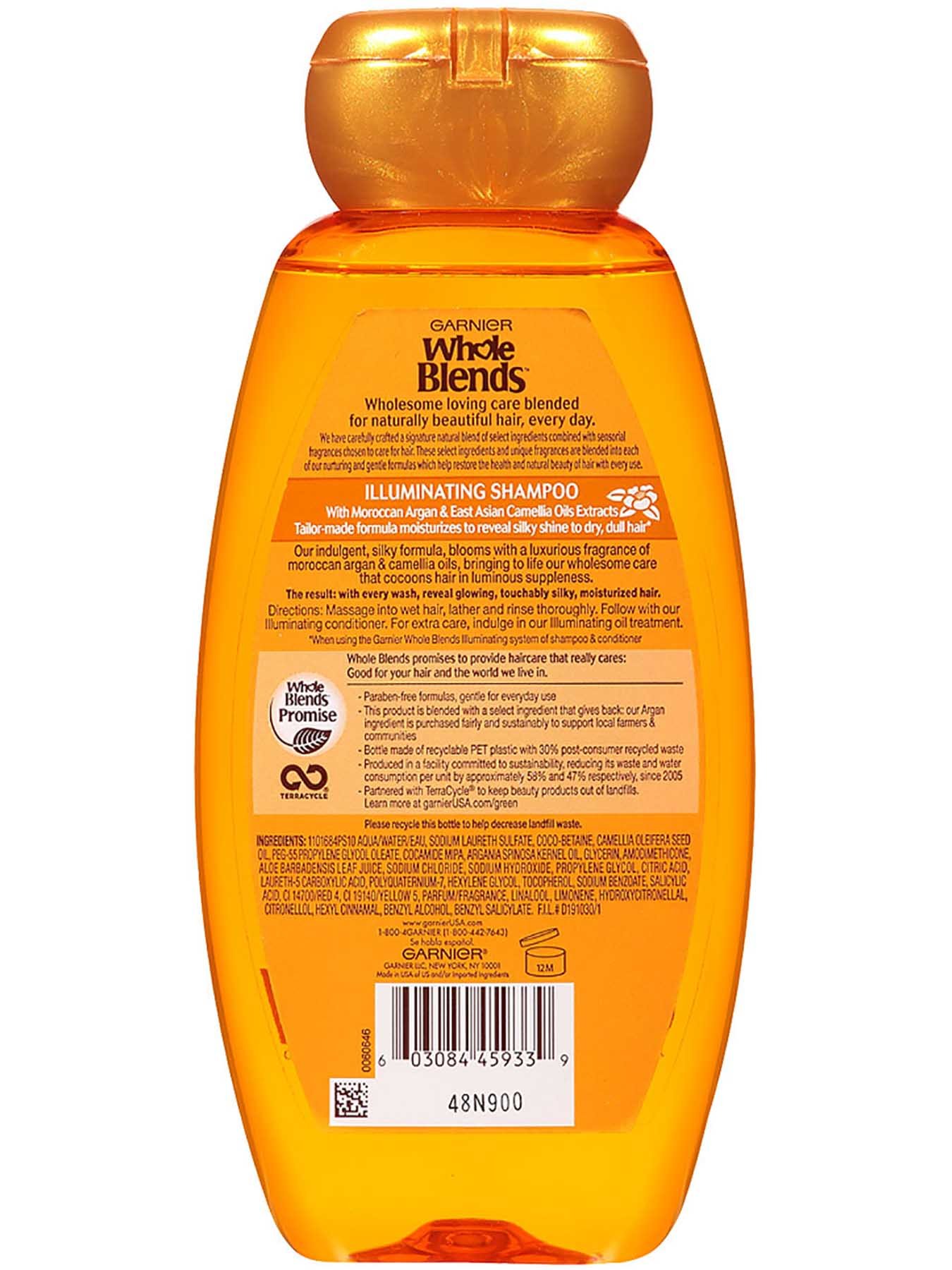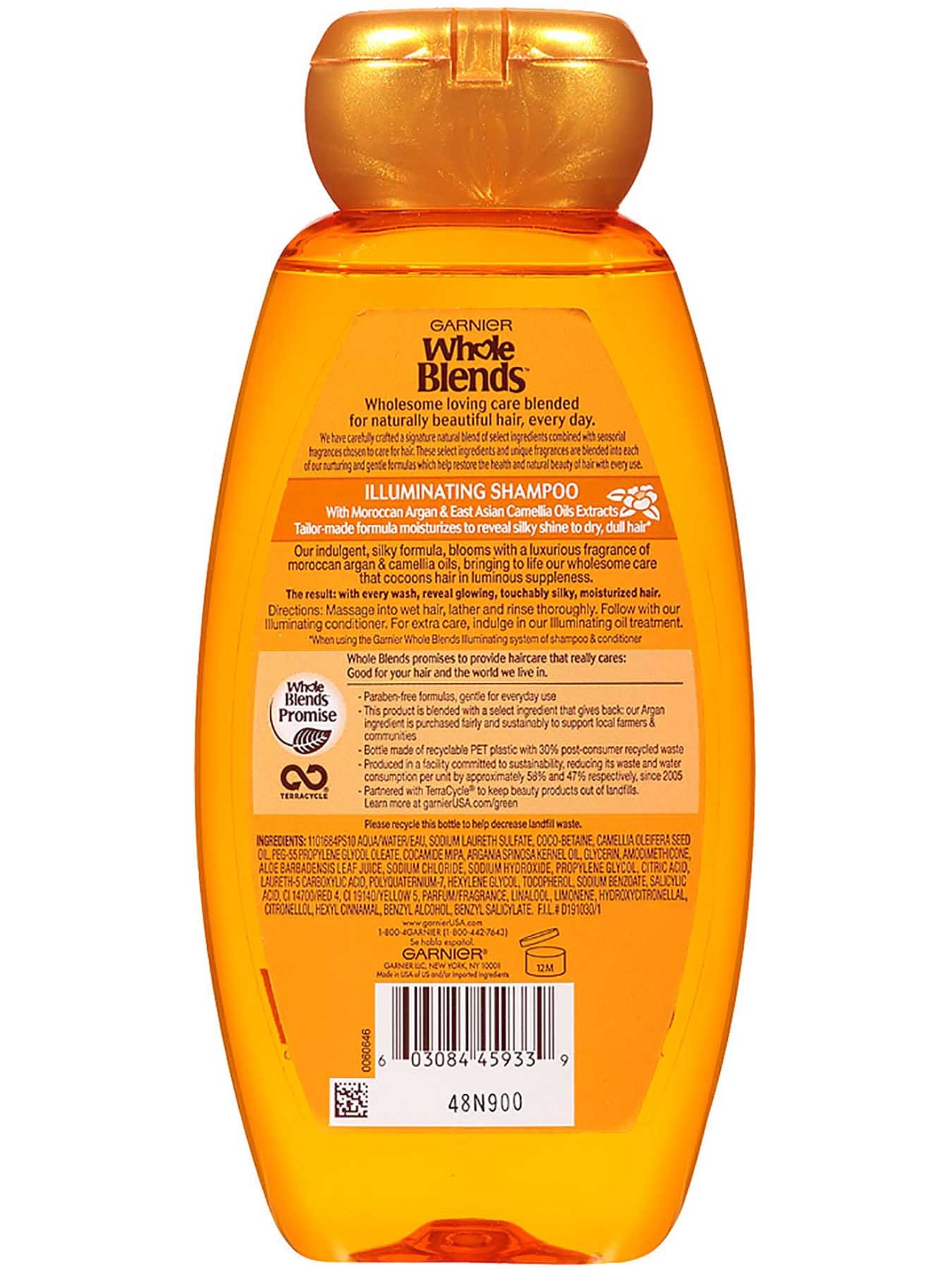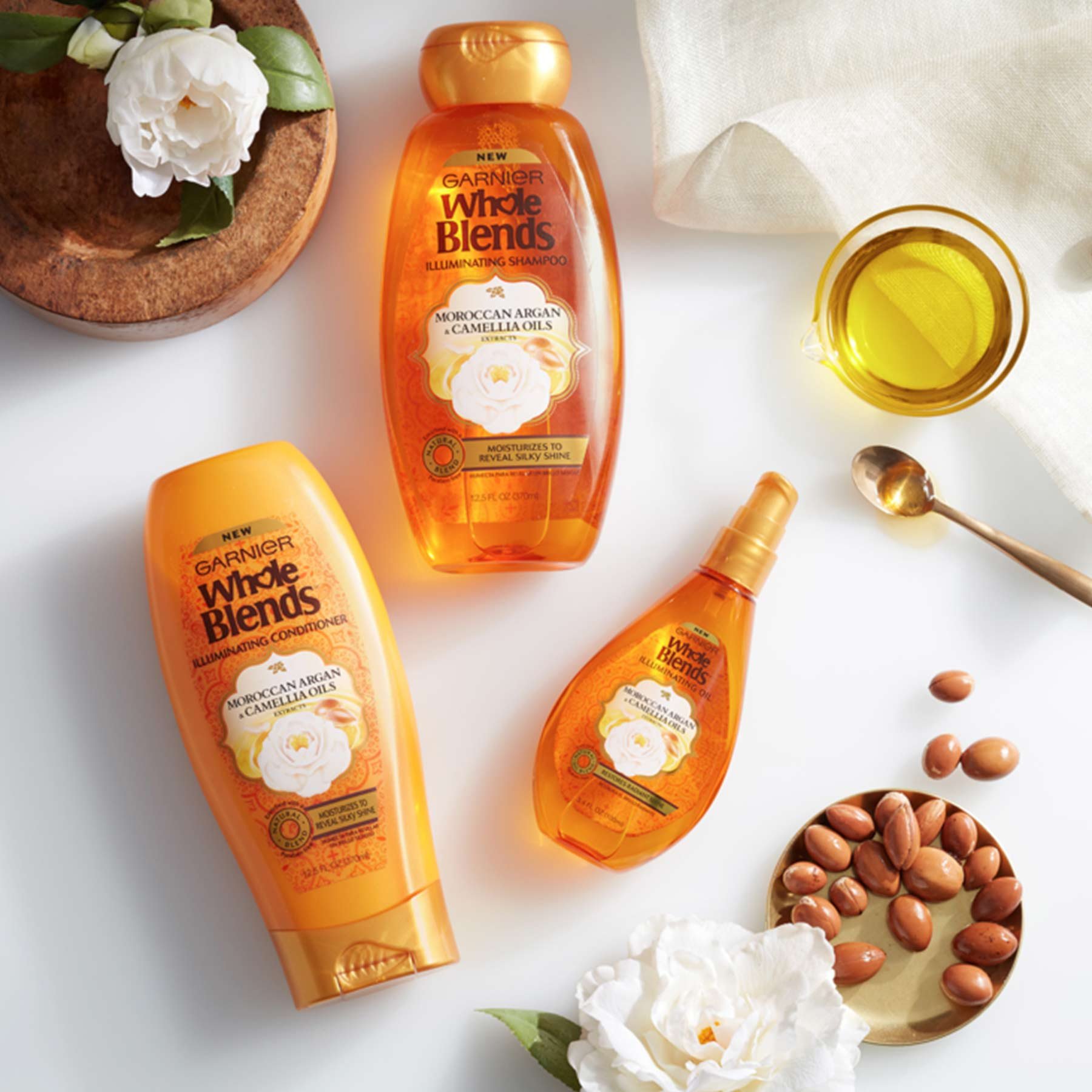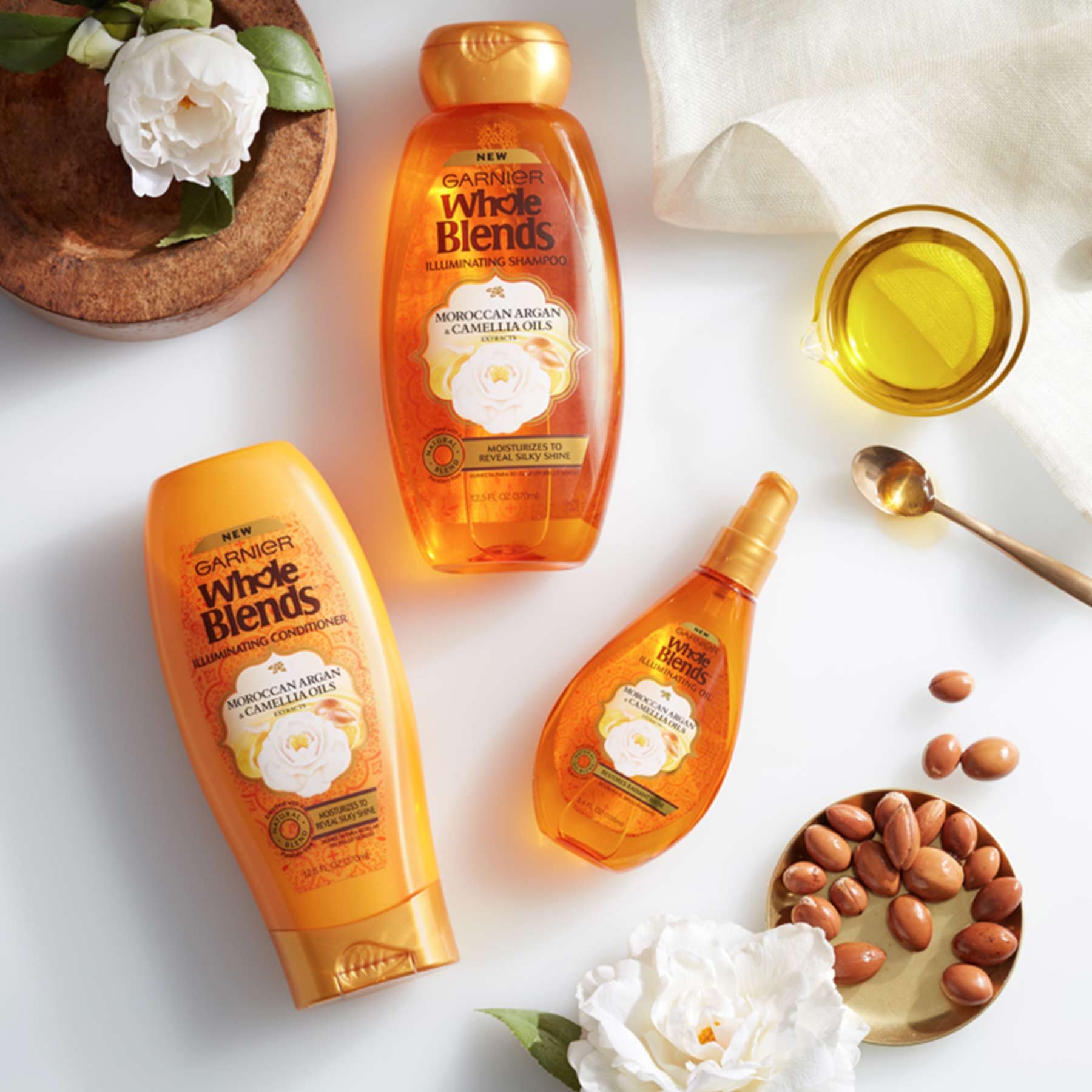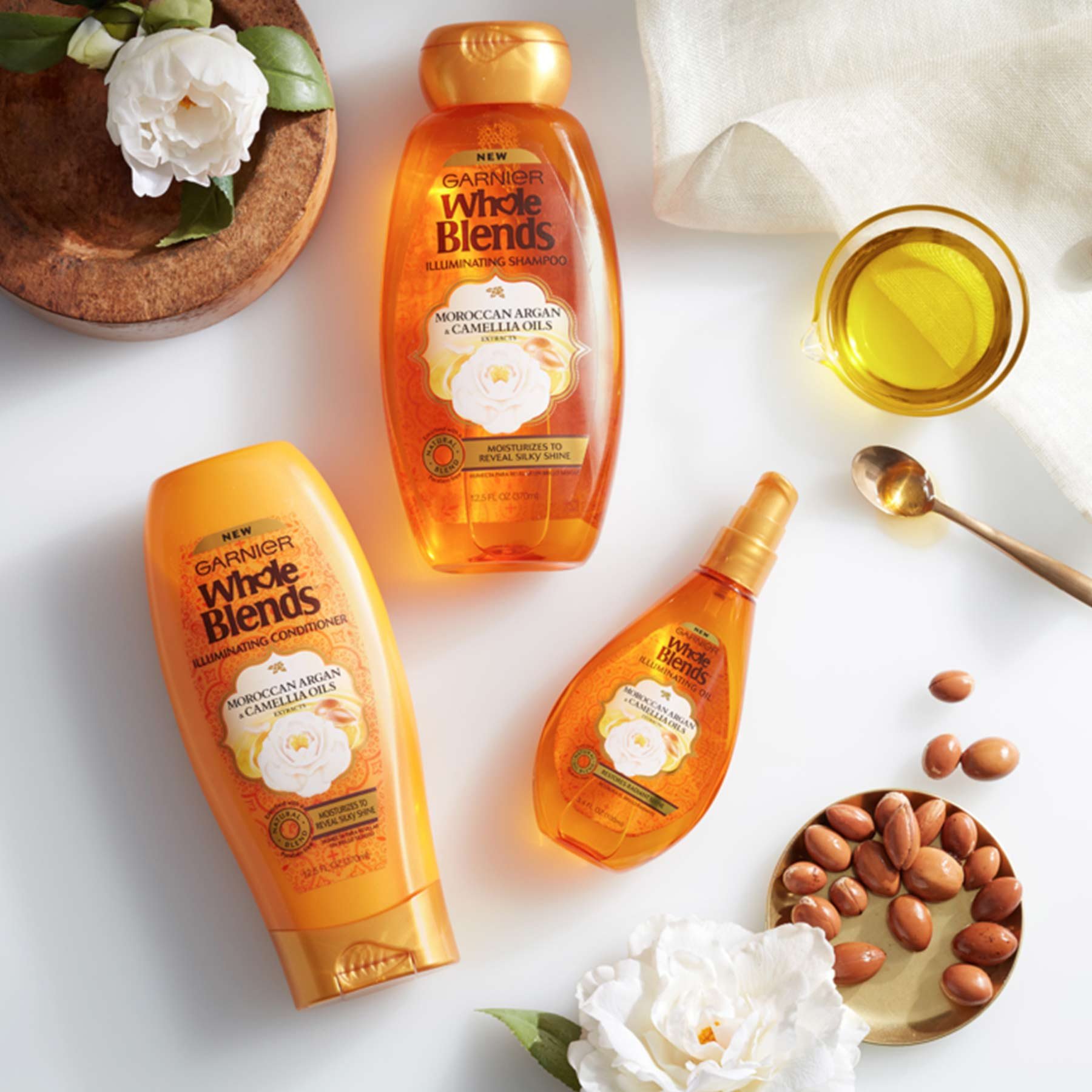 Illuminating Shampoo with Moroccan Argan and Camellia Oils Extracts
Whole Blends
$4.49 MSRP
El shampoo iluminador hidrata para revelar un brillo sedoso.
*Con la rutina iluminadora Garnier Whole Blends de shampoo y acondicionador.
INFORMACIÓN DEL PRODUCTO
Nuestra fórmula Garnier Whole Blends deliciosa y sedosa difunde una fragancia lujosa de aceites de argán marroquí y camelia para el cabello en un cuidado increíble que envuelve el cabello en una flexibilidad luminosa.
Modo de uso
Masajea con el cabello húmedo, haz espuma y enjuaga minuciosamente. A continuación, aplica nuestro acondicionador iluminador. Para un cuidado extra, disfruta de nuestro aceite de tratamiento iluminador.
Ingredientes
1101684 PS10 AQUA / WATER / EAUSODIUM LAURETH SULFATECOCO-BETAINECAMELLIA OLEIFERA SEED OILPEG-55 PROPYLENE GLYCOL OLEATECOCAMIDE MIPAARGANIA SPINOSA KERNEL OILGLYCERINAMODIMETHICONEALOE BARBADENSIS LEAF JUICESODIUM CHLORIDESODIUM HYDROXIDEPROPYLENE GLYCOLCITRIC ACIDLAURETH-5 CARBOXYLIC ACIDPOLYQUATERNIUM-7HEXYLENE GLYCOLTOCOPHEROLSODIUM BENZOATESALICYLIC ACIDCI 14700 / RED 4CI 19140 / YELLOW 5PARFUM / FRAGRANCELINALOOLLIMONENEHYDROXYCITRONELLALCITRONELLOLHEXYL CINNAMALBENZYL ALCOHOLBENZYL SALICYLATE F.I.L. #D191030/1
Aceite de argán
Los mismos emolientes que hacen que el aceite de argán sea tan beneficiosos para la piel actúan en el cabello seco y apagado. El aceite de argán se utiliza para suavizar el aspecto de las puntas abiertas, desenredar, mejorar la sensación del cuero cabelludo seco y fortalecer el cabello mientras crece.
Aceite de flor de camelia
El aceite de flor de camelia es un ingrediente activo para el cuidado del cabello delicado y reemplaza el dañino amoníaco con sus beneficios saludables e hidratantes.
La rutina de cuidado iluminador
Todo lo que necesitas para revelar un brillo sedoso.
Lavar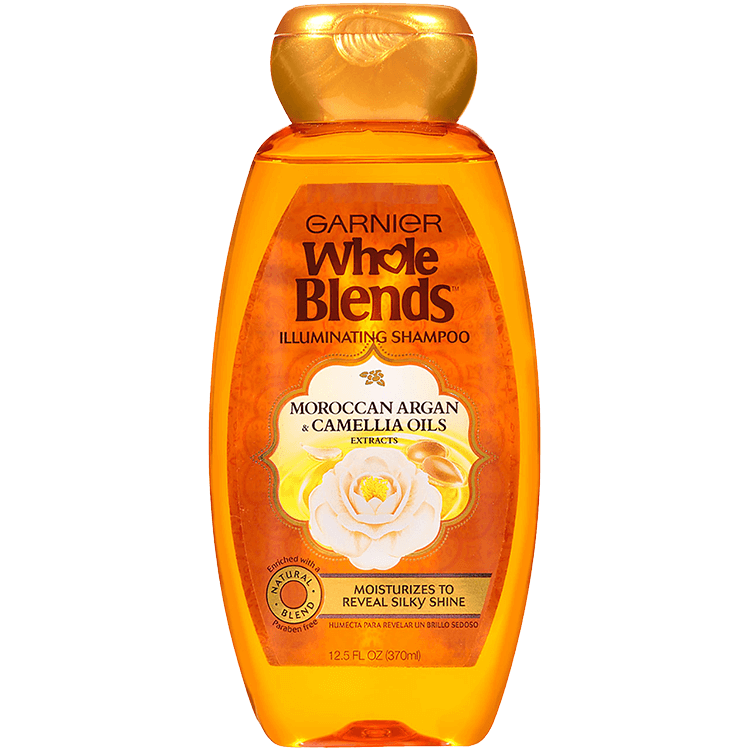 Whole Blends
Illuminating Shampoo with Moroccan Argan and Camellia Oils Extracts
Cabello seco y apagado
Acondicionar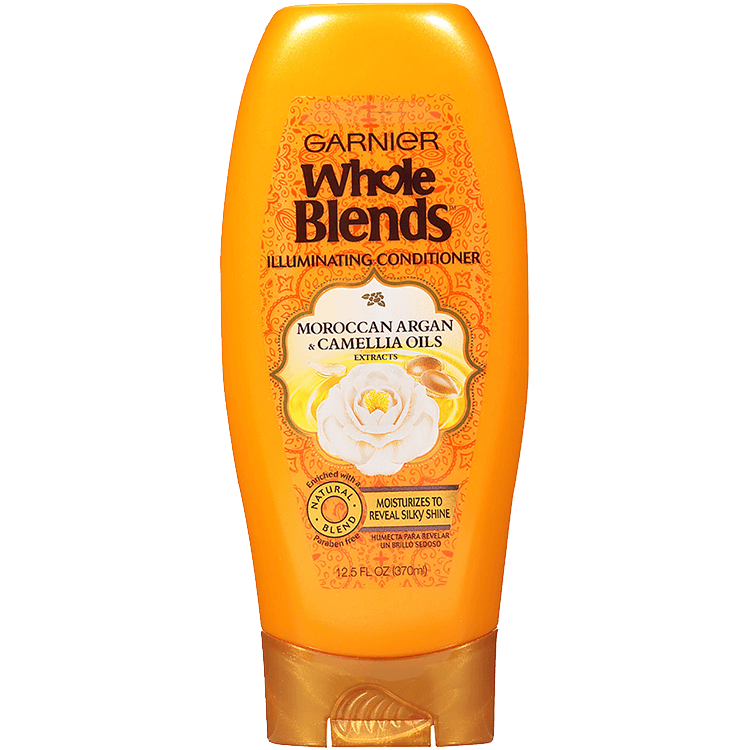 Whole Blends
Illuminating Conditioner Moroccan Argan and Camellia Oils Extracts
Cabello seco y apagado
Tratar
Whole Blends
Moroccan Argan & Camellia Oil Extracts Leave In Treatment
Cabello seco y apagado
Rated

4

out of

5
by
blushing86
from
Great Non Drying Shampoo
This is a great shampoo. Even with frequent washing my hair did not seem stripped. I actually really like the entire line including the mask which is really rare. The only reason I am giving 4 and not 5 stars is due to what may be more a personal thing than product flaw. As by early afternoon is quite dry and it is not possible to achieve 2nd day hair. My hair is a combination of curls and waves that are smooth yet have a distinct full curl of a fluffy feathery cotton ball type sheen and texture in some areas then some leaner shiney (not fluffy) long ringlet types towards the lower areas and some variations. so i am thinking Maybe i just need a richer formula more close to the mask to address the drier flufflier textures especially at the roots. OverAll this entire line is a infact very illuminating product for wash and gos (or flat ironing). Have to Love That.
Date published: 2018-11-29
Rated

1

out of

5
by
Honey16
from
Dry and brittle
I have thin hair, this shampoo and conditioner made my hair dry, brittle and lot of breakage.
Date published: 2018-09-15
Rated

5

out of

5
by
Armygirl35f
from
ABSOLUTELY LOVE IT!!!!
Bought this one about 2 weeks ago, used a different smell 2 months before. Love them! They got rid of the buildup on my scalp and keeps it away too.
Date published: 2018-08-30
Rated

5

out of

5
by
beautywellblended
from
Holy Grail Haircare
I don't usually rave about shampoo and conditioner, or any haircare products really, but I have seriously fallen head over heels in LOVE with this shampoo and conditioner! I love the natural oil smell, how insanely soft and luxurious it feels when it lathers up, and rinses to reveal the most amazing my hair has EVER been in my whole life! I am so glad I found this line and gave it a try, because this is what I have needed in my life! I will always, always repurchase this so PLEASE DONT EVER DISCONTINUE this line!
Date published: 2018-02-06
Rated

5

out of

5
by
DonnaDM
from
Best-Smelling Shampoo I've Ever Used
I love the scent of this shampoo and conditioner. It leaves my hair incredibly soft and shiny. I have color-treated hair and it works wonders with the texture. I also have the hair oil. Love this product.
Date published: 2018-01-29
Rated

3

out of

5
by
Cat2017
from
Nice job, but sickly sweet smell stays on
This shampoo does a really good job, and so does the conditioner. I don't like the smell, however, which is sickly sweet and clings into the next day. It was hard to sleep with that strong smell enveloping my head. I am going to go wash my hair now with a different shampoo.
Date published: 2017-11-25
Rated

5

out of

5
by
Jocie
from
Amazing !!
I used this on my processed damaged hair and the outcome was absolutely stunning
Date published: 2017-11-22
Rated

4

out of

5
by
suzieqtpie
from
Moroccan Me !
I buy many of your products ( Garnier ) and wanted to try your Whole Blends line.... I have been very happy with the shampoo and now plan on buying the conditioner .... and looking over any other products you have in this line ... The cost value ve quality is amazing and that;s why your my number 1 choice for all things hair.... just notice you have a hair color line... and wanting to improve me shine luster ...so i'll have to research what my options...
Date published: 2017-10-15
Rated

4

out of

5
by
izabela
from
brazilian
I want this shampoo in Brazil, please garnier. I need much in big size! i love it!
Date published: 2017-08-20
Rated

5

out of

5
by
mfalesnik
from
Love it!
I never liked any of the Garnier products for my hair. I was always disappointed with the products until I tried a free sample from a magazine for the Moroccan Argan & Camellia Oils. The shampoo and conditioner has left my hair light, soft and free of build up. It also smells amazing! I believe I have found a new shampoo for my thick heavy hair.
Date published: 2017-07-21
Rated

5

out of

5
by
Wendi
from
Wonderful product!
I absolutely fell in love with this shampoo and conditioner. I tried it for the first time two weeks ago, and what a difference!! I love the thickness of the conditioner. My hair is shiney, and doesn't seem to have as much frizz as before... love love love this product!
Date published: 2017-06-04
Rated

5

out of

5
by
devans
from
Wonderful Product
I just used the new Garnier whole blends shampoo with Moroccan organ in chamomile oils for the first time! I had never even used this brand of shampoo before. I love the smell of it I love how the cap doesn't spill out too much in your hand. But most of all I love the way my hair feels and looks now!!!! Love this product!
Date published: 2017-05-22
Rated

2

out of

5
by
lilLass
from
Not as hoped for
I have tried the Illuminating and the color care Whole Blends. The Illuminating has left my hair oily and heavy, but my ends have been straw like and dry. I started using it the day after I had my ends trimmed, because my ends were brittle and dry. The smell, is definitely a personal preference. I thought it smelled nice in the bottle. Once I actually used the shampoo and conditioner, it was very overwhelming in the sweetness, kind of like older people perfume. Unfortunately these are things I won't overcome to even finish the bottles. That being said, I will recommend, only because every person is different, and this is a great buy to see if it will work. But I really dislike the smell on me.
Date published: 2017-05-19
Rated

5

out of

5
by
Shel 49
from
Reason for specific ingredients
I love this shampoo and conditioner however I am curious about a few ingredients in the shampoo. I notice it contains sodium chloride and sodium hydroxide that is the same ingredient in hair relaxers. What does these ingredients provide to the shampoo? Does it provide any relaxing similar to hair relaxers .
Date published: 2017-05-10
Rated

5

out of

5
by
Eva1
from
AMAZING!!!
I bought this along with the conditioner and oils and they have really changed my hair. Normally, my curly hair is frizzy and not shiny but after one wash, it was soft and had a really nice shine to it. I've tried so many different shampoos and conditioners but this product line is by far the only thing that's really worked well. I will definitely continue buying this product in the future.
Date published: 2017-04-26
Rated

5

out of

5
by
GmaGutz
from
Amazing Shampoo
I was using another "moisturizing" shampoo and my hair was just so dry and lifeless - I had tried the Whoke Bkend Moroccan conditioner and it was helping but knew I needed more help so bought the shampoo - after just one use I'm sold! My hair feels so soft, looks so shiny - it's truly incredible! And it's not greasy or weighed down - thiswill be my shampoo from here on out! Thank you Garnier!!
Date published: 2017-03-23
Rated

5

out of

5
by
SandraG
from
Marcoccan Amazing
I have been using the Whole Blends with Moroccan Argan and Camellia Oils Extra for the past 3 weeks know and I am in love. It not only smells amazing but it leaving my hair so clean and soft. I have been using the conditioner and the oil along with it and I think this will be the only brand I will ever use. Amazed.
Date published: 2017-02-26
Rated

5

out of

5
by
Hungergirl
from
Best shampoo I've ever used!
It leaves hair so clean and fresh and goes so well with rather conditioner and Illuminating Oil !
Date published: 2017-02-24
Rated

5

out of

5
by
frenchtutor
from
amazing!
This shampoo and conditioner are both amazing!!!!!!!! My hair looks shiny, healthy, and soft. the best ....I am a believer!
Date published: 2017-02-03
Rated

4

out of

5
by
maraina
from
Great Shampoo
Garnier Whole Blends Shampoo with Argan is a great product. It left my hair feeling clean after using it. Combined with the conditioner, my hair left soft, healthy, and shiny. My only complaint about this product is that it isn't sulfate free.
Date published: 2016-12-27
Rated

5

out of

5
by
JessicaFrable
from
Very Clean Feel
I am so glad I tried Garnier's Natural Blends Moroccan Argan Shampoo! My hair feels so clean! I have used it for weeks now and love the results! My hair has body and doesn't feel weighed down! I will definitely be getting more!
Date published: 2016-12-27
Rated

2

out of

5
by
MrsHill820
from
My hair didn't know what to do....
My hair was super flat after using this shampoo. My hair is really fine and I tend to steer closer to lighter shampoo and conditioners. My hair felt soft after usage, and felt more nourished. I just didn't like the fact that it made my hair look dirty. The shampoo smelled really good at least.
Date published: 2016-12-27
Rated

4

out of

5
by
mindy66510
from
Love this shampoo, but scent is a little strong
After having chemo and losing all of my hair, I am very particular as to what products I use on my new hair growth. I love that Garnier Whole Blends Argan Module Shampoo moisturizes and makes my hair shine and makes it feel very soft. I love that it is paraben free. I think the only things I didn't like about this shampoo was that it seemed like it took a while to get all of the product out of my hair and the scent was a little bit too strong for me. Besides that, I love Garnier products and think that this is another great addition to their product line.
Date published: 2016-12-27
Rated

5

out of

5
by
Mnansong
from
New Product, Great Results?
I was very excited to try this new product Whole Blends Illuminating Shampoo with Moroccan, Argan and Camilla oils extracts. I use other Garnier products in my hair in the past. I was curious to see if this product lives up to the quality I've come to expect from the Garnier line. I have 3C type hair which is curly/coily. My hair tends to be dry and I need a shampoo that has a lot of moisture and lot of good oils in it. This Garnier Whole Blends Illuminating Shampoo has oil's to help add shine to hair. I really liked this formula of shampoo. It worked well to clean and refresh my hair. It lathered well and it smelled pretty with floral accents. I would definitely recommend this shampoo to others. I think it will serve people who have a variety of different hair types.
Date published: 2016-12-27
Rated

3

out of

5
by
hmdilore21
from
Greasy feeling
I've enjoyed the scent of his shampoo and the fact that it's a natural ingredients in it. But I haven't been enjoying how my hair feels at the end of the day after using it. I feel like my hair is very greasy feeling as the day is winding down.
Date published: 2016-12-27
Rated

4

out of

5
by
lovefree15
from
Great item
Felt a little weird after I washed my hair... might be for stringy hair? Has a very nice rich lather too! Enjoyed it not burning my eyes.
Date published: 2016-12-26
Rated

5

out of

5
by
skatyonok26
from
Soft and silky
This shampoo worked wonders for my hair! The smell of the argan was amazing and this shanpoo didn't dry out my hair like some other shampoos have done. I loved how easy it was to lather my hair with it and how it made my hair feel soft. I am so happy I found the right product for my hair type! Goodbye dry hair and hello soft and silky hair!
Date published: 2016-12-26
Rated

5

out of

5
by
Aniol2
from
Refreshed hair
This product is very nice. Smell is pleasant, texture is nice and it leathers very well. It left my hair feeling elevated and very clean. By nature I have oily hair and typically shampoos make my scalp dry but this shampoo left it feeling normal. I would recommend it to everyone. On top of that the ingredients are good as well so you don't feel like you are washing your hair with poison. Before using it I would like to know whether the ingredients are human friendly and if the product lathers well.
Date published: 2016-12-26
Rated

5

out of

5
by
Katers34
from
Wonderful product
I think this product is amazing. I waited for a little while to give my input on this because my Daughter and I both tried it. We also have two different hair type , mine is straight and her is curly. So it made mine soft and shiny also smelt really good. As for my Daughters she didn't even have to use product in it to calm done her curls they laid nice and beautiful. I have recommend it to friends and family. Thanks so much will be buying again.
Date published: 2016-12-25
Rated

3

out of

5
by
Culhanks
from
Squeaky clean
After using this shampoo and before conditioning, my hair felt a bit dry and stripped of its natural oils. This wasn't the case after conditioning though. For reference, my hair is fine, soft, thick, dye-free and sometimes yields dry ends & breakages after styling with heat. The shampoo packaging is appealing and allows for accurate dispensing of your desired amount of product. I mentioned this during my review of the conditioner, but when used in combination, you'll appreciate that it leaves your hair smelling clean and perfumed for a couple of days. After I let my hair air dry, my boyfriend noted that it smelled as strong as it did in the shower. He was a fan of the smell for those curious. Important note: it could clash with another scent and may be overbearing should you want to wear a perfume as well. Overall, I like the direction Garnier is moving in. Incorporating natural oils like Argan, Moroccan and Camellia and offering paraben free products into their lineup will attract a more widespread clientele. My skin is sensitive to harsh ingredients so I personally would buy more of their products if they also eliminated sulfates, propelyene glycol, artificial coloring and parfum. After using the shampoo & conditioner system, my skin did seem slightly aggravated and I later noticed that this shampoo contains all of the above. (-2 stars for this reason).
Date published: 2016-12-24