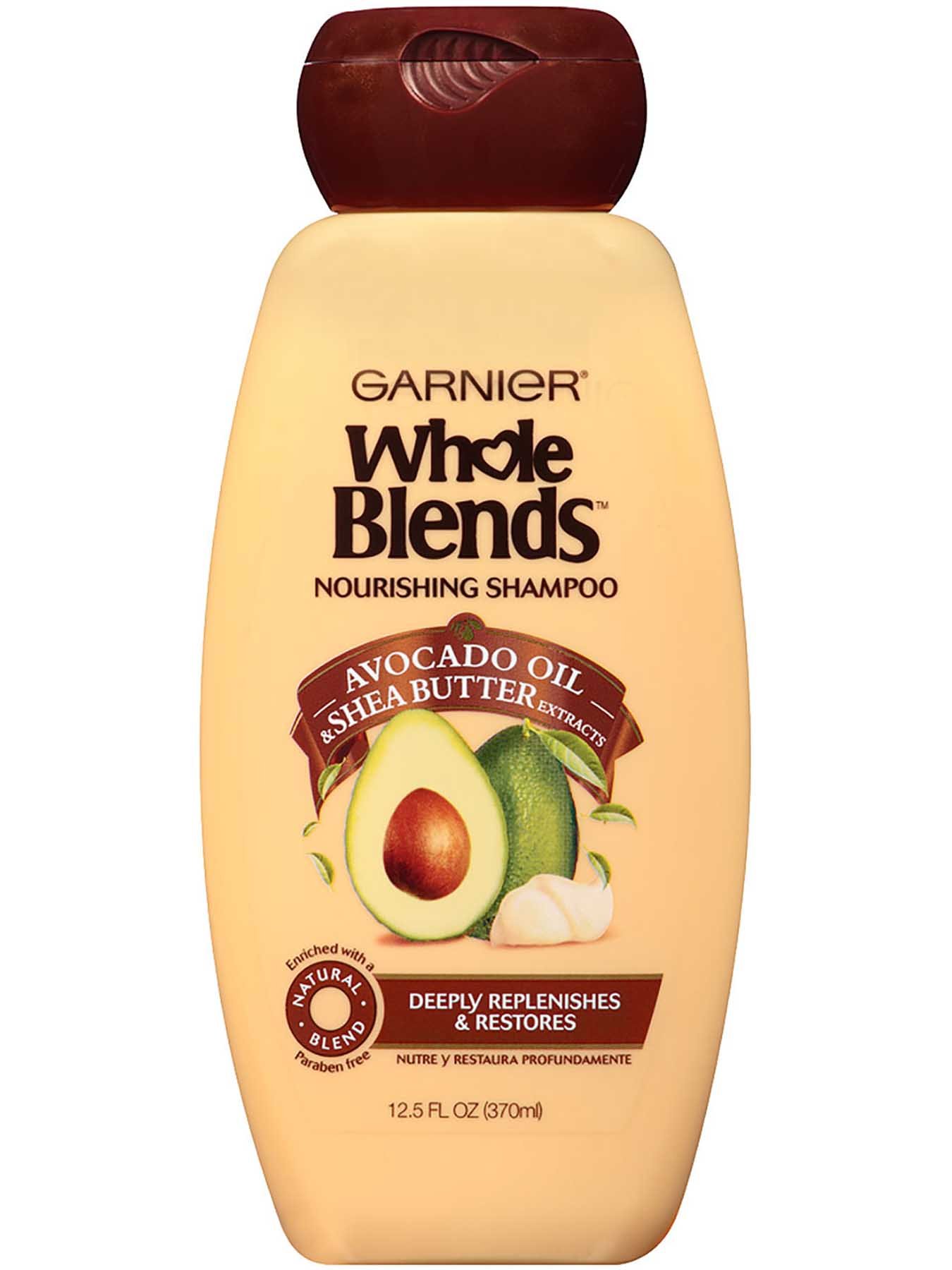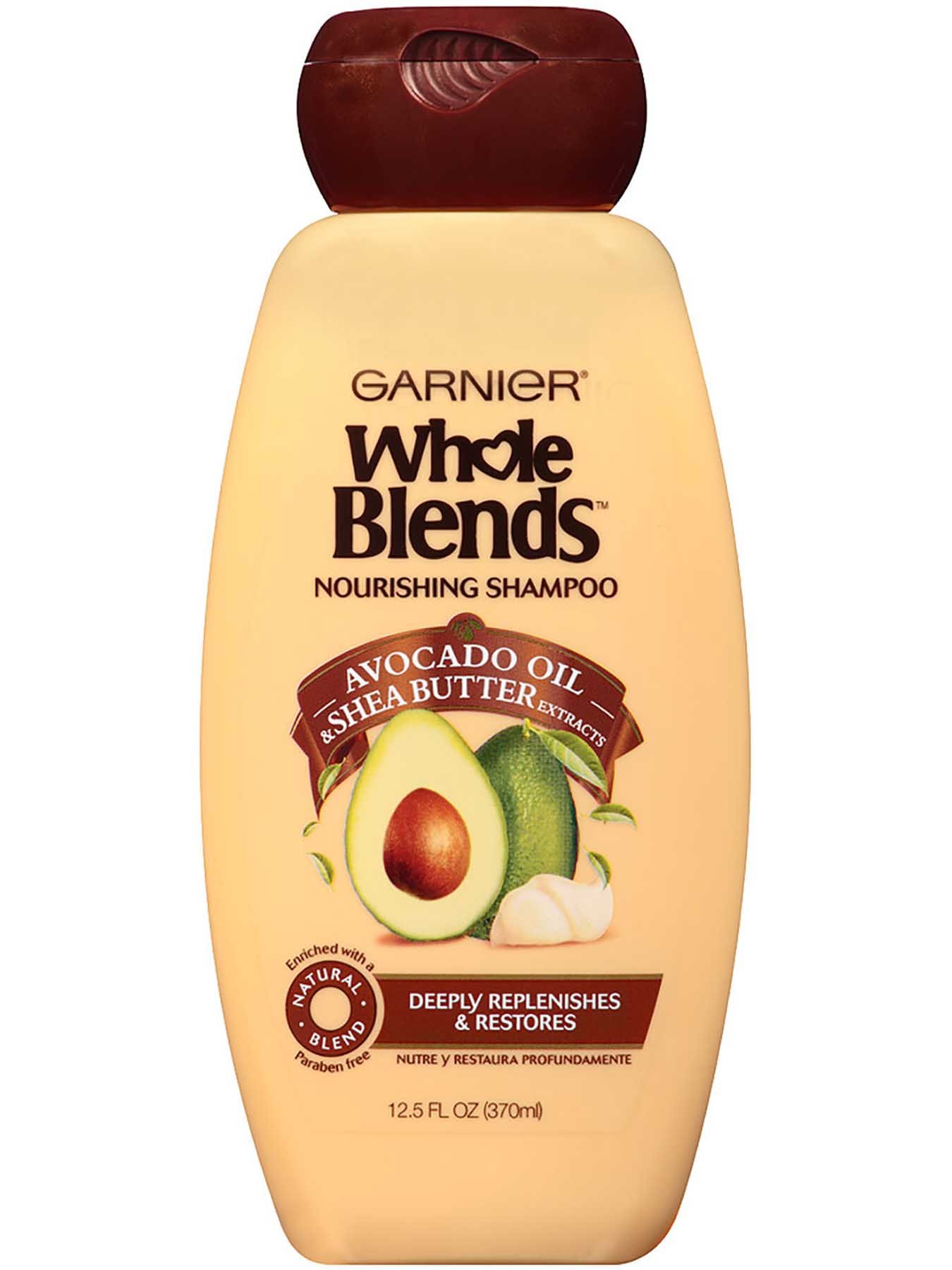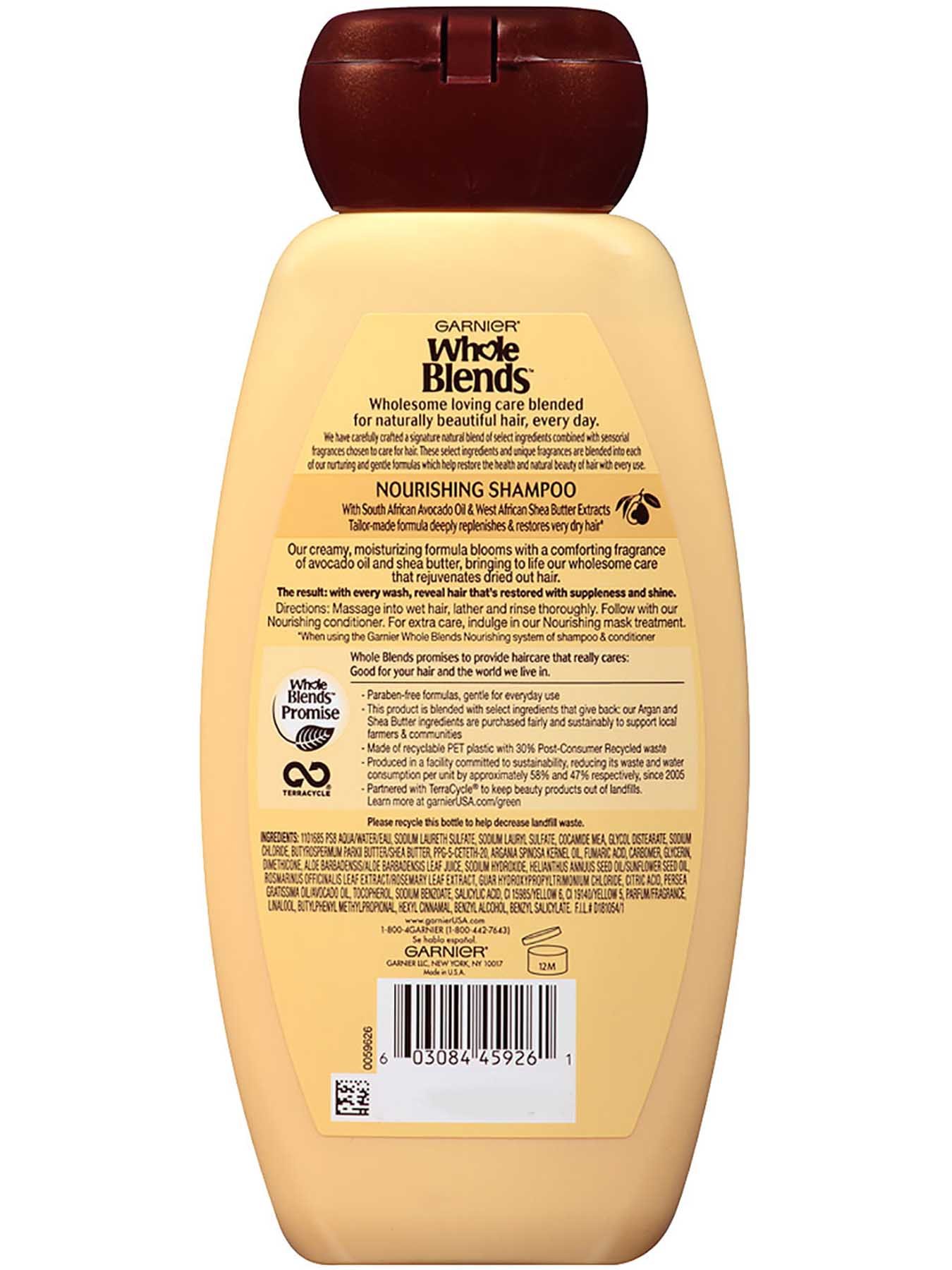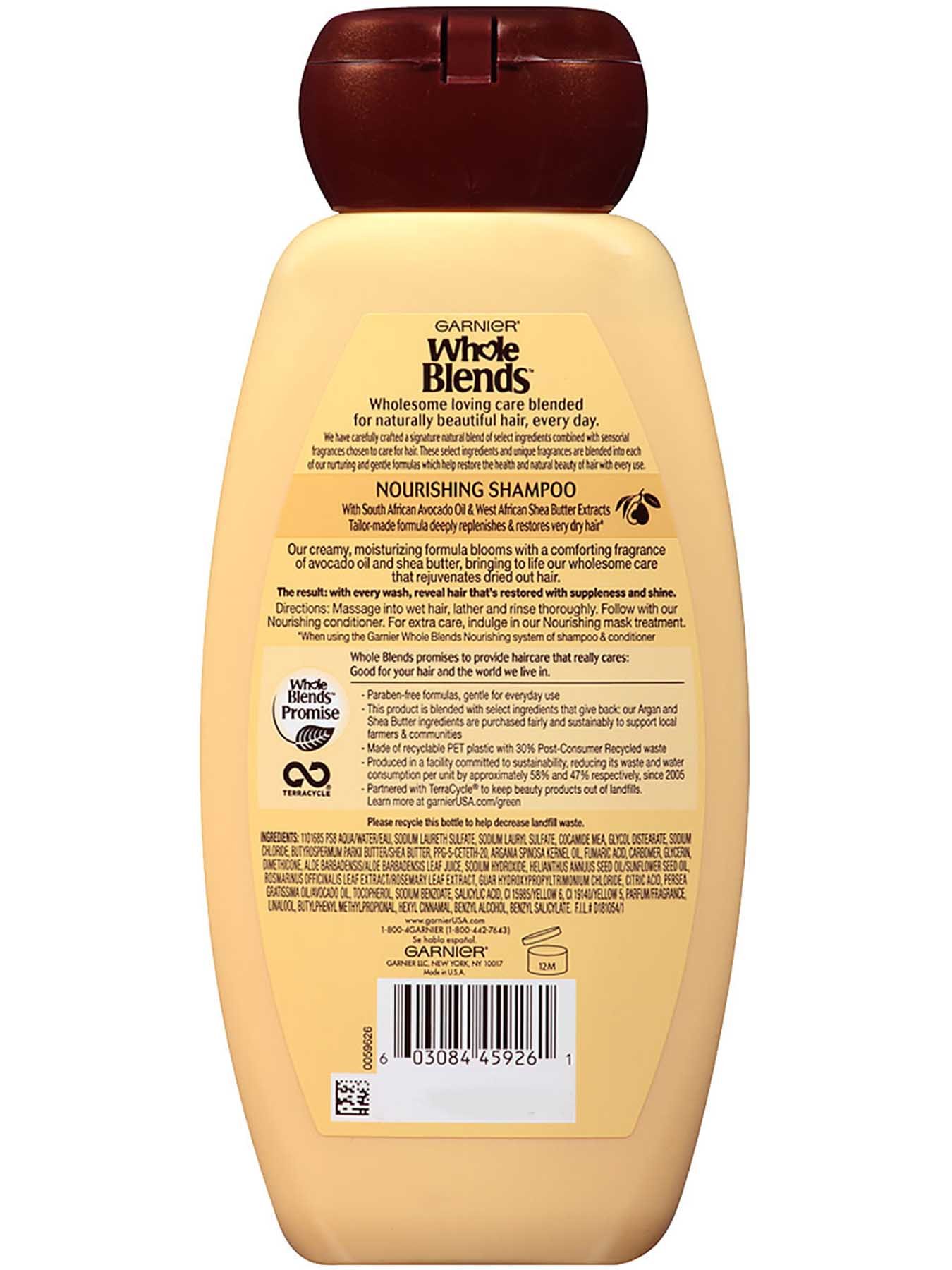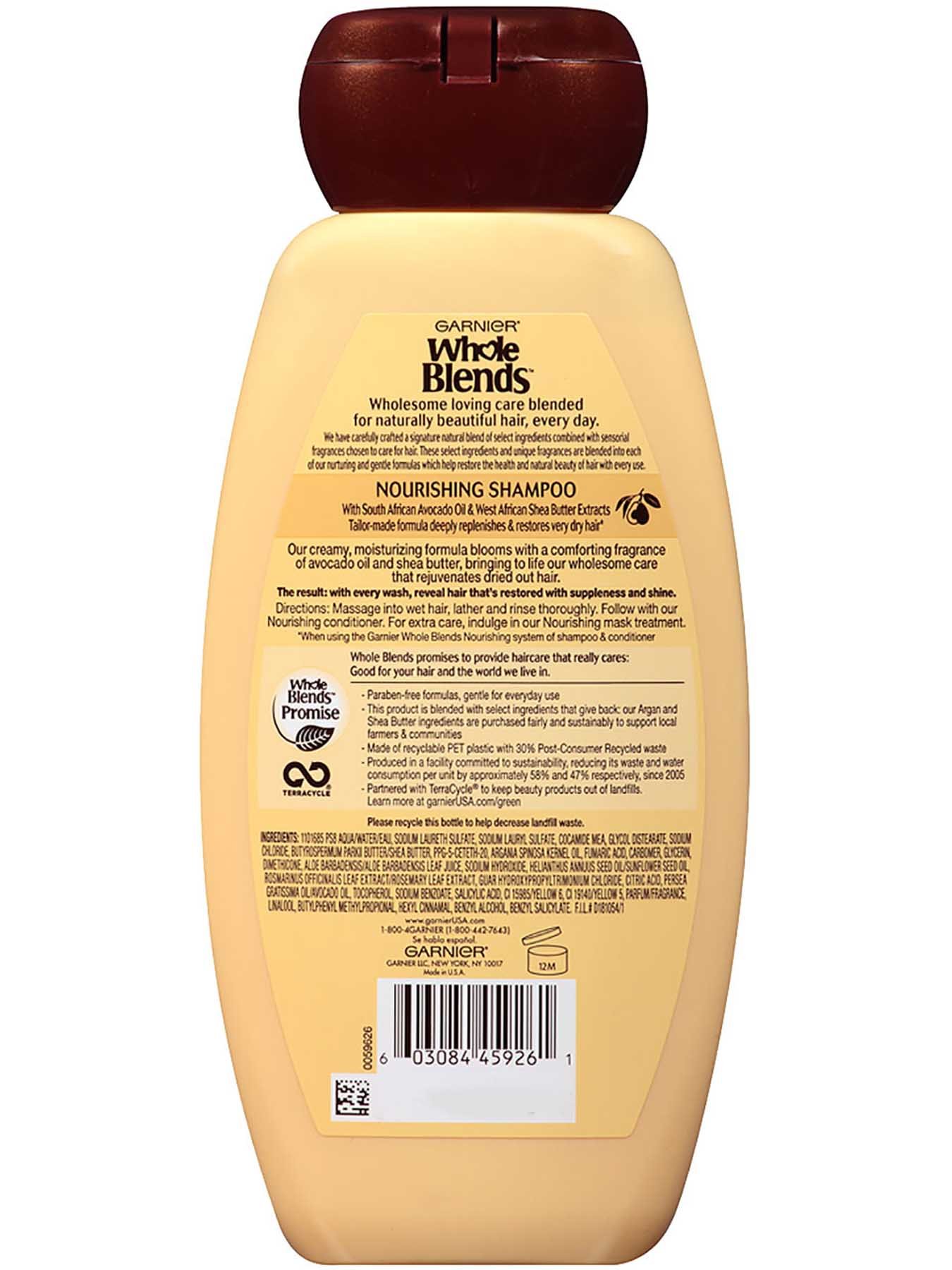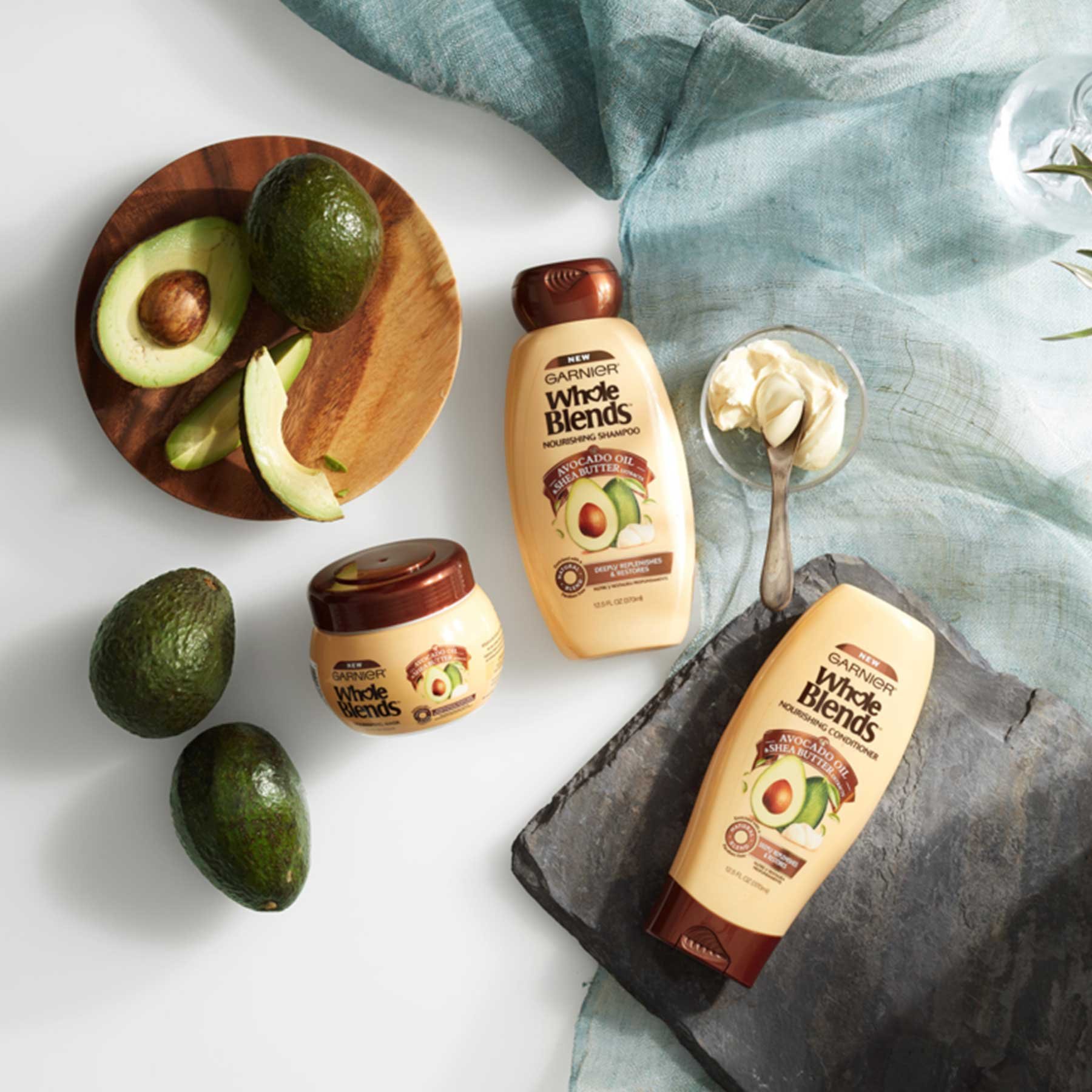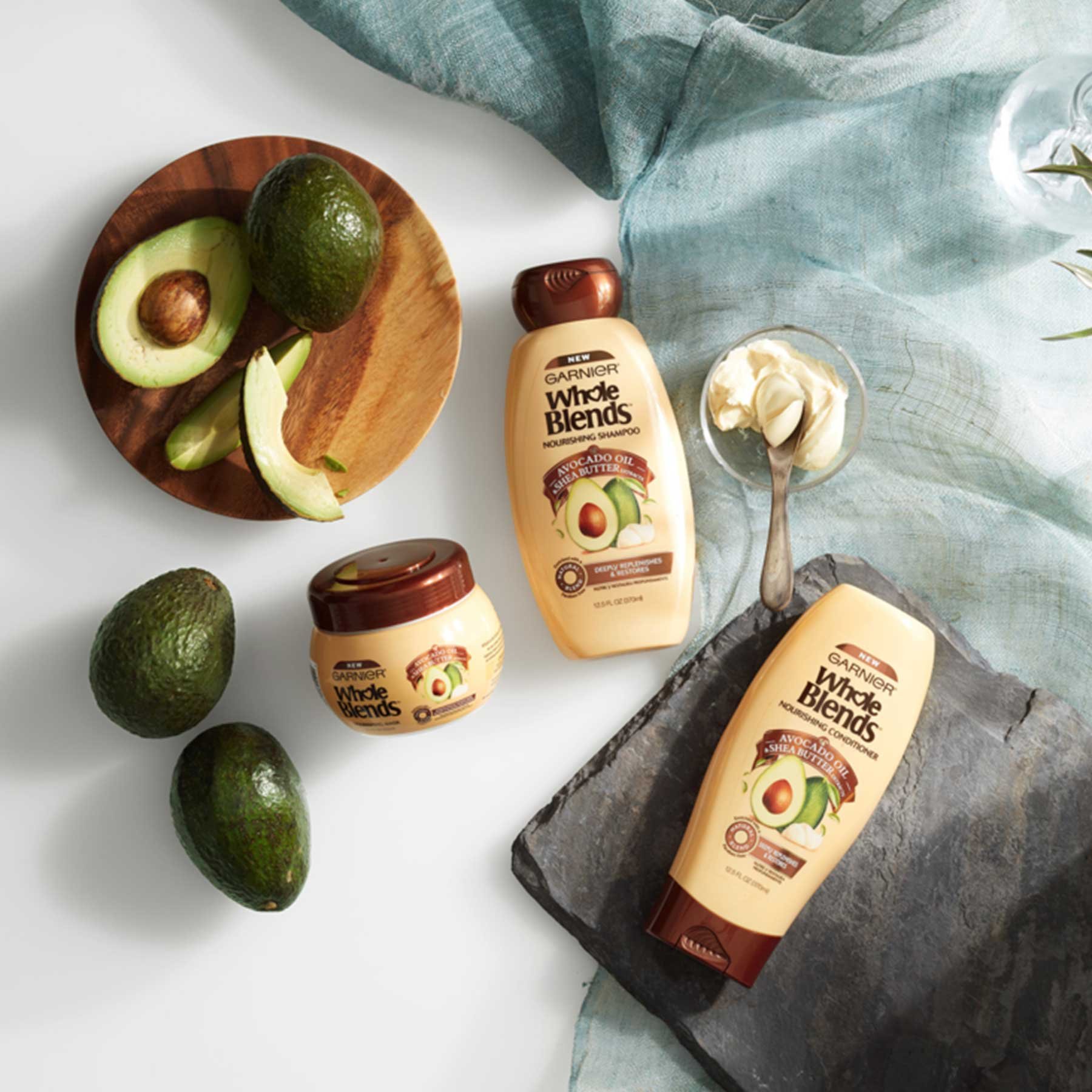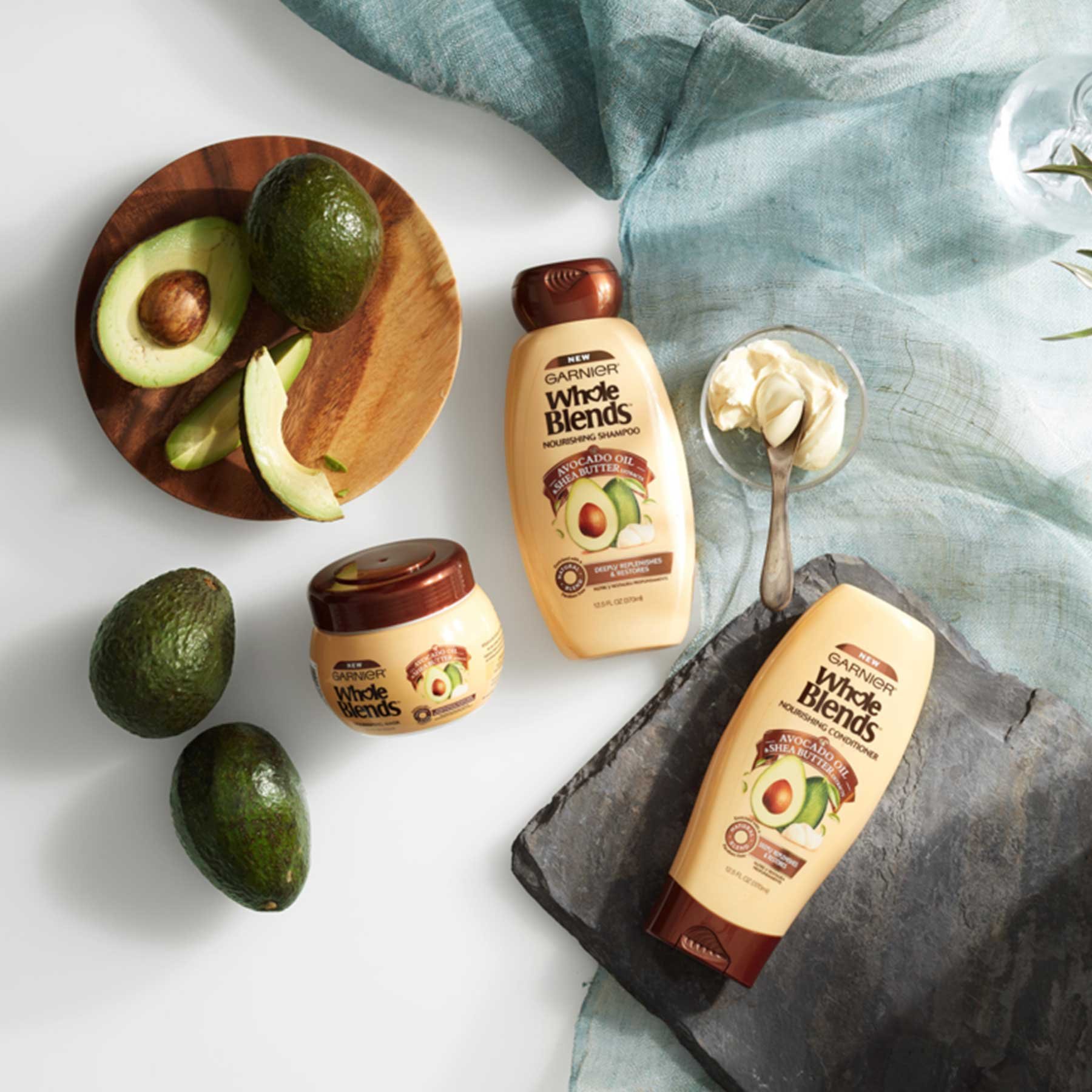 Nourishing Shampoo with Avocado Oil & Shea Butter extracts
Whole Blends
$4.49 MSRP
Nourishing Shampoo redensifica en profundidad y restaura
INFORMACIÓN DEL PRODUCTO
Nuestra fórmula hidratante y cremosa difunde una agradable fragancia de aceite de aguacate y manteca de karité en un cuidado increíble que rejuvenece el cabello reseco.**Con la rutina nutritiva Garnier Whole Blends de shampoo y acondicionador.Disponible también en 22 oz.
Modo de uso
Masajea con el cabello húmedo, haz espuma y enjuaga minuciosamente. A continuación, aplica Nourishing Conditioner. Para un cuidado extra, disfruta de nuestra mascarilla de tratamiento nutritiva.
Ingredientes
AQUA / WATER / EAUSODIUM LAURETH SULFATESODIUM LAURYL SULFATECOCAMIDE MEAGLYCOL DISTEARATESODIUM CHLORIDEBUTYROSPERMUM PARKII BUTTER / SHEA BUTTERPPG-5-CETETH-20ARGANIA SPINOSA KERNEL OILFUMARIC ACIDCARBOMERGLYCERINDIMETHICONEALOE BARBADENSIS / ALOE BARBADENSIS LEAF JUICESODIUM HYDROXIDEHELIANTHUS ANNUUS SEED OIL / SUNFLOWER SEED OILROSMARINUS OFFICINALIS LEAF EXTRACT / ROSEMARY LEAF EXTRACTGUAR HYDROXYPROPYLTRIMONIUM CHLORIDECITRIC ACIDPERSEA GRATISSIMA OIL / AVOCADO OILTOCOPHEROLSODIUM BENZOATESALICYLIC ACIDCI 15985 / YELLOW 6CI 19140 / YELLOW 5PARFUM / FRAGRANCELINALOOLBUTYLPHENYL METHYLPROPIONALHEXYL CINNAMALBENZYL ALCOHOLBENZYL SALICYLATE
Aceite de aguacate
El aceite de aguacate, un potenciador capilar alisador y sedoso, rebosa de ácidos grasos vegetales que poseen una habilidad penetrativa única en efectos profundos y duraderos. Este ingrediente rico y placentero suaviza las puntas abiertas a la vez que añade un brillo espectacular.
Manteca de karité
La manteca de karité, ideal para calmar y restaurar el cabello reseco, es el nombre común que recibe el bálsamo denso y penetrante que proviene del árbol de karité en África.
La rutina completa
Todo lo que necesitas para completar tu rutina de cuidado capilar nutritivo.
Lavar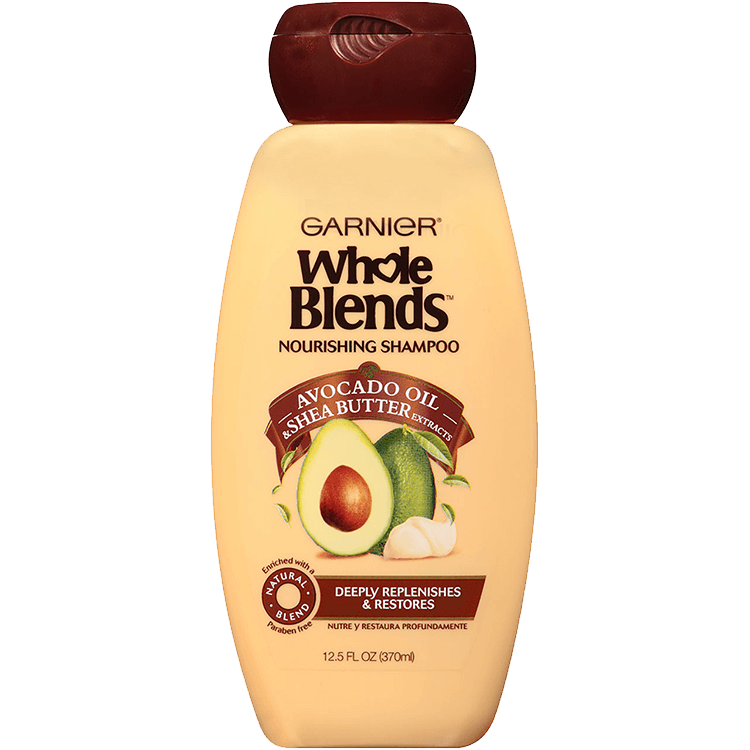 Whole Blends
Nourishing Shampoo with Avocado Oil & Shea Butter extracts
Cabello muy seco
Acondicionar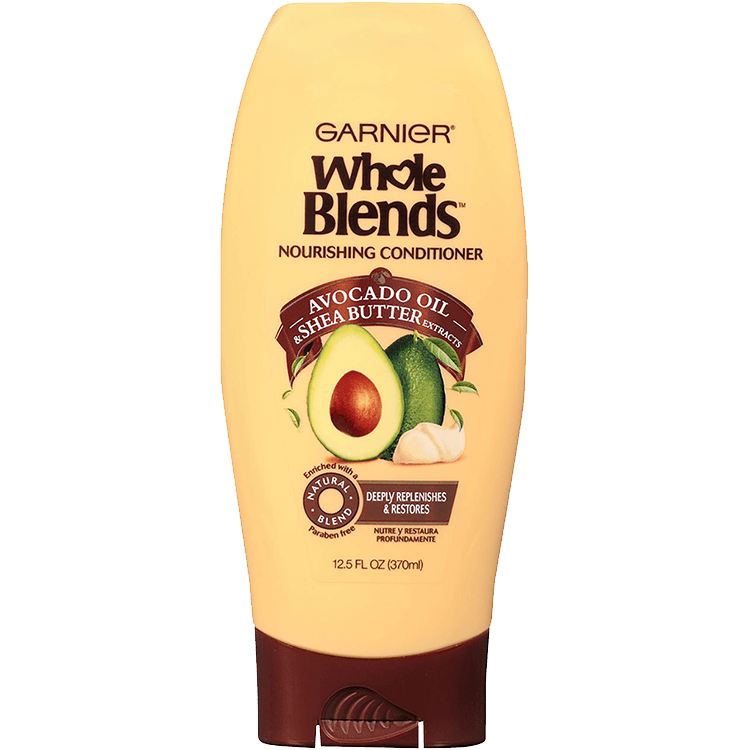 Whole Blends
Nourishing Conditioner with Avocado Oil & Shea Butter extracts
Cabello muy seco
Tratar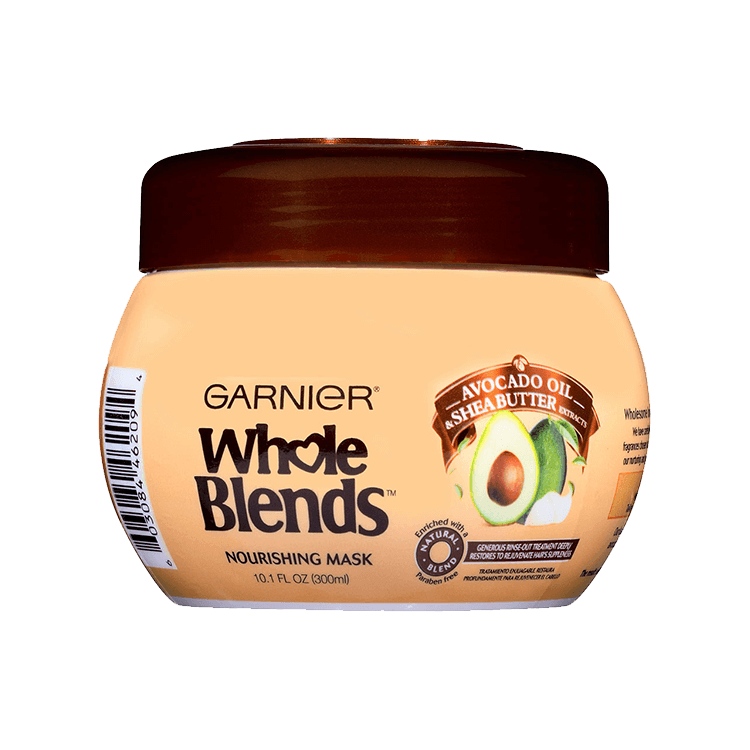 Whole Blends
Nourishing Mask with Avocado Oil & Shea Butter extracts
Cabello muy seco
Rated

5

out of

5
by
Photograpia
from
A Shampoo Dry Locks will Love
Avocado: Best in your hair, not on your toast. Avocado seems to be the newest hip food- and while it is packed with nutrient-dense goodness that's great for your overall health, it is even better as an ingredient in the shampoo I assure you anyone will love. I have dry, frizzy locks that tend to get very unmanageble in humid weather, and dry as straw in extreme temperatures. Within a few washes I found that this left my hair soft and smooth- and moisturized without making it feel heavy or greasy! Bonus: It smells absolutely delicious and may entice you to head into the kitchen to make more of that famous avocado toast. A new bathtime essential that's good for you? I think so.
Date published: 2017-08-31
Rated

5

out of

5
by
Spoiledstarr
from
MMM the smell
This shampoo gets my hair squeaky clean. I love smelling my hair through out the day its like a creamy shea butter scent, soft and relaxing.
Date published: 2017-08-31
Rated

5

out of

5
by
Dsugai
from
My hair never felt as soft and smooth!
This shampoo is great; it smells amazing and it left my hair soft and silky all day. I love the fact that the shampoo is more of a thicker consistency as I have very long hair and watery shampoos seem to always drip right off. Unlike some of the shampoos I've used in the past, this one didn't leave my hair feeling oily. By the same measure, it didn't dry my hair out either, all while leaving my hair feeling clean. This shampoo is simply wonderful!
Date published: 2017-08-31
Rated

4

out of

5
by
lhk3blauren
from
Worth trying for dry, brittle hair!
I tend to have dry, brittle hair. The dew point and humidity always makes my hair look like I put my finger in a light socket. I used this once and my hair was silky smooth and soft--but would it last? Well, I've been using it for almost 2 weeks now and I must say my hair looks and smells great. It leaves a beautiful glow and guarantees compliments on a daily basis. My boyfriend even uses it and loves how unbelievably soft it leaves his hair. As far as the ingredients go, I especially like how it is paraben-free. It really makes you feel like you're getting a good clean.
Date published: 2017-08-31
Rated

5

out of

5
by
Ataylor2
from
Long lasting scent!!
I love the smell of this shampoo!! I only wash my hair every 2 or 3 days so I love that my hair still smells liked just washed it!! I only wish it came in a bigger bottle!
Date published: 2017-08-30
Rated

5

out of

5
by
anabelwilliams
from
Best Shampoo Ever
The first time I tried Garnier's Shampoo - Nourishing Hair Care with Avocado I thought it was just another shampoo but after the second time using it, I noticed great results. Unlike other shampoos, Garnier's shampoo makes my hair feel soft and moisturized while and after washing my hair. The texture of my hair has improved greatly after using this shampoo. I totally recommend Garnier's avocado and shea butter extract shampoo to anyone suffering from dry and brittle hair.
Date published: 2017-08-30
Rated

3

out of

5
by
Kambriruth
from
smells nice
It was thick and creamy. Smell lasted all day. felt good it my hair. washed out easy. Great sweet scent. best for dry hair.
Date published: 2017-08-30
Rated

5

out of

5
by
Graysongirl
from
Lathered my hair nicely
It's hard to find shampoos that will lather on the first wash. After using my hair felt really clean. The smell of the shampoo doesn't have a strong scent, but it does smell nice
Date published: 2017-08-30
Rated

5

out of

5
by
Countryangel4life
from
Amazing soft hair
I love this product I normally wouldn't buy an expensive shampoo like this but I love this so much I'm going to keep using it. It makes my hair feel like silk.
Date published: 2017-08-29
Rated

5

out of

5
by
Virgo0913
from
Cleanclean
Nourishing Hair Care with Avocado Oil & Shea Butter extracts shampoo is amazing I loved that I could feel a difference in the texture before and after I used to shampoo
Date published: 2017-08-29
Rated

5

out of

5
by
tpersonett23
from
Garnier Whole Blends Shampoo
Honestly, I am shocked. I have fairly dry, curly hair and when it comes to shampoo, I am really picky. After have given this a try, I am truly impressed. It left my hair feeling very clean, but soft and moisturized too. It is gentle enough to use on my daughter's hair as well. This is truly a great product. I would love to try the other varieties of Whole Blends.
Date published: 2017-08-29
Rated

4

out of

5
by
katiebug5190
from
Would recommend
I have used about half the bottle so far and I like how it makes my hair feel. I dye my hair a lot and it is pretty damaged. This shampoo doesn't weigh my hair down but keeps the frizz away at the same time. I would buy this again.
Date published: 2017-08-29
Rated

4

out of

5
by
nms285
from
Super soft and shiny!
I really love the conditioner of this set but the shampoo has been great too! It's not too heavy for my hair which is something I fin a lot of shampoos with similar ingredients to be, which makes my hair get greasy faster. This feels very light and has been great for summer to give me the shine I've wanted for years after a lot of color damage and for avoiding frizz. I'll definitely be purchasing again!
Date published: 2017-08-29
Rated

5

out of

5
by
Sgrode
from
Nourishing Shampoo
I love the natural and safe ingredients that make up this Whole Blend shampoo. My hair is usually slightly dry but this shampoo left my hair feeling so soft and smelling great. I don't feel it weighed down my hair like other products. I've already bought another bottle!
Date published: 2017-08-29
Rated

5

out of

5
by
Iloveyou2017
from
Nourshing Hair Care Shampoo
I liked the shampoo, I do have dry hair sometimes, so this helped restore some moisturizer to it. I love the fact that it is paraben-free! Im always looking for healthy products to try on my hair.
Date published: 2017-08-29
Rated

4

out of

5
by
purrtea
from
A good product
I recently learned about Garnier Whole Blends and have been wanting to try them for a while. I'm always looking for new products that work with my thick, and usually very dry hair. I decided I wanted to try this product and I'm happy with how well it worked. My hair didn't really feel moisturized like I had expected,(I had to use the conditioner to get that feeling) But it didn't feel dry and brittle like it felt before washing, which for me is a plus. It didn't weigh my hair down and unlike with previous shampoo's I've tried I didn't have to use a lot of it for my hair to feel clean. I'm pretty impressed. It's not the best shampoo I've ever used, but it's pretty good.
Date published: 2017-08-29
Rated

4

out of

5
by
SunakoChan
from
Lovely and smootb
This left my scalp feeling clean and fresh while still being a bit moisturized. I have thick and wavy, slightly unmanageable hair. My scalp gets oily real easily and this shampoo cleansed without being too drying. I definitely will purchase in the future!
Date published: 2017-08-29
Rated

5

out of

5
by
JaySeeKa
from
Most hydrating shampoo ever!
It made my very dry and over processed hair soft and silky again! I've received several compliments since using it. I will definitely continue to use this and highly recommend it to anyone.
Date published: 2017-08-29
Rated

5

out of

5
by
AAnkudavich
from
Smooth healthy hair
Since I started using Garnier's Whole Blends I started to notice my hair has been a lot less frizzy. In the summer I tend to have frizzy hair due to the humidity however this shampoo helped tame it. The avocado oil makes my hair feel healthier and softer. I use shampoo on my hair every other day and I felt that this wasn't harsh at all and didn't make my hair feel greasy. I would really recommend trying it.
Date published: 2017-08-29
Rated

3

out of

5
by
jungleprincessBR
from
Whole blends shampoo
This product was nice but the shampoo just didn't wow me. My hair Didn't seem to get as clean as it does with other shampoo s.bit also didn't seem to stay clean as long. The smell was great. I will continue to use this product but it won't be my go to in the future.
Date published: 2017-08-28
Rated

5

out of

5
by
Kkimmikk
from
Super rich lather and great smell!
The Garnier Nourishing shampoo I tried was the one with Avocado oil and Shea butter - amazing stuff. The shampoo looked rich and thick coming out of the bottle so I knew right off I wouldn't need to use a lot. I have medium length, very thick hair, and about a quarter-sized amount was plenty to lather up really well. The smell of the shampoo was great - not overly perfumed at all. It rinsed out easily and didn't leave my hair feeling like it had been either stripped or (even worse) greased up. It just felt clean. I would defintely buy this shampoo again!
Date published: 2017-08-28
Rated

5

out of

5
by
TheArdentReader
from
Great product!
This is a great combination for my hair! The way it feels after I use it is amazing. I have thin, frizzy hair. This controls the frizz and helps with breakage. When I shampoo my hair, it usually feels "squeaky" clean. Almost stripped. With this amazing smelling shampoo, my hair does not feel like that. After washing my hair feels healthy using this product.
Date published: 2017-08-28
Rated

5

out of

5
by
Vvalenzuela
from
Garnier shampoo & conditioner
I permed my hair about 3 months ago and have tried several different shampoos to help with the frizz and curl. I tried the garnier avocado oil & Shea butter and within a couple uses my hair felt more healthy and moisturized.
Date published: 2017-08-28
Rated

5

out of

5
by
DawnMichelle
from
Escape from toddlers to paradise
I have a two year old little boy which means showers are typically five minutes maximum length and may include such activities as dodging flying trains, ducks, apples, and other projectiles. This shampoo is perfect for both the woman, and the mom. The woman side of me loves the smell and how gently it cleans without drying or itching. The mom side of me loves the rich lather which is fantastic for blowing bubbles from my hands to distract the two year old long enough for me to actually enjoy the tropical scent. I also love how quickly all the bubbles rinse out when I need to quickly save stuffed animals from going swimming in the toilet. It smells great, cleans paints, pasta sauce, pudding, hair product, cupcake batter, and icing from the hair all without drying out the scalp.
Date published: 2017-08-28
Rated

5

out of

5
by
RNJess
from
Soft hair!
I tried Garnier While Blends shampoo w/Avocado Oil and fell in love with it. It has a soft and subtle scent that is very nice she. You shower. It is not overpowering. The larger was thick and rich and helped clean my thick hair without stripping it of it moisture. It left my hair feeling clean, soft, and healthy. I would definitely purchase this item again and would recommend it to anyone that wants a quality product without the hefty price tag.
Date published: 2017-08-28
Rated

5

out of

5
by
kiararockzz
from
Amazing product
First and foremost the look of the bottle is adorable, but once you open it, the smell is amazing, it makes my hair silky smooth and smell great. My hair felt very clean and moisturized. I got so many compliments when using this. It's great for curly hair, I'd def recommend this
Date published: 2017-08-28
Rated

3

out of

5
by
ajdewerd
from
Moisturizing shampoo
This shampoo was very moisturizing, but didn't leave my hair feeling as clean as I would have liked. I shampooed my hair twice (lather, rinse, repeat!) and definitely left a moisture barrier behind, but also seemed to weigh my hair down quite a bit. I would keep using it, but probably wouldn't go out of my way to buy this in the future.
Date published: 2017-08-27
Rated

3

out of

5
by
Bookaholicmom
from
Dry as straw
I switched to all natural cosmetics over a year ago. It gets pretty expensive so I was happy to think that a conventional brand was going natural. Then super disappointed when I used it. While they cut out the parabens, there's still questionable chemicals like sulfates in their ingredient list. When I used it I could feel the difference it was making in my hair, I could feel it stripping the moisture. It is noticeably drier. I'm going to keep shelling out the money for the natural stuff that leaves my hair baby soft.
Date published: 2017-08-26
Rated

4

out of

5
by
MrsBieler
from
Pleasantly Surprised
Honestly I wasn't sure about this shampoo just because I haven't loved Garnier hair products in the past. I was pleasantly surprised, however, that I really like this one! I think the avocado oil and shea butter make a big difference because this shampoo lathers into my hair so easily and I find that I have to use much less of this than I do others. My hair is very smooth afterwards and I really have no complaints. I will definitely be finishing this bottle!
Date published: 2017-08-26
Rated

4

out of

5
by
AgentAmi
from
Natural Normal Hair
This product is great for normal hair. It smells nice, and leaves my hair silky smooth. I usually wash my hair every other day, and I feel like it cleans well enough. I love that it does not contain parabens and other toxic chemicals. I've tried the other types of Whole Blends, and this is one of my favorites from the line.
Date published: 2017-08-26