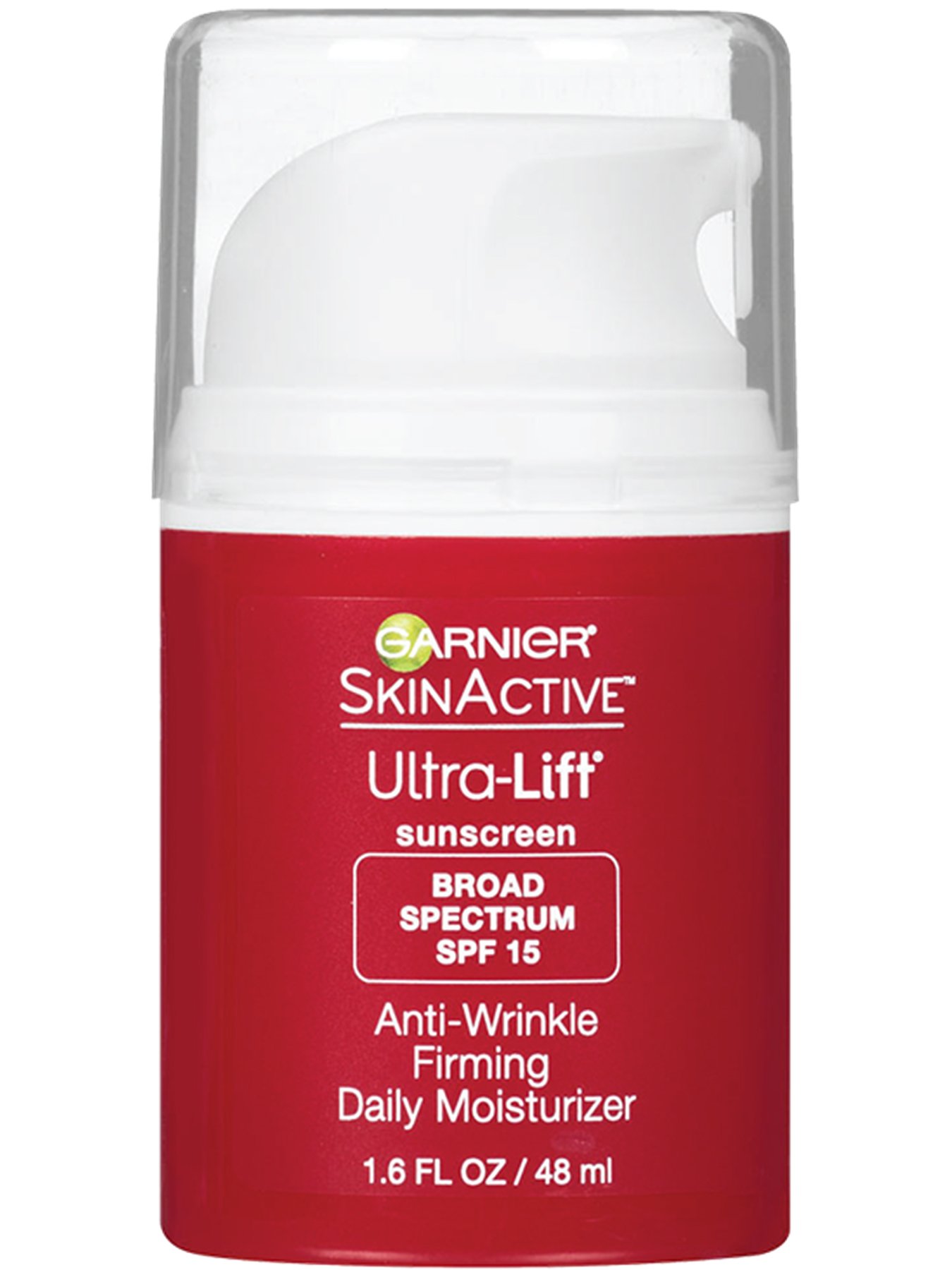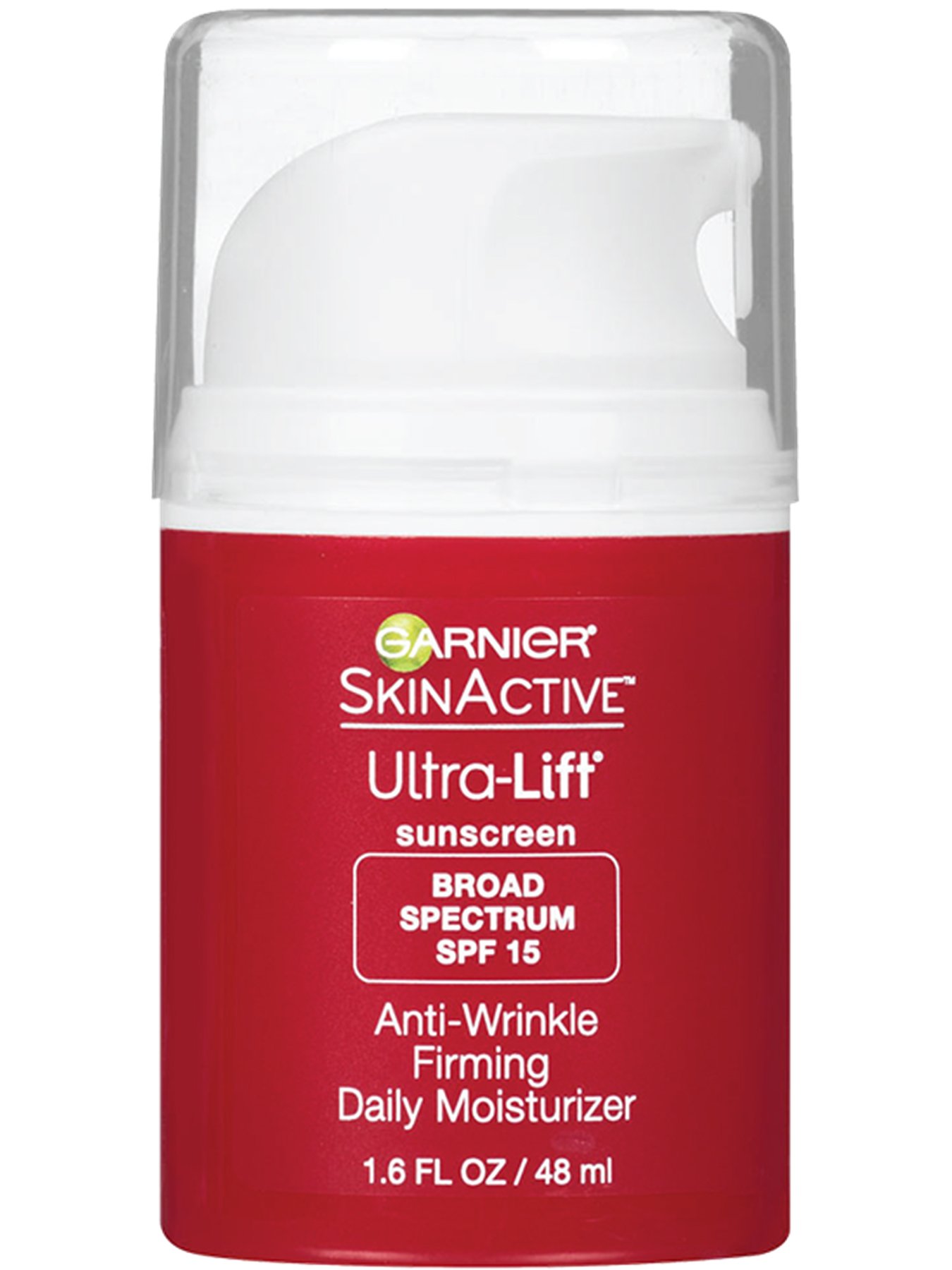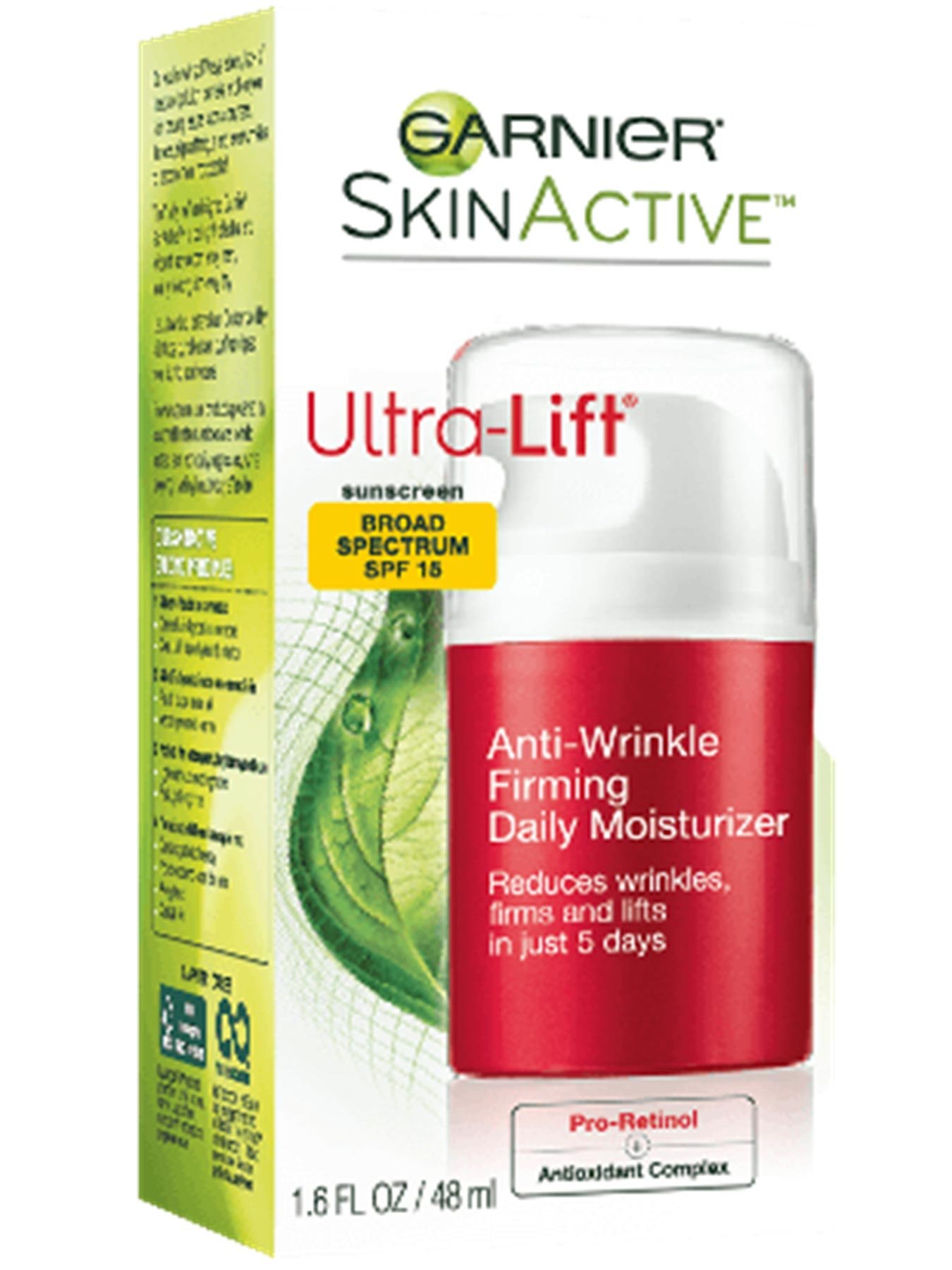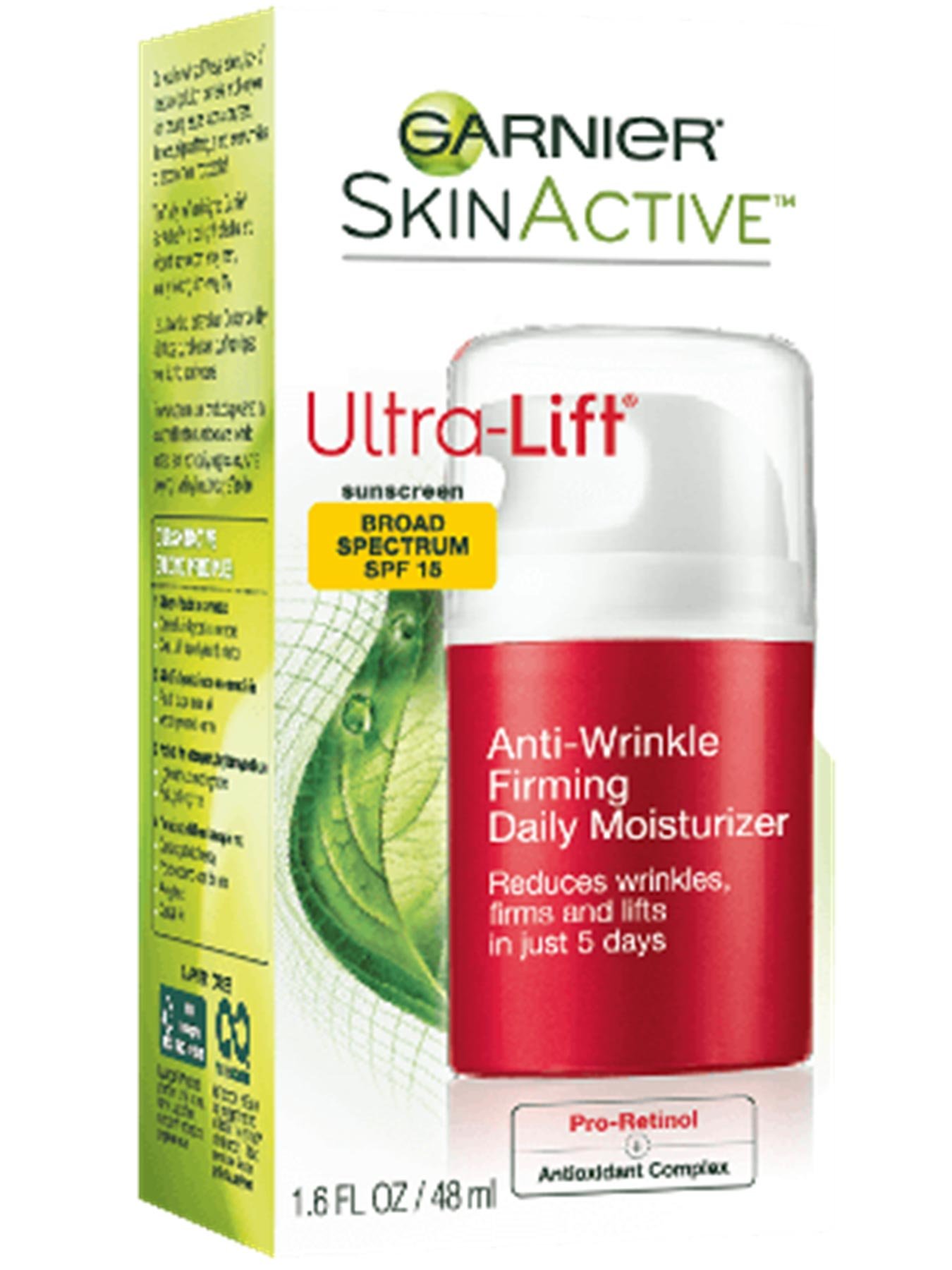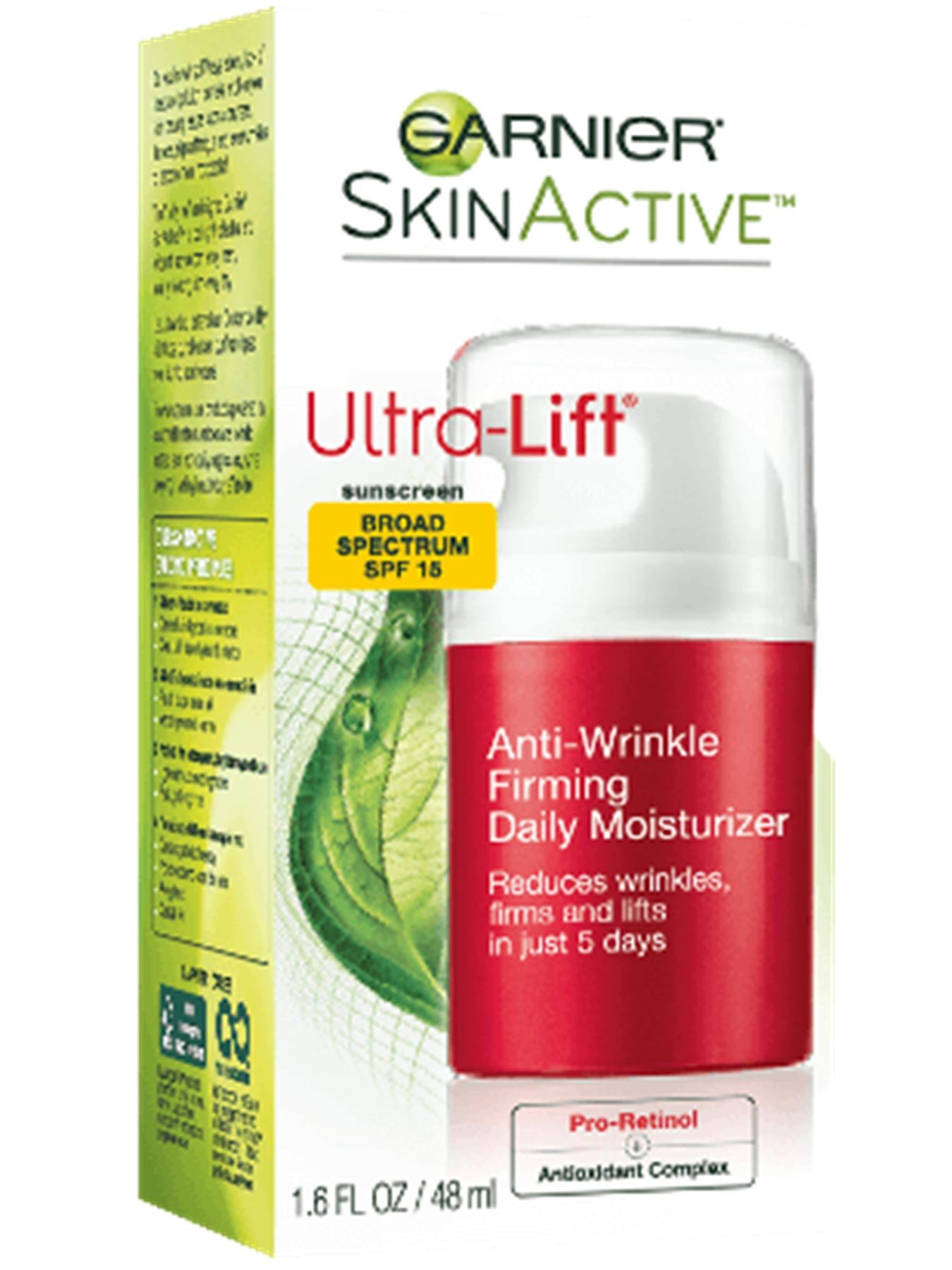 Ultra-Lift Anti-Wrinkle Firming Moisturizer
Garnier SkinActive
$14.99 MSRP
Reduce las arrugas, tensa y reafirma en solo 5 días.
INFORMACIÓN DEL PRODUCTO
Este hidratante diario ligero y no graso con vitamina E, pro-retinol (una forma de vitamina A) y péptidos de arroz hidrata la piel en profundidad. Combate las arrugas y mejora la elasticidad de la piel, que recupera su apariencia juvenil.
Modo de uso
Aplica Ultra-Lift Anti-Wrinkle Firming Moisturizer SPF 15 en el rostro y el cuello limpios y secos a diario, antes de exponerte al sol. Este hidratante rico pero ligero se absorbe de inmediato sin efecto grasoso ni pegajoso.

Uso combinado de los productos Ultra-Lift
Usa Ultra-Lift Anti-Wrinkle Firming Moisturizer SPF 15 como hidratante diario con protección solar. A continuación, aplica Ultra-Lift Eye Cream mediante toquecitos por la delicada zona del contorno de ojos, por la mañana y la noche.
Para un cuidado avanzado, incorpora a tu rutina:
Ultra-Lift Anti-Wrinkle Firming Night Cream
Ingredientes
Active Ingredients: Avobenzone 3%, Octisalate 5%, Octocrylene 3%. Inactive ingredients: Water, Glycerin, Dimethicone, Ptfe, Alcohol Denat., Isopropyl Isostearate, Octyldodecanol, Ammonium Acryloyldimethyltaurate / Steareth-25 Methacrylate Crosspolymer, Arachidyl Alcohol, Behenyl Alcohol, Benzyl Alcohol, C13-14 Isoparaffin, Capryloyl Salicylic Acid, Carbomer, Cetearyl Alcohol, Cetearyl Glucoside, Cetyl Alcohol, Dimethicone/Vinyl Dimethicone Crosspolymer, Dimethiconol, Disodium Edta, Disodium Stearoyl Glutamate, Glycine Soja (Soybean) Protein, Hydrolyzed Rice Protein, Laureth-7, Linalool, Methylisothiazolinone, Methylparaben, Mica, Panthenol, Peg-100 Stearate, Phenoxyethanol, Polyacrylamide, Retinyl Linoleate, Silica, Sodium Benzoate, Titanium Dioxide, Tocopheryl Acetate, Fragrance
Antioxidantes
Los antioxidantes son un grupo de vitaminas y minerales que protegen contra los efectos dañinos y envejecedores de los contaminantes y las toxinas con «radicales libres». Presentes normalmente en nueces, bayas y aceites vegetales, los antioxidantes más populares en las fórmulas de belleza son las vitaminas A, C y E, el betacaroteno, y los minerales selenio y manganeso.
Vitamina E
La vitamina E es un antioxidante que mantiene la hidratación natural de la piel y el cabello. En el cuidado de la piel, ayuda en la absorción y la protección frente a los rayos UV perjudiciales. En el cuidado capilar, ayuda a conservar la humectación de protección.
Rated

5

out of

5
by
stacimcdade93
from
Love it! Got rid of my fine lines
I used this product for two weeks straight and absolutely love it. I'm 34 and take pretty good care of my skin but I'd been noticing some fine lines appearing. I'm so happy to say that the ganier ultra lift anti wrinkle firming moisturizer took care if them and then some. I will never go without this priduct again. My skin feels and looks so much healthier (I thought it looked good before but I was wrong) This product is great. Definately give it a try.
Date published: 2017-08-31
Rated

3

out of

5
by
slinka
from
Garnier Anti-Wrinkle Firming Moisturizer
Alright, so the Garnier Ultra-Lift Anti-Wrinkle Firming Moisturizer- let's start with what this product claims to do/be: "This light, non-greasy daily moisturizer with vitamin E, Pro-Retinol (a form of Vitamin A) and Rice Peptides deeply hydrates skin. It fights wrinkles and improves elasticity as skin regains its youthful appearance." "Light, non-greasy"- I would agree with this. It did not feel overly greasy and heavy and was comfortable enough on my combo skin. "Hydrates skin"- yeah, I'll agree here too. "Fights wrinkles/improves elasticity"- well, it probably helps a bit, better than not putting anything on your skin at least. And sun protection is always beneficial to graceful aging of skin. So let's give it that- but it's no miracle worker. (But next to botox and a facelift, what is, really?) So, overall the product does what it should. Another plus is that it smells nice and I love the pump component. So if a all-in-one type of sunblock and skincare cream for a decent price is what your after, there you go. Now let me say my reasons for not giving this 5 stars, and a lot of this is going to come down to my personal needs and preferences. -I'm so, so fair. Red hair. That means I need more than an spf of 15. Now my makeup typically also has spf and I avoid the sun, but the problem that arises here is- -it causes the makeup on the more oily parts of my face (typical t-zone nonsense, even then I do not get super oily) to slide off after a while. (Was decent under makeup on my dry parts though) Also, if you are choosing to wear makeup over this, remember ANY sunblock needs to be reapplied at least every 2 hours, which you certainly can't do over foundation. I would use this more for bare-faced days if I were actually relying on it for protection. -I really didn't notice any change in the appearance of my face. I'm still in my 20s so its not like I have a ton of issues yet with aging, but my trouble spots pretty much still look the same. Like I said, its no miracle worker but I'm sure its beneficial to a certain extent. I do not feel the "ultra-lift" and "wrinkle-firming" in the name are all that accurate of descriptors. For me, it was just a so-so product, but I could see it working better for someone who has no t-zone oil issues or goes bare faced a lot and who doesn't need much spf. Maybe someone who needs an easy intro to skincare without much hassle. This could very well be a convenient item in one's skin care regimen if that sounds like you!
Date published: 2017-08-31
Rated

3

out of

5
by
Jen995329
from
Garnier Moisturizer Thoughts
This product has a wonderful scent. I liked putting it on my face. It applied easily and was just the right weight. It felt like it was substantial, but not too heavy or greasy. In regards to moisturizing, it did the job. I felt my skin was hydrated, but not oily. The amount of sunscreen was ample as well. I didn't burn, but my makeup also has sunscreen too so that priobably adds to the protection. In regards to fine lines and wrinkles, I think it may have firmed or plumped the skin a it, but too noticeably. I didn't notice any real difference in wrinkle reduction in the few weeks I've been using the product. I would buy the product if the price was reasonable. It doesn't warrant a big price tag since it wasn't a miracle worker. Overall, I'd recommend it as a solid drug store moisturizer option. Although it would be tough to recommend since the name is ridiculously long.
Date published: 2017-08-30
Rated

2

out of

5
by
PrincessYouOughta
from
Garnier Anti-Wrinkle Firming Moisturizer
I used this product consistently for 5 days and here are my findings. First, I live in Florida on the coast and the sun is brutal. The 15 SPF will not be enough for me and how am I expected to reapply it every 2 hours after applying makeup? I would literally be a hot mess. I do love the feel and scent of this product considering it contains some sunscreen. it is very light and blends in smoothly. This product contains several products that are bad for oily or sensitive skin. if you have either, I would NOT recommend this product. I have combination/dry skin and I did get a few small whitehead type blemishes while using this. I LOVE the pump top! So easy to apply with no mess. The ACTIVE ingredients aren't so much of a concern to me but they have been known to cause allergic reactions in some. The INACTIVE ingredients do not make me feel warm and fuzzy. Granted it is listed in the very last and smallest amount but Retinyl Linoleate may have some very concerning hazards. Overall, I loved the look, scent and feel of this moisturizer. I can't say that I saw any beneficial visible results. In combination of the low SPF and concern about ingredients I can not recommend this product to anyone.
Date published: 2017-08-29
Rated

2

out of

5
by
nmreno81
from
My true thoughts on Garnier Skinactive
I have been using this product for three weeks now. I have not seen a change in my lines on forehead or a true difference. However, it is a great moisturizer. I usually put it on in the am and at night. I would recommend if you wanted some great face lotion and maybe fine lines, but not for a big difference with your face
Date published: 2017-08-29
Rated

3

out of

5
by
trishart
from
Garniet ultra-lift
First thing I noticed is the directions for everyday use were not clear. I didn't like the scent, but it was not overbearing. My biggest issue is that it goes on heavy and I have to wait a while before applying makeup. I loved that is wasn't greasy and after a week gave my skin a nice glow. I also liked packaging, found it very easy to use. I will continue to use and see if i notice any other benifits; firming, reduction of lines, ect. I would recommend as everones skin is different and over all a good product.
Date published: 2017-08-28
Rated

4

out of

5
by
MeaganMassey83
from
Garnier Ultra Lift
I really enjoyed trying this facial lotion. Its not super thick so it feels light on your face. It has a light scent that is almost like baby powder. I like that it has sunscreen in it. It claims to firm and tighten in 5 days. I didn't feel any difference after using it for 5 days. But I do like this lotion and would use it again.
Date published: 2017-08-27
Rated

2

out of

5
by
Vbates2
from
Garnier SkinActive Ultra-lift
I tried this product with the hop to reduce some wrinkles as well as to protect my skin from damaging rays. I gave it longer than the 5 days that it claims you would see a difference. Day 1: First thing I noticed was there are no directions for every day use per say. It gives directions in regards to use for sun protection but basic daily use for wrinkles etc. it was lacking. When I first put it on it gave off this plastic like scent. It felt heavy on my skin although it said it is supposed to be light weight. It was non-greasy and blended well but a little goes a long way! After applying and letting it dry, my skin did feel soft and supple. Day 2: I began feeling my skin tighten but it almost felt like my face was swollen. It was difficult to tell if it was firming it up or causing a strange reaction. I didn't notice any redness or swelling so I continued using the product. Day 3: Again, still felt as though my face was swelling but no notable redness or puffiness. No change in appearance regarding wrinkles either. Day 4: Skin was still soft and supple. The feeling of swelling died down. Still no noticeable changes in the appearance of wrinkles. But hey, they said 5 days before fine lines and wrinkles would start to dissipate. Day 5: Here it is day 5 and not an iota of difference that I can notice. Disappointment prevails but decided to give it a few more days in case I was doing something wrong. Day 7: Yeah, still nothing. Not even minor changes. Wrinkles still there full force. It did not help me except for keeping my skin protected, soft, and supple. My overall opinion; I wouldn't recommend this product. Honestly though, everyone is different. What works for others may not work for all. I didn't notice any change what so ever. Was hoping for more out of it. Especially with its claim to reduce appearance of fine lines and wrinkles "in just 5 days".
Date published: 2017-08-25
Rated

4

out of

5
by
Soonerwxgirl
from
Wrinkle Minimalizer
I really like the Ultra-Lift Anti-Wrinkle Firming Moisturizer by Garnier. It goes on smooth, and has a fresh scent. It absorbs quickly into the skin. I feel like the smaller wrinkles around my eyes are less noticeable, and I've noticed my deeper wrinkles on my forehead are also less noticeable.
Date published: 2017-08-25
Rated

4

out of

5
by
Spiderkat1102
from
Anti aging formula
I think this formula is great!! It's a little greasy but soaks in well and it's a great sunblock!! The formula has helped with long days in the sun this summer with the kids and my daughter loves it as well.
Date published: 2017-08-25
Rated

4

out of

5
by
SuzyCamacho
from
Fresh glow
I have been using this for a few weeks now & I have really enjoyed it. I start off my day with my daily facial routine and add this as a moisturizer. This product is light and one pump is more then enough to cover face and neck. Leaving my face feeling soft and looking fresh with a glow. I really like how it has a broad spectrum SPF 15. Now it's working as a sunscreen. Amazing. It does have a light sunscreen scent, but, it does not bother me. I have noticed my face look smoother since using this product. I would give it 5 stars but have not noticed a difference around my eyes where I do have a wrinkle or two. Other then that, this product is great. I would definitely be using this in my daily routine.
Date published: 2017-08-25
Rated

3

out of

5
by
mamatocash
from
Not a miracle cream but it works!
I have now used this daily for about two and a half weeks. I don't see a lot of 'lift' but I do like that it leaves my face feeling moisturized but not greasy at all. I also love that it has SPF 15 to protect my skin from further damage. I also liked that there was no scent. I think I will continue to use it and will likely but it again. The only reason I give it a 3 is that it is advertised to lift and tighten your skin but I didn't experience that. Otherwise it is a great moisturizer.
Date published: 2017-08-25
Rated

5

out of

5
by
Aztiley6
from
Garnier Ultra lift
This product is awsome i have used for One Week and is great my face is more is more moisture and shine i love ir, i all ready recommendent
Date published: 2017-08-24
Rated

4

out of

5
by
cafunderrr
from
Great Product
I think it was great. A little oily but it does the job! I use it at night, but I don't like to use it in the morning before I put on makeup .
Date published: 2017-08-24
Rated

5

out of

5
by
Karlybaby09
from
Garnier Great Product
I've been using it for about 2 weeks now and I have to be honest and say it is a good moisturizer. My skin stays hydrated and feels great all day long. I love Garnier products and as always I am pretty pleased with this product. I would definitely recommend to family amd friends.
Date published: 2017-08-24
Rated

4

out of

5
by
baybray
from
A little oily, but a great primer!
I liked the consistency of this product, but I felt that each morning when I woke up my face was greasy. I have an oily face naturally so I typically don't use a ton of moisturizer. So I stopped using it at night and began using it as a primer in the morning under my makeup. I LOVED how it helped keep my makeup on, as well as provided sunscreen coverage. I did feel that it made my skin smoother. I did not see any immediate change in my skin other than that.
Date published: 2017-08-23
Rated

3

out of

5
by
H3girl1920
from
Ultra lift
So the product has great ingredients, it's easy to apply it's user friendly doesn't smell not greasy but to be honest have tried it for a while now almost a month but I haven't noticed any difference I haven't notices a improvement it's just there . So I will have to pass on this product
Date published: 2017-08-23
Rated

5

out of

5
by
DebbyB84
from
A Great Moisturizer with Sunscreen
I've been gotten into a routine of putting on moisturizer in the morning, but still need to work on getting sunscreen in my routine. I know that as I'm getting older, this is so important. I love that this product provides both. I've been applying this in the morning. It looks really thick, but in fact, it smooths on easy and a little goes a long way. You can definitely tell it has sunscreen in it as it has that smell to it.... but it quickly dissapates. It's hard for me to say if this really firmed my skin, as I don't feel like my skin is all that saggy, but I do feel like it did something to it....and maybe that was firming. I'd be happy to continue using this for the next few years. Plus! I used it when I went on a camping trip recently...while my body got burned my face was just fine!
Date published: 2017-08-23
Rated

5

out of

5
by
evasunny
from
Garnier SkinActive Moisturizer
I really like using Garnier SkinActive Daily moisturizer because it feels very light on my face while it's sunscreen at the same time. I have oily skin and adding sunscreen after a moisturizer normally clogs my pores, but this moisturizer is 2 in 1 and leaves my skill nice and plumped. I use it twice a day, in morning and evening since it's also anti wrinkle cream.
Date published: 2017-08-23
Rated

4

out of

5
by
MrsCouponMM
from
4 star product!
I think this product is an amazing addition to my skincare regime because it is lightweight and does not irritate my sensitive skin. I love that it has spf because with my roscea I need to make sure I protect my skin from the sun. The smell of the product is good, not strong, but pleasant to the nose. My skin is starting to look brighter and not dull. I expect my skin to only get better as I get closer to finishing the product.
Date published: 2017-08-22
Rated

2

out of

5
by
ameliaomy
from
A little thick for my taste
I was very excited to try this product as I usually like Garnier products. When I first opened it the packaging was really nice and the dispenser worked well. But when I put it on my hands before applying to face I noticed that the actual product was quite thick and that it felt more like sunscreen than a lotion. I started to apply it to my face but it was hard to rub in and it made my skin feel greasy. It also smelt like sunscreen - it was something I wouldn't want to wear every day because it would make me smell like I was going to the beach. With a daily moisturizer I usually look for something lighter that doesn't feel or smell like I have anything extra on my face. At the end it worked great as a sunscreen but not as an every day moisturizer for me.
Date published: 2017-08-21
Rated

4

out of

5
by
Bszoll
from
Moisturizing
This is a nice moisturizing spf. It's pretty thick but spreads evenly and absorbs well. I can't say I've seen a huge difference in my skin as far as wrinkles go, but overall my skin looks more hydrated. It does have a slightly odd smell, reminds me of bubble solution, but it's not offensive and dissipates quickly.
Date published: 2017-08-21
Rated

4

out of

5
by
SeekingAlexandria
from
Super helpful!
Ok, so after using this stuff for about a week and a half I feel comfortable giving my honest opinion of it. I will say that one of the first things I noticed on the box is that it says in five days you will see a noticeable results… For me, that is a pretty large claim. Now, while I did not notice a result in decreased wrinkles or sagginess or anything of that nature, I really don't have a lot of those things to talk about to begin with, so I don't think it would be fair to reprimand the product for that. However, I did really enjoy the overall wearability of this product. I feel like it layered decently under thinner make up and foundation… I had an issue with it underneath of heavier or thicker make up. I feel like that is just because of the overall layering of products, and not so much anything to do with this product in general. I did not notice it being very greasy, but I did have to take away one star because I felt like it added an element of oil to my skin that is not normally there. While I do normally have oily skin, this was a different kind of all over facial oil/shiny that I do not normally have. I really enjoy this brand in general, I've had a lot of success with them and other products I have tried, so I'm not surprised that this one worked out as well! I also want to throw in for a sidenote, I asked my mom to use a little bit of it throughout the past week in the morning to see what she felt… She really enjoyed the wear on her face and did notice a tighter feeling around her more wrinkle problem areas. We have not used it enough to really determine if it's a significant decrease in the overall appearance of them, but just something to note about The level of firmness on her more age to scan versus my younger skin. If you are someone who was in the market for a lightweight facial sunscreen that you can wear under thinner make up, for on the go day today where… I definitely recommend this product!
Date published: 2017-08-20
Rated

3

out of

5
by
MSCC120303
from
At little too heavy
This ultra lift lotion has a nice, light scent. The packaging makes getting just the right amount easy. I have combination skin, so in the more oily areas of my face I broke out the first night that I applied it. If you have dry skin, I think this is definitely for you. In my drier areas, I like it. I've heard that a woman's age first shows on her neck and chest, and I've been able to use the lotion in those areas. I do think I have seen an improvement in my skin there too!
Date published: 2017-08-20
Rated

4

out of

5
by
marie81503
from
Garnier Ultra Lift
I had never used a Garnier moisturizer before this, as I usually use a more high priced face lotion but I was pleasantly surprised. The texture is lightweight and not at all greasy. It sinks in quickly and is good for use under makeup. The scent is light and pleasing. I only wish it had more sunscreen- 15 is not nearly enough. All in all, 4 stars.
Date published: 2017-08-20
Rated

3

out of

5
by
MBerhel
from
Smooth and Thick
I think this product was really moisturizing. I enjoyed wearing it as long as I wasn't going to put foundation on top of it.
Date published: 2017-08-20
Rated

5

out of

5
by
Dig46
from
Very surprised
Given the spf and consistency of the product I figured it would be greasy and horrible under makeup. I was wrong. The consistency makes it feel super moisturizing, but the skin absorbs it almost immediately. My makeup (foundation, concealer and powders) went over it flawlessly. It has replaced much more expensive moisturizers and I didn't notice much of a flashback or white cast despite the spf.
Date published: 2017-08-19
Rated

3

out of

5
by
amystamm
from
A bit confused
I thought the moisturizer did it's job -- it moisturized by face -- but I was a bit confused by the package. It had a heavy emphasis on the sunscreen part of it, and I wasn't wild about the fact that it did feel like I was putting on sunscreen just before bed. It did have a bit of a sunscreen texture and smell to it.
Date published: 2017-08-19
Rated

5

out of

5
by
Lizakert
from
Great for Dry Skin
I have always suffered from dry skin that requires me to use a daily moisturizer. Almost every product I try causes me to break out, feels to greasy or doesn't moisturize enough. The Ultra-Lift Anti-Wrinkle Firming Moisturizer is different! It is gentle enough to use everyday, is not greasy and provides hydration for my dry skin! I would recommend this to anyone who needs a daily moisturizer!
Date published: 2017-08-19
Rated

5

out of

5
by
Sweetmel1977
from
40 and fabulous! Thanks to Garnier.
Im impressed! Loved tbe lightweight formula that didn't feel heavy on my face. Ultra-Lift Anti-Wrinkle Firming Moisturizer was a blessing for me. The added sunscreen allowed me to tackle a day in the sun and not worry about my facial skin. I have recently developed a few wrinkles and some smile lines, after using the moisturizer for a week, once in the morning, I've noticed a HUGE difference. I'll definitely be changing my cleansing routine to the complete garnier line. #40andfabulous #
Date published: 2017-08-19