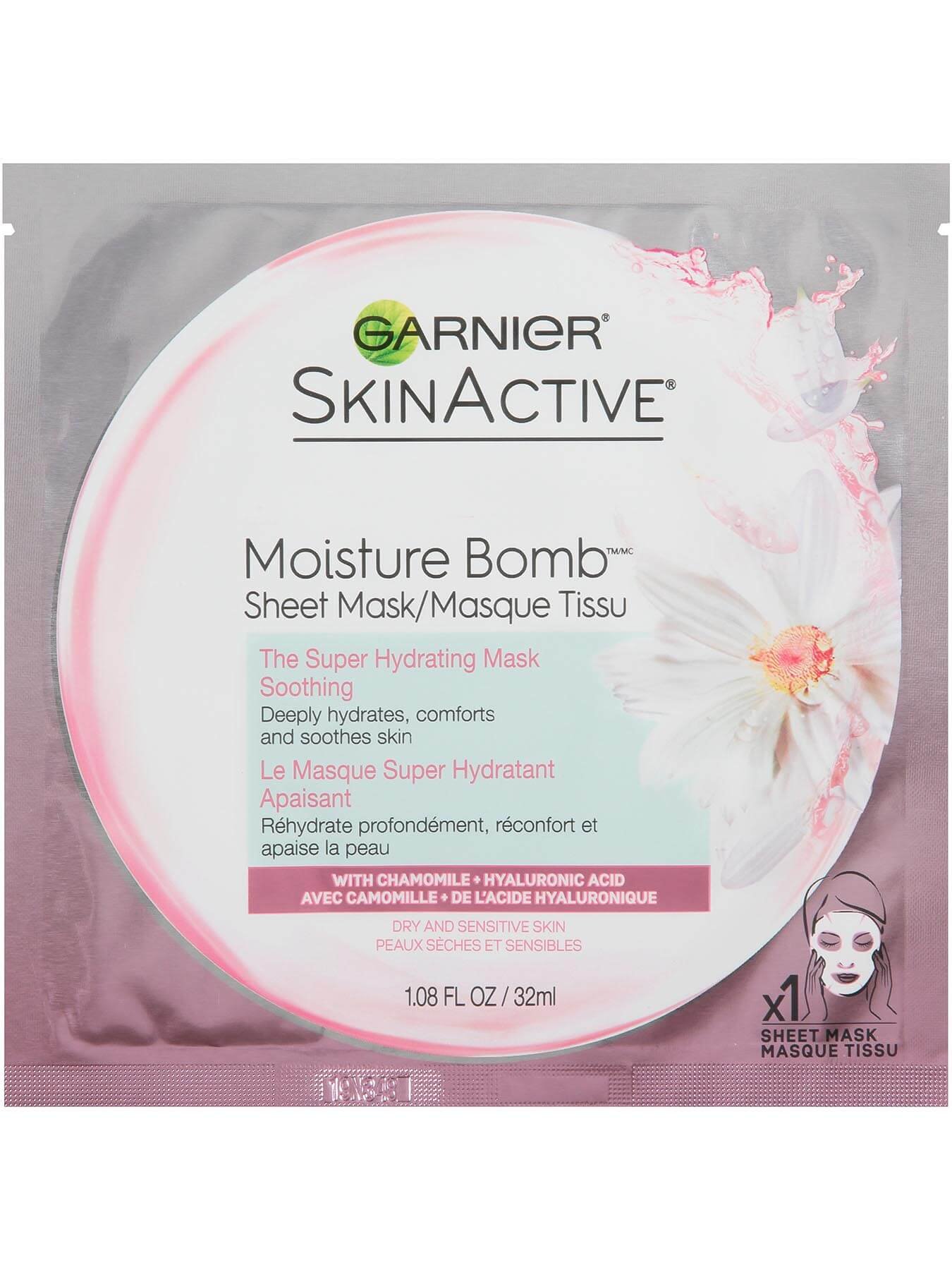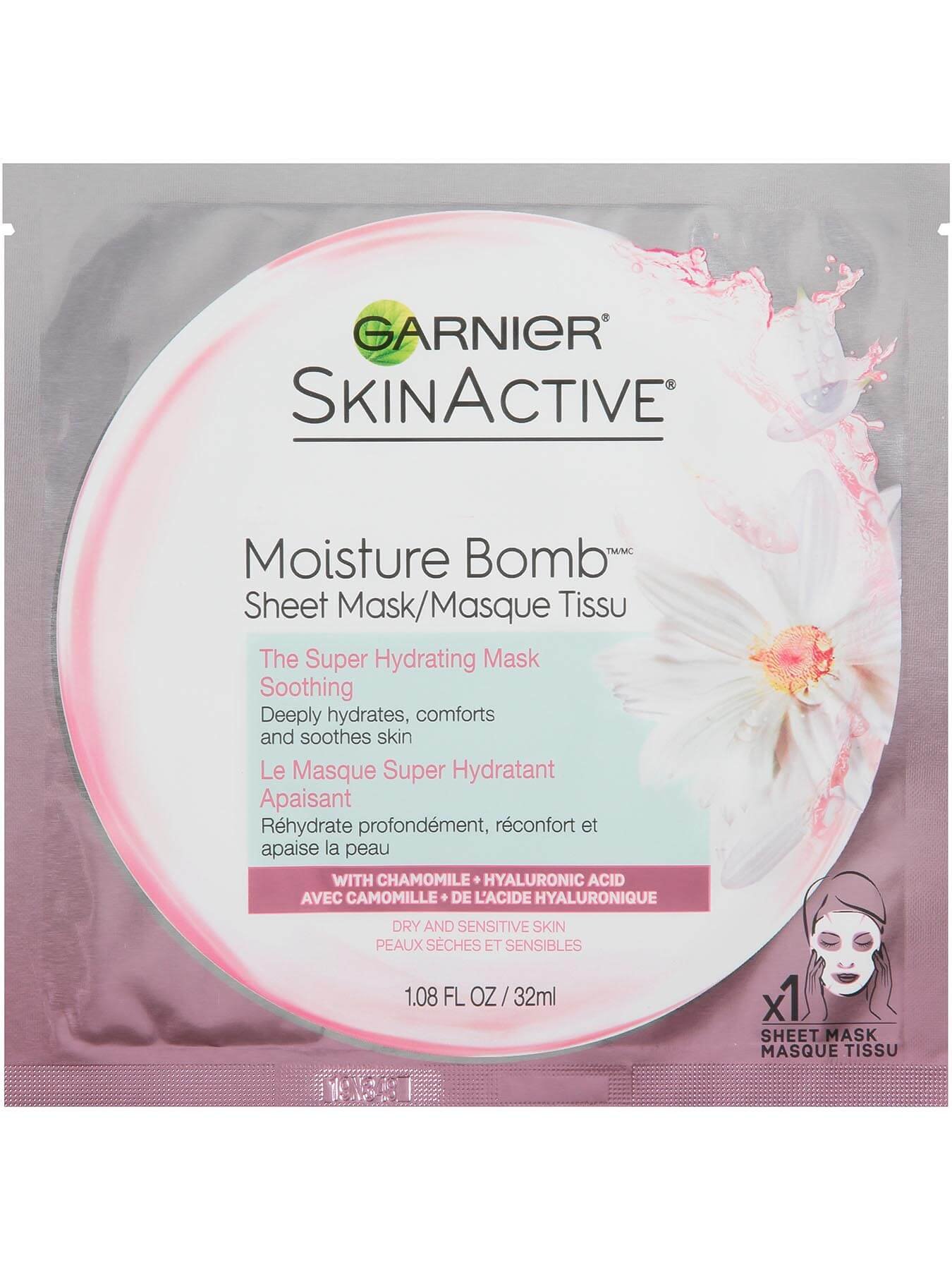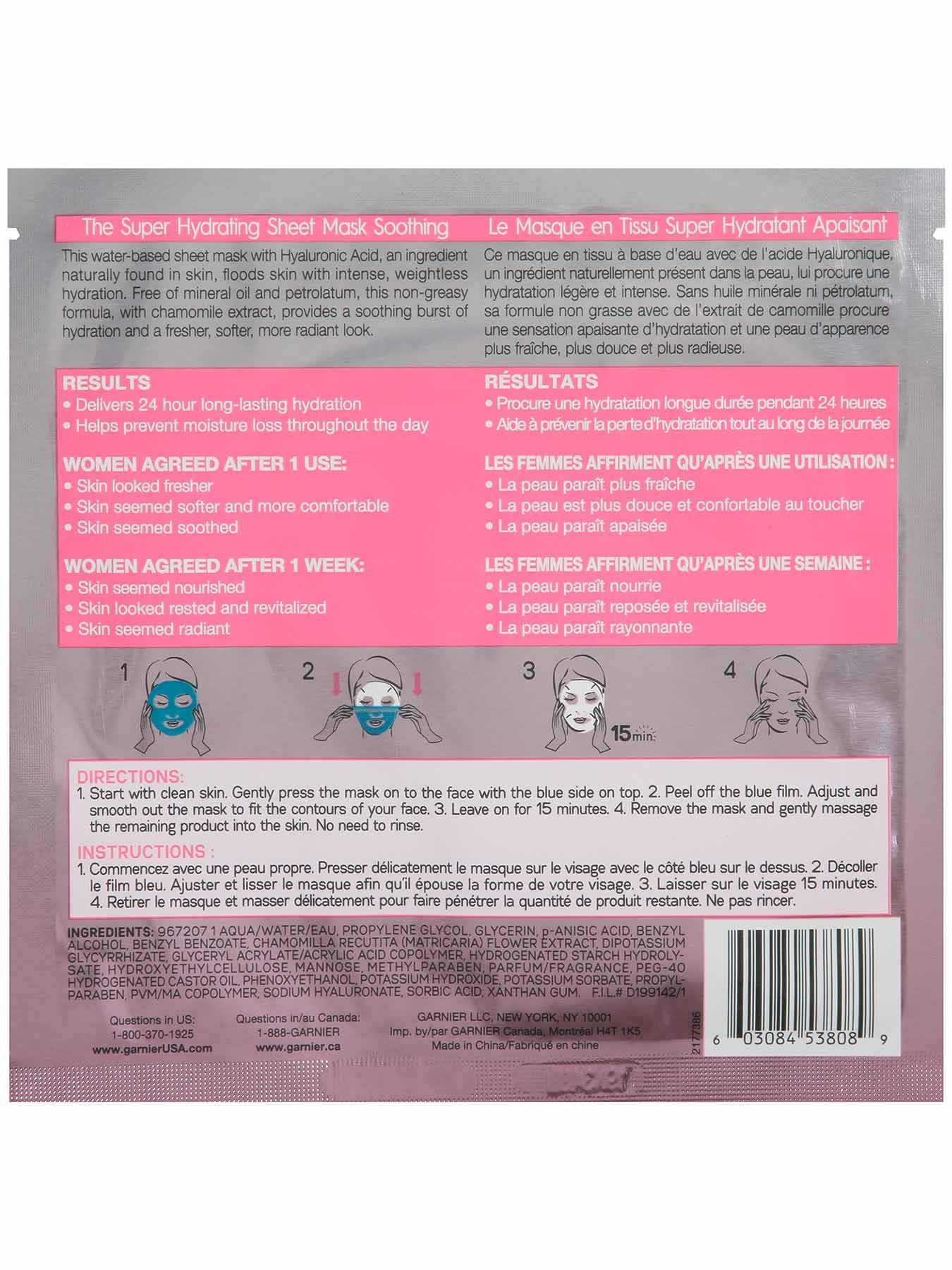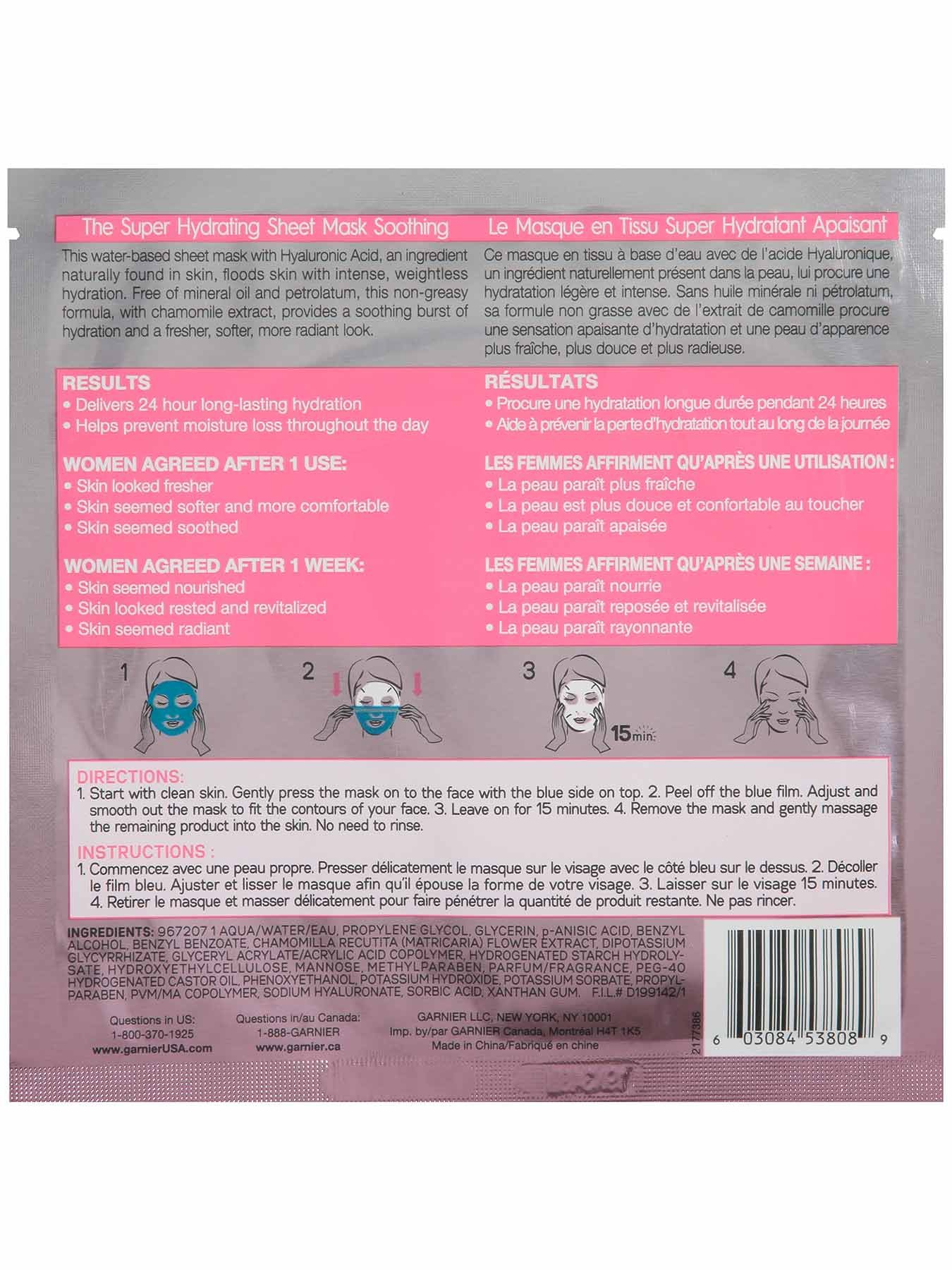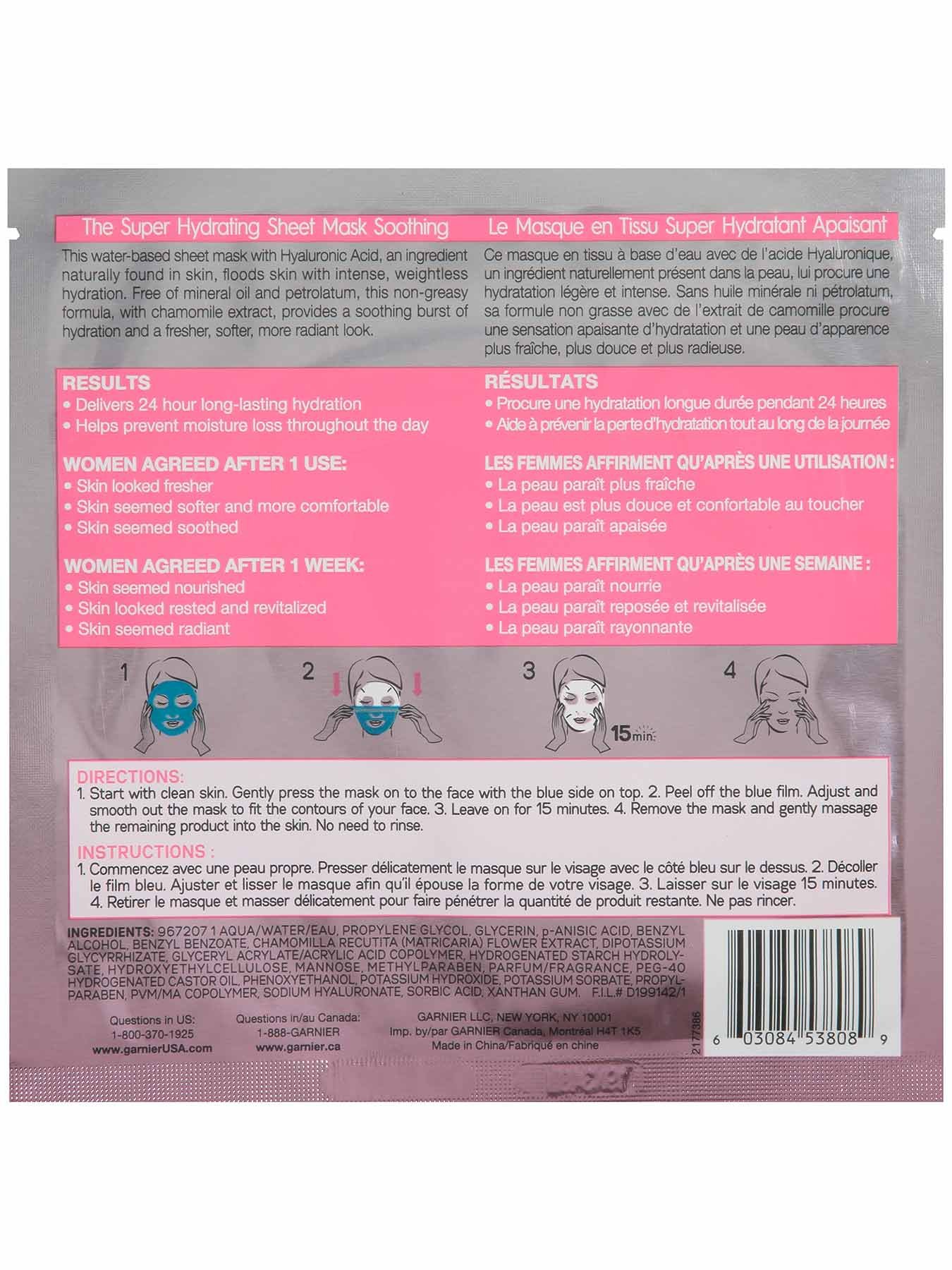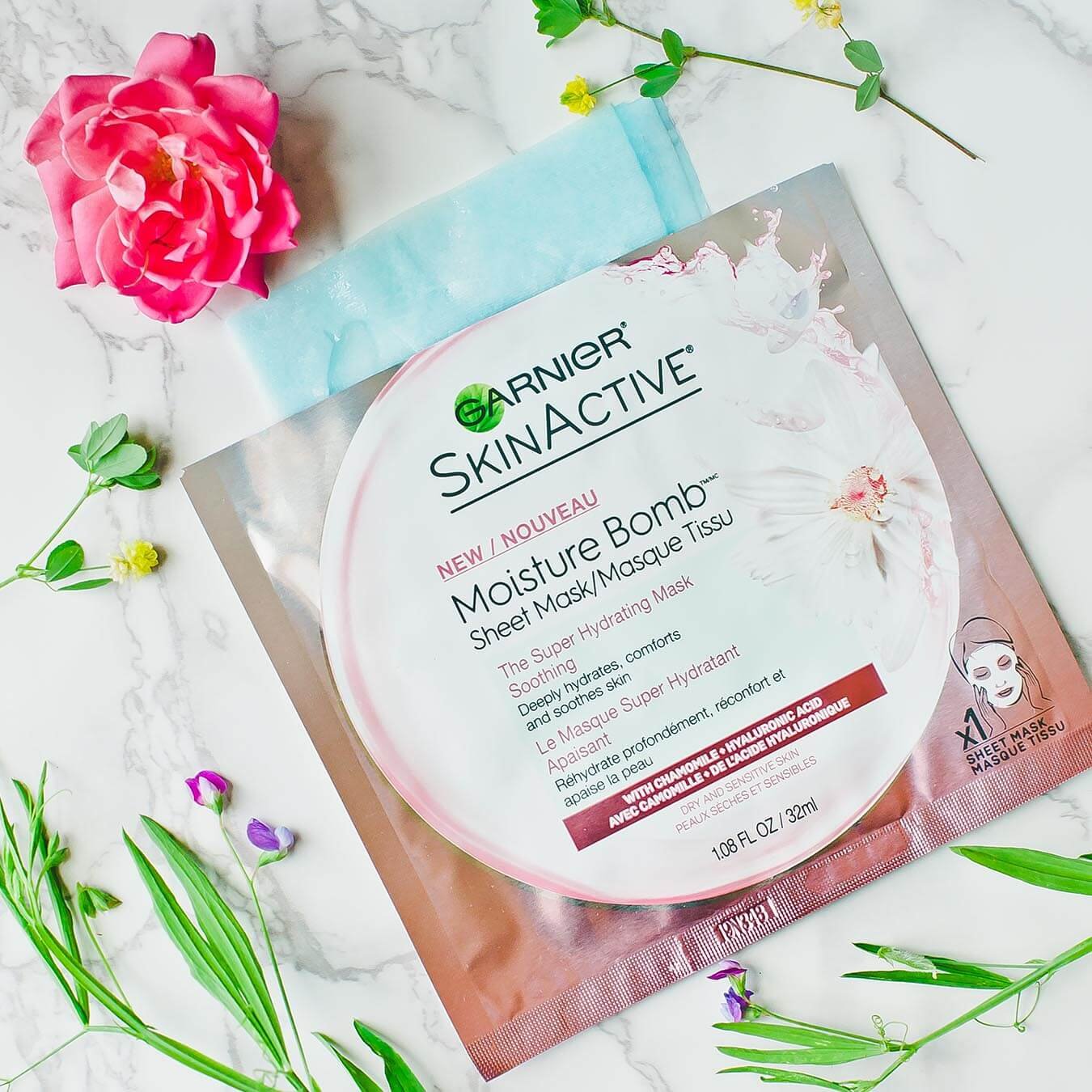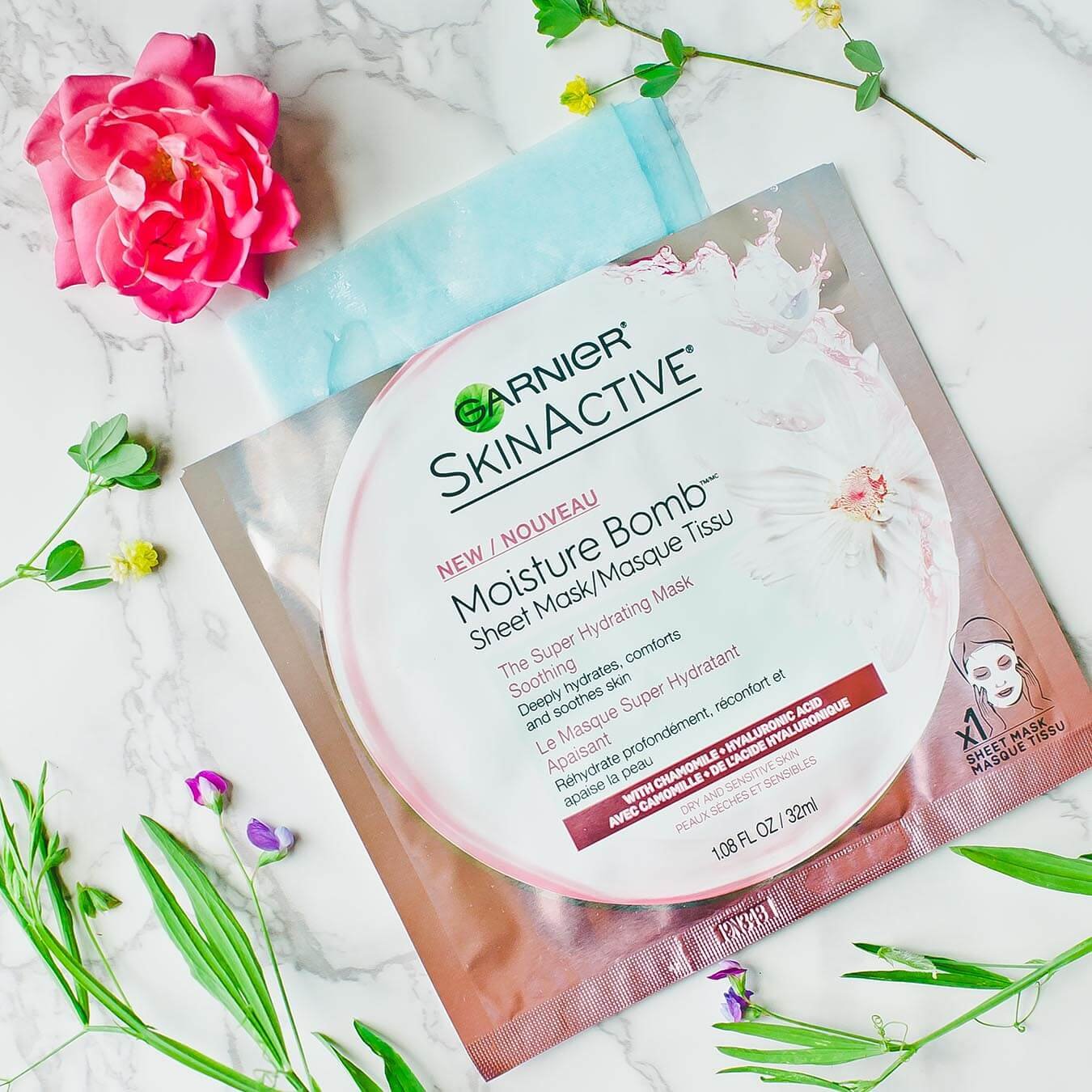 The Super Hydrating Sheet Mask - Soothing
Garnier SkinActive
$2.99 MSRP
Hidrata en profundidad, reconforta y calma la piel
INFORMACIÓN DEL PRODUCTO
Esta mascarilla de tejido a base de agua con ácido hialurónico, un ingrediente presente naturalmente en la piel, inunda la piel con una hidratación intensa y ligera. Sin aceite mineral ni petrolato, esta fórmula no grasa, con extracto de manzanilla, aporta una oleada calmante de hidratación y un aspecto más fresco, suave y radiante.
Medio frasco de sérum hidratante en 1 mascarilla
Aporta 24 horas de hidratación duradera
Ayuda a prevenir la pérdida de humedad a lo largo del día
Modo de uso
1. Empieza con la piel limpia. Presiona con delicadeza la mascarilla en el rostro con el lado azul en la parte superior.
2. Despega la película azul. Ajusta y aplana la mascarilla hacia el exterior para adaptarla al contorno del rostro.
3. Deja actuar 15 minutos.
4. Retira la mascarilla y masajea suavemente el producto restante en la piel. No es necesario enjuagar.
Ingredientes
967207 1 AQUA / WATER / EAU, PROPYLENE GLYCOL, GLYCERIN, p-ANISIC ACID, BENZYL ALCOHOL, BENZYL BENZOATE, CHAMOMILLA RECUTITA (MATRICARIA) FLOWER EXTRACT, DIPOTASSIUM GLYCYRRHIZATE, GLYCERYL ACRYLATE/ACRYLIC ACID COPOLYMER, HYDROGENATED STARCH HYDROLYSATE, HYDROXYETHYLCELLULOSE, MANNOSE, METHYLPARABEN, PARFUM / FRAGRANCE, PEG-40 HYDROGENATED CASTOR OIL, PHENOXYETHANOL, POTASSIUM HYDROXIDE, POTASSIUM SORBATE, PROPYLPARABEN, PVM/MA COPOLYMER, SODIUM HYALURONATE, SORBIC ACID, XANTHAN GUM F.IL D199142/1
Rated

5

out of

5
by
katiemc715
from
This has saved my skin during the Retin-A uglies!
I recently started using prescription strength Retin-A and it has wreaked havoc on my face. I am typically very oily, but now paired with the oily skin is awful dry patches all around my eyes, mouth, forehead, chin, cheeks, lips, basically everywhere on my face. I stumbled across these at my local pharmacy and had to grab one. I LOVE how much product it has and how cooling/soothing it is. I have tried all different types of moisturizers to help me through the Retin-A uglies, but this has been the most helpful, ESPECIALLY around my mouth and eyes. I exfoliate with a washrag to loosen the dry skin, then use this to moisturize and lock in hydration before bed. This has TRULY been a lifesaver. Sorry for the long review, but with all the wishy-washy reviews I've seen I think this product truly deserves more praises. Thank you, Garnier!
Date published: 2017-04-28
Rated

5

out of

5
by
Jmdxo
from
SO BOMB
I bought all 3 masks to review and I'm in LOVE with all of them. They are all very promising. The packaging is bomb! I appreciate that all of them offer hydration. After I took off the masks (following my skin care regime) my face feels very REFRESHING AND COOL! My skin looks very well rested. I'm impressed with these masks!!
Date published: 2017-04-10
Rated

5

out of

5
by
Chakka31
from
Loved this mask!
I so enjoyed using this mask. It is so easy to use. I applied it to my face, left it on for 15 minutes and then massaged the moisture into my skin. My skin feels so soft and smooth afterwards. My face was slightly irritated before using the mask but after using the mask my skin feels soothed and no more irritation. My face looks bright and feels so refreshed. My skin does not feel sticky or greasy. Overall it was a relaxing experience that left my skin feeling moisturized and amazing.
Date published: 2017-04-07
Rated

3

out of

5
by
mdeandres
from
Moisture Bomb Mask
Mask didn't really fit my face that well. It went on smoothly and my face definitely felt hydrated after!
Date published: 2017-04-07
Rated

5

out of

5
by
cpcrnch
from
Incredibly Soft!
I never use face masks but I must say, I'm missing out! I love the results I got with the Garnier Moisture Bomb. It felt very refreshing while on my face. The mask was a bit large, it would be nice if it had a couple size options. It was fairly simple to put on following the instructions but because of the size it slipped around a little. It was very easy to remove, I was a little skeptical as it felt like it was stiffing up a bit. It was super moisturizing and left my skin smooth and incredibly soft, even 24 hours later. I love this mask and the ease of purchasing it in single use packages rather than jars or containers. I will definitely be purchasing the Moisture Bomb Sheet Mask again!
Date published: 2017-04-06
Rated

5

out of

5
by
meemaw70
from
Super Great product!
I #GotItFree or the fact you received a sample in this review. It was so easy to use. It was easy on and easy off. It made my face feel so clean. % star product. I will be using in my face care.
Date published: 2017-04-06
Rated

5

out of

5
by
amberhov
from
Moisture Bomb
I loved this! It made my skin feel awesome and it smelled great as well. It helped so much with my dehydrated skin. I will buy this. So glad I got to try it.
Date published: 2017-04-06
Rated

4

out of

5
by
SusanaV
from
Garnier skin active
This product left my face feeling really soft and moisturized. No need to wash off after removing mask which is a plus.
Date published: 2017-04-06
Rated

5

out of

5
by
GenesisMen
from
LOVED IT, SO EASY
It was so easy to use and it was so refreshing. In literally minutes I felt the difference. So refreshing and so hydrating, definitely one of my favorites
Date published: 2017-04-06
Rated

4

out of

5
by
oceangirl13
from
Great mask!
I wasn't sure what to expect from this mask, but it was a pleasant surprise. It was easy to use, and the fragrance was nice and light. It also mad my skin soft and didn't feel greasy or tight afterward.
Date published: 2017-04-05
Rated

4

out of

5
by
Janeey
from
Great Mosturizer!
This face mosturizer mask is one of the best, face masks I have ever used. I was really impressed by how easy it was to apply it to my face, and the smell if it was refreshing as well. It didnt leave me face feeling greasy, and it left my face feeling noticeably softer, I will definetly be buying this in the near future.
Date published: 2017-04-05
Rated

4

out of

5
by
Tweety2180
from
Soft & silky!
I was having some issues with dry spots on my face, I used this mask & it made them almost completely disappear! Right after I used it my face was so soft & smooth & felt really nice too. Two days after using it my skin was still nice & soft & by day 3 I only had one small dry spot left! I will definitely be getting more of these to use weekly!
Date published: 2017-04-05
Rated

3

out of

5
by
Nanioid
from
Feel a little like a masked bandit
This is the first time I have tried a mask, such as the Garnier Moisture Bomb sheet mask. Usually when I use a cosmetic mask it is a liquid that I place on my skin that gradually dries out and is peeled off. This mask was literally a sheet of paper that I put on my skin. It felt a little slimy getting the mask on and it was a little hard to determine which side was the blue side that I needed to remove. I could feel the coldness of the mask right away on my skin, but I felt a little like a masked bandit wearing it. I tried the mask at night because I was a little afraid of how my family would react to me wearing it. The mask didn't burn my skin, but rather just felt very cold. The fifteen minute usage time flew by. I removed the mask from my skin and felt like my skin was more moisturized.
Date published: 2017-04-05
Rated

3

out of

5
by
cmason5
from
Garnier Moisture Bomb Mask
Overall, this face mask does its job of hydrating your skin. Applying the actual mask was trickier than expected. My mask was sticking together and hard to open up. I found the eye and nose holes to be too close together. I had to stretch the mask to have the holes line up, resulting in the sides of my nose not having the mask directly on them. The blue part of the mask peeled off easily. I didn't really see the need for this piece, but that is no big deal. I felt that I had to adjust the mask constantly while I was wearing it. It seemed to slip off my face and drip from the saturation of the serum. There was definitely enough serum in the package. I actually am still using serum that was left over nightly. Once I removed the mask, I massaged (or tried to) the remaining serum into my skin. At first, it seemed greasy, but as it dried I could tell a difference in the feel of my skin. I gave this product 3 stars. I would buy it again, but not unless it was on sale.
Date published: 2017-04-05
Rated

4

out of

5
by
Tinepeaks
from
Refreshing
tried the Garnier Skin Active Moisture Bomb Sheet Mask. I love using Sheet masks and this one is a great one to try. There is no smell, so if that's something that bothers you this mask is the one for you. This mask is unique in that it uses a blue layer to help you place the mask as you put in on. Although I like the concept of that, it really didn't make a difference to me. It was more of just a waste and an extra step. The Garnier Skin Active Moisture Bomb Sheet Mask overall felt great especially while relaxing after a long day. And you only have to wear it for 15 minutes to work! My face felt moisturized and smooth after removing it. There was a lot of product left over, so I used it to run on my hands and feet. It even made my feet fell refreshed. The Garnier Skin Active Moisture Bomb Sheet Mask is a mask I would definitely make a part of my regular skin care routine.
Date published: 2017-04-05
Rated

1

out of

5
by
Yogagoddess
from
Wanted to like it
Sadly, I did not like this product. It left my skin feeling "tacky" and my skin did not feel moisturized days later like the product claimed. I have used hair products from this company and have been pleased. This product, however, fell way short.
Date published: 2017-04-05
Rated

3

out of

5
by
mother2kings
from
Moisture Bomb Hydrating Sheet Mask
I am always up for trying new moisturizers. This is actually my second time trying a sheet mask. I was super excited to give this one a try as soon as it arrived. Even after reading the directions, it was a bit confusing to apply. The part you have to pull off seemed useless in my opinion. Upon application, the mask is extremely cold. Almost to the point where you are entering a cold swimming pool for the first time. The mask itself looked quite scary once applied to the face. Surprisingly, the mask was very well hydrated and had a clean pleasant smell. After 15 minutes, I took the mask off and my skin did feel nice and refreshed. However, I found this mask to be no more moisturizing or special than any other moisturizer I have tried in the past. I would rate this product average. Do I see myself purchasing this mask in the future? I highly doubt it. I am still in the search for a moisturizing product that WOW factor.
Date published: 2017-04-04
Rated

4

out of

5
by
chrstnplummer
from
moisture-rific!!
First off, I thought I was going to have to wrestle the mask onto my face, but once I dove in and showed it who was boss it went swimmingly! I have patches of dry and flaky, and a t-zone thats pretty oily, so I worry about ultra moisturizing stuff...But this thing..wow! It wasn't gloppy or sticky, felt more like a wet washcloth on my face, quite relaxing actually. I also have pretty sensitive skin, but so far so good..no reactions. All in all, good job y'all, nice product!
Date published: 2017-04-04
Rated

3

out of

5
by
Jessicamcm
from
Ehhh Okay...
I really liked how the product felt on my face during the 15mins that you are to leave it on. But after i took it off there was so much excess liquid on my face that i couldn't get it to rub in like they say. I did have to wipe some off. They could use a little less liquid.
Date published: 2017-04-04
Rated

5

out of

5
by
Lmpatton7892
from
Great product !
I had never used or even known about such a mask. I really like the cooling sensation while wearing it. And when I took it off my face felt very hydrated.
Date published: 2017-04-04
Rated

5

out of

5
by
lecia0115
from
Moisture Bomb
I think that the Garnier Moisture Bomb Sheet Mask is amazing! It left my skin feeling flawlessly soft. I've never used a face moisturizing mask before but it left my skin looking so good i'm going to have to get some more.
Date published: 2017-04-04
Rated

5

out of

5
by
SteffSam2016
from
Smoothalicious
This product is great! It really does leave you with smooth skin. I have had a horrible time with dryou skin due to weather changes (live in TX ) but once I tried this it worked wonders! Definitely will be a regular on my shopping list!
Date published: 2017-04-04
Rated

4

out of

5
by
kczbog
from
Toss the face moisturizer!
I have to admit, I was skeptical that a mask I leave on for only 15 minutes could really moisturize that well. I used one and could notice a difference as soon as I was done. Even 24 hours later I could notice a difference in my skin. The best part for me was on top of adding so much moisture to my skin it didn't make my face greasy or cause me to break out like a lot of moisturizers do! I will definitely be using this again!
Date published: 2017-04-04
Rated

4

out of

5
by
ledwyer92
from
Not Too Shabby
Relaxing at a spa...Laying on a lounge chair... Being pampered head to toe... So I might not have gotten all those things when I tried this face mask, but I did feel like I got a treat. Personally I don't often use masks.. scratch that.. I never use masks. Ever. But I was pleasantly surprised at this one. The object was moisture, and I definitely felt that. Pros: I loved the cool sensation on my face, basically I wanted to pull out some cucumbers and lie in a bath with this on. It was easy to apply and the instructions were simple. It's one mask and not multiples so you don't waste anything. Afterwards my face felt softer for sure. Cons: The mask was huge on my face, in my picture I look like an ax murderer (my husband had a laugh though so all in all not that bad). I kept having to adjust it from falling off but perhaps it works better lying down In the end the pros outweighed the cons for me, I'd try it again for sure!
Date published: 2017-04-04
Rated

2

out of

5
by
TrekkieGal
from
Skin felt great, but I didn't!
I have to say, I was a bit biased against this product even before I tried it. I've used sheet masks before, and hated the experience. They never seem to fit properly around my nose and eyes. I talked to some friends about sheet masks, and most of them felt the same way I do. When I got this mask, I put it on with some trepidation. It hit me just at the corners of my eyes, which wasn't comfortable, but at least the lotion on the mask didn't seem to sting my eyes. The area aroundmy nose fit a bit better - I at least didn't feel like I was suffocating as with some sheet masks. The mask had a very mild and not unpleasant scent. I managed to keep the mask on for the full 15 minutes. For the next few days, my skin looked and felt very good, and was blemish free. If I could get those results from a peel-off or rinse-off mask, I would definitely use that product. But the claustrophobic feelings I get from the sheet mask make this particular product a no go for me.
Date published: 2017-04-03
Rated

5

out of

5
by
sagecreekmeadow
from
Pleasantly Surprised by Moisture Bomb
I've always had super oily skin, so I was concerned the Mask would leave my skin feeling more oily than normal. Every single moisturizing product ive ever tried has left my skin feeling more oily. It didnt! My skin was soft and smooth, and not the least bit oily. I did have a little difficulty rubbing it completely in once I removed the mask. I'm thinking if I had more of a dry skin issue, it would have soaked in better, leaving me less to rub in. There was so much moisturizer on the mask, it was amazing! Most products only put a bare minimum in it. Overall, this is a product I can get behind!
Date published: 2017-04-03
Rated

5

out of

5
by
heyitsjord
from
Moisture Bomb Hydrating Sheet Mask
Typically, I'm not a huge fan of sheet masks. I much prefer wash off or peel off masks. When I put on a mask, it is usually when I am winding down for the night and I like to tidy up around the house or pick out my outfit for the next day, etc. when wearing my masks. With sheet masks, I don't feel like I can move around while wearing them because I'm afraid they will slip right off my face. With that being said, this mask is truly awesome! Moisture bomb is the perfect name for this mask. I used it after returning home from traveling and my skin just felt tired and dull! I pulled this mask out and tried it and it was like a drink of water for my tired skin! Upon opening the mask I was pleasantly surprised by how saturated it was! My biggest pet peeve with sheet masks is when the fabric is dried out and there is not much product, but this was not the case! It has a nice cooling effect when it is first applied to the skin. Very relaxing. It also smells like a spa! The scent is not strong or overpowering, but light and truly refreshing. I set my timer for 15 minutes and laid on the couch with a book. I could not believe how fast that 15 minutes went! I was not ready for it to end!!! (I do admit, I kept it on a bit longer than the 15 minutes that is suggested...it just felt so great!) Once I removed the mask, there was plenty of left over serum to massage into my face and neck. t did take a few minutes to soak into my skin and dry down, but once it did, my skin felt so soft! This mask took my tired, dull skin and totally transformed it into plump, soft, moisturized skin! The next morning, my face was still very soft and looked healthy and glowy. As someone who normally steers clear of sheet masks, I can honestly say this mask did such great things for my skin and I definitely recommend! I will be picking up more of these to keep in my vanity for when my skin needs an extra pick-me-up!
Date published: 2017-04-03
Rated

3

out of

5
by
mom2kids
from
Interesting feel
So odd. This mask come enclosed in an easy to open packet. You place it on your face blue side out then peel blue side off. Using your fingers you smooth the remaining white mask across your face. I found the eye and mouth holes too small. The mask was very wet, but didn't drip. Once in place leave on for 15 minutes. After 15 minutes the mask easily peeled off leaving a large amount of gooey residue on my face. The instructions suggested rubbing remaining product into the skin and stated you didn't need to wash off. It felt gross. The was way too much goop to leave on my face. I had to wash off with warm water. Face felt soft afterwards. I would not describe my skin as super moisturized after using mask. I did not like how close mask was to my eyes.
Date published: 2017-04-03
Rated

4

out of

5
by
Sakamato
from
Moisture Bomb Mask
First impression: Simple in packaging & instructions. Ingredients - pretty good, just disliked that propylene glycol was in it, I do like that there are natural items in it like chamomile. Appears promising & I looked forward to trying it out. Use: Plenty of formula, which was good. Hard to tell which side was blue because it did not have the dark hue and contrast that the instructions showed. Upon applying, I got concerned about a few things. First, was if the cut was a good fit for the eye area, I found it to be too big horizontally and too small vertically. Second was if my eyes were going to burn from the formula. Third was it seemed to me that the mask was a little shy of my hairline in the forehead area. During the 15 minutes, I was able to carry on doing other things without concern about the mask. It was a cool soothing sensation - felt good. My eyes felt a sensation, but did not burn. Once my fifteen minutes was up, it was as simple as removing the mask. Since there was so much formula, I folded my mask and put it over my neck area as I massaged the excess on my face into my skin. My favorite part: no rinse! Post-Use: The next day I noticed my blemishes improved. I definitely had a hydrated face for about a day. As the next couple days passed my really dry areas started to reveal itself again. The outline of my face still had a layer of moisture at least 3 days later. Final thoughts: Overall, I enjoyed the product. I definitely could use it. The one I tried is for dry sensitive skin, which I have and it worked well for me. I'll be looking to get my hands on more for sure!
Date published: 2017-04-03
Rated

3

out of

5
by
hotnurse27
from
Moisture Bomb
I finally had a chance to try the Garnier Sheet Mask. The mask itself holds lots of moisture. Applying to face is slippery and a slight challenge to get into place. I have sensitive skin. I like that it's not greasy. It's very wet so it took constant monitoring to keep the liquid out my eyes. 1. Within five minutes of use, my eyebrows area and under eye area were itchy. 2. After removal, there was plenty of product remaining on my face. I massaged into skin according to instructions. 3. Product does not absorb into skin completely. 4. My skin felt tacky afterwards. 5. Subtle smell Overall this is not a product I'd purchase for my skin type. I had to wash my face ten minutes after I removed mask.
Date published: 2017-04-03