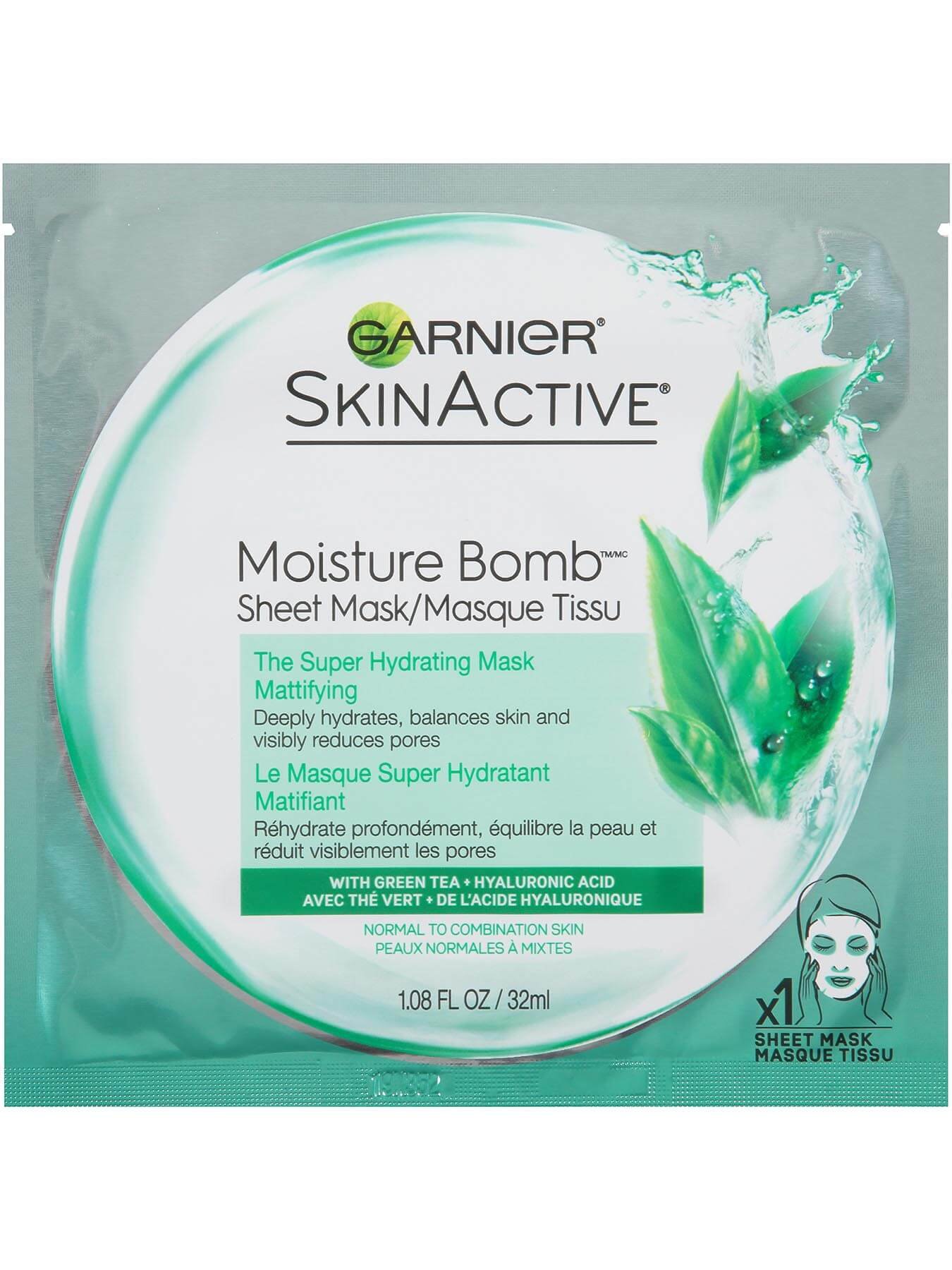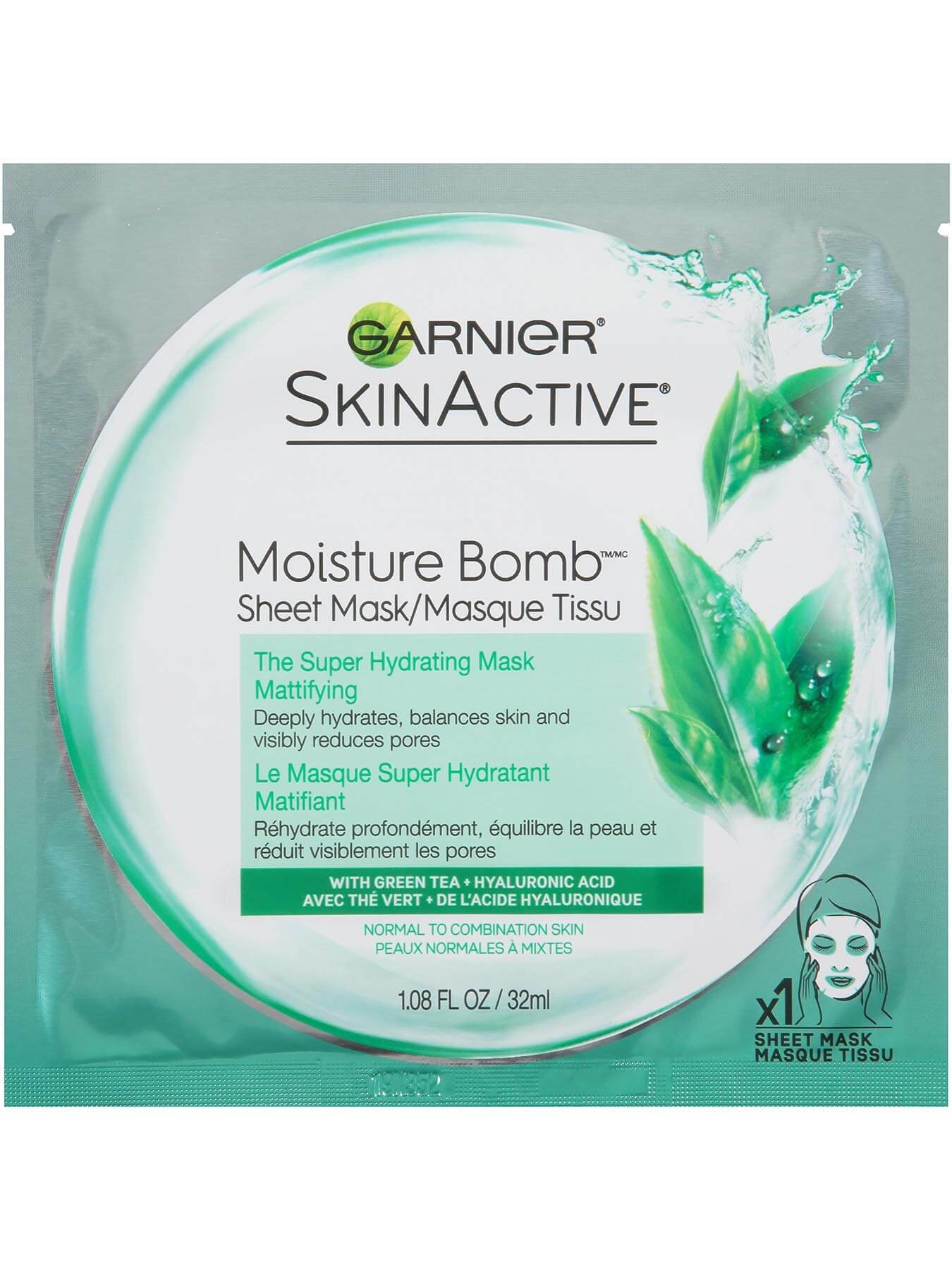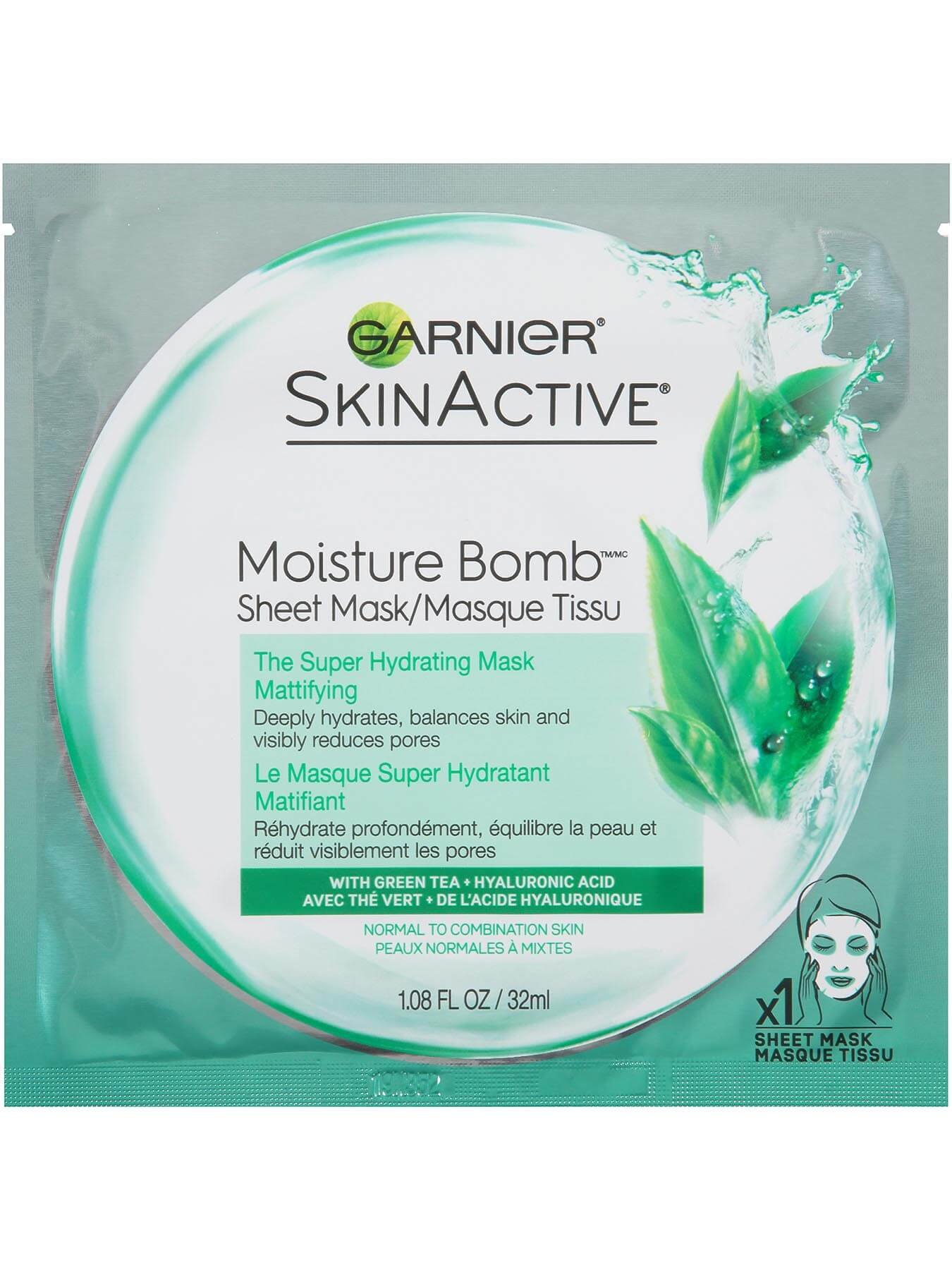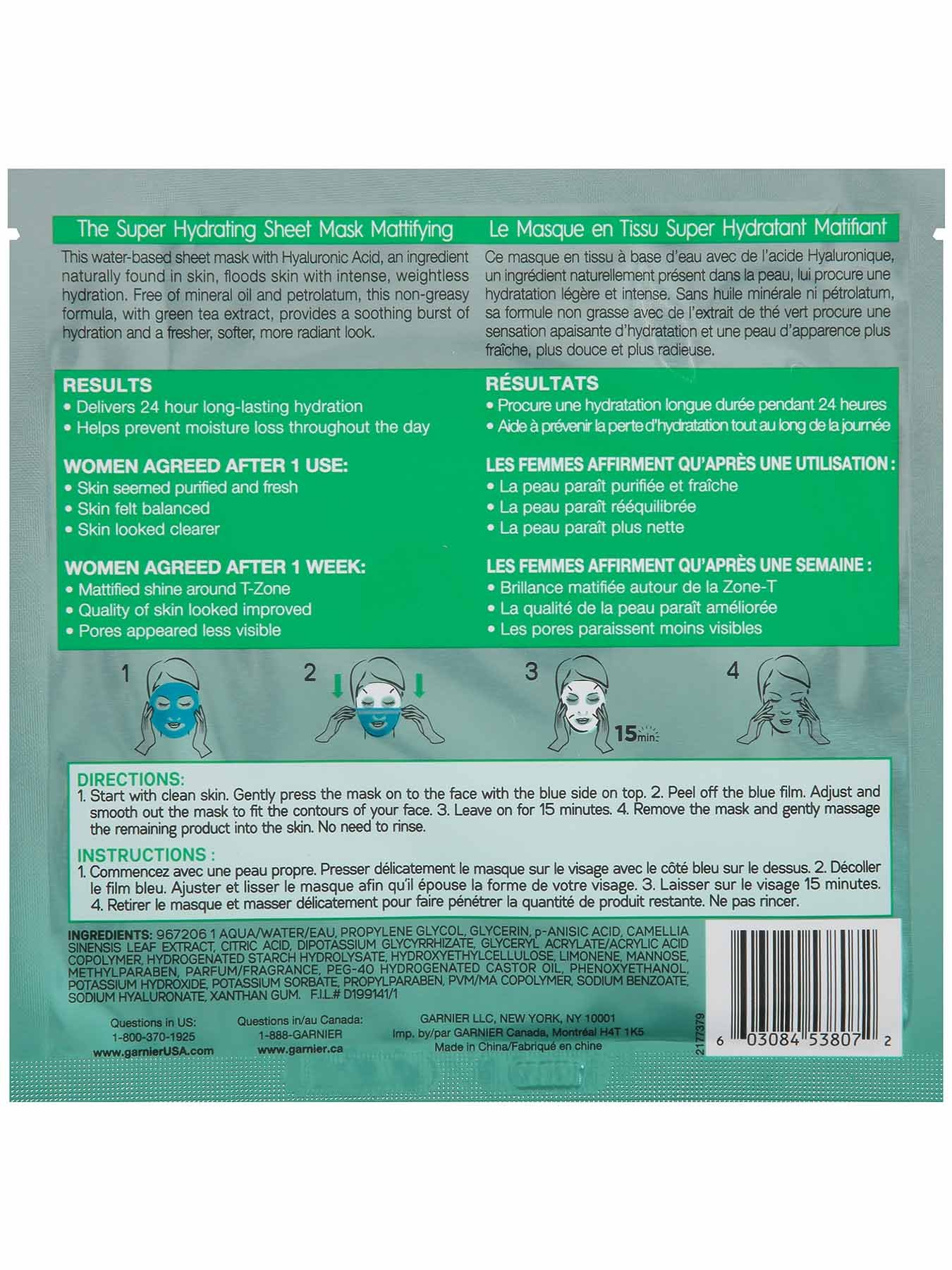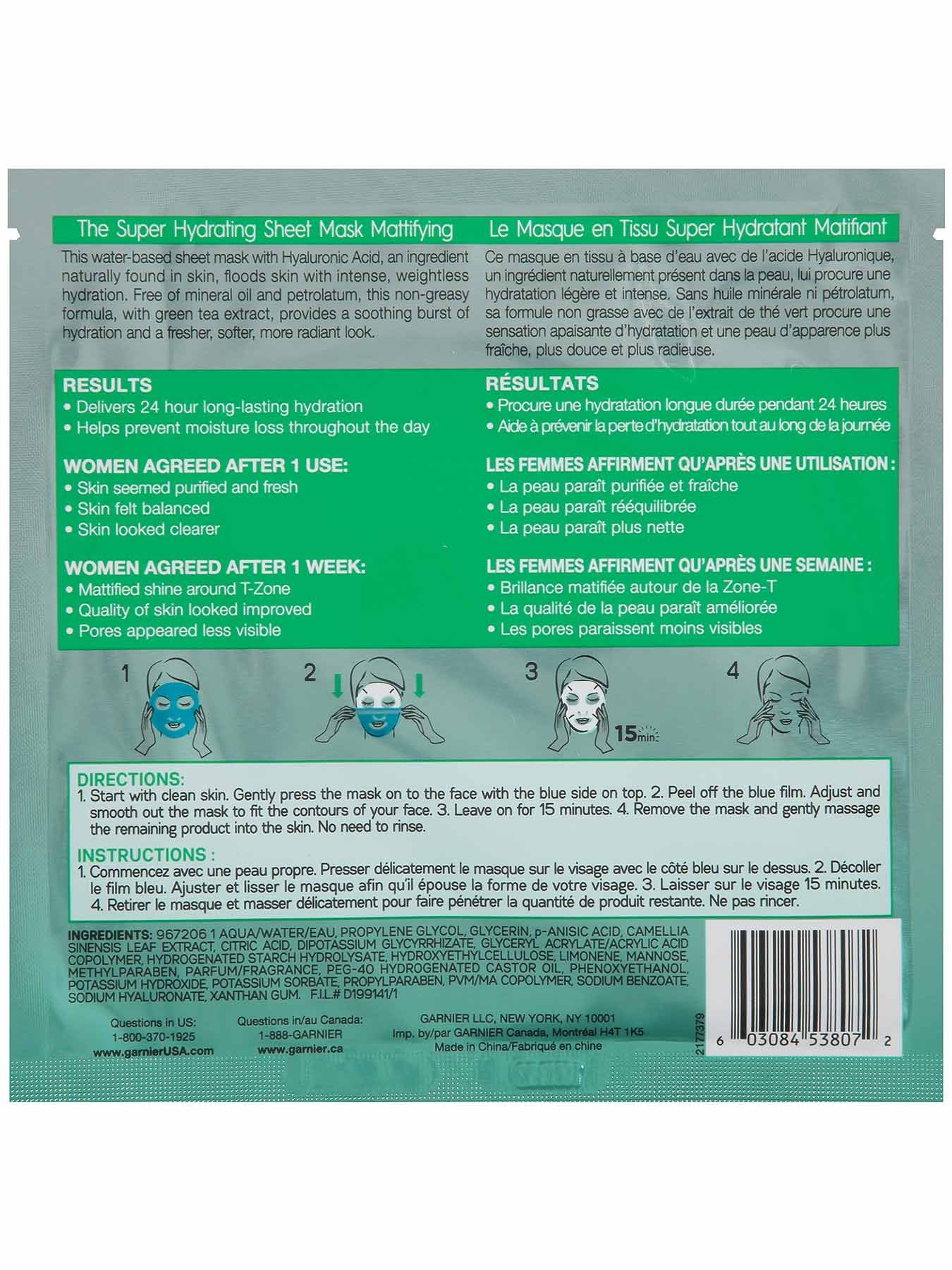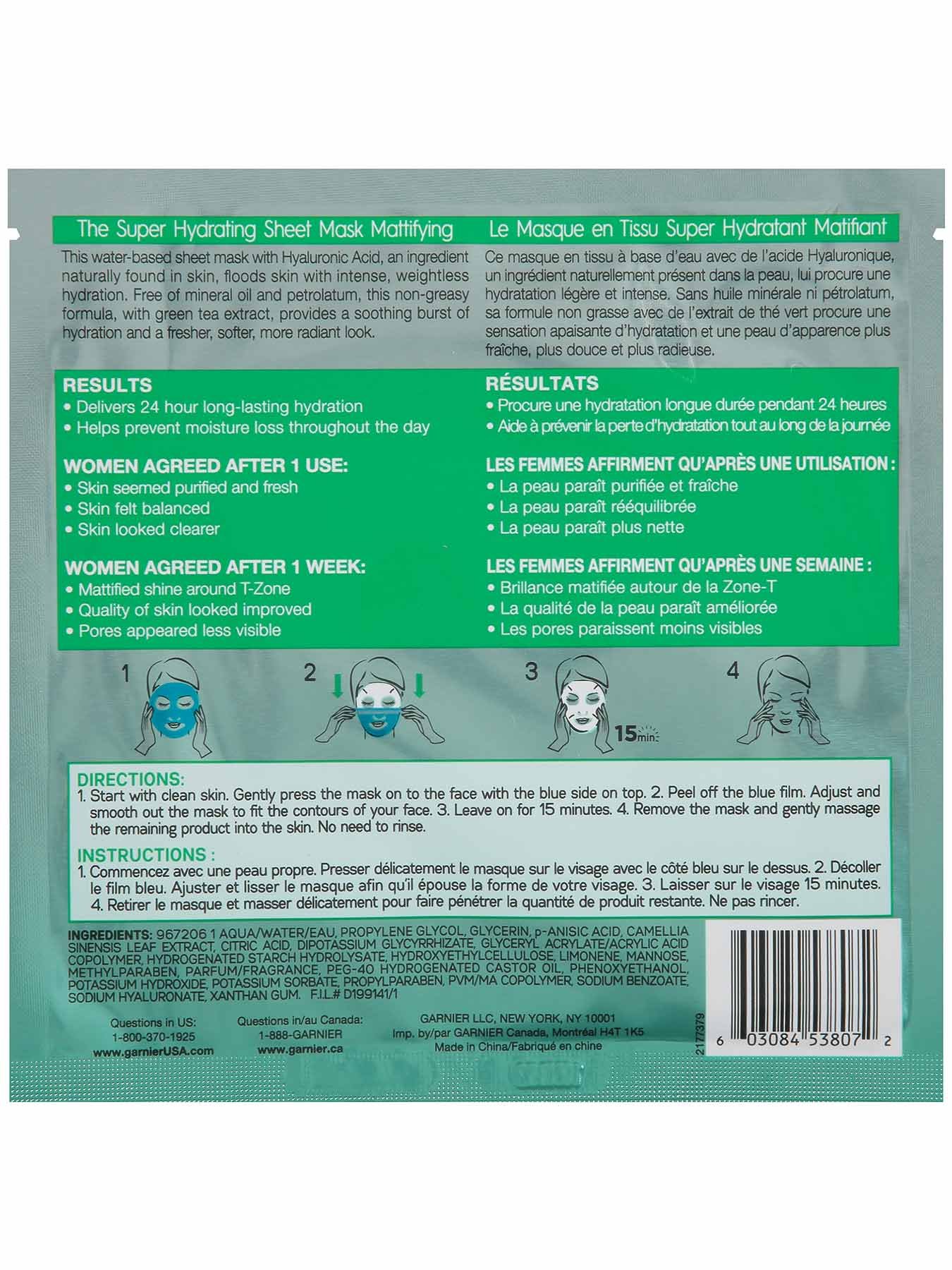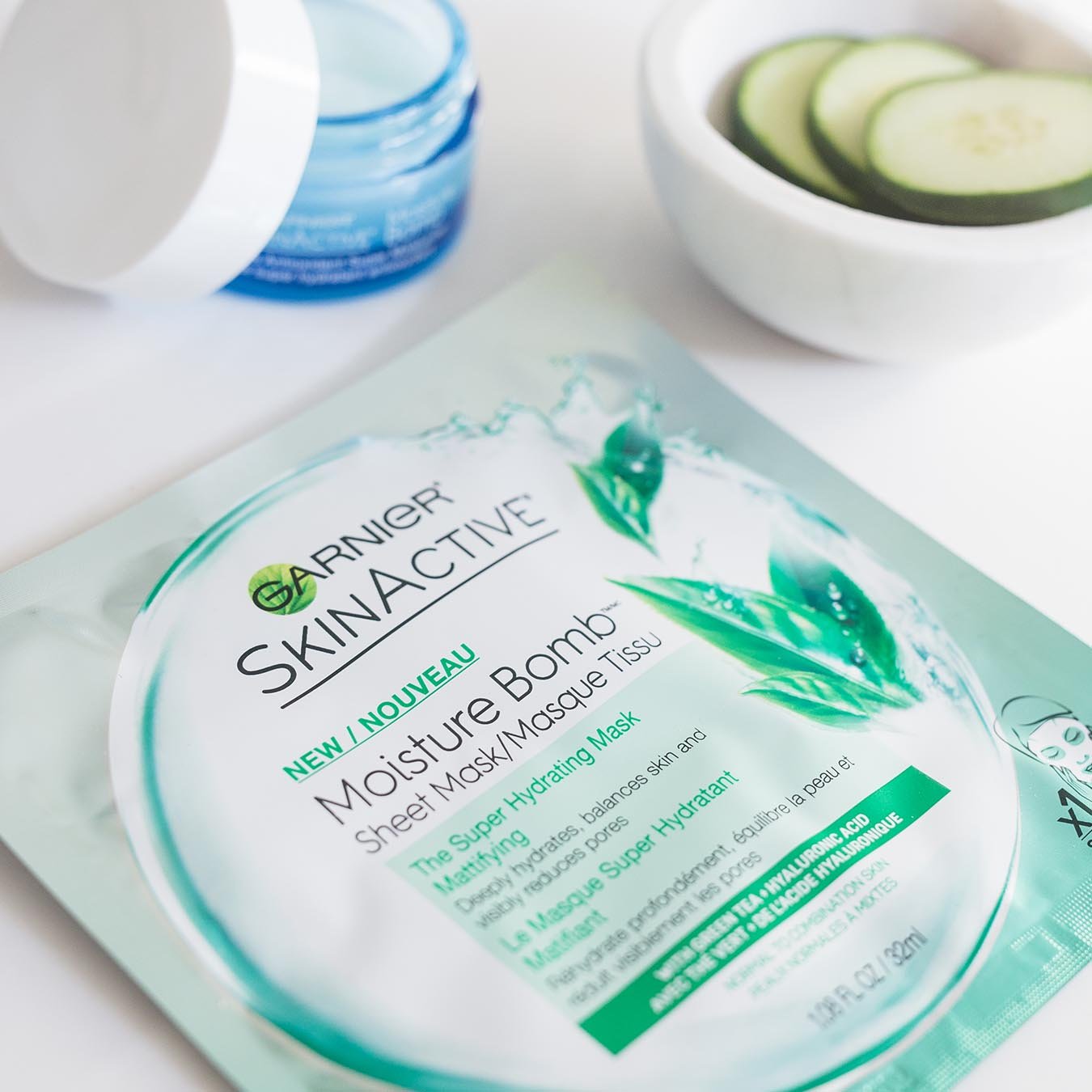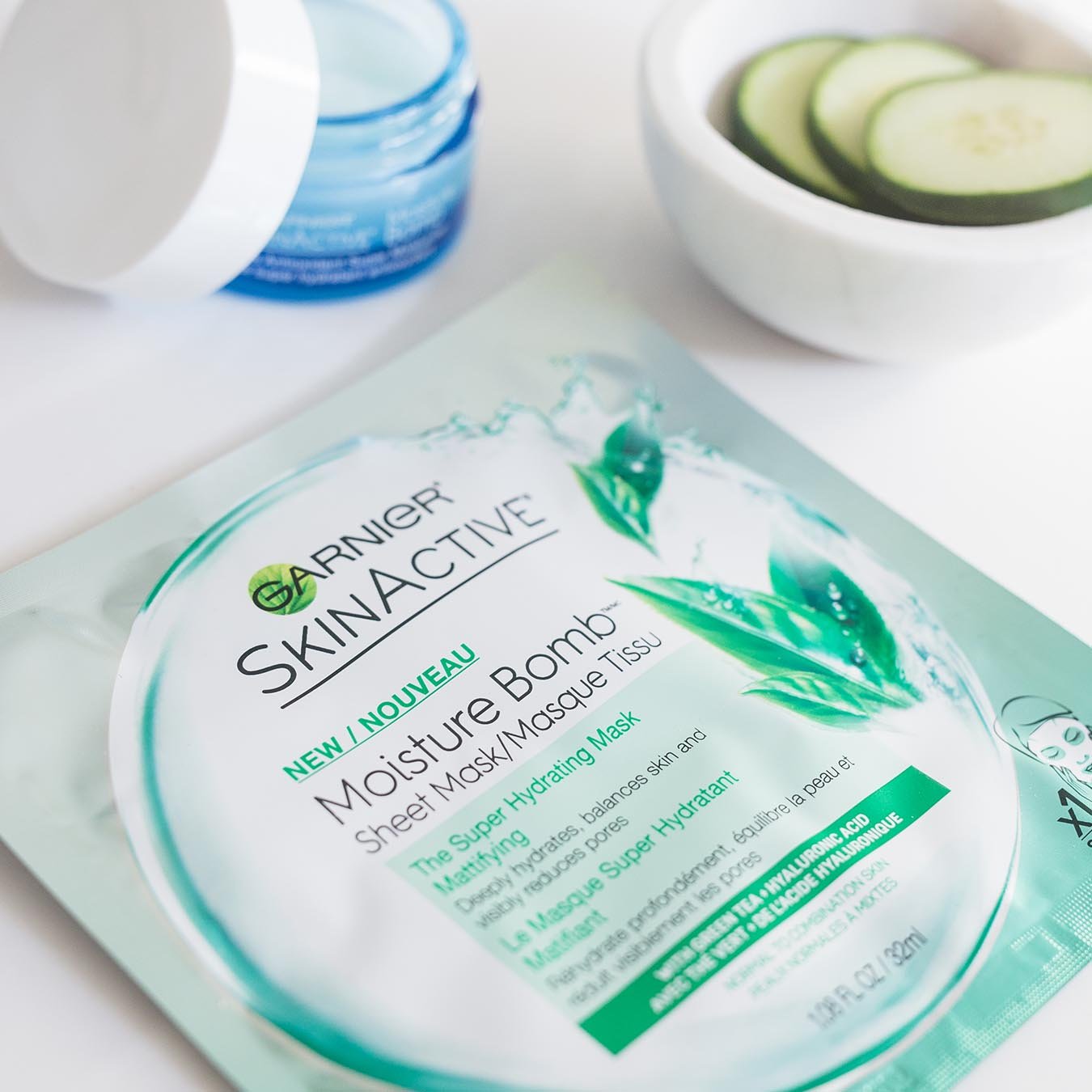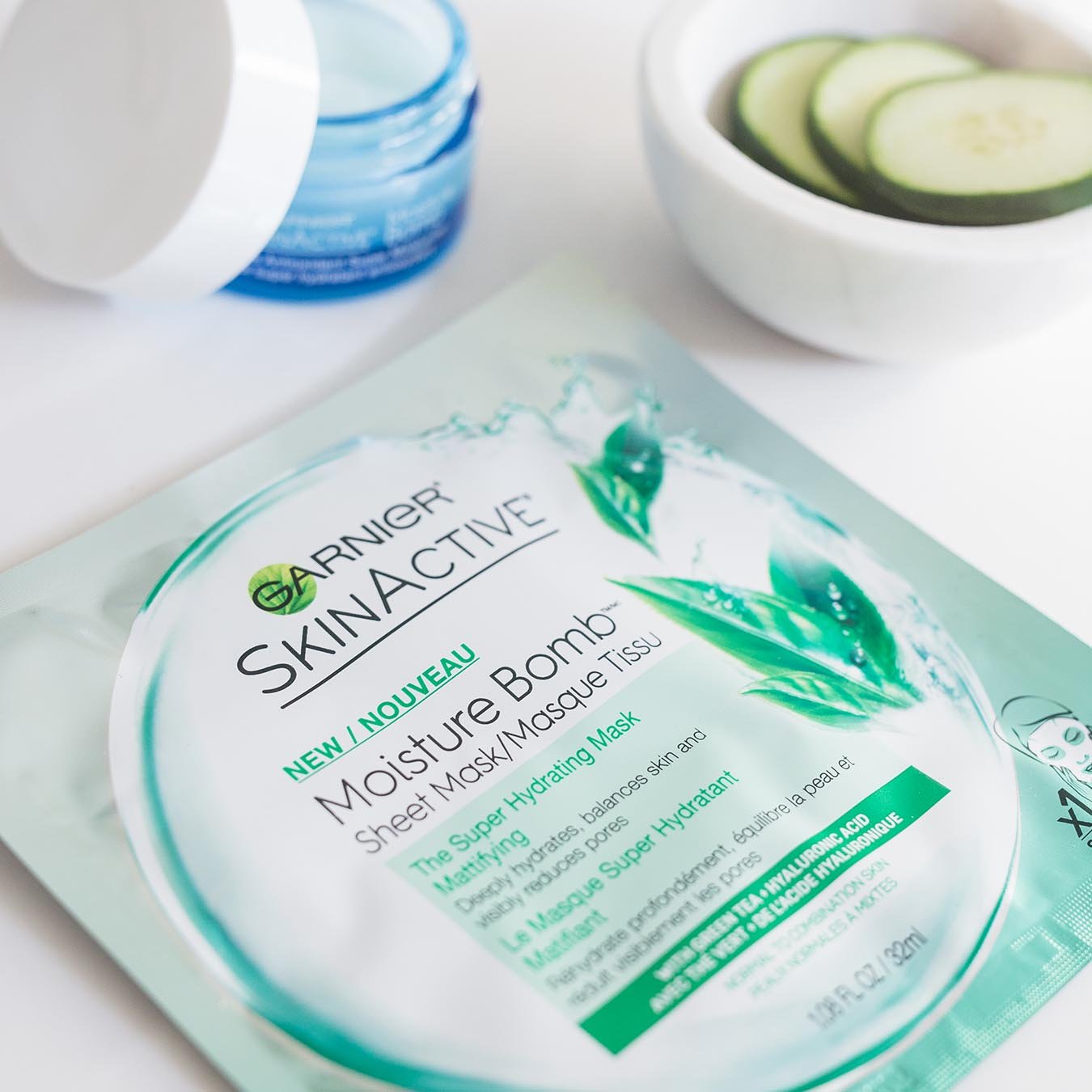 The Super Hydrating Sheet Mask-Mattifying
Garnier SkinActive
$2.99 MSRP
Esta mascarilla de tejido con ácido hialurónico y té verde aporta a la piel una hidratación ligera a la vez que la equilibra.
INFORMACIÓN DEL PRODUCTO
Esta mascarilla de tejido a base de agua con ácido hialurónico, un ingrediente presente naturalmente en la piel, inunda la piel con una hidratación intensa y ligera. Sin aceite mineral ni petrolato, esta fórmula no grasa, con extracto de té verde, aporta una oleada calmante de hidratación y un aspecto más fresco, suave y radiante.
Medio frasco de sérum hidratante en 1 mascarilla
Aporta 24 horas de hidratación duradera
Ayuda a prevenir la pérdida de humedad a lo largo del día
Modo de uso
1. Empieza con la piel limpia. Presiona con delicadeza la mascarilla en el rostro con el lado azul en la parte superior.
2. Despega la película azul. Ajusta y aplana la mascarilla hacia el exterior para adaptarla al contorno del rostro.
3. Deja actuar 15 minutos.
4. Retira la mascarilla y masajea suavemente el producto restante en la piel. No es necesario enjuagar.

Ingredientes
967206 1 AQUA / WATER / EAU, PROPYLENE GLYCOL, GLYCERIN, p-ANISIC ACID, CAMELLIA SINENSIS LEAF EXTRACT, CITRIC ACID, DIPOTASSIUM GLYCYRRHIZATE, GLYCERYL ACRYLATE/ACRYLIC ACID COPOLYMER, HYDROGENATED STARCH HYDROLYSATE, HYDROXYETHYLCELLULOSE, LIMONENE, MANNOSE, METHYLPARABEN, PARFUM / FRAGRANCE, PEG-40 HYDROGENATED CASTOR OIL, PHENOXYETHANOL, POTASSIUM HYDROXIDE, POTASSIUM SORBATE, PROPYLPARABEN, PVM/MA COPOLYMER, SODIUM BENZOATE, SODIUM HYALURONATE, XANTHAN GUM FIL D199141/1
Rated

5

out of

5
by
karategurl122588
from
Moisture Bomb
Garnier SkinActive Moisture Bomb is a great sheet mask and beauty tool because it helps re-hydrate skin. After this long winter I found that my skin became very dry and red. I also have been experiencing sensitive skin so I needed something without a lot of harsh ingredients. After using my face felt calm and fresh.
Date published: 2017-04-07
Rated

5

out of

5
by
Epprice10
from
Hello moisture bomb
After using the mask, my face felt so soft and smooth! It even looked more healthy. It was so easy to use, I've never tried a mask like this before so has a first timer it was very easy. I will definitely do it again here in the near future. Definitely recommend!
Date published: 2017-04-07
Rated

3

out of

5
by
Ajt32383
from
A little too wet...
The garnier skinactive moisture bomb is an okay product and that's about it....okay. It wouldn't stay put on my face and even though it says you can just rub the remaining product into your skin, it was far to wet and seemed like A LOT of product left on my skin. Also, after trying to rub it into my skin, it seemed a little sticky and had to wash my face and hands. Felt soft and smooth but overall just okay.
Date published: 2017-04-06
Rated

3

out of

5
by
atlbartender
from
Would not be my first choice in masks
I can not say that I would buy these at the store, it was very big and very wet. I am not one to have issues with textures normally but the whole time it was on my face, I had goose bumps. I will say my face felt great after the mask and continued to feel that way for the next day.
Date published: 2017-04-06
Rated

3

out of

5
by
jeeeplife
from
It's alright.
I used this mask one day before getting ready, but I can't really rave about it. I isn't notice any major changes other than my skin feeling nice afterwards. I also hate that the eye holes never seem to be big enough so I feel the need to keep my eyes closed the whole time. I definitely prefer to apply a mask than to use a sheet.
Date published: 2017-04-06
Rated

3

out of

5
by
Tlafleur
from
My Skin Active Journey
The product to me is one that did not irritate my skin which is really a good thing. It did make my skin a little softer than what I would have expected. It takes longer than 15 minutes to dry on your face not sure if my face just had too much water on it to being. It is slightly hard to peel of the sheet.
Date published: 2017-04-06
Rated

4

out of

5
by
lisa55568136
from
Say yes to Garnier Moisture Mask
I cannot get enough of how my face feels after trying the Garnier Moisture Mask. The product was easy to apply and left my skin feeling so soft and hydrating afterwards. My face felt soft hours after I had used the mask.
Date published: 2017-04-05
Rated

4

out of

5
by
LyzzOver
from
My face feels so soft!
I really love how my face feels after I used the Garnier SkinActive Moisture Bomb mask! It feels so moisturized and soft! It was really easy to use. My only complaint was that there was too much of the moisturizer and I had to rub it into my skin for a few minutes before it was fully absorbed.
Date published: 2017-04-05
Rated

4

out of

5
by
mzranda724
from
Great Product!
I was a little hesitant at first on trying this since i do not ever use facial masks. But i love the brand Garnier so i figured i give it a try. I absolutely love this!!! It was easy to put on, and it left my face feeling so soft and hydrated!!!! It did have a little much excess product left after you remove the mask but thats something i can work with. I would recommend anyone to try this out!!!!
Date published: 2017-04-05
Rated

5

out of

5
by
Corbs716
from
Moisturized without greasiness
Garnier Moisture Bomb skin mask is just that...moisture bomb! My skin is normally very dry and moisturizing leaves my skin very oily and greasy. Moisture Bomb left my skin fully moisturized and fresh without the greasy feeling. I was radiant, not shiny. Moistue bomb was easy to use, remove from packet, apply, leave on 15 minutes and remove. 15 minutes to a clear, radiant look, so easy!
Date published: 2017-04-05
Rated

4

out of

5
by
KrysWright
from
Moisture Bomb.Com!!
I loved this product! It was easy to apply and gave great results. I would have given this 5 stars but the only issue was that it was quiet messy. I had to clean alot off my hands and once you're finished with the mask you're to rub it into your skin instead of washing it. But it was sooooo much that I had to wipe some off. Other than that, great product. Left my skin feeling refreshed and soft. Would use again, but would be prepared for the mess.
Date published: 2017-04-05
Rated

5

out of

5
by
amberpici
from
Awesome product
This mask is easy to use. And I love how soft and smooth my skin felt after using it. I love the ingredients in this. And I feel great after using it. My skin looks great.
Date published: 2017-04-05
Rated

5

out of

5
by
Efflorescency
from
Great moisturising sheet mask!
This winter has really dried out my combination skin in certain spots on my face, so I was really excited to try this sheet mask. It has Hyaluronic Acid and green tea extract. Packaging is pretty and easy to open, with clear instructions on the back. You put the blue side on top and peel the blue part off, then smooth the mask over your face. The directions say to leave on for fifteen minutes and that you don't need to rinse after. I felt that it was easy to apply but this isn't my first experience with sheet masks. There was extra product left in the package after I removed the mask so I rubbed that on my neck. It did not have any strong smells (had a pleasant scent) and it didn't feel greasy. I relaxed during the fifteen minutes, which is pretty standard for many facial mask products I use. The mask felt cool on my skin, though I think this would feel best on a hot day or after a workout. I removed the mask and massaged the remaining moisture into my skin. My face seemed brighter and pores looked smaller. My skin also felt soft, moisturised, and tight all day. Overall I think this is a great mask, and I would recommend to anyone wanting to try a moisturising sheet mask. I really enjoyed my experience with this product.
Date published: 2017-04-05
Rated

2

out of

5
by
steviecanuck
from
Too much for me
Some good things about this mask are that the scent is very light and pleasant. While the mask is on it feels cool and tingly, and after the whole process my skin felt smooth and comfortable. What I didn't like about it was how wet it was. I had to wipe my hands off with a towel after taking it out of the package and putting it on. The mask itself was a bit too large, which would be ok, but no matter how much I tried to push it up and fold it, there was still at least an inch hanging off the bottom of my face. It was so wet it wouldn't even stick to my chin. I had to keep poling at it to get it to stay on the whole 15 minutes. Once I removed the mask, there was so much product left on my face I gave up on massaging it in after about 5 minutes and wiped my face off. Although it did hydrate my skin as promised, this is just too much for me. Not a product I would purchase to use again.
Date published: 2017-04-05
Rated

5

out of

5
by
SummerMM
from
Very Moist
I took it out of the package and it was very moist. I put the Garnier SkinActive Moisture Bomb, The Super Hydrating Sheet Mask Mattifying on my face and it was super cold. I would recommend warming it up somehow maybe with your hands or something. You have to pull off the green protective cover, make sure you adjust especially your forehead while pulling it off so that it sticks to your face. You need to adjust the Garnier SkinActive Moisture Bomb The Super Hydrating Sheet Mask, it took me a little bit to get it the way I liked it. It is super wet and the mask is big, some went into my hair but it was no biggie for me. My daughter thought I looked funny and said I looked like a ghost and my husband thought I looked like one of those murders from the horror movies, lol. I did have to re-adjust it a few times during the 15 minutes because of gravity and how moist it is. The mask did stay cold the whole time but was very bearable. When it was time to take off the Garnier SkinActive Moisture Bomb The Super Hydrating Sheet Mask, it came off very easy. You have to massage the rest of the product in and there is no rinsing. I felt like I had enough product on my face for someone else to do their entire face. It is a shame though how much left over there is on the mask, I bet you could get a few more turns out of it, thats how much product is in the mask. It took 5 minutes at least for my face to dry and my face was very shiny. Which showed me it really cleaned my face and put a lot of moisture in it. My face did feel very clean. I recommend you do this when you have time, it is not a fast process. I did like Garnier SkinActive Moisture Bomb The Super Hydrating Sheet Mask Mattifying and would use it again, so yes I would recommend it.
Date published: 2017-04-05
Rated

3

out of

5
by
JulieReads
from
A bit too wet
Trying this mask was a bit difficult. First, because of the multiple layers, I had to unfold it VERY carefully and almost ripped it a couple of times. The top layer also didn't come off easily and required me to do a lot of readjusting once the mask was on. The mask was also so wet that my fingers were dripping after getting it on and I had to rinse and dry them off. The moisture also makes the mask heavy, so there was a second when I inhaled and pulled up the little bit of mask around my nose and I couldn't breathe through it. My skin did feel really sort after and there wasn't too much leftover moisture, and what was there soaked in easily, but the application process was too complicated.
Date published: 2017-04-05
Rated

5

out of

5
by
JaySeeKa
from
Love them!
Best hydrating mask I've ever used! After one use my pores and even wrinkles were less visible. I also received compliments on how good my skin looked after using them. I'll definitely continue to use these. Highly recommend.
Date published: 2017-04-04
Rated

5

out of

5
by
KeriT76
from
Moisture BOMB!!
I wanted to wait until I got home from FL to try this mask out. I am SO glad I did! My skin was so dry from being in the sun I couldn't wait to put this on. It feels ah-mazing. I had a day on vacation that I got a little too much sun. I wish I had this down there. It feels so cooling on the skin. This would be an awesome mask for after sun in the summertime and really good in the winter when your skin is so dry from dry winter air. I will totally be buying this again. I love it!
Date published: 2017-04-04
Rated

5

out of

5
by
Hcnicks218
from
Love the Garnier SkinActive Mask!!
Using the #GarnierSkinActive moisture bomb face mask made my face so soft and smooth! I suffer from huge pores that were noticibly decreased in size. I cant wait to buy more of these and use them more often!
Date published: 2017-04-04
Rated

4

out of

5
by
tammyb1995
from
the water mask
I really liked the product. The 15 minute wait time is why I gave it a 4 instead of a 5. I would definitely use this product.
Date published: 2017-04-04
Rated

4

out of

5
by
ana9307
from
Id use again
When you open the mask to apply be ready to get messy, the mask is smothered in a gel and application is kinda difficult but once you get it on and in place I suggest just sitting back and relaxing this mask is very slippery and prob best to not move a lot so your not constantly readjusting. My bf said I looked pretty scary with the mask on haha! The mask feels cool and refreshing I put it on after a hot shower so it felt pretty amazing. After 15 mins your supposed to remove and rub any excess gel left on your face into your skin I felt like my face felt a little sticky while I waited for it to dry. My skin did feel refreshed and tighter, the cold tingly feeling continued until my face completely dried. I didn't notice After having my baby my face has felt very dry and this mask definitely gave my skin the extra moisture it needed. I will be keeping this mask in mind for future pampering days.
Date published: 2017-04-04
Rated

5

out of

5
by
cee621
from
garnier MOISTURE BOMB !
About to try it out right now gonna update in 30 minutes ! Stay tuned for my results. I did however just now after applying it i had to cut the eye part because it was wayy to small lol but overall it feel so good on my face #gotitforfree
Date published: 2017-04-04
Rated

4

out of

5
by
jopkemel
from
Great product!
I think this product is pretty great. It felt great on and nice and cool (would have been good on a hot day). Many claimed the sticky bothered them but I didn't even think it was noteworthy. I feel moosturized and will for sure use it again!
Date published: 2017-04-04
Rated

5

out of

5
by
Buddy11397
from
Buddy11397
I think the moisture bomb is in fact just that. THE BOMB!!! I have severely dry skin on parts of my face,and after using the bomb I felt so great. My skin was beyond smooth and hydrated!!!
Date published: 2017-04-04
Rated

5

out of

5
by
amjennings
from
Cool Mask Literally
The Moisture Bomb Mask lives up to its name. The packaging was easy to open, the mask was easy to apply simply unfold and press on the biggest perk for me was the cooling effect I felt after the first 2 minutes which felt so great at the end of a long day which included a sweaty workout. Aside form the relaxing cooling sensation the lush and moist products in the mask left my face supple and hydrated to the piont that I did not need my nightly moisturizing cream! I liked that they didn't skimp on the amount of product either the mask is not thin and flimsy was thick and stayed on my skin until I removed the mask. The smell of the mask is light and pleasant I really didn't smell the scent after the first minute. After the fifteen minutes I removed the mask and massaged the remaining product in my skin. My skin was fresh, supple and super moist I even had a little glow the next day.
Date published: 2017-04-04
Rated

4

out of

5
by
Kiana470
from
Garnier SkinActive Moisture Bomb Mask
I was looking for a mask for my face that added hydration. I had done the unthinkable and spent the day in the middle of the Pacific Ocean and even though I had applied sunscreen, my face was sunburnt. Fortunately, I don't burn and peel, yet I knew I needed a little something extra so I tried Garnier's Moisture Bomb Mask. I have to admit, the name is what really caught my eye and it did not disappoint! Although I'm petite and the mask was a tad big for my face I smoothed it around and actually was able to cover a little under my chin. While the mask was on my face it felt cool and refreshing, there was a slight tingling feeling, the kind when you know a product is working. After I removed the mask, I massaged the remnants into my skin like instructed(even on my neck). I did take some off because there was plenty and my face is only so big. My skin feels extremely hydrated, it actually has that post-facial glow and doesn't feel greasy at all. I will definitely use this weekly for that extra moisture bomb!
Date published: 2017-04-03
Rated

5

out of

5
by
Tammygoofy
from
Awesome moisture mask
Garnier SkinActive Moisture Bomb sheet mask was awesome. I tried this for the first time and could not believe how moist the mask was. The mask was non-greasy, didn't stink or irritate my skin. The only problem I had was, that I couldn't see to peel off the blue film. However I enjoyed the cool moist feel on my face and my skin felt and looked refreshed afterwards.
Date published: 2017-04-03
Rated

2

out of

5
by
jessgclark
from
Could live without it
Garnier skin active moisture bomb sheet mask was just ok. I can definitely never use this again and be a-ok. It was slimy and cold, left my skin kinda tacky even after I massaged the remaining product into my skin. The next day I had DRY PATCHES around my chin and nose. I'll stick to my regular moisturizer thanks
Date published: 2017-04-03
Rated

1

out of

5
by
Babypluto07
from
Not my cup of tea
I can honestly say, this is an item that I did not like it all. First when I opened the package it was super slimy & sticky making it hard for me to get the mask out to put on my face. It didn't line up very well on my face, and then I had to go wash my hands because they felt super sticky. I waited 15 minutes and then took off the mask where I proceeded to attempt to run in the leftover moisture. It took forever to rub it in and it just really never felt natural to me like other masks I have tried in the past. I really wanted to enjoy the mask as I like most Garnier products, however this one just didn't do it for me.
Date published: 2017-04-03
Rated

5

out of

5
by
soggycherrios
from
The bomb moisture mask
I've never done a sheet mask so this was a new experience for me but a good one! The mask itself was super easy to use and felt great on! I will say I think the eye holes could be bigger on the blue piece, after you take the blue piece off they're more flexible so you can actually see. This mask left my skin feeling soft and fresh! I will definitely try it again!
Date published: 2017-04-03