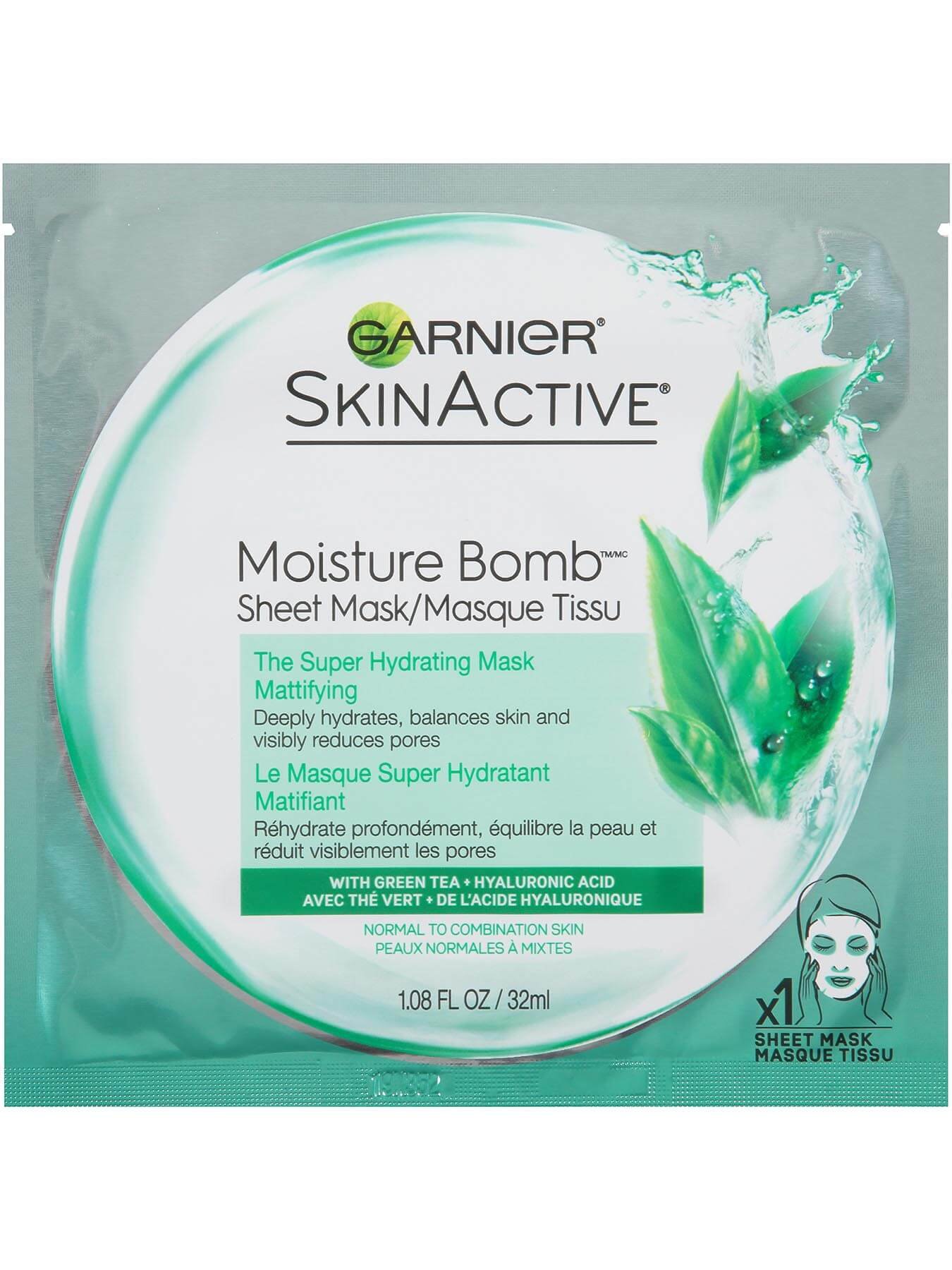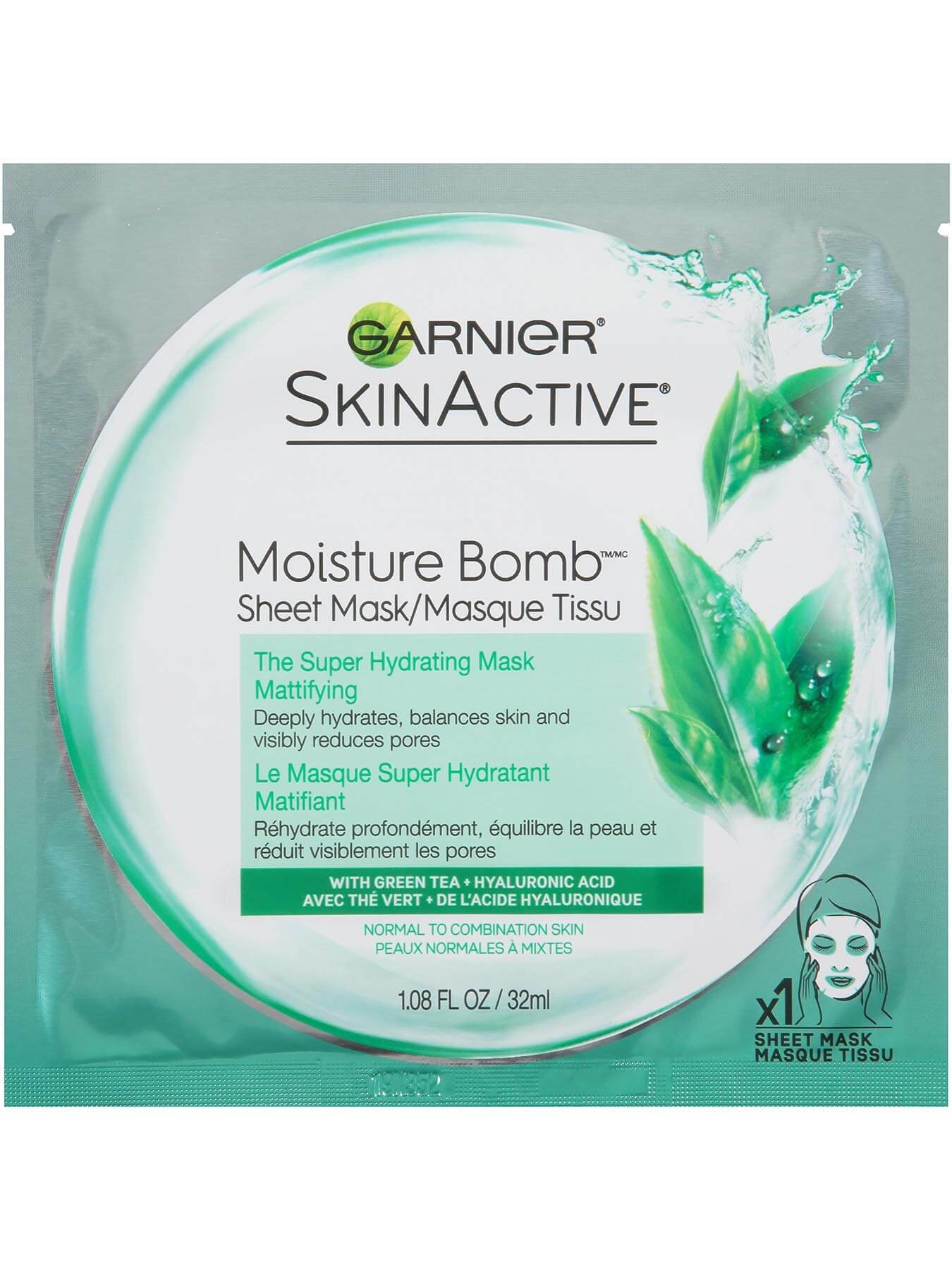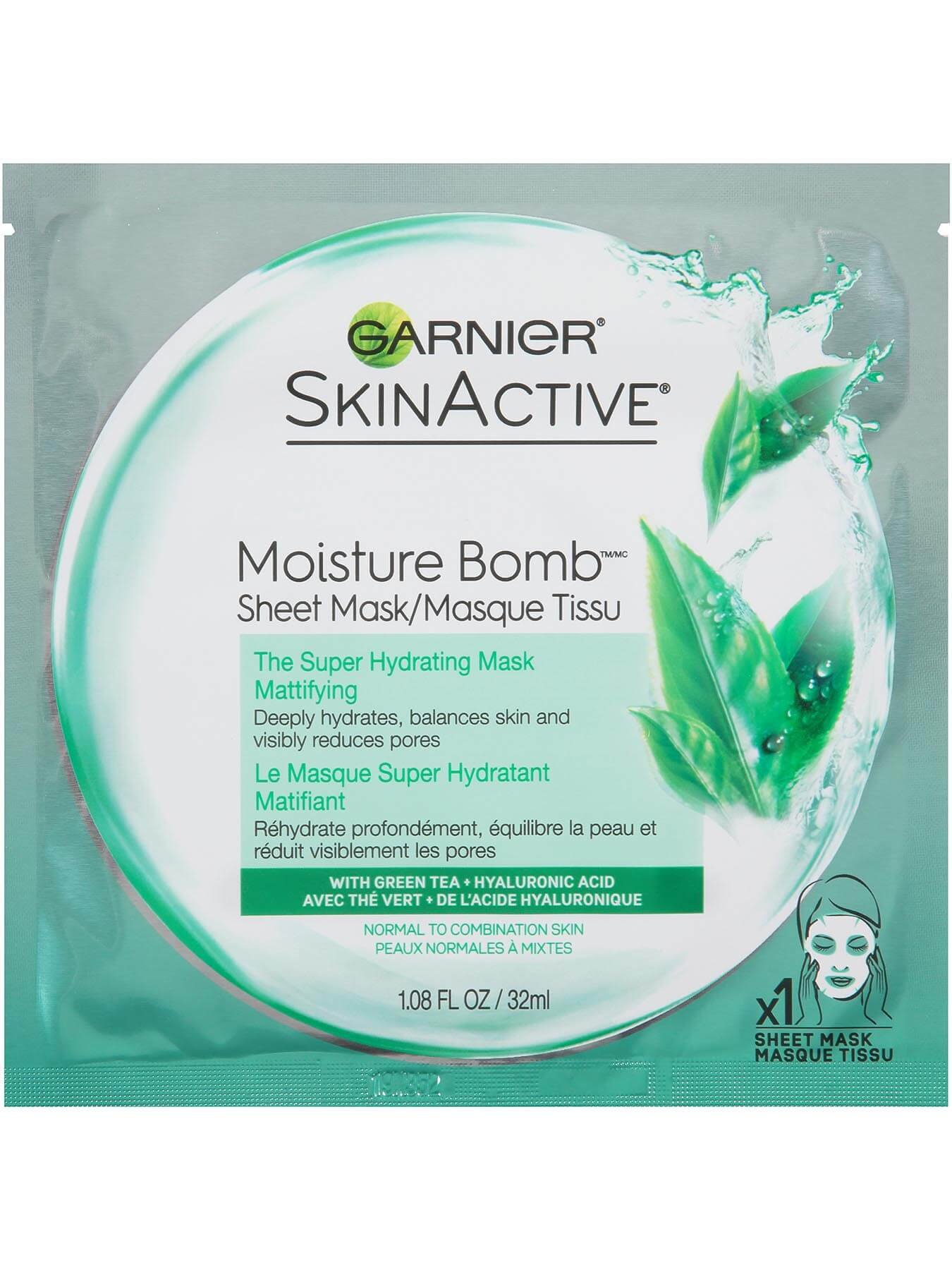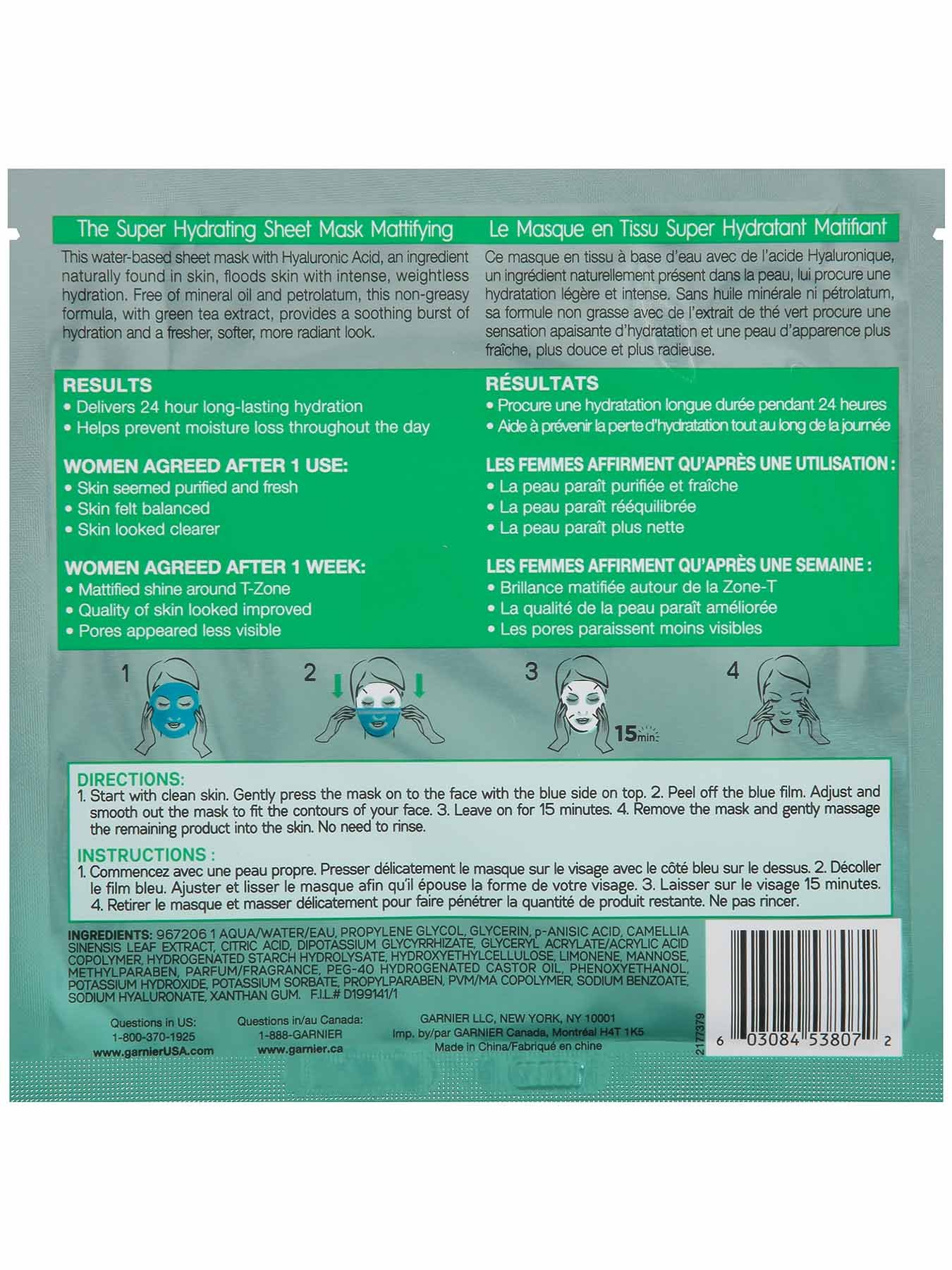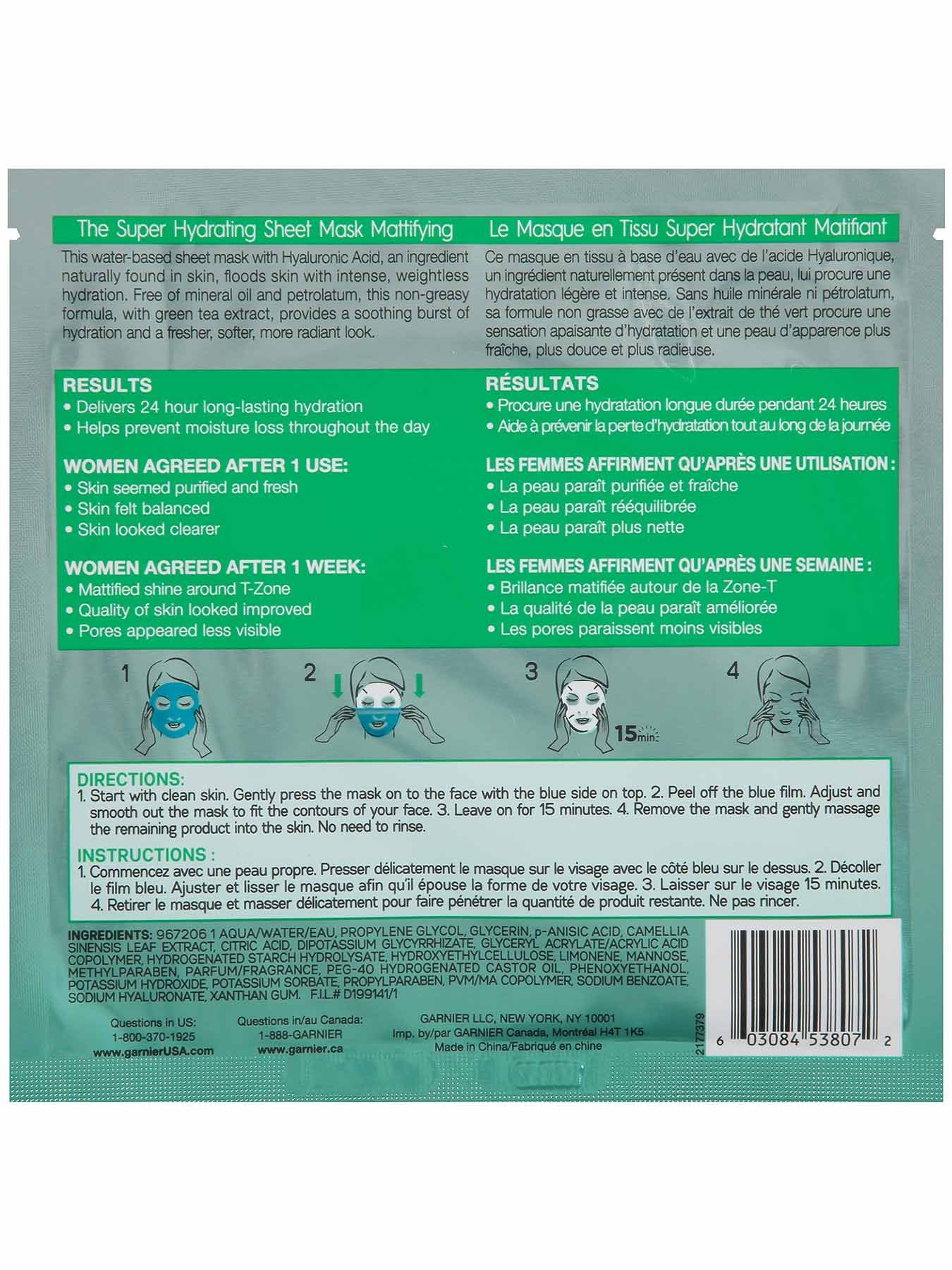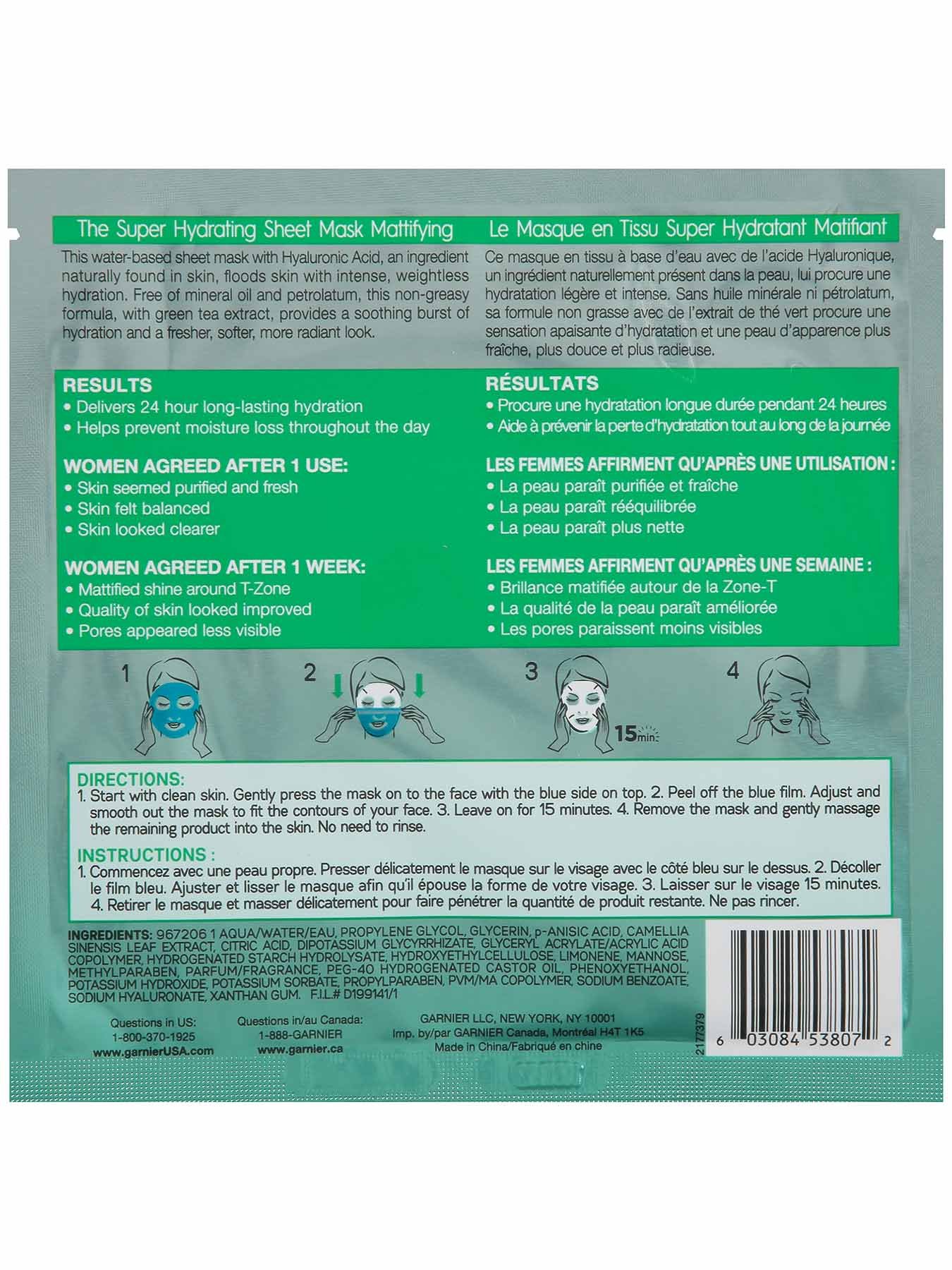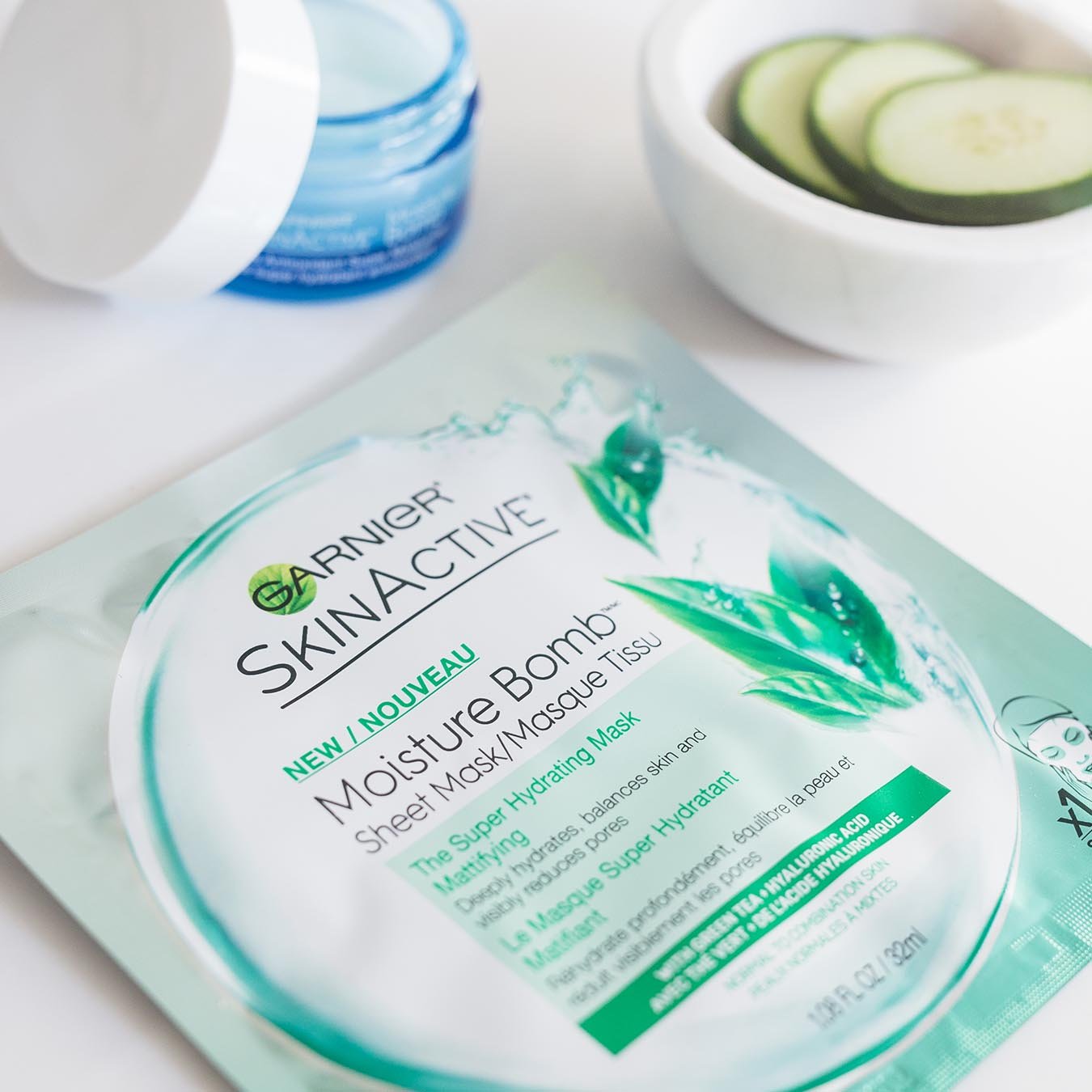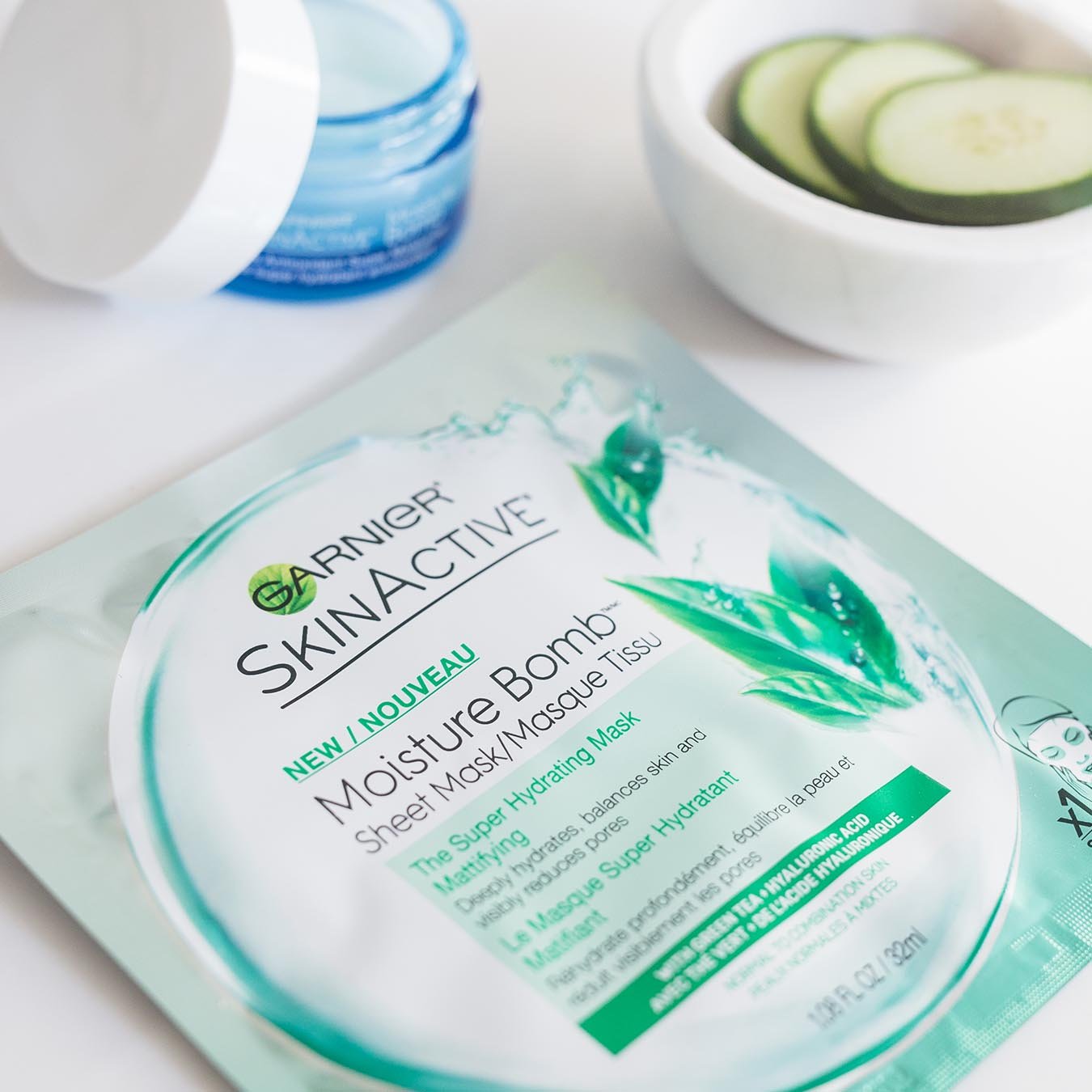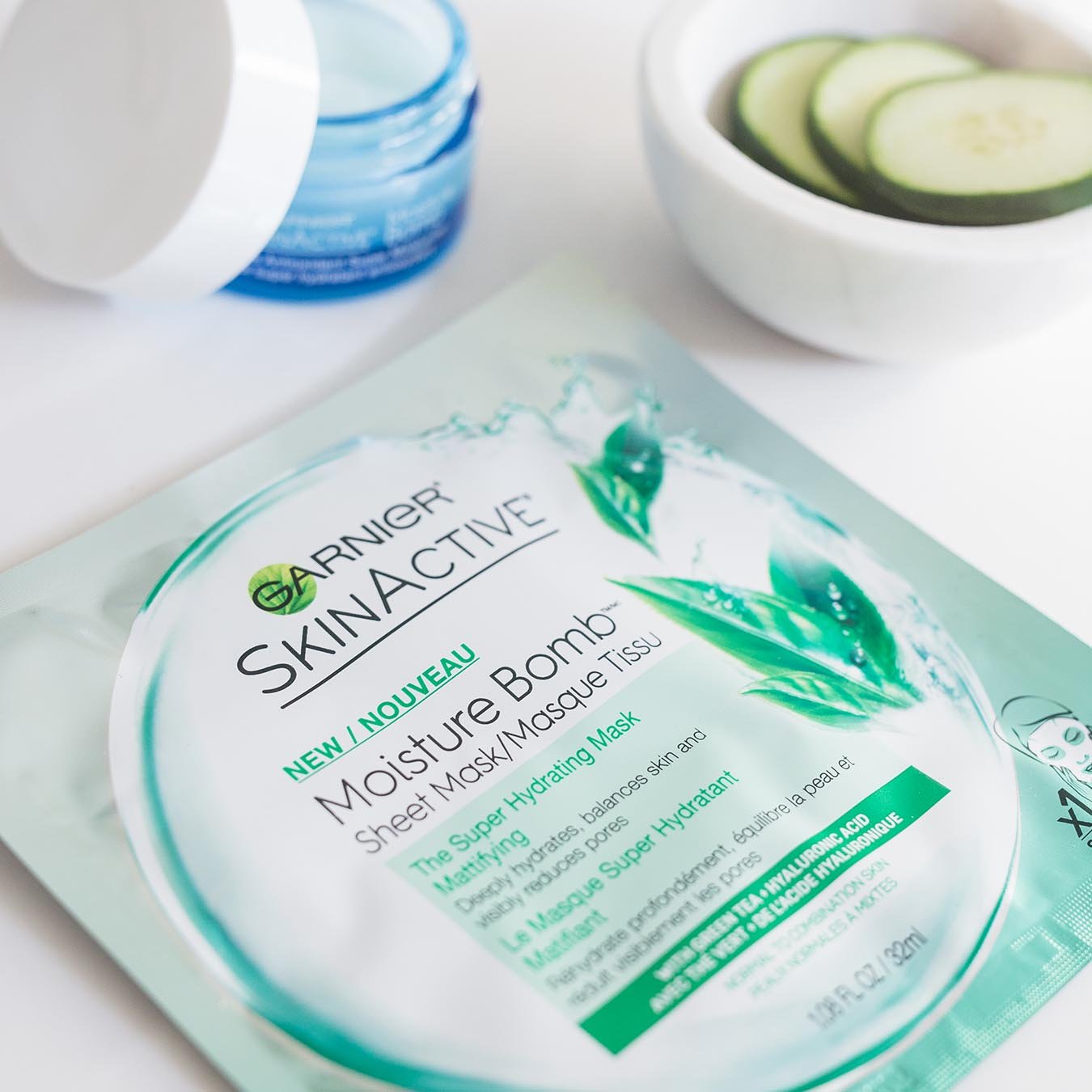 The Super Hydrating Sheet Mask-Mattifying
Garnier SkinActive
$2.99 MSRP
Esta mascarilla de tejido con ácido hialurónico y té verde aporta a la piel una hidratación ligera a la vez que la equilibra.
INFORMACIÓN DEL PRODUCTO
Esta mascarilla de tejido a base de agua con ácido hialurónico, un ingrediente presente naturalmente en la piel, inunda la piel con una hidratación intensa y ligera. Sin aceite mineral ni petrolato, esta fórmula no grasa, con extracto de té verde, aporta una oleada calmante de hidratación y un aspecto más fresco, suave y radiante.
Medio frasco de sérum hidratante en 1 mascarilla
Aporta 24 horas de hidratación duradera
Ayuda a prevenir la pérdida de humedad a lo largo del día
Modo de uso
1. Empieza con la piel limpia. Presiona con delicadeza la mascarilla en el rostro con el lado azul en la parte superior.
2. Despega la película azul. Ajusta y aplana la mascarilla hacia el exterior para adaptarla al contorno del rostro.
3. Deja actuar 15 minutos.
4. Retira la mascarilla y masajea suavemente el producto restante en la piel. No es necesario enjuagar.

Ingredientes
967206 1 AQUA / WATER / EAU, PROPYLENE GLYCOL, GLYCERIN, p-ANISIC ACID, CAMELLIA SINENSIS LEAF EXTRACT, CITRIC ACID, DIPOTASSIUM GLYCYRRHIZATE, GLYCERYL ACRYLATE/ACRYLIC ACID COPOLYMER, HYDROGENATED STARCH HYDROLYSATE, HYDROXYETHYLCELLULOSE, LIMONENE, MANNOSE, METHYLPARABEN, PARFUM / FRAGRANCE, PEG-40 HYDROGENATED CASTOR OIL, PHENOXYETHANOL, POTASSIUM HYDROXIDE, POTASSIUM SORBATE, PROPYLPARABEN, PVM/MA COPOLYMER, SODIUM BENZOATE, SODIUM HYALURONATE, XANTHAN GUM FIL D199141/1
Rated

5

out of

5
by
Rozin
from
It's really good to use for sensitive skin
I barely use facial masks but this one works so fine for my sensitive skin.
Date published: 2019-03-08
Rated

5

out of

5
by
Rhen
from
Nourishing and Refreshing
I would recommend these product. These are very straightforward to use and leave the skin feeling great.
Date published: 2019-03-08
Rated

5

out of

5
by
Gladys17
from
Highly Recommended
I like this product,, super refreshing and smooth. Deeply hydrates. I'm very satisfied Thank you
Date published: 2019-03-08
Rated

5

out of

5
by
Gengen
from
Nice product
Very nourishing, sobrang soft sa face, ill recommend this to my friends and fam.
Date published: 2019-03-08
Rated

3

out of

5
by
Mhay
from
fresh on skin
It is fresh good looking and soft in the skin... and not sticky on your face
Date published: 2019-03-08
Rated

5

out of

5
by
Cristel
from
Nourishing sa Face!
I love it..I like the feeling on my face... Highly recommended!
Date published: 2019-03-08
Rated

5

out of

5
by
Parpol
from
Love the products!
Im so happy that i use this product and i am very satisfied
Date published: 2019-03-08
Rated

5

out of

5
by
Nem Sia
from
Woah! Smaller pores!
I need this mask to make my pores smaller! I have dry and huge pores on my nose so basically, this will help sove my big pore problem
Date published: 2019-03-08
Rated

5

out of

5
by
KENNETH
from
Amazing Effects
Soo hydrating with a fresh feeling after application a must try!!
Date published: 2019-03-08
Rated

5

out of

5
by
Angela Ruth
from
Excellent
Perfect for my skin type. I really love it. I would definetely recommend this to my friends! Protective skin care that calms and soothes the driest skin.
Date published: 2019-03-08
Rated

5

out of

5
by
Jaane
from
Feel Soft
Smells good. This really makes my face feel soft! It is refreshing and super cooling! I have really oily skin so it does seem to keep me more matte since it is meant to balance your skin.
Date published: 2019-03-08
Rated

5

out of

5
by
Mira_0921
from
Great mask
After using it my face looks fresh and so feels freshing. Definitely recommended to family and friends
Date published: 2019-03-08
Rated

5

out of

5
by
Risse1234
from
Amazing!
long-lasting hydration.Helps prevent moisture loss throughout the day. Super smooth sa face.
Date published: 2019-03-08
Rated

4

out of

5
by
Jassssy6
from
Good Mask for Oily Skin!
Very nourishing! Good for oily skin like mineee! Would recommend!
Date published: 2019-03-08
Rated

5

out of

5
by
rocelle
from
feeling makinis yung skin
I tried it and satisfied nman ako feeling soft yung skin ko
Date published: 2019-03-08
Rated

4

out of

5
by
Kamts
from
Good, not great.
I love a good moisturizing mask to help my dry skin. This product made my skin feel really smooth and a little bit more plump after the 15 minute use. I don't give it 5 stars, however, because for the first hour or so after taking off the mask, my skin felt tacky. I also had to apply lotion onto my T section and nose. To me, I should not have to apply lotion after using a moisturizing mask. I may buy again, but will try other brands.
Date published: 2019-01-18
Rated

5

out of

5
by
mandahhhhhhhhhhhh
from
YASSSSS
i'm so impressed by this i have super sensitive skin and i was beyond nervous but this whole mask glided on smoothly and feels so cooling and great no irritation no itchiness once i took this off and my face dried it was so smooth and felt amazing! i love garnier and the products they come out with! forsure will buy another one! ❤️
Date published: 2019-01-05
Rated

5

out of

5
by
iamlauren_marie
from
Feels amazing!
Today was my first time using this mask and it didn't irritate my skin. It has an awesome cooling effect.
Date published: 2018-10-04
Rated

5

out of

5
by
ParkersMama
from
Obsessed
I love the idea of a "mattifying" mask so much that I had to purchase this, and now I've repurchased at least 10x! I dont have a super extensive skin routine, the more I just leave my face be, the better my skin looks. And this addition (I'll use 1-2x a week) just adds so much radiance and takes away dullness and a lot of texture. Even 24 hours after using one of these my skin still looks hydrated, clear and glowy (similar to when I was pregnant) and my makeup has never looked better. You have a winner here Garnier! Please never discontinue!
Date published: 2018-09-29
Rated

5

out of

5
by
FloridaBabe
from
I love these!
I'm actually not a huge fan of sheet masks, but have tried them from many companies. These masks from Garnier feel so good on my skin, so cool and refreshing, and totally help me relax before bed. Each of the three varieties are great and make my skin feel so soft in the morning, where others have left my skin feeling dry and tight. I will absolutely continue buying these.
Date published: 2018-08-20
Rated

5

out of

5
by
nikkirey94
from
Amazing Mask!
I purchased one of these sheet masks this past weekend and it worked amazingly well. I have very oily skin, and I live in south Texas so keeping my acne prone oily skin under control is very hard. Lately I had been breaking out because my skin was super dry and kept producing tons of oil to try and compensate for it. This mask really did help to moisturize my skin and help calm it down. My acne is almost completely gone and this mask I feel definitely did help.
Date published: 2018-07-02
Rated

5

out of

5
by
Anything nonretin A
from
please with results
This is the first type of sheet mask, and hydrating mask, I have ever used. I normally use a cream mask for cleansing purposes. Those usually dry my skin a bit so I was not sure what to expect with this mask. I used it and it felt cool and a bit tingly and perhaps even just slight burning but nothing I was worried about. After my skin felt great. I expected it to go back to normal after my normal nightly washing routine but here I am 24 hours later, having washed my face in the morning before work again, and my skin is still so soft. I had some dry areas around my nose and mouth with peeling skin and that is gone! I am very pleased. I don't think you can tell otherwise that I used a mask, pores aren't smaller etc, but it is def softer and no peeling skin. I'm not sure how long this will last. I'm also not sure is once a week usage will have different longer lasting effects down the road. At this point this seems like a great mask that will work best to use the morning of or even day before a big event. I will be trying again later.
Date published: 2018-04-16
Rated

5

out of

5
by
Amark28
from
Amazing!
I used this face mask for the first time last night, I could see a difference before going to bed! I noticed that my pores are much smaller and my skin looked refreshed this morning. I will for sure tell everyone I know about this mask, and I will be buying again!
Date published: 2017-08-21
Rated

5

out of

5
by
Rachel18
from
Very Soothing!
I have very dry skin so I was looking for a hydrating mask, and the garnier skinActive sheet mask made my skin feel soothed in only 15 mins! it was very relaxing and cooling, and I would definitely use it again!
Date published: 2017-08-20
Rated

5

out of

5
by
Nfield
from
Feels fantastic!
I tried this last night and wow! The mask is a bit big and odd for my round face, definitely made for a long thin face but it's still easy to move around to fit. I did it just before bed and I could see such an improvement in my face by morning, my skin looked so much better, tighter and brighter. Even my pores seemed smaller. Definitely going to continue to use it, wish you could buy a box of them and not only singles but I can't wait to try all of them!
Date published: 2017-08-06
Rated

5

out of

5
by
Abc123_Tx
from
Impressed
I'm a tough beauty critic and I have super sensitive skin that frequently breaks out. I am super pleased with this face mask and might even be addicted after the first use. I tried a different brand of face mask the following week and it didn't give me the same results as the garnier mask. I liked that the moisture lasted through the night and it gave me a refreshed glow for a few days after use. Please don't discontinue this product. I would be devastated.
Date published: 2017-07-21
Rated

5

out of

5
by
MartaKatLand
from
My skin feels and looks AMAZING. Garnier, TY!
I've used each mask once and they are just great. The superbomb is perfect as its always dry at home..even the humidifier doesn't help much. I have not broken ojt once since I began trying the masks. I love Garnier, I use it for hair, color, face, body..one thing I'd ask for is a femenine wash..(hypoallergenic, one non scented, other(s) scented..then I'd be truly happy! My body thanks you. I'll update the review when I find the right product for my wavy/curly hair that makes the curls more defined, soft, and with lots of volume. Thank you again!!!
Date published: 2017-06-23
Rated

5

out of

5
by
Sarah may
from
This mask is both affordble and good
I bought this mask today and it moisturized my face very well, made my pores a bit smaller after one use, and made my skin soft! I will be buying this again soon. I can't wait to see the end results after using the mask for a while.
Date published: 2017-06-01
Rated

5

out of

5
by
Danni16
from
Amazing
Used the sheet mast for the first time yesterday and I woke up and my face was so smooth and just didn't look dry anymore I wasn't a believer it would work I was so wrong
Date published: 2017-04-27
Rated

3

out of

5
by
brittanyrhmiller
from
Just like everything else
The Garnier SkinActive Moisture Bomb Face Mask is a mediocre product just like anything else I can buy at a store. It came out of the package really wet and dripping. I personally did not like this about it. It could have had a thicker consistency to it to keep it from sliding on the face. It also had a strong "product" smell. IT was fairly easy to apply though. After removing it and my face drying some, it felt sticky and I had to rinse my face off even though it says you don't have to. Overall, my face felt more moisturized but the feeling didn't last for long. I would not particularly recommend this product to my friends and family to use. I feel there are other products that provide a deeper moisturizing experience.
Date published: 2017-04-07