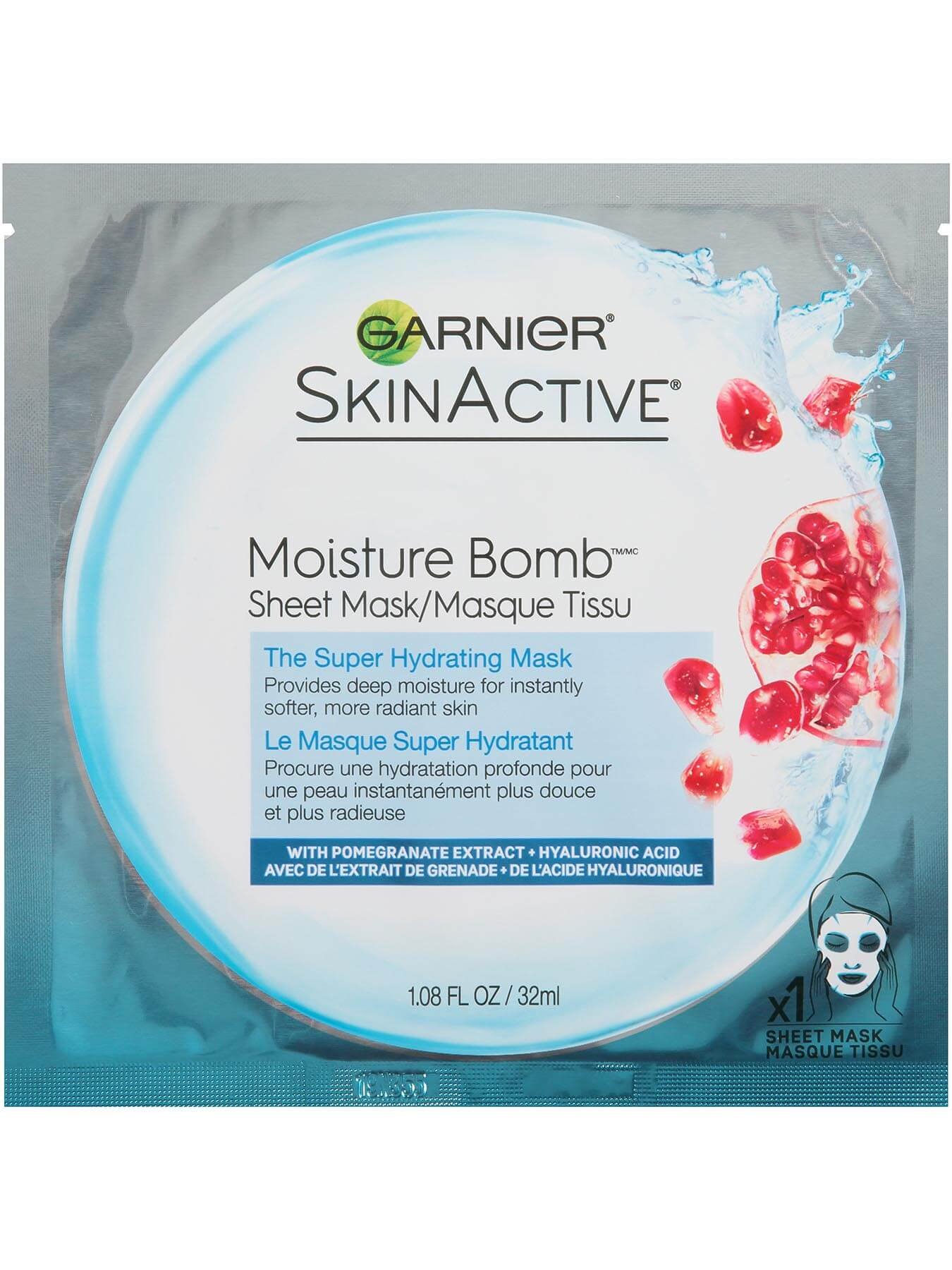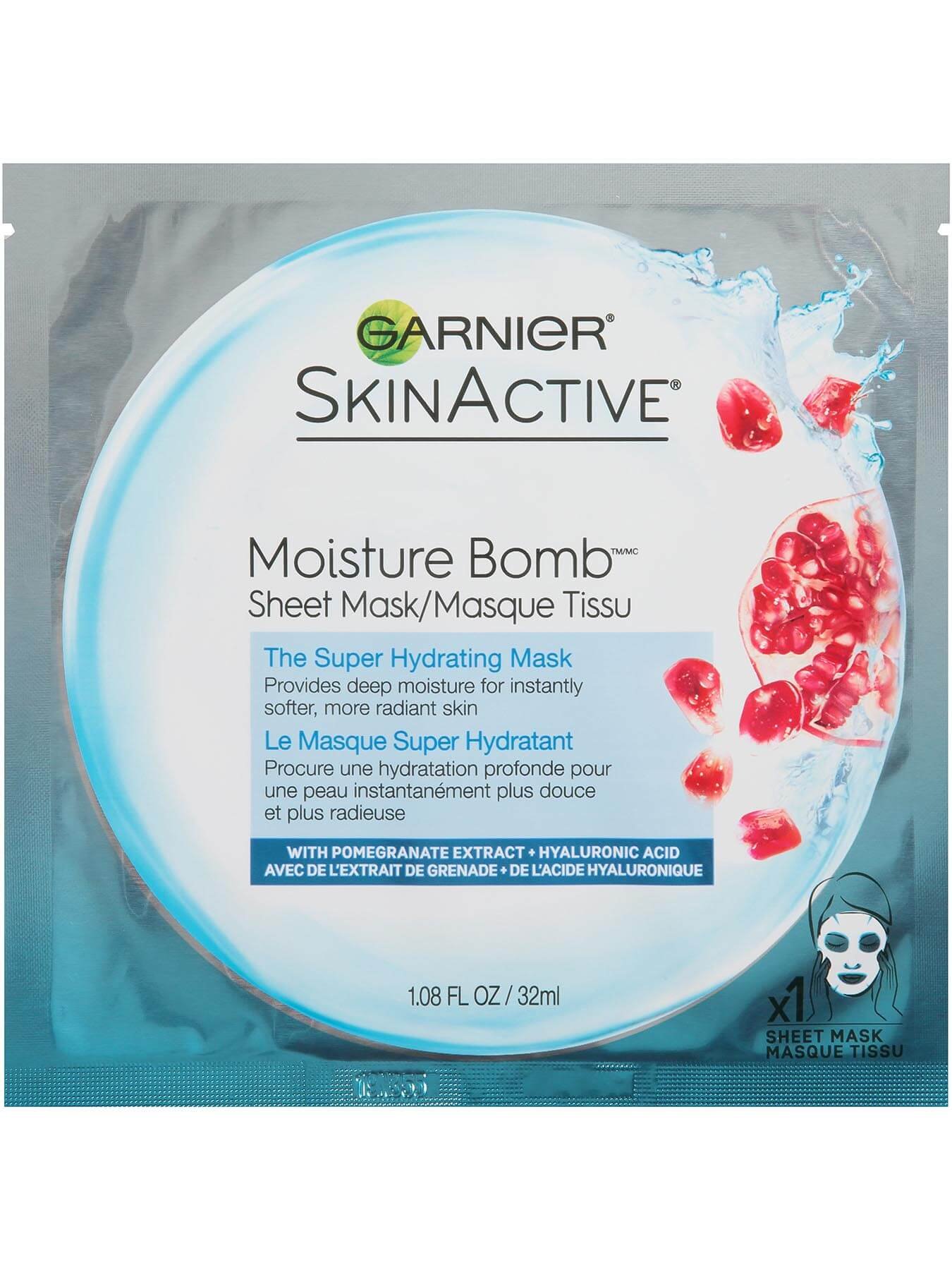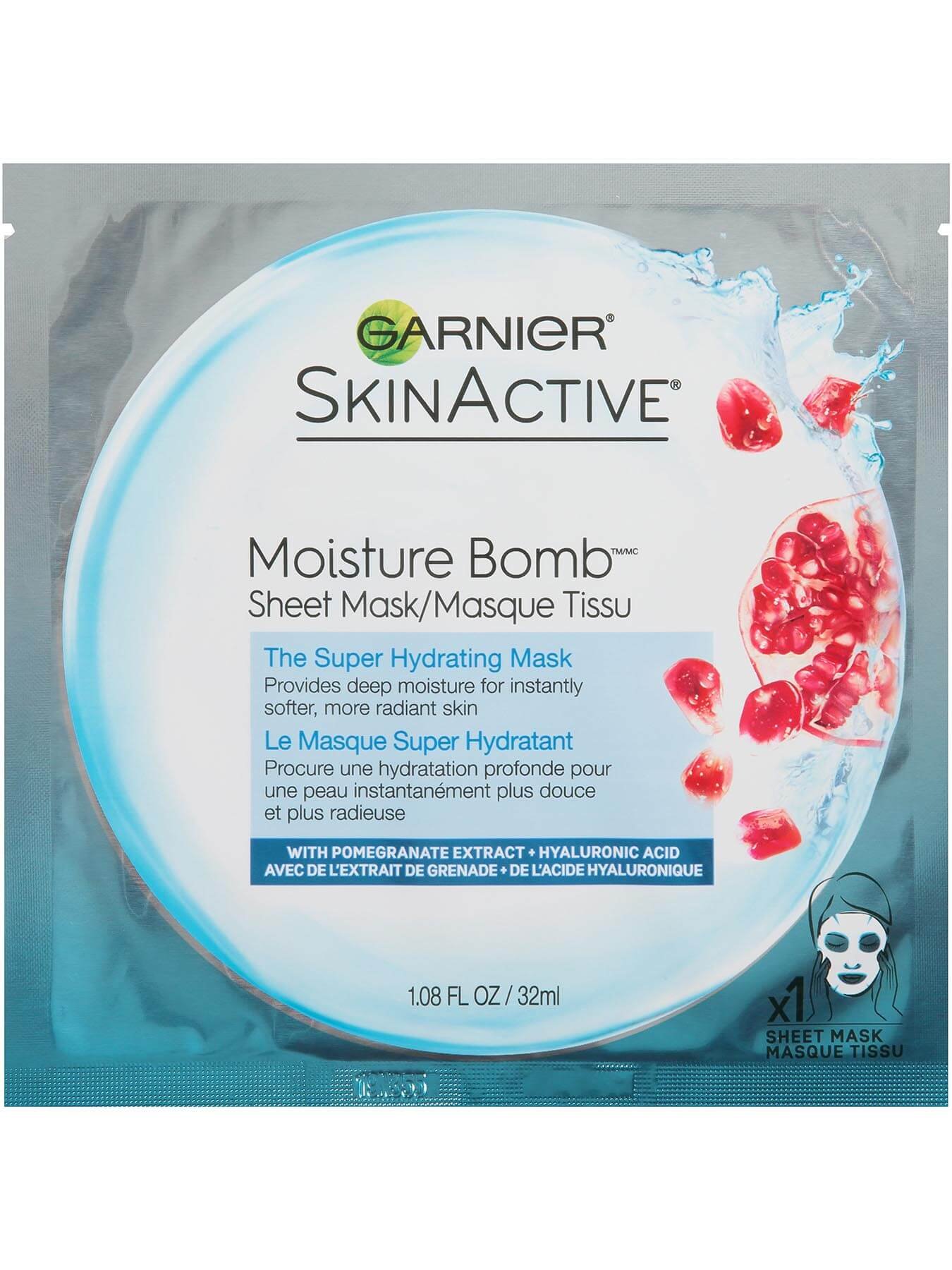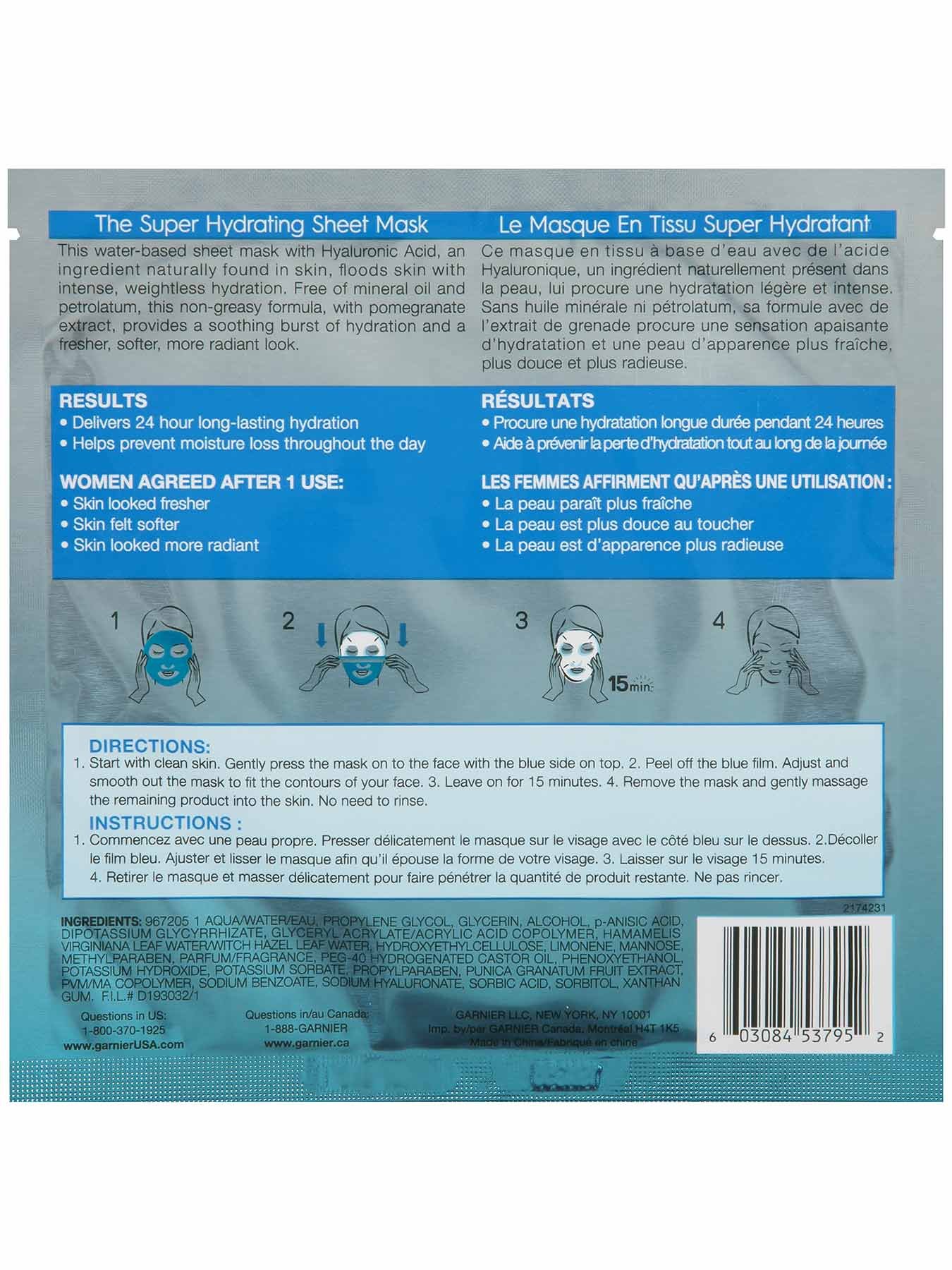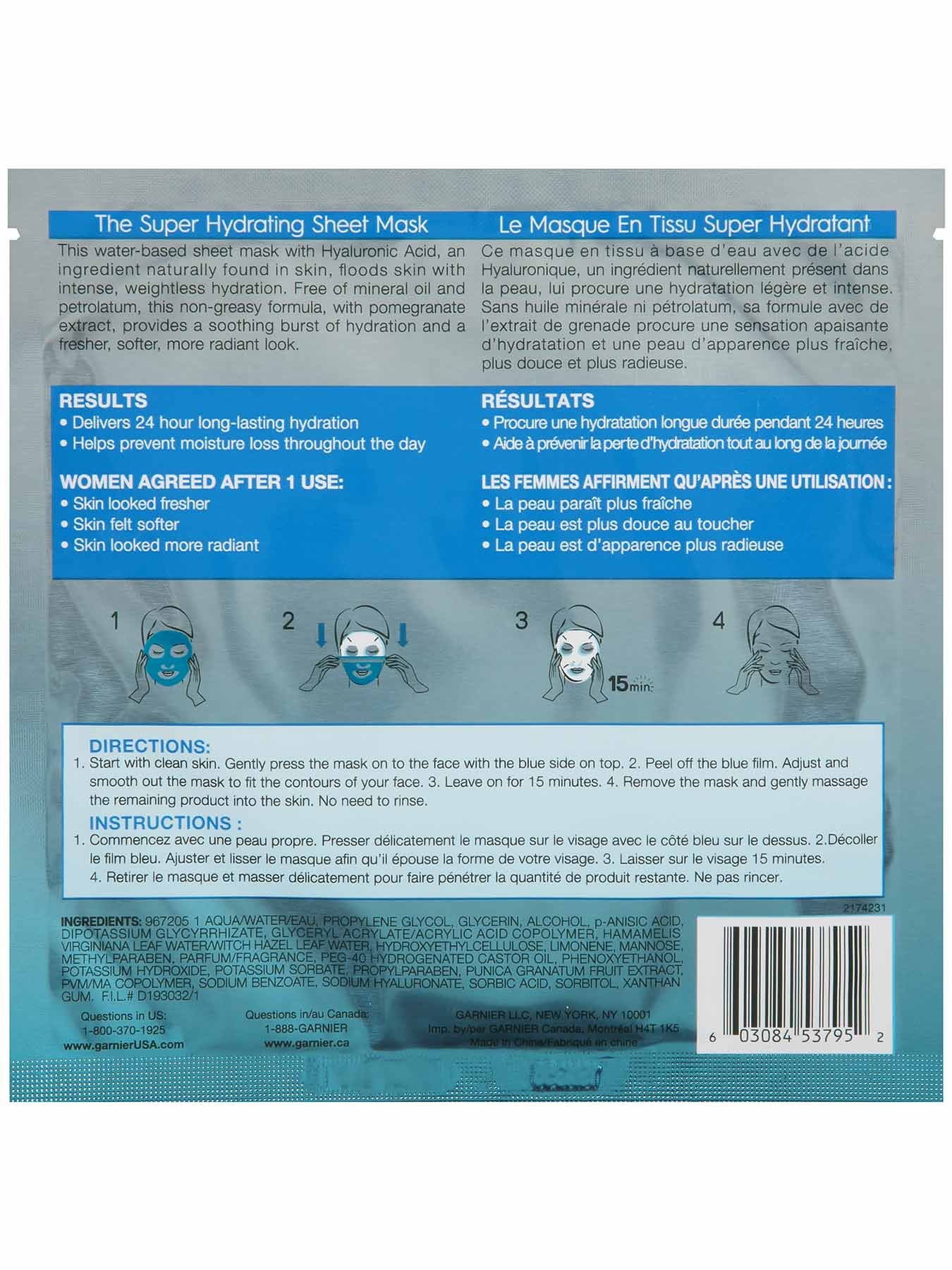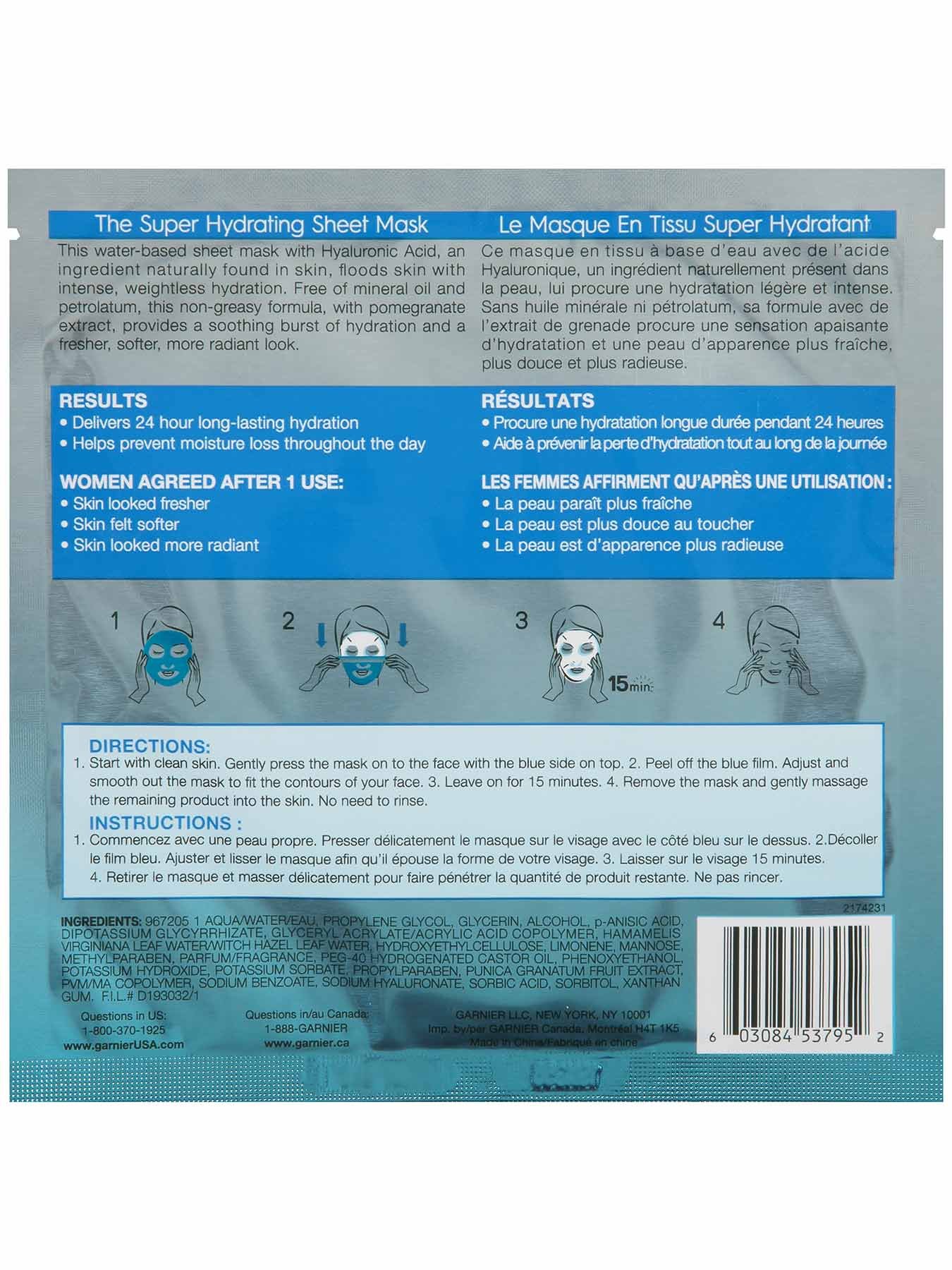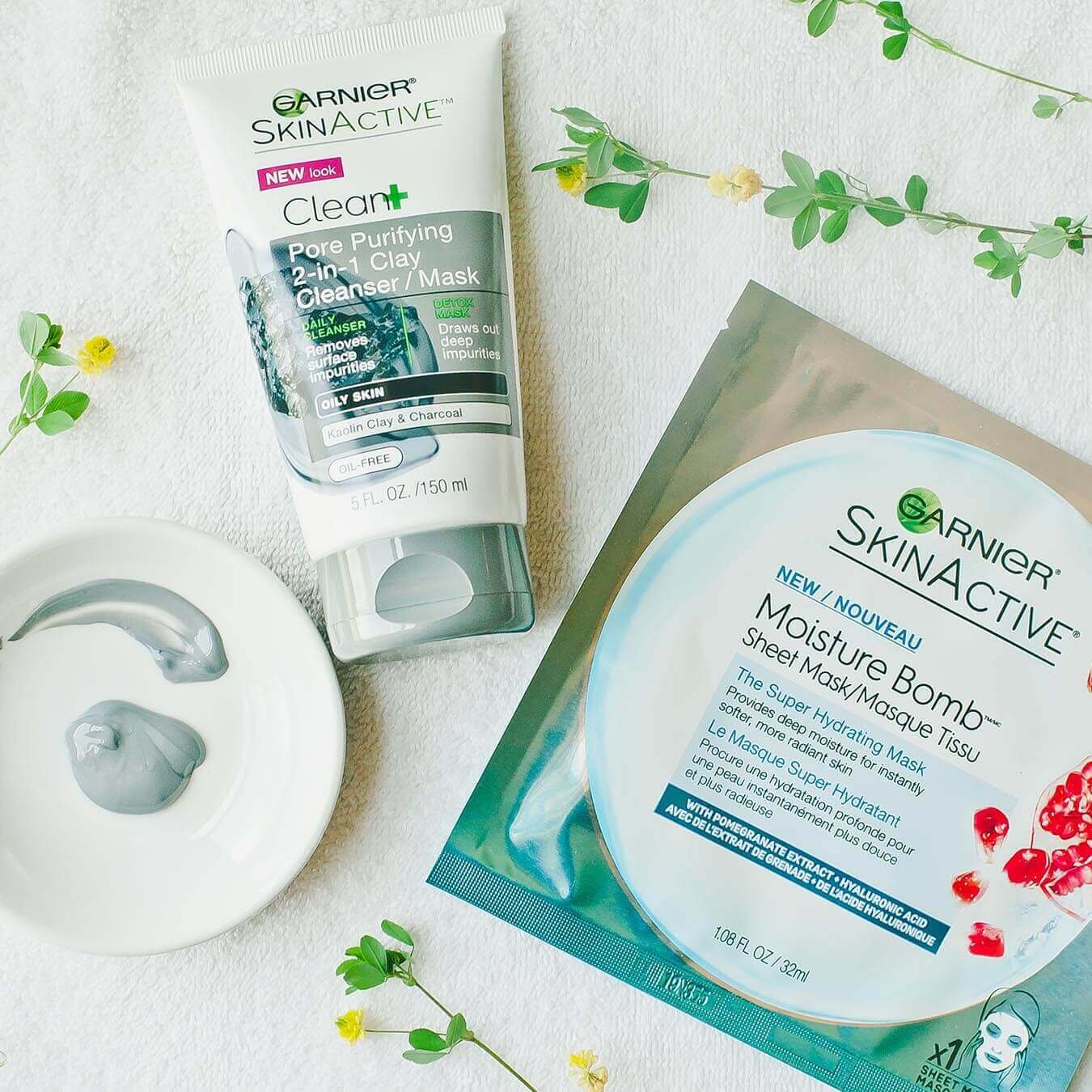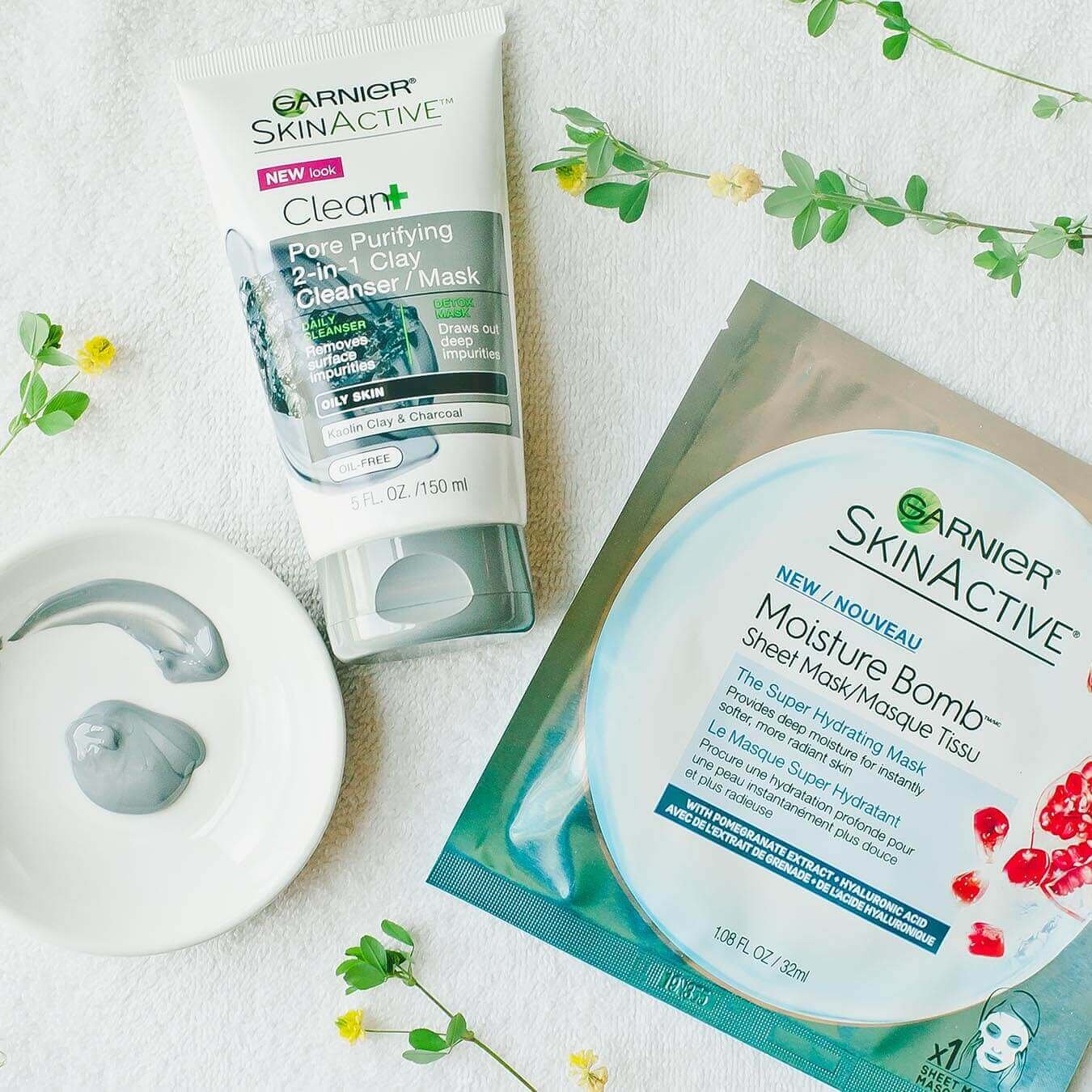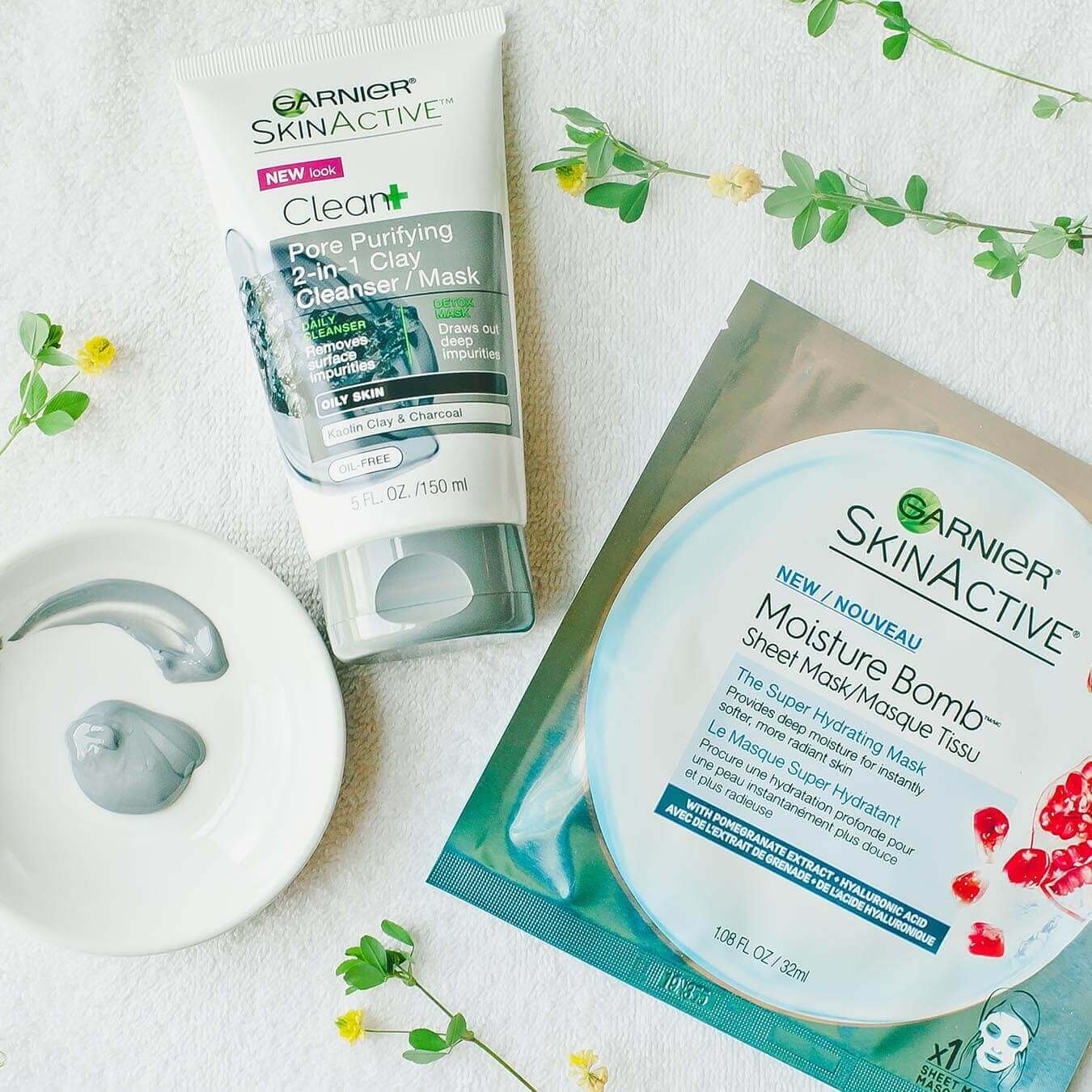 The Super Hydrating Sheet Mask - Hydrating
Garnier SkinActive
$2.99 MSRP
Esta mascarilla de tejido superhidratante con ácido hialurónico y extracto de granada hidrata en profundidad y suaviza la piel en solo 15 minutos.
INFORMACIÓN DEL PRODUCTO
Esta mascarilla de tejido a base de agua con ácido hialurónico, un ingrediente presente naturalmente en la piel, inunda la piel con una hidratación intensa y ligera. Sin aceite mineral ni petrolato, esta fórmula no grasa, con extracto de granada, aporta una oleada calmante de hidratación y un aspecto más fresco, suave y radiante.
Medio frasco de sérum hidratante en 1 mascarilla
Aporta 24 horas de hidratación duradera
Ayuda a prevenir la pérdida de humedad a lo largo del día
Modo de uso
1. Empieza con la piel limpia. Presiona con delicadeza la mascarilla en el rostro con el lado azul en la parte superior.
2. Despega la película azul. Ajusta y aplana la mascarilla hacia el exterior para adaptarla al contorno del rostro.
3. Deja actuar 15 minutos.
4. Retira la mascarilla y masajea suavemente el producto restante en la piel. No es necesario enjuagar.
Ingredientes
967205 1 AQUA / WATER / EAU, PROPYLENE GLYCOL, GLYCERIN, ALCOHOL, p-ANISIC ACID, DIPOTASSIUM GLYCYRRHIZATE, GLYCERYL ACRYLATE/ACRYLIC ACID COPOLYMER, HAMAMELIS VIRGINIANA LEAF WATER / WITCH HAZEL LEAF WATER, HYDROXYETHYLCELLULOSE, LIMONENE, MANNOSE, METHYLPARABEN, PARFUM / FRAGRANCE, PEG-40 HYDROGENATED CASTOR OIL, PHENOXYETHANOL, POTASSIUM HYDROXIDE, POTASSIUM SORBATE PROPYLPARABEN, PUNICA GRANATUM FRUIT EXTRACT, PVM/MA COPOLYMER, SODIUM BENZOATE, SODIUM HYALURONATE, SORBIC ACID, SORBITOL, XANTHAN GUM FIL D193032/1
Granada
El aceite de semillas de granada contiene ácido punícico, un componente natural rico en antioxidantes. Ayuda a vigorizar para un resplandor saludable cuando está infusionado en el cuidado de la piel. En el cuidado capilar, ayudar a potenciar el brillo.
Rated

5

out of

5
by
jen47
from
Loving it!
It moisturizes my face. Soothing and it makes me feel good even in my bare face
Date published: 2019-03-08
Rated

5

out of

5
by
Rozin
from
Refreshing feel
My skin feels so clean and fresh. Love the product!
Date published: 2019-03-08
Rated

5

out of

5
by
Gladys17
from
I love this Product
I bought this product last week. And I'm so happy. My skin smooth and looks good....
Date published: 2019-03-08
Rated

3

out of

5
by
Mhay
from
refreshing
it is refreshing qnd good for the skin. and not irrating
Date published: 2019-03-08
Rated

5

out of

5
by
Rhen
from
Refreshing
I am happy with this product. It keeps my skin moisture and really refreshing.
Date published: 2019-03-08
Rated

5

out of

5
by
Mayann
from
I love it
I like it and Delivers 24 hour long-lasting hydration to your skin. Deeply hydrates!
Date published: 2019-03-08
Rated

5

out of

5
by
Bhang
from
Nice items
Product are nice and i want to use it again to make sure that im happy
Date published: 2019-03-08
Rated

5

out of

5
by
Cristel
from
Looking Fresh!
I love it..I like the feeling on my face... Highly recommended!
Date published: 2019-03-08
Rated

5

out of

5
by
Grace07
from
Love it
Really good on my skin,keeping its moisture and refreshing
Date published: 2019-03-08
Rated

5

out of

5
by
Angel1234
from
Feels so rejuvenating!
I feel so refreshed as soon as I put it on my face. It has more than enough serum to even cover my neck. Sooooo moisturizing!
Date published: 2019-03-08
Rated

5

out of

5
by
Nem Sia
from
It's the Bomb!
This is perfect for my super for my super dry and allergic skin. Hydrating my face with enough water needed to feel fresh. I love it!
Date published: 2019-03-08
Rated

5

out of

5
by
TeethCleaner 36
from
I actually use the same mask more than once
I LOVE this mask! I live in ND where the freezing winter weather dries out my skin horribly. After using this mask and rubbing the excess serum into my face, I feel completely refreshed and moisturized. Plus, you can easily use these masks more than once since they give you so much serum. I just put it back in the package and use it again a few days later.
Date published: 2019-02-22
Rated

5

out of

5
by
Iannn
from
Best affordable face mask I've tried!
I've used this mask 4 times and everytime I'm satisfied with the results! I'm on Accutane currently and it makes my skin very dry and flakey, but this mask definitely helps rehydrate my skin! The mask is covered in product but not dripping wet. There's a very faint but pleasant scent to the mask also. I used this mask before bed after washing my face. I definitely would recommend this mask to someone with dry skin or anyone who just wants to relaxed and have glowing skin!
Date published: 2018-08-18
Rated

5

out of

5
by
Angela21
from
I love this mask!
My face was so dry and I had a mild sunburn. Then I used this mask. It was so soothing and moisturizing. There is a lot of liquid in the package which I do not see as an issue because I just used it the next day on my face and hands! It also has a nice scent. Overall I only have good things to say about this face mask and will definitely be purchasing it!
Date published: 2018-08-08
Rated

5

out of

5
by
IgoraBeautyBlog
from
noticeable changes directly
I used it today for the first time and my pores/ under eye lines decreased by 90%! extremely happy with it!!
Date published: 2018-04-18
Rated

4

out of

5
by
allie25
from
Great results, a little big
Although the application was harder than I expected, as the mask was way too big and hard to separate from the blue layer, I did enjoy the hydrating effects the rest of the day. It also had a gentle, nice smell and did not irritate my skin. I would use again!
Date published: 2018-04-16
Rated

5

out of

5
by
Alyssaboo
from
Was amazing!
I got my moisture bomb mask in the mail and it was amazing! My face went from extremely dry to fresh and supple! I would recommend to anyone!
Date published: 2018-04-08
Rated

1

out of

5
by
Prr1324
from
Moisture Bomb Lives Up To Name
I received one of the sheet mask as a sample and sure glad I tried it. There was so much liquid in the packet that the mask ( which was feed in quarters ) was difficult to unfold without peeling the mask off the paper. I tried to place the mask on my face even after all of this. It wouldn't stay in place and kept sliding off. Just saved myself $$$$. Sorry but this product was a Gail for me and I won't waste my money.
Date published: 2018-03-28
Rated

5

out of

5
by
Nikki87
from
Amazing Hydrating Sheet Mask!
Omg this Sheet Mask is fantastic! My face looks renewed! I see a healthy hydrated glow! It is so soft an supple! I'm blown away! This feels like I have silk ribbons wrapped around my face! I can feel this moisture deep down! I'm absolutely satisfied An impressed with this face mask! Garnier you have done it again! Made an incredible product that works wonders! My skin had felt dull an thirsty, now it's bright an hydrated, I feel alive! Like my skins potential has been awakened! My skin definitely feels an looks radiant!!! I received this as a sample from an offer you had so thank you very much for this sample I couldn't be happier right now! These results are undeniable, I feel fabulous! My skin looks an feels soft, supple, an deeply hydrated! I can't get over how bright I'm glowing right now! My face feels brand new!!! Thank you immensely!!!
Date published: 2018-03-23
Rated

5

out of

5
by
Magenh2009
from
Loooove this mask!!
I received this mask as a sample from Garnier (thank you!) and am in love!! It is super hydrating and smells great. It leaves my skin so soft and smooth and can tell it is still moisturized the next day. It is very affordable at Walmart and love this whole line of sheet masks!
Date published: 2018-03-20
Rated

4

out of

5
by
vanessa6297
from
Hydrating and moisturizing
I was very happy with the results of the sheet mask. I had requested a free sample from the website a few weeks back. It was very moist when I took it out of the package. The serum is highly concentrated and long-lasting. It gave me a cooling effect. I found even after the 15 minutes that the mask was still damp to the touch. When i removed it i didn't feel sticky or tacky. I massaged any excess serum into my skin after I removed the mask. It absorbed quickly and did leave my face feeling refreshed. When I woke up this morning my face still felt hydrated.
Date published: 2018-03-19
Rated

5

out of

5
by
Dupafly
from
Good
I got this as a free sample and I really like it. Made me feel refreshed
Date published: 2018-03-18
Rated

4

out of

5
by
SpaTester
from
Great product, Application could be improved
First impressions - the mask is absolutely saturated with serum. I placed it on my face, and peeled off the blue layer as instructed. Due to the saturation, and small eye/mouth holes, the mask slide all around my face while peeling off blue layer, smearing serum in my eyes and mouth. The mask itself is very large, and the edges had to be folded up so as not to layer over my hairline. After application - there was enough serum left on my face I was able to apply it to my neck and decollatage. Since I washed my face directly before opening package and application, and there is enough serum leftover in package for another application, I will use mask again tomorrow morning. Overall, the product was good, the serum appears to have humectant properties. My skin is very soft, and is gaining even more moisture as the serum is drying. There is a slight floral fragrance, similar to other Garnier products. I would suggest Garnier review the shape and fit of the mask & holes for a more proper fit. The area between my eyes and nose was gapped so the mask did not touch the skin in that area, which from looking at other reviewer's photos, is a common issue. I also think the blue layer is an unnecessary extra step. It's purpose is not clearly defined, but if it is to prevent entanglement when opening mask, everything is so saturated upon opening it does not make it any easier. I would use this product for the serum again, but not the mask effect.
Date published: 2018-03-17
Rated

5

out of

5
by
cjstanton3
from
Super hydrating heaven!
I ordered this mask a couple weeks ago and was very surprised with the results. Not only did it hydrate my face, it somehow made it smoother! I loved it!!
Date published: 2018-03-16
Rated

5

out of

5
by
Jp113
from
Amazing mask, super hydration, radiance
I received a free sample of this mask and loved it!! The mask is super easy to use and you can really feel the hydration. After 15 minutes my skin felt and looked so much better. It's great for a treat or every day routine. This gave my face the extra moisture it needed, especially with all the cold weather. I will be buying and trying all of the masks, and will buy this one again! Thank you!
Date published: 2018-03-15
Rated

4

out of

5
by
SueAM
from
Skin was smooth
Mask stuck together in package. Too large for my small face. Lots of wrinkles on mask. Nice smell, easily maneuvered,
Date published: 2018-03-14
Rated

5

out of

5
by
Bubblingreanater
from
the feeling of my skin
I just received my sample in the mail I used it I could not believe how soft my skin has become with one use it's unbelievably a great product I I'm going to order some right now this will be my main go to product for my face
Date published: 2018-03-13
Rated

2

out of

5
by
Emily3811
from
Good hydration but has downsides
I'm not a super big fan of this mask, the shape of it is very odd and the face size was massive on me. The product itself is decent it does what it claims which is to give your skin moisture but, it came with some downsides. It left a weird film on my face even after I washed it. And eventually it started pilling off my face which I absolutely hated.
Date published: 2018-01-08
Rated

1

out of

5
by
OhNooooo
from
Oddly placed eye holes
This mask did not fit at all it has extremely odd placed eye holes. The eye holes are so extremely small and close together that I kept getting the mask in my eye. I'm not sure why they made this mask the way they did. This brand has oddly placed eye holes which completely covers my eyebrows and gets into the corner of my eyes. Additionally the fact that you have to peel off another layer just causes the layer that's on your face to come off your face when you're trying to peel the other layer off. Just a really strange product that I won't ever purchase again as there are much better products out there. The liquid was refreshing but sticky and the odd sizing of the mask will cause me to never purchase again. I just wasted several dollars on these.
Date published: 2017-11-13
Rated

5

out of

5
by
Lauralavalley
from
Skin Saver
I was recently extremely ill, bed ridden for weeks. Dehydrated and dried out. Once better I noticed my skin had taken a hard hit from being sick. My face was so dry and chapped. Redness and peeling. I felt awful and not like myself. My usual face cleanser and moisturizer were not cutting it. I even bought expensive brand moisturizers multiple times for my extra dry skin and still I felt so dried out and flakey. I saw a commercial for this on Sling and thought it sounded like something worth trying. I have always loved and bought the brand so I figured I'd try it. I bought one of the super moisturizing masks and left it on the full time alloted, rinsed my face and BAM... I actually felt like a new person, myself again. My face was so smooth and felt so much more hydrated, my eyes even looked brighter underneath, fresher. And all of the flakey dry skin was gone. I haven't felt that sort of glow in a long time. I will definitely be purchasing more and exploring the other types of masks you have. I would definitely recommend :-)
Date published: 2017-11-03